The secret is out — Vermont makes an amazing destination for a weekend away, no matter what time of year you choose to visit.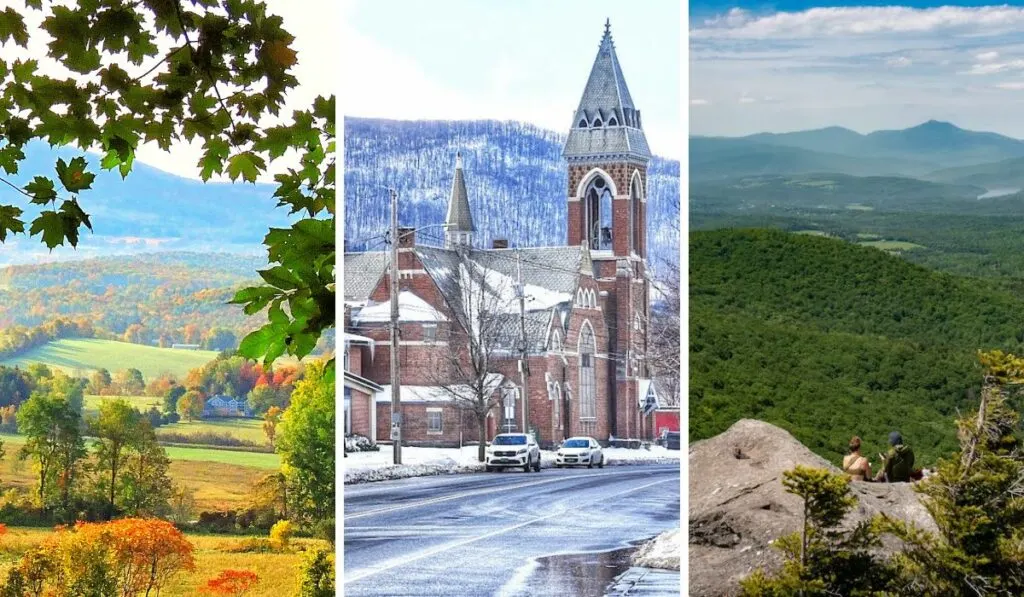 Sure, you should come in October so you can sip hot cider while finding the perfect foliage view, but don't write off November through September — Vermont is gorgeous in every season!
Need to get outside? Come to Vermont, where you can climb a mountain in the morning, paddle a pond in the afternoon, and catch a fantastic sunset each evening.
Looking for art and culture? Come to Vermont for world-class music and theater, thought-provoking art exhibits, and dozens of year-round festivals.
How about romance? Come to Vermont and sit in cozy restaurant nooks, stroll arm-in-arm through open-air markets, and end the night in front of a campfire or a fireplace.
Whatever it is you're craving, save a serious urban adventure, you'll find it in Vermont.
As proof, we're sharing 12 incredible Vermont weekend getaways, one for every month of the year.
---
Before you head into the Green Mountains for your Vermont weekend getaway, print out a copy of our Vermont bucket list!
---
January: Winter Recreation in Bennington and Manchester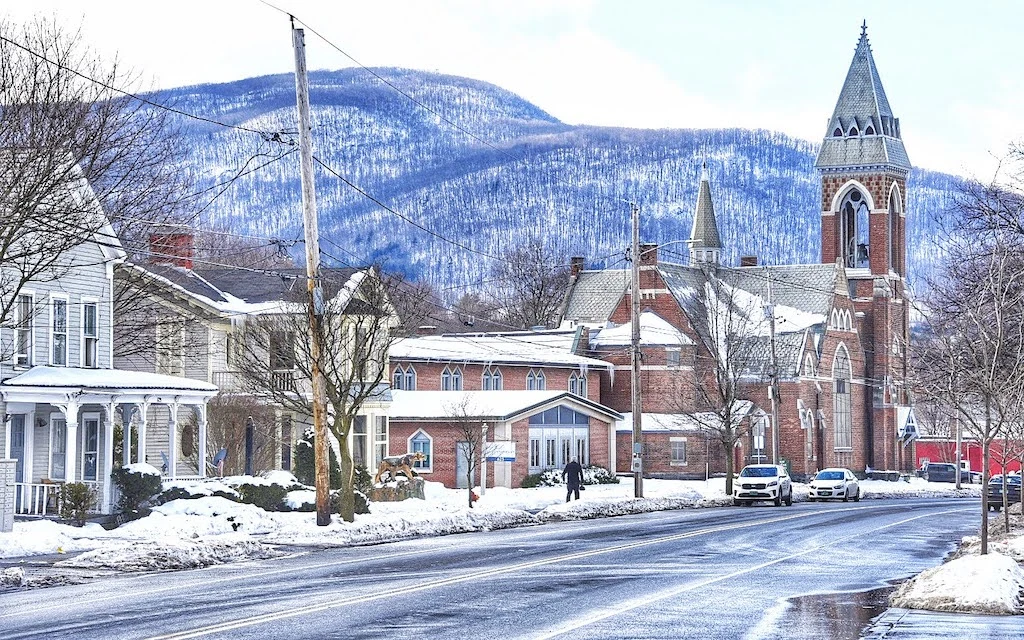 Collectively known as the Shires of Vermont, Bennington and Manchester embrace everything that we love about winter — beautiful trails for snowshoeing and skiing, postcard-worthy views and historic sites, and a healthy sprinkling of great restaurants and shops.
Spend a night in each shire town or make one your home base for the weekend. In Bennington, be sure to visit the Old First Church and the historic cemetery where poet Robert Frost is buried. Walk the grounds of Park McCullough House, and tour the bright red covered bridges that span the Walloomsac River.
In Manchester, the summer estate of Robert Todd Lincoln known as Hildene strikes a magnificent pose against a snowy backdrop. Tour the historic home, meander through the woods, and visit the goats at the Hildene Farm and Dairy.
The campus of Southern Vermont Arts Center sits on 12 acres at the foot of Mount Equinox. It features a state-of-the-art museum complex with an outdoor sculpture park and rotating indoor exhibits that feature nationally acclaimed and local artists.
---
February: Winter Glamping in Putney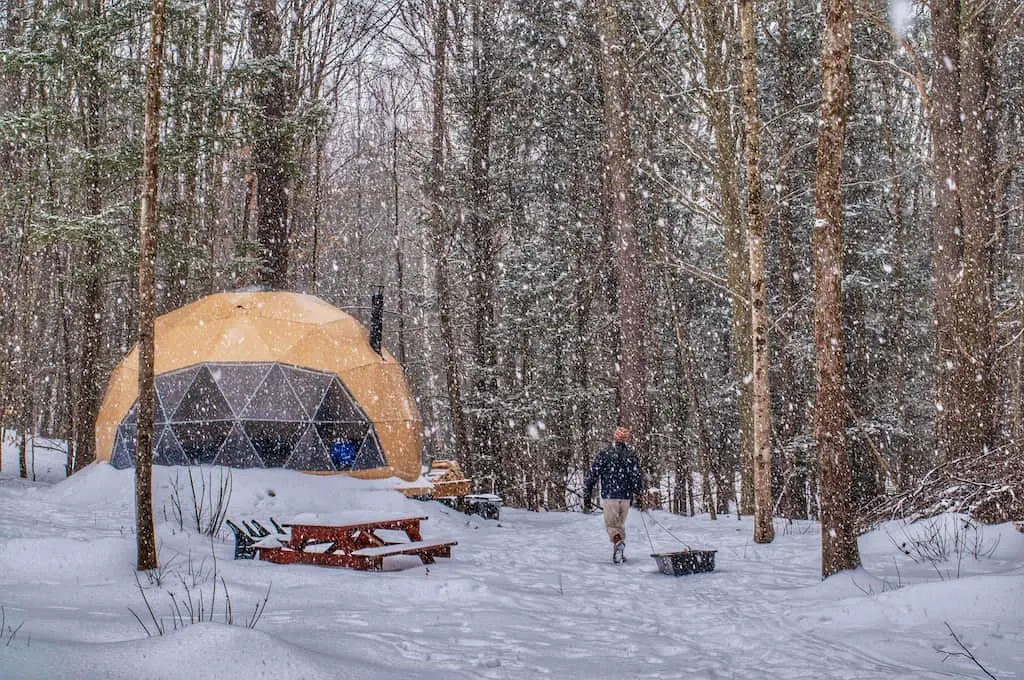 Looking for an adventurous way to spend a winter weekend in Vermont?
Pack your warmest clothes, your favorite coffee, some easy meals, and a pair of snowshoes, and head to this beautiful geodesic dome in Putney, Vermont for an off-grid getaway.
The interior of the dome is the aesthetic of every glamping retreat I've ever fallen in love with — lots of open space, plenty of light and warmth, and a super cozy bed next to a roaring woodstove. I
t's very simple and very inviting. It's also rustic. There isn't running water, but the outhouse is very close!
The glamping dome is located on 20 acres of woodland, and there are lots of trails to explore. You can also head over to one of our favorite spots for hiking, Putney Mountain.
Read more about our winter glamping experience in Putney, or head directly to Hipcamp to book your stay. Use our referral link to save $10 off your first booking.
---

March: Mud Season in Brattleboro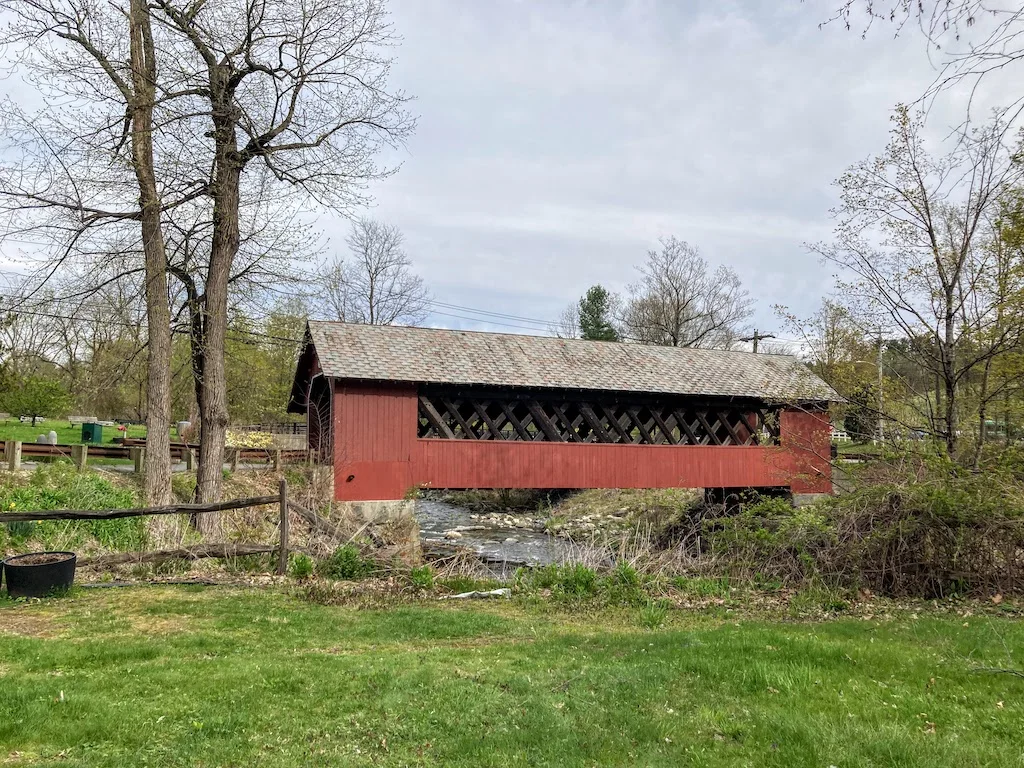 Brattleboro is a lively little town in the southeast corner of Vermont. It's the perfect escape for foodies and anyone who loves a bit of urban living in a small-town package.
A weekend in Brattleboro is the perfect escape for city dwellers. It's just three hours from Boston and four from NYC, plus it's one of the few towns in Vermont with an Amtrak station, so you can easily plan a car-free adventure.
Mud season, as Vermonters call March through May, is the perfect time to find excellent deals on lodging in Vermont, and in Brattleboro, you can also shop the lovely boutiques and antique stores, eat amazing food, and check out live music, theater, and gallery exhibits.
Here are some fun things to do and see in Brattleboro during mud season:
New England Center or Circus Arts: Offering special events and workshops throughout the year, if you've ever wanted to learn to juggle, swing on a trapeze, or try wire walking, you may want to check this out. Even if you don't fancy yourself a circus performer, there are spectator events throughout the year.
Brattleboro Museum and Art Center: BMAC is a non-collecting contemporary art museum focused on the work of living artists. Exhibits are housed in six galleries and are rotated every three to four months. The galleries are open Wednesday-Sunday, 10-4.
The Stone Church: If you are fortunate enough to be in Brattleboro when there's a performance at the Stone Church, be sure to buy tickets. This is a unique performance space with amazing acoustics, and the musical talent is always impressive.
Where to stay in Brattleboro: The Latchis Hotel is an 81-year-old quirky Art Deco building where you can travel back in time. From the terrazzo stairwells and stone corridors to the vintage radiators and bathroom fixtures, you'll find a touch of history in every corner of The Latchis Hotel.
---

April: Cabin Camping at Merck Forest in Rupert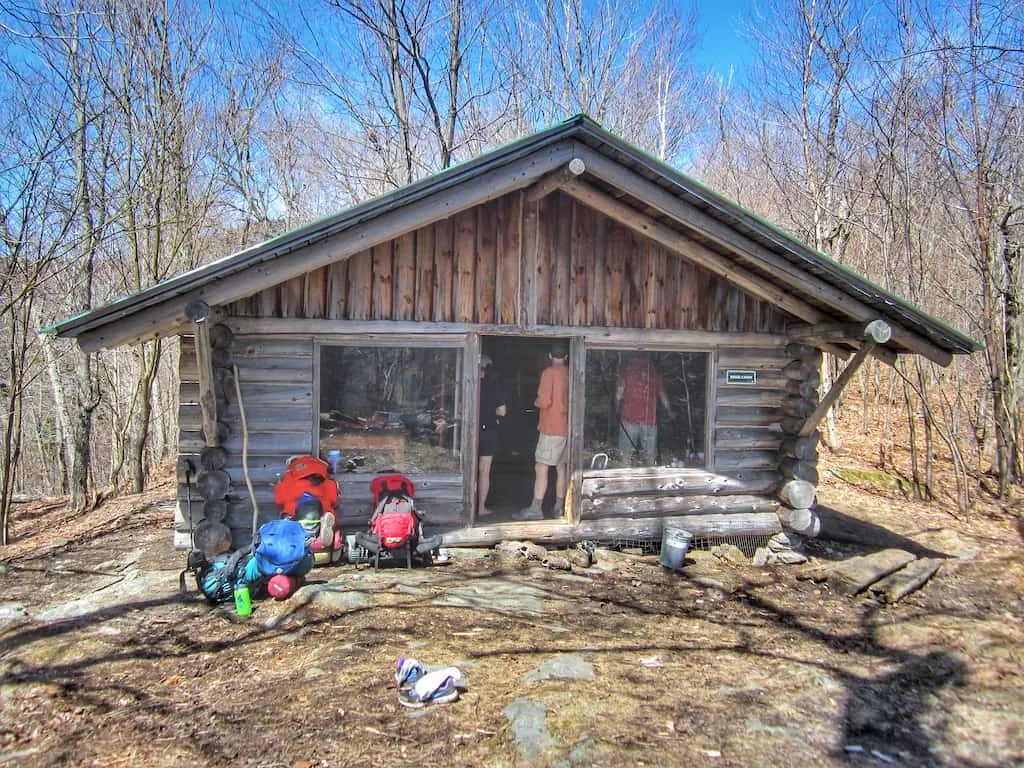 You may have noticed our affinity for outdoor adventures in Vermont. Enjoying the outdoors is one of the best ways we know to succeed at living in a rural state, and we wouldn't have it any other way.
Nights are still cold in April and the trees are still bare, but if you book a cabin at Merck Forest & Farmland Center for the weekend, you will undoubtedly start to see signs of springs in the forest.
Rustic cabins, complete with wood-burning stoves and stacked firewood are available for rent, as long as you are prepared to hike in your gear (0.5 to 2.25 miles from the visitor center).
The last of the maple sugaring happens in early April, and Merck Forest produces approximately 800 gallons of maple syrup from 2,900 taps. You can visit the sugar house to learn how syrup is made and buy some to take home.
April is also baby animal season on the farm. The 60-acre farm at Merck Forest is home to draft horses, sheep, and pigs that you can visit during your stay.
Finally, 30 miles of hiking trails allow visitors to explore the wonders of the forest. Our favorite is the hike to the top of Mount Antone with its panoramic vistas of the Taconic and Green Mountains.
Read more about cabin camping in Merck Forest.
---

May: Rockin' Vacation in Barre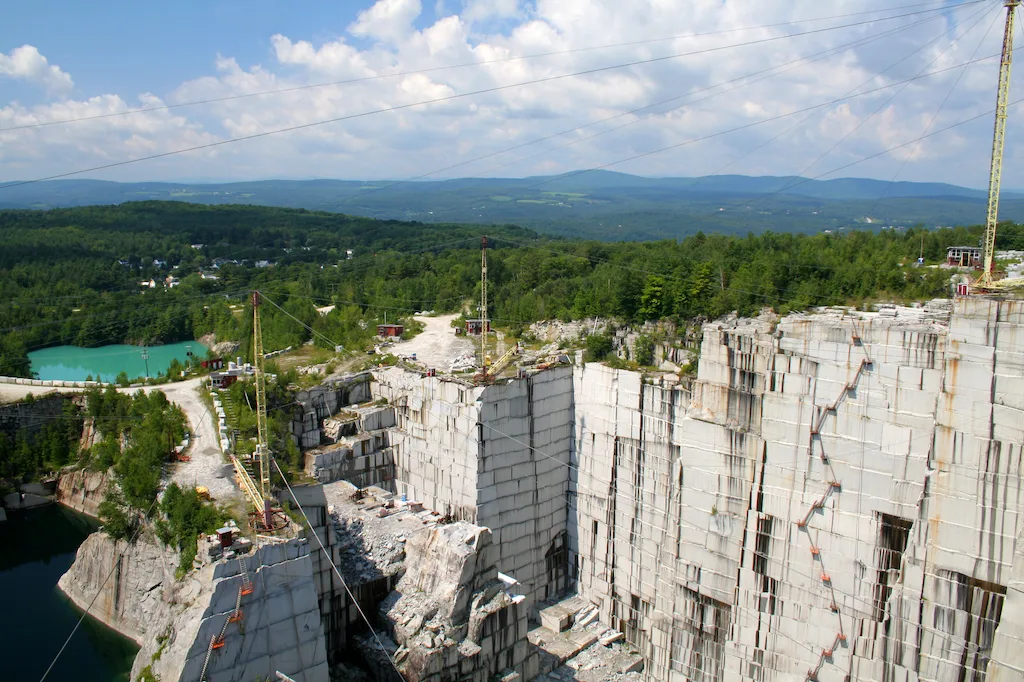 The city of Barre in central Vermont is home to Vermont's largest quarrying operation, Rock of Ages, where the beautiful grey stone is excavated from a 600-foot deep cavernous hole.
The stone is known as Barre Granite, and it is used extensively in the creation of monuments, statues, and gravestones around the world.
While Rock of Ages has been around since 1880, the very first quarry in Barre opened in 1812, and in 1867, stone sheds were built for skilled carvers who migrated from all over North America and Europe for the expanded economic opportunities or to escape the political, economic, and social crises in their home communities.
Barre granite became well-known for its exceptional strength, hardness, imperviousness, and resistance to weathering, and the sculptures became known for their ability to turn slabs of rock into finely detailed and beautiful works of art.
You can explore the history, art, and economics of Barre's famous granite with a weekend getaway.
Here are stops you won't want to miss during your visit.
Rock of Ages Quarry: Take a guided tour of the largest operating deep-hole, dimension granite quarry in the world.
Vermont Granite Museum: Located within an authentic turn-of-the-century granite manufacturing plant, the Vermont Granite Museum celebrates the geologists, technology, history, and art of Vermont's granite industry.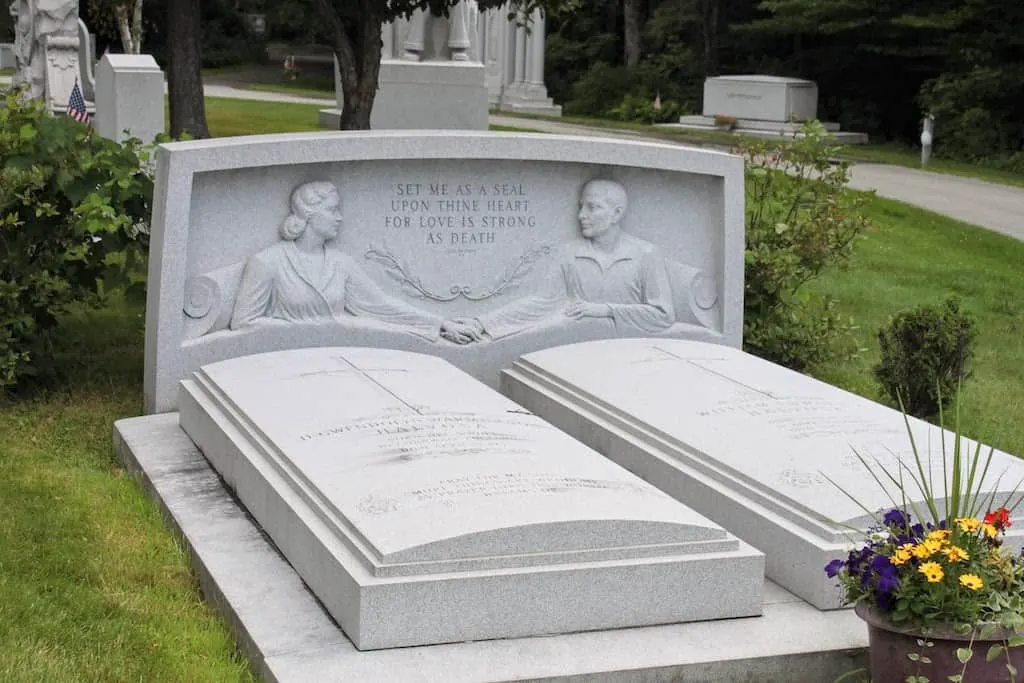 Millstone Trails: The Millstone Trails are a network of multi-use trails traversing the historic quarry lands of Millstone Hill. The trails wind their way through northern hardwood and coniferous forests and along exposed granite spines with fantastic views of the quarries.
Hope Cemetery: Hope Cemetery features incredible stone artistry from celebrated granite carvers through the ages. Like the marble industry, granite has been quarried, sculpted, and celebrated in Vermont since the Civil War.
Visit Hope Cemetery at 201 Maple Avenue in Barre, between 7 am and 5 pm.
Downtown Barre granite sculptures: Take a self-guided Art Stroll with Studio Place Arts through the city of Barre. Discover whimsical granite sculptures, both historic and contemporary.
Where to stay in Barre: Firehouse Inn is a historic inn that was once a firehouse, located along the Winooski River. It features free Wi-Fi, an on-site firefighter museum, and rooms with cable TV. The renowned Barre Opera House is across from the inn.
---
Read Next: Incredible Outdoor Sculpture Parks in Vermont
---

June: History and Hiking in Killington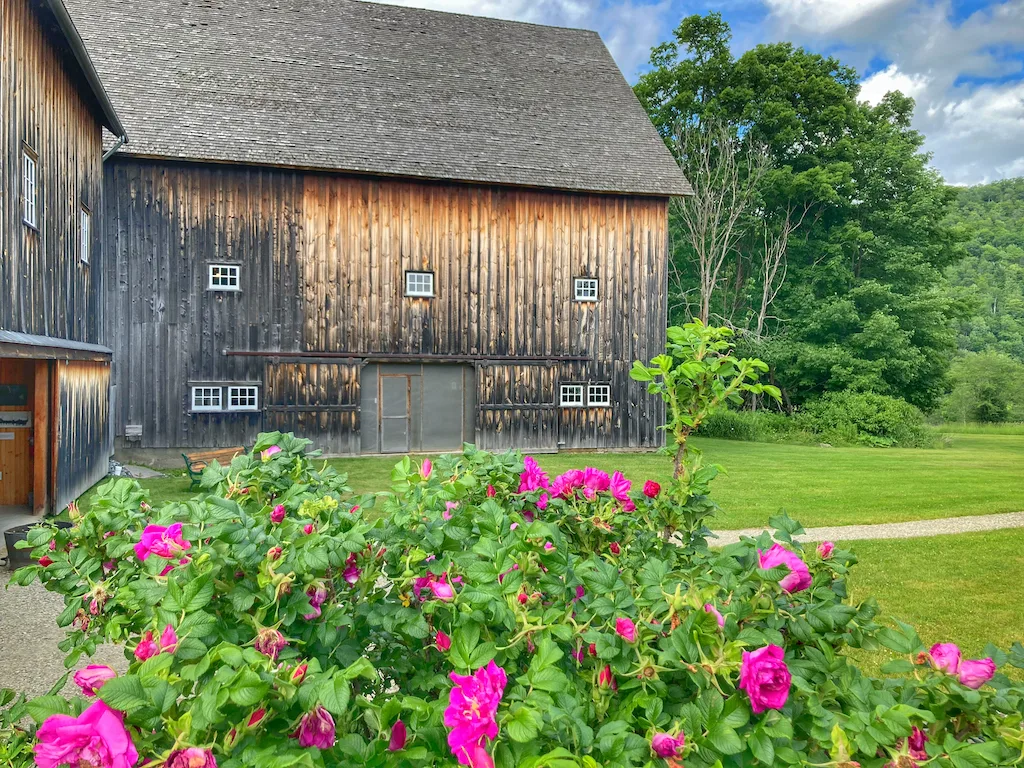 If you are looking for a hiking hub in Vermont with an abundance of trails, swimming, camping, waterfalls, and amazing views, you have to check out Killington!
Summer is a fantastic time to pitch a tent at Gifford Woods State Park and explore the Green Mountains in central Vermont.
Killington Peak is one of Vermont's few 4,000+ foot mountains, and the views from the top are spectacular.
Bucklin Trail is 7.4 miles (round trip) and brings you passed beautiful Irene Falls (pictured above) and up to the rocky peak after ascending 2,470 feet. It's not an easy hike, but it's so worth it.
Insider tip: Don't want to hike to the top of Killington? You can ride the gondola at Killington Resort to the top for the same views that your hiker pals achieve after two hours of huffing and puffing (you'll miss the pretty waterfall, though).
History lovers will also want to check out President Calvin Coolidge State Historic Site, the childhood home and village of the 30th President of the United States. the village of Plymouth Notch has been preserved much as it was during Coolidge's lifetime, and you can visit his boyhood home as well as the room where he was sworn into the office of the presidency on August 3, 1923.
From there, head to Long Trail Brewing in Bridgewater Corners, one of Vermont's oldest and most distinguished craft breweries.
---
Read Next: Incredible Killington Hiking Trails for Your Next Adventure
---

July: Summer Adventures in Stowe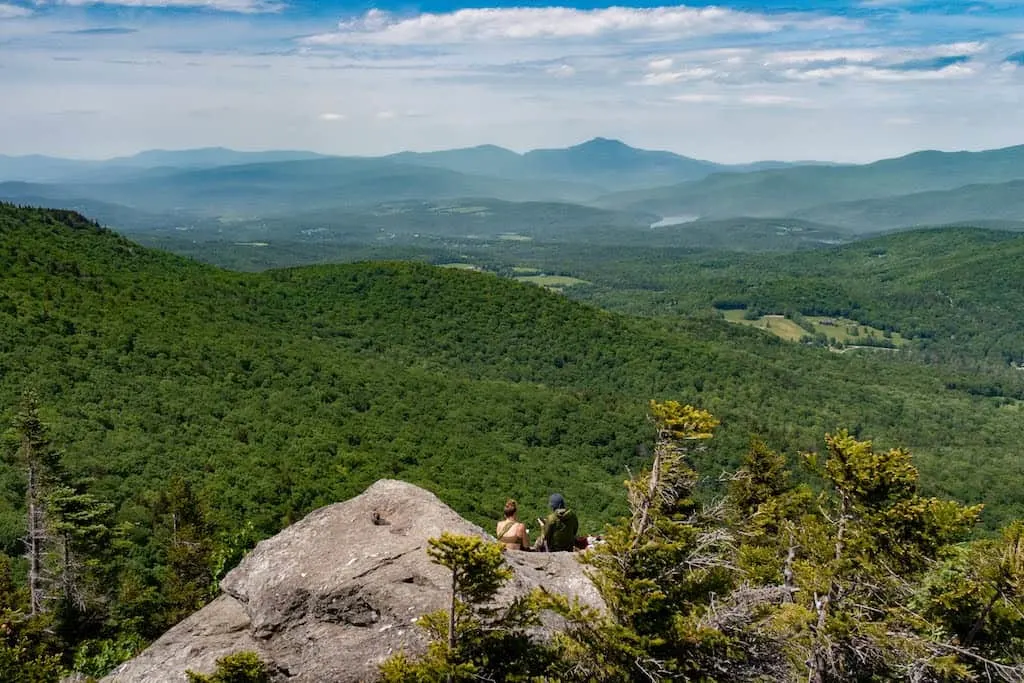 Stowe is another mountain village in Vermont that embraces the outdoors. It's got two of the most beautiful waterfalls in the state, the tallest mountain in Vermont, and too many hiking trails to count.
At 4,395 feet, Mt. Mansfield in Stowe is Vermont's highest mountain. On a clear day, you can see west to Lake Champlain, north to Canada, and east to New Hampshire.
There are several trails leading to the top, but if you don't have time for an all-day hike, consider driving the auto-toll road or riding the gondola to the top of the mountain from Stowe Mountain Resort.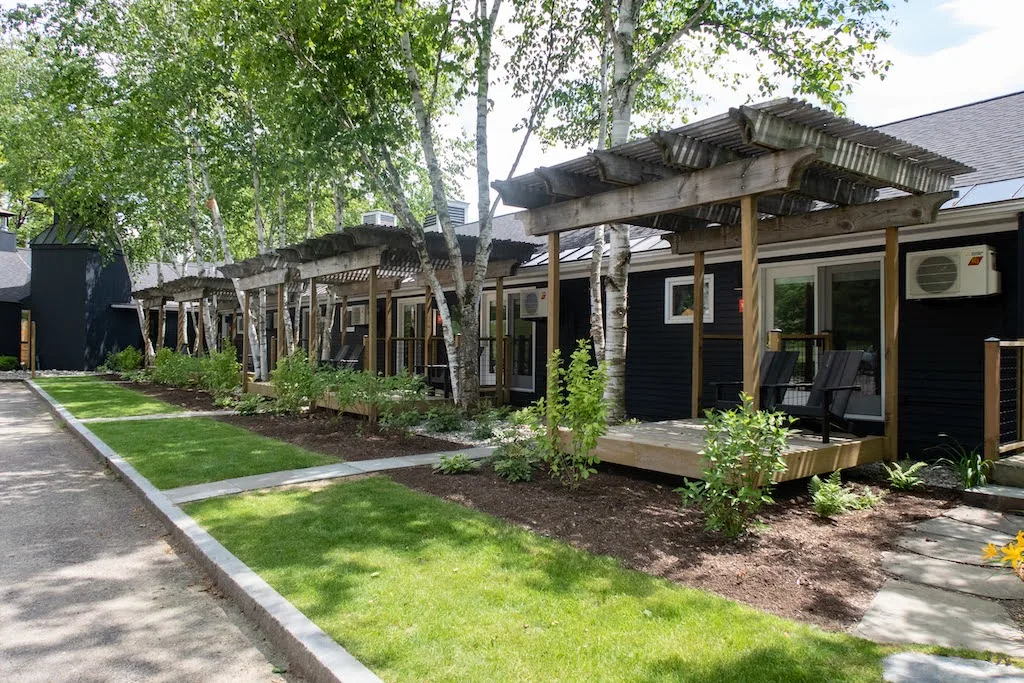 The village of Stowe is buzzing with activity in every season, and there is no shortage of cute Vermont shops and fantastic restaurants. Be sure to visit the Vermont Ski and Snowboard Museum, walk on the Stowe Recreation Path, and hike up to Sunset Rock, for – you guessed it – the sunset.
Pop into Black Cap Coffee for lunch or an afternoon espresso, and treat yourself to dinner at Idletyme Brewing (great outdoor seating and fantastic onion rings).
Where to stay in Stowe: Tälta Lodge Bluebird is our new favorite place to stay in Stowe, this beautiful lodge is located on the Mountain Road with the river flowing behind the property.
You can easily access the Stowe Recreation Path and Smuggler's Notch is just up the road. Rooms come with an outdoor seating area, and there is an indoor pool and sauna. Unfortunately, pets are not permitted.
---
Read Next: 18 Delightful Things to Do in Stowe VT: A Four-Season Guide
---
August: Small Town Adventures in Jamaica, Londonderry, and Weston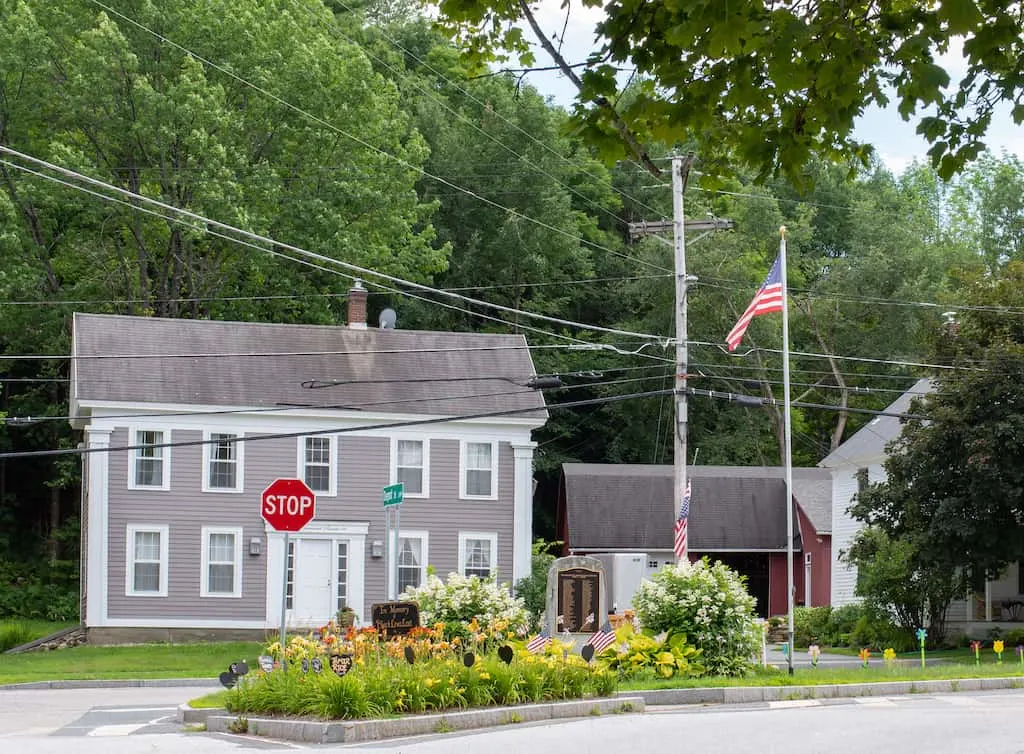 Explore small-town Vermont in the summer, and you may find yourself packing your bags to move here permanently.
Southern Vermont has no shortage of beautiful towns worth exploring, but the mountain villages of Jamaica, Londonderry, and Weston are particularly charming.
The village of Jamaica is the gateway to Jamaica State Park, with its numerous swimming holes and great campsites.
Londonderry features several shops and restaurants, Taylor Farm (known for its artisanal cheese), and Lowell Lake, one of the area's premier paddling spots.
In Weston, you won't want to miss the world-famous Vermont Country Store, where you can stock up on everything from penny candy to flannel nightgowns.
All three towns feature historic churches and buildings just begging to be photographed and back roads that beckon from beyond the town limits.
Where to stay: If you don't mind roughing it, I can't say enough great things about camping in Jamaica State Park. For a more refined experience, book this adorable riverfront home with a private deck in Weston.
---
September: A Relaxing Weekend in the Lake Champlain Islands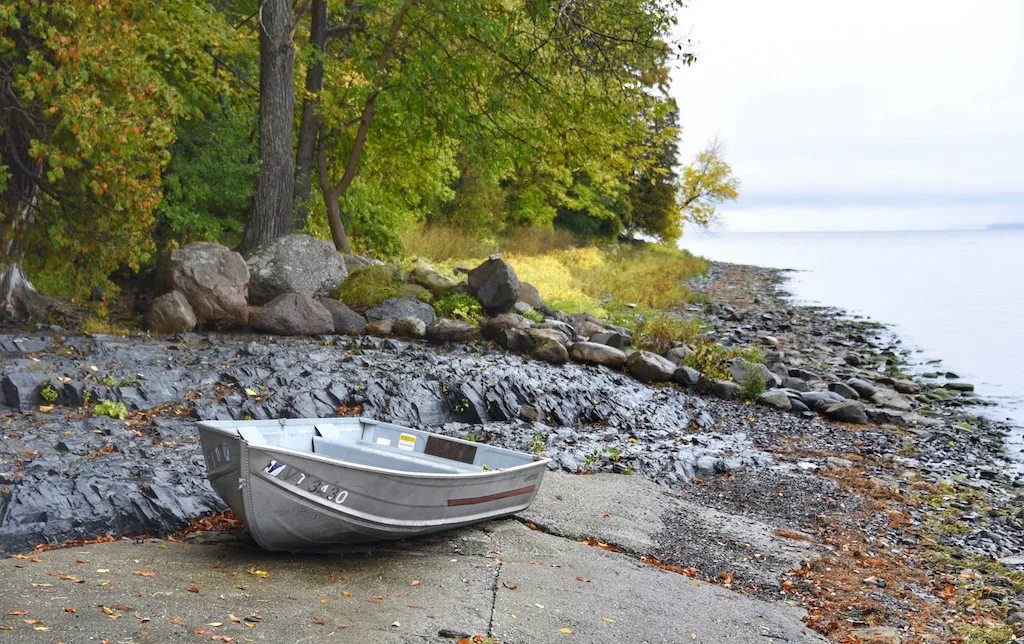 The Lake Champlain Islands in Vermont are unassuming — as if they haven't quite figured out how popular they actually are.
The three islands and one peninsula that make up what locals call 'the Islands' are home to regular folk — farmers, school teachers, and construction workers, living in modest homes with million-dollar views.
There is no wrong time to visit the Lake Champlain Islands, but there is something magical about September when orchards are open for pick-your-own apples, every farm stand is bursting with fresh veggies, and the lake is still warm enough to swim in.
Between mid-September and mid-October is the shoulder season that dreams are made of, provided you aren't looking for nightlife that involves more than gazing at the stars.
Here's an overview of the best things to do on a fall weekend in the Lake Champlain Islands:
Alburgh Dunes State Park: A 625-acre day-use park that includes one of the largest sandy beaches on Lake Champlain, as well as unique sand dunes that are more common along ocean shorelines.
St. Anne's Shrine: A peaceful, spiritual, and historical attraction, which has been developed and maintained for the past 100 years by the Society of Saint Edmund in Vermont's scenic Champlain Islands.
Chazy Fossil Reef: Step back in time and explore one of the oldest known coral reefs in the world! Lake Champlain was once part of a tropical sea, and the fossilized plants and animals at the Chazy Reef are approximately 480 million years old.
Snow Farm Vineyard in South Hero: How many of you knew that the oldest commercial vineyard and winery in Vermont was located in South Hero? Stop in for a tasting, where you can choose to taste four or eight wines, both red and white before hiking up to the high point in the island (279 feet).
Where to stay: Rent one of the rustic camping cabins at Grand Island State Park or stay at Snow Farm Inn, right down the road from Snow Farm Vineyard with gorgeous Lake Champlain views.
---
Read Next: Plan a Perfect Fall Weekend on Lake Champlain
---

October: Fall Foliage in the Northeast Kingdom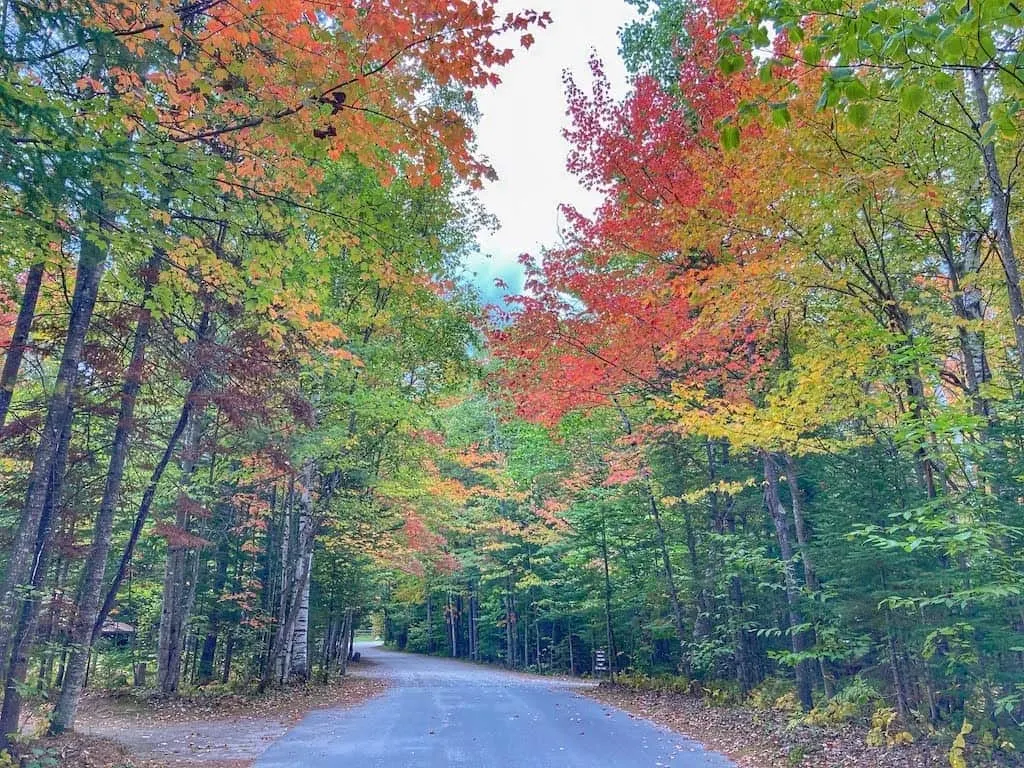 Never underestimate the power of a few million leaves breaking down chlorophyll to captivate the soul.
You can plan a trip to just about any corner of Vermont during the leaf-peeping season to marvel at nature's handiwork, but the Northeast Kingdom (NEK) of Vermont is one of the most enchanting spots to be in early October.
The leaves start to change color in the NEK before anywhere else in Vermont, and the massive tracts of forested land make this area a feast for the eyes.
Plan to take things slow, and explore some of the many back roads, thousands of lakes and ponds, and numerous hiking trails in the area.
Here are some of our favorite spots to visit in the Northeast Kingdom in the fall:
Lake Willoughby, Westmore: Lake Willoughby is the deepest lake entirely within Vermont, and I'd argue that it's also one of the most picturesque. Take an easy hike on the South Shore Trail or the more exhilarating hike up Pisgah for breathtaking views.
Old Stone House Museum, Brownington: Listed in the National Register of Historic Places, the Old Stone House Museum & Historic Village was established by the Orleans County Historical Society and has been operating as a museum since 1926. It has now grown from one building to become an impressive historic site with seven restored buildings and three neighboring structures, all dating from the early 1800s.
Jay Peak, Jay: Visit Vermont's only tram for views of the Northeast Kingdom and Quebec from an elevation of almost 4,000 feet, or hike to the top for the same views with a nice workout. Jay Peak Resort also houses Vermont's only indoor waterpark.
Peacham, Vermont: Classic New England scenery in a small package!
Brighton State Park and Island Pond: Island Pond is another quintessential New England village with spectacular foliage. Hike the Bluff Mountain Trail for views of the village and surrounding lakes and ponds, or rent a rustic cabin in Brighton State Park to explore more of the area.
Where to stay: The Village Inn in East Burke, Vermont provides beautiful accommodations in the Northeast Kingdom.
---
November: Holiday Shopping and Craft Beer in Burlington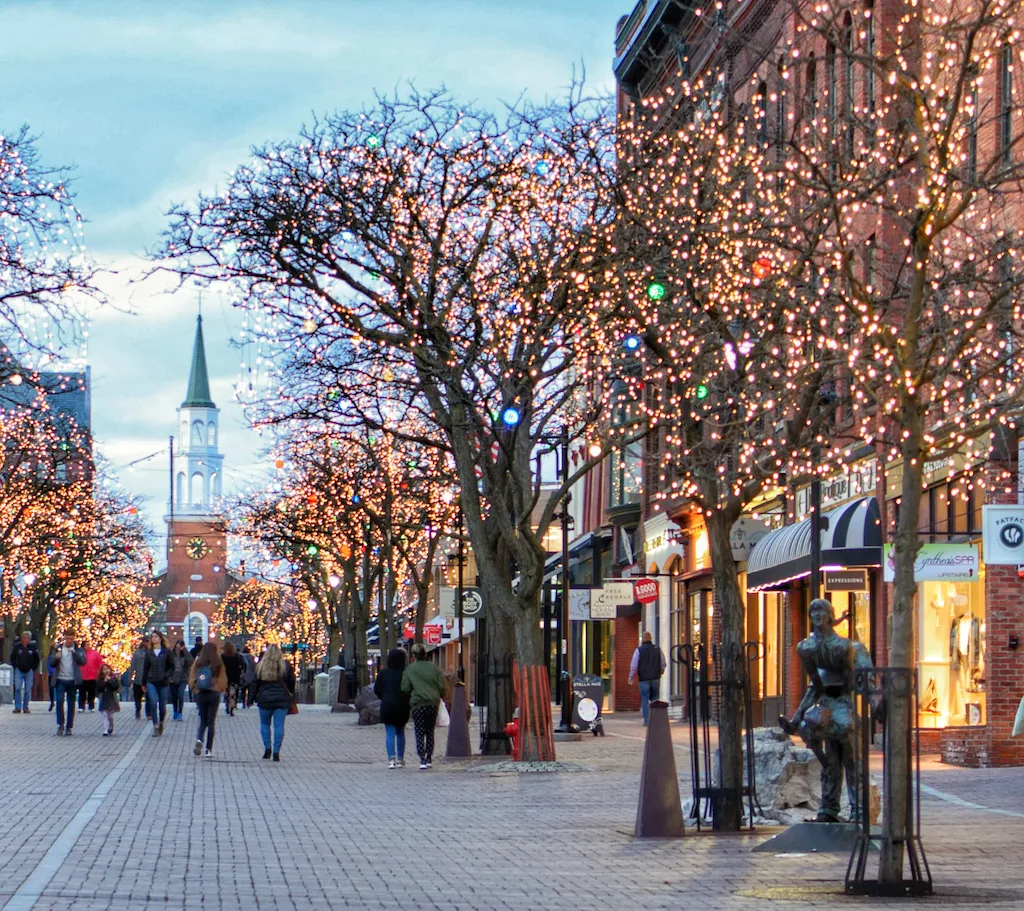 Vermont is largely rural, and while many towns include a few wonderful shops where you can pick up unique gifts, Burlington takes the prize for its wonderful shops and restaurants along the pedestrian-only Church Stree Marketplace.
If holiday shopping is on your to-do list, why not make a vacation out of it?
Burlington is Vermont's largest city, and with just over 40,000 people, it's small enough to walk just about everywhere (just dress appropriately – those winds off Lake Champlain can be brutal).
Here are a few indoor activities that we'd recommend checking out while you're in Burlington:
Visit the Echo Center on Lake Champlain: This science and nature museum features live animals, changing exhibits, and a 3D theater. Learn all about the history, geology, and ecology of the Lake Champlain Basin.
Take a Burlington Brewery Tour: Most of the craft breweries on the Burlington Beer Trail are within walking distance of each other, but if you don't want to hoof it, check out the Sip of Burlington Tour, which provides a designated driver and VIP access to local breweries.
Check out Burlington City Arts Center: Part gallery, part art education center, Burlington City Arts features rotating exhibits, classes, and open studio time.
Go Climbing at Petra Cliffs: This indoor climbing facility in Burlington appeals to every type of climber, even folks that have never done it before. Great for kids and adults.
Visit Get Air Trampoline Park: Visiting Burlington with kids? Get Air in Williston is one of the best ways for them to burn off energy indoors. Not only does Get Air have thousands of square feet of trampolines, but they've also got foam pits, slack lines, and special events.
Where to stay in Burlington, Vermont: While I don't usually recommend large chain hotels, but the Hilton Garden Inn in Burlington is impressive in its location, price, and comfort. Even the lobby is beautiful. This Hilton is located on Main Street, just a few blocks from the Church Street Marketplace and the waterfront. It's also got an indoor pool and fitness center.
---
Read Next: Easy Hikes Near Burlington, Vermont
---
December: Romantic Winter Weekend in Woodstock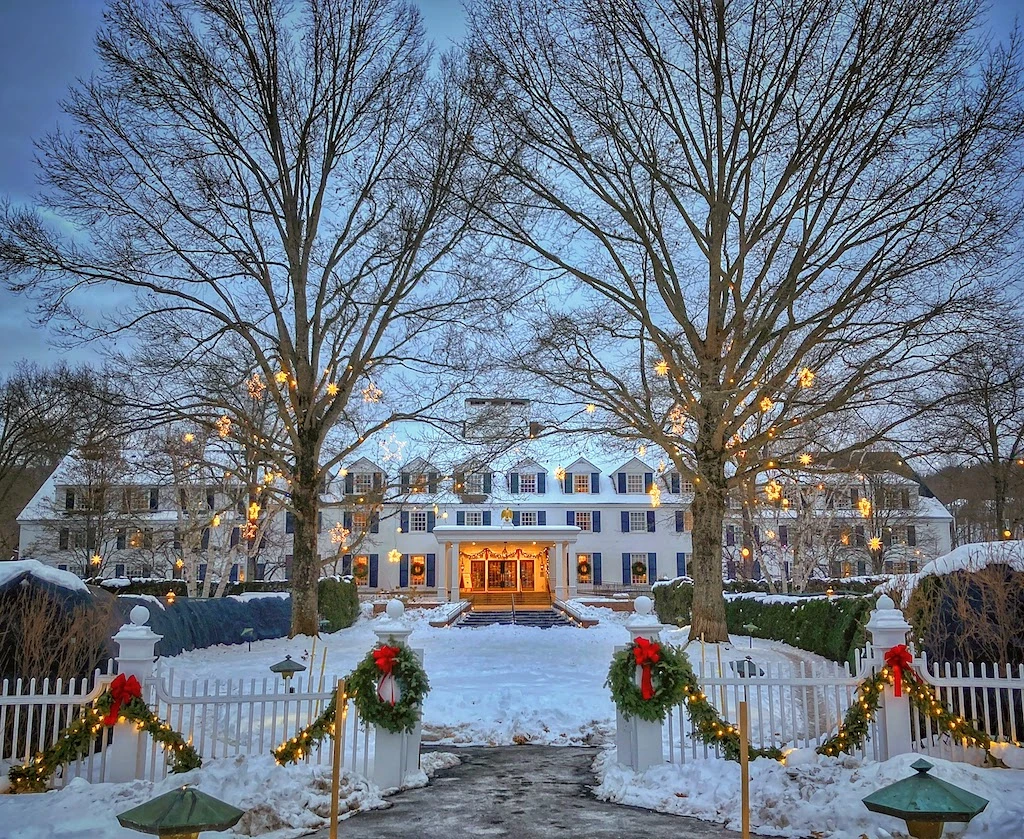 There's nothing quite as magical as a winter weekend in Vermont, and while there are lots of adorable towns worth visiting, a stroll through the historic town of Woodstock in the winter is like walking right into a snow globe!
From the center of town, you can explore several blocks of beautiful historic homes, festive holiday decorations, and incredible shops and restaurants. We recommend taking the afternoon to get the lay of the land and poke around in the shops.
If you love cross-country skiing or are interested in learning how to do it, Woodstock is one of the best spots to give it a go. The Woodstock Inn & Resort grooms the Nordic ski trails in Marsh-Billings-Rockefeller National Historical Park (Vermont's only national park) and the trails on Mount Peg. There are 45 km of trails, and many of them are perfect for beginners. There are a few more difficult trails for experienced skiers too.
Billings Farm & Museum is a working farm and non-profit organization on 200 acres in Woodstock, Vermont. If you're interested in learning more about farm life, meeting some adorable farm animals, taking a winter sleigh ride, or just meandering around a beautiful farm, you have to make time for a visit.
Finally, if you can't decide on which weekend to visit Woodstock, consider Wassail Weekend, which will be taking place December 9-11, 2022. This festive holiday weekend includes a scavenger hunt, a gingerbread house contest, live music, kids' activities, and a holiday parade.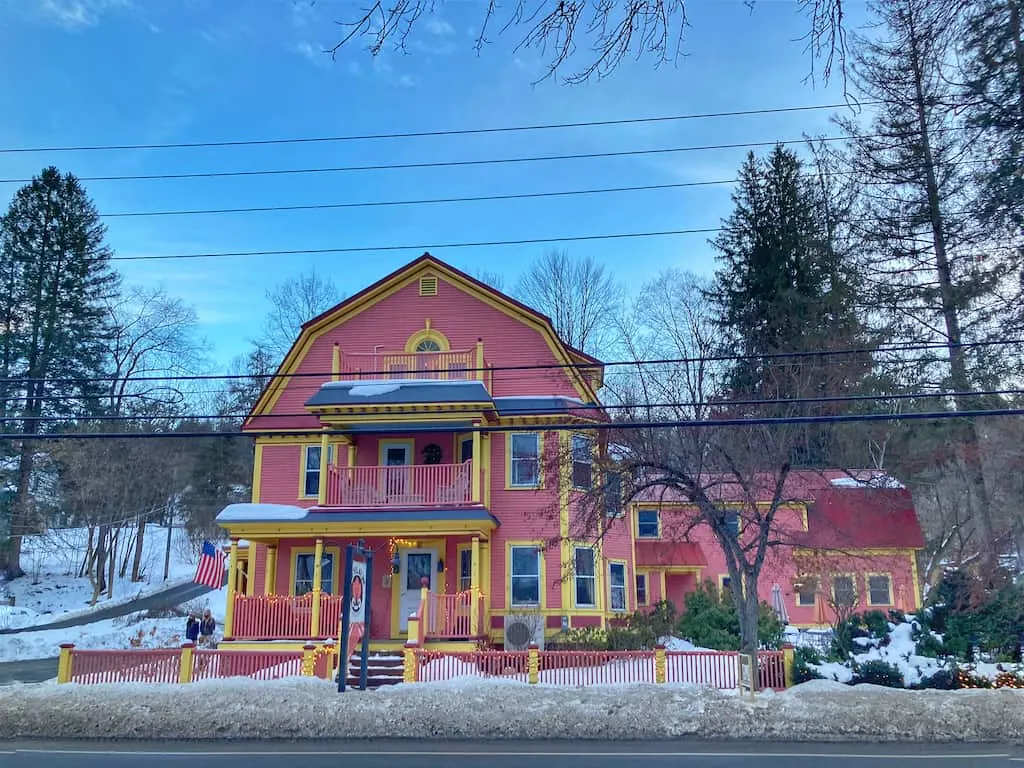 Where to stay in Woodstock: The Village Inn of Woodstock is beautifully pink on the outside and the interior features luxurious rooms with fireplaces. It's located within walking distance of everything downtown Woodstock has to offer.
---
Ready to plan your next Vermont weekend getaway? No matter when you choose to visit, there's a remarkable Vermont vacation with your name on it!
---
Follow us on social media for more Vermont inspiration!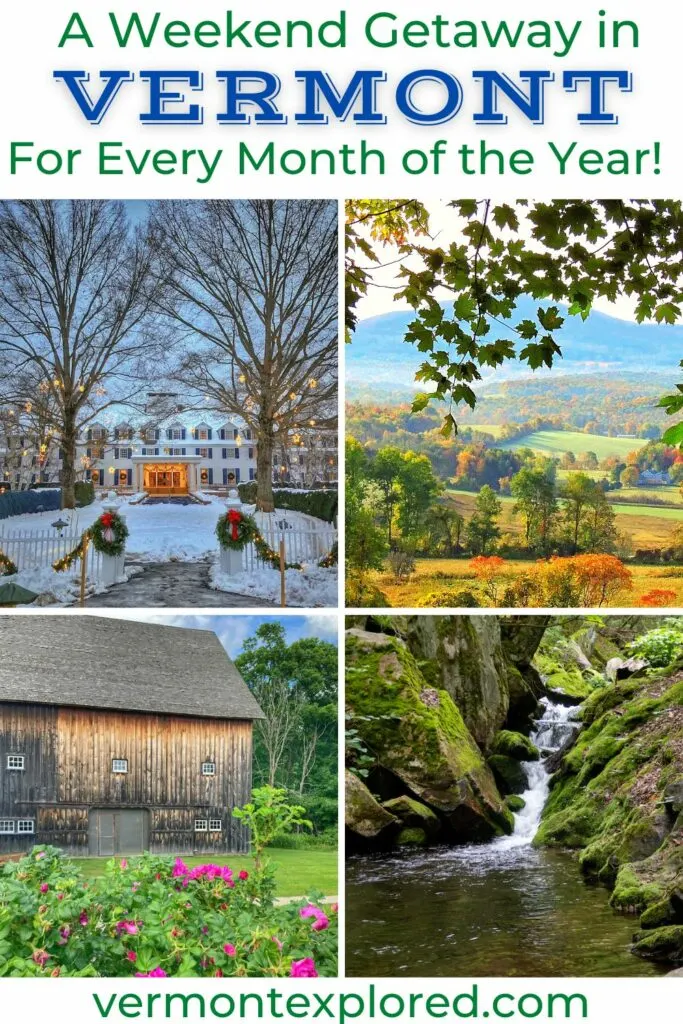 Tara Schatz is a freelance writer, and the founder and editor-in-chief of Vermont Explored and Back Road Ramblers, an American road trip blog. She is also the co-author of the 3rd edition of AMC's Best Day Hikes in Vermont, which was released in May 2023, and the author of 100+ Wonderful Ways to Experience Vermont.