Is there anything as magical as a snowy winter in Vermont? The days may be short and the roads icy, but if anyplace can embrace winter in all its glory, it's definitely the Green Mountain State, which becomes a winter wonderland between January and March, with cold and snow stretching far beyond that.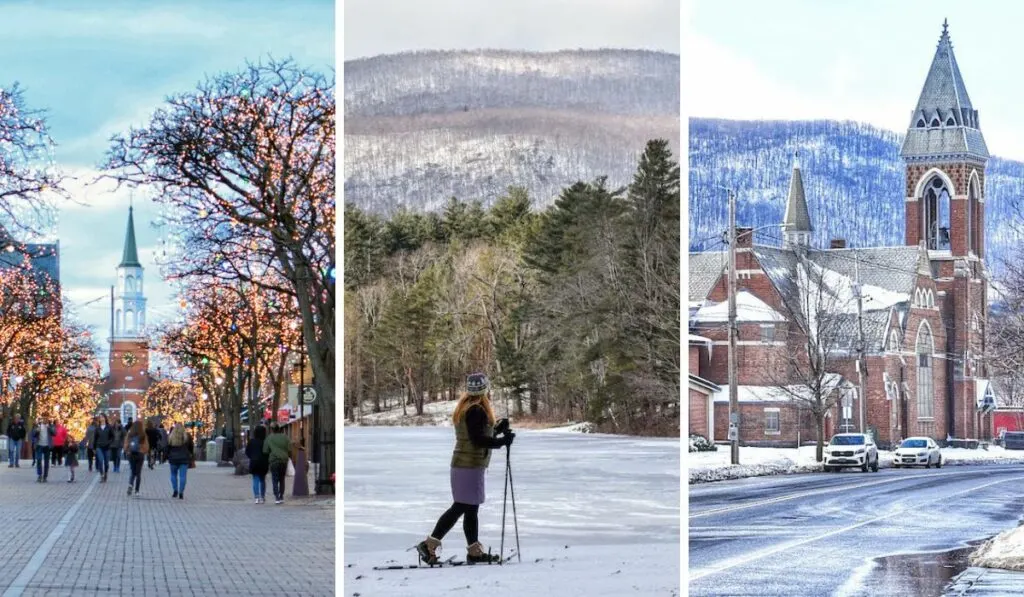 You may think that Vermont in the winter is only for skiers. Not true! While the mountains of Vermont have been attracting downhill skiers for decades, there is so much more to winter in Vermont than skiing.
The truth is, no matter where you stay in Vermont, you're not very far from a world-class ski resort, so this post is going to focus on winter destinations in Vermont that have more to offer than just skiing.
If you're on the fence about visiting Vermont in the winter, let me help you change your mind. Here are a few of our favorite Vermont winter getaways for the perfect snowy weekend.
Bennington and Manchester, Vermont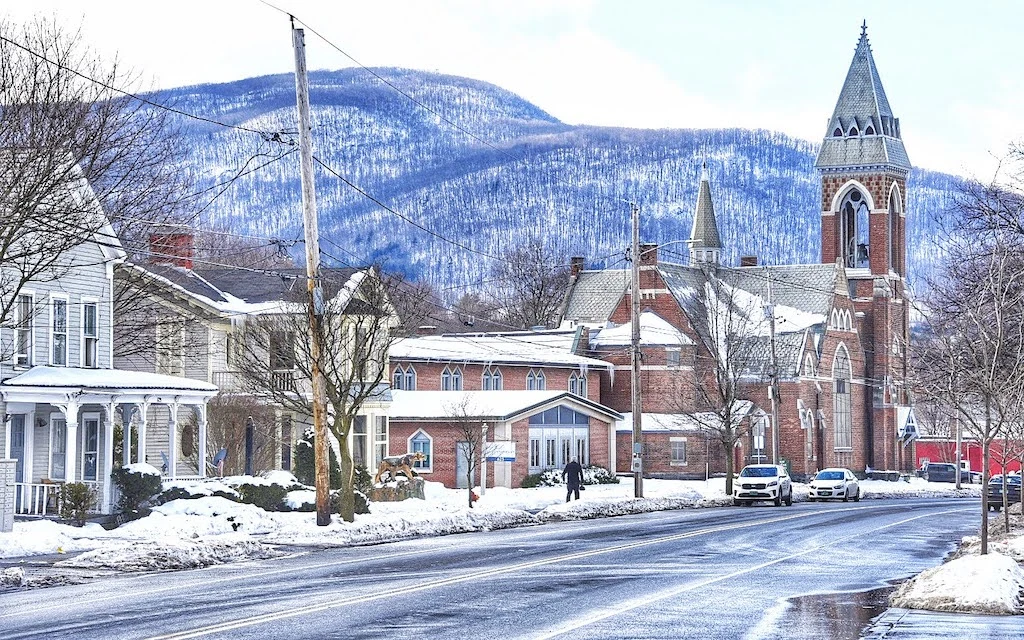 Bennington County in Vermont has two county seats – Bennington in the southern part of the county and Manchester, about 30 minutes north. Between the two towns, there is no shortage of things to do in the winter, whether you're into outdoor recreation, shopping, or cultural and historical attractions.
Where to Stay in Bennington, Vermont
We recommend spending a night in Bennington and a night in Manchester so you can explore both towns properly. In Bennington, stay at the luxurious Four Chimneys Inn with its beautiful classic decor and premium location in historic Old Bennington. For a more budget-friendly option, check out The Hardwood Hill, which features eclectic local artwork in every room.
The Best Hotels in Manchester, Vermont
Check out these beautiful spots for the second night of your Vermont winter getaway:
What to do in Bennington and Manchester in the Winter
In Bennington, you'll want to spend some time wandering around historic Old Bennington, which is just west of downtown. Check out the Bennington Monument at the top of Monument Avenue and then stroll past 18th-century homes as you make your way to the Old First Church. You can also visit Rober Frost's grave, which is located in the cemetery behind the church.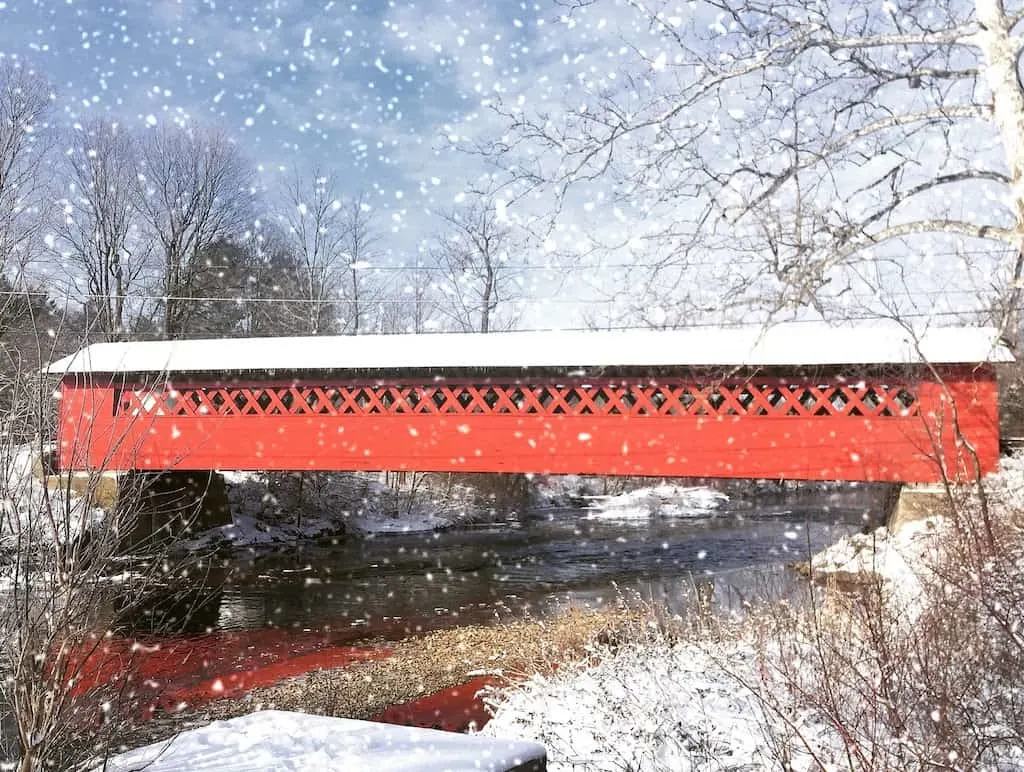 Since you'll be driving north to Manchester anyway, be sure to embark on a covered bridge tour of Bennington County, which is fun no matter what time of year you visit.
In Manchester, be sure to visit Hildene, the former home of Robert Todd Lincoln (son of President Lincoln). This historic home was built in 1905 as a summer estate. Guided tours are offered throughout the year.
If you can't imagine visiting Vermont without skiing, head east to Bromley Mountain for a day on the slopes. Bromely is a wonderful family-friendly mountain with trails for all levels of experience. For a more mellow outdoor experience, rent snowshoes at the Mountain Goat and head to Equinox Preserve for a quiet woodland walk.
If this sounds like the perfect collection of things to do in Vermont in the winter, be sure to check out the complete winter itinerary for exploring Bennington and Manchester.
Woodstock, Vermont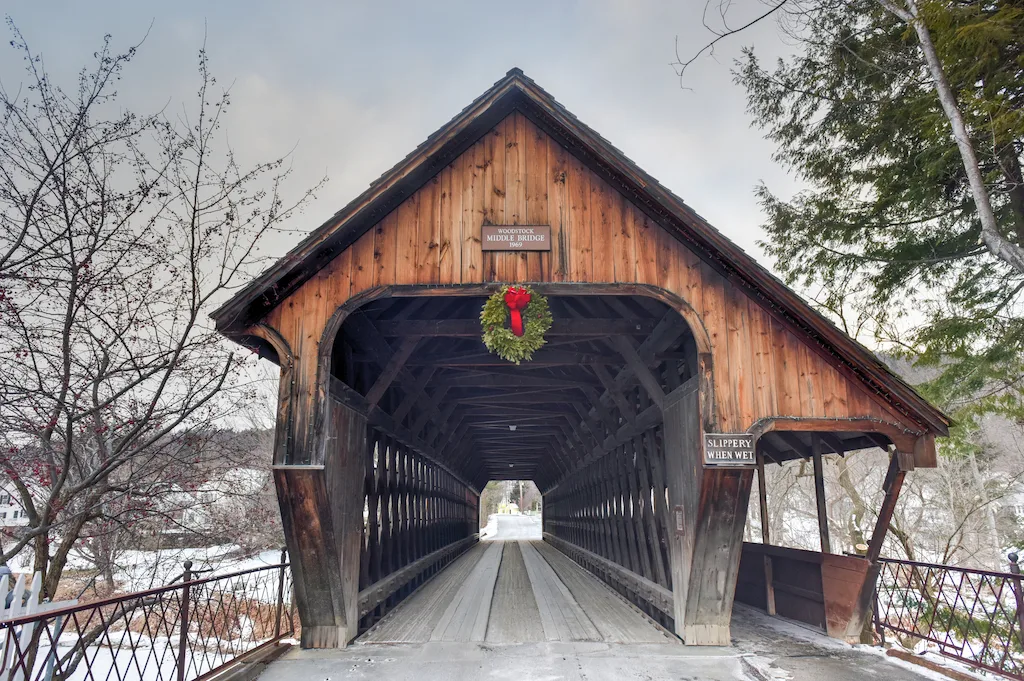 Woodstock is another town that fully embraces winter. While Woodstock is a popular Vermont destination year-round, winter is probably our favorite time to explore the area without the crowds that flock here in the summer and fall.
Woodstock was first settled in 1768, and the town has managed to preserve the historic nature of the downtown area. In fact, the entire downtown district is listed on the National Register of Historic Places. Early 19th-century homes and many Federal and Greek Revival buildings line Elm Street.
Where to Stay for your Vermont Winter Weekend in Woodstock
If you don't mind putting a bit of a dent in your wallet, nothing compares to a weekend at the Woodstock Inn and Resort. Not only is this posh hotel located right downtown, but it also features four unique restaurants, a contemporary spa, and a Nordic Ski Center with 45 km of trails that are great for skiing, snowshoeing, and fat biking.
For a more affordable option, check into the Shire Woodstock, a riverfront motel with beautifully appointed rooms with fireplaces and cozy linens.
What to do in Woodstock, Vermont in the Winter
Did you know that Woodstock is home to Vermont's only national park? Marsh-Billings-Rockefeller National Historical Park. Part nature preserve, part history museum, the national park service calls this unique park, "the only national park to tell the story of conservation history and the evolving nature of land stewardship in America."
Winter is a great time to explore the multi-use trails that criss-cross the Marsh-Billings-Rockefeller property (free), as well as the groomed cross-country ski trails ($$) that are maintained by Woodstock Inn and Resort. Meander around the Pogue, head up to the Woodstock Star on the South Peak of Mount Tom (1,250 feet). This trail map shows the multi-use trail in yellow, which is free to hike or snowshoe on in the winter.
If alpine skiing is more your speed, head to Woodstock's beloved local ski mountain, Suicide Six, which is affordable and great for beginners. Nearby Quechee Club offers downhill skiing, groomed cross-country trails, and an ice skating rink, making it the perfect place to spend a snowy afternoon.
Finally, if you crave a little retail therapy, meander into downtown Woodstock and pop into a few of the many boutique shops, art galleries, and clothing stores. The Vermont Antique Mall in Quechee is Vermont's largest antique mall and the perfect spot to step out of the cold and back in time.
Read our complete itinerary for your winter weekend in Woodstock, Vermont!
Burlington, Vermont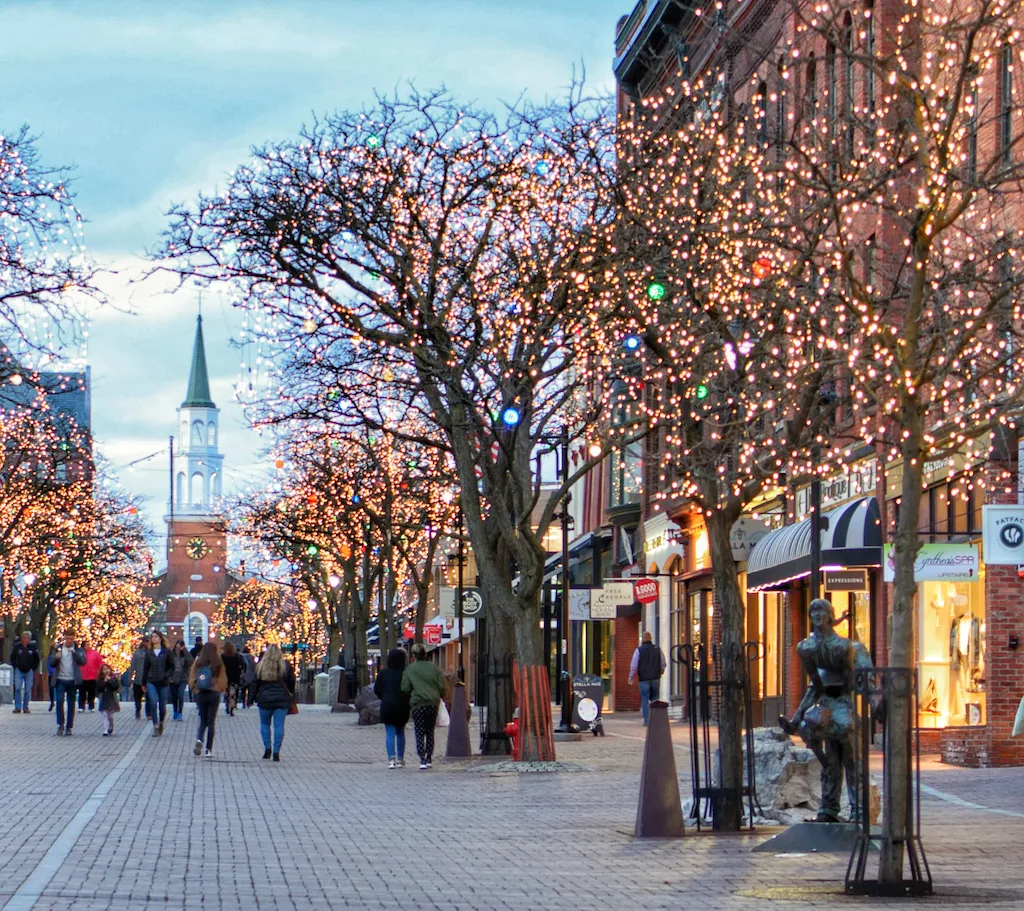 For a more urban winter getaway in Vermont, your only choice is the relative metropolis of Burlington. That's not to say that you can't partake in dozens of outdoor activities, but those adventures can be bookended with world-class dining, cultural attractions, and shopping. This small, but vibrant city is located on the shores of Lake Champlain with incredible views of the Adirondacks across the lake in New York.
Where to Stay in Burlington this Winter
When it comes to Burlington hotels, we pretty much always choose to stay right downtown so we can get around on foot. This allows us to take advantage of the restaurants and shopping without constantly having to get in the car. Here are our top choices for lodging in Burlington.
The Best Things to do in Burlington, Vermont in the Winter
True story – during my college days in Burlington, I would often walk downtown to buy coffee at Speeder & Earl's on Church Street and walk back to my apartment. On more than one occasion, my coffee actually had a layer of ice on it by the time I had walked three blocks. Burlington in the winter is not for the faint of heart.
Fortunately, there are plenty of things to do indoors and out in Burlington to keep you warm, just don't get your coffee to go. If you have your own Nordic skis, there are a lot of great spots to take advantage of free ski trails in Burlington.
Cross-Country Skiing and Ice Skating in Burlington
The Intervale grooms seven miles of trails for both classic and skate skiing. It's totally free and dogs are permitted. Another option is to ski on the side of the Burlington Greenway. The middle is often plowed for walkers, but there is usually plenty of room for classic skis on the edge of the path.
If you are new to cross-country skiing, I recommend starting at Catamount Outdoor Center in Williston, where you can rent skis, take a lesson, and enjoy more than 35 km of groomed trails.
Ice skating is another great way to get outside in Burlington. I grew up ice skating at the indoor rink at Leddy Park, but the six outdoor rinks in Burlington are a great free alternative if you have your own skates.
Indoor Activities in Burlington, Vermont
When the winter winds blow across Lake Champlain and freeze the coffee in your mug, you need to find something to do indoors. We get it! Here are a few indoor activities that we'd recommend checking out while you're in Burlington.
Brattleboro, Vermont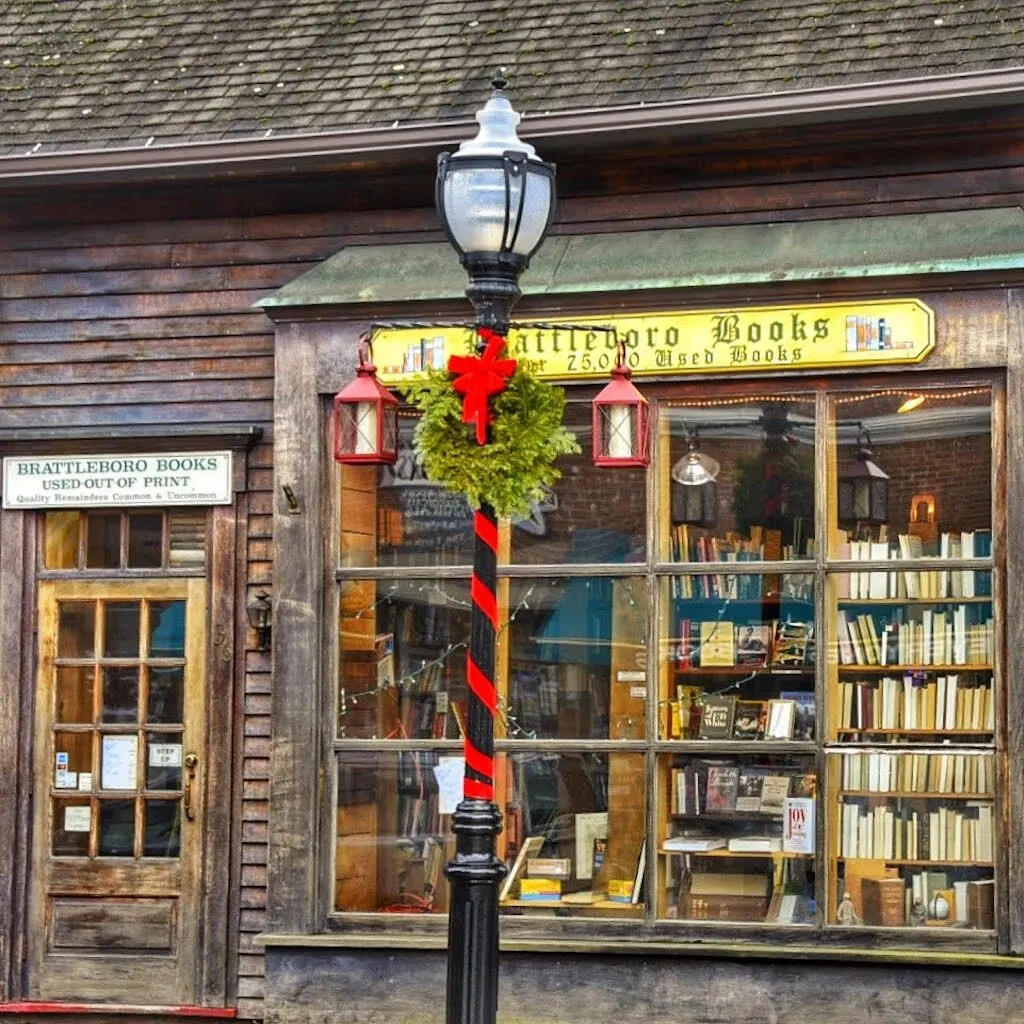 A winter weekend in Brattleboro is the perfect escape for city dwellers. It's just three hours from Boston and four from NYC, plus it's one of the few towns in Vermont with an Amtrak station, so you can easily plan a car-free adventure.
The historic downtown community in Brattleboro is nestled in the foothills on the western bank of the Connecticut River. While the population of Brattleboro is just over 12,000 people, the town embraces an urban identity with eclectic restaurants, live music, theater, and shopping.
Where to Stay in Brattleboro, Vermont
Whether or not you bring a car to Brattleboro, you should stay downtown if you can. There's only one downtown hotel, but it's a good one!
The Latchis Hotel is housed in an 80+-year-old Art Deco building. The hotel has tried to retain the historic charm of the building while adding the modern amenities that travelers need for comfort. This is one of only two Art Deco buildings still functioning in the entire state of Vermont.
The Latchis Theatre operates right downstairs and features both Hollywood and Indie films.
If you need a bit more room to spread out, try this cute bungalow with room for five people. It's just a few blocks from the downtown area and has off-street parking.
The Best Things to do in Brattleboro in the Winter
If you look beneath the surface in Brattleboro, you'll find that it has several unique winter gems that you won't find anywhere else in Vermont. The first is Harris Hill Ski Jump, celebrating its 100th anniversary in 2022. Each year in February, ski jumpers gather from all over the world to compete in the annual Harris Hill Ski Jumping competition. This is a celebrated Brattleboro tradition and absolutely worth traveling to Vermont for.
If you are not visiting during Ski Jump weekend, you can still climb the stairs to the top of the jump and wander more than 10 miles of trails at Retreat Farm. Snowshoes or microspikes might be required.
Another unique and fun experience is a visit to the all-volunteer-run Brattleboro Ski Hill, which got its start in 1937. A 1300-foot T-bar brings skiers to the top of the hill and lift tickets are only $5 per person. Unfortunately, they do not offer rentals.
Indoor Activities in Brattleboro for Winter Fun
As much as we love getting outside year-round, we're well aware that a fun winter destination needs more than snowshoe trails and ski hills. Aside from some great independent shops, including several bookstores, record stores, and an awesome outfitter, Brattleboro also has some incredibly unique cultural attractions, including:
St. Johnsbury and the Northeast Kingdom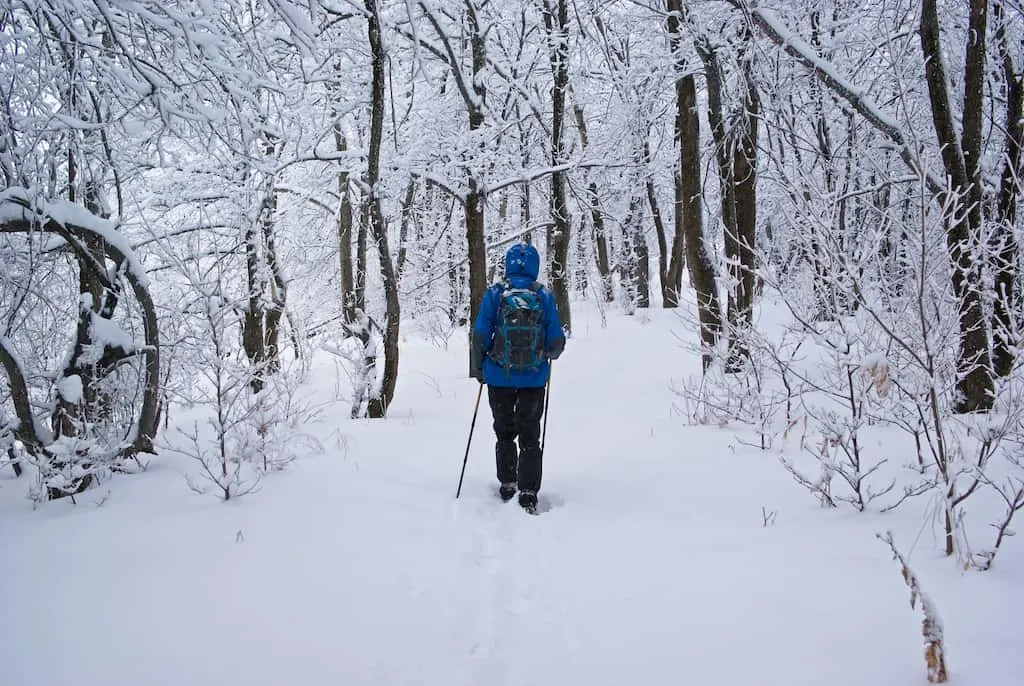 If you've been looking for snow in all the wrong places, it's time to head a little farther north into Vermont's Northeast Kingdom. St. Johnsbury will be your home base for this Vermont winter getaway. Home to 7,500 residents, St. Johnsbury is the largest town in the Northeast Kingdom of Vermont, and the perfect place to experience winter in Vermont. Like many of the Vermont towns in our list, St. Johnsbury has some unique offerings that you won't find anywhere else.
Where to Stay in St. Johnsbury, Vermont
If you want to stay right in town, Cherry House Bed & Breakfast on Frost Avenue comes highly recommended by everyone who has ever had the pleasure of staying there. This 1901 Victorian Dutch Revival features beautifully decorated rooms, a full breakfast, and delightful hosts. In addition to standard guest rooms, there are also a few cottages available onsite. Pets are permitted for a small fee.
Another unique option is a stay at this spectacular treehouse listed on Airbnb. It's tucked away in the woods on top of a mountain and is just .5 miles from the famous Dog Mountain. Pets are permitted too, of course.
---
Read Next: 6 Amazing Treehouse Rentals in Vermont
---
The Best Things to do in the Northeast Kingdom in the Winter
Vermont's Northeast Kingdom is home to two premier ski resorts. If you're staying in St. J, the closes ski area is Burke Mountain, just 16 miles north. The nearby Kingdom Trails feature a beautiful network of trails for winter use, including 31 miles of fat biking singletrack, 7.3 miles of groomed cross-country ski trails, and 38 miles of snowshoeing trails. You must purchase a day pass to use Kingdom Trails and dogs are not permitted.
If you don't have equipment of your own, or just don't want to bring it all the way to Vermont, you can rent Nordic skis, fat bikes, or snowshoes at the Village Sports Shop in Lyndonville.
Another great option for getting outside? Ice skating! St. Johnsbury Recreation Department operates two free outdoor skating rinks in the winter: one at the Four Seasons Park on Main Street and the other at the Buck Park on Portland Street. Heating huts and lights at each.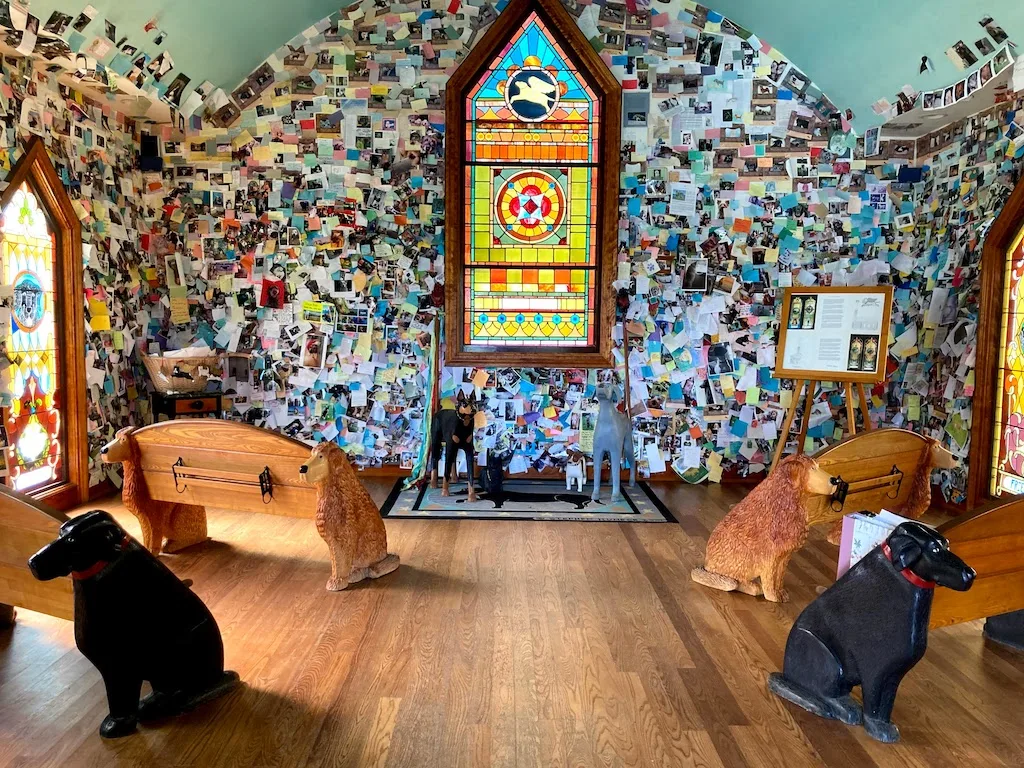 You can't visit the Northeast Kingdom without paying a visit to Dog Mountain in St. Johnsbury. Set on top of a mountain with more than 150 acres to explore, Dog Mountain is a place for dogs and their owners to adventure together off-leash. The trails are great for snowshoeing in the winter but don't forget to stop into the dog chapel to pay tribute to all the pups you have loved and lost.
Indoor Activities in Vermont's Northeast Kingdom
Planning ahead for foul weather, let's check out some of the unique indoor offerings in this part of Vermont.
Stowe and Waterbury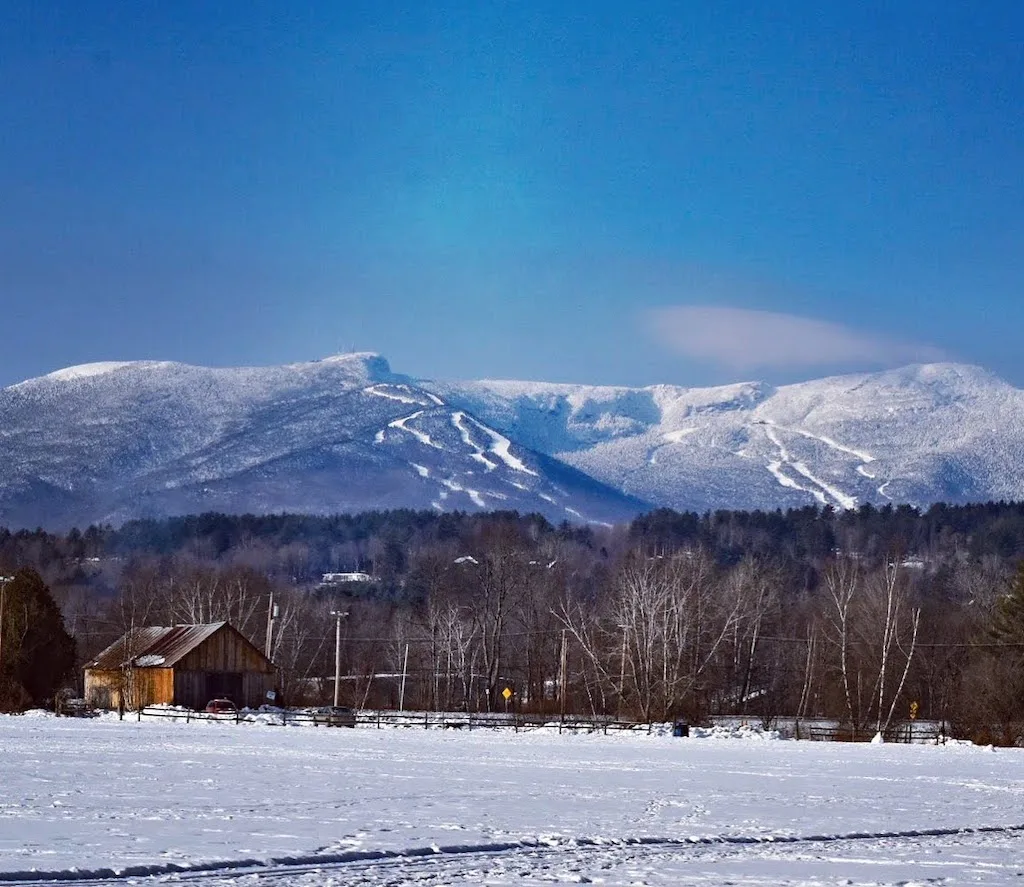 When it comes to amazing winter destinations in Vermont, most people think of Stowe, which is in the very heart of the northern Green Mountains, and the epicenter for downhill skiing and other outdoor pursuits. For a quintessential winter in Vermont vacation, Stowe is hard to beat, but of course, you'll be sharing your vacation with others who feel the same way, so be sure to book your reservations well in advance.
Where to Stay in Stowe in the Winter
If you've never stayed in the mountains of Austria and want a similar experience, transport yourself to the Trapp Family Lodge in Stowe. Located on 2,500 acres in the Green Mountains, you could spend your entire Vermont winter getaway on the property and be perfectly content. Where else can you explore miles of cross-country ski trails in the morning, embark on a mountainside horse-drawn sleigh ride in the afternoon, and sip locally-brewed beers as the sun sets over the mountains?
The Trapp Family Lodge is a pet-friendly establishment with 96 beautifully appointed rooms and suites.
The Best Things to do in Stowe in the Winter
Stowe Mountain Resort is one of Vermont's most iconic ski resorts, with 116 trails on the side of Vermont's highest peak. If you've come to Vermont to ski, then a trip to Stowe Mountain Resort is one of the best things to do in Vermont in winter.
The mountain receives more than 300 inches of snow annually, and the 40 miles of trails are spread out over 485 acres. The Cross-Country Center adds an additional 45 km of groomed Nordic trails and another 30 km of backcountry trails. Rentals are available for both downhill and XC skis.
While enjoying Stowe Mountain Resort, be sure to visit the outdoor ice skating rink at Spruce Peak Village. It's free to use and open to the public.
For guided adventures to all the outdoors has to offer in the area, connect with Umiak Outdoor Outfitters, which offers dog sledding tours, snowshoeing, and ski tours throughout the winter.
Indoor Activities in Stowe and Waterbury
Here are a few more things to do in Stowe and nearby Waterbury when you need to come in from the cold.
Visiting Vermont in winter is an amazing experience! Have you ever spent a winter weekend in Vermont? What are your favorite spots for indoor and outdoor fun?
Follow us on social media for more Vermont inspiration!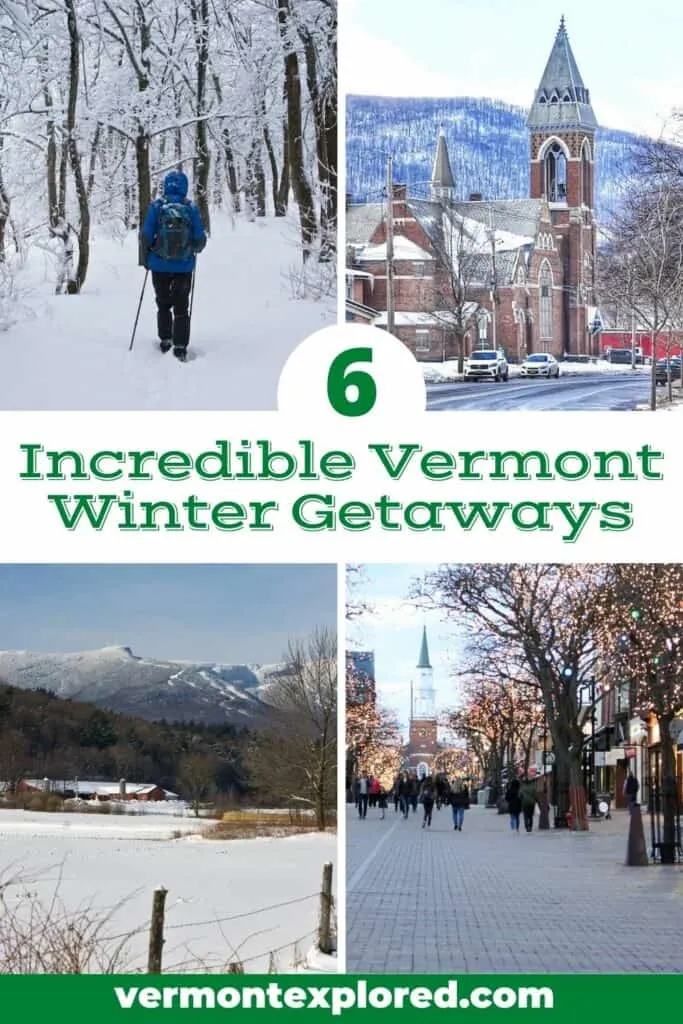 Tara Schatz is a freelance writer, and the founder and editor-in-chief of Vermont Explored and Back Road Ramblers, an American road trip blog. She is also the co-author of the 3rd edition of AMC's Best Day Hikes in Vermont, which was released in May 2023.