It's mud season in Vermont. Not a favorite time of year for most of us locals. The grass is still brown, the sky is grey, and outdoor pursuits are often curtailed by an incredible array of black muck that can easily capture hiking boots and vehicles and hold them ransom for days on end.
While mud season may not be a favorite, it's certainly a time to celebrate for many reasons. The days are getting warm, things are starting to green up, and the maple syrup is running. One of the reasons we look forward to mud season each year is because we often observe the occasion with a little cabin camping adventure at Merck Forest & Farmland Center in Rupert, Vermont.
During our most recent cabin camping adventure, we hiked out to Ridge Cabin, a secluded little getaway high on a ridge with beautiful winter views of both the sunrise and sunset.
Here's an overview of our spring cabin camping experience at Merck Forest in Southern Vermont.
Pet-Friendly Camping Cabins at Merck Forest and Farmland Center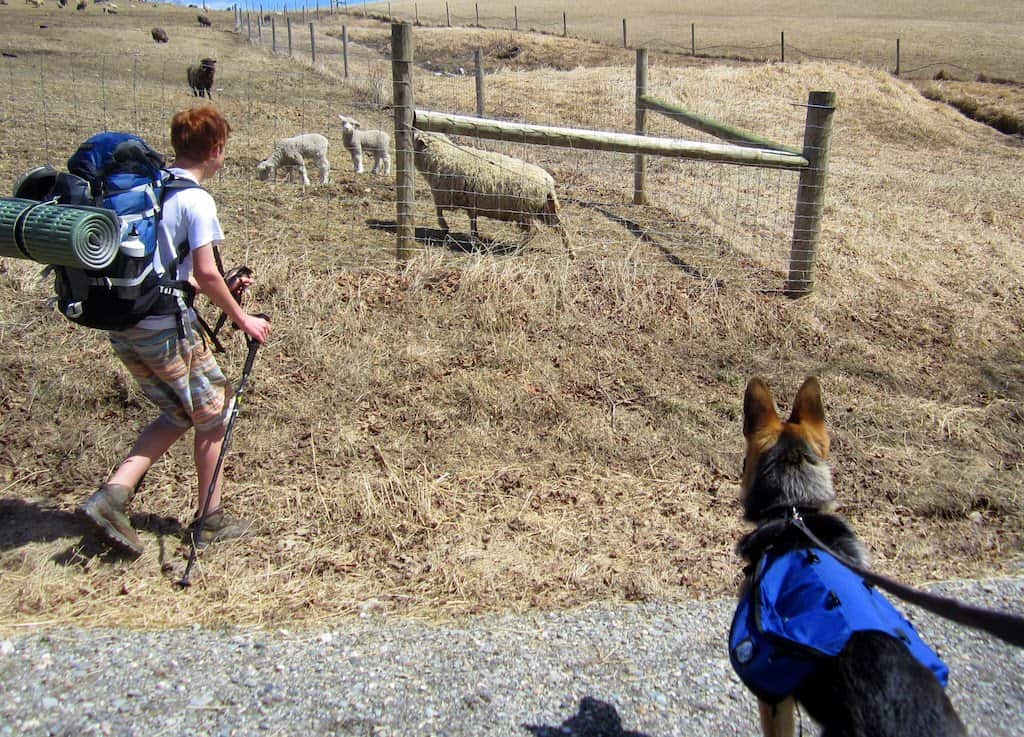 Planning a camping trip in April in Vermont is risky. The chance of rain or snow is pretty high, and the chance of freezing temperatures even higher. Cabin camping allows us to take advantage of an unplugged weekend in the woods with the added convenience of four walls and a woodstove to keep us toasty and dry out our clothes (all that mud).
Merck Forest & Farmland Center is a nonprofit working farm and forest in Rupert, Vermont. The camping cabins at Merck Forest are perfect for a rustic, back-country getaway, and the best part is, with the exception of one small cabin that only sleeps two, they are suitable for families and for people with dogs.
There are nine cabins in all, and they are spread throughout the 3,100-acre forest, so that no matter which one you choose, you will have your own private retreat. We have stayed in four of the nine cabins, and all of them are unique. Depending on the cabin you choose, you can sleep anywhere from two to 15 people.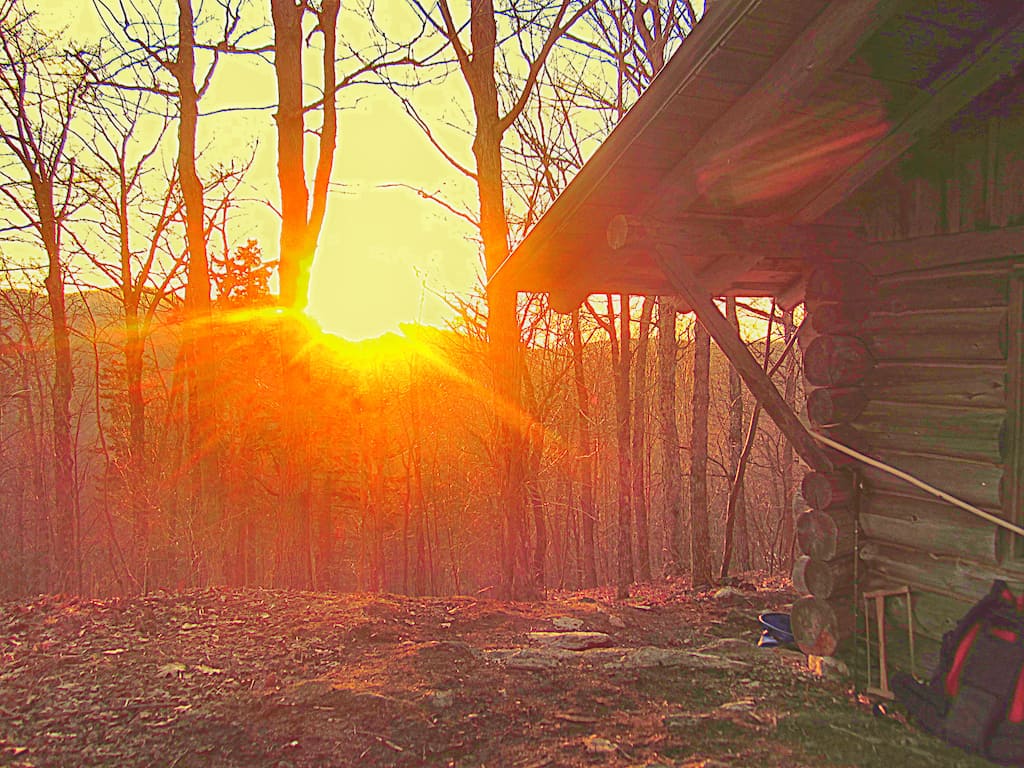 The Merck Forest cabins are available to reserve year-round, but we have only visited in the winter or spring. In the summer, tent camping is available as well. The cost ranges anywhere from $50 to $85 per night to stay in one of the cabins. Cost is a bit higher in the winter because stacked firewood is provided for the wood-burning stoves in the colder months.
You will be hiking, skiing, or snowshoeing from ½-mile to three miles to your reserved retreat. As you leave the visitor center, you will pass through Merck's working farm. In March and April, you'll have the pleasure of visiting the baby animals. There's nothing cuter than newborn lambs kicking up their heels on a chilly spring day, and for kids, this may just be the highlight of the trip.
Merck also makes hundreds of gallons of maple syrup each year. If you're a fan of Vermont's thick, delicious specialty, be sure to schedule your trip in late March to coincide with their annual maple celebration. The absolute best thing about mud season is that it goes hand-in-hand with maple sugaring!
We have found other cabin camping opportunities in New England, but we think the Merck Forest cabins are the best of the best! These Vermont camping cabins are perfect for romantic getaways, family vacations, or rollicking adventures with friends.
An Overview of Ridge Cabin in Merck Forest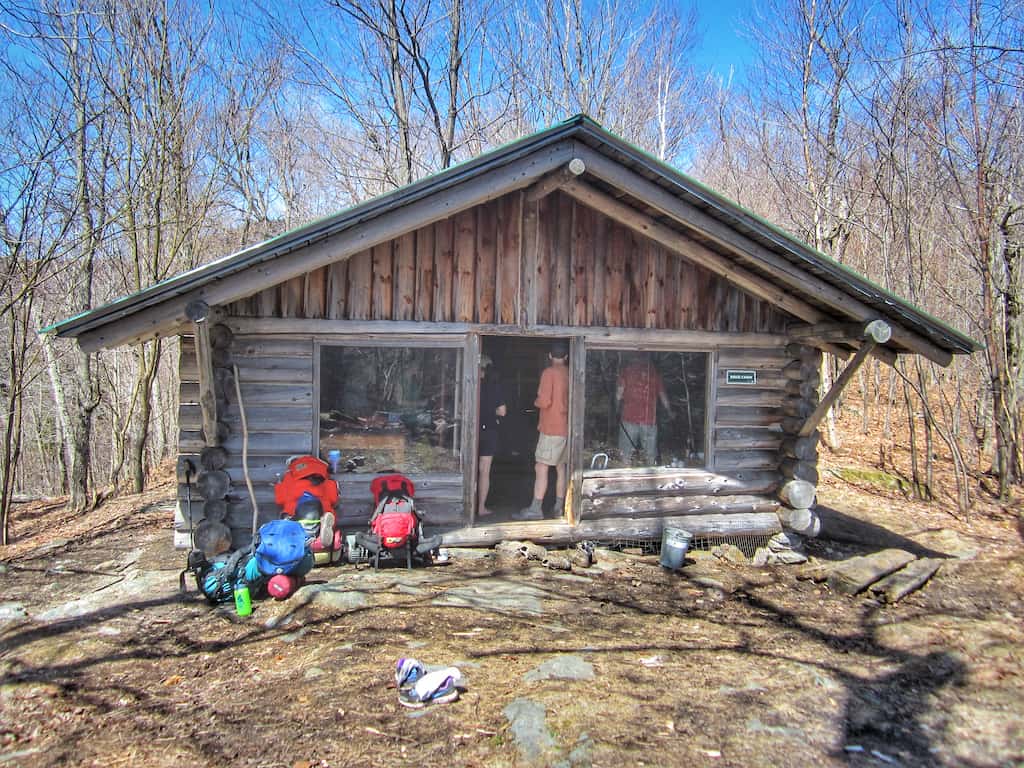 Our most recent Vermont cabin camping adventure took us to Ridge Cabin, nestled in the woods with lovely views all around. The relatively easy 2-mile hike in was a bit of a sloshy mess. Everyone's feet were pretty well soaked, and the puppy, well he was darn near unrecognizable.
Ridge Cabin, however, was delightful. It's cozy and tight with a good supply of cordwood for the woodstove, and lots of downed wood for the outdoor cook fire. We set to making the place our own for the extended weekend and proceeded to camp luxuriously in the Vermont mountains for one of the best mud season adventures we've yet to experience.
Ridge Cabin sleeps six people comfortably, but we visited with eight people (four adults and four kids). Two adults opted to sleep outside in a two-person tent. There were a few remnants of snow on the ground in April, but it was pretty mild. The woodstove kept everyone toasty inside, sometimes too toasty.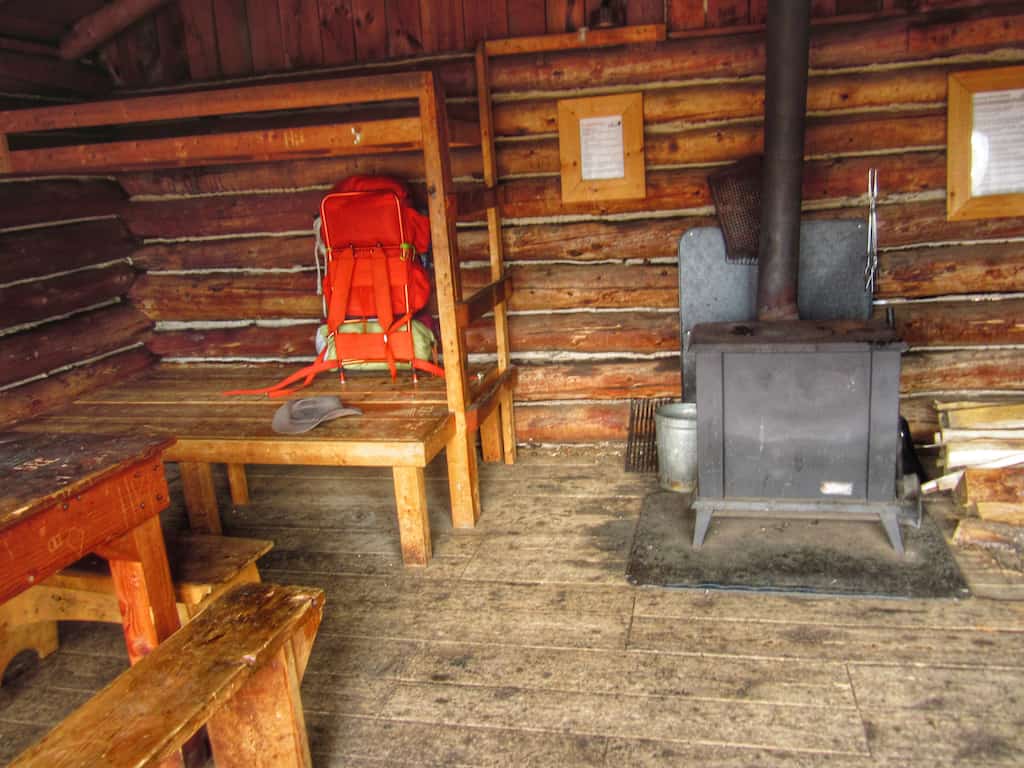 In addition to wooden bunks for six people, there is also a good-sized table with benches, plus an outdoor fire pit. I would say that Ridge Cabin is one of the more private camping cabins at Merck Forest – we didn't see anyone else while we were there. The only downside is that to find water for cooking and drinking, we had to do a bit of trekking.
---
---
Tips for Enjoying the Merck Forest Cabins
Firewood is provided in the winter to keep the woodstove cranking through the coldest temperatures. For an extra cozy experience or really cold nights, book one of the three cabins that have sleeping lofts. That rising warmth will drive all thoughts of winter out of your head.
Water is not readily available at all of the cabins. In fact, we had to do quite a bit of hiking to get cooking water up to Ridge Cabin. During the winter, you can melt snow. In the spring, summer, and fall, either pack in all of your water, or rent a cabin near a stream. A water filter is a must!
Bring toilet paper! Each cabin has a lovely little outhouse nearby. Sometimes there's toilet paper too. Sometimes there's not.
Porcupines love, love, love the salt on your boots and in your pee. Don't leave your clothes or shoes outside, and don't pee near the cabin.
You have to reserve your cabin for at least two nights on weekends. If you want your pick of cabins, reserving a month out should do the trick.
Bring your camera!
In addition to Ridge Cabin, we have also stayed at Dunc's Place (good for large groups), Ned's Place (awesome porch), and Nenrod (fabulous views).
I highly recommend cabin camping at the Merck Forest cabins for your next outdoor vacation in Vermont. There are plenty of hiking trails, farm animals, and even swimming in the pond if you visit in the summer. Rupert is close to the towns of Dorset and Manchester in Southern Vermont, which have a lot going on all through the year.
Want to learn more about reserving the Merck Forest cabins? Visit Merck Forest & Farmland Center.
More Things to do in Vermont
Grab our five-page printable bucket list that includes all the best things to do in Vermont! If you've already signed up for our email list, all you have to do is click the download button to get your free copy. Otherwise, be sure to subscribe!