What could be better than getting outside and enjoying a perfect day in Vermont? How about getting outside while discovering art?
For a tiny state, Vermont has an eclectic variety of opportunities to interact with outdoor art. The largely rural landscape makes an enchanting backdrop for all kinds of art installations, and as the seasons change, so does the experience.
No matter where you travel in the state, you're within a short drive of one of these incredible outdoor sculpture parks in Vermont.
Here are a few ways to get your outdoor art fix with sculpture parks that embrace the Vermont landscape in new and surprising ways.
Southern Vermont Arts Center, Manchester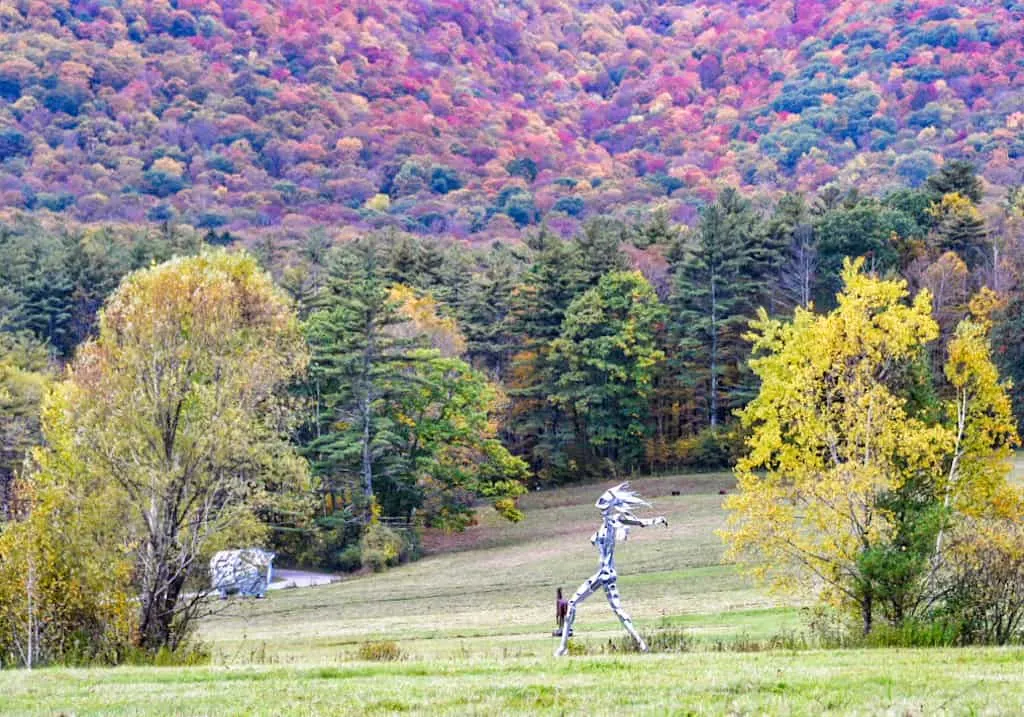 Set against the beautiful Taconic Mountains in Manchester, the outdoor sculpture park at Southern Vermont Arts Center (SVAC) is an expansive exhibition in fields and forest on a sprawling 120-acre campus.
You can't help but notice the massive art installations as you drive up the mile-long path toward SVAC, but it's also possible to meander past each sculpture on foot, which is what I'd recommend. This gives visitors a better appreciation of the magnitude of each piece, as well as the intricate relationship that the sculptures form with their natural surroundings.
The meadow sculptures may be the most striking due to their size and setting, but be sure to spend some time with the sculptures along the woodland trails, as they provide an intimate experience that only the close surroundings of the forest can provide.
You could easily spend an afternoon visiting the eclectic collection of outdoor art on SVAC's campus, but make time to visit the indoor galleries, where you'll find a rotating collection of eclectic and classic works by regional and world-renowned artists.
Finally, if you haven't thought to pack a picnic to enjoy on the grounds of SVAC, you can indulge in a delightful meal at the curATE Cafe, which is open for lunch and dinner from Thursday to Saturday, and for brunch on Sunday.
The grounds at Southern Vermont Arts Center are free and open to the public year-round. Leashed dogs are permitted on the grounds as well.
The galleries are open between Tuesday and Sunday, from 10 am to 5 pm. $10 for adults/ $5 for students and seniors/ Free for members and children under 10.
---
Read Next: Plan a Perfect Winter Weekend in Manchester and Bennington, Vermont
---
Lemon Fair Sculpture Park, Shoreham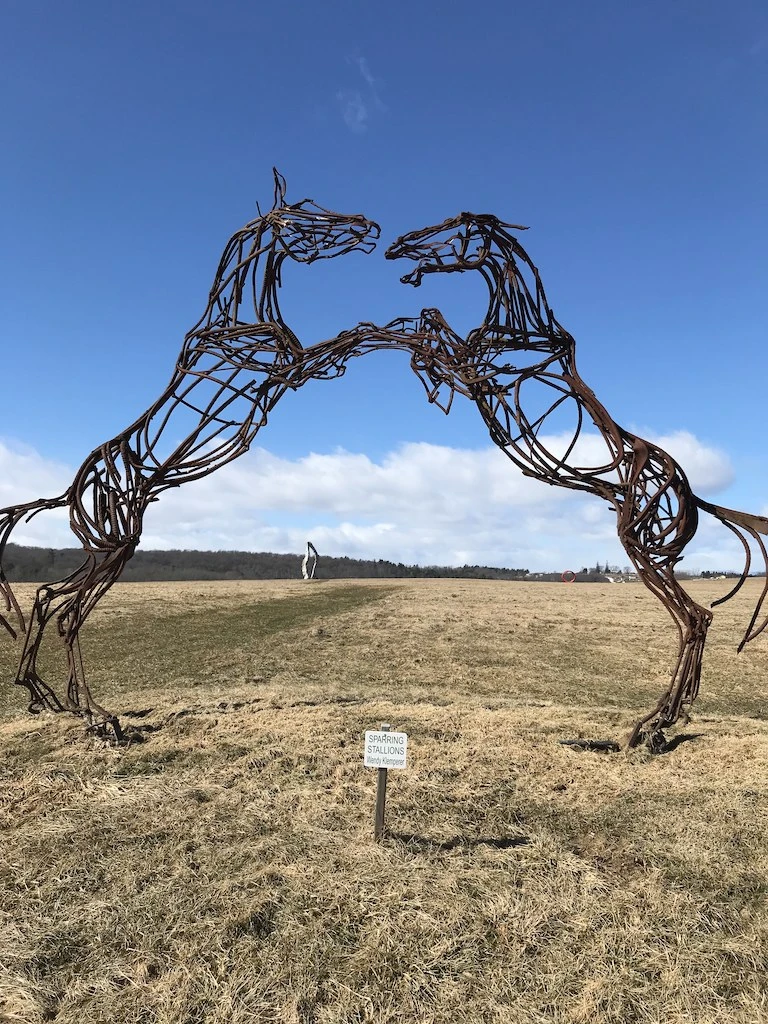 The pastoral landscape of rolling fields and massive farms is an ideal location to get lost among sculptures that include intricately abstract pieces of sculpted metal, several larger-than-life animals, and a few kinetic pieces that interact with wind and weather.
Discover more than 50 outdoor sculptures along a mowed path in Shoreham, Vermont at Lemon Fair Sculpture Park, which exhibits of both permanent and temporary works, many of which are for sale.
While you certainly can't escape the mountains in Vermont, the Lemon Fair sculptures interact more readily with the big sky and far-reaching views, making it an ideal spot for a summer picnic or a crisp fall walk. Leashed dogs are welcome.
Lemon Fair Sculpture Park welcomes visitors between May 1 and November 1. It is located at a private residence but is free for art lovers of all ages to explore.
Visitors are asked to park on the circular drive near Route 74. Donations are gratefully accepted for park maintenance.
---
Path of Life Sculpture Garden, Windsor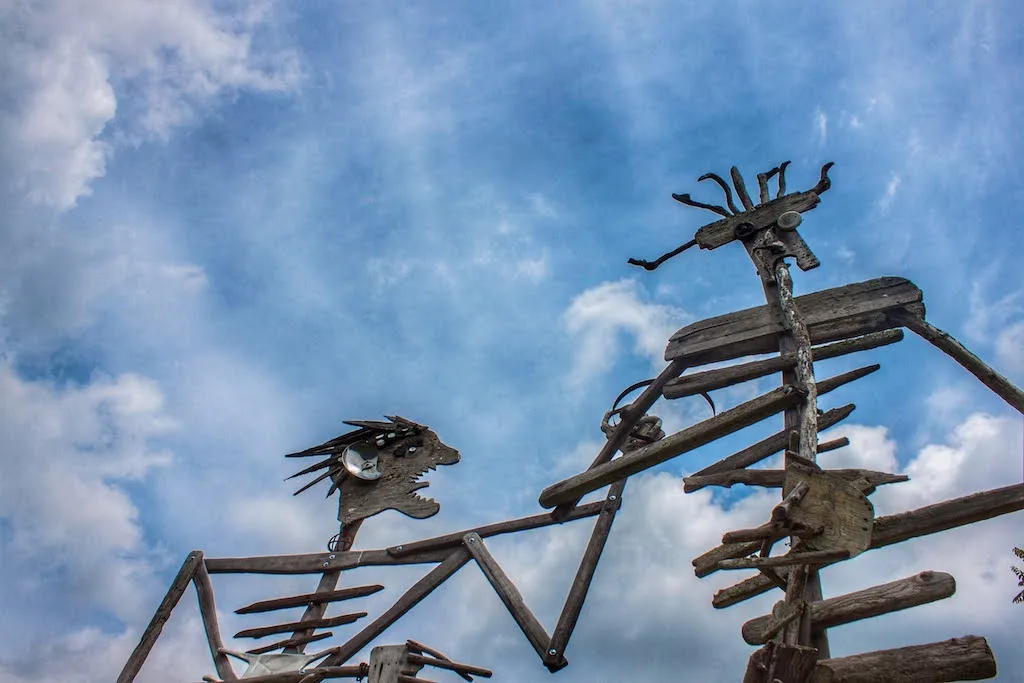 A stroll through the Path of Life Sculpture Garden is a journey. Visitors travel through life, from birth to death and beyond, while interacting with 18 works of art on 14 beautiful acres along the Connecticut River in Windsor. Along the way, you'll find numerous spots to relax, meditate, and enjoy your surroundings.
These introspective sculptures are created in conjunction with their surroundings and include eclectic pieces, such as a driftwood rock band, charred wooden heads, an intricate maze, and a tree of life.
This unique sculpture garden in Vermont is part of Artisans Park in Windsor. After touring the sculptures, grab a beer at Harpoon Brewery or sample some of Vermont's best cheese at Vermont Farmstead Cheese Market.
If you plan ahead, you can even make this tour part of a day of paddling on the Connecticut River with Great River Outfitters. What could be better than beautiful art combined with outdoor recreation?
Admission to the Path of Life Sculpture Garden is $6 for adults, $3 for children 4 to 12, and $5 for seniors.
---
Cold Hollow Sculpture Park, Enosburg Falls
At Cold Hollow Sculpture Park in Enosburg Falls, visitors have a rare opportunity to the evolution of a single artist's vision over fifty years of creating within the landscape. Artist David Stromeyer bought 200 acres of meadows and forests in 1970 and began fabricating huge iron sculptures inspired by the surrounding landscape.
Cold Hollow Sculpture Park opened in 2014, and today, visitors can explore more than 70 of Stromeyer's sculptures free of charge.
Each season brings something new to this beautiful Vermont sculpture park, with changing installations, as well as themed programs that bring together the arts, sciences, and humanities to explore the intersection of intellectual and creative pursuits. The theme for 2022 is How We Make Things.
Cold Hollow Sculpture Park is open between June and October, from Thursday to Sunday. There is no admission fee, and dogs are not permitted.
---
The Sculpture Garden at the Carving Studio & Sculpture Center, West Rutland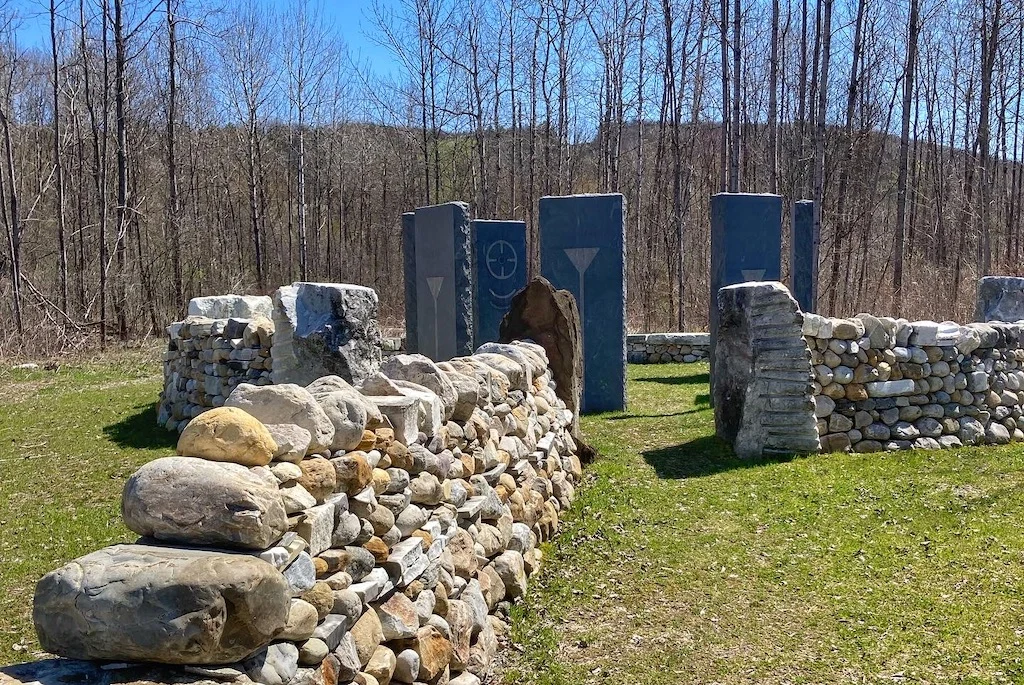 Vermont marble has a long and storied history dating back to 1767 when it was first quarried in the state.
Since then, Vermont's diverse marble beds have been used to create some of the finest buildings in the world as well as stunning works of art found in every state in America and around the world. Some of those stunning works of art can be seen at The Carving Studio and Sculpture Center in West Rutland, the former home of The Vermont Marble Company.
The sculpture garden at The Carving Studio showcases finished pieces featuring many different carving styles, from the most polished, to abstract and gritty, and everything in between. Outdoor art is everywhere, and the more you look, the more you'll see.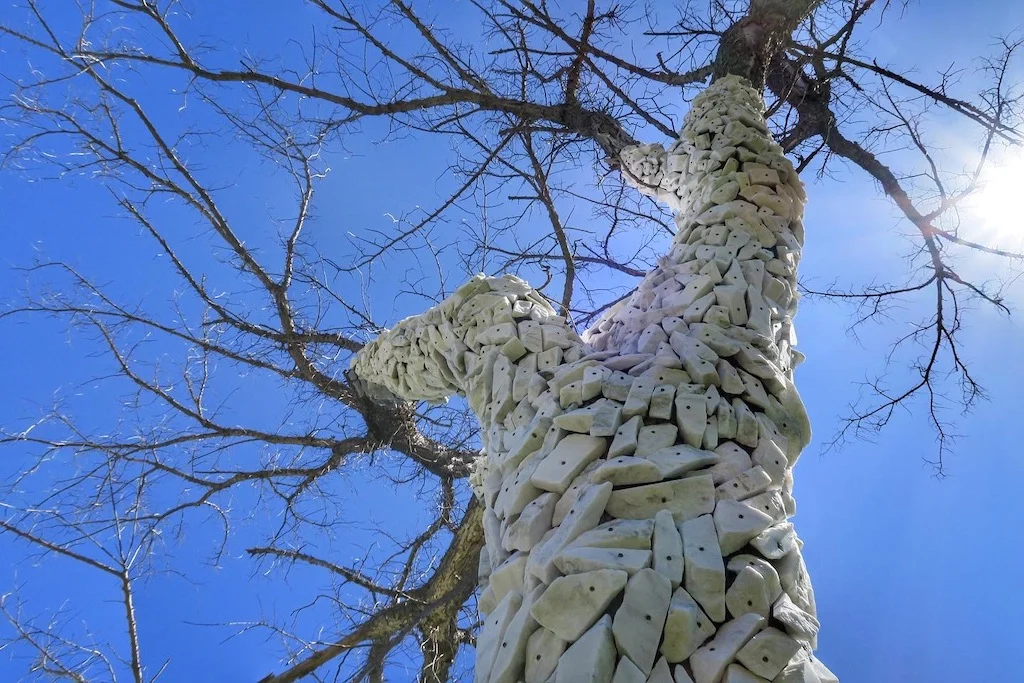 Spend time meandering around the grounds and you will find creative pieces in the woods, in old quarries, and next to abandoned buildings, giving the place an almost mystical quality. It's definitely the most unusual sculpture park in Vermont, and you never know what's behind a tree or around the corner.
The Carving Studio and Sculpture Center is a non-profit arts education organization that offers Instruction and dialogue in a wide range of sculptural media with professional artists and craftspeople from around the world. An onsite gallery highlights works by contemporary sculptors.
It's free to tour the sculpture garden at The Carving Studio and Sculpture Center, and workshops and special events are offered throughout the year.
---
West Rutland Art Park, West Rutland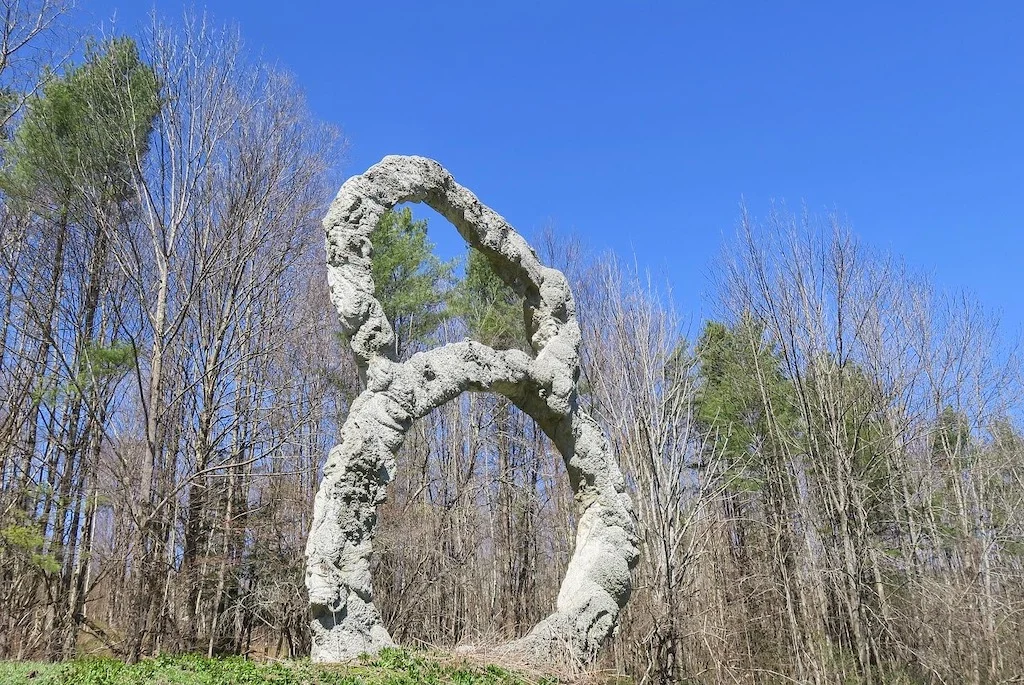 If you're visiting The Carving Studio and Sculpture Center in West Rutland, be sure to stop at the West Rutland Art Park, an unassuming field of sculptures with a mowed path and a few picnic tables with views of the mountains.
Park at the bottom of the hill and meander along the path to explore the half-dozen sculptures — three featuring carved marble and another of concrete. One of the most striking sculptures is close to the road — an elaborate steam engine created from Vermont scrap metal.
The West Rutland Art Park is free and can be toured in less than an hour, so it's best visited in combination with a trip to The Carving Studio and Sculpture Center, or perhaps an afternoon exploring the incredible murals in nearby Rutland.
Find West Rutland Art Park on Google Maps.
---
Hope Cemetery, Barre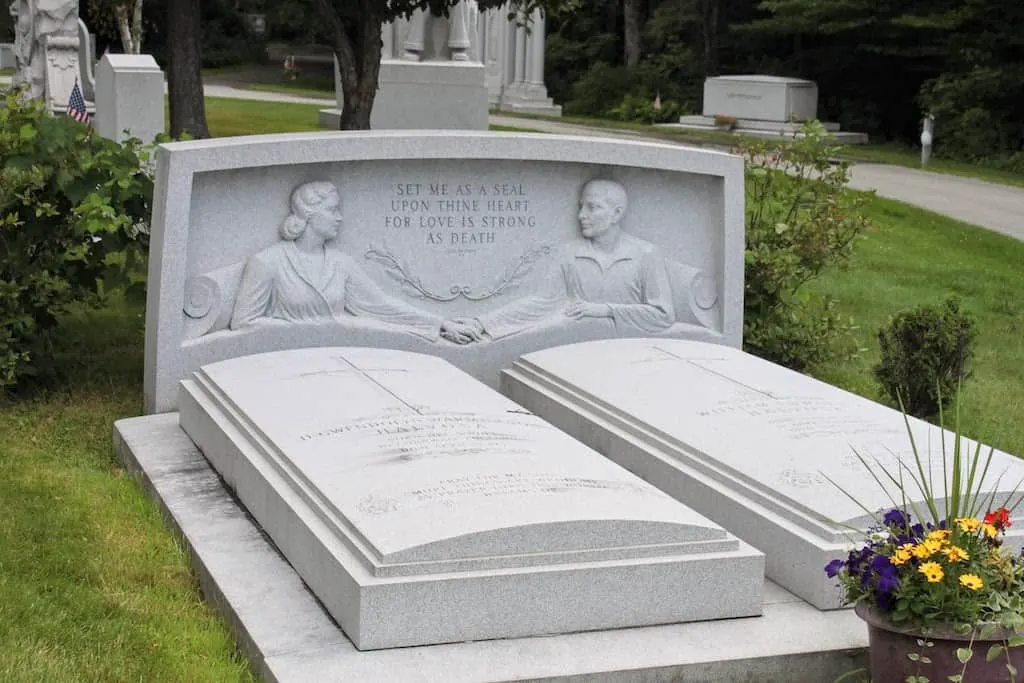 We think of cemeteries as the final resting spot of the dearly departed, but not often as outdoor sculpture parks. I'd argue that all cemeteries have artistic value if you look hard enough, and if you visit Hope Cemetary outside of Barre, you won't have to look for long.
Hope Cemetery features incredible stone artistry from celebrated granite carvers through the ages. Like the marble industry, granite has been quarried, sculpted, and celebrated in Vermont since the Civil War.
The town of Barre sits on one of the largest deposits of sculpture-quality granite in America. And Hope Cemetery is one of the best places to see the whimsical, detailed creations carved from the local stone known as Barre granite around the world.
There are more than 10,000 monuments at Hope Cemetery, depicting everything from a couple lying together in bed, to a race car and an airplane soaring through the clouds. Many of these beautiful pieces were carved by master artisans who traveled to Barre from Italy in the late 19th century to meet the needs of a booming granite industry.
Meander around the 85 acres of final resting places memorialized by some of Vermont's greatest artists before heading to the Vermont Granite Museum in Barre, where you can learn about the fascinating history, culture, and people of the granite industry in Barre.
Visit Hope Cemetery at 201 Maple Avenue in Barre, between 7 am and 5 pm.
---
Outdoor Sculpture Shows and Festivals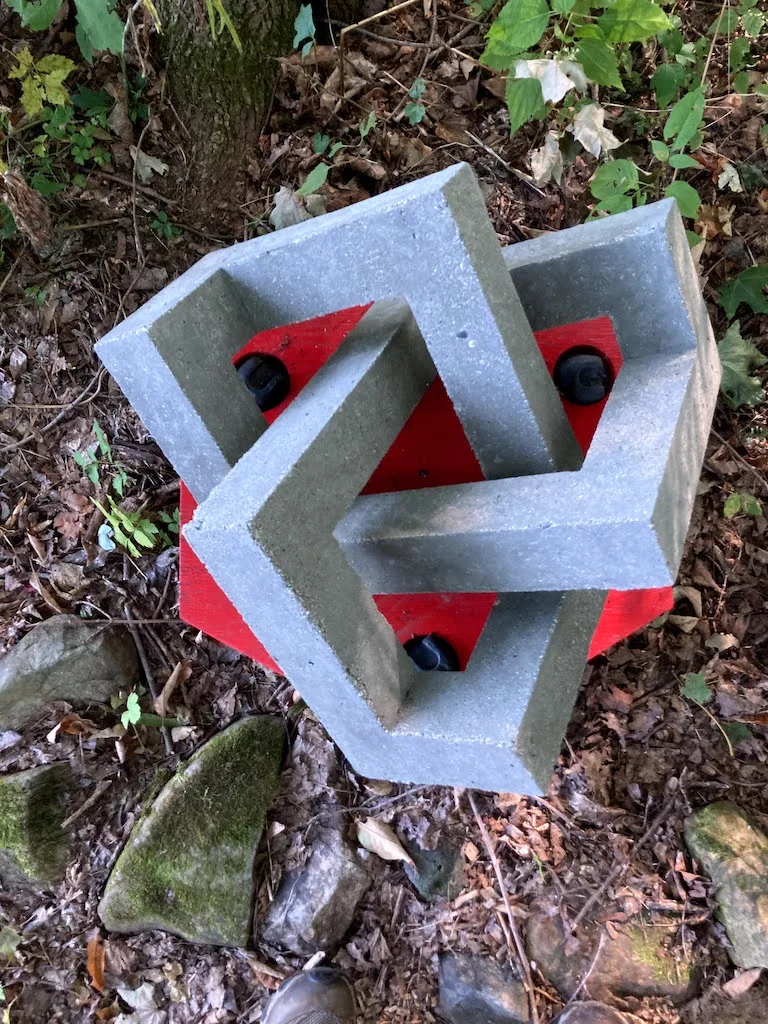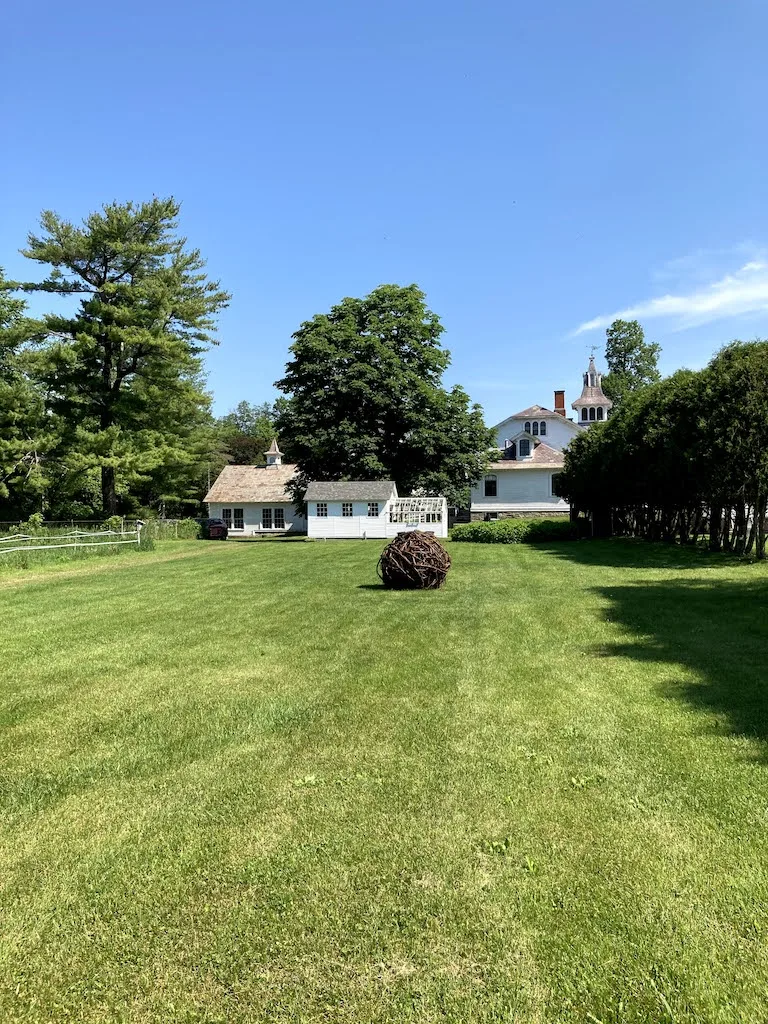 In addition to the permanent collections at outdoor sculpture parks around Vermont, be sure to check out these annual outdoor sculpture shows and festivals.
Exposed at the Helen Day Art Center: This annual event has been featuring outdoor sculptures in Stowe Village for more than 30 years. Large-scale installations are erected in July and remain through the fall foliage season.
North Bennington Outdoor Sculpture Show (NBOSS): One of Southern Vermont's premier events, the North Bennington Sculpture Show features work from some of New England's most accomplished artists. Sculptures by more than 40 artists are scattered throughout the village of North Bennington with additional sculptures gracing the ground of Bennington Museum. NBOSS takes place between June and November each year.

Woodstock Sculpture Fest: Charlet and Peter Davenport have invited sculptors and artists to exhibit work on the land for over three decades. The event takes place each summer on Prosper Road in Woodstock, Vermont.
Be sure to check out the outdoor sculpture parks in Vermont web story next!
Have you been to an outdoor sculpture park in Vermont? Which one is your favorite?
---
Follow Vermont Explored on social media!
Pin for Later?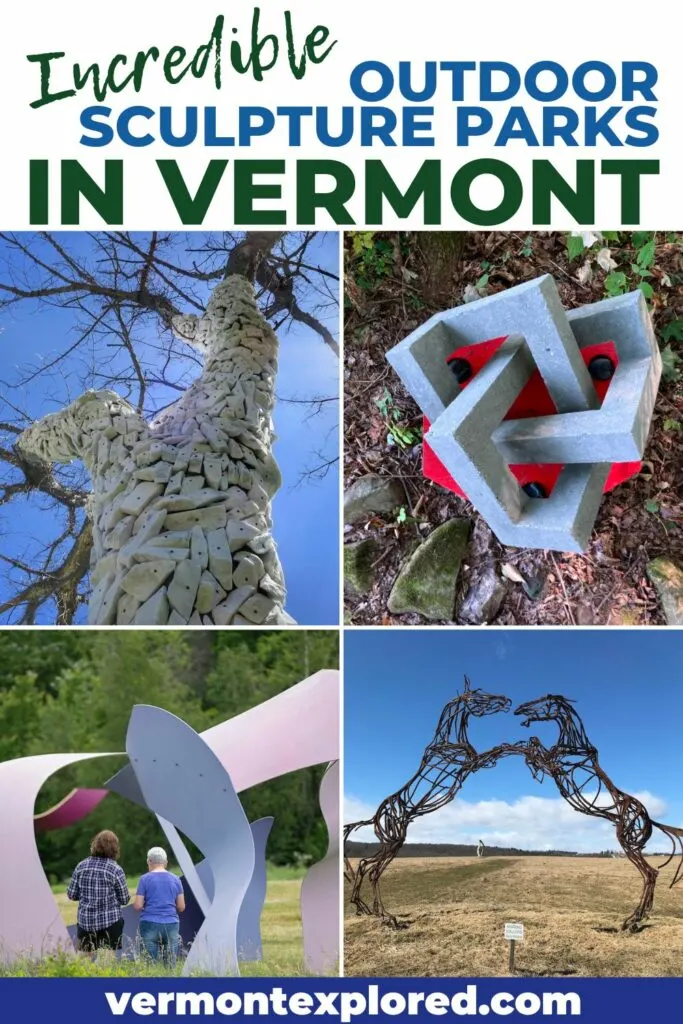 Tara Schatz is a freelance writer, and the founder and editor-in-chief of Vermont Explored and Back Road Ramblers, an American road trip blog. She is also the co-author of the 3rd edition of AMC's Best Day Hikes in Vermont, which was released in May 2023.