Home to Vermont's tallest peak, its most iconic ski resort, and two epic waterfalls, it's not quite fair that the tiny town of Stowe, Vermont gets to host so many recreational splendors.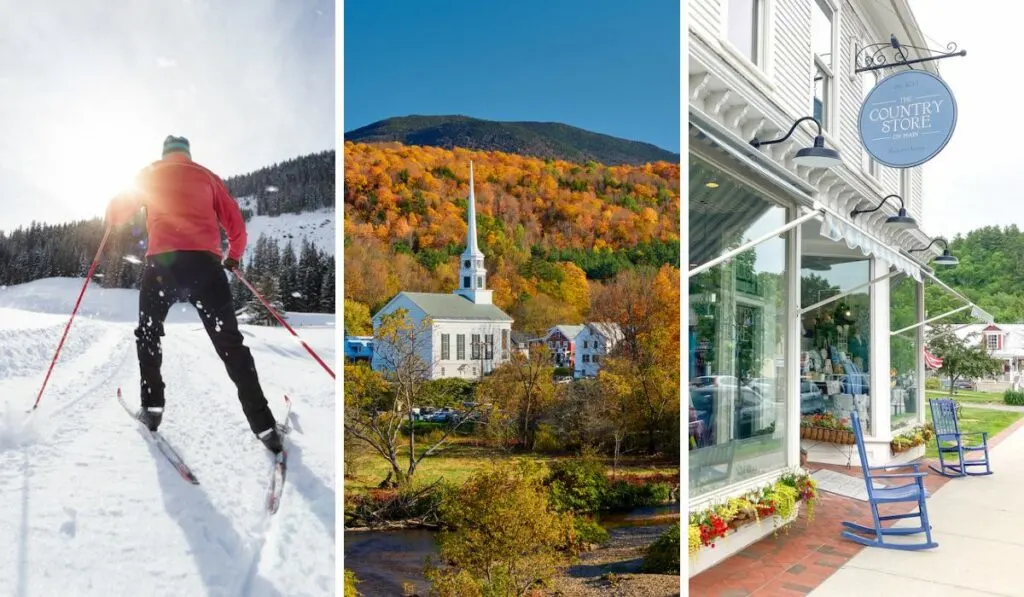 If you're seeking outdoor recreation in Vermont, there are very few areas that can compete with the northern Green Mountains, and Stowe makes a perfect home base for all kinds of outdoor explorations.
If you're seeking beautiful views, great restaurants, and scenic drives, Stowe is still a great choice, as long as you're prepared to share this beautiful town with other Vermont lovers.
Stowe may be the poster child for the quintessential Vermont town, with its white steepled church against a gorgeous mountain backdrop, a collection of award-winning craft breweries, and a population of just under 6,000 residents.
But just because it's a small town, doesn't mean there aren't plenty of things to do in Stowe VT — from picturesque covered bridges to bald mountain vistas, enchanting shops selling maple candy and high-end clothing, and fantastic restaurants for foodies, here are our top picks for the best things to do in Stowe.
---
Planning a vacation in northern Vermont? Here are a few more posts to inspire you.
---
First, A Few Logistics for Visiting Stowe VT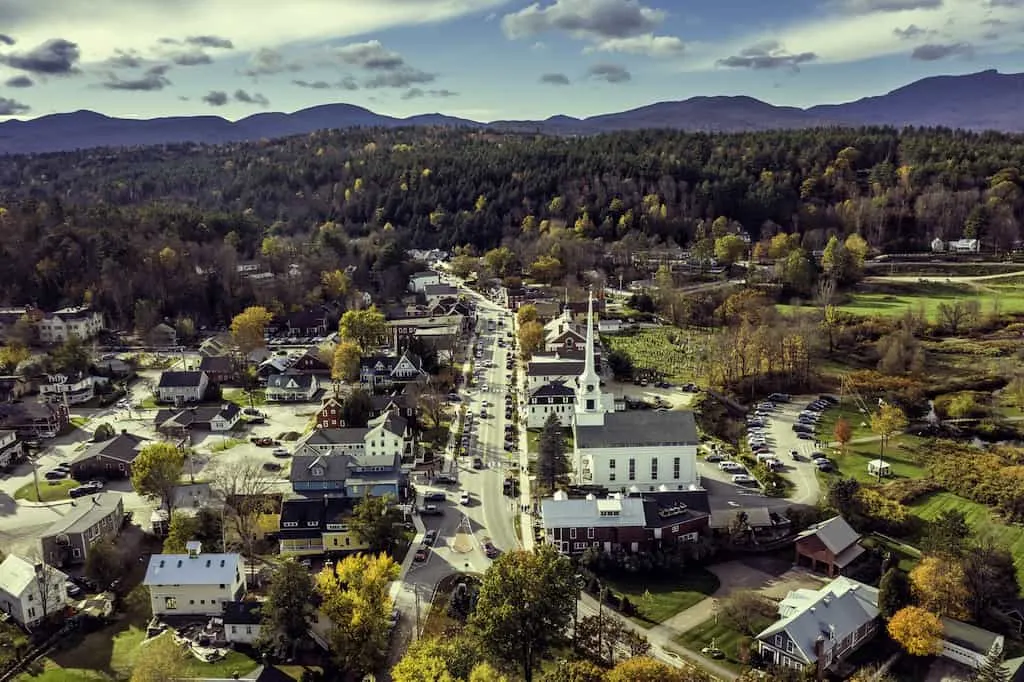 Where is Stowe, Vermont?
Stowe is tucked in the northern Green Mountains at the base of Vermont's highest peak, Mount Mansfield. While the landscape may feel rugged, mountainous, and remote, Stowe is actually the perfect location to take advantage of Vermont's most beautiful destinations.
Stowe is a 45-minute drive from Burlington, which is Vermont's largest city and home to Burlington International Airport (BTV). It's 30 minutes from the state capital of Montpelier, and 2.5 hours from Montreal (don't forget your passport).
Do I need a car to visit Stowe?
Stowe is a rural community with a walkable downtown, but a car is the best way to explore the region, as many of the best attractions are located outside of the village. If you are flying into BTV in Burlington, you can rent a car at the airport. We use Kayak to compare car rental prices when traveling and have found some great deals.
When is the best time to visit Stowe?
While summer typically brings gorgeous sunny days and winter brings more than its fair share of snow, Stowe is a four-season destination with things to do inside and out.
Winter recreation put Stowe on the map as a travel destination, so if alpine skiing is your jam, head to Stowe between January and March. I love winter, but I'm not a downhill skier.
My favorite time to visit Stowe is between June and October, which is a pretty huge window of opportunity for outdoor recreation.
Stowe is one of the top fall-foliage destinations in the USA, so if you're thinking of an October visit, start planning yesterday, and be prepared for crowded trails, roads, and restaurants — and expensive lodging.
Summer, while still busy, is a much more manageable time to visit, especially if you come during the week. There are so many ways to enjoy summer in Stowe — swimming holes, ice cream cones, bustling patios, and gorgeous mountain trails.
How much time should I spend in Stowe?
A long weekend should be plenty of time to hike a few trails, indulge in a few craft beers, and relax next to a few mountain waterfalls.
Things to do in Stowe VT Outdoors
With a heavy emphasis on outdoor activities and beautiful mountain vistas, Stowe is an ideal getaway destination for outdoor lovers. Here are the best things to do outdoors in and around Stowe, Vermont.
Drive, Ride, or Hike to the top of Mount Mansfield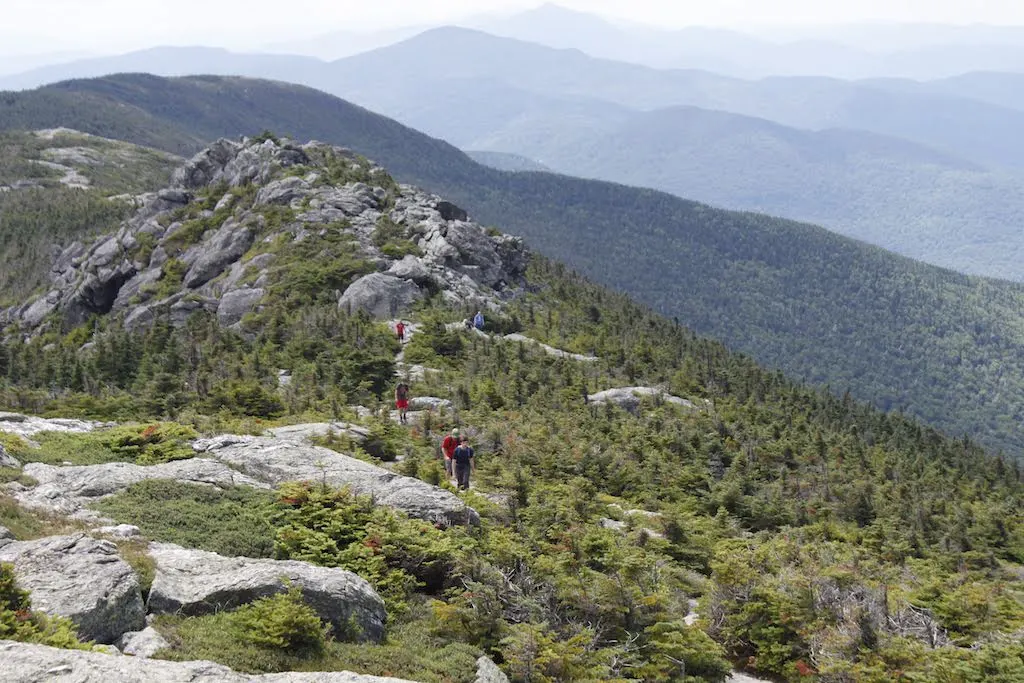 Despite being the tallest mountain in Vermont, Mount Mansfield is a very accessible mountain. When looking at the mountain from the valley below, you can easily see how it got its name. Mount Mansfield looks like a face looking up toward the sky.
A long ridge connects various body parts — the nose (4,062 feet), upper lip, chin (4,393 feet), and Adam's apple (4,060 feet). You can drive to right up to the nose on the Auto Toll Road from Stowe Mountain Resort. This 4.5-mile road starts at 3,850 feet and is open from late May to late October ($29 for car and driver. $11 for additional passengers).
The Gondola SkyRide, also run by Stowe Mountain Resort, brings riders from the base of the mountain up to the top, arriving just under the chin. Well-behaved dogs are permitted, and you can grab a bite at Cliff House Restaurant before hiking up to the chin. $40 for adults and $29 for kids 5-12.
From the nose, you can hike on the Long Trail for another 1.3 miles to reach the high point of the chin. Most of this route is above the treeline with 360-degree views of the Green Mountains, north to Canada, and west to Lake Champlain.
Save yourself some money while getting a full-body workout by hiking to the top. There are many different trails up Mount Mansfield, but I recommend starting in Underhill State Park and hiking the Sunset Ridge Trail. It's a 3.3-mile climb to the summit and quite strenuous. You can make a loop by combining Sunset Ridge with the Laura Cowles Trail for a total hike of 4.5 miles.
Go Cross-Country Skiing or Mountain Biking at Trapp Family Lodge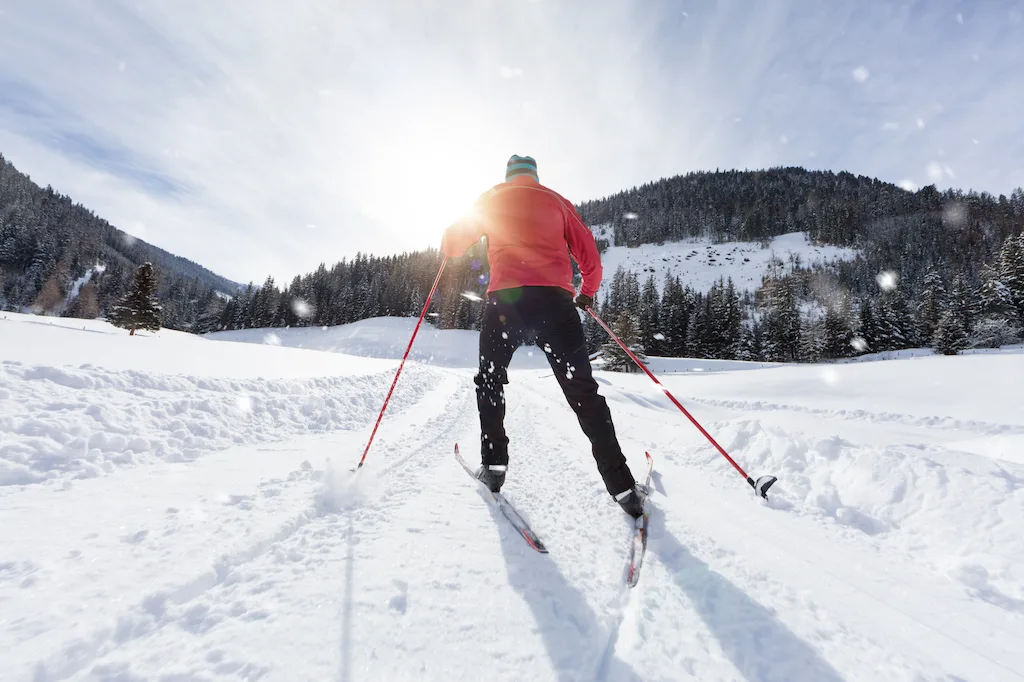 Did you know that Trapp Family Lodge is home to the first cross-country ski center in the country? With 100 kilometers of cross-country, snowshoe, and back-country ski trails on 2,500 acres, this is a choose-your-own-adventure kind of outing.
In the winter, Trapp Family Lodge rents skis and snowshoes and provides private and group lessons. You will need a trail pass to use the groomed and backcountry trails. $34 on weekends and $30 on weekdays. Dogs are not permitted on winter trails.
During warmer weather, many of those same trails become exhilarating mountain bike trails (mostly for intermediate riders, with some beginner and expert trails). Take a look at a trail map before booking your mountain bike rental and reserving a trail pass ($10 for adults, $5 for kids). Lessons are also available. Dogs are not permitted on summer trails.
The Trapp Family Lodge mountain bike trails connect with an even more extensive Stowe trail network, including Cady Hill Forest, Adams Camp, and Sterling Forest, all managed by Stowe Trails Partnership.
While hikers are permitted on the trails at Trapp Family Lodge, there are so many gorgeous hiking trails, that we generally don't recommend using these for hiking. We'll talk about our favorite Stowe hiking trails below.
Ride (or Walk) the Stowe Recreation Path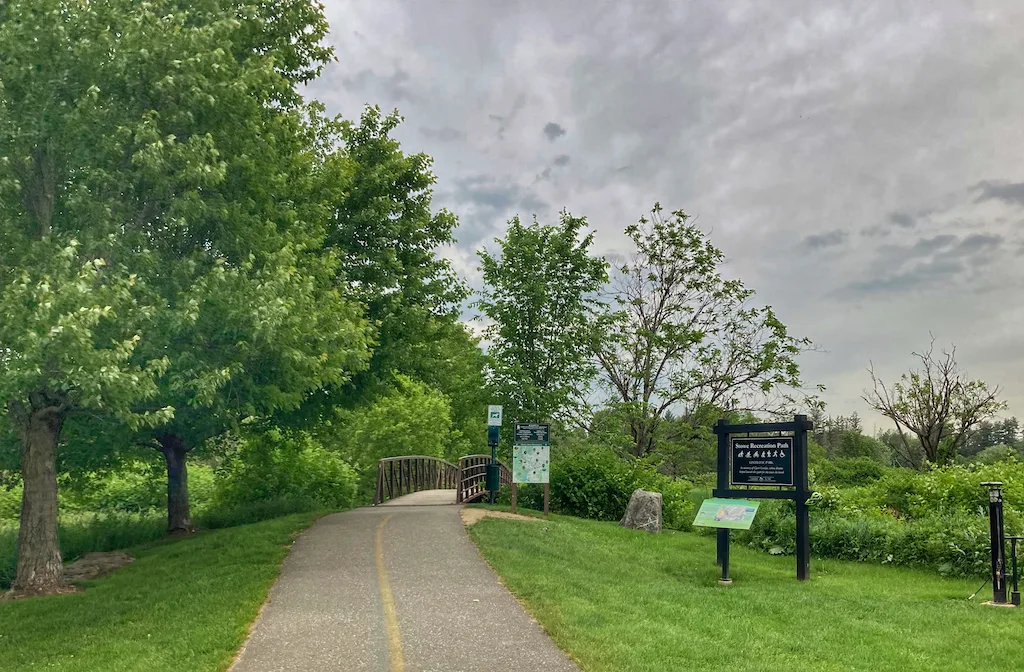 And then there are those times when you just want to take a quiet bike ride, walk your pup, or push a stroller while contemplating how you can pack up your life and move to Vermont for good. The Stowe Recreation Path starts in Stowe Village (park in the lot behind Stowe Community Church) and heads up the mountain, ending at Top Notch Resort.
The path is 5.3 miles (one-way), and there are numerous spots to hop on or off along the route. Two of our favorite restaurants, Idletyme Brewing and Piecasso are right off the Stowe Recreation Path, but there are also a few great spots for picnicking.
Walking this route in the summer? The Stowe Recreation Path runs along the West Branch River, and there are numerous spots to wade and a few spots deep enough for swimming.
Take a Hike in the Green Mountains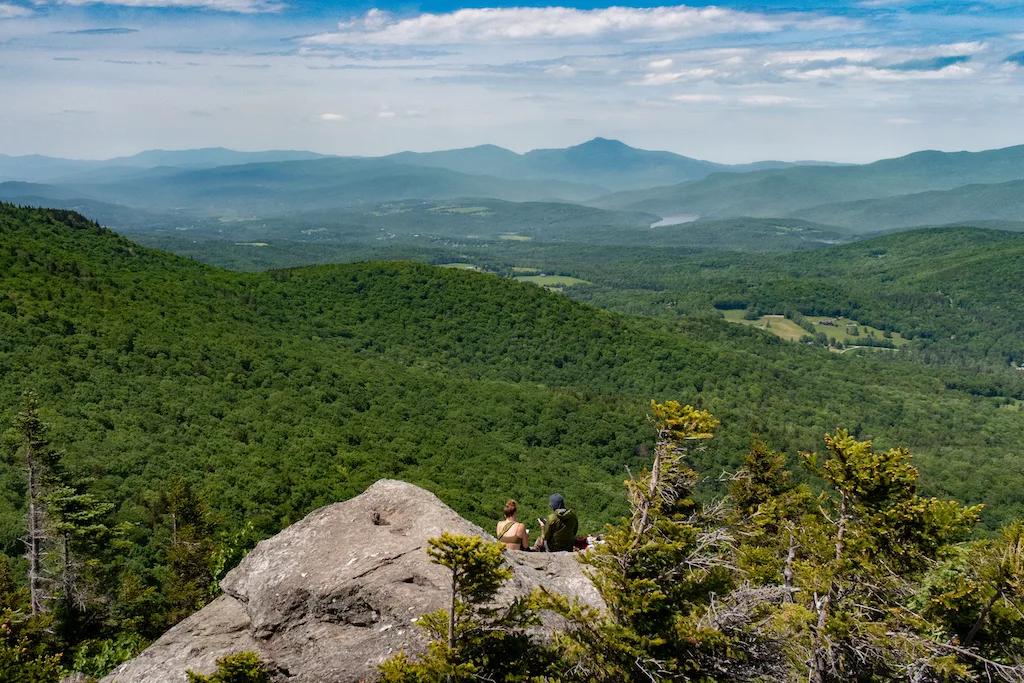 The northern Green Mountains provide endless opportunities for hiking in and around Stowe, whether you've got an hour or a full day to explore. Here are a few of our favorite hiking trails in the region. For even more ideas, check out our Stowe hiking guide.
Stowe Pinnacle: The hike to Stowe Pinnacle is 2.8 miles round-trip, and while I'd rate it as moderate, it's a steady climb to the top. The views are absolutely worth the effort, but this busy trail is best enjoyed in the early morning or during the week.
Wiessner Woods: This easy trail network is a great one for families with kids. The elevation gain is minimal, and there are hidden fairy gardens and gnomes sprinkled throughout the woods. Part of the Stowe Land Trust, Wiessner Woods is great for hiking in the summer and cross-country skiing or snowshoeing in the winter.
Elmore Mountain: This hike is located 20 minutes from Stowe, but it makes a great summer day trip if you have time. Hike the moderate 4.5-mile loop in the morning, and then spend the day swimming in beautiful Lake Elmore. The hike does require a bit of scrambling on Fire Tower Trail.
Visit A Magnificent Waterfall (and Go Swimming)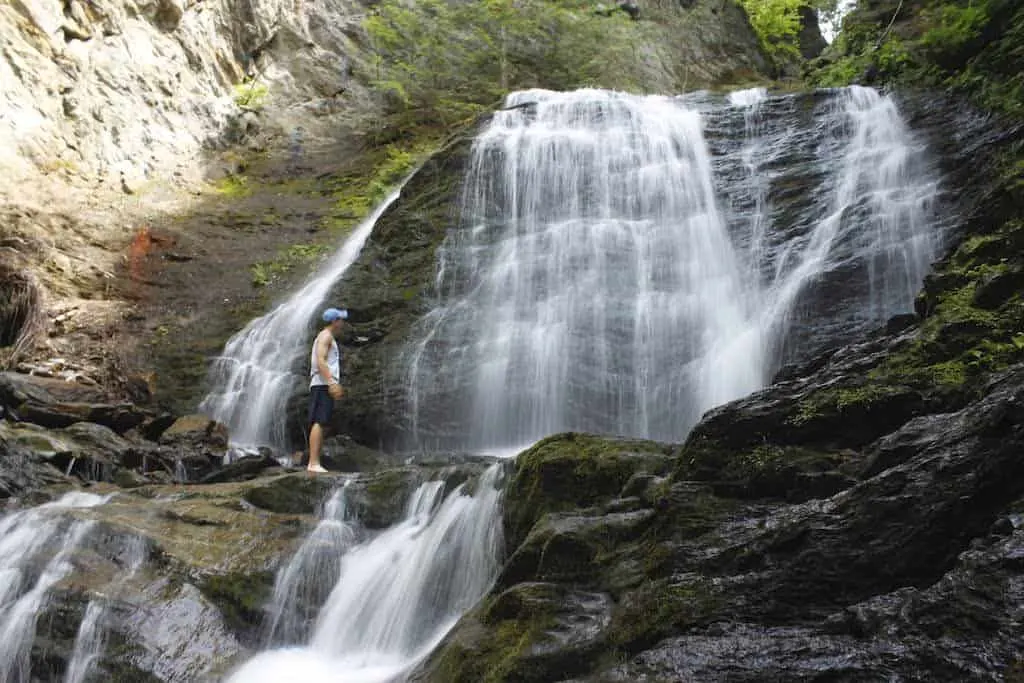 Stowe is fortunate to be home to two of Vermont's most beautiful waterfalls, both of which are free to access and require a short hike to get to.
Bingham Falls is located off of VT 108, also known as the Mountain Road, across from Smuggler's Notch State Park. There is a big parking lot on the side of the road, which fills up on busy weekends.
The hike down to the fall and back is about a half mile in length with 150 feet of elevation change. Bring your swimsuit if you don't mind frigid river swimming!
Moss Glen Falls is even easier to get to — there is a level boardwalk and trail to the top of the falls and then a moderately steep climb down the lower falls and swimming area. It's actually a bit too shallow for real swimming, but you can definitely cool off.
Both of these short waterfall hikes are detailed in our Stowe hiking guide
---
Read Next: The 9 Best Swimming Holes in Vermont for Summer Fun
---
Paddle, Fish, Swim, or Camp on the Waterbury Reservoir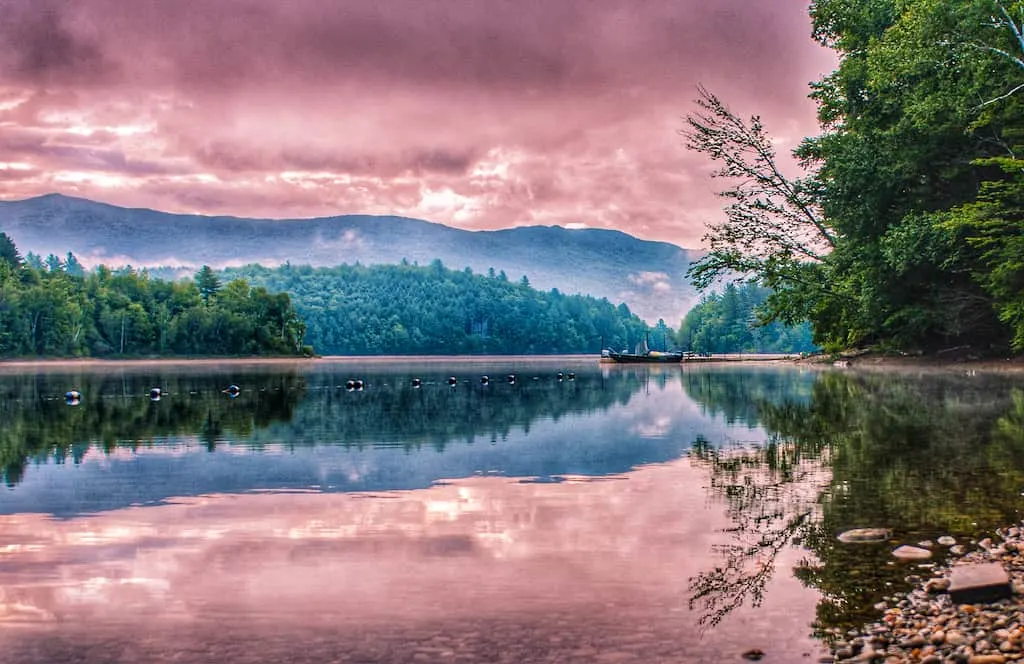 Create in the 1930s by the CCC as a flood control project, Waterbury Reservoir is surrounded by mountains and perfect for all kinds of recreation. With two state parks, one front-country campground, several primitive campsites, and numerous hiking trails, this beautiful lake is just a short drive from Stowe.
Little River State Park is located on the west side of Waterbury Reservoir bordering Mansfield State Forest. This is one of our favorite state parks for family camping trips. Brian, the park interpreter, offers all kinds of opportunities to get in touch with the natural and historical gems of the park. The interpretive programs are all family-friendly and incredible.
Waterbury Center State Park is a day-use park just a quarter-mile off of scenic Route 100 in Waterbury. This is the spot to launch your boat, rent canoes or kayaks, have a picnic, or paddle north to lakeside primitive campsites. $5 entrance fee for adults, $2 for kids.
Wander Through a Covered Bridge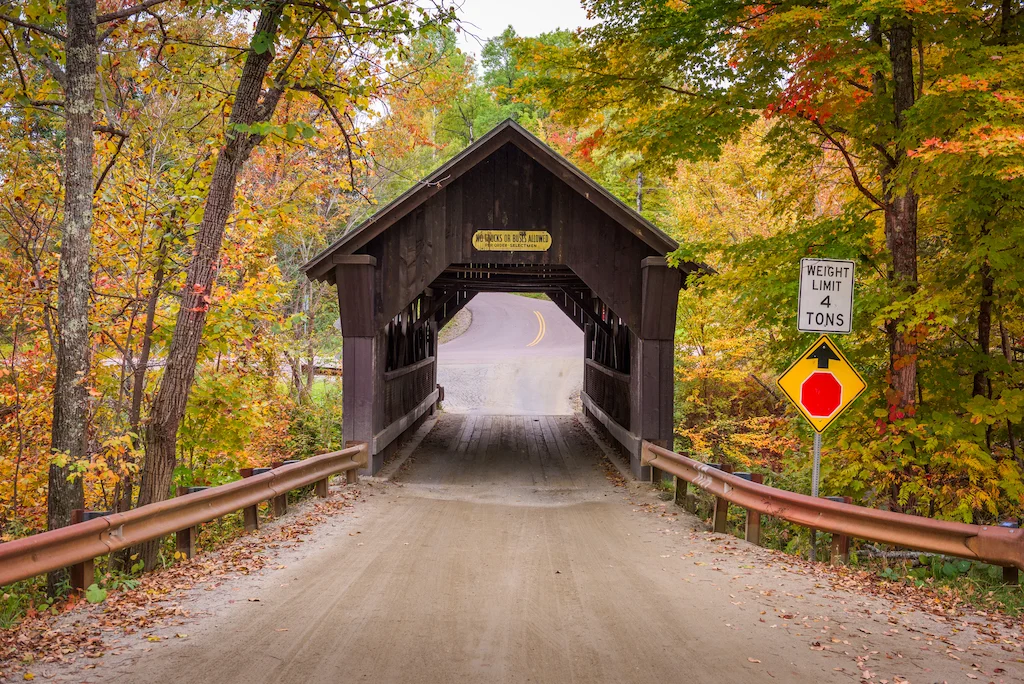 What is it about covered bridges that fill people with such nostalgia? Once upon a time, there were at least 10 covered bridges in Stowe, but time and weather took their toll, and one historic covered bridge remains.
Built in 1840, Gold Brook Bridge is tucked away in the foliage on Covered Bridge Road. This is one of the most photographed spots in Stowe and is said to be haunted by a young woman named Emily, which is why most people call it Emily's Bridge.
According to legends, Emily lived nearby in the 1850s. She fell in love with a man who suggested she meet him at the Gold Brook Bridge at midnight for a secret rendezvous. When he stood her up, Emily took her own life and now haunts to bridge on moonlit nights.
I'd just assume visit Emily's Bridge during the daytime!
Pedestrians meandering around Stowe will likely pass under the Giles W. Dewey Memorial Bridge, which crosses Little River on the Mountain Road in Stowe.
These may be the only covered bridges in Stowe, but if you're willing to drive just outside of town, you can visit several more. Trapp Family Lodge has a nice overview of all of the covered bridges in Lamoille County.
Go Skiing at Stowe Mountain Resort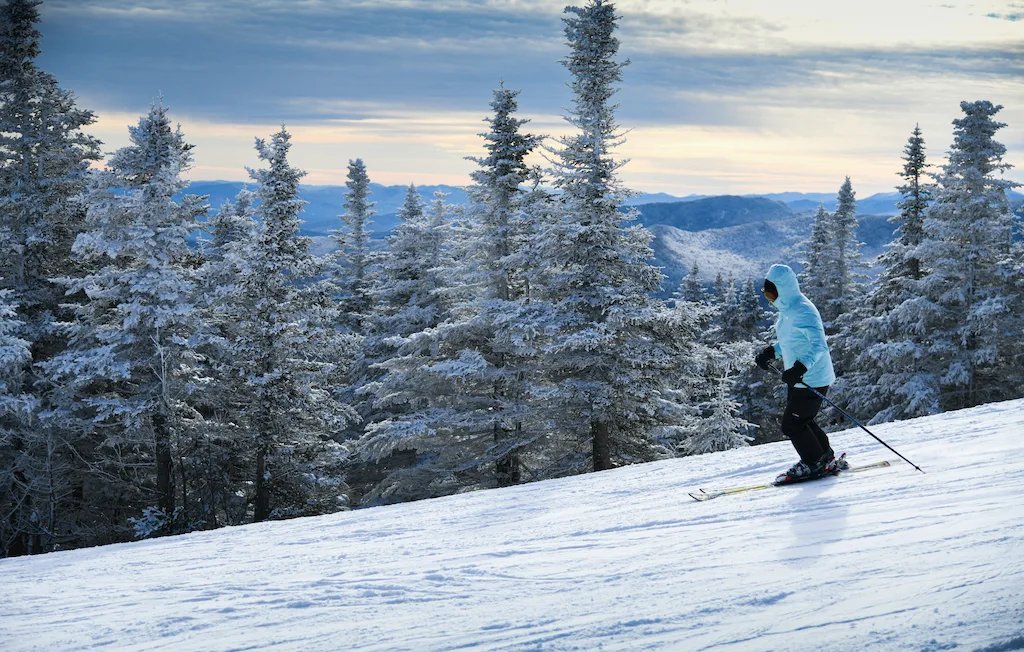 With an annual average snowfall of more than 300 inches, Stowe Mountain Resort is one of New England's most iconic ski areas. Alpine skiing began in Vermont when the Civilian Conservation Corps cut the first lift-serviced trails on Mount Mansfield in the 1930s. Stowe is also home to the nation's oldest Ski Patrol.
Now owned by Vail Resorts, visitors can purchase an Epic Pass for a season of fun at mountain resorts across the country, including Stowe, Okemo, and Mount Snow in Vermont.
Stowe Mountain Resort is composed of Mount Mansfield and Spruce Peak with 116 trails and a vertical drop of 2,360 feet.
Go Ice Skating at the Village at Spruce Peak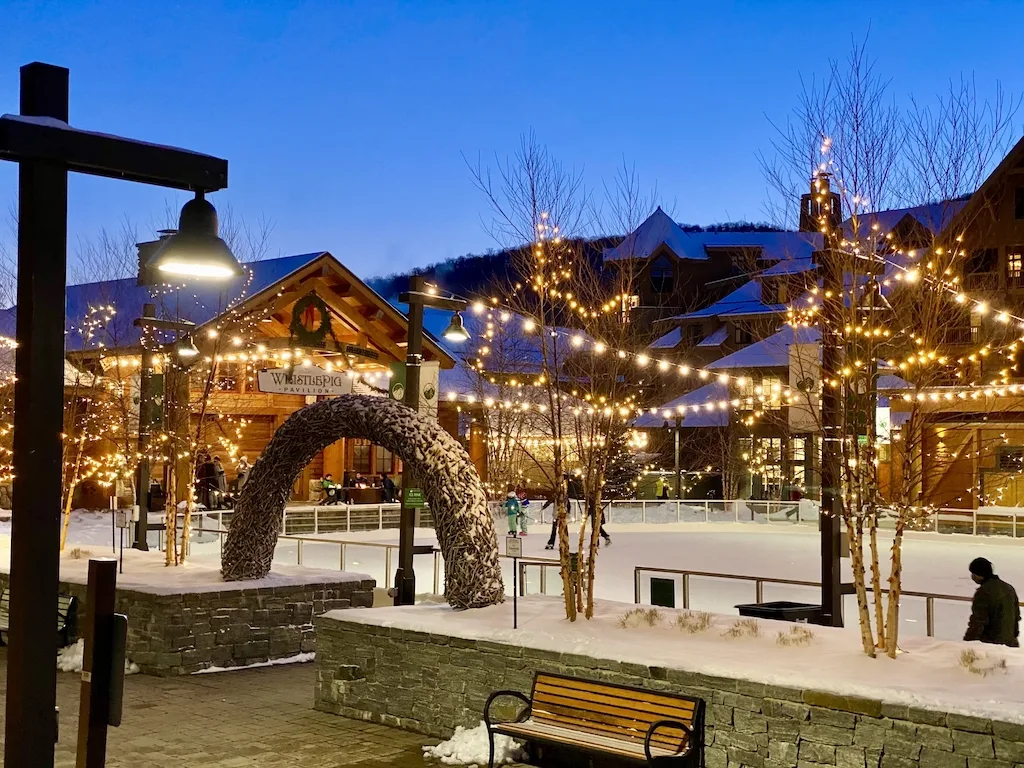 Truth be told, I never got the hang of alpine skiing, but I can hold down the fort while my family hits the slopes and do après-ski with the best of them.
If you feel the same, you'll feel right at home at Spruce Peak, where you can skate for free on a beautiful outdoor rink before heading inside for cocktails and dinner. Bring your own skates or rent them at the Adventure Center.
Weather permitting, the ice skating rink is open every day in the winter.
Take a Carriage or Sleigh Ride with Gentle Giants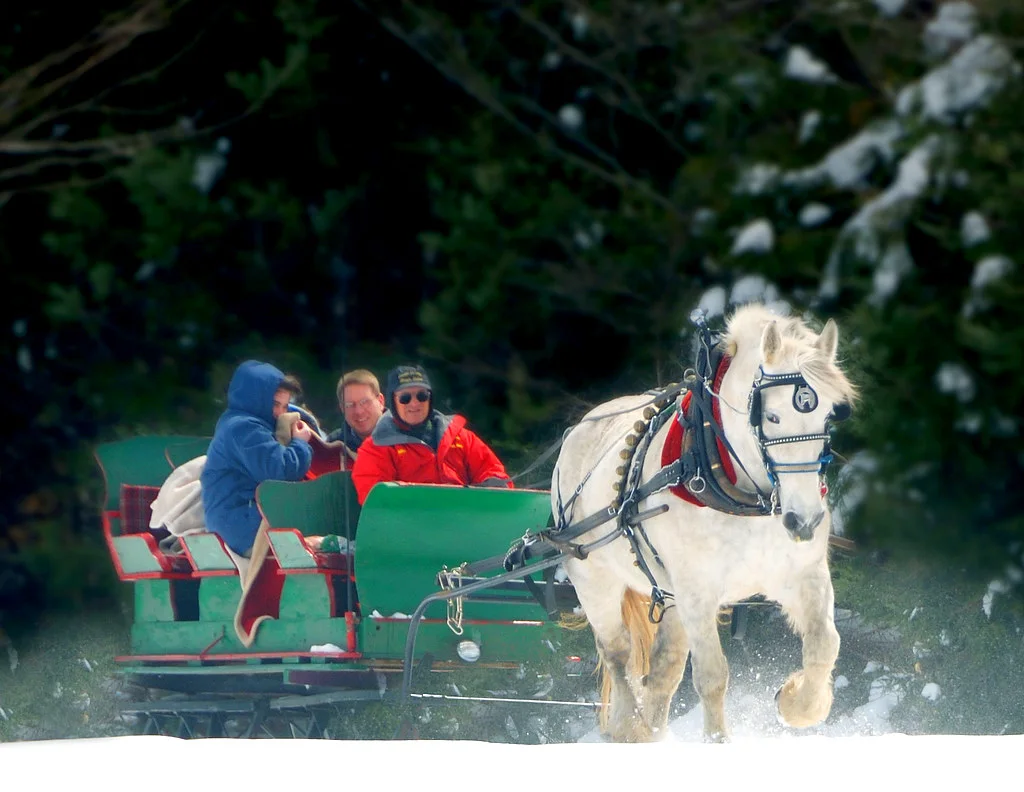 Is there anything as romantic or as quintessential Vermont as snuggling up under blankets in a bright green sleigh as a team of draft horses pulls you effortlessly through the forest? I think not.
Gentle Giants offers horse-drawn sleigh rides every day in the winter, from 11 am to 4 pm. In the summer, the team switches out the sleighs for carriages. The scenery may change from season to season, but a scenic ride through Vermont is always a good time. $40 for adults and $20 for children. The ride is approximately 25 minutes.
Things to do in Stowe VT: Indoors
Not every day in Stowe will have perfect weather, and not all visitors want to spend their days frolicking in the forest (wait, they don't?!?)
For those less-than-perfect days and those less-than-perfect people (just kidding), here are the best things to do surrounded by four walls and a roof in and around Stowe.
Indulge in a Craft Beer or Two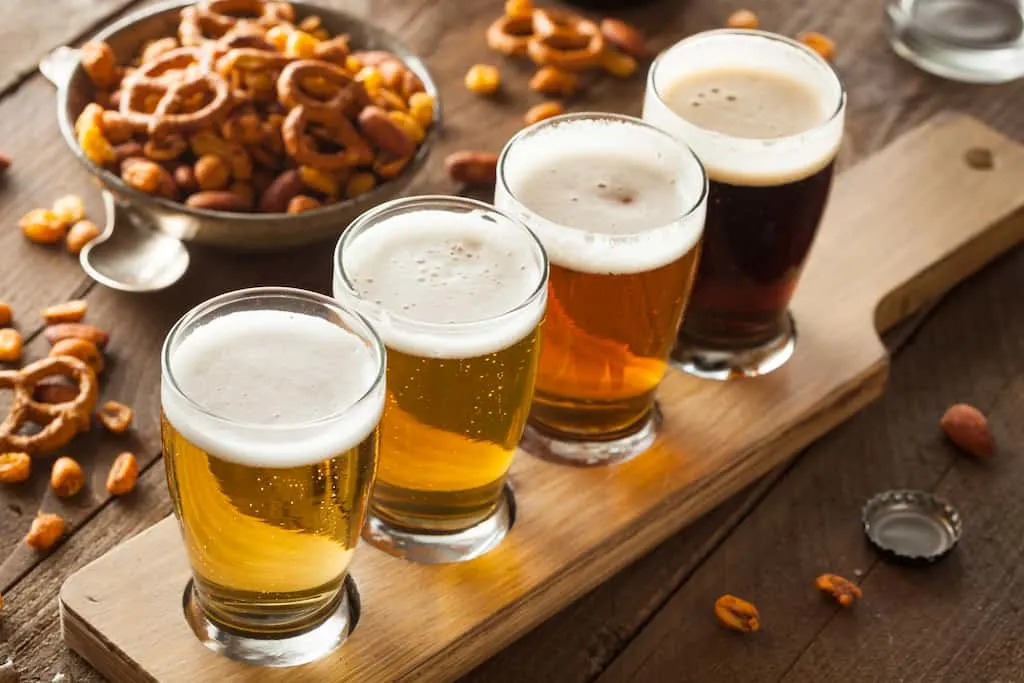 Vermont has more breweries per capita than any other state, and for a tiny town, Stowe boasts more than its fair share. No trip to Stowe is complete without a visit to the Alchemist Beer Cafe, where you can get hand-pulled drafts of the famous Heady Topper for just $5.
For fantastic beer, a wonderful food menu, and one of the best patios in Stowe, head to Idletyme Brewing. Munch on oversized Bavarian pretzels, huge burgers, or farm-fresh salads under the Vermont sunshine. In the summer, be sure to enjoy the Pink N Pale, a refreshing ale fermented with pink grapefruit.
If you've got a craving for traditional Austrian beers, Von Trapp Brewing at Trapp Family Lodge features award-winning lagers and a nice selection of Austrian lunch and dinner offerings in their Bierhall. This is the perfect ending to a cross-country skiing or mountain biking adventure!
Stuff Your Foodie Face
Where to eat in Stowe? You've got a lot of choices! Here are a few of our favorite spots. As we visit more restaurants in Stowe, we'll update our list.
Doc Ponds: This is a popular evening hang-out in winter and summer and a cozy spot to indulge in simple, but yummy pub fare while listening to a variety of music from their massive vinyl collection. I love the sweet potato tacos. Doc Ponds doesn't take reservations, and it does get busy, so plan accordingly.
Piecasso Family Pizzeria: Am I the only one that loves the familiarity of pizza when traveling? Piecasso makes fantastic artisan pizza, plus they have the perfect beer selection and a family-friendly dining room.
Stowe Sandwich Company: Planning a mega outdoor adventure? Pick up sandwiches or wraps from Stowe Sandwich Company on the Mountain Road for your picnic. They have a nice selection of hot and cold sandwiches and lots of vegetarian options.
Hen of the Wood in Waterbury: For a special night out, make reservations at Hen of the Wood before heading south to Waterbury. This fantastic contemporary restaurant has won numerous awards and accolades since it opened in 2005. This cozy spot serves famous steaks, a few vegetarian options, and a simple, but delightful menu that changes with the seasons. A night at Hen of the Wood is a memorable experience — I promise.
Learn How Cider is Made (and Eat Apple Cider Donuts in Waterbury)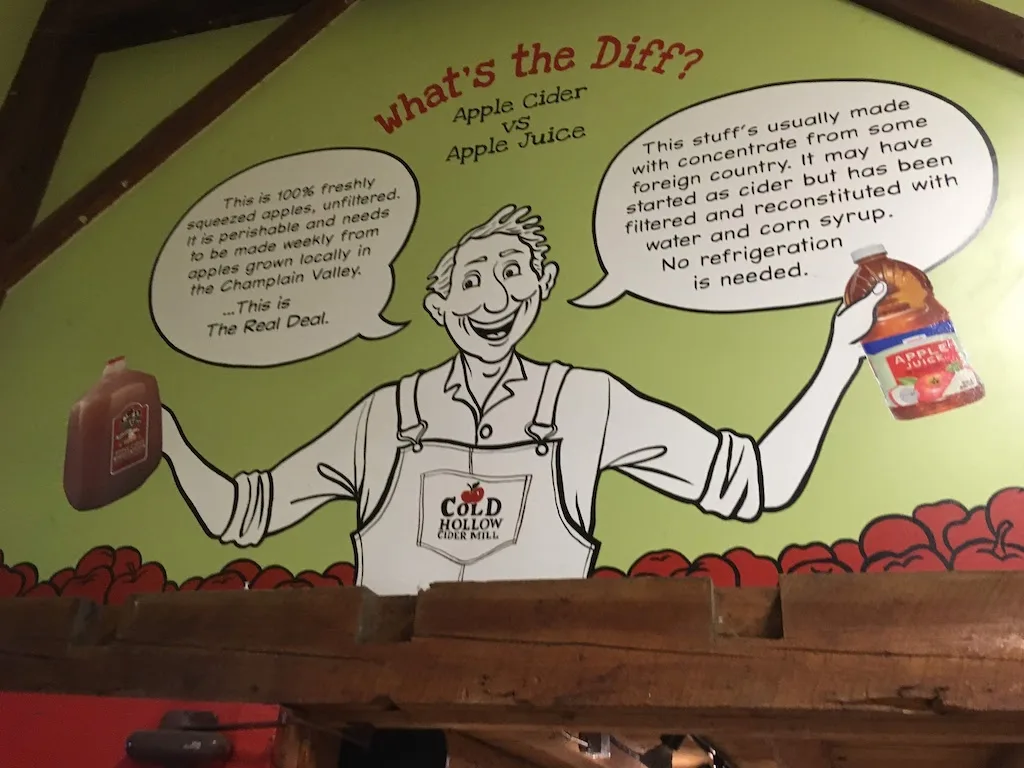 Part cidery, part Vermont gift shop, and part restaurant, Cold Hollow Cider Mill in Waterbury has been welcoming guests for almost 50 years. It's a popular tourist destination that's not afraid to change with the times.
Since my first visit (in the 80s!), Cold Hollow Cider Mill has started making fantastic hard cider and added a great little restaurant, but they still make their cider the old-fashioned way — with a 1920 vintage rack and cloth cider press.
You could spend a whole afternoon at Cold Hollow Cider Mill — take a self-guided tour through the mill, taste cider and donuts, wander the gift shop, and just take in the views.
Shop Main Street in Stowe Village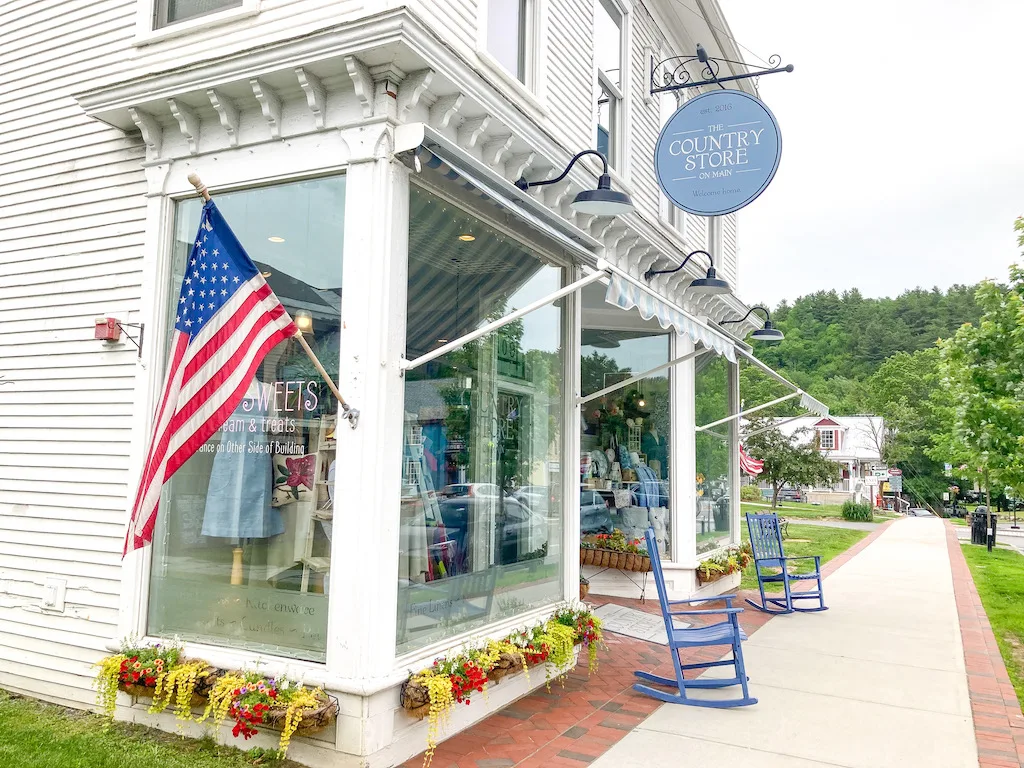 It won't take you long to wander around Main Street in Stowe, but there's a lot to see, so take your time. Get your bearings at the Go Stowe visitor center, pick up some souvenirs at Shaw's General Store, home goods at the Country Store on Main, and chocolates for your dog sitter at Laughing Moon Chocolates.
You won't find chains or big box stores in Stowe — every store is entirely unique and there's always something new to discover if you've got time and money to spare.
Check out the Ski and Snowboard Museum
The Vermont Ski Museum opened in 1988 and moved to Stowe in the early 2000s. The name was changed to the Vermont Ski and Snowboard Museum in 2011, and today the museum welcomes visitors to tour the collections housed in the old Town Meeting House and learn about the history of skiing and snowboarding in Vermont.
The Vermont Ski and Snowboard Museum is open Thursday to Sunday, from 12-5 pm. It's closed for mud season (April 17-May 25). $5 suggested donation.
Tour Ben & Jerry's Factory (Waterbury)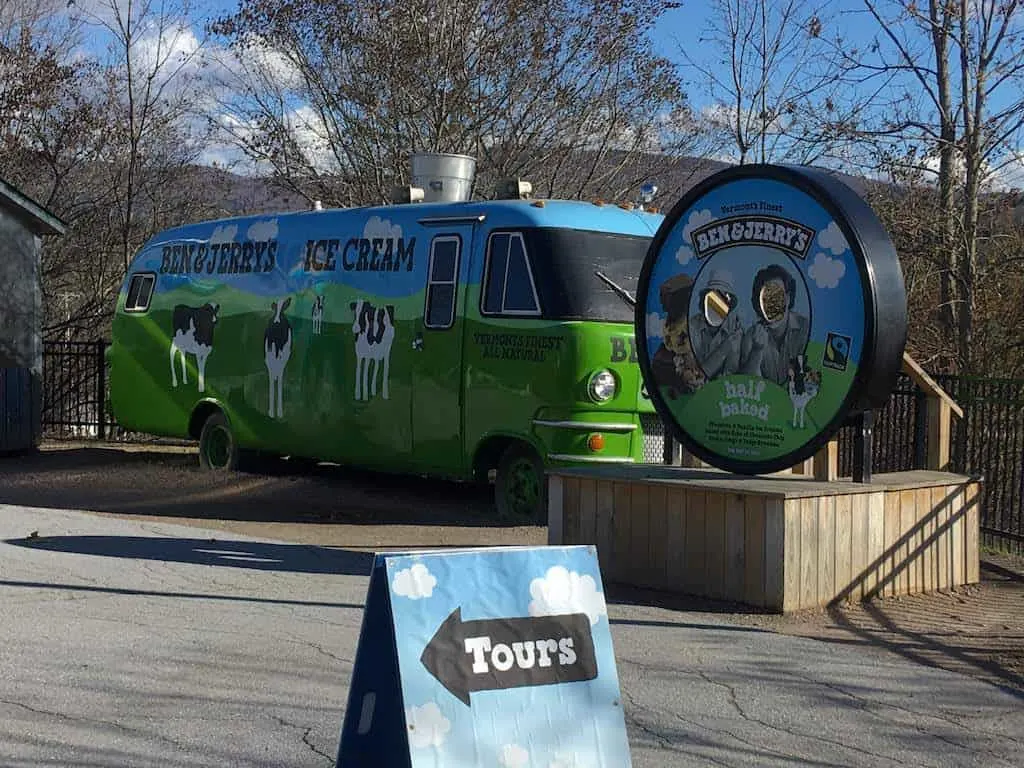 Founded in 1978 in Burlington, Vermont, Ben & Jerry's is one of those iconic Vermont brands that is recognized around the country. The Waterbury factory is the only Ben & Jerry's factory open to the public. Built in 1985, this was the company's very first ice cream factory, and it continues to manufacture upwards of 350,000 pints per day.
Guided tours give visitors a sneak peek into the process of creating award-winning ice cream. There's also a scoop shop and gift store onsite and a flavor graveyard out back where you can pay your respects to the "dearly de-pinted".
Ben & Jerry's is open from Tuesday to Saturday, 10 am-6 pm. Advanced online tickets are highly encouraged. Tickets are $6 per person.
Plan a Spa Day at Spruce Peak
There are a couple of different spots where you can indulge in a spa day in Stowe, but none offers as complete a treatment menu as the Spa and Wellness Center Spruce Peak.
The expansive spa features 18 treatment rooms and a huge array of treatments and packages, from CBD and traditional massages and facials to hairstyling, manicures, and pedicures. Browse the complete menu, then create your own spa day. When you choose any three services for the same person, you get 20% off.
Stock Up on Vermont Cheddar at the Cabot Farmer's Store (Waterbury)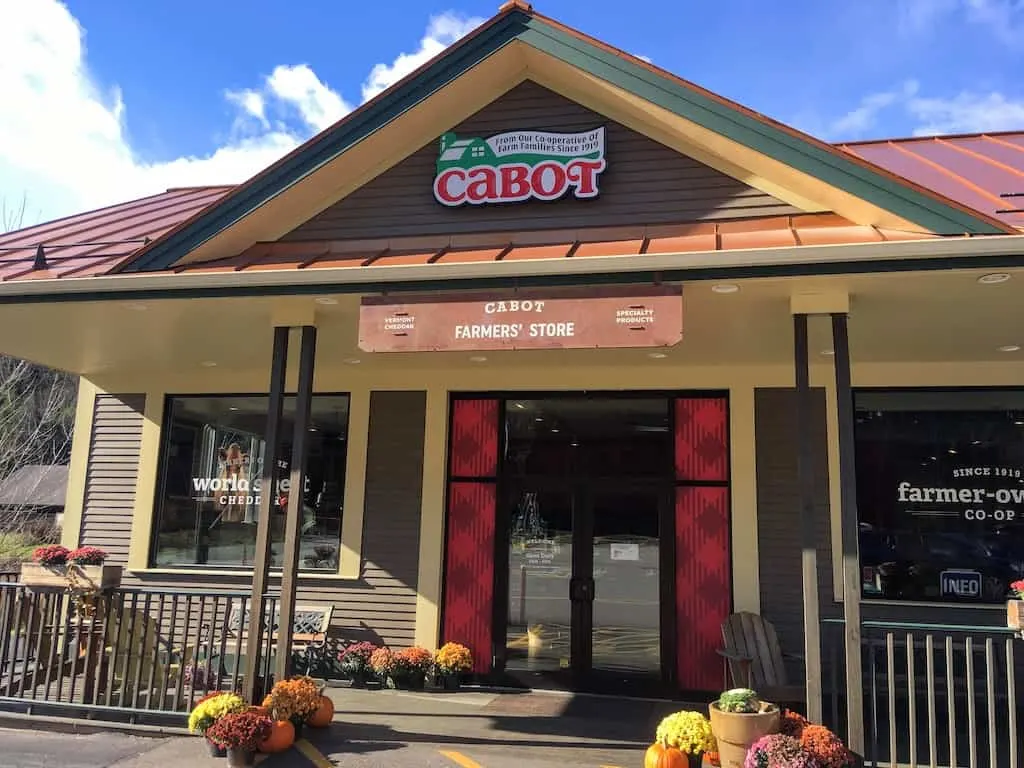 Stock up on a few blocks of Cabot cheddar to bring home at the Cabot Farmer's Store in Waterbury. Not only do they have a huge selection of Vermont cheese, but they've got all kinds of specialty foods, craft beers, local ciders, and international wines.
It's also an ideal spot to pick up some picnic supplies before your visit to Waterbury Reservoir.
Where to Stay in Stowe, Vermont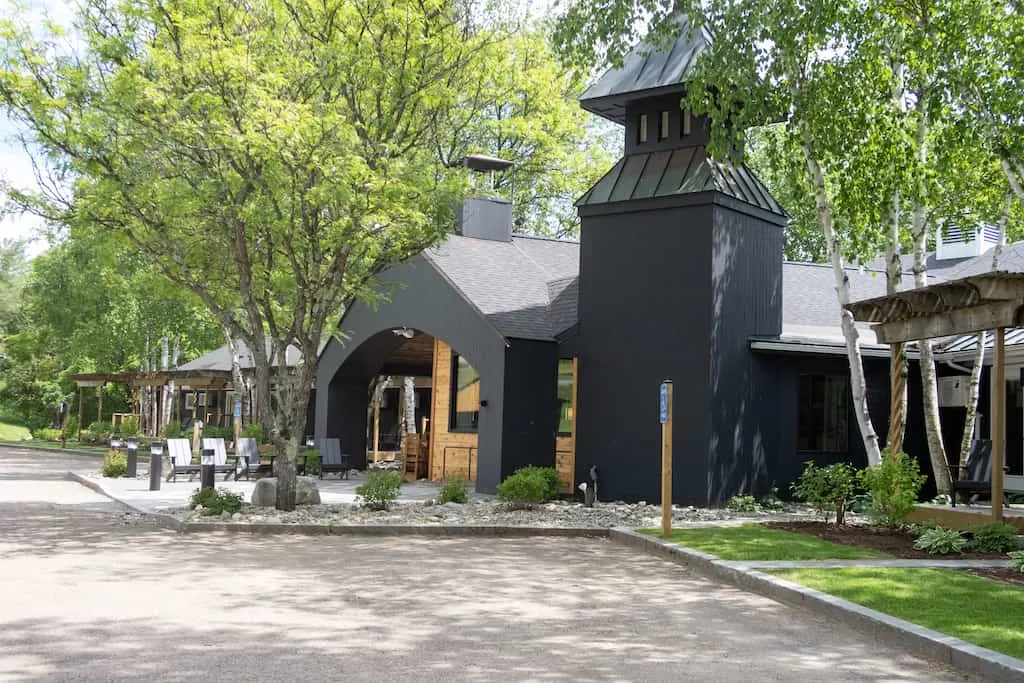 Truth be told, there are a lot of hotels, inns, and resorts in Stowe, and if you're not familiar with the area, it can be difficult choosing a spot to stay. Here are a few ideas.
For an all-inclusive experience, stay at Trapp Family Lodge: Located on the Mountain Road near Stowe Mountain Resort, Trapp Family Lodge is a great choice if you want to surround yourself with beautiful scenery, and take advantage of the onsite recreation, restaurants, and breweries. It's close to all of Stowe's major attractions, but you may just want to explore the property with its vast trail network, two swimming pools, disc golf, and more.
For hipster vibes and an indoor pool, try Tälta Lodge. Also located on the Mountain Road, this is a great spot for couples, and it's right on the river with outdoor patios and lovely landscaping. One of our new favorites!
For easy access to ski trails and luxury accommodations, stay at Top Notch Resort: This is a great location on the Mountain Road and the culmination of the Stowe Recreation Path. This beautiful resort features an indoor and outdoor swimming pool, modern tennis facilities, and a full-service spa.
For an affordable stay, try Stowe Motel. Offering free bicycles and snowshoes to guests, this modest motel has an outdoor pool and a small kitchenette in each room. It's cute and convenient, if a bit dated.
For great camping, stay at Smuggler's Notch State Park: We love the small, quiet campground at Smuggler's Notch State Park for summer camping. Reserve a lean-to and you won't even have to worry about rain.
Follow us on social media for more Vermont inspiration!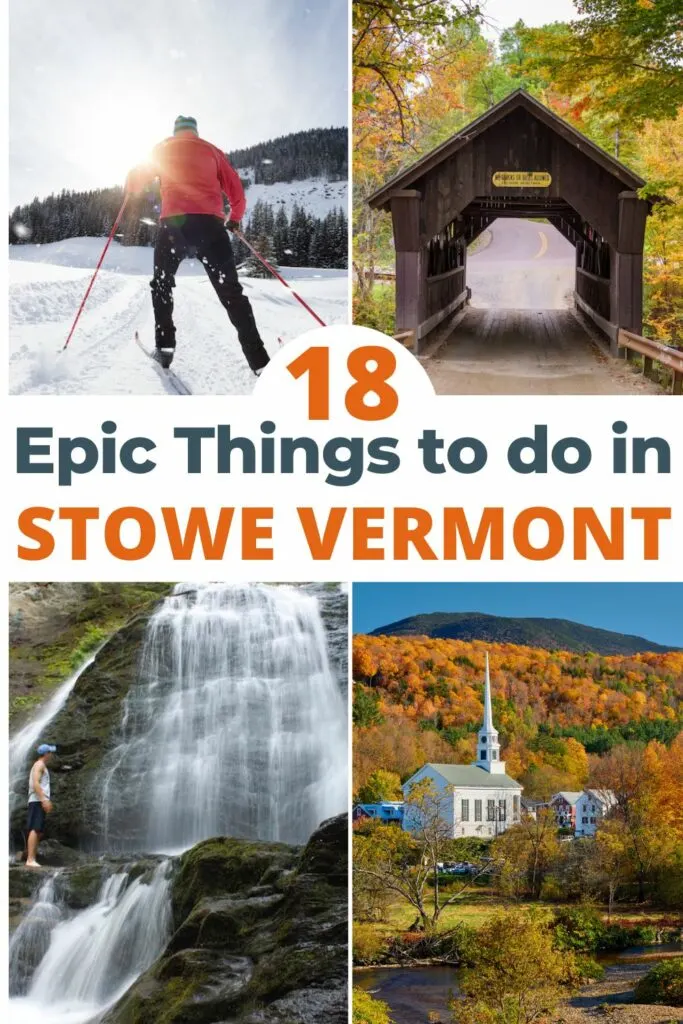 Tara Schatz is a freelance writer, and the founder and editor-in-chief of Vermont Explored and Back Road Ramblers, an American road trip blog. She is also the co-author of the 3rd edition of AMC's Best Day Hikes in Vermont, which was released in May 2023.