Vermont's only metropolis has been named one of the healthiest cities in the United States many times over, and according to Wallet Hub, it comes in as the 12th healthiest city for 2021.
Could all the amazing hiking trails near Burlington, Vermont be a factor? 100% yes!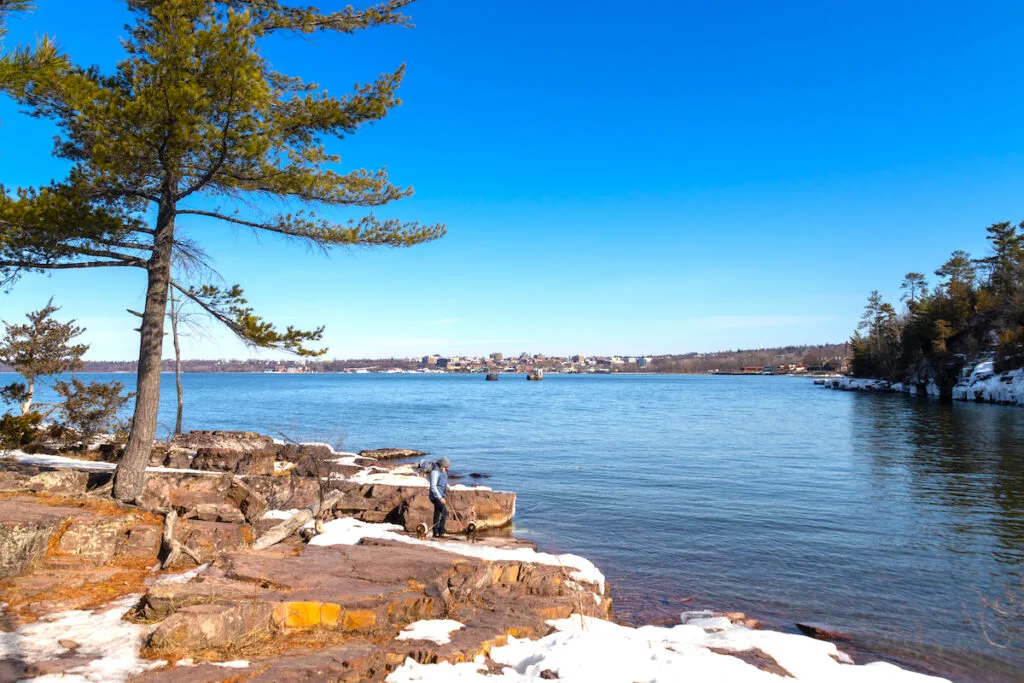 Burlington takes its outdoor recreation very seriously with an abundance of green spaces, trails, parks, and gardens throughout the city, and if you're planning a visit to this beautiful part of Vermont, you'll be happy to know that there are lots of easy hikes near Burlington, VT.
Whether you're hiking with your family, or just want to get away from the bustle of town for a bit, chances are there's a hiking trail near Burlington with your name on it.
Best Easy Hikes Near Burlington
Vermont's largest city wholeheartedly embraces the outdoors. There are dozens of parks, several paved bike trails, and numerous places to swim in Lake Champlain, and while we aren't including many mountain hikes in this post, there are enough easy trails to keep you blissfully wandering for many happy days.
There are so many cool spots and hiking trails near Burlington, but these are our favorites. All of these hikes are within 30 minutes of Burlington and easy enough for outdoor-loving kids.
Red Rocks Park, South Burlington, Vermont: The Best Hiking in Burlington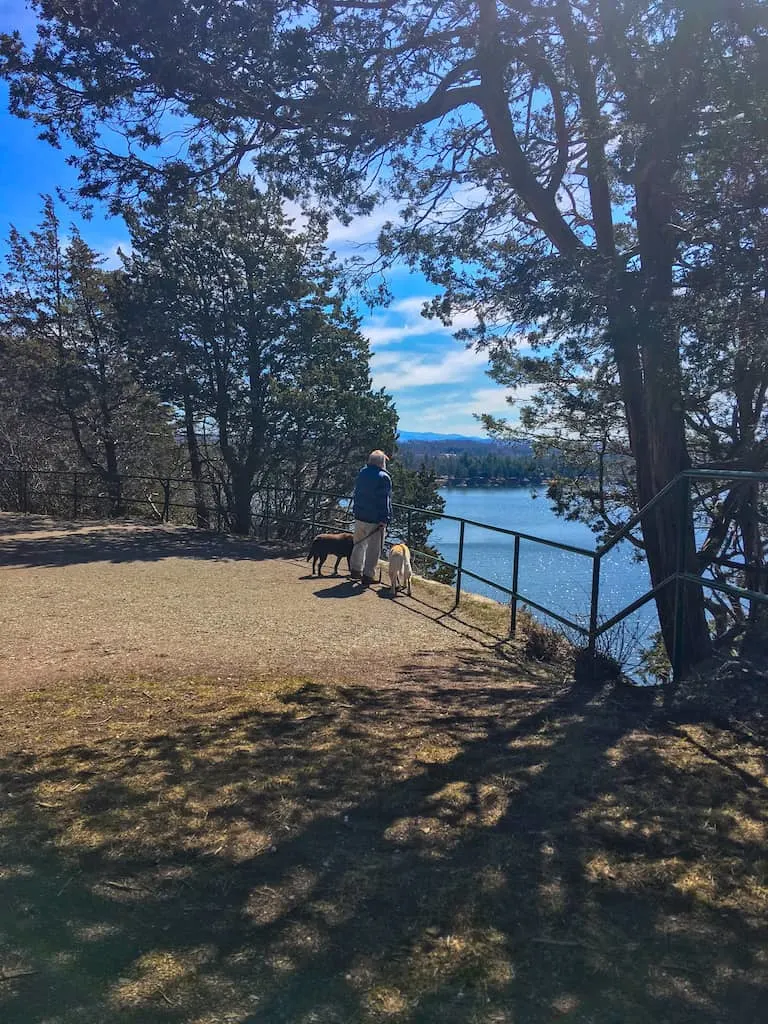 When I was a kid, Red Rocks used to be the place where the bad boys jumped off cliffs into Lake Champlain. I'm sure that's still going on, but for me, the real treasure of Red Rocks is the Lake Trail, which meanders along many of the aforementioned cliffs, providing unparalleled views of the Adirondacks and Lake Champlain.
The paths at Red Rocks Park are mostly hard-packed gravel, and there are barriers between the trail and the edge of the cliffs for safety. This is an easy walk that will take you about an hour, depending on how motivated you are.
If you want to do a little more exploring beyond the Lake Trail, my kiddos recommend a climb on the Lichen Ledges and a swim at the public beach before calling it a day.
Difficulty level: Easy-peasy – perfect for all ages!
Length of trail: About a mile (one way) if you have to walk in from the street (winter). It's closer to 0.6 of a mile if you park in the lot (summer).
Dogs: Must be kept on a 6-foot leash. Lots of dogs walk here.
Fee: When the park is open, there's a daily parking fee of $5 for residents and $8 for non-residents
For directions and a printable trail map, visit the South Burlington Recreation & Parks website.
---
---
Mt. Philo State Park, Charlotte: Welcome to Vermont's First State Park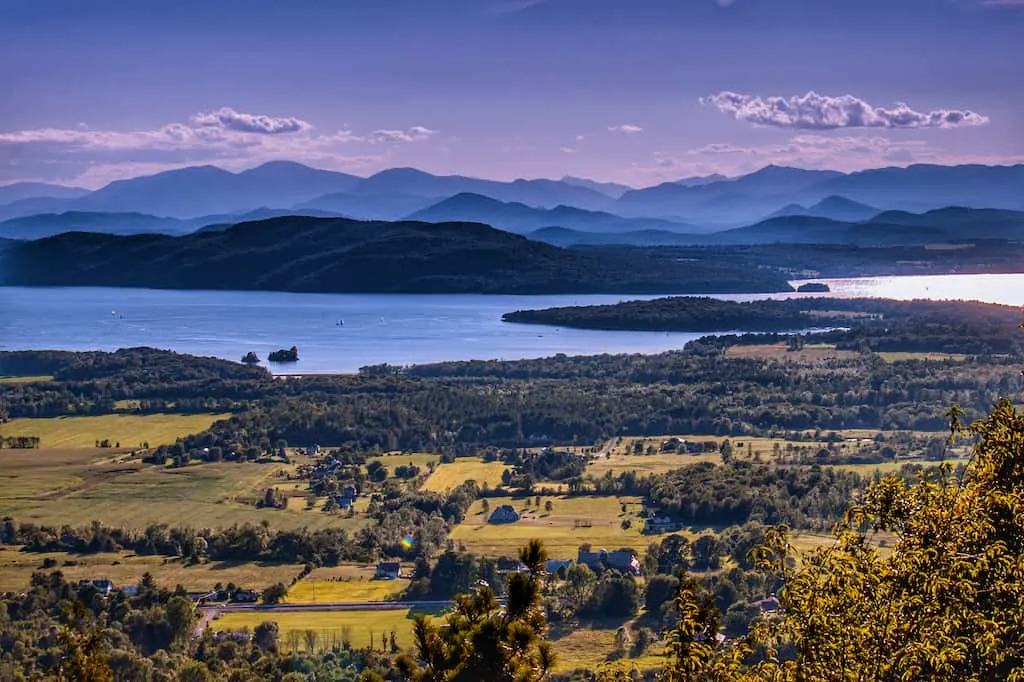 Mt. Philo is definitely one of our all-time favorite places to watch the sunset over Lake Champlain. I wrote a bit about Mt. Philo in this post about exploring the Lake Champlain Valley. I have to be honest though, we usually drive up to the top of the mountain, mainly because we're carting along the perfect sunset picnic.
I'm including Mt. Philo on this Vermont hiking list, though, because it was my absolute favorite hike to take with my grandparents when I was a kid.
The trail from the parking lot to the summit is ¾ of a mile. It's an uphill climb the whole way, and the whole world opens up when you get to the top. I think I loved this hike so much as a kid because it really felt like I had accomplished something when I got to the top.
Difficulty level: Steep, but short. I think 10-year-olds would love it!
Length of trail: ¾ mile one way.
Dogs: Allowed on leash
Fee: $4 for adults / $2 for kids (free during the off-season)
Additional information: During the open season (Memorial Day to Indigenous People's Day), you'll find restrooms at the top. There's also a charmingly quiet campground with fewer than a dozen sites. I love camping here and waking up in time for the sunrise. For a campground/trail map, visit Vermont State Parks.
Colchester Bog, Airport Park, Colchester: A Perfect Stop on Your Colchester Bike Rid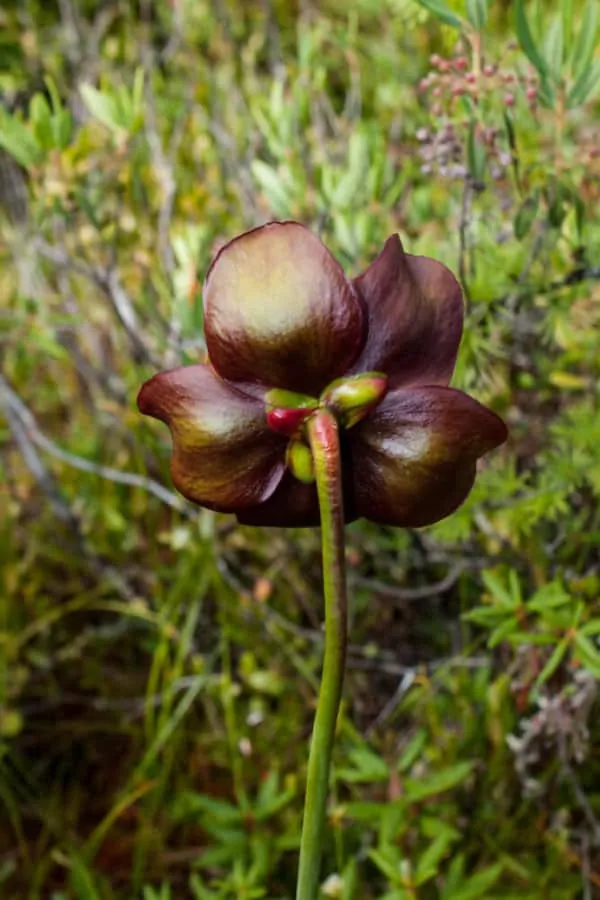 Airport Park in Colchester is a good starting point for all kinds of outdoor adventures. Jogging paths, rec fields, playground equipment, and restrooms make this a favorite after-school park throughout the year. You can also access the Colchester Causeway for a nice flat bike ride along Lake Champlain.
Our favorite discovery within Airport Park is Colchester Bog, where you'll find some of the coolest plants in all of Vermont. A boardwalk delves deep into the bog, making it easy for kids to get up close and personal with this unique ecosystem.
You'll find swampy forests here, as well as some open peat bogs, and dense thickets of shrubs. Please stay on the boardwalk to protect this fragile community.
Difficulty: So easy and short that you'll want to combine this trip with a playground visit or bike ride.
Distance: 0.1 mile
Dogs: Not sure, but if you do bring dogs, be sure to keep them on the boardwalk.
Fee: Free
I couldn't find a trail map, probably because the trail is so short, but you can read a bit more about Colchester Bog on the UVM website.
Niquette Bay State Park, Colchester: Hike Along Lake Champlain with Mountain Views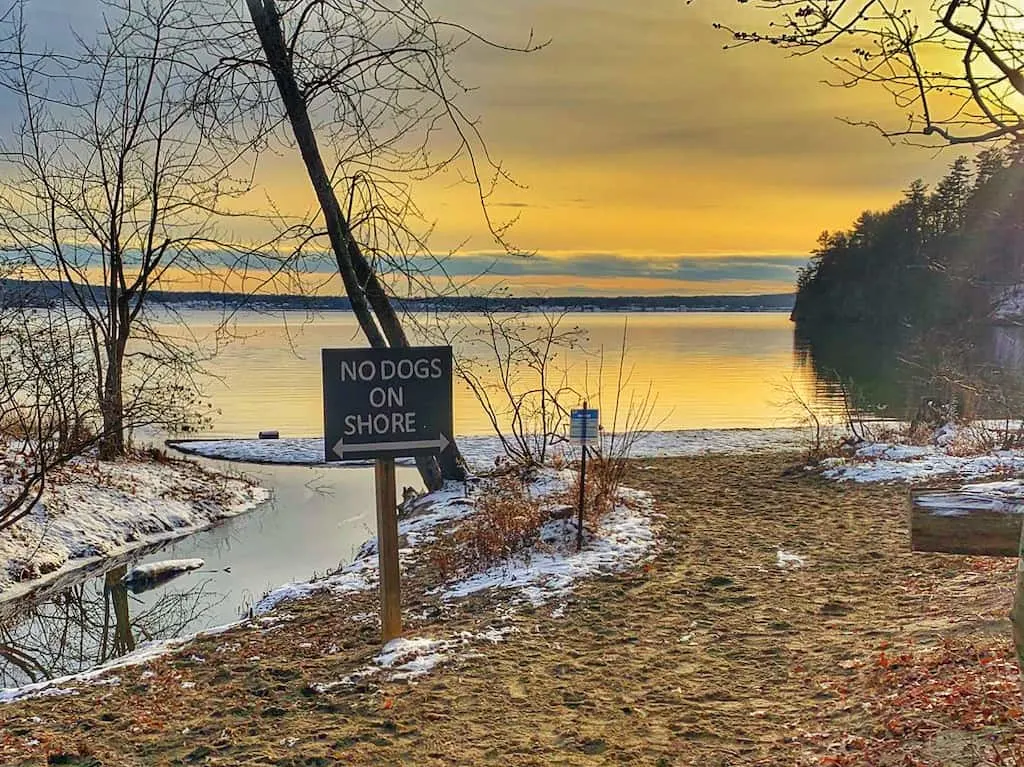 I first fell in love with Niquette Bay State Park because the trails are so dog-friendly. Unfortunately, dogs are no longer permitted to wander around off-leash when the park is open (May 6th to Indigenous People's Day). You'll still find plenty of happy dogs in the park, though, and dogs can still swim at Calm Cove.
There are all kinds of trails at Niquette Bay State Park, ranging in length and difficulty, so whether you want to spend an hour or an afternoon, you'll find a trail that's perfect for your adventure.
My favorite trail at Niquette Bay is the Muhley Trail to the Island View Trail (views!!), back to the Muhley Trail to Calm Cove for a swim, and back to the parking lot via Burns Trail (easier) or Ledges Trail (more difficult).
Difficulty: Varies – Families with young kids can take Allen Trail straight to the beach, and the trail mentioned above is great for older kids who need to burn off some energy.
Distance: Varies. Here's a trail map
Dogs: Yes, but keep them on a leash during the open season.
Fee: $4 for adults / $2 for kids (free during the off-season)
For more information, including directions, check out Vermont State Parks.
Shelburne Farms, Shelburne: Easy Hike Near Burlington with Stunning Views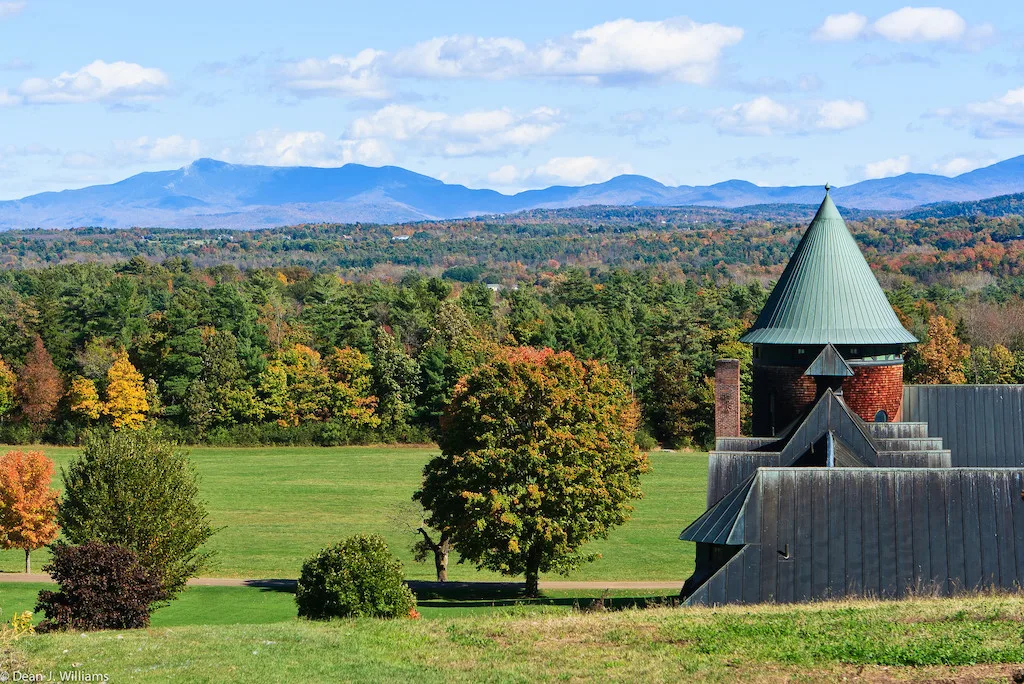 The 10 miles of walking trails at Shelburne Farms are perfect for meandering among fields, through forests, and along the shores of Lake Champlain. It's a favorite spot for tourists, joggers, and walkers, and is one of the best easy hikes near Burlington.
Park at the welcome center and take the trail on the left toward Lake Champlain. Pass the farm barn and take the Farm Trail past Lone Tree Hill, the farm's highest point.
There is a bench here to relax on and take in the stunning views of Lake Champlain and the Adirondack Mountains.
From Lone Tree Hill, continue on the Farm Trail to the lake, take the Buckthorn Tunnel Trail just for fun, and loop back toward the welcome center on the North Gate Pass.
The loop is just under four miles, but there are side paths you can take if you want a longer walk. There are even formal gardens to explore near the historic inn.
Difficulty: Trails are mostly easy
Distance: Varies – here's a trail map
Dogs: No
Fee: Donations are appreciated

Additional information: Shelburne Farms is a nonprofit organization and working farm with a robust calendar of events for families. The Inn at Shelburne Farms is a great place to stay while exploring the Burlington area.
Ethan Allen Homestead, Burlington: Hiking and Cross-Country Skiing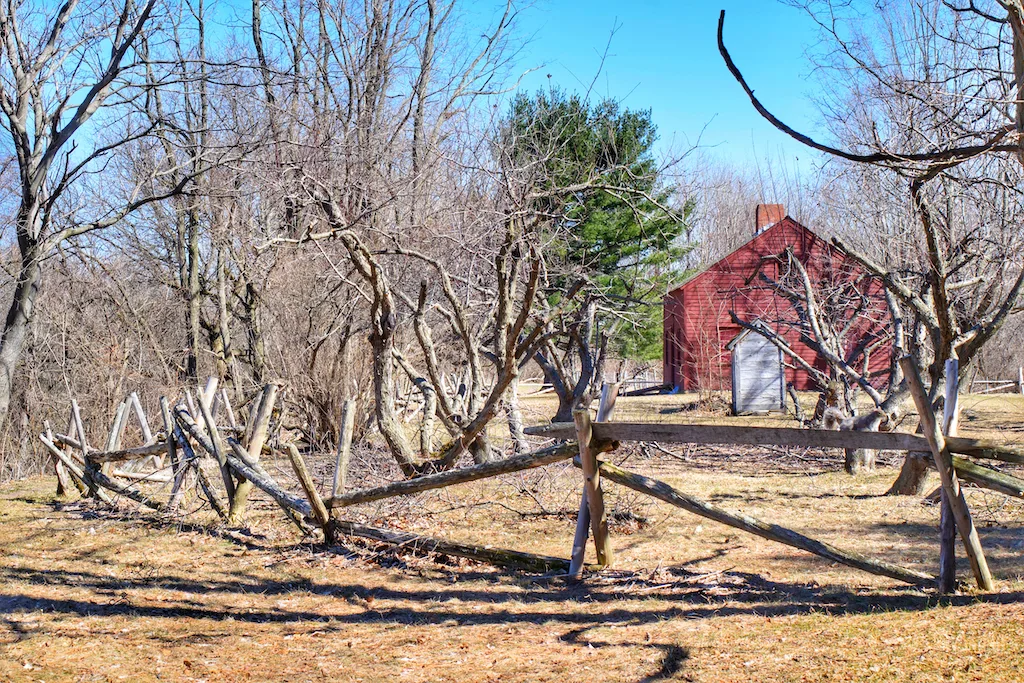 The Ethan Allen Homestead in Burlington is a fabulous community resource. The sprawling grounds include four miles of hiking, biking, and cross-country ski trails, the restored farmhouse of Ethan and Fanny Allen (built in 1787), and the Ethan Allen Homestead Museum.
Bike paths connect Ethan Allen Homestead with nearby Ethan Allen Park to the north and the Intervale to the south. Begin your hike at the Ethan Allen Homestead Museum and take the Homestead Loop, to the Pond Trail, to the Peninsula Loop for an easy hike under three miles.
Much of this hike travels next to the Winooski River, with opportunities for spotting wildlife, including raccoons, otters, beavers, and deer. There are boardwalks through the wetlands, but this is still a wet walk year-round.
Difficulty: Easy
Distance: 4 miles of trails. The loop mentioned above is less than 3 miles.
Dogs: On leash
Fee: Free

Ethan Allen Homestead Park is managed by the Winooski Valley Park District. Need a trail map? Here ya go!
The Intervale, Burlington: More Burlington Hiking Trails along the Winooski River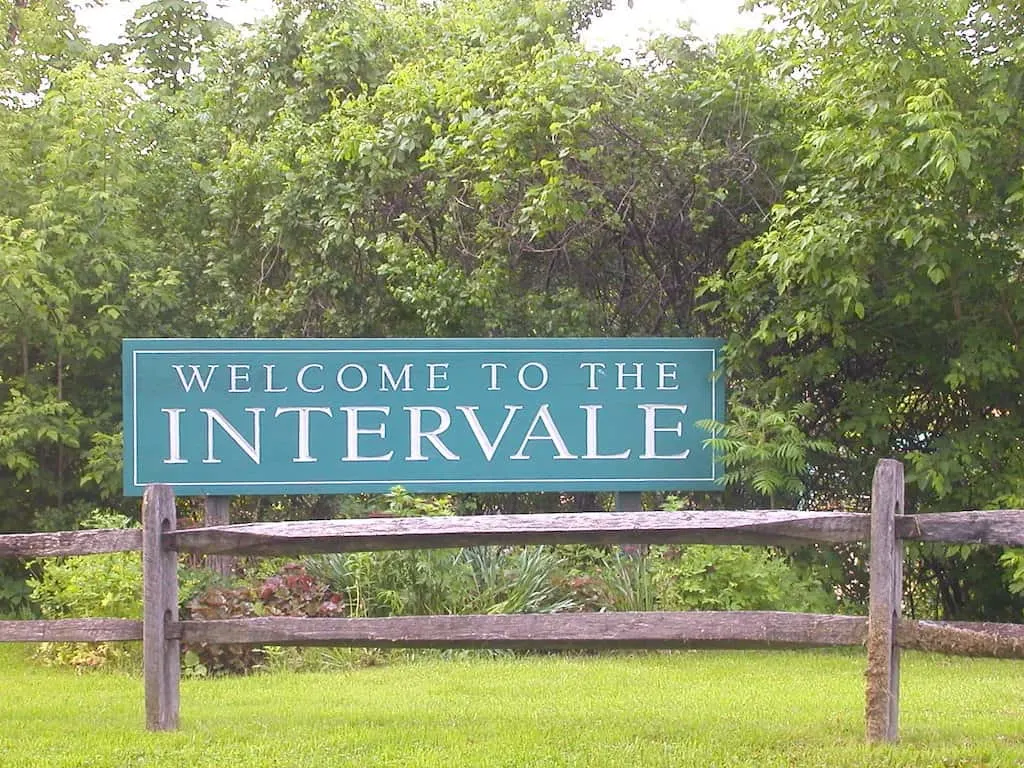 The recreational trails at the Intervale are perfect for biking, birding, walking, jogging, and skiing on groomed trails in the winter. The trails wind along the Winooski River to Ethan Allen Homestead (mentioned above). The Intervale is on a low floodplain, so expect muddy conditions on flat trails.
Drive down Intervale Road and park in one of the many parking areas. We like to park in the lot across from Gardner's Supply so we can browse for plants after our walk.
Take Calkins Trail for 1.3 miles along the river, and then retrace your steps or walk back to your car on Farm Road past many of the community farms that are part of the Intervale Center. The Intervale is open 365 days a year and is free to the public.
Difficulty: Easy
Distance: There are 6 miles of trails to explore
Dogs: On leash
Fee: Free
The Intervale Center manages 360 acres of farmland, trails, and open space with a mission of strengthening community food systems by enhancing farm viability, promoting the sustainable use of agricultural lands, and engaging people in the food system. Here's a trail map to help plan your adventure.
Ethan Allen Park, Burlington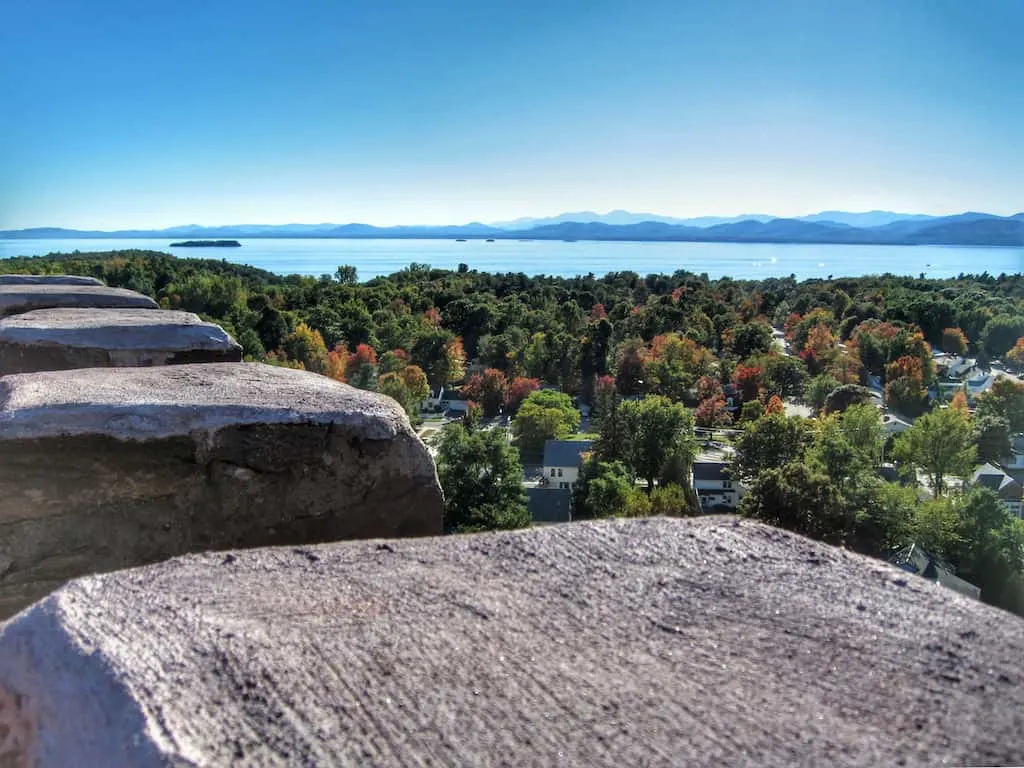 Heading in the other direction northwest of Ethan Allen Homestead is Ethan Allen Park, one of the first urban forest parks in the United States. This is a 60-acre woodland park in Burlington that surrounds the city's highest point which is topped by a 40-foot stone tower with gives visitors a 360-degree view of Burlington, Lake Champlain, the Adirondacks, and the Green Mountains.
There are four miles of easy trails in Burlington's Ethan Allen Park, both paved and dirt. In addition to the network of trails, there is also a playground, a picnic area, and a gazebo. The park is connected to Ethan Allen Homestead via the 127 Bike Path.
Difficulty: Easy/moderate
Distance: 4.2 miles of interconnected trails
Dogs: Yes, on a leash
Fee: Free
Ethan Allen Park is maintained by Burlington Parks, Recreation, and Waterfront. Here's a trail map to help you plan.
Colchester Pond, Colchester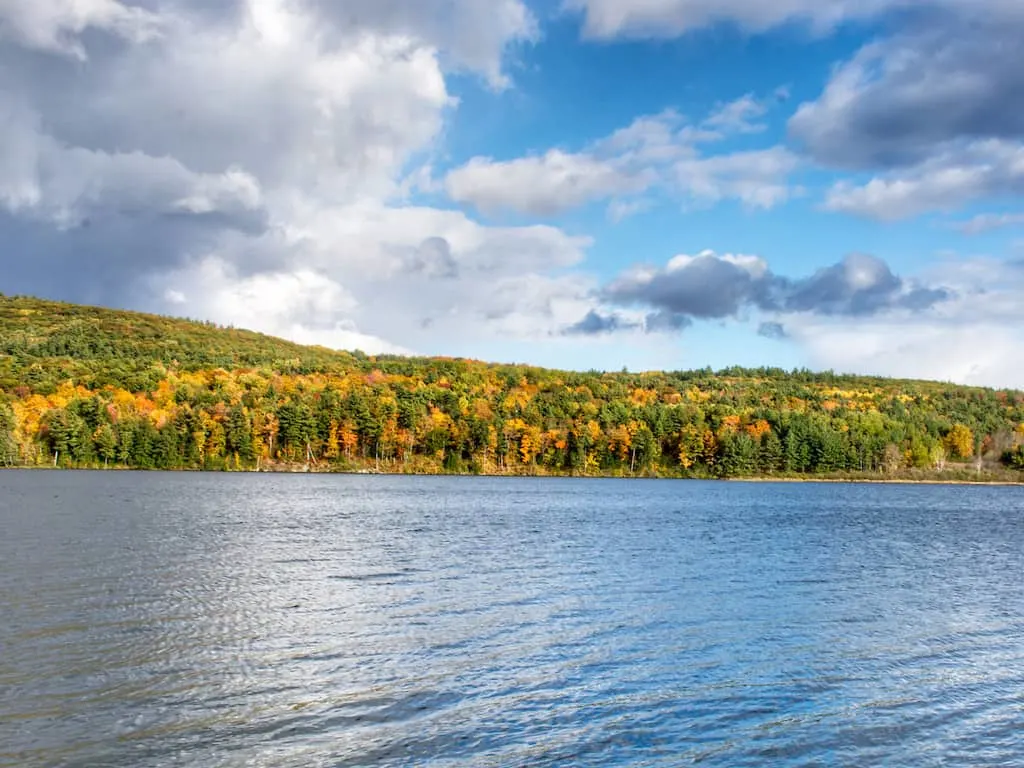 While the Colchester Pond loop is a busy and well-traveled trail, it is still one of the best Burlington hikes for escaping the city and finding peaceful solitude. The trail travels along the edge of the pond, through meadows and woodland, and gains about 300 feet in elevation along the high banks on the far side.
The trail is muddy in spots, with lots of rocks and roots to watch out for, as well as wildflowers, mushrooms, and critters. There are several scenic views along the way, as well as great picnic spots.
Difficulty: Moderate
Distance: 3.2 miles
Dogs: Yes, on a leash
Fee: Free
Colchester Pond is maintained by Winooski Valley Park District. Here's a trail map via Trail Finder.
---
What to Pack for Day Hikes Near Burlington, Vermont
Before you head out on your adventure, be sure you pack some essentials so that your hike is memorable for all the right reasons. Here are a few things to stash in your daypack.
Navigation: The hikes in this list are pretty straightforward, and if you stay on the trail, you don't stand a chance of getting lost. However, I still recommend bringing a map or GPS device as a failsafe. The premium version of the Alltrails or Gaia apps both have downloadable maps and GPS tracking.
Water: Pack a full water bottle per person for these hikes.
Food: Having an emergency granola bar in your bag is always a good idea, but you should also pack a lunch so you can have a mid-hike picnic.
First aid kit: Keep a simple first aid kit in your pack with wound and blister care, tweezers, and common medications like Tylenol, Benadryl, and Pepto Bismal.
Headlamp: For emergencies and hiking after dark, a headlamp is especially useful during those short winter hikes.
Extra layers: Based on the weather, but it's nice to have an extra pair of socks, a beanie, and a fleece, plus a rain jacket if wet weather is forecasted.
A pocket knife: Useful for so many things
A lighter or matches: Ditto
Lip balm, sunscreen, and bug spray: Ticks and mosquitoes are an issue on all these hikes, and a good bug spray will make life on the trail much more pleasant.
Sunglasses
A power bank: In case your phone runs out of juice.
An emergency blanket: Just in case.
Want even more ideas for adventures in and around Burlington? These outdoor pocket adventures from Outdoor Adventure Sampler may be just what you're looking for. Don't forget to watch the hiking near Burlington web story.
Tara Schatz is a freelance writer, and the founder and editor-in-chief of Vermont Explored and Back Road Ramblers, an American road trip blog. She is also the co-author of the 3rd edition of AMC's Best Day Hikes in Vermont, which was released in May 2023, and the author of 100+ Wonderful Ways to Experience Vermont.