Red barns and bridges are as ubiquitous to Vermont as black and white cows. They add a touch of nostalgia and romance to the woodland and pastoral scenes of the Green Mountains.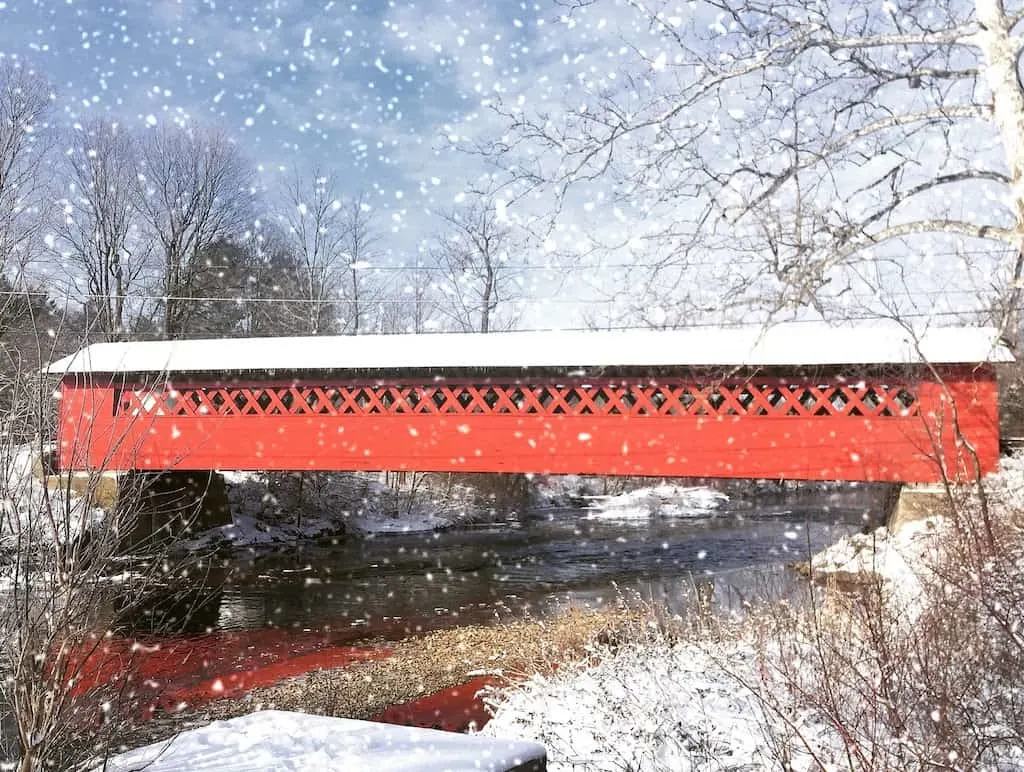 Even though I pass through at least one of thecovered bridges of Bennington almost every day, I still appreciate the nod to an era that has been all but forgotten in our modern world of fast cars and asphalt highways.
Vermont's Bennington County is fortunate enough to have five historic covered bridges, and they can all be explored in a single afternoon.
These beautiful feats of engineering offer a one-of-a-kind look into a bygone age — a time when ingenious craftsmanship was used to create structures that embodied simple beauty and embraced the natural landscape.
Here's an overview of the five covered bridges in Bennington County for your next Vermont adventure.
If you're planning your southern Vermont vacation, you might want to check out a few more beautiful spots in Bennington, Vermont while you're here.
Why Were Covered Bridges Built in America?
The very first covered bridge in America was built in Philadelphia in 1805, but most were built between 1825 and 1875.
Bridges were covered for two reasons. The most obvious was to prevent the trusses and decks from rotting from prolonged exposure to snow and rain.
A covered bridge lasted more than 100 years before it needed significant reconstruction, while an uncovered wooden bridge was lucky to last 20 years before it succumbed to the effects of the weather.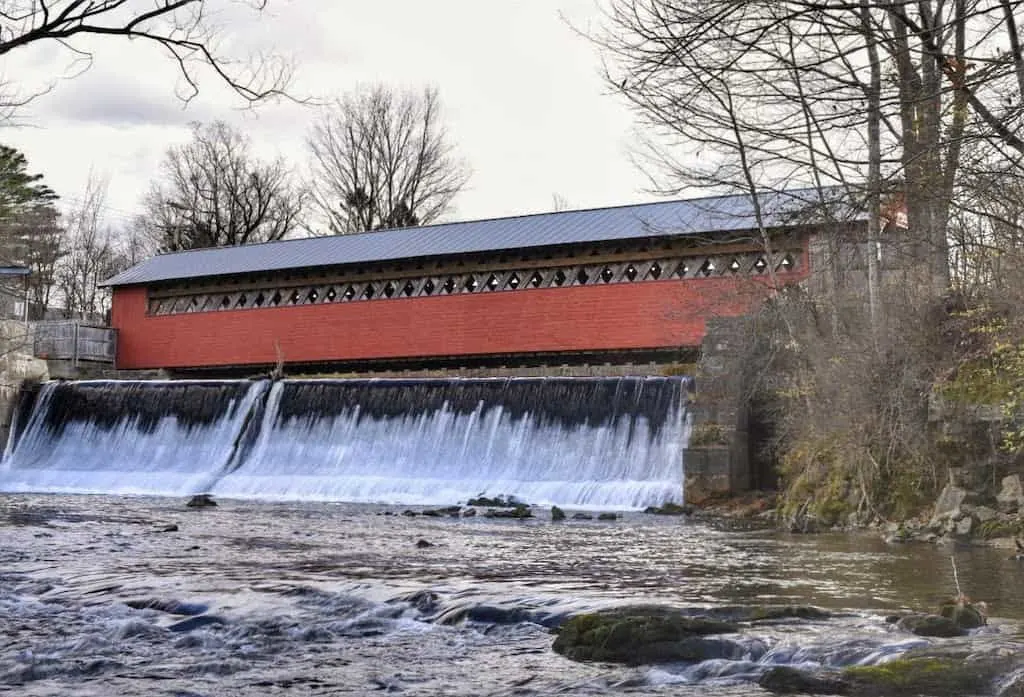 The cover also kept horses from being spooked by the raging rivers underneath and served as impromptu meeting places for political rallies, lunch dates, religious meetings, and romantic rendezvous.
The use of iron trusses in the mid-1800s meant that bridges could be built more cheaply without the need for protection from the elements.
Covered bridges became historic icons that could not easily handle the heavy loads of modern traffic.
Easy come, easy go.
Covered Bridges in Bennington County, Vermont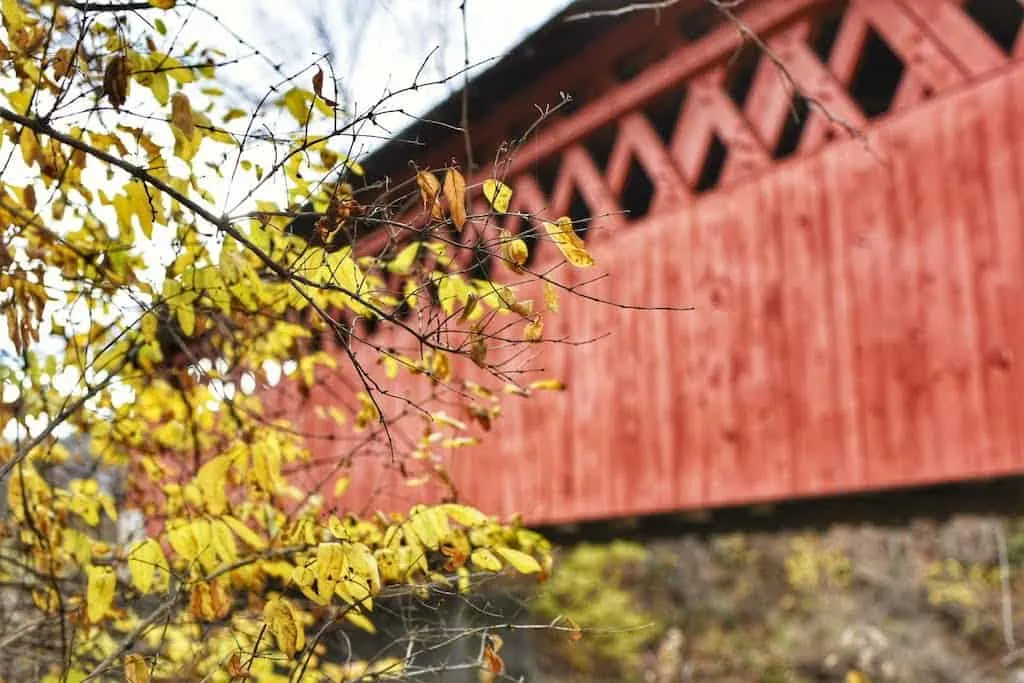 Vermont is home to more than 100 covered bridges — more per square mile than any other state in the US.
At one time, there were as many as 700-800 covered bridges across the state, but most have been lost to flooding, fires, and modern progress.
There are five covered bridges in Bennington County, three in Bennington/North Bennington, one in Sunderland, and one in Arlington.
You can easily visit all of the covered bridges of Bennington County in an afternoon. Pack a picnic and explore part of the charming history of days gone by in southern Vermont.
A covered bridge tour is also one of the many adventures suggested in this winter weekend itinerary for Bennington and Manchester.
Take a Covered Bridge Road Trip in Bennington County
This little road trip covers just 43 miles (round trip) and travels through some of southern Vermont's most picturesque areas.
Begin your journey in Bennington after lunch, head north to check out the covered bridges in Arlington, stop for a maple creemee at the Sugar Shack in Arlington, and make it back to Bennington in time for dinner.
Insider tip: Looking for a great place to spend the weekend in Bennington? We love the Four Chimneys Inn for a splurge or the Harwood Hill Motel for budget accommodations.
A Bennington covered bridges road trip is the perfect way to spend your afternoon.
If you do this trip in the summer, you'll find great swimming under both Arlington bridges, but fall and winter are beautiful too.
Silk Road Covered Bridge: Bennington, Vermont
The Silk Road Covered Bridge carries Silk Road over the Walloomsac River in Bennington. It is the first in a series of Bennington covered bridges on the Wallosmac River that are all located within two miles of each other in both Bennington and North Bennington.
A bridge has spanned the Walloomsac in this location since 1790, but the current Silk Road Covered Bridge was built in 1840. It is the oldest covered bridge still standing in Bennington County.
This is a single-span Town Lattice Truss built by Benjamin Sears, who was a prominent builder at the time.
There is a small pull-off on both the north and south side of the bridge, with short trails down to the river for better views. We hear the fishing is pretty good in this part of the Walloomsac too!
---
Paper Mill Covered Bridge: Bennington, Vermont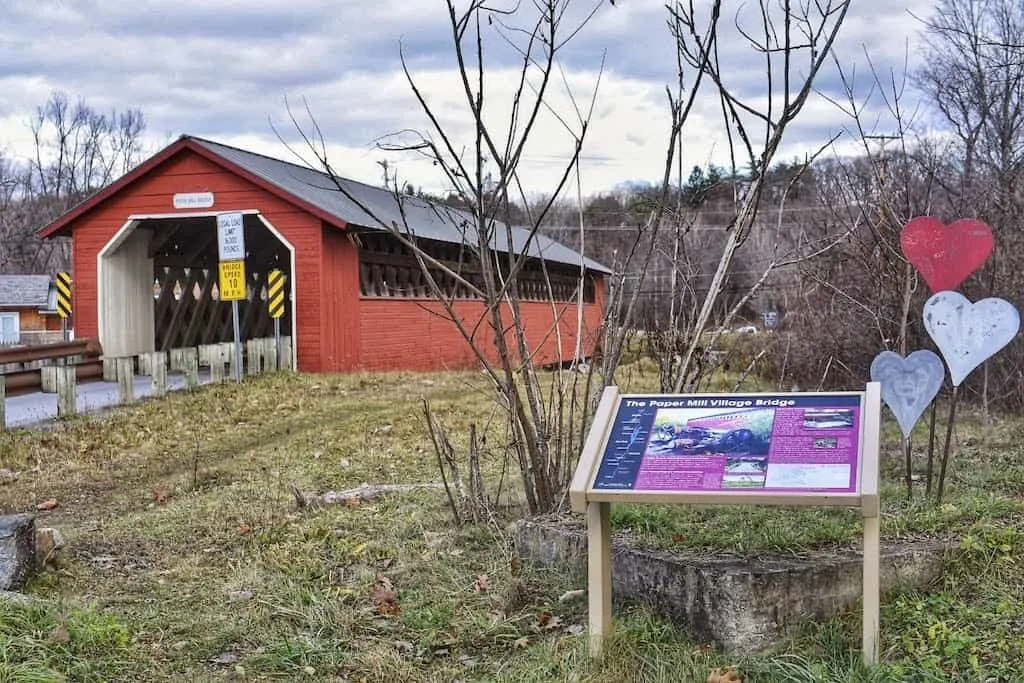 The current Paper Mill Covered Bridge was built in 2000 and is a replacement of the original that was built in 1889. This is a Town lattice truss spanning 122 feet along Murphy Road.
The Paper Mill Covered Bridge is similar in design to the Silk Road Bridge and is the longest covered bridge in Bennington County.
The site was home to one of Vermont's first paper mills, and the dam below the bridge provided hydroelectric power to fuel industry in the community.
The area to the north of the Paper Mill Covered Bridge is private property. On the south end of the bridge, there is a small parking area.
A short trail on the west side leads to multiple viewing sites with good views of the dam and the bridge. This is also a great spot to go fishing!
---
Burt Henry Covered Bridge: North Bennington, Vermont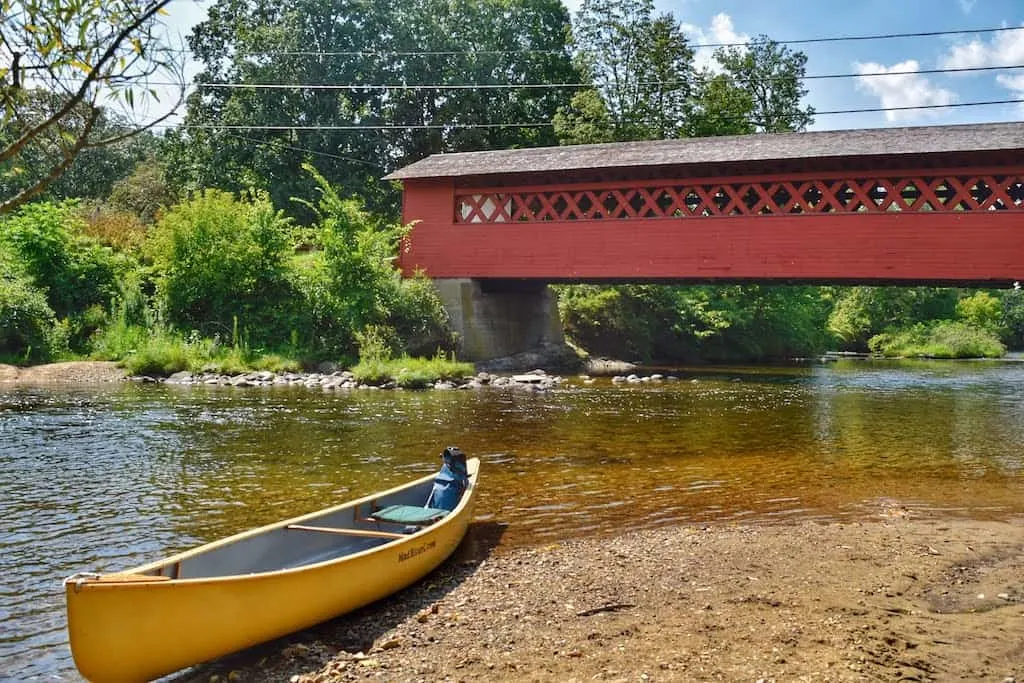 The location where the Burt Henry Covered Bridge spans the Walloomsac River has been an important crossing since early colonial times.
The original covered bridge was a double-span, built in 1840, but was entirely replaced as a single-span in 1989. This is a Town lattice truss bridge that carries River Road for 121 feet across the Walloomsac.
Park in the small parking area just north of the entrance to the bridge. Of the three covered bridges in Bennington, the Burt Henry Covered Bridge provides the best access.
Not only is this a great spot for fishing and wading, but you can also launch a canoe or kayak here, provided that you have another car available to park downstream.
McWaters Park is located adjacent to the bridge and is a great spot for picnicking, playing ball, or walking your dog. This is also home to North Bennington's Edible Forest Garden.
---
Chiselville Covered Bridge: Sunderland, Vermont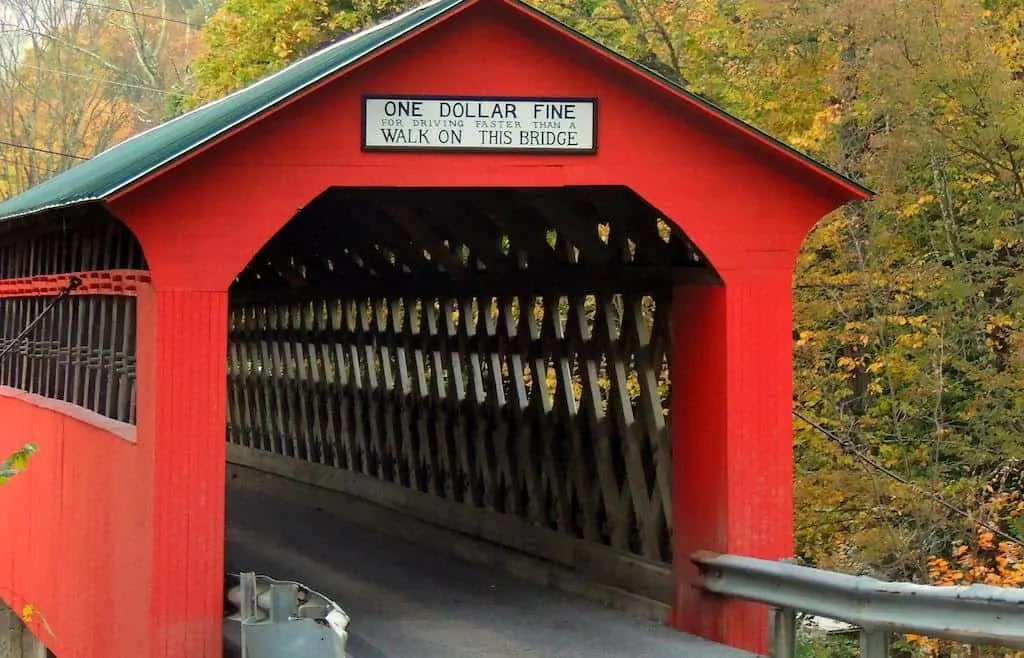 The Chiselville Covered Bridge was built in 1870 and is notable for a few reasons.
Firstly, it sits high above the Roaring Branch River, almost 40 feet.
The bridge also experienced a brief moment of fame in the 1987 movie Baby Boom, when Diane Keaton's character leaves New York City for a more idyllic existence in Vermont. The Chiselville Covered Bridge is a Town lattice truss spanning 117 feet along Chiselville Road.
Located in the hamlet of Chiselville, this lovely covered bridge is just a short drive from Route 7 between Bennington and Manchester.
A sign above the bridge's entrance lets travelers know that they will incur a "One Dollar Fine For Driving Faster Than A Walk On This Bridge."
There are small parking areas on both sides of the bridge, and a short, steep path down to the river bank on the north side.
---
Arlington Green Covered Bridge: Arlington, Vermont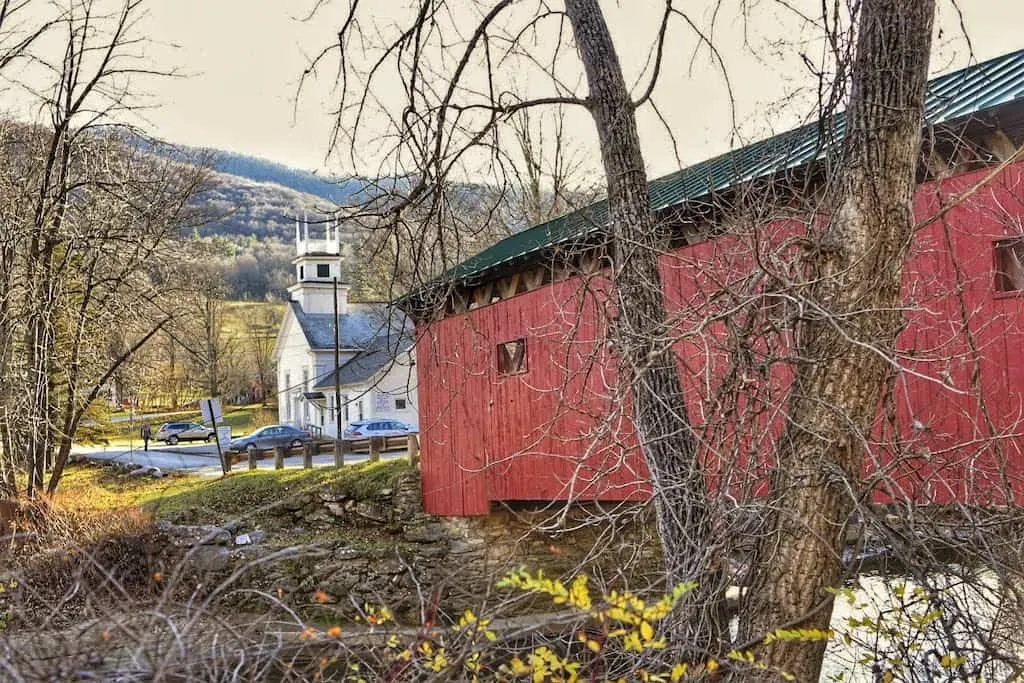 One of Vermont's most popular covered bridges, the Arlington Green Covered Bridge is part of a pastoral landscape of an almost forgotten era. The bridge, along with the local church and a historic inn nearby, is often featured on postcards and calendars.
The Arlington Green Covered Bridge is yet another example of a Town lattice truss.
Built in 1852, this is also one of Vermont's oldest covered bridges. The bridge carries Covered Bridge Road across the Battenkill River for 80 feet.
Pass under the bridge on Covered Bridge Road and park in the small lot next to the church.
There are a few picnic tables sprinkled about and excellent swimming underneath the bridge, provided you visit in the summer months.
Stroll down the road a piece to Rockwell's Retreat, a historic inn that was built in 1792.
The view of the bridge from in front of the inn is the very same that Norman Rockwell enjoyed in the decade he lived here from 1943 to 1953.
---
---
We hope this virtual tour of the covered bridges of Bennington County will inspire you to plan your own in-person tour. Want to explore more of Bennington County and Southern Vermont? Check out these posts next:
---
Follow us on social media for more Vermont inspiration!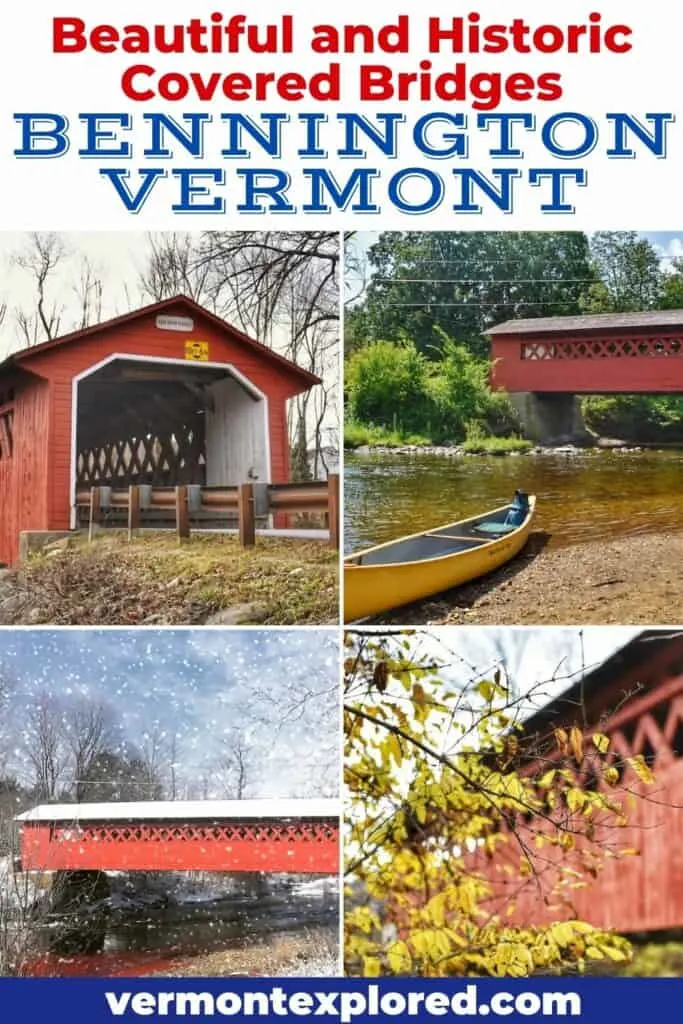 Tara Schatz is a freelance writer, and the founder and editor-in-chief of Vermont Explored and Back Road Ramblers, an American road trip blog. She is also the co-author of the 3rd edition of AMC's Best Day Hikes in Vermont, which was released in May 2023, and the author of 100+ Wonderful Ways to Experience Vermont.