There's nothing quite as magical as a winter weekend in Vermont, and while there are lots of adorable towns worth visiting, a stroll through the historic town of Woodstock in the winter is like walking right into a snow globe!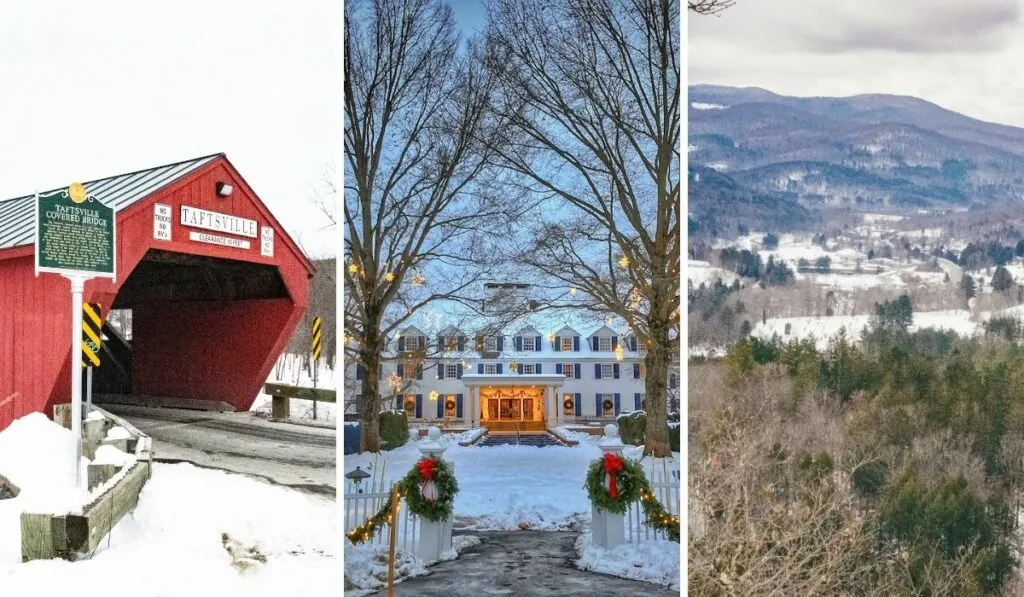 The winter holidays in Woodstock are magical, but even if you visit in February, the decorations continue to light up the town for a bit of winter cheer. Restaurants and shops line the downtown streets, and beautiful, historic homes and buildings surround the town.
If you have a few days to escape to Vermont this winter, put Woodstock and its neighbor Quechee on your travel list.
Whether you're into outdoor adventures or cozying up by a roaring fire, you'll find all the makings for a perfect Woodstock Vermont winter weekend!
We've been escaping to Woodstock and Quechee for many years, but until this year, we'd never been to Woodstock in the winter.
I'm happy to say that we've recently remedied that situation, and we've created an itinerary for your perfect winter weekend in Woodstock. Vermont.
Day 1: Check into Your Lodging and Explore the Village of Woodstock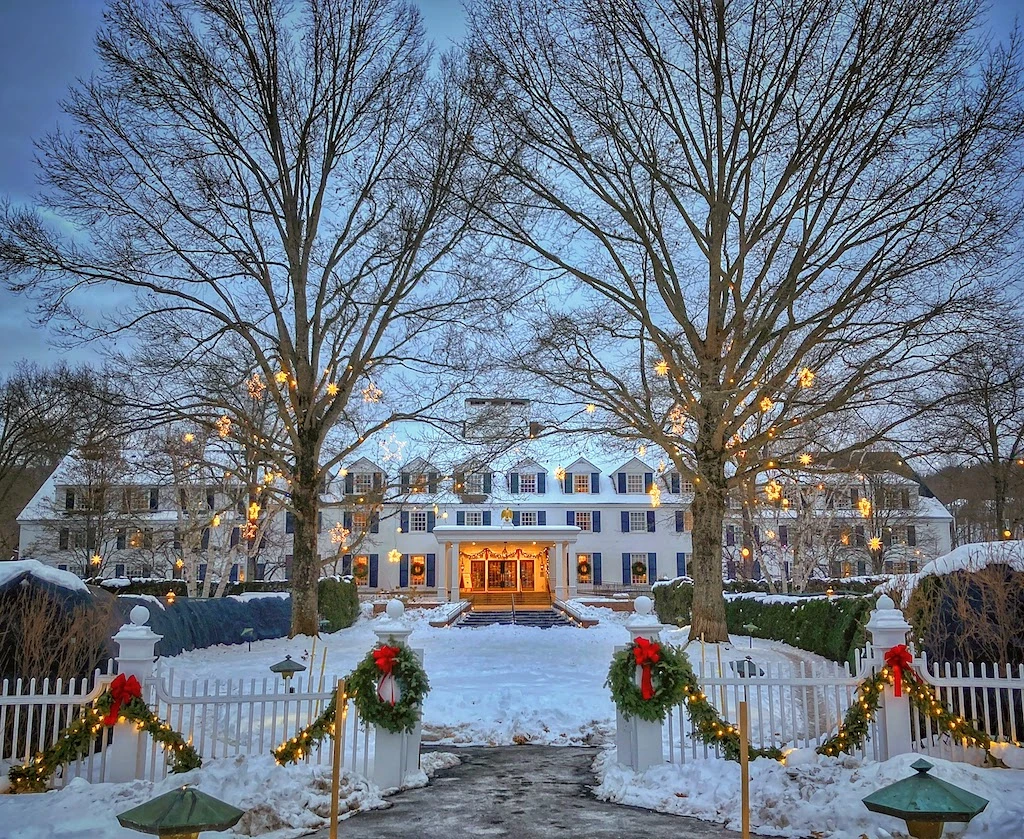 Where to Stay in Woodstock Vermont
There are so many places to stay in Woodstock and Quechee. Fair warning – this is an expensive area, so you're more likely to find posh inns and B&Bs than you are roadside motels. Here are some recommendations for the best hotels in Woodstock Vermont, from luxurious to more budget-friendly.
For total luxury: The Woodstock Inn & Resort is located right downtown. This stately inn features a beautiful spa, luxurious rooms, an indoor pool, and a fine-dining restaurant. It's a great spot for splurging on an anniversary stay!
For Victorian elegance: The Village Inn of Woodstock is beautifully pink on the outside and the interior features luxurious rooms with fireplaces. It's located within walking distance of everything downtown Woodstock has to offer.
For budget accommodations: Look, I'm not saying The Shire Woodstock is inexpensive, but it is less expensive than many of the other Woodstock hotels we've stayed in. This motel is located right across the street from the Village Inn and within walking distance of downtown.
For a romantic, pet-friendly vacation rental: I have to put a plug in for the most unique Airbnb I've stayed in for a long while. This cute brick vacation rental was once the Quechee Library. It features a clawfoot tub, and a fireplace, and is within walking distance of Simon Pearce and the Quechee Covered Bridge, but you will have to drive to explore Woodstock.
Once you get settled at your accommodation of choice, it's time to explore the village of Woodstock. From the center of town, you can explore several blocks of beautiful historic homes, festive holiday decorations, and incredible shops and restaurants. We recommend taking the afternoon to get the lay of the land and poke around in the shops.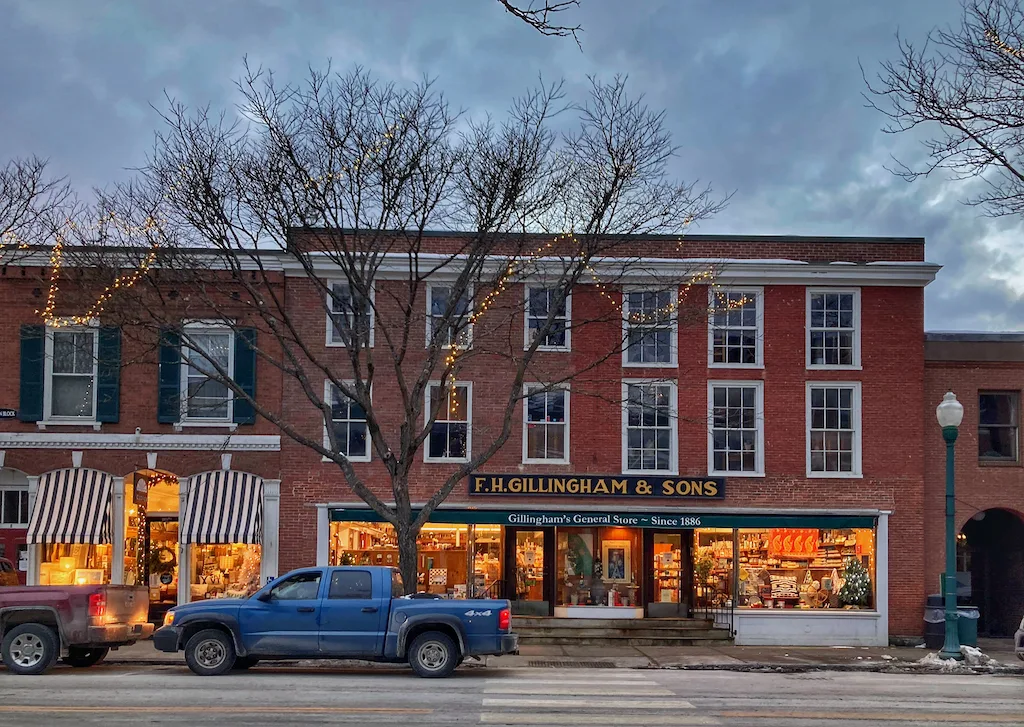 Explore Woodstock Village, Vermont
Here are some of the most unique shops in Woodstock that we love to visit when we're in town:
F.H. Gillingham & Sons: Step back in time to the oldest general store in Vermont, circa 1886. This cool shop features several rooms full of useful stuff, from dog toys and treats to craft beers, not to mention cosmetics, groceries, kitchenware, maple syrup samplers, and local crafts.
Clover Gift Shop: Right next door to F.H. Gillingham is the tiny Clover Gift Shop, which is jam-packed with gorgeous gift items from local artisans, including hand-poured candles, pottery, cards, CBD products, and upscale cosmetics. Browsing here is an experience!
Unicorn: Featuring novelty gifts, cards, puzzles, games, and toys. This is a fun store to get lost in!
Vermont Eclectic Company: Unique Vermont clothing created by local artists. We love their cool designs.
Farmhouse Pottery: Located outside of the downtown area, Farmhouse Pottery is an iconic pottery studio, gift shop, and kitchen store. You can even book a clay date and work alongside a master potter to learn about traditional pottery making.
Dinner at The Prince & The Pauper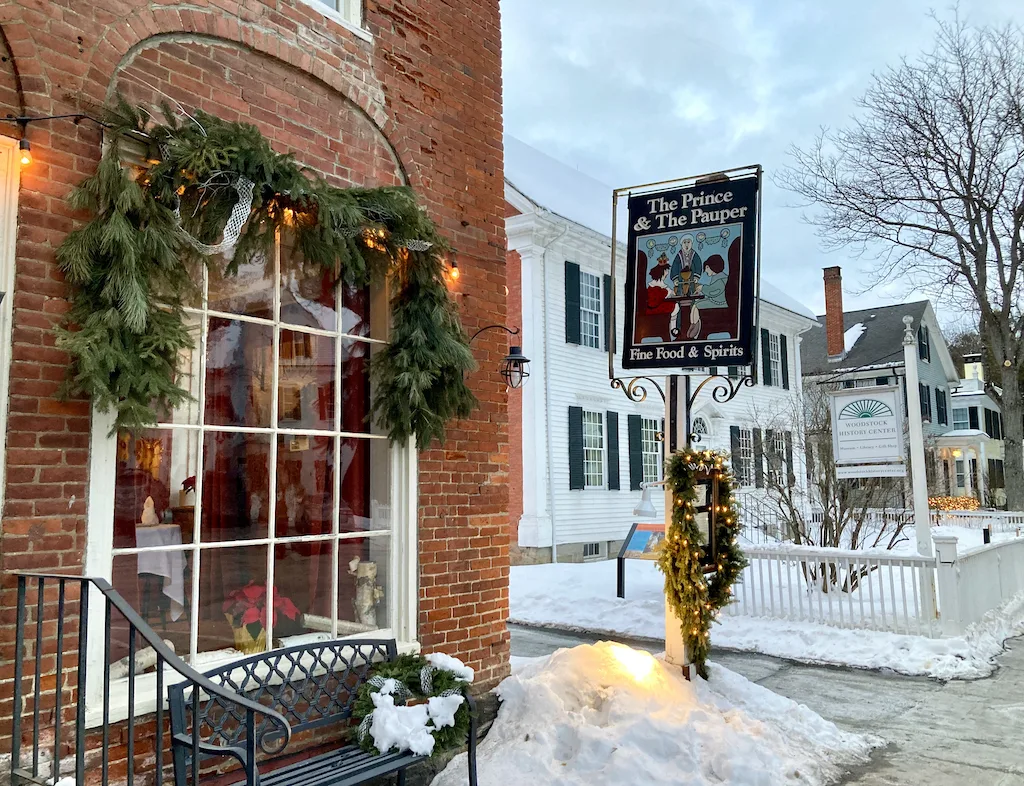 For your first night in Woodstock, we recommend a total foodie experience. We'll save the burger joint for tomorrow. One of the most renowned restaurants in Woodstock is the Prince & the Pauper on Elm Street, right downtown. Yes, you have to make reservations, but you'll be treated to a fantastic meal in the coziest of spaces.
Keep it simple and choose the three-course Prix Fixe menu, which includes an appetizer, salad, and entrée. There are too many delicious options to list here, but as a vegetarian, I was so delighted with the sweet potato chickpea cakes on a bed of spinach. Add a cocktail and dessert, and I promise that you'll go to bed a happy Vermonter!
The Prince & The Pauper is open for dinner from 5:00-8:00 pm, Tuesday through Saturday.
Day 2: Get Outside in Woodstock, Vermont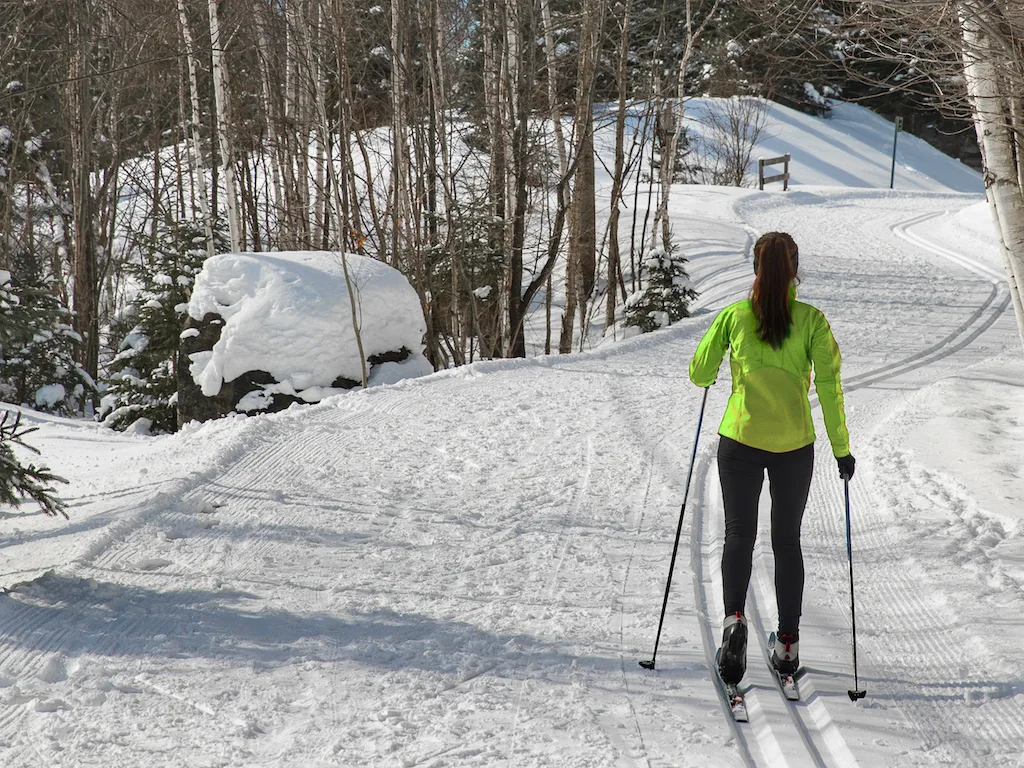 If you're staying in Quechee, start your day with indulgent crepes at the Skinny Pancake. If you're in Woodstock, head over to Mountain Creamery for freshly prepared diner food made from local ingredients. Go simple or indulgent – it's all delicious.
Now, it's time to enjoy winter in Vermont with some outdoor activities. From hiking and snowshoeing, to Nordic or downhill skiing and horse-drawn sleigh rides, there are dozens of ways to get outside during a Woodstock Vermont winter weekend.
If you love cross-country skiing or are interested in learning how to do it, Woodstock is one of the best spots to give it a go. The Woodstock Inn & Resort grooms the Nordic ski trails in Marsh-Billings-Rockefeller National Historical Park (Vermont's only national park unit) and the trails on Mount Peg. There are 45 km of trails, and many of them are perfect for beginners. There are a few more difficult trails for experienced skiers too.
If you are new to the sport, head over to the Woodstock Nordic Center at 76 South Street in Woodstock. This is the spot to rent equipment, sign up for a lesson, and buy your trail pass for the day. The trails can also be used for snowshoeing if you want to go at a slower pace.
Finally, if you'd rather just go for a snowy walk in the woods, the multi-use trail up to the top of Mt. Tom is free to use in the winter. Park in the main lot at Billings Farm & Museum and cross the road to get on the trail system. Dogs are permitted, but you have to give skiers the right of way and stay on the side of the trail.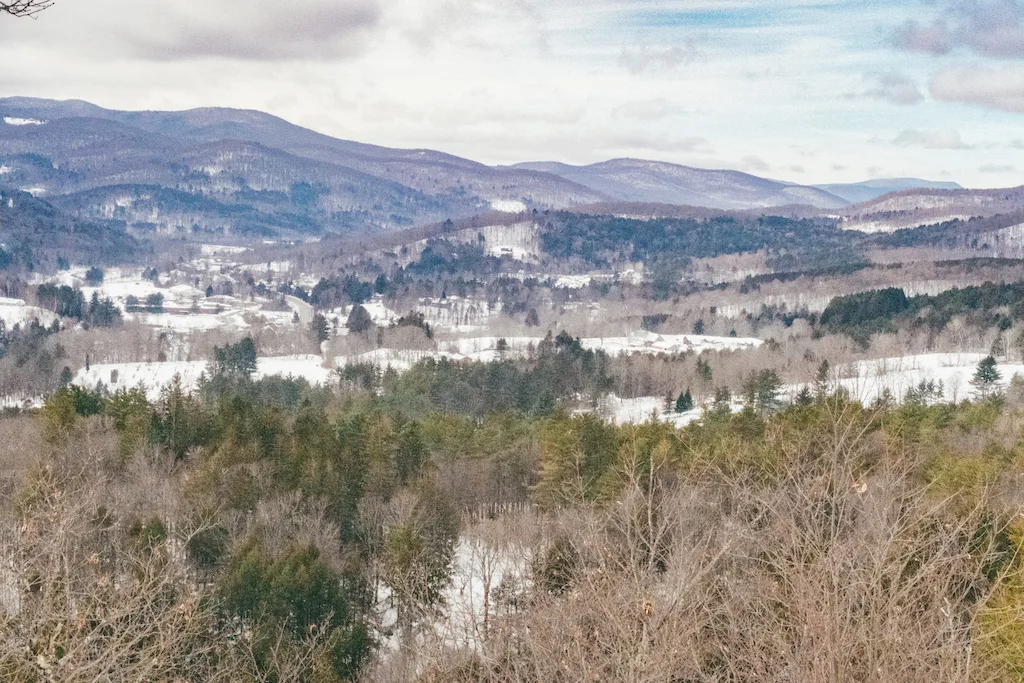 As you walk, you'll see numerous side trails. These are for skiers and snowshoers who have purchased a trail pass and can't be used by walkers and hikers.
I did this hike with my dogs and saw maybe four skiers the whole time I was out. The snowy woods in Vermont should be experienced by everyone, and these trails are perfect for families.
Mt. Tom Winter Hike Trail Map and Elevation Profile
Here's the trail map detailing the route I took from the parking area at Billings Farm to the top of South Peak on Mt. Tom and back using the free multi-use trail.
While the trail climbs a bit, it's never very steep, and since you're walking on the side of the groomed ski trail, it's not difficult walking.
---
Read Next: Trail Guide for Mount Tom and the Pogue in Woodstock Vermont
---
Lunch at Mon Vert Cafe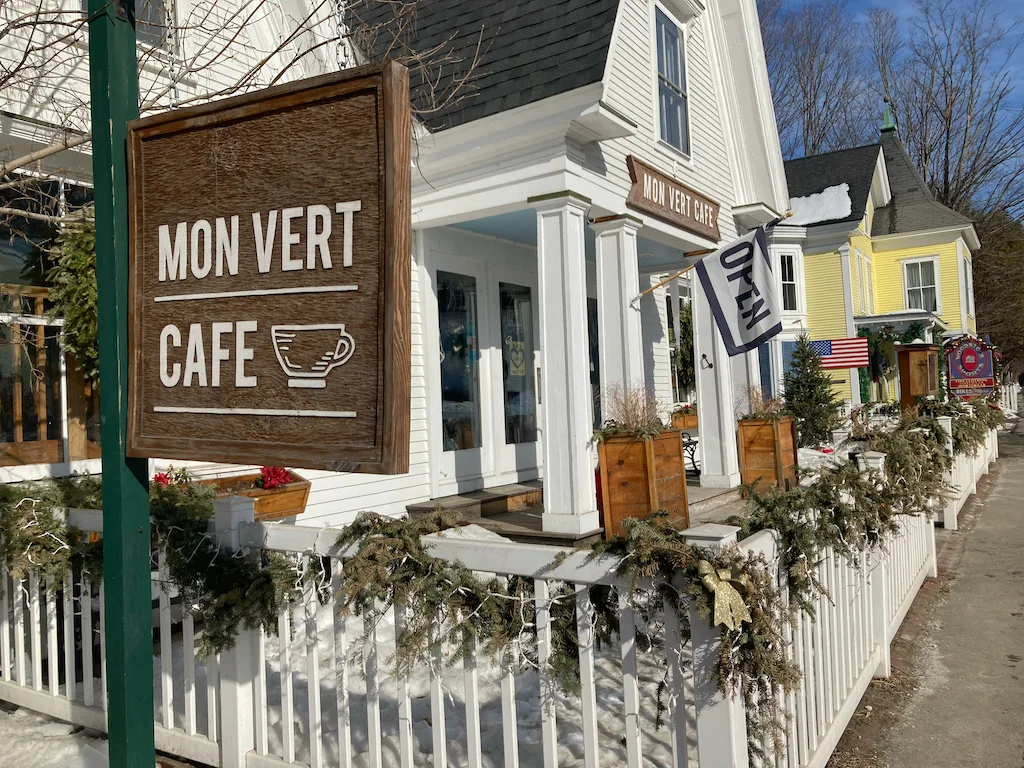 Located on Central Street in downtown Woodstock, Mon Vert Cafe is the place to go for great coffee, wraps, and sandwiches. I've tried a bunch of different Woodstock restaurants for lunch, from the mundane to the upscale, and Mon Vert is still my favorite spot.
They source their ingredients from local farms and bakers and make everything fresh to order. It helps that they use Red Hen Baking Co. bread – my favorite in all of Vermont!
Mon Vert Cafe is open every day but Thursday, from 7:30 am to 5 pm.
Take a Winter Covered Bridge Tour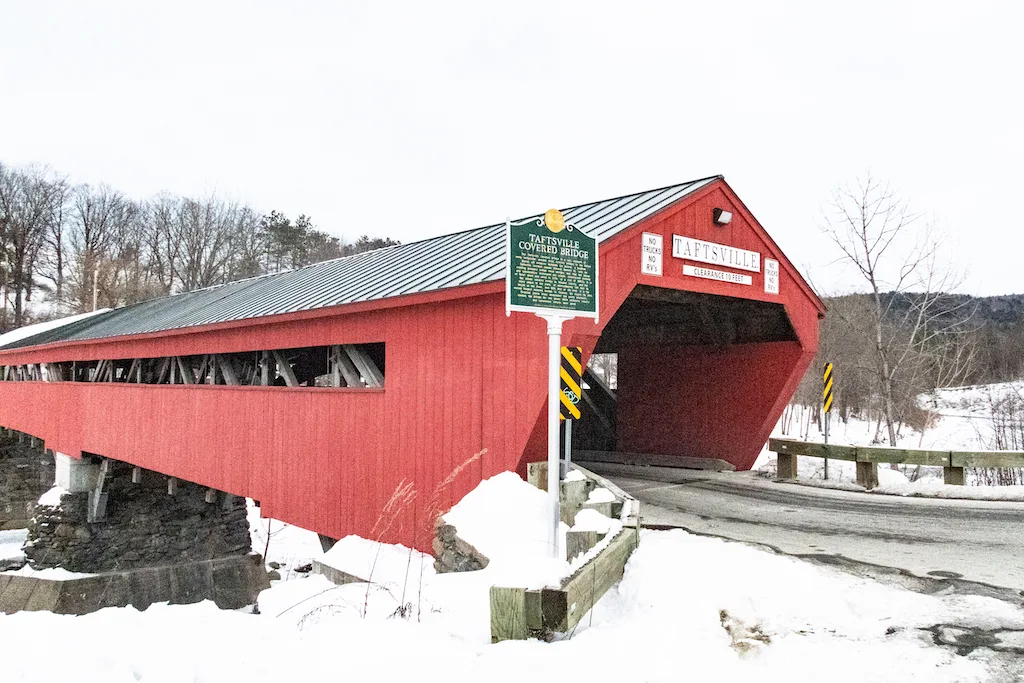 For those of you who have read my post about fall in Woodstock, this might sound familiar to you. I love checking out covered bridges in Vermont, so yeah – there's a good chance that I will include at least one covered bridge visit in any Vermont itinerary.
There are a bunch of covered bridges in and around Woodstock, and Middle Covered Bridge is located right downtown. You can tour all of them in an afternoon, but if you are less excited about covered bridges, at least head over to my favorite, the Taftsville Covered Bridge, built in 1836.
The Taftsville Covered Bridge is located right on Route 4 in the village of Taftsville, Vermont, which is part of Woodstock. There's easy parking and good spots to take photos. It's especially lovely at sunset.
Covered Bridges Near Woodstock Map
If you want to explore all six of the covered bridges within an easy drive of Woodstock, here's a map you can use. This is a great little Woodstock road trip for photographers or anyone who wants to explore a bit of quintessential Vermont.
Dinner at Worthy Kitchen
I told you we were saving the burger joint for today, but this is no ordinary burger joint. Worthy Kitchen in Woodstock, Vermont is an iconic eatery known for fabulous burgers, local craft beers, and donuts. This is comfort food done right, and it's sure to impress, even if you're visiting with kids in tow.
Save lots of room for your meal at Worthy Kitchen – even the veggie burger is divine. Alas, their fries aren't vegetarian, but I hear they're delicious all the same. As long as you enter with a healthy appetite, you'll leave this place happy. Oh, if you're visiting on a weekend, you should probably make a reservation, just to ensure you get the Worthy burger you deserve.
Worthy Kitchen is located on Route 4, just east of downtown Woodstock, and is open Wednesday through Friday from 4:00 pm – 9:00 pm, Saturday, from 11:30 am – 9:00 pm, and Sunday from 11:30 am – 8:00 pm.
Day 3: Billings Farm & Museum
Start your day with a delightful Sunday brunch at Soulfully Good Cafe, which is open from 9 am to 2 pm. Sweet or savory, you'll find it at Soulfully Good. We recommend getting whatever's on special or the Waffler, which is decadent and delicious.
Now, to walk off all of those extra calories…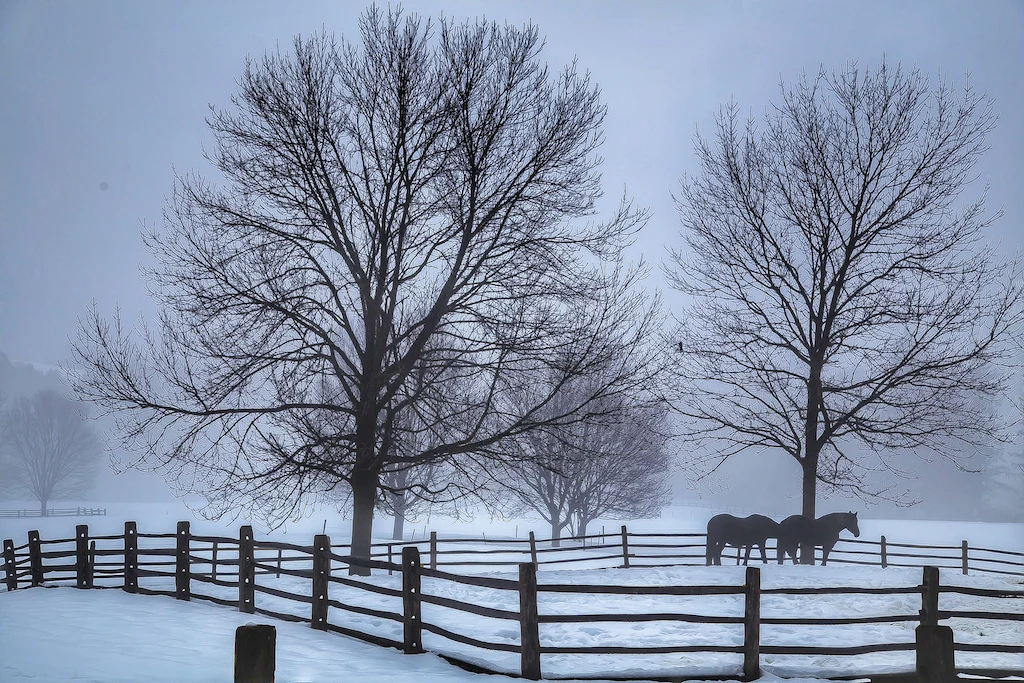 Billings Farm & Museum is a working farm and non-profit organization on 200 acres in Woodstock, Vermont. If you're interested in learning more about farm life, meeting some adorable farm animals, taking a winter sleigh ride, or just meandering around a beautiful farm, you have to make time for a visit.
The farm was established as a nonprofit in 1983 to preserve the historic Billings Farm as well as the character and heritage of rural Vermont. During the winter months, it is only open on weekends, unless you visit during Vermont winter vacation week in February, when it's open every day from 10 am to 4 pm.
Special events are scheduled throughout the winter, so be sure to check the website before planning your trip.
Pay a Visit to Nearby Quechee, Vermont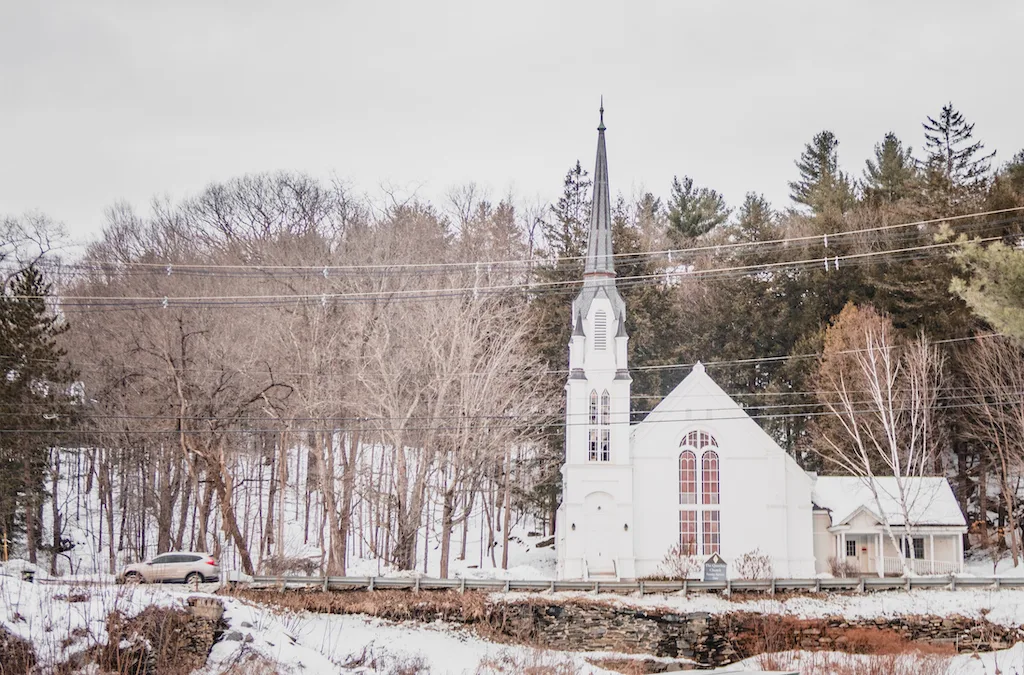 Maybe, like us, you've chosen to hang your hat in nearby Quechee, Vermont during your winter weekend in Woodstock.
Quechee is a small community that is totally worth checking out if you have time. If you're staying in town, you've probably already eaten at the Skinny Pancake and visited the Quechee Covered Bridge, but we've got a few more suggestions for you.
Hike into Quechee Gorge: Called Vermont's Grand Canyon by some, you can easily view Quechee Gorge from above by walking on the Route 4 bridge and looking down. If you want a closer view, hike into the gorge from the visitor center. It's about 2.7 miles round-trip.
Visit Simon Pearce for lunch/dinner: Simon Pearce Glassware has been handcrafted in Quechee, Vermont since 1981. You can browse their collection in the flagship store, see a glassblowing demonstration, and dine on some of the finest food in Vermont.
Visit Vermont Institute of Natural Science: VINS is a wildlife rehabilitation and nature center with a mission o motivate individuals and communities to care for the environment through education, research, and avian wildlife rehabilitation. The forest canopy walk gives visitors such a cool perspective into the Vermont woods. You can also visit with the animals, check out the exhibits, and hike the trails.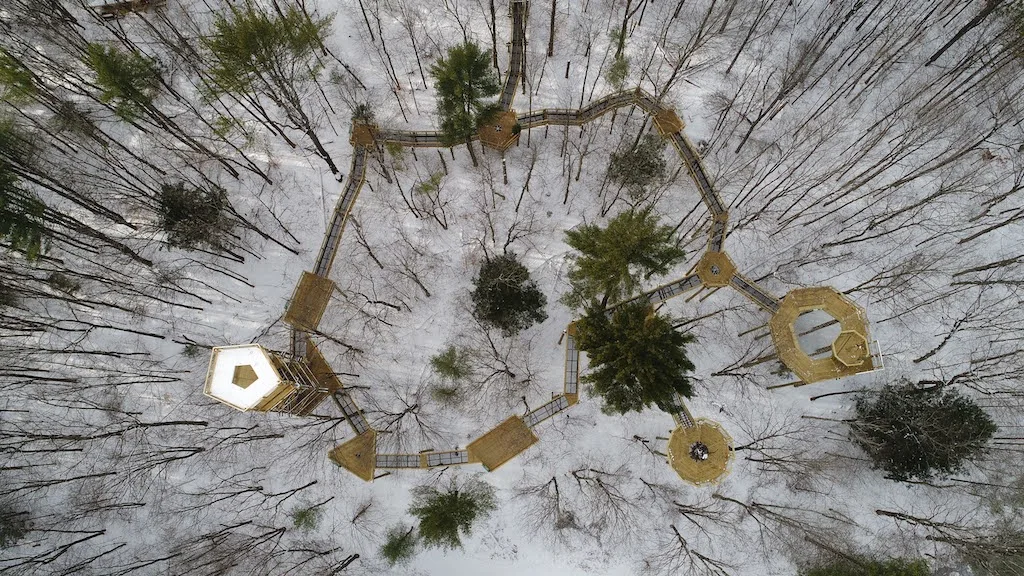 A Quick Overview of our Airbnb in Quechee, Vermont
There are some seriously amazing places to stay in Woodstock and Quechee, and so many that I would recommend, but I did want to put in a plug for the place I stayed on my recent Woodstock Vermont winter getaway – what used to be the Quechee Library.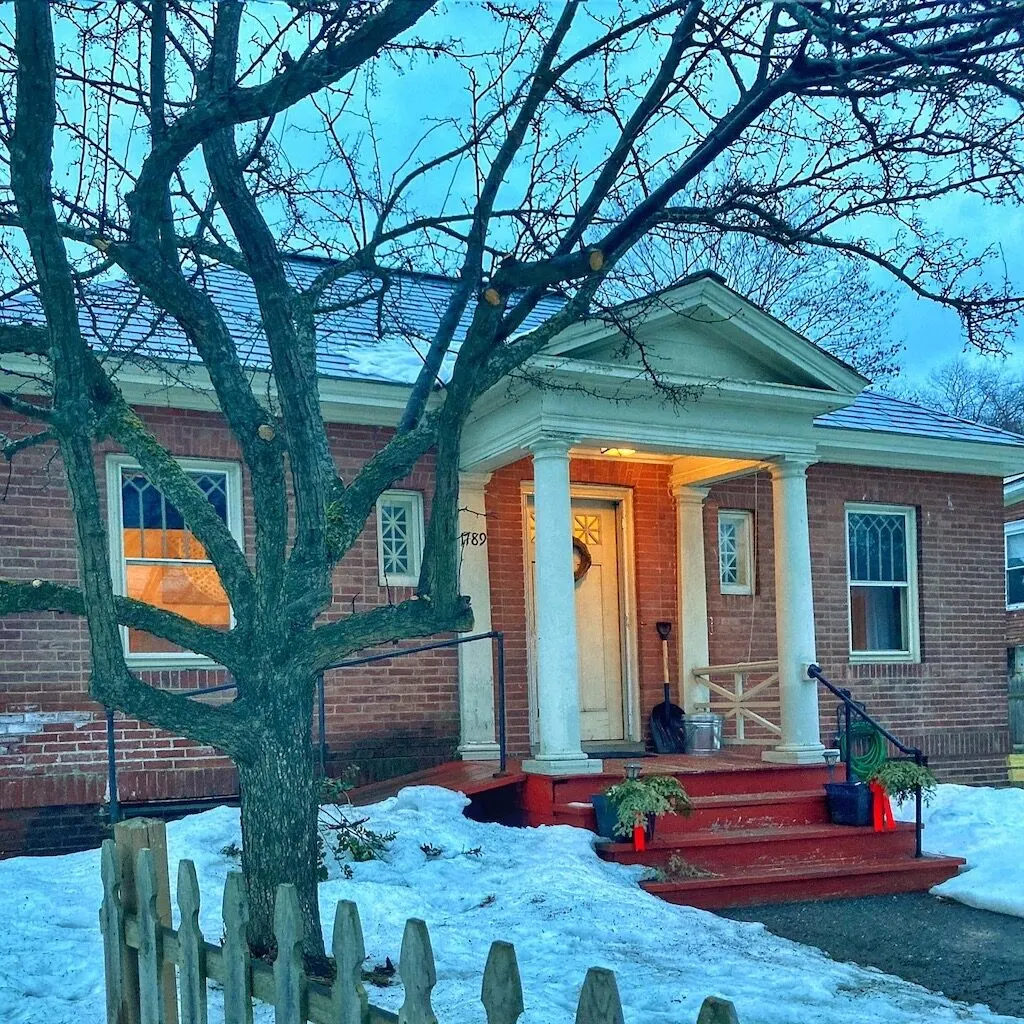 This place was so cute – open concept with a comfy queen-size bed, a clawfoot tub in the bedroom, a wood-burning fireplace, and a small kitchenette. Original woodwork from its library days made it feel incredibly historic, and it was dog-friendly!
After a few not-so-great experiences, I have been staying away from Aibnbs lately, but I couldn't resist this place. The former Quechee Library is located right in the village, across the street from Simon Pearce and the Whistlepig Tasting Room, plus there's a small park along the river for dog romps.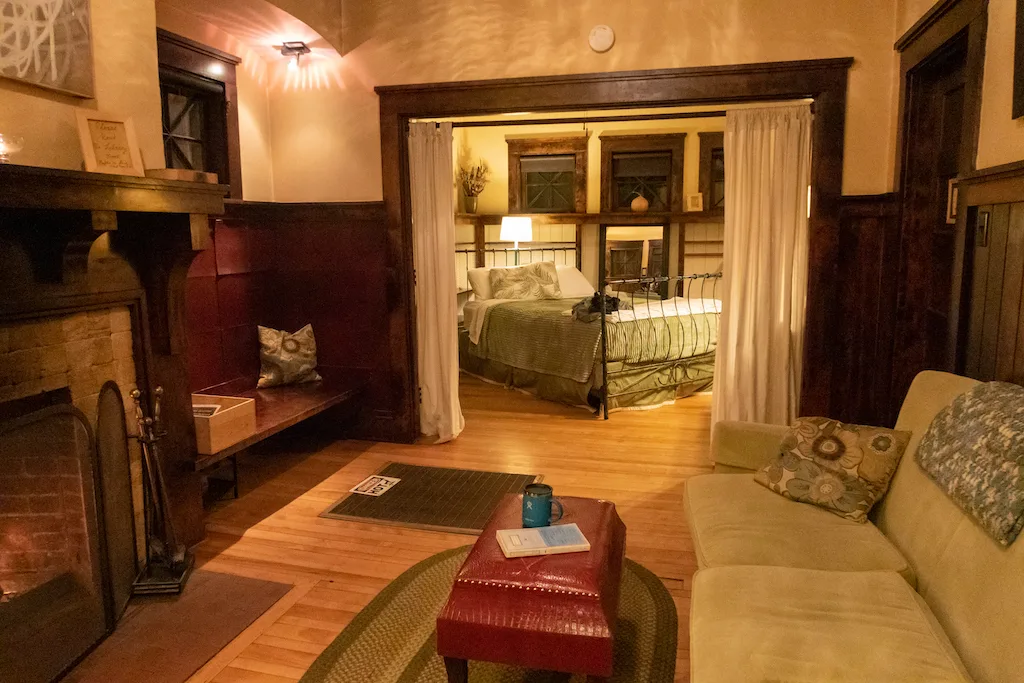 This would be an amazing romantic getaway for Valentine's Day or some other special holiday. It was a great experience, and the host communicated well, which is something I always stress about with Airbnb.
Wassail Weekend in Woodstock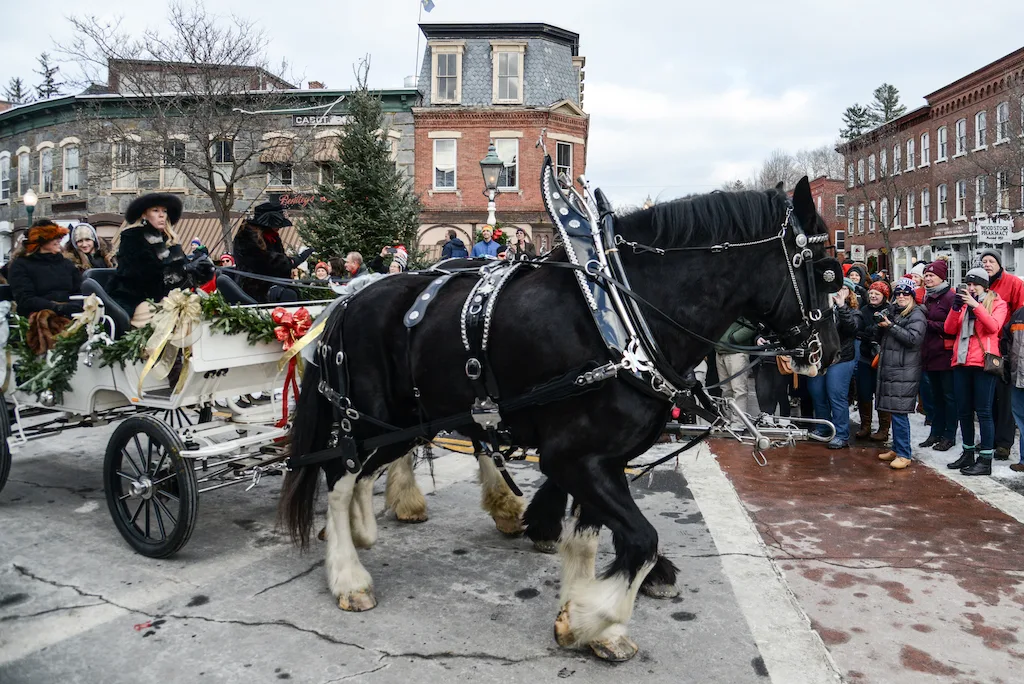 If you happen to be visiting Woodstock during the second weekend in December, you're in for a treat!
2022 will be the 38th Wassail Weekend in Woodstock, a cherished event when locals and visitors gather together to celebrate a picture-perfect holiday that could easily be a scene from your favorite Hallmark movie.
Come see Woodstock transformed into a winter wonderland. Ride in carriages pulled by horses, take part in craft workshops, sing Christmas carols, visit with Santa, and enjoy a myriad of stories, theater performances, and live music.
This year's Wassail Weekend happens December 9 – 11, 2022. Visit Woodstock Vermont for a complete schedule of events.
Woodstock Vermont Winter Travel Tips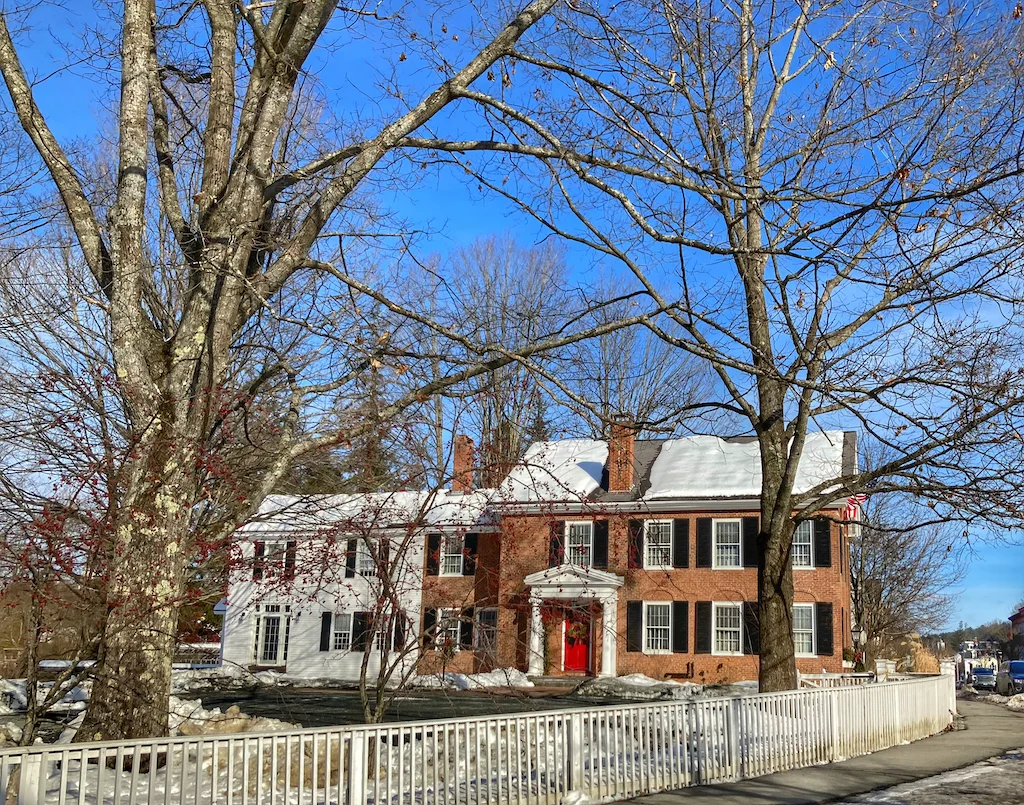 Woodstock, Vermont is probably one of the most touristy towns in the state, but winter in Woodstock is slower than other times of the year and lodging prices are cheaper too! Here are a few tips for planning your winter getaway in Woodstock, Vermont.
Plan everything in advance: If the pandemic taught me anything, it's to plan ahead. Make reservations for restaurants and check the day's calendar for activities at Billings Farm and VINS. For the outdoor stuff, you can be a little more spontaneous. Hey, maybe that's why I love getting outside!
Pack your woolies: Merino wool clothing is so awesome for winter layering, and they will take you from the hiking trail to dinner without complaint! I love these leggings and tops from Woolx, which is a small clothing company based in upstate New York.
Don't forget a packable puffy: This puffy jacket from Stio is so warm and light, you barely know it's there!
Wear sturdy boots: Slushy snow will make walking in anything but boots a bit of a nightmare. Wear sturdy hiking boots, or better yet, insulated hiking boots for most of your Woodstock adventures.
Check out the Woodstock, Vermont website: This is a fantastic website and blog with lots of information about where to sleep, shop, and eat, not to mention special events that are going on around town.
FAQs for Visiting Woodstock Vermont in Winter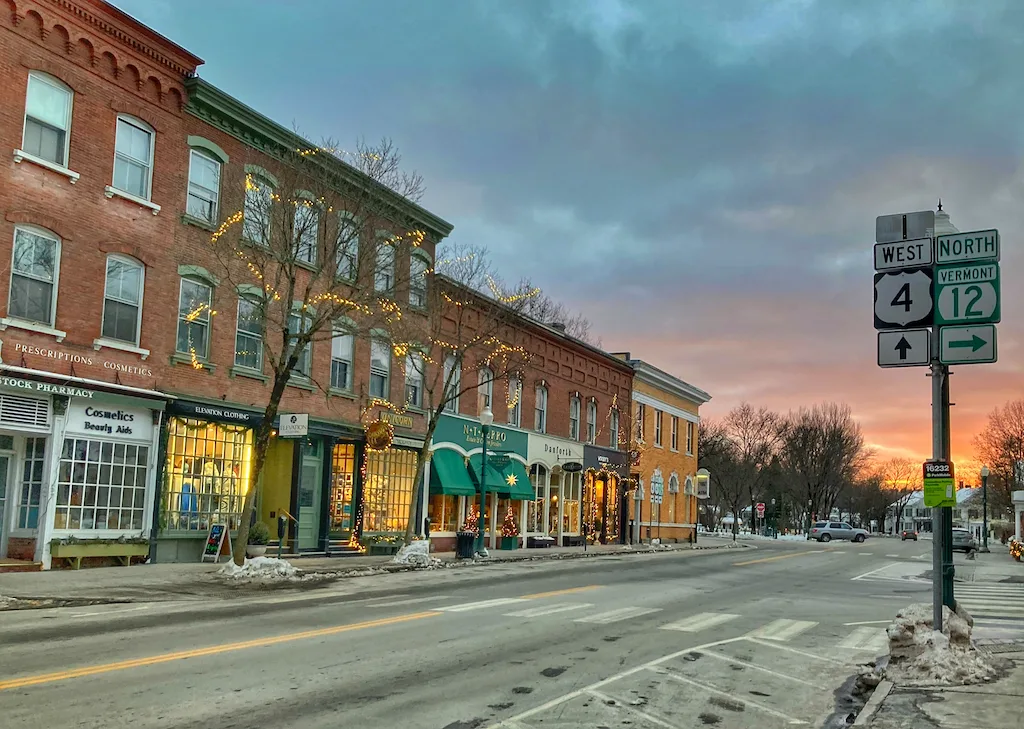 When to go: If you are looking for a holiday getaway, you won't want to miss the annual Wassail Weekend, which is usually the second weekend in December. In 2022, Wassail Weekend will be December 9-11. If you're just looking for a winter escape, visit Woodstock anytime between mid-December and mid-February. January is the best time for Nordic skiing and other winter sports.
Nearest Airport: There is a small regional airport in Lebanon, New Hampshire with connecting flights from Boston. The nearest international airport is in Burlington, Vermont, which is a three-hour drive from Woodstock.
Getting Around: This is a small town without a good public transportation network. Your best bet would be to bring your car or rent one at the airport. Use Kayak to compare rates and find deals.
Your perfect winter weekend in Woodstock is waiting for you! Pack your bags and plan your trip to this gorgeous little town!
View the Winter in Woodstock web story.
Follow us on social media for more Vermont inspiration!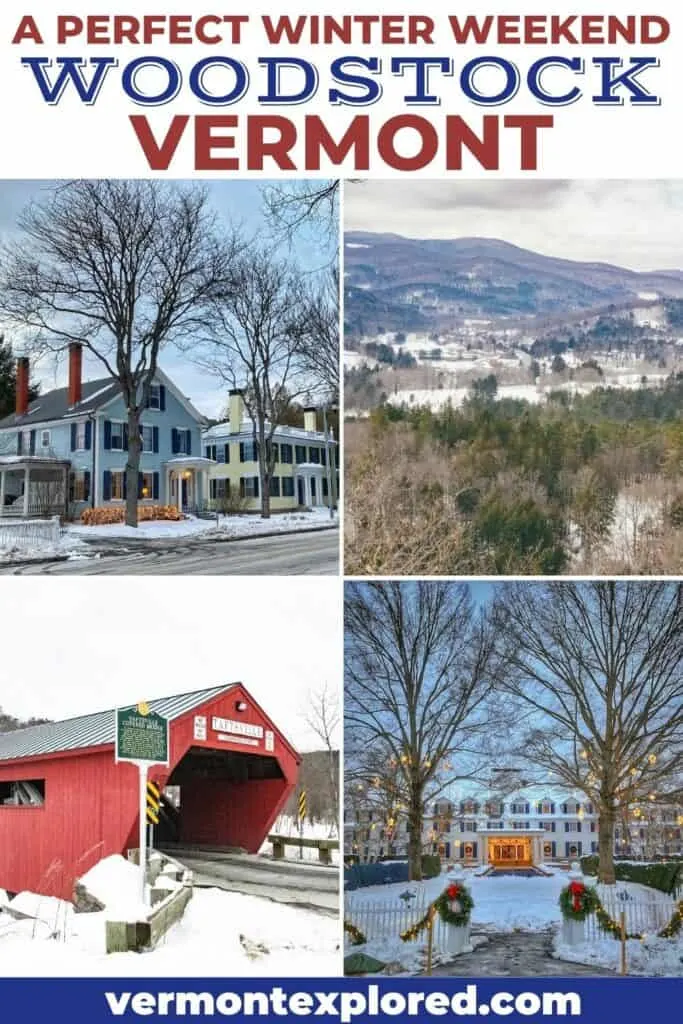 Tara Schatz is a freelance writer, and the founder and editor-in-chief of Vermont Explored and Back Road Ramblers, an American road trip blog. She is also the co-author of the 3rd edition of AMC's Best Day Hikes in Vermont, which was released in May 2023.