Vermont is a magnet for beer lovers. The state has more craft breweries per capita than any other US state, and Burlington, Vermont's largest city, is one of the best spots to imbibe in your favorite craft brews.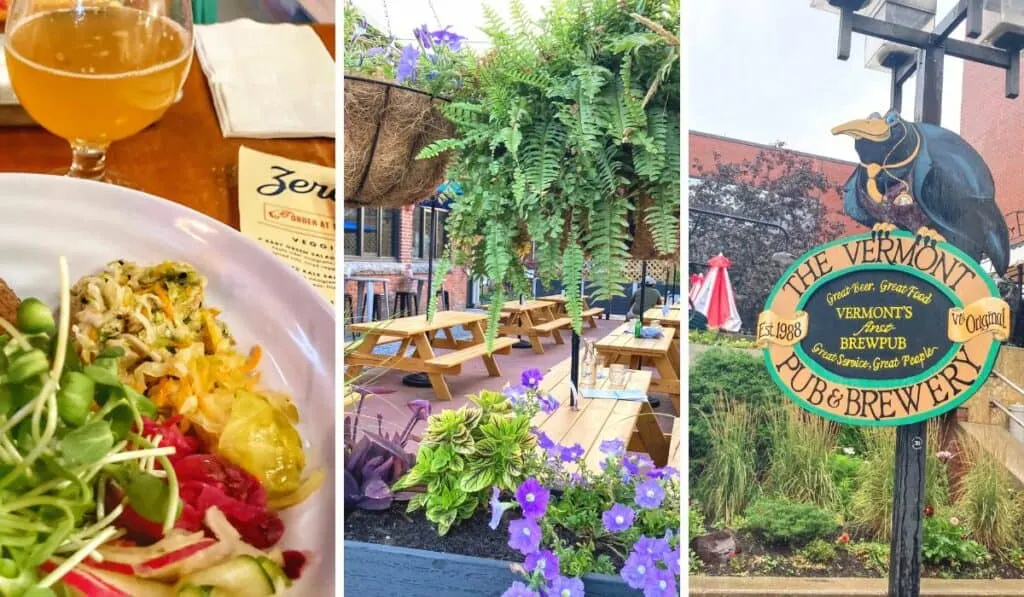 Not that it's all about the beer — the city is known for its gorgeous lake-front setting, foodie culture, and walkable downtown. But, if you've got craft beer on your mind, and want to try a selection of Vermont's finest sudsy beverages, head to Burlington for a weekend.
But first, download the Vermont Brewers Association app — where you can find Vermont breweries, earn rewards, create your own beer trails, and participate in brewery challenges.
And speaking of beer trails, all of the Burlington breweries mentioned below are part of the Burlington beer trail. Most are within biking distance of each other, and all of the breweries we visited are dog-friendly, at least during the summer when you can sit outside with them.
Some of these spots serve mouth-watering meals to go with their amazing selection of beers. Others allow you to bring your own food or provide snacky menu items. We love Vermont eats as much as we love Vermont beers, so we'll be sure to highlight some of our favorite breweries for noshing too.
There are 11 beer trails throughout Vermont — be sure to explore them all.
From the hoppiest New England IPAs to authentic German-style brews, and over-the-top sours, here are the most incredible breweries in Burlington Vermont for your next craft beer getaway.
---
Want someone else to do the driving? Hop on the Brew Bus for an insider look at Burlington's craft brewery scene. The Burlington Brewery tour brings you to four breweries and includes a beer-themed meal at a local restaurant.
---
Burlington Beer Company: Eclectic Meals, Fantastic Brews
Address: 180 Flynn Avenue, Burlington, VT
Dogs: Yes, outside
Outdoor seating: Yes
Reservations: Yes, for indoor dining
Hours: 7 days a week from 12 to 9 pm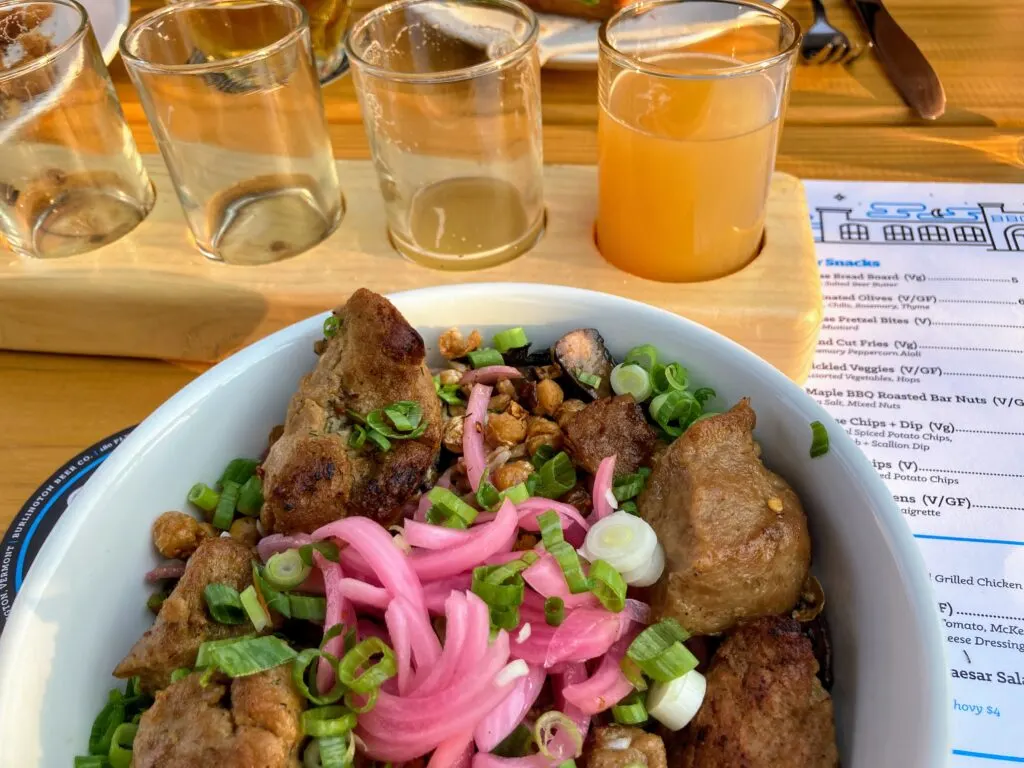 Located in a 120-year-old brick building within walking distance of Oakledge Park in Burlington's South End, Burlington Beer Company (BBCO) has been shaking up the local beer industry since 2014.
If you are looking for a fantastic menu to go with a very eclectic selection of beers, you will love all the fun pairings you can create at Burlington Beer Company. In reality, there are too many beer selections to choose from, but they make it easy with four flight options to help you get to know the beers a little better.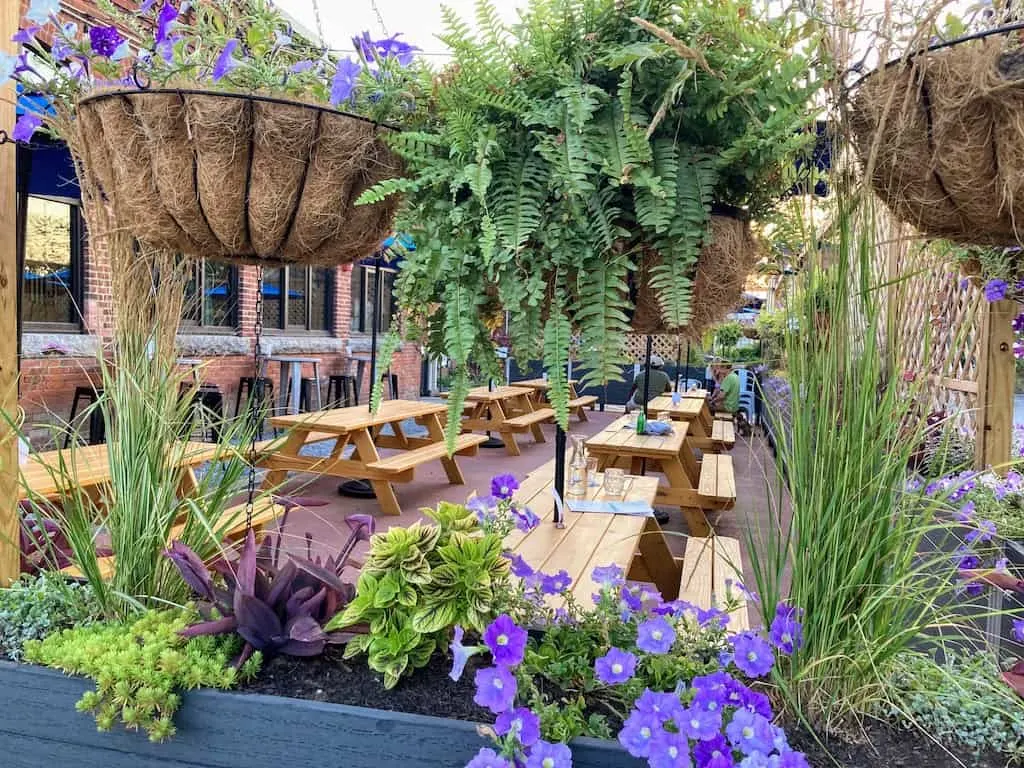 We are lucky to be able to find four packs of BBCO beer near home, so I already had some favorites when we visited the taproom in July. I went with a seasonal flight, which consisted of four shots of summer — Strawberry Whale Cake, Raspberry Whale Cake, Double Easy Tiger, and Double Sunken City. This collection of gose and cream ales was exactly what I needed as I watched the sun set on a 100-degree day.
During our summer visit, BBCO had 30 beers on tap, plus a nice selection of ciders, kombucha, wine, cocktails, and non-alcoholic beers.
We would have visited Burlington Beer for the drinks alone, but this vegetarian was surprised and delighted by the food as well.
The menu includes several great salads, sandwiches, and entrees. I opted for a seitan grain bowl with farro, roasted mushrooms, shredded cabbage, crispy chickpeas, and Greek-style seitan. Even my meat-eating companions were a bit envious.
---
Zero Gravity Craft Brewery: Hoppy and Hoppin' Burlington Brewery
Address: 716 Pine Street, Burlington, VT
Dogs: Yes, outside
Outdoor seating: Yes
Reservations: No reservations accepted
Hours: Sunday – Thursday, 8 am – 9 pm, Friday – 8 am – 10 pm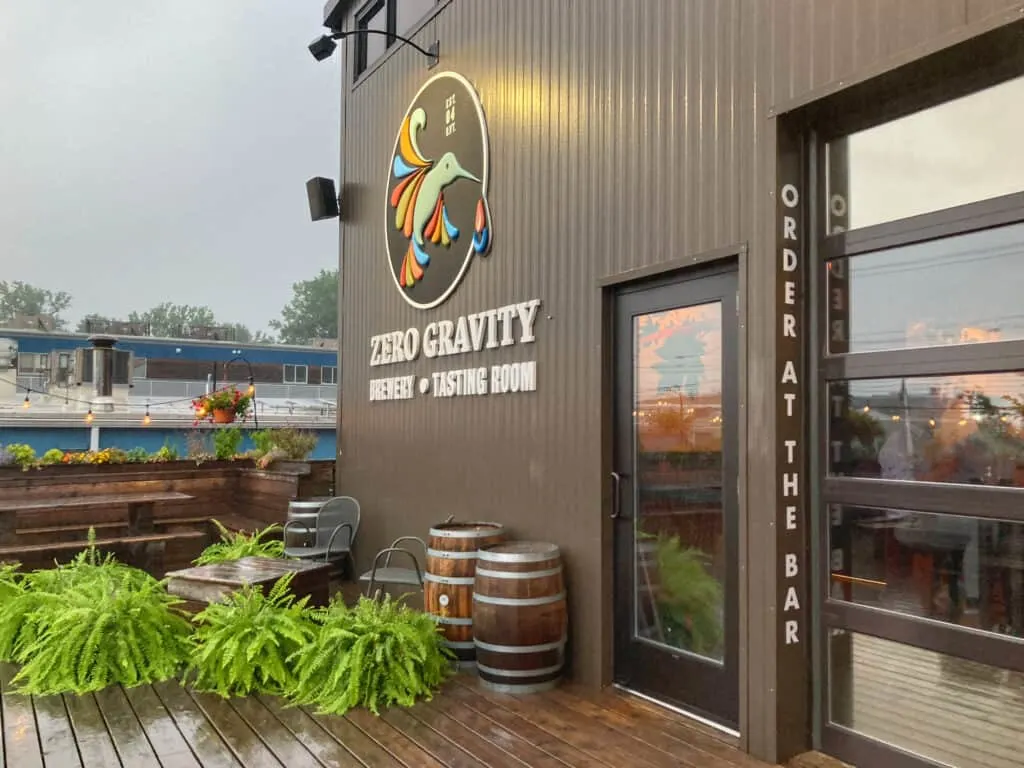 Zero Gravity Craft Brewery is open starting at 8 am for coffee and waffles (get the maple latte), and moving seamlessly to beer and a small, but delicious food menu starting at 2 pm.
Of all the Burlington breweries we visited this summer (for research, of course), Zero Gravity was the busiest, with the longest wait for a table. The yummy food and delightful beers were well worth the wait, though, and we were able to play a rowdy game of pool while scouting for a table.
A dog-friendly covered patio is a perfect spot to relax on a rainy summer afternoon, and if you visit during the winter months, you can chill on a comfy sofa in front of a crackling fire.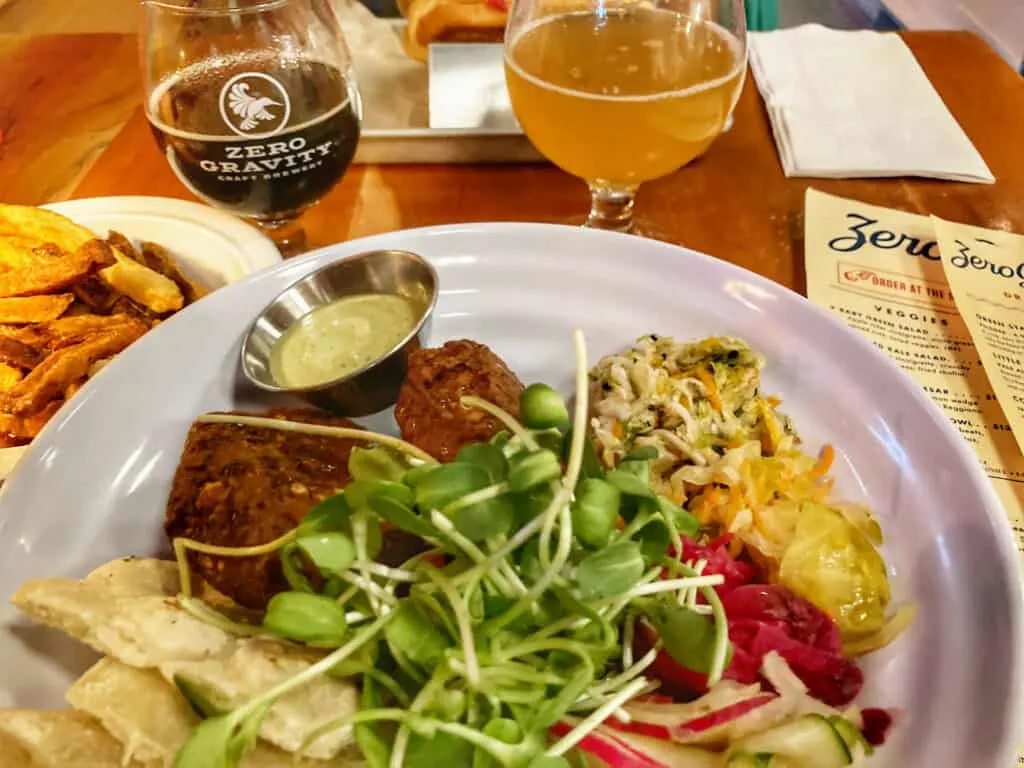 At Zero Gravity, you place your order at the counter, grab your beer, and chillax while you wait for your food. While the menu is limited, our food was quick, beautifully presented, and super yummy. Eric can never resist a bratwurst, especially when it comes with house-made sauerkraut. I had the chickpea fritter plate.
Since it was raining, I opted for my first stout of the trip — an Irish-style Extra Stout, which was so chocolatey and dark, that I was forced to skip dessert.
Zero Gravity beers are widely available throughout Vermont, but you can get some unusual selections from the cooler to take home for your nightcap. They also have a great merch selection for all your gift-giving needs.
---
Queen City Brewery: Authentic German-Style Beer
Address: 703-B Pine Street, Burlington, VT (right across the street from Zero Gravity)
Dogs: Yes, inside and out
Outdoor seating: Yes
Reservations: Queen City does not serve food, but you can order pizza next door at Pizza 44 or bring your own food.
Hours: Sunday – Thursday, 1 pm-8 pm; Friday – Saturday, 12 pm-9 pm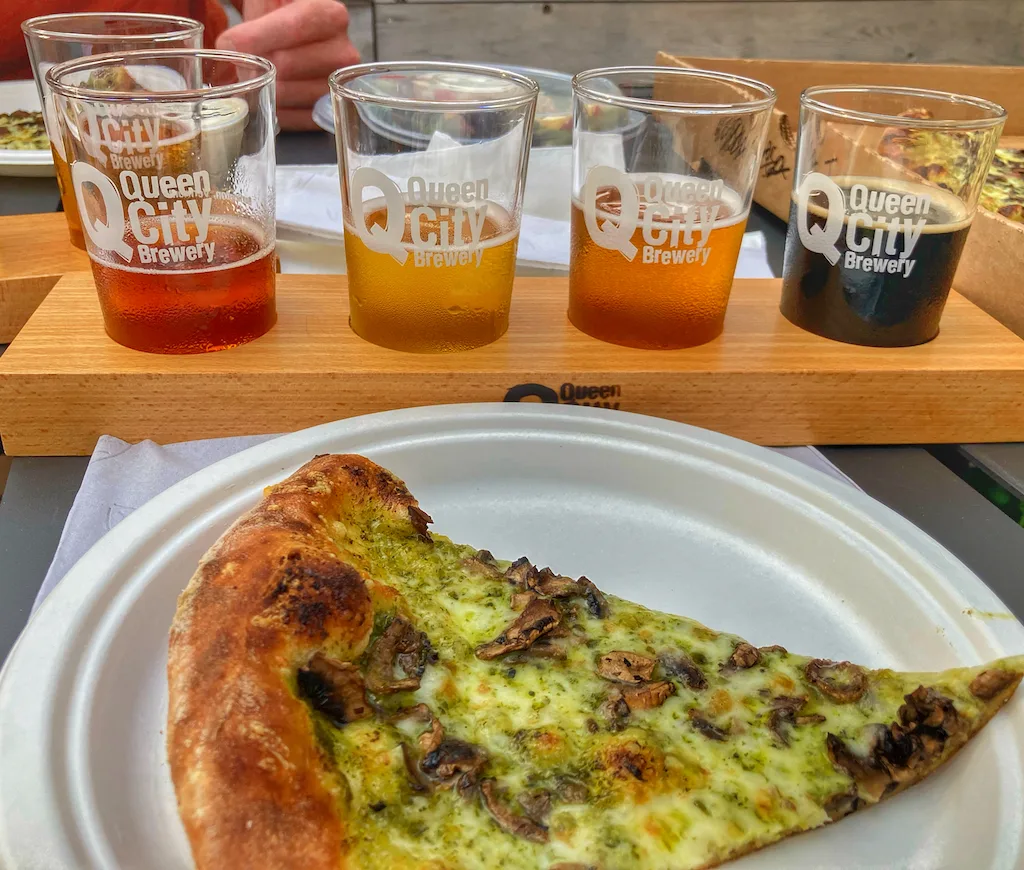 Queen City Brewery was founded in 2012 with a mission to create traditional beer styles. In a craft-beer world that is largely dominated by fruity IPAs, Queen City stands out with its robust collection of German-style beers, including a smooth Munich Dunkel, easy-drinking Vienna Lager, and the classic Yorkshire Porter.
It's true that we were longing for something a bit more traditional and less hoppy when we visited Queen City, and we were delighted with the offerings!
Because Queen City does not operate a kitchen, dogs are welcome indoors and out. We opted for patio seating and a few flights of magical concoctions. We ordered a Farmer Salad and the pesto-based "Go Ask Alice" pizza from Pizza 44 next door. They texted us when our food was ready, and we hopped over to pick it up in under 30 seconds.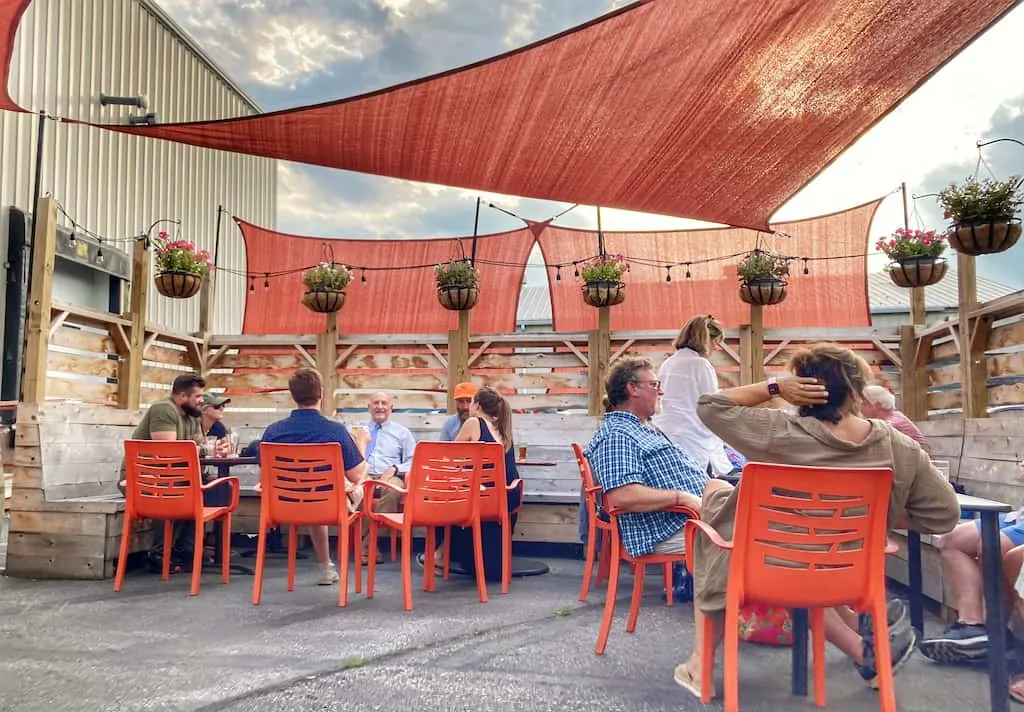 Did we have favorites? Absolutely! At home in Bennington, I can pick up a six-pack of Yorkshire Porter at the grocery store, and it's my favorite cool-weather brew. As it was a sweltering summer evening, I ordered a flight of low-alcohol beers and then a Hefeweizen, which was one of the best I've ever tasted!
Eric continues to talk about all the Queen City beers he fell in love with, as well as the ones he didn't get a chance to try. Our Queen City experience was one of our favorite to date, and we are already making plans to head back to Burlington with coolers full of ice.
---
Switchback Brewing Company: Best Brewery for Cool Special Events
Address: 160 Flynn Avenue, Burlington, VT (Right around the corner from Burlington Beer Company)
Dogs: Yes, outside
Outdoor seating: Yes
Reservations: No
Hours: Monday – Thursday, 1 – 8 pm; Friday and Saturday, 12 – 9 pm; Sunday, 12 – 7 pm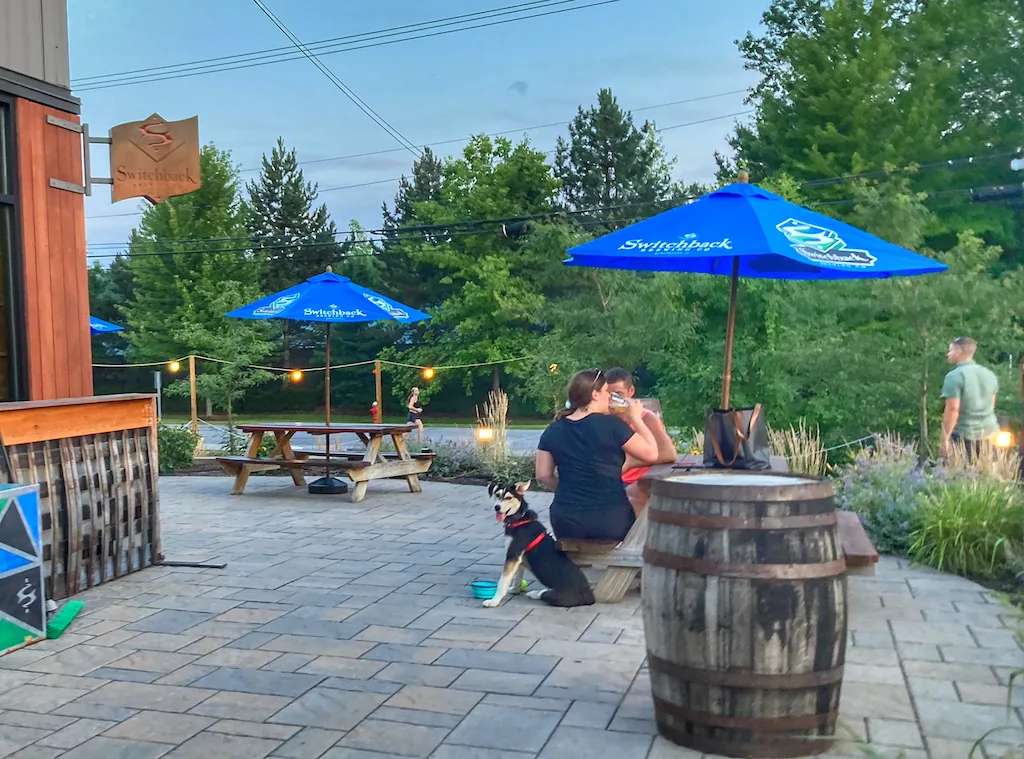 Switchback Brewing was founded in 2002 with a no-nonsense approach to creating delicious drinkable beers, and their flagship beer, Switchback Ale, has been a staple at pubs and package stores around Vermont for many years. Switchback Ale is unfiltered and packaged in stout bottles, perfect for parties, barbecues, and late-night TV sessions.
The Switchback taproom opened in 2014 and is known as one of the best breweries in Burlington Vermont for fun beer-themed events like Stretch-and-Sip Yoga, cribbage tournaments (beer and cribbage is a great combo!), dog PAWties, and live music. Visit on Mondays for $5 pints of Switchback Ale.
Food at Switchback is limited, with a choice of dogs (hot dog, beer brat, or veggie dog) plus a variety of toppings. They've also got vegan chili and some snacks.
Eric and I both enjoyed the extra pale ale on another one of those steamy Burlington evenings.
---
Foam Brewers: A Fun Waterfront Brewery with Late Weekend Hours
Address: 112 Lake Street, Burlington, VT
Dogs: Yes, outside
Outdoor seating: Yes
Reservations: No
Hours: Sunday – Thursday, 12 – 10 pm; Friday and Saturday, 12 pm – 12:30 am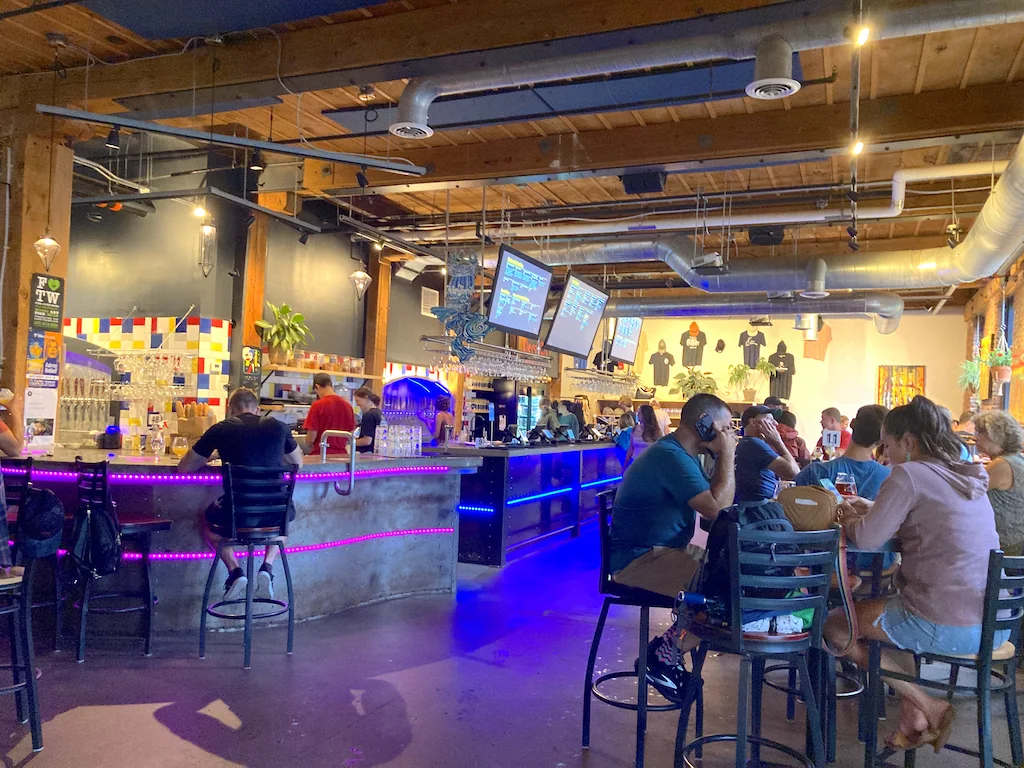 Foam Brewers is a small craft brewery on the Burlington waterfront, with another location called The Annex in Hinesburg. With its funky bar-like atmosphere, great outdoor seating, and a stellar selection of delicious IPAs, Foam Brewers caters to the younger, beer-loving generation, but we had no trouble keeping up!
Menu items are displayed on bright screens around a busy bar. Order 8 or 12-ounce pours or fill a growler to take home for later. You can also choose from a small selection of munchies (charcuterie, chips and salsa, olives, and the like).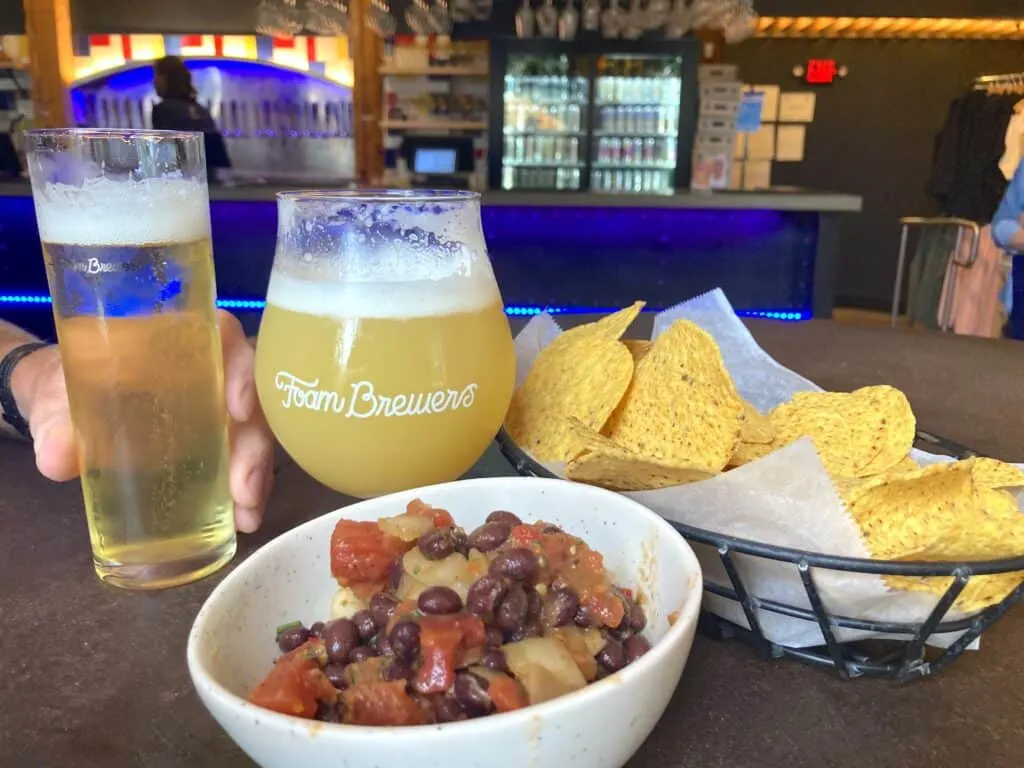 I went with a small pour of "Together or Alone," which was fruity and hoppy, and exactly how I imagine a Burlington beer when I'm not in Burlington. Eric had the lager (In Another Life), and we both came away happily hopped and ready to explore the town.
We've heard tell of Foam Brewers' newest venture, Deep City Restaurant, and are looking forward to tasting their vegan poutine very soon! We'll keep you posted.
---
Vermont Pub and Brewery: The Original Downtown Brew Pub
Address: 144 College Street, Burlington, VT
Dogs: Yes, outside
Outdoor seating: Yes
Reservations: Yes
Hours: Wednesday -Sunday, 11:30 am – 9 pm
The Vermont Pub and Brewery has been a fixture in downtown Burlington since 1988, and I'll admit that visiting still makes me sentimental for those crazy days of my youth, when I would start the night here with friends and a Burly Irish Ale (or two). I spent a good portion of my 21st birthday here, and am delighted that the beer is still flowing freely and the pub food is still a delight.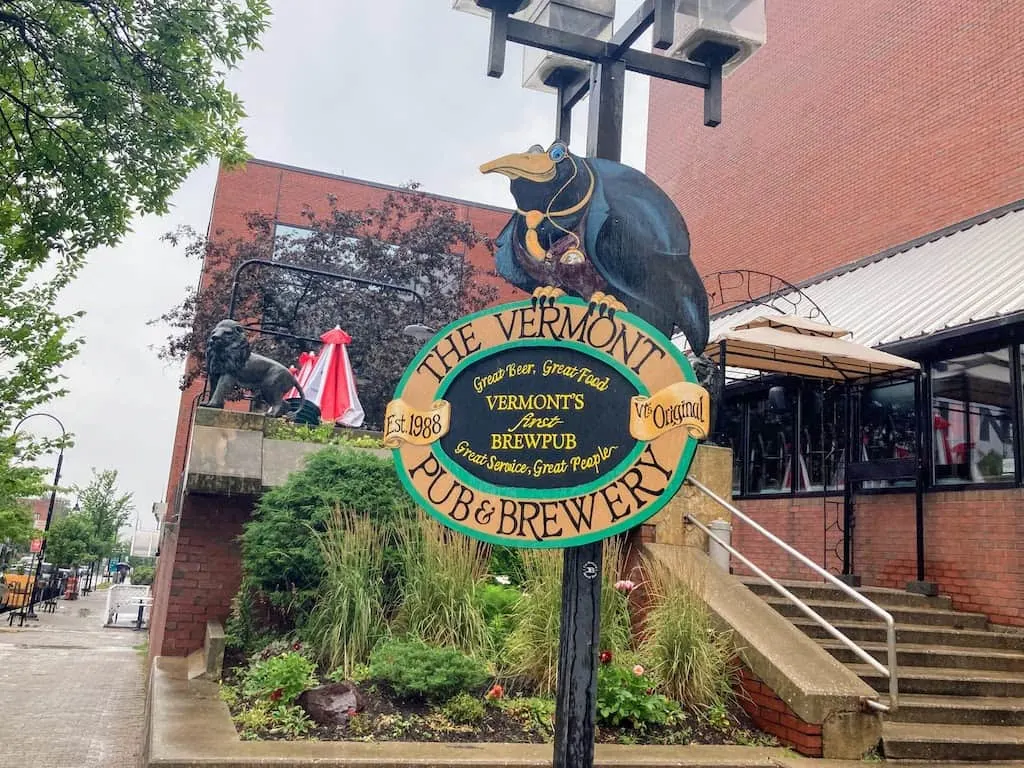 While they no longer have my favorite Burly Irish Ale on the menu, or at least they didn't during our visit, I was excited to try a Fancy Maple Pants Ale. This is a delicious amber ale brewed with maple syrup from Stonyhill Sugar House in Fletcher.
Pubs are not often vegetarian-friendly, but I've had the black bean burger here before and it was delish — served with brew fries or a wholesome salad.
The Vermont Pub and Brewery has a great dog-friendly patio and live music and Wednesday and Thursday evenings, plus Sunday afternoons. If you're looking for fun beer offerings and casual comfort food within walking distance of downtown, this is your spot.
Are you thirsty yet? Which of these breweries in Burlington Vermont are you most excited to visit? Leave us a comment if you're already making plans to visit! And don't forget to check out our web story for visiting these 6 Burlington breweries.
---
Burlington is one of the best stops on a Route 7 road trip! Here's a detailed three-day itinerary to help you plan the perfect road trip. If you want to explore all of these breweries in Burlington Vermont, give yourself an extra day!
---
Follow us on social media!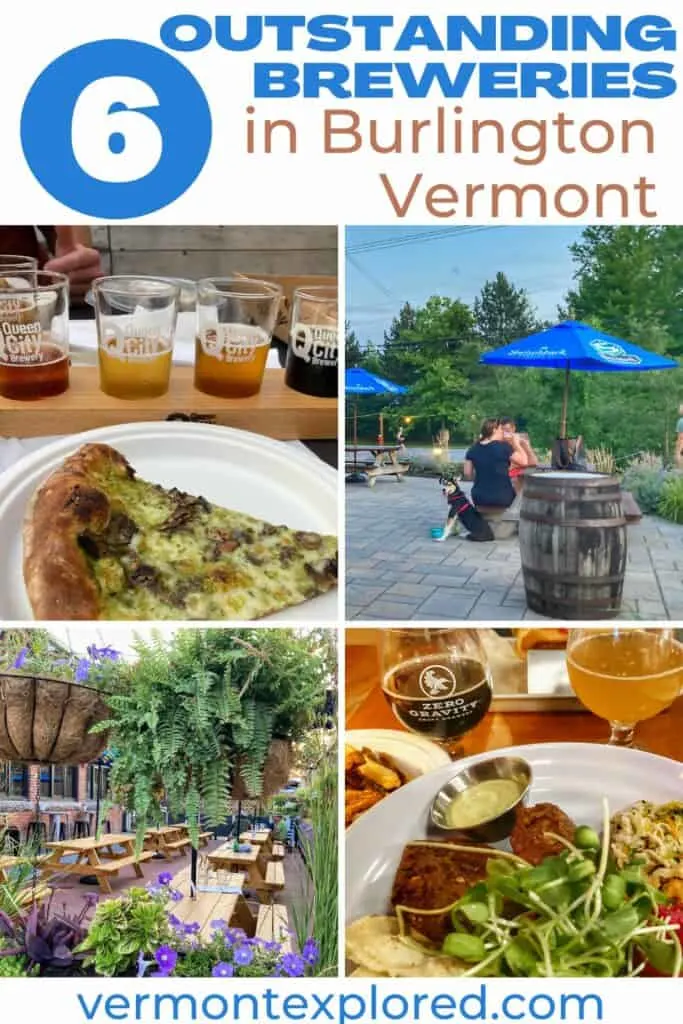 Tara Schatz is a freelance writer, and the founder and editor-in-chief of Vermont Explored and Back Road Ramblers, an American road trip blog. She is also the co-author of the 3rd edition of AMC's Best Day Hikes in Vermont, which was released in May 2023, and the author of 100+ Wonderful Ways to Experience Vermont.