Summer is short in Vermont, but there are so many ways to get outside with your kiddos for some old-fashioned fun.
Our family has been exploring Vermont State Parks for decades, so we thought it high time we shared the best family campgrounds in Vermont (according to our own kiddos).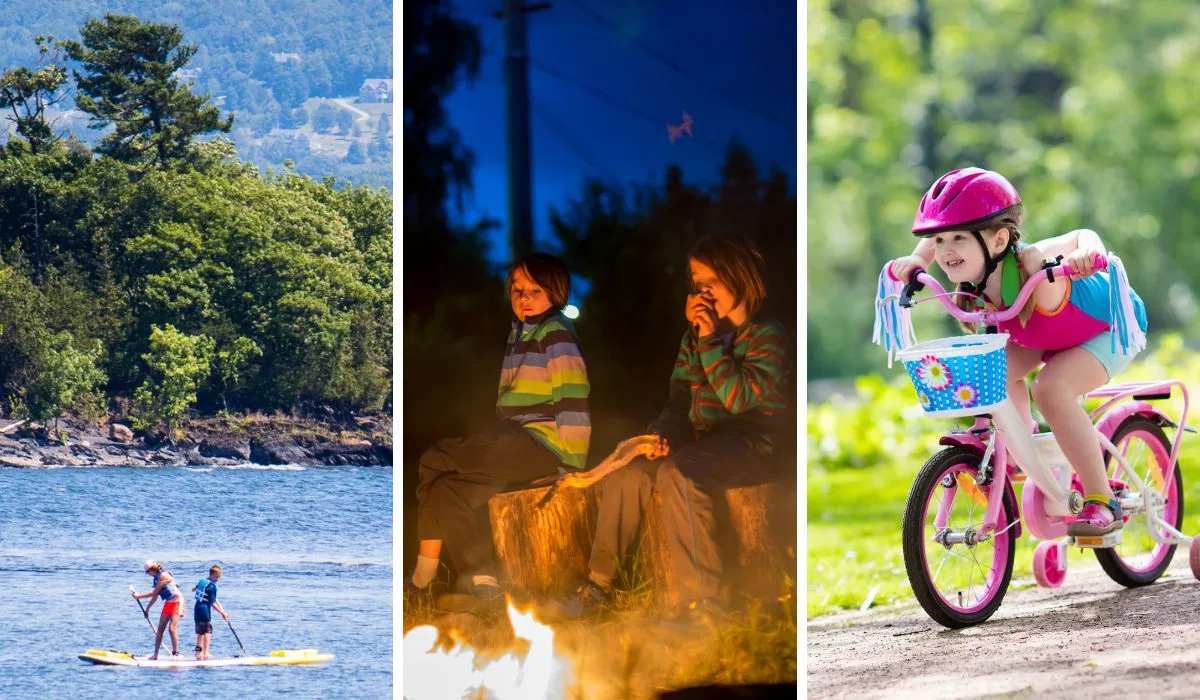 If you've ever visited Vermont (or if you are lucky enough to live here), you know that it's a state of great natural beauty — home to lush forests, ancient mountains, and secret valleys.
Vermont is the second least populated state (after Wyoming), but it's always attracted lots of visitors, who come to experience its New England charm, quirky attractions, and amazing recreational opportunities.
If you want to enjoy an outdoor-based family vacation in Vermont this year, you can't beat Vermont State Parks!
There are 59 to choose from, each with its own recreational opportunities. While every Vermont State Park is amazing and beautiful in its own way, a few stand out as top-notch destinations for family camping in Vermont.
The Best Vermont State Parks for Family Camping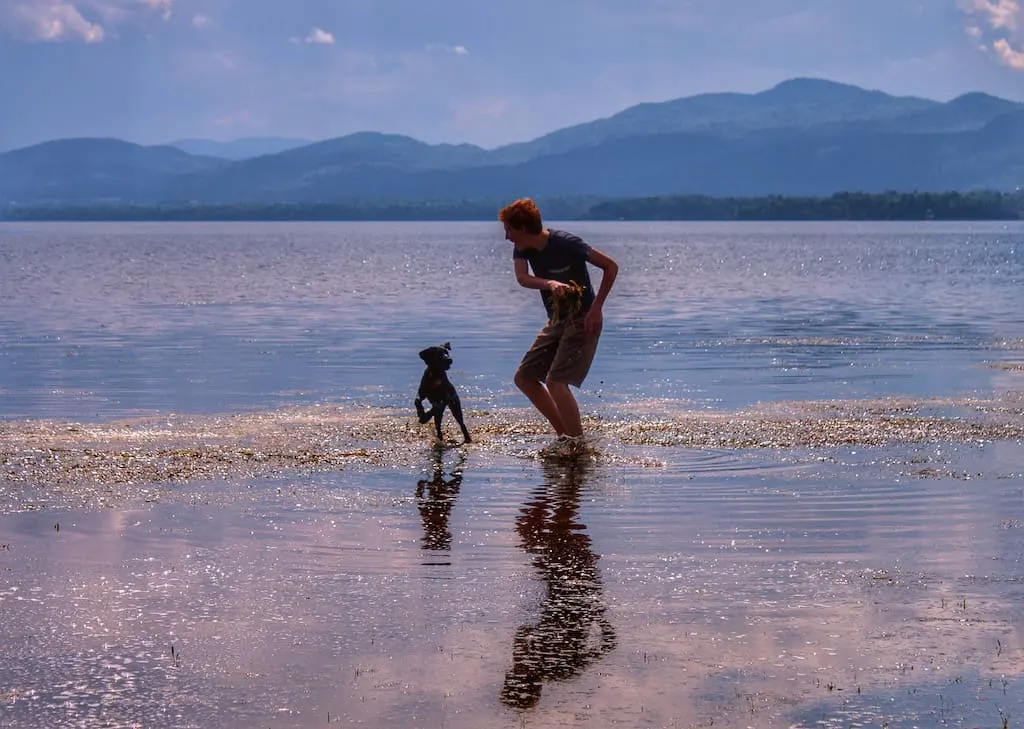 The following Vermont State Parks get our highest rating for kid appeal, and they all have something in common — water is their number one attraction.
Kids love to get wet, and our short Vermont summers are perfect for swimming, paddling, and fishing.
If you're heading to Vermont with little ones, you'll definitely want to check out these incredible Vermont state parks which feature the best family campgrounds in Vermont.
All of the parks we've chosen have a variety of camping opportunities from basic tent/RV sites, to lean-tos or camping cabins. Plan for a weekend getaway, or even a Vermont road trip so you can explore more than one park during your visit.
Ready to get outside? Here are our top Vermont State Parks for families with kids!
Button Bay State Park: Family-Friendly Park on the Shores of Lake Champlain
Located in Ferrisburgh, Vermont, about 45 minutes south of Burlington, Button Bay State Park gives you direct access to Lake Champlain. There are 13 Vermont State Parks on Lake Champlain, and Button Bay is definitely one of our favorites.
Lake Champlain is the largest lake in the Northeast and after the Great Lakes, the largest in the United States.
If you've never visited Lake Champlain with your kids, I urge you to drop everything and plan your trip now. And if you're looking for the perfect spot to cook s'mores, watch fairytale sunsets, and sleep under the stars, Button Bay State Park is it.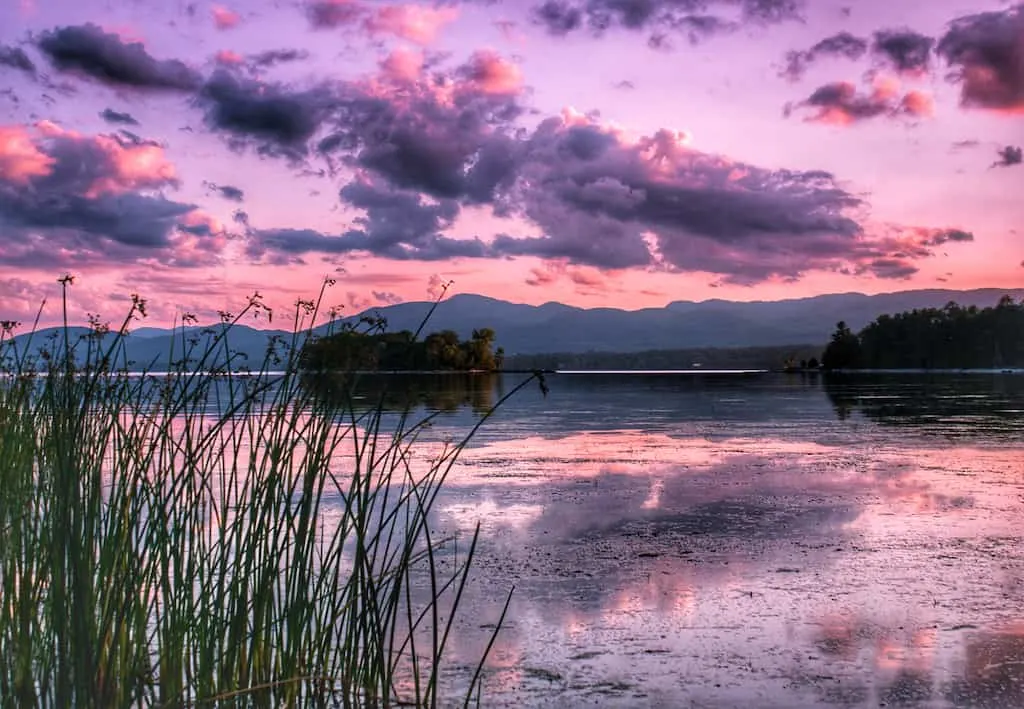 Button Bay State Park is a kid magnet, and my kids loved hiking along the shore, visiting the nature center, and cooling off in the park's swimming pool. As far as I know, this is the only Vermont State Park with a pool, and unlike most of the state park swimming areas, Button Bay has a lifeguard on duty whenever the pool is open.
Button Bay is also one of the most dog-friendly parks in Vermont. If you stay in the Willow lean-to, you will be right next to the trail that goes down to the dog beach.
For a more detailed overview of Button Bay State Park, read The Best State Parks to Visit Near Burlington, and if you do head north to Vermont's largest city, read The Best Things to Do in Burlington with Kids this Summer.
Finally, when you're ready to make your camping reservation at Button Bay State Park, head to the Vermont State Parks website.
Insider Tip: There are two campground loops at Button Bay State Park. The tenting and trailer loop is very close to the playground, pool, and nature center, but is wide open to the sun and the elements. The lean-to-loop offers a bit of shade and more privacy. We really love the Vermont State Park lean-tos!
---
Little River State Park: Impressive Array of Programs for Kids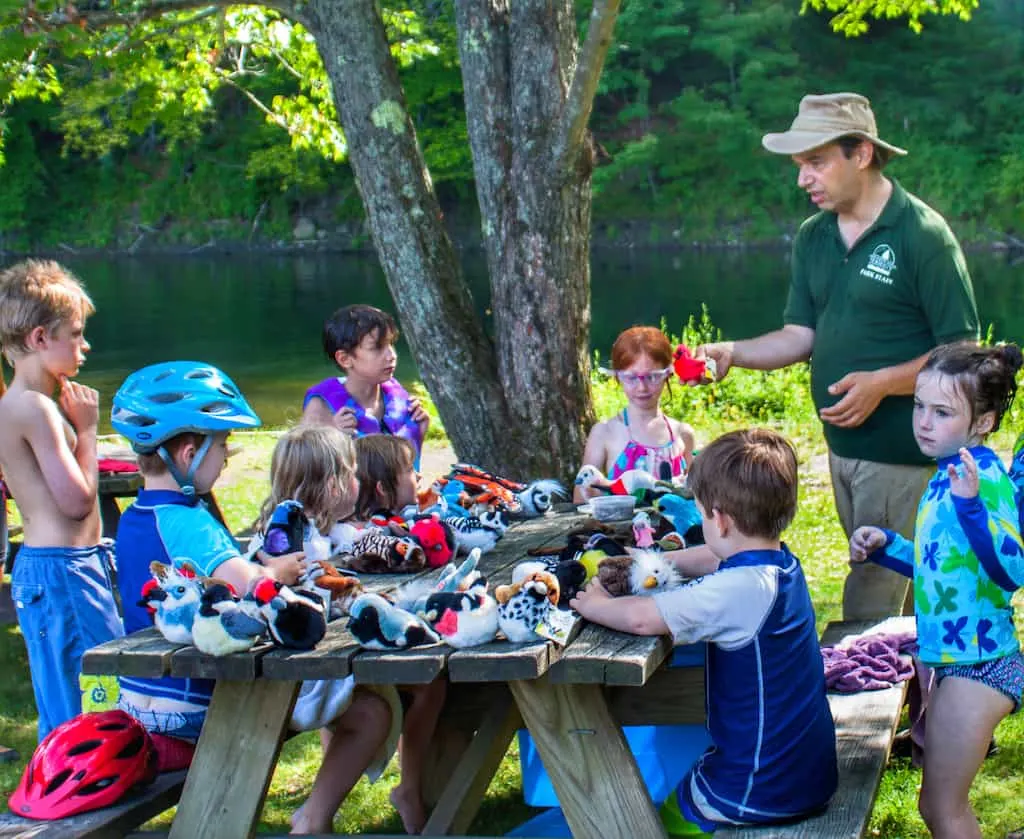 Little River State Park is in Waterbury, just outside of Stowe, and it's one of the most popular state parks in central Vermont. The park is one of two state parks on the man-made Waterbury Reservoir, and definitely one of the best family campgrounds in Vermont.
Waterbury Center State Park is the place to go for swimming, boating, and fishing during the day, but if you want to camp, Little River State Park is a fabulous choice. Highlights of this park include two small, shady beaches, canoe and kayak rentals, and camping cabins for families who don't want to rough it.
There are lots of hiking trails for all abilities, several hidden cemeteries in the woods, and more kids than you can count, so it's perfect for extroverted kids who love to make friends when they're on vacation.
I think the real reason families flock to Little River State Park is the interpretive programs led by Brian Aust. Brian knows the park inside out, and he shares his knowledge with kids in a way that is fun, engaging, and easy to understand.
During our last visit, we hunted mushrooms, learned about bird migration, and went on a haunted hike. Parents and kids can choose to spend the whole day swimming at the beach, but Waterbury also has some great kid-friendly attractions, like the world-famous Ben & Jerry's Factory. Who can resist that temptation on a hot summer's day?
Read our detailed description of Little River State Park, and when you're ready to book, head to the Vermont State Parks website.
Insider tip: A waterfront lean-to is a great choice for camping at Little River State Park, but if you can't score one of those, our favorite tent sites are #53, 78, and 81.
---
Jamaica State Park: Swimming, Biking, and Hiking in the Green Mountains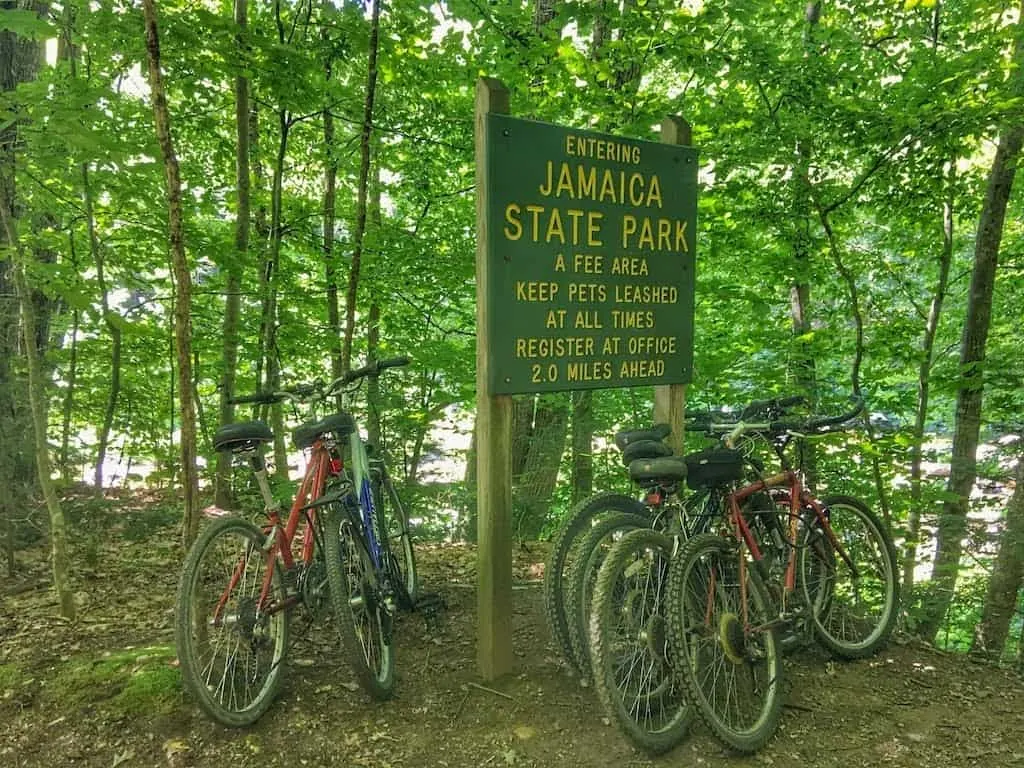 Jamaica State Park is located in south-central Vermont, right in the heart of the Green Mountains.
The hub of the park is the West River, which frolics through the center of the park. Families with small children can cool off in the relatively placid Salmon Hole swimming area. If you've got older kids (or dogs), you can swim just about anywhere, as long as you don't mind a swift current and lots of rocks.
Families will also love biking on the shaded West River Rail Trail, which hugs the river all the way to Ball Mountain Dam (definitely worth visiting). While biking the rail trail, park your rides and hike the side trail to Hamilton Falls, which is one of the loveliest waterfalls in Vermont.
The Jamaica State Park campground is very family-friendly, with 41 tent/RV sites and 18 lean-tos.
We've never been able to score a waterfront lean-to, but all of the campsites have easy access to the water. There's also a great playground at Jamaica State Park, and it's an easy walk into the village of Jamaica for ice cream cones.
We've chosen Jamaica State Park as one of the best family campgrounds in Vermont because there are so many different outdoor activities to choose from.
In a single summer weekend, you can swim, hike, bike, or fish. Plus, it's one of the only Vermont State Parks within walking distance of town.
Read our complete overview of Jamaica State Park, and when you're ready to book a campsite, head over to the Vermont State Parks website.
---
Groton State Forest: 7 State Parks in One Beautiful Forest
Groton State Forest is one of Vermont's largest publicly owned areas, encompassing almost 30,000 acres, and seven unique state parks.
You need more than a weekend to explore Groton State Forest, especially since it's located in one of the most remote corners of Vermont, between the Green Mountains and the Connecticut River in the northern half of the state.
Whether you want to spend your days hiking remote peaks, paddling pristine lakes and ponds, or simply hanging out at the beach, there's a destination in Groton State Forest with your name on it.
Make your camping reservation at Stillwater State Park or Ricker Pond State Park so you can have easy access to the water. You'll be within driving or biking distance of all the other Vermont State Parks in Groton State Forest.
When camping at Stillwater State Park, our kids were able to walk or bike to the nature center and swim at the camper's beach when they wanted to cool off. There's also a boat launch for getting out on the water.
Boulder Beach State Park is only open for day use, and it's the perfect spot to spend a hot summer day. Here you can sprawl out on the wide, sandy beach, retreating to the shady picnic tables when it got really hot. When your kiddos' lips turned blue from the mountain water, they can head to the playground, then to the snack bar, then back to the water, repeating the cycle throughout the day.
One of our favorite hikes to take with kids in Groton State Forest is up to Owl's Head. It's not a hard hike, but when you see the view at the top, your kids will feel like they conquered a serious peak.
Bring your bikes and explore the Cross Vermont Trail, which runs right through Groton State Forest, and definitely bring kayaks and/or canoes if you have them. You can rent them inside the park if you don't have your own.
Read more about adventuring in Groton State Forest, and don't forget your trail map!
Visit all Seven Vermont State Parks in Groton State Forest
These parks are all pretty close together and all super awesome. Visit them all with your kids and tell me which one you like best!
---
Burton Island State Park: An Island Getaway in Lake Champlain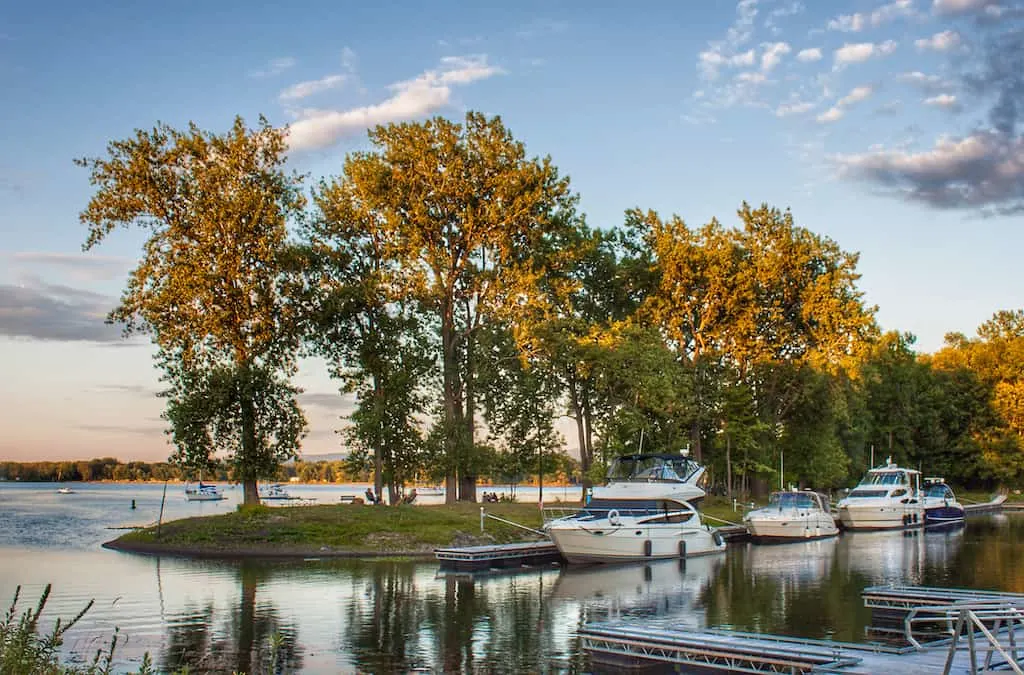 Do you have your sights set on a tropical island vacation this year? Fortunately, You can live the island life right here in Vermont for a fraction of the cost (as long as the weather cooperates, of course).
Burton Island is a 253-acre park just off the shores of St. Albans in northern Lake Champlain. You can only get there by boat, and there are no cars on the island.
The Island Runner, a Vermont State Park ferry, runs several times a day through the summer from Kamp Kill Kare State Park in St. Albans. If you have your own boat, Burton Island provides slips for overnight use, complete with hook-ups and your own fire pit.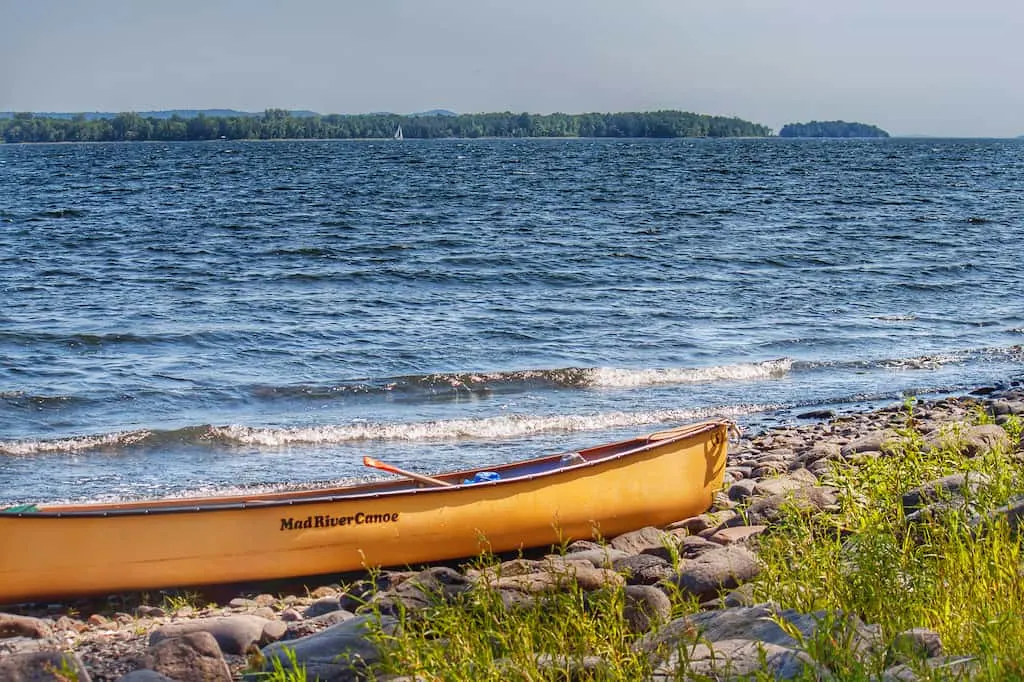 Burton Island has a variety of camping opportunities — from secluded, primitive sites and waterfront lean-tos, to beautiful cabins with beds and electricity.
Because there are no cars here, our kids were able to take over the trails, paths, and roads without much fear. They never tired of exploring the island — and spent their days at the nature center, playing disc golf, renting paddleboards, or swimming at the beach.
The small marina is the hub of the island, with free Wi-Fi and a lovely cafe and store called the Burton Island Bistro. This is where we relaxed each morning, drinking coffee and watching the boats go in and out. The bistro also provides campers with breakfast, lunch, and snacks, plus a nice selection of beer and wine.
Bring your boat to Burton Island! If you don't have a boat, take the ferry and rent a human-powered boat on the island.
Life is a bit slower on Burton Island, making it one of the best family campgrounds in Vermont for just chilling out.
It's the perfect place to hang the hammock, catch fireflies, and tell stories 'round the campfire. Read more about camping at Burton Island State Park, and then book your campsite at Vermont State Parks.
Insider Tip: The waterfront campsites fill up quickly, especially on the weekends. For the best selection, reserve your site up to 11 months in advance on the Vermont State Parks website. If you can snag Juniper, our favorite waterfront lean-to, you're a lucky family indeed!
---
Emerald Lake State Park: Southern Vermont's Best Swimming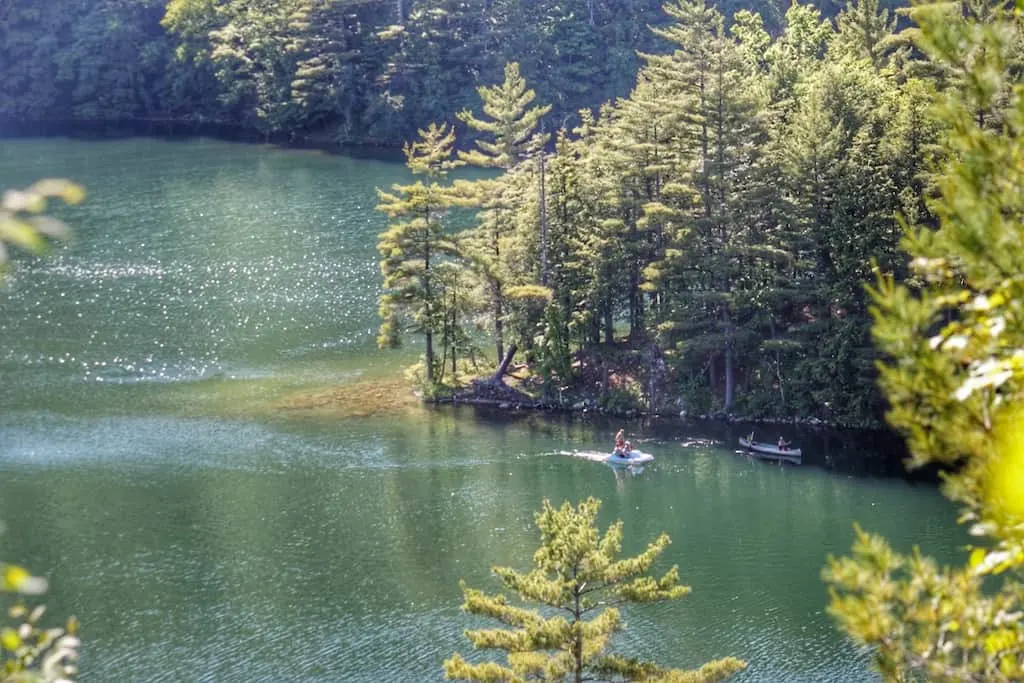 Emerald Lake State Park is a favorite among locals and is widely regarded as one of the best places to cool off on a sweltering summer day. Located in East Dorset, Emerald Lake is also considered one of the best family campgrounds in Vermont.
The lake itself covers just 20 acres, but what Emerald Lake lacks in size it makes up for in beauty. It's nestled in a deep valley between the Taconic Mountains to the West and the Green Mountains to the east. The mountains rise up steeply on either side of the lake, making for lovely views in all directions.
The campground is excellent for tent and/or hammock camping, but there's also room for RVs if that's more your style. Afraid of nasty weather? Rent one of 36 lean-tos so you can be more protected from the elements.
Ready to book your getaway to Emerald Lake? Read our post about summer fun at Emerald Lake State Park and then head over to Vermont State Parks to book your campsite.
Insider Tip: Our all-time favorite campsite in Emerald Lake State Park is the Hawthorne Lean-to. It's located in the "B" campground loop, and it's lovely and private. It's perched on the edge of the embankment that leads to the water, so maybe not the best choice if your kids are really young.
---
Ready to escape to Vermont to enjoy everything you love about summer in New England? These Vermont State Parks are our all-time favorite spots for family vacations.
Pack your sunblock and swimsuits and get ready for some serious outdoor playtime.
Follow my blog with Bloglovin
---
Follow us on social media for more Vermont inspiration!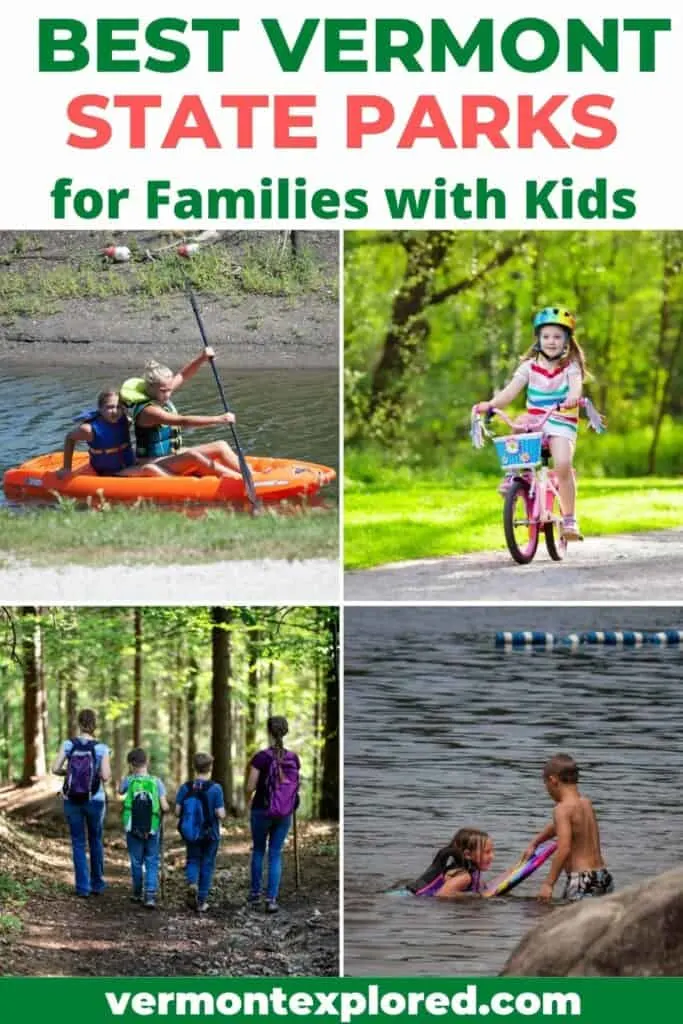 Tara Schatz is a freelance writer, and the founder and editor-in-chief of Vermont Explored and Back Road Ramblers, an American road trip blog. She is also the co-author of the 3rd edition of AMC's Best Day Hikes in Vermont, which was released in May 2023.