Breathtaking mountain views, hidden swimming holes, a meandering rail trail, and one of the prettiest waterfalls in the Green Mountains. Welcome to Jamaica State Park in Vermont!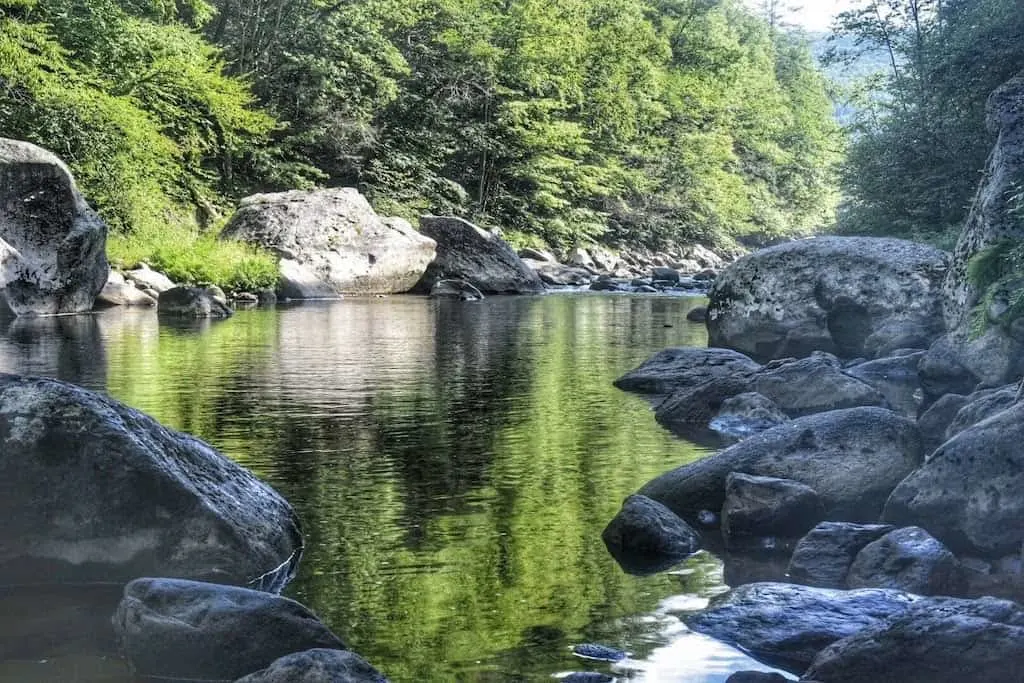 This gem of a park is tucked away next to a rustic mountain village of the same name. Jamaica, Vermont may not be the Caribbean, but it's as welcoming a place as you'll ever find in the Green Mountains.
Camping at Jamaica State Park makes an awesome family vacation in the summer. In fact, it's one of our all-time favorite parks — we're beyond lucky to live within an hour of Jamaica and all that it has to offer.
Read on to find an overview of the best things to do in Jamaica State Park, as well as a weekend itinerary for your Vermont adventure.
Quick Facts: Jamaica State Park

Location: 48 Salmon Hole Lane, Jamaica, VT
Open: Early May – 2nd Monday in October
Activities: hiking, swimming, camping, biking
Fees: $4 for adults, $2 for kids
Dogs: Yes, on leash. No dogs at Salmon Hole swimming area
Directions via Google Maps
Jamaica State Park Website
Jamaica State Park: Summer Packing Tips
This isn't an extensive packing list — just a few things that I think you'll appreciate having on your Jamaica State Park adventure.
Swimsuit and towel: An absolute must! There are great places to swim in the West River.
Water shoes: The river is rocky, so bring your favorite pair of water shoes or sandals.
Small day pack: There are a couple of great day hikes, plus you can spend several hours biking on the West River Rail Trail. I love a pack with a built-in hydration bladder so I can drink on the go.
Your bike: Not every park is great for bikes, but Jamaica State Park is! Ride the West River Rail Trail from the campground along the river. If you can't bring your own bike, rent one at Equipe Sport, which is just a few miles from the park.
Jamaica State Park FAQs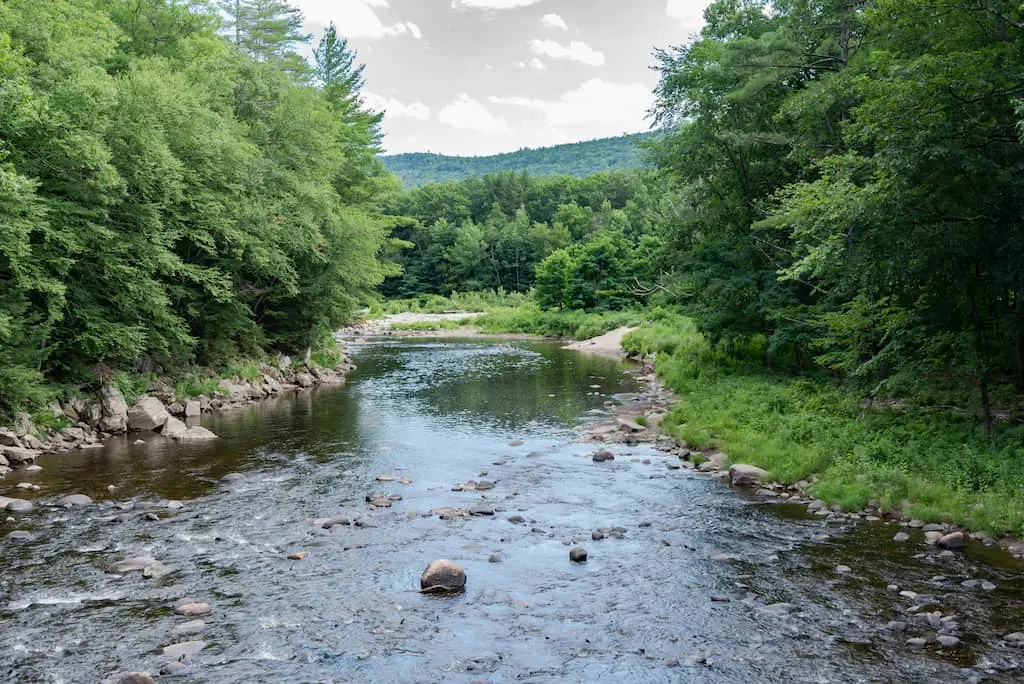 There's a good chance that you haven't heard much about Jamaica State Park (until now!). Here are a few important pieces of information that will help you plan your trip to Jamaica State Park.
What is the Best Time to Visit Jamaica State Park?
I'm sure it's lovely in the fall when the trees start to change colors, but I'm going to still suggest visiting in the summer because the West River is such a lovely place to swim. If you want to avoid the crowds, or are visiting in the time of COVID, visit during the week and avoid weekends. The river temperatures will be warmest during July and August.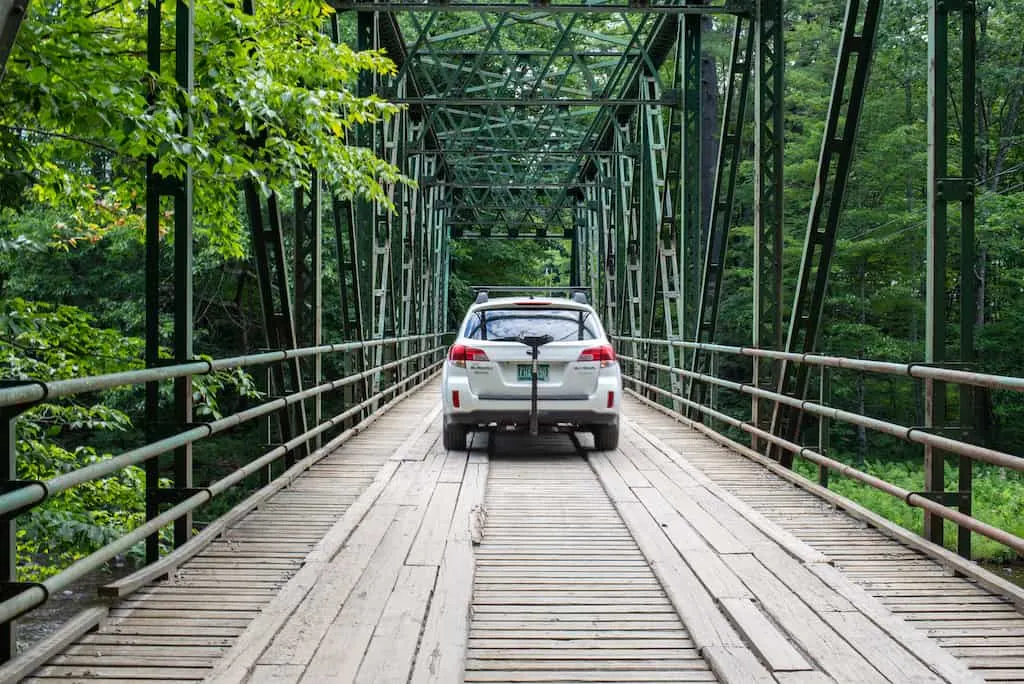 If you want to visit during the Vermont fall foliage season, your best is to come during the first two weeks of October. Reserve a campsite as soon as you have dates in mind, as spots will fill up quickly. If you don't want to rough it during your visit, this beautiful farmhouse is within walking distance of Jamaica State Park and the village of Jamaica.
Is there Cell Service at Jamaica State Park?
Nope. Not even one bar. You can walk a half-mile into Jamaica village for a few bars of service, plus there is public Wi-Fi downtown. If your desperate, try the payphone outside the contact station. I got to use it last weekend — my first time using a payphone in many years. I almost forgot how to do it!
Is Jamaica State Park Dog-Friendly?
Yes! This is one of the most dog-friendly parks we've been to in Vermont! Dogs are permitted everywhere except the Salmon Hole swimming area. You can walk along the West River Rail Trail to find lots of great spots for you and your dog to swim. The campground is also very dog-friendly. On our most recent trip, every other site had a dog, and all were leashed and well-behaved. I love it when that happens!
The Best Things to do at Jamaica State Park
Now that we've covered all the helpful tips, let's get to the good stuff — the best things to do at Jamaica State Park.
Learn about the First People to Live Here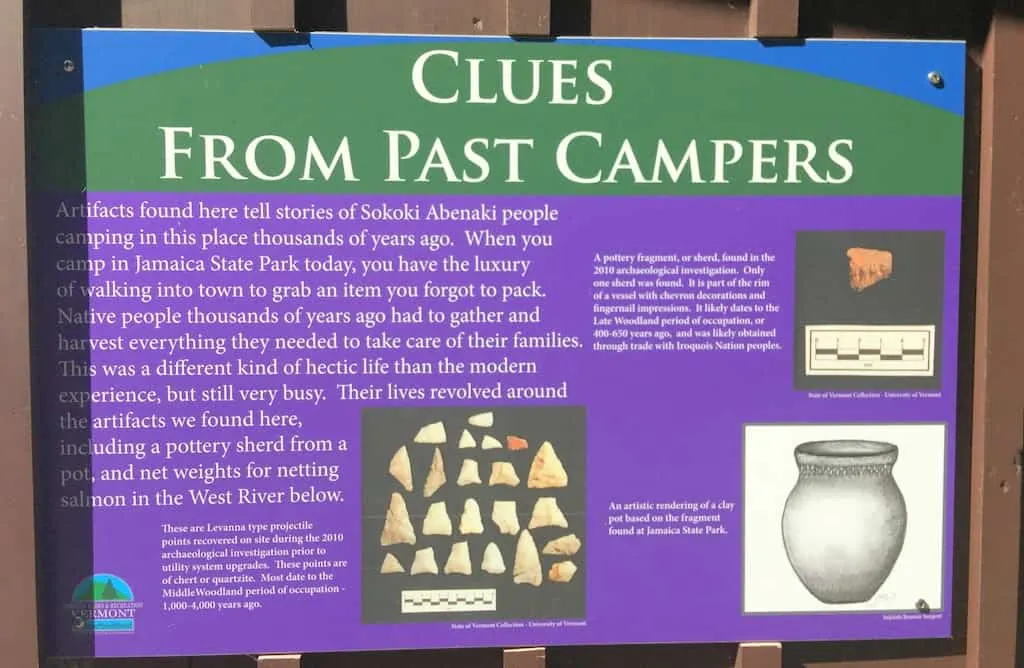 The area around Jamaica State Park was once an important hunting and fishing area along a major transportation route for the Sokoki Abenaki people, who traveled by canoe between the Connecticut River and Lake Champlain.
In 2010, an archaeological investigation uncovered several thousand artifacts, including projectile points, fire-scarred and cracked rocks, a fishing net weight, and a piece of pottery. Most artifacts dated back to the Woodland Period (1000-1600 AD), but the oldest artifact discovered is believed to be more than 7,000 years old.
And then there's the site of The Salmon Hole Massacre.
According to Vermont Curiosities by Robert F. Wilson, The Salmon Hole Massacre of 1748 was one of several skirmishes that took place between the British soldiers and the French and American Indians during King George's War (1744-1748).
While relaxing near the river, 80 British soldiers on a scouting trip from Fort Dummer were ambushed by a small band of French men and Native Americans. Six of the soldiers were killed in what became known as the Salmon Hole Massacre.
Cool off in the West River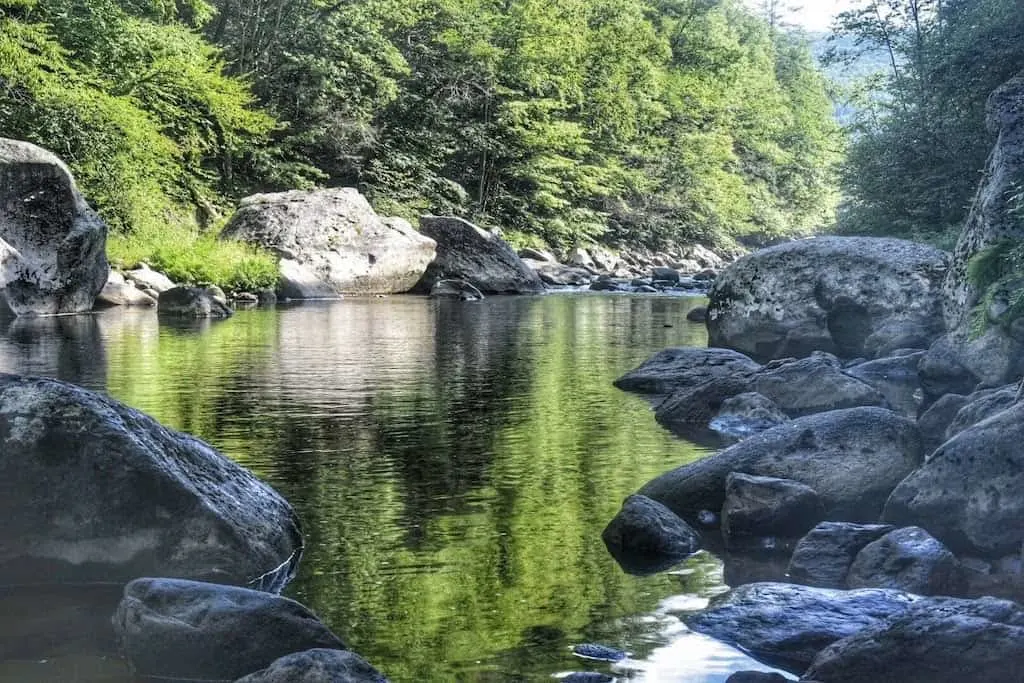 And speaking of Salmon Hole — the first thing you should do after setting up camp is cool off in this wide, deep spot in the West River. Salmon Hole is located right near the playground, and the river is slow-moving and clear. It's a perfect spot to spend the day, have a picnic, or just hop in for a quick dip. Remember to bring your water shoes because those rocks can be tough on tender feet!
If you are visiting Jamaica State Park with dogs, no worries. While your furry friends aren't permitted at Salmon Hole, if you stroll along the West River Rail Trail, you will find many other spots in the West River that are perfect for swimming. There are two picnic tables along the river next to the rail trail, maybe a half-mile from the parking area. Both are located near primo swimming spots.
Ride Your Bike to the Ball Mountain Dam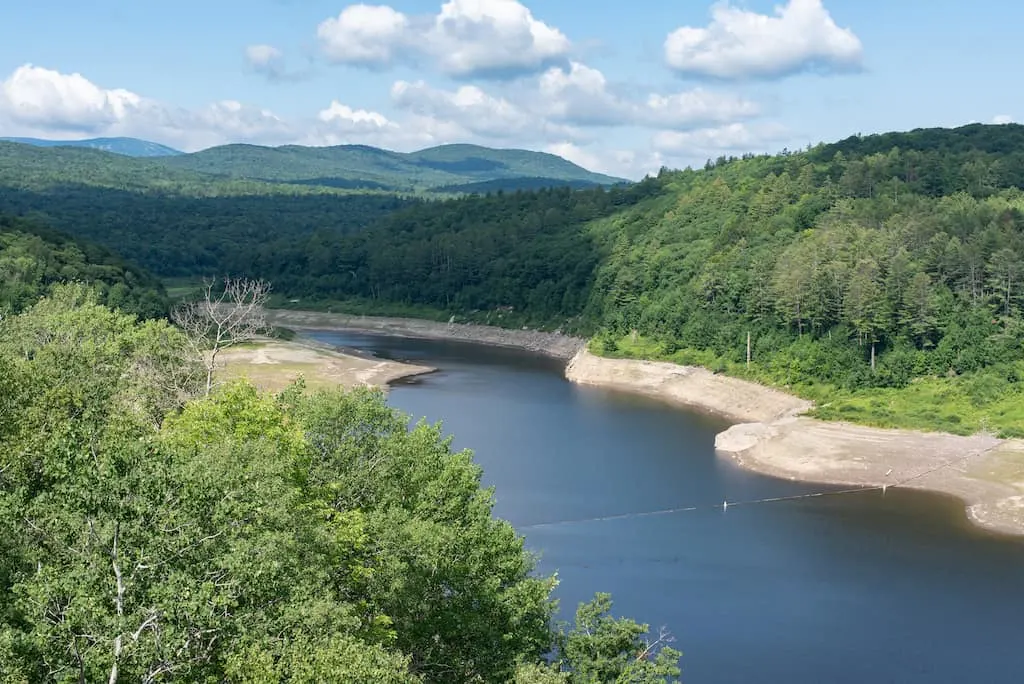 If you hop on the West River Rail Trail and ride for an easy 2.5 miles, you'll come to the Ball Mountain Dam and Ball Mountain Lake. You will leave the state park at 2 miles and enter federal land. Leave your bike at the bottom of the earthen and gravel dam and walk up the switchbacks for a fantastic view.
The massive Ball Mountain Dam was constructed between 1957 and 1961 for flood control on the West River. It is 247 feet high and 915 feet long. It's a pretty awesome feat of engineering and cool to see in person. I've only seen Ball Mountain Lake during low water periods in the summer.
The Army Corps of Engineers releases the water from the dam during two white water weekends — one in April and one in September. This controlled release makes for fantastic white-water paddling, and Jamaica State Park fills up quickly during those weekends.
Hike to Hamilton Falls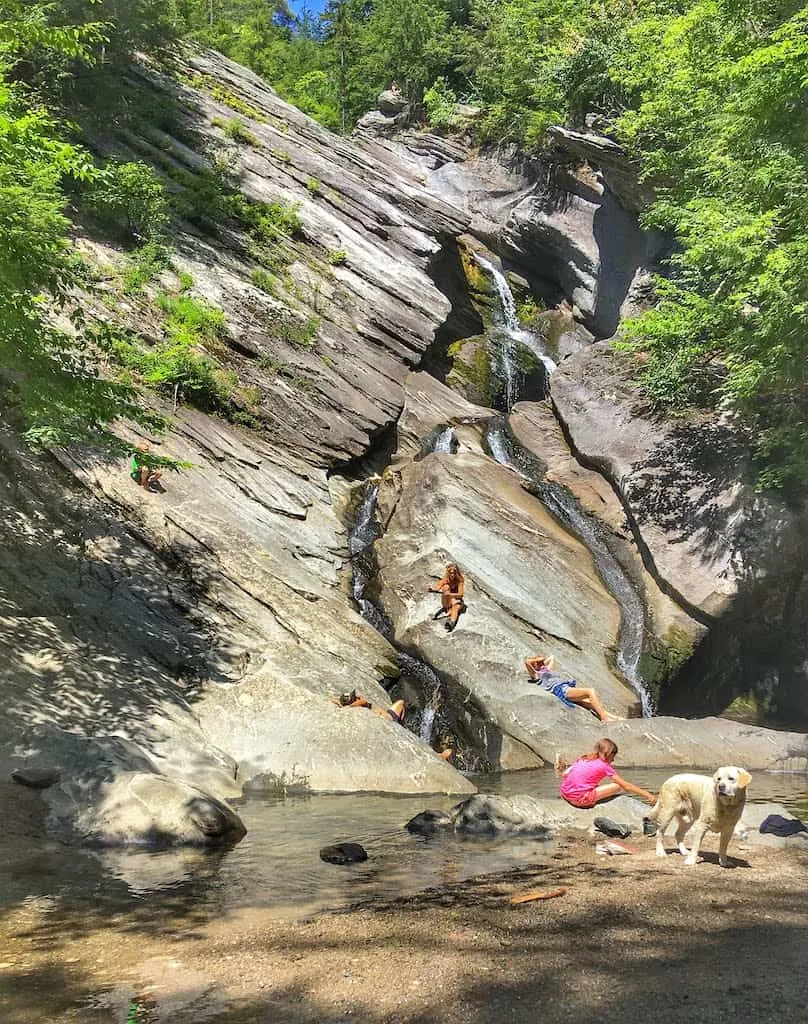 Hamilton Falls is a 125-foot waterfall made up of a series of horsetails and slides as Cobb Brook thunders over the rocks into a deep gorge. This is one of Vermont's most beautiful waterfalls and 100% worth the trek to get there. Swimming is prohibited here, but there are some nice pools at the bottom of the falls for wading in. Pack a picnic and your sunscreen, and be prepared to spend the afternoon sunning yourself on the rocks.
The trailhead to Hamilton Falls is located 2 miles from the parking area in Jamaica State Park on the West River Rail Trail. From the trailhead, it's another 1.1-mile hike to the falls. You can hike the entire 6 miles (round-trip), or you can do what we did — ride your bike 2 miles in, lock it up at the trailhead, and continue on foot to the falls.
According to signs located around the falls, many people have lost their lives while scrambling around. For your safety, please don't climb on the falls. Keep your feet firmly rooted on the ground and enjoy the view.
Learn About Jamaica's Railroad History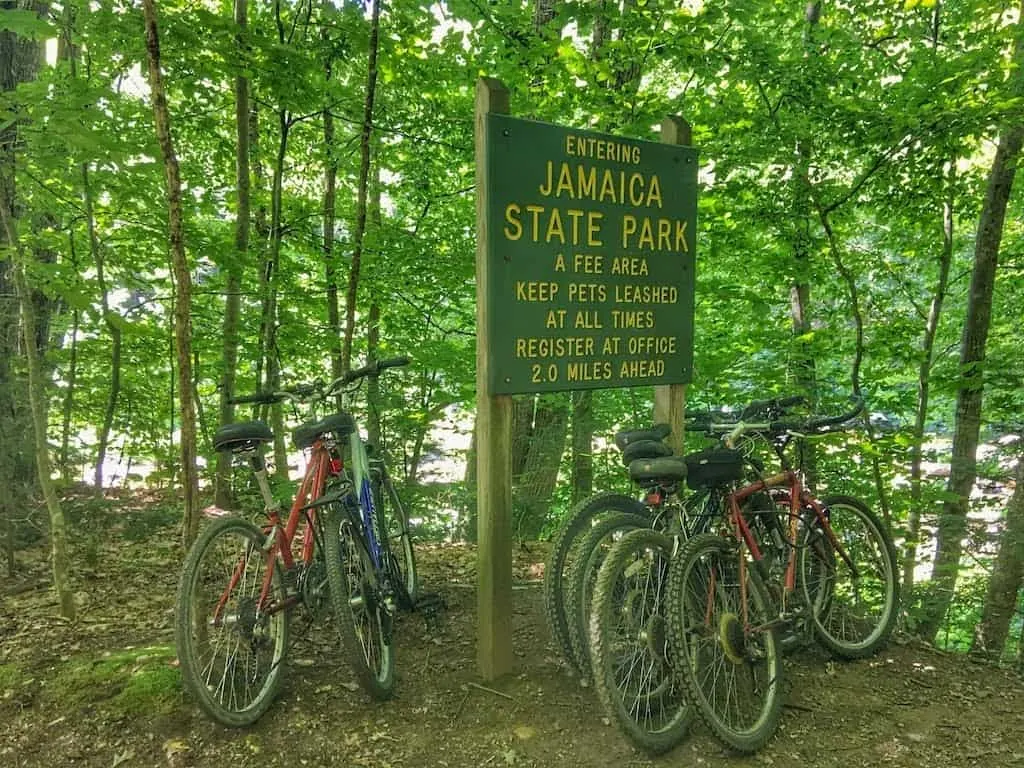 I was flabbergasted to learn that what is now the West River Rail Trail was once a precarious railroad between Londonderry and Brattleboro. I know – the name should have given it away, but if you are familiar with the area, you would never think a train could make passage through those mountains.
Honestly, the railroad story in Jamaica is not a success story. Instead, it's a story of one mishap after another. You can read more about the West River Railroad by reading the interpretive signs that are located along the West River Rail Trail, but I'll give you a brief summary.
Completed in 1879, the West River Railroad was going to be the answer to the closing mills and farms, and towns that were losing residents to the western frontier. The railroad was built with cheap, narrow-gauge track to save money, and it quickly became known as 36 miles of trouble for many reasons.
The wood-burning locomotives were not powerful enough to pull the cars up the narrow tracks. Passengers would often get out and walk along the tracks because it was faster than riding. Construction and maintenance problems, along with heavy snow and constant flooding meant that the trains were never on time, and wrecks were common.
The 1927 flood proved to be too much for the struggling railroad, and with much of the track missing or in disrepair, the company filed for abandonment.
Pitch Your Tent or Park Your RV in the Wooded Campground at Jamaica State Park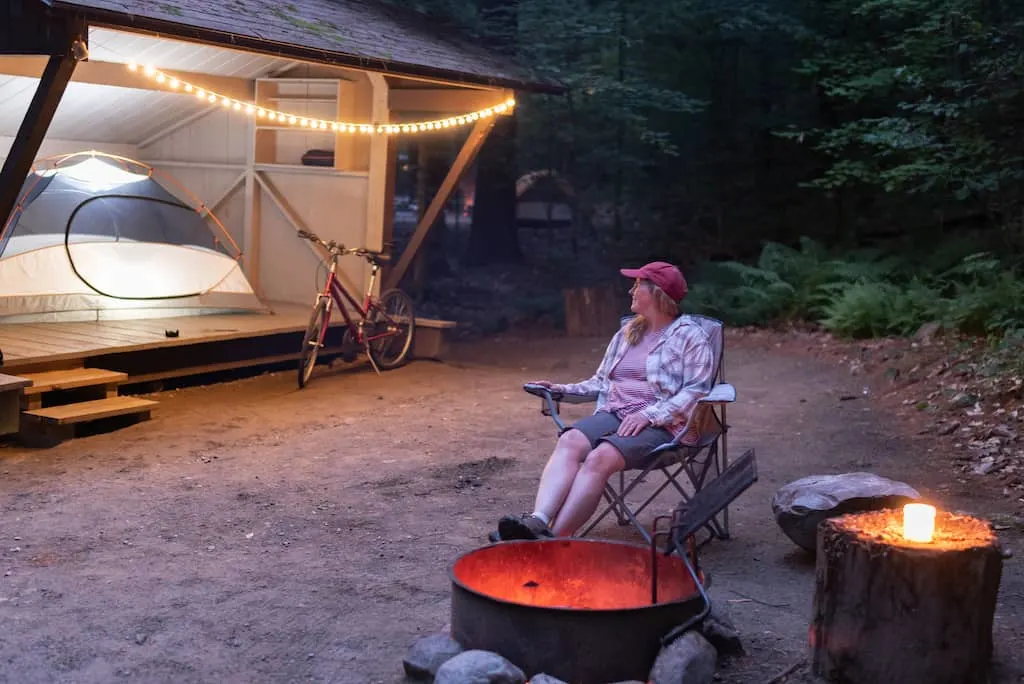 We love camping at Jamaica State Park! The sites are nicely spread out, and there's plenty of privacy and shade. You can reserve one of 41 tent/RV sites or 18 lean-tos, some of which are located right along the river. There are no hook-ups for electricity or water, but there are water spigots throughout the campground and clean bathhouses with showers.
During our most recent visit, we reserved the Juniper lean-to, which is located near the back of the campground on the edge of woods. The site feels really quiet, but it is right near the bathhouse as well as the hiking trail to the overlook.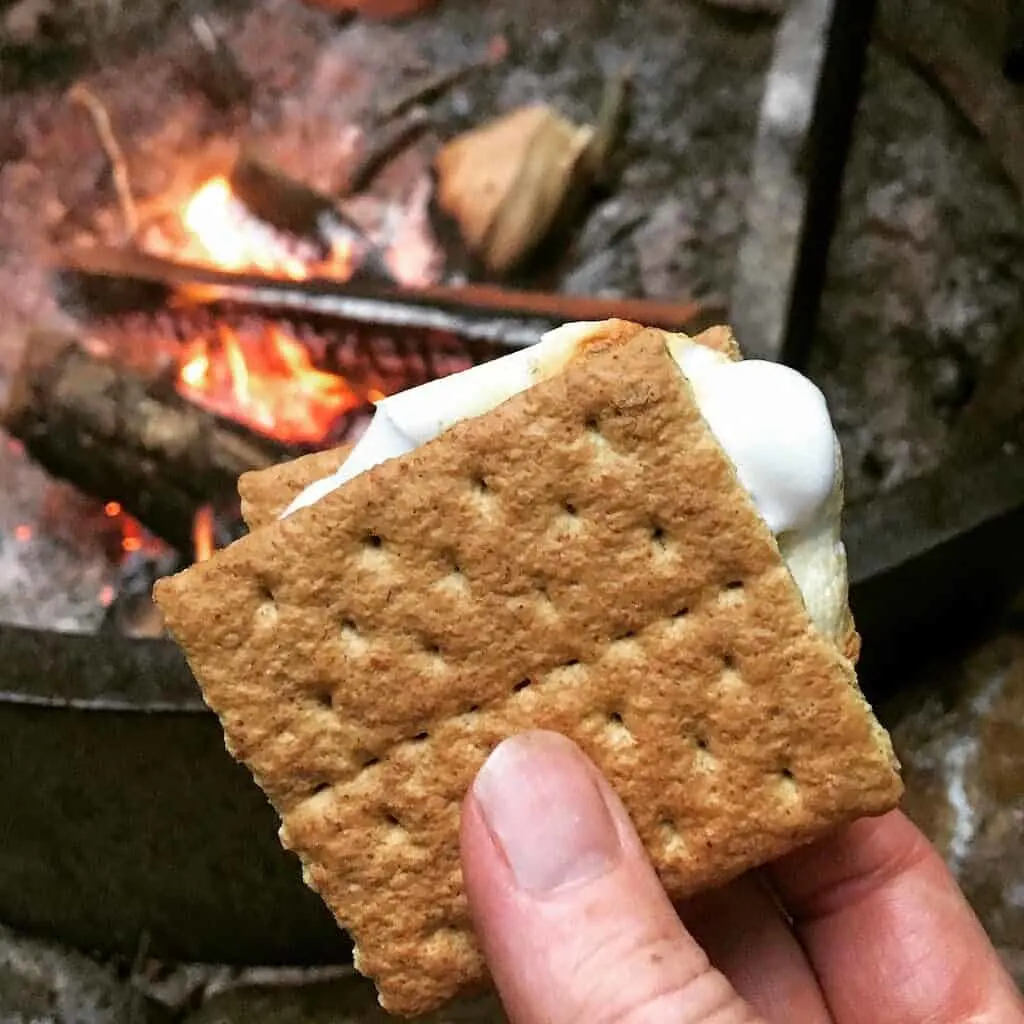 Campsites all include a picnic table and fire pit. We always try and reserve a lean-to because then we have somewhere to hang out and store our stuff when it rains — incredibly useful if you're sleeping in a two-person tent! We set our tent up right inside the lean-to, which means we don't have to use our stifling rain fly.
There are delightful river-front lean-tos in Jamaica State Park that we've never been lucky enough to book. Why not hop over to Vermont State Park's campground reservation site and try to score one for next year. Maybe I'll do that too, and we can meet there!
Hike the Overlook Trail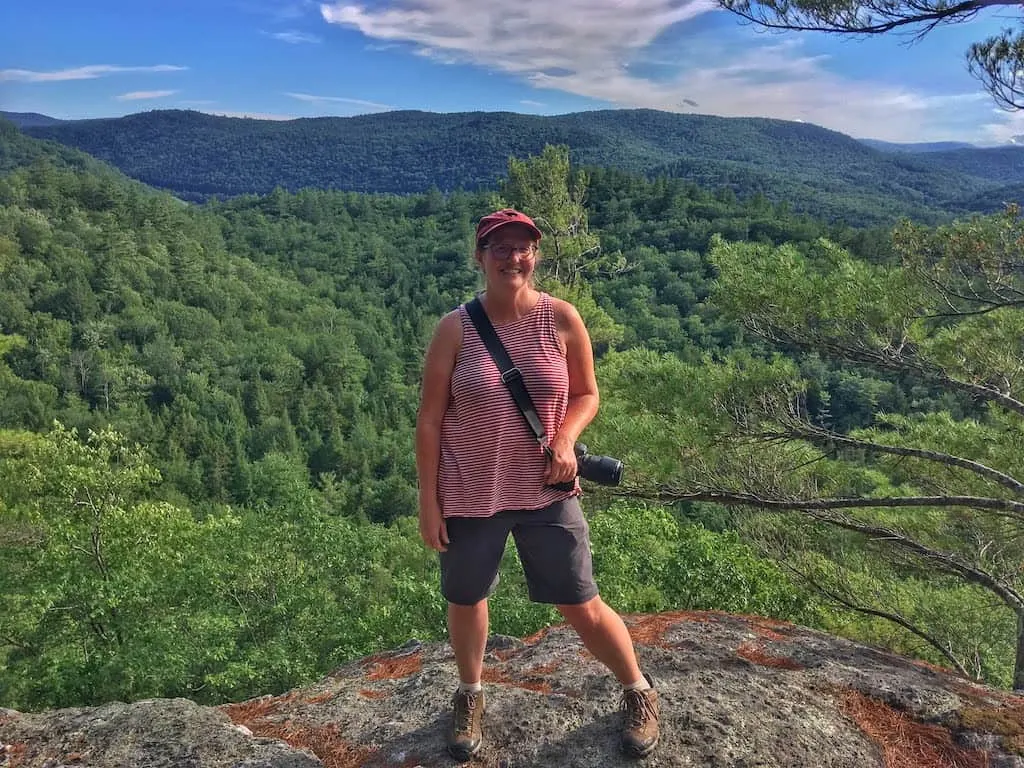 The Overlook Trail begins in the Jamaica State Park campground, right next to the Hackberry lean-to. It's a 2.5-ish mile loop that is moderately steep, but well-marked, and heads up to the summit of Little Ball Mountain.
We hiked the Overlook Trail in the late afternoon and were home in time to prepare a quick dinner of falafel and s'mores. The trail climbs through the woods along an old logging road. The trail gradually becomes more open and rocky, finally opening up to bare rock with a few trees and a stellar view to the west.
After drinking your fill of the view, keep on trekking downhill until you get to the West River Rail Trail. From there, it's a half mile or so along the river back to the campground or the parking area.
Getting Out and About in Jamaica, Vermont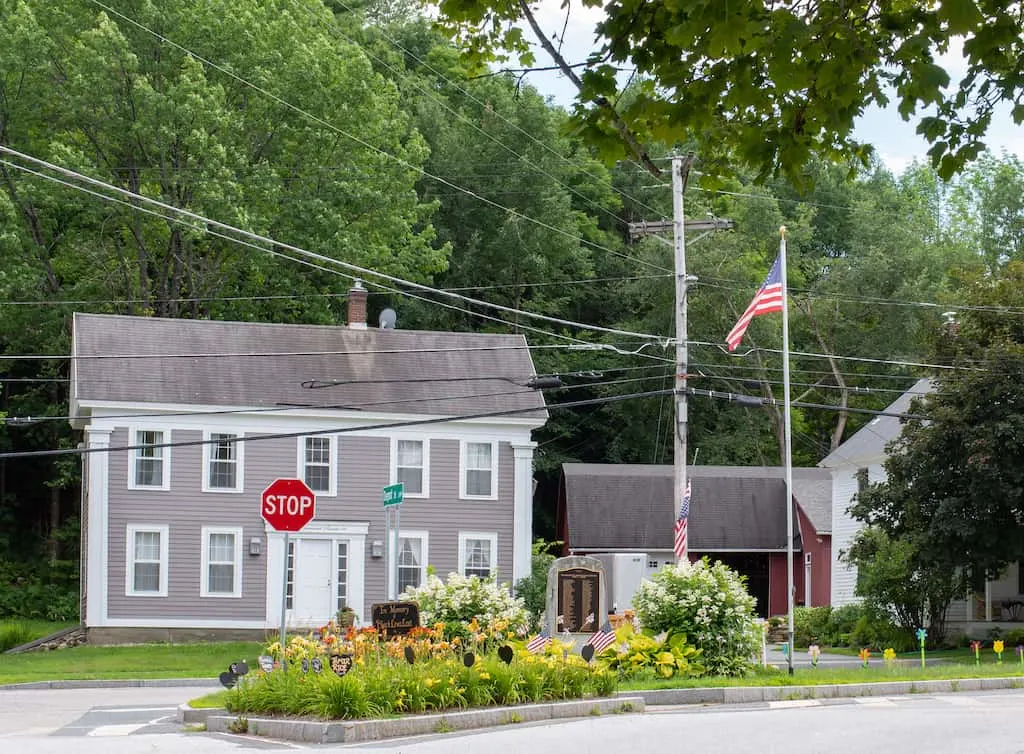 There aren't many Vermont State Parks that are within walking distance of a cool little town. The village of Jamaica is about a half-mile away so you can stock up on groceries, marshmallows, and local beer, as well as check your email if you can't disconnect entirely.
If you want to explore the town of Jamaica a bit, here's what we'd recommend:
D&K's Grocery: Perfect for provisions, ice cream, beer, and supposedly the best homemade doughnuts around. This is hearsay because I didn't learn about them until after I left town. Please try them out and report back!
Honeypie: You probably have to drive to Honeypie, but it's just a few miles north on Route 30. Great burgers, milkshakes, and fries in an old gas station.
Jamaica Memorial Library: I love visiting small-town libraries when I travel. If you do too, check out Jamaica Memorial Library, which is just a short walk from the park.
Ready to throw your camping gear in the trunk and head for the hills? We highly recommend Jamaica State Park as your outdoorsy home base in Southern Vermont.
Tara Schatz is a freelance writer, and the founder and editor-in-chief of Vermont Explored and Back Road Ramblers, an American road trip blog. She is also the co-author of the 3rd edition of AMC's Best Day Hikes in Vermont, which was released in May 2023.