Are you ready to explore Vermont's largest city with your family?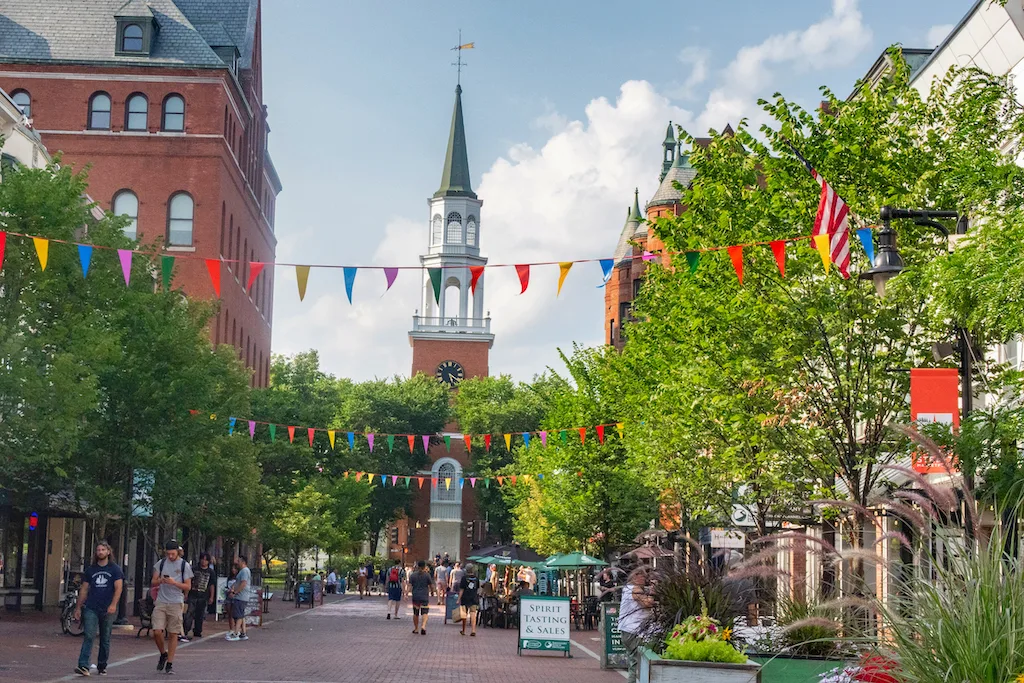 Burlington, Vermont is such a special place! It's a great city for families with kiddos — not too big, with a walkable downtown, and breathtaking scenery as you look out over Lake Champlain.
Burlington is home to the University of Vermont, the famous Church Street Marketplace, and about 42,000 residents. It's a mecca for beer and coffee drinkers, foodies, and shoppers, and has been named the healthiest city in the United States many times over.
I spent every summer of my childhood in Burlington — swimming in Lake Champlain, wandering the Church Street Marketplace hoping to spend my allowance on something sparkly (or tasty), and wandering the streets collecting cans and bottles to turn in for cash (that's another story altogether).
We also brought our kids up to Burlington on weekends when they were growing up, and I'm happy to say that Burlington is as family-friendly as ever. Here are our favorite things to do with kids in Burlington in the summer.
Bike the Burlington Greenway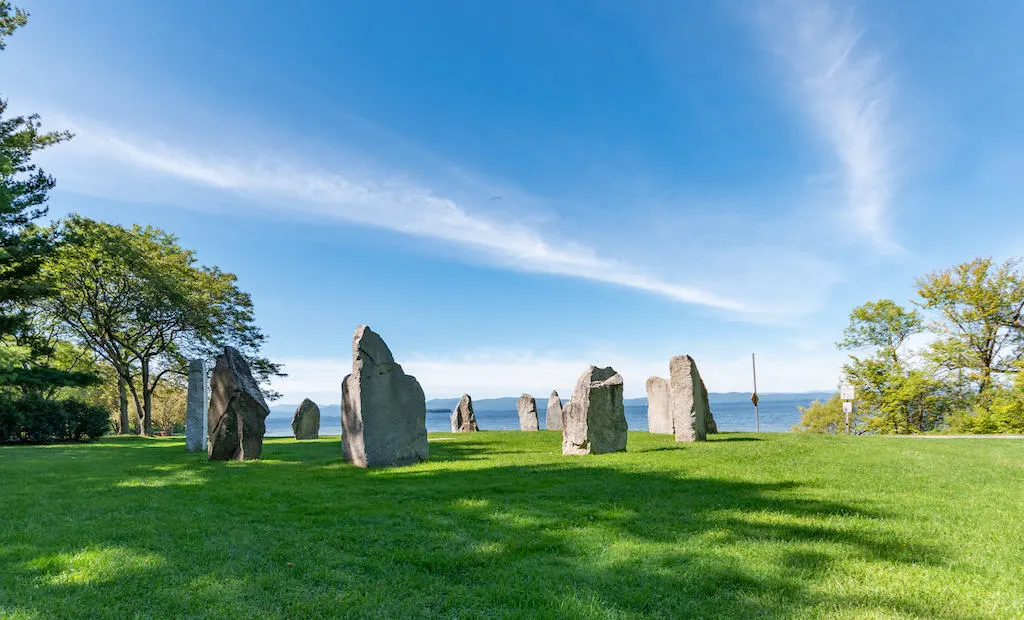 If you're looking for a way to get outside and enjoy the fabulous Vermont weather and spectacular mountain views, look no further than the Burlington Greenway, also known as the Burlington Bike Path.
I would argue that the Burlington Greenway is one of the prettiest paths in the country and one of the absolute best things to do in Burlington in the summer.
The paved trail runs along the water for eight miles, from Oakledge Park in the south (pictured above) to the Winooski River in the North. It connects several awesome parks and recreation areas, including the Burlington Waterfront, North Beach, and Leddy Park.
Wear your bathing suit because you'll have lots of opportunities to cool off in Lake Champlain, and if eight miles isn't enough, you can continue north on the Island Line Trail into the Lake Champlain Islands and beyond.
The Burlington Bike Path is open to walkers and joggers if you don't have a bike of your own, or you can rent a bike for an afternoon or weekend. For more information on the Burlington Bike Path and the surrounding parks, check out Enjoy Burlington.
Look for Lake Champlain's Lovable Lake Monster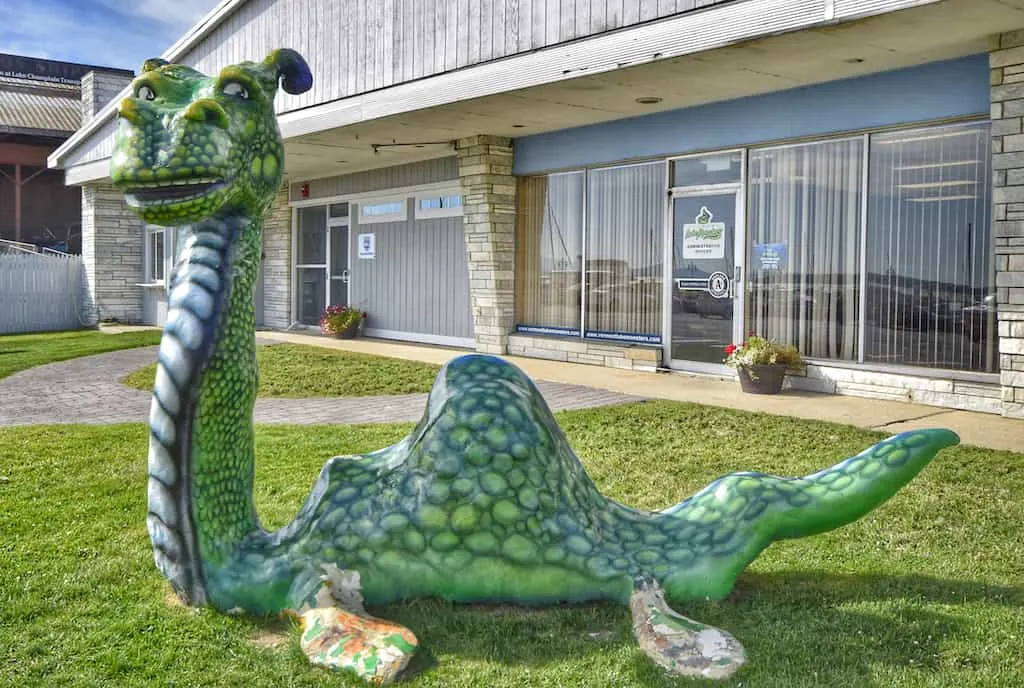 If you've ever spent time in Burlington, you have undoubtedly heard about Champ, which has been making appearances in Lake Champlain for two hundred years.
Champ is said to be a relative of the Loch Ness Monster, and hundreds of people have spotted him since the first sighting in 1819. Historians think that Champ is probably a garfish, but he has also been described as an enormous serpent, with silvery scales.
Whether Champ makes his home in Lake Champlain or exists only in our imaginations, he is officially protected by both Vermont and New York. He is also the subject of numerous books and the official mascot of Vermont's only minor league baseball team.
No matter where you are on Lake Champlain, keep an eye out for Champ and keep your camera at the ready.
Embark on a Sunset Cruise on Lake Champlain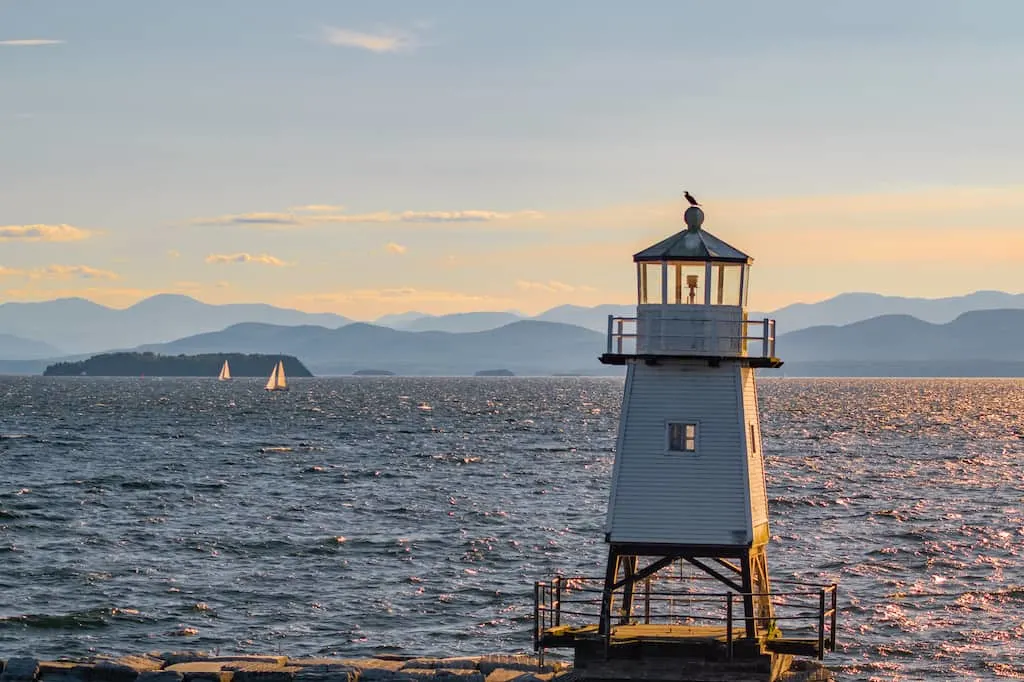 Whether you're looking for Champ or not, there's no better way to enjoy summer than with a sunset cruise on Lake Champlain. The Spirit of Ethan Allen departs from the Burlington Waterfront for sunset cruises on Friday and Saturday evenings through the summer.
Sip a cocktail, order some snacks, and watch the sun sink behind the Adirondack Mountains. It's the perfect way to end a day in Burlington. If you can't make the sunset cruise, check out the lunch or narrated cruises which are offered more frequently during the week.
And If you happen to be in Burlington on July 3rd, be sure to book a spot on the Fireworks cruise, which is a highlight of the summer. For more information on cruising Lake Champlain, visit The Spirit of Ethan Allen.
Explore the Church Street Marketplace
Church Street is a pedestrian-only, open-air shopping experience, which is also the hub of Burlington. You'll find independently-owned boutiques, some bigger chain stores, fabulous coffee shops, eclectic dining with outdoor seating, and a whole lotta people.
There are musicians, street performers, happy dogs, and kids with ice cream cones. Church Street is the place to go when you want a latte, a diamond necklace, a new outfit, or a burrito. It's good for an afternoon of people-watching or an excuse to spend all your money. It's a must-visit destination for anyone who wants the Burlington experience.
Learn about the Natural History of Vermont's Primal Sea at the ECHO Center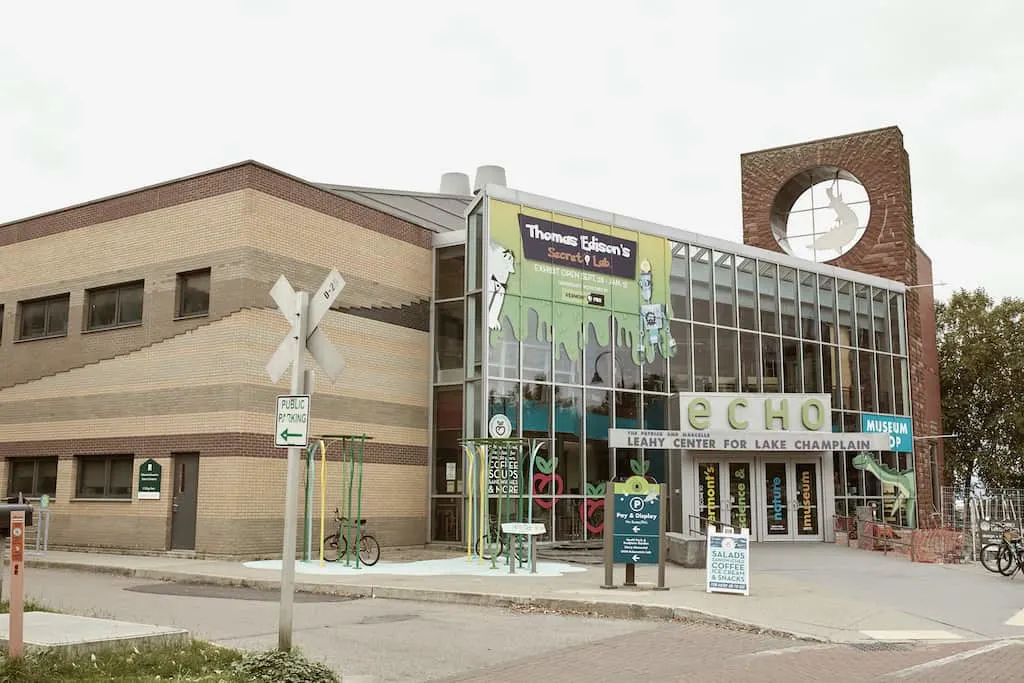 The Echo Leahy Center Lake Champlain in Burlington, is part museum, part playground — with loads of exhibits and hands-on learning opportunities for kids and adults. It is home to more than 70 species of fish, amphibians, and reptiles, and also provides space for traveling exhibitions.
ECHO stands for Ecology, Culture, History, and Opportunities for Stewardship of the Lake Champlain Basin. It's located right on the waterfront and is the perfect family excursion for a rainy day. You can read more about rates, directions, and current exhibits on the ECHO Center website.
Watch the Sunset from Oakledge Park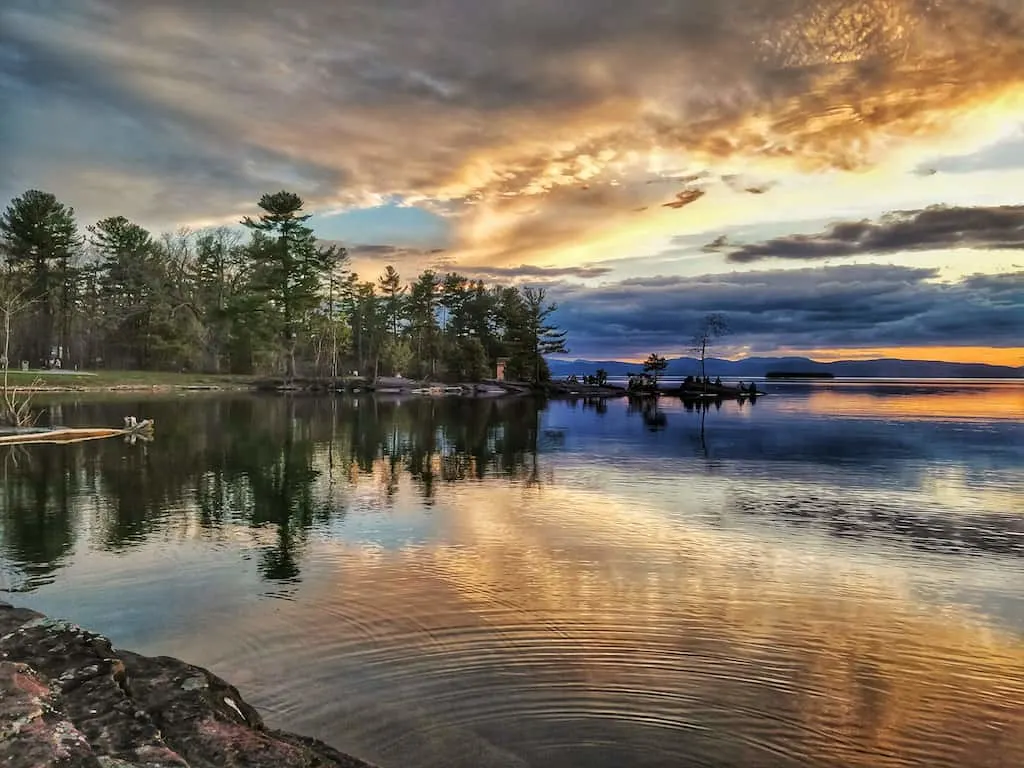 Two sunset ideas in one post? Now you know where my heart lies.
Truth be told, there are lots of amazing places to catch a Lake Champlain sunset, but I'm partial to Oakledge Park, as it was walking distance from my grandparent's home when I was a kid.
Oakledge is the perfect spot for families to end the day — there's a lovely playground, pavilions, tennis courts, and walking trails, plus access to the aforementioned Burlington Bike Path.
Claim a spot on the red rocks jutting up from the lake, and enjoy the views of the setting sun. Perhaps I'm a bit biased, but all my favorite sunsets have been right in this spot. For directions and park info, check out Enjoy Burlington.
Burlington, Vermont is a great place for outdoor-loving families, and summer is the perfect time to make the trip. Need more advice on where to go and what to do? Drop a comment or send me an email, I've got lots of tips left to share.
A Few Excursions on the Outskirts of Burlington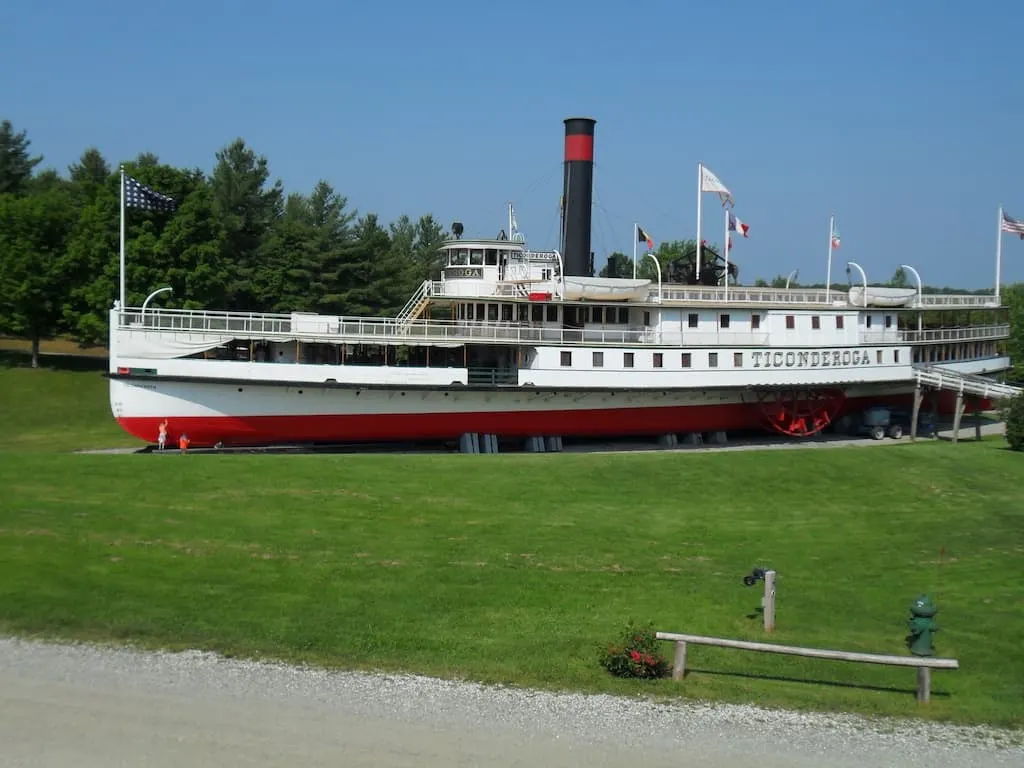 I have to include two special places just south of Burlington in Shelburne, Vermont. It's a short drive to both of these spots from downtown Burlington, and your kids will thank you!
Shelburne Museum is the largest art and history museum in northern New England and one of the top things to do in Vermont. The Museum's 45-acre campus includes a Shaker design Round Barn, a general store, a carousel, and the 220-foot sidewheel steamboat Ticonderoga, which will enthrall kids of all ages.
Shelburne Farms is 1,400 acres farm that includes a dairy herd, children's barnyard, orchards, and walking trails. As a local nonprofit, it's dedicated to education and sustainable farm practices.
Tara Schatz is a freelance writer, and the founder and editor-in-chief of Vermont Explored and Back Road Ramblers, an American road trip blog. She is also the co-author of the 3rd edition of AMC's Best Day Hikes in Vermont, which was released in May 2023.