The Lake Champlain Islands in Vermont are unassuming — as if they haven't quite figured out how popular they actually are.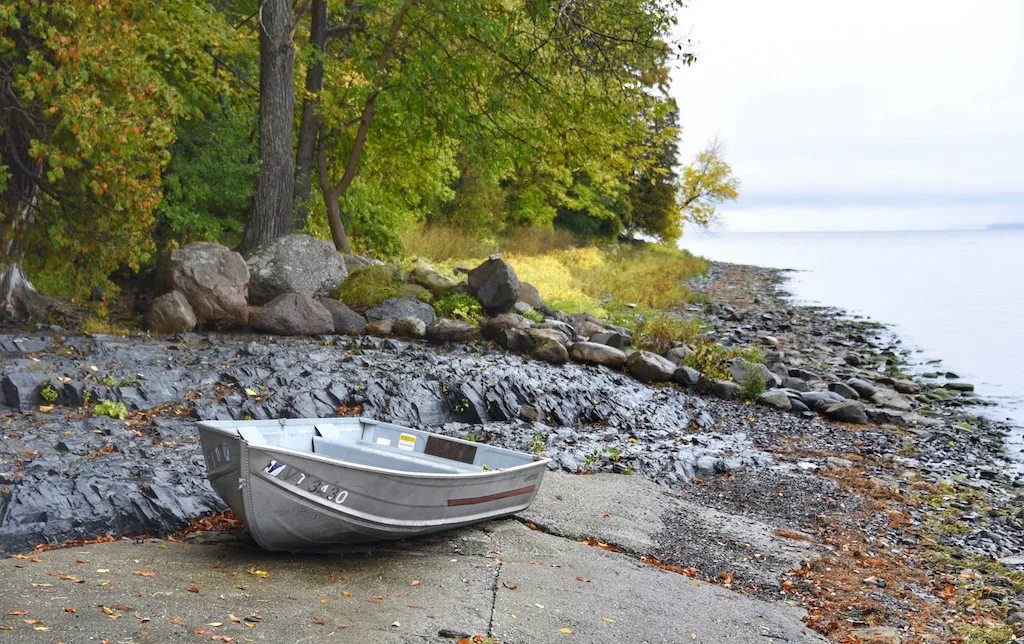 The three islands and one peninsula that make up what locals call 'The Islands' are home to regular folk — farmers, school teachers, and construction workers, living in modest homes with million-dollar views.
The population of these northern Vermont islands doubles in the summertime, thanks in part to vacationing New Englanders and a smaller number of tourists from farther afield, who come for the boating and fishing, the beachy atmosphere, and the quiet way of life.
About the time the kids go back to school, most of the vacationers to the Islands sigh a wistful sigh and return to their lives away from the alluring pull of Lake Champlain.
Between mid-September and mid-October is the shoulder season that dreams are made of, provided you aren't looking for nightlife that involves more than gazing at the stars.
Fall is a fabulous time to visit the Lake Champlain Islands, and we've got the perfect itinerary to share with you!
An Overview of the Lake Champlain Islands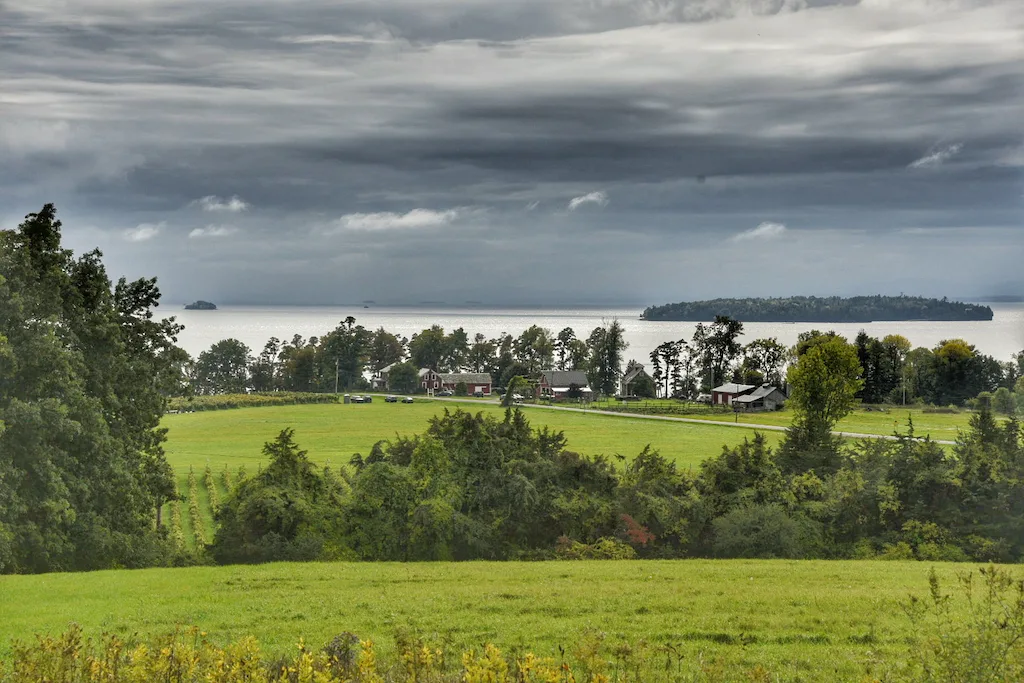 Located at the northern end of Lake Champlain, where Vermont meets up with Canada, are the islands of Isle La Motte, North Hero, and South Hero, plus the peninsula of Alburgh. Home to fewer than 7,000 people, The Islands are made up primarily of farmland and forests — an outdoor lover's paradise.
The largest town, by population at least, is South Hero, which is home to several great restaurants and shops, and a small walkable downtown area. The other towns on the island will have the basic necessities — a few restaurants, convenience stores, and waterfront inns.
The Islands are relatively flat, perfect for getting around by bicycle as you embrace the slower pace that this area embraces. During my recent visit, I saw bicycles all over the place with dedicated routes and trails to keep things exciting.
There are eight state parks spread across the northern reaches of Lake Champlain, not to mention numerous local preserves, and the Missisquoi National Wildlife Preserve in nearby Swanton.
Hikers could spend a whole season exploring the Lake Champlain Islands and never run out of new trails to explore.
What You Should Know About Visiting the Lake Champlain Islands in the Fall
Fall is a special time in the Lake Champlain Islands, and while some seasonal cottages and cabins may have closed, most stores, restaurants, and hotels/inns will still be open, at least through mid-October.
It may be too cold for swimming in the lake, but there will still be plenty of outdoor activities to keep you busy! Here are a few more things you should know before heading to the Lake Champlain Islands in the fall.
You'll see farm stands everywhere selling pumpkins, squash, apples, eggs, and gourds. South Hero Island is also known as Apple Island because of all the orchards. You can pick your own apples at many of them, and you'll have ample opportunities for indulging in cider and donuts.
Bring clothes for both summer and winter, because you'll likely experience both extremes when you're visiting. Dramatic weather changes are common, as are wind and rain. Here's a little guide for what to pack for Vermont in October.
Pack a pair of binoculars. The Islands make up a diverse ecosystem, and if you're even remotely interested in birdwatching, fall is a great time to watch the migrating waterfowl and songbirds pass through. These packable binoculars from NOCS Provisions are our favorite!
Where to Stay During Your Visit to The Lake Champlain Islands
Most of the lodging options in the Islands will be either private vacation rentals or local bed and breakfasts.
In addition to choosing the type of lodging that you'd prefer, you should also consider where you want to make your home base.
All of the islands are rural with good lake access, and you can drive from the southern tip of South Hero north to the Canadian border in about 45 minutes.
If you decide to follow the itinerary below, I would recommend staying in Grand Isle or South Hero.
These are the most populated part of the Islands, and you'll be close to a small downtown with shops, several restaurants, and fun attractions.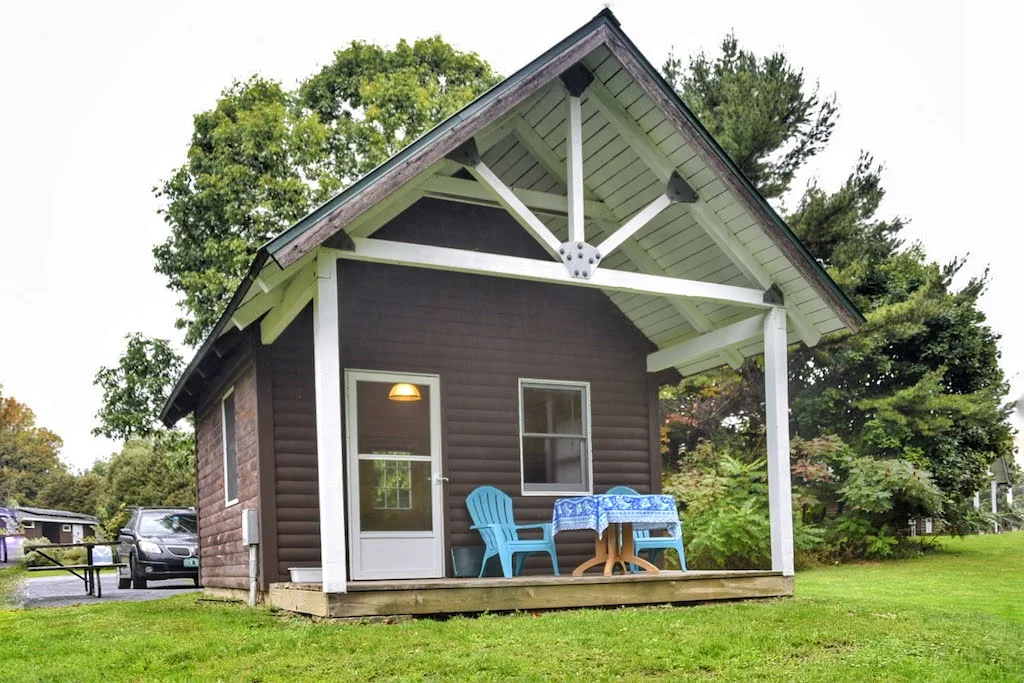 Inns and Campground Suggestions
Crescent Bay Farm – Located in one of the most beautiful spots on South Hero, Crescent Bay Farm is a diverse farm and right next door to the oldest commercial winery in Vermont (owned by the same folks). Stay in the 1820s farmhouse and be within walking or biking distance of some of South Hero's most lovely places.
North Hero House Inn – Located in a small community on the waterfront in North Hero, this family-friendly bed and breakfast is within walking distance of several restaurants. The property has bike rentals available and a hot tub.
Grand Isle State Park – This is Vermont's most popular state park for camping and an affordable option if you don't mind roughing it. It's one of several beautiful state parks on Lake Champlain.
Choose from tent/RV sites (no hook-ups), lean-tos, or camping cabins with electricity, but no running water. During our recent visit, we stayed in the Camel's Hump cabin, which was conveniently located to all of the attractions listed in this itinerary. Bringing your dog? The Mansfield cabin is pet-friendly.
Lake Champlain Island Vacation Rentals
There are some benefits to choosing a vacation rental instead of a traditional hotel, inn, or bed and breakfast. For one thing, you will likely have your own kitchen, so you can take advantage of all those amazing farm stands to cook some of your own meals.
Vacation rentals are also great if you're traveling with a family or a group because there's usually more room to spread out. The following vacation rentals are available on VRBO:
3-bedroom lakefront home on Isle La Motte – This year-round home is perfect for up to six people, with no cleaning fee. It includes four kayaks and 100 feet of private lakeshore facing west for fabulous sunsets!
Dog-friendly house on the lake in Alburgh – This home is less than a mile from Alburgh Dunes State Park, and it features a fireplace, a large deck, and a beach. It's perfect for up to four people.
Romantic cottage for two right on the lake in South Hero – Looking for a special place right on the lake for a couple's weekend? This beautiful little cottage is on the tip of Kibble Point surrounded by 200 acres of meadows and 320 feet of private lakeshore.
Waterfront home for eight with boat moorage in South Hero – Located on the southern tip of South Hero, this spacious home includes three bedrooms, two bathrooms, and sweeping views of Lake Champlain.
Day 1: Alburgh and Isle La Motte
Let's start our journey in the northern part of the Lake Champlain Islands.
Alburgh is a peninsula that juts down into Lake Champlain from Quebec. You can access it from the Route 78 bridge from mainland Vermont, which brings you through Swanton and the Missisquoi National Wildlife Refuge.
If you have the time, there are a few nice trails through the wildlife refuge that leave from the visitor center.
Be on the lookout for migrating birds, as early fall is the perfect time to see all kinds of waterfowl and songbirds passing through as they head south for the winter.
Alburgh Dunes State Park, Alburgh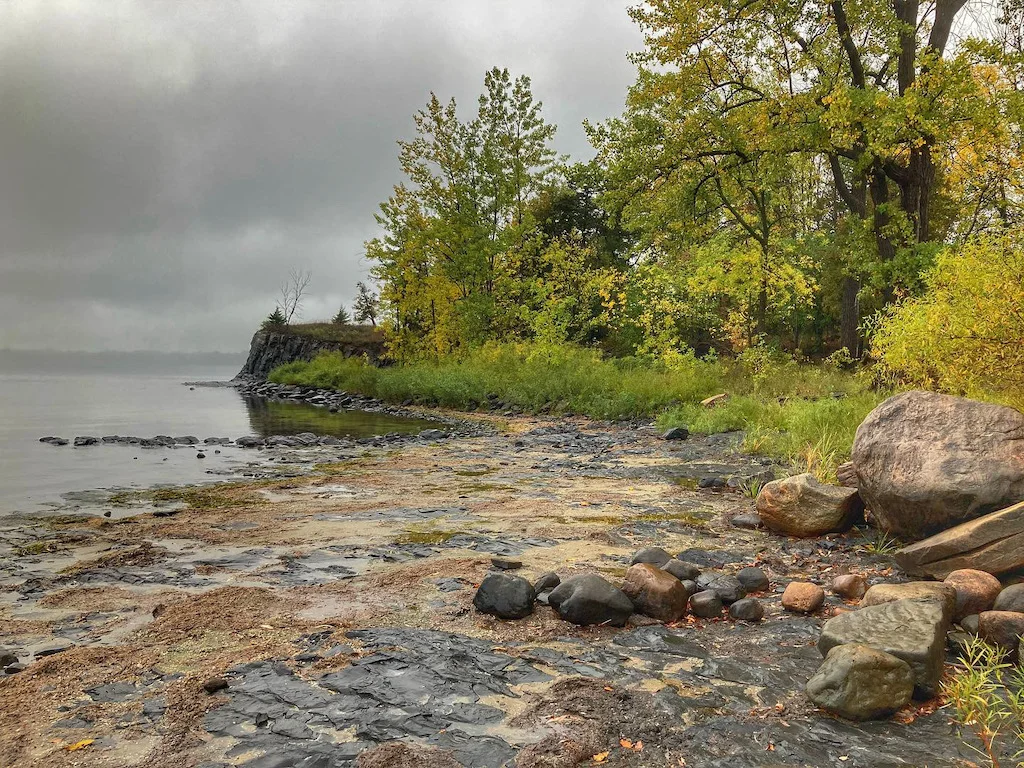 Alburgh Dunes State Park is a 625-acre day-use park that includes one of the largest sandy beaches on Lake Champlain, as well as unique sand dunes that are more common along ocean shorelines. The park is officially open from Memorial Day to Labor Day, but you can still visit in the off-season.
The shore is a peaceful spot for a stroll along the lake, and the wetland behind the beach includes the largest black spruce bog in Grand Isle County. Black spruce swamps and bogs are more typical of colder, northern climates than of the Champlain Valley.
There's also a small playground and picnic tables, so pack a lunch and enjoy the scenery.
St. Anne's Shrine, Isle La Motte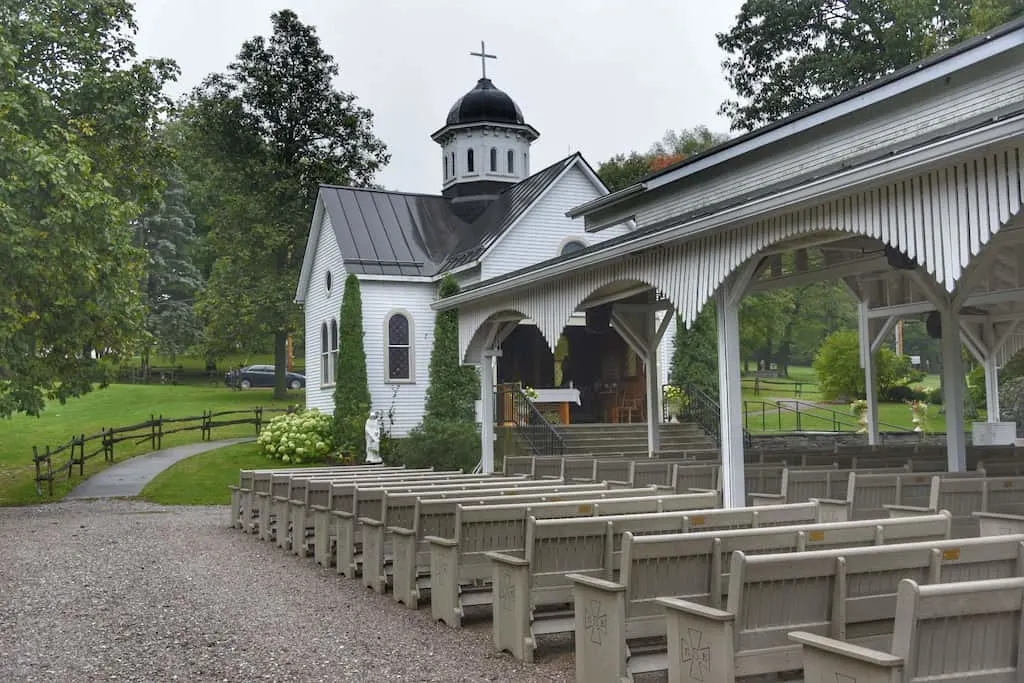 From Alburgh, head south along the western shore and across the bridge to Isle La Motte.
St. Anne's Shrine is a peaceful, spiritual, and historical attraction, which has been developed and maintained for the past 100 years by the Society of Saint Edmund in Vermont's scenic Champlain Islands. You don't have to be Catholic to enjoy this special place.
St. Anne's is located on 32 acres, right on the shore of Lake Champlain overlooking the Adirondack Mountains.
In addition to the shrine chapel, there are several rustic grottos dedicated to the Saints, a peaceful nature walk, and a picnic area. A cafe is open on Sundays in July and August and the gift shop is open daily.
Chazy Fossil Reef, Isle La Motte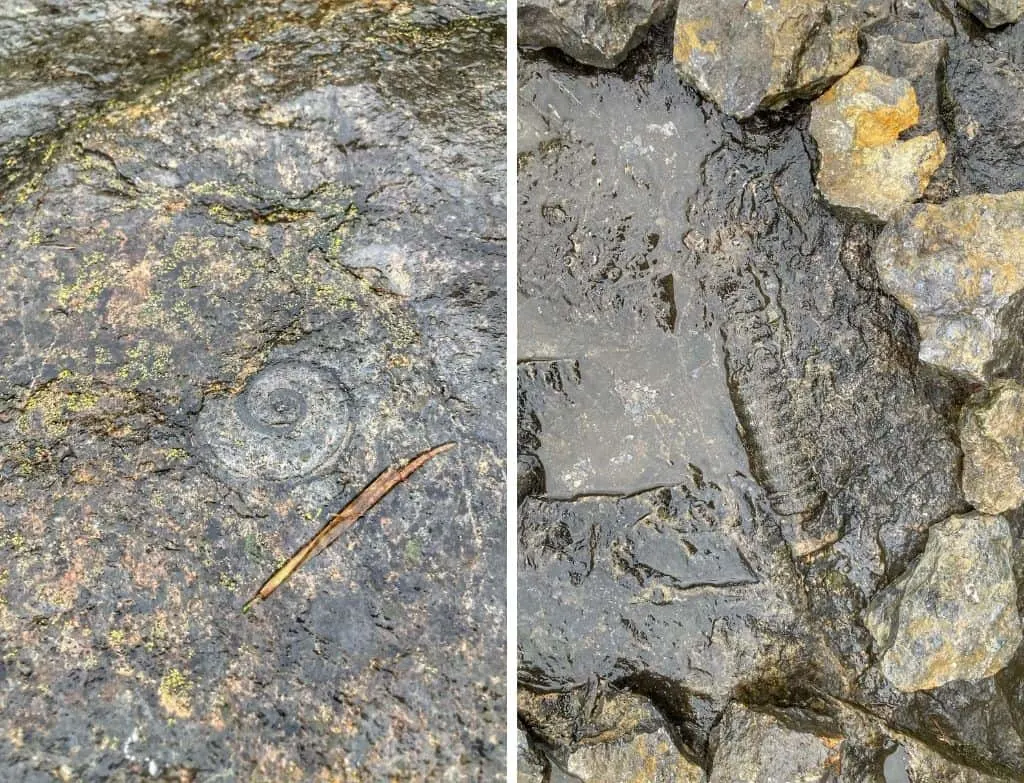 Step back in time and explore one of the oldest known coral reefs in the world!
Lake Champlain was once part of a tropical sea, and the fossilized plants and animals at the Chazy Reef are approximately 480 million years old. The Chazy Reef is just part of a 1,000-mile ridge from the ancient Iapetus Ocean that extends from Newfoundland to Tennessee.
You can visit two preserves on Isle La Motte, the 20-acre Fisk Quarry Preserve and the 83-acre Goodsell Ridge Preserve.
Walk the trails and look for fossils on a self-guided tour. Ample signage will guide you on your search, thanks to Isle La Motte Preservation Trust.
This unique adventure can't be found anywhere else on earth, and it's truly one of the best things to do in Vermont.
Day 2: South Hero and Grand Isle
You'll need a full day to explore all the fun attractions and scenic areas on South Hero. This is the most populated island, and it was my favorite to explore. Here are the must-visit places on South Hero Island.
Hyde Log Cabin, Grand Isle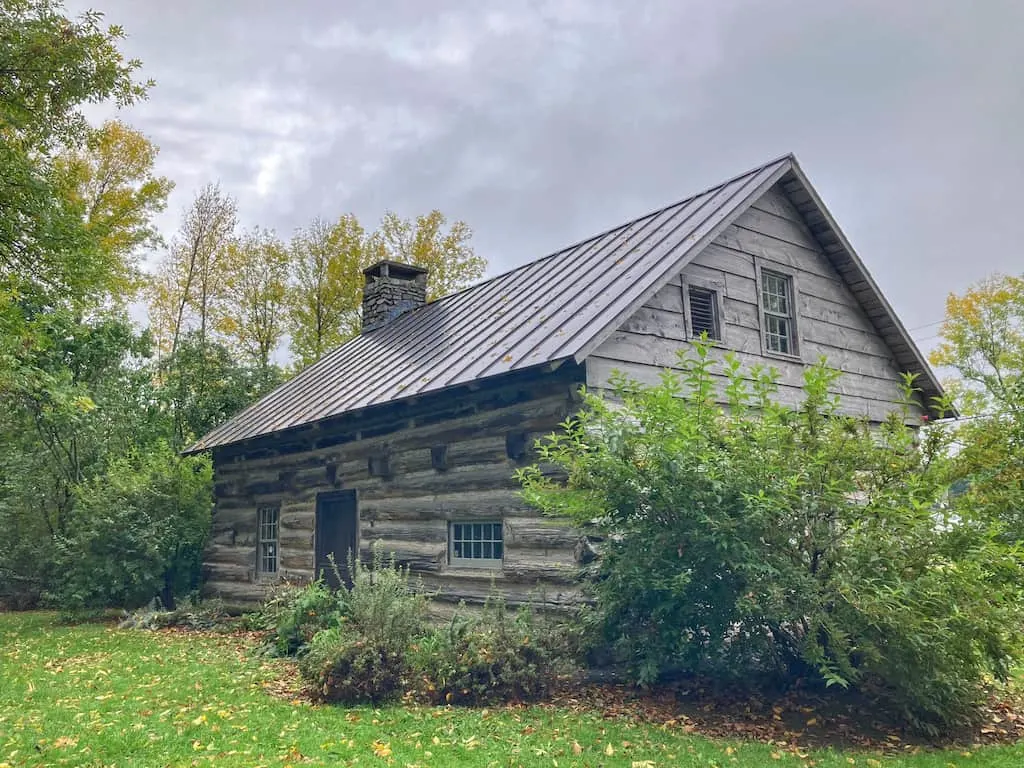 Constructed in 1783, the Hyde Log Cabin is the oldest log cabin in Vermont and one of the oldest in the United States.
It was built by Jedediah Hyde, a Revolutionary War soldier, who was one of the first people to settle in the Lake Champlain Islands.
The state of Vermont acquired the cabin in 1946 and moved it to the current site, where it was restored and reopened to the public. Today, the Hyde Log Cabin has been placed on the National Register of Historic Places.
The cabin is open on weekends from July 4 through mid-October. If you visit later in the season, you can still walk around the cabin, but you can't go inside. This is a quick stop, but it's cool to see a piece of Vermont history so lovingly preserved.
Birdhouse Forest, South Hero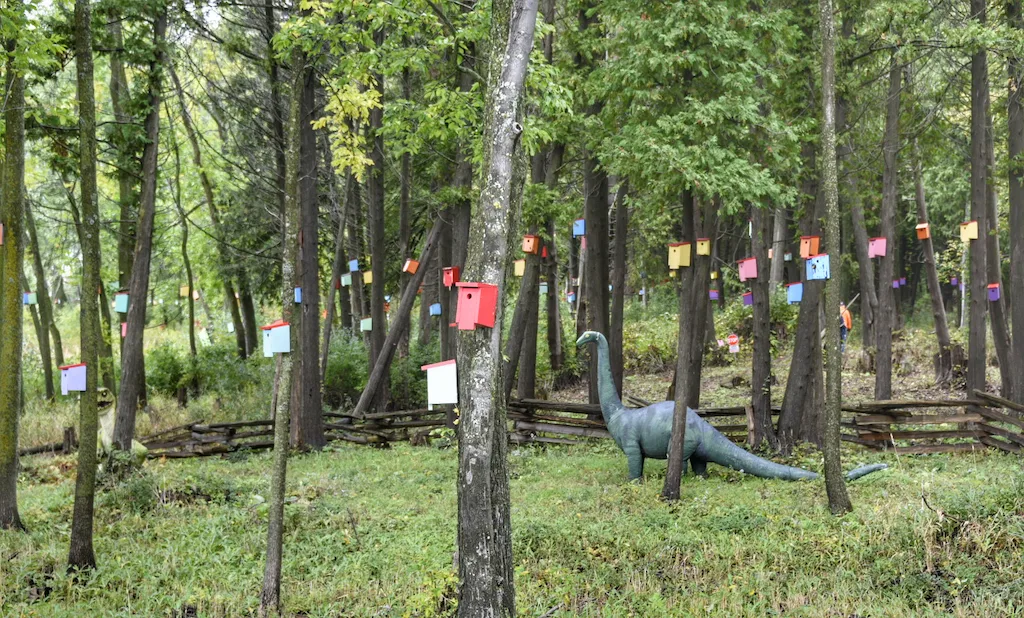 Located right across from White's Beach at the southern tip of South Hero, the Birdhouse forest is a quirky attraction that you'll want to peep with your own eyes.
While the Bird House Forest is on private property, you can easily see the birdhouses from the road, not to mention a handful of woodland dinosaur statues, probably placed to scare away visitors!
According to the property owners, the story of the birdhouses is mostly a "practical story about how to live next to a swamp."
Here's the scoop, as written by the creators of the Birdhouse Forest.
25 years or so ago, two neighbors (Hank & Jay) decided it was time to battle mosquitoes.

After a bit of research, they learned that tree swallows love wetlands. Better yet, they are birds that migrate to Vermont, will eat an impressive number of flying insects each day (including mosquitos), and can be attracted by putting up birdhouses.

Hank & Jay built 20 birdhouses. Once done, their wives said, "Why not paint them in bright colors with red roofs?" And that's how it started.

In the 1st year, birds occupied every house. Tree swallows return to the same breeding area year after year, so over the next 25 winters — with generous donations of wood and paint from local contractors and the hardware store — more birdhouses were built and painted.

Every spring, swarms of tree swallows return to build nests in their South Hero 'Jelly Bean Suites' and pay their rent by devouring mosquitoes.

Today, there are around 1,000 colorful birdhouses (give or take 100) near White's Beach on West Shore Road.
You can purchase birdhouses on-site for $25 each or leave a donation so that more birdhouses can be created.
Tour the Miniature Stone Castles, South Hero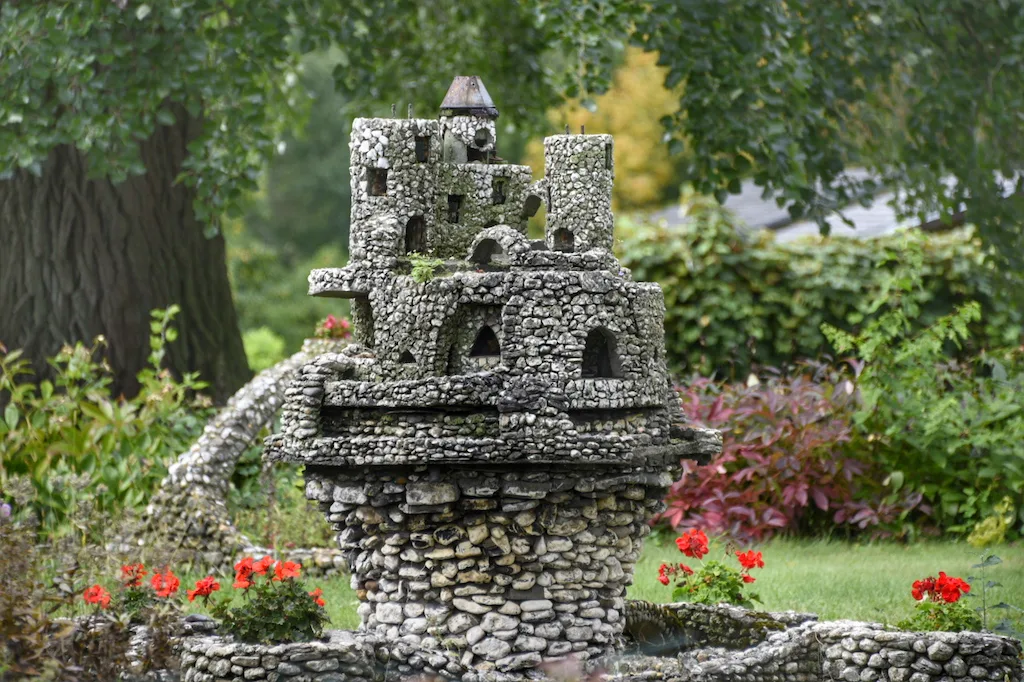 As you make your way around the island of South Hero, be on the lookout for the miniature stone castles that dot the landscape.
They were created by local gardener, Harry Barber, who made the castles as a tribute to his home country of Switzerland. It's not clear how many of these incredible castles were built between the time Harry settled in South Hero and his death in 1966.
Each unique castle was made from local fieldstone with incredible attention to detail. Some of the castles feature working moats, fireplaces, and dungeons. Others have been wired for electricity and have miniature glazed windows.
While most of the miniature South Hero castles are on private property, some can be seen and photographed from the road. Here's a South Hero bicycle tour that you can follow to find four of the castles on the island.
Lunch at Seb's Snack Bar, South Hero
Looking for the best French fries and maple creemees on the Islands?
Head to Seb's Snack Bar on Route 2 in South Hero where you can indulge in your typical snack bar food (it's really good, though), play a game of corn hole, and browse next door at Viva Marketplace — the coolest little gift shop on the Islands.
I have a serious thing for hand-cut fries, and the ones at Seb's are some of the best! I also found a ton of cool gifts at Viva Marketplace next door. This is a really fun stop.
Wine Tasting and a Walk at Snow Farm Vineyard in Winery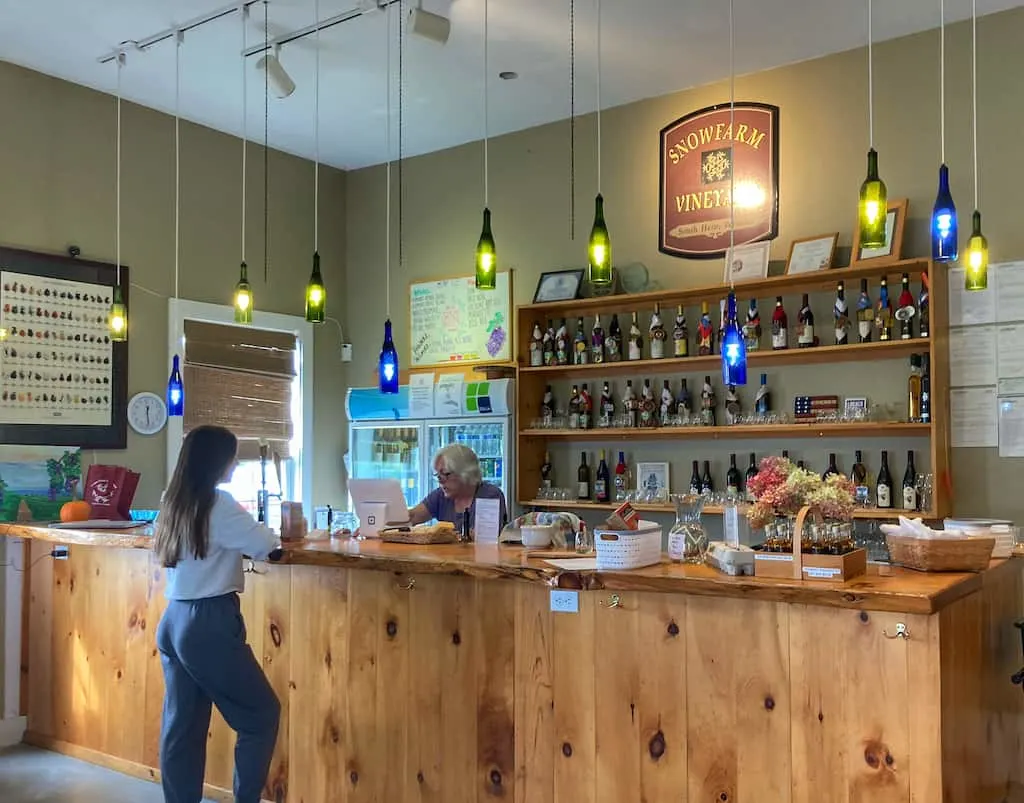 How many of you knew that the oldest commercial vineyard and winery in Vermont was located in South Hero?
I certainly didn't and was pretty excited to drive past on a Monday afternoon in October and see that the parking lot was full. A wine tasting at Snow Farm Winery turned out to be one of the highlights of my whole weekend.
The first grapes at South Farm Vineyard were planted in 1997, and today, they grow a variety of grapes, including Seyval Blanc, Vidal Blanc, Riesling, Leon Millot, and Baco Noir.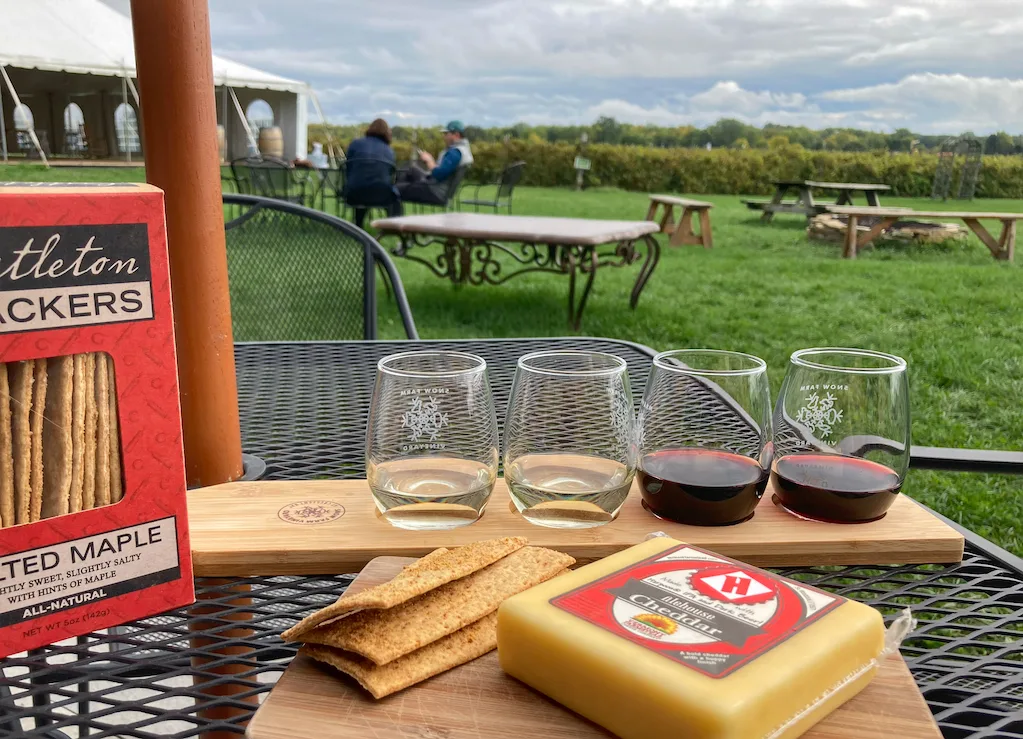 When you stop in for a tasting, you can choose to taste four or eight wines, both red and white.
The white wines run from dry to sweet, and all of the reds are quite dry. You can also order snacks like local cheese and crackers, as well as wine by the glass.
I am a huge fan of dry white wines grown with northeast grapes and really enjoyed the Snow Farm Vidal Blanc, which was fruity and mellow.
Of course, I bought a bottle to bring home, and am waiting for the perfect moment to relive all my Snow Farm memories.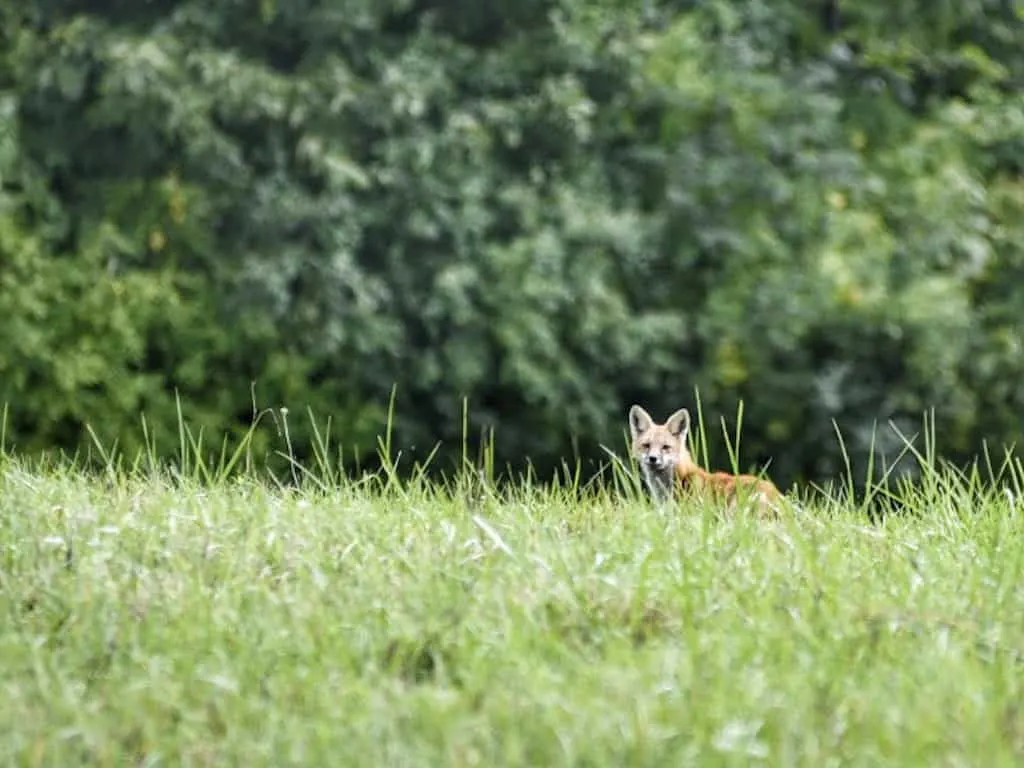 After your wine tasting, you can walk up to the highest point on South Hero — Fox Hill is 279 feet above sea level with fantastic views from the top of the hill. If you're lucky, you might even see the hill's namesake. I did!
Apple Picking at a Local Orchard, South Hero
Because it's the quintessential thing to do on a beautiful fall day in Vermont, I urge you to visit one of the local orchards to pick a bag of apples to sustain you on the drive home.
Hackett's Orchard is located at 86 South Street in South Hero and offers pick-your-own every day in the fall from 8 am – 5 pm.
Allenholm Farm is the oldest commercial orchard in the state of Vermont, open for picking starting in September. They are located at 111 South Street in South Hero, and they have a nice farm store with apples (of course), as well as maple syrup, cider donuts, and maple creemees.
Dinner at Blue Paddle Bistro, South Hero
As soon as I unpacked my bags at my little camping cabin at Grand Isle State Park, the first thing I did was ask around for the best places to have dinner on the Island. More than one person recommended Blue Paddle Bistro in downtown South Hero.
The Paddle, as locals call it, has been wowing regulars and tourists for more than 15 years.
While the menu is unassuming and pretty straightforward, the food is cooked and plated to perfection. I started with the veggie spring rolls as an appetizer and finished with the butternut ravioli with maple cream. Truly an amazing ending to a wonderful day on South Hero!
Day 3: Explore North Hero
Ready for another day of exploring the Lake Champlain Islands? Today we're focusing on nature with some easy hiking and an afternoon out on the water.
Knight Point State Park, North Hero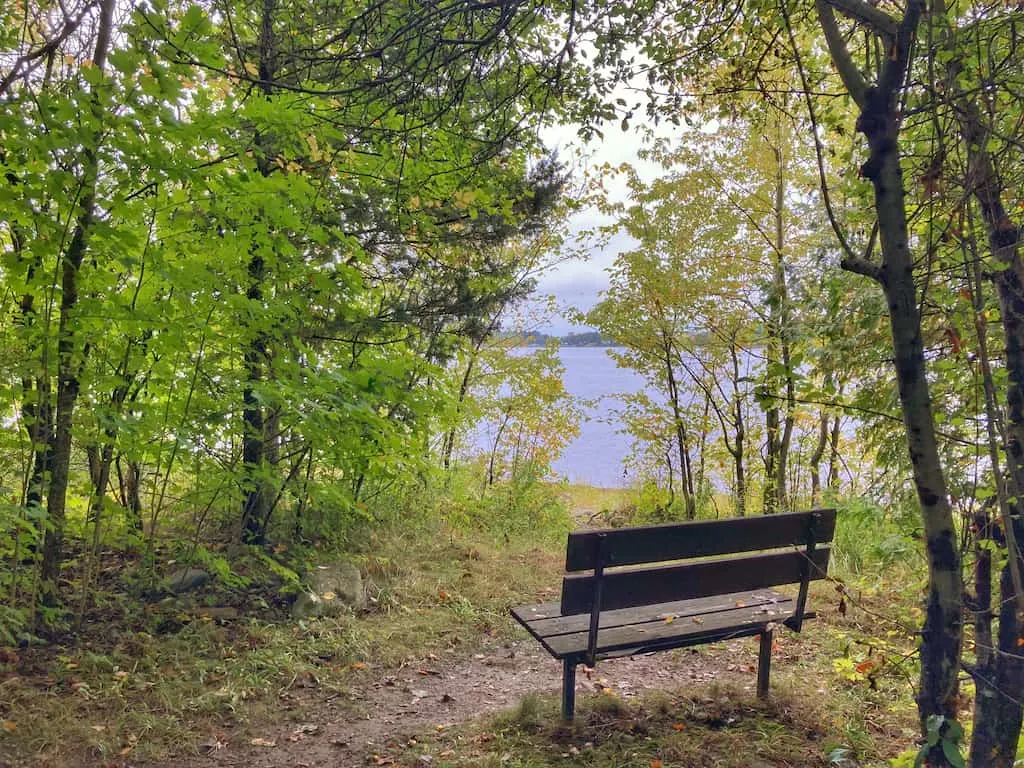 Knight Point State Park on the southern tip of North Hero is perfect for a little bird-watching with your morning coffee or picnic.
An expansive lawn runs down to the water from the parking area, and there's a short nature trail that wanders through the woods past several beautiful old trees. The trail is under a mile and loops around the point with great views of Lake Champlain.
Rent Kayaks at Hero's Welcome, North Hero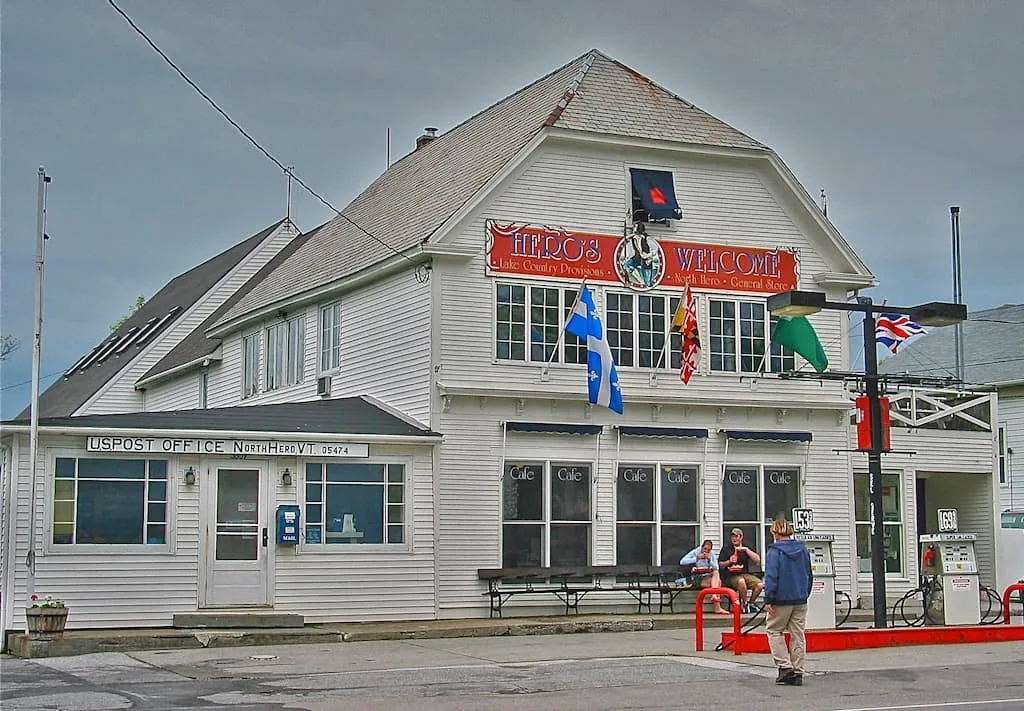 If the weather is cooperating, you owe it to yourself to get out on Lake Champlain, and the eastern shore of North Hero is a great spot to do it.
Heroe's Welcome rents canoes, single and double kayaks, and stand-up paddleboards. They will also deliver boats to your hotel or vacation rental for an extra fee. Grab some deli sandwiches for your adventure, and be sure to pack water for drinking, a sun hat, sunglasses, and sunblock.
From Hero's Welcome, you can paddle out to Knight Island, a primitive Vermont State Park that is very quiet in the fall.
If you have time, hike the Walk of Change Nature Trail around the island, where you'll find remnants of the island's rich farming history, as well as 200-year-old hemlocks in a mature forest.
Kraemer & Kin, North Hero
If local craft beers interest you, be sure to pop into the Kraemer & Kin tasting room at Green TARA Space in North Hero after your paddle. Offerings change from day to day, but during my visit, I was treated to an amazing English brown ale that I enjoyed outdoors under sunny skies with lovely views.
Kraemer & Kin is a family-owned microbrewery located in Grand Isle with a tasting room in North Hero.
The beer is lovingly made from scratch with hops they grow themselves. Green TARA Space is a local gallery and community gathering space that hosts art exhibits, workshops, studio space, nature walks and talks, and locally-made eats with fabulous views of Lake Champlain. It is open Thursday – Sunday from 12 – 6 pm.
Ready to start planning your perfect weekend to the Lake Champlain Islands? Be sure to bookmark or pin this page so you can come back to it later!
---
Need more ideas for your fall getaway in Vermont? We have lots of posts about the best spots to visit in the fall.
---
Follow us on social media for more Vermont inspiration!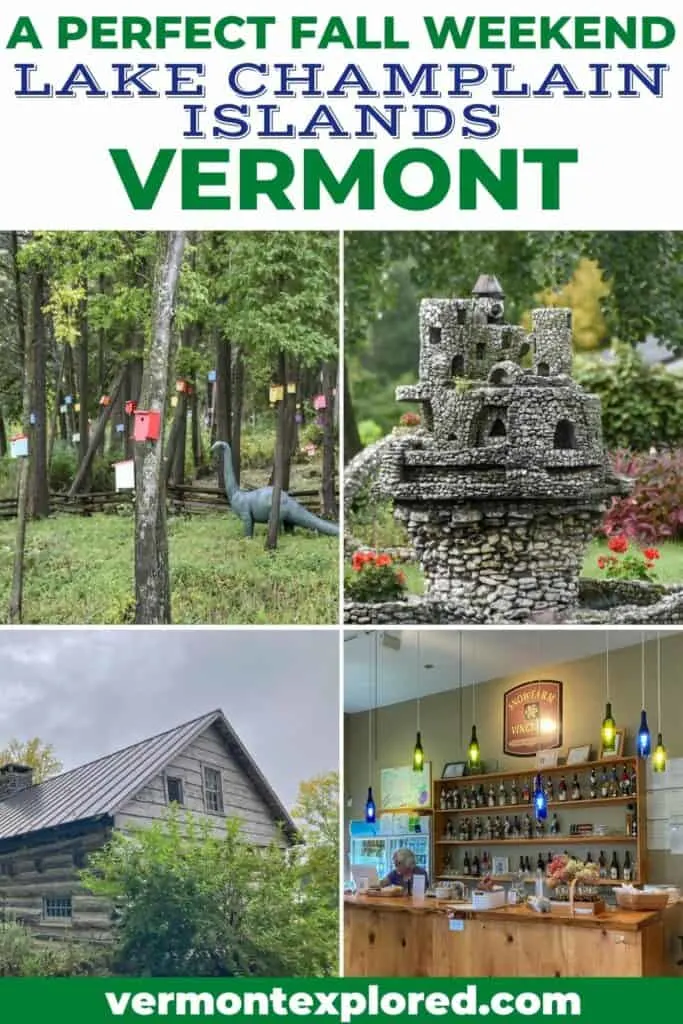 Tara Schatz is a freelance writer, and the founder and editor-in-chief of Vermont Explored and Back Road Ramblers, an American road trip blog. She is also the co-author of the 3rd edition of AMC's Best Day Hikes in Vermont, which was released in May 2023.