If you are looking for a hiking hub in Vermont with an abundance of trails, swimming, camping, waterfalls, and amazing views, you have to check out Killington!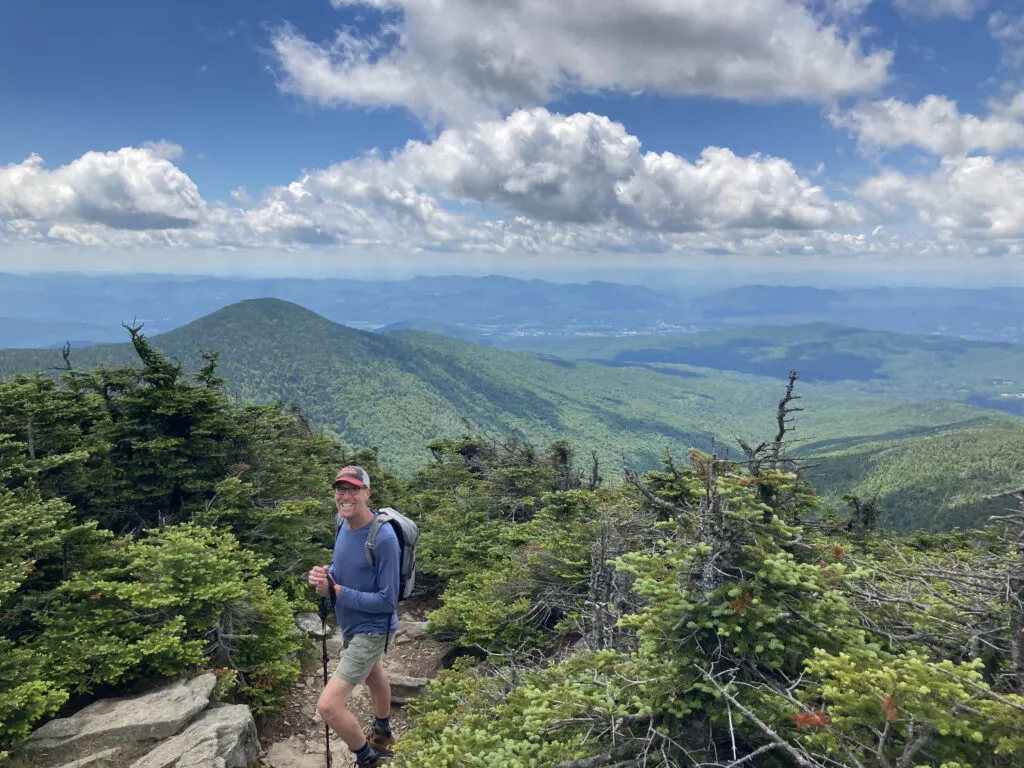 The plethora of Killington hiking trails in the Central Green Mountains makes this a fabulous destination for outdoor lovers, whether you're a novice hiker or an expert.
At 4,229 feet Killington Peak is the second-highest summit in Vermont and one of the 48 peaks above 4,000 feet in New England. If hiking to the top of Killington isn't on your bucket list, it's time to add it, along with the rest of these beautiful Killington hikes nearby.
Killington is located in Rutland County in the heart of the Green Mountains. The Appalachian Trail/Long Trail passes just 0.2 miles from Killington Peak as a single footpath before splitting up near Willard Gap. From there, the Long Trail continues north to the Canadian border and the Appalachian Trail continues north to Mt. Katahdin in Maine.
There are so many great mountain hiking trails near Killington with gorgeous vistas of the surrounding Green Mountains. The summit of Killington is obviously a highlight, but you'll also get great views at the summit of Pico, Dear Leap, and Blue Ridge Mountain. If summiting a mountain isn't at the top of your list, there's easy hiking near Killington VT as well.
Tips for Hiking Near Killington VT
The area around Killington is a hiker's paradise, but it also poses a few challenges for the outdoor adventurer.
While most of the hikes mentioned in this post are short enough for a day hike, be sure that you are setting realistic expectations for yourself, and are prepared for the possibility of cold or rainy weather. Here are a few tips for hiking near Killington VT:
Plan for unpredictable weather conditions. In the summer, this usually means rain and/or unseasonably cool weather. Pack a lightweight rain/wind jacket and a fleece to cover all your bases. In the spring, late fall, and winter, pack microspikes in preparation for icy trail conditions. Here are some great tips for what to wear when hiking.
Bring hiking poles! Trekking poles can be a lifesaver for hiking up and down on steep trails, and no, they are not just for beginners and the elderly. Hiking poles help with weight distribution so you can spare your ankles and knees. They make such a difference when you are gaining and losing lots of elevation in a hike.
Pack out what you pack in. Trash on Vermont trails is becoming more and more of a problem. Stuff a plastic bag in your daypack so that you can pack out what you pack in. Consider picking up trash along the trail too. Do the right thing: always practice Leave No Trace principles!
Gifford Woods State Park: Your Camping Home Base for Hiking Killington VT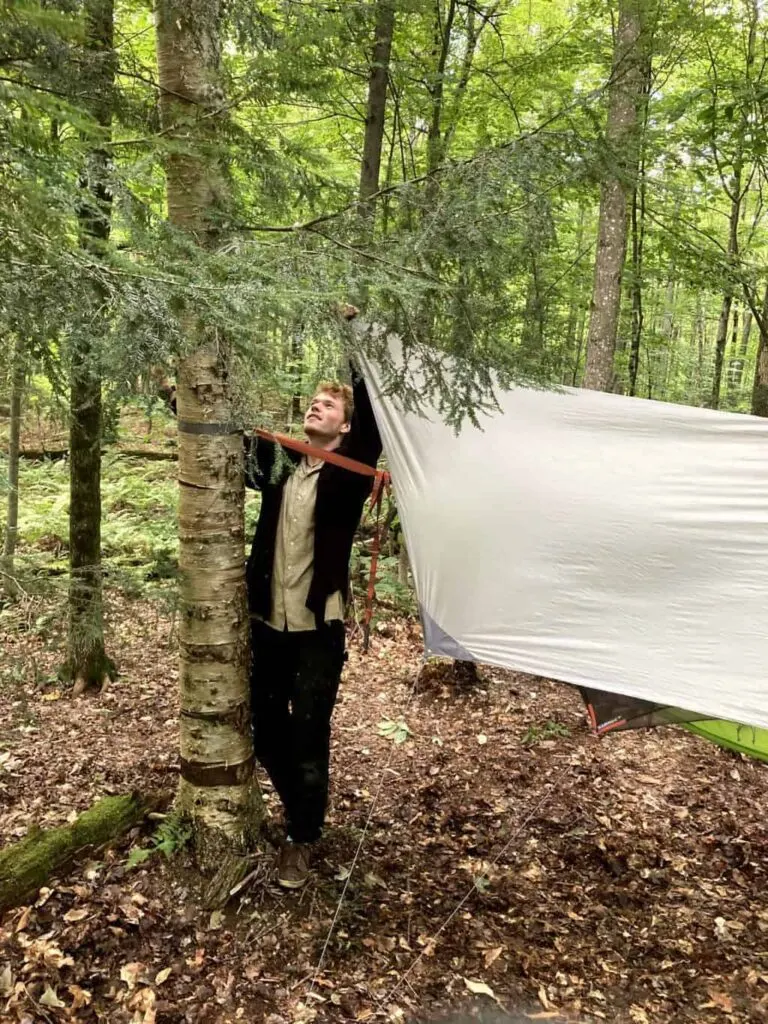 If you're planning a hiking vacation in Central Vermont, you'll need a home base. The campground at Gifford Woods State Park is within a short drive of all the Killington hiking trails listed below, and many of the hikes start right within the park. We're all about limiting our time in the car — road trips are awesome, but trips where we can stay out of the car are even better!
From Gifford Woods State Park, you can hop on the Appalachian Trail/Long Trail to head to Deer Leap or Kent Pond, and the easy Kent Brook Trail is a loop located entirely within Gifford Woods State Park.
After a day of hiking near Killington, you'll appreciate being close to Kent Pond, where you can cool off, toss a line in the water, or go for a sunset paddle before heading back to camp.
Camping in Gifford Woods State Park: The Details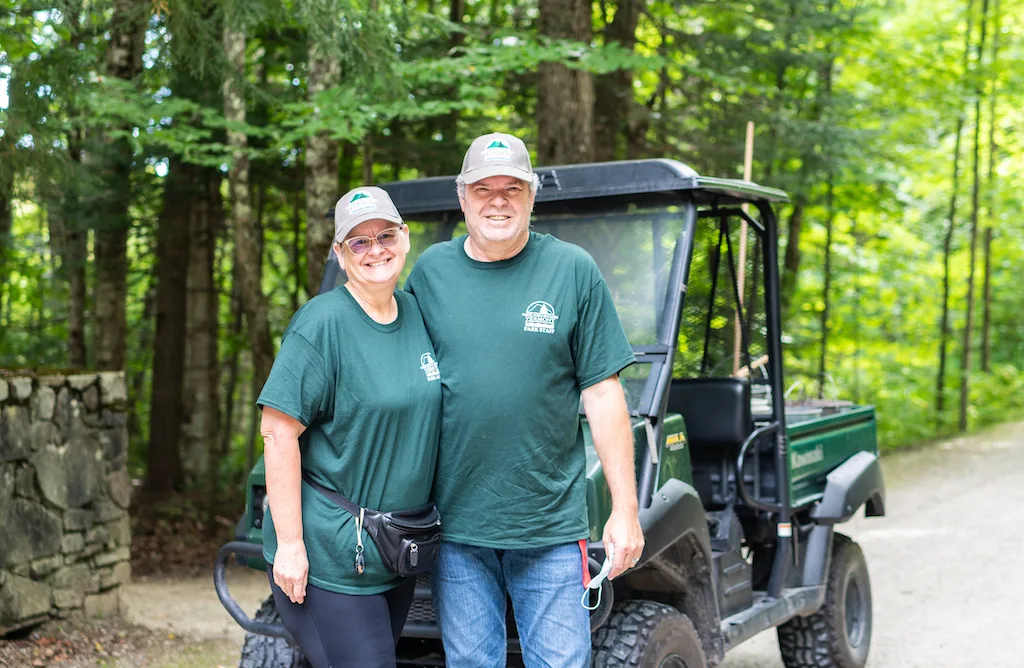 The campground at Gifford Woods State Park is pretty small, with 21 tent/RV sites, 19 lean-tos, and 4 camping cabins. Sites are all very private and wooded, with plenty of space between sites. Like all Vermont State Park campsites, the ones at Gifford include a fire ring and picnic table, but no hookups for water or electricity.
Because we are tent campers who mostly make reservations in advance, we almost always reserve a lean-to. This enables us to camp comfortably rain or shine without using our rainfly. It also gives us a nice spot to hang out if the weather gets iffy.
On our most recent camping trip in Gifford Woods, we stayed in the Elm lean-to, which was located in a quiet spot on a wooded hill. We loved Elm, but our favorites are still Apple and Hemlock!
There are two camping loops in Gifford Woods State Park. I recommend choosing the first loop if possible. The park is fairly close to Route 100, and the sites in the first loop don't get as much noise from the road. Check out the interactive campground map to see what I mean.
Awesome Killington Hiking Trails
Ready to do some hiking? The following Killington hikes are located in Gifford Woods State Park or the nearby Green Mountain National Forest. We've divided them up into easy hikes, which are under two miles with very little elevation gain, and moderate/difficult, which range from 2-7 miles and have lots of steep inclines.
Here are the best hiking trails in and around Killington, Vermont — perfect for your next Green Mountain adventure!
Easy hikes near Killington (short with very little elevation gain)
These beautiful hikes near Killington are more like rambles. They are short and sweet, and all of them feature some sort of water — streams, falls, or ponds.
Kent Pond via the Appalachian Trail in Killington
Difficulty level: Easy
Length of trail: varies, but if you hike to Thundering Brook Road and then turn around, it's about 1.5 miles, round trip.
Dogs: Yes, on-leash
Fee: The day-use fee at Gifford Woods State Park is $4 for adults, $2 for kids
Download a trail map and find directions on AllTrails
This is a super easy Killington hike that begins at Gifford Woods State Park. If you are staying in the campground, simply walk the campground road toward the park office. You will see the trail to Kent Pond on your right. The trail immediately crosses Route100 and then heads into the woods to the pond.
The trail hugs the shoreline, and almost immediately you will come to an inlet with several small waterfalls. Cross the bridge and continue on the Appalachian Trail. When you get to Thundering Brook Road, you can turn around and head back, continue along the Appalachian Trail to Thundering Brook, or walk along Thundering Brook Road.
We walked around the road and found that the trail continued along the north shore of the lake. Don't be fooled into thinking the trail goes all the way around the pond though. It doesn't. When the trail ends, turn around. It is nearly impossible to bushwack around, and you will find yourself on private property. There are, however, some nice private swimming areas on the north side of the pond, and even a rope swing. Definitely worth checking out!
Kent Brook Trail, Gifford Woods State Park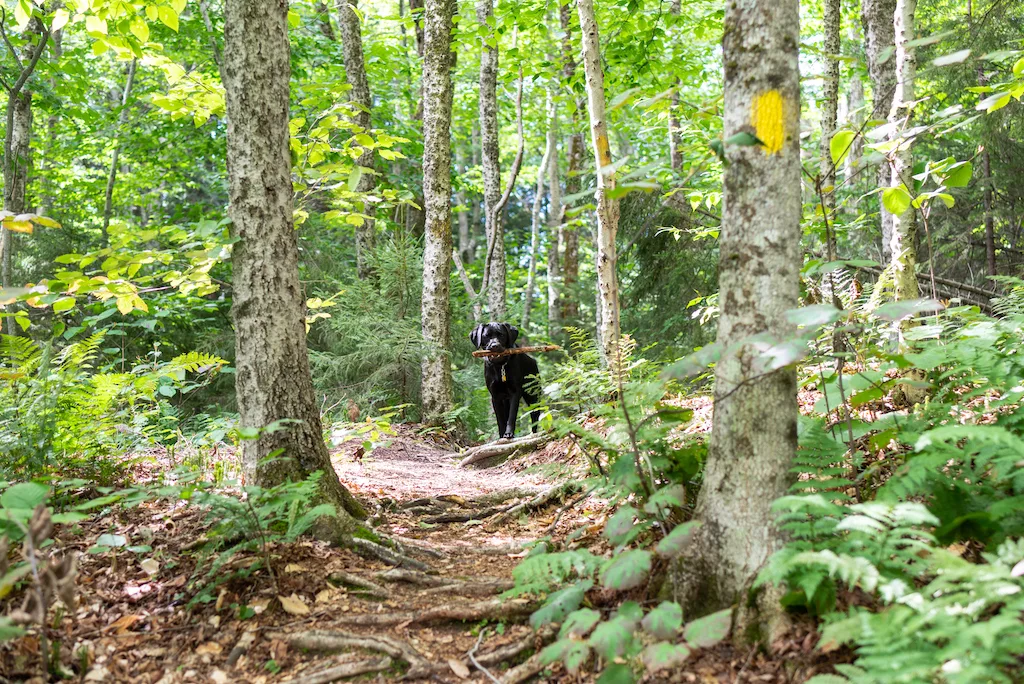 Difficulty level: Easy
Length of Trail: 1-mile loop
Dogs: Yes, on-leash
Fee: $4 adults, $2 kids
Download a trail map and get directions to Gifford Woods State Park
This 1-mile loop is entirely within Gifford Woods State Park, beginning near the day-use parking area. It follows yellow blazes and winds its way through a mature hardwood forest. Some of the trees are old-growth, and there is a separate interpretive trail through the oldest part of the forest.
The Kent Brook Trail is almost entirely wooded. Part of the trail is lined with boulders and if you hike in the summer, you will see lots of mushrooms. The trail crosses the Appalachian Trail at one point, so be sure to follow the yellow blazes, not the white ones. Kent Brook makes an appearance toward the end of the loop and is a nice spot to enjoy a snack and water break.
The loop ends in the Gifford Woods campground — you just need to walk the camp road back to the main parking area.
Thundering Brook Falls via Appalachian Trail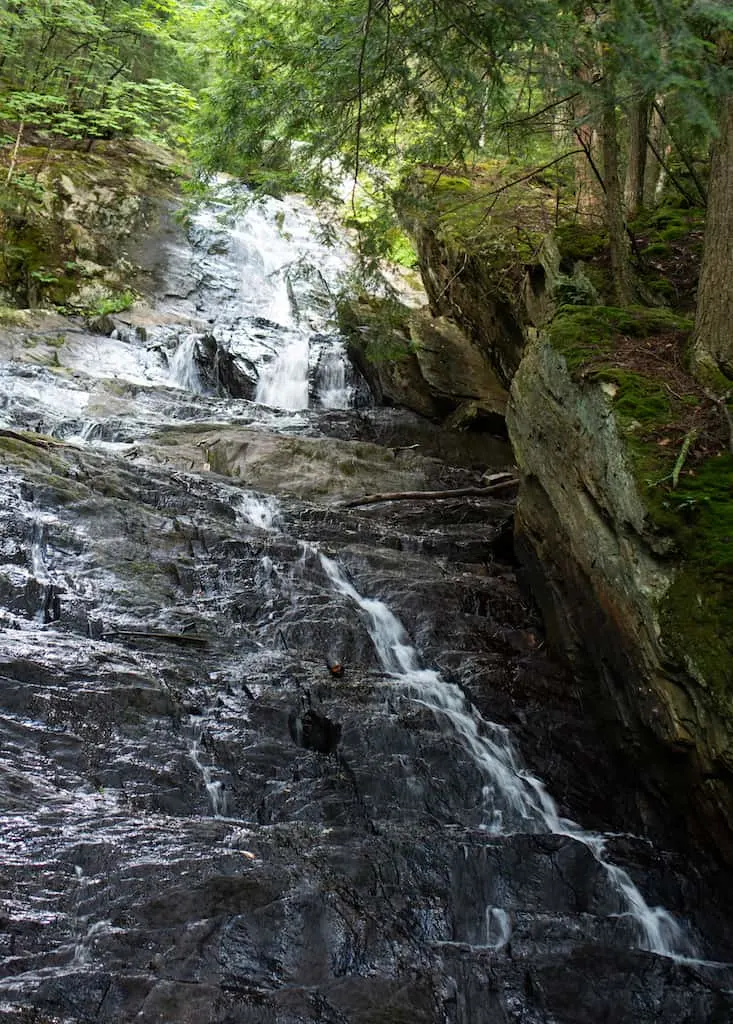 Difficulty level: Depends on where you park, but from the Thunder Brook Falls parking area, it's wheelchair accessible and very easy
Length of trail: .4-miles round-trip
Dogs: Yes, on-leash
Fee: None
Download a trail map and get directions on Google Maps
Thundering Brook Falls is one of the easiest and best hikes near Killington, VT, and can almost be considered a roadside attraction instead of a hike. It is located along the Appalachian Trail and is said to be the sixth-tallest waterfall in Vermont. It's definitely worth a visit with your camera.
If you want to make this a real hike instead of a short jaunt, you can hike north on the Appalachian Trail from Gifford Woods State Park (toward Kent Pond), and just keep on going for another 1.8 miles until you get to Thundering Brook Falls. If you go this route, the hike totals a 3.6 miles round trip, with a +/- 400 feet of elevation change.
Moderate/Difficult Hikes (longer with significant elevation gain)
These hikes near Killington are true mountain hikes and they all summit peaks with great views at the top. Some, like the top of Blue Ridge Mountain, are peek-a-boo views above the trees. Others are bald mountains with 360-degree views of the surrounding Green Mountains and valleys below. Every single one of these hikes is worth checking out if you have time!
Canty Trail to the top of Blue Ridge Mountain
Difficulty level: hard
Length of trail: 4.8 miles, round trip
Elevation gain: 1,496 feet
Dogs: Yes
Fee: None
Download a trail map and get directions on AllTrails
This hike begins on Old Turnpike Rd. in Mendon, VT. In the beginning, the ascent is very gradual, almost flat, which gives you time to warm up your legs and find your groove. After about a mile, it gets much steeper, with lots of roots and rocks to look out for. There are two easy stream crossings and a pretty amazing waterfall about ⅔ of the way up. This is a great spot to stop for a snack.
After passing the first cascade, the ascent becomes steeper and the trees thin out. The forest floor is littered with mossy rocks, and there are ferns everywhere. I loved this part of the hike, even though the steep climb tested my endurance. Finally, after more than two miles going up, the trail splits. The left fork goes to a large rock with an awesome view of Rutland, and the right fork goes to the official summit of Blue Ridge Mountain with a small view over the trees. All-in-all a great, exhilarating hike!
Deer Leap Lookout and Mountain Loop (Appalachian Trail)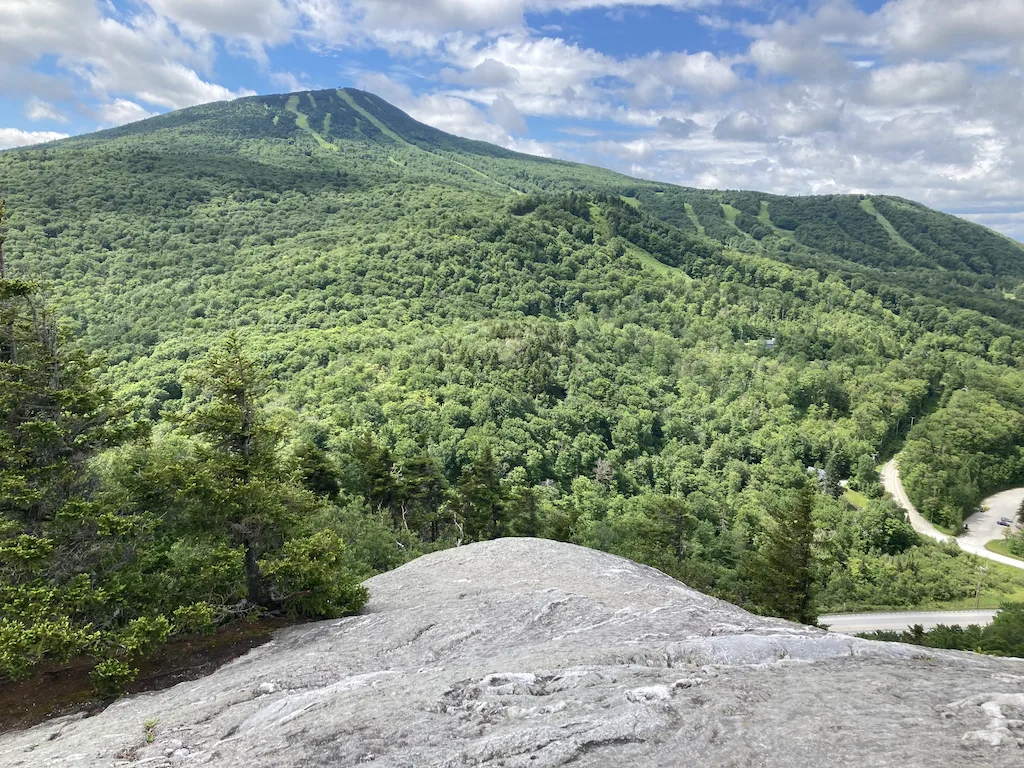 Difficulty level: moderate/hard
Length of trail: 4.6-mile loop
Elevation gain: 1,400 feet
Dogs: Yes
Fee: $4 adults, $2 kids
Download a trail map and get directions on AllTrails
As with many of the trails in this area, there are a few different ways to do this one. We hiked the loop from Gifford Woods State Park because we liked the idea of beginning and ending in the campground, but if you are short on time, you can also begin on Route 4 in Killington for a 1.9-mile out-and-back hike with 492 feet of elevation gain. Check out that version of the Deer Leap hike on AllTrails.
The trail from Gifford Woods begins in the campground with a gradual ascent. Again, a nice way to warm up before a good climb. Unlike some of the other hikes mentioned here, this one isn't a straight ascent. It goes up and down a bit and even levels off near the top. There are plenty of spots to rest, and the forest in the higher elevations feels nice and open.
The view from Deer Leap overlook is awesome and features Sherburne Pass and the Coolidge Range. Continue on to the top of Deer Leap Mountain – no views – just a pretty trail through the woods before looping back to the main trail and down to the campground.
Killington Peak via Bucklin Trail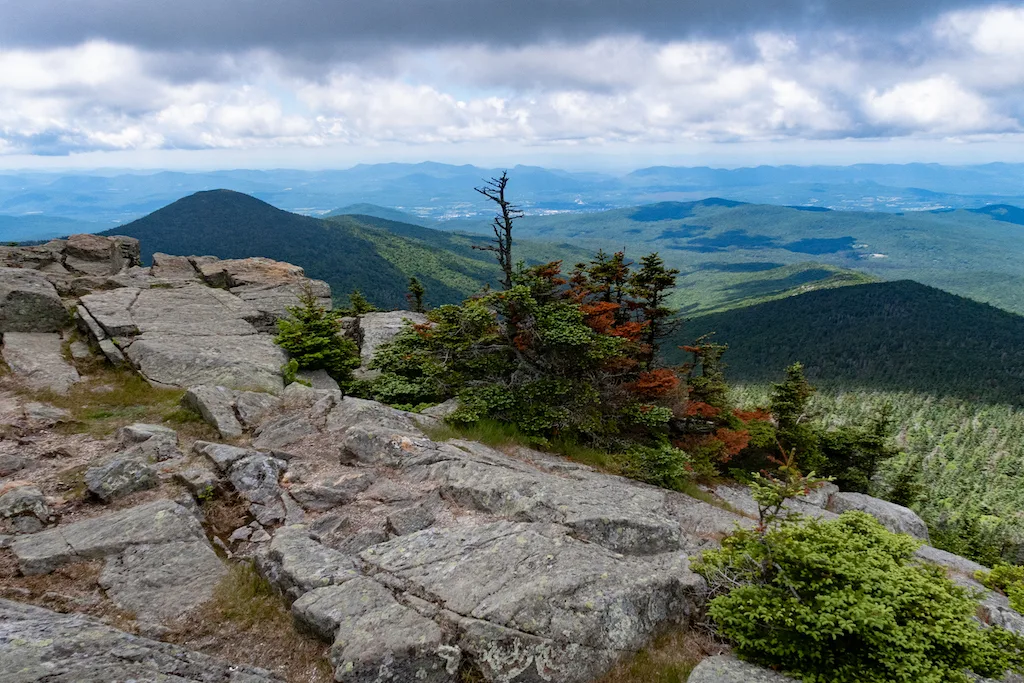 Difficulty level: hard
Length: 7.4 miles, round-trip
Elevation gain: 2,470 feet
Dogs: Yes
Fee: None
Download a trail map and get directions on AllTrails
There are several ways to get to the top of Killington, including riding a gondola to the top from Killington Resort. If you have the time and the energy, the best trail to the top of Killington is Bucklin Trail, which begins on Wheelerville Road and climbs the west face of Killington Peak.
Bucklin Trail isn't easy, but it's one of the best hiking trails in Vermont if you don't mind the challenge.
Like many of the Killington trails I've mentioned here, this one begins as a nice, level walk in the woods. Turns out, this is my favorite type of trail! Get your legs all warmed up and your heart pumping because after the first two miles, the trail starts the ascent.
The last quarter mile or so is a rock scramble, at least for someone with short legs like me. Fortunately, you're not far from the top, where you can relax with a snack and take in the view. When the gondola is running, you may be disconcerted to see flip-flopped tourists enjoying the views at the end of your climb, but the beautifully forested and serene trail to get there more than makes up for it.
The Bucklin Trail is such a fun hike, but it definitely gets crowded, especially on summer and fall weekends. I recommend starting early in the morning or late in the day so that you don't have to share the trail with too many other hikers.
Sherburne Pass to Pico Peak
Difficulty level: moderate/hard
Length of trail: 6 miles, round trip
Elevation gain: 1,824 feet
Dogs: Yes
Fee: None
This is another Killington hiking trail with fantastic views at the summit of Pico Peak at 3,967 feet. The trail is wooded most of the way, traveling through a mixed hardwood forest that is incredibly colorful in the fall. The climb is gradual for the first 1.5 miles, becoming steeper as a series of switchbacks takes you up the mountain. The hardwood forest changes to softwoods as you get closer to the peak. At about 2.5 miles, you will hit Pico Shelter, which is a nice place for a water break, especially if it's chilly out.
The trail splits at Pico Shelter, and you can choose to hike Pico Link Trail for a half-mile or continue on Sherburne Pass Trail. Pico Link is quite steep but nice if the goal is to get to the views already. The peak opens up to a 360-degree view of the surrounding green mountains.
If You Only Have a Weekend to Conquer some Killington Trails …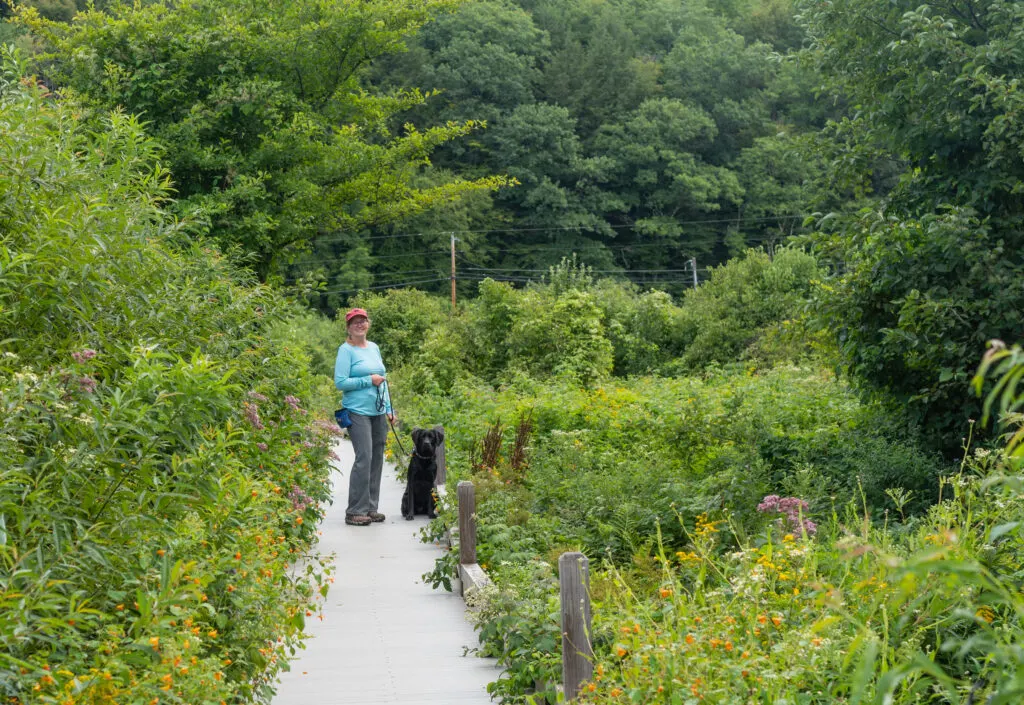 If a weekend is all you got to explore Killington hiking trails, you've got some decisions to make.
There are enough hiking trails in Killington to keep you busy for many days. If you only have a weekend to adventure in and around Killington. Here's what I'd recommend.
Friday: Drive to Gifford Woods State Park, set up camp, and walk on the Appalachian Trail to Kent Pond. If you arrive early enough, hike all the way to Thundering Brook Falls and back to your campsite (3.6 miles round-trip).
Saturday: Hike the Bucklin Trail to the top of Killington Peak. In the summer, finish your day with a quick swim in Kent Pond.
Sunday: Get an early start, and hike the Deer Leap Overlook and Mountain Loop. If you are short on time, start your hike on Route 4 in Killington. Otherwise, pack up your campsite, leave your car in the main lot at Gifford Woods State Park and do the loop from there.
---
Follow us on social media!
Pin for later?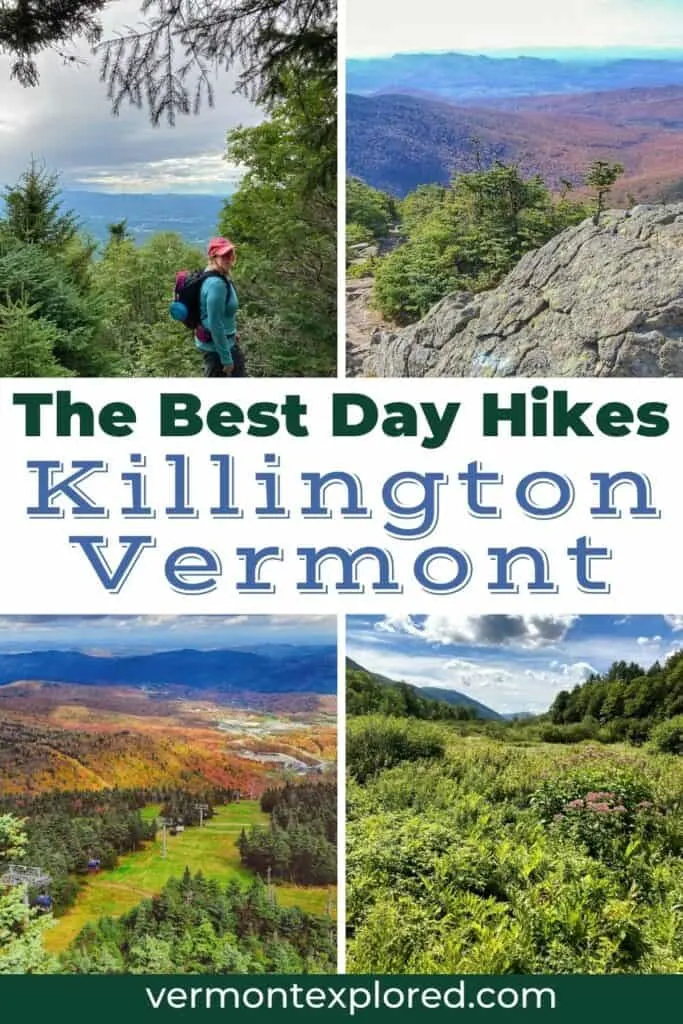 Tara Schatz is a freelance writer, and the founder and editor-in-chief of Vermont Explored and Back Road Ramblers, an American road trip blog. She is also the co-author of the 3rd edition of AMC's Best Day Hikes in Vermont, which was released in May 2023.