Winter is long in Vermont, and the best way to get over the hump is to find some easy weekend getaways — bonus points if they are both budget-friendly and provide access to the outdoors.
Winter glamping in Vermont is hands-down the best way to embrace winter and the outdoors while staying comfy!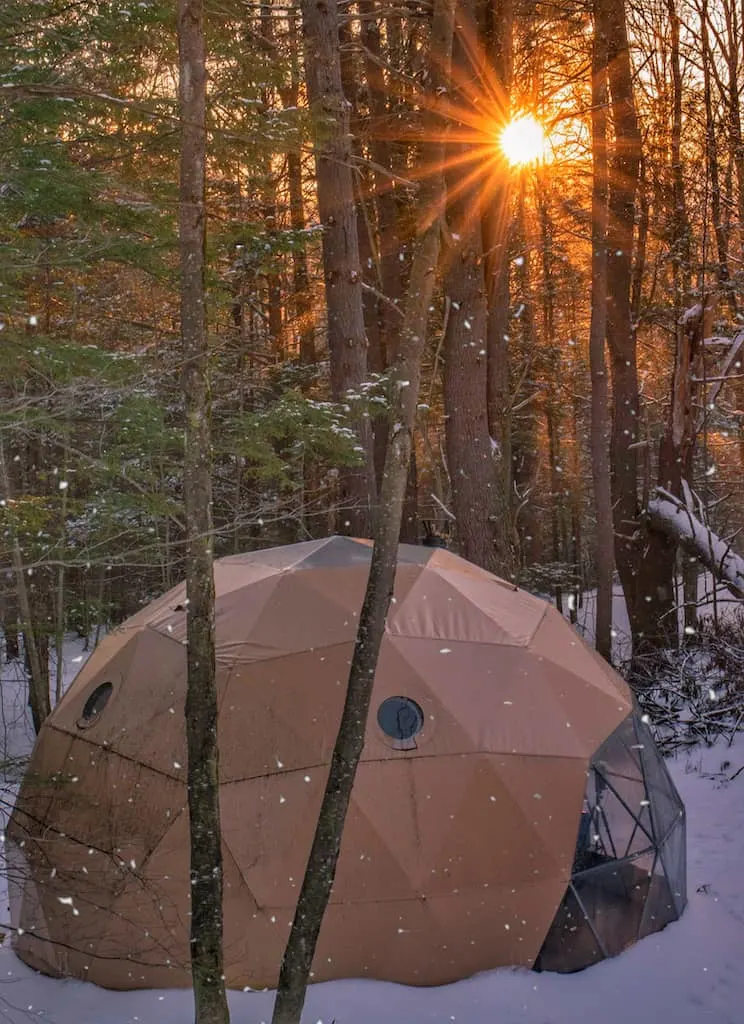 Embracing the cold, the snow, the layers — that's how we roll with winter in Vermont. One of our favorite getaways to date has been an adventurous glamping trip at this magical geodesic dome in Putney.
We discovered this Vermont glamping gem on Hipcamp. In case you don't know about Hipcamp — it's a booking platform that allows you to find unique, eclectic, and private camping and glamping all over the United States.
I'm pretty much obsessed with finding private camping and glamping opportunities whenever I travel. Campgrounds are so last century! Use our Hipcamp referral link to save $10 (we'll get $10 too, wheeee!)
Our little home-away-from-home in Putney was everything we could have hoped for — private, cozy, and situated on 20 secluded acres with lots of trails for snowshoeing and hiking.
While our New England glamping retreat was rustic (read: no running water or indoor plumbing), it was also kind of perfect.
We were able to totally unplug, spend endless hours hiking, and still come home to a warm bed and a toasty woodstove. It's our favorite kind of weekend getaway.
Our Experience Winter Glamping in Vermont
This magical geodesic dome is located a hop, skip, and a jump from downtown Putney, up a winding dirt road that will make you wonder why you didn't bring your four-wheel drive.
We made the climb in our 2005 Pontiac Vibe, folks, so I'm pretty sure you'll be fine in whatever car you decide to use.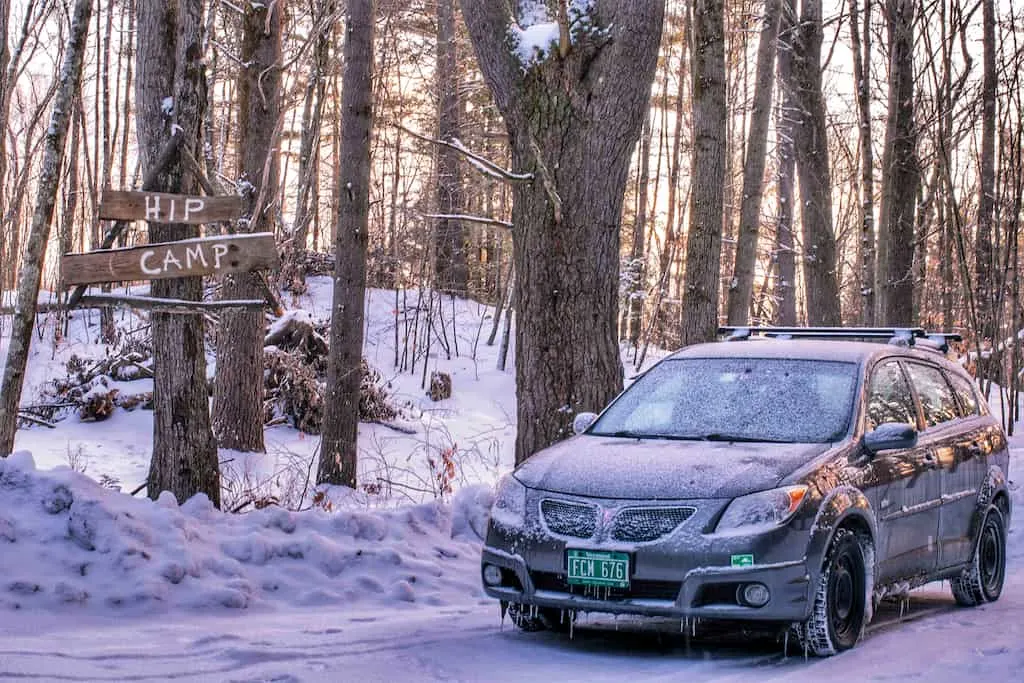 The directions listed on Hipcamp were spot on, and before long we made it to our designated Hipcamp parking spot. Our lovely hosts even left us a mega-utility sled to haul our belongings to the dome, which is about an eighth of a mile down a little wooded trail.
We overpacked, as usual, but even with a guitar, a bottle of wine, and extra sleeping bags, we were able to do it in two trips.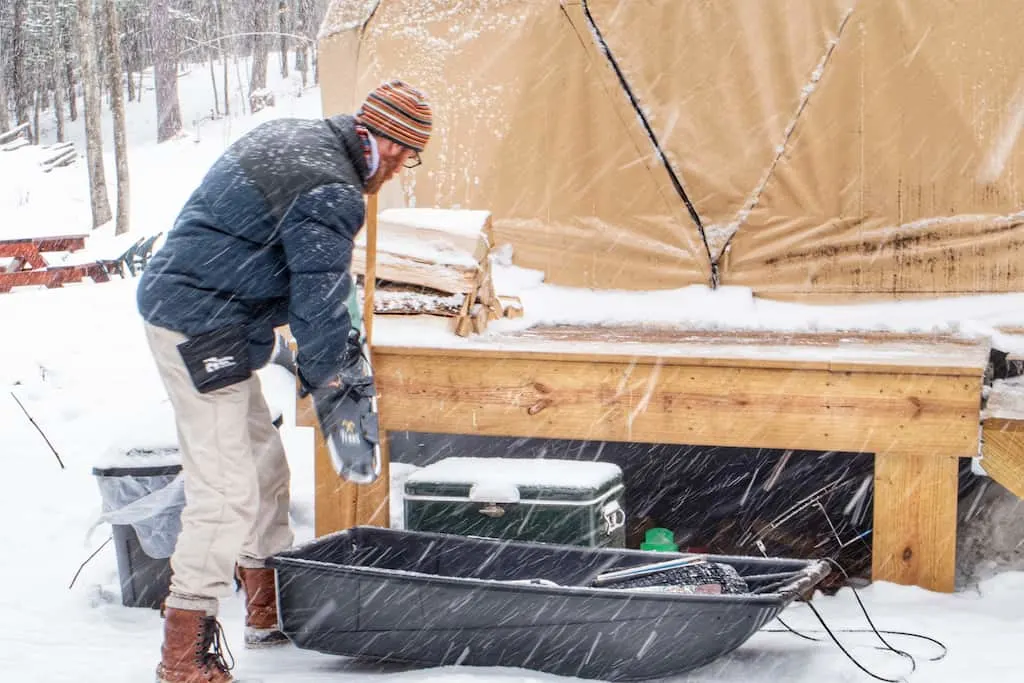 The geodesic dome is nestled in the woods, down the hill from our hosts' residence.
We could see their home on the hill from the dome, but there were lots of trees, and it still felt totally private. Flynn (our dog) got busy exploring the woods to make sure everything was as it should be, while Eric and I unpacked.
The woodstove was already blazing when we arrived, and there was a note of welcome from our hosts, Tara and Nick.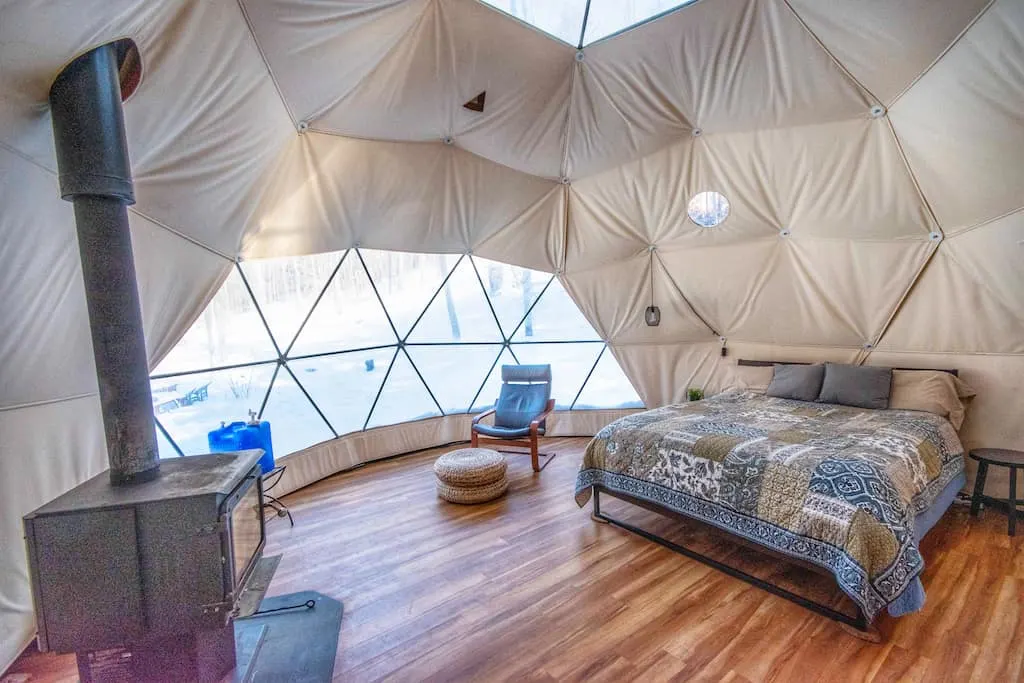 The interior of the dome is the aesthetic of every glamping retreat I've ever fallen in love with — lots of open space, plenty of light and warmth, and a super cozy bed next to a roaring woodstove.
It's very simple and very inviting. More importantly, it is warm. As long as we kept the woodstove going, we were toasty, although mornings were cool because we let the fire die down in the night.
Dogs are permitted here, which we always appreciate, but they do have two dogs of their own and chickens too, so we made sure to keep Flynnie within sight.
Amenities and Gear Provided at the Geodesic Dome at Quarry Brook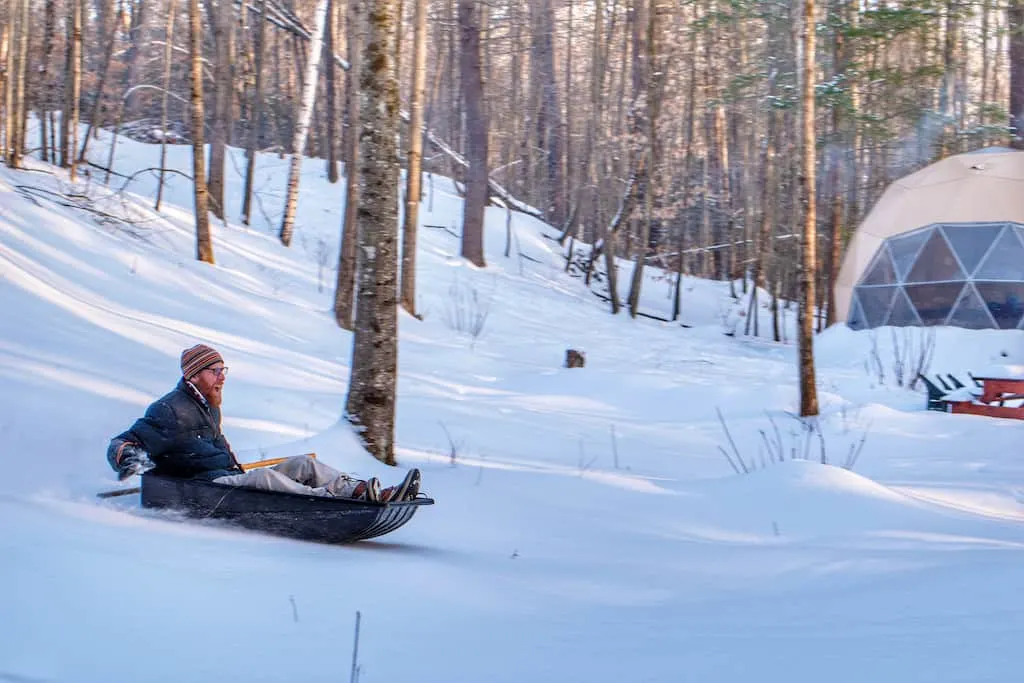 Whenever we pack for a glamping adventure, especially in the winter, we tend to overpack. It's not like staying at a hotel or lodge, where you know there will be a thermostat, warm covers, extra pillows, and toilet paper.
With private glamping rentals, you can never really be sure if they've covered all their bases. We try and think of everything that might not be provided, just in case.
If we bring too much, then it's no big deal – we're pleasantly surprised and we move on. If something isn't provided AND we don't think to bring it, well then… we learn to be more prepared next time.
A few things we've forgotten in the past: a wine opener, dish soap, headlamps, and coffee. No matter, what we always pack coffee.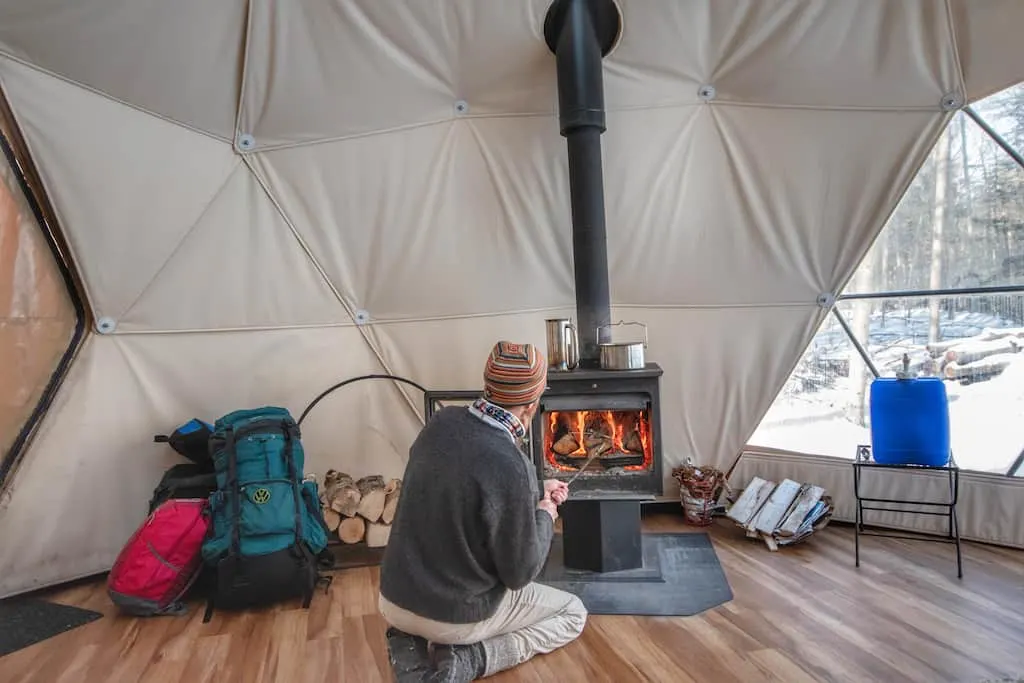 Just so you know what to expect, here's what's included at this Hipcamp property in Putney:
A woodstove with stacked cordwood and kindling
A queen-size bed with flannel sheets, two bedspreads, and a down comforter, plus two pillows
A single chair with an ottoman for relaxing – We would have loved another chair because we loved the one that was provided and took turns relaxing in it. Maybe that's our biggest complaint – a queen-size bed, but only one chair??
A small desk
A coat rack
A bin full of cooking gear – as far as we could tell, they had everything we would need for basic cooking. We brought our own cooking stuff just in case, but I think we would have been fine.
Ground coffee and a French press (kudos to our hosts for this!) – of course, we brought our own coffee too.
A propane camp stove with extra fuel
A container full of water for drinking and washing – probably about 5 gallons, which was perfect for our weekend visit.
An outdoor picnic table and fire pit – These were snowed in and unusable during our visit.
An outhouse with toilet paper – Yes, we froze our butts off and lived to tell the tale.
Electricity with one lamp and another small light for ambiance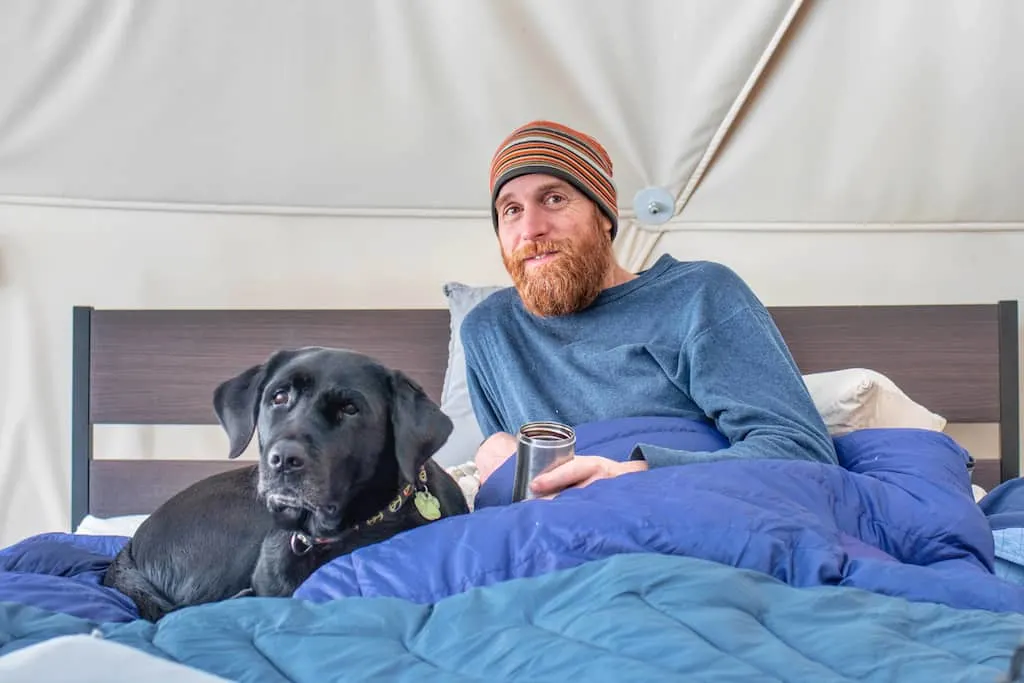 Extra Gear that We Brought and Found Useful During Our Stay
Hand sanitizer – to keep in the outhouse
Leather gloves – for putting logs in the woodstove
Down sleeping bags – one night was around 5 degrees Fahrenheit, and we appreciated the extra warmth.
Clothes – snow pants, long underwear, lots of wool layers, slippers for inside the dome, hats, mittens, etc. We brought the same clothes we would wear on a super cold day hike.
Food – For this trip, we made soup one night and curry from a jar the next. We just put our camp pot on the woodstove and let it simmer. Worked out perfectly.
A soft-sided cooler with various snacks and food items.
A Bluetooth speaker – We loved having music in the dome, and we finally had a dedicated camping/travel speaker. Yay!
Snowshoes and poles – The snow was deep!
Dog stuff – For Flynn, we brought his travel bed and travel bowl, plus his food, a leash, poop bags, Musher's Secret, and a few chew toys.
Camera and gear – Way too much, as my husband pointed out, but I got some good shots, so it was worth it!
Cribbage, wine, chocolate, and a guitar — you know, the necessities!
Gear We Should Have Left at Home
If we were to visit this lovely glamping retreat again, here's what we would not bother to bring:
Camp stove and cookware – everything was provided.
Power bank for charging our phones – we had electricity.
Coffee and supplies for making coffee
Exploring the Hiking Trails in Putney, Vermont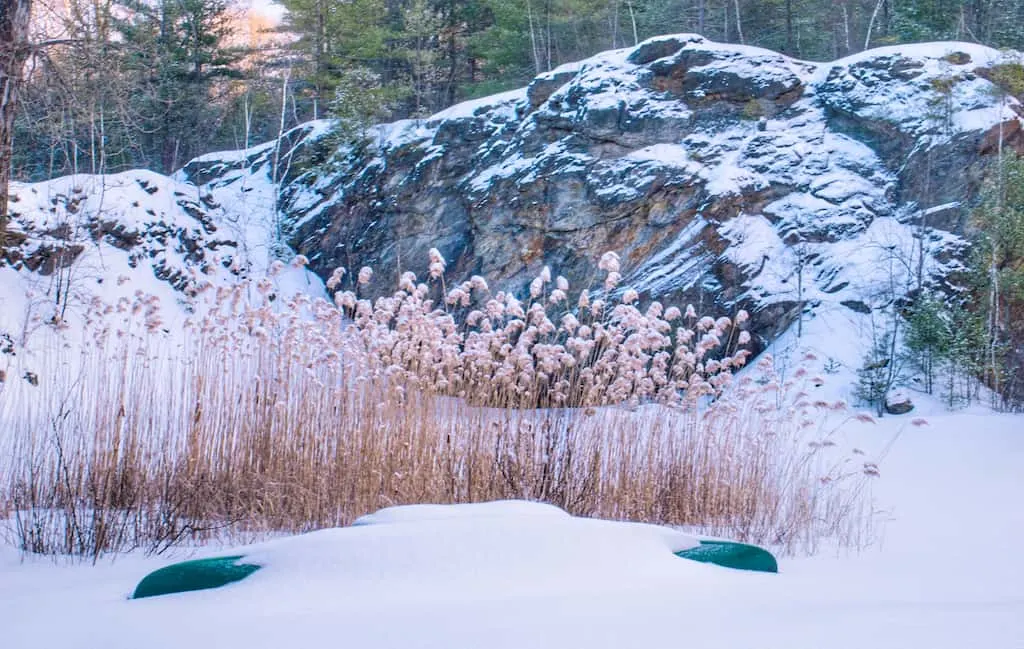 So, if you go to the Hipcamp listing for this property, you can read about an abandoned quarry that you can hike to and swim in.
You'll read that there's a canoe for paddling around the quarry and that it's just a short walk from the dome. You'll read all this, and then you'll look at your calendar and say, "damn, it's winter — let's go anyway."
We did explore the aforementioned rock quarry, and we even glimpsed the canoe, but alas the whole area was beautifully snowed in when we visited.
I do think this would make a delightful weekend getaway in the summer when you can take advantage of the quarry, the canoe, and the fire pit outside the dome.
Anyway, back to the hiking trails. During our visit, we meandered around the trails on the 20 acres surrounding the dome.
There was lots of snow covering the ground, and we made great use of our snowshoes. Dogs are welcome, and Flynn had a blast romping around.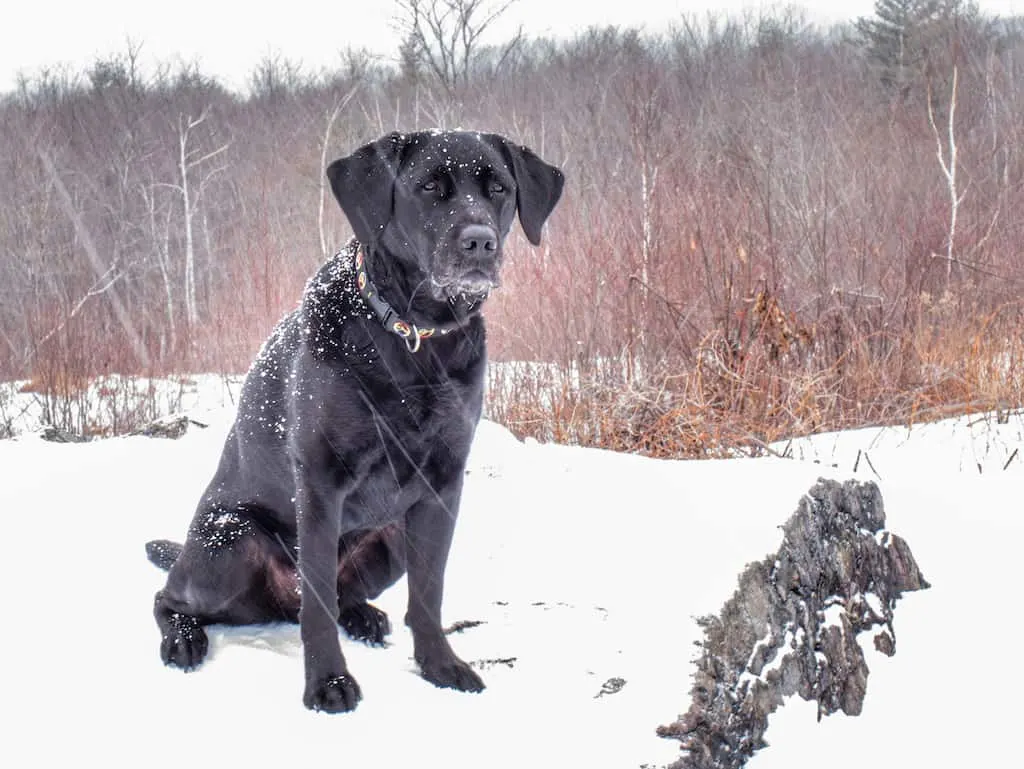 On our second day, we explored a bit further afield and headed to Putney Mountain, which is part of a huge and elaborate trail system managed by the Putney Mountain Association and the Windmill Hill Pinnacle Association.
We hiked the West Cliff and Ridgeline trails, which created a 1.1-mile loop. It may sound like a walk in the park (and it was), but the deep snow made going pretty slow.
Also, we were not treated to any views because it was snowing pretty heavily, but the forest was delightfully quiet — we didn't see another soul.
Many more trails are part of this network, so if you're into hiking, this is a fun getaway. The dome is also very close to downtown, which has a great natural food co-op and a few restaurants. The bustling town of Brattleboro is about 17 miles south.
Final Thoughts on Winter Glamping in Vermont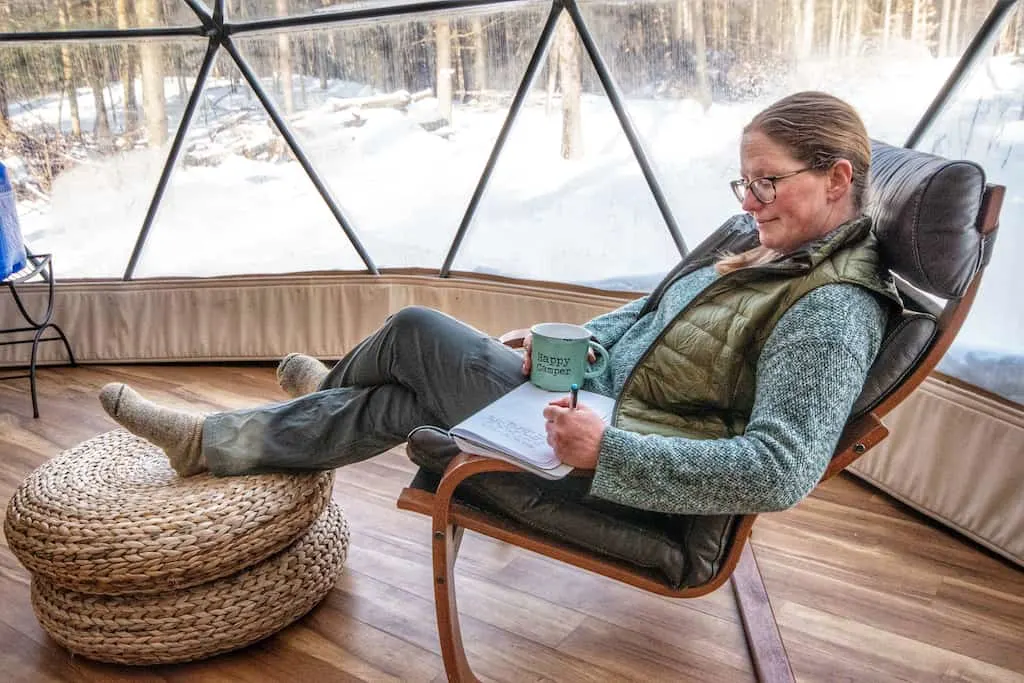 We left our cozy geodesic dome in Vermont wishing we could stay longer, and we're already thinking a summer visit might be in order. If you're a hearty soul and want to try winter glamping in Vermont with your loved one or small family (just one bed, remember?), we can recommend this unique property.
You will find the Geodesic Dome at Quarry Brook, plus lots more great glamping properties on Hipcamp. New to Hipcamp? Use our referral link to get $10 off.
Are you as excited as we were about planning a Vermont glamping vacation in a geodesic dome? Don't worry about the outhouse — it's only cold when you first sit down. Drop a comment below if winter glamping is your jam!
---
Follow us on social media for more Vermont inspiration!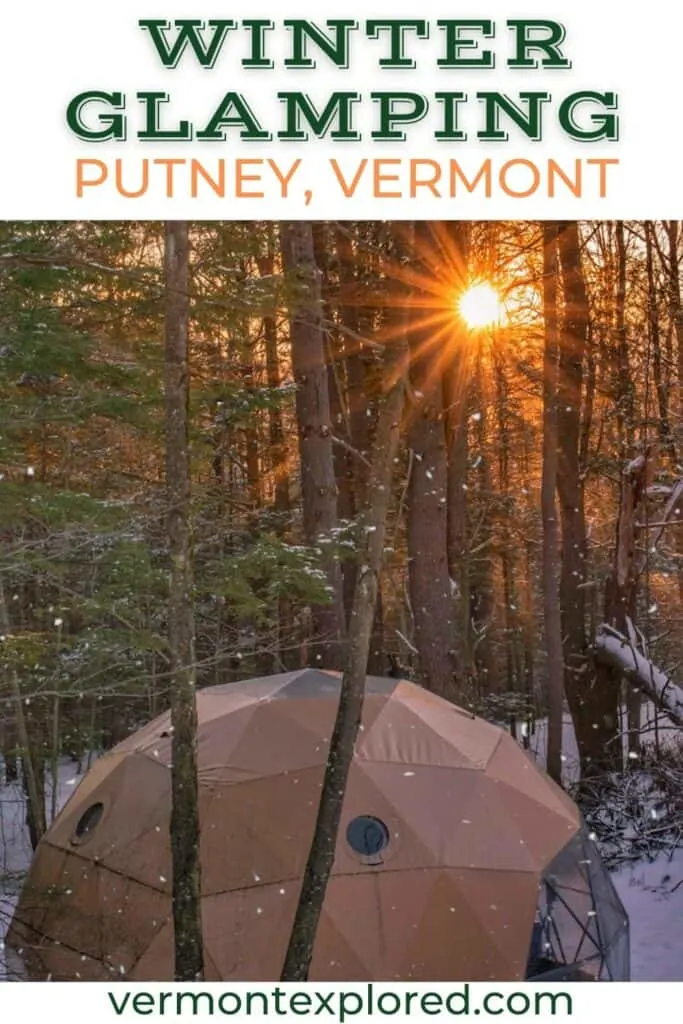 Tara Schatz is a freelance writer, and the founder and editor-in-chief of Vermont Explored and Back Road Ramblers, an American road trip blog. She is also the co-author of the 3rd edition of AMC's Best Day Hikes in Vermont, which was released in May 2023, and the author of 100+ Wonderful Ways to Experience Vermont.