Three things make Vermont the best place on earth — maple syrup, fantastic fall colors, and the beautiful forested landscape. 78% of Vermont is forested, and while only 19% of that land is public, there are enough beautiful hiking trails to keep outdoor lovers busy for a lifetime.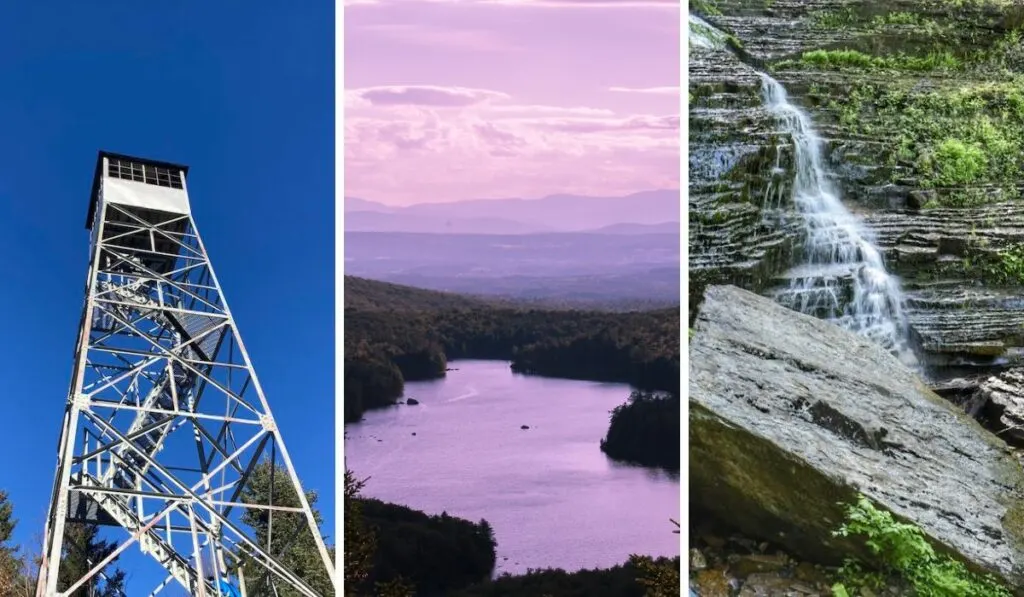 Vermont's Green Mountains provide a wealth of challenging hikes for adventurers, but you'll also find easy strolls around picturesque lakes and ponds, moderate treks to Vermont waterfalls, and even a few treks to mountaintop fire towers.
My goal in writing this post is to provide you with 15 solid choices for fantastic hiking trails in Vermont. I have so many favorites, but if you were to ask me what the absolute best hikes in Vermont are, these are the ones I would share.
This is a diverse list of hikes. Some meander easily through the woods; others are strenuous treks to bald peaks with alpine tundra. As a collection, they offer hikers a varied look into the beautiful forests and mountains that are such an integral part of Vermont's landscape.
I've been hiking in Vermont for a lifetime, and I recently co-authored the third edition of AMC's Best Day Hikes in Vermont, which will be on shelves in May 2023. Detailed trail guides and maps for all of the hikes listed here can be found in the book!
---
*Disclaimer: My top choices for the best hikes in Vermont may not be yours. That's okay! This list is absolutely not exhaustive — these are my personal favorites. For even more great hikes in Vermont, check out these posts:
---
Vermont Hiking Map
To get a rough idea of the location of the best hikes in Vermont, here they are in Google Maps.
Best Hikes in Vermont: Northern Vermont
If you're planning a hiking vacation in Vermont and want to choose the best region for finding lots of great trails, my advice would be to head to northern Vermont. The Green Mountains are high, wild, and formidable around Stowe, and there are lots of great trails to choose from for all skill levels.
The downside to hiking in Stowe is that you'll share the trail with lots of other hikers. For a bit more solitude, head to Vermont's Northeast Kingdom, where you're just as likely to spot moose and bears on the trail as you are another hiker.
Elmore Mountain in Elmore State Park, Vermont
Distance: 4.5-mile loop | Elevation Gain: 1,145 feet | Difficulty: Moderate | Trail Guide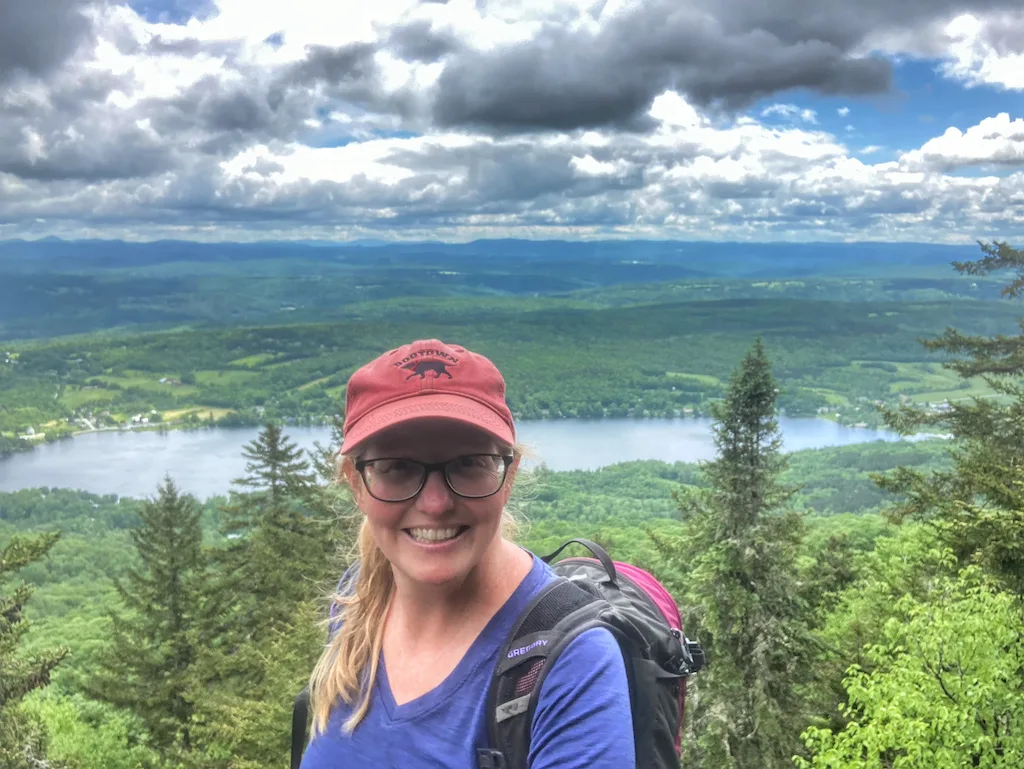 There are many reasons to love the hike to Elmore Mountain (2,608 feet) in Elmore State Park — dark, drippy forests and giant mossy boulders, multiple vistas, including 360-degree views from the top of a fire tower, and the opportunity to cool off afterward with a swim in Lake Elmore.
This moderate loop includes a bit of scrambling toward the top and passes a cool glacial erratic that appears to defy gravity called Balancing Rock.
The trail to the top of Elmore Mountain can be busy on the weekends. To get an early start and avoid the crowds, stay at the campground in Elmore State Park.
Check out our trail guide and overview of Elmore State Park.
Owl's Head in Groton State Forest, Vermont
Distance: 3.9 miles round-trip | Elevation Gain: 518 feet| Difficulty: Easy | Trail Guide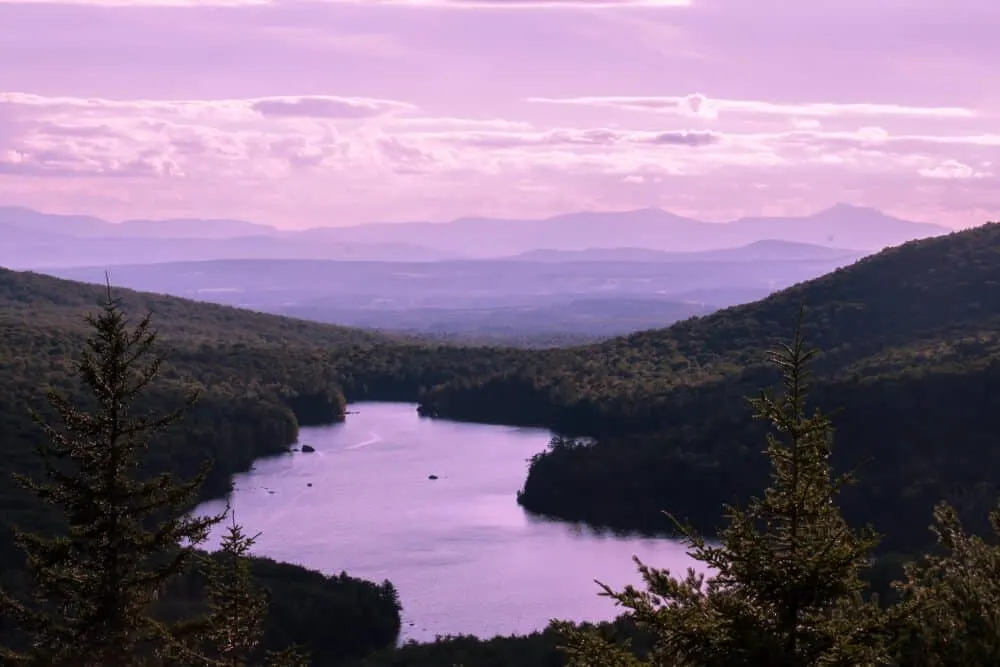 For a relatively easy trail, this hike has a big payoff at the end. Not only will you be treated to this lovely view of Kettle Pond surrounded by the Green Mountains, but you'll also get to check out the stone octagonal fire tower that was built by the Civilian Conservation Corps in 1935.
Owl's Head is also one of the best Vermont hiking trails for a magical sunset — just be sure to pack a headlamp for the trek back to your car.
The Owl's Head hike is one of our favorite trails in Groton State Forest, which encompasses almost 30,000 acres and seven state parks. It's an easy climb, beginning at New Discovery State Park, bypassing a swampy area, and climbing through dense forest before popping out onto the summit.
Groton State Forest will provide you with the quintessential summer-in-Vermont vacation you've been looking for — camping, swimming, paddling, and hiking. It's an enchanting place, with a bit of magic for every explorer.
Bald Mountain in Westmore, Vermont
Distance: 4 miles round-trip | Elevation Gain: 1,450feet | Difficulty: Moderate | Trail Guide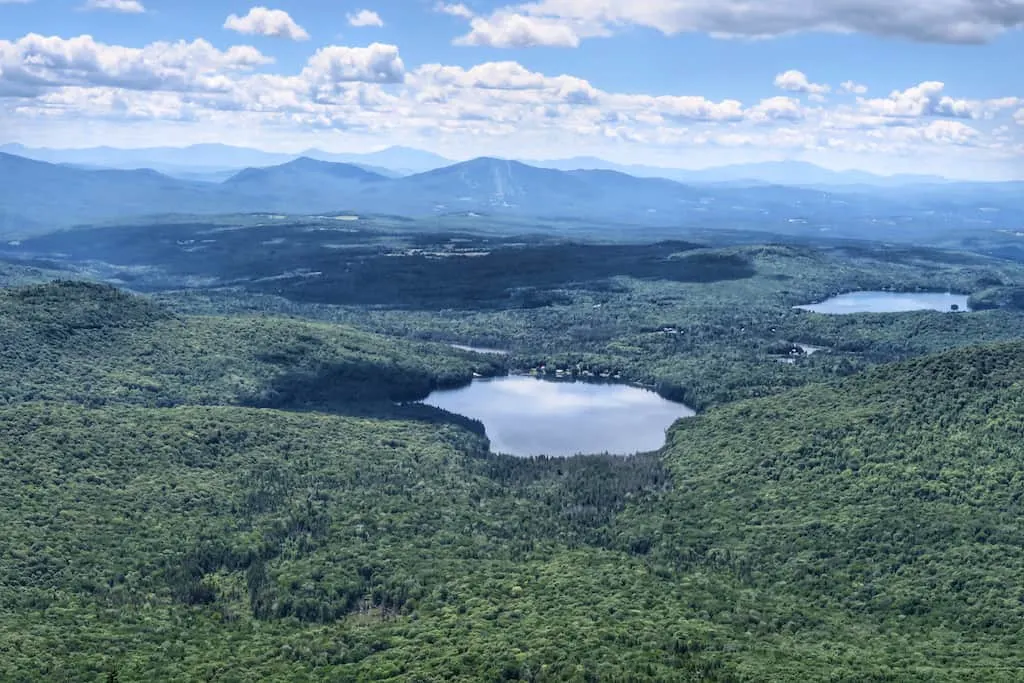 There are a lot of beautiful, secluded trails in the Northeast Kingdom, and plenty more that become incredibly crowded during the summer hiking season (looking at you, Mount Pisgah).
Located close to iconic Lake Willoughby, but bypassing the overcrowded trails that surround it, the hike to Bald Mountain on Long Pond Trail is a delightful trek, taking hikers through an open hardwood forest at a moderate climb before ascending more steeply through a spruce–fir forest to the top of Bald Mountain (3,315 feet).
The Bald Mountain fire tower provides 360-degree views of the surrounding mountains, lakes, and forestland, and the restored summit cabin is one of Vermont's oldest lookout stations.
The hike is steep toward the end, but overall it's a moderate trek that can be enjoyed by kids 8 and older. (Note: Although the summit of Bald Mountain is part of Willoughby State Forest, the trail passes through private lands. Please be respectful of landowners and stay on marked trails).
Stowe Pinnacle in Stowe, Vermont
Distance: 3.5 miles round-trip | Elevation Gain: 1,520 feet | Difficulty: Moderate | Trail Guide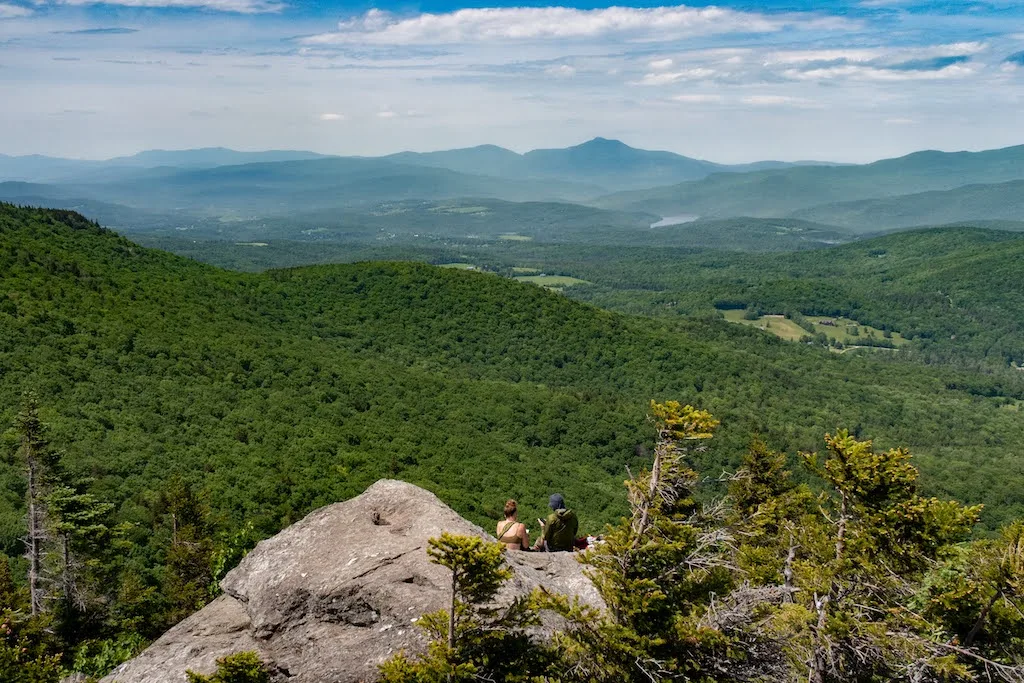 The hike to Stowe Pinnacle (2,640 feet) is short and steep, rewarding you with expansive views of the Worcester Range, Mount Mansfield, and the Stowe Valley from the rocky summit.
While the views from Stowe Pinnacle are unparalleled, this is a popular trail in a busy resort town, so you won't likely find solitude. The rocky bald spot, part of the Worcester Range, offers plenty of room to spread out with a trailside picnic.
Ambitious hikers can continue on the Ridge Trail to Hogback Mountain, which is a pretty wooded summit, and beyond to the Skyline Trail, which connects to Mounts Hunger and Worcester.
Because Stowe Pinnacle is such a busy hike, I recommend getting to the trailhead before 9 am, especially on the weekends.
Sterling Pond in Cambridge Vermont
Distance: 3.3-mile loop | Elevation Gain: 1,320 feet | Difficulty: Moderate | Trail Guide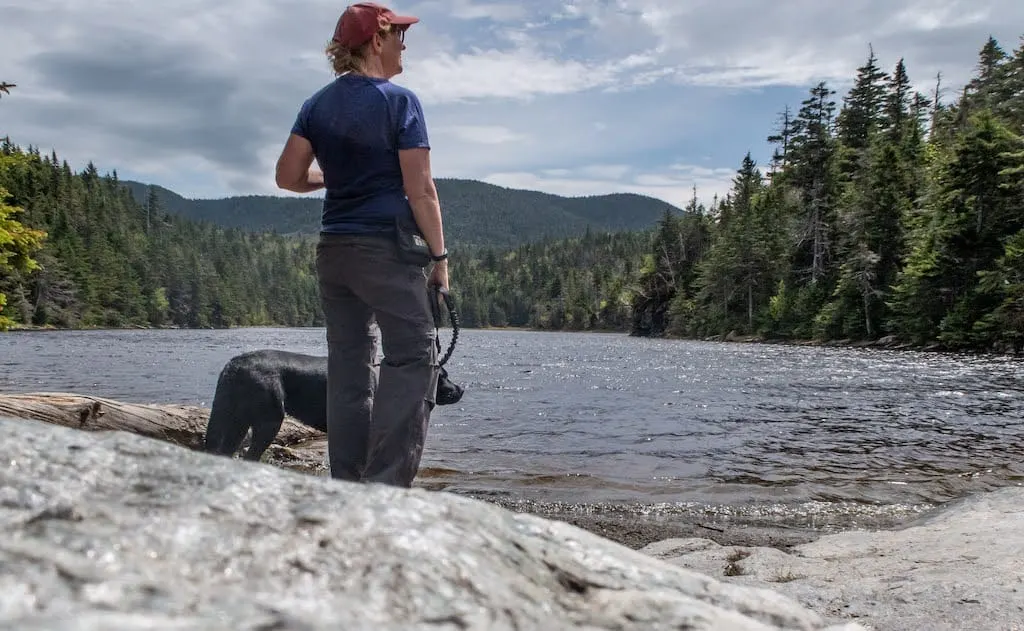 This scenic hike begins in Smuggler's Notch, a winding road through a narrow mountain pass in Stowe. A steep trail leads to Sterling Ponds, a high alpine lake perched above the steep cliffs of the notch.
The hike to Sterling Pond and back is 2.2 miles, and worth the exertion, but I prefer to keep going around Sterling Pond, connecting with the Long Trail, then Elephant's Loop Trail, and then back to the Long Trial for a 3.3-mile loop.
While you'll likely find crowds at Sterling Pond, the loop trail around the pond is far less crowded, with quiet shorelines and mountain views. You'll pass the Sterling Pond shelter on the Long Trail, then the top of the Madonna chairlift at Smuggler's Notch Resort before heading into the woods and hooking up with your original trail.
Fun fact about Smuggler's Notch: Between 1807 and 1809, the United States outlawed trade with Britain and Canada, eventually leading to the War of 1812. This negatively impacted Vermonters, whose livelihood depended on commerce with their Canadian neighbors.
Illicit trade between Vermont and Canada was common, and the network of caves through the narrow passageway of the notch made ideal hiding places for contraband, earning it the name Smuggler's Notch. In later years, Smuggler's Notch hid fugitive slaves en route to freedom in Canada and illicit liquor during Prohibition.
Best Hikes in Vermont: Central Vermont
As with the rest of the state, the Green Mountains are the dominant feature of central Vermont, with multiple smaller, parallel ranges descending on either side toward the Champlain Valley in the west and the foothills and Connecticut River valley in the east.
We haven't done as much hiking in this region, but these are our favorites so far!
Camel's Hump (West Side) in Huntington, Vermont
Distance: 5.3-mile loop | Elevation Gain: 2,230 feet | Difficulty: Difficult | Trail Guide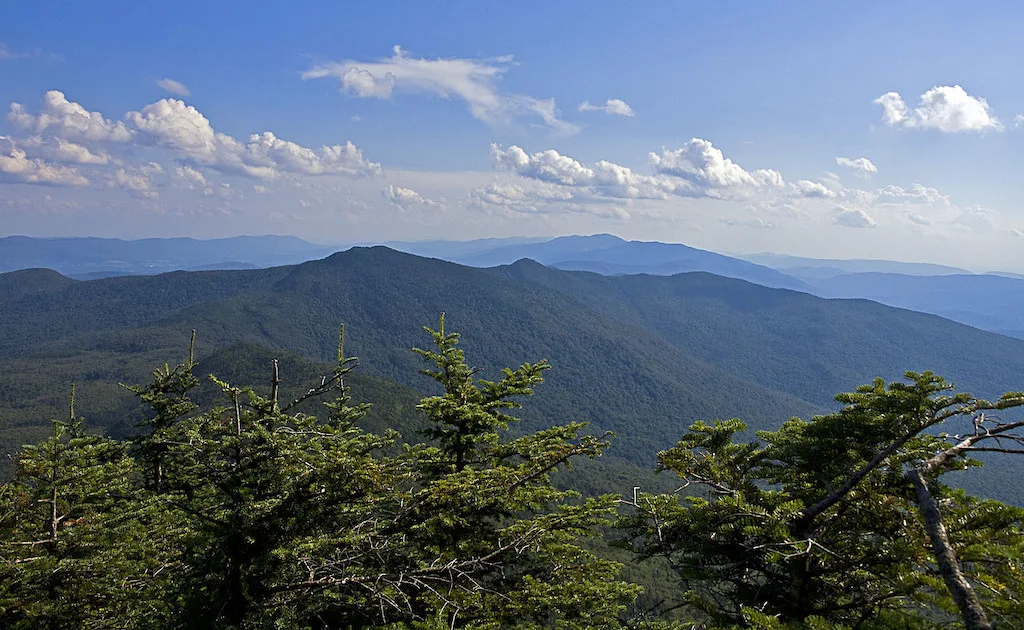 As far as mountain hikes go, it's hard to beat Camel's Hump, an isolated peak with an iconic shape (and name) and a craggy, windswept summit.
Camel's Hump also has the honor of being the destination of my very first hike, more than 25 years ago. For anyone who has hiked this challenging peak, you know that it's not an ideal first hike. I'm happy to say that I survived, and have been exploring the mountains of Vermont ever since.
While Camel's Hump is the only undeveloped 4,000-footer in the state, the summit is crowded with hikers on most nice days.
There are a few different ways to tackle Camel's Hump, but my favorite is the short, steep ascent on Burrows Trail to the summit, followed by a scrambly descent on the Long Trail, followed by a more gentle grade on Forest City Trail.
Wherever you go, step only on bare rock to preserve these delicate patches of vegetation that make up the rare alpine tundra on the summit.
Mount Zion Major and Minor in Taconic Mountains Ramble State Park, Vermont
Distance: 1.8-mile loop | Elevation Gain: 326 feet | Difficulty: Easy/Moderate | Trail Guide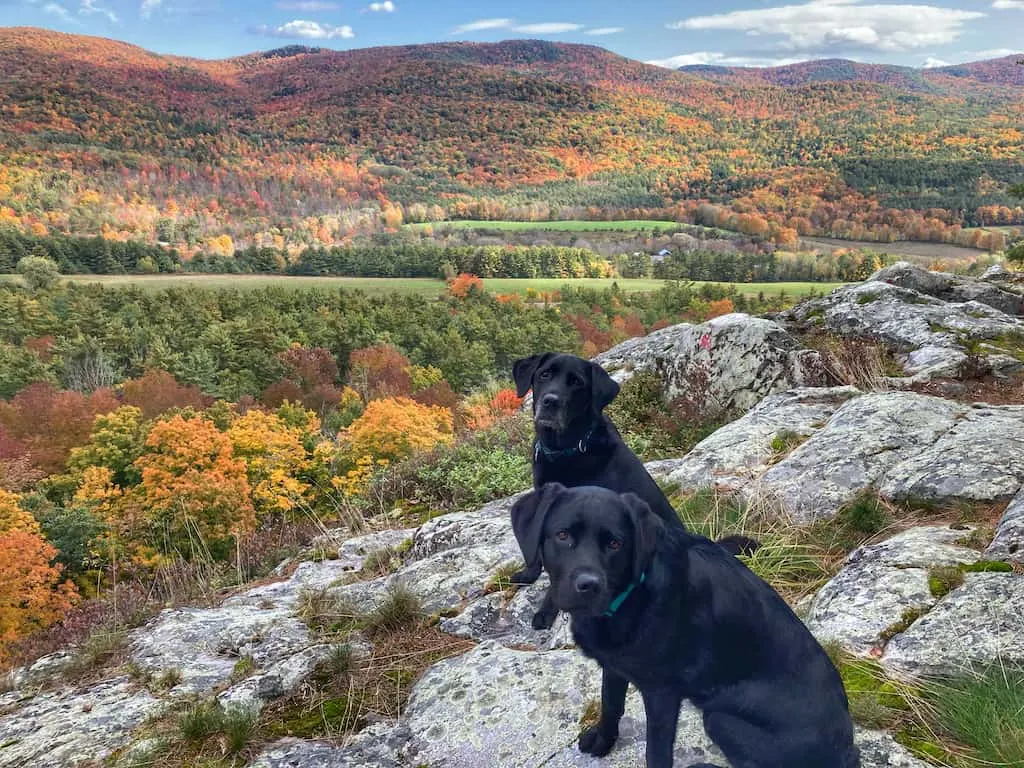 Explore varied terrain that includes a Japanese garden, massive boulders, dark forests, and far-reaching mountain views at Taconic Mountains Ramble State Park.
There are lots of beautiful trails that crisscross the 204 acres of fields, forests, gorges, cliffs, and gardens, and you could spend a full day exploring them all.
For a 1.8-mile lollipop loop with fantastic views, start in the Japanese garden, then head into the woods and turn left to follow the trail to Moot Point and to Mount Zion Minor. After soaking up the gorgeous mountain views (fall foliage is spectacular here), retrace your steps and then hike the trail to Mount Zion Major (1,220 feet).
There is a lovely picnic spot at the top of Mount Zion Major and views stretching all the way to New York's Adirondacks.
Mount Tom and the Pogue in Woodstock, Vermont
Distance: 5.5-mile loop | Elevation Gain: 700 feet | Difficulty: Easy/Moderate | Trail Guide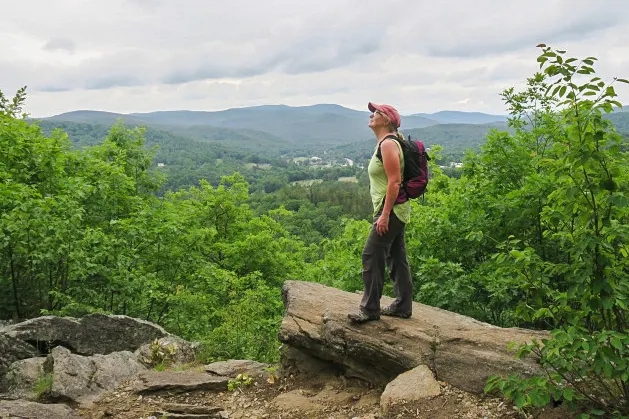 It's a short walk from the center of Woodstock Village to the network of trails within Marsh-Billings-Rockefeller National Historical Park. Meander north along Elm Street or park your car at Billings Farm & Museum before delving deep into a forest that is as historic as the town itself and no less beautiful.
Not only is Marsh-Billings-Rockefeller National Historical Park the only national park unit in Vermont, but according to the National Park Service, it's "the only national park to tell the story of conservation history and the evolving nature of land stewardship in America."
This elaborate historic carriage road system was constructed by Frederick Billings in the 1870s. A gentle climb on these carriage roads brings you through a diverse forest, around a lovely man-made pond, and to the top of Mount Tom's South Peak (1,250 feet).
Read our detailed trail guide for Mount Tom and the Pogue, one of the loveliest mountain hikes in Vermont.
Bucklin Trail to Killington Peak, Mendon, Vermont
Distance: 7.4 miles round-trip Elevation Gain: 2,335 feet | Difficulty: Strenuous | Trail Guide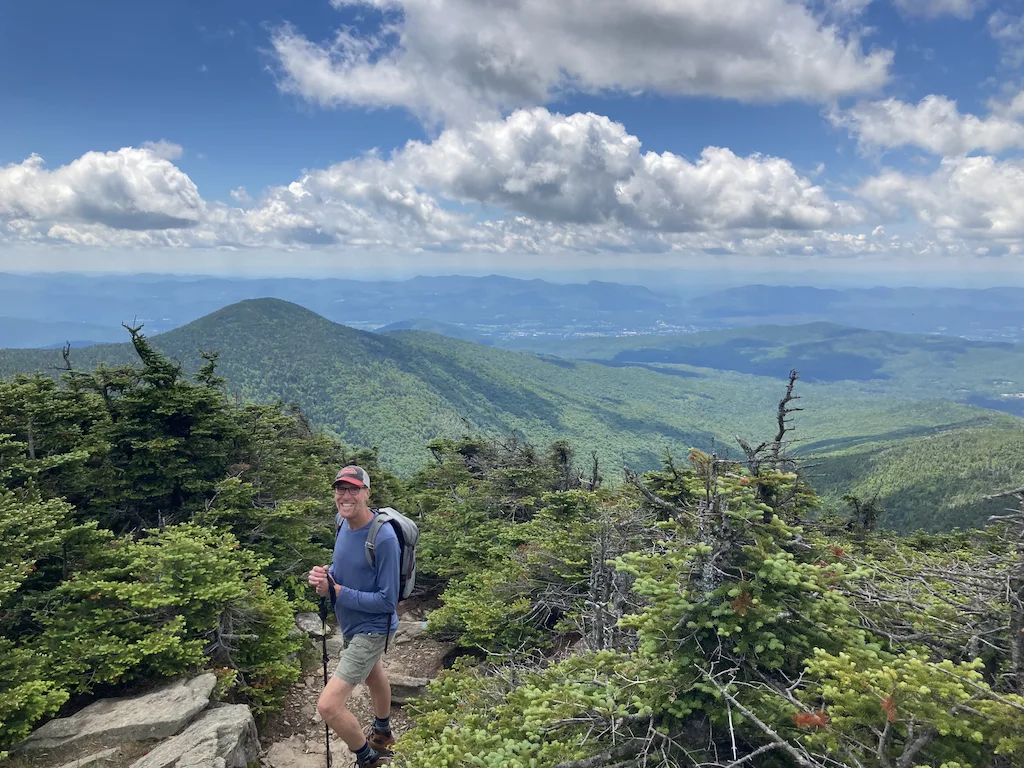 Bucklin Trail in Calvin Coolidge State Forest climbs the west face of Killington Peak (4,235 feet), the second-highest mountain in Vermont.
While much of Killington is developed as part of Killington Resort, the peak itself provides a 360-degree vista of the Green Mountains, as well as the Adirondack Mountains in New York and the White Mountains in New Hampshire.
This challenging route brings hikers through a range of forest ecosystems, including subalpine krummholz, which means crooked wood in German. The balsam fir and black spruce near the peak of Killington face such extreme temperatures, high winds, and snowfall that they never reach their full size and are often misshapen.
You may be disconcerted to see tourists in flip-flops enjoying the scenery at the end of your climb, but the beautifully forested and serene route to get there more than makes up for it. And when Peak Lodge is open for business, you can pop in for a beer with a view before hiking back down to your car.
Bucklin Trail is one of the best hikes in Vermont, but there are plenty more trails to discover in the Killington area.
Best Hikes in Vermont: Southern Vermont
This is my home turf, and while I hike here more often than in other regions of Vermont, I tend to hike the same trails over and over again, especially my favorites.
Southern Vermont is defined by two distinct mountain ranges, a long and narrow valley, high plateaus, low foothills, and the floodplains of the Connecticut River as it widens on its way to Long Island Sound.
While just 40 miles wide, southern Vermont's diverse landscape offers day-hiking opportunities that travel past abandoned relics created by European settlers, through working farms and forests, and into natural communities that are rare in Vermont.
Gettysburg Quarry in Dorset, Vermont
Distance: 2.5-mile loop | Elevation Gain: 358 feet | Difficulty: Moderate | Trail Guide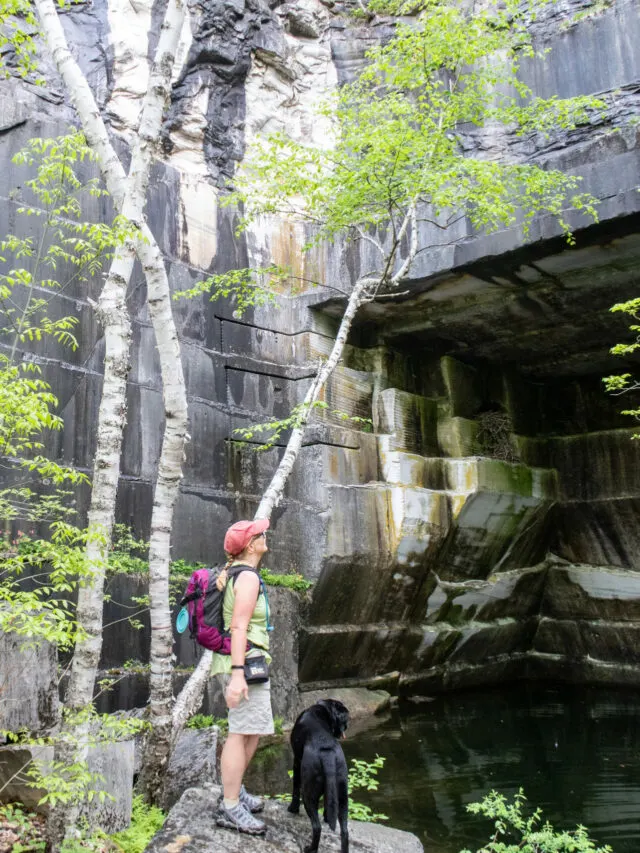 Looking for a fun hike that isn't too difficult and includes rare natural communities along with incredible geological and human history? The Gettysburg Quarry hike in Dorset is a 2.5-mile loop that is perfect for families, history buffs, and nature lovers!
The hike to Gettysburg Quarry is a moderate route through a beautiful hardwood forest that leads to an abandoned marble quarry. Marble has been quarried in Dorset since 1785, and the Gettysburg Quarry was in operation from 1866 until 1897.
This 2.5-mile loop is easy enough for kids and dogs and includes a nice viewpoint to the southwest.
More adventurous hikers can continue onward to Owl's Head (2,474 feet) on a steep trail that isn't suitable for most children. This will double the length of the hike, but give you several more vantage points with pretty views of the mountains.
Lye Brook Falls in Manchester, Vermont
Distance: 4.4 miles round-trip | Elevation Gain: 740 feet | Difficulty: Moderate | Trail Guide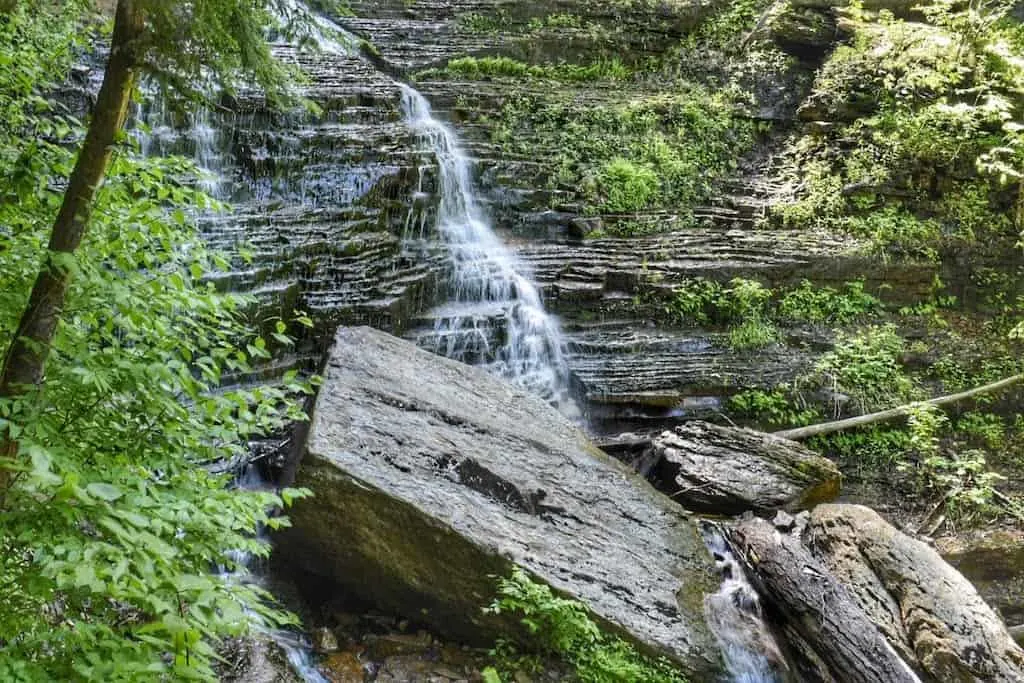 Looking for a relatively easy hike to one of southern Vermont's most lovely waterfalls? The hike to Lye Brook Falls in Manchester, Vermont is a moderate 4.4-mile woodland walk that is easy enough for families with outdoor-loving kids.
This hike is perfect for summer because the trail is shaded the whole time, and it's one of our favorite hikes to bring guests who come to visit us in Bennington. Here's an overview of this beautiful trail in the expansive Green Mountain National Forest.
At 125 feet tall, this is the closest big waterfall to our home in Bennington, Vermont, made up of several tiers of cascades and horsetails.
There's no room for swimming at Lye Brook Falls, but not far from where you parked your car is Benson Hole, which is a great spot to cool off. It's one of our favorite things to do in Manchester, Vermont.
Windsor Trail to the Summit of Mount Ascutney in Windsor, Vermont
Distance: 5.2 miles round-trip | Elevation Gain: 2,450 feet | Difficulty: Strenuous | Trail Guide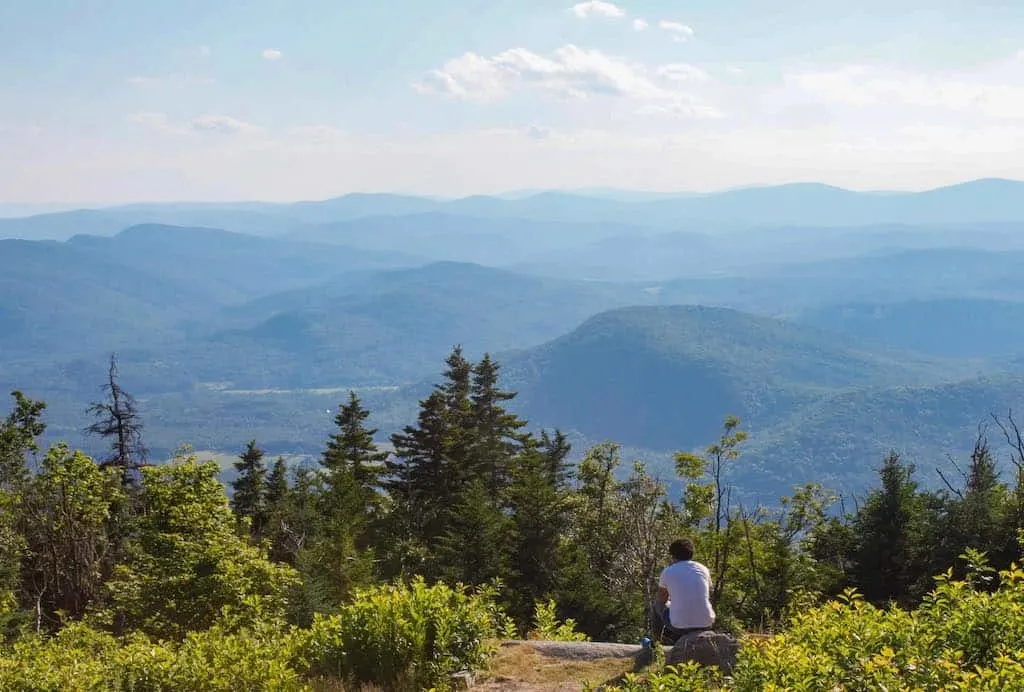 Gorgeous mountain vistas, unique hiking trails, and a beautiful family-friendly campground – Mount Ascutney State Park is a playground for nature lovers, history buffs, and outdoor adventurers.
Windsor Trail is 2.7 miles (one-way) to the summit of Mount Ascutney, making it the shortest of the four trails to the summit. The trailhead is located on Route 44A in Windsor, not far from the trailhead for the Brownsville Trail. It ascends the mountain on the northeast side, climbing steadily.
You could easily turn this hike into a loop by trekking up Windsor and down Brownsville, and then walking back to your car on Route 44. Highlights of Windsor trail include Gerry's Falls, a small, but pretty waterfall, Castle Rock (great views), and Brownsville Rock (more great views).
If you find yourself without energy for a big trek, you can drive to the top of Mount Ascutney in Mount Ascutney State Park. Same views, zero exertion.
Mount Olga in Marlboro, Vermont
Distance: 1.8-mile loop | Elevation Gain: 520 feet | Difficulty: Easy/Moderate | Trail Guide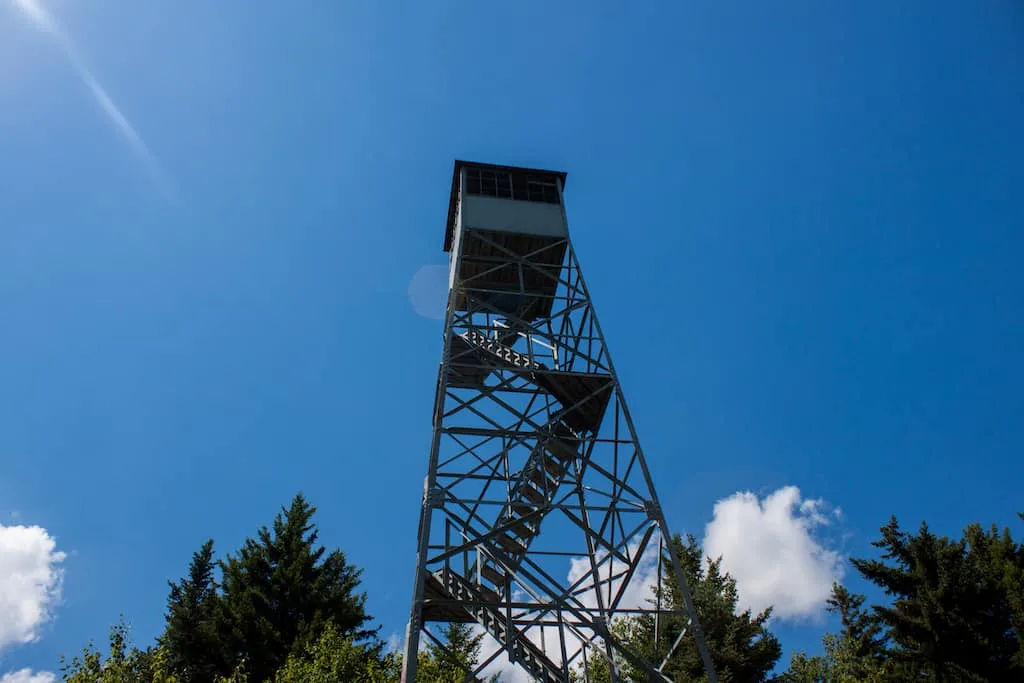 Mount Olga (2,418 feet) has all the attractive features of a big mountain—including a variety of hiking terrains and terrific views—in a small package, making it an excellent destination for families or those with limited time.
The fire tower on top of Mount Olga (closed for renovations in 2023) offers spectacular views of the southern Green Mountains, and Molly Stark State Park is a great park for low-key camping.
The trail begins across from the visitor center in Molly Stark State Park (fee required) and climbs steadily through a varied forest before popping out on a grassy, treed summit. A gradual descent brings hikers into the campground.
Hikers will find plenty of dining, shopping, and lodging in nearby Wilmington, which is one of our favorite small towns in Vermont.
Hiking in Vermont: Things to Know
Here are a few helpful tips for hiking in Vermont to help you plan your adventures:
Pre-order my book: Shameless self-promotion, I know, but the 3rd edition of AMC's Best Day Hikes in Vermont will be out in May of 2023. Many of the trails listed here are featured, along with many other hikes throughout the state. The trail descriptions feature turn-by-turn instructions as well as useful natural and historical information about the area.

Bring the 10 essentials: To hike safely, there are 10 essentials that you should stow away in your day pack. I keep my bag packed and ready so that on hiking day, I just have to throw in my camera and some snacks.

Wear the right clothing: In addition to the 10 essentials, here's a post detailing some of the gear and clothing I love for hiking in Vermont.

Download your map on your GPS app: If you get the pro version of either AllTrails or Gaia GPS, you can download your trail map before your hike so that if you lose service, you can still stay on track. I use both of these apps. I like the social aspect of AllTrails, but find Gaia to be more accurate when recording tracks. Both are around $30 for a full year — well worth the cost in my opinion.

Stay off the trails during mud season: Mud Season usually begins in late March or early April and finishes in early June. Hiking during mud season damages the trails, so please refrain from hiking, especially in higher elevations during this time. We've got a few suggestions for things to do during mud season while you're waiting.

Tell someone where you're going: I did a lot of solo hiking this year, so I made a habit of texting my husband from the trailhead before and after my hike each day. I hope the habit sticks!

Plan for unpredictable weather: This goes along with the 10 essentials, but be sure to pack an extra pair of socks and some layers, as the weather in the mountains can change quickly, and warm temperatures at lower elevations are not indicative of what you'll experience at the summit.
Follow us on social media for more Vermont inspiration!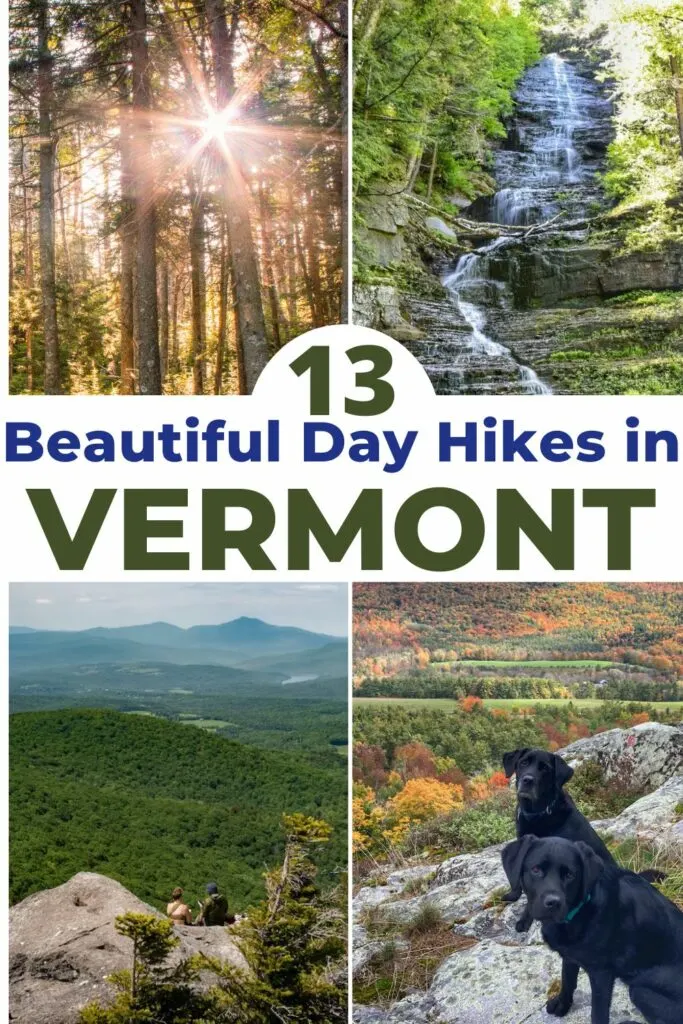 Tara Schatz is a freelance writer, and the founder and editor-in-chief of Vermont Explored and Back Road Ramblers, an American road trip blog. She is also the co-author of the 3rd edition of AMC's Best Day Hikes in Vermont, which was released in May 2023, and the author of 100+ Wonderful Ways to Experience Vermont.