A gentle climb through a diverse forest leads hikers around a picturesque pond and up to Mount Tom's South Peak with gorgeous views of Woodstock Village and the Green Mountains.
It's a short walk from the center of Woodstock Village to the network of trails within Marsh-Billings-Rockefeller National Historical Park. Meander north along Elm Street or park your car at Billings Farm & Museum before delving deep into a forest that is as historic as the town itself and no less beautiful.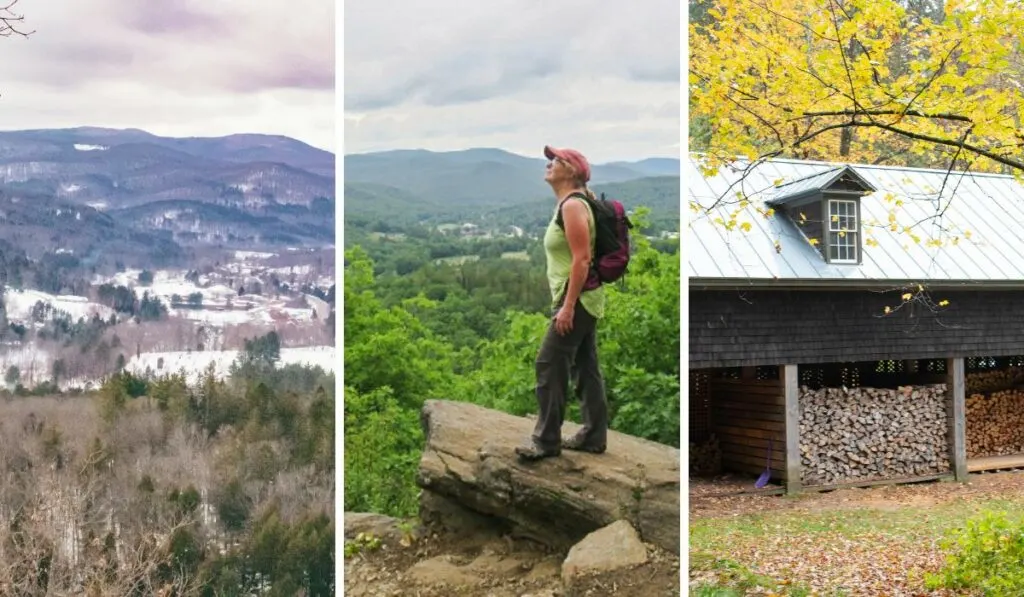 Not only is Marsh-Billings-Rockefeller National Historical Park the only national park unit in Vermont, but according to the National Park Service, it's "the only national park to tell the story of conservation history and the evolving nature of land stewardship in America."
This beautiful forest has been actively managed for wood products, recreation, aesthetics, education, and conservation for over a century.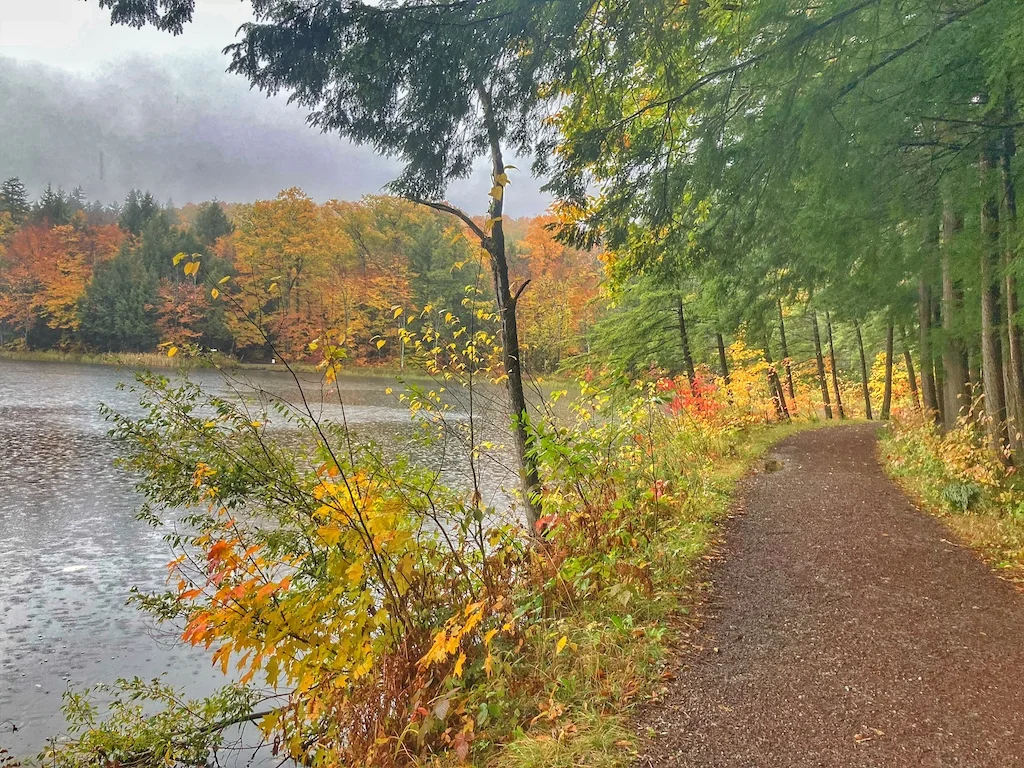 No matter what season you choose to visit Woodstock, we urge you to take time to explore a portion of the 20+ miles of carriage roads and trails that crisscross Mount Tom.
In the winter, the carriage roads and trails are groomed for cross-country skiing by Woodstock Inn & Resort. Winter walkers can walk the route described here for free, but the other ski/snowshoe trails require a trail pass.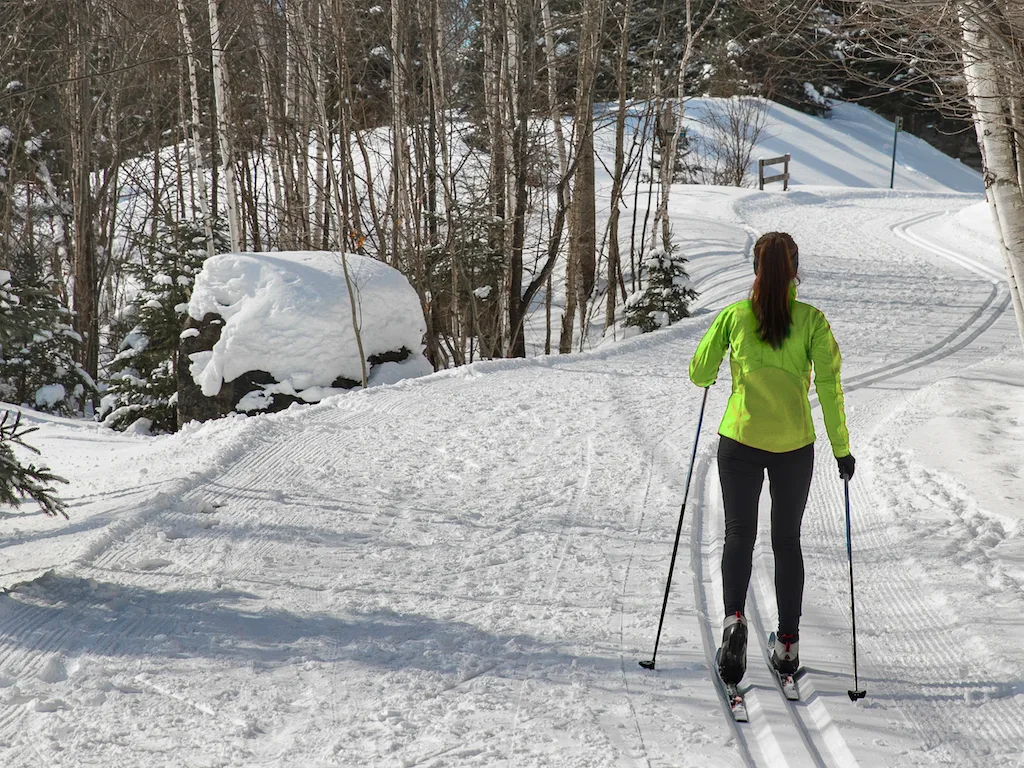 This elaborate historic carriage road system was constructed by Frederick Billings in the 1870s. The carriage roads were part of an estate plan designed by scientific farmer and landscape planner Robert Morris Copeland in 1869.
As you hike, you will pass through several stands of managed forest containing both native and introduced species. The largest specimens of Norway spruce trees in Vermont are found on the property, as well as stands of sugar maple, eastern hemlock, European larch, white pine, red pine, and red oak.
A gentle climb brings you to the top of Mount Tom's South Peak (1,250 feet). This easy loop travels on graded carriage roads, making it a rewarding hike for even the youngest children. This is one of our favorite hikes in all of Vermont.
Quick Trail Details
Length: 5.5 miles
Difficulty: Easy to moderate
Estimated time: 2.5 hours
Elevation gain: 700 feet
Dogs: Yes, on-leash
Cost: Free
Maps: USGS Woodstock North, VT; Marsh-Billings-Rockefeller National Park
Directions to the trailhead (Google Maps)
Driving Directions
From the junction of VT 4 and VT 1 in Woodstock, follow VT 12 (Elm Street) for 0.5 miles. Take a slight right onto Old River Road. Park in the Billings Farm & Museum parking lot (room for 50 cars). The entrance to Marsh-Billings-Rockefeller National Park is walking distance from the Village of Woodstock.
GPS Tracks on Gaia
Woodstock Vermont Hiking: Mount Tom and the Pogue
From the parking area at Billings Farm & Museum, carefully walk across Elm Street and enter Marsh-Billings-Rockefeller National Historical Park. The Carriage Barn Visitor Center with information and restrooms is located straight ahead.
Take an immediate right onto Mountain Road, following signs to Forest Center and Trails. The trail begins on a wide carriage road leading into a stand of Norway spruce trees that were planted in 1888.
At 0.2 mile, pass the Forest Center on the right, followed by the 1876 Wood Barn. This beautiful building houses cordwood on the lower level and an exhibit on the upper level. Take a moment to pop inside and learn details of the history of forest stewardship on Mount Tom.
Follow Mountain Road for 1.3 miles, passing numerous side trails on either side of the carriage road. As you walk, notice the range of tree species and forest stands that have been developed over a century of managed regeneration of agricultural fields. This mature forest is also home to numerous species of ferns, wildflowers, and mushrooms.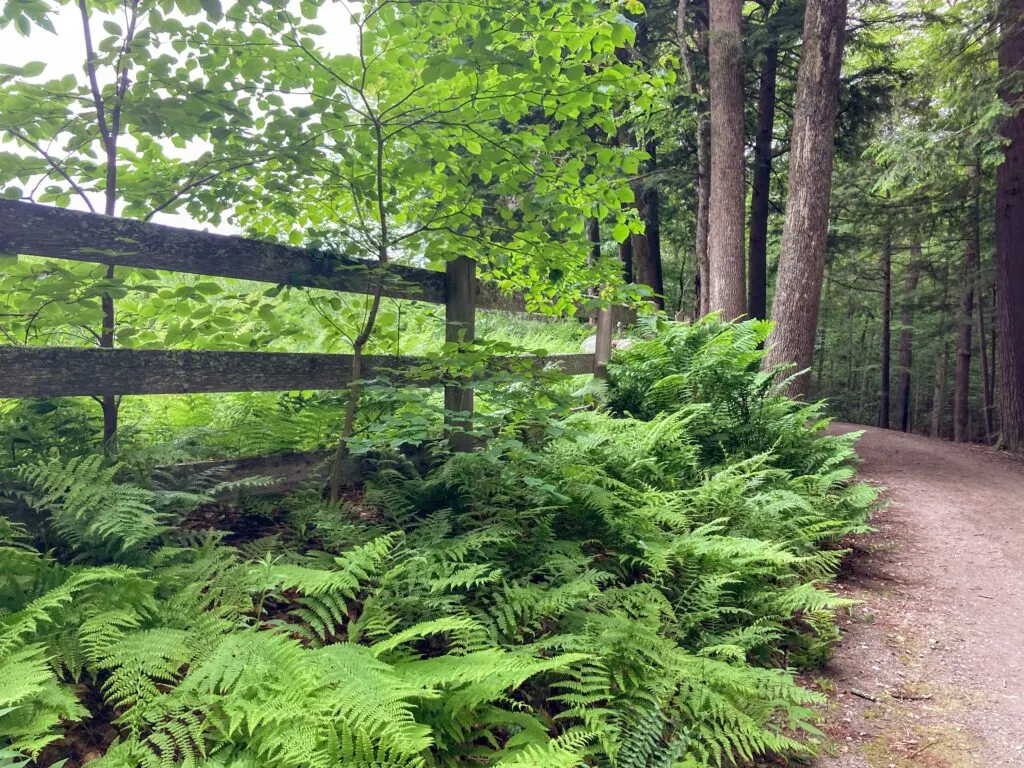 Just past the summer pasture, a trail junction marks the path to the Pogue. Follow the trail counter-clockwise around the 14-acre pond.
On a summer day, this man-made pond is dotted with yellow water lilies and lined with cat tails and blue irises. In the fall, the bright colors of the autumn foliage are reflected in the water. You may spot great blue herons fishing near the shore or hear the call of barred owls echoing through the forest.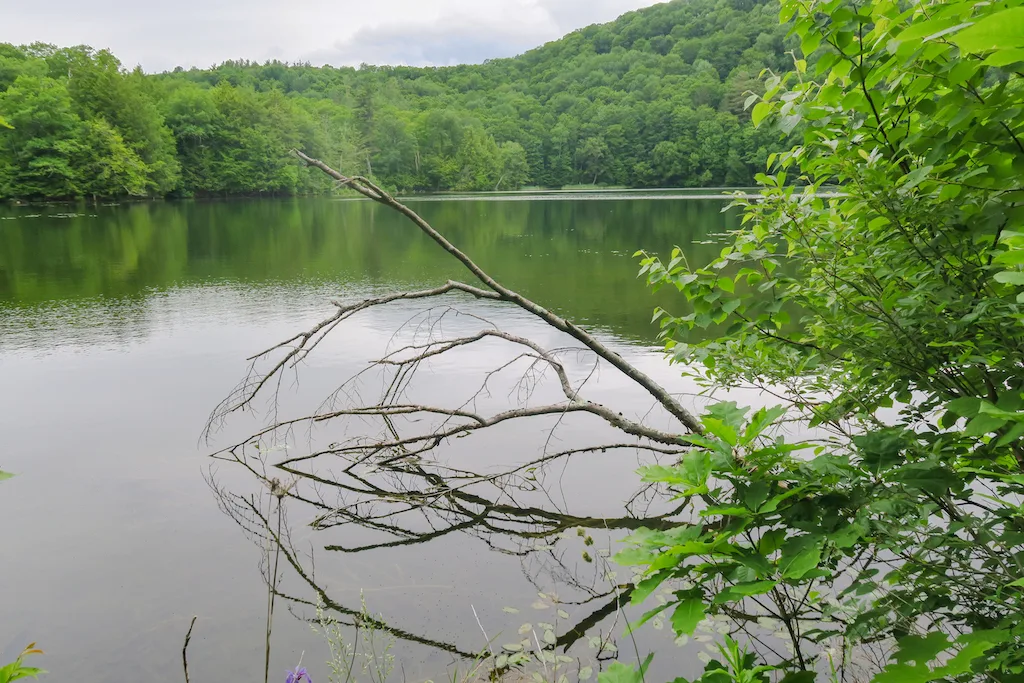 After circling the Pogue, backtrack on Mountain Road for a short distance and turn right onto Mount Tom Road. From this point, the trail begins to climb gently, passing through several beautiful meadows, a stand of European larch (planted in 1887), and a stand of white pine (planted in 1911), before leaving the national park boundary and entering Billings Park, which is owned and managed by the Town of Woodstock.
On the left, you will pass the steep Billings Trail, which leads to Mount Tom's North Peak. At 1359 feet, North Peak is about 100 feet higher than South Peak, and while the forest views provide serenity, there are no dramatic overlooks to speak of.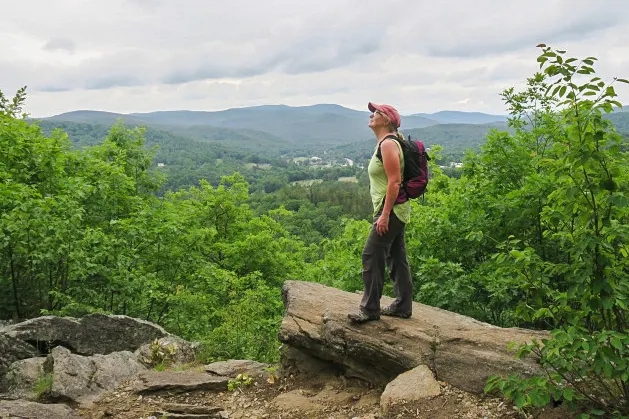 Continue walking along Mount Tom Road, and you will be rewarded at the summit of South Peak with western views of the Green Mountains and southern views of Woodstock Village and Mount Peg (another great Woodstock hiking trail).
A few strategically placed benches beckon you to relax for a spell and take in the scenery before continuing back into the woods. You'll also see the iconic Woodstock Town Star, which has been illuminated during winter nights for more than 70 years and can be seen as far away as Taftsville.
Follow the short loop around South Peak to Mount Tom Road and retrace your steps to the parking area.
Where to Next?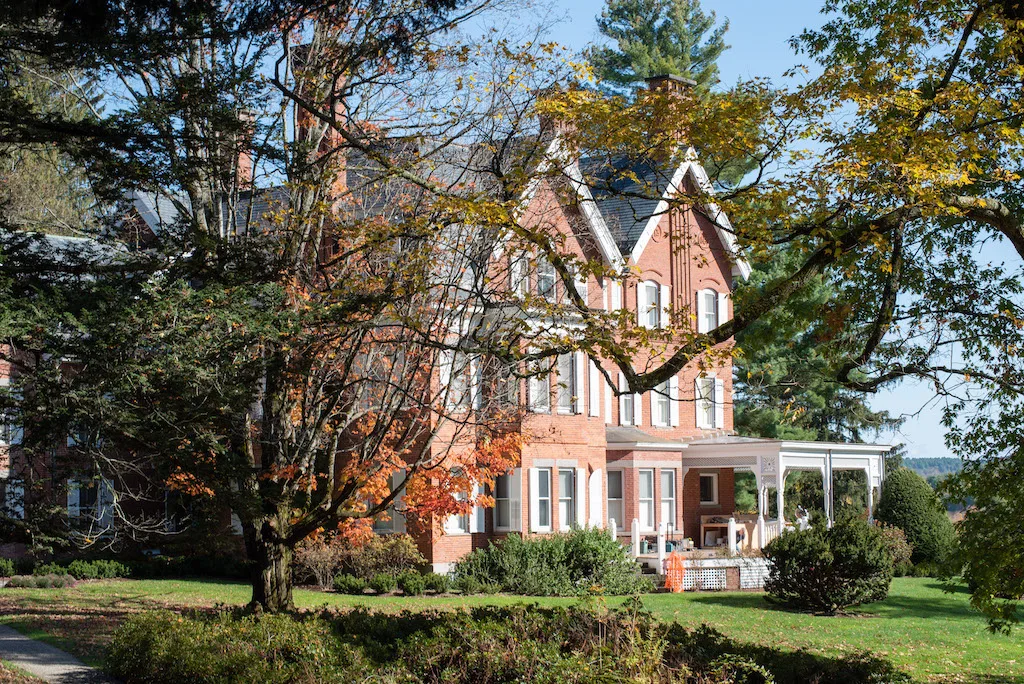 After hiking South Peak, you may want to visit the Carriage Barn Visitor Center at Marsh-Billings-Rockefeller National Historical Park. You can also explore the beautiful gardens and mansion. Guided tours of the historic mansion are offered every day for an additional fee:
$9.00 for adults, age 16-61
$5.00 seniors, age 62 and over
$1.00 for children, age 15 and under
Billings Farm & Museum is regarded as one of the finest outdoor history museums in the country. Located on 200 pastoral acres, this working dairy farm features educational exhibits, interactive programs, and lots of adorable farm animals. The Jersey cows near the parking area love attention!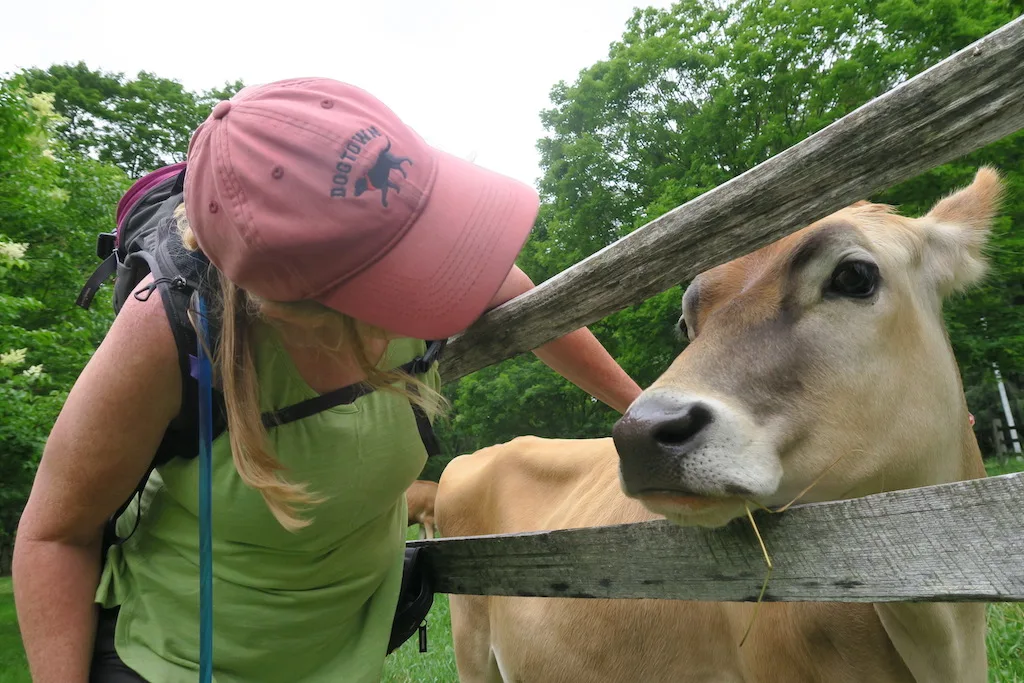 Camping is available at nearby Quechee State Park, home to the famous Quechee Gorge, and lodging, dining, and shopping are available right in Woodstock Village.
For more details on all the amazing things you can do in the area, check out our post for visiting Woodstock in the fall and how to spend a winter weekend in Woodstock.
---
Follow us on social media!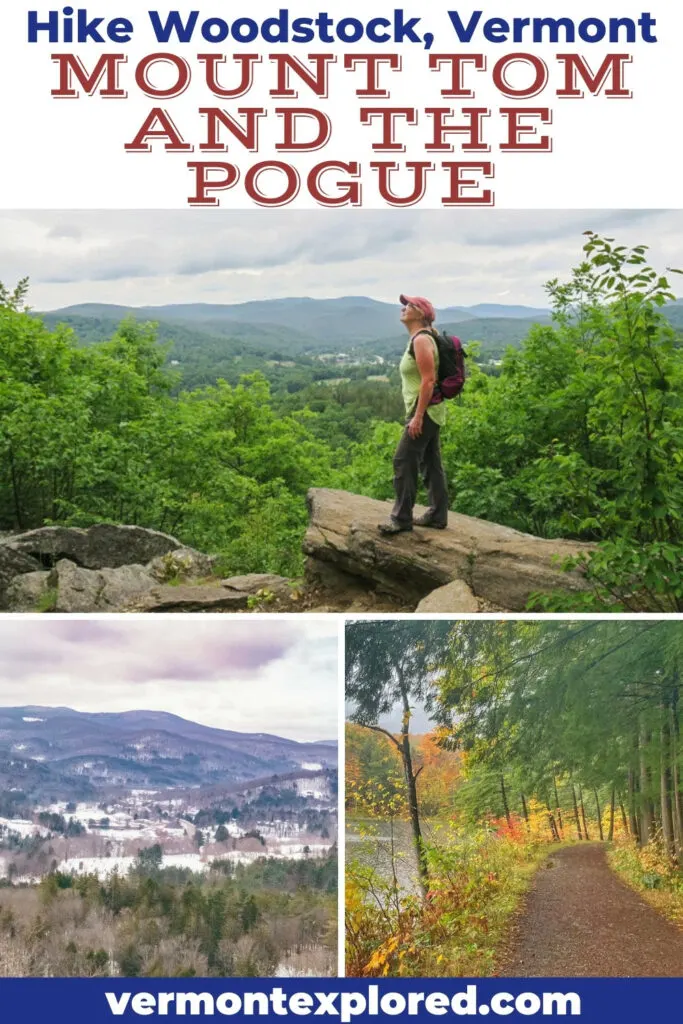 Tara Schatz is a freelance writer, and the founder and editor-in-chief of Vermont Explored and Back Road Ramblers, an American road trip blog. She is also the co-author of the 3rd edition of AMC's Best Day Hikes in Vermont, which was released in May 2023.