Vermont's newest state park is appropriately named — Taconic Mountains Ramble State Park is a unique collection of hiking trails meandering over 204 acres of fields, forests, gorges, cliffs, and gardens.
The best way to explore these beautiful paths is to pack a picnic and ramble around. Warblers, robins, thrushes, phoebes, and bobolinks will provide the soundtrack.
Located in Hubbardton, Vermont, Taconic Mountains Ramble State Park was donated to the state of Vermont in 2016, after long-time resident, Carson "Kit" Davidson passed away.
Kit and his wife, Mickie bought 450 Hubbardton acres in 1966 for $69 an acre and proceeded to create a rambling oasis of trails, as well as a peaceful Japanese garden.
From the very beginning, Kit and Mickie welcomed hikers to their land and even provided trail maps for visitors to use while exploring.
This is one of the most unique and beautiful Vermont State Parks that I've been to yet.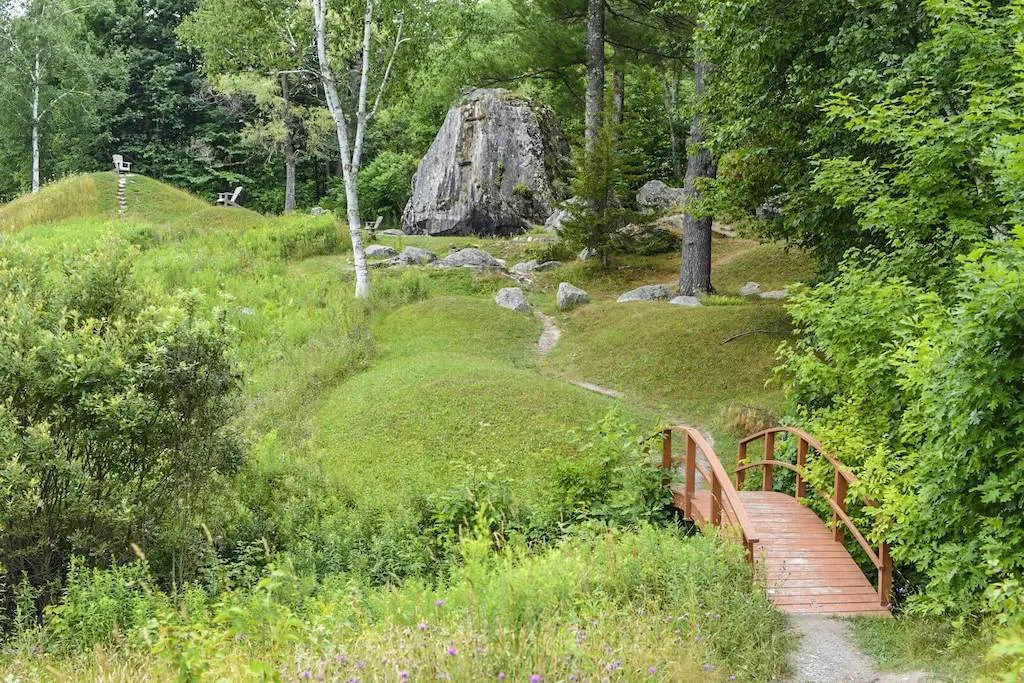 Important Details for Visiting Taconic Mountains Ramble State Park
Taconic Mountains Ramble State Park is an undeveloped park with no amenities other than a single porta-potty near the parking area. Be sure to pack in water and be prepared to carry out what you carry in.

Quick Facts: Taconic Mountains Ramble State Park
Location: 321 St. John Rd
Hubbardton, Vermont
Activities: hiking, birdwatching
Open: Year-round (in winter park beyond the gate)
Fees: Free!
Dogs: Yes, on leash
Directions via Google Maps
Official Vermont State Park website
What to Pack for Your Taconic Ramble (in the Summer)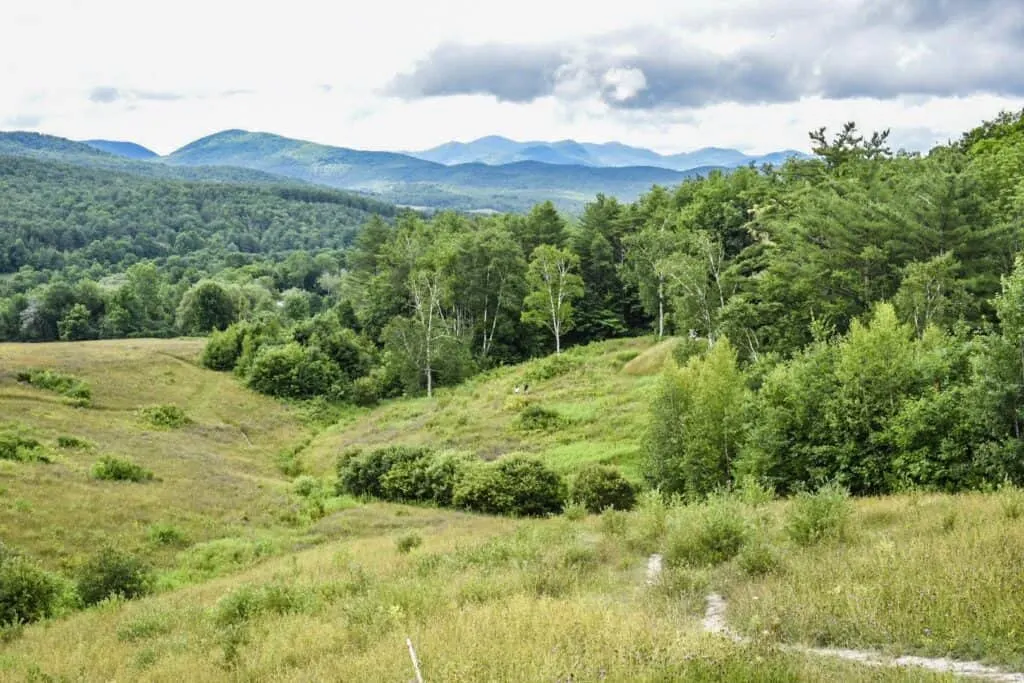 The Japanese Garden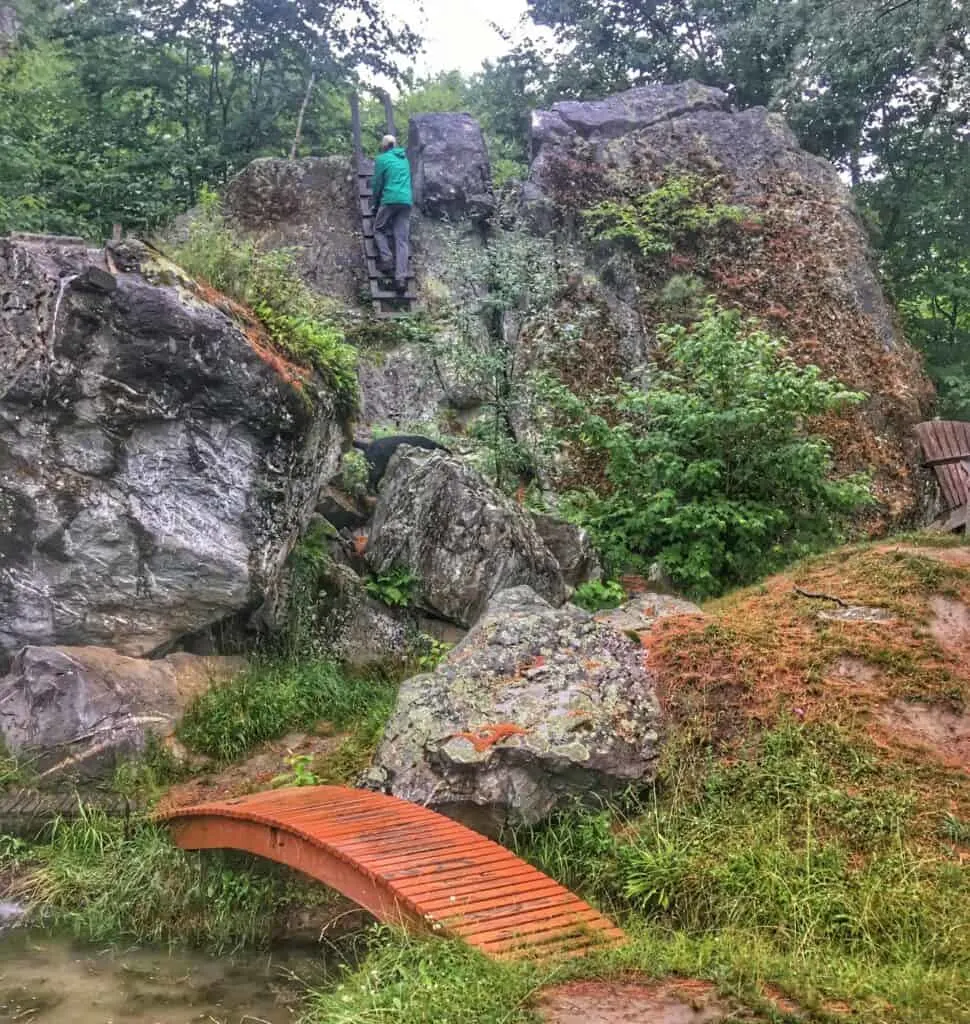 You can access the beautiful Japanese Gardens by walking down a steep hilly trail just past the private residence of the park manager. This is a favorite spot for kids, with numerous footbridges, small frog-filled pools, and giant boulders.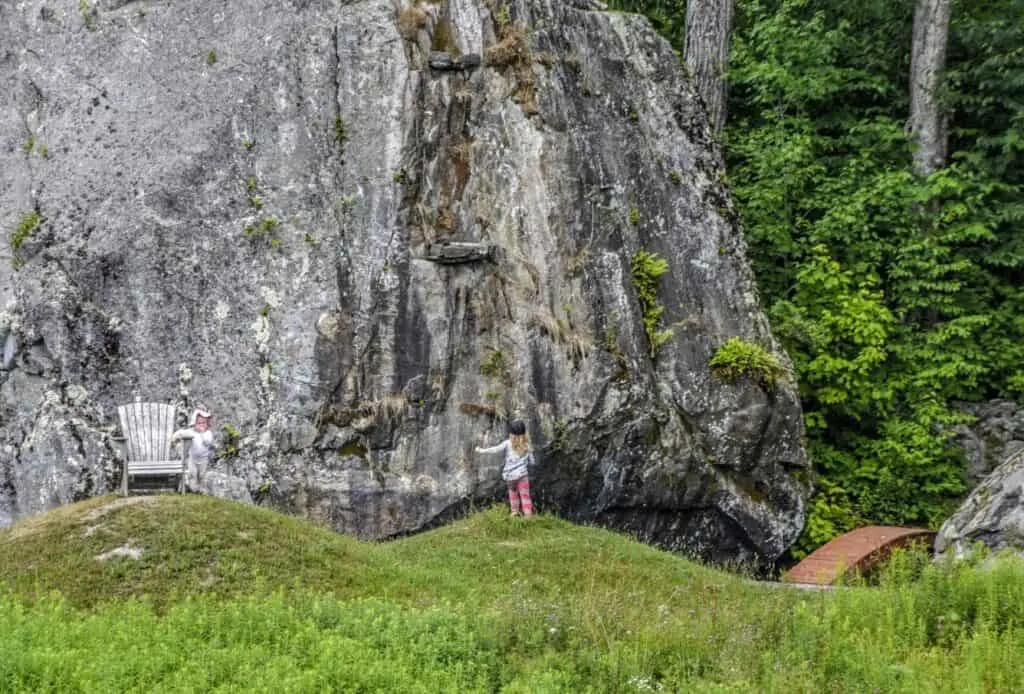 Best Hiking Trails in Taconic Mountains Ramble State Park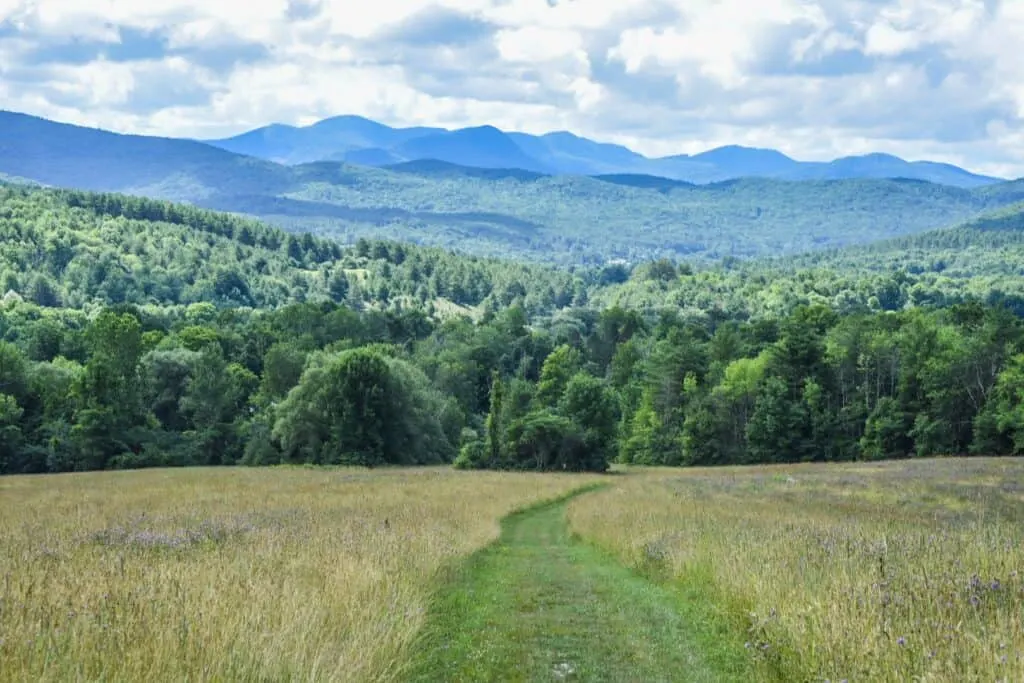 Eastern vs. Western Trails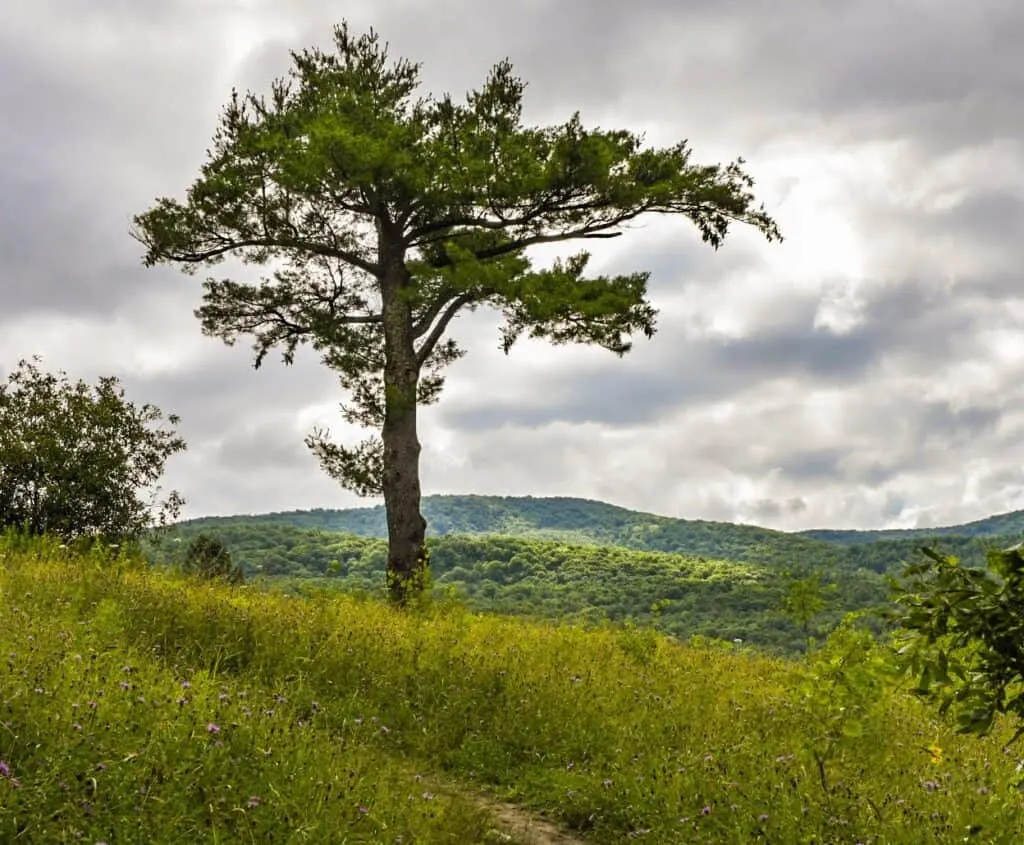 The eastern trails meander through meadows and woodlands with lots of sweeping views. They are easy, with very gradual elevation gain, and perfect for dogs and kids. The meadows are brimming with wildflowers and birds in the summer, and the waterfalls and gorge are fun to explore in the spring.
The western trails are more technical and rocky, with steep climbs along rocky paths and even some scrambling in spots. There is a lot to see here, from massive boulders to incredible views from the tops of Mount Zion Major and Minor. Not all of these trails are suitable for dogs or small children, as there are steep drops to watch out for. I don't recommend tackling Mount Zion Major or Minor if the rocks are slippery.
It's difficult to give an overview of specific trails and paths because you can combine different trails to create all sorts of loops of varying lengths.
Best Eastern Trails
North Woods Trail and Meadow Path Loop: A gentle walk through meadows, past a large white pine and a colossal elm tree, and then into the woods for an easy woodland hike back to the access road. Unfortunately, I don't have exact mileage info, but this walk took us about an hour.
Meadow Path, Falls Trail, and Woods Road Loop: Start in the Japanese Garden and head south through the meadow. Cross Monument Hill Road and enter the woods. Now you will climb up and down a bit before you come to a steep gorge with numerous pools and small waterfalls. The falls are seasonal and may be dried up in the summer, but it's still a lovely area to explore. Pop back into the meadow and continue back to the parking area. Approximate time: 2 hours.
Best Western Trails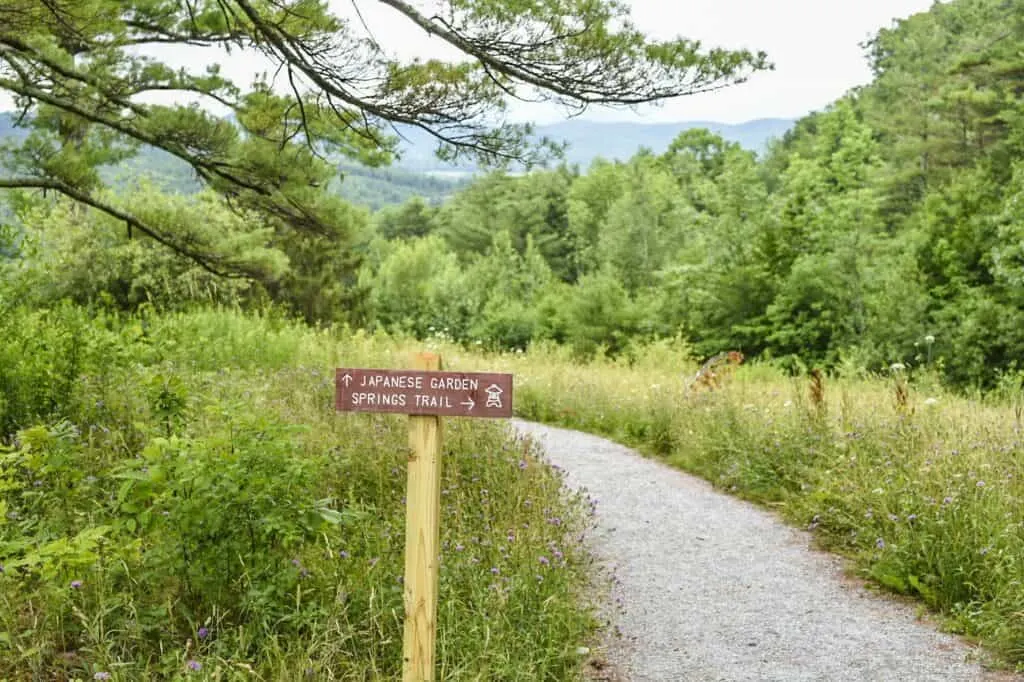 Mount Zion Major: This is a short steep trail with great views of the fields and distant mountains. Start on the Spring Trail near the home of the park manager. Cross a bridge and begin your ascent. Mount Zion Major is 1,220 feet with awesome views along the ridge. Follow the red blazes as the trail descends steeply back into the forest. The total hiking time is about an hour.
Mount Zion Minor and Moot Point: Another steep climb with fabulous views. Start in the Japanese Garden and take the red-blazed Garden Trail and take a sharp left toward Moot Point. A short, steep ascent will bring you to the ridge of Mount Zion Minor with awesome views to the east. Next, follow the ridge and follow the Moot Point Trail which follows a mossy ledge and ascends to another ridge called Moot Point, which provides views of the mountains and valleys on both sides. Return to the red-blazed trail and descend back into the woods where you can return to the parking area on the red-blazed Spring Trail.
The best part about Taconic Mountains Ramble State Park is the varied terrain and wide-open views! It is a quiet park that is well-named, as rambling is definitely the best way to explore.
Whether you're looking for quiet reflection or an exhilarating climb, you're sure to find it at Vermont's newest state park. Visit Vermont State Parks to read more about Taconic Mountains Ramble State
---
Read Next: The Best and Most Beautiful Hikes in Vermont
---
Where to Stay Near Hubbardton, Vermont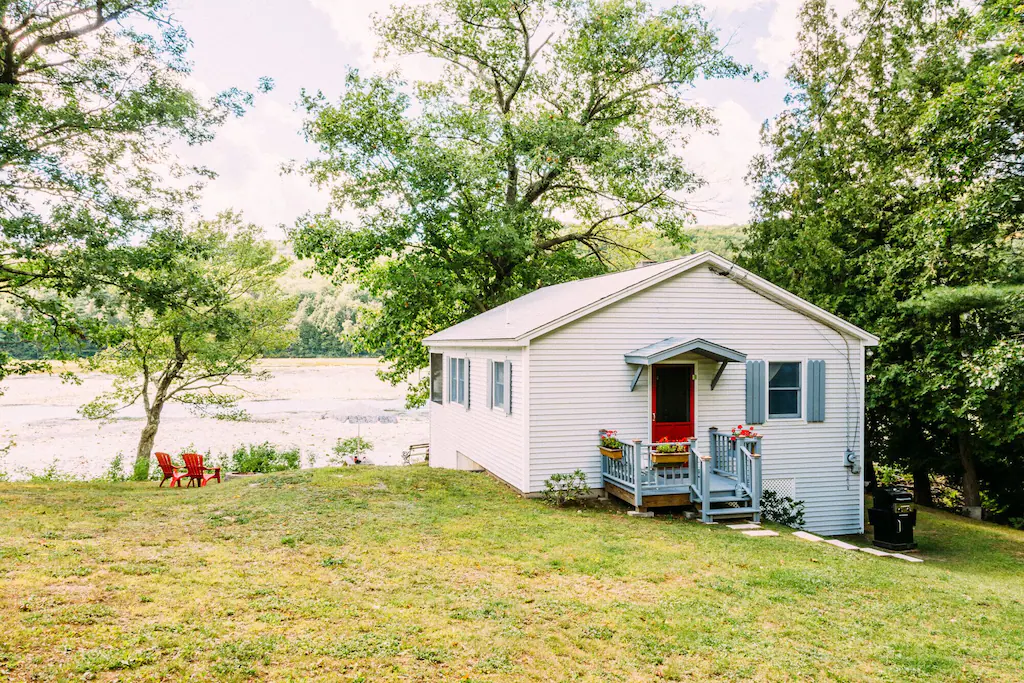 There is a lot to see in this part of Vermont, so we'd recommend making a weekend out of it! You can pitch your tent or park your RV at Bomoseen State Park or at Half Moon Pond State Park.
Camping not your thing? No worries! You can have a lakeside vacation on the shores of Lake Bomoseen at Lake Bomoseen Lodge. This waterfront property is convenient to Taconic Mountains Ramble State Park as well as to Rutland (check out the murals!). Every room has a balcony and there's an outdoor swimming pool.
Finally, if you are traveling with a family or a larger group, there are some really nice vacation rentals in the area on VRBO. Here are a few of our favorites –
Two-bedroom cottage on Lake Bomoseen – This adorable cottage is located right on the lake, and includes a full kitchen, bathroom, and a screened-in porch to relax on. Suitable for four people, and pets are welcome too!
Waterfront home for ten on Lake Bomoseen – Grab a bunch of friends or family members and head to this 2,000-square-foot home on the water. Not only is this four-bedroom pad affordable, but it comes with four kayaks and a paddleboard so that you can explore the lake to its fullest!
Tara Schatz is a freelance writer, and the founder and editor-in-chief of Vermont Explored and Back Road Ramblers, an American road trip blog. She is also the co-author of the 3rd edition of AMC's Best Day Hikes in Vermont, which was released in May 2023.