Looking for a Vermont destination with a walkable downtown, great restaurants, intriguing shops, and lots of outdoor recreation?
Not only does Bennington VT cover all of these bases, but it's incredibly easy to get to from metropolitan areas in the Northeast.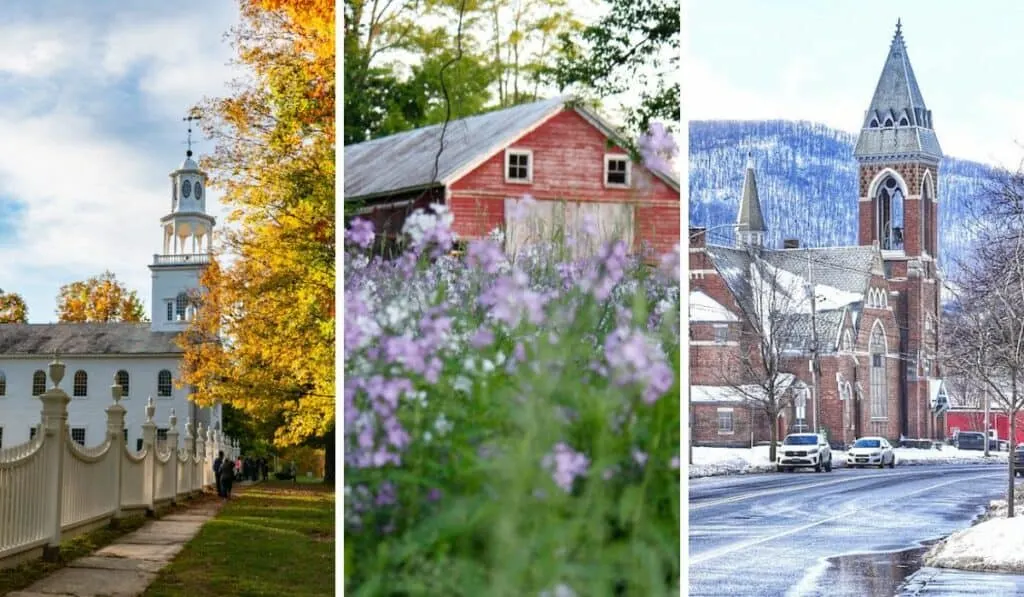 Located just three and a half hours from New York City, three hours from Boston, and an hour from Albany, Bennington is the gateway to Vermont, and well worth a visit no matter where you're coming from.
I may be biased, but I think Bennington is one of the loveliest places to visit in all of Vermont.
Of course, beautiful places in Vermont aren't hard to come by, and the natural beauty in and around Bennington is what made me fall in love with it two decades ago. No matter how much I love a good road trip, I can't imagine calling any other place home!
Whether you're looking for a girlfriend getaway, a romantic weekend for two, or a family vacation, there are so many things to do in Bennington VT. Spend a weekend taking in the sites around Bennington, or make it your home base while you explore the nearby attractions and towns.
Here's an overview of the best things to do in Bennington VT for your next getaway, as well as our top choices for lodging and dining in Bennington.
The Best Things to Do in Bennington, Vermont
With just over 14,000 people, Bennington VT is a small town bookended by two mountain ranges, the Taconics and the Greens. By Vermont standards, Bennington is actually a big town — the sixth largest in the state. Bennington is the county seat and a hub of activity in Southwestern Vermont.
If you love the outdoors, you'll fall in love with Bennington, where you can hike, paddle, fish, and mountain bike without leaving town. If you'd rather spend your days browsing shops, sipping craft beers, and learning about New England history, Bennington is the ideal spot for your next weekend trip.
Take a Self-Guided Walking Tour of Old Bennington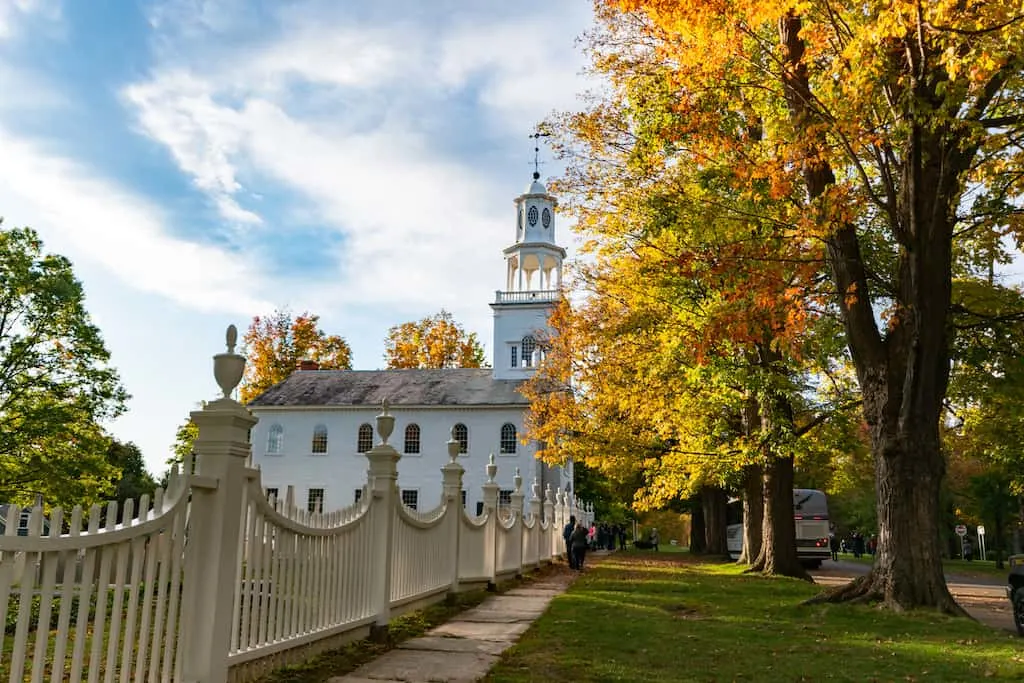 While located entirely in the town of Bennington, a visit to Old Bennington is a bit like stepping back in time. This historic village is home to fewer than 200 people, along with beautiful historic buildings, and a colorful past.
Whether you've lived in the area for years or are visiting for the first time, there's a lot to discover on an Old Bennington walking tour.
The oldest home on the tour is the Jedidiah Dewey House, built in 1763. The homes on the tour are all private residences, but it's fun to meander past them as you tour Monument Avenue.
The Old First Church (pictured above) was built in 1805 and is one of the most beautiful and recognizable churches in Vermont.
Download a walking tour brochure to get started on your journey.
---
Also Read: Plan a Perfect Winter Weekend in Bennington and Manchester, Vermont
---
Eat Breakfast at a Historic Diner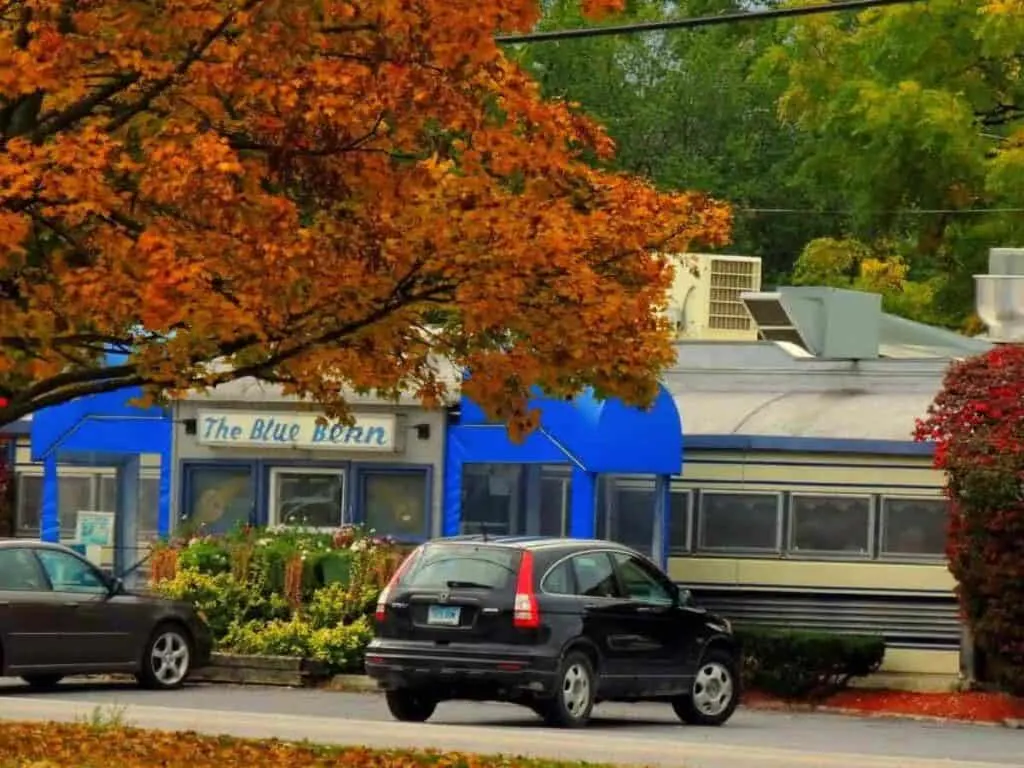 Bennington VT is home to some fantastic eateries, but one of the most unique is the historic Blue Benn Diner on North Street.
The Blue Benn was manufactured in the late 1940s by The Paterson Vehicle Co. and shipped and assembled here in Bennington in 1948. The diner was owned by Sonny and Marlou Monroe for many decades starting in 1973, and just recently came under new ownership.
Blue Benn serves up classic diner fare along with a few eclectic choices. There are still jukeboxes on every table and plenty of room for you to rub elbows with the locals at the bar.
The Blue Benn is open from Tuesday to Sunday, from 6 am – 2 pm.
Tour Bennington's Beautiful Covered Bridges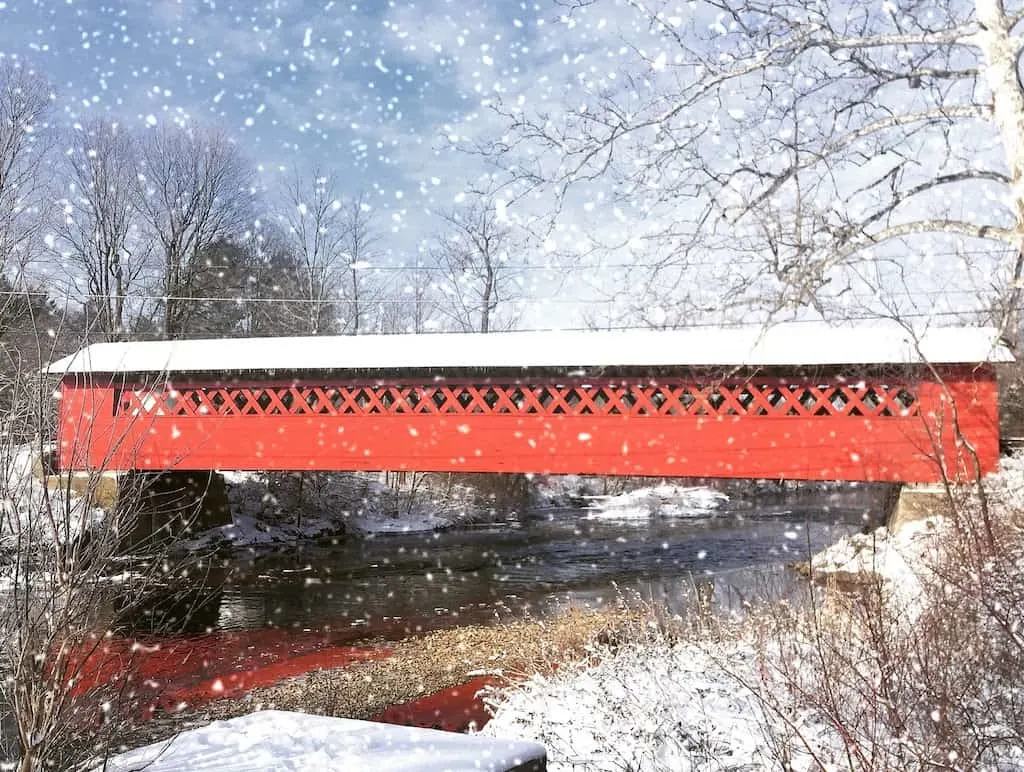 Bennington County is fortunate enough to have five historic covered bridges, and they can all be explored in a single afternoon.
These beautiful feats of engineering offer a one-of-a-kind look into a bygone age — a time when ingenious craftsmanship was used to create structures that embodied simple beauty and embraced the natural landscape.
A covered bridge road trip is the perfect way to spend your afternoon. If you do this trip in the summer, you'll find great swimming under both Arlington bridges, but fall and winter are beautiful too.
Start by visiting the three covered bridges in Bennington and then drive north to Arlington to see the other two:
Silk Road Covered Bridge
Paper Mill Covered Bridge
Burt Henry Covered Bridge
Chiselville Covered Bridge
Arlington Green Covered Bridge
For a complete guide to discovering the covered bridges in Bennington County, read this next:
Go Antiquing in Bennington VT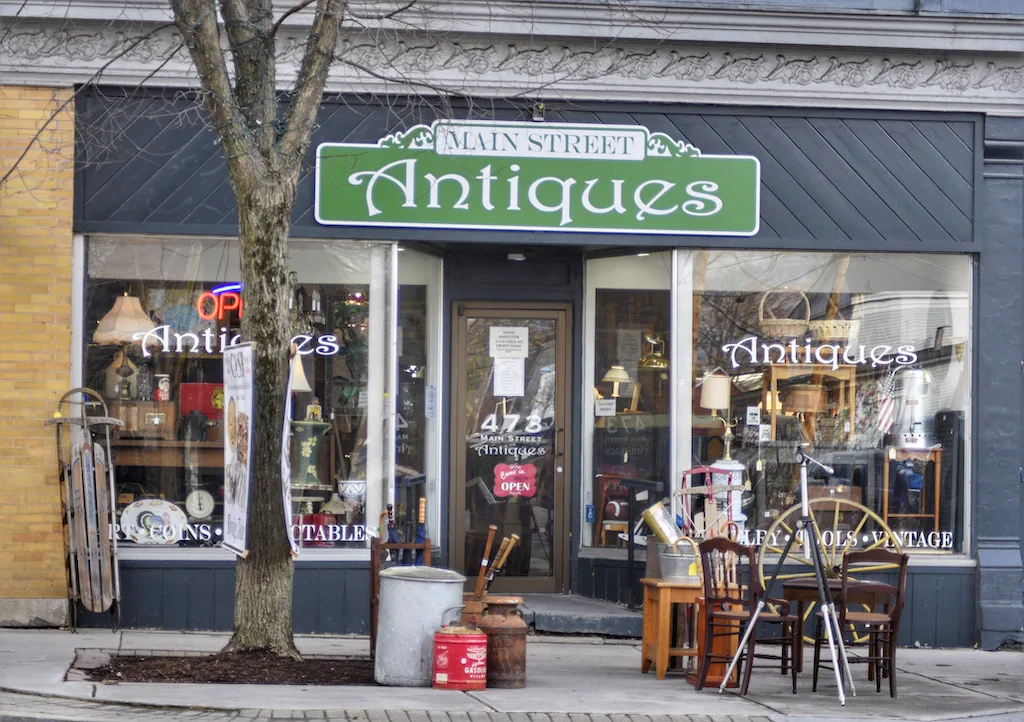 The Bennington area is home to several wonderful antique stores, and two are located right on Main Street making it easy to walk between them as you search for the one-of-a-kind prize you never knew you needed.
If you're a fan of antiquing, then Bennington is bound to entice your inner treasure hunter. Check out the following shops:
Discover Vermont History and Art at the Bennington Museum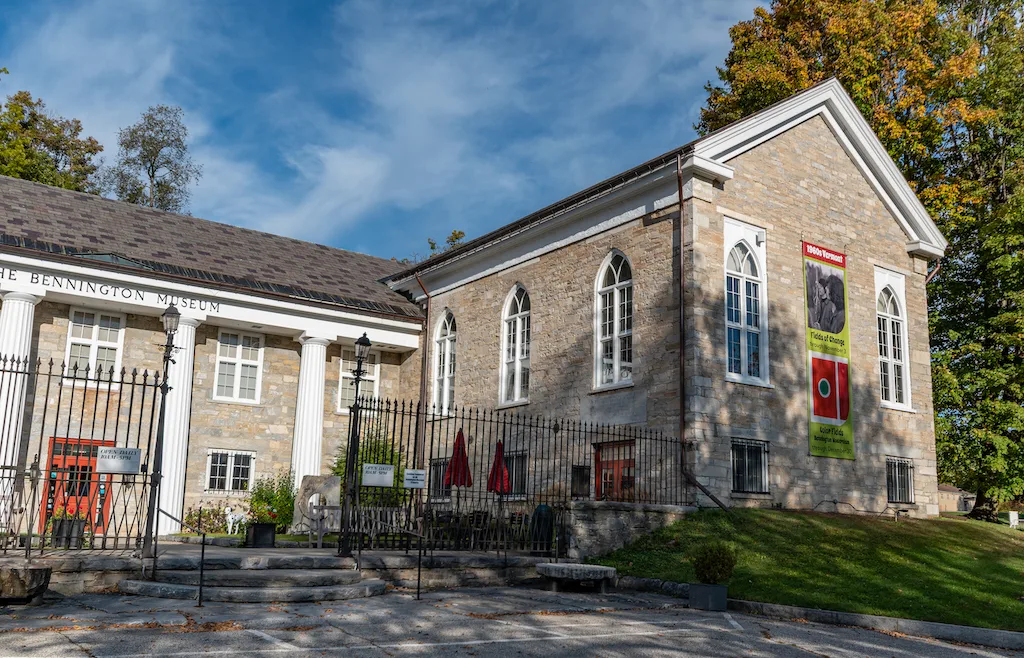 There's more than one reason to check out Bennington Museum – thought-provoking history and art exhibits, intriguing special events, and even an outdoor nature trail. But Bennington Museum is probably best known for housing the largest collection of Grandma Moses paintings in the world.
Anna Mary Robertson started painting in her seventies and became one of America's most prolific and famous self-taught artists within just a few years. Come visit the Grandma Moses schoolhouse as well as many artifacts from her painting life.
Bennington Museum presents and explores the rich culture of southern Vermont, eastern New York State, northwestern Massachusetts, and southern New Hampshire in all its forms, from the 18th century to the present.
Between June and November, Bennington Museum is open every day except Wednesday.
Between November and December, it is open Thursday, Friday, Saturday, Sunday, and Monday. from 10 am to 4 pm.
Visit on Friday evenings for Concerts in the Courtyard between June 3 and September 2, when the museum is open until 7 pm.
Take in the View from the Bennington Battle Monument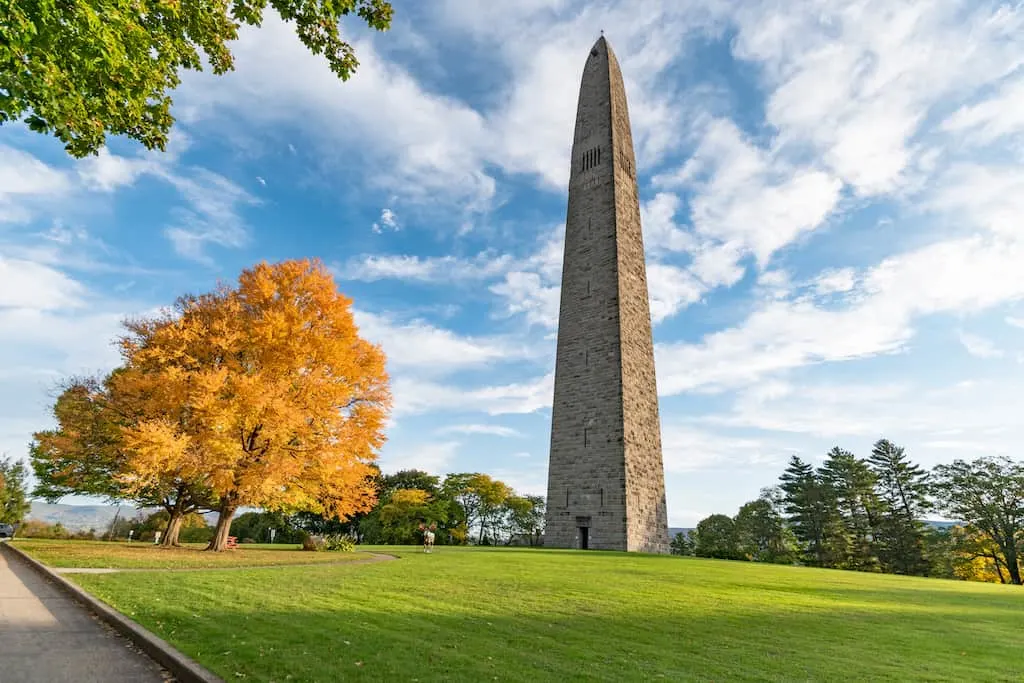 At 306 feet, the Bennington Battle Monument is the tallest building in the state, and it's the most popular of Vermont's state historic sites. I love this stately structure so much, that I've added to my list of the very best things to do in Vermont.
If you visit between May and October, you can take an elevator to the top for spectacular views of Bennington and the Green Mountains.
The Bennington Monument was completed in 1889 to commemorate the Battle of Bennington, which took place on August 16, 1777. In the famous battle, Brigadier General John Stark and 1,400 New Hampshire men, defeated two detachments of the British army, who were seeking to capture a store of weapons and food maintained where the monument now stands.
The victory at the Battle of Bennington is celebrated each year across Vermont as a state holiday.
The Bennington Monument is open daily between May 1st and October 31st from 10 am to 5 pm.
Historic tidbit: Although the battle is called the Battle of Bennington, it actually took place about 10 miles west in Walloomsac, New York.
Visit the Former Home and Grave of a Famous Vermont Poet
Did you know that Robert Frost lived in both Bennington and Ripton, Vermont?
His Bennington/Shaftsbury home is now the Robert Frost Stone House Museum. Frost lived here from 1920 to 1929, when he wrote "Stopping by Woods on a Snowy Evening."
This lovely museum is run by Bennington College and is open for visitors from Thursday through Sunday from 11 am – 5 pm.
While visiting this literary landmark, be sure to walk the grounds, and perhaps the beautiful nature trail that starts behind the barn and heads out to Lake Paran in North Bennington.
The Robert Frost Trail is 2 miles (one-way) and meanders through the woods and along stone walls. It's easy to envision Robert Frost walking these same country trails before heading home to pen some of his most famous works.
After visiting the Robert Frost House, drive back into Old Bennington where you can pay your respects to Robert Frost at his gravesite behind the Old First Church.
Hike a Part of the Oldest Long-Distance Trail in America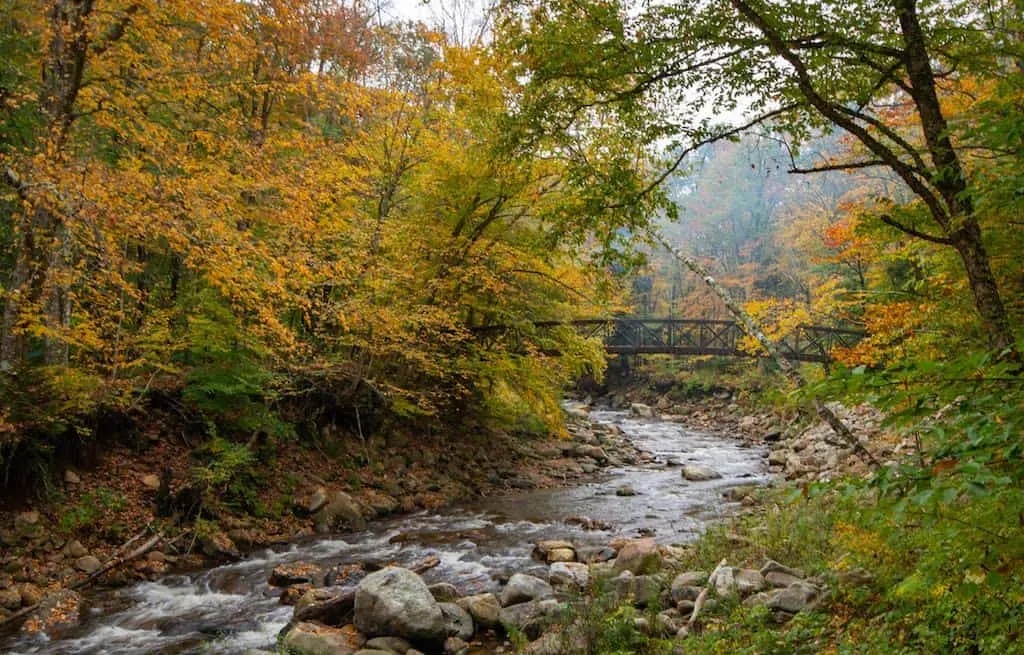 Vermont's Long Trail was the first long-distance hiking trail in the United States and the inspiration for the much longer Appalachian Trail.
This 272-mile trail follows the ridgeline of the Green Mountains from the Vermont-Massachusettes state line in the south to the Canadian border in the north.
The Appalachian Trail/Long Trail share a path from roughly 100 miles through Vermont before diverging near Killington. The trail crosses Route 9 in Woodford Vermont.
If you hike south, you can reach Harmon Hill in about 1.5 miles. The hike starts off steep, but after a mile or so, it levels off and travels through a high meadow, finally opening up to awesome views of Bennington. The hike totals around 3 miles, with a total elevation gain of 1,000 feet.
If you hike north on the Long Trail, you'll head up Maple Hill in the Glastenbury Wilderness. This is another steep hike but without the view at the end. Still, it's a lovely trek through the woods and is worth checking out.
More Fantastic Hikes Near Bennington VT
Here are a few more trails near Bennington that you should check out if outdoor adventures are your jam:
Paddle a Quiet Lake or River Near Bennington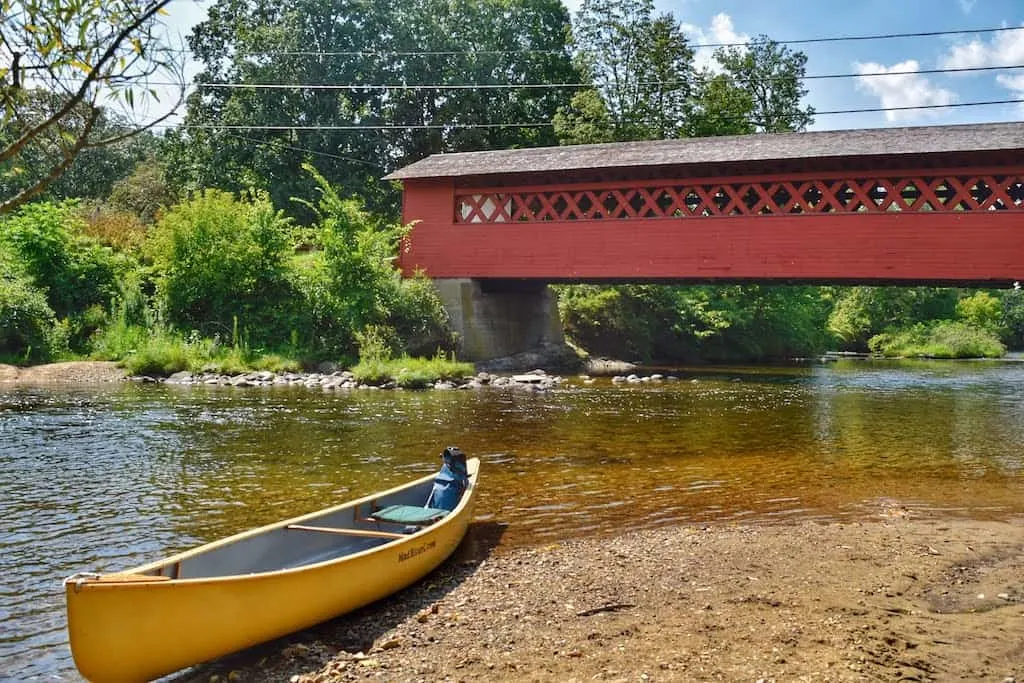 Canoeing and kayaking are both great ways to enjoy the outdoors in Vermont and there are several small lakes and rivers around Bennington that are perfect for paddling.
If spending a few hours on the water is your idea of a perfect afternoon, check out these spots.
*Note that Lake Shaftsbury and Woodford State Park both offer canoe and kayak rentals.
Lake Paran – Lake Paran is a small, 35-acre lake in North Bennington with easy access for canoes and kayaks. The shore is undeveloped and the scenery is lovely. Use the boat launch on State Fishing Acc off of North Street in North Bennington.
Lake Shaftsbury State Park – Lake Shaftsbury encompasses 26 acres with a wetland on one end that is great for birding. This is a popular park for summer visitors who come to swim, picnic, and relax on the sandy beach.
Woodford State Park – The 23-acre Adams Reservoir is located in Woodford State Park at 2,310 feet above sea level. The shoreline is entirely wooded and there are a couple of private coves that are fun to explore. Be on the lookout for sundews, a carnivorous plant that grows on logs in the marshy part of the lake.
Walloomsac River – If you don't mind doing some car shuffling, the Walloomsac River is a nice easy paddle for a warm day. Put in at the Henry Bridge in North Bennington and paddle downstream to the Edward Cottrell Bridge at the intersection of Cottrell Road and Route 67 in Hoosick Falls, New York.
Drink Up at a Local Brewery or Distillery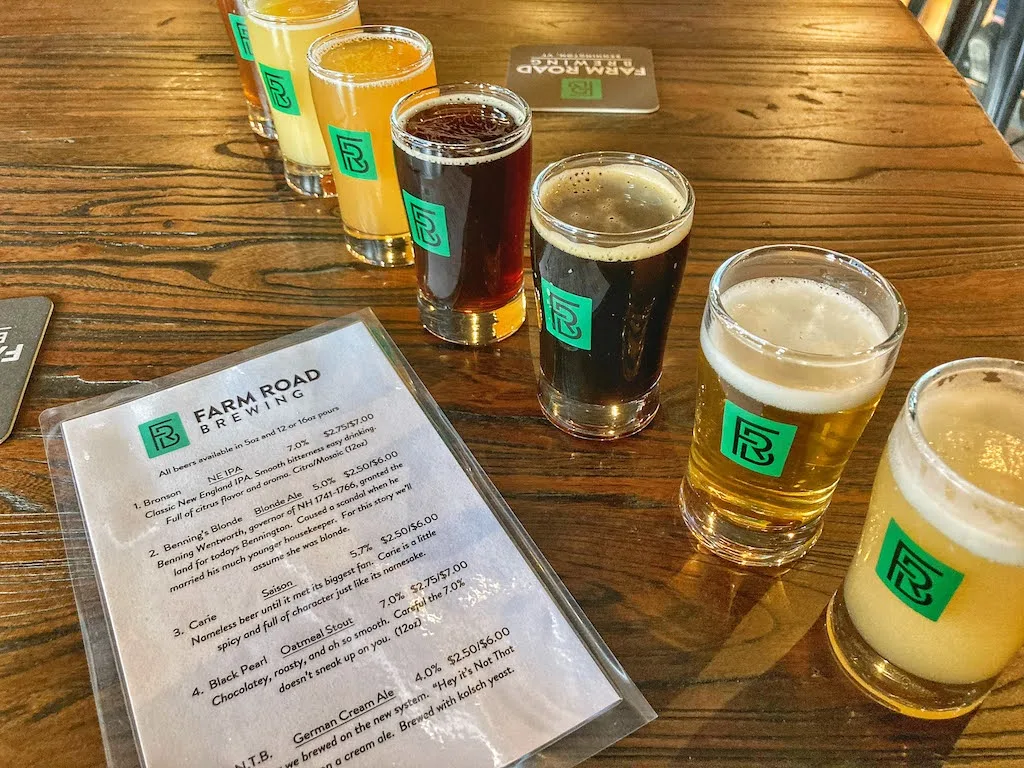 Vermont takes its beer very seriously, and Bennington is no exception. Not only does the town host two homebrew festivals each year, but several local breweries make exceptional beers as well.
You can walk between three different craft breweries in downtown Bennington. If you love craft beer, this is one of the best things to do in Bennington VT after hours.
Harvest Brewing: 201 South Street, Bennington. Open Thursday – Saturday, hours vary.
Madison Brewing: 428 Main Street, Bennington. Open Monday – Saturday, 11:30 am – 9 pm, and Sunday, 11:30 – 4:30 pm.
Farm Road Brewing: 400 Main Street, Bennington. Open Wednesday and Thursday, 4 – 8 pm, Friday and Saturday, 12 – 8 pm, Sunday, 12 – 6 pm.
In 2021, the Village Garage Distillery opened downtown serving a full menu, as well as locally crafted bourbon and vodka. They are located at 107 Depot Street, Bennington. Open Wednesday – Saturday from 12 to 9 pm.
Tour Park McCullough House in North Bennington
Park McCullough House is a historic Victorian-era mansion that was built in 1864. It is considered to be one of the finest and best-preserved Victorian mansions in New England. Visit this beautiful house-turned-museum, the beautiful grounds, and the Mile-Around-Woods hiking trail for an adventurous afternoon.
This is one of my favorite spots to walk our dogs and take photos, and we always bring visitors from out-of-state here for picnics. Give yourself a few hours to tour the mansion and the grounds.
Park McCullough House is open for tours on weekends from summer until the end of fall foliage season. Admission is $15 per person. Special events are also hosted throughout the summer and include yoga on the lawn, concerts, and plays.
Where to Eat in Bennington VT
All of the Bennington breweries mentioned above offer pub fare variations for your dining pleasure. Here are a few more suggestions.
Where to Stay in Bennington
Since I live here, I'll be the first to admit that I don't spend a lot of time in Bennington hotels, but we've had lots of family from out of town, so we've learned through trial-and-error what to recommend. Here are my top picks for lodging in Bennington.
Mid-range: The Harwood Hill has comfy rooms with an artistic flair. It's located on the outskirts of town.
Splurge: South Shire has nine delightful rooms housed in a beautiful Victorian home within walking distance of town.
Vacation rentals: If you need more room to spread out, check out Velvet Antler's Cottage in Shaftsbury, which has room for five people, an outdoor hot tub, and the most incredible vintage decor. Another option is this renovated dairy barn apartment in Pownal, which has a hot tub and pool, a gourmet kitchen, and room for six people.
How to Get to Bennington, Vermont
Bennington is located in teh southwest corner of Vermont, basically right on teh border of both New York to the west and Massachusetts to the south. It's a pretty eaasy drive from anywhere in the northeast, which is one of the reason's why it's a great vacation spot.
Pro Travel Tip: Give yourself two to three days to explore all of Bennington, especially if you love the outdoors. If you want to explore some of the surrounding towns like Wilmington or Manchester, plan for at least four days.
If you're coming from out of state, the closest airport is Albany International, which is an easy one-hour drive from Bennington. Maybe I'm biased, but I adore flying in and out of Albany and always consider myself very fortunate that it's so close.
The Best Time to Visit Bennington
When you think of a typical Vermont vacation, you are likely thinking of fall and winter. Autumn in Vermont is known for the jaw-dropping foliage that blankets the forests and mountains in colorful displays. And winter, of course, is famous for skiing and snowboarding in the Green Mountains.
I love Vermont in every season, but there's no where I'd rather be than here in Bennington in the summer. We've got swimming holes, creemee stands, fireflies, mountain sunsets, and farmers' markets. I just wish summer lasted a bit longer!
---
Have you ever visited Bennington, Vermont?
Whether you're just passing through or planning an extended stay, we think you'll love this small but bustling village in the southwest corner of Vermont.
Follow us on social media for more Vermont inspiration!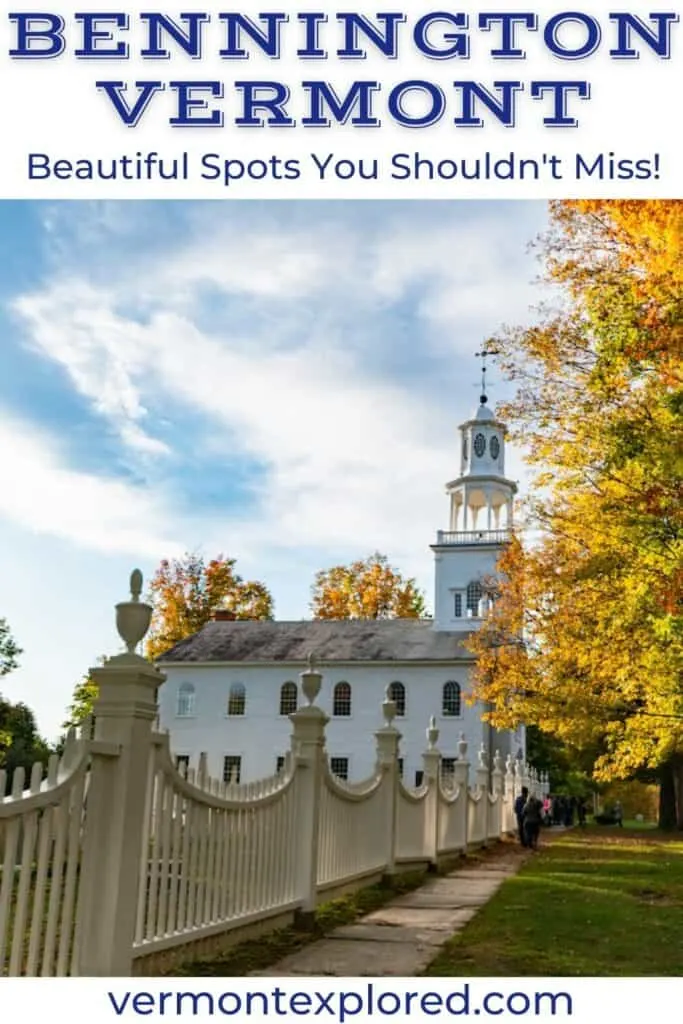 Tara Schatz is a freelance writer, and the founder and editor-in-chief of Vermont Explored and Back Road Ramblers, an American road trip blog. She is also the co-author of the 3rd edition of AMC's Best Day Hikes in Vermont, which was released in May 2023.