Fireflies, mountain views, and a whole lotta swimming, paddling, and hammock dozing. That's what you're in for when you spend a summer weekend at Burton Island State Park in Lake Champlain's northern reaches.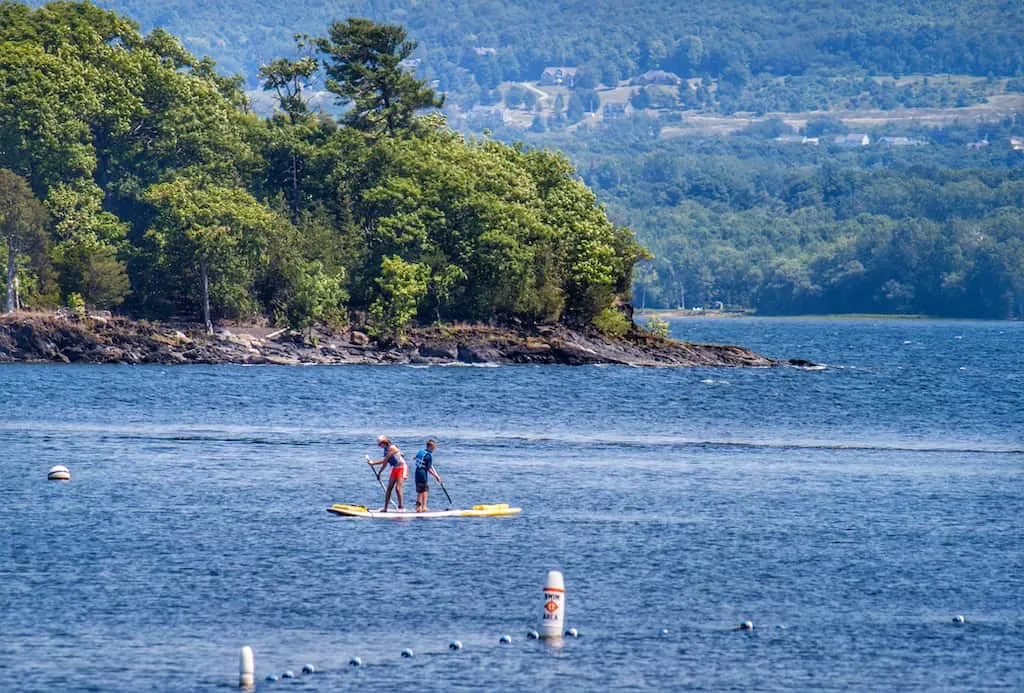 This area of Lake Champlain in Vermont is home to 10 state parks – that's 10 out of 62 in the whole state!
The Lake Champlain Islands are a fun destination in their own right, but today we're going to talk about my favorite summer destination in Vermont: Burton Island State Park.
If you've never explored the state parks in the Lake Champlain Islands, make this your summer.
Burton Island is the shining jewel of them all, but the island is surrounded by a few more incredible state parks, including Woods Island State Park, Knight Island State Park, and the gateway to all three of them: Kill Kare State Park.
Having your own boat makes exploring all of these Vermont State Parks easy, but if you don't have a boat, you can still enjoy a car-free vacation on Burton Island.
Here's an overview of this collection of state parks on Lake Champlain in Vermont.
First Stop: Kill Kare State Park in St. Albans, VT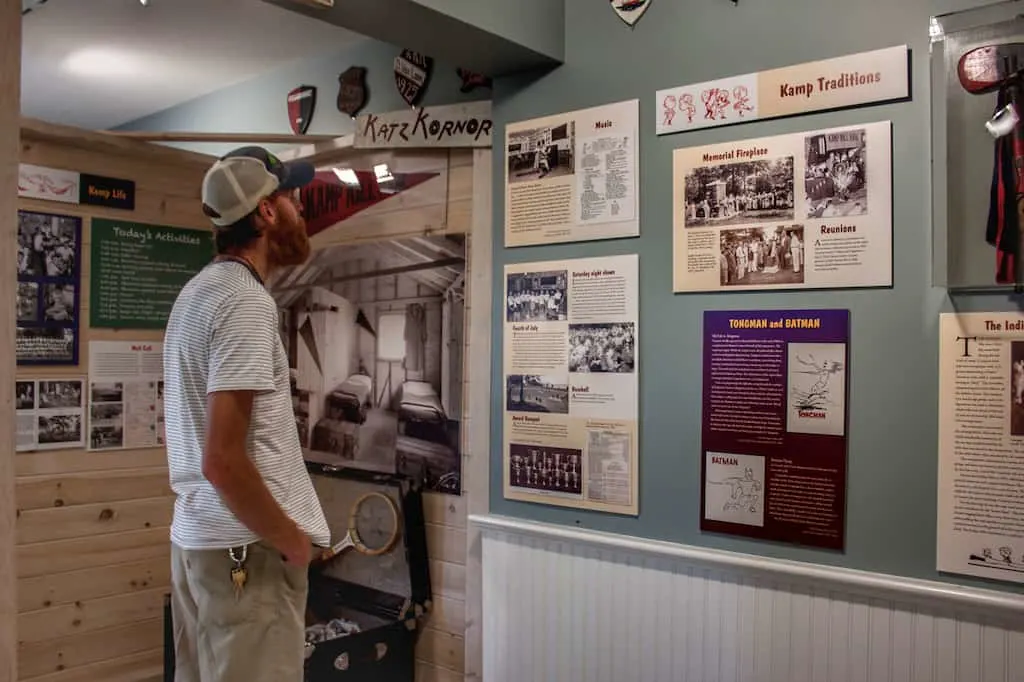 Quick Facts
Address: 2714 Hathaway Point Rd
St. Albans, VT 05481
Season: Memorial Day weekend to Labor Day weekend
Open: 10 am – Sunset
Activities: Swimming, picnicking, fishing, paddling
Fees: $5 adults / $2 kids
Dogs: No, accept to travel to Burton Island
Directions
Official Park Website

This lovely, 17-acre state park is situated on a point that juts into St. Albans Bay. Kill Kare State Park is a day-use park that was acquired by the state in 1967 as a mainland base to service Burton Island State Park.
Kill Kare State Park has become a destination in its own right, with a large, shady picnic area, an expansive swimming beach, and a boat launch.
There's a really cool museum housed in an 1870s building that was once a popular summer resort on the property. The Rocky Point House Museum documents the history of the land and building, including the hotel era and the rise and fall of Kamp Kill Kare, which was an adventure camp for boys that thrived from 1912 to 1966.
Even if you're short on time, you can pop into the museum on your way to the restroom in the Rocky Point House.
The exhibits are quite fascinating and really well done. We loved reading about the summer antics of the campers and wishing we could have experienced the seemingly idyllic adventures that the camp provided.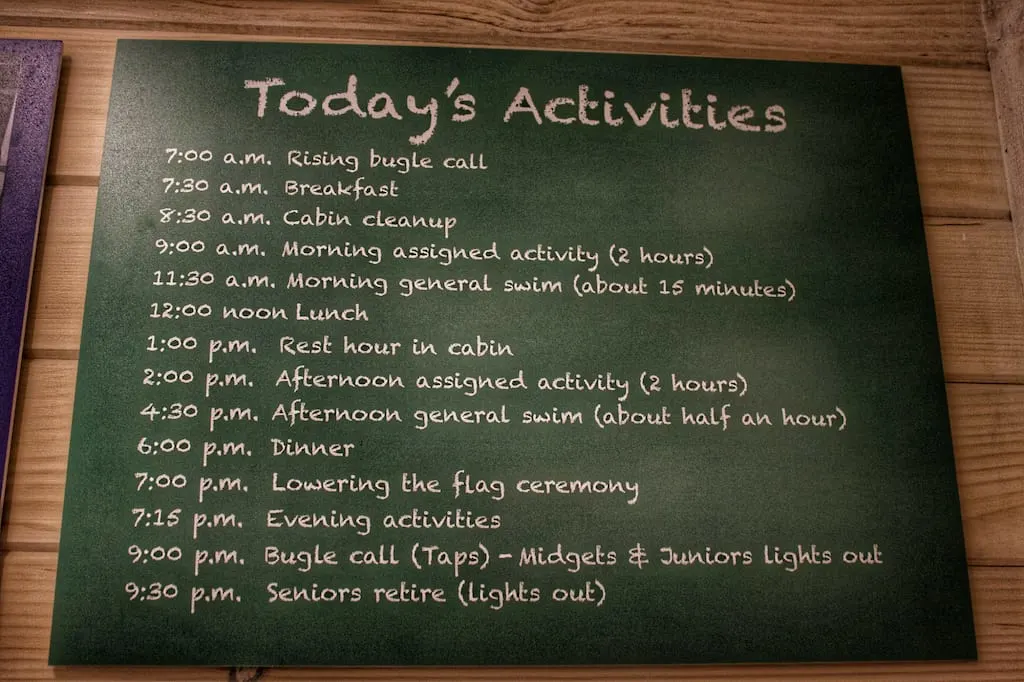 Of course, I had to remind myself then and there that I was in the throes of my own magical Vermont summer, and we headed back to the car to unload the canoe.
If you're continuing on to Burton Island State Park, you should know that it can only be reached by boat. You can leave your car at Kill Kare State Park after you check in at the contact station.
It's a quick jaunt to Burton Island State Park in a canoe or kayak (and even quicker in a motorboat), or you can hop aboard the Burton Island Ferry, which runs back and forth from Burton Island State Park every 1.5 hours throughout the summer.
We chose to paddle because we wanted to explore Woods and Knight Islands, and well, we just love adventuring in our canoe.
Here's the current schedule for the Burton Island ferry.
Welcome to Burton Island State Park in St. Albans, VT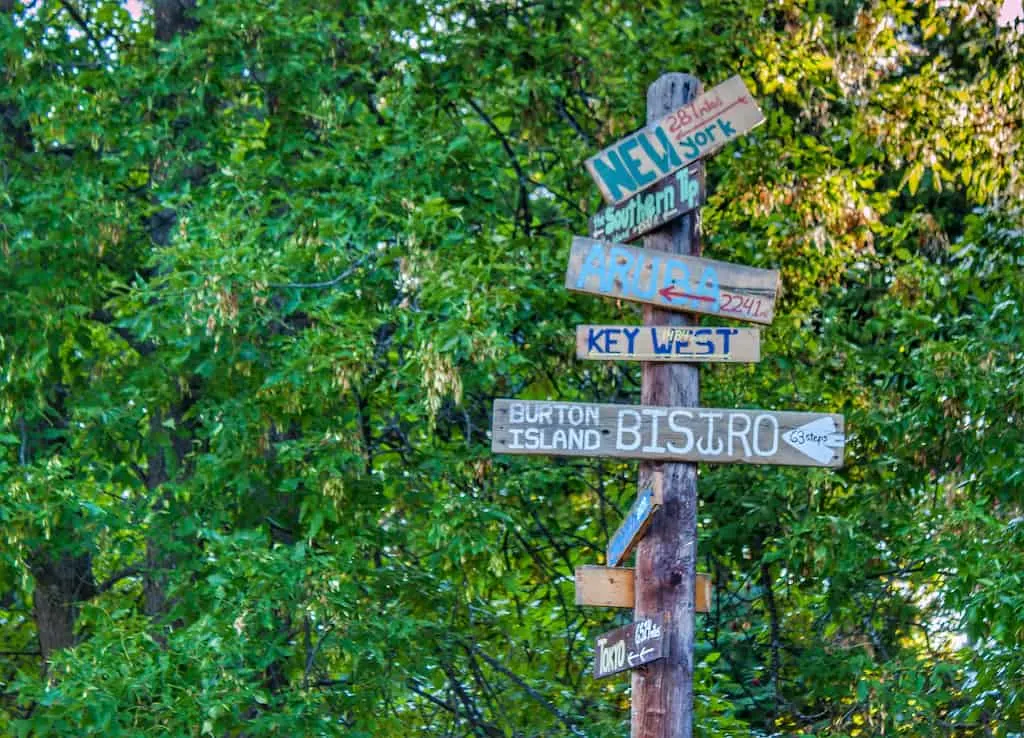 Quick Facts
Address: 2714 Hathaway Point Rd
St. Albans, VT 05481 (Kill Kare ferry access point)
Season: Memorial Day weekend to Labor Day weekend
Activities: Swimming, camping, hiking, fishing
Fees: Day-use $4 adults / $2 kids, camping rates vary
Camping: 14 tent sites, 26 lean-to sites, 3 cabins, and 4 remote tent sites
Dogs: Yes
Directions: You can only get here by boat
Official Park Website
Burton Island is a 253-acre park off the southwestern tip of St. Albans Point in Lake Champlain's 'Inland Sea'. We will absolutely argue that this is one of the best state parks in the United States!
The park is accessible only by boat, with the state's passenger ferry making the 10-minute trip from Kill Kare State Park.
Burton Island State Park opened in 1964. A marina was built to accommodate boats. Ferry service was implemented in the 1980s. The marina is a lively stopover for people cruising the lake. The campground is popular with those who enjoy relaxing on a semi-remote island away from cars.
What can I say about this beautiful island retreat in northern Vermont to encourage you to come?
Burton Island State Park embraces visitors like old friends. You can find total solitude at primitive, waterfront campsites, or experience the comings and goings of a lively marina with lots of amenities.
A visit to Burton Island really is one of the best things to do in Vermont!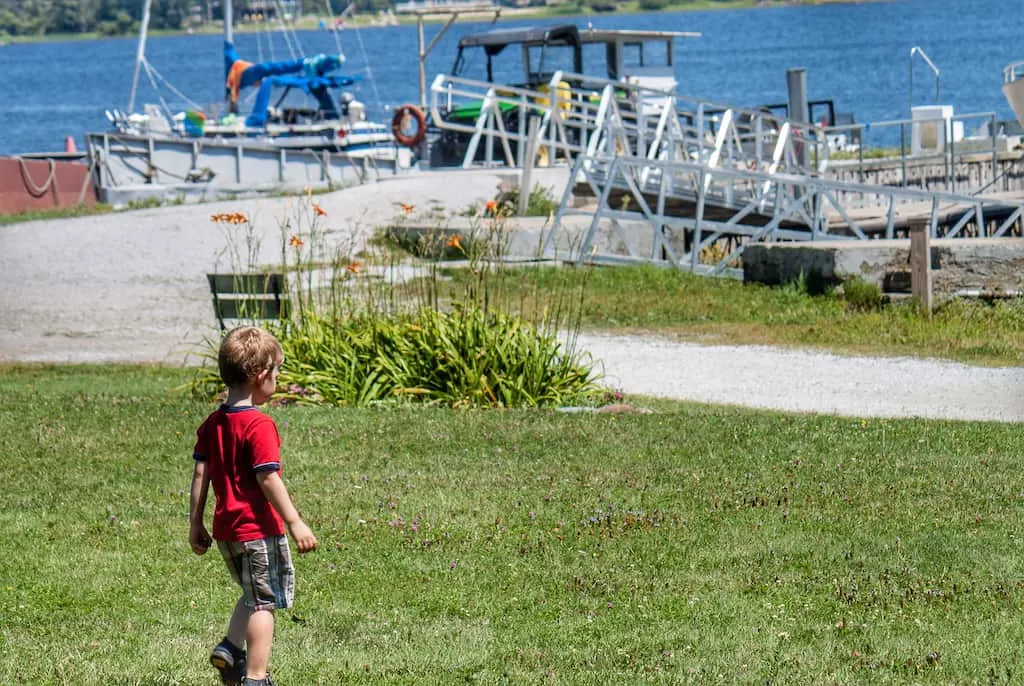 There are no cars on the island, so you'll find lots of free-range kids — running through the tall grass, biking along the trails and campground roads, and yes, even chasing down Pokemon on their phones (there's WiFi at the marina).
The Burton Island Bistro serves up a fabulous breakfast and lunch, which you can enjoy on the shore with your camping neighbors. They open at 8:30 am and serve fresh, hot coffee to go with the wind in your hair and the smile on your face.
They also have a great beer and wine selection — the perfect accompaniment to a Burton Island sunset.
For you dog lovers out there, Burton Island has an off-leash dog beach, and all the trails are dog-friendly too. I highly recommend hiking the Southern Tip Trail for sunrise and solitude, and the North Shore Trail for sunset, at least in the summer.
Burton Island State Park Amenities
3 miles of shoreline
14 tent sites
26 lean-to sites
4 remote tent sites
3 cabins (click here to learn more)
15 boat moorings
a 100-slip marina with WIFI, dockside electricity, and a marine holding-tank pump-out facility
3 restrooms with flush toilets, running water, and coin-operated showers
hiking trails
a nature center and museum
The Burton Island Bistro is a small store and cafe serving breakfast and lunch with cold salads and other to-go items.
Burton Island Camping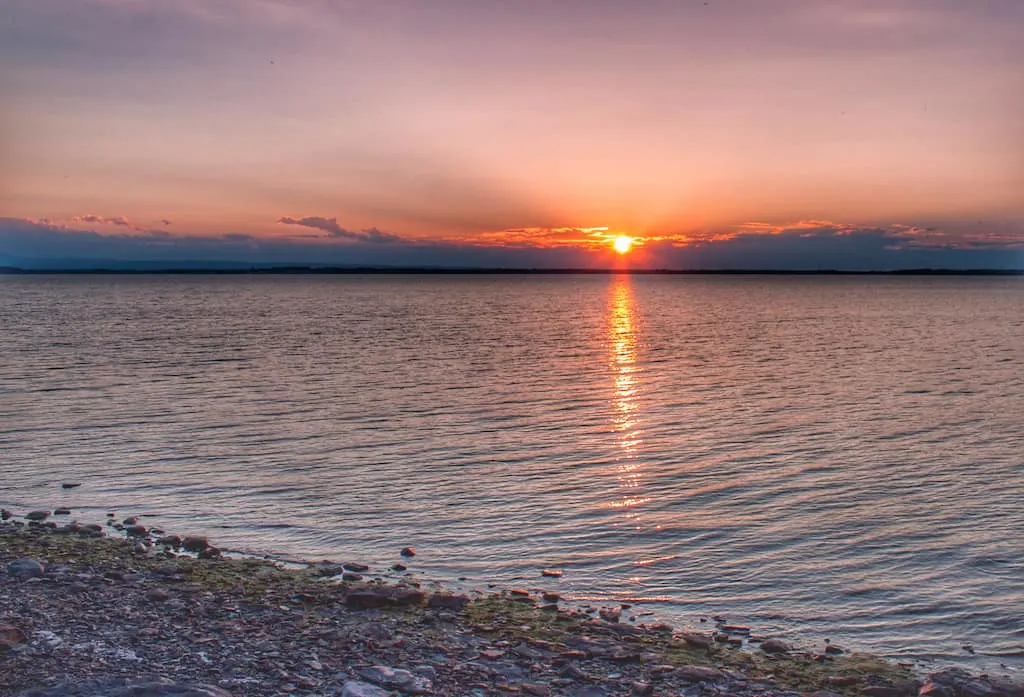 Since you can't bring your car onto Burton Island, you'll have to cart your gear to your campsite. There are carts available at the marina for this purpose, and all but the most primitive sites are within easy walking distance of the marina.
All of the campsites are spacious and private, but if you want a waterfront site within the main campground, you'll have to splurge on a lean-to, and you'll have to reserve it well in advance (I'm not the only one in love with Burton Island!).
We did not heed my own advice during our recent Burton Island camping trip, and we ended up in campsite #6, which was really beautiful, with just a tiny glimpse of the lake through the trees.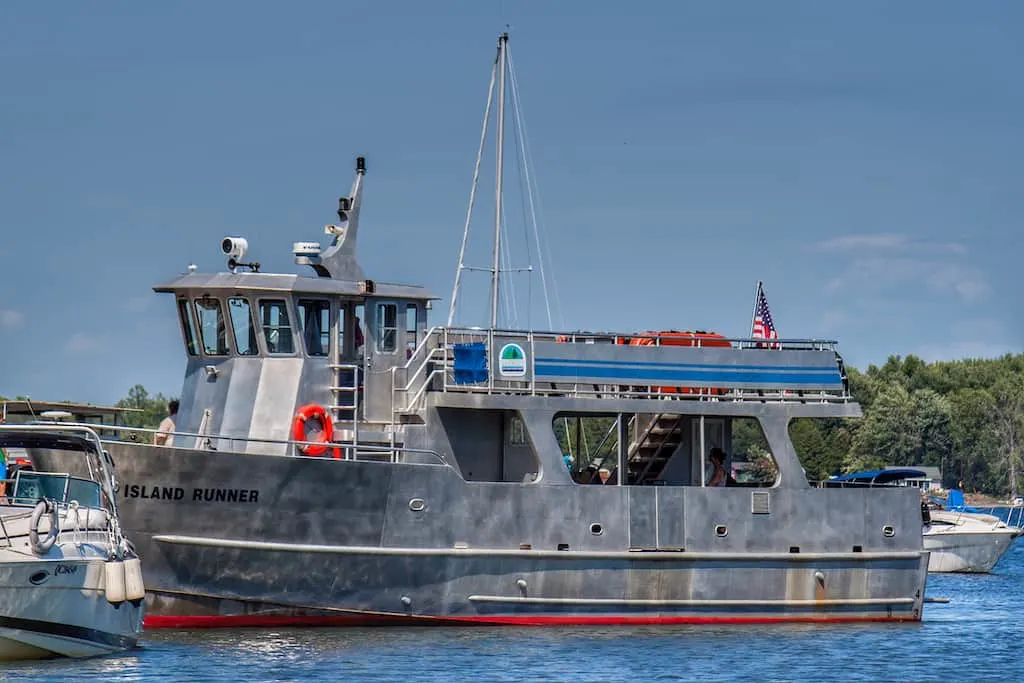 If you don't want to rough it, you can reserve one of the newer camping cabins on the south side of Burton Island.
These, along with all of the campsites on Burton Island, can be reserved up to 11 months in advance. Competition is fierce for the cabins and the lean-tos, so put if you are planning to rent a cabin or waterfront site, put the dates on the calendar so you remember to reserve your spot!
Remote camping is available on the south side of Burton Island. Four waterfront campsites are available and can be reserved by calling Burton Island State Park directly during the operating season.
Each remote campsite includes a fire pit, picnic table, and outhouse, but you have to supply your own water or filter from the lake.
Tips for Camping on Burton Island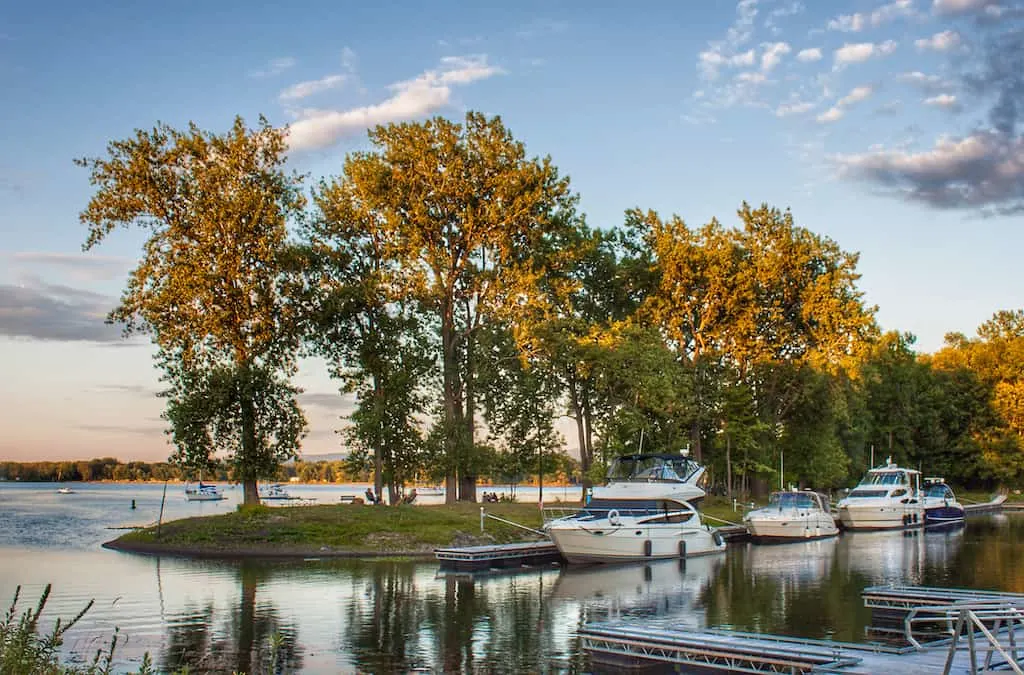 Camping on Burton Island is an awesome way to kick off summer.
We always try and visit in June or late August when it isn't quite so full, but really, if you can secure a spot in the summer, just go!
Here are a few tips for making your Burton Island camping adventure more successful and fun.
Bring your canoe or kayak – As I mentioned earlier, you can easily paddle to the Burton Island Marina from Kill Kare State Park where you park your car. If you have too much camping gear to fit in your canoe or kayak, you can make two trips. When you get to Kill Kare, leave your canoe/kayak on top of your car and take the Burton Island Ferry across with your camping gear. Then take the ferry back to your car and paddle your boats over without any gear. If you don't have your own boat, you can rent canoes, kayaks, and paddleboards at Burton Island State Park.
Bikes are useful on Burton Island – Biking around the island is lots of fun and useful if you're staying at one of the remote sites and want to head to the bistro for breakfast. There are bikes available for rent at the marina.
Bring a wine-opener – You can get decent red and white wine at the Burton Island Bistro, plus local beer, and whatever else you might have forgotten. Except for a corkscrew, so bring your own!
Water shoes will protect your feet – There isn't much for sandy beaches on Burton Island, although swimming near the lean-to camping is pretty nice. Wear water shoes or sandals to protect your toes from the rocky bottom.
Exploring Woods and Knight Islands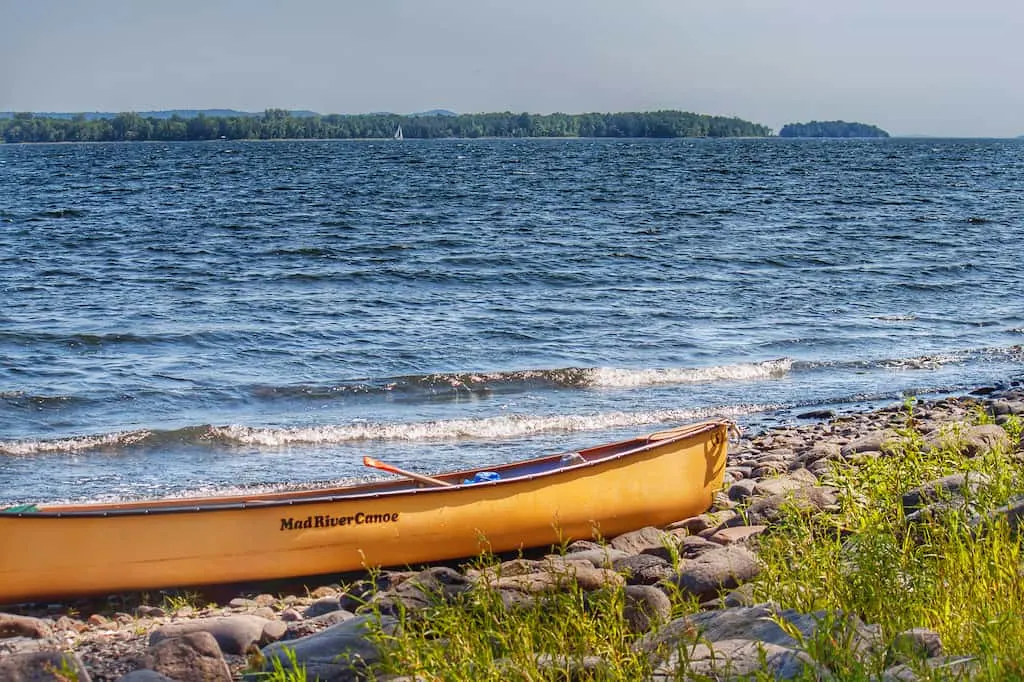 After we spent a full day exploring, swimming, and relaxing on Burton Island this summer, we packed up the canoe for an adventure on Lake Champlain.
I swooned a bit over the beautiful boats that came and went in the marina during our stay, but in the end, we were more than happy to paddle our canoe into the waves and around the nearby islands.
Explore Woods Island State Park in St. Albans, VT
Quick Facts
Address: 1 Woods Island
St. Albans, VT 05488
Season: Memorial Day weekend to Labor Day weekend
Activities: Swimming, camping, hiking, fishing
Fees: None
Camping: 5 remote tent sites are $19 per night.
Dogs: Yes
Directions: You can only get here by boat
Official Park Website
Woods Island State Park is about two miles from Burton Island, and on our recent trip, the paddle across took us about an hour.
This isolated island is home to a diverse ecosystem of old-growth forest and rare plants, plus an abandoned airstrip, and just five primitive campsites.
Each campsite on Woods Island has a fire ring and a privy, as well as the most amazing views.
A two-mile trail around the island connects the campsites. We walked the trail and fell in love with campsite #4, which sits high on a bluff on the south side of the island, overlooking Lake Champlain.
There's good swimming on the eastern side of Woods Island. During our visit, a few boats were moored there, while their passengers relaxed and picnicked on the shore.
Explore Knight Island State Park in North Hero, VT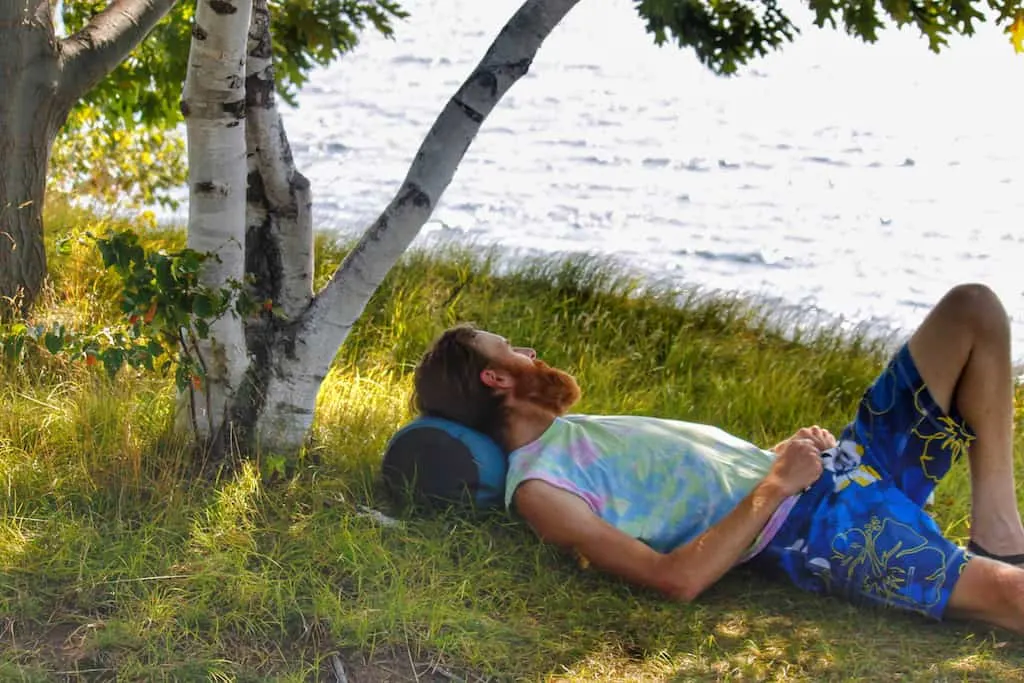 Quick Facts
Address: 11 Knight Island
North Hero, VT 05474
Season: Memorial Day weekend to Labor Day weekend
Activities: Swimming, camping, hiking, fishing
Fees: None
Camping: 1 tent site, 6 lean-to sites
Dogs: Yes
Directions: You can only get here by boat
Official Park Website
Knight Island was acquired by the State in 1990. This 185-acre island park is a mile long and nearly a half-mile wide. The park includes all but 10+ acres of private land on the island's southern tip.
Knight Island was farmed historically then was uninhabited for many years. Under state ownership, remote area camping has been continued on seven sites dotted around the island.
After another hour of paddling from Woods Island, we landed at Knight Island State Park. Knight is a bit bigger than Woods Island, with a small mooring dock.
There are trails that crisscross the island and seven more primitive campsites. Six of these are rustic lean-tos, each with a composting toilet and again, spectacular views.
As you walk along the shore trails, you'll find towering cliffs as well as sandy and rocky beaches.
There are lots of places to swim and relax without seeing another soul. We didn't spend much time on Knight Island because we still had to paddle back to Burton Island before dark, so after snacking and cooling off in the lake, we headed back to civilization and our bottle of wine that we remembered to buy earlier at Burton Island Bistro.
---
---
Final Thoughts on Exploring Burton, Woods, and Knight Islands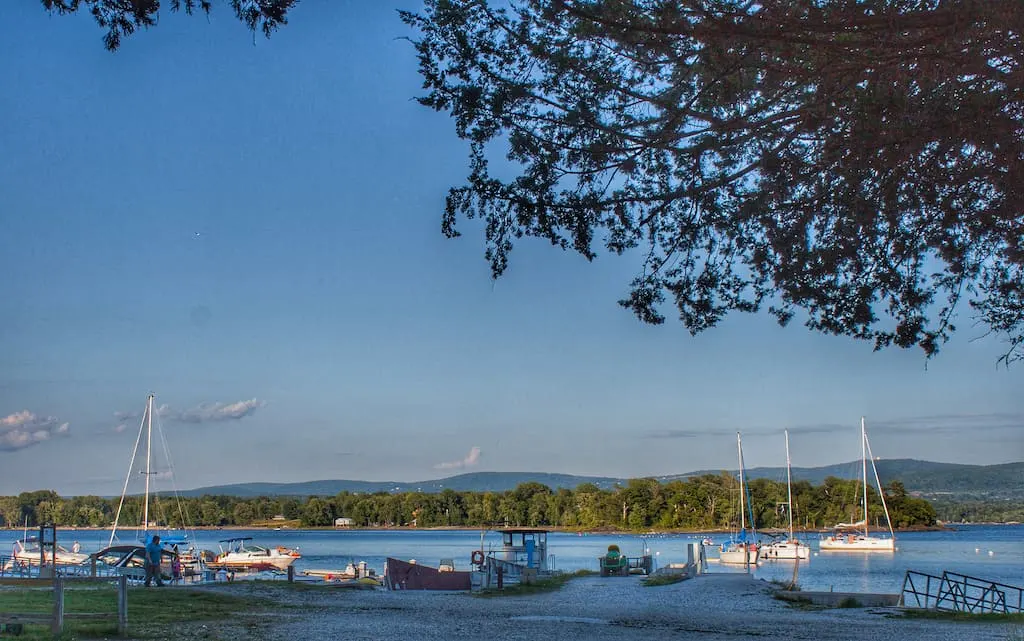 If I can give you one piece of advice for this particular state park adventure, it's to reserve a longer stay than you think you want.
The primitive campsites on Woods and Knight Island are amazing, but the amenities on Burton Island are pretty sweet too. I could go either way, but you know what type of camper you are.
If a camp store, Wi-Fi, and firewood are important, go camping on Burton Island. If you want to be alone and don't mind not having a bathhouse, try either Woods or Knight Island.
The lean-tos on Burton Island book up very quickly but don't let that keep you from visiting. The tent sites are just as awesome and more readily available for last-minute vacations.
Also, because the lean-tos have to be reserved for 3 nights, there's a chance that one will be available when you get to Burton Island. Ask the park ranger – maybe you'll get lucky!
You should also beg, borrow, or steal a boat to help you get around. If that's not possible, you can always rent a canoe, kayak, or stand-up paddleboard when you get to Burton Island State Park.
Swimming is mandatory, as is relaxing on the shore with your favorite book (or your favorite person). Leave your worries back at the car, and get ready to enjoy everything you love about summers in Vermont.
You can learn more about all of the state parks mentioned above on the Vermont State Parks website.
---
Follow us on social media for more Vermont inspiration!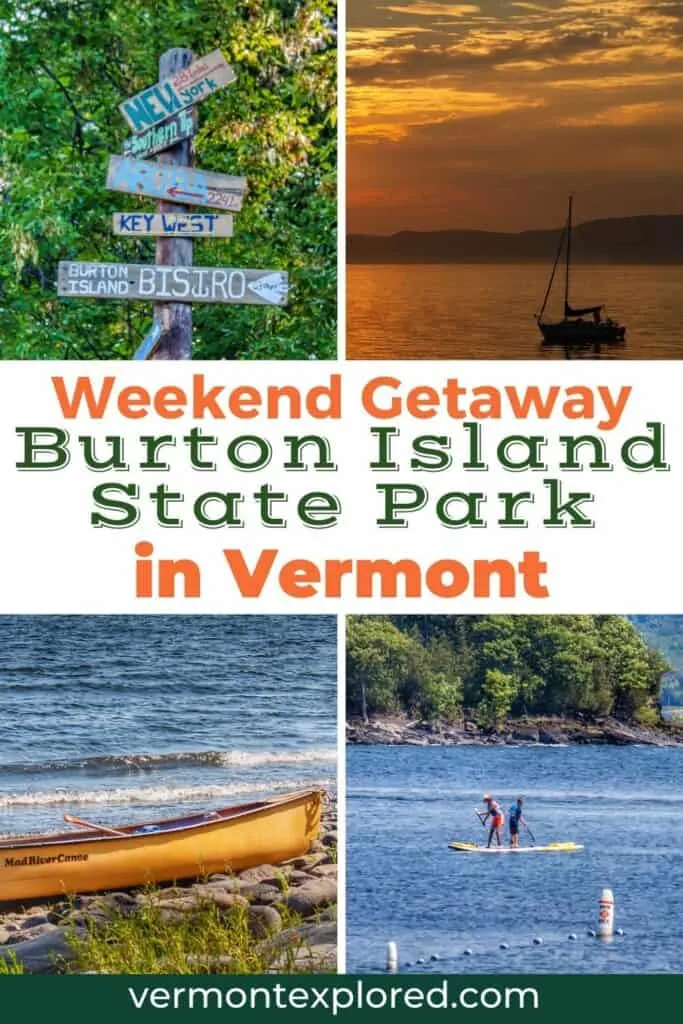 Tara Schatz is a freelance writer, and the founder and editor-in-chief of Vermont Explored and Back Road Ramblers, an American road trip blog. She is also the co-author of the 3rd edition of AMC's Best Day Hikes in Vermont, which was released in May 2023, and the author of 100+ Wonderful Ways to Experience Vermont.