For a small state, Vermont has a surprising number of state parks. 59, to be exact. More than Virginia (41 state parks), Arizona (35 state parks), and Mississippi (25 state parks).
My small list of favorite Vermont state parks changes like the wind, but in 2022, Elmore State Park crept up to the top.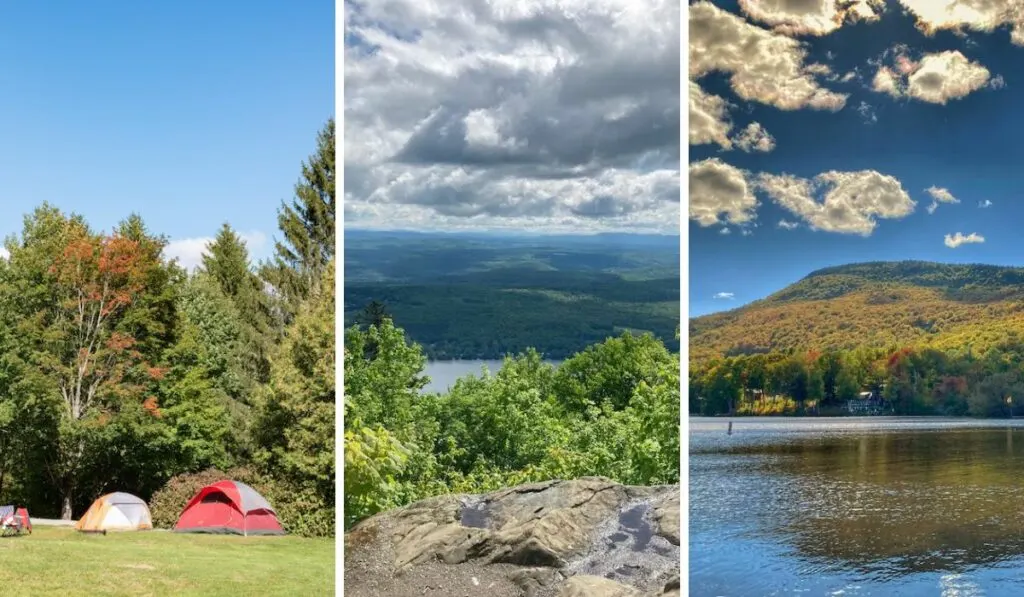 When our kids were little, we brought them to Elmore to swim in the cold mountain lake. We've camped in the lean-tos and wooded tent sites, and hiked the trail to the top of the fire tower in every season, but we had never done all of those things in a single trip.
Until last year.
We spent a long weekend camping on the sunny hillside, hiking through the ethereal forest, swimming and paddling the lake, and enjoying the nearby attractions.
A weekend getaway at Elmore State Park was our favorite adventure of the summer, and the park has crept into the number one spot as our most beloved Vermont State Park.
Not only is Elmore State Park a destination in its own right, but it's located in the heart of the northern Green Mountains (just 13 miles from Stowe) so you can plan all kinds of additional adventures.
Here's an overview of Elmore State Park in Vermont.
Quick Facts: Elmore State Park
Address: 856 VT Route 12
Lake Elmore, VT 05657
Activities: hiking, camping, swimming, paddling, fishing
Open: May 27 – 2nd Monday in October
Fees: $5 for adults, $2 for kids
Camping: 44 tent/RV sites (no hookups), 15 lean-to sites
Dogs: Yes, on a leash, but not on the beach
Google Maps Directions
Official Park Website
Kids love Elmore State Park for the expansive sandy beach and perfectly cold and clear lake for endless summer adventures. Parents love the quiet family-friendly campground. Tourists appreciate the awesome location, close to Stowe with its boutique shopping and culinary delights.
Hikers love the beautiful mountain loop because it's hard enough to exhilarate, short enough to conquer in an afternoon, and features rock scrambles, fire tower views, and a dark, wild forest.
The teeny town of Lake Elmore (population 886) calls itself "The Beauty Spot of Vermont."
I'd argue that quite a few Vermont towns could adopt this slogan, but there's no question that Lake Elmore is one of them.
The centerpiece of the town is the 219-acre Lake Elmore and the steep 2,608-foot Elmore Mountain, which rises up beside it. Elmore Mountain is part of the Worcester Range, which is just east of the main spine of the Green Mountains.
Forward-thinking citizens gifted thirty acres on Lake Elmore to the State of Vermont in 1936, and today, Elmore State Park encompasses more than 700 acres with a developed beach and bathhouse, a beautiful campground, and several wooded trails.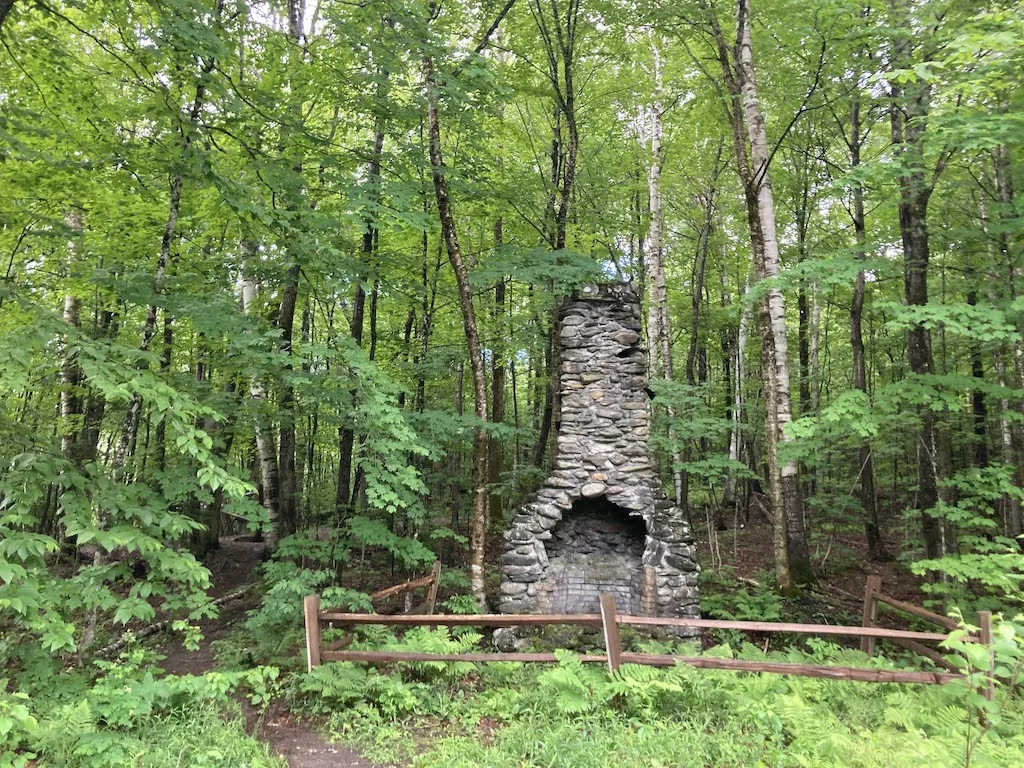 Many of the buildings and structures were built by the Civilian Conservation Corps in the early 1930s.
Let's get down to business – here are the best things to do in Elmore State Park in the summer and fall.
Camping at Elmore State Park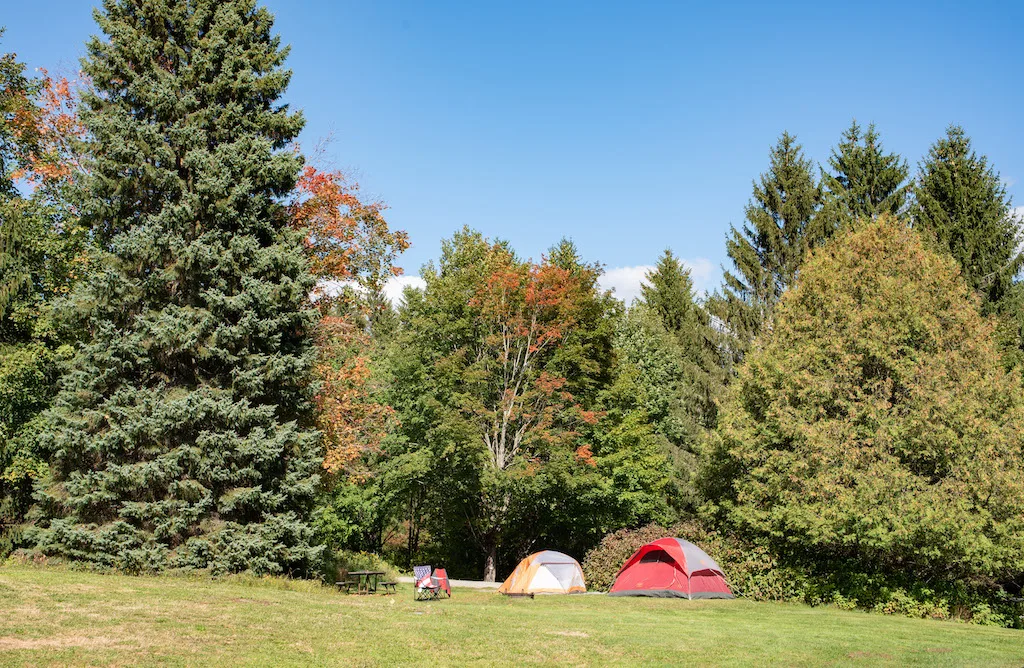 If your plan is to really take advantage of this beautiful spot and explore it fully, then camping is the only answer.
The campground at Elmore State Park is small, and at least based on our own experiences, pretty quiet.
There are two campground loops to choose from. The first features a series of lean-tos situated on an open hillside (a beautiful spot, but not a lot of privacy), and then a series of wooded tent/RV sites. There is a small playground in this section, as well as a bathhouse with showers.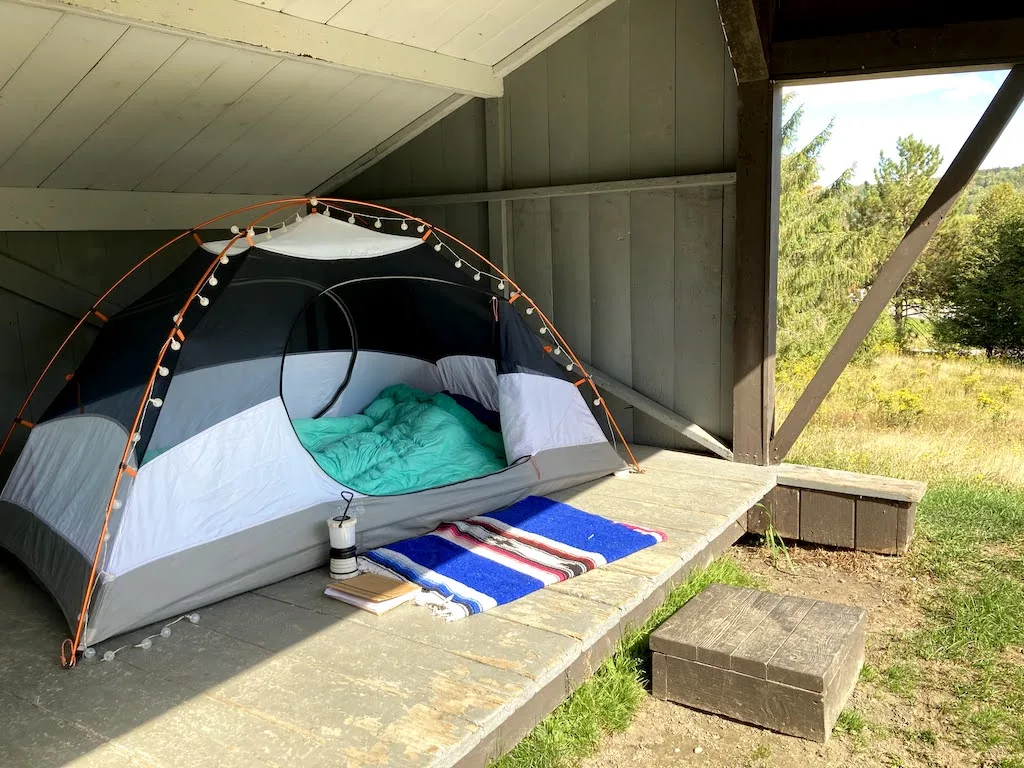 The second loop is mostly wooded with tent/RV sites and five more lean-tos. From the lean-tos closest to Route 12, there is significant road noise.
None of the campsites at Vermont State Parks have electric or water hookups, but there are water faucets throughout the campground for washing up.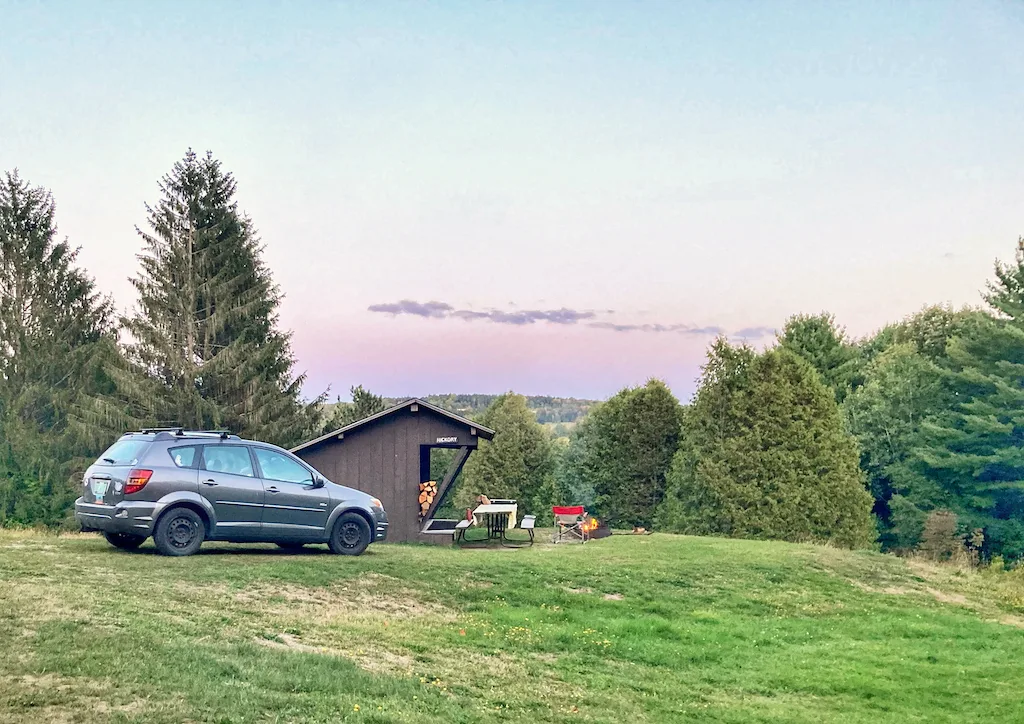 During our most recent camping trip, we stayed in Hickory lean-to, and although we could easily chat with our camping neighbors in Juniper, we appreciated the sunny spot as the nights were below freezing (late September).
The site also treated us to one of the most incredible night skies we've ever seen in Vermont.
Hiking Elmore Mountain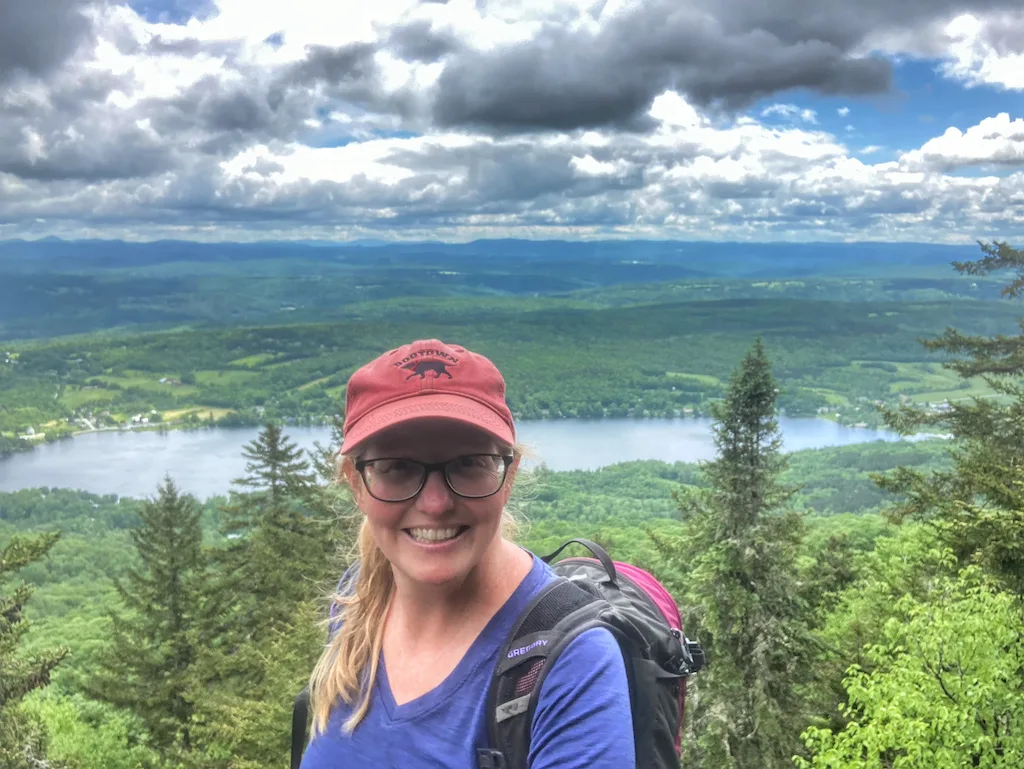 The hike up Fire Tower Trail to the top of Elmore Mountain (2,590 feet) is busy on the weekends and in the middle of the day, but despite the crowds, it's one of our favorite trails in Vermont. Another benefit of camping here is that you can wake up early and beat the hiking crowds.
In the summer, I'd recommend being on the trail by 7 am so you can eat lunch at your campsite, and then head to the beach for the afternoon. The hike to the top of Elmore Mountain will take you about three hours.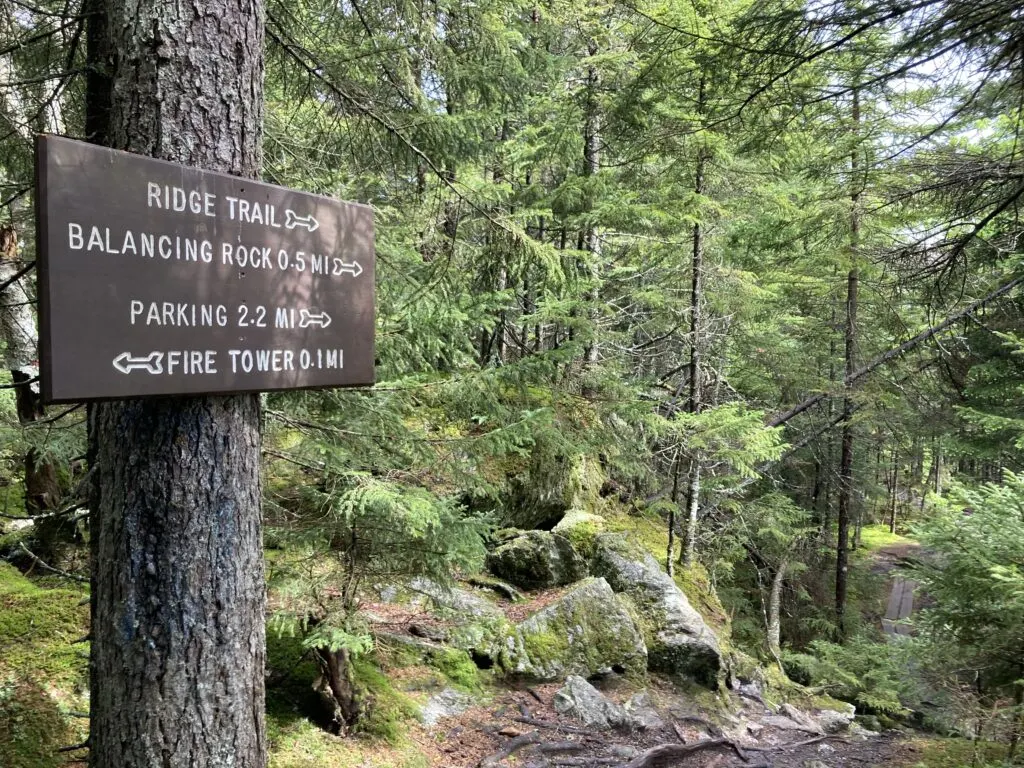 There are several rocky outcrops with nice views, so even if you don't climb the fire tower, you'll still be rewarded with views of Elmore Lake and the surrounding Green Mountains.
This is a moderately difficult, 4.5-mile loop, climbing 1,145 in elevation. From the campground, Fire Tower Trail starts off as a wide service road.
Pass Ridge Trail on your right (this is your return route) so that you are doing the trail clockwise and tackling the steep rocky part on the uphill.
Fire Tower Trail eventually turns right into the forest, leaving the dirt road. From this point, it's a steady climb to the top.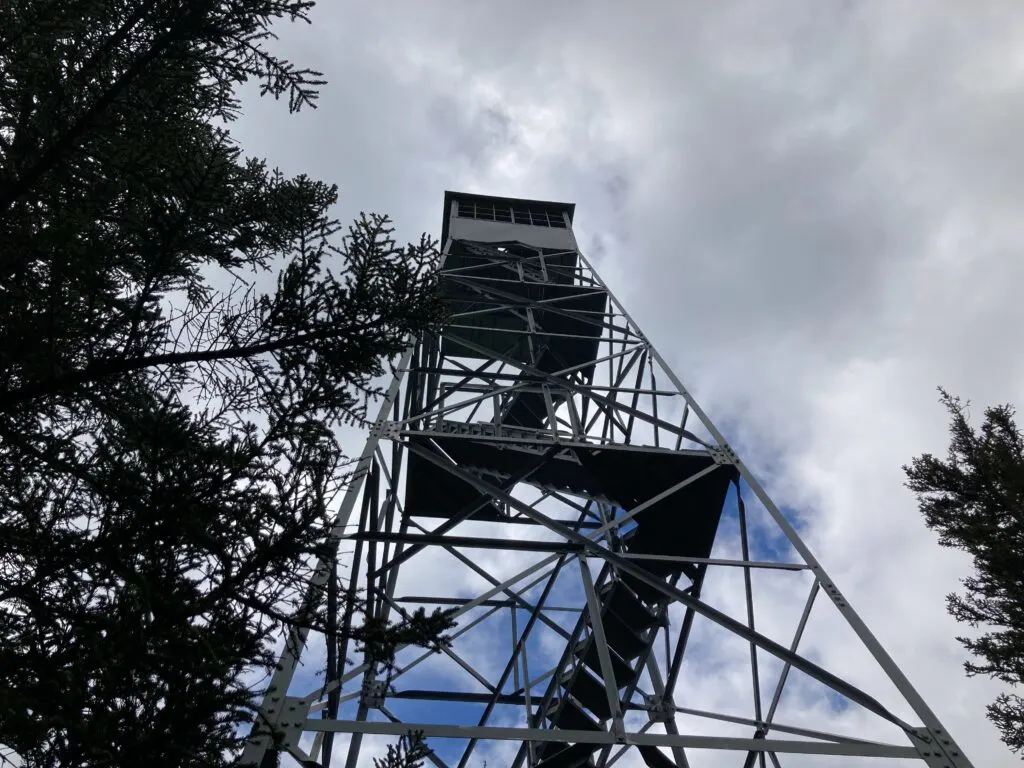 The present fire tower was erected in 1938. From the top, you can see the Worcester Range snaking southward, and Mount Mansfield's 4,393-foot chin to the west.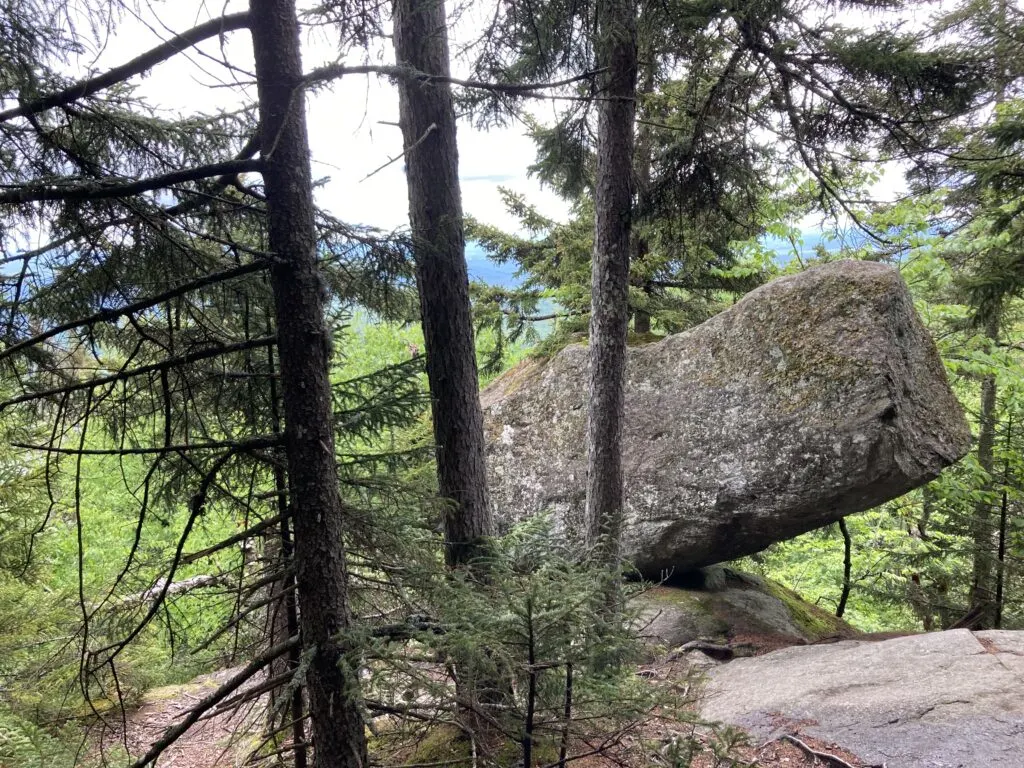 Continue on the loop to pass the glacial erratic known as Balancing Rock. Descend on Ridge Trail through a dark, drippy forest with moss-covered boulders and woodland wildflowers.
Shameless self-promotion: The hike to the top of Elmore Mountain is one of the hikes in AMC's Best Day Hikes in Vermont, co-authored by yours truly. You can pre-order a copy right this very second. The 3rd edition will be released in May 2023.
Relaxing at Elmore Lake
We hung out at Elmore Lake for a few years before we tried hiking to the fire tower, and it's long been a favorite – I even spent summer days here when I was a child.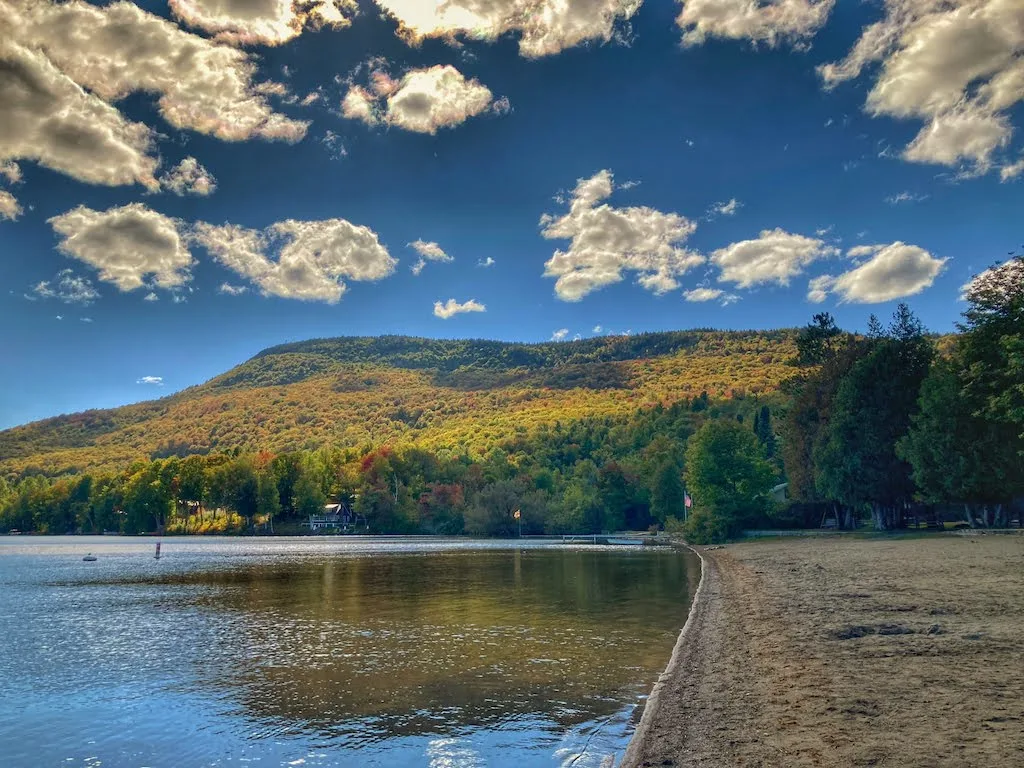 When it's 95 degrees in Burlington, a trip into the mountains is an essential survival tool for families!
While the beach at Elmore State Park isn't huge, it's sandy and clean, with a gradual descent into the water. From the bathhouse on the beach, you can rent kayaks, canoes, or stand-up paddleboards. There's a changing area inside and a snack bar where you can purchase summer essentials like ice cream cones, sodas, and hot dogs.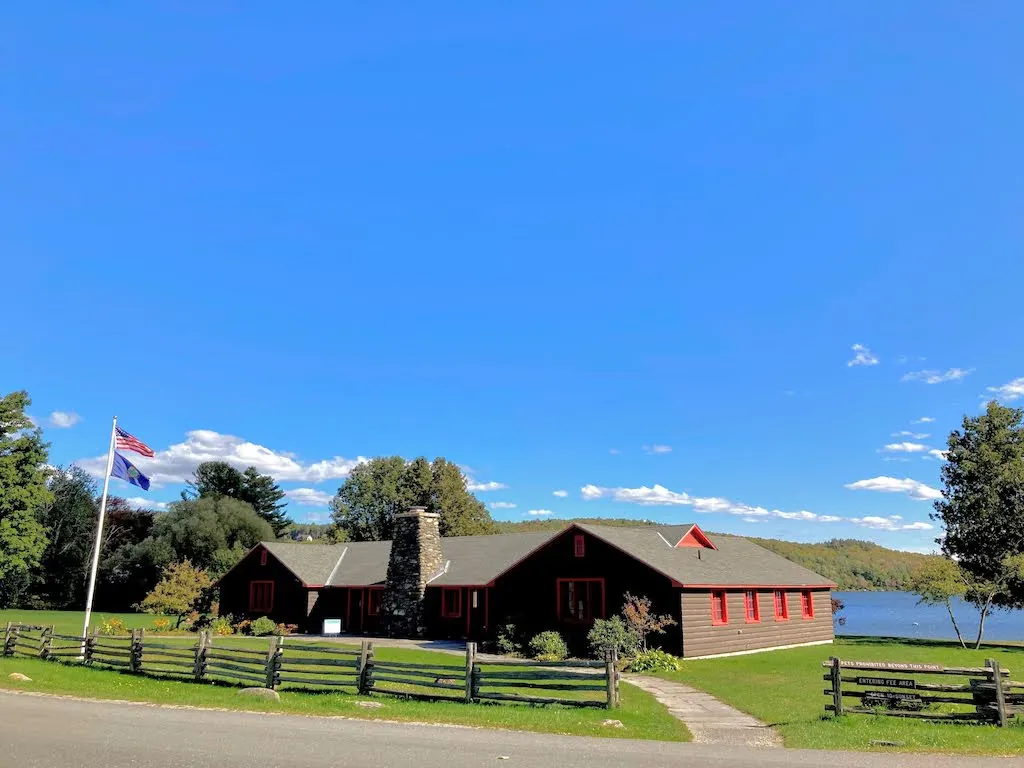 Now that my kids are grown, I head to the beach at Elmore Lake with a book, jump in the water when I get too hot, and head back to camp when the beach gets too crowded.
A day relaxing near a Vermont mountain lake is as wonderful and nostalgic as the tourist brochures would have you believe.
Easy Day Trips from Elmore State Park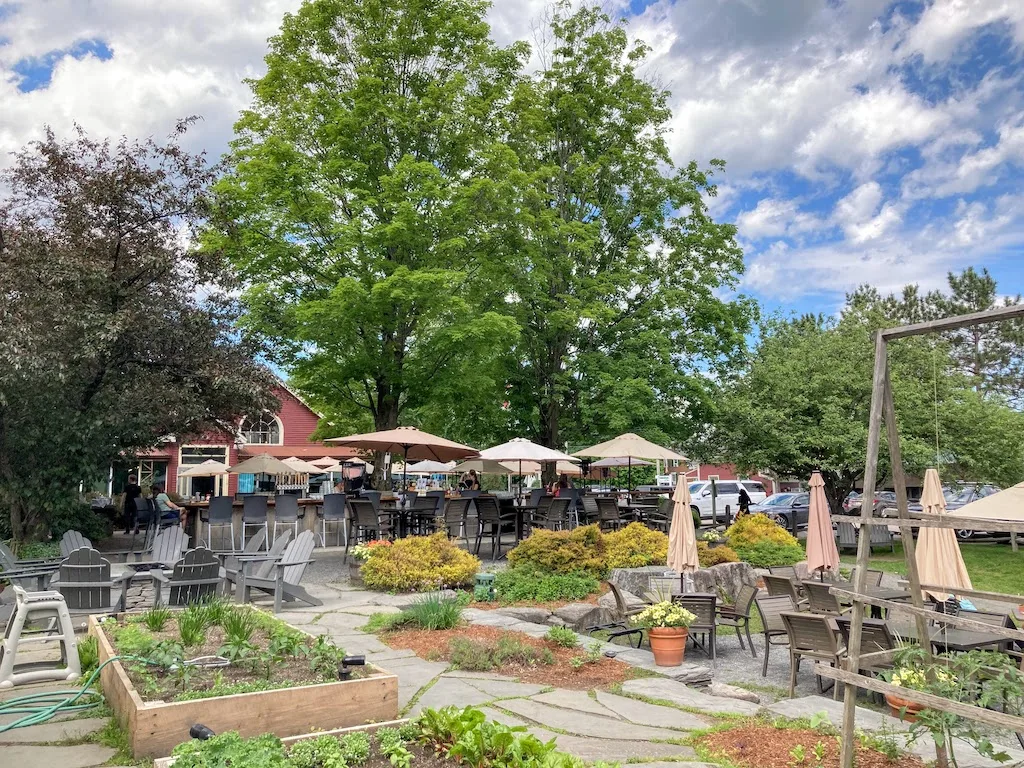 You've hiked the trail to the top of Elmore Mountain. You've soaked up some sunshine and taken a few cold dips. What next?
If you are looking for more outdoor adventures, there are lots more hiking trails around Stowe the northern Green Mountains, whether you want to bag a summit or photograph a waterfall.
If you'd rather spend the day shopping and dining, head into the village of Stowe where you'll have your pick of fantastic restaurants and boutiques. Summer weekends are crowded in Stowe, but Vermont tourists are a pretty jolly bunch.
Park in the bog parking lot behind the church on Main Street. From here you can access the Stowe Recreation Path (bring your bike and ride up the Mountain Road!). We can vouch for the homemade ice cream cones at Stowe Sweets and the truffles at Laughing Moon Chocolates.
Lest you think that we only eat ice cream and chocolate, fear not. We also drink beer, and our favorite spot in Stowe is Idletyme Brewing on The Mountain Road (Route 108).
If you want a workout, ride your bike along the Stowe Recreation Path until you reach the lively outdoor patio. Or take the car if you want almost instant gratification. Idletyme Brewing Company serves fantastic pub fare, salads, and locally crafted beer on their dog-friendly patio. It's the place to be on summer evenings.
Idletyme Brewing is open every day until 9 pm.
---
Looking for more Vermont State Parks to visit? Here are a few more of our favorites!
---
What to Pack for Your Vermont Camping Trip at Elmore State Park
Here are some very useful pieces of gear/clothing that we recommend for making Elmore State Park in VT your best camping trip ever:
Bug spray – The mosquitoes at Elmore State Park come out at dusk when you're preparing dinner. For 12 hours of protection from mosquitoes, biting flies, and ticks that carry Lyme disease, we recommend Sawyer insect repellent with 20% Picaridin, which smells better than DEET and doesn't make your skin feel all yucky.
A wheeled cooler – Because in the morning, you will want to pack up all the food you'll need for the day and bring it to the beach, where you can get busy relaxing, kayaking, swimming, and fishing. The astronomically priced, but worth every penny RovR 45-quart wheeled cooler has the most rugged wheels we've ever seen on a cooler, and it keeps ice frozen for more than a week. We found this size to be adequate for a family of four, but you can go much bigger if you need to.
A hammock – A portable hammock is awesome for relaxing at your campsite. There are plenty of hammock trees at Elmore State Park, but not if you get one of the lean-tos in the meadow.
Quick-dry towels – Even in the summer, Vermont can be kind of damp, and unless you are blessed with perfect weather, you will be frustrated with beach towels that never dry. Invest in a quick-dry towel for every member of your family, and be sure to get everyone their own color to prevent bickering (or at least some bickering).
Warm clothes for chilly evenings. You're in the mountains! Bring a warm fleece and a down puffy jacket, plus a pair of fleece gloves and a wool beanie.
---
Follow us on social media for more Vermont inspiration!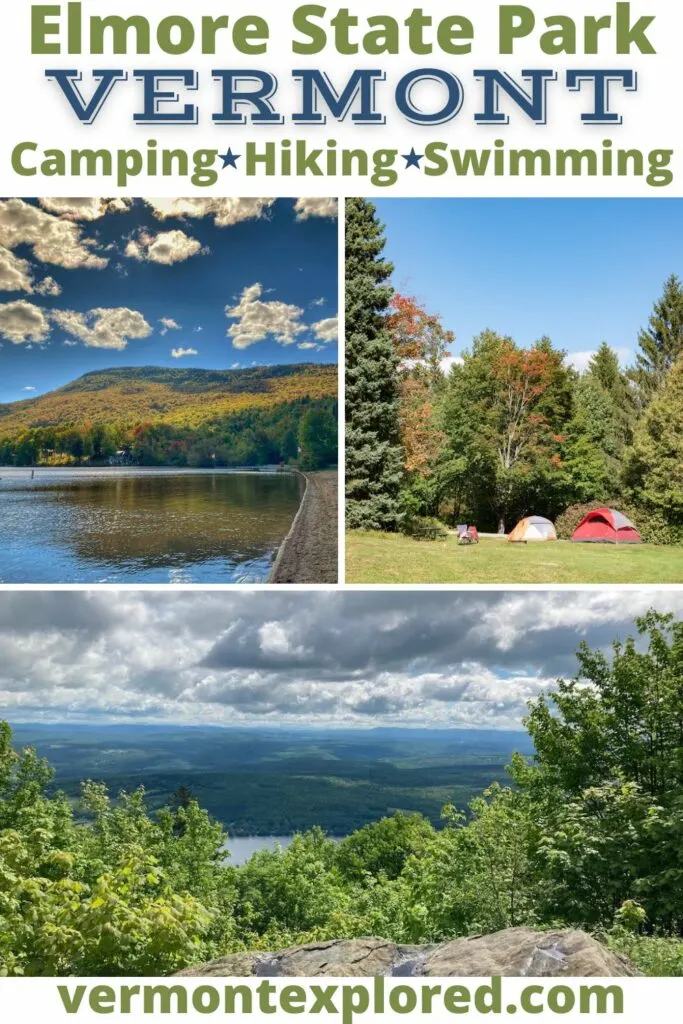 Tara Schatz is a freelance writer, and the founder and editor-in-chief of Vermont Explored and Back Road Ramblers, an American road trip blog. She is also the co-author of the 3rd edition of AMC's Best Day Hikes in Vermont, which was released in May 2023.