Vermont is beautiful in all four seasons, and exploring the mountains and valleys on foot is one of our favorite pastimes. We've been trekking and meandering the hiking trails in Southern Vermont with our kids for the past 15 years, and we figured it was high time we share our favorite trails with you.
The following hikes, rambles, and walks are perfect for novice hikers or families with children. Most are under five miles, and all have a kid-friendly feature to help entice them along.
The best way to encourage my own kids down a trail is with the promise of water for swimming. We've got a few more tricks up our sleeves if you're interested, but a good many of our favorite trails surround lakes, meander along rivers, or end up at the bottom of waterfalls.
Today, we're going to focus on easy hiking trails in Southern Vermont, including trails in Bennington, Manchester, Stratton, Wilmington, Brattleboro, and Putney. But first a few logistics for hiking in Vermont.
When is the best time to hike in Southern Vermont?
We hike the trails in Southern Vermont year-round, so don't let the temperature discourage you. Our favorite time to hike in this area is early October because the fall colors are incredible here, but fall is also prime tick season, so be sure to protect yourself from those nasty critters.
Summer is our second favorite time to hike in Vermont. The days are long, the weather is warm, and we can cool off with a swim during or after our hike. The trails are busiest in the summer, but even on the most popular trails, there's usually room to spread out.
Finally, all of these trails are totally doable (and beautiful) during the winter months. You made need to bring a pair of snowshoes or microspikes, but because these trails are pretty short, you should be able to accomplish them without issue.
The only time I wouldn't recommend hiking in Southern Vermont is during mud season, when hiking can damage the trails. Don't worry, we've got plenty of other ideas for mud season in Vermont!
What to Wear Hiking in Southern Vermont?
Layers! It doesn't matter what time of year you're hiking in Southern Vermont – layers are your friend. Here's what I wear when hiking our Vermont trails.
Hiking pants – I recommend hiking in long pants, even in the summer. Lightweight pants will keep the bugs away and will also protect you from brambles and poison ivy. My current favorites are these straight-leg hiking pants from Columbia because they come in short-people sizes. Eric wears these Quandary pants from Patagonia.
Hiking tights – For cooler temps, layer a pair of leggings or tights under your hiking pants. These amazing leggings are lined with merino fleece and can be worn with our without hiking pants throughout fall and winter.
Wool socks – Wool is my favorite fabric for hiking year-round. I wear Darn Tough Vermont wool socks in the summer and winter. I love that they are made in the USA and that they come with a LIFETIME guarantee. They come in sizes for men, women, and kids.
Wool top – I've found the softest wool layers for hiking. They are made by Woolx and they wick away moisture, dry fast, and can be machine washed. The best part is they keep you cool in the summer and warm in the winter. And no matter how much you sweat, Woolx shirts don't stink! Woolx makes short-sleeve, tanks, and long-sleeve tops for both men and women.
Puffy layer – A lightweight puffy jacket is indispensable. They are incredibly warm and they pack up very small. I wear mine all winter and keep it in my daypack in the summer and fall, just in case. My favorite down layer is from Patagonia and has lasted many years.
Waterproof layer – A packable raincoat is useful for Vermont's unpredictable weather. We pack the men's and women's versions of the Ranier Rain Jacket from REI Co-op. I recommend going one size up from what you normally wear so you can layer it over your puffy if you have to.
Hiking shoes – Vermont is a rocky, rooty state for hiking. I recommend sturdy hiking shoes over trail runners or sandals. I love my Oboz Sawtooths because they have a narrow heel and a wide toe box, but as long as they're sturdy, bring whichever brand works best for you.
Blaze orange – If you find yourself in the Vermont woods during late October through November, be sure to wear plenty of blaze orange so that hunters can easily see you on the trails. Here are some more tips for hiking during hunting season.
Resources for Finding Great Southern Vermont Hiking Trails
We hope that Vermont Explored is a good resource for finding hiking trails, but we will never be able to hike and write about them all. So, here's where we look when trying to find great trails to hike in Vermont.
Hiking in Vermont Facebook Group – The people in this group are so helpful at providing recommendations for trails all over the state and can answer any questions you might have about trails.
AllTrails – This hiking trail database includes thousands of trails, as well as maps, photos, and reviews. You can save your favorites, navigate to trailheads, record your tracks, and share reviews all within the AllTrails app. So useful!
Trailfinder – This is another great online database of hiking trails in Vermont and New Hampshire. You can search for trails by location, difficulty level, and activity (snowshoeing, biking, horseback riding, etc.).
Easy Hiking Trails in Southwestern Vermont
Southwestern Vermont is our home turf, so we have many suggestions for hiking in Bennington, North Bennington, and Shaftsbury.
Lake Shaftsbury State Park: Shaftsbury, Vermont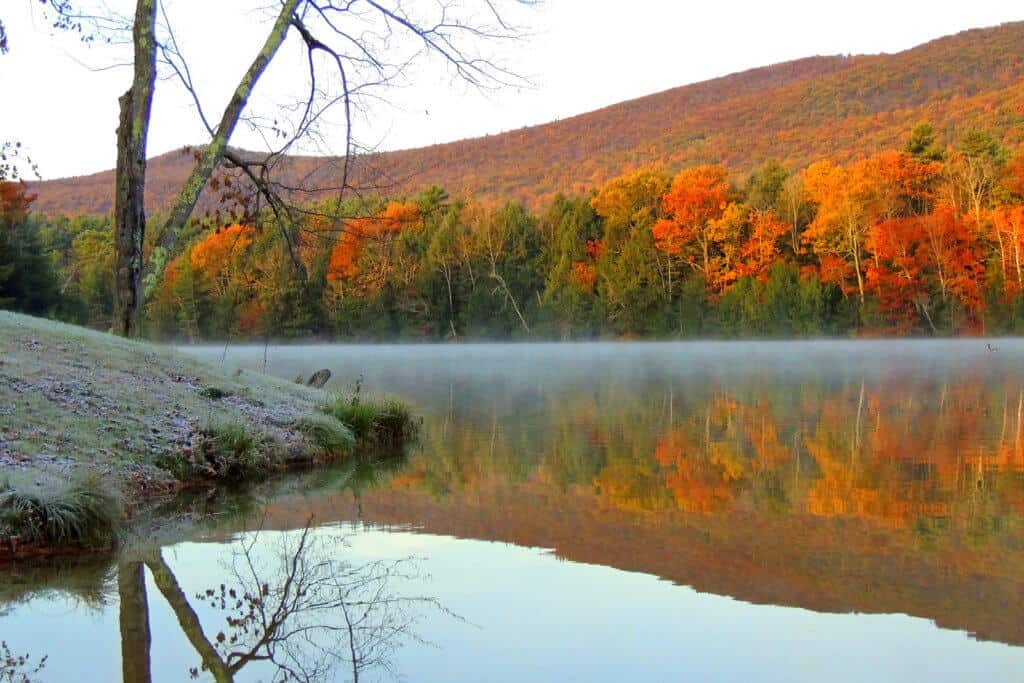 This 84-acre park is small but well-loved. It is most popular as a picnic and swimming spot for local families, but the trail around Lake Shaftsbury is underappreciated and quite lovely.
The hike around Lake Shaftsbury is more of a ramble — a mile in length, meandering through the woods, then wetlands, than back into the woods, with a constant view of the lake. Waterfowl are plentiful most of the year, and we've also spotted bald eagles and osprey on numerous occasions.
After your hike, you will want to spend some time on the water, and the beach is the perfect spot for relaxing with a good book. I highly recommend driving south on route 7A for another mile and visiting the Chocolate Barn for the best ice cream you're ever likely to taste in Southern Vermont.
Difficulty level: easy
Length of trail: 1-mile loop
Kid appeal: swimming, a boardwalk through wetlands, decent fishing, boat rentals
Dogs: on-leash, but not on the beach or picnic area
Fee: $4 for adults, $2 for children
For more on this hike, check out Lake Shaftsbury State Park in all Four Seasons.
Woodford State Park: Woodford, Vermont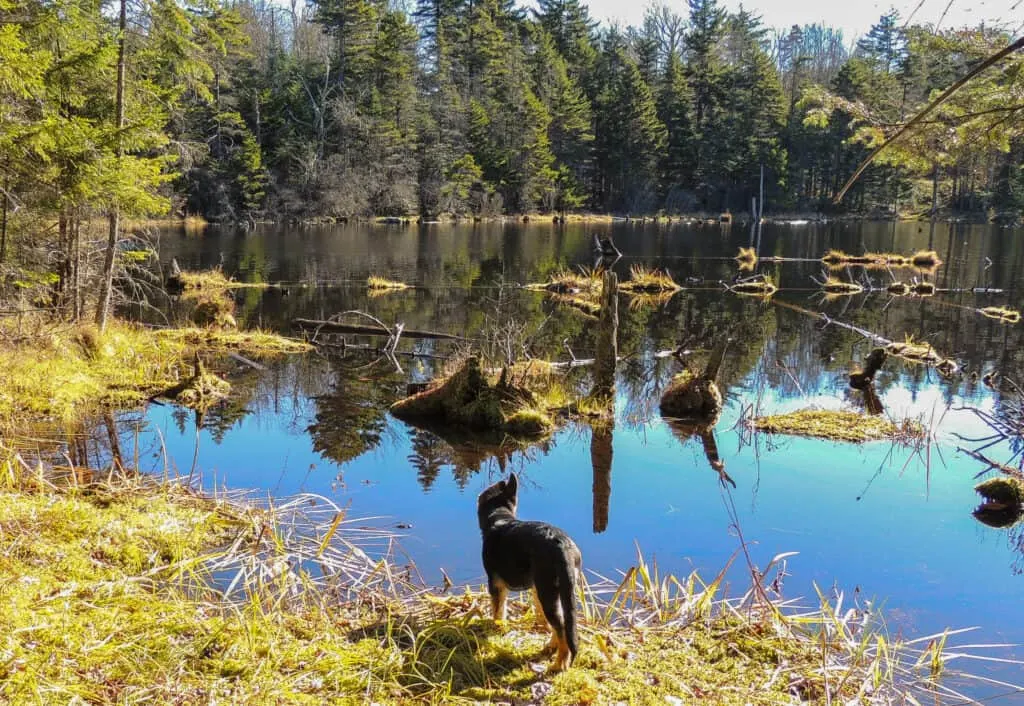 The hiking trail in Woodford State Park brings you around Adams Reservoir, a gorgeous, tree-lined lake nestled in the Green Mountains. Woodford State Park is much more secluded than Lake Shaftsbury, and much cooler (temperature-wise).
We've seen moose up here and spent days on the water without running into another person. The trail around the lake isn't difficult, but at 2.7 miles, it might be hard for younger kids to make it around. We love how dark and mossy the trail is. There are several easy stream crossings, and you may even see the carnivorous sundew plants if you look very carefully along the shore.
Difficulty level: easy to moderate
Length of trail: 2.7-mile loop
Kid appeal: swimming, playground, boat rentals
Dogs: on leash
Fees: $4 for adults, $2 for kids
Want to learn more about Woodford State Park? Check out: Woodford State Park: A Park for All Seasons
Lye Brook Falls: Manchester, Vermont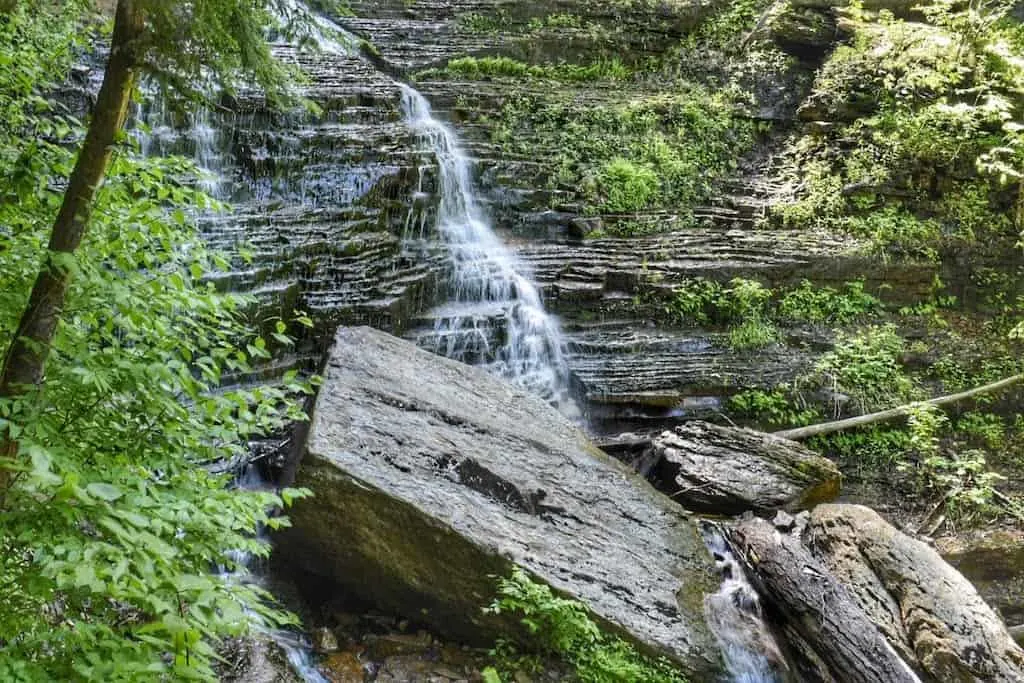 The hike to Lye Brook Falls in Manchester, Vermont is a moderate 4.6-mile woodland walk that is easy enough for families with older kids. This hike is perfect for summer because the trail is shaded the whole time. Not only is this one of the loveliest waterfalls in the state, the hike to Lye Brook Falls is also one of our favorite trails in Vermont.
At 125 feet tall, Lye Brook Falls is the closest big waterfall to our home in Bennington, Vermont so we try to visit at least once every season. It's made up of several tiers of cascades and horsetails. Unfortunately, it's not really possible to swim at Lye Brook Falls as the pools are quite shallow.
Because the Lye Brook Falls hike is quite popular, I recommend hiking early in the morning and during the week if possible. The hike is very dog-friendly, and yes, we have seen plenty of dogs off-leash here.
Difficulty: easy to moderate
Length: 4-6 miles total (out-and-back)
Kid appeal: Stream and waterfall
Dogs: yes
Fees: none
Here's a trail map and overview from the Green Mountain National Forest. We've also got a full Lye Brook Falls trail report over on Back Road Ramblers.
Mile Around Woods, North Bennington, Vermont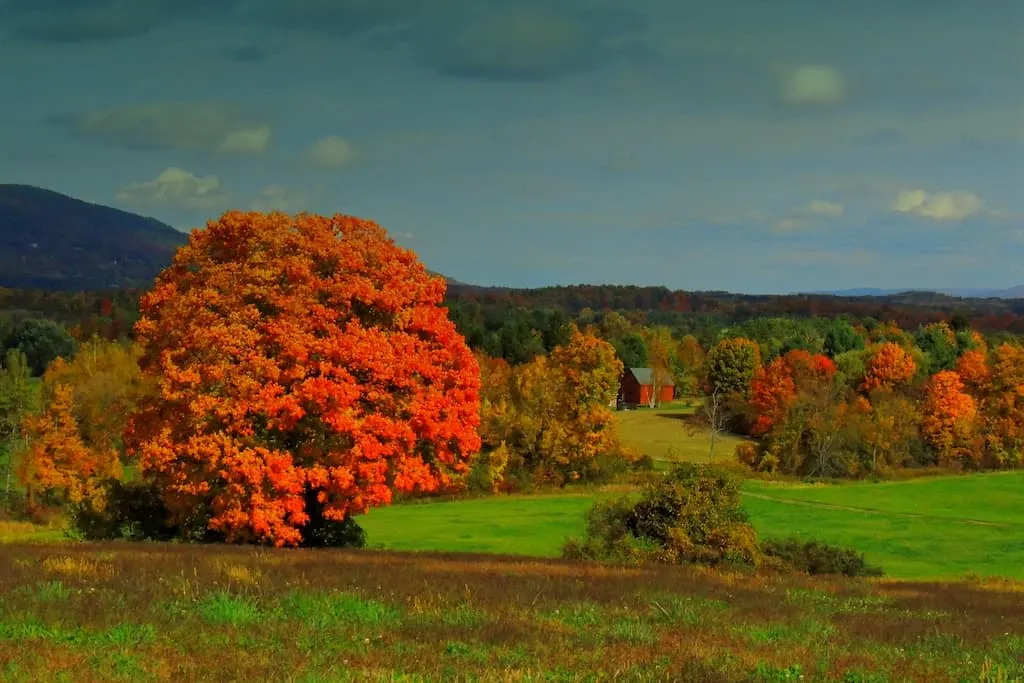 The Mile-Around-Woods trail is one of the best hikes in Southern Vermont. It sits behind the beautiful Park McCullough house in North Bennington, VT. This loop starts by taking hikers through beautiful farm fields of grazing horses, then meanders through a hardwood forest on a lovely, wide path.
The forest loop is exactly a mile long, but you can make the adventure last by traipsing across several fields, or by visiting the historic Park McCullough House and Hiland Hall gardens. I recommend making an afternoon of it – the Park McCullough House is open for tours on Friday, Saturday, and Sunday from May to October. The Hiland Hall gardens have been meticulously restored and are located behind the main house.
Difficulty: easy for all ages
Length: 1-mile loop
Kid appeal: farm animals, wildflowers, rocks for climbing
Dogs: on leash
Fees: none, unless you want a tour of the historic house
For a trail map, please visit the Fund for North Bennington.
Emerald Lake State Park, East Dorset, Vermont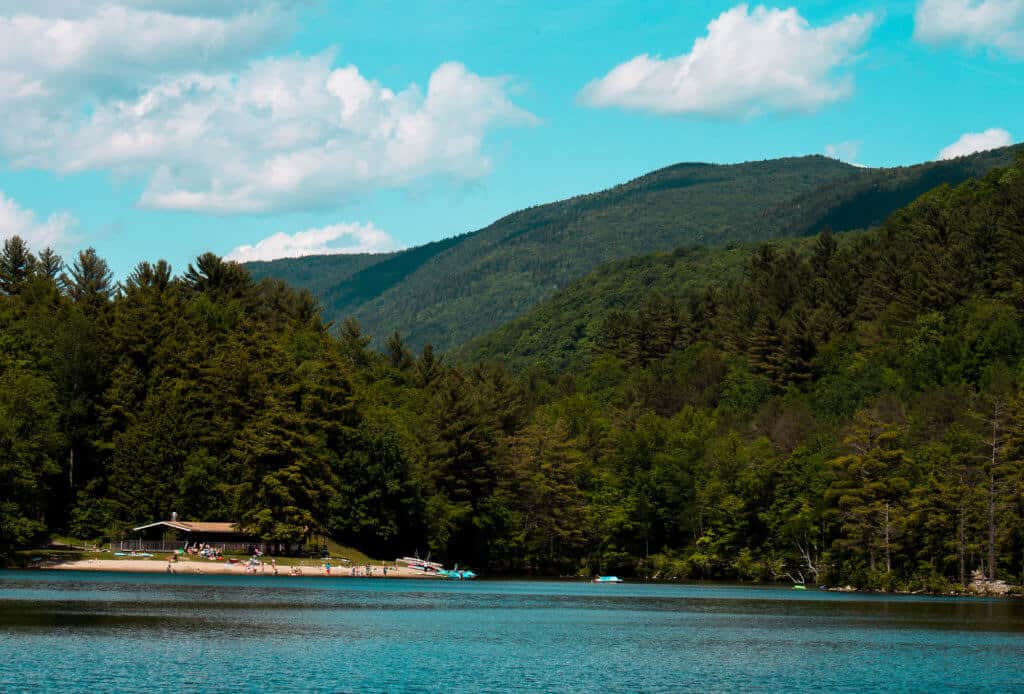 Emerald Lake State Park is nestled in a deep valley between the Taconic Mountains to the West and the Green Mountains to the east. The two mountain ranges are only a few hundred yards apart here, and they rise up steeply on either side of the lake.
Covering just 20 acres, Emerald Lake isn't big, but what it lacks in size it makes up for in beauty. There are several hiking trails in Emerald Lake State Park, and if you and your kids are into vistas, I recommend checking out the Vista Trail, which is a steady climb with awesome views of the lake. I have to say that our kids much prefer the lake trail, which hugs the shoreline, with side trails into the three campground loops. We like taking the trail to the "C" loop because it travels through the wetlands at the south end of the lake, perfect for some kid-friendly birding adventures.
Difficulty: easy, although the campground trail is kind of steep
Length of trail: The lake trail is .5 miles and the campground trail is .4 miles, one way. You can walk back to the beach and parking lot on the campground roads, or turn around and retrace your steps.
Kid appeal: awesome swimming, a rope swing for big kids (on the island), bird watching, boat rentals
Dogs: They're allowed in the campground and on the trails (on leash), but not at the beach or picnic areas.
Fees: $4 for adults, $2 for children
For more about Emerald Lake trails, check out: A Summer in Vermont: Exploring Emerald Lake State Park
Merck Forest and Farmland Center, Rupert, Vermont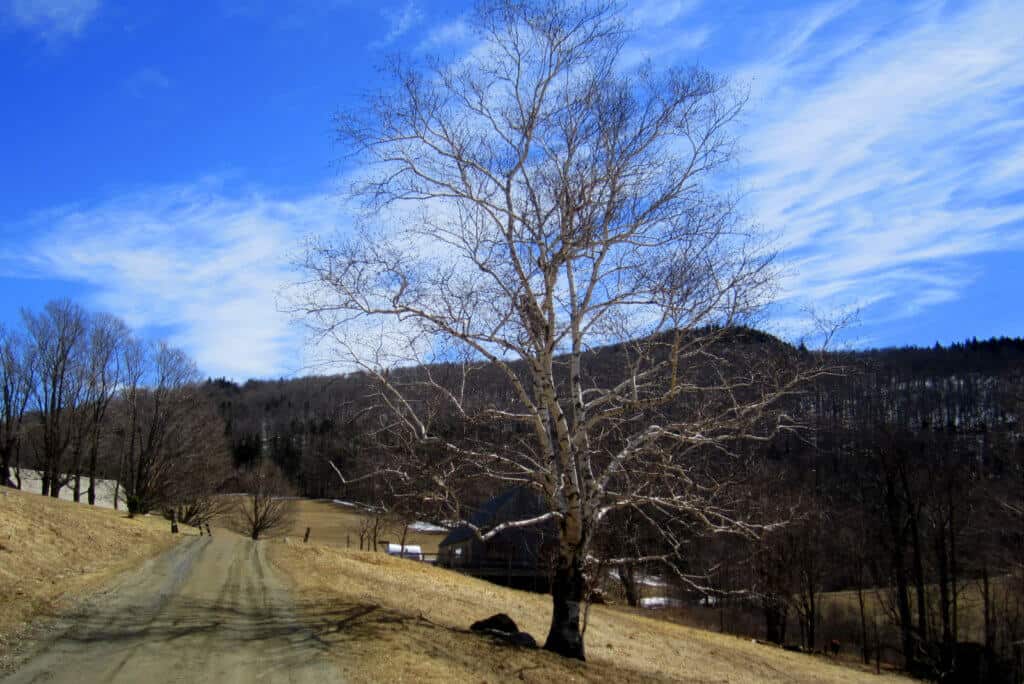 Merck Forest and Farmland Center is a nonprofit educational center and outdoor stewardship organization that maintains 3,162 acres of woods and farmland in Rupert, Vermont.
There are more than 30 miles of hiking trails to explore, plus cabins for camping. We like to stroll around the farm, visit the animals, check out the maple tap house, and then head up to Birch Pond for a dip and a picnic. This is a fairly easy, 3-mile loop, but we often make a day of it because the animals are so hard to resist.
Difficulty: easy to moderate
Length of trail: 3-mile loop
Kid appeal: swimming, farm animals
Dogs: They are allowed on the trails, but if you want to visit the animals, you should leave your dog at home.
Fees: Free
Read more about Merck Forest here: Cabin Camping at Merck Forest
Easy Hikes in South Central Vermont
The Green Mountains run north to south through the center of the state. The following hikes are located in the southern Green Mountains, which are gorgeous in all four seasons!
Stratton Mountain Fire Tower, Stratton, Vermont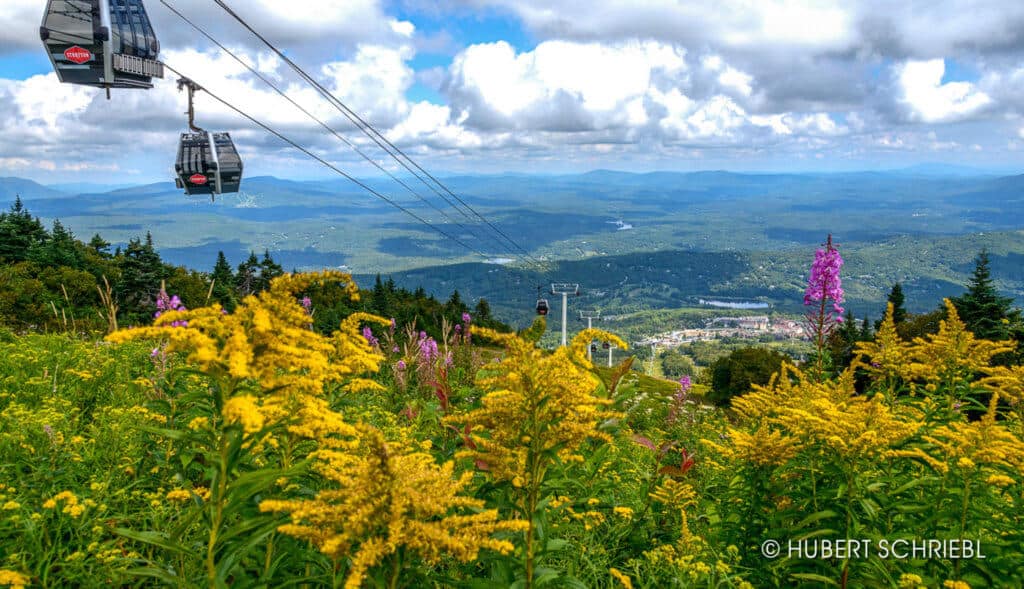 At 3,940 feet, Stratton Mountain is Southern Vermont's tallest peak. The hike to the Stratton Fire Tower from the base of the mountain gains 1,700 feet in elevation
and is 6 miles, round trip. This is a great hike to aspire to, but it's probably not suitable for young children
unless they are avid hikers already. Luckily, there's a shortcut. During summer weekends, and every day during the fall foliage season, you can hop aboard the gondola at Stratton Mountain Resort. From there, it's an easy, 0.7 mile to the fire tower, which provides unparalleled views in all directions.
Difficulty: easy
Length of trail: 1.4 miles round-trip
Kid appeal: gondola ride, fire tower
Dogs: No
Fees: It's $35 for a family of up to eight people to ride up the mountain in a gondola cabin.
The Stratton Mountain Blog has a good overview of this adventure. Check out: Venture Vermont: Stratton Fire Tower Hike
Mt. Olga, Molly Stark State Park: Wilmington, Vermont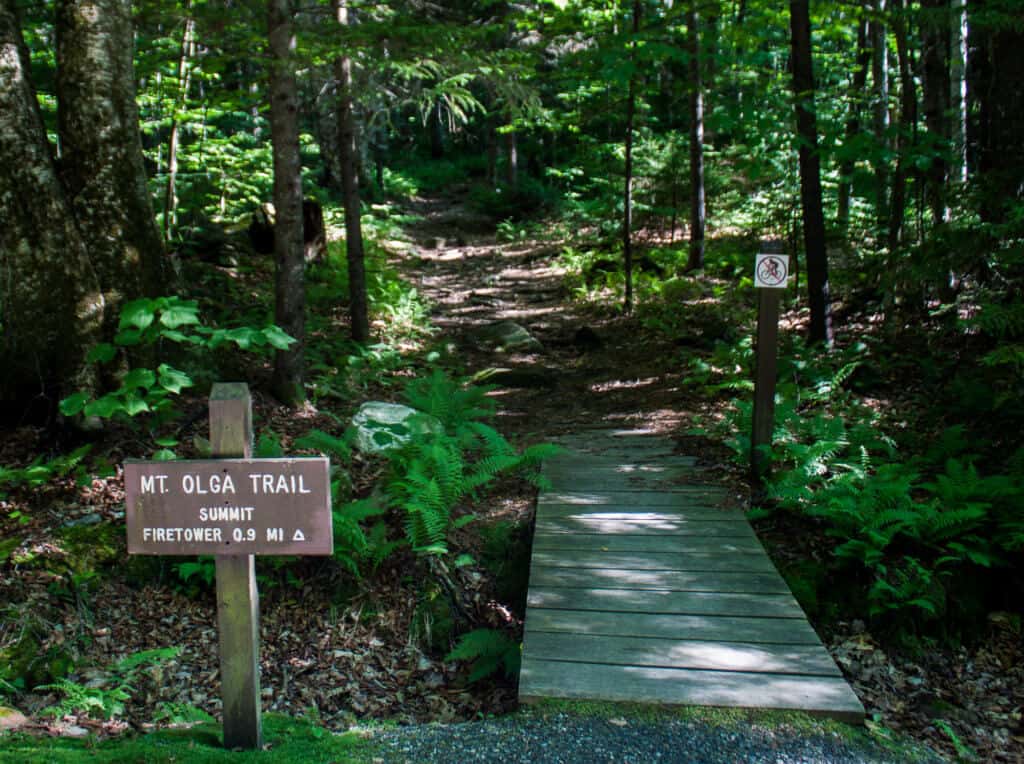 Mt. Olga is a great day hike for folks visiting Wilmington, which by the way, is one of my favorite Vermont towns. It's a 1.8-mile loop to the top of the mountain.
Older kids will appreciate that they are actually climbing a mountain, but it's not so hard that it's frustrating. Still, it is all uphill, so prepare yourself and your kids with an incentive to reach the summit.
We usually opt for cookies and iced tea. When my kids were little, we would read a chapter of their favorite book at the top. If you explore the summit a bit, you'll find ruins of the defunct Hogback Ski Resort up here, which are fun to poke around.
Difficulty: Moderate
Length of trail: 1.8-mile loop
Kid appeal: ruins, Fire Tower
Dogs: on leash
Fees: $4 for adults, $2 for kids
For more about exploring Wilmington, check out: The Complete Guide to Exploring Wilmington, Vermont
Little Rock Pond: Mt. Tabor, Vermont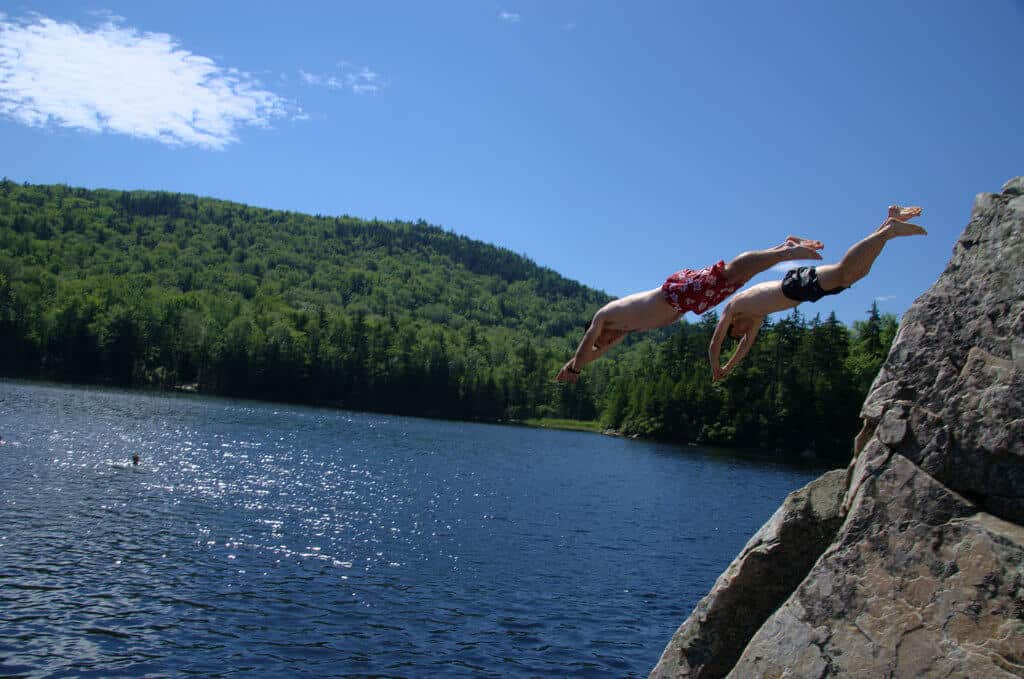 Looking for a nice hike to a pristine mountain lake? Little Rock Pond sits just off the Appalachian / Long Trail. The hike is 4 miles round-trip, but it gains just 350 feet in elevation. The lake is just far enough from civilization that it is never crowded, but close enough that it can be a nice day trip for a hike, picnic, and swim.
Other hikers have seen leeches in Little Rock Pond, but I never have, and we've been there dozens of times. Just something to be aware of. There is a lean-to shelter and several tent platforms set up near the lake for hikers, which also makes this hike the perfect first backpacking adventure for your family.
Difficulty: easy
Length of trail: 4 miles, round trip
Kid appeal: swimming, rock jumping, beaver activity
Dogs: yes
Fees: none, although there is a nominal fee for camping
For a trail description and directions, check out this article in the Castleton Spartan.
Hamilton Falls, Jamaica State Park: Jamaica, Vermont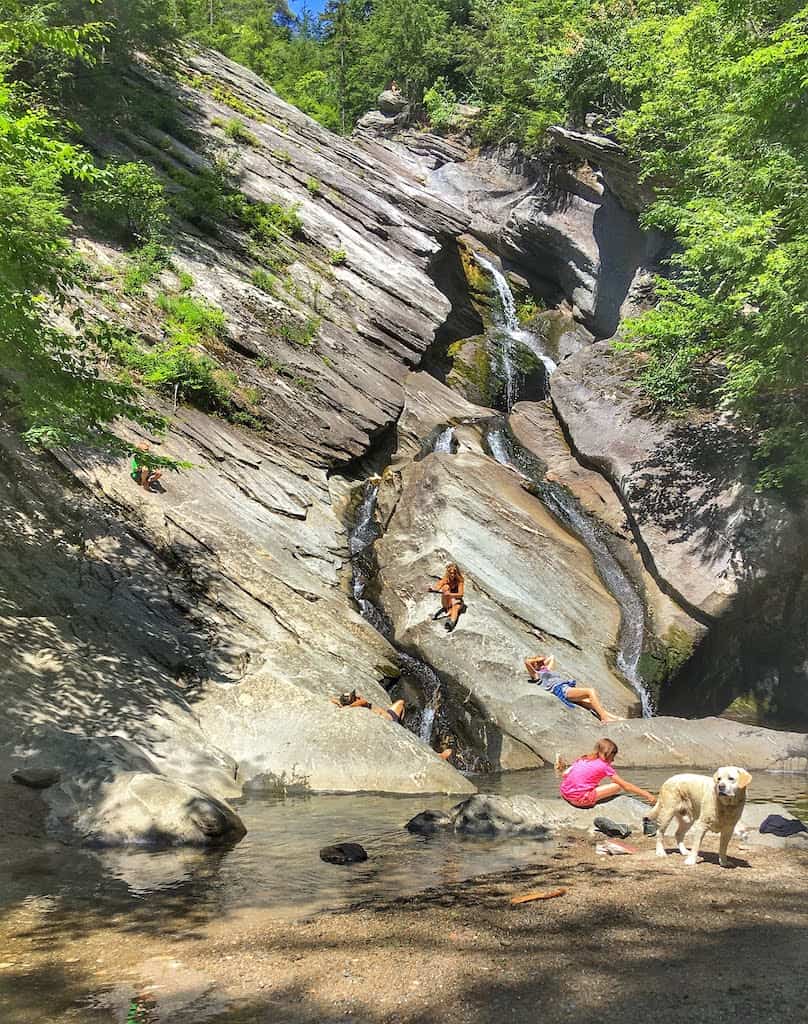 Jamaica State Park is one of our favorite Vermont State Parks. It includes an awesome rail trail that hugs the West River, which is a gem for swimming. As you hike or bike this trail, you'll find lots of secluded swimming holes.
If you have little kids, I recommend sticking to the West River Rail Trail, which goes all the way to the Ball Mountain Dam. The hike to Hamilton Falls is probably the most challenging on this list. It's 6 miles round-trip — 2 miles on the rail trail, and then a 1.1-mile climb to the base of the falls. We often shorten our trip by biking the rail trail and then locking our bikes up to a tree while we hike to the falls.
Difficulty: easy on the rail trail, but a steep climb to the falls
Length of trail: 6 miles round-trip
Kid appeal: River swimming, playground, waterfall
Dogs: on leash
Fees: $4 for adults, $2 for kids
Read Next: 7 Memorable Things to do in Jamaica State Park
Easy Hikes in Southeastern Vermont
Now let's head east to the Connecticut River Valley. We haven't done a huge amount of hiking in this area, but we're hoping to add more to this list soon.
Mt Ascutney State Park: Windsor, Vermont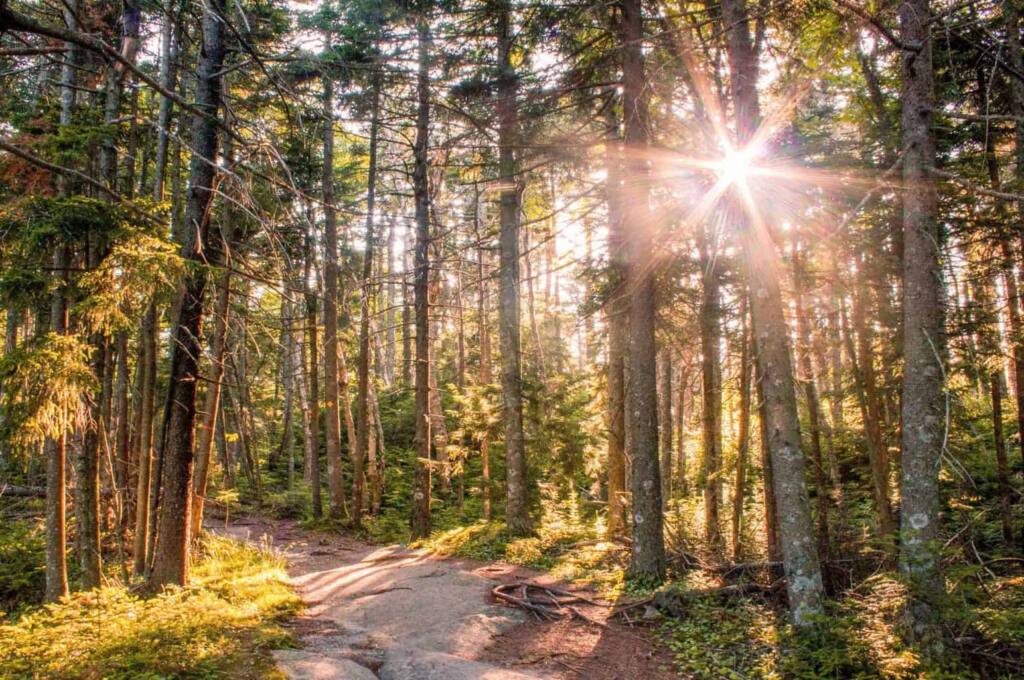 There are several hikes up Mt. Ascutney, a beautiful monadnock overlooking the Connecticut River Valley, but if you're hiking with small children, or you want a more relaxing day trip, you can drive right up the mountain to a summit parking area.
Once at the top, the summit trails are easy and fun to explore, with incredible views, a fire tower, and a hang glider launch pad. In fact, Mt. Ascutney is one of the premier hang gliding destinations in the northeast. There are several trails crisscrossing the summit, but if you want to climb the fire tower and watch the hang gliders, I recommend taking the summit trail to the Weathersfield trail to hang glider's trail. The whole loop is about 2 miles.
Difficulty: Moderate
Length of trail: 2-mile loop
Kid appeal: hang gliders, awesome views, fire tower
Dogs: on leash
Fees: $4 for adults, $2 for kids
Want to read more about Mt. Ascutney State Park, check out: Vermont's Mighty Monadnock
Black Mountain: Dummerston, Vermont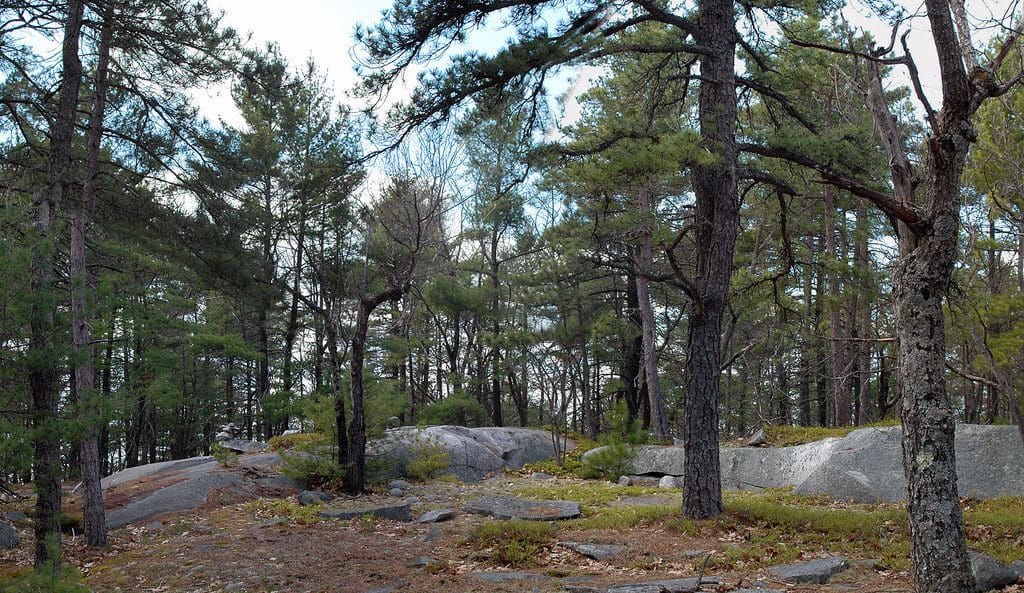 At 1,280 feet, Black Mountain isn't huge, but it is an unusual ecosystem for Southern Vermont, boasting lots of mountain laurels and blueberry bushes (ready in late July or early August), and lots of exposed granite. The views are good, but a bit obstructed by trees.
When you get to the top, it pays to explore a bit for more exposed outcroppings of rocks and better views. There are two trails up the mountain, from either Rice Road or Black Mountain Road. The Rice Road trail is 1.5 miles and steep. The Black Mountain Road trail is 2.5 miles, but a more moderate climb. Choose the one most suitable for your family.
Difficulty: moderate to difficult
Length of trail: depends – see above
Kid appeal: blueberries, wildlife, good birdwatching
Dogs: no
Fees: none

For a trail map and directions, visit Alltrails
Putney Mountain: Putney, Vermont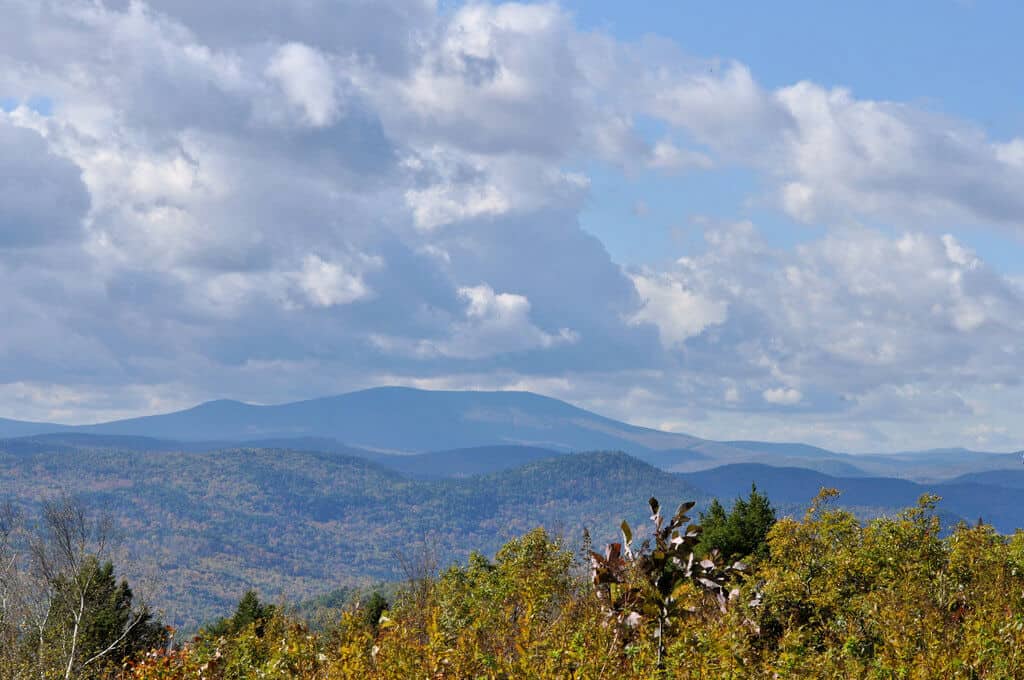 There is a whole network of trails here, maintained by Windham Hill Pinnacle Association and the Putney Mountain Association. The Putney Mountain trail is easy enough for families, provides awesome views of the Green Mountains to the west, and is one of the premier spots to watch migrating hawks in the spring and fall. Once you reach the summit, you can continue on the West Cliff Trail for a longer hike, or loop around back to your car for a total of 1.2 miles.
Difficulty: Moderate
Length: 1.2-mile loop
Kid appeal: vista, hawk watch
Dogs: on leash
Fees: none
For directions and a detailed trail map, visit Windam Hill Pinnacle Association
There are many, many trails in and around Brattleboro that I haven't explored yet. If you have, please leave a comment. I'd love some more recommendations. Also, the Brattleboro Area Trail System has a fabulous trail map and guide for anyone who wants to explore the area.
These are our favorite hikes in Southern Vermont. Visiting Northern Vermont? Check out more of our favorite Vermont hiking spots on Back Road Ramblers. We've also got a hiking guide to Killington, Vermont.
Tara Schatz is a freelance writer, and the founder and editor-in-chief of Vermont Explored and Back Road Ramblers, an American road trip blog. She is also the co-author of the 3rd edition of AMC's Best Day Hikes in Vermont, which was released in May 2023, and the author of 100+ Wonderful Ways to Experience Vermont.