If you've never enjoyed a small-town holiday festival in Vermont, sipped a cup of cocoa while watching a festive Christmas parade, or enjoyed a boisterous New Year's Eve in Burlington, this is your year!
Vermonters love the winter holidays — the snow (of course), but also long nights, twinkling lights, and unique shopping in local stores.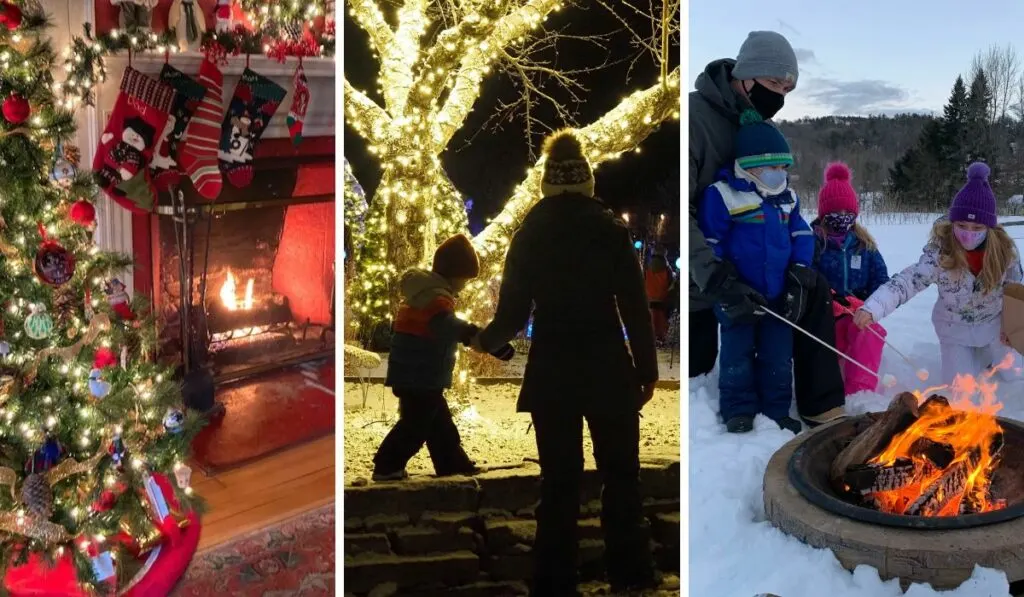 December in Vermont is magical, especially if you are merrymaking at one of these spectacular holiday events. Here are some of our favorites that we look forward to year after year.
Insider tip: Some of these events require advance ticket purchases. We also recommend making dining and lodging reservations as early as possible.
Holiday Events Lasting Through December
The following December events in Vermont are bigger than a single weekend. Gear up for the holidays with twinkling lights, farm animals, and old-fashioned Christmas fun, Vermont style.
Winter Lights at Shelburne Museum: Thursday through Sunday in December 2022: The second annual Winter Lights display at Shelburne Museum is a family-friendly extravaganza for all ages. Taking place over several long weekends in Decmeber, the museum buildings you already know and love will be bedecked in thousands of enchanting holiday lights. Even the iconic Ticonderoga, which has lived at the museum since 1955, will set sail on a sea of lights for all to enjoy.
Tickets will be sold online at Shelburne Museum at 30-minute intervals:
Adults: $15
Children (ages 3-17): $10
Children (ages 0-2): Free
Winter Lights will be open from 5 pm to 8 pm on the following dates:
Friday, November 25 – Sunday, November 27
Thursday, December 1 – Sunday, December 4
Thursday, December 8 – Sunday, December 11
Thursday, December 15 – Sunday, December 18
Thursday, December 22 – Friday, December 23
Monday, December 26 – Sunday, January 1
---
Christmas at Billings Farm & Museum in Woodstock, Vermont: December Weekends: Have you ever wondered what it was like to celebrate Christmas on a Vermont hill farm during Victorian times? Find out with a trip back in time at Billings Farm & Museum.
Learn about a Victorian Christmas and view our authentically decorated farmhouse parlor. Dip your own candle, meet the farm animals, and warm up by the outdoor fire with a cup of cocoa and s'mores.
Christmas at Billings Farm & Museum is offered on December weekends, as well as the week before Christmas from 10 am to 4 pm.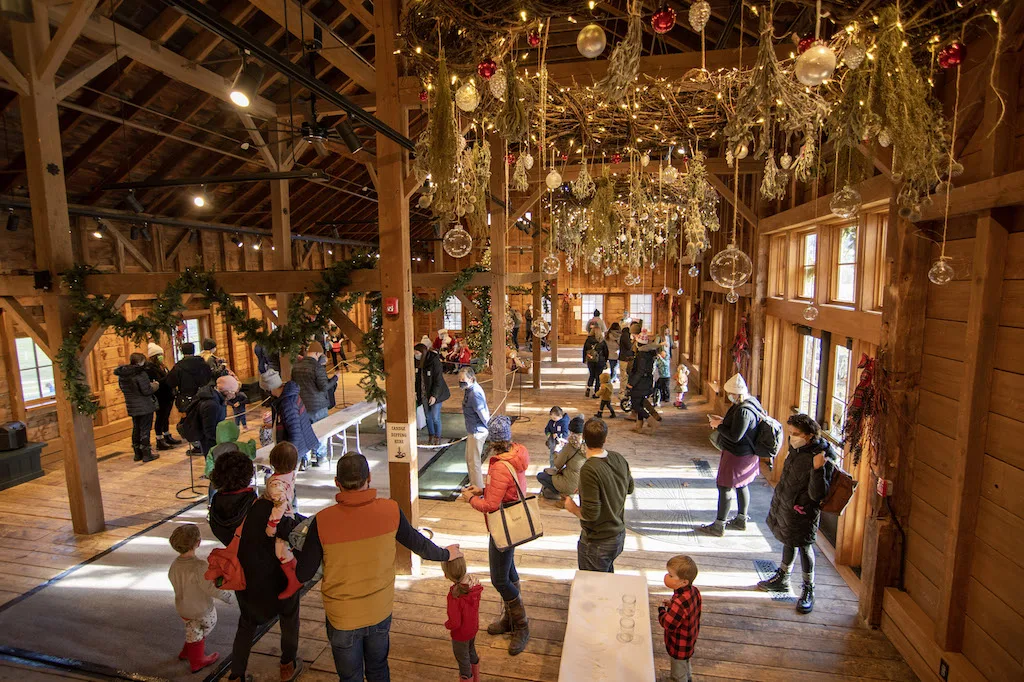 Tickets can be purchased online or in person:
Adults ages 16-61: $17
Seniors ages 62 and over: $15
Students ages 16 & up (please show student ID card): $9
Children ages 4-15: $8
Children ages 3 and under are free
---
Read Next: Spend a Winter Weekend in Woodstock, Vermont
---
Hildene Holidays, "Christmas Eve in 1912,": Thursdays – Mondays in December: Step back in time at Hildene for the holidays, when the Georgian Revival mansion will be decorated for the holidays as it might have been in 1912. Constructed in 1905, by Abraham Lincoln's son Robert Todd Lincoln, this 412-acre estate also includes a working farm and 12 miles of walking trails. Vermont Events: December 1 – 4, 2022.
Purchase your tickets in person:
Adults: $23
Youth (6 to 16): $6
Children 5 and under and members: Free
2nd-day admission: $7/Adults
---
Vermont Events: December 1 – 4, 2022
Festival of Trees in St. Albans, Vermont: December 1 – 4, 2022: Technically, the Festival of Trees in downtown St. Albans begins on November 26, which means that it's a full week of merrymaking. Festivities include the Downtown Tree Walk, where you can bundle up and view beautifully decorated trees displayed in merchant windows.
Holiday movies and entertainment will happen all week, culminating with a full weekend of spectacular family-friendly events on 12/3 and 12/4. If you were waiting to get into the holiday spirit, head to St. Albans for an abundance of free holiday cheer!
For a full schedule of events, check out Festival of Trees.
---
Holiday Inn Tour in the Shires of Vermont, December 3 & 10, 2022: For anyone who has ever wanted to peek inside every gorgeous Vermont inn they pass by, now you can! Sign up for the Holiday Inn Tour in the Shires of Vermont. Tour 15 beautiful Vermont inns, B&Bs, and lodges decked out for the holidays over the course of two Saturdays in December.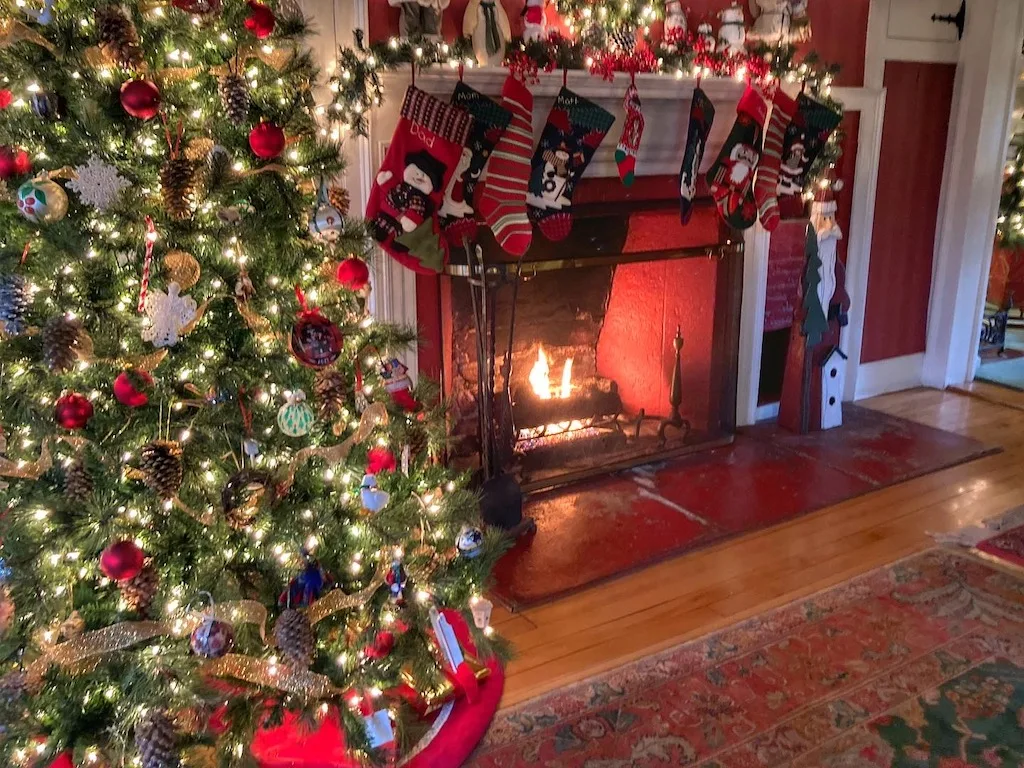 The self-guided tour includes properties in Bennington, Arlington, Sunderland, Manchester, Dorset, and East Dorset. Stop by each inn between 11 am and 3 pm for an open house and maybe even a tour – each property does it differently.
Tickets must be purchased online – $20 for one person, $30 for two people, with 100% of the proceeds benefiting the Manchester Community Food Cupboard, the Arlington Food Shelf, and Bennington Meals on Wheels.
---
A Traditional Christmas in Stowe, Vermont: December 2 – 4, 2022: As if Stowe needed more reasons to visit than its adorable downtown and big-mountain recreation, a Traditional Christmas in Stowe is beloved by both locals and visitors. This delightful event was named a Top Ten Winter Event by the Vermont Chamber of Commerce, and it's a fabulous way to celebrate December in Vermont.
The community rolls out the red carpet and decks the town with holiday lights. The weekend festivities include tree lightings, a children's lantern parade, wagon rides, a holiday bazaar, live music, and a Santa stroll to support local businesses.
---
Vermont Holiday Market in Essex Junction, Vermont: December 3 & 4, 2022: Get all of your holiday shopping done in one fell swoop, and have a blast doing it! This two-day holiday market is a massive treasure trove of hand-crafted goodies, including jewelry, leathercraft, wood products, pottery, and more.
Located at the Champlain Valley Exposition, the Vermont Holiday Market runs Saturday and Sunday from 11 am to 6 pm. Tickets are $5 for adults at the door and kids under 12 are free.

---
Vermont Events: December 5 – 11, 2022
St. J Sparkles in St. Johnsbury, Vermont: December 8 – 10, 2022: Horse-drawn carriage rides, an evening wine tasting, a downtown scavenger hunt, beautiful holiday light displays, and fireworks after dark. Welcome to St. Johnsbury, where the season's most festive weekend gets underway on December 8th.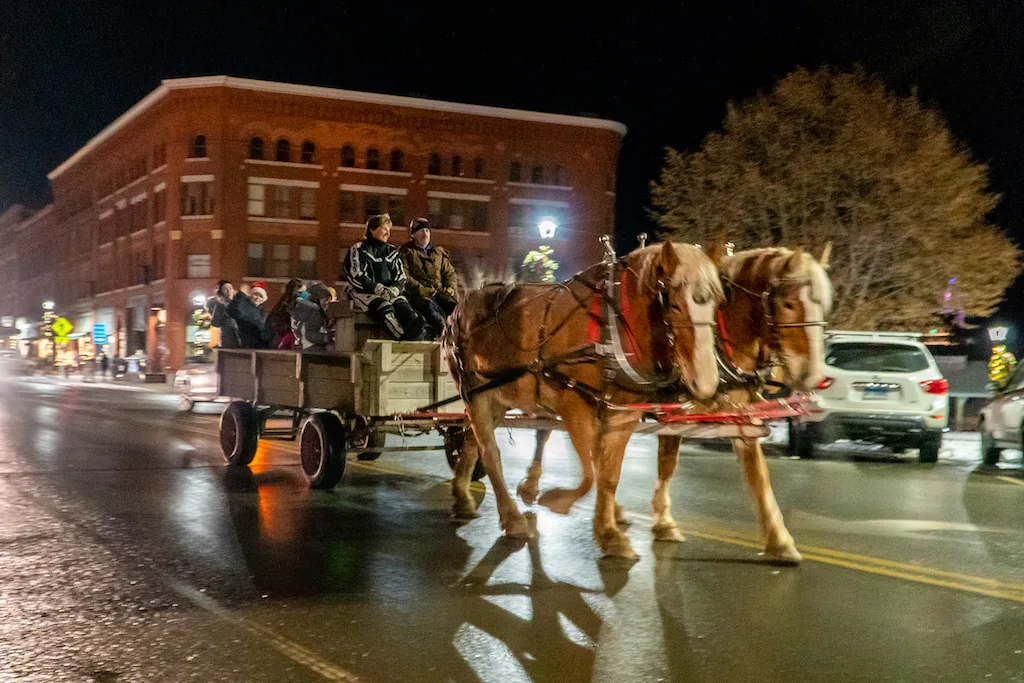 The weekend is full of festivities for both kids and adults, and many of them are entirely free. For a full schedule of events, check out Discover St. Johnsbury.
---
VSO Holiday Pops Concerts, Barre, Burlington, and Rutland, Vermont: December 9 – 11, 2022: Celebrate the holidays in style with festive music and storytelling by one of Vermont's most beloved radio hosts, Jane Lindholm. Join guest conductor Anthony Parnther, singers from the Lyric Theatre, and the Vermont Symphony Orchestra for a memorable holiday concert.
Well-known favorites include Tchaikovsky's The Nutcracker, Anderson's Sleigh Ride, and the Ukrainian Carol of the Bells, alongside new-to-VSO holiday repertoire by Rosephanye Powell and Darin Kelly. You'll also enjoy a reading of The Night Before Christmas and an audience holiday sing-a-long.
Catch one of three special performances — December 9th at the Barre Opera House (7:30 pm), December 10th at the Flynn Center in Burlington (7:30 pm), and December 11th at the Paramount Theatre in Rutland (3 pm).
Tickets can be purchased online. Prices vary depending on location.
---
Wassail Weekend in Woodstock, Vermont: December 9 – 11, 2022: This year will be the 38th Wassail Weekend in Woodstock, a cherished weekend when locals and visitors gather together to celebrate a picture-perfect holiday that could easily be a scene from your favorite Hallmark movie. Come see Woodstock transformed into a winter wonderland.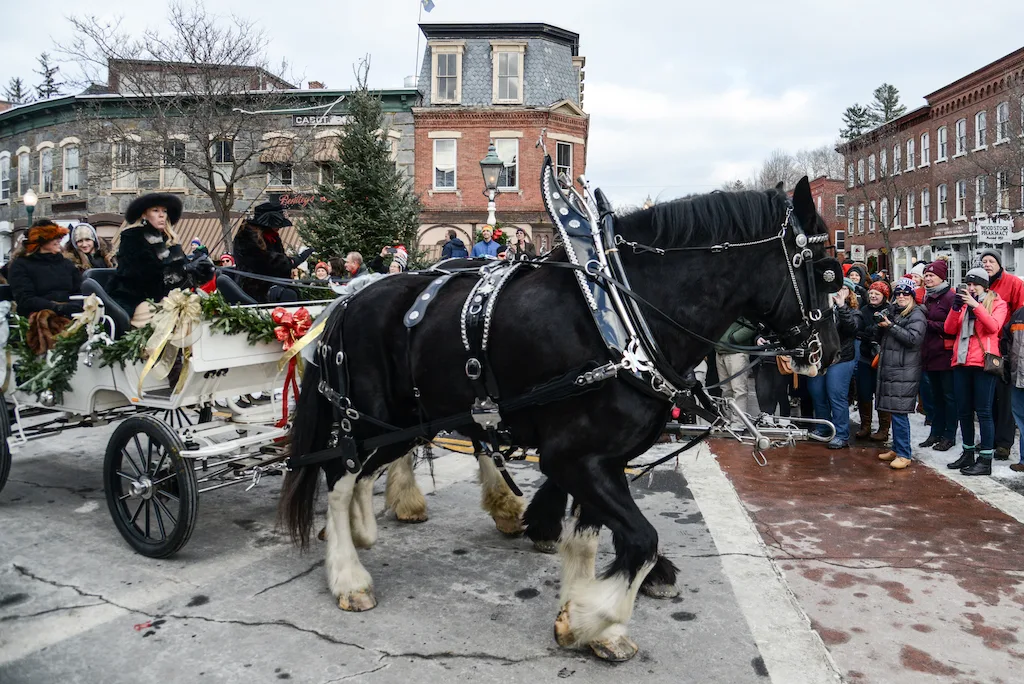 Attracting more than 5,000 merrymakers annually, Wassail Weekend is Woodstock's biggest event of the year for good reason. Expect to feel nostalgic for Christmases past as you ride in carriages pulled by horses, take part in craft workshops, sing Christmas carols, visit with Santa, and enjoy a myriad of stories, theater performances, and live music.
Free and ticketed events are offered for all ages. For a complete schedule, check out Woodstock Vermont.
---
Vermont Events: December 12 – 18, 2022
Illuminate Vermont in South Burlington: December 16 & 17, 2022: This magical evening celebrates Vermont artists with an open-air market, live music, twinkling lights, and fireworks in South Burlington. Warm up with a hot drink, shop unique handmade products, indulge in local artisan food, and mingle with locals and visitors on two of the longest nights of the year.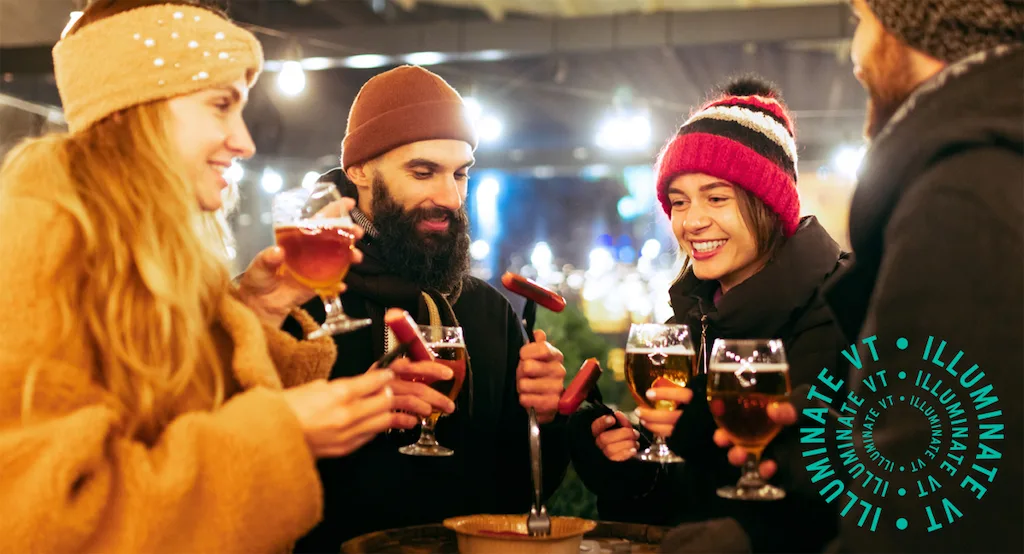 Illuminate Vermont is a free event taking place on Friday and Saturday evenings (December 16 and 17) from 4 to 8 pm.
---
Vermont's Own Nutcracker in Burlington, Vermont: December 17 & 18, 2022: Vermont's Own Nutcracker is a favorite with Vermont families, performed exclusively at The Flynn in Burlington by the extraordinary dancers of Vermont Ballet Theater and surrounding communities.
Featuring VBT company director Alexander Nagiba's stellar choreography set to Tchaikovsky's beloved score. Follow the delightful adventures of Clara and the Nutcracker Prince as they conquer the evil Mouse King and travel on a mystical journey to the Land of Sweets, where the enchanting Sugarplum Fairy reigns.
Two evening shows and two matinees on both Saturday and Sunday (December 17 and 18) are available. Tickets are $20.55 – $45.25 and can be purchased online at Flynn Center.
---
Vermont Events: December 26-31, 2022
December in Vermont wouldn't be complete without a few New Year's Celebrations!
First Night North in St. Johnsbury, Vermont: December 31, 2022: Fifty world-class performances spread across twelve venues in St. Johnsbury. Welcome to First Night North's 30th year of celebrating New Year's Eve.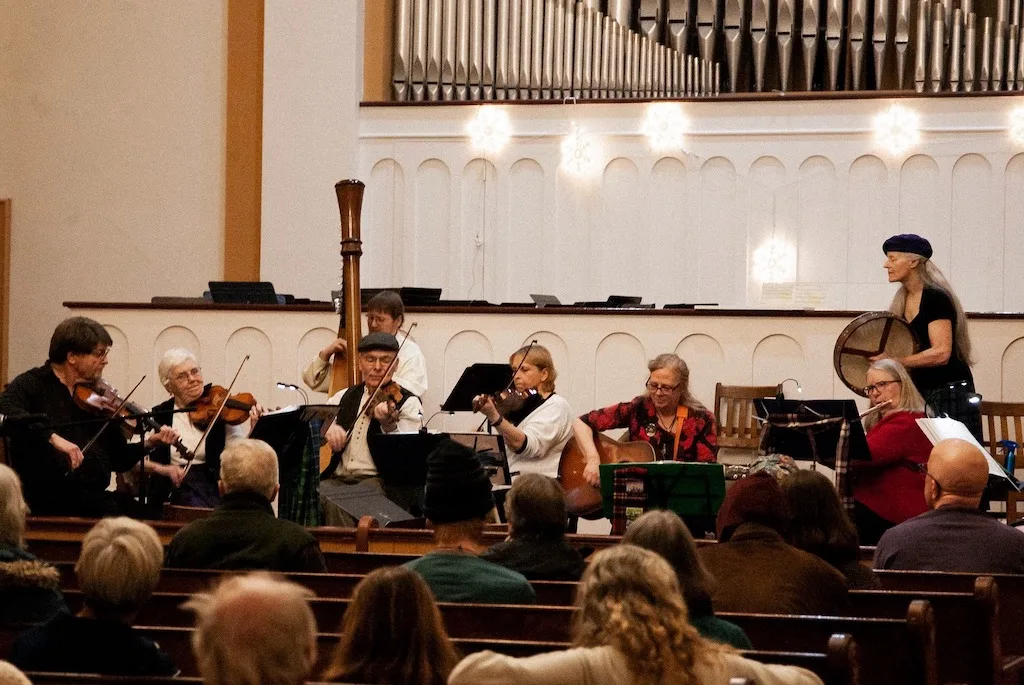 Nearly 200 artists are scheduled to perform in dozens of performances including longtime First Night North favorites like Bob and Sarah Amos, the Kingdom All Stars, Tritium Well, and Marko the Magician and Hypnotist. The schedule includes music, dance, comedy, storytelling, improv, magic, hypnotism, and more.
The immensely popular substance-free family-friendly New Year's Eve attractions will include food trucks, the beloved pancake supper, and the Family Fun Fair (hosted this year by the St. Johnsbury Community HUB). Instead of fireworks, First Night North has added a midnight dance party as the ball rises.
Festivities will take place between 4 pm and midnight on Saturday, December 31st. Visit First Night North for a complete schedule of events.
---
Highlight 2022 in Burlington, Vermont: December 31. 2022: Burlington's official New Year's Eve party supports local artists and performers through Burlington City Arts, an organization that works to bring local innovators, artists, and communities together to celebrate the homegrown creative energy of Vermonters.
This year's Highlight is an "Invocation of BTV Brightness," featuring some of the Green Mountain State's best and most unique performers and artists on stages across Burlington's downtown and waterfront areas.
Live entertainment includes a variety of musical acts, live theater, comedy, art installations, and pop-up restaurants. General admission tickets are $12 and can be purchased online.
---
December in Vermont is all about celebrating the lengthening nights, the coming winter, and the spirit of the holidays. Add one of these spectacular December events to your list this year and embrace winter in Vermont.
Did we forget your favorite event? Send us an email and we'll check it out!
Follow us on social media for more Vermont inspiration!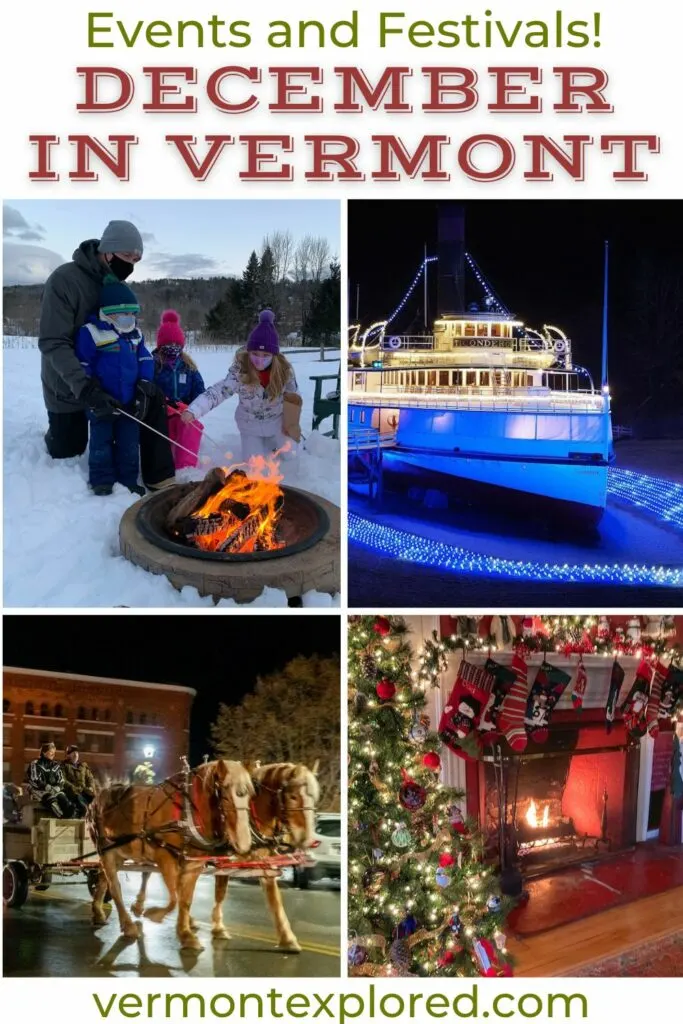 Tara Schatz is a freelance writer, and the founder and editor-in-chief of Vermont Explored and Back Road Ramblers, an American road trip blog. She is also the co-author of the 3rd edition of AMC's Best Day Hikes in Vermont, which was released in May 2023.