As you drive north on US Route 7 in Vermont, there is little indication of a bustling village nestled in the valleys of the sleepy Green Mountains.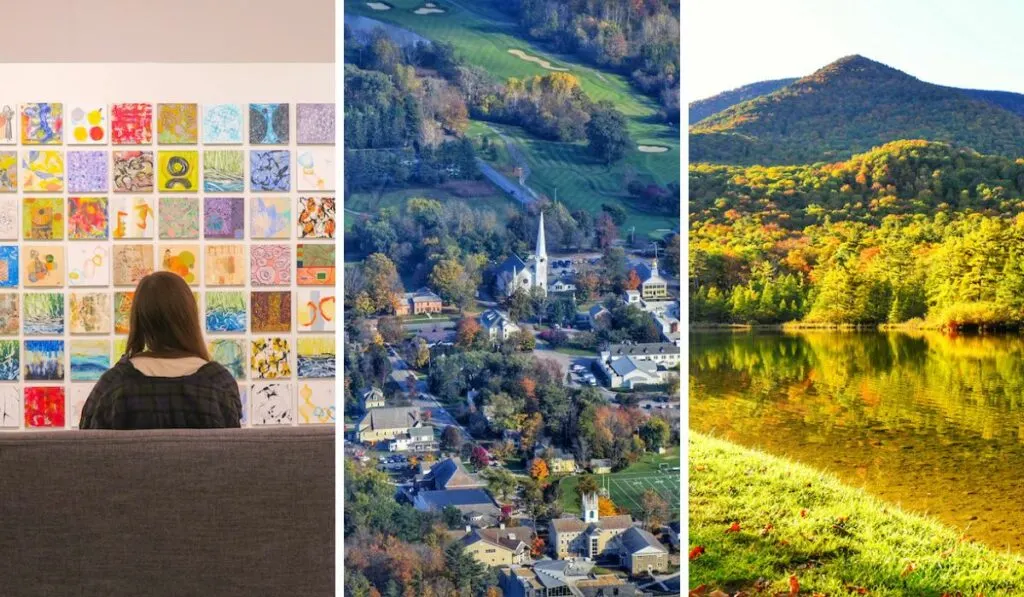 The quiet highway seems to wind indefinitely through hardwood forests, past meadows where flocks of turkeys and occasional white-tailed deer nibble at the wildflowers and watch the cars go by.
Take Exit 4, cross the railroad tracks, and suddenly the expanses of trees and wetlands give way to colorful storefronts, sculptures, and sidewalks sprinkled with shoppers and dog-walkers enjoying the sights and sounds of the small-town bliss of Manchester, Vermont.
Even with a small population of just over 4,000 people, there are plenty of things to do in Manchester, Vermont; the town's renowned local businesses and fashion outlets, not to mention the plentiful options for dining out, ensure that Main Street is never empty.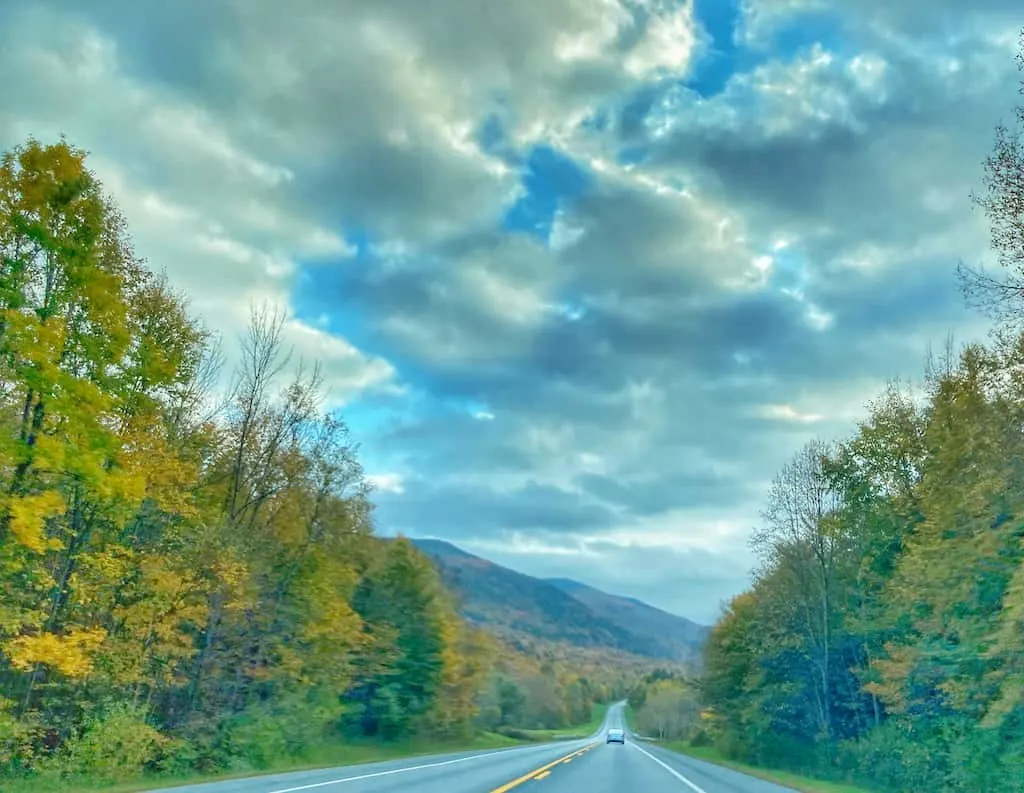 Growing up 30 minutes south of Manchester, I've spent my fair share of time exploring the town and the surrounding area. As a kid, I remember weekly trips to the Manchester Farmers Market, eating wood-fired pizza from Sam's, and hiking to Lye Brook Falls, a trail of local fame.
Each holiday season I inevitably find myself in Northshire Bookstore, and I've never left empty-handed.
Good food and great shopping, plus plenty to do both inside and out make Manchester a perfect location for day trips or longer visits, so today, I'm sharing the best things to do in Manchester, Vermont, from the perspective of a local.
Cool things to do in Manchester, Vermont
Visitors to Manchester will find no shortage of sights to explore, trails to hike, or stores to frequent.
Whether staying for an afternoon or a week, this small town has plenty to offer, from historical sights and local haunts to designer outlets and authentic Vermont creemees. These are the best things to do in Manchester, VT.
Explore the Southern Vermont Arts Center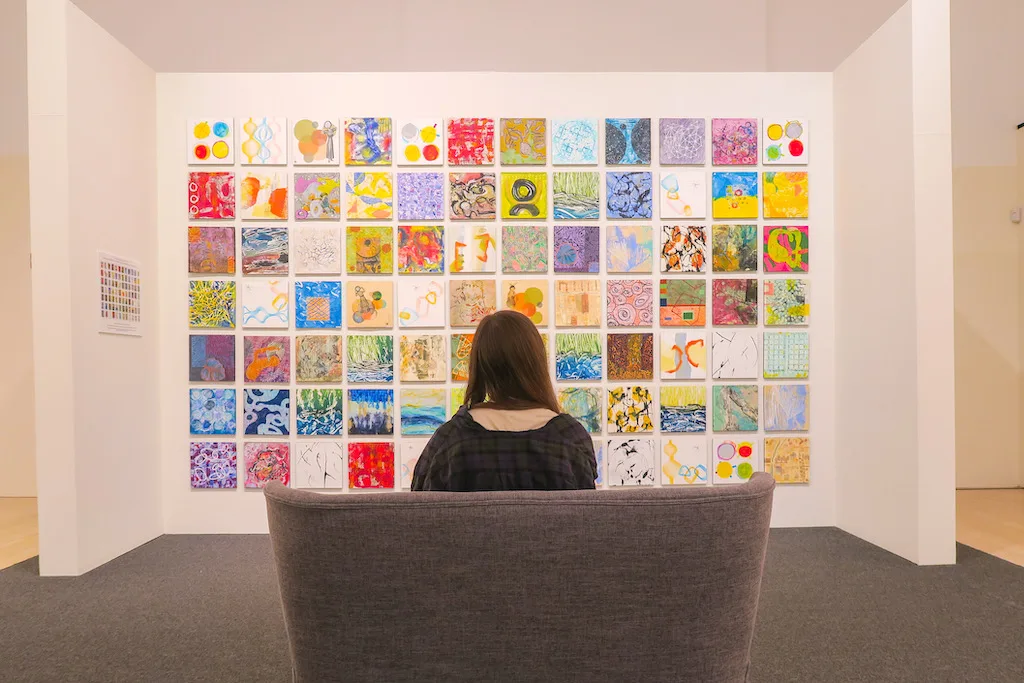 The narrow drive leading up to the Southern Vermont Arts Center (SVAC) winds past a large field filled with eye-catching metal sculptures.
A 20-foot-tall chrome giantess watches visitors approach from her grassy lawn, and a torso-less pair of bronze legs languish in the shade as you approach the top of the hill where the galleries await.
Amid meadows scattered with many more strange sculptures sit a cluster of white buildings containing seasonal exhibitions of artwork as well as a permanent collection.
While the outdoor sculpture park is free to explore, the galleries charge a $10 admission fee for adults and $5 for students and seniors. Children under 10 enter for free.
SVAC also offers multiple classes and workshops for kids and adults alike, as well as camps for kids and teens. Their current list of classes and workshops can be found on their website.
SVAC is open Tuesday-Sunday from 10 a.m. to 5 p.m. and is closed on Mondays.
Hike the Equinox Preserve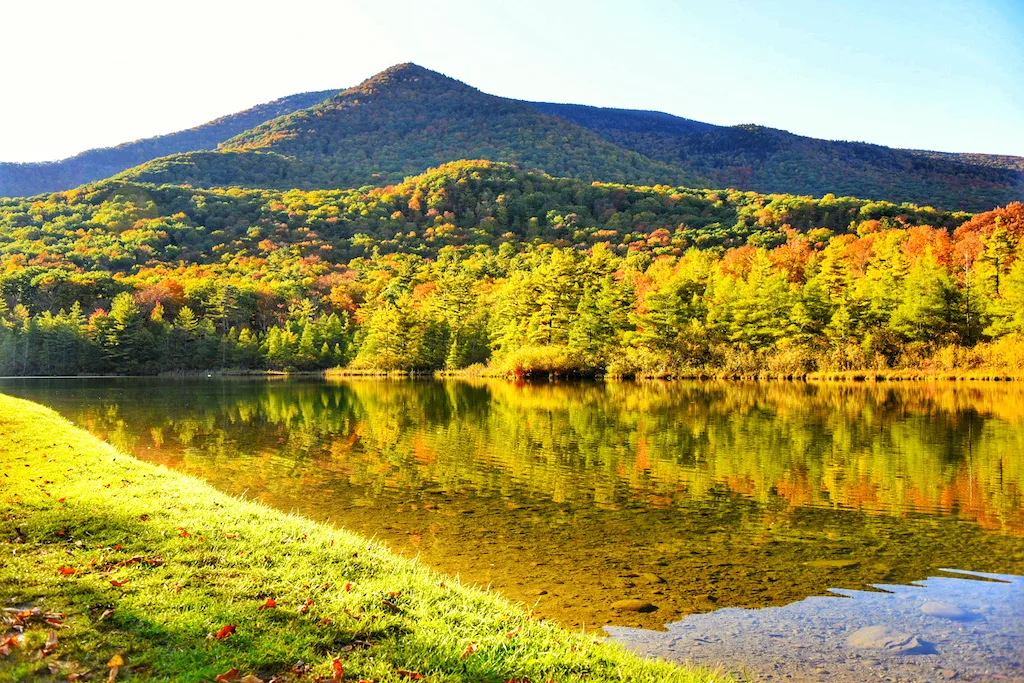 Some of the best hiking around Manchester can be found a short drive from the town center. The Equinox Preservation Trust is a 914-acre preserve that covers a large chunk of Mount Equinox.
Trails on the preserve range from leisurely to intense, but the hardest trails have the best payoff, leading to the summit which offers a stunning view of the surrounding countryside.
For a more relaxing walk, try the loop around Equinox pond. This walk is shorter and flatter than some of the other hiking on the preserve, and the scenic banks of the large pond make for a perfect early-morning stroll; the steam rising off the water on a summer morning is nearly enough to rival the view from the mountain top.
---
Also Read: The Best Things to do in Bennington, Vermont (just 30 minutes south of Manchester)
---
Visit Hildene: The Lincoln Family Home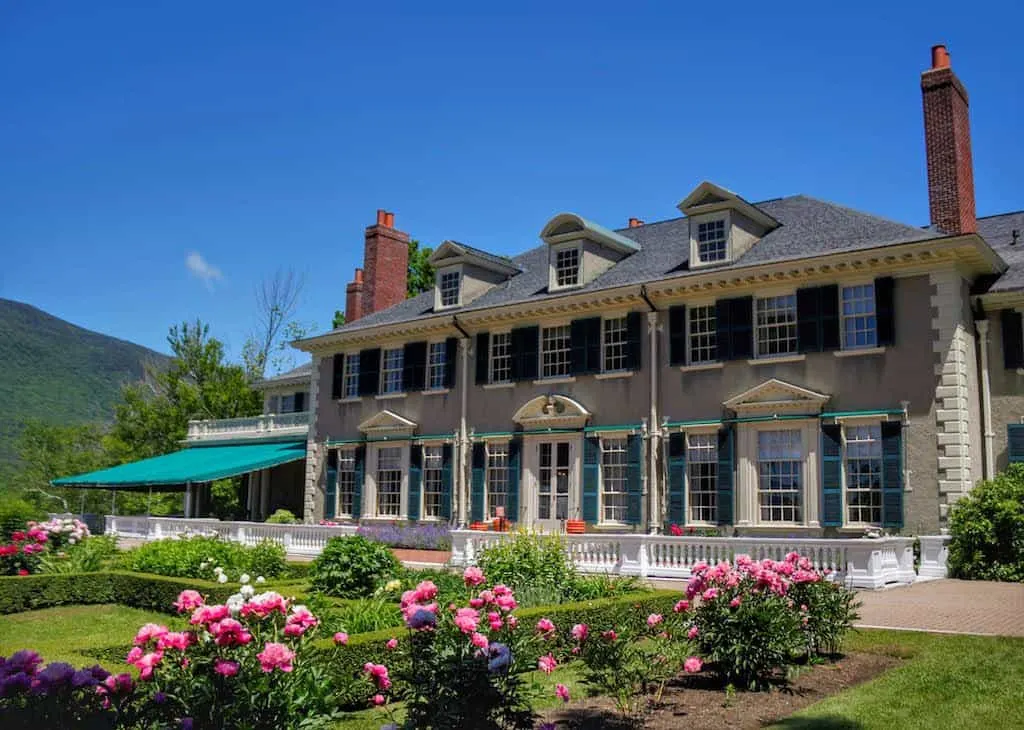 Hildene is a large estate in Manchester, originally commissioned by Abraham Lincoln's son, Robert Todd Lincoln, and his wife Mary.
The Hildene Estate alone could easily fill a day's worth of activities; the manor itself is massive, with a deep history to delve into, and can be explored in guided tours (reservations required) or individually.
After seeing the manor, step out into the beautifully maintained and vibrant gardens, venture out onto the 12 miles of trails woven across the sweeping grounds, and take a walk to both the Hildene Farm and the Dene Farm to see pet goats, sheep, and cows.
Be sure also to save time for the Pullman Car, Sunbeam, a unique exhibit featuring a restored Pullman Car from the era during which Robert Todd Lincoln was president of the Pullman company.
Hildene is open Thursday through Monday from 10 a.m. to 4:30 p.m. Admission is $23 for adults and $6 for children under 16. Children under 5 enter for free.
Explore Northshire Bookstore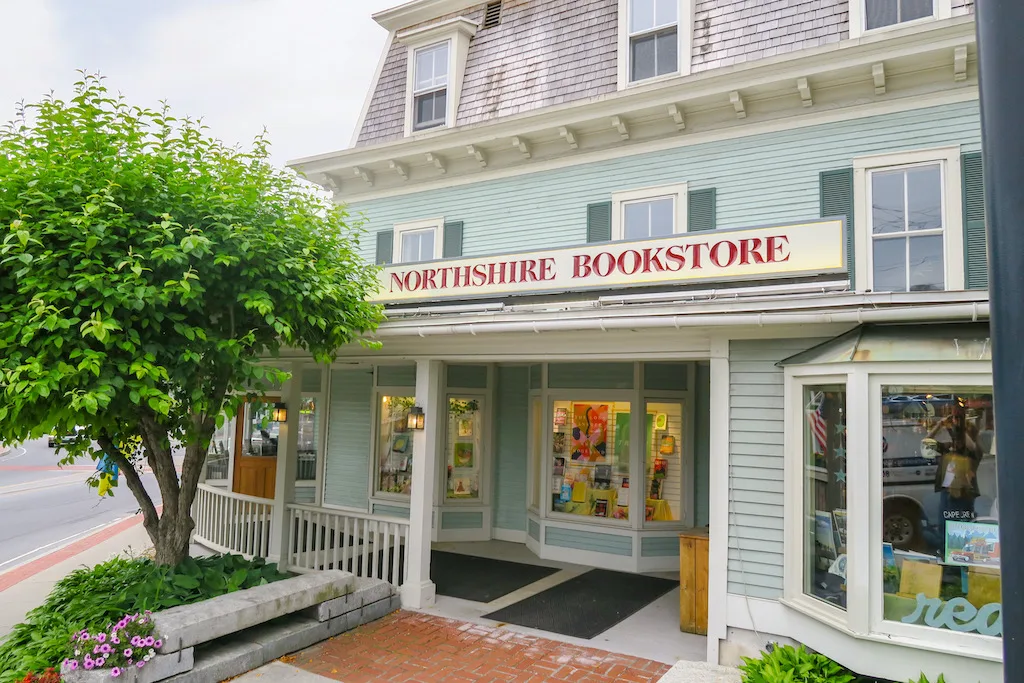 Northshire Bookstore is the bookstore that I've come to compare all others to–low ceilings and warm lights give it a cozy atmosphere, and plentiful shelves filled with eager spines clutter up the wide rooms.
The small café attached to the store keeps shoppers caffeinated while they flip through the pages of new and used books and fills the whole store with the smell of coffee and pastries. Without many windows, time seems a foreign concept as you lose yourself between the shelves.
Of course, Northshire Bookstore isn't content to just be a great bookstore–there are toys for all ages, Vermont-themed gifts, novelty items, local jewelry and clothing, records, CDs, DVDs, cards, gift bags, wrapping paper, and probably much more tucked away in some nook or alcove that I have yet to discover.
Be a Kid at Pastime Pinball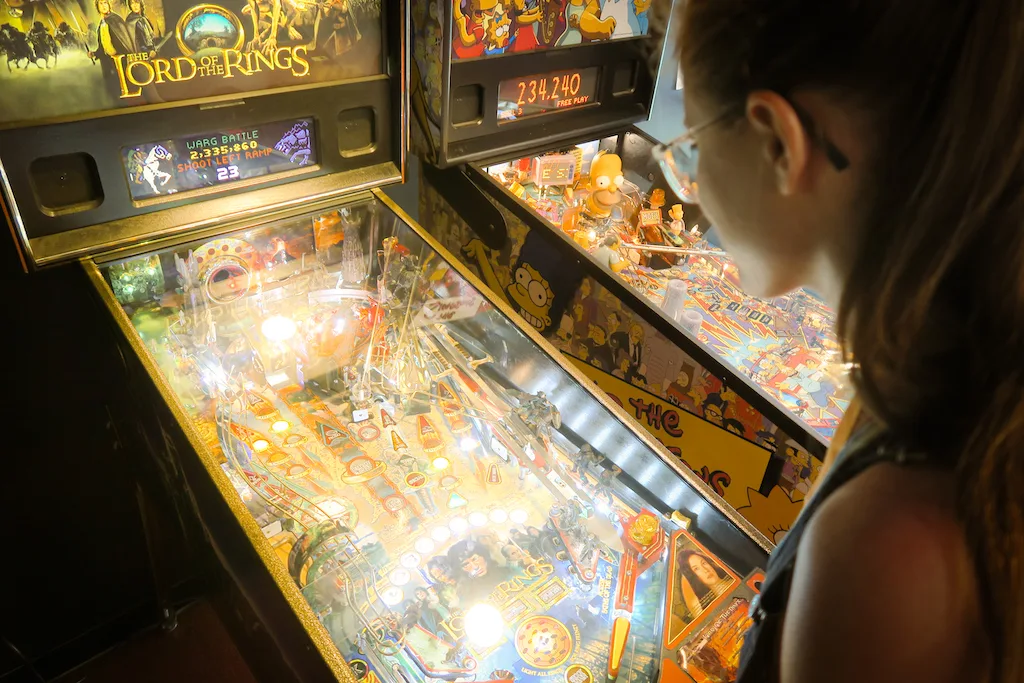 Pastime Pinball is a winning combination between a museum and an arcade.
Upon entering, visitors are greeted by the clatter and ring of dozens of pinball machines. Unlimited play costs $25 at the door ($18 for kids under 13) and gives you access to 66 beautifully maintained pinball machines set to free play.
The machines are organized by decade, with games from as early as 1947 going all the way up to the late 2000s.
Even as a member of the generation who grew up after the heyday of arcades, I found myself nostalgically and frantically playing pinball tie-ins with the movies of my childhood — the Spider-Man and Lord of the Rings machines were the standouts for me, as they shouted out tinny 8-bit lines from the films while you played.
On the second floor, a snack bar serves drinks and food, as well as alcoholic beverages, and there is an assortment of several more classic arcade games to peruse.
Pastime Pinball is open Thursday-Saturday from 12 p.m. to 7 p.m. and on Sundays from 12 p.m. to 6 p.m.
Visit the Farm Animals North Meadow Farm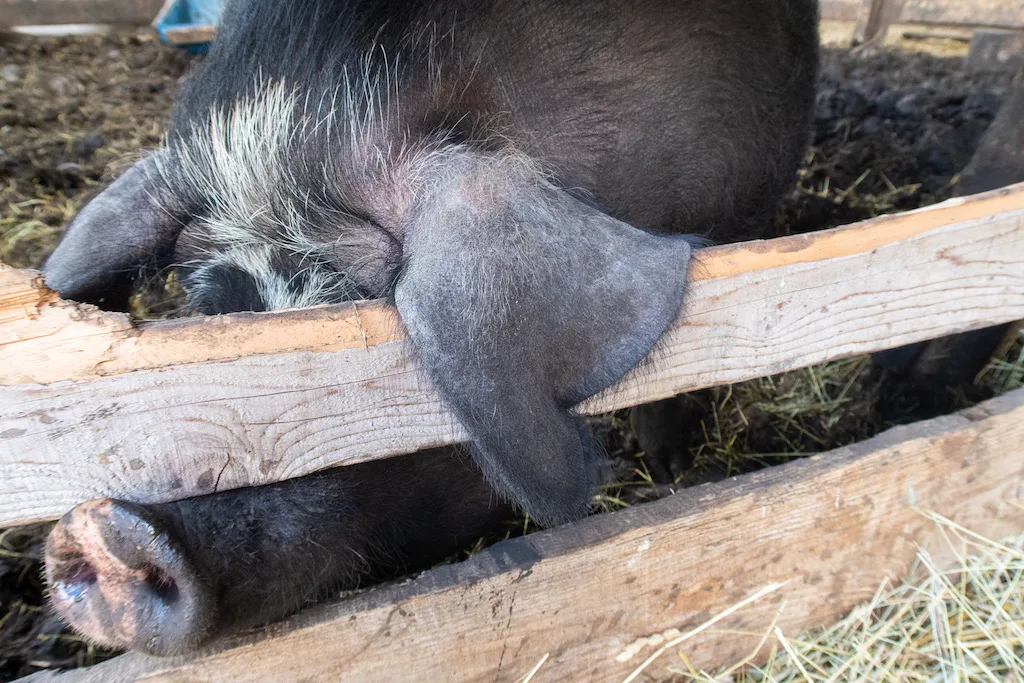 A short drive from the center of Manchester is North Meadow Farm. Primarily a dairy farm, North Meadow's store, nestled at the base of a silo, is filled with cheese, eggs, milk, jam, and a freezer full of bacon for sale. There's even a freezer full of ice cream for sale, with a do-it-yourself scoop and a stack of cones beside it.
The farm offers guided tours on the weekends from 10 a.m. to 5 p.m. and self-guided tours on Mondays and Tuesdays. Admission is $10 for adults and $5 for kids 3 and up.
When we visited we spent the day meeting some very sleepy pigs, a bantam rooster who could only be described as a diva, a rabbit named Jumping Joey, some young cows who still stood on wobbly legs, and one slightly disgruntled alpaca.
All the animals were friendly and most of them were eager to sidle up to the fence for a scratch behind the ears.
The area for visitors to explore isn't very large, but North Meadow is the perfect place to bring animal-loving kids for an afternoon of barnyard petting while stocking op on some organic produce.
The farm store is open 7 days a week from 6 a.m. to 8 p.m. Guided tours are offered between Friday and Sunday, between 10 a.m and 5 p.m. You can take a self-guided tour on Monday and Tuesday.
Take a dip in Benson Hole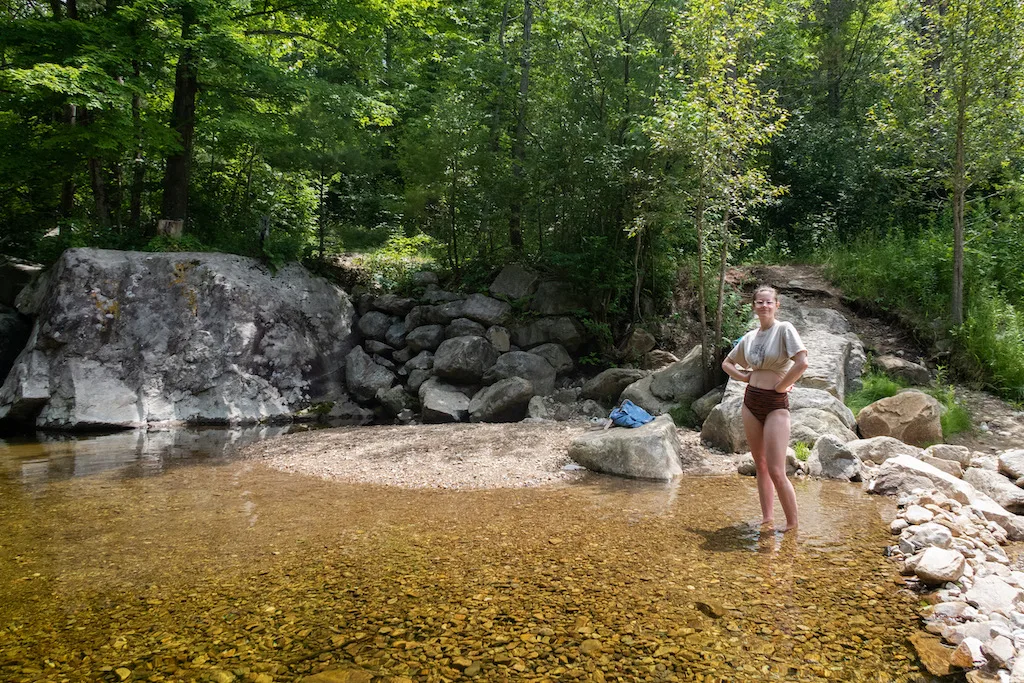 After a day of hiking, biking, and driving around Manchester, Benson Hole is the perfect spot to cool off. This secluded swimming hole on the Bourn Brook is a favorite of locals.
The trail to Benson Hole can be found just off of Glenn Road in Manchester— park near the small bridge immediately after turning onto the dirt access road for Lye Brook Falls.
The trail is on the right side of the road just past the bridge; after a short walk through the woods, you'll find yourself next to a wide pool with deep areas to swim and shallow spots to wade or dip your feet.
The bottom of this swimming hole is pretty rocky, so wear water shoes or sandals when you visit.
Hike to Lye Brooke Falls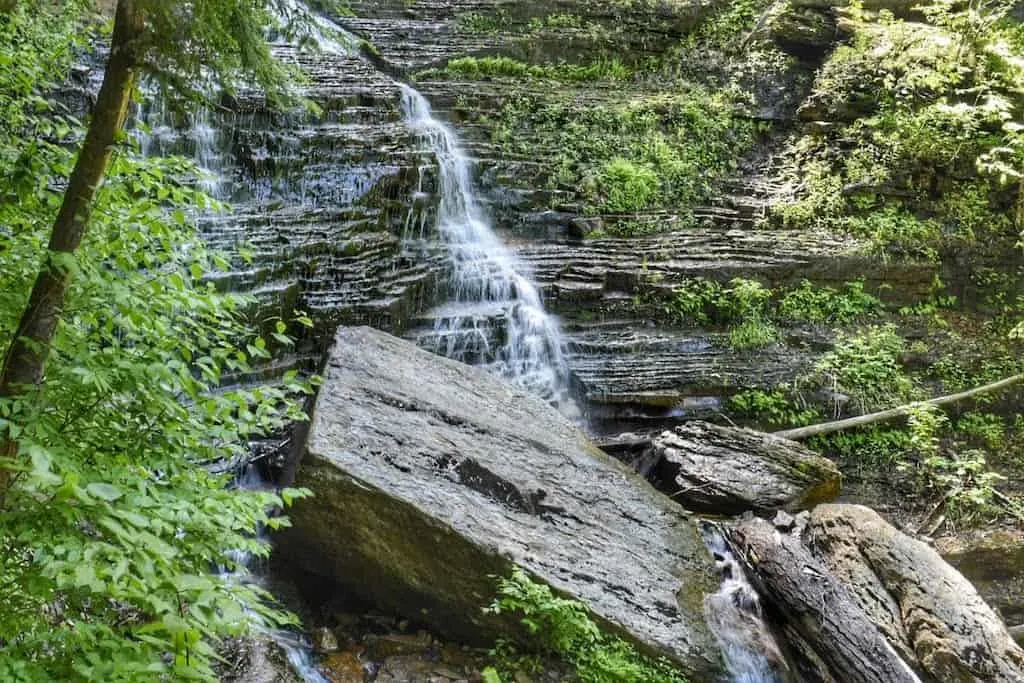 Thanks to its picturesque falls, the Lye Brook Falls hiking trail is one of Manchester's most popular hiking destinations.
The hike to the falls is 2.3 miles with a roughly 900-foot elevation gain. The reward at the end of the trail is a spectacular view of one of Southern Vermont's best waterfalls. Read more in our Lye Brook Falls Trail Guide.
Ride the Manchester bike path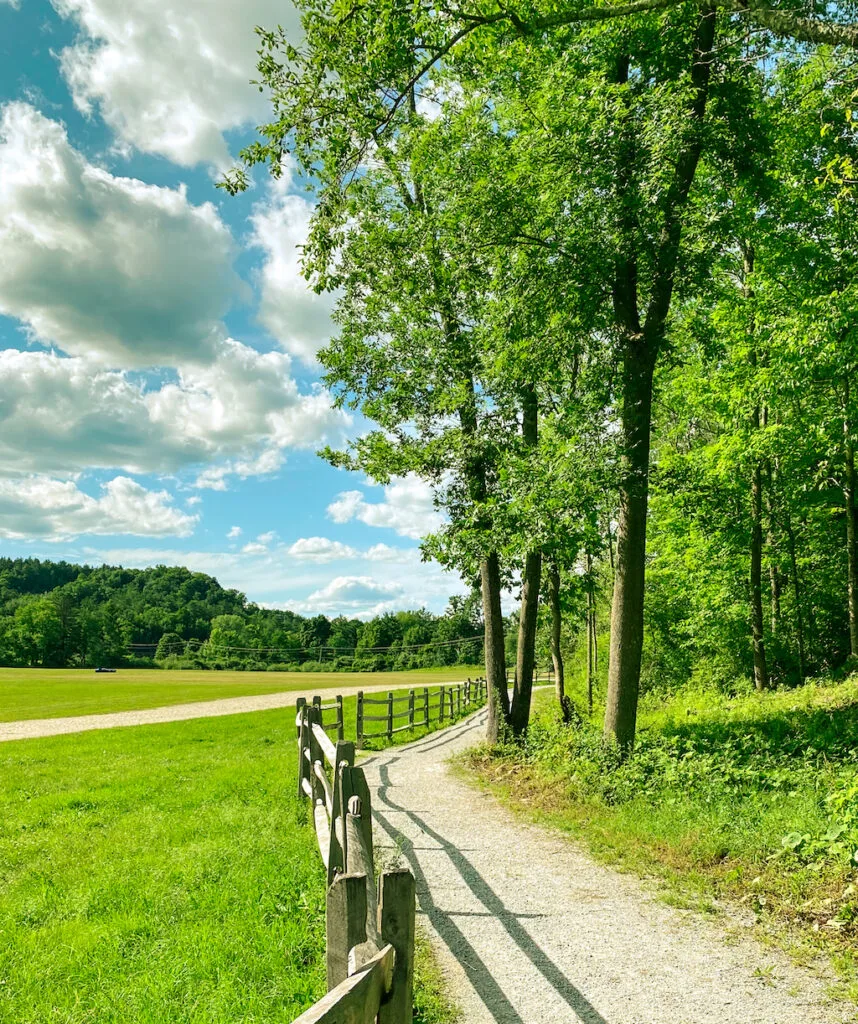 Manchester's bike and walking paths might be the best way to see the surrounding countryside at a slower pace.
Trails like the Marble Rail Trail lead through the woods, over rocky gulleys with trickling streams at the bottom, and through rolling fields where horses munch their hay as you ride by.
The paths are mostly flat and easy to ride, with a few exceptions (I recommend walking when you see the sign for Cardiac Hill). The Manchester Rec Path is the trail that goes through downtown and is part of a larger 5-and-a-half-mile loop around the town of Manchester. Trail maps and more information can be found here.
Check Out the Manchester Music Festival
If you happen to find yourself visiting Manchester during summer, you might just get a chance to attend the Manchester Music Festival.
This summer festival is a celebration of classical chamber music. It was started in 1974 by violinist Carol Glenn and pianist Eugene List. The festival offers multiple events over six weeks in July and August, and a young artists program that focuses on helping burgeoning young musicians learn the art of chamber music.
Pricing and event schedules can be found on the Manchester Music Festival website.
Stock up on Fresh Goodies at Manchester Farmer's Market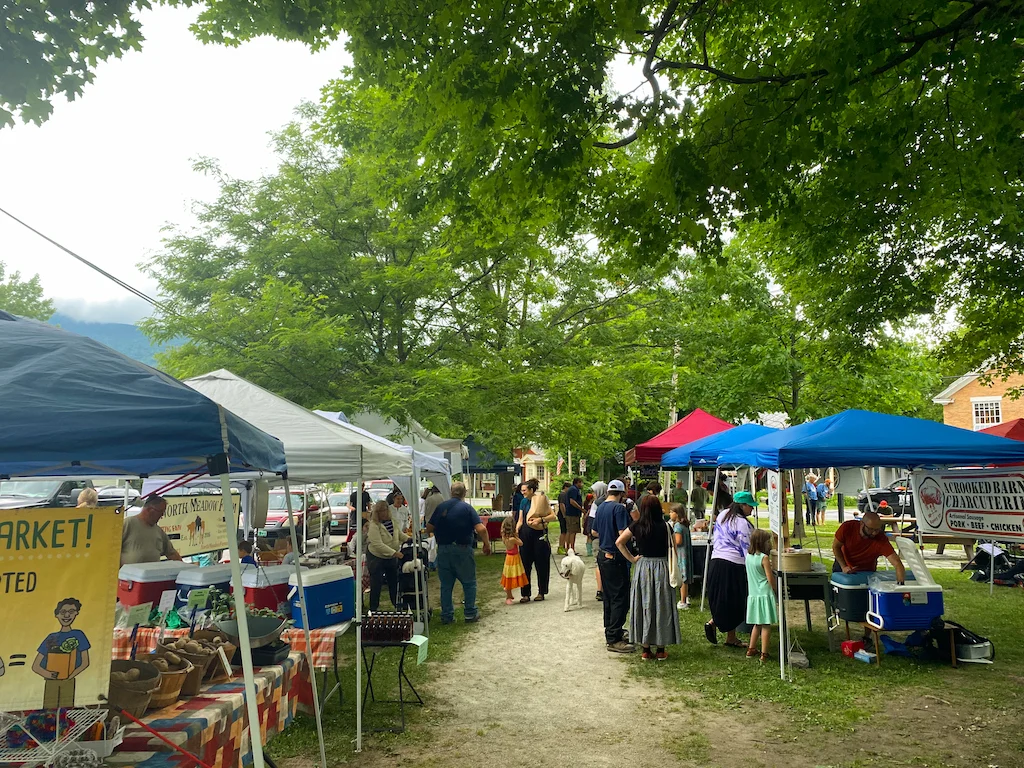 Every Thursday during the summer, from 3-6 p.m., local vendors gather in downtown Manchester for the Farmer's Market.
Local farmers and artisans set up a wide variety of wares, including homemade donuts, hand-crafted jewelry, honey, jam, and plenty of fresh vegetables and organic meats.
There is always live music when I've gone to the Farmers Market, so when you've had your fill of shopping, pull up a patch of grass and enjoy the entertainment (preferably with a donut and a glass of freshly squeezed lemonade).
Visit Earth Sky Time farm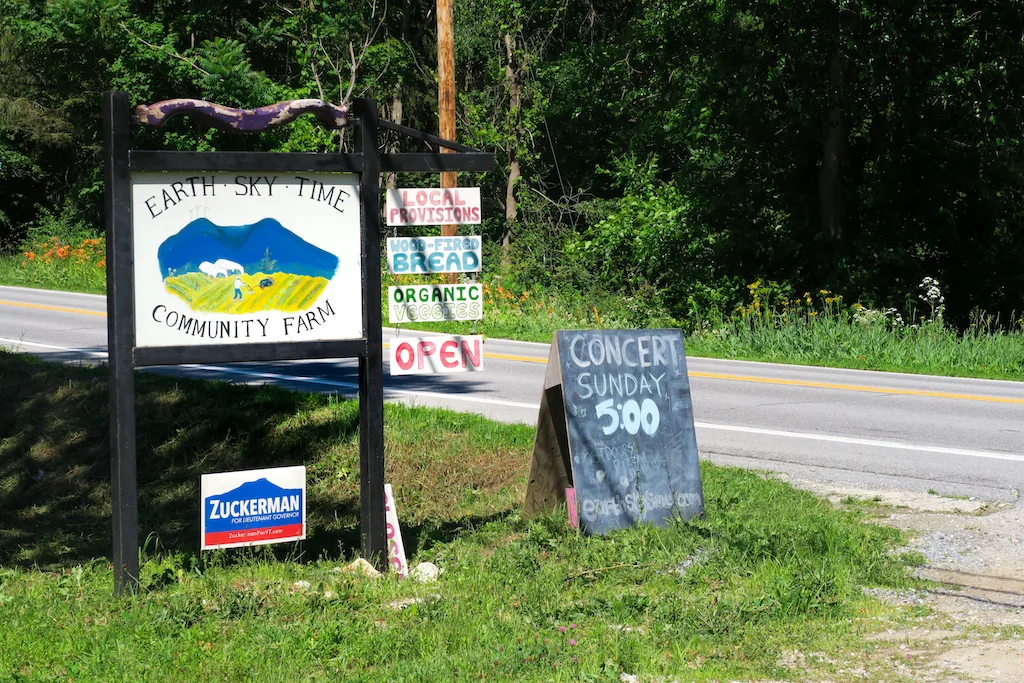 Earth Sky Time is an organic farm, bakery, and concert venue. Despite the 30-minute drive to get there, Earth Sky Time's fresh bread has kept us visiting weekly for years.
Their farm store is open Sunday, Tuesday, Thursday, and Friday from 9:30 a.m. to 4 p.m. Visit for delicious bread, vegetables straight from the field, and homemade spreads, pastries, and veggie burgers.
Upcoming performances and events can be found on the Earth Sky Time website.
Things to do near Manchester, Vermont
Just like the town itself, the area surrounding Manchester is packed with plenty of exciting and relaxing possibilities, both indoors and out.
Drive to the top of Mount Equinox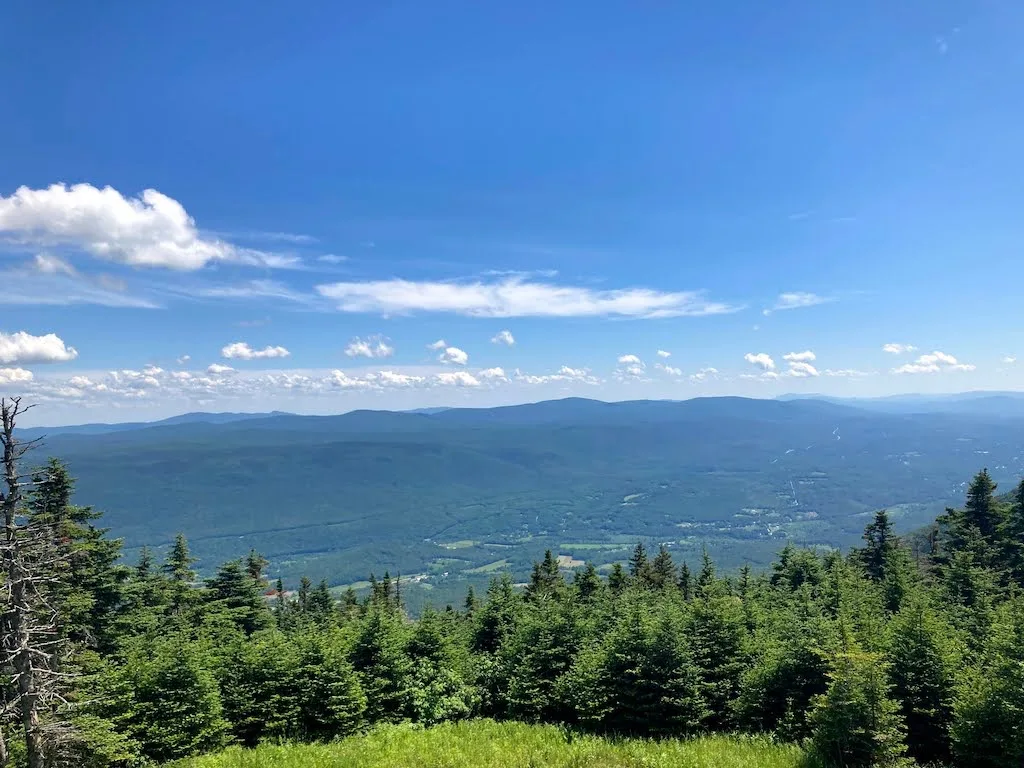 Located off Route 7A between Manchester and Arlington, Mount Equinox Skyline Drive is the longest privately owned, paved toll road in the United States. It ascends 3,248 feet over 5.2 miles to the top of Mount Equinox, which is the highest mountain in the Taconic Range.
Views from the top of Skyline Drive are dramatic, so pack a picnic and be prepared to spend a few hours enjoying them.
Swim in Dorset Quarry: The Oldest Marble Quarry in the United States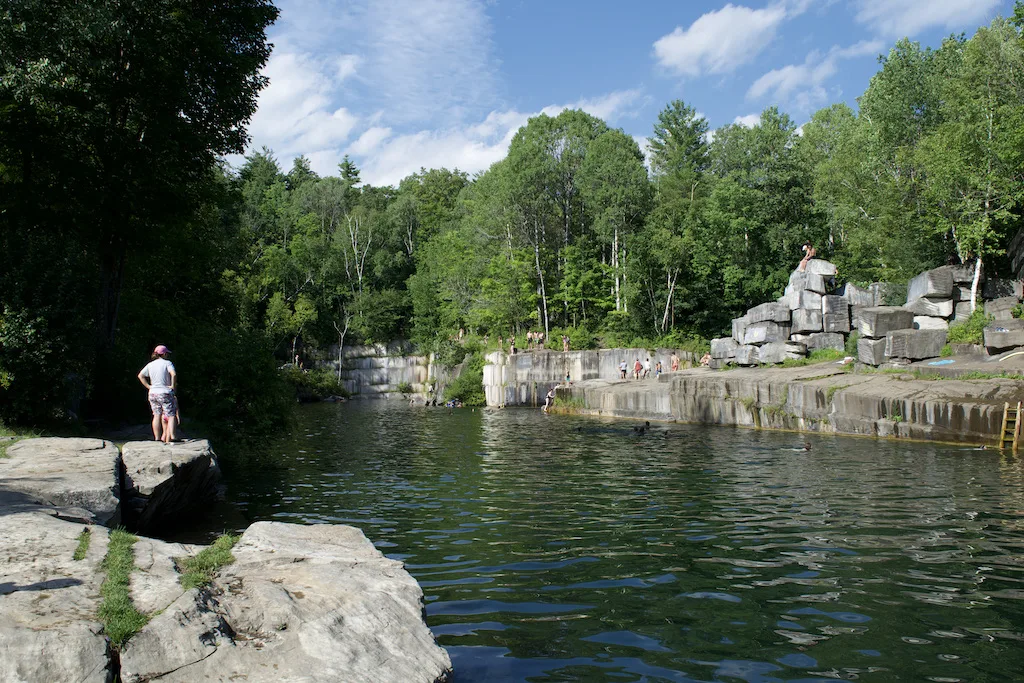 Some of the best swimming to be found near Manchester is at the Dorset Marble Quarry, the oldest marble quarry in the United States. The flooded quarry is like a massive, extra deep double-Olympic size pool, with geometric boulders and cliffs rising all around it.
Whether you're there to cool off or just take in the sights, the Dorset Quarry is a fine place to be on a hot Vermont afternoon. There is a fee for parking at the Dorset Quarry, which helps offset the cost of upkeep.
Hike a section of the Oldest Long Distance Trail in the United States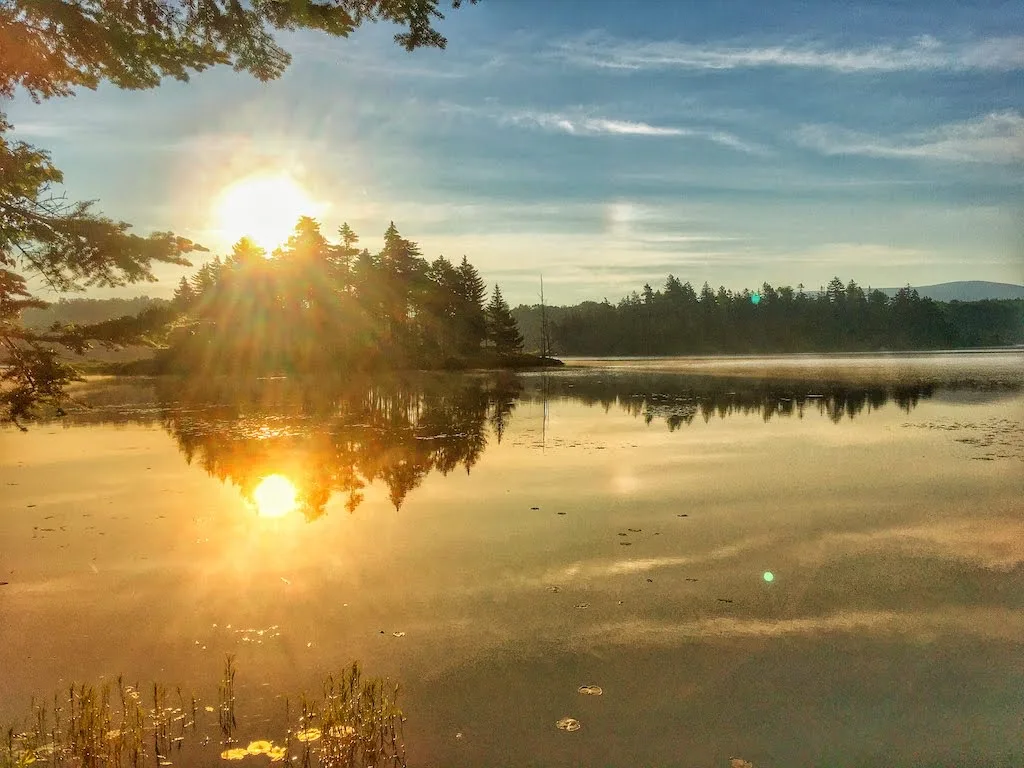 The Appalachian and Long Trails wind right past Manchester, adding to the plentitude of hikes to choose from. Some of the most popular sections of the Appalachian Trail near Manchester are:
Prospect Rock Trail: A 3.5-mile roundtrip hike with an elevation gain of around 1,000 feet. The trail is rated by the Green Mountain National Forest as being moderate to difficult, and it offers a great view of Manchester Valley and Mount Equinox.
Bromley Mountain Long Trail: This is a 6.2-mile hike rated as moderate by AllTrails. There is an elevation gain of about 1,400 feet; this is a great way to get the view from Bromley's summit without needing to pay for a lift ticket.
Bourn Pond and Stratton Pond Loop: For a longer hike, maybe even a two-day affair, check out this 16-mile loop through wetlands and forests to the two scenic ponds where you can set up camp or stop for a picnic and a quick swim before continuing on.
Visit the Bromley Mountain Adventure Park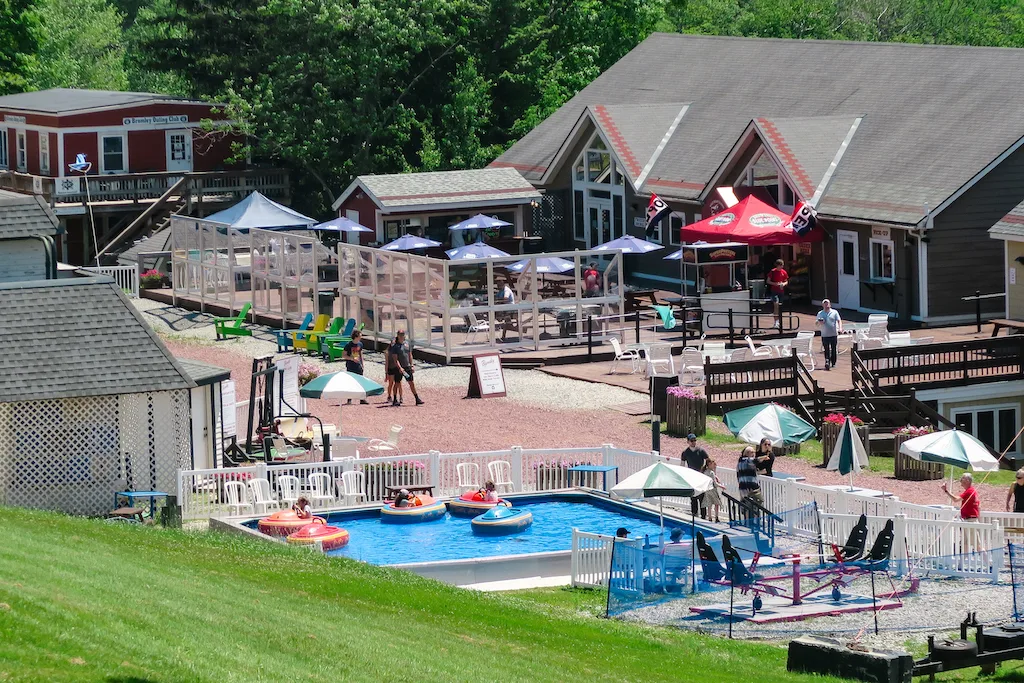 One of the most exciting places we visited while exploring the greater Manchester area was Bromley Mountain Adventure Park.
As a kid I grew up skiing at Bromley Mountain every winter — it's smaller than the other nearby resorts like Stratton and Mt. Snow, but Bromley's slopes have a distinctly welcoming vibe that has kept it at the top of my personal Vermont Ski Mountain hierarchy.
Bromley isn't just a winter attraction though; in the summer the Mountain Resort opens attractions like an Alpine Slide (remember to use the brakes!), giant swings, trampolines, a water slide, ziplines, a Treetop Adventure course, and of course, the chairlift to the top of the mountain which offers a great view.
There are also more kid-friendly activities available around the base lodge, like bumper boats, a climbing wall, and an inflatable obstacle course called the Spider Climb.
For a full list of attractions, and pricing, check out Bromley Mountain Ski Resort.
Grab a Creemee and Maple Syrup at the Sugar Shack in Arlington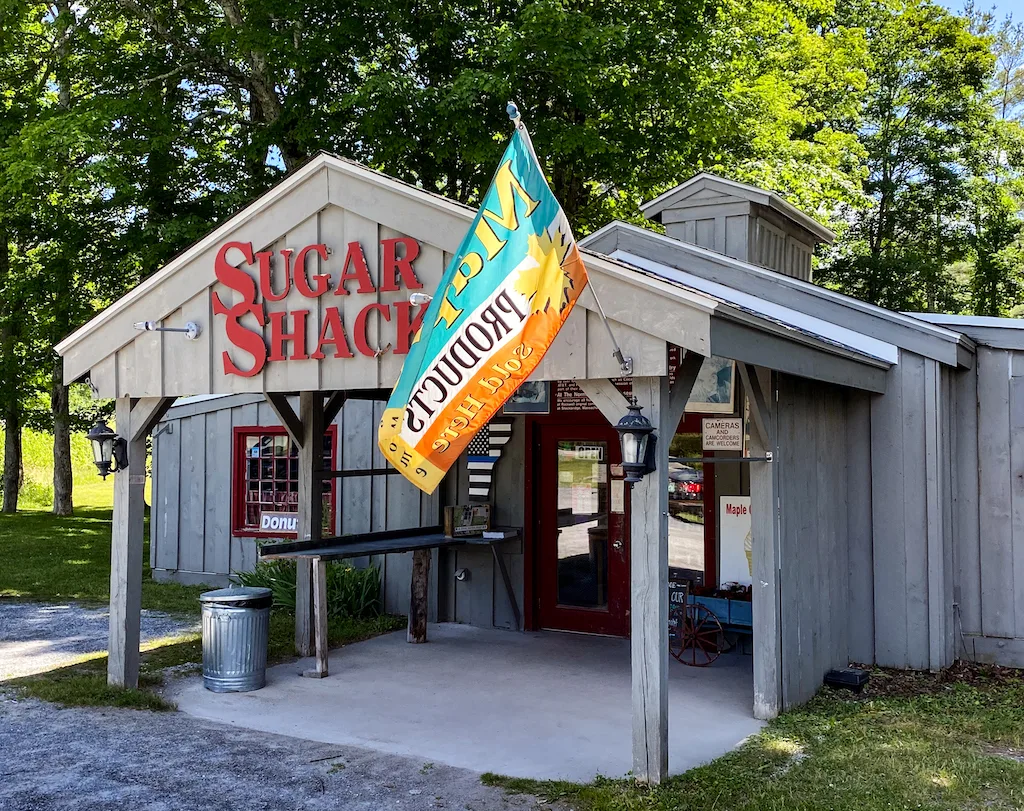 No trip to Vermont is complete without a maple creemee, and some of the best in Southern Vermont can be found driving on Route 7A through Arlington.
The Sugar Shack is a small grey barn sitting back from the highway — inside you'll find every manner of maple-flavored snack.
My mouth was watering while I browsed maple-flavored meat snacks and maple preserves. Pick up some cheeses and some drinks, and then stop by the counter for your maple creemee (and maybe some syrup for your next pancake breakfast).
While you enjoy your maple treats, you can also browse some Vermont souvenirs, and check out the Sugar Shack's Norman Rockwell exhibit for a bit of art history.
---
Read Next: Plan a Perfect Winter Weekend in Vermont: Bennington and Manchester
---
Manchester, Vermont FAQs
Where should I stay in Manchester?
So glad you asked! We have a few special places to recommend based on personal experiences, numerous tours, and the advice of family and friends.
The Barnstead Inn: This stylish inn has numerous configurations of rooms and suites, gorgeous grounds, friendly dogs, and fun special events. You can indulge in breakfast in the common area before walking into town. The Barnstead Inn is a new favorite of ours, and we can't wait for you to check it out!
Kimpton Taconic Hotel: We don't often recommend chain hotels, but this is an exception. Not only is this beautiful property located within the old part of Manchester Village, but it's dog-friendly (with no additional fees), and the staff does an amazing job making sure your stay is perfect. The incredible covered porch is a great spot to spend your evenings unless, of course, you want to spend it in the heated pool.
Dog-Friendly Vacation Rental: Need a bit more room to spread out? This historic, dog-friendly vacation rental is located right in town and sleeps eight for an affordable price.
More Places to Stay in Manchester
Looking for even more choices? Click on the map below to find hotels and vacation rentals in Manchester for your next vacation.
Where should I go out to eat in Manchester, Vermont?
Our favorite restaurants for dinner in Manchester are Depot 62 for authentic Mediterranean and Turkish fare and Ye Olde Tavern for traditional New England food. For a nice lunch on an outdoor patio, consider Seasons, and for pizza, definitely check out Sam's Wood Fired.
What time should I visit Manchester?
Because of New England's distinct seasons, you should plan the time of your visit based on what you want to do while you're here. Summer and fall both offer great outdoor opportunities with their own distinct advantages.
Summer means you can explore the fun swimming holes and eat creemees, but fall is when the Vermont hardwoods get to show off their brilliant foliage.
And of course, winter comes with its own set of activities such as skiing, ice-skating, and snowshoeing. Honestly, you can't go wrong, as long as you don't come in mud season (we want all the maple syrup for ourselves).
Check out our web story for Manchester, Vermont
---
Follow us on social media!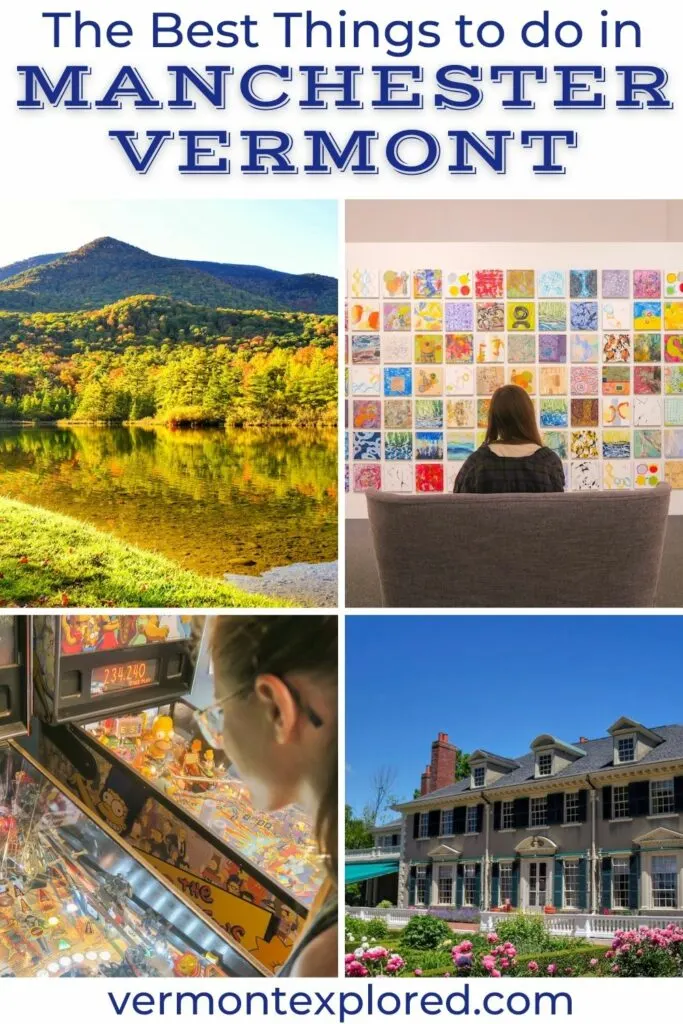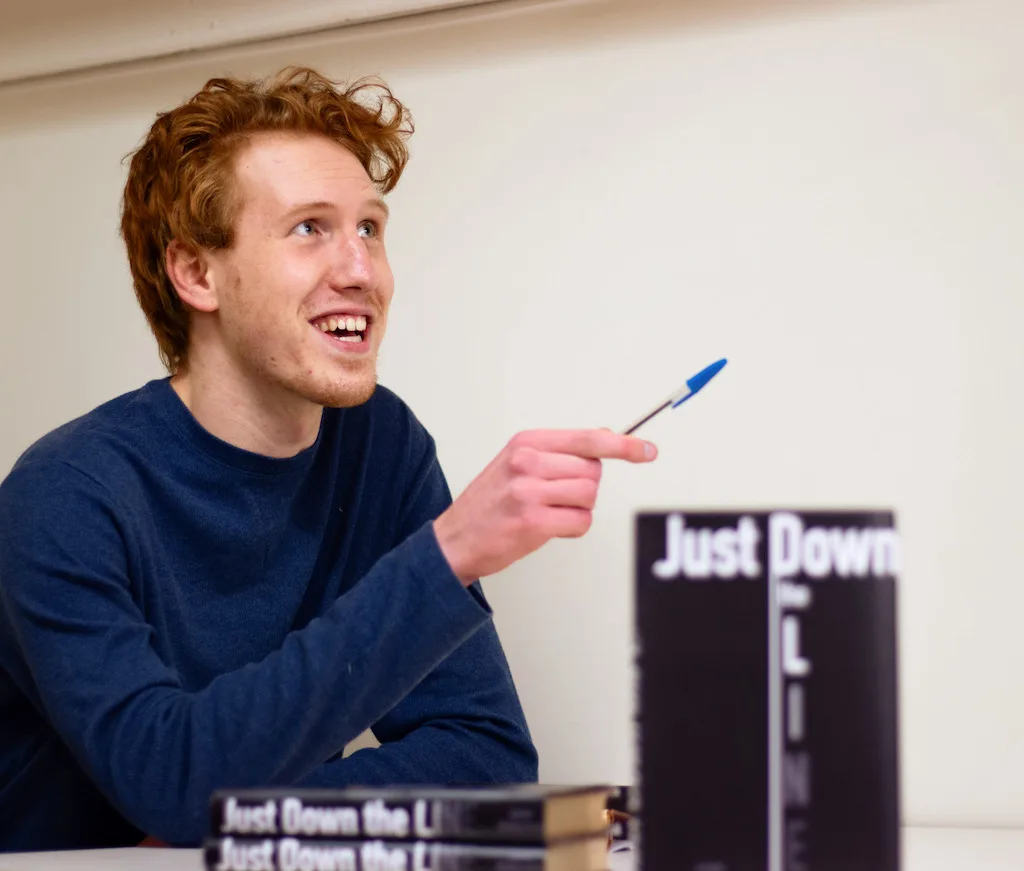 Gabriel Reed is a college student and occasional freelance writer and photographer from Southern Vermont. He has spent time as an editor and reporter for Keene State College's student newspaper, The Equinox, and also enjoys writing fiction for pleasure. In his free time, Gabe enjoys spending time outdoors and pursuing his love for fantasy stories, medieval aesthetics, and grilled meats.