Looking for a fun hike that isn't too difficult and includes rare natural communities along with incredible geological and human history? The Gettysburg Quarry hike in Dorset is a 2.5-mile loop that is perfect for families, history buffs, and nature lovers! It's also one of our favorite Vermont hiking trails!
The hike to Gettysburg Quarry is a moderate route through a beautiful hardwood forest that leads to an abandoned marble quarry. Marble has been quarried in Dorset since 1785, and the Gettysburg Quarry was in operation from 1866 until 1897.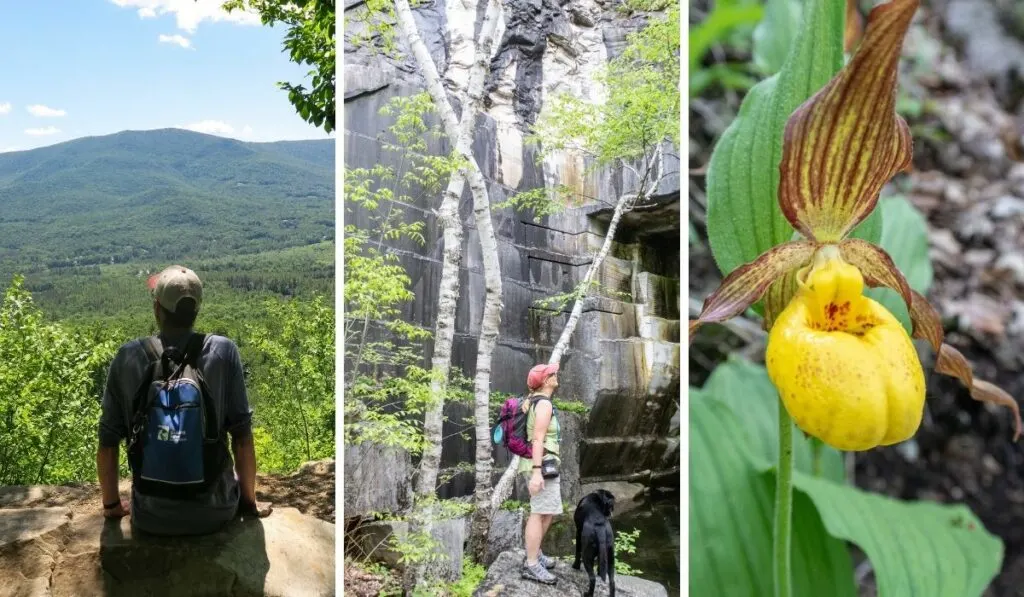 Today, Gettysburg Quarry, along with many abandoned quarries in Dorset, is slowly being reclaimed by the forest. Wild columbine grows from crevices in the marble and water drips eerily into the turquoise pools framed by massive walls of cut stone. It's hard to imagine a bustling quarry in such a quiet and peaceful spot.
This 2.5-mile loop is easy enough for kids and dogs and includes a nice viewpoint to the southwest.
More adventurous hikers can continue onward to Owl's Head (2,474 feet) on a steep trail that isn't suitable for most children. This will double the length of the hike, and bring you through a Temperate Calcareous Outcrop natural community. This is a rare plant community in Vermont that supports a diverse array of calcium-loving plants such as yellow lady's slipper, hooker's orchid, spreading juniper, and four-leaved milkweed, among others.
Quick Trail Details
Length: 2.5-mile loop
Difficulty: Moderate
Estimated time: 1.5 hours
Elevation Range: 1,245 ft. -1,628 ft
Elevation Change: 358 feet
Dogs: Yes
Cost: Free
Maps: USGS Manchester; Owl's Head Town Forest
Directions to Trailhead (Google Maps)
Written Directions to the Trailhead
From the junction of VT 7A and VT 11/VT 30 in downtown Manchester Center, head north on VT 30 for 4.4 miles. Turn right onto Raptor Lane and follow it for 0.7 miles to a small dirt road on the left, marked by a trail sign. Follow this to the end and park just beyond the trailhead. The parking lot (space for about 6 cars) is on the right. Raptor Lane and the parking area are not maintained in the winter. Winter parking is at J.K. Adams and will add an additional mile to the hike. GPS coordinates: 43° 14.36′ N, 73° 4.54′ W.
Hiking to Gettysburg Quarry in Dorset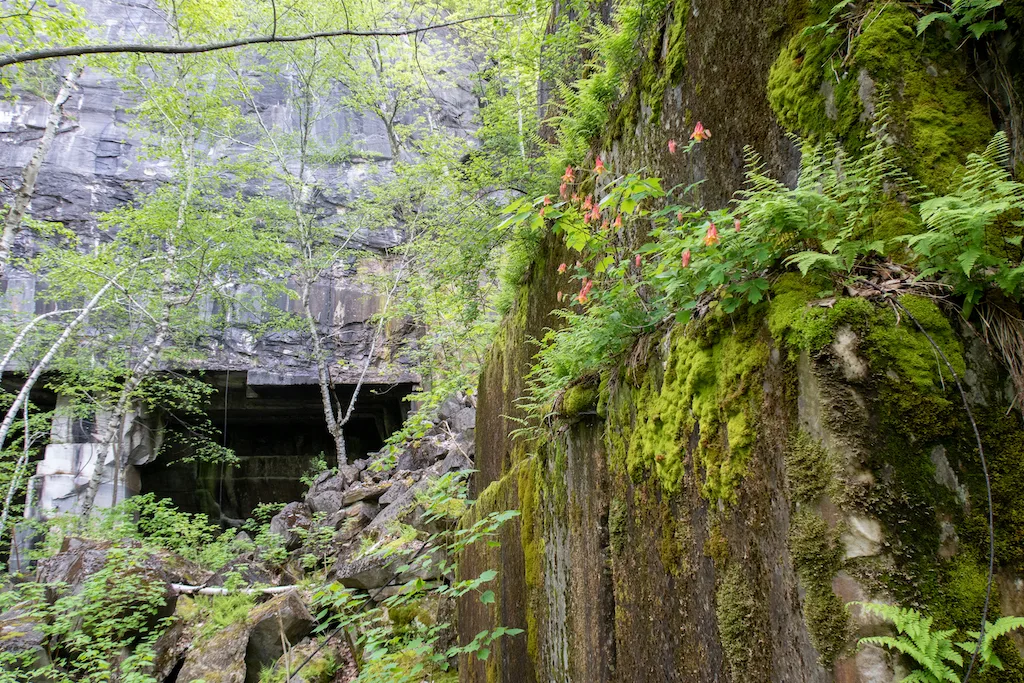 The unassuming Owl's Head Town Forest hides a rich geological and human history that includes old marble quarries, stone cellar holes, and abandoned industrial equipment.
The area is also part of a rare natural community in Vermont — a Temperate Calcareous Natural Community, which includes plants found only on calcium-rich outcrops.
From the parking area, pass into the woods over a small footbridge near the trail kiosk. Hawks Pass Trail is blazed with yellow diamond-shaped trail markers.
This gradual uphill climb through a mixed hardwood forest showcases many of the diverse understory plants that are indicative of a Rich Northern Hardwood Forest — maidenhair ferns, wild columbine, Dutchman's breeches, and wild leeks.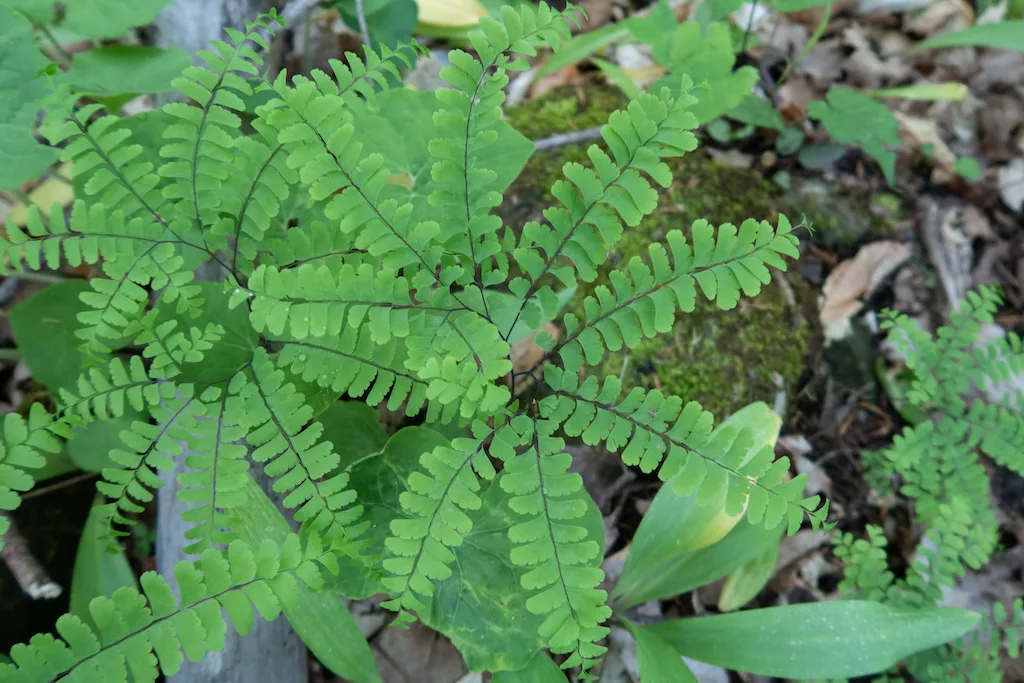 You'll quickly pass over the remnants of an old stone wall and turn left on a gravel road. This short section of trail brings you to a defunct parking area on private property. From here, the trail is blazed in both blue and yellow, heading uphill.
Continue to follow the yellow blazes, veering right off the blue-marked trail in approximately 300 feet. The yellow-blazed trail ascends a wide, well-traveled path lined with wildflowers in the summer and shaded by young maple, white ash, cherry, and beech trees.
You will pass several junctions with marked mountain bike trails as you make your way up the hill. These trails are a new addition to the Owl's Head Town Forest, and worth exploring on another day.
Turn left at a grassy trail junction marked by a beat-up plastic Santa Claus. From here the path narrows, passing a marble quarry dump on the right.
These giant slabs of marble appear as if they've been tossed down the mountain, which isn't far from the truth. Much of the marble found in these hills wasn't good enough for the retail market, so it was piled up and left behind.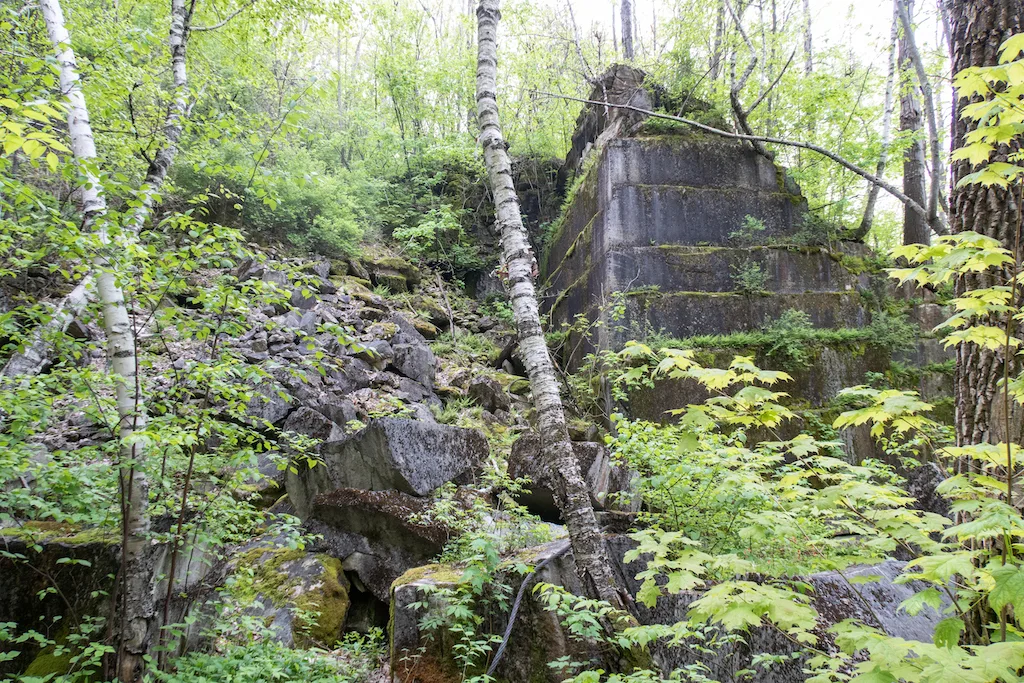 The quarry dump gives way to a sheer rock precipice on your right, followed by a blue-blazed trail junction leading up to Owl's Head. Bypass this trail and continue straight for another 250 feet to visit Gettysburg Quarry. The yellow trail ends at this point and the blazes are blue.
This diverse, wooded landscape you see here today would be unrecognizable 100 years ago. Gettysburg Quarry, one of many marble quarries in the area, opened in 1866 and remained in operation until 1897.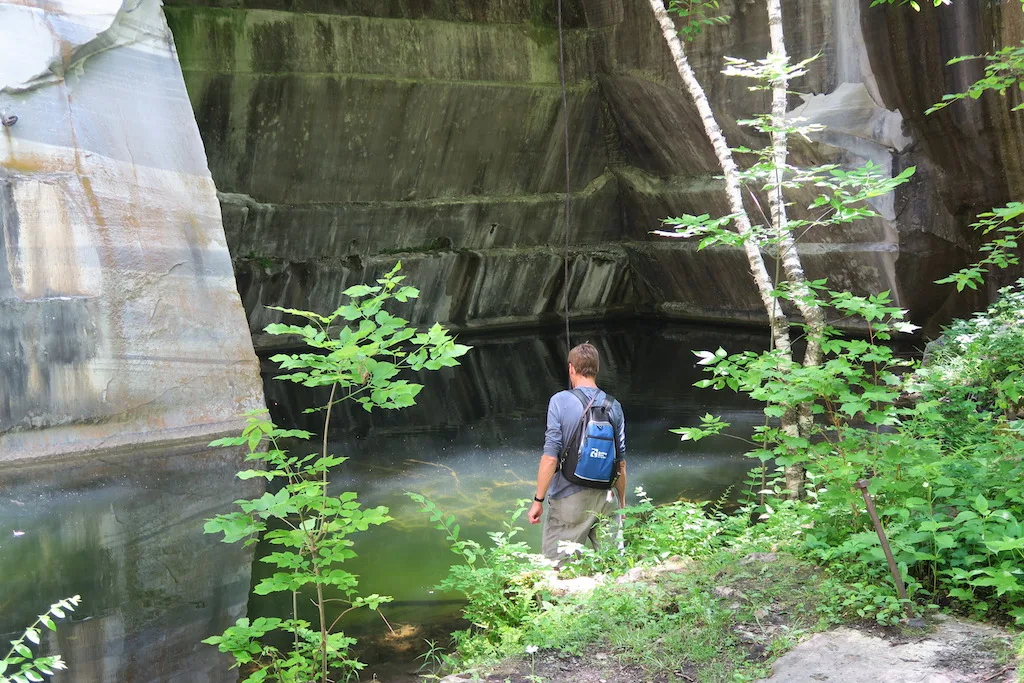 Most of the marble quarried here went to Philadelphia to be used for buildings and monuments. Instead of a forest, there were farmed fields on the hillside, with numerous roads leading to the quarries. During our recent visit, we spotted a sloppy nest on a rock slab within the quarry. They appeared as a black mass, but with binoculars, they were easy to identify – five baby ravens!
If you are lucky enough to witness nesting ravens, don't disturb them. A pair of small hiking binoculars will come in handy here, and you'll be disconcerted to find that they are all looking at you!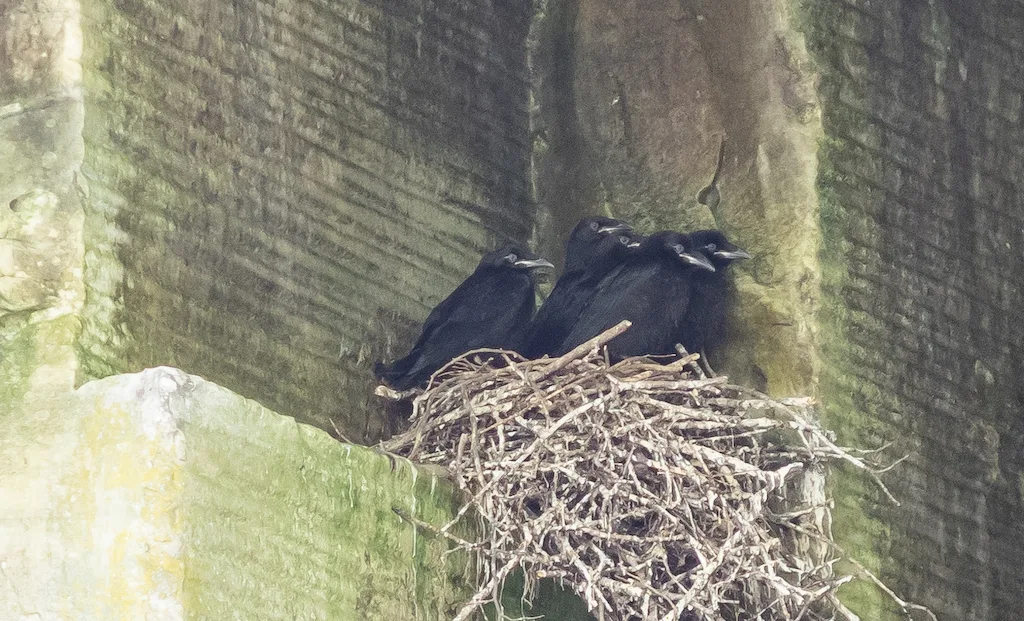 From Gettysburg Quarry, a little detour is in order. Follow a spur trail 200 feet southwest to another quarry dump turned vista. Art's Bench, dedicated in 2016, honors Dorset resident, Arthur W. Gilbert, who worked for 30 years in Owl's Head Town Forest.
The marble bench was built by members of the Vermont Youth Conservation Corps. This spot provides excellent views of Mount Equinox (3,648 feet), Mother Myrick Mountain (3,361 feet), and Mount Antone (2,600 feet).
Art's Bench is the perfect spot for a picnic before continuing to loop back to your car.
From Art's Bench, retrace your steps and take a right to head downhill on the blue-blazed Gettysburg Quarry Trail. In early summer, you will see numerous red efts on the trail — so many that you will have to watch your step for fear of crushing them. These are small salamanders, the second stage of growth in the life cycle of the easter newt.
The trail descends 0.5 miles, meets the old trail junction, and intersects with the yellow trail. Retrace your steps past the gravel road onto the yellow-blazed trail another 0.5 miles back to your car.
Plan Your Trip to Gettysburg Quarry
This hike is a great morning or afternoon outing in summer and fall. There are plenty of things to do in the area.
We'd recommend working up a sweat and an appetite on your hike and then stopping for a swim at the nearby Dorset Quarry, 0.2 miles north on VT 30. This is the oldest marble quarry in the United States, and you'll be in good company on a sweltering summer day.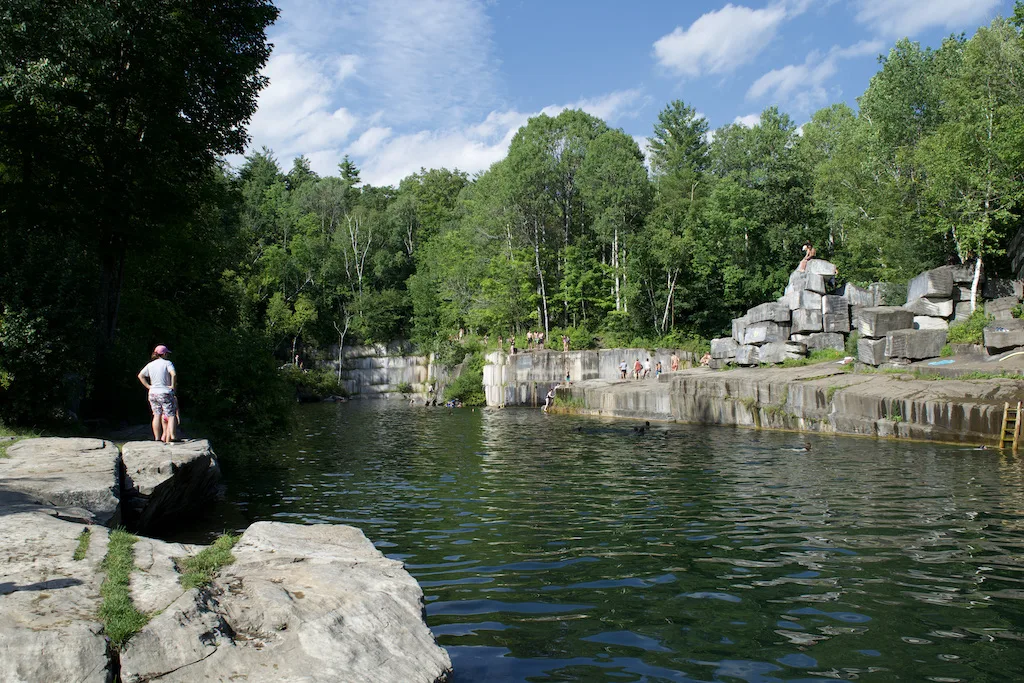 From there, head into the town of Dorset and stop at the Dorset Union Store, where you can grab a sandwich from the deli, a drink from the cooler, or an ice cream from the creemee stand in the front of the shop.
If you're looking for a spot to camp, drive 10 miles north on VT 7 to Emerald Lake. This is a family-friendly campground with hiking and swimming opportunities.
Rainy day activities can be found in Manchester, seven miles south. Browse the incredible selection at Northshire Bookstore, relive your childhood at Passtime Pinball, or shop the sales at Manchester Designer Outlets.
Preparing for your Hike to Gettysburg Quarry
A few things to note about hiking to Gettysburg Quarry and in the Taconic Mountains.
Bring plenty of water. One liter per person should be enough to complete the Gettysburg Quarry loop. If you decide to also hike to Owl's Head and Gilbert's Lookout, bring two liters per person.
Ticks and mosquitoes are active here. Tick season is year-round in Vermont, and this area is home to the deer tick, which transmits Lyme disease. Protect yourself with your favorite insect repellent. We love this spray from Sawyer, which uses picaridin as the active ingredient instead of DEET.
Hiking in Vermont in the summer is a sweat-fest! The humid forest and high summer temps make for a drippy hike. Here's where I have to put a plug in for merino wool! Lightweight merino wicks away moisture without the nasty smell that you get from synthetic fabrics. They cost more than regular cotton t-shirts, but they're worth their weight in gold. We get ours from Woolly Clothing Co. or Minus33 (both companies offer a one-time discount if you sign up for their email list).
Happy hiking!
---
Explore more of Southern Vermont!
---
Follow us on social media for more Vermont hiking ideas!
Pin for later?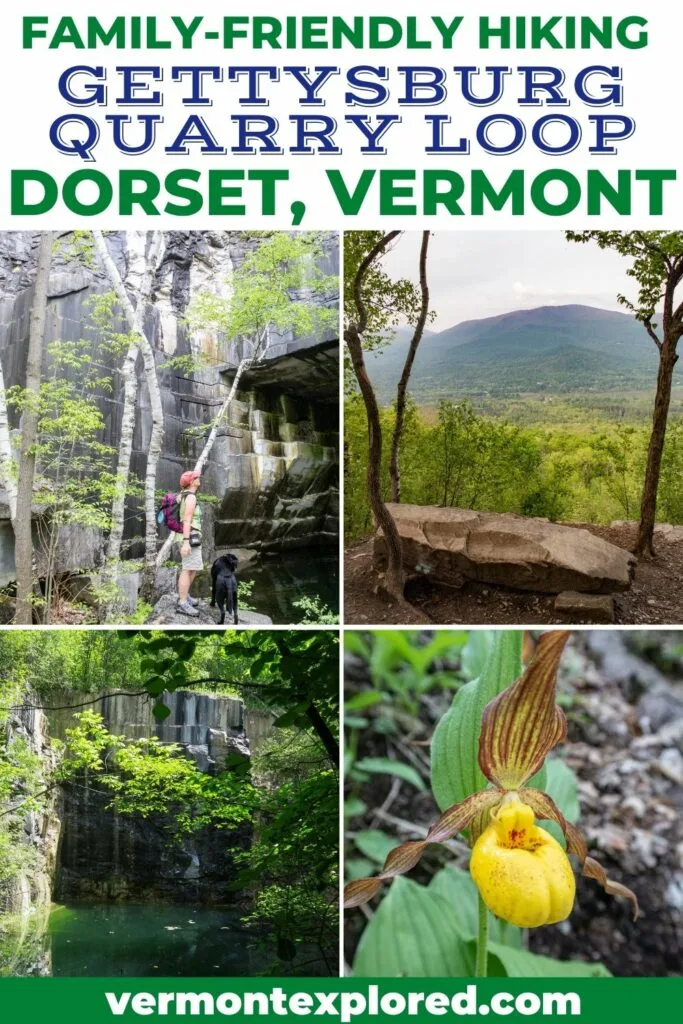 Tara Schatz is a freelance writer, and the founder and editor-in-chief of Vermont Explored and Back Road Ramblers, an American road trip blog. She is also the co-author of the 3rd edition of AMC's Best Day Hikes in Vermont, which was released in May 2023, and the author of 100+ Wonderful Ways to Experience Vermont.