Planning a Vermont vacation and want to include some fabulous waterfalls and swimming holes in your itinerary?
Vermont is probably more well-known for its beer and ice cream than its waterfalls, but just because they aren't famous, doesn't mean they aren't beautiful.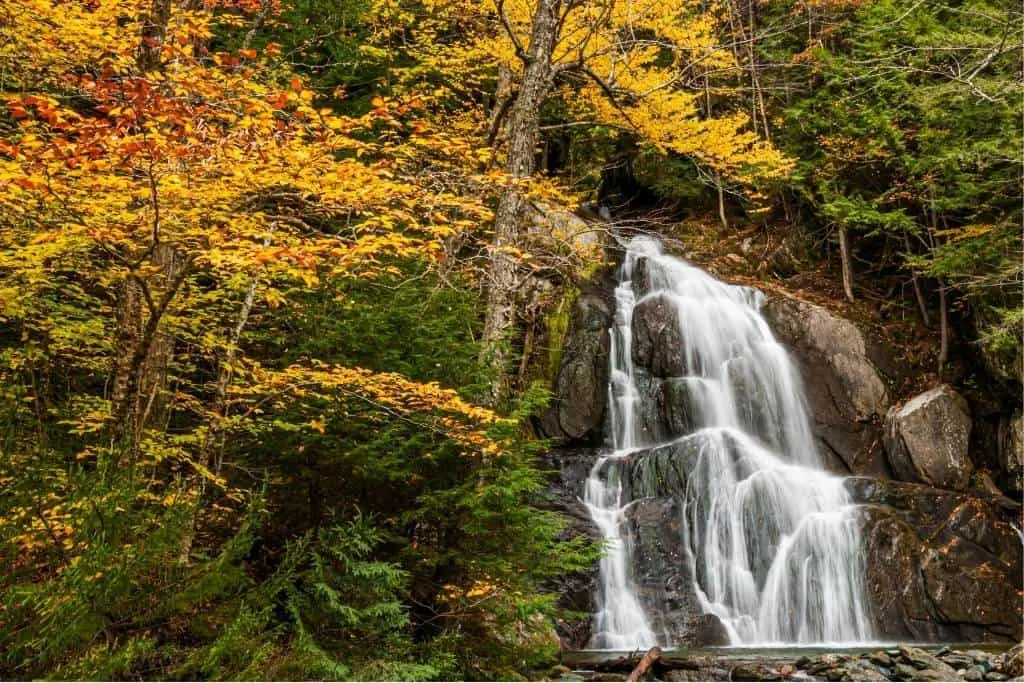 We've explored dozens of Vermont waterfalls since we moved here 17 years ago, and we'd love to share our favorites with you.
A Brief Overview of Vermont Waterfalls
The beautiful waterfalls in Vermont may not win any awards for being the biggest or the most extraordinary, but I promise that every one of the waterfalls I've listed here is worth visiting.
If you are looking for a long, exhilarating hike to massive cascades, head to our neighbors, New Hampshire and Maine. If you want easy-to-access waterfalls with awesome swimming, come to Vermont!
I think that Vermont has some of the very best swimming holes in the whole country, and I'm not the only one that feels that way. Pick up a copy of Take the Plunge: An Explorer's Guide to Swimming Holes of Vermont at your local bookstore before your trip and you will see what I mean.
Vermont swimming holes are hoppin' in the summer. In part, because they are mostly roadside attractions that are super easy to get to.
The other reason Vermonters love their swimming holes? We spend eight months of the year bundled up in sweaters and when summer comes, we are more than ready to get half-naked in a frigid river. You have been warned!
Of course, Vermont swimming holes and Vermont waterfalls aren't mutually inclusive, so we'll be sure to let you know which ones are swimsuit-worthy. My advice — keep a spare swimsuit and towel in your car if you're embarking on a summer road trip in Vermont, especially a Vermont waterfalls road trip!
Vermont Waterfalls Map
We created this map of waterfalls in Vermont to show your our favorite 9 waterfalls in the state. As you can see, most of them are in northern Vermont, with just three in the southern part of the state.
At the end of the post, I'll talk a little bit more about combining these into a few awesome Vermont waterfall road trips.
View this downloadable Vermont waterfall map on Google Maps.
When is the Best Time to Visit Waterfalls in Vermont?
When you visit Vermont will dictate whether you can swim or not. Waterfalls in Vermont will be nice and full in the spring, starting in mid-April and running through early June, but you have to be a hearty soul to swim in Vermont rivers in June, even in southern Vermont.
If you want to take photos of gushing falls, come in May. If you want to check out some awesome Vermont swimming holes, come in July. And if you want a dose of fall colors with your Vermont waterfalls, come in October!
Swimming at Vermont Waterfalls
Taking advantage of Vermont swimming holes is a right of passage for kids and teens. Once you graduate from the kiddie pool in your backyard, you learn to swim in the river. Of the nine Vermont waterfalls on this list, there are three that you can't swim at – Moss Glen Falls in Granville, Texas Falls in Hancock, and Hamilton Falls in Jamaica.
We'll make note of the best Vermont waterfalls for swimming below. If you do decide to take advantage of a Vermont swimming hole, remember two things. 1) The water will be frigid on all but the hottest summer days, and 2) the current will likely be strong. Wear water shoes or sandals to protect your feet from slippery rocks and don't swim alone.
The Best Waterfalls in Vermont
I'm going to organize these Vermont waterfalls by geographic location, starting in southern Vermont and working my way north. I thought about listing them from my favorite to my least favorite waterfall but quickly decided that it would be really hard to do (plus, how can you have a least-favorite waterfall?).
---
All of the Vermont waterfalls mentioned below can be found in the book, New England Waterfalls, where you'll find detailed directions and trail information. We use our dog-eared copy whenever we're looking for a new waterfall adventure. The book is meant to be used with our favorite Vermont road atlas, the Delorme New Hampshire/Vermont Atlas & Gazetteer. Yes, we use GPS, but we still love our paper atlas!
Anyway, here they are, my nine favorite waterfalls in Vermont, plus some tips to help you enjoy them to their fullest!
Lye Brook Falls: Manchester, Vermont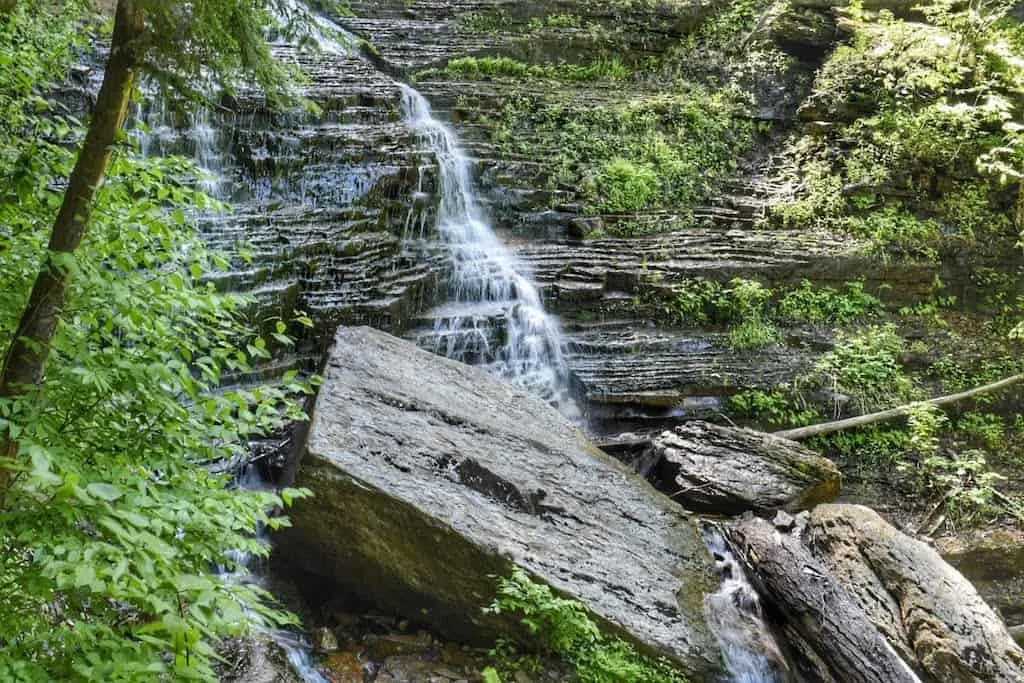 Lye Brook Falls is located in the Lye Brook Wilderness in Manchester, Vermont, part of the expansive Green Mountain National Forest. It is one of very few southern Vermont waterfalls, and it requires a round-trip hike of 4.6 miles. Fortunately, it's a relatively easy walk, gaining about 750 feet in elevation, and it's dog-friendly.
The falls are made up of a 125-foot horsetail that is fairly seasonal. We have hiked the trail in August only to find the falls a mere trickle, while in April, it's a gushing cascade. The photo above was taken in late May.
What we love about Lye Brook Falls: This is the closest big waterfall to our home in Bennington, so we can visit quite a bit. We love hiking the trail, especially when the snow is finally melting in the Spring. A trip to Lye Brook Falls is a great way to spend the day, followed by an early dinner in Manchester.
Can you swim at Lye Brook Falls? You can get wet, but the pools aren't deep enough for swimming.
Need a Lye Brook Falls trail map? Here ya go! We'd also recommend investing in the waterproof (and totally awesome) Green Mountain National Forest trail maps from National Geographic.
---
Hamilton Falls: Jamaica, Vermont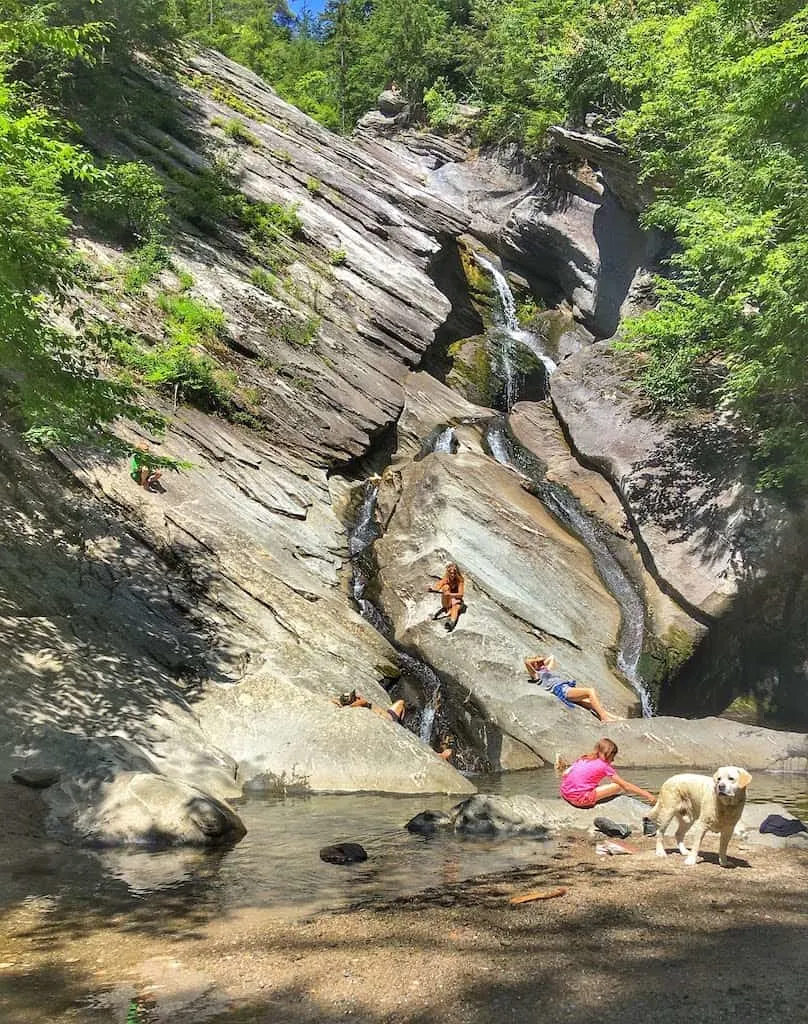 There are two ways to get to Hamilton Falls in Jamaica, Vermont.
According to New England Waterfalls, you can get there from a trailhead in West Townshend, which makes it a short jaunt to the falls. We have never done this, and can't say enough about the route to recommend it. We get to Hamilton Falls from Jamaica State Park, which is a beautiful place in its own right, with campsites, a swimming hole, a playground, and a picnic area.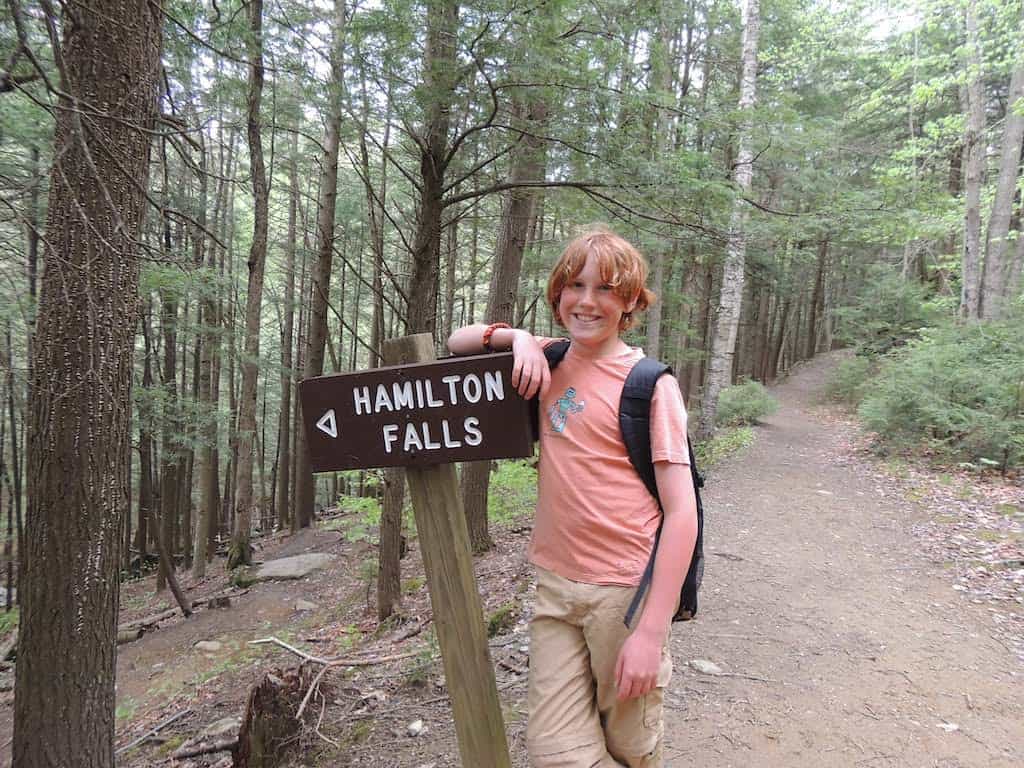 If you park in the main parking area at Jamaica State Park and follow the West River multi-use trail for two miles. The trailhead to Hamilton Falls will be on your right, and the falls are another 1.1 miles.
We usually take our bikes on the West River trail and then leave them at the trailhead to hike to the falls.
Hamilton Falls is 125 feet of multiple horsetails and slides (depending on when you visit). It's most lovely in the spring, but it's also a great place for an afternoon picnic in the summer. The area is quite safe for kids and there are small pools that are perfect for wading in.
What we love about Hamilton Falls: Picnicking on the big rocks near the falls is awesome!
Can you swim at Hamilton Falls? The pools below the falls are only a few inches deep, and while there is a deeper pool at the top of the falls, it's quite dangerous and swimming is not permitted. If you do want to swim, head to Salmon Hole in Jamaica State Park on your way back to your car.
Need a Hamilton Falls trail map? Here ya go!
---
Buttermilk Falls: Ludlow, Vermont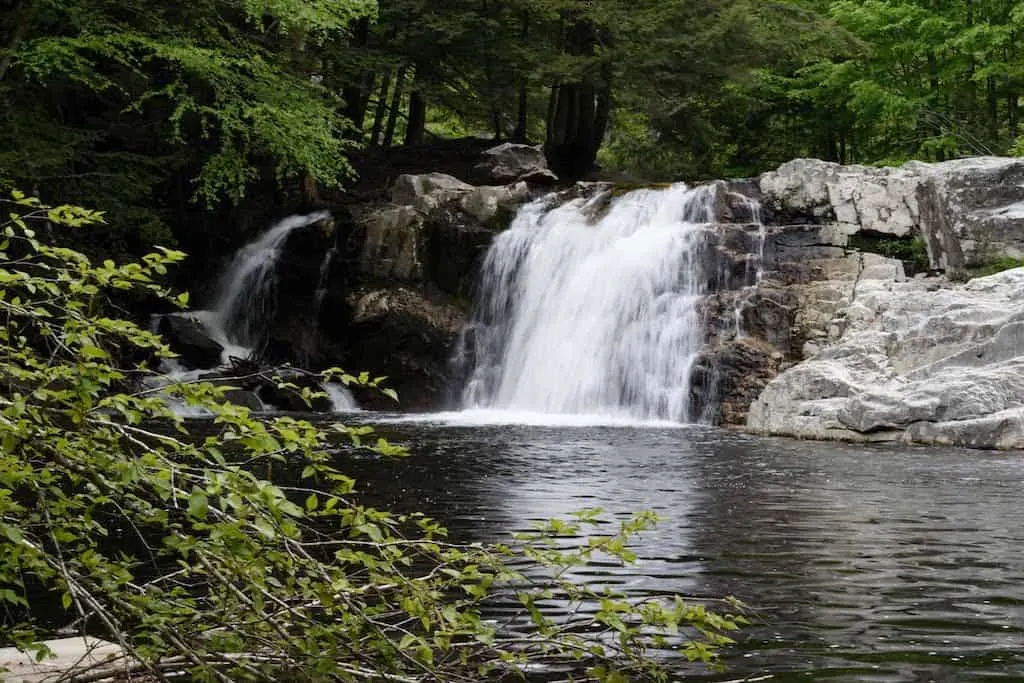 An easy, .2-mile trail will bring you to Buttermilk Falls, which is actually a series of three falls along the Branch Brook in Okemo State Forest. The river is protected by the Vermont River Conservancy and cared for by the staff at Camp Plymouth State Park.
It's one of the easiest waterfalls in Vermont to get to and doesn't require much hiking or scrambling for gorgeous views.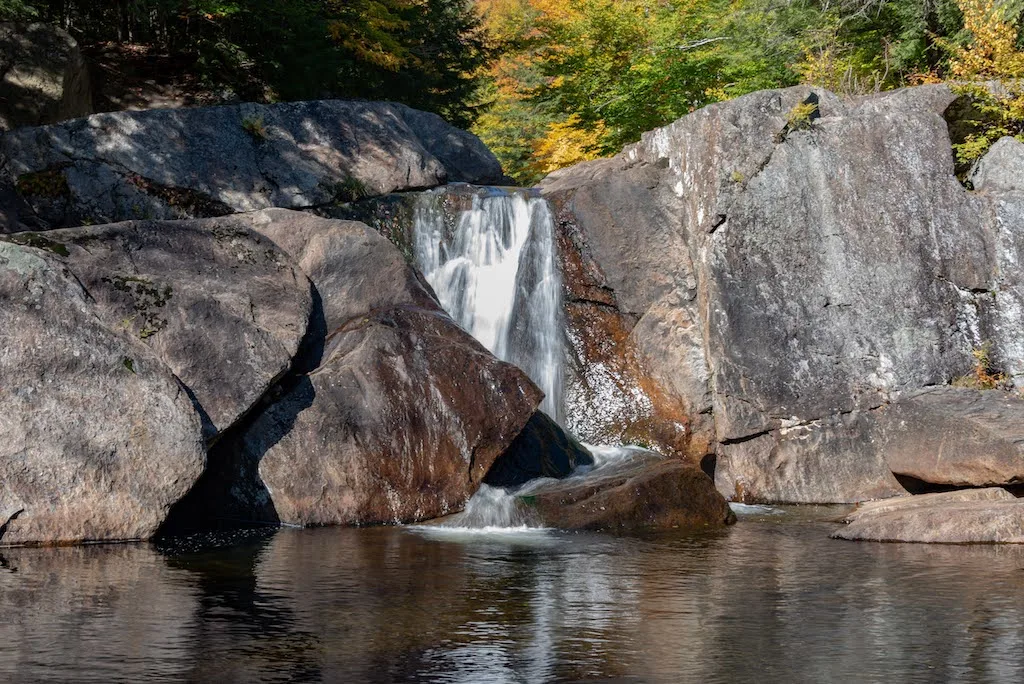 The upper and middle falls both spill into fairly wide pools that are deep enough for swimming, and because this is essentially a roadside waterfall, you will find plenty of people here in the summer. Fortunately, there's lots of room to spread out. The falls aren't tall, about 15-20 feet, but they're quite picturesque, especially in the spring.
Kids will love exploring here, and while the rocks are slippery, the pools below the falls are fairly safe without a big current.
What we love about Buttermilk Falls: Easy access for cooling off in summer.
Can you swim at Buttermilk Falls? Absolutely! The pools are deep enough for swimming, but just barely.
Need a trail map? Nope! The falls are right off the road. Use the Google map above to see how to get there.
---
Texas Falls: Hancock, Vermont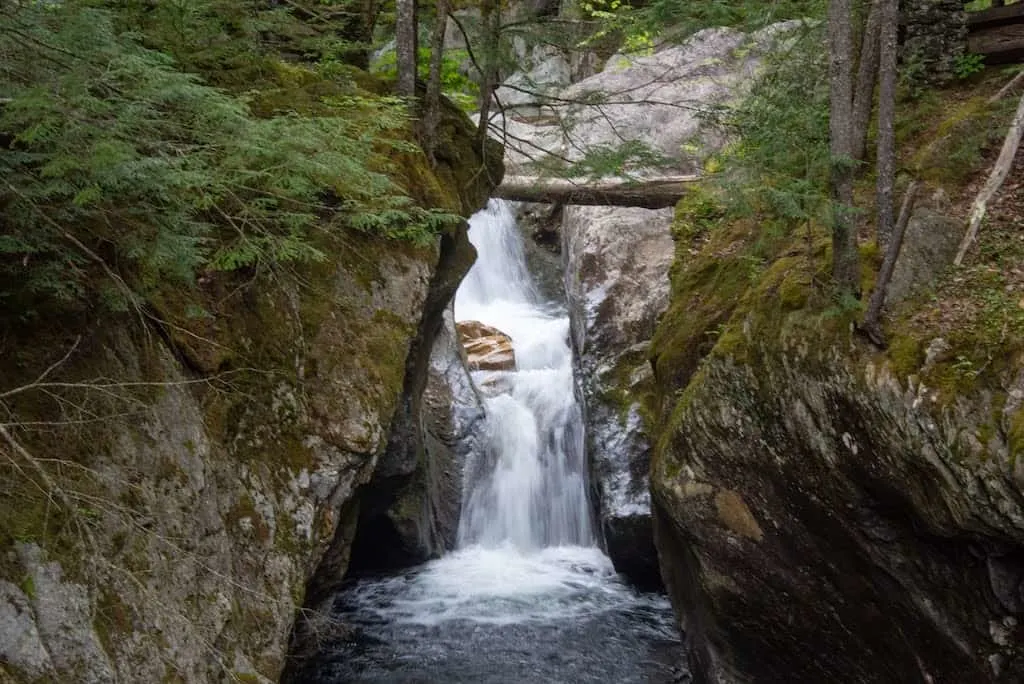 Located in the Green Mountain National Forest in Hancock, Texas Falls is another roadside attraction that's easy to access via a series of boardwalks and not a lot of hiking.
The main falls have a total drop of about 35 feet and are best viewed from the bridge that crosses over the stream, but there are a few smaller plunges if you meander along the river for a bit.
If you have time, continue on the Texas Falls nature trail, which is a 1.2-mile loop through the woods that begins and ends at the falls. If you continue up the road after viewing the falls, you'll find a small picnic area alongside the river.
What we love about Texas Falls: The falls and the trail are very family-friendly and easy to access. We have brought elderly relatives here too. Also, Texas Falls is the first in what could be a great Vermont waterfall road trip.
From south to north, you can hit Texas Falls, Moss Glen Falls (Granville), Warren Falls, and Bartlett Falls in one afternoon. Here's an overview of Texas Falls and the nearby nature trail.
Can you swim at Texas Falls? Swimming is not permitted in or around the falls, but you can wade in the stream near the picnic area up the road.
Need a Texas Falls trail map? You won't need a trail map to visit Texas Falls, which is right off the road. Here is a trail map for the Texas Falls Nature Trail.
---
Moss Glen Falls: Granville, Vermont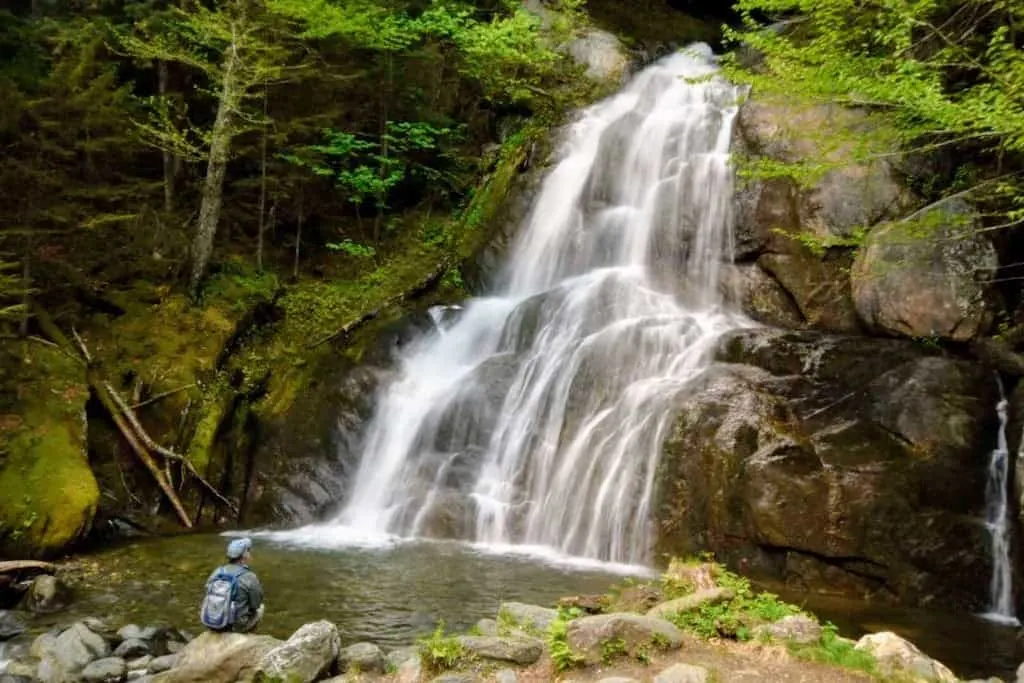 Moss Glen Falls is located on what many consider the most beautiful road in Vermont, scenic Route 100. This beautiful waterfall has a lot going for it. First of all, it is located right on the road and can be accessed from a very short boardwalk, which I believe is wheelchair accessible.
This is also one of the most beautiful waterfalls I've ever seen, horsetailing gracefully for 35 feet over a series of rocks and into a shallow pool.
Moss Glen Falls is easy to view and photograph and there are lots of different angles you can choose from to frame the perfect shot. If you're in the area, there's no reason not to visit this beautiful Vermont waterfall.
What we love about Moss Glen Falls: Road-tripping on Route 100!
Can you swim at Moss Glen Falls? No. Swimming isn't permitted and it's not deep enough anyway. Head north a ways to Warren Falls, where you'll find some of the best swimming in Vermont.
Need a trail map? Nope. You can't miss this one!
---
Warren Falls: Warren, Vermont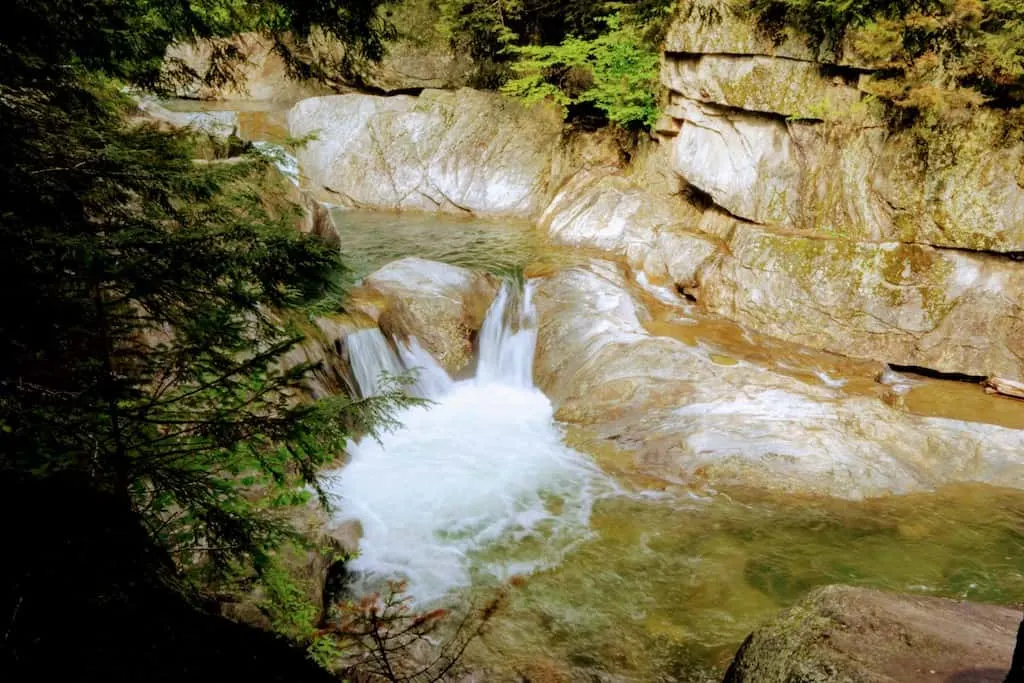 The photo above just doesn't do Warren Falls justice. Not only is it one of the most beautiful waterfalls in Vermont, but it's also one of the best swimming holes. Cliff jumping is a favorite pastime at Warren Falls, and the pools below the falls are clear and deep.
There are plenty of spots along the river for a secluded picnic, but the main swimming area will be jam-packed on summer afternoons.
There is a short trail from the large parking area that leads to the top of the falls and then the base of the falls and the swimming area. The photo above was taken from the top of the falls, but there were a bunch of other photographers here on the day I shot this, so I didn't get my favorite viewing spot.
Warren Falls is located right off scenic Route 100, just a short drive from Moss Glen Falls. Plan to spend some time here, especially if you like river swimming.
What we love about Warren Falls: The swimming is great and it's dog-friendly.
Can you swim at Warren Falls? Yes!
Do you need a trail map? There is a short trail that leads from the parking area to Warren Falls, but you don't need a map.
---
Bartlett Falls: Bristol, Vermont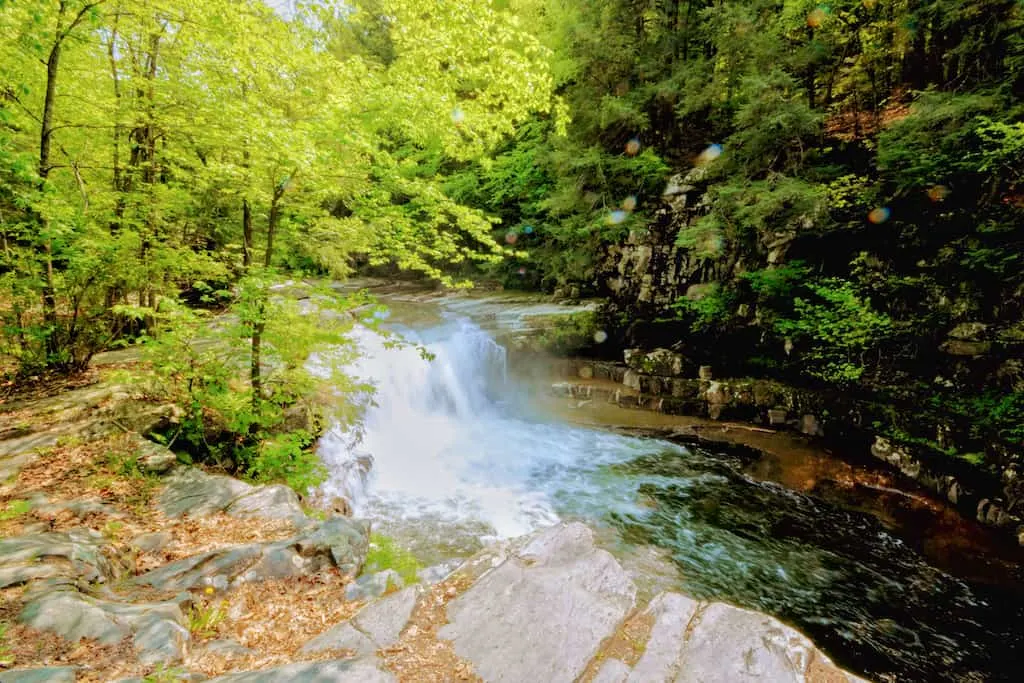 Bartlett Falls is also known as Bristol Falls and it's another spectacular swimming hole (those lucky ducks who live nearby!). The falls are short and wide, only about 15 feet high. You can actually go behind the falls here – into a little private alcove where all noise is drowned out by the crashing falls.
The swimming area at Bartlett Falls is huge. There's a trail to the base of the falls where you can wade in and it gets progressively deeper as you make your way to the falls.
Cliff jumping is popular here, but there are also sandy areas for families with small children. If I had to choose, I would rate Bartlett Falls in Bristol as my favorite Vermont swimming hole, but it does get crowded on summer afternoons.
What we love about Bartlett Falls: What's not to love? It's a great spot to spend the day swimming and picnicking. Also, Bristol is an awesome little town with tons of charm. Read more about our yurt-camping adventure in Bristol from last summer.
Can you swim at Bartlett Falls? Best swimming ever!
Do you need a trail map? No. Bartlett Falls is easy to get to and right off the road.
---
Moss Glen Falls: Stowe, Vermont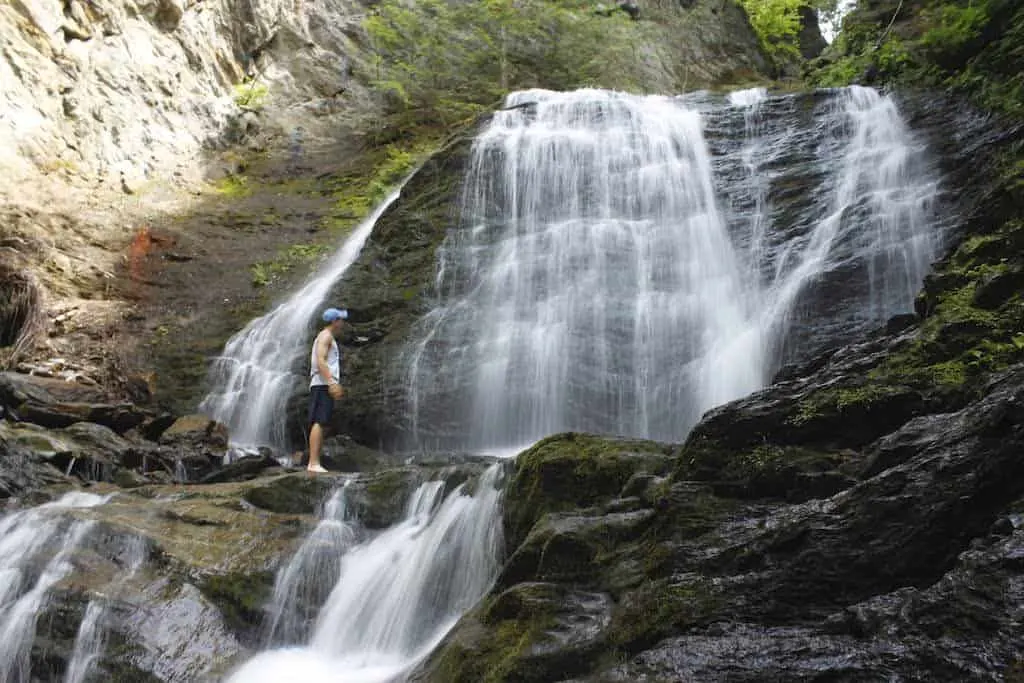 How is it possible that there are two gorgeous waterfalls in Vermont with the exact same name?
Moss Glen Falls in Stowe is much bigger than Moss Glen Falls in Granville, and it does require a tiny bit of a hike to get there (0.2 miles). Be sure to check out the upper viewpoint before heading to the base of the falls. Both views are spectacular and worth checking out.
This is one of the few Vermont waterfalls that I have visited in every season. Except for the deepest part of winter, Moss Glen Falls is gorgeous year-round. The falls consist of a plunge, horsetail, and fan, dropping more than 125 feet in all.
What we love about Moss Glen Falls: It's just beautiful. I wouldn't categorize it as the best for young kids, but it's just so pretty.
Can you swim at Moss Glen Falls? I know for sure that you can wade here, but it's not really deep enough for swimming.
Need a Moss Glen Falls trail map? Moss Glen Falls is about 1/4-mile in on a longer trail that travels through the woods to a viewless summit. I found the best map on Outdoor Project, but I've never actually hiked farther than the falls.
---
Bingham Falls: Stowe, Vermont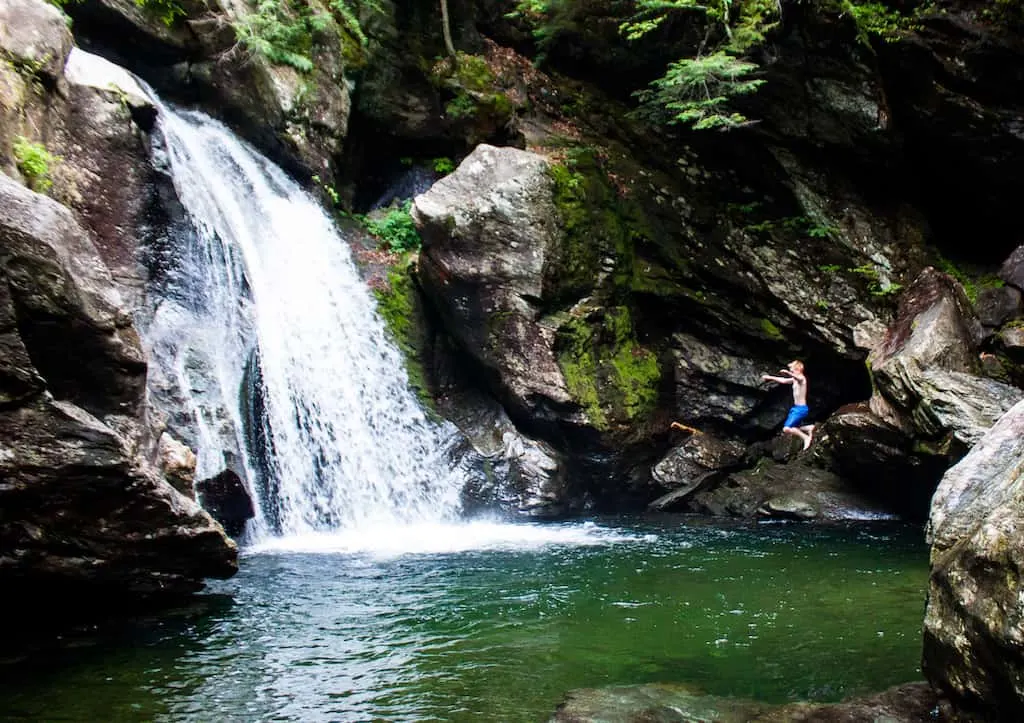 Bingham Falls is a single 25-foot plunge into a round deep pothole that is suitable for swimming and cliff jumping. The water here is colder than any of the other swimming holes in this book, and because I'm getting wimpy in my old age, I've only spent a few minutes swimming here.
You can reach Bingham Falls
after a 0.3-mile downhill hike from a parking lot on Route
108. if you are staying at
Smuggler's Notch State Park
,
the falls are across the road from the campground. I would not say that these falls are kid-friendly as there are some steep drop-offs and no place for shallow-water wading.
What we love about Bingham Falls: Its perfect shape! We also love weekending in Stowe and driving through Smuggler's Notch.
Can you swim at Bingham Falls? Yes, with caution. The current can be strong and the water is frigid.
Need a Bingham Falls trail map? You don't need a map to get to Bingham Falls, but there's awesome hiking here, so here's a Smuggler's Notch trail map. You'll see Bingham Falls and the Smuggler's Notch campground at the bottom right.
---
Take a Vermont Waterfalls Road Trip!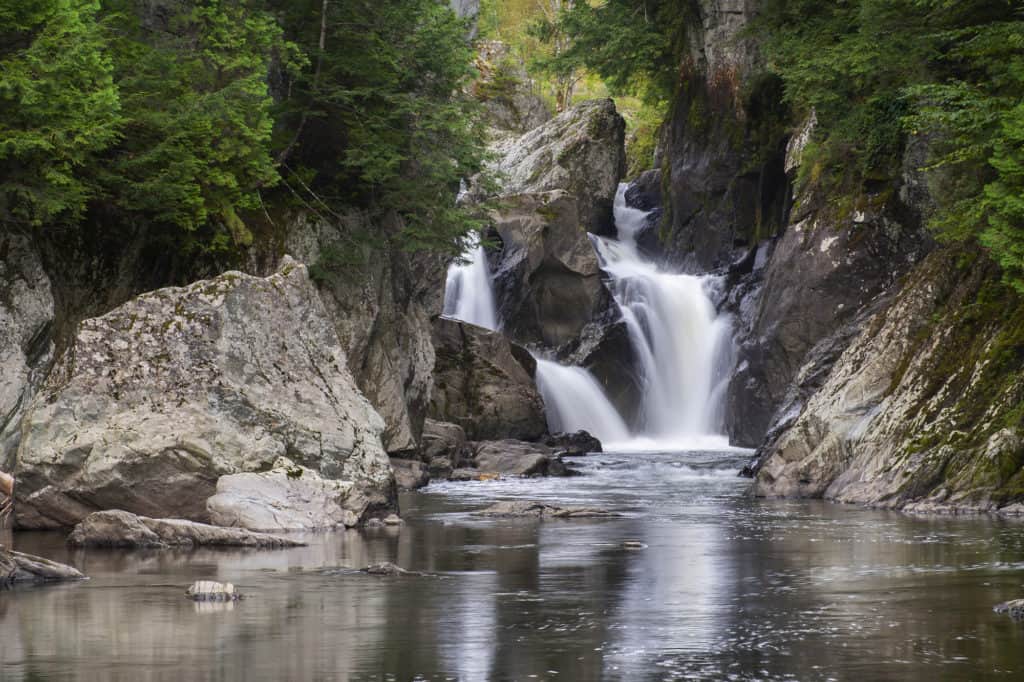 Waterfall road trips are probably my favorite kind, especially if they include camping, hiking, and exploring cute New England towns. The Vermont waterfalls listed here can be visited in various combinations with other waterfalls to create day or weekend-long road trips.
Here are a couple of Vermont waterfalls road trips that I would recommend.
Southern Vermont Waterfalls Road Trip – Lye Brook Falls and Hamilton Falls. Only two waterfalls are included because both require significant hiking. Here's how I'd do this one. Day 1: Drive to Manchester, VT, and spend the night. It's a great town! Day 2: Hike to Lye Brook Falls, then drive to Jamaica State Park for the night (in a cabin or tent site). Day 3: Bike/Hike to Hamilton Falls then spend the rest of the day swimming/relaxing at Salmon Hole at Jamaica State Park.

Central Vermont Waterfalls Road Trip – My favorite Vermont waterfalls road trip! For a great 3-day weekend, here's the plan – Day 1: Drive up route 100 stopping at Texas Falls and Moss Glen Falls. Spend the night at this yurt in Bristol. Day 2: Head to Bartlett Falls for a day of swimming. Spend the night at the same yurt, or if you've got money to spend, this amazing treehouse in Duxbury. Day 3: Swim and relax at Warren Falls before heading home.

Stowe Waterfalls Road Trip – For your Stowe waterfalls road trip, I'm throwing in two waterfalls not mentioned here – Brewster River Gorge and Sterling Brook Gorge. Both Brewster River Gorge and Sterling Brook Gorge are worth checking out, and both show up on Google Maps. All of the Stowe Waterfalls require very little hiking, so you can mix and match how you tackle them. Make your home base in the beautiful village of Stowe for an amazing waterfall weekend.
Follow us on social media for more Vermont inspiration!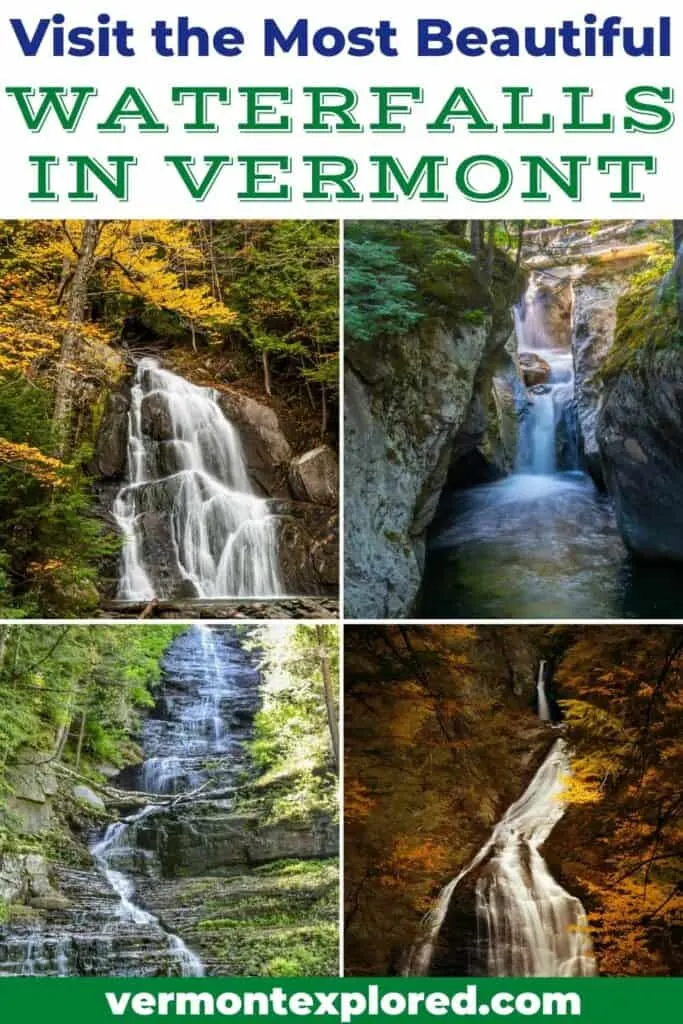 Tara Schatz is a freelance writer, and the founder and editor-in-chief of Vermont Explored and Back Road Ramblers, an American road trip blog. She is also the co-author of the 3rd edition of AMC's Best Day Hikes in Vermont, which was released in May 2023.