Looking for a relatively easy hike to one of Southern Vermont's most lovely waterfalls? The hike to Lye Brook Falls in Manchester, Vermont is a moderate 4.6-mile woodland walk that is easy enough for families with outdoor-loving kids.
This hike is perfect for summer because the trail is shaded the whole time, and it's one of our favorite hikes to bring guests who come to visit us in Bennington. Here's an overview of this beautiful trail in the expansive Green Mountain National Forest.
The Main Attraction: Lye Brook Falls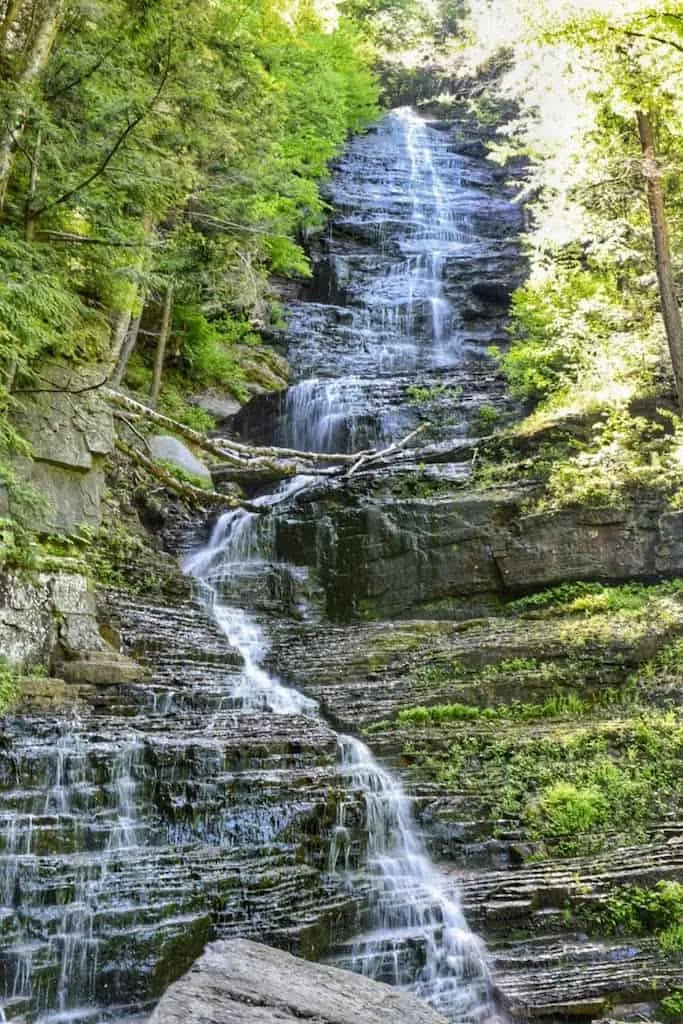 Lye Brook Falls look different every time we visit and the flow of water is highly dependent on the time of year and local precipitation, but even during very dry summers, you will see some sort of waterfall, and it is always beautiful.
At 125 feet tall, this is the closest big waterfall to our home in Bennington, Vermont, made up of several tiers of cascades and horsetails. Unfortunately, it's not really possible to swim at Lye Brook Falls as the pools are quite shallow.
Quick Trail Details
Length: 4.6 miles round trip
Difficulty: Moderate
Elevation Range: 706 ft. -1640 ft
Elevation Change: 934 ft
Dogs: Yes
Cost: Free
Directions to Trailhead
Because the Lye Brook Falls hike is quite popular, I recommend hiking early in the morning and during the week if possible. The hike is very dog-friendly, and yes, we have seen plenty of dogs off-leash here. Our own dogs are usually leashed as one of them is currently jumpy and a little bit rude.
If you do bring your dogs, please be sure to follow Leave No Trace Principals and clean up after them, as dog waste has become a huge problem on popular trails in Vermont.
Hiking to Lye Brook Falls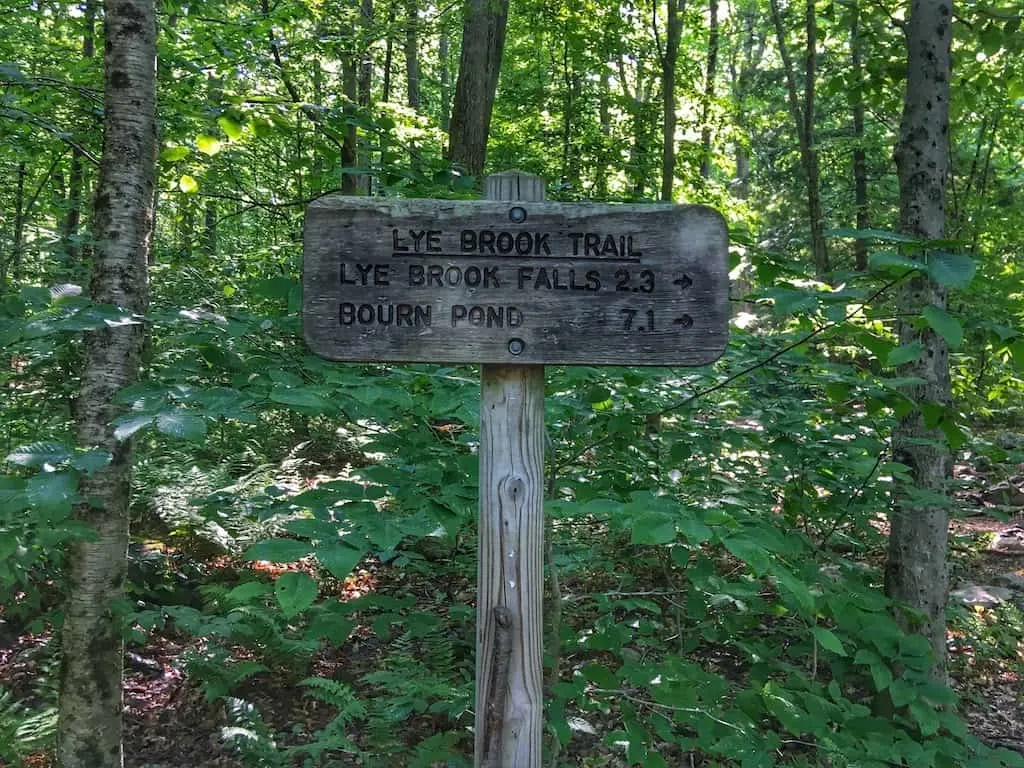 Park your car in the large, shaded parking area at the end of the Lye Brook Falls Service Road and follow the blue blazes. The trail starts off very wide a flat, traveling through tall grass and blackberry bushes before quickly turning into the woods. Here at the beginning of the trail, you are as close to the stream as you will be until you get to the falls.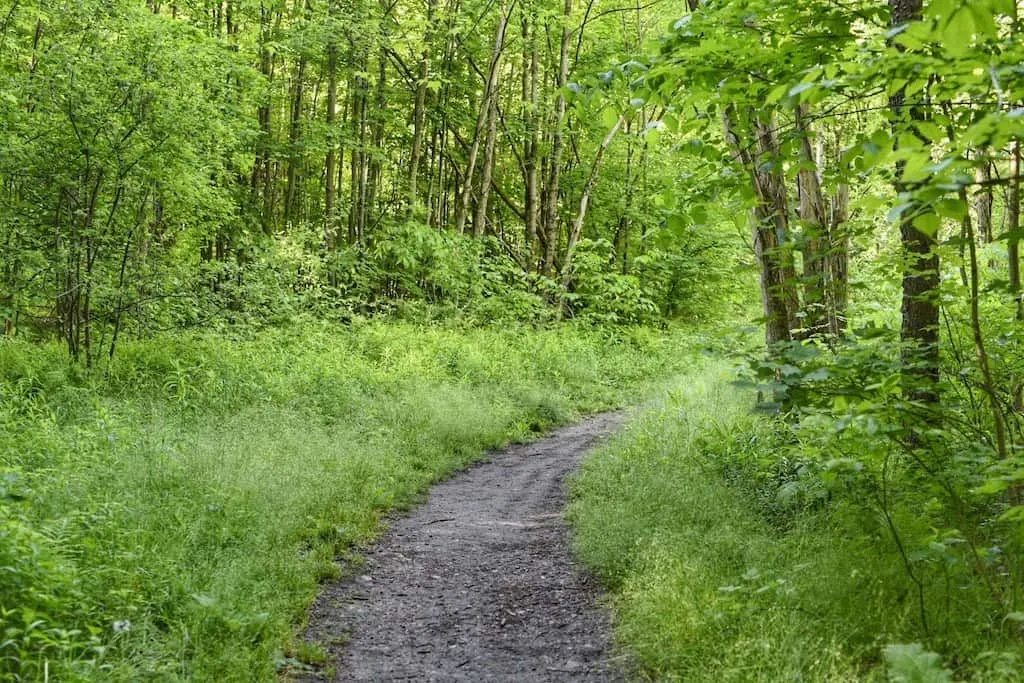 The trail travels through a mixed hardwood forest on a wide path that becomes increasingly rocky. You will need to keep your eyes on the ground to avoid rolling an ankle, and if you're hiking in June, you might as well watch out for red efts – immature newts that will be making their way across the trail to find water.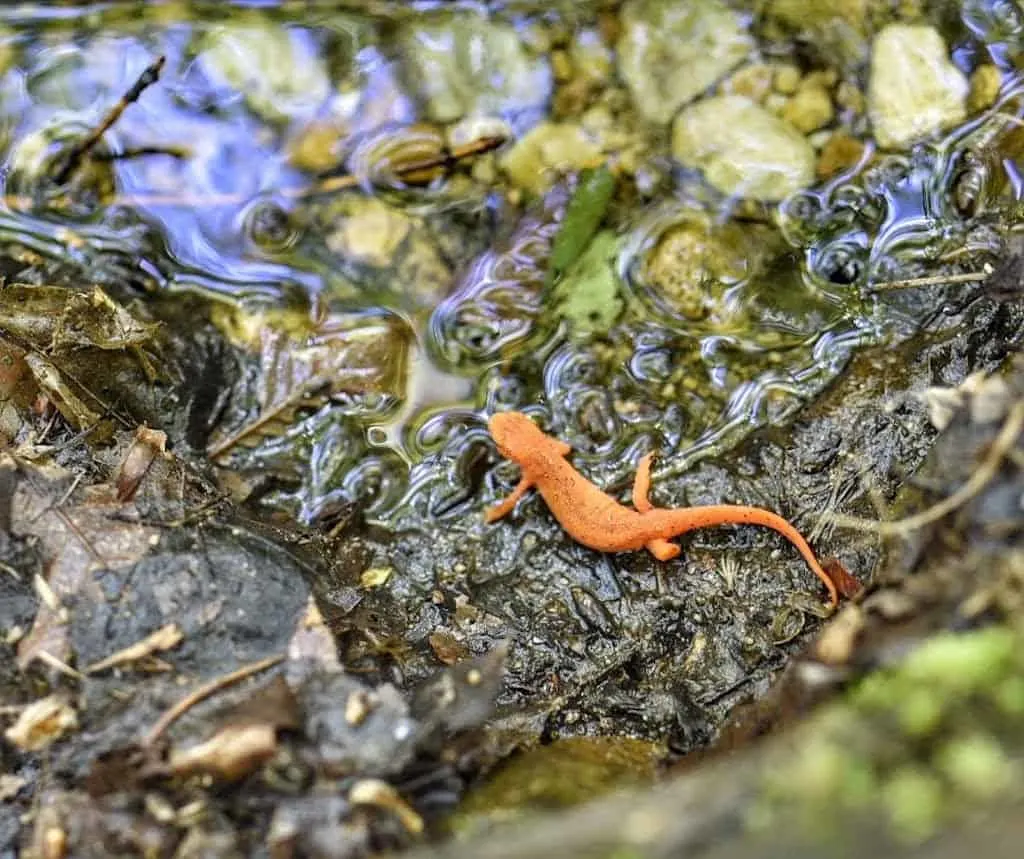 You will rock hop across several small, muddy streams before the trail starts a steady climb through several cool and shady stands of hemlock.
At 1.8 miles the trail forks. Follow the right fork and the sign pointing to the falls. At this point, the trail levels out and becomes a bit more narrow, hugging the side of a hill. You will pass several rock faces on your left with running water coming down the mountain, making this part of the trail pretty muddy.
The trail will descend briefly as you near the falls. When you get there, you can follow the trail up and to the left for the best view of Lye Brook Falls. If you continue straight and to the right, you will pop out on a big rock at the base of the falls – a lovely spot for a picnic, but the surrounding trees block most of the upper falls from view.
If you have a rambunctious puppy with you, there is a small area for playing in. Not big enough or deep enough for humans, but water-loving dogs will be quite happy.
If there are a lot of people congregating to view the falls, you will find that it feels quite crowded here, but if you're visiting early in the day, you will have plenty of room to relax with a snack and snap a few photos before turning around and heading back the way you came.
Lye Brook Falls Trail Map and Elevation Profile
Need a Lye Brook Falls trail map you can download? Here ya go! We'd also recommend investing in the waterproof (and totally awesome) Green Mountain National Forest trail maps from National Geographic.
Tips for Enjoying Your Hike to Lye Brook Falls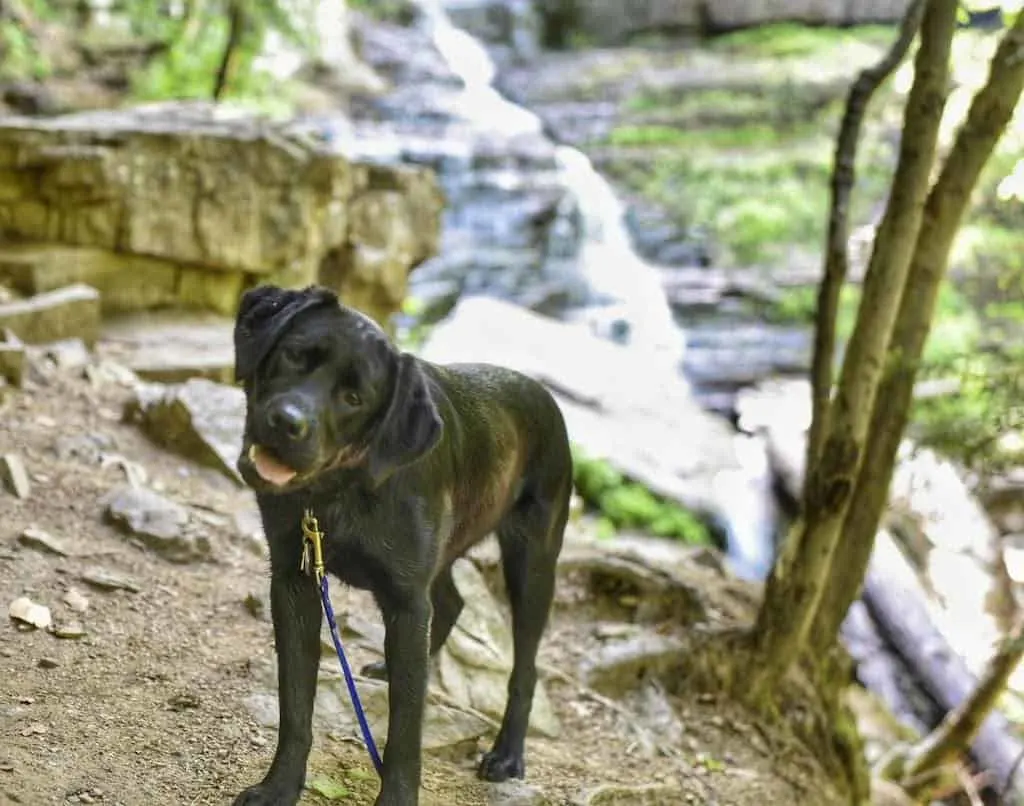 The Lye Brook Falls Trail is located in the 15,680-acre Lye Brook Wilderness, which is part of the Green Mountain National Forest. Because this is a designated wilderness area, signage is minimal and there are no facilities or trash cans. You have to carry out what you carry in.
At the turn of the last century, this area was teeming with industry, with heavy logging, railroads, charcoal kilns, and sawmills. Although the land has slowly become wild once again, if you travel off the path, you can still find remains of these industries.
Wear insect repellent on this hike! Because this is a mostly wooded trail, there are plenty of mosquitoes. We don't usually see ticks up here, but that doesn't mean they aren't around. Our absolute favorite bug spray is Sawyer Picaridin Insect Repellent, which is incredibly long-lasting and as effective as DEET. We carry the 3-ounce bottle in our daypack.
We included the Lye Brook Falls hike in our post about Vermont's Most Beautiful Waterfalls. If you love waterfall chasing as much as I do, you may want to check out that post next!
---
Want to read more about incredible Vermont adventures for your next vacation? Check out these posts:
---
Tara Schatz is a freelance writer, and the founder and editor-in-chief of Vermont Explored and Back Road Ramblers, an American road trip blog. She is also the co-author of the 3rd edition of AMC's Best Day Hikes in Vermont, which was released in May 2023, and the author of 100+ Wonderful Ways to Experience Vermont.