Not only is Stowe a beautiful mountain village with jaw-dropping views in every direction, but it's also one of the best destinations in Vermont for outdoor lovers. It's got two of the most beautiful waterfalls in the state, the tallest mountain in Vermont, and too many hiking trails to count.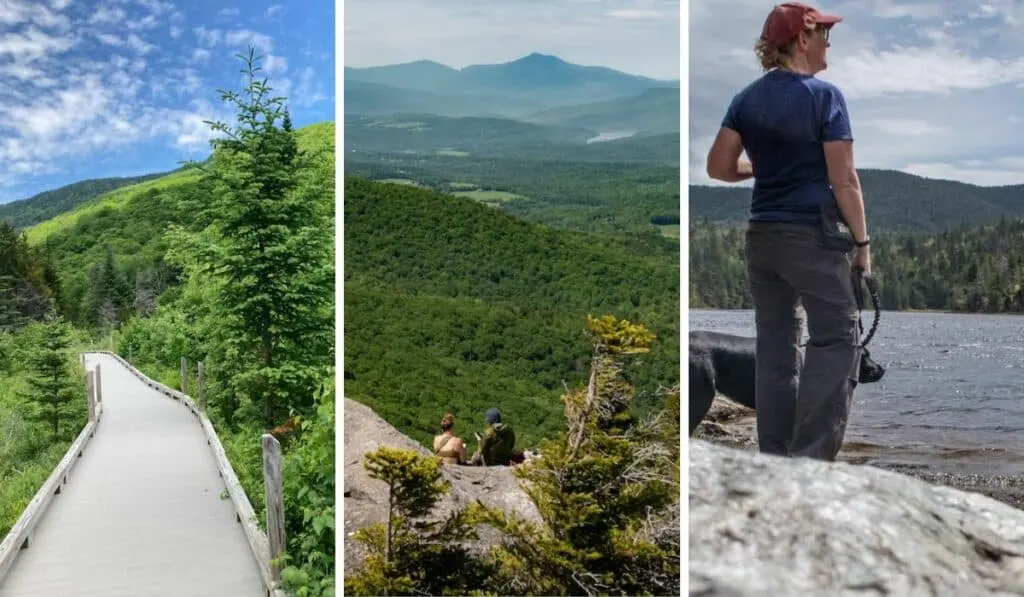 In fact, if you are one of those crazy awesome people that builds vacations around hiking opportunities, then Stowe, Vermont is absolutely the spot for you!
The northern Green Mountains tower above the village of Stowe as they march north into Canada and south all the way to Alabama (they are part of the larger Appalachian Mountain range). The long ridge of Mount Mansfield, Vermont's tallest peak at 4,393 feet, is an iconic view throughout northern Vermont, and it makes a dramatic plummet down to the road at Smuggler's Notch just north of the village.
The Worcester Range, just east of the Greens provides hikers with smaller peaks and trails that are a bit more secluded, but every bit as majestic as their larger neighbors.
Stowe Hiking Trails Map
Here's an interactive map that includes all of the trails listed below to make it easier for trip planning.
From easy trails suitable for kids to challenging routes that require stamina, strength, and endurance, there are so many amazing trails in Stowe. For the sake of brevity, this list will cover trails that are easy to moderate — under five miles in length and 1,500 feet of elevation gain.
For some of the more difficult hikes near Stowe, pick up a copy of AMC's Best Day Hikes in Vermont (I co-authored the 3rd edition, which will be out in May 2023).
Easy Hiking in Stowe VT
There are some amazing hiking opportunities in the northern Green Mountains, but many of the trails are difficult, requiring a great deal of stamina and bravery (looking at you, Mount Mansfield Forehead via Butler Lodge).
All of the hikes in this section are easy enough for elementary schoolers, as long as you're mindful of steep drops near waterfalls and on top of mountains. These hikes are under two miles with less than 1,000 feet of elevation gain.
Many of these trails made our list of the best trails in the whole state of Vermont.
Bingham Falls, Stowe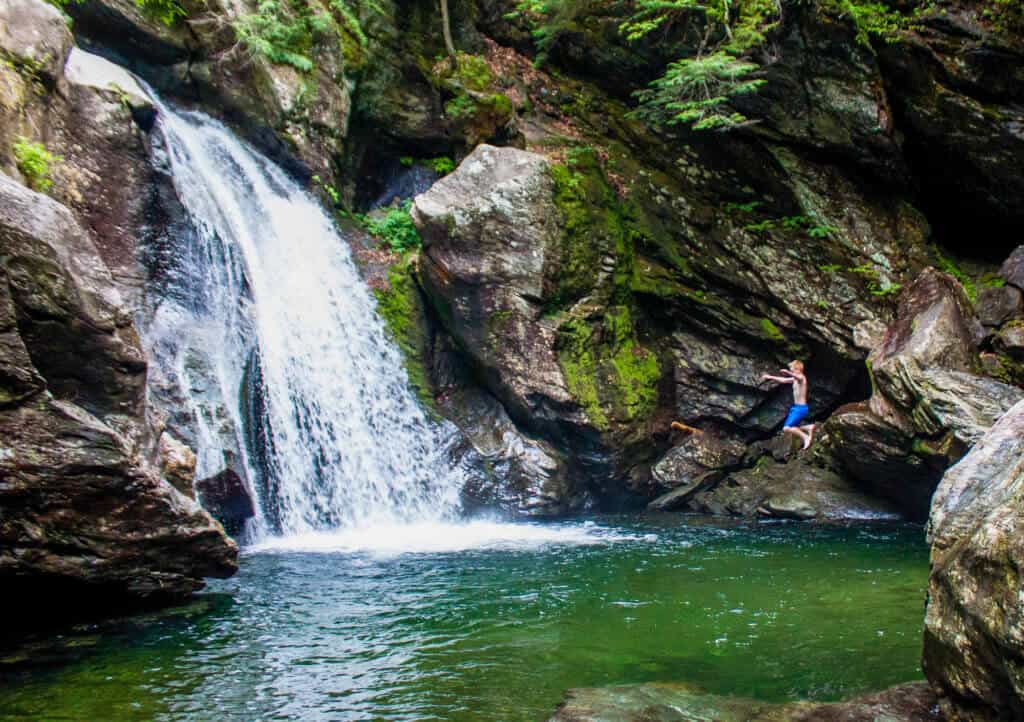 I think Bingham Falls is one of the prettiest Vermont waterfalls. Does anyone want to disagree with me? Please leave me a comment – I'd love to check out some rival falls.
Bingham Falls starts as a series of cascades through a narrow gorge of potholes. The main waterfall is a 30-foot cascade, plunging into a lovely round pool of frigid water. It is a fabulous place to swim in the summer and is on our list of top Vermont swimming holes.
The hike to Bingham Falls is an easy one, heading gently downhill until you reach the top of the falls at about 0.2 miles. From the top of the falls, you can either head upstream, where you'll find several small swimming holes, or downstream for an unobstructed view of Bingham Falls.
This is a busy trail during the summer and fall, especially on weekends. The rest of the year, you may just have the whole trail to yourself.
Difficulty: Easy with an element of danger (gorge and falls)
Distance: 0.5 miles round-trip
Elevation change: 150 feet
Dogs: Yes. I don't know the specific rules, but we saw several dogs off-leash when we were there.
Fees: Free
The Bingham Falls parking lot and the trailhead are part of Smugglers Notch State Park on the Mountain Road (Route 108) in Stowe. If you are camping at Smuggler's Notch State Park, you can easily walk to the trailhead from the campground. Here's a trail guide and map from AllTrails.
---
Moss Glen Falls, Stowe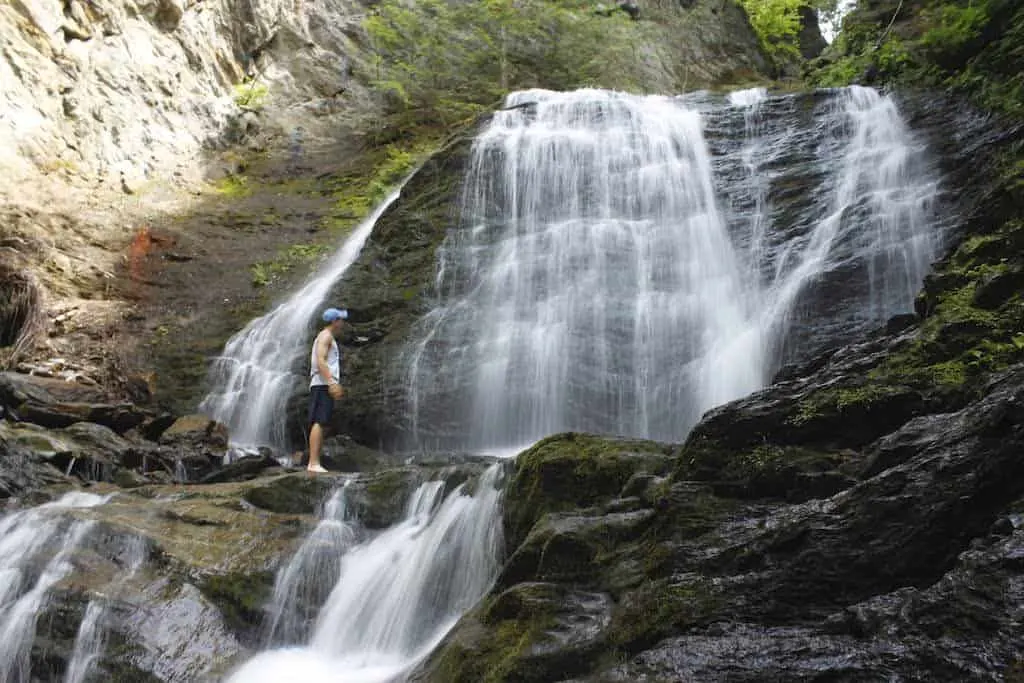 Yep — Stowe gets Vermont's tallest mountain and two of its loveliest waterfalls.
Moss Glen Falls in Stowe (not to be confused with Moss Glenn Falls in Granville) is another really easy hike for kids of all ages. From the parking lot, the hike is a short 0.2 miles to the upper viewpoint, where you'll get a nice look at the upper falls.
Head down to the lower viewpoint to get up close and personal with the falls. You'll find several spots in the river to get wet if the weather calls for it. It's not the best for swimming, but great for cooling off!
Difficulty: Easy, even for little ones
Distance: 0.5 miles, round-trip
Dogs: Yes, but I'm not sure of the leash laws.
Fees: Free
Need a trail guide? Get a description and map for Moss Glen Falls on Trailfinder
---
Wiessner Woods, Stowe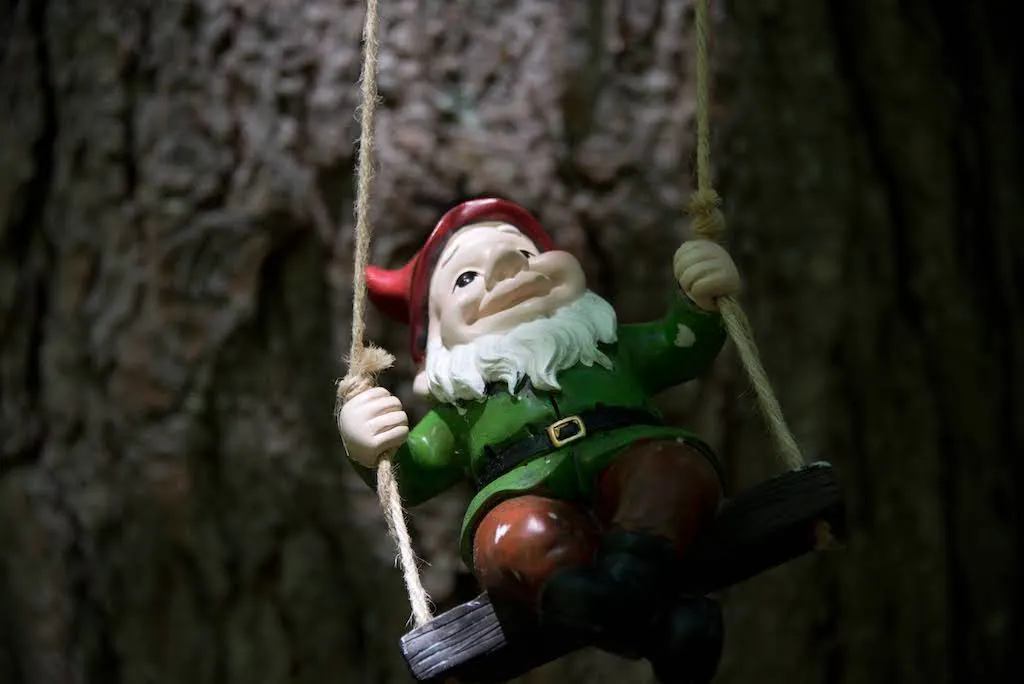 Managed by the Stowe Land Trust, Wiessner Woods is 79 acres of beautiful forestland with a network of wide trails. This little hike is essentially a walk in the woods without much elevation gain, so it's perfect for all ages and abilities. It also makes an easy cross-country ski or snowshoe trail in the winter.
There are a few different trails crisscrossing the forest, but for an easy 1.5-mile loop take Harwood Ridge Trail to Sugar Shack Lane to Meadow Trail, where there's a pretty view of the rounded Dewey Mountain and a bench to relax on near an old stone wall.
Say hello to the family of dwarves and gnomes that live in the trees for me.
Difficulty: Easy, even for little ones
Distance: 1.5-mile loop
Dogs: Yes, but I'm not sure of the leash laws.
Fees: Free
Need a trail guide? Here's a map of Wiessner Woods.
---
Barnes Camp Loop, Stowe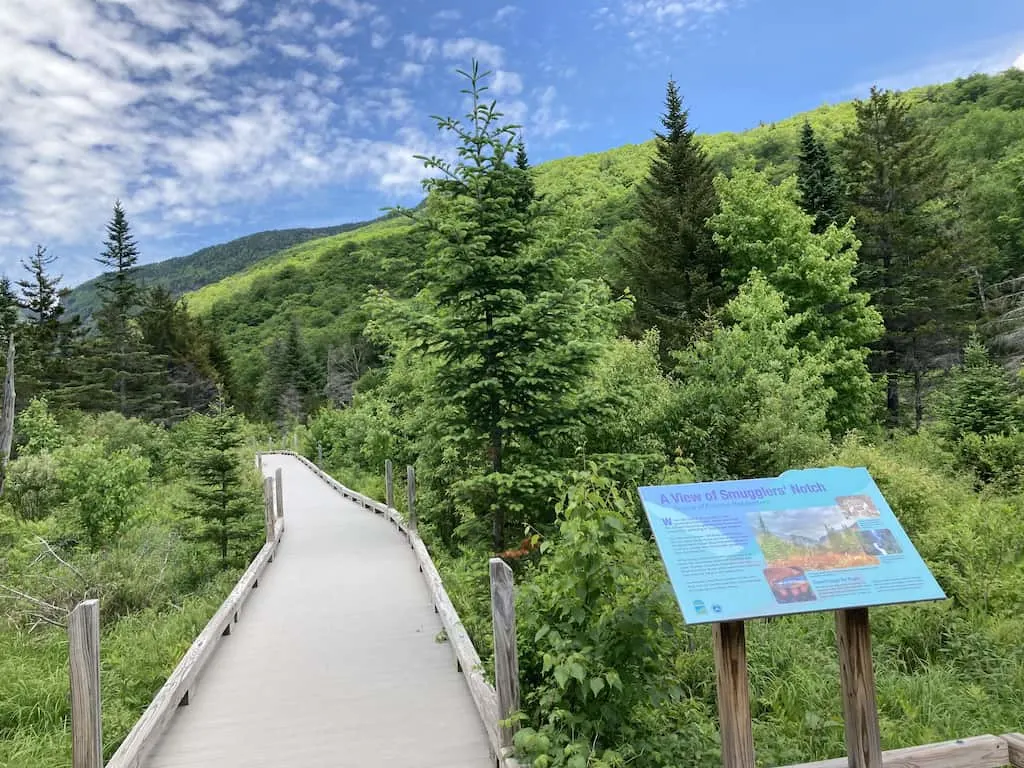 Featuring a universally accessible boardwalk, dramatic views of Smuggler's Notch, and a steep woodland climb, this loop may be a quick afternoon jaunt, but it's certainly not a walk in the park.
The trail allows you to explore a section of the historic Long Trail without a major time commitment. While the trail gains just 390 feet, it happens rather quickly — definitely on the moderate side of easy!
There's also a stream crossing that is pretty easy in the summer but might prove more challenging after a storm or during spring snowmelt. We were able to rock hop without getting our feet wet.
The Barnes Camp Loop is best hiked clockwise for a steep ascent and more gradual descent back to your car. The historic visitor center was built in 1927 and is staffed by volunteers from the Green Mountain Club on weekends.
Difficulty: Easy to moderate, but there is one steep section
Distance: 1.5-mile loop
Elevation gain: 390 feet
Dogs: Yes, on-leash
Fees: Free
Need a trail map or guide? Here ya go!
---
Stowe Recreation Path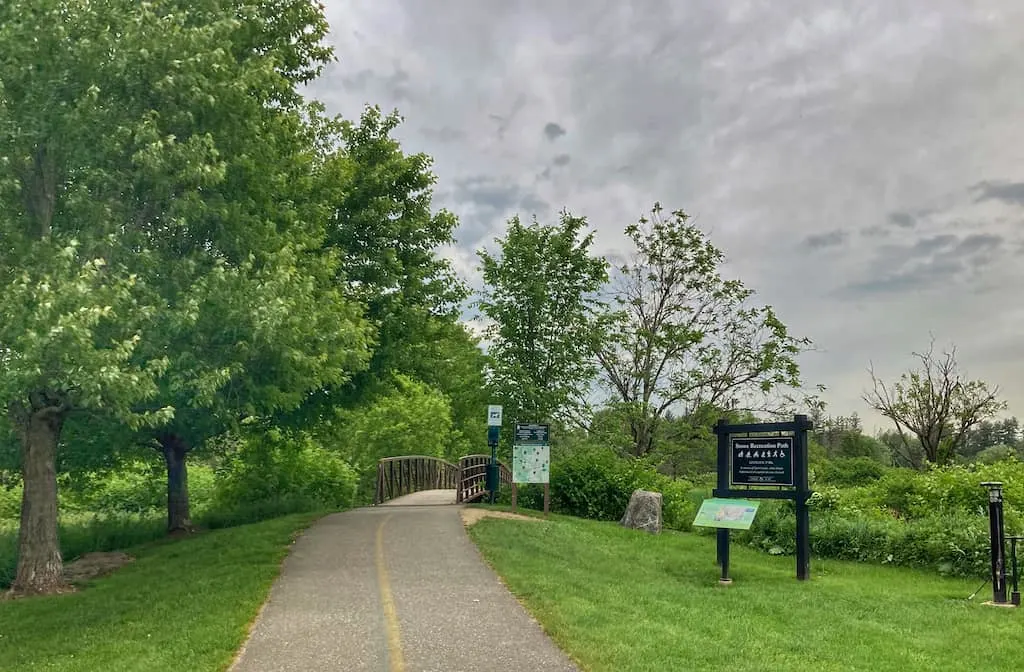 Not exactly a hike, but I have to include the paved Stowe Recreation Path, which you can access from Stowe Village and take 5.5 miles all the way to Topnotch Resort on the Mountain Road. There are numerous access points throughout Stowe, as well as spots along the river for swimming.
It's fun to meander along the path after dinner with ice cream from Stowe Sweets, and the views of Mount Mansfield are beautiful. Park in the municipal lot off Main Street to access this section. You can also walk on the "Quiet Path" off of the main path for a short loop through the fields.
If you have bikes with you, ride up to Idletyme Brewing Company on Route 108 and sit on the patio and sip a beer. They also have the best onion rings ever!
Difficulty: Easy
Distance: The Stowe Rec Path is 5.5 miles one-way, but you can walk as far as you want.
Dogs: Yes, on-leash
Fees: Free
Stowe Parks & Recreation has a complete guide and trail map with all the parking and access points.
---
Moderate Hikes Near Stowe, VT
These hikes are a little more difficult, but still manageable for novice hikers and most kids, provided you give yourself plenty of time and take it slow. The moderate hikes are my favorite — difficult enough to feel like I've accomplished something, but not so hard as that it's torture.
The following hikes near Stowe are between 3 and 5 miles, with an elevation gain of under 1,500 feet.
Mount Mansfield Nose to Chin, Stowe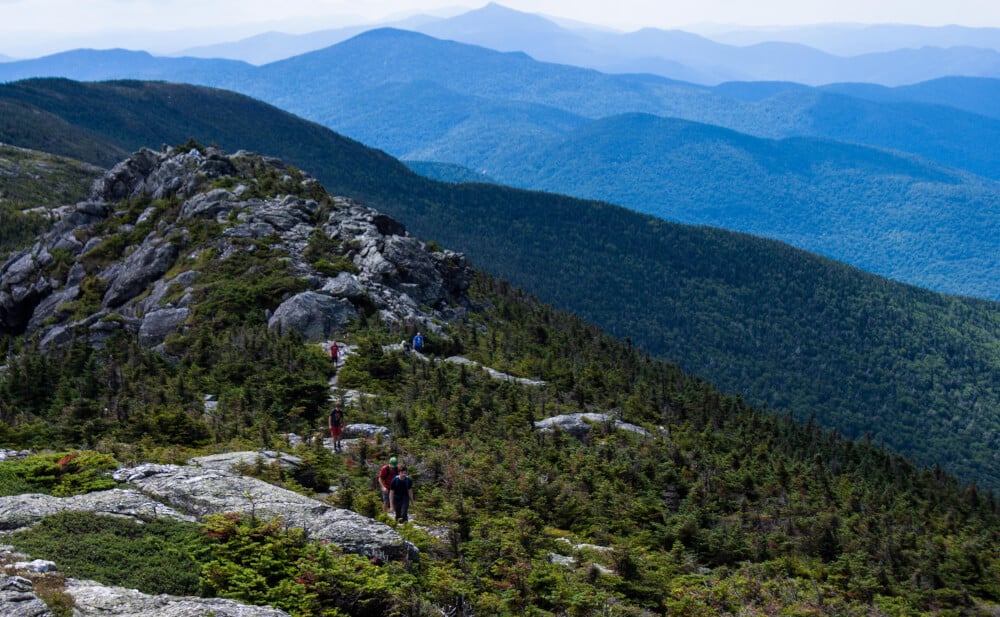 There is no easy way to hike up Mount Mansfield, but if you're willing to cheat a little, you can get a good hike in after driving the Stowe Mountain Resort Auto Toll Road, which allows you to drive to a parking area near Mount Mansfield's nose (4,060 feet) and hike on the Long Trail to the chin (4,393 feet).
This hike allows you to trek along the ridge of Mount Mansfield with incredible views in every direction, without actually climbing the mountain.
From the top, you can see Lake Champlain, the Adirondacks in New York, the White Mountains in New Hampshire, and Canada. There are very few trees, lots of boulders, and steep drops.
The wind is fierce up here, and you'll be hiking through rare alpine tundra, so be sure to stay on the trail. You'll find lots of spots for picnicking and relaxing, so give yourself several hours for the drive/hike.
Difficulty: Moderate
Distance: 2.4 miles (round-trip)
Kids: 8 and up (suggested)
Dogs: Must be kept on a short leash to protect the delicate alpine flora.
Fees: $29 per car and driver, $11 for each additional passenger to access the toll road.
Need a trail map? Visit Vermont State Parks
Sterling Pond, Cambridge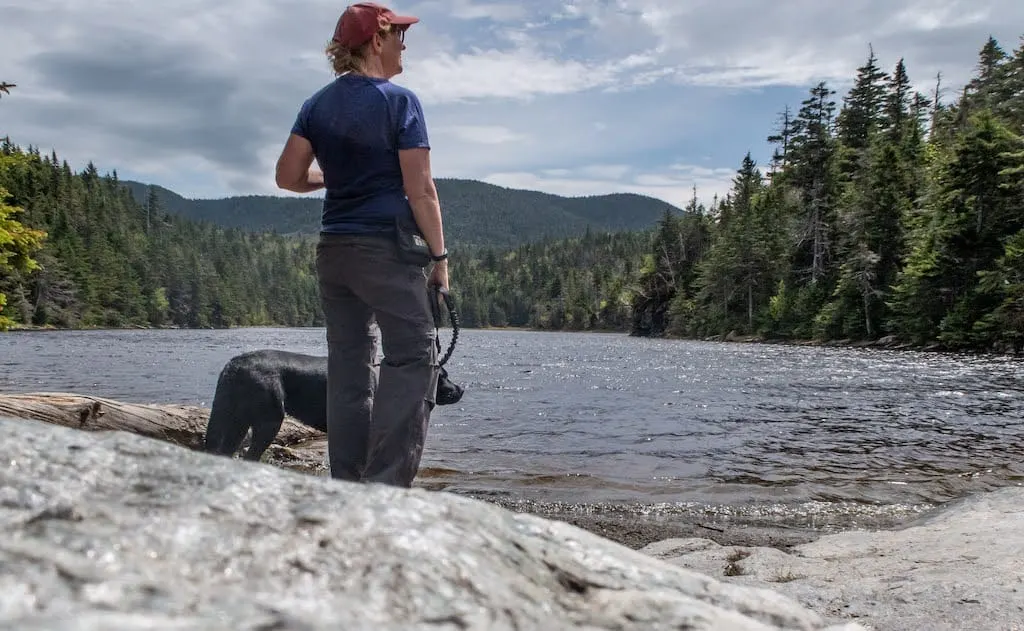 The trailhead to Sterling Pond is located in Smuggler's Notch, so unless you want to slog up the road on snowshoes, it's best to tackle this one in the summer or fall. Driving through the Notch, as the locals call it, is an adventure in its own right, as the road twists and turns around massive boulders, with massive cliffs on either side.
Fair warning — this trail does get crowded, so it's best to schedule it for early morning on a weekday.
What's in a name – a bit of Smuggler's Notch history: Between 1807 and 1809, The United States outlawed trade with Britain and Canada, eventually leading to the War of 1812. This negatively affected Vermonters, whose livelihood depended on commerce with their Canadian neighbors.
Illicit trade continued between Vermont and Canada, and the network of caves through the narrow passageway of the Notch made ideal hiding spots for contraband, earning it the name Smuggler's Notch. In later years, Smuggler's Notch hid fugitive slaves en route to freedom in Canada and illicit liquor during Prohibition.
Back to the hike. Sterling Pond Trail begins opposite the visitor center and ascends the east wall of Smugglers' Notch. This spring-fed pond rests in a forest between Spruce Peak and Madonna Peak, and although both peaks are developed ski resorts, Sterling Pond feels incredibly wild.
The path climbs steeply up to the Long Trail, but from there, you can loop around the pond on Elephant's Head Trail and then take the Long Trail back to where it meets Sterling Pond Trail.
Difficulty: Moderate
Distance: 3.3-mile loop
Elevation gain: 1,320 feet
Kids: 8 and up (suggested)
Dogs: Yes
Fees: Free
Many folks do this hike as an out-and back-trail, but the loop really is beautiful! Here's a map that I created using my Gaia GPS App, so you can see the loop I did.
Stowe Pinnacle, Stowe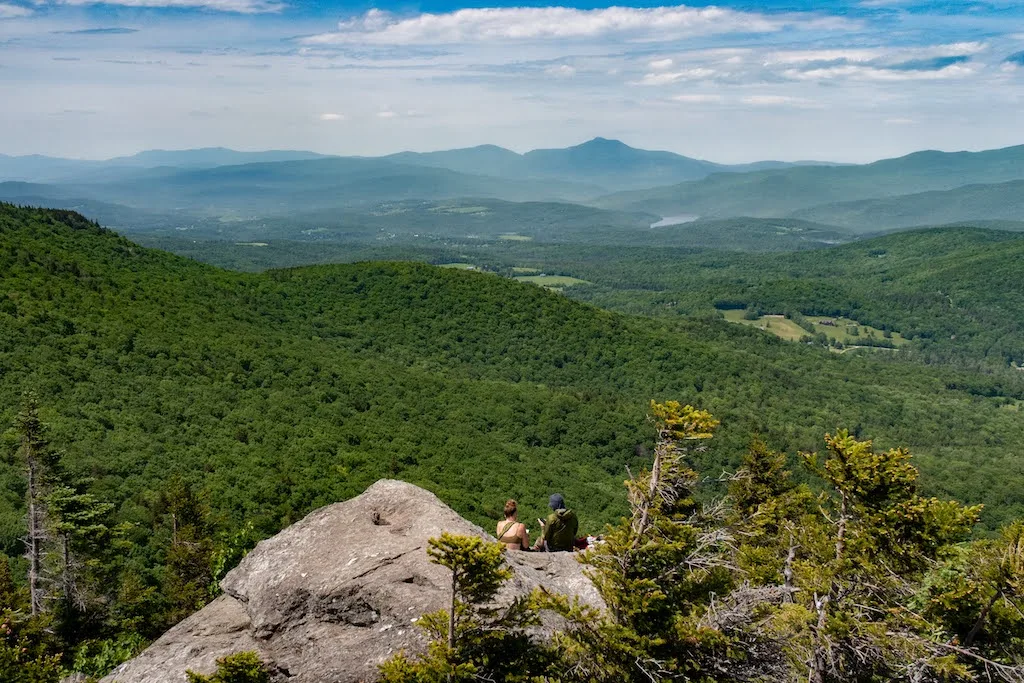 Stowe Pinnacle is another of my favorite spots for hiking in Stowe, VT, and many people agree with me, so start this one early in the day to avoid crowds. If the parking lot is full, I recommend coming back at another time so you can enjoy this without slogging up the mountain behind a throng of other hikers.
The Pinnacle's rocky knob provides gives you a pretty amazing view of the Worcester Range, Mount Mansfield, and the pastoral Stowe Valley, and while I wouldn't call the hike easy, it's not a bad climb for the stunning views at the top and good training for some of the harder hikes that we won't be covering here.
Difficulty: Moderate
Distance: 2.8, round trip
Elevation gain: 1,520 feet
Kids: 8 and up (suggested)
Dogs: Yes
Fees: Free
Here's a trail map and guide for hiking to Stowe Pinnacle on Trailfinder.
Elmore Mountain, Lake Elmore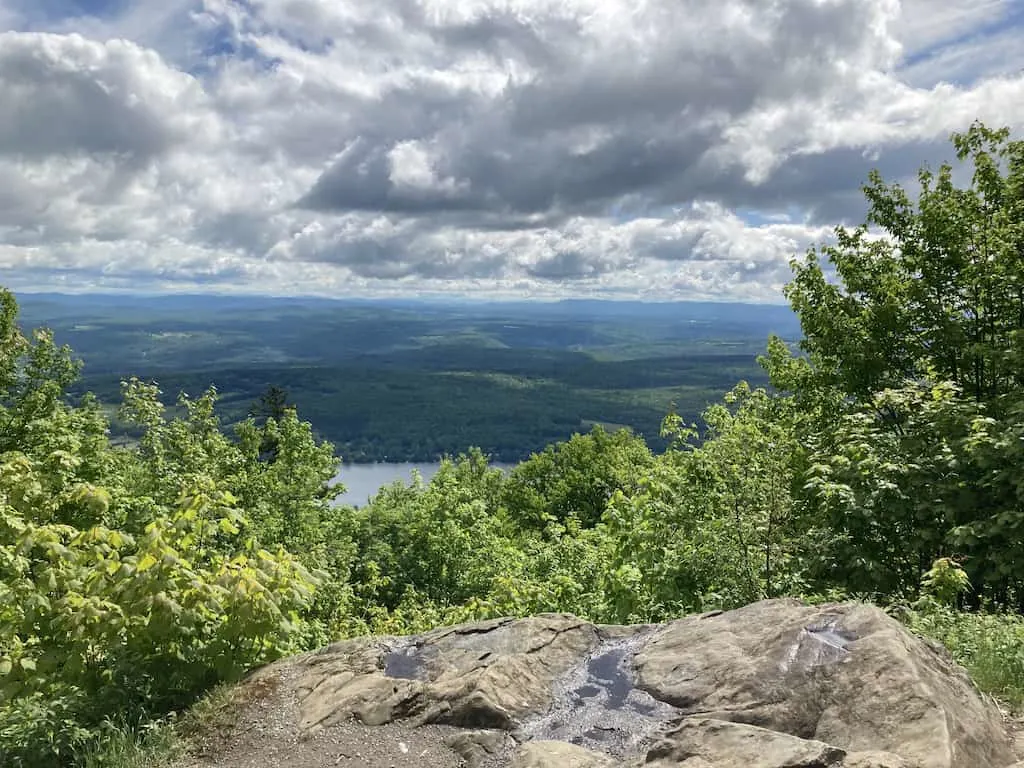 Elmore State Park is about a 20-minute drive from Stowe, but it's another one of my favorite hikes, so I had to include it! There is a lovely campground at Elmore State Park and fabulous swimming at the lake. If you visit the area in the summer, you may want to turn it into a weekend trip.
Elmore Mountain (2,608 feet) is at the north end of, and slightly detached from the Worcester Range. The rugged climb takes you to several beautiful vistas, a fire tower, which I've always been too nervous to climb, and a cool glacial erratic called Balancing Rock.
The views are phenomenal, but so is the trail through the forest. You will pass large mossy rocks covered with ferns, a lush understory of ferns and wildflowers, and you may even spot some wildlife. This is truly one of my favorite hikes in Stowe or anywhere else in Vermont.
Difficulty: Moderate
Distance: 4.5-mile loop
Elevation gain: 1,145 feet
Kids: 7 and up (suggested)
Dogs: Yes, on-leash
Fees: $4 for adults, $2 for kids
Check out our trail guide and overview of Elmore State Park.
---
Hiking in Stowe, VT: Things to Know
Here are a few helpful tips for hiking in Vermont to help you plan your adventures:
Pre-order my book: Shameless self-promotion, I know, but the 3rd edition of AMC's Best Day Hikes in Vermont will be out in May of 2023. Many of the trails listed here are featured, along with many other hikes throughout the state. The trail descriptions feature turn-by-turn instructions as well as useful natural and historical information about the area.
Bring the 10 essentials: To hike safely, there are 10 essentials that you should stow away in your day pack. I keep my bag packed and ready so that on hiking day, I just have to throw in my camera and some snacks.
Download your map on your GPS app: If you get the pro version of either AllTrails or Gaia GPS, you can download your trail map before your hike so that if you lose service, you can still stay on track. I use both of these apps. I like the social aspect of AllTrails, but find Gaia to be more accurate when recording tracks. Both are around $30 for a full year — well worth the cost in my opinion.
Tell someone where you're going: I did a lot of solo hiking this year, so I made a habit of texting my husband from the trailhead before and after my hike each day. I hope the habit sticks!
Plan for unpredictable weather: This goes along with the 10 essentials, but be sure to pack an extra pair of socks and some layers, as the weather in the mountains can change quickly, and warm temperatures at lower elevations is not indicative of what you'll experience at the summit.
---
Need more ideas for hiking in Vermont? Check out these posts next, and be sure to peep the Google web story too:
---
Follow us on social media for more outdoor adventures in Vermont: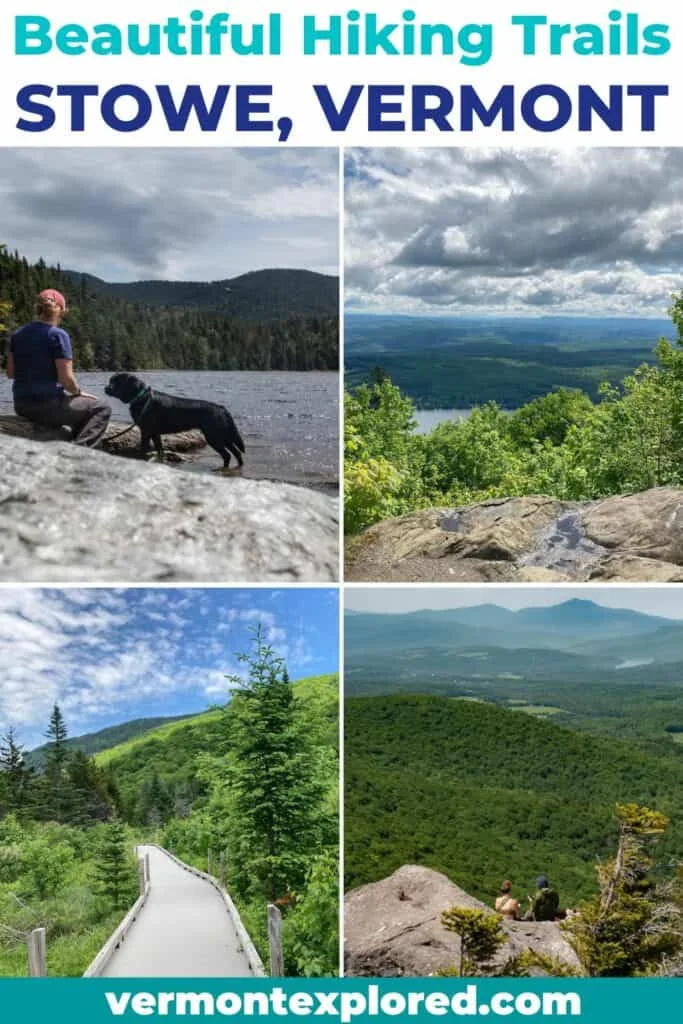 Tara Schatz is a freelance writer, and the founder and editor-in-chief of Vermont Explored and Back Road Ramblers, an American road trip blog. She is also the co-author of the 3rd edition of AMC's Best Day Hikes in Vermont, which was released in May 2023, and the author of 100+ Wonderful Ways to Experience Vermont.