If you're lucky, you've got fond memories of adventuring in a ramshackle treehouse during some long-ago summer vacation.
And even if your childhood didn't include sweltering afternoons in treetop forts, there's a good chance that the iconic treehouse was part of your prepubescent dreams.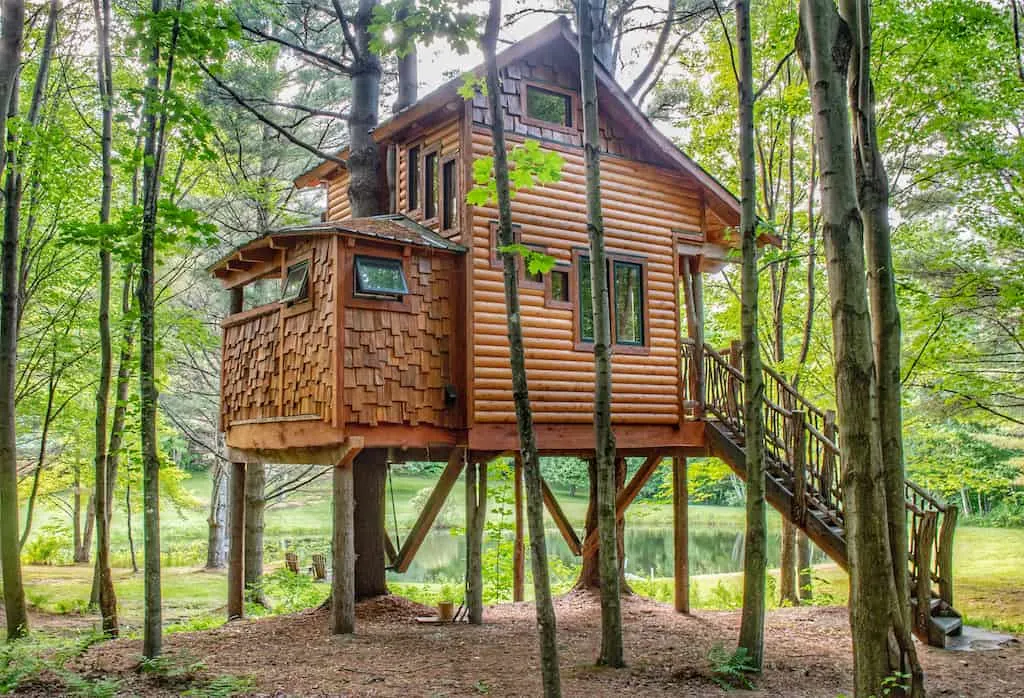 Unfortunately, every kid grows up and every treehouse dream becomes a distant memory.
Fortunately for all of us adults, there are some amazing treehouse rentals in Vermont that embrace, and even surpass all of those childhood dreams.
Swiss Family Robinson ain't got nothing on these incredibly cool Vermont treehouses. And the best part? They're all available to rent for your next vacation.
Vacation Rental Platforms for Finding Vermont Treehouses
When searching for treehouse rentals near me, I use a few different online platforms. The most well-known of them is Airbnb, and the majority of the treehouse rentals in Vermont use it as their listing platform of choice.
We also love VRBO and Glamping Hub and have had good luck finding unique Vermont treehouse rentals on both of them.
While we thoroughly enjoy scouring vacation rental platforms while dreaming about our next escape into the trees, we realize that there are a lot of people who find this task tedious and overwhelming.
We've rounded up our favorite Vermont treehouse rentals from all three platforms to make it a bit easier for you to plan the perfect treehouse vacation.
Now, let's head into the treetops!
Rent One of These Amazing Vermont Treehouses for Your Next Vacation
The following treehouse rentals in Vermont are sprinkled throughout the state.
They provide a range of accommodations from very rustic, to very luxurious, so be sure to read the listing carefully so you know what you're getting.
Another thing to be aware of is that every private vacation rental owner can set their own cancelation policy.
Some are very generous, and if you have to cancel your stay for any reason, you'll get a full refund minus a small service fee. Others have a stricter policy, and you'll get less than half of your money back if you have to cancel.
We often make a decision whether or not to book a spot based on the cancelation policy. This is your reminder to check out the cancelation policy before booking any of these treehouse rentals in Vermont.
Crooked Maple Treehouse in Bethel, Vermont
Sleeps: 4
Pets: No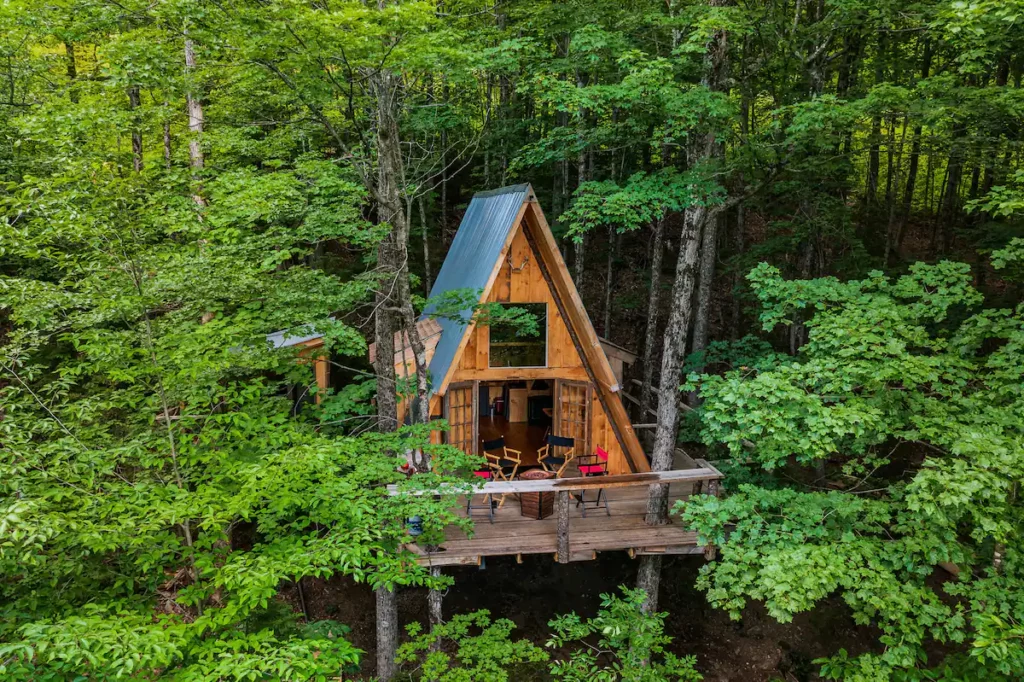 Nestled in the heart of the Green Mountains, Crooked Cabin Treehouse is one of several magical treehouse Airbnbs in Vermont. This beautifully rustic cabin in the trees is handcrafted from timber harvested and milled on-site by the owner, Brett.
Situated on 30 private acres, the treehouse is built upon a pair of ash trees and three maple trees, giving you an unforgettable canopy view. Enjoy the beauty of the serene forest below from the large deck bartop or cozy up to the propane fire pit table on cooler nights.
The lofted bedroom has a queen-sized bed accessible by a staircase, a gravity-fed water system, and a traditional flush toilet. Indoor and outdoor showers provide hot water in four seasons.
Cook up basic meals in the small kitchenette, relax outside on the deck, and enjoy your natural surroundings as you unplug from the demands of everyday life. This Vermont tree cabin does not have Wi-Fi, or even electricity, and it is not suitable for children or pets.
Located in Bethel, Vermont, Crooked Maple Treehouse is very close to Vermont Route 100, considered to be one of New England's most scenic drives.
---
Treehouse Cabin in Duxbury, Vermont
Sleeps: 4
Pets: Yes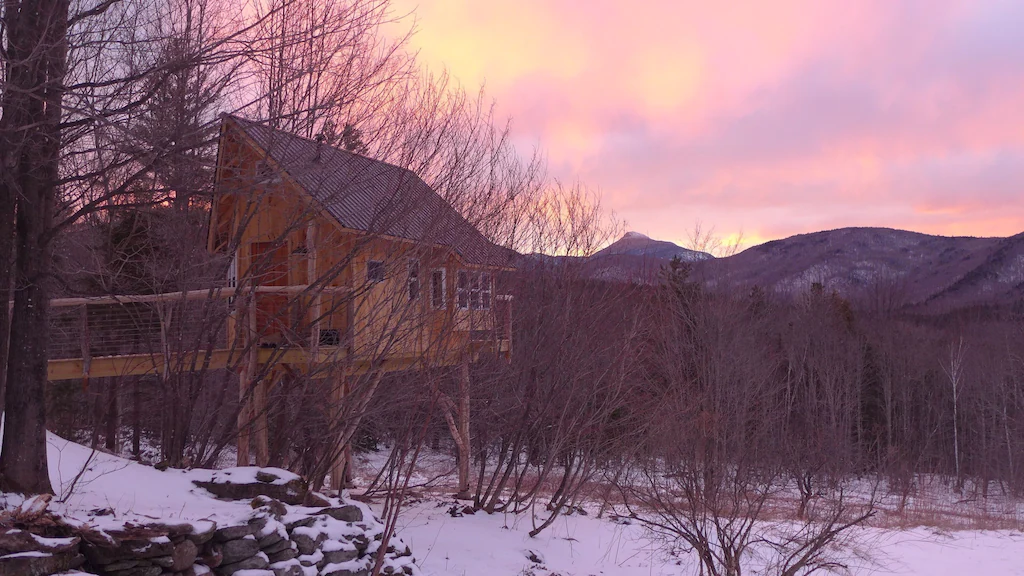 Tucked away in the shadow of Vermont's most iconic mountain peak, this rustic Vermont treehouse cabin provides basic amenities and gorgeous views for your one-of-a-kind Vermont vacation.
Lilla Rustica is completely secluded with beautiful natural details, two queen-sized beds, and great hiking right from the cabin.
A kitchenette with a small refrigerator is suitable for basic meals, and Wi-Fi is included if you can't unplug during your visit. A propane fireplace makes this treehouse rental a four-season getaway.
Outside, you can relax on the balcony and enjoy the sights and sounds of the forest. There is an outhouse just beyond the front door. Drinking water is provided, but the treehouse does not have running water.
A stay at this rustic treehouse puts you in the heart of the Green Mountains. Hike to the top of Camel's Hump, tour the famous Ben & Jerry's Factory, and visit Alchemist Beer in Stowe for an iconic (and tasty) Heady Topper IPA.
---
Vermont Treehouse Glamping in West Bolton
Sleeps: 2
Pets: Yes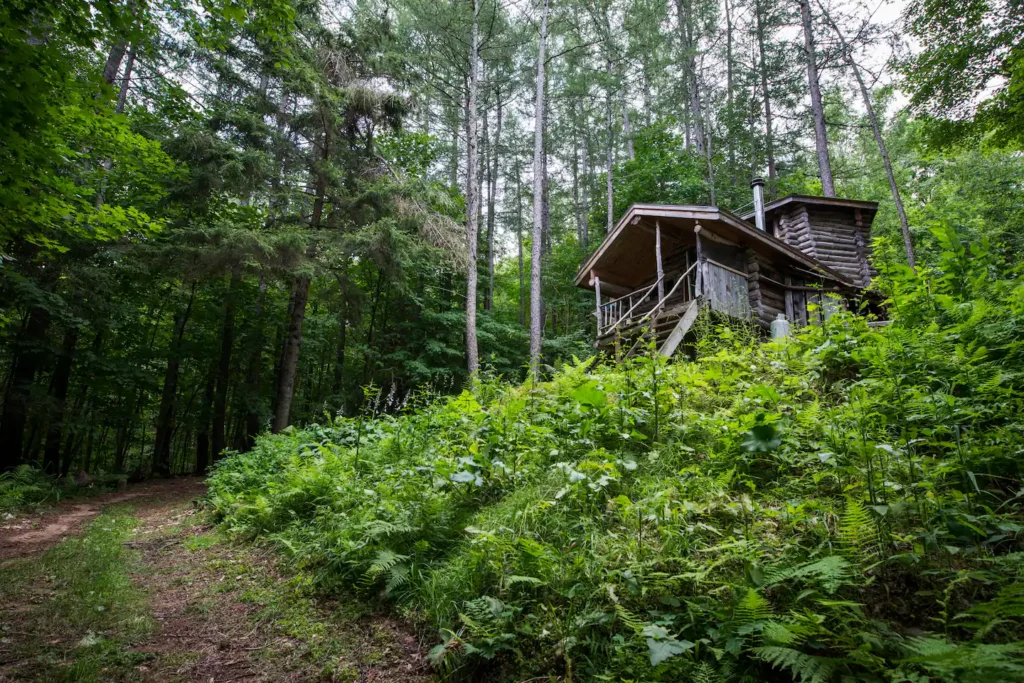 This remote gem of a cabin is tucked away in the forest near Bolton, Vermont, close to beautiful swimming holes, hiking trails, and Bolton Valley Ski Resort. A stay at this cozy off-grid treehouse requires a short hike, but you'll find that it's well worth the effort.
The cabin features a seasonal outdoor shower, non-potable running water (seasonal), an outhouse, and an indoor woodstove. The kitchen includes a propane cookstove for making basic meals, but no refrigeration. Cooking utensils are provided too.
While this is a rustic stay for those who are looking to completely unplug, it's one of the most lovely and affordable treehouse rentals in Vermont for outdoor lovers.
In the summer be sure to visit Bolton Potholes, a popular spot to cool off on a hot day.
---
Forest Treehut in Braintree, Vermont
Sleeps: 2
Pets: Yes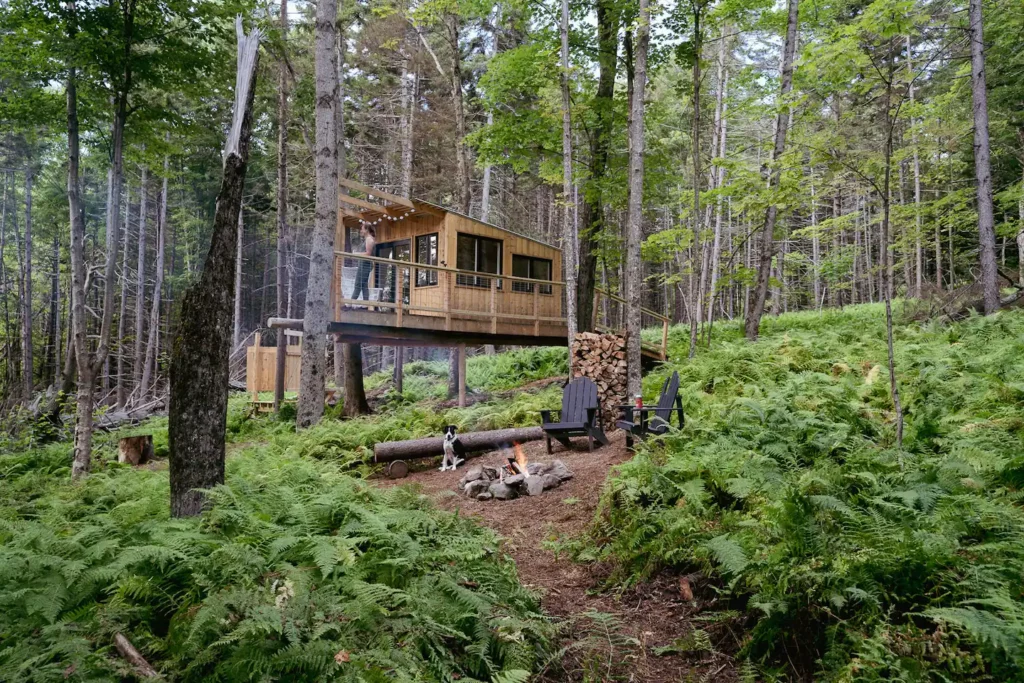 This secluded, modern treehouse rental is the ideal escape for two in Braintree, Vermont. Located on 13 forested acres, this beautifully crafted cabin includes a queen-size bed, a mall table, and a private bathroom with a composting toilet. Lights are solar-powered, and there's enough juice to charge your device, although there isn't Wi-Fi or cell service here.
The space is insulated for winter use, and a small woodstove will keep you warm in even the coldest Vermont weather. A propane stove and kitchen utensils are provided for cooking, and the outdoor fire pit will entice you out of the treehouse and into the woods.
In the summer, be sure to take advantage of the beautiful balcony and the private outdoor shower platform!
Numerous trails surround the Treehout, and Bent Hill Brewery is just 2 miles away. Their food menu is meatless and their beer is divine!
---
Two-Treehouse Compound in West Pawlet, Vermont
Sleeps: 11
Pets: No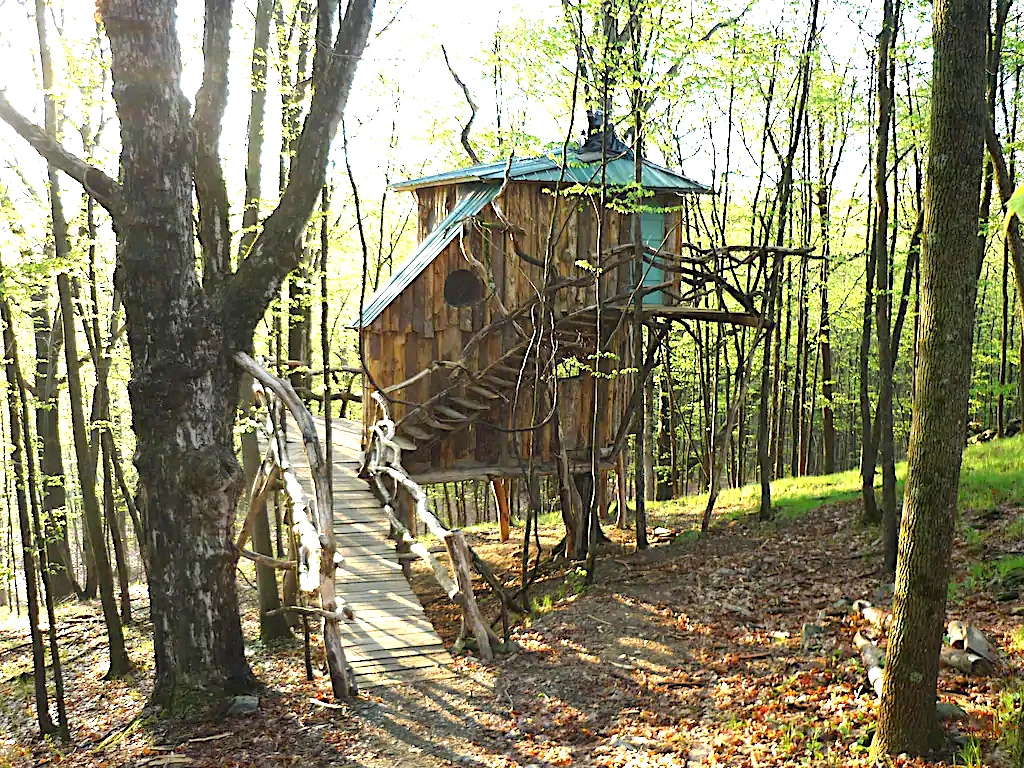 If you're planning a Vermont vacation between June and October, check out this creative treehouse compound in West Pawlet on VRBO.
The Hermit Thrush and Mourning Dove treehouses are rented together. They share an outdoor shower, an open-air cooking pavilion, a fire pit, hammocks, and an outhouse. There is also a composting toilet in each treehouse.
This Vermont treehouse compound can accommodate 11 guests in the summer months and 5 during the chilly shoulder season. Both treehouses were artistically designed and created with natural materials from the local surroundings.
The outdoor kitchen includes everything you need to cook fabulous meals and includes a refrigerator for food storage, a sink with cold running water, a four-burner propane grill/stove, and all the utensils you'll need.
Pets are not permitted, and you will have to bring your own bed linens.
West Pawlet is located in Southern Vermont on the border with New York. It's a small village without a commercial district. The Delaware-Hudson Rail Trail runs through town. The trail can be used for biking or walking, and we recommend biking south for 10 miles toward Rupert for an awesome rural ride with great views.
For food and drink while you're in the area, we recommend checking out The Barn in Pawlet or Slate Town Brewing in Nearby Granville, New York.
---
Stone City Treehouse in Hardwick, Vermont
Sleeps: 2
Pets: Yes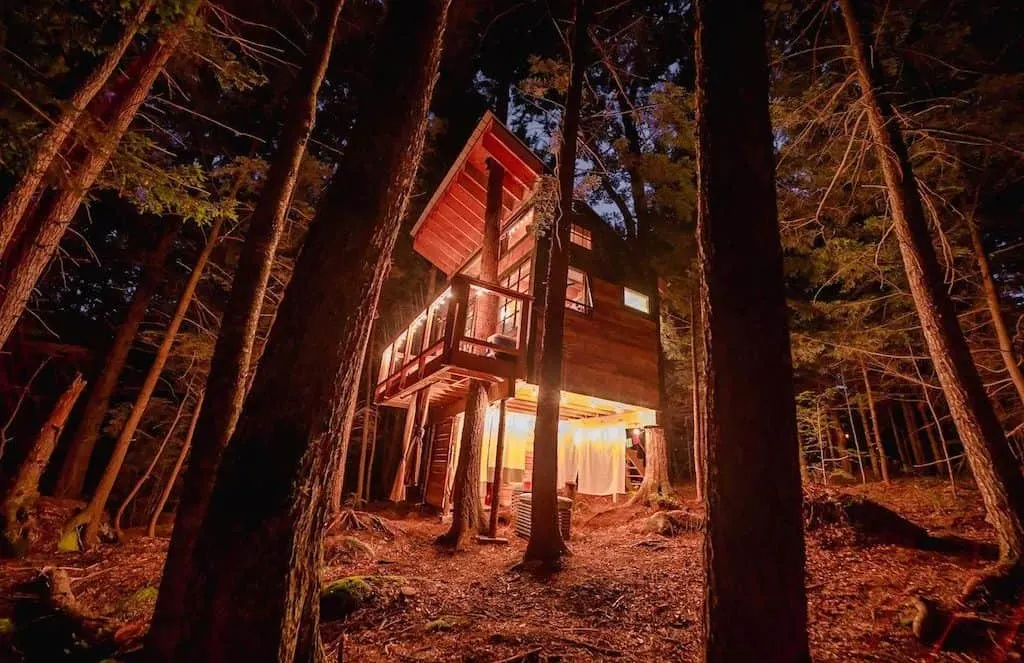 Tucked away in the woods near a gurgling stream, this unique treehouse in Hardwick was created using local, natural, and recycled materials.
Features include a woodland deck overlooking the stream, a mini kitchen for creating basic meals, and a cozy, full-size bed in the sleeping loft. The bathroom includes a composting toilet, and an outdoor firepit and sitting area are perfect for taking in the beauty of the woods. There's even a treehouse swing for guests who want to relive their childhood dreams of living in a treehouse!
While Stone City Treehouse offers plenty of solitude, the main house is nearby. Guests are welcome to use the main bathroom and luxurious shower or borrow kayaks for paddling on nearby Nichols Pond.
Hardwick, Vermont is a small community of just 3,000 people, but the area provides an amazing array of recreational activities for the outdoor lover. In addition to swimming and paddling in Nichols Pond, be sure to hike up to Nichols Ledge for a fantastic view of the pond and the surrounding mountains.
Be sure to spend some time in historic downtown Hardwick. For dinner, we can't say enough great things about Positive Pie (pizza), and you won't want to miss the incredible cinnamon rolls at The Magic Spoon Bakery.
This special getaway is one of the most popular treehouse rentals in Vermont, so be sure to book early.
---
Three-Bedroom Treehouse at Bliss Ridge Farm in Moretown, Vermont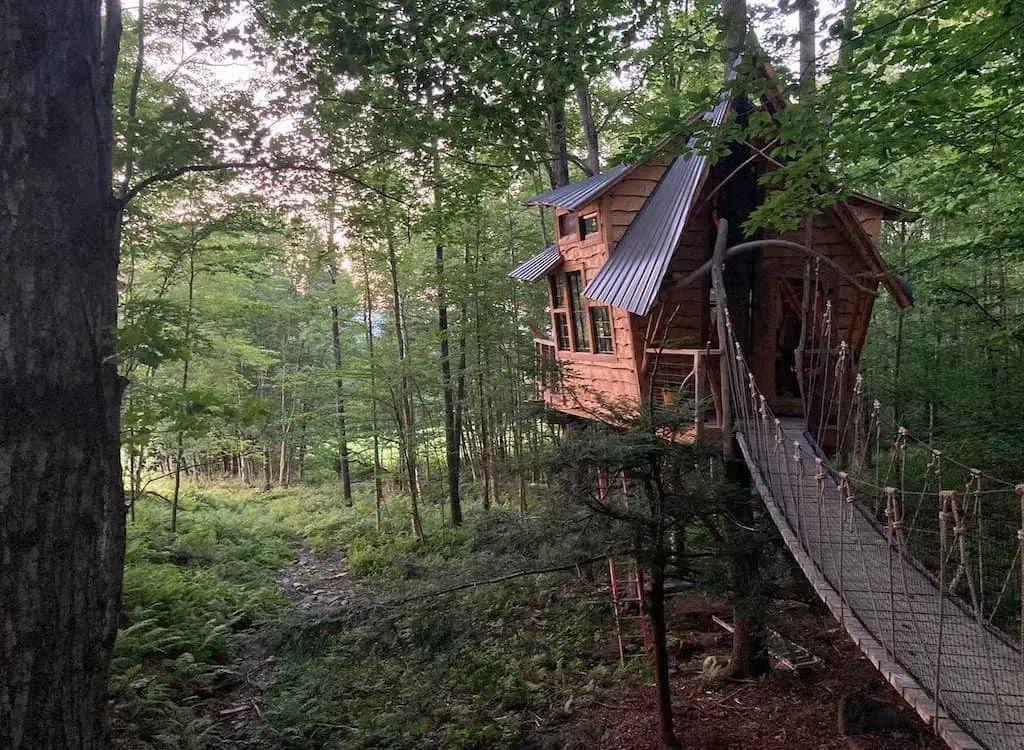 This magical Vermont treehouse is located at the top of an 88-acre organic farm and surrounded by more than 1,000 acres of wilderness for total seclusion.
Built within and around living trees, this Dr. Suess-inspired dwelling includes a whimsical suspension bridge, two lofts that can be accessed via ladders, and even a kitchen and bathroom.
Outside of the treehouse, you'll find a woodland fire pit, trails for hiking, and ponds for swimming in. Incredible views of the Worcester Range are just steps from your door, and the Mad River Valley and Route 100 are just a few miles away.
The location of this stunning Vermont treehouse is absolutely perfect for a family vacation, with many kid-friendly attractions nearby, including the Ben & Jerry's Factory, Cold Hollow Cider Mill, Waterbury Center State Park, and Stowe Mountain Resort. A stay in this awesome treehouse is truly a one-of-a-kind experience.
---
Moose Meadow's Epic Luxury Treehouse in Waterbury, Vermont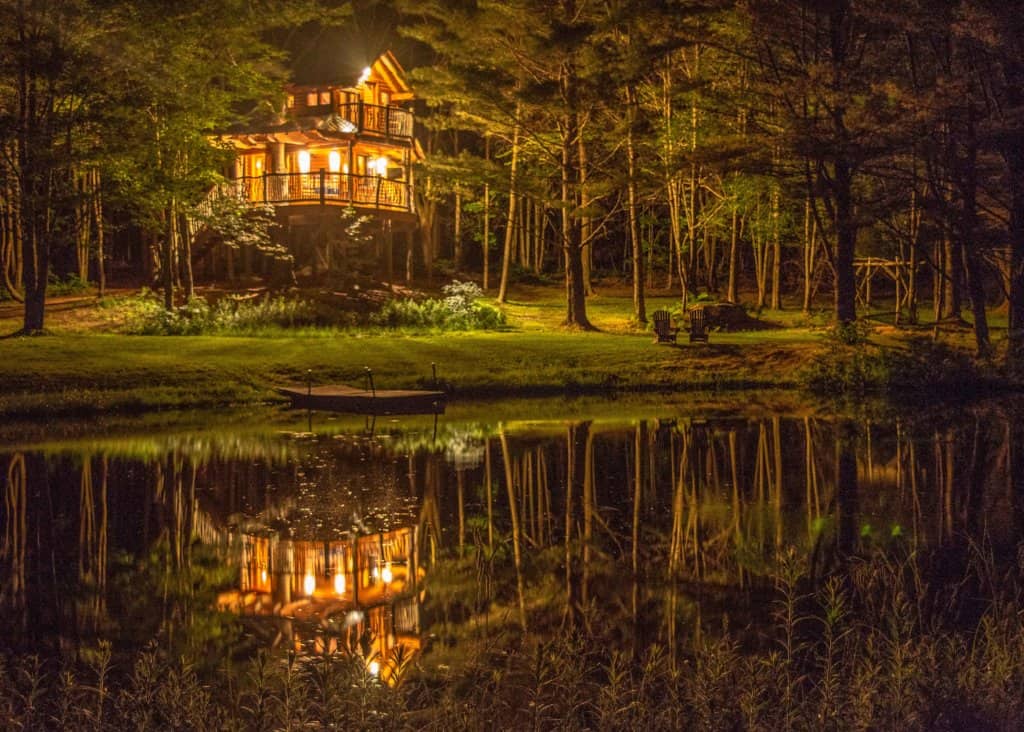 Moose Meadow Treehouse is part of Moose Meadow Lodge, an incredible bed & breakfast that somehow manages to be rustic and incredibly luxurious at the same time.
Located just outside of Waterbury, Vermont, this is the spot you want to go for a little romance, and it's perfect for a honeymoon suite, an anniversary celebration, or simply a magical night away.
Nestled in the woods next to a small pond, the small, unique touches to this treehouse are the ones you'll never forget. An outdoor shower gives you unparalleled views of the mountains, and a gas stove will keep you toasty on chilly evenings.
The queen size bed is tucked into a cozy nook on the second floor, with a cozy balcony just steps from your sleeping area. There's also a full wrap-around deck off the main living space.
Treehouse guests are treated to a full breakfast each morning and have access to the hot tub in the main lodge, as well as an abundance of hiking trails that crisscross the property.
We can't imagine why you would want to leave such a paradise, but the town of Waterbury has lots of great restaurants, including the world-famous Hen of the Wood and Prohibition Pig.
---
Read Next: Green Mountain Luxury at Moose Meadow Treehouse
---
The Outpost Treehouse in St. Johnsbury, Vermont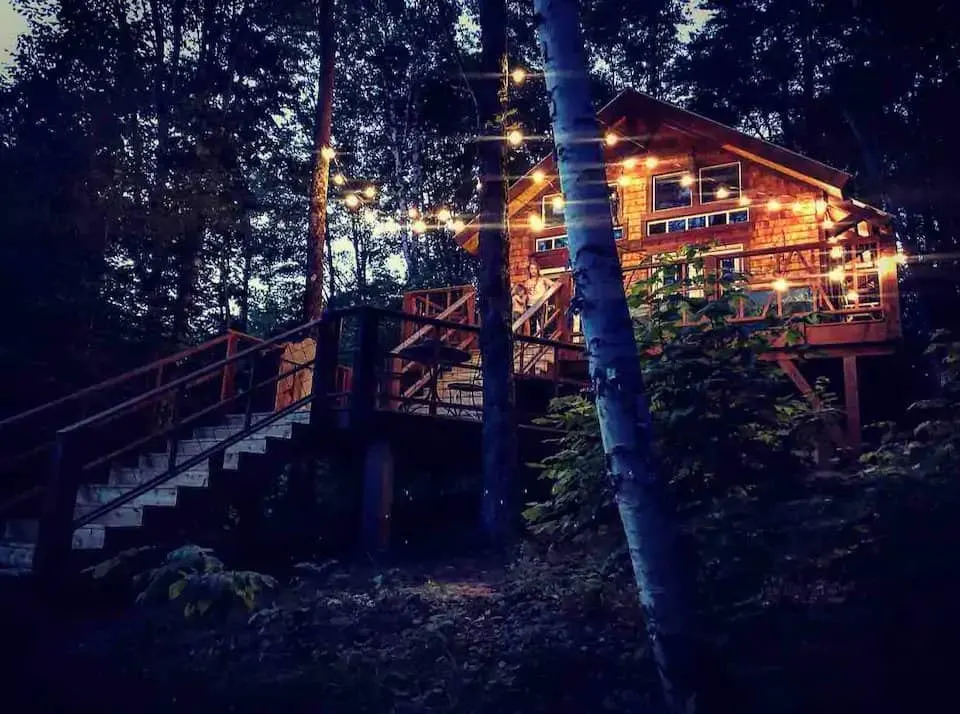 This epic Vermont treehouse is located right next to Dog Mountain in St. Johnsbury, and yes, well-behaved dogs are permitted in the treehouse for an extra fee.
The Outpost Treehouse is definitely not camping and is even a step above glamping.
Visitors have electricity, a gas fireplace, a mini gourmet kitchen, and even a full-sized bathroom with a sink, shower, and toilet. There are outdoor seating and dining areas with a table for 10 people, a large fire pit, and three beds suitable for up to six guests.
St. Johnsbury is a fun destination and the main hub of Vermont's Northeast Kingdom.
I've already mentioned Dog Mountain, which is a must-visit for all dog lovers, but you should also check out the Fairbanks Museum and Planetarium. For craft food and beer, be sure to visit Kingdom Taproom and Table. Yes, the menu is small, but it's so yummy!
---
Walker Pond Treehouse in Coventry, Vermont
Is anyone else dreaming about a pondside treehouse on 40 acres with a hot tub? Yeah, me too!
The Walker Pond Treehouse is located in Coventry, Vermont, just a stone's throw from Canada. The treehouse includes a queen-size bed, a full-size pull-out sofa, a private balcony overlooking the pond, and all the amenities you need for a comfy stay, including a TV, grill, mini-kitchen, and bathroom with a shower.
While the treehouse is cozy enough to spend your whole vacation inside, you won't want to miss paddling and fishing on Walker Pond, hanging next to the fire pit, and exploring the trails on the property.
Looking for an urban adventure? Head to nearby Newport on Lake Memphormagog, where you can shop at the quirky Main Street stores, meander along the lake that stretches well into Canada, or grab some authentic Thai food at Dusit Thai Cuisine.
---
Which one of these amazing Vermont treehouse rentals would you stay in? Leave us a comment and let us know!
Follow us on social media for more Vermont inspiration!
Tara Schatz is a freelance writer, and the founder and editor-in-chief of Vermont Explored and Back Road Ramblers, an American road trip blog. She is also the co-author of the 3rd edition of AMC's Best Day Hikes in Vermont, which was released in May 2023, and the author of 100+ Wonderful Ways to Experience Vermont.