Are you dreaming of a Vermont vacation that involves hiking through the Green Mountains, sipping on craft beer, and soaking away your troubles in a steaming hot tub as the stars appear in the sky above?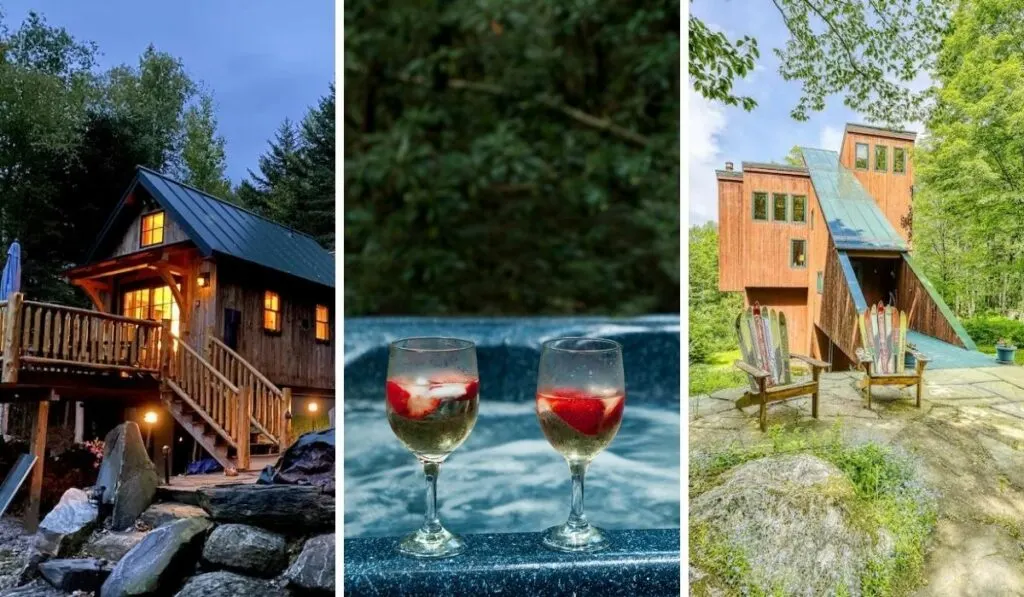 These idyllic notions are not the stuff that fantasies are made of.
In fact, there are a surprising number of Vermont cabin rentals with hot tubs available on VRBO and Airbnb.
Time to slow things down a bit, Vermont-style!
From the affordably rustic, to the over-the-top luxurious, here are 12 incredible Vermont cabin rentals with hot tubs just waiting to embrace you.
Peaceful Vintage Cottage with a Hot Tub in Shaftsbury
Sleeps: 6
Dogs: Yes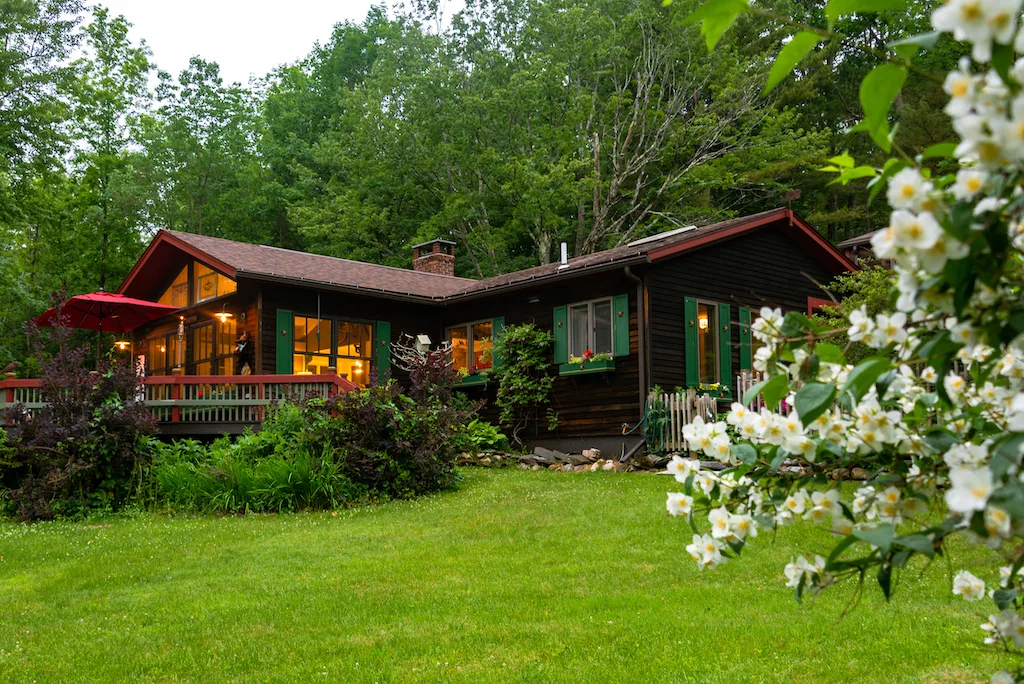 There's an instinctive letting go that happens the moment you enter the oasis that is Velvet Antlers Cottage in rural Shaftsbury, Vermont.
Perhaps it's the fact that every whimsical detail inside and out of this special home makes you grin with appreciation.
Or maybe it's the quiet serenity that envelopes you as you indulge in a glass of wine while taking in the woodland views from the hot tub. Leave your worries at the door and prepare for a little bit of Vermont bliss.
There are retro antiques to admire throughout the luxuriously decorated home, not to mention games to play (table tennis, anyone?), meals to indulge in, and a whole lot of comfy nooks to relax in — including a spacious hot tub, an outdoor hammock, a sauna, and a cozy fire pit. S'mores fixins are on the house!
While you'll be tempted to stay put during your Vermont vacation, historic Manchester and Bennington are both just a short drive from the cottage if you want to explore. The house sleeps six, and your dog is welcome too!
Outdoor recreation near Shaftsbury: Pick up some picnic food at Clear Brook Farm, hike the short one-mile loop around Lake Shaftsbury, and finish off with dessert at the Chocolate Barn. It's the most relaxing way to recreate in these parts!
---
Dog-Friendly Cabin for Two with a Hot Tub in Granville
Sleeps: 2
Dogs: Yes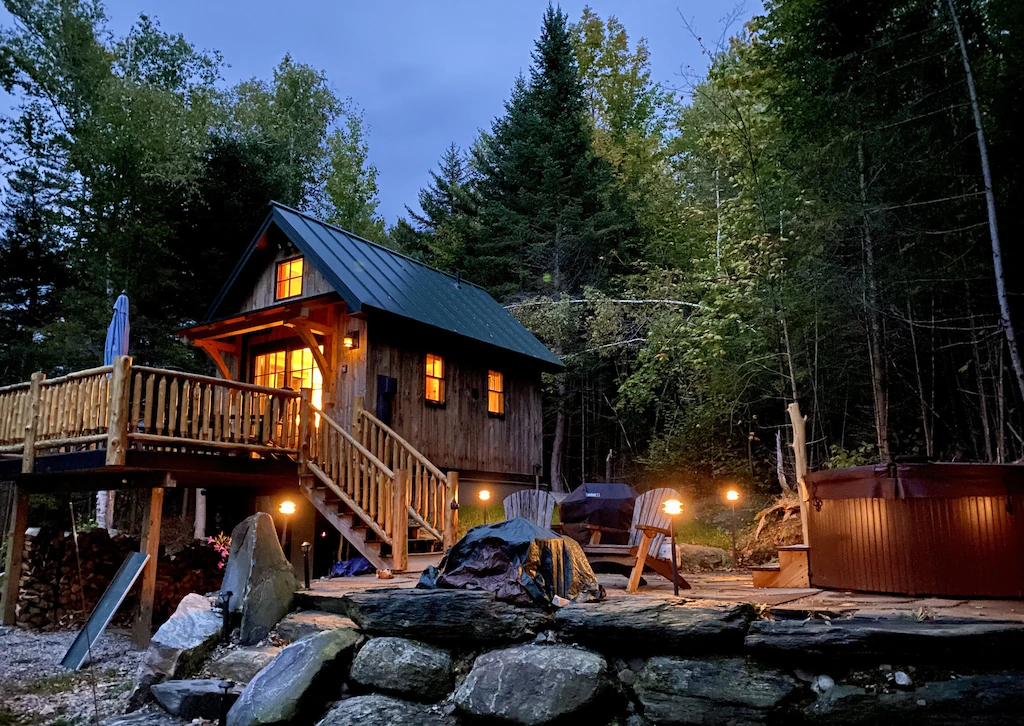 If you're looking for that perfect romantic cabin for your Vermont getaway, this tiny, secluded cabin is it! It is quintessential Vermont with far-reaching mountain views, a hot tub under the stars, and interior touches that are both modern and rustic.
There are so many thoughtful details in this Vermont cabin, from the comfy leather sofa to the copper countertops and handrails, this is the spot to feel pampered. Your dog is welcome too!
Outdoor adventures near Granville: Granville is located in the heart of the Green Mountains and is a dream destination for lovers of beautiful waterfalls and swimming holes. Moss Glen Falls is located right on Route 100, and Texas Falls is five miles away. Cliff jumpers and sun-worshippers will appreciate Warren Falls, also on Route 100.
---
Dog-Friendly House on 10 Acres with a Hot Tub in Morristown
Sleeps: 6
Dogs: Yes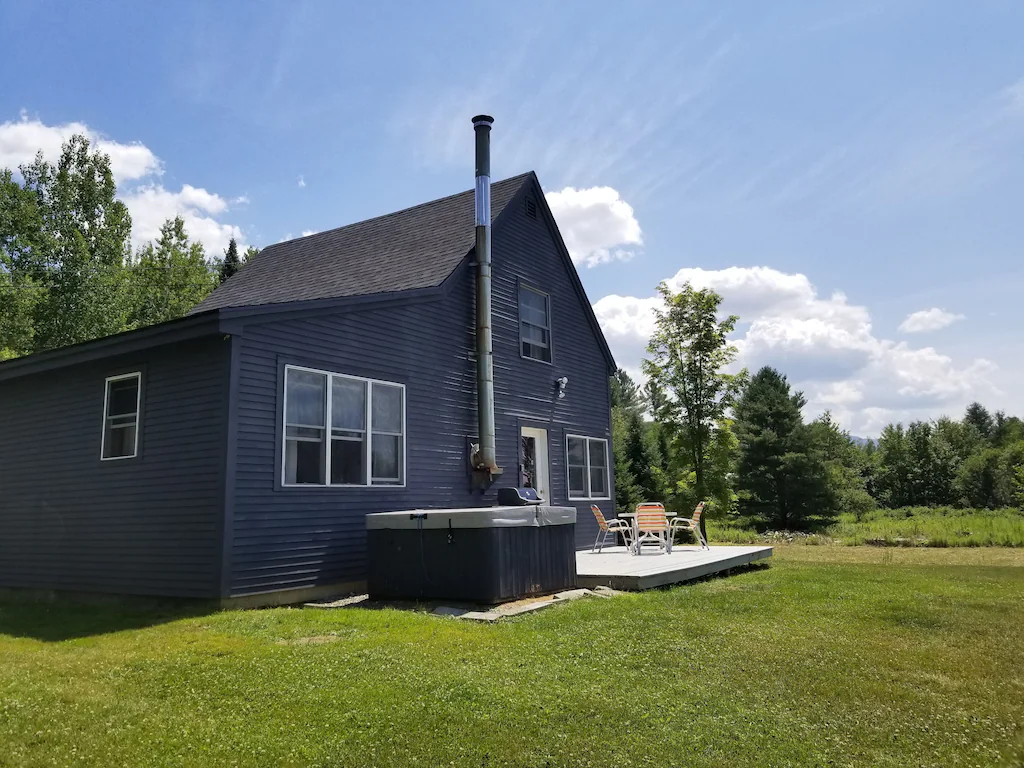 This charming Vermont country house is located on a dead-end road just minutes from Stowe. It features three full bedrooms and one bathroom, a cozy wood stove, and an outdoor hot tub.
Two queen bedrooms are located on separate floors for added privacy. Luxury linens and down comforters are provided, and there is an overflow loft accessible by a ladder that can sleep an extra adult in a pinch.
Outdoors, you will find acres of fields and meadows where you can convene with the birds and wild critters, and your dog can run free without any fear of traffic. This is a blissful spot in a gorgeous location.
Outdoor recreation near Stowe: Stowe Mountain Resort is just eight miles from the cabin. The Stowe area has numerous hiking trails, waterfalls, and breweries. Hike to the top of Mount Mansfield or take the Auto Toll Road to the top.
---
Private Castle on 20 Acres in Vermont's Northeast Kingdom
Sleeps: 10
Dogs: Yes, with restrictions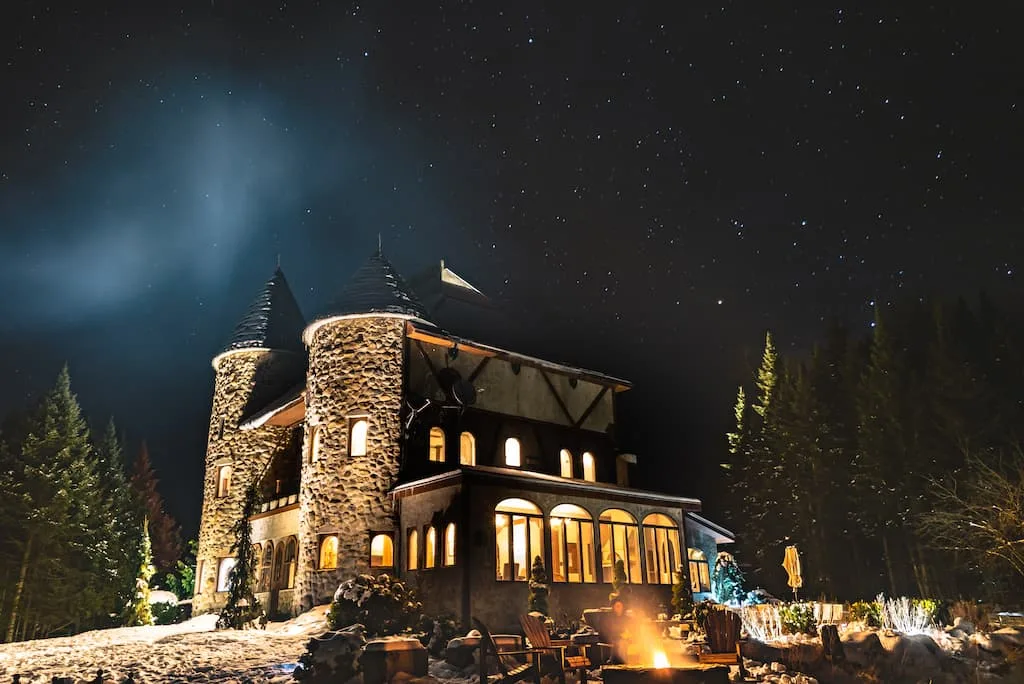 If you're looking for a unique Vermont vacation that includes staying in a real castle with luxurious amenities, head to this stunning six-bedroom castle in Irasburg.
You'll find a beautiful gourmet kitchen, a dedicated game room, bedrooms with gas fireplaces, and a balcony with mountain views.
The hot tub is tucked behind the castle next to a small pond. The outdoor seating area also includes a fire pit, dining area, and beautiful gardens.
The castle is located on 20 acres, and if you visit in the winter, there's even a private ice-skating rink!
Outdoor recreation near Irasburg: Be sure to visit Lake Willoughby, Vermont's deepest lake. You can hike the mountains on either side or swim from the public beaches on the north and south ends of the lake.
---
Read Next: Stay in This Incredible Vermont Castle in Irasburg
---
Three-Bedroom House with a Hot Tub in Sunderland
Sleeps: 11
Dogs: Yes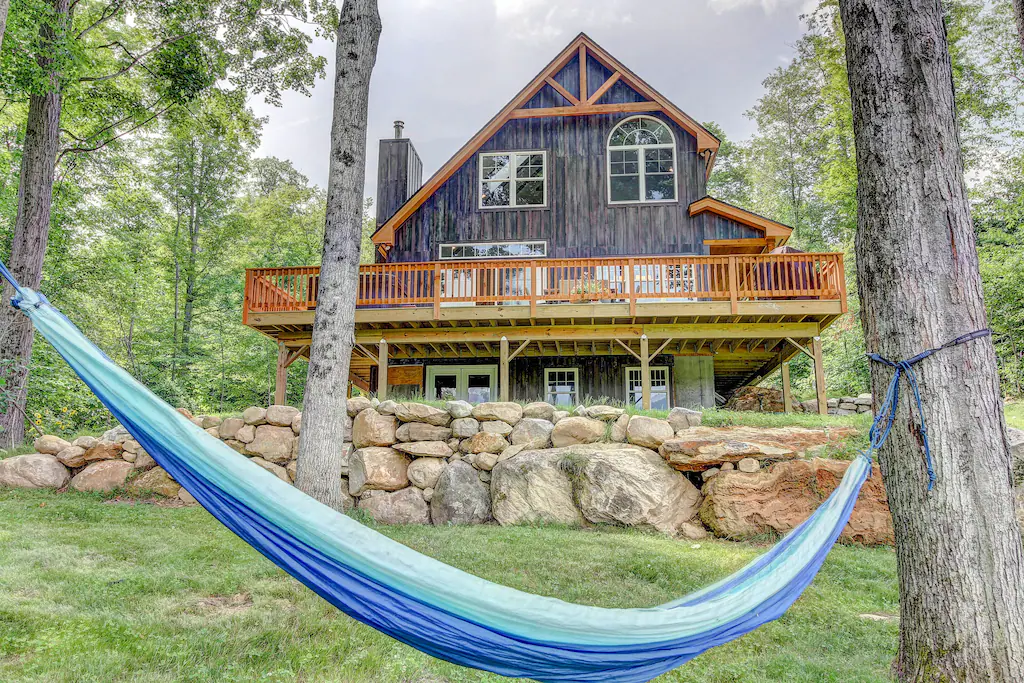 Located in Sunderland between Manchester and Bennington, this gorgeous Vermont cabin features close-up views of Mount Equinox, an open-concept floor plan, a cozy woodstove, three bedrooms, and four bathrooms.
The home sleeps up to 11 people comfortably with a master bedroom on the first floor and two additional bedrooms on the second floor.
Outdoors, you will have access to a wrap-around deck surrounded by trees and a seven-person hot tub. The location is perfect for a family reunion or a group of friends.
Outdoor recreation near Sunderland: Nearby Mount Equinox is the tallest mountain in the Taconic Range (3,855 feet). You can hike to the top from the Equinox Preserve in Manchester or you can take Equinox Skyline Drive to the top for a fee.
---
Read Next: Easy Day Hikes in Southern Vermont
---
Sugarhaus Cabin with Hot Tub in Morristown
Sleeps: 4
Dogs: No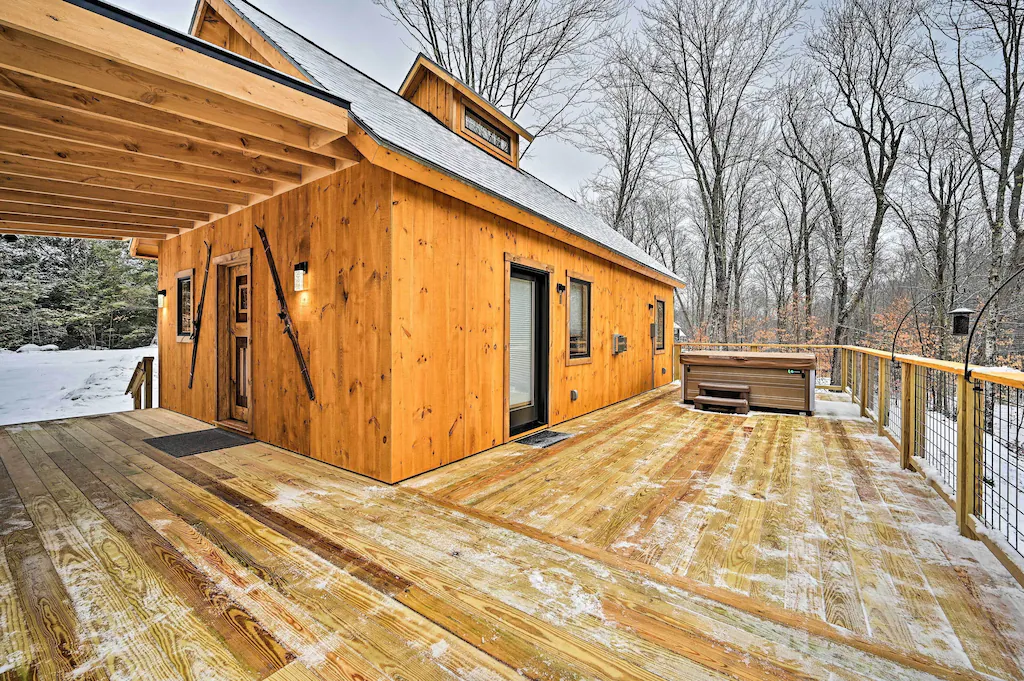 Take your mountain gear out of storage and prepare for the epicenter of outdoor recreation in Morristown. With a new hot tub, updated amenities, and contemporary rustic decor, this 1-bed + loft, 1-bath Vermont cabin rental encompasses cozy living in style.
The cozy interior features a spacious kitchen, a gas wood stove, a washer/dryer, and a walk-in shower. It would be perfect for a couple or a small family.
Relax in the outdoor hot tub on the wrap-around deck as you enjoy the forest views.
Outdoor recreation near Morristown: Elmore State Park is just seven miles from this Vermont cabin. Hike to the fire tower for spectacular mountain views or swim in Elmore Lake when the weather cooperates.
---
Four-Bedroom Ski House in the Mad River Valley
Sleeps: 10
Dogs: Yes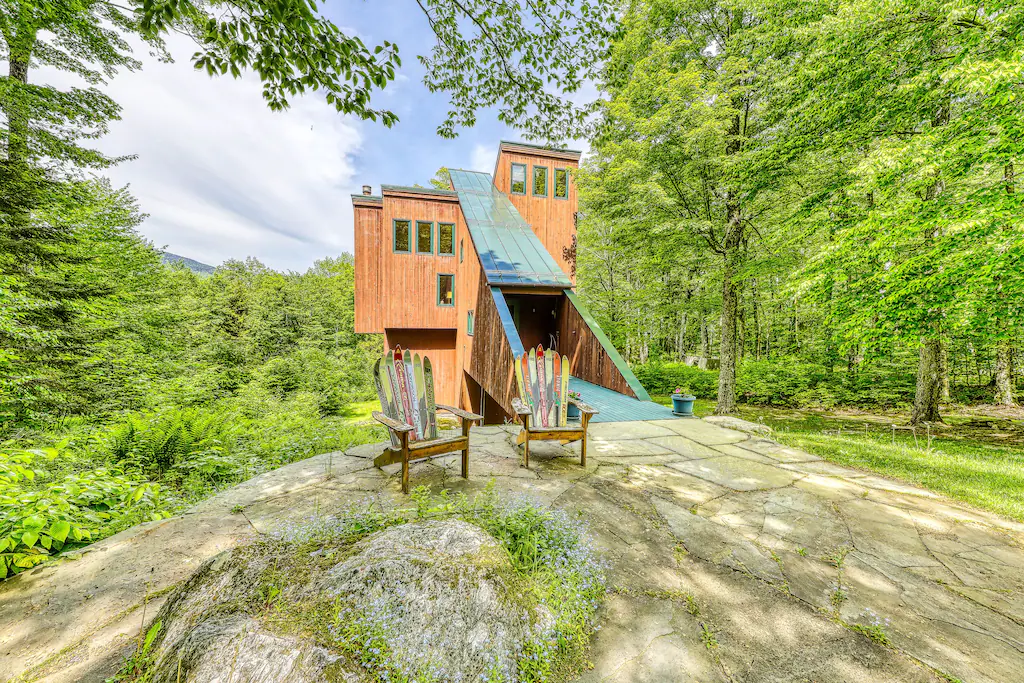 This unique Vermont cabin rental with a hot tub in Fayston sleeps 10 comfortably. It features four bedrooms and three bathrooms, a cozy wood-burning stove, and a fully-equipped kitchen. Living areas are spacious with plenty of light from the numerous windows.
Outdoors, you can enjoy the beautiful balcony, fire pit, and hot tub surrounded by trees with gorgeous mountain views. This beautiful cabin is a four-season getaway in the Mad River Valley and would be a perfect destination for a large group.
Outdoor recreation in the Mad River Valley: If you visit in the winter, you'll want to ski Mad River Glen, which is just 1.5 miles away from the cabin. Sugarbush, another premier ski resort is only 5 miles away.
In the summer, we recommend hiking a section of Vermont's Long Trail, which you can easily access from the trailhead on Route 17. Blueberry Lake is a popular spot for swimming in Warren.
---
Read Next: Take a Fall Foliage Road Trip on Route 100 in Vermont
---
Secluded Cottage in Weston
Sleeps: 4
Dogs: No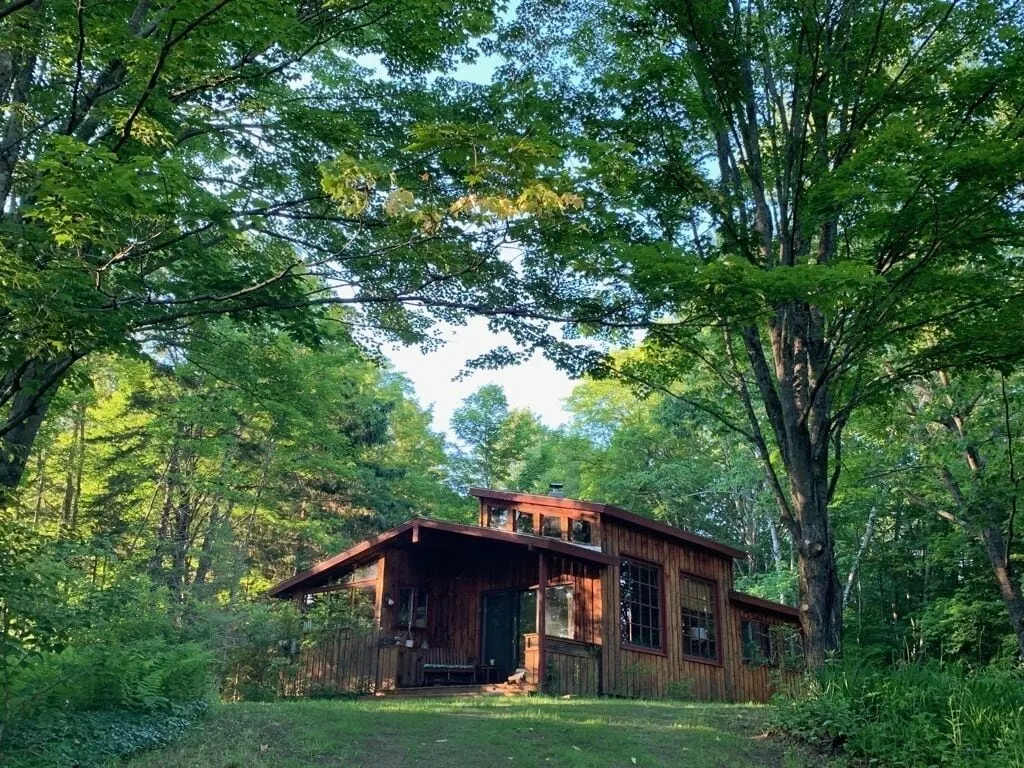 This amazing Vermont cottage rental is located on the edge of the Green Mountain National Forest in Weston. It features two bedrooms with room for four people. A wood-burning stove makes everything cozy, and the kitchen is fully equipped with all the appliances and amenities you need to feel right at home.
There is a small deck in the front of the house and a larger deck in the back, where you'll find a nice outdoor dining area and a hot tub.
The property is very private and surrounded by woods. Pets are not permitted in the cabin.
Weston is located in the southern Green Mountains and is one of the cutest towns you can imagine. Be sure to visit the Vermont Country Store and catch a play at the Weston Playhouse while you're in town.
Outdoor recreation near Weston: There is great swimming at Hapgood Pond in nearby Peru, and we also recommend hiking the Long Trail south to the top of Bromley Mountain.
---
Three-Bedroom Vermont Cabin with a Hot Tub in Mount Holly
Sleeps: 4
Dogs: Yes, with restrictions
Nestled on the backside of Okemo mountain this newly renovated cozy cabin is the perfect place for your next Vermont getaway. It features a brand-new kitchen, two bedrooms, and one bathroom with room for six guests.
Outdoors is where this Vermont cabin rental really shines. It's located in a beautiful meadow on the edge of a small pond. There is ample outdoor seating, a lovely fire pit, and yes, a hot tub. There's even an outdoor shower.
Be sure to explore Ludlow, a small ski town with great restaurants, bars, and shopping.
Outdoor recreation near Mount Holly: The closest skiing is at Okemo, six miles away. In summer and fall, hike the Healdville Trail to the historic fire tower at the top of Okemo Mountain. It's a moderately strenuous hike of about six miles (round trip), but well worth the effort!
---
Cozy Log Cabin on 18 Acres in Newfane
Sleeps: 4
Dogs: No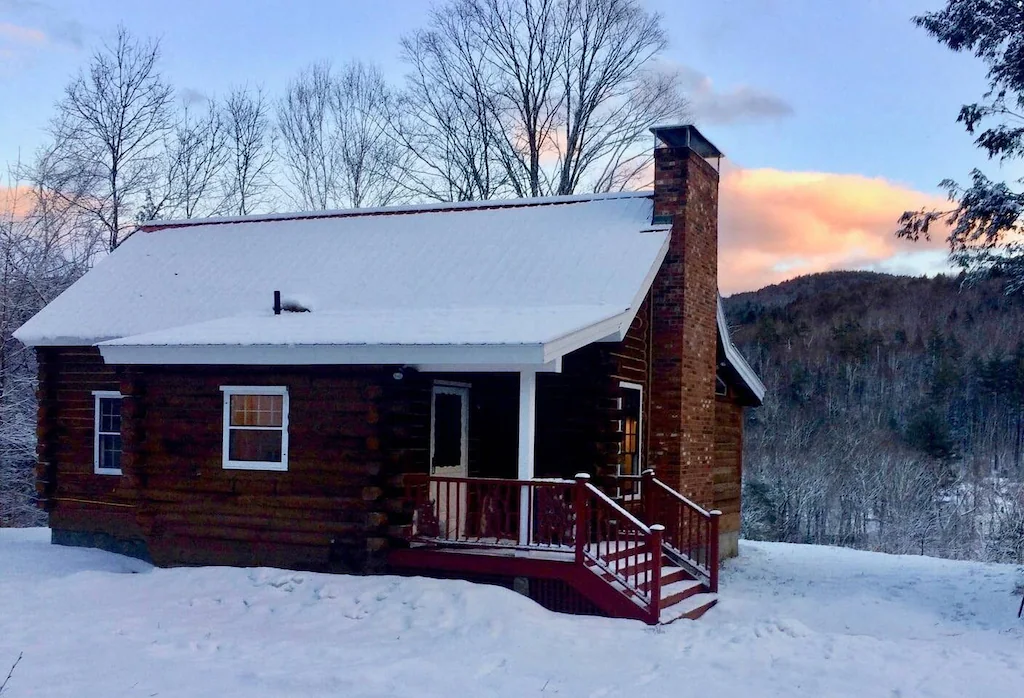 Come to the beautiful town of Newfane, where you can stay in a Vermont log cabin in the woods with beautiful views of the river, mountains, and stars. Two bedrooms and a single bathroom make this 1,100-square-foot cabin perfect for families of up to six people.
The home features a full kitchen and dining area, and French doors lead to a beautiful outdoor deck where you can enjoy the Vermont scenery.
Situated on 18 acres at the end of a dirt road, the property gives you a mile of river-front access that you can access from the cabin.
Snowshoes are provided in the winter, and the hot tub is the perfect place to relax no matter what time of year you visit.
Outdoor recreation near Newfane: Hike to the top of Bald Mountain (3.4 miles round-trip) from nearby Townshend State Park or to Putney Mountain (1.2-mile loop).
---
Lakefront Home for 10 People in South Hero
Sleeps: 10
Dogs: Yes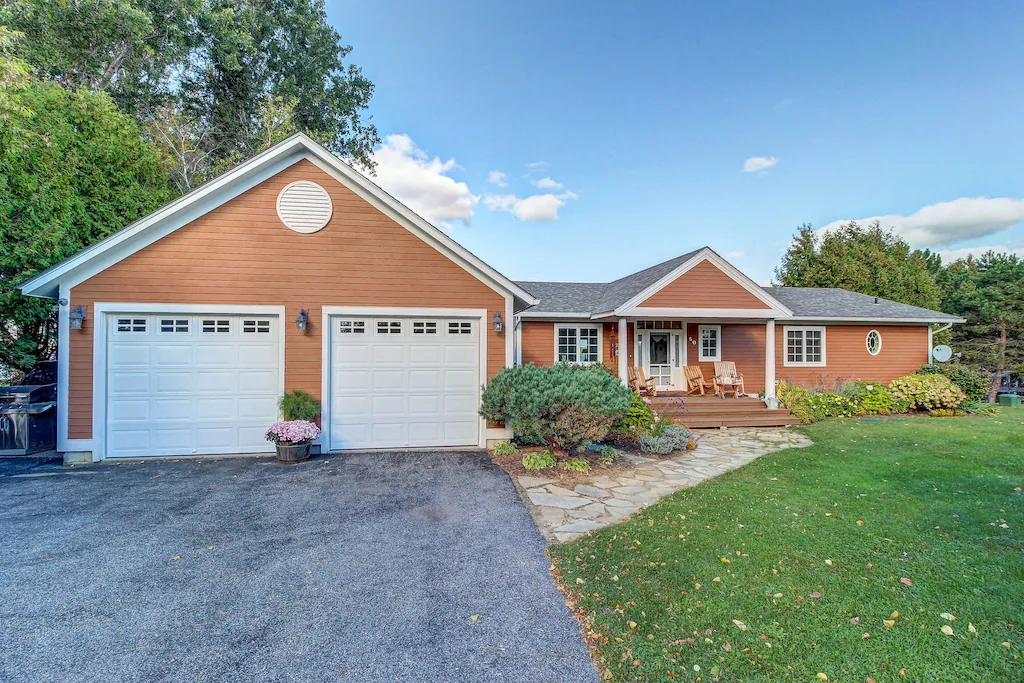 We couldn't create this list without including at least one property on the shores of Lake Champlain. This gorgeous Vermont vacation rental is located in South Hero right on the lake. It has a dock, rocky beachfront, and magnificent mountain and water views from the hot tub.
Three bedrooms and three bathrooms accommodate up to 10 people, and there is plenty of room for everyone, both inside and out. There is a gourmet kitchen, outdoor seating and dining area, and a fire pit.
The town of South Hero is within walking distance of the house. This is one of our favorite Vermont towns to visit in the summer. Be sure to walk to Seb's for ice cream!
Outdoor recreation near South Hero: The Lake Champlain Islands have so much to offer for outdoor lovers. Definitely rent kayaks at Hero's Welcome to get out on the water. Afterward, sip wine at Snow Farm Vineyard. If you bring your bike, you can take the bike ferry from South Hero to Colchester and ride all the way to Burlington.
---
Read Next: A Perfect Fall Weekend in the Lake Champlain Islands
---
Four-Bedroom Woodland Retreat in Mendon
Sleeps: 8
Dogs: Yes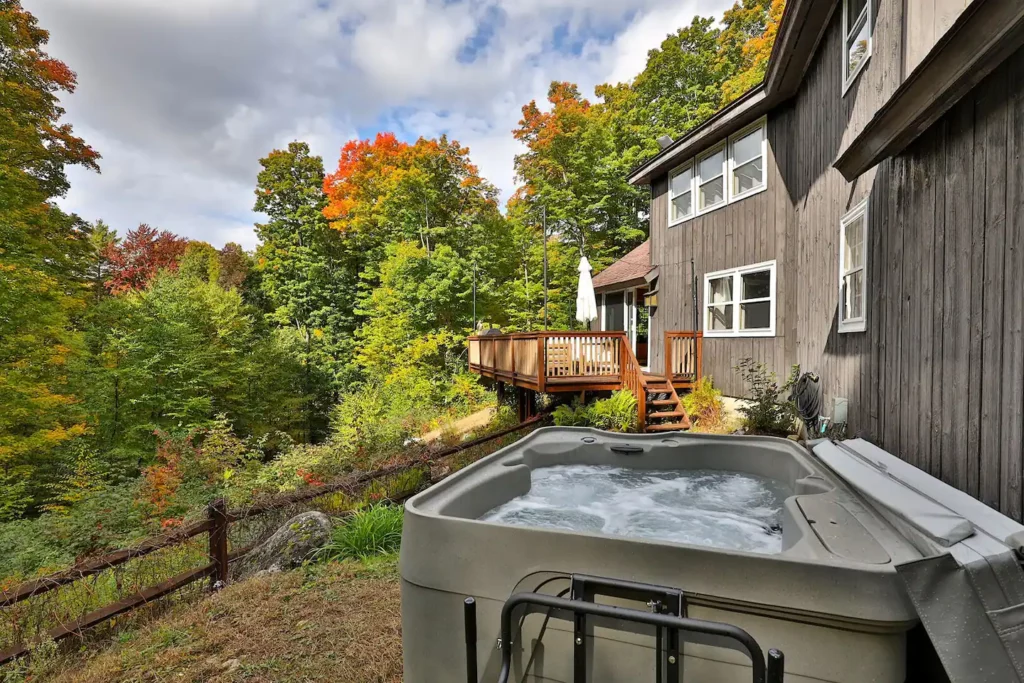 Escape to the woods for a luxurious vacation that includes soaking away your troubles in the five-person hot tub, relaxing in front of the cozy woodstove, and cooking up gourmet meals in the well-stocked kitchen.
While this beautiful Mendon home is tucked away in the woods for privacy, it's also close to some of Vermont's best hiking trails and fantastic skiing.
With four bedrooms and two bathrooms, there is plenty of room in this sprawling Vermont vacation home for the whole family, and the open-concept kitchen, cozy living room, and beautiful deck make this a fantastic spot to come back to after a day of exploring.
---
Read Next: 10 Perfect Things to do in Woodstock, Vermont in the Fall
---
We hope these incredible Vermont cabin rentals with hot tubs will provide the backdrop for your next getaway to the Green Mountains!
Follow us on social media for more Vermont inspiration!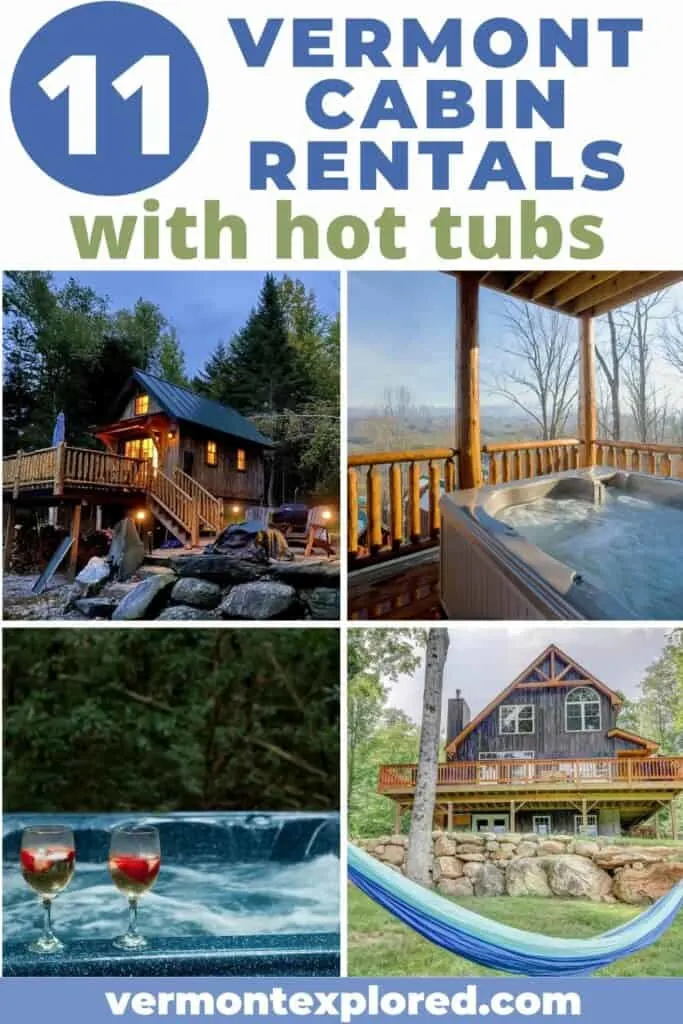 Tara Schatz is a freelance writer, and the founder and editor-in-chief of Vermont Explored and Back Road Ramblers, an American road trip blog. She is also the co-author of the 3rd edition of AMC's Best Day Hikes in Vermont, which was released in May 2023.