Today, I'm welcoming guest author, Ellie Reynolds, who visited Vermont this past fall. She fell in love with the area and is sharing her Vermont fall foliage itinerary so that others might have a similar experience. Take it away, Ellie.
---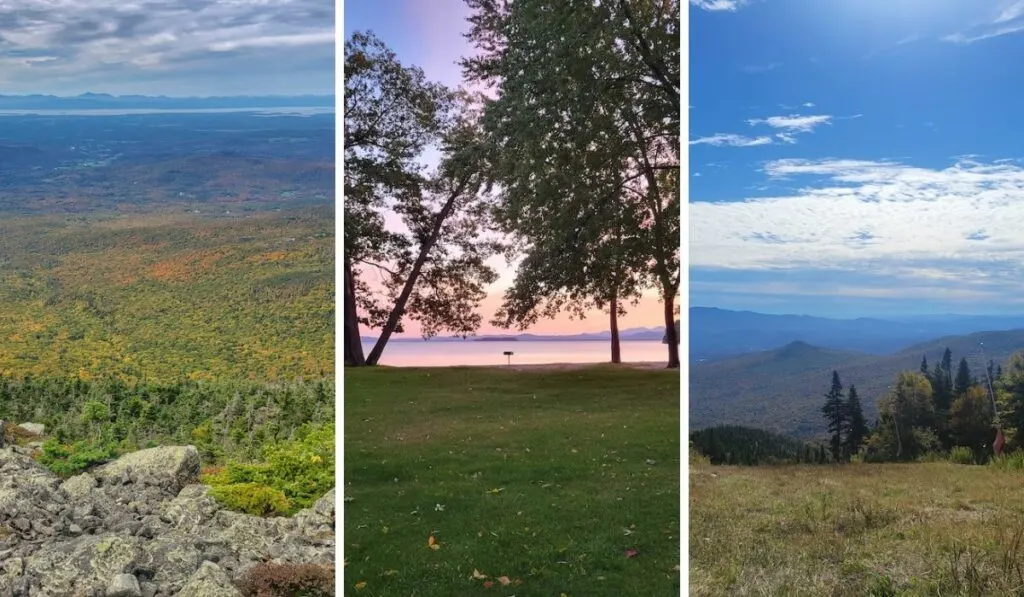 My husband and I got married in June. We had planned to go to Fort Myers beach and Key West during hurricane season, hopeful that we would have awesome weather. We found out that Hurricane Ian was going to hit and were unsure what to do.
We decided to completely rebook our honeymoon and choose one of our bucket list destinations.
Charming and picturesque Vermont happened to be on our list. Despite the initial franticness of this honeymoon, Vermont ended up being a perfect last-minute decision!
Here is our four-day itinerary for Vermont in the fall. We definitely suggest renting a vehicle if you do not have your own.
We stayed at the Double Tree Hilton right outside of Burlington. It was close to downtown, but far enough away it was quiet at night. Our stay included a free warm cookie and complimentary water.
Day 1: Burlington, VT
First stop, breakfast at August First.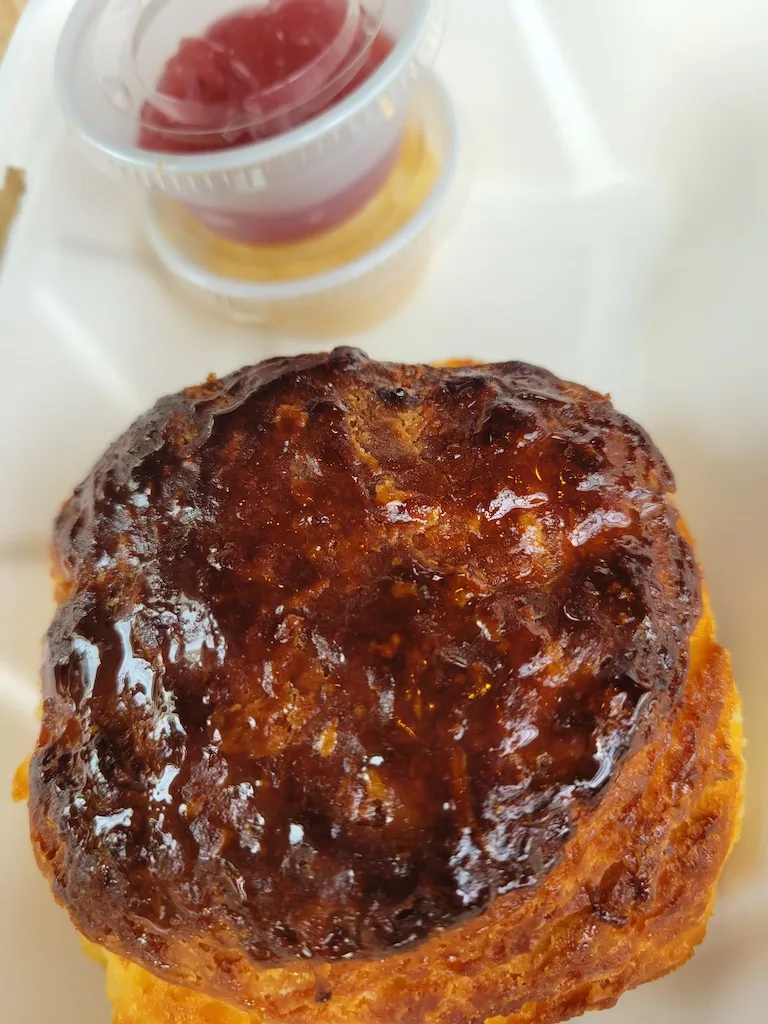 They have items ranging from baked goods like pumpkin bread to Avocado toast. Try the grilled maple biscuit- you will not regret it. It comes with melt-in-your-mouth maple syrup butter and jam. I had a hazelnut latte and the milk foam on top was perfection.
Next, head over to North Beach in Burlington's new North End. This is Burlington's largest beach. Make sure to get a Rock Point Property pass so that you can access the trails. It is just two dollars a day.
Take the Sunset Ridge Trail for a quick trail walk to a gorgeous view of Lake Champlain.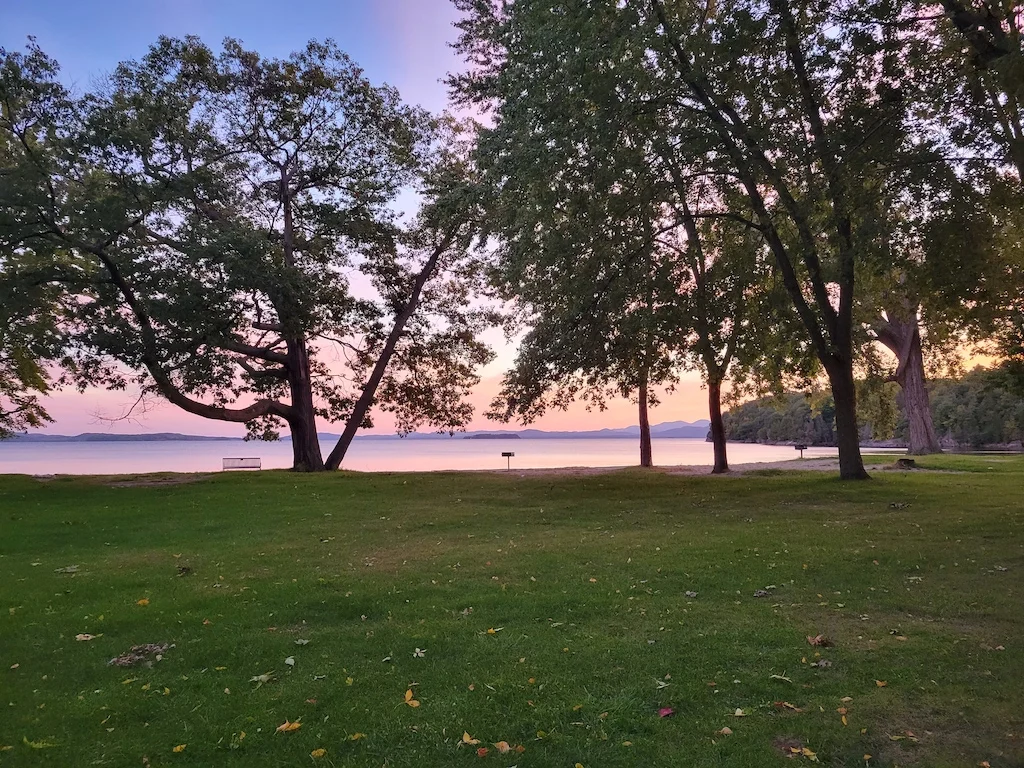 For dinner, we recommend Gaku Ramen for authentic Japanese cuisine. The White Peach Hakushika was sweet and smooth. The Pork dumplings were delicious with soft bao buns and crispy pork belly.
For dessert, stop into Lake Champlain Chocolates for a decadent hot chocolate. You can have either whipped cream or a homemade marshmallow as a topping.
End your evening in Burlington with a sunset cruise of Lake Champlain with the Spirit of Ethan Allen. It does get chilly at night, so remember to dress warmly. They have drinks and food that you can purchase on the cruise.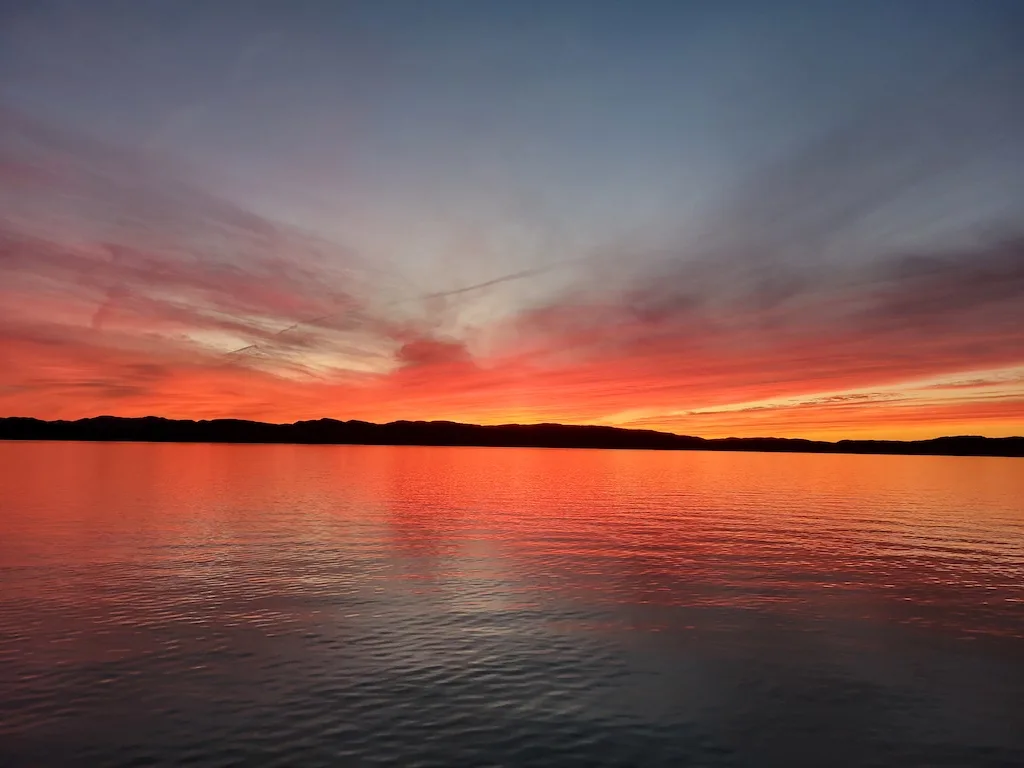 It is a two-hour boat ride around Lake Champlain where you can enjoy views of Burlington, the Green Mountains, and the Adirondack Mountains in New York.
---
Read Next: Check Out These 6 Outstanding Breweries in Burlington, Vermont
---
Day 2: Stowe, VT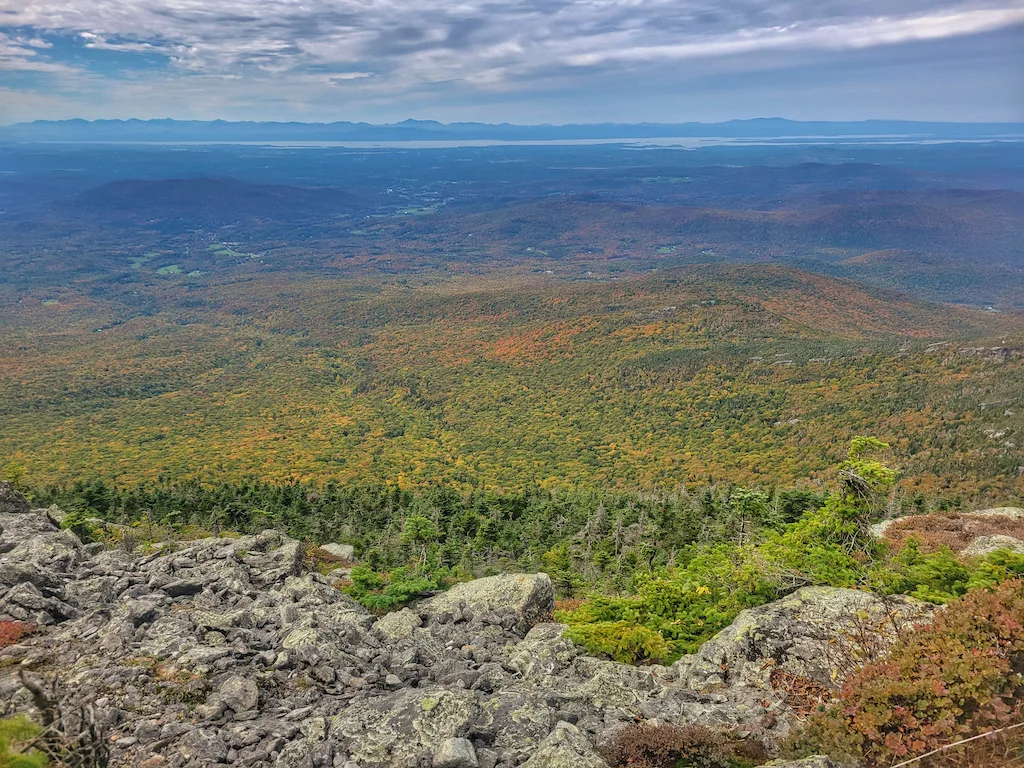 First, drive to the Trapp Family Lodge for some pastries and coffee at the Trapp Kauffeehause Bakery and Deli. Then, take the Sugar Maple Tour.
Make sure to sign up ahead of time, so you can reserve your spot. The tour is a two-hour walking tour that explains the process of tapping maple trees and making maple syrup. I had no idea how many different grades/shades of maple syrup there are!
Next, take the auto toll road to the top of Mount Mansfield, Vermont's tallest mountain. It's around $40 to use the road, but the views were worth it, and at the top, you can hike along the Long Trail to "the chin". The hike there and back took about two hours.
We did not bring water or snacks on our hike, and we would suggest bringing them for sure. The peak tends to be crowded with a lot of people because multiple trails converge together at the peak, so keep that in mind.
After the hike, grab some grub at The Bench.
We got burgers and they hit the spot after walking for so long we had worked up an appetite. My burger had grilled onions, cheddar cheese, and a special sauce.
After The Bench, head to Stowe Cider to try the Cider Donut Cider. It's a balance between sweet and tart.
Finally, before heading back to Burlington, go see Emily's Bridge. This is a haunted covered bridge and one of the best sights to see in Stowe.
---
Read Next: Best Easy and Moderate Hikes Near Stowe, Vermont
---
Day 3: Hurricane Mountain, NY
We woke up, got some coffee and breakfast, and made our way toward the Adirondacks in New York to hike Hurricane Mountain and reach the fire tower.
We had a long hike and ferry ride planned, as well as one more covered bridge. On the way to the ferry, we stopped by Holmes Creek Covered Bridge near Charlotte, Vermont.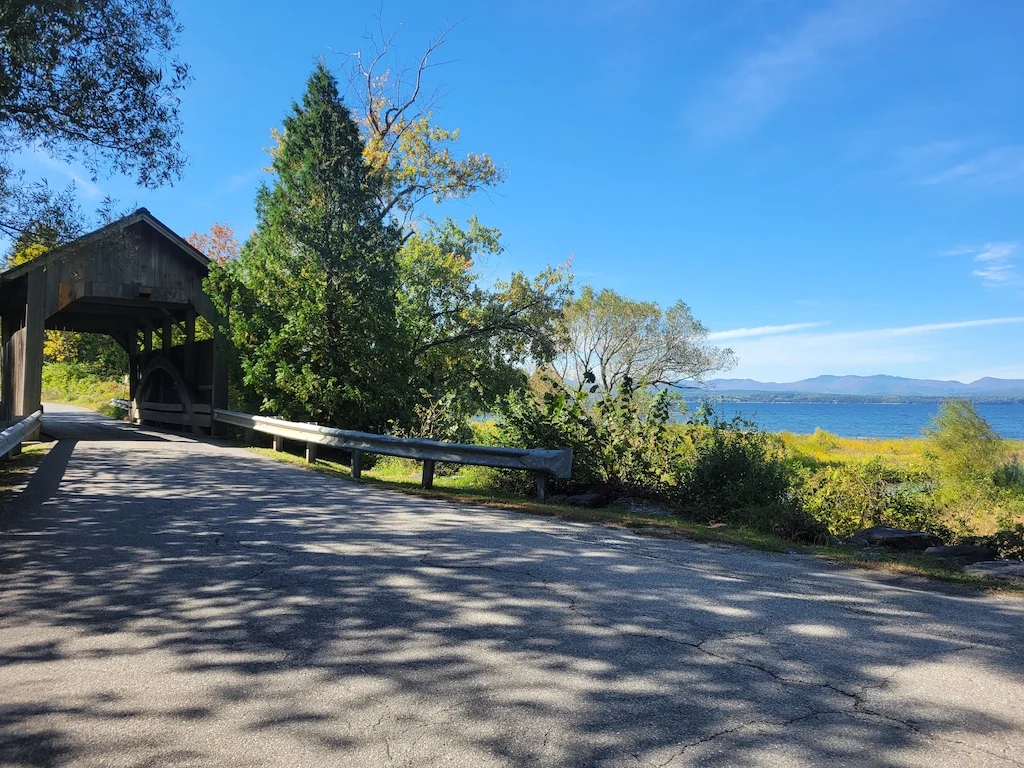 The Charlotte Ferry travels across Lake Champlain between Charlotte, Vermont, and Essex, New York. It is a three-mile ride and about 25 minutes to get across.
The views of the Adirondack Mountains, the Green Mountains, and Lake Champlain are spectacular!
We got to the Hurricane Mountain trailhead and hiked the northwest side of the mountain to reach the peak.
There isn't a huge parking lot, so make sure to come early. Bring lots of water and snacks! It is a very small trailhead. The hike took us three-four hours and was exhausting, but totally worth it!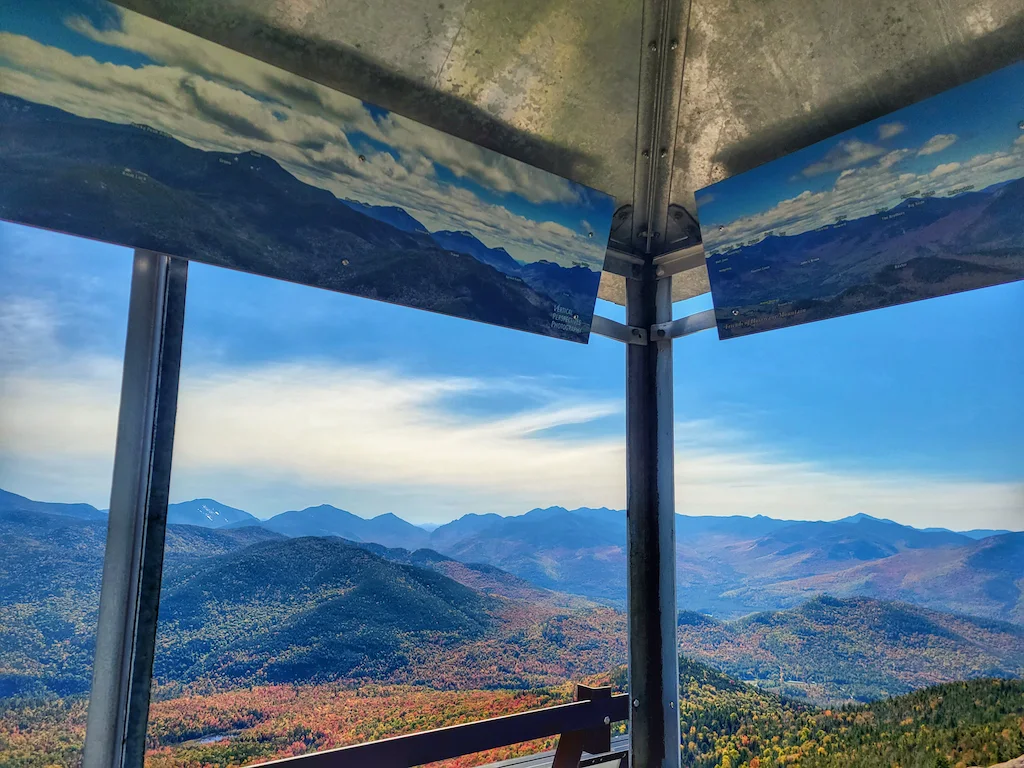 After our hike, we headed back to Burlington and dined at Deep City Restaurant. They had a variety of eclectic cocktails and delicious food. If you have never tried poutine before, I recommend it! Deep City's is unique with short rib gravy and pimento cheese, a combination you will not forget!
Day 4: Burlington and Bolton, VT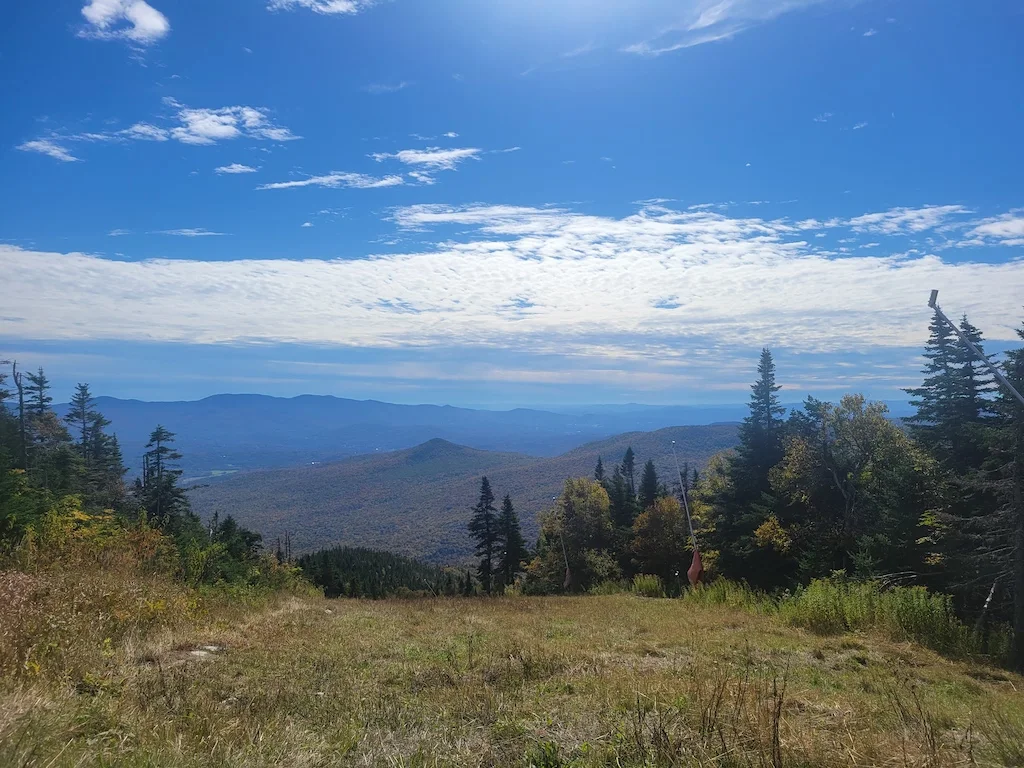 We had breakfast at the Skinny Pancake in Burlington to start our morning. This place is always packed, so make sure to reserve a table. We tried two crepes, a sweet and savory: the Veggie Monster and a chocolate orange marmalade one complete with whipped cream and little chocolate chips- 10/10.
We walked around church street in downtown Burlington. There are many awesome shops to see. One of my favorites was Wild Lark Flowers, Plants, and Gifts. There is a huge variety of plants ranging from tiny balls of moss to larger snake plants or monstera. Any plant lover will have a field day in there!
Next, we drove to Bolton, Vermont to go on a ski lift and experience the fall colors.
Bolton Valley Ski Resort is about a 36-mile drive from Burlington. It was $20 dollars to go up on the ski lift and once you get to the top there is a short trail to a fire tower. You can go up in the fire tower and see views of the Green Mountain Ranges and Lake Champlain.
For mountain bike enthusiasts, you can also take the ski lift up and bike down. It looked like every adrenaline junkie's dream.
We loved our time in Vermont and would love to come back one day!
---
Ellie was born and raised in Northern VA. She is a recent graduate from Old Dominion University's Bachelor of Nursing program. After graduating, Ellie moved to Hampton Roads to be with her husband Cameron. Ellie works as an Emergency Room nurse in an incredibly fast-paced and challenging environment. Every day she enjoys learning something new. On her off days, she can be found planning her next great adventure or walking at local parks. Hiking and exploring the outdoors has been her ultimate form of self-care and she does it happily alongside her loving husband. Ellie and Cameron's favorite hike in Virginia is Old Rag at Shenandoah National Park.
---
Follow us on social media for more Vermont inspiration!