When it comes to choosing the perfect spot for a fall foliage getaway in Vermont, there are no wrong decisions.
Come early October, the mountains start to light up with those fiery reds and oranges that Vermont is known for. As the month progresses, the colors move down the mountains and creep southward and into the foothills and valleys.
Even though I'm a Vermonter, born and raised, and have spent just about every October in my home state, I love leaf-peeping as much as anyone I know.
I could wax on poetically for hours about my passion for October in Vermont, but instead, I'm going to talk about one of my favorite fall foliage getaways — a weekend based in the beautiful town of Ludlow VT, with explorations in Peru, Londonderry, Weston, Plymouth Notch, and Killington.
This part of southern Vermont includes adorable small villages and gorgeous fall scenery, and it's truly the perfect spot for a fall foliage weekend.
This itinerary includes a small section of Vermont Route 100. You'll find plenty to do in this part of Vermont for an entire long weekend, but you can also make it part of a more extensive Route 100 road trip.
At-A-Glance Trip Planner: Fall in Ludlow VT
Best Time to Visit: Early to mid-October
Where to Stay: Main and Mountain is a beautiful, independently-owned motel and bar within walking distance of shopping and restaurants.
Nearest Airport: Albany International Airport is less than two hours from Ludlow. For more flight options, consider Logan International Airport in Boston, which is about 3.5 hours.
How to Get Around: To really explore the area, you will need a car. Kayak is great for finding car-rental deals.
3 Things to Pack: Rugged hiking shoes, a daypack, and the 10 essentials for hiking.
Why Ludlow VT Makes an Ideal Home Base for Your Fall Vacation
The beautiful town of Ludlow is tucked in the Okemo Valley and surrounded by the Green Mountains. With just over 2,000 residents, Ludlow is probably best known as the home to Okemo Mountain Resort.
The village of Ludlow has enough restaurants and shopping to keep visitors enthralled for a couple of days, and the outdoor pursuits and attractions in the surrounding towns mean that you'll never run out of things to do.
Since you'll be exploring many of the towns and villages both north and south of Ludlow, I recommend making Ludlow your home base for your weekend getaway.
Ludlow VT Weekend Map
Here are the destinations covered in our Ludlow itinerary. Click on the box in the top right to open it in Google Maps.
Ludlow VT Lodging
If you're traveling alone or with a small family, I highly recommend Main and Mountain as your home base. This small hotel is beautifully decorated, and you can choose from different room configurations depending on your needs.
Main and Mountain has a great little bar onsite and it's within walking distance of downtown restaurants. While you won't find uber-cheap motel prices, Main and Mountain is quite affordable. We paid under $200 a night for a room during the fall foliage season, which is pretty hard to beat.
If you're looking for more room to spread out, this beautiful Ludlow village home is dog-friendly, and it sleeps up to eight people in three bedrooms. It's also got a great yard and a fire pit for relaxing after a long day of leaf-peeping.
Day One: Okemo and Ludlow
Since you'll be making your home base in Ludlow, it's a great time to get to know the town and the surrounding mountains. Today's explorations include a fantastic hike to the top of Okemo Mountain (or, if you prefer, a gondola ride), explorations in downtown Ludlow, and a visit to beautiful Buttermilk Falls.
Hike the Healdville Trail to Okemo Mountain (Ludlow Mountain)
Start your weekend off right with a hike to a historical fire tower on the top of Okemo Mountain, also called Ludlow Mountain. This is a six-mile hike (round trip) and gains about 2,000 feet of elevation. It will take you about four hours to do the whole thing, but the 360-degree views from the top of the fire tower make it well worth the effort.
From the roofed cab of the fire tower, you'll have extensive views of the southern Green Mountains, the town of Ludlow, and Mount Ascutney.
If trekking up a mountain isn't in the cards for this trip, you can also take a scenic ride on the Sunburst Six chairlift to the top of Okemo Mountain and hike down. The chairlift runs until mid-October (usually Indigenous Peoples' Day) and is $25 for adults and $19 for kids.
Visit Buttermilk Falls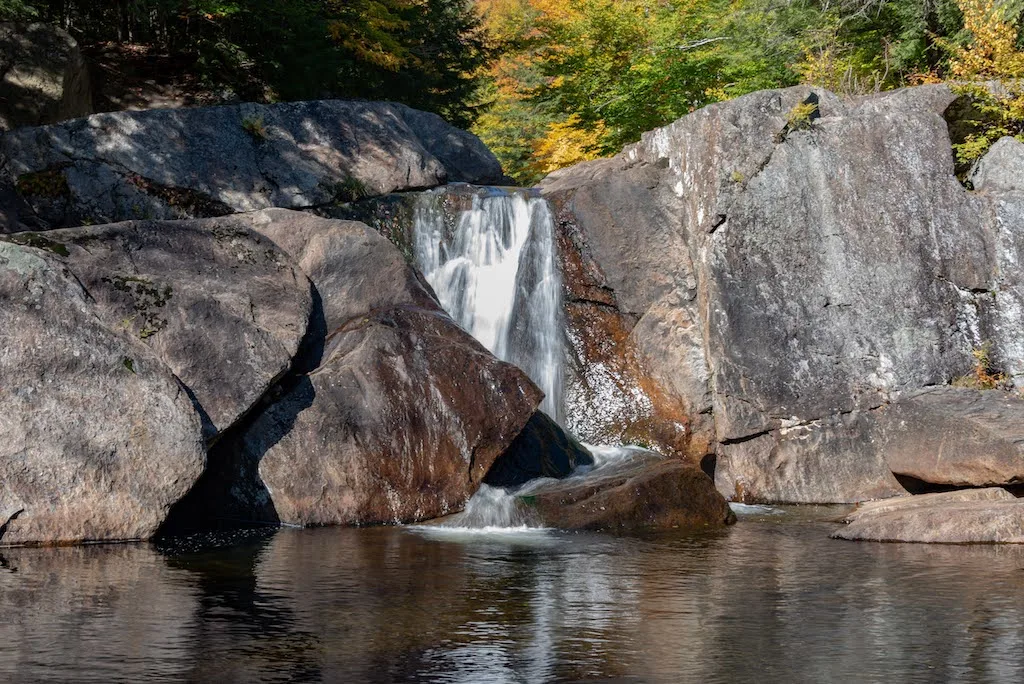 Buttermilk Falls is a series of three small waterfalls along the Branch Brook in Okemo State Forest. The falls are practically roadside but hidden from view down an easy, 0.2-mile trail.
The river is protected by the Vermont River Conservancy and cared for by the staff at Camp Plymouth State Park. This is one of the easiest waterfalls in Vermont to get to and also one of the prettiest to photograph in the fall.
The upper and middle falls both spill into fairly wide pools that are deep enough for swimming in the summer. In the fall, the river slows, making this a fun spot for rock hopping, picnicking, and enjoying a quiet afternoon.
Explore Ludlow Village
Ludlow is a tiny town in the Okemo Valley and surrounded by the Green Mountains. If you're staying at Main and Mountain, you'll be within walking distance of shops, galleries, and restaurants — not too many, but enough to keep you busy for a few lovely hours.
I should mention that the town of Ludlow was devastated by flooding in July 2023 and that clean-up and recovery have been ongoing. Most businesses are open and eager for your tourism dollars, but there may still be spots that are closed due to flood damage.
Where to Eat in Ludlow
For a small town, Ludlow has enough great dining choices to keep you delightfully satisfied all weekend. Here's what I'd recommend.
Breakfast: Go to the Hatchery at 164 Main Street for homemade cinnamon raisin french toast with real Vermont maple syrup! Throw in a mimosa (or a bacon bloody Mary — you're on vacation).
Lunch: Hit up Tacos Tacos for yummy and affordable American-Mexican fare in a tiny but colorful spot.
Dinner: Ludlow has a few really great dinner spots, but I almost always go to Homestyle Hotel when I'm in the area. It never disappoints. I recommend making reservations as it's not a big place, but you may also be able to find a seat at the bar if you're passing through. Meals are served family-style and the cocktails are divine!
Day Two: Plymouth Notch and Killington
Today, you're heading north on Route 100 to explore one of Vermont's most beautiful historic sites and tallest mountains. Charge up your phone or pack your camera because it's a beautiful ride.
Visit President Calvin Coolidge State Historic Site
About 18 miles north of Ludlow, turn right on Route 100A and drive a mile to President Calvin Coolidge State Historic Site. Plymouth Notch is the birthplace and boyhood home of our 30th president, and his homestead and the surrounding village have been virtually unchanged since the 20th century.
The village is known as the Plymouth Notch Historic District and is on the National Register of Historic Places. Meander around the 600 acres, visit the Calvin Coolidge Museum and Education Center, and check out dozens of historically preserved buildings.
Guided tours are offered daily, and you can see where Calvin Coolidge was born as well as where he was sworn into office on August 3, 1923, after the death of President Warren G. Harding the previous evening.
Be sure to stop at Plymouth Artisan Cheese for some samples while in Plymouth Notch.
Lunch at Long Trail Brewing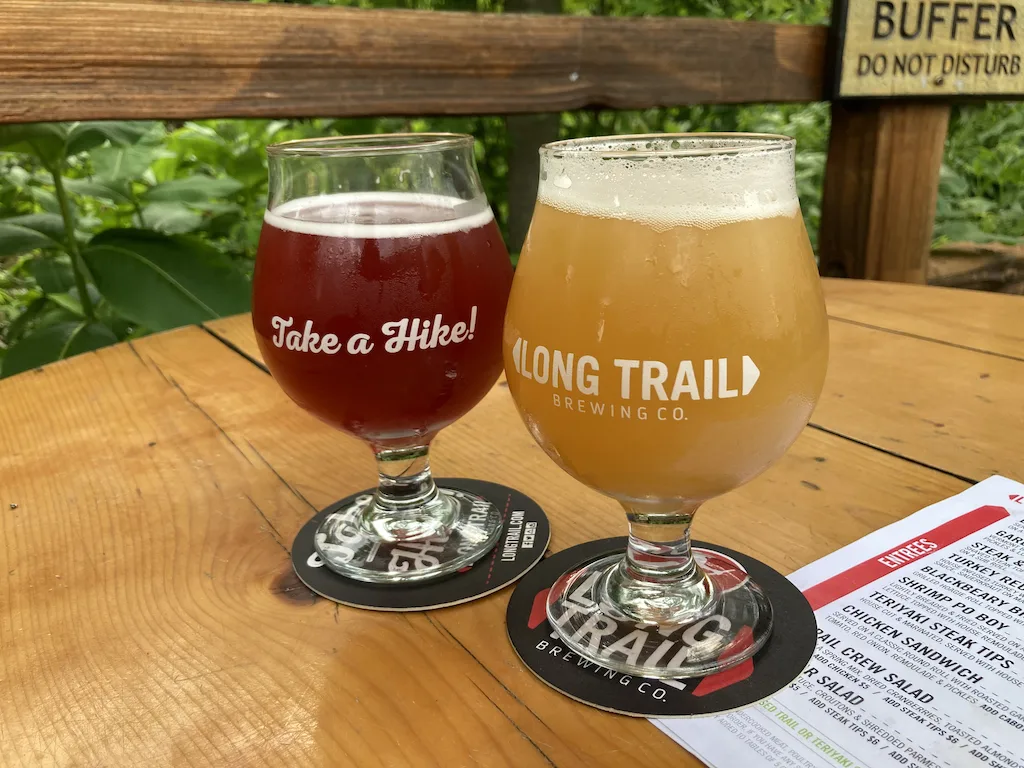 After leaving Plymouth, continue north on 100A to Bridgewater Corners, where you'll find the famous Long Trail Brewing Company.
This quaint riverside pub and restaurant is the perfect lunch spot, and the view is pretty great too! In addition to their popular Long Trail Ale, they make a variety of delicious seasonal craft beers that you won't find in local stores.
Ride the Scenic Gondola to the Top of Killington Peak
Looking for far-reaching views that don't know when to quit? Take a scenic gondola ride to the top of Killington Peak. At 4,241 feet, this is one of the highest peaks in Vermont. The gondola ride is a quarter mile long, with 360-degree views, a small snack bar, and restrooms at the top.
In the fall, the Killington gondola is open every day from 10 am to 5 pm. Round-trip tickets are $30 for adults and $24 for kids.
Hike to Thundering Falls and Kent Pond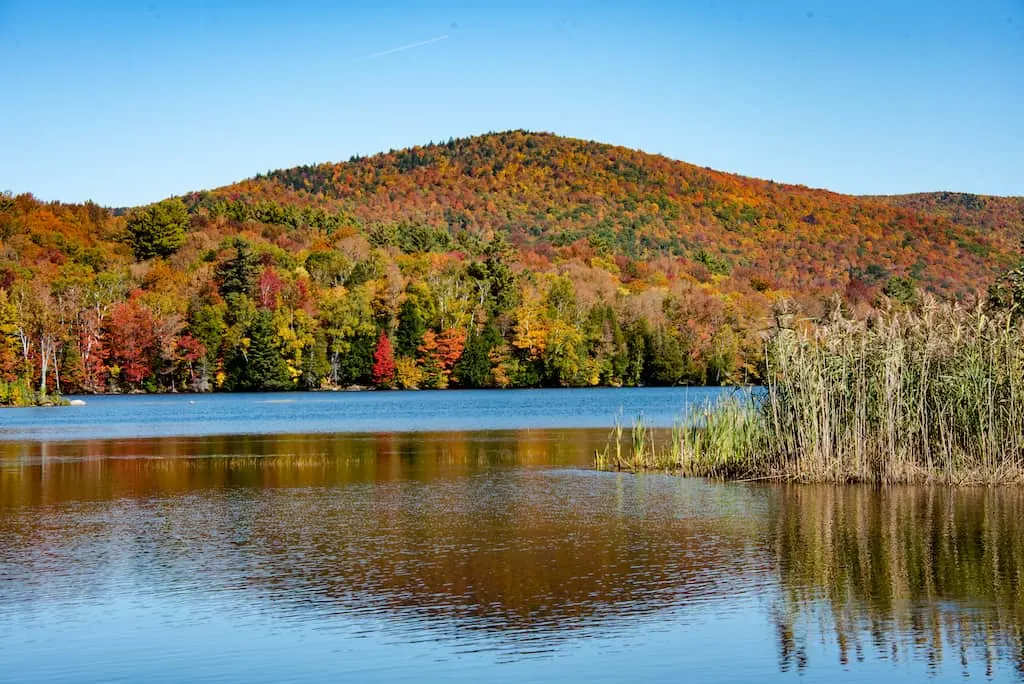 You don't need to hike to Kent Pond, you can easily drive to the trailhead, get out of your car, and soak up the beautiful views. If you want to hike around the shore and onward to Thundering Falls, turn right into the woods when facing the pond.
The trail hugs the shoreline, and almost immediately you will come to an inlet with several small waterfalls. Cross the bridge and continue on the Appalachian Trail.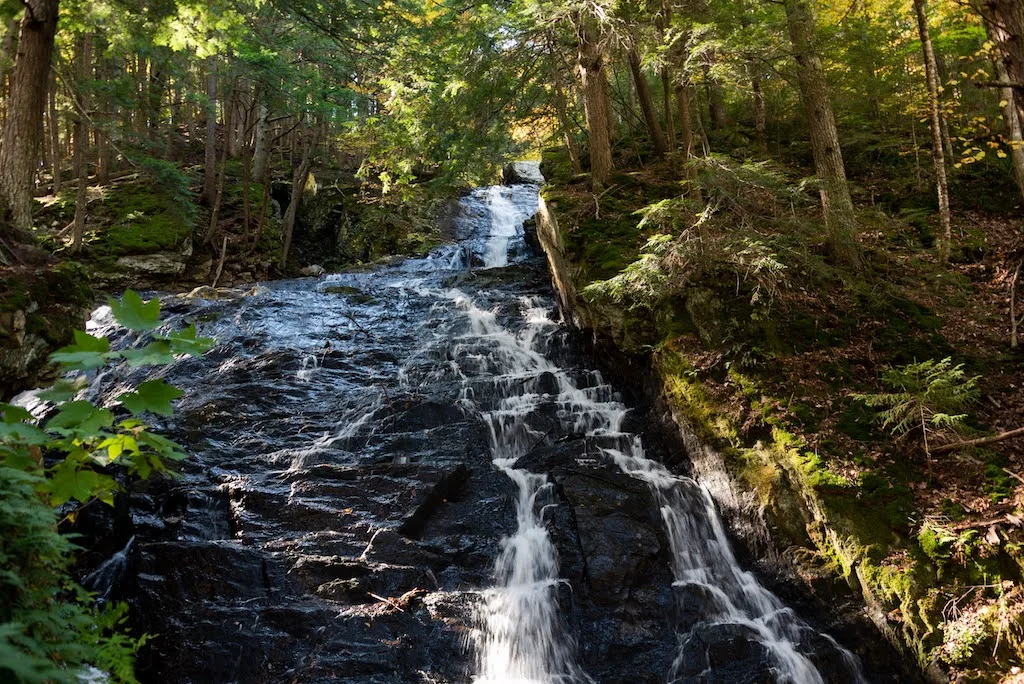 When you get to Thundering Brook Road, continue along the Appalachian Trail to Thundering Brook Falls. It's about 3.5 miles, round trip, and gains 400 feet of elevation. Thundering Falls is the sixth-tallest waterfall in Vermont.
Day 3: Weston, Londonderry, and Peru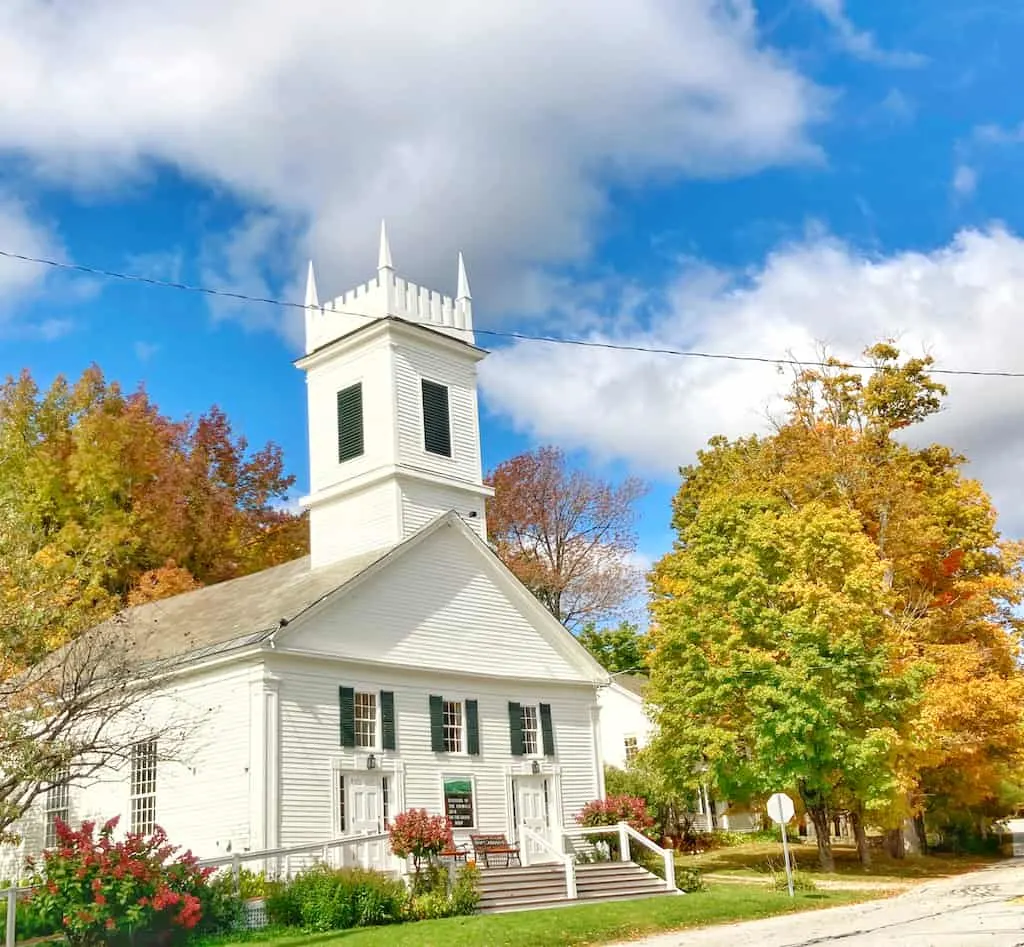 Today, you're heading south to discover a few more of Vermont's most adorable towns. Weston (population 623), Londonderry (population 1,919), and Peru (population 531) are all neighboring towns tucked in the mountains. They are within a few miles of each other and so tiny that you can explore them all in a single day without having to rush.
Visit the Vermont Country Store in Weston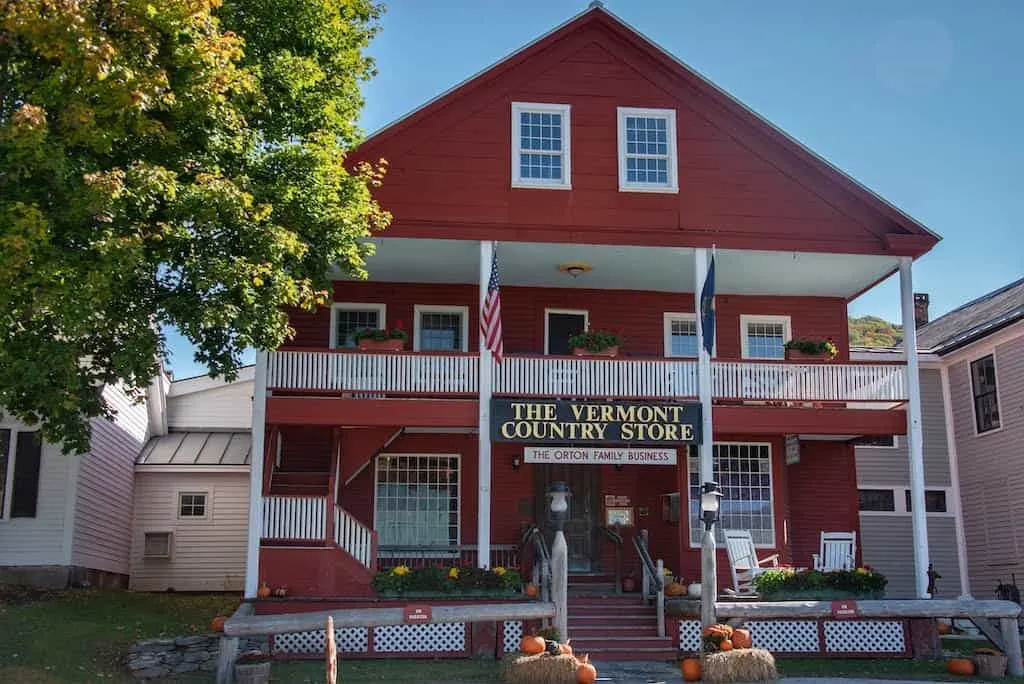 Weston is a picturesque New England village, complete with a little town green, a couple of cute stores, and the famous Weston Playhouse. Stopping in Weston is like taking a step back in time, so that's what's on the agenda.
Located across from the village green on Main Street, the Vermont Country Store is a destination you won't want to miss. The aisles are stocked to the rafters with penny candy, maple syrup, apothecary items, household goods, and lots of local goodies.
Browse the crowded aisles and discover the largest collection of weathervanes in Vermont, the Vermont Scale Museum, and a year-round Christmas shop. And speaking of Christmas, no matter what time of year you visit the Vermont Country Store, it's always a good time to grab some one-of-a-kind Vermont gifts for your friends and family back home.
Look for Lost Finn in South Londonderry
* The trail to Lost Finn is currently closed. I will update this post when/if the trail reopens.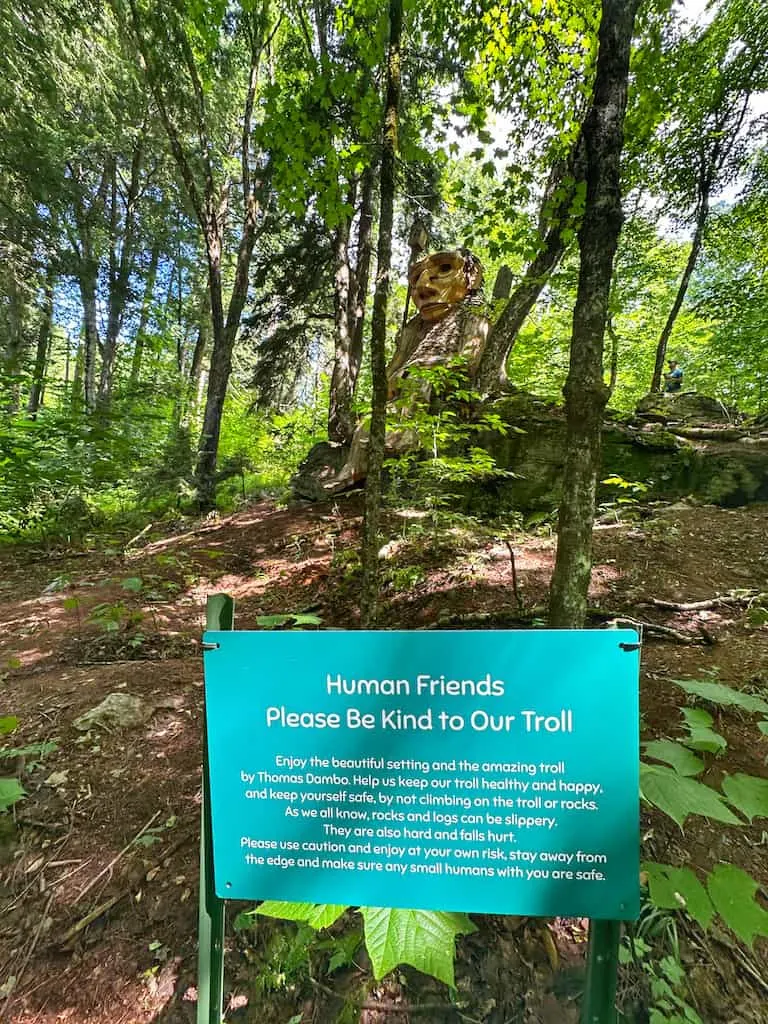 Created by Thomas Dambo, a world-renowned climate activist and recycle artist, and his team of 22 troll builders, Lost Finn is one of 10 large-scale trolls that are being built across the country for the sculpture project, "Way of the Bird King."

Fashioned entirely out of recycled materials, the large-scale public art installations tell a tale of protecting nature and honoring the land and waterways.
With a focus on understanding the impact of humans on life in watersheds and animal habitats, the project includes a companion story focused on the restoration and preservation of riparian habitats in an approachable, fun way.
It provides opportunities for youth and adults alike to learn, support, and make a difference in protecting our environment.
We visited Lost Finn in the summer of 2023, and not soon after, parking became a problem at the trailhead, and the landowner shut down access to the troll.
I am hopeful that the town of Londonderry and the landowner will come to an agreement so this cool piece of woodland art can be appreciated by visitors once again.
Lunch at JJ Hapgood General Store
Prior to a brief closure, JJ Hapgood General Store was once the longest continuously running general store in Vermont. Today it is a vibrant fixture in the Peru community, and locals and visitors often come together to listen to live music, shop for provisions, and enjoy a delicious meal or coffee with friends.
Explore the bright interior stocked with gifts and groceries, or head outdoors and enjoy a meal on the marble patio. The coffee, sandwiches, and wood-fired pizza are delightful!
Hike Around Hapgood Pond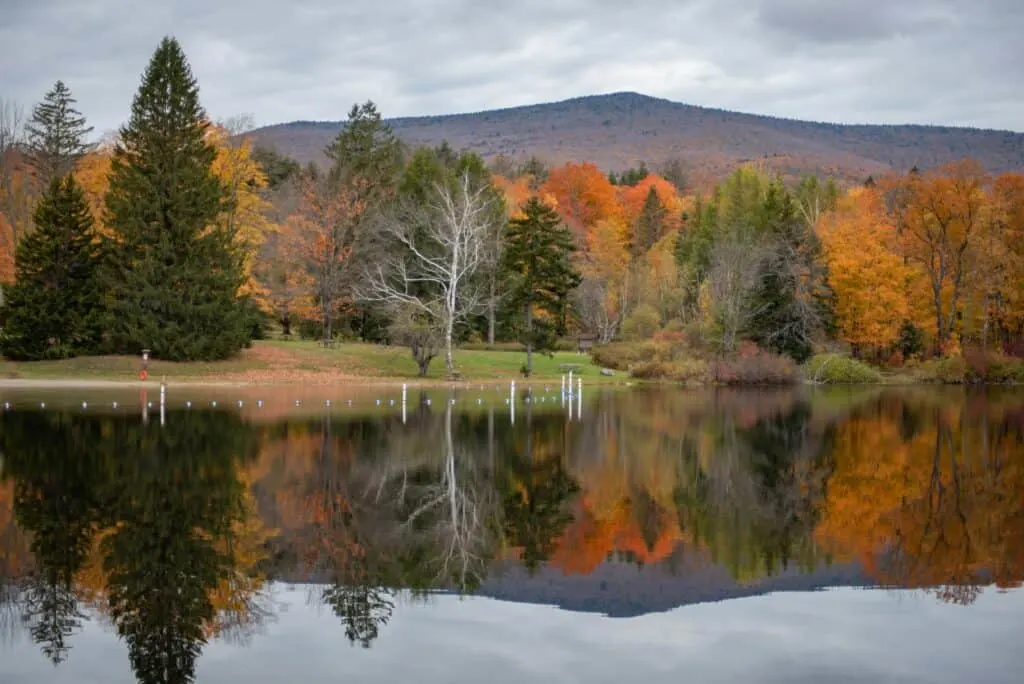 This tiny little pond makes an excellent spot for a picnic, leg stretch, or photo shoot in the fall. While Hapgood Pond is just 12 acres in size and 12 feet deep at its deepest spot, it's a quiet retreat to enjoy the woods, the views, and a little solitude.
The hike around the pond is a mile in length, and there's even a small campground. Campsites are $20 a night and can be booked on Recreation.gov through mid-October. Between October and May, all sites are first come, first served.
Where to Next?
Ludlow is centrally located, and if you've got more time to spend, consider one of these road trips or weekend getaways.
Take a Route 100 Road Trip. Considered one of the most beautiful roads in Vermont, Route 100 travels from north to south through the Green Mountains for 216 miles. 5 days is perfect for this road trip, but you can certainly do it in less. Start in Wilmington and drive north toward Canada.
Take a Route 7 Road Trip. This is another weekend road trip that travels from Bennington north on Route 7 to Burlington, Vermont's biggest city.
Spend a weekend in Woodstock, Vermont. One of Vermont's most beautiful towns in any season, Woodstock is especially magical in the fall.
Follow us on social media for more Vermont inspiration!
Pin for later?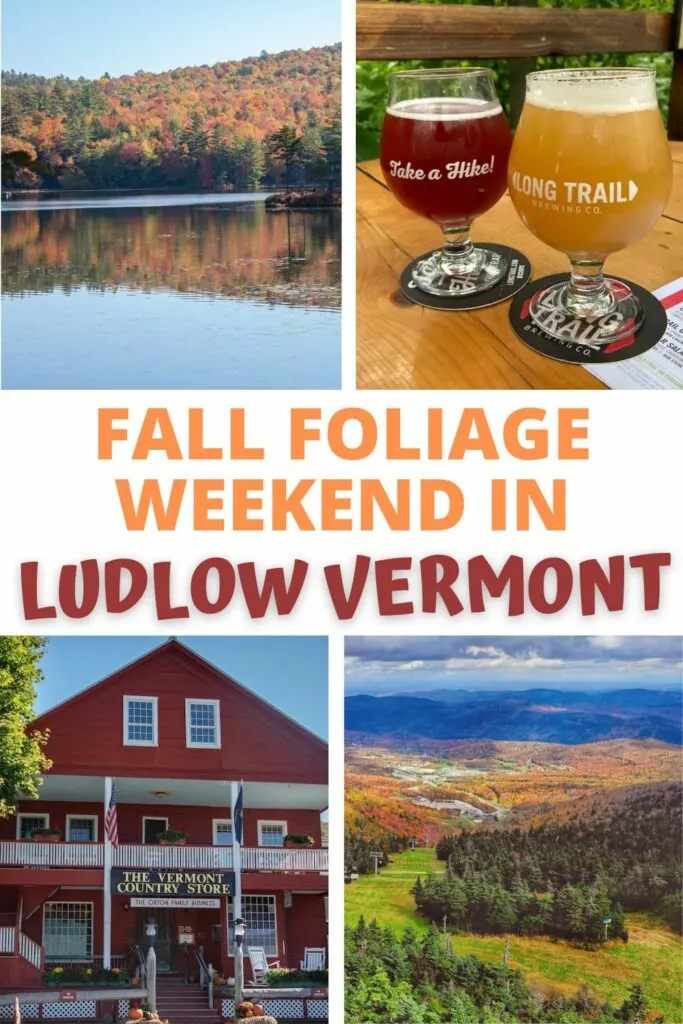 Tara Schatz is a freelance writer, and the founder and editor-in-chief of Vermont Explored and Back Road Ramblers, an American road trip blog. She is also the co-author of the 3rd edition of AMC's Best Day Hikes in Vermont, which was released in May 2023.