There is no shortage of utterly charming villages in New England — Norman Rockwell-esque towns that are beautiful in every season.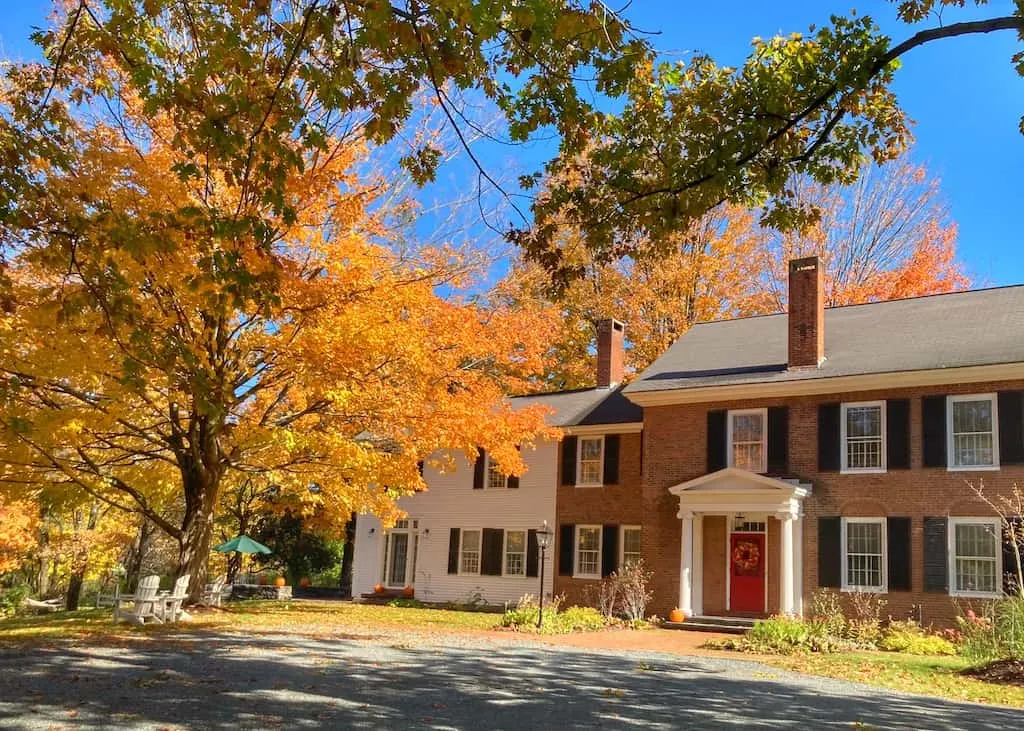 And in the fall, when nature's colors give an extra boost to every red barn and covered bridge and add highlights to every tall-steepled church — well that, my friends, is why visitors flock to Woodstock, Vermont every year.
Woodstock Village and the surrounding farms, mountains, and valleys are a leaf-peeper's paradise.
As you ogle the blazing colors that surround you, why not sample incredible Vermont cheese, stroll across a covered bridge, visit Vermont's only national park, walk through the treetops, and hike through the mountains?
No, you don't need to wait until fall to visit Woodstock, VT — it's gorgeous in every season!
This is a local's guide to the best things to do in Woodstock VT as well as the neighboring village of Quechee.
We've included our favorite tourist attractions, places to stay, and of course, our favorite hiking trails. If you're visiting Woodstock in the winter, here's an itinerary for a lovely winter getaway in Woodstock.
Ready to visit one of Vermont's most lovely towns? Here we go.
The Best Things to Do in Woodstock VT in the Fall
Now that we've covered all the necessities, let's get to the fun stuff. Here are the best things to do in Woodstock, Vermont during spring, summer, and fall.
The small town of Quechee, Vermont is right next door to Woodstock, so we're including some Quechee attractions here too.
---
Want a one-page printable itinerary for your perfect weekend in Woodstock? We've gotcha covered!
---
Frolic with Farm Animals at Billings Farm and Museum in Woodstock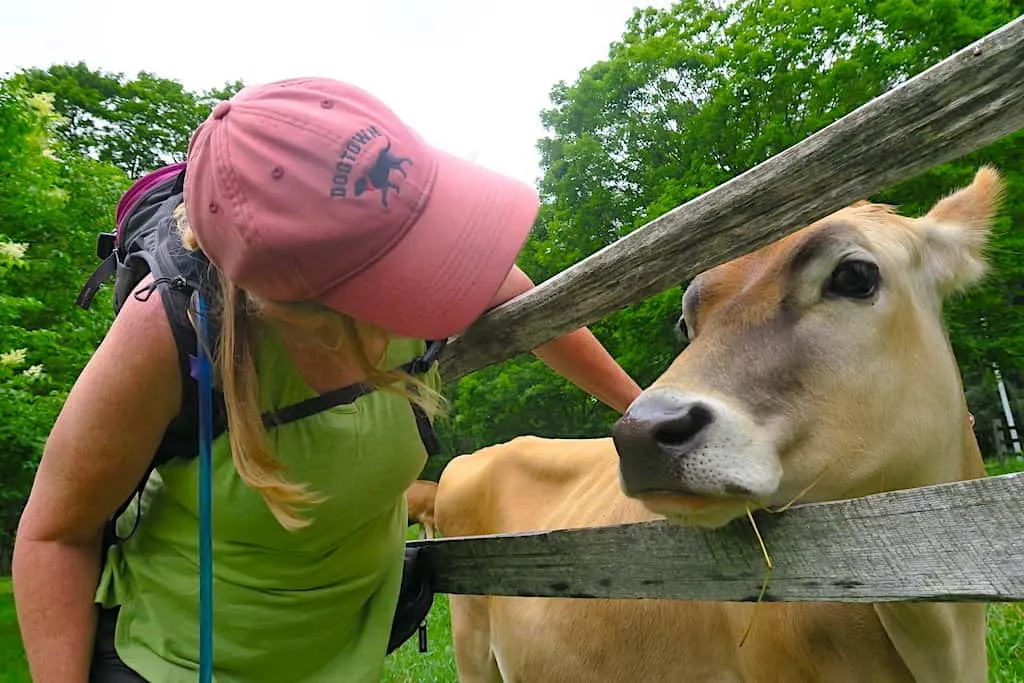 Farming roots run deep in Woodstock and the surrounding communities, and there's no better way to experience life on the farm than at Billings Farm & Museum.
Located just outside of the village of Woodstock, Billings Farm & Museum combines an award-winning Jersey dairy farm with one of the finest outdoor history museums in the country.
Not only can you meet more than 70 beautiful cows, but the farm is also home to goats, pigs, chickens, and five draft horses.
Farm life exhibits are spread out across four historic barns and include displays featuring the seasonal activities that would have taken place on a Vermont hill farm more than 100 years ago.
The exhibits tell the story of rural life in Vermont at the turn of the century. What was it like to cut ice from the pond, shop at the general store down the road, or boil down maple sap into sweet syrup?
After exploring the exhibits, be sure to stop at the Museum Store and Dairy Bar, where you can sample award-winning Billings Farm Cheddar and eat your fill of Vermont-made Wilcox ice cream.
Finally, be sure to meander around the pastures, orchards, and Heirloom Garden.
Billings Farm & Museum is open every day from earlyApril – late October, from 10 am to 4 pm, and on weekends and holiday weeks, November 4th – February 25th, 10 am – 4 pm.
$17.00: Adults ages 16-61
$15.00: Seniors ages 62 and over

$10.00: Students ages 16 & up (please show student ID card)

$10.00: Children ages 4-15

FREE: Children ages 3 and under
Learn more at Billings Farm & Museum.
---
Explore the Gardens and Hike the Trails at Marsh-Billings-Rockefeller National Historic Park in Woodstock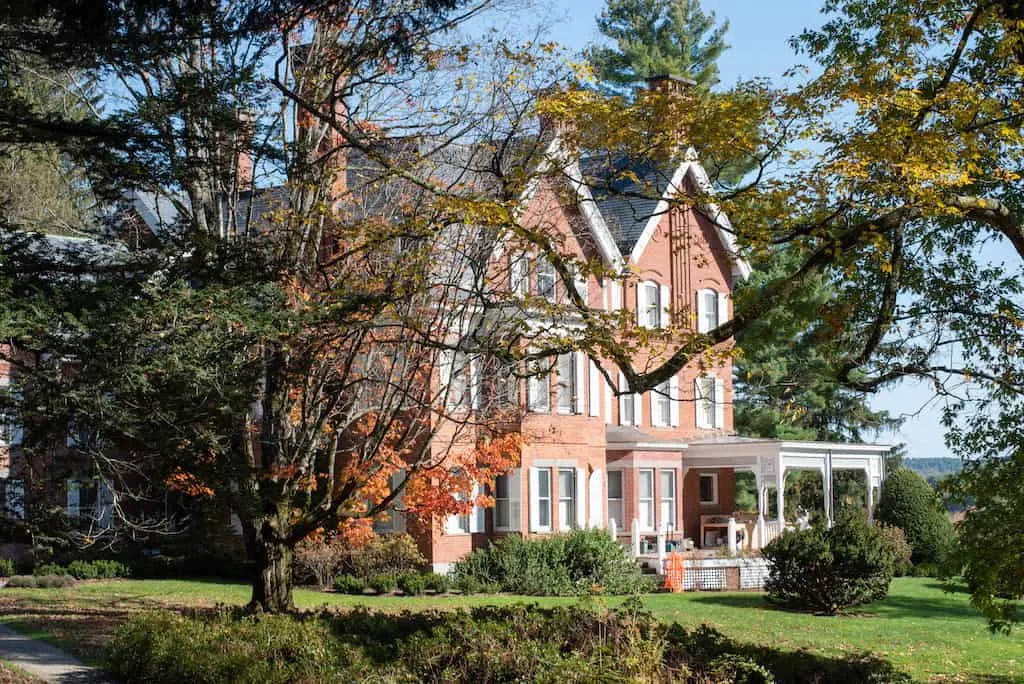 Right across the street from Billings Farm & Museum is Vermont's only national park unit — Marsh-Billings-Rockefeller National Historic Park (that's a mouthful!).
Part nature preserve, part history museum, the national park service calls this unique park, "the only national park to tell the story of conservation history and the evolving nature of land stewardship in America."
The park is named for George Perkins Marsh, who developed an early philosophy of land stewardship that laid the foundation for the conservation movement in the United States between the 1830s and the 1860s.
Frederick Billings bought the estate in 1869 and established a progressive dairy farm on the property. His granddaughter, Mary French Rockefeller, and her husband, Laurance S. Rockefeller, continued to develop sustainable farming and forestry practices when they took over the property.
They established the Billings Farm & Museum in 1871 and donated the estate to the United States Government in 1992.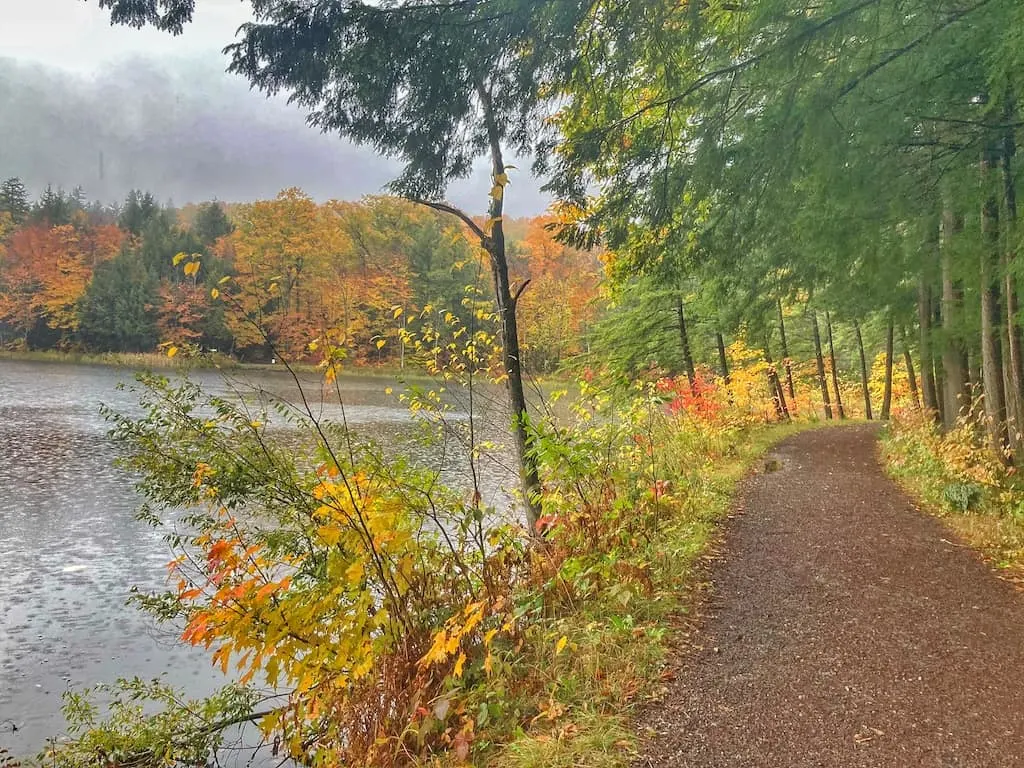 During our recent visit, we were unable to tour the historic home, but there are miles and miles of trails that meander through the woods, past 400-year-old hemlocks, through pastures, and alongside rambling stone walls.
If you only have time to hike one trail, I'd recommend the Pogue/Mt. Tom loop, which is 4.2 miles and gains 643 feet in elevation.
I loved this hike so much, I added it to the 3rd edition of AMC's Best Day Hikes in Vermont, which was released in May, 2023.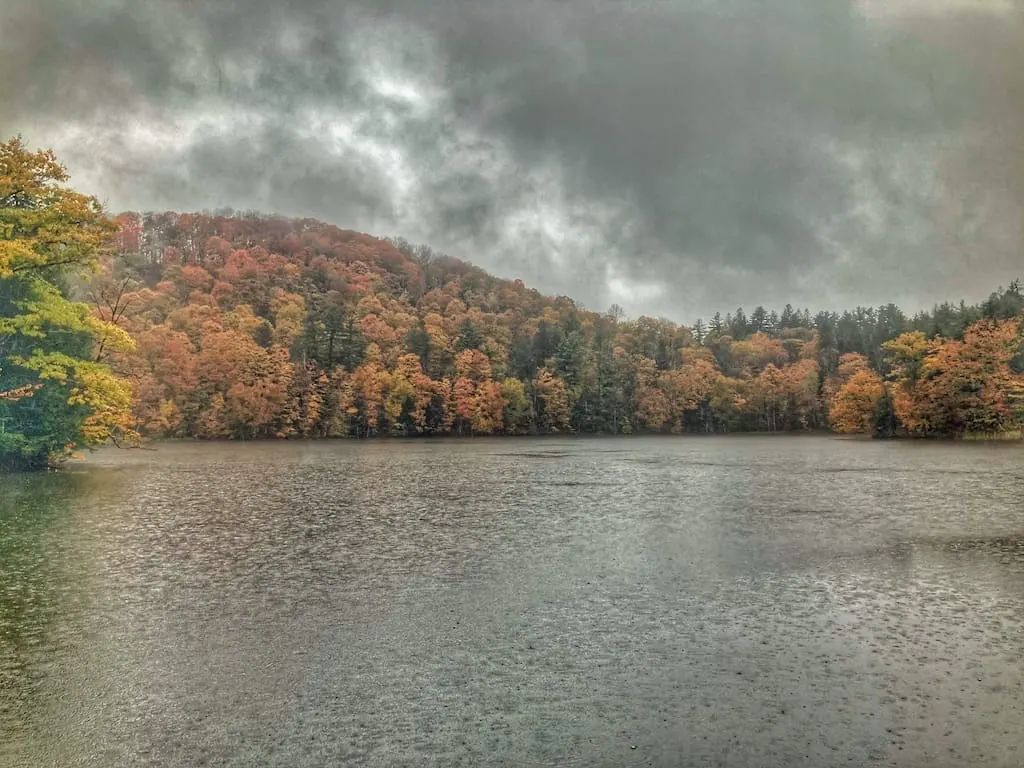 Trails at Marsh-Billings-Rockefeller National Historic Park are free to access and are open every day from dawn to dusk. Use this Walk Woodstock trail map to explore all of the national park trails, as well as lots of others around Woodstock.
The Carriage Barn Visitor Center at Marsh-Billings-Rockefeller-National Park is open from Memorial Day to October 31, from 10 am – 5 pm, and the grounds are open year-round.
The park is free to visit, but tours of the historic mansion will set you back $9 for adults, $5 for seniors, and $1 for children 15 and under. You can access the trails for free.
This unique national park unit is a must-visit, and one of the very best things to do in Vermont.
---
Stroll through the Treetops at Vermont Institute of Natural Science (VINS) in Quechee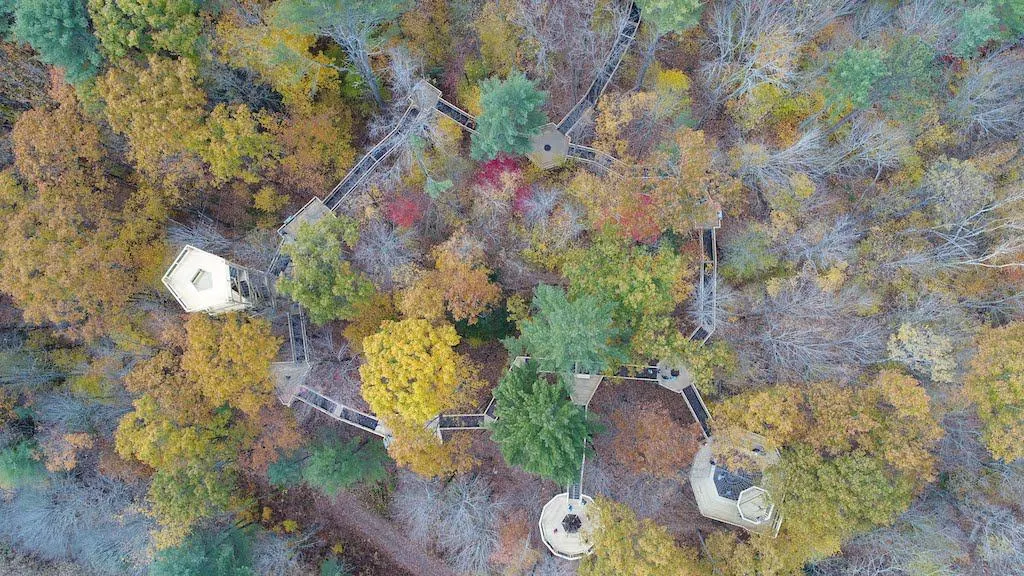 There are many reasons to visit the Vermont Institute of Natural Science in Quechee, Vermont — raptors, reptiles, and trails, but the coolest new feature is a forest canopy walk that lets you stroll through the treetops. T
he boardwalk is ADA-accessible and brings visitors 65 feet above the Ottauquechee River — eye-to-eye with the songbirds and squirrels that make their home in the forest.
The attached treehouse brings visitors even higher into the canopy with a 360-degree view of the surrounding countryside. You'll also find a giant, climbable spider web with three layers of netting and an open weave to see down to the forest floor.
VINS is open every day from 10 am-5 pm.
Adults: $19.00
Seniors (62 plus): $18.00
College Students and Veterans: $18.00
(ID Required)
Educators: $17.00
Youth (4-17): $16.00
(Must be accompanied by an adult)
VINS Members and children 3 & under: Free
This is a great family-friendly activity for all ages, and one of the best things to do in the area. Unfortunately, pets are not permitted. Visit VINS to learn more.
---
Sample Mouth-Watering Cheeses at Sugarbush Farm in Woodstock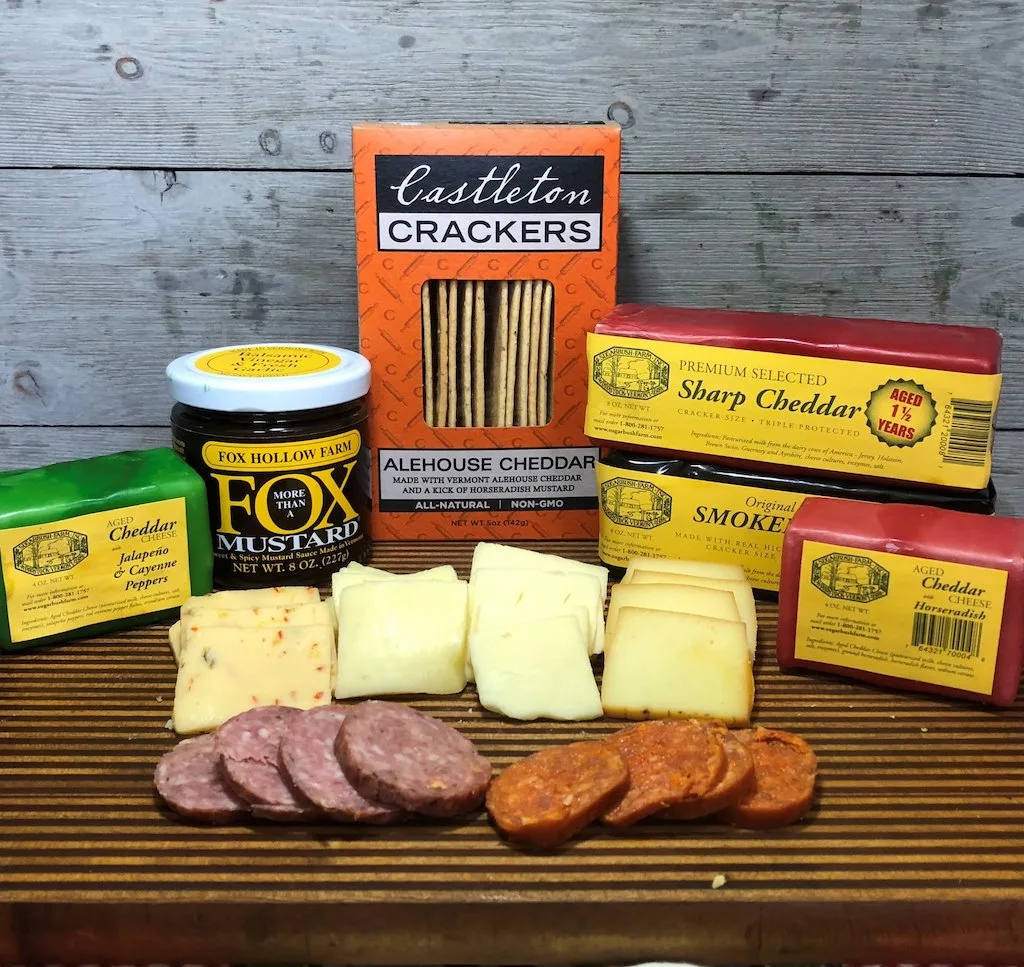 Looking for any excuse to sample some incredible Vermont cheeses? Me too!
Not only is Sugarbush Farm in Woodstock one of the prettiest farms we've ever been to, but it's also the maker of award-winning cheddar cheese and delightful maple syrup.
If you're a foodie, a stop here is definitely one of the best things to do in Woodstock VT.
Bring your camera and a picnic and plan on spending a few hours at Sugarbush Farm, which covers 550 acres. You are welcome to visit the sugar house, the cheese packing room, and the farm store. Visit with the cows, meander in the woods, and enjoy this little piece of Vermont heaven.
Sugarbush Farm is free to visit and is open every day except Thanksgiving and Christmas from 8 am-5 pm during the week and from 9 am-5 pm on weekends and holidays.
For directions or to visit the online store, check out Sugarbush Farm.
---
Hike the Quechee Gorge Trail along the Ottauquechee River in Quechee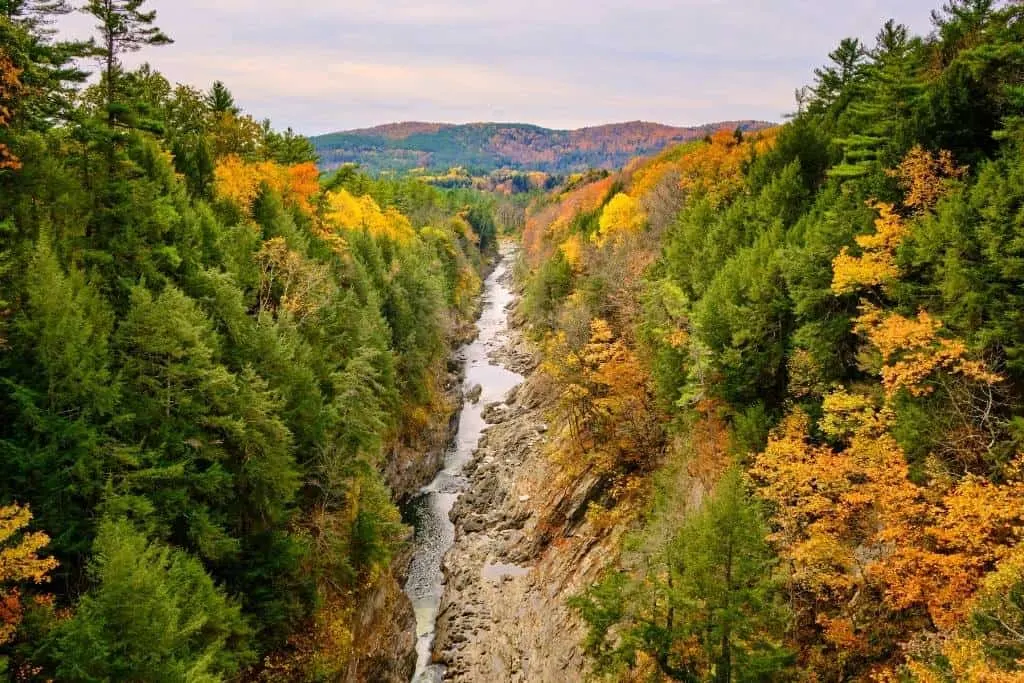 Quechee Gorge is known as "Vermont's Little Grand Canyon" and at 165 feet, is the deepest gorge in Vermont. Because Quechee Gorge can be easily viewed from the Route 4 bridge, it is one of the most popular tourist spots in Vermont, attracting more than 200,000 visitors annually.
The gorge is certainly beautiful, and worth stopping for a photo, but be prepared for throngs of people starting around 10 am and lasting well into the evening.
In addition to viewing Quechee Gorge from the bridge, I recommend hiking the Quechee Gorge Trail, which isn't quite as crowded as the bridge location. The trail is 2.7 miles (round trip) and gains 200 feet in elevation.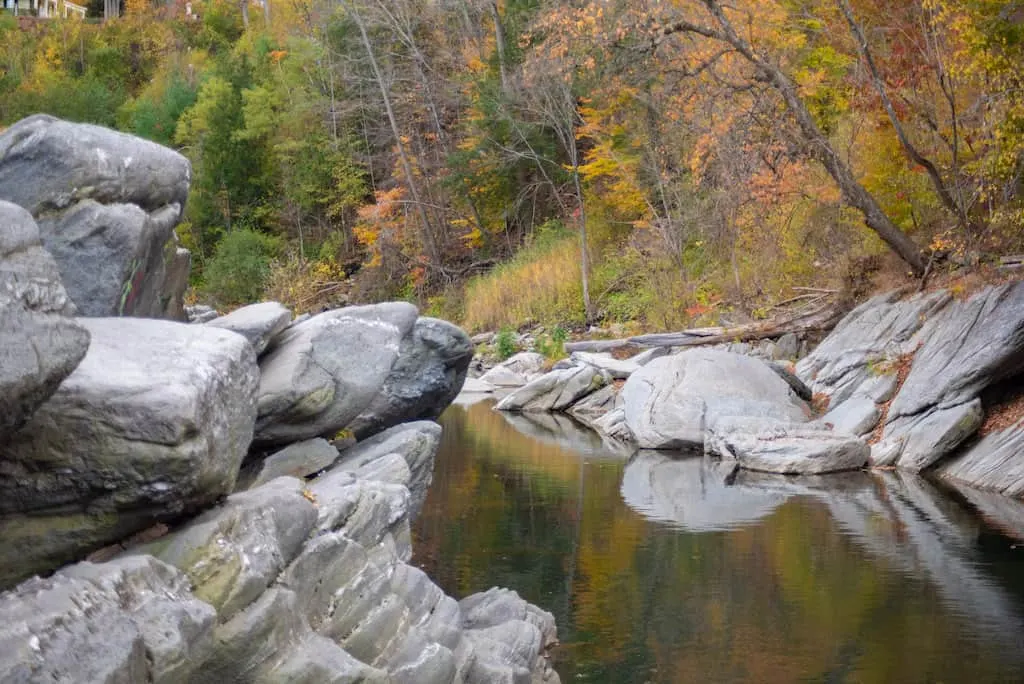 If you have time, park your car at the Quechee Visitor Center and walk across the street to Dewey's Pond. This is a nice, level path that goes past the dam and out to a pond full of geese. The colors are lovely on a fall afternoon.
When you get to the small parking area, turn around and retrace your steps, and then head down into the gorge. If you are short on time, skip Dewey's Pond and just hike down to the gorge.
Quechee Gorge Trail descends through a forest of hemlock and mixed hardwoods, which are so pretty in the fall. There is a chain-link fence along the gorge to keep people from falling, but once you are down at river level, you can walk out onto the rocks along the river, and even go swimming if it's not too cold.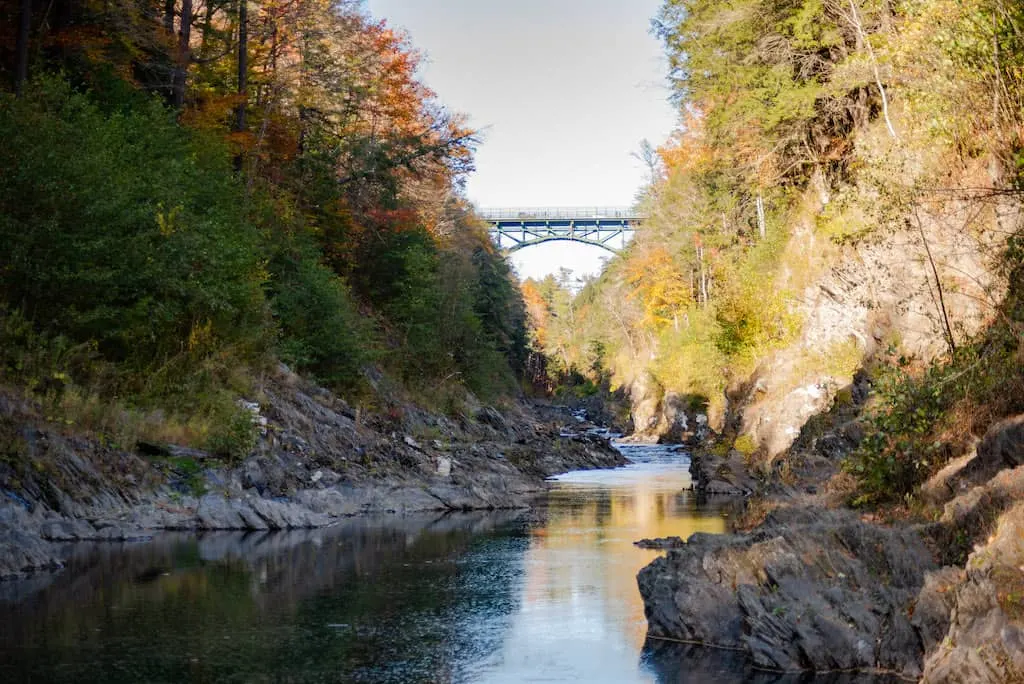 There's a little snack bar across from the gorge that serves ice cream, burgers, and fries — perfect for a post-hike snack.
If you don't mind roughing it, Quechee Gorge State Park is a great spot to pitch your tent or park your RV. This is an affordable way to explore the best things to do in Woodstock, VT.
Finally, if you're planning a summer trip to the Woodstock area, you might want to time your vacation to coincide with the Quechee Balloon Festival. The 2023 festival takes place from June 16-18, and is one of the best annual festivals in Vermont.
---
Visit a Covered Bridge or Two (or Six)
There are more covered bridges per square mile in Vermont than in any other state — more than 100! The Woodstock area has some incredibly beautiful covered bridges that are worth exploring. All of these historic covered bridges are within a 10-mile drive of Woodstock. Don't forget your camera!
Middle Covered Bridge – Located right in downtown Woodstock on Mountain Avenue, Middle Covered Bridge spans the Ottauquechee River and was constructed in 1969 using traditional materials and methods, including wooden pegs instead of nails. This lattice truss bridge is 139 feet across and is probably the most photographed bridge in the area. Park your car in town and access Middle Covered Bridge on foot.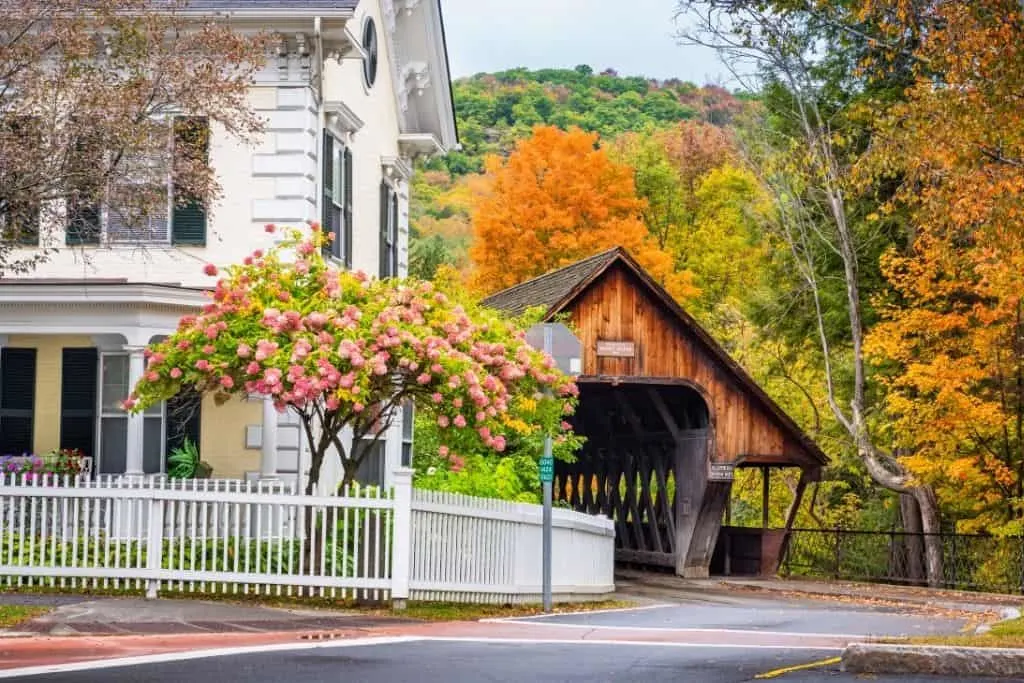 Taftsville Covered Bridge – Located east of Woodstock on Route 4, the Taftsville Covered Bridge is bright red and one of the oldest covered bridges in the nation (1836). At 189 feet, it is the second-longest covered bridge in Vermont. This was my favorite bridge to photograph during our recent visit.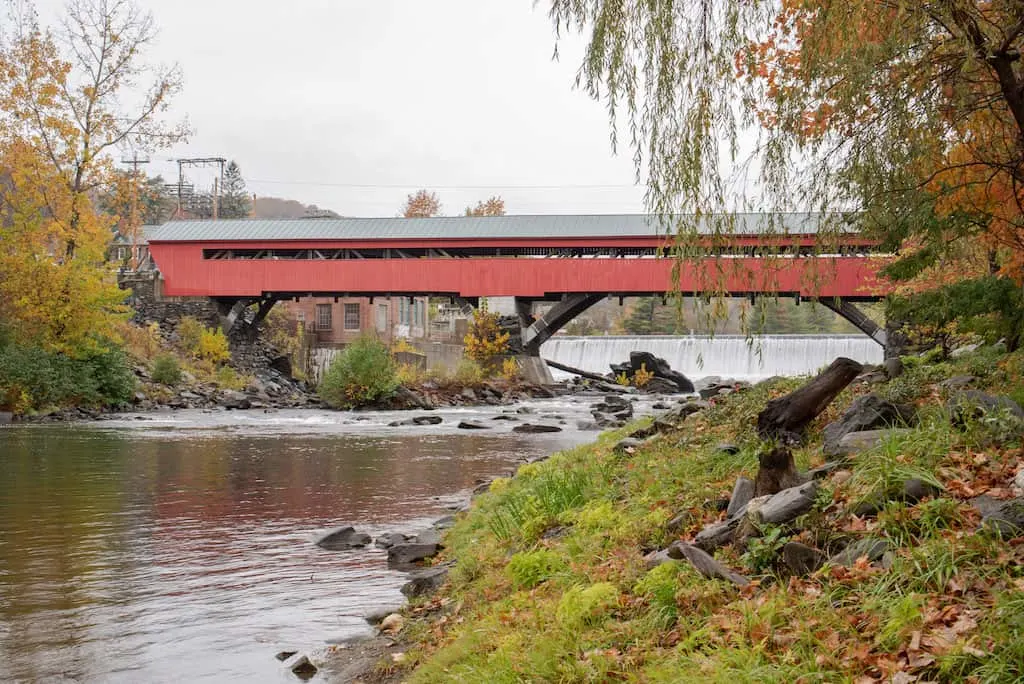 Quechee Covered Bridge – The sweeping views from the Quechee Covered Bridge are pretty phenomenal in every season. Located near the famous Simon Pearce Glassware store and restaurant, this beautiful bridge had to be rebuilt in 2012 after Hurricane Irene caused significant damage the year before. There is a small park and good parking nearby.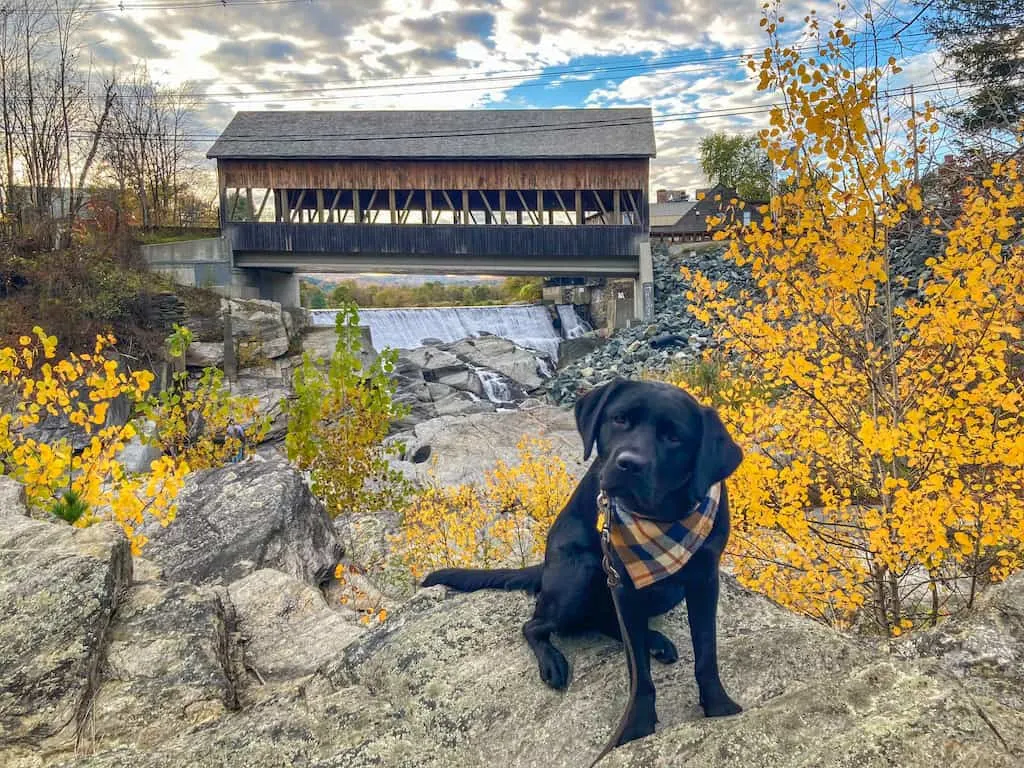 Willard Covered Bridges – Located in North Hartland, Vermont (about 13 miles from Woodstock), these two bridges are connected by an island in the Ottauquechee River. The western bridge was built in 2001. The eastern bridge was built in 1870 and is listed on the National Register of Historic Places. You can take an easy trail down below the dam to get some great photos of the bridges and the river.
Lincoln Covered Bridge – The Lincoln Covered Bridge is located on Route 4 in West Woodstock. It was built in 1877, and at the time it was the only known example of a Pratt truss design, featuring flanking arch trusses made of six laminated layers.
---
Check out Simon Pearce for the View, the Food, or the Amazing Glassware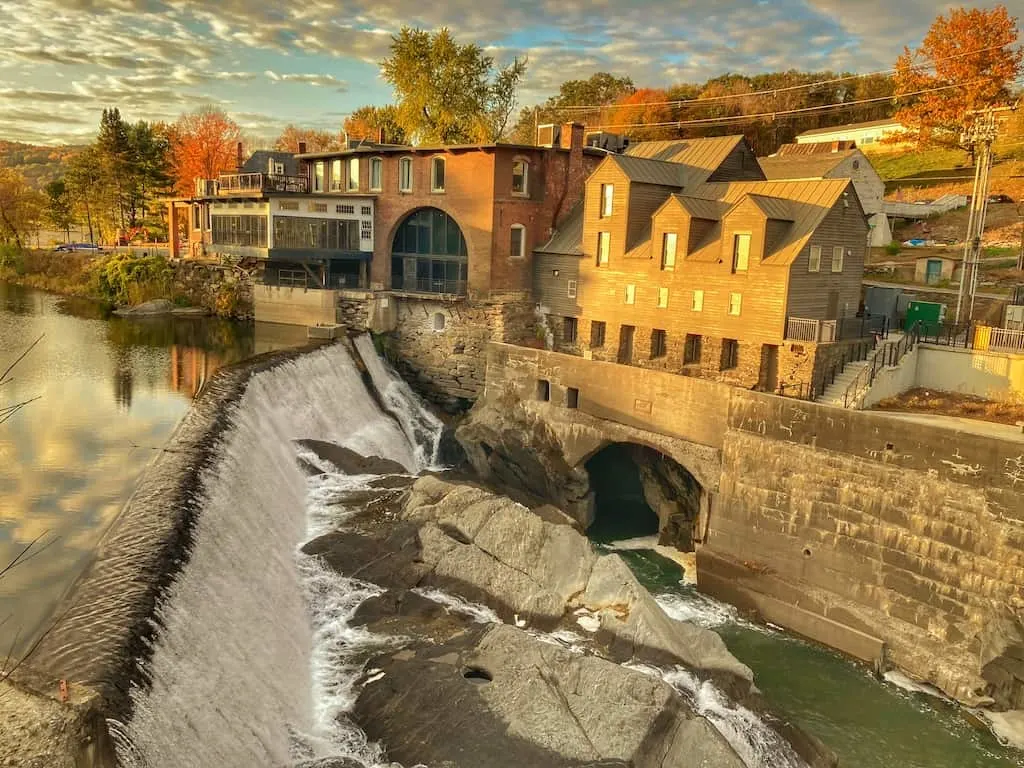 Simon Pearce Glassware has been handcrafted in Quechee, Vermont since 1981.
This beautiful spot on the Ottauquechee River (near the Quechee Covered Bridge) is powered by hydroelectricity and features the Simon Pearce flagship store and glass-blowing demonstration facility, showroom, and restaurant.
Glass blowing demonstrations are offered daily, and the restaurant is open for both lunch and dinner.
Simon Pearce was also voted one of "America's Most Romantic Restaurants" by Travel and Leisure Magazine. During our recent visit, had a light lunch, which was divine — Vermont cheddar soup and fresh greens, plus a sparkling wine and chocolate mousse for dessert!.
The food and the view competed for our attention the whole time. Incredible.
---
Step Back in Time in Woodstock Village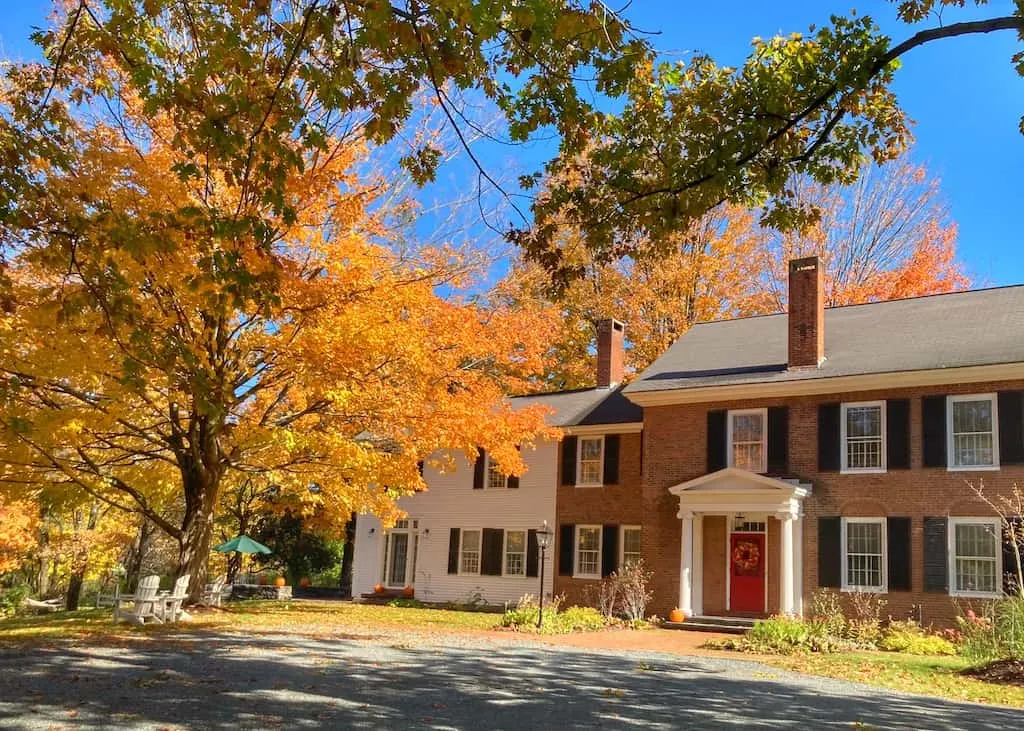 With a plethora of historic buildings surrounding a central town green, a thoroughly walkable downtown, and picture-postcard scenes around every corner, is it any wonder that Woodstock has been named one of the most beautiful small towns in America over and over again?
From downtown Woodstock, you can easily access Billings Farm and Museum, Marsh-Billings-Rockefeller National Historic Park, and Middle Covered Bridge. It's one of the most walkable communities we've stayed in!
If you are a fan of historic architecture, be sure to spend time wandering around admiring the restored Georgian, Federal Style, and Greek Revival homes.
The best way to explore Woodstock Village is to park your car downtown and simply explore.
On Wednesdays, be sure to check out the Market on the Green, which takes place on the Village Green from 3-6 pm between June and mid-October.
Shop 'Til You Drop?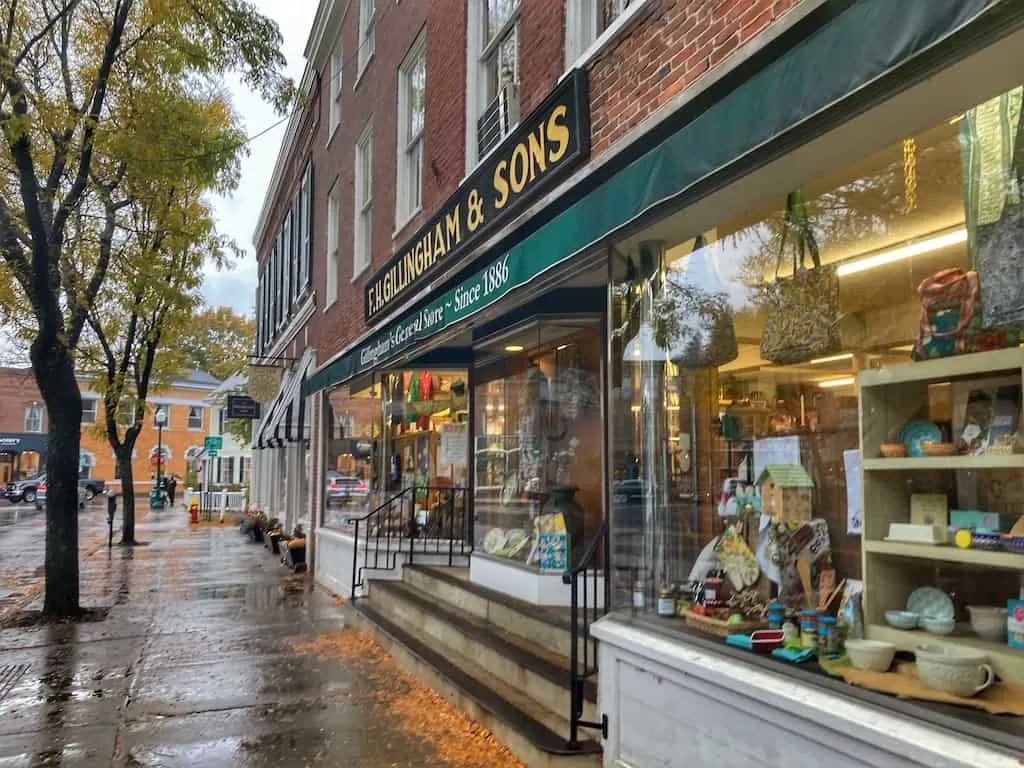 Because I spend most of my discretionary dollars on traveling, I rarely have money left over for shopping. I do, however, love exploring some of the small, local shops in Woodstock and Quechee on a rainy day.
In Woodstock, check out F.H. Gillingham & Sons, an old-fashioned country store that has been in operation since 1886. You'll find a little bit of everything inside, from hardware and sporting goods to local cheese, toys, and fishing supplies.
Some of our other favorites in Woodstock include the Clover Gift Shop, the Yankee Bookshop (I can't resist a bookstore!), and Vermont Eclectic Company, Woodstock's newest (and super unique) gift shop.
In Quechee, I recommend stopping at the Vermont Antique Mall, which is full to bursting with cool treasures, whether you're into pottery, textiles, furniture, or old tools.
The Vermont Antique Mall is 17,000 square feet of treasures, so be prepared to spend some time exploring. It's open from 10 am-5 pm every day except Easter, Thanksgiving, Christmas, and New Year's Day.
Have a Picnic on Top of Mount Peg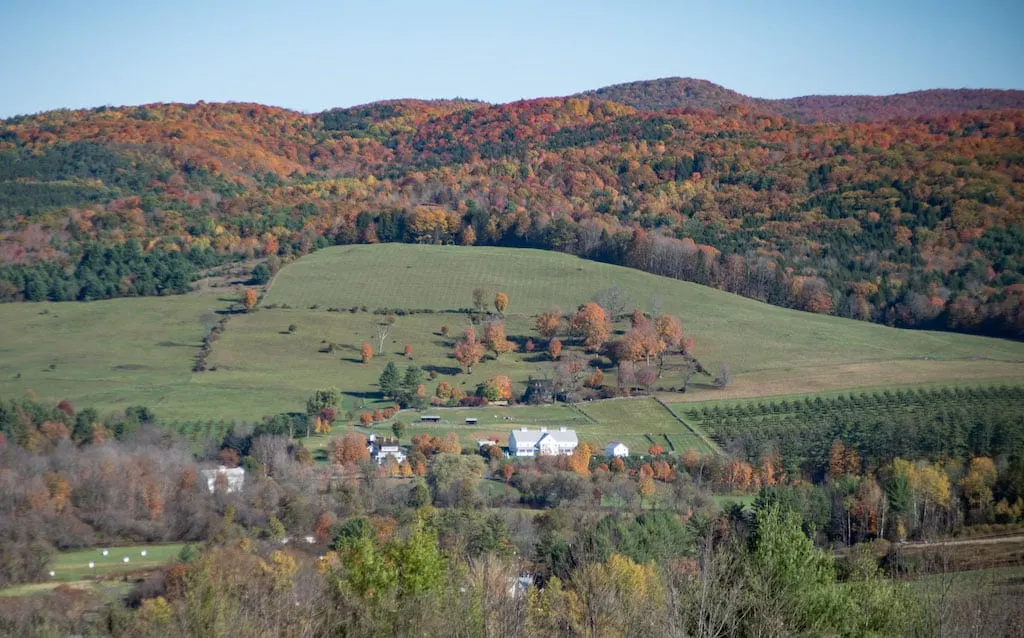 If you wake to a beautiful morning and just have to spend the day outdoors, grab some picnic food at Jake's Quechee Market and hike the short trail to the top of Mount Peg, one of the most beautiful trails in Woodstock.
The trail begins in a residential area (parking for about three cars) and climbs through woods and fields to the summit of Mount Peg. It's not a hard hike, and there are benches and a picnic table at the top.
The views of Woodstock are fabulous, especially for such a short climb! Bring your camera and plan to spend some time at the top. When you're ready to return to your car, take the Spruce Trail, which will lead you back into the woods and down the mountain.
This was one of my favorite hikes of our weekend in Woodstock. I hiked up with my coffee and breakfast and it was so peaceful and beautiful!
---
Where to Eat in Woodstock and Quechee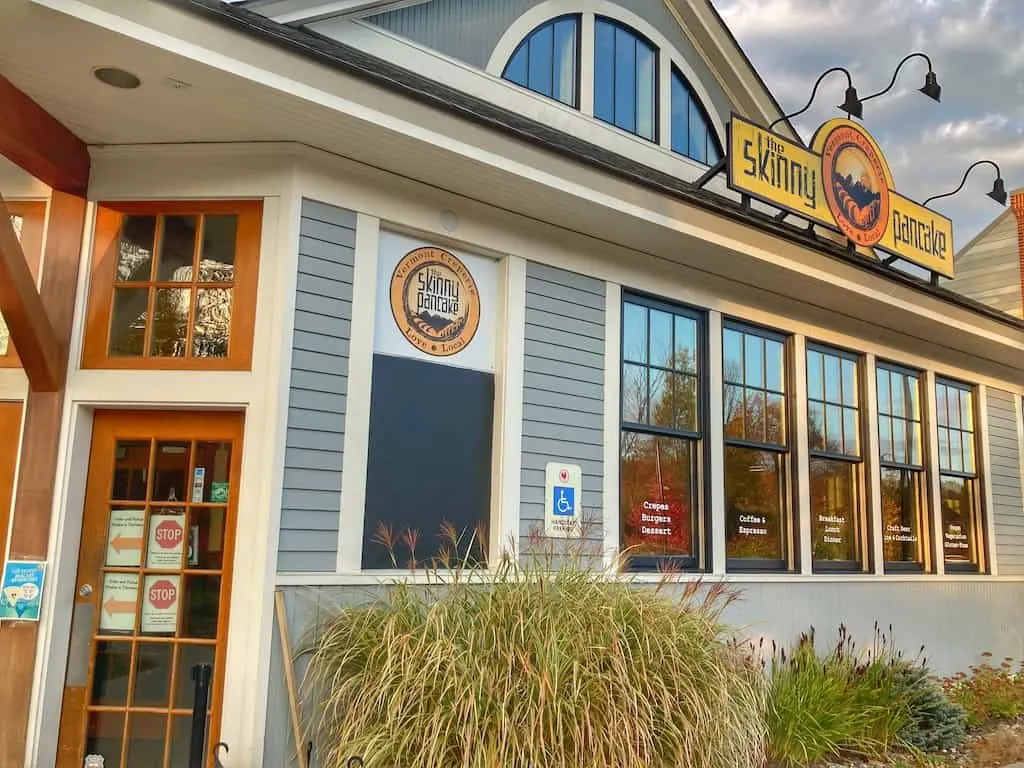 Need some suggestions for awesome eats in Woodstock, Vermont? Sampling all the local food options is one of our favorite pastimes. Here are our recommendations for some seriously good eats.
Note: A food photographer I am not. You'll have to check out these eateries based on my recommendations and not my sub-par photography, which I won't include here.
Best place for ice cream in Woodstock: Woodstock Scoops is a farm-to-cone establishment that will entice you to go above and beyond your favorite flavor. There's also a good chance that you'll find yourself here every single afternoon.
Best farm-fresh groceries: Jake's Quechee Market has everything you need — local craft beer, farm-fresh meats and veggies, prepared foods, and even Vermont gifts. The location is great too! We also love Woodstock Farmers Market.
Best breakfast in Quechee: The Skinny Pancake, right next to Jake's Quechee Market on Route 4 in Quechee. The best crepes in Vermont. And real maple syrup, of course!
Best breakfast in Woodstock: For awesome coffee and locally-sourced food in a cool, relaxing space, pop into Mon Vert Cafe in Woodstock. Their breakfast burrito is so filling and so yummy!
Best fine dining: Simon Pearce in Quechee. It's worth it for the views alone, but the dinner and lunch entrees are uniquely prepared, beautiful, and delicious. We also love the Prince & the Pauper in Woodstock.
Best casual fare: Worthy Kitchen in Woodstock serves comfort foods like burgers, mac-and-cheese, and chicken wings, plus some delectable vegetarian options. The fries are a favorite treat!
Woodstock, VT Hotels and Vacation Rentals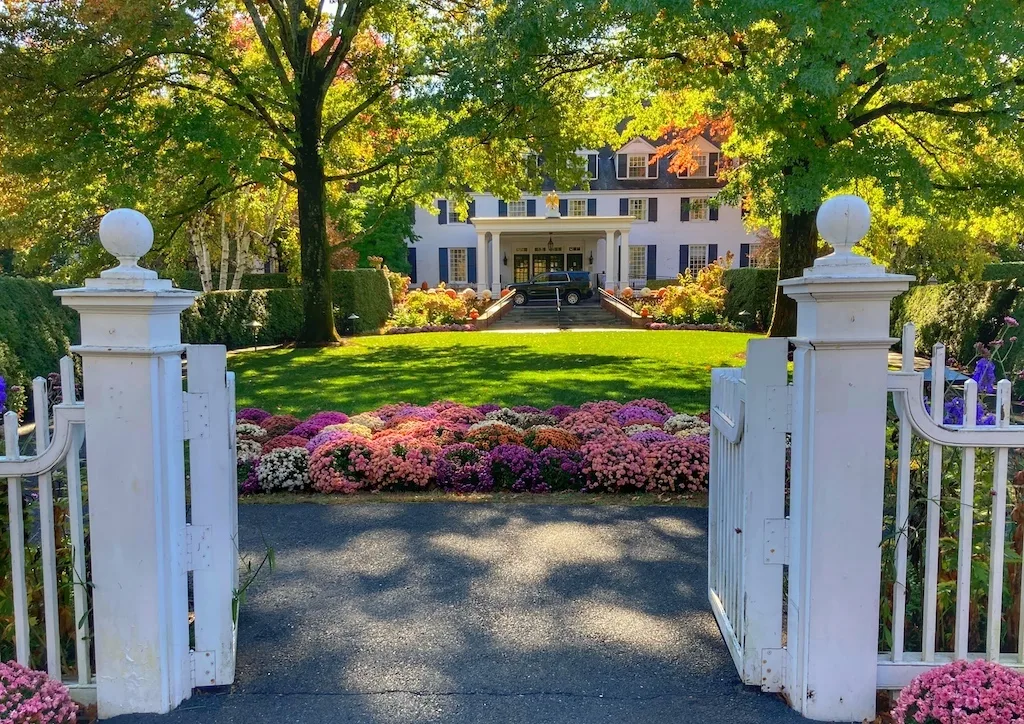 There are a lot of unique accommodations in Woodstock and Quechee!
Depending on when you book your hotel reservations, you may have to choose entirely based on what's available, especially in the fall. Make your reservations as early as you can to ensure you have a good selection.
Here are our top picks for places to stay in Woodstock and Quechee.
Woodstock Inn & Resort: This posh resort is located in Woodstock Village, within walking distance of everything downtown. It's the perfect spot for a special weekend, or fall getaway when you can take advantage of all the best things to do in Woodstock VT.
506 On the River Inn: Featuring rooms with panoramic river and garden views, 506 On the River Inn features an indoor pool and sauna, gym and kids game rooms, and a restaurant.
Log Cabin Apartment in Woodstock: Walk to everything from this beautiful apartment with room for four guests. This special spot is located in a wooded setting, but is just 1/4-mile to downtown. There's a full kitchen if you don't want to dine out in Woodstock.
Historic Cottage on a Vineyard: A beautiful, 900-square-foot cottage on Gilbert's Hill with access to hiking trails. The space includes two bedrooms, one bathroom, a full kitchen, and a private deck overlooking the vineyard.
Historic Library in Quechee: We love this historic library in Quechee, which you can find on Airbnb. It's small, so perfect for a romantic getaway for 2, plus it's dog-friendly!
A Complete Itinerary for a Weekend in Woodstock, VT
Not sure how to structure your days? If you're visiting Woodstock and Quechee for a summer or fall weekend, here's what we'd recommend. You can get a printable itinerary by signing up for our email list below.
Friday Afternoon: Arrive and Explore Quechee
Drive to Quechee, Vermont
Hike the Quechee Gorge Trail and take in the views from the Route 4 bridge
Check into your hotel or vacation rental.
Drive into downtown Quechee and park near the Quechee Covered Bridge
Dinner at Simon Pearce Restaurant
Saturday: Woodstock Historic Sites
Sunday: Hiking and Shopping
The Best Things to Do Woodstock VT: FAQs
Now that you know the best things to do in Woodstock VT, let's talk details and logistics.
Here are a few crucial pieces of information that will help you plan your trip to Woodstock and Quechee.
When is the Best Time of Year to Visit Woodstock, Vermont?
We have explored Woodstock and Quechee in every season, and I'm going to vote for October. The fall foliage season is EPIC, full stop. If you haven't experienced a Vermont fall, it's time to make amends.
Fall foliage in Woodstock, Vermont doesn't happen like clockwork from year to year, but you can expect great colors from early October until about the third week of the month, give or take a few days.
If you are planning a fall trip to Woodstock, starting early is crucial!
Woodstock in the fall is popular and crowded. Reserve your Woodstock lodging six months in advance for the best selection, and if you want to avoid crowds during your visit, plan to visit during the early part of the week.
Woodstock in the summer is full of outdoor eateries, farm stands, and swimming holes. It's our 2nd favorite time to visit.
In the winter, you can hop on a horse-drawn sleigh, sip mulled cider as the snow falls gently past your window, and take some serious adventures on snowshoes and cross-country skis. The trails around Woodstock are a snow lover's paradise!
How to get to Woodstock, Vermont
Half the fun of a Woodstock, Vermont vacation is the road trip to get there.
The closest major airport is Burlington International Airport (BTV), which is 86 miles away. From there, you can rent a car, and embark on the New England road trip you've been dreaming about.
The capital city of Montpelier is a fun day trip from Woodstock, with its gilded dome that sits atop one of the oldest and best-preserved state capitols in the nation. It's about halfway between Burlington and Woodstock.
The drive from Burlington to Woodstock is less than two hours, whether you choose to lodge in Woodstock or nearby Quechee.
How Long Should You Stay in Woodstock, Vermont?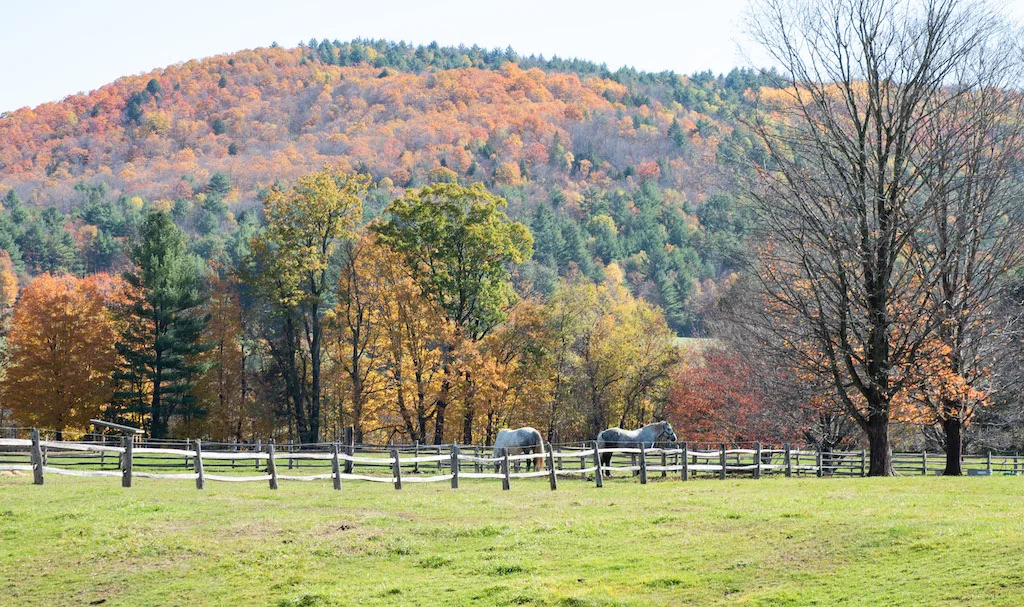 You can cram lots of fun into a single weekend in Woodstock, but I think four days is the sweet spot. Plan on a day in Quechee and a few in Woodstock. The towns are right next to each other, so you can drive back and forth between the two very easily.
If you are into shopping and/or antiquing, you can easily spend a full day exploring all the shops in Woodstock and the Antique Mall in Quechee, so plan accordingly.
Packing Tips for a Fall Weekend in Woodstock, Vermont
Vermont is delightful in that it embraces all four seasons with glee — sometimes all in the same week!
Because many of our recommendations involve getting outside and enjoying the crisp fall air, frolicking with farm animals, and crunching leaves under your boots, I thought I'd share some of our favorite apparel and gear for getting outside in the fall.
Wool layers – Merino wool is a magical fabric. You can wear it for days without having to wash it (no funk!), it wicks away sweat, keeps you cool in the summer and warm in the winter, and dries incredibly fast. We get our favorite merino wool clothing from Woolly Clothing Co., which has the softest wool layers for both men and women.
Hiking pants that don't look like hiking pants – Yes, you'll be spending a lot of time outdoors, but you want pants that can take you from trail to tavern without looking frumpy. During my recent trip, I wore these Halle Hiking Pants from Prana, which come in lots of colors and short sizes with a 30" inseam. They were perfect for my fall weekend.
A chunky scarf or two – Scarves are always in fashion in Vermont. Here's a colorful option and one that is a bit more muted. I love scarves!
Wool socks – Warm toes are happy toes! I recommend getting a couple of pairs of wool socks from Darm Tough Vermont. They're made in Vermont and unconditionally guaranteed for life.
Hiking shoes – Sturdy footwear is a must for your trip to Woodstock. If you haven't found your perfect pair of hiking shoes, now is the time to get fitted at your local shoe store.
A thermos – You can't have fall adventures without a thermos of something warm and delicious in your backpack, whether it's a hot cider or hot soup. This unbreakable thermal bottle from Stanley gets the job done and easily fits in a purse or backpack.
---
Psst… Looking for a printable itinerary for visiting Woodstock, Vermont in the summer and fall? This weekend itinerary includes our favorite hiking trails, historic sites, and restaurants, plus ideas for where to stay in Woodstock. Sign up for your free copy!
---
---
Follow us on social media for more Vermont inspiration!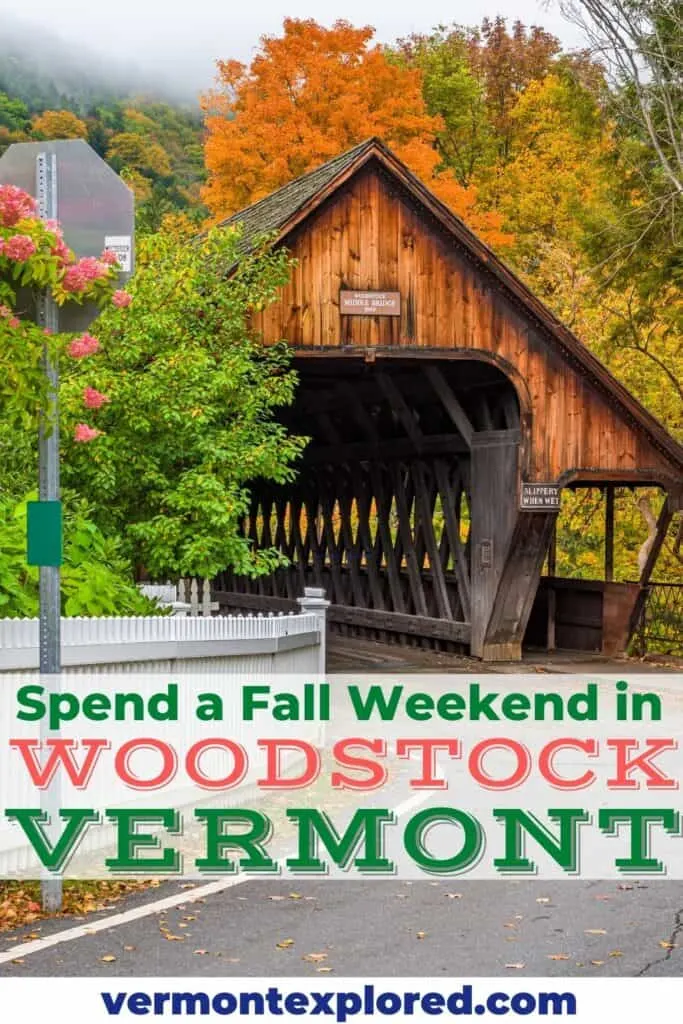 Tara Schatz is a freelance writer, and the founder and editor-in-chief of Vermont Explored and Back Road Ramblers, an American road trip blog. She is also the co-author of the 3rd edition of AMC's Best Day Hikes in Vermont, which was released in May 2023, and the author of 100+ Wonderful Ways to Experience Vermont.
Be sure to check out our web story featuring fall in Woodstock and Quechee!