Did you know that you can spend the night in a castle in Vermont's Northeast Kingdom?
A stay at Gregoire Castle in Irasburg is what fairytales are made of, and there's even a fascinating history to go along with this gem of a vacation rental.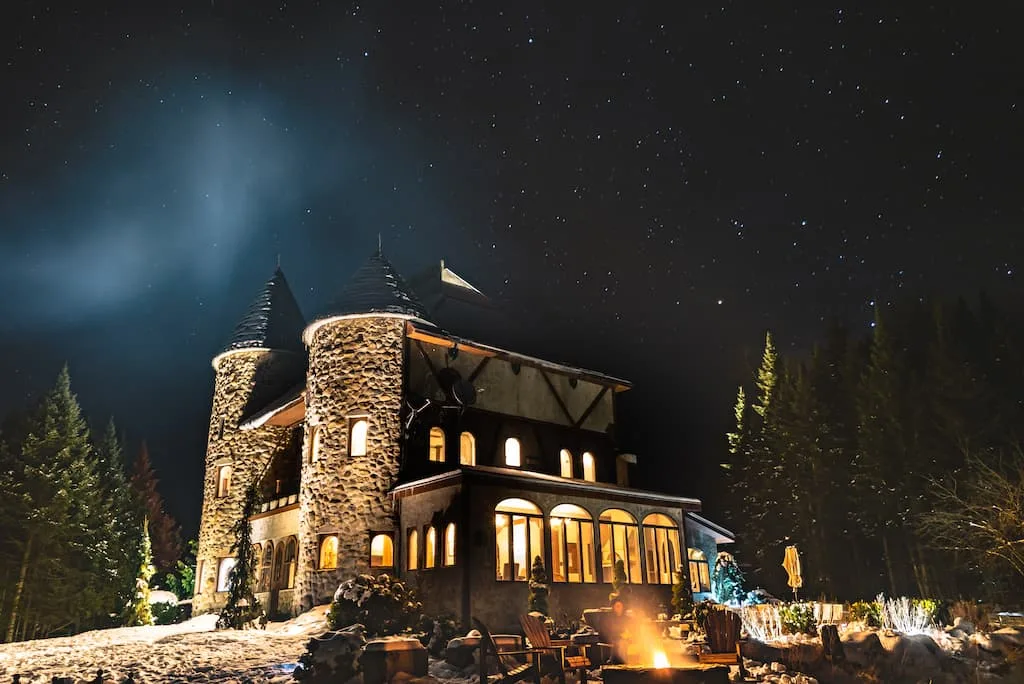 Our family had the opportunity to spend a few nights in Gregoire Castle over the winter. I was already in love with the Northeast Kingdom, and now I have another reason to visit!
As soon as you set foot on this gorgeous property, you'll realize that there's something magical about Gregoire Castle.
Maybe it's the love that was poured into it by the builders, who created the Vermont castle on a shoestring budget and a dream. Wherever the magic comes from, it's kind of cool to know that you can be a part of it, because this cool Vermont castle is now a vacation rental!
Here's what you need to know about staying in Gregoire Castle, one of Vermont's most unique vacation rentals.
The Unique History of Gregoire Castle
Gregoire Castle in Irasburg VT may not be an ancient piece of architecture, but the history of this remote gem is still pretty interesting.
The castle was built by Harv and Sarah Gregoire between 1990 and 1996. The couple did all of the work themselves with a tiny budget and virtually no experience with any type of building.
The Gregoires were not familiar with the Northeast Kingdom, or even Vermont when they bought 20 acres in Irasburg, but they were certainly ambitious!
The first thing they did was build a plywood cabin as a temporary shelter. The couple then spent the next six years designing and building their two-story castle, complete with four towers.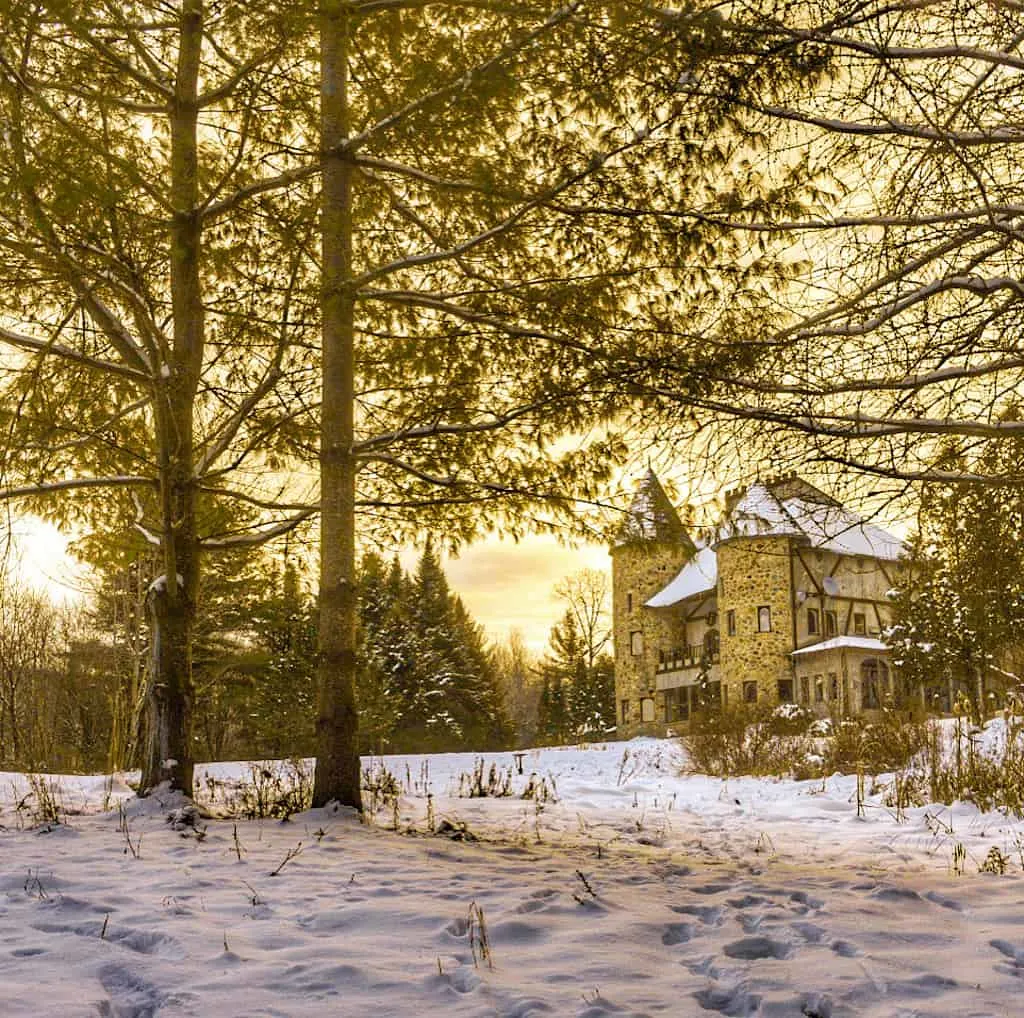 Here are just a few of the curious facts that Harv and Sarah provided about building their own castle in Vermont. You can read the whole story in their book, Seasons of Choice, which is sometimes, but not always, available on Amazon.
Before the construction even began, the Gregoires set up a homegrown window factory at the home of a relative. Here they built more than 85 windows by hand to use in the castle, saving themselves thousands of dollars.
Harv Gregoire used the ancient method of dowsing for water to find a spot to dig their well.
All of the stones on the outside of the castle towers are from the land around the castle.
The property once included a 900-foot airstrip so that Harv could fly the airplane he built from a kit.
Many of the castle's light fixtures and decor were sourced from local yard sales and thrift stores.
With the exception of poured concrete foundation, the Gregoires completed every bit of the work on the castle themselves. It took them seven years of very long days!
A New Chapter for this Castle in the Northeast Kingdom
Sara and Harv lived in Gregoire Castle for 20+ years. While living in this eclectic Vermont castle, they gave tours to school children, hosted weddings, and even opened up a small antique store and cafe for weekend visitors. In 2016, they put the castle on the market to live out their 2nd retirement in a warmer climate.
The new owners have done a bit of renovating to the interior spaces, added modern furnishings, and turned Gregoire Castle into an upscale vacation rental that is as cozy as it is majestic.
Irasburg, Vermont is still the same tiny village with a hand-painted sign in front of the post office, but Gregoire castle entices people to visit from all over the world.
Our Stay at Gregoire Castle in Irasburg VT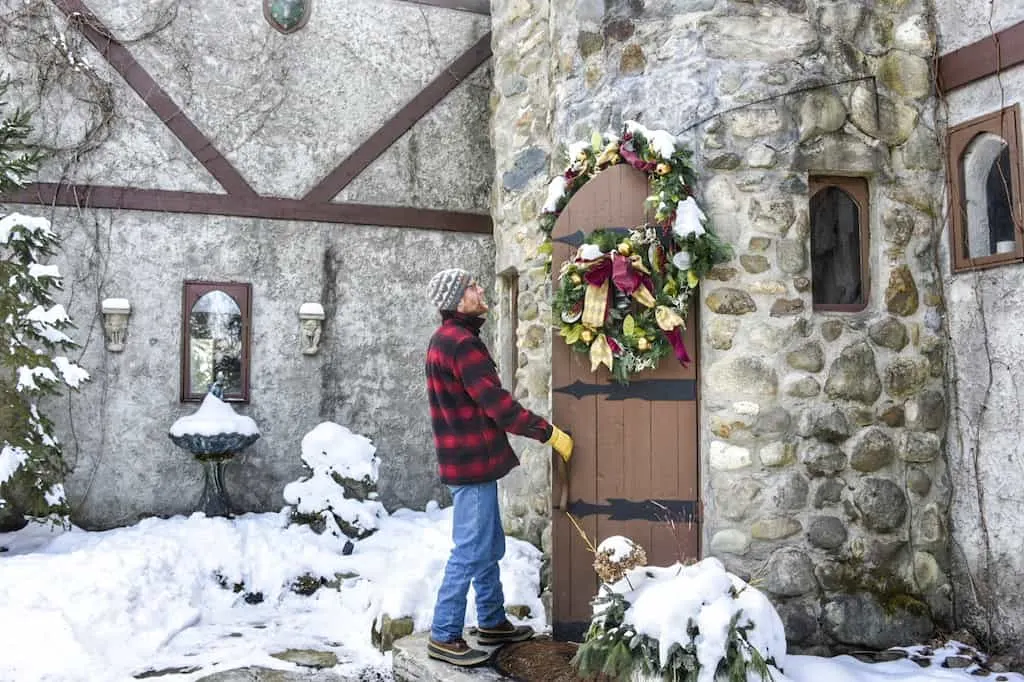 We visited Gregoire Castle for two nights in January.
There was more than a foot of snow on the ground and the stars shown brightly each night. We planned our getaway as a bit of a staycation, so we didn't do much exploring during our visit. We wanted to soak up every minute in and around the castle, which was easy to do!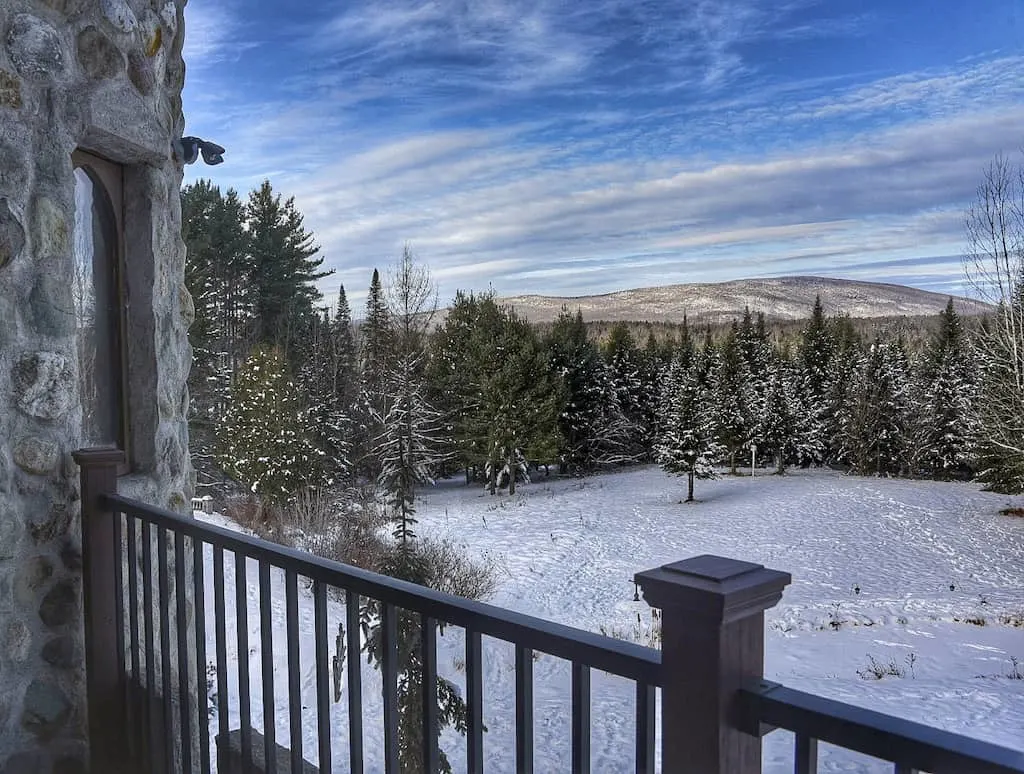 We brought our two Labradors, Flynn and Malinda with us because dog-friendly vacations are the best kind!
During our stay, we make elaborate gourmet meals in the castle kitchen, relaxed in the bubbling hot tub as the temperatures dipped below 15 degrees, cozied up to the outdoor fire pit and the indoor fireplace, and snowshoed around the 20 acres surrounding the castle.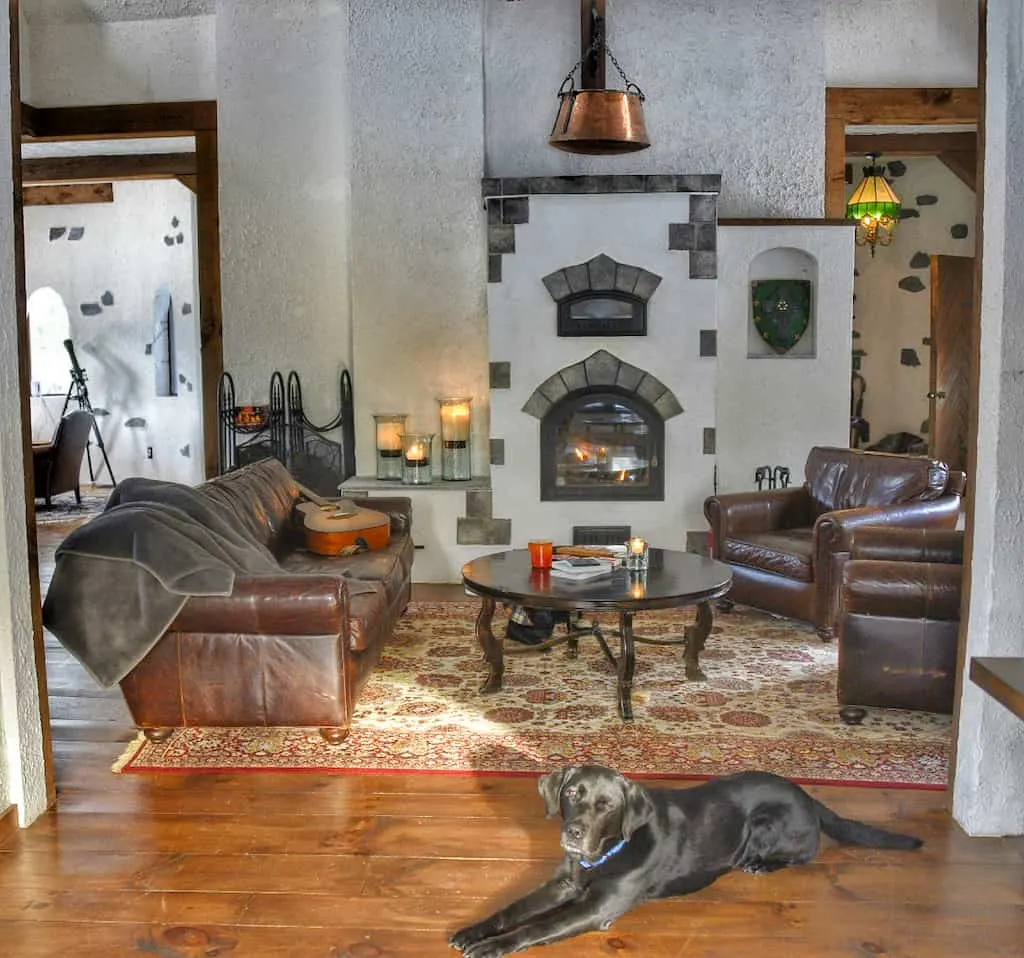 When the winter chill pushed us back inside, we staged a shuffleboard tournament, which none of us had ever played before. I didn't win, but I'm committed to improving my game the next time we visit.
The only downside to our stay at Gregoire Castle is that it wasn't quite long enough! Also, we'd love to visit during the summer so that we could spend even more time outside.
Your Stay at Gregoire Castle in Vermont
Now for the fun part! Gregoire Castle is available for rent on VRBO for your next Vermont getaway.
The castle sleeps eight comfortably, is pet-friendly, and makes an amazing family getaway.
Amazing Amenities at Gregoire Castle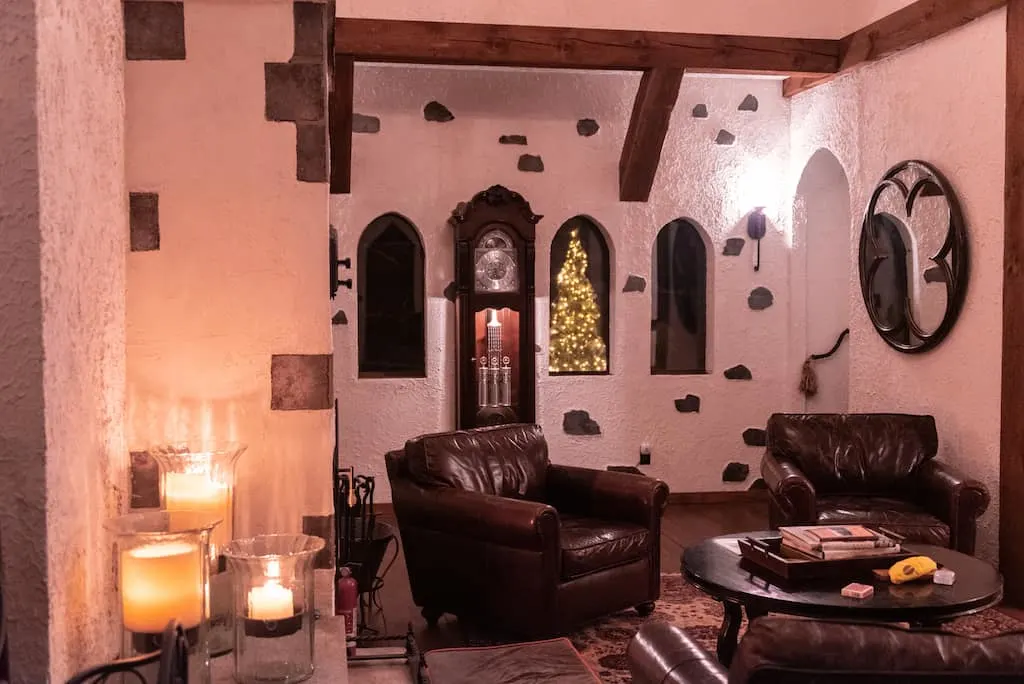 Let's start with the basics. Gregoire Castle features six full bedrooms on three floors, three full bathrooms, and two half baths.
A massive, wood-burning fireplace is located in the grand room for keeping everyone cozy on winter nights. There are also gas fireplaces throughout the castle to complement the heating system, with includes radiant heating in the floors.
Air conditioning is available in the summer, though there are only a few days that get hot enough to take advantage of it in the Northeast Kingdom.
The gourmet kitchen is truly a cook's kitchen, with copper fixtures, a Viking oven, a sub-zero refrigerator, and Keurig machine, a traditional coffee maker, and an espresso maker. You will love cooking here, and the dining room table is big enough to seat eight people comfortably.
Now for the fun stuff!
Gregoire Castle sits on 20 wooded acres with incredible mountain views. In the winter, you can take advantage of the hot tub while watching the stars, skate on the backyard ice-skating rink, or sit around the fire pit as you watch the sun sink over the mountains.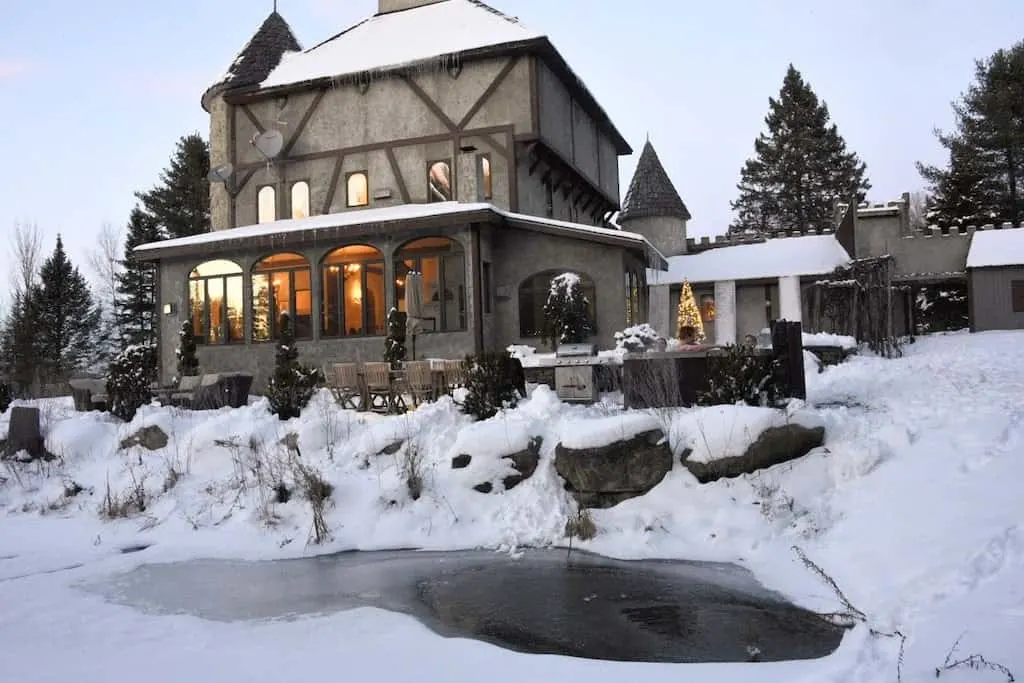 In the summer, you can meander along the woodland paths, relax next to the backyard pond, which is stocked with rainbow trout, or have a barbecue on the outdoor patio.
Rainy day keeping you inside? Take advantage of the game room with shuffleboard and foosball, pull up a movie on one of the many smart TVs, or play some tunes on the grand piano.
There is plenty of room to spread out, making Gregoire Castle a fantastic spot for a multi-generational getaway.
Check out more photos of the interior layout over at Kane Realty.
Where is Gregoire Castle and What is there to do there?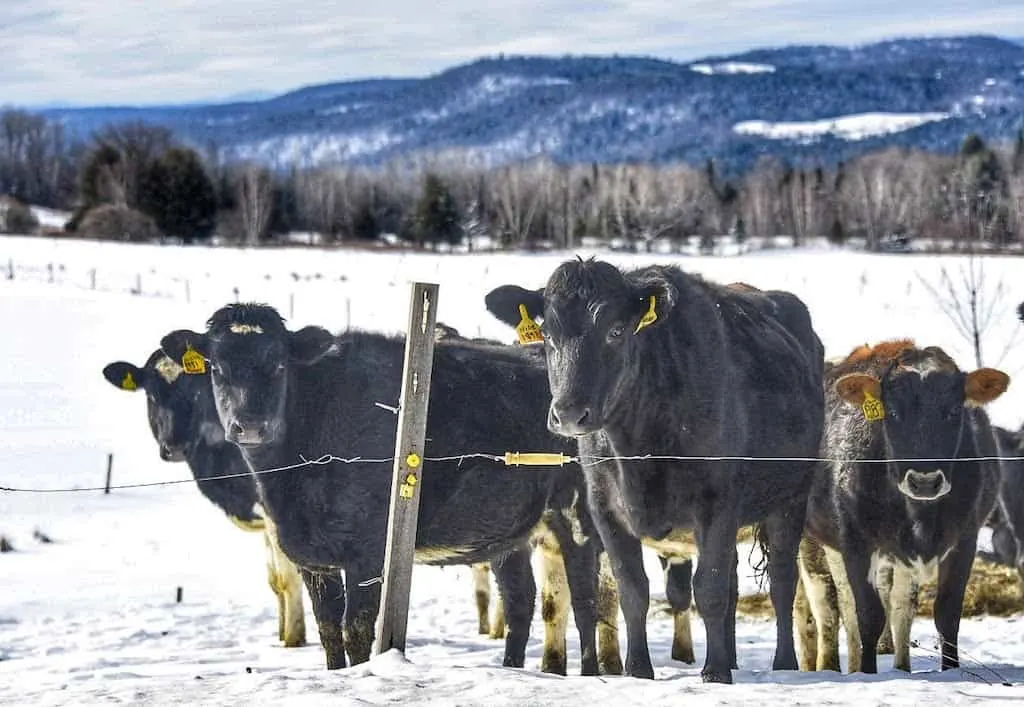 It's only fitting that Gregoire Castle is located in Vermont's Northeast Kingdom, an area rich in natural beauty and outdoor recreation.
Visit in the winter and you can take advantage of the fabulous downhill and cross-country skiing. Jay Peak is 35 minutes from the castle, and Burke Mountain is 50 minutes. If Nordic Skiing is more your speed, Craftsbury Outdoor Center is just a 20-minute drive.
Stay at Gregoire Castle in the summer and you can explore miles of hiking and biking trails. We recommend heading to Lake Willoughby to hike Mt. Pisgah before taking a dip in the clear, cold lake. Drive 35 minutes and you can access Kingdom Trails, which has some of the best mountain biking in New England!
While you won't find any restaurants in Irasburg, you can head north to the comparative metropolis of Newport for good eats, including authentic Thai food.
How to Book Your Stay at Gregoire Castle
Ready to plan a getaway to this magical castle in the Northeast Kingdom of Vermont? There are not very many castles in Vermont, and no other castles that you can actually stay in, which makes a vacation at Gregoire Castle even more spectacular! You can book your stay on VRBO or through Kane Realty.
Mention that you read this article on Vermont Explored to save 10% off your stay.
---
Looking for more unique places to stay in Vermont? Check out these posts next!
Follow us on social media for more Vermont inspiration!
Tara Schatz is a freelance writer, and the founder and editor-in-chief of Vermont Explored and Back Road Ramblers, an American road trip blog. She is also the co-author of the 3rd edition of AMC's Best Day Hikes in Vermont, which was released in May 2023.
Disclaimer: We were generously hosted at Gregoire Castle by Kane Realty to facilitate writing this post.