Silhouetted sailboats against a mountain backdrop. The haunting cries of loons echoing through rising mist. The splash of water as it rolls off your kayak paddle on your way back to your waterfront campsite.
This is the quiet side of Vermont's most underappreciated asset. Vermont may be a landlocked state, but its beautiful and varied lakes make up for its lack of ocean shores.
If you are thinking about a lake vacation, be sure to put Vermont on your list. Here are some impressive lakes in Vermont for your next getaway, from the popular to the obscure.
Lake Champlain: America's Sixth Great Lake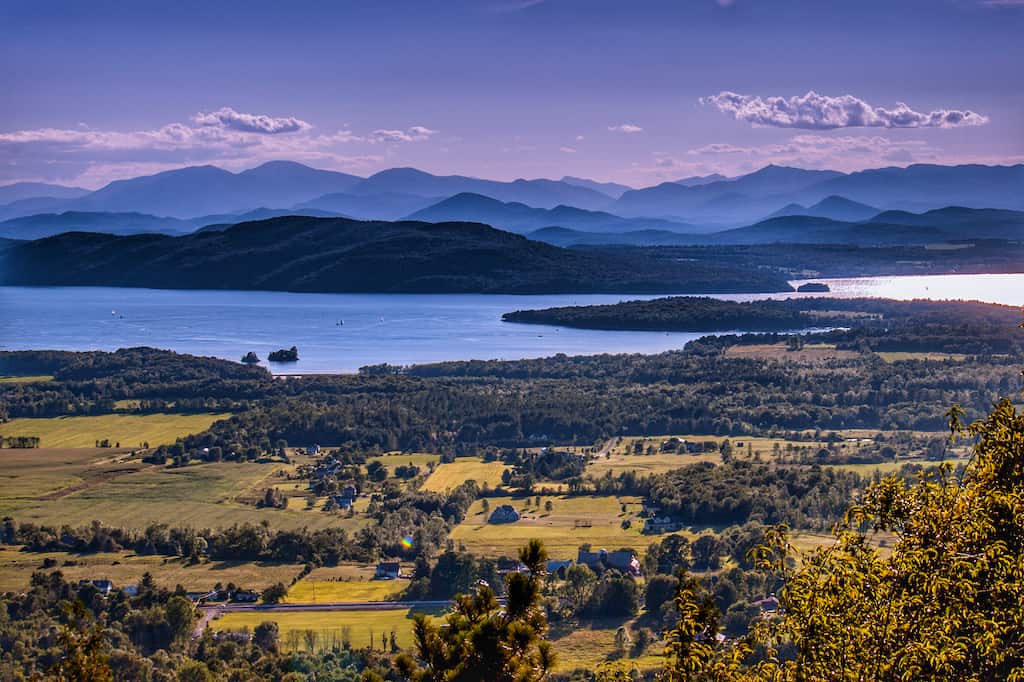 Lake Champlain is a glittering gem of a lake that delineates the border between Vermont and New York. This massive Vermont Lake is 107 miles long and 14 miles wide at its widest point. The Adirondack Mountains rise up from Lake Champlain's western shore, making for dramatic sunsets from the Vermont side.
Because of its size, Lake Champlain attracts all types of adventurers, including sailors, fisherfolk, bird watchers, paddlers, and beach bums.
There are numerous spots on Lake Champlain that are perfect for a Vermont lake vacation. Where you decide to set up your home base will depend on what you want to do. There are quiet coves for paddling, islands that you can camp and hike on, open water for sailing, and even an ancient fossil reef (the oldest reef system in the world).
Here are our favorite spots for a Lake Champlain vacation:
---
Lake Willoughby: Vermont's Deepest Lake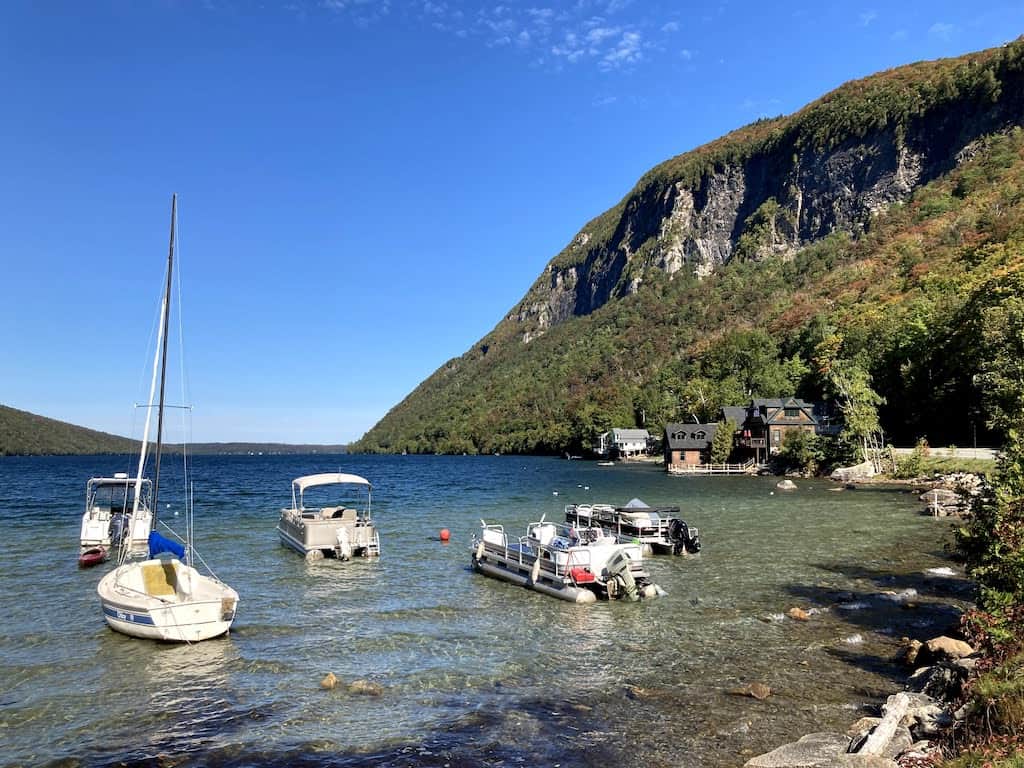 From Vermont's largest lake to its deepest, Lake Willoughby was carved by glaciers thousands of years ago. Two steep mountains rise up on either side of it, giving Lake Willoughby the appearance of a Norwegian fjord. There are two public beaches at the northern and southern tips of the lake, and you can hike up either Mount Hor or Mount Pisgah on either side for incredible views of the lake and the surrounding landscape.
Vacation homes dot the northeast shore of Lake Willoughby, and the paddling is good as long as the wind isn't blowing too fiercely.
The best way to explore Lake Willoughby is to rent a cottage on the lake and explore more of the Northeast Kingdom. It's a beautiful destination for hikers and those who want to get off the beaten path to explore the wilds of Vermont.
Be sure to visit The Old Stone House Museum & Historic Village in nearby Brownington is a collection of old buildings that tells the story of African American Alexander Lucius Twilight. Mr. Twilight was the first African American college graduate and state legislator in the United States and he built the namesake Old Stone House which he called Athenian Hall.
---
Lake Bomoseen: The Largest Lake Entirely Within Vermont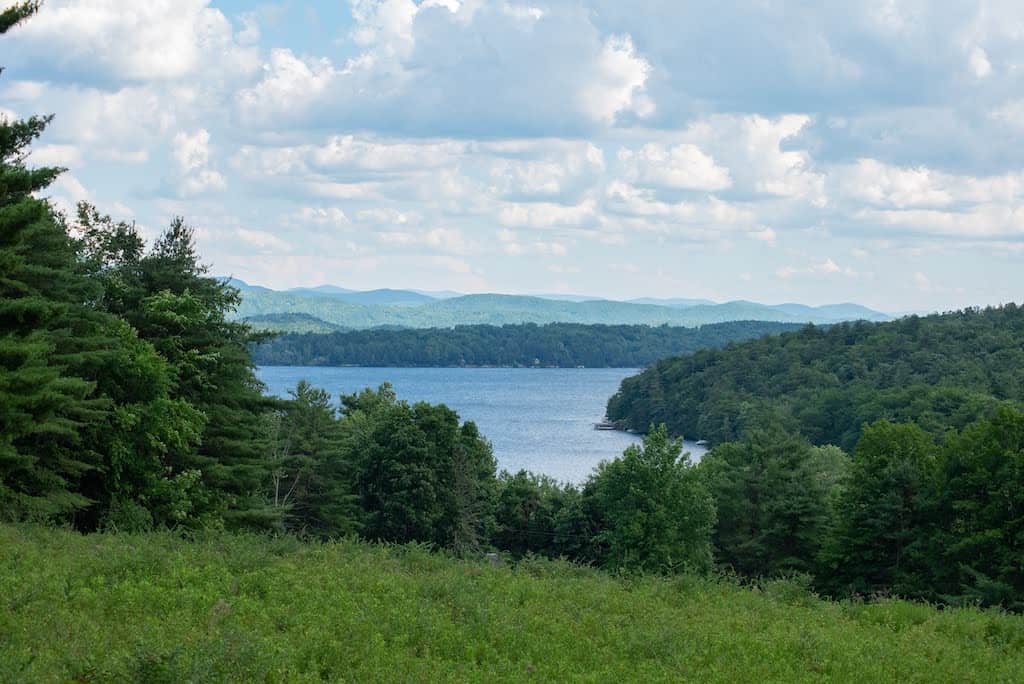 The large, shallow Lake Bomoseen has a surface area of roughly 2,4000 acres in the towns of Castleton and Hubbardton. Lake Bomosoeen is surrounded by forested foothills that eventually turn into the northern Taconic Mountains.
There are several public beaches on Lake Bomoseen, as well as marinas and boat launches where you can buy bait, launch a watercraft, or rent a kayak. Bald eagles and osprey are common on the lake and we hear the fishing is great too!
Camping is available at Bomoseen State Park or at the more secluded Half Moon Pond State Park. There are sandy beaches in both parks, as well as kayak and canoe rentals.
Aside from water-based recreation on Lake Bomoseen, be sure to visit Hubbardton Battlefield State Historic Site where you can learn about the only revolutionary war battle fought on Vermont soil. Taconic Mountains Ramble State Park is a day-use park that features meadow and woodland hiking trails as well as a peaceful Japanese garden.
---
Emerald Lake: Small Beautiful Lake in East Dorset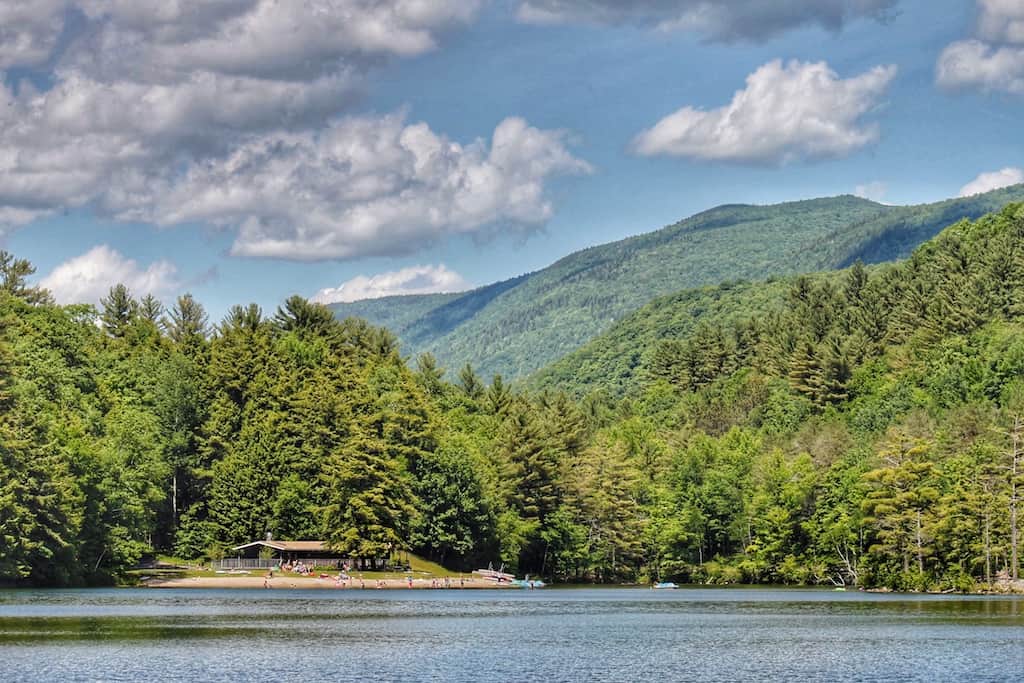 This small lake in Southern Vermont is part of Emerald Lake State Park, a beloved local park in Est Dorest that is considered one of the best swimming lakes in the region.
When the light is just right, Emerald Lake really does take on a turquoise hue. Rent a kayak, canoe, or paddleboard to meander around the small island, where you can snack on blueberries, catch frogs, and jump into the water from a secret rope swing.
While most locals come to Emerald Lake to picnic and swim on hot summer days, there's also a nice campground with tent/RV sites and lean-tos. There is an easy hiking trail around the lake and another that leads to a vista overlooking the lake.
Emerald Lake State Park is close to dining and shopping in Manchester and Dorset.
---
Read Next: 95+ of the Best Things to do in Vermont
---
Lake Memphremagog: NEK Lake Straddling Vermont and Quebec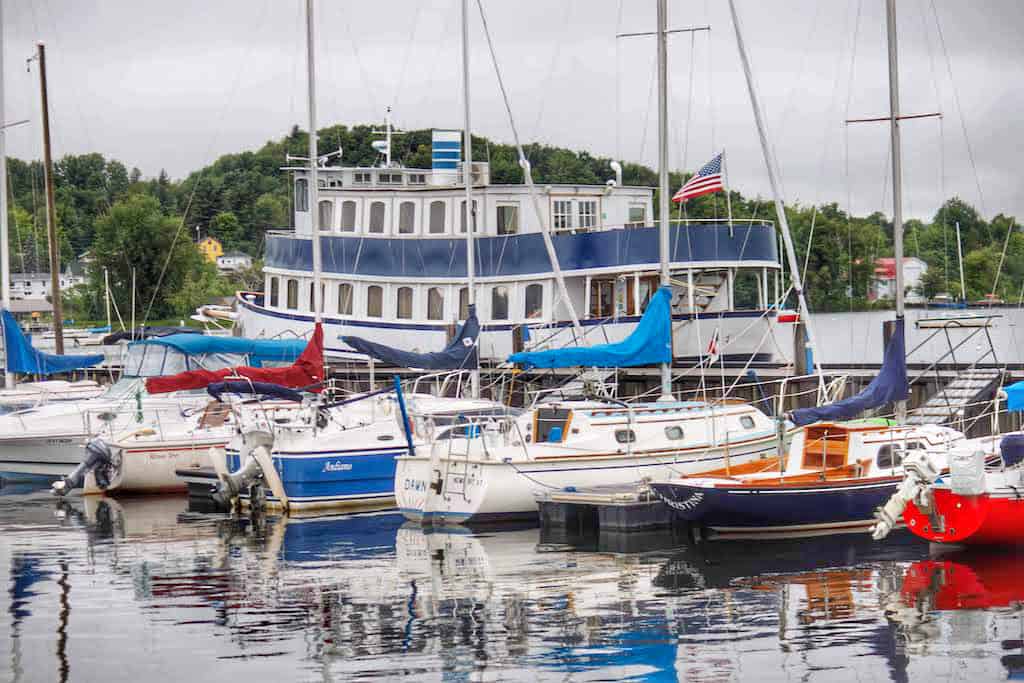 This large glacial lake straddles the border between Newport, Vermont and Magog, Quebec, and totals 687 square miles. Not only is this a massive lake, but it's also the third deepest in Vermont, with 21 islands.
Most of Lake Memphremagog lies within Quebec, but the city of Newport is located on the southern tip. Newport is a vibrant town in the summer, with a bustling waterfront, several public parks and trails, and a marina where you can dine on the water, take a themed cruise on the Northern Star, or just relax and watch the boats come and go. If you want to camp, swim, or rent kayaks, head to Prouty Beach.
If you don't want to pitch a tent, consider this waterfront condo in Newport, which has access to a dock, community pool, and tennis courts.
---
Lake Whitingham: A Recreational Gem in Southern Vermont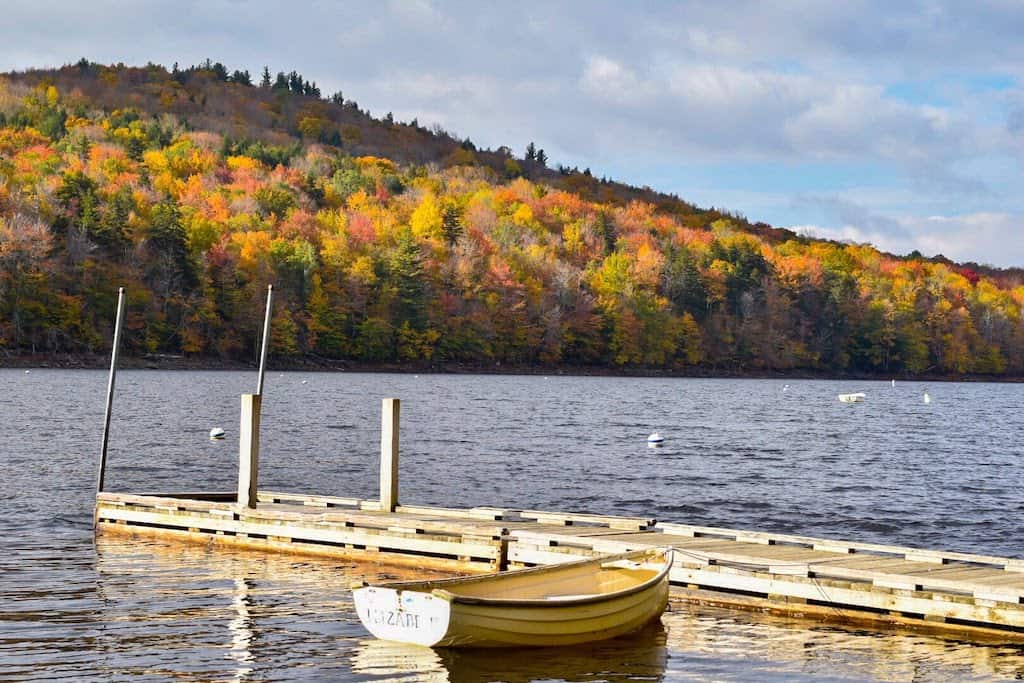 Also known as the Harriman Reservoir, this man-made Vermont lake is large enough for serious recreation, but small enough that you can really get to know it. Lake Whitingham is managed by Great River Hydro Company, and the shoreline is completely forested and undeveloped.
Small sailboats frequent the lake, as do motorboats, jet skis, windsurfers, and paddlers. There are several public picnic areas with water access and boat launches, but there is no camping on the shores of the lake.
To explore it on a deeper level, we recommend booking a room or a vacation rental in Wilmington, on the lake's northern tip. Wilmington is a beautiful town with a small downtown area. We recommend dining at both Dot's and Aspenglow Bistro, and spending at least an afternoon meandering around the shops.
Because of its proximity to nearby Mount Snow, Wilmington is a four-season tourist destination. It's also a great starting point for a Route 100 road trip.
---
Green River Reservoir: Paddle to a Remote Campsite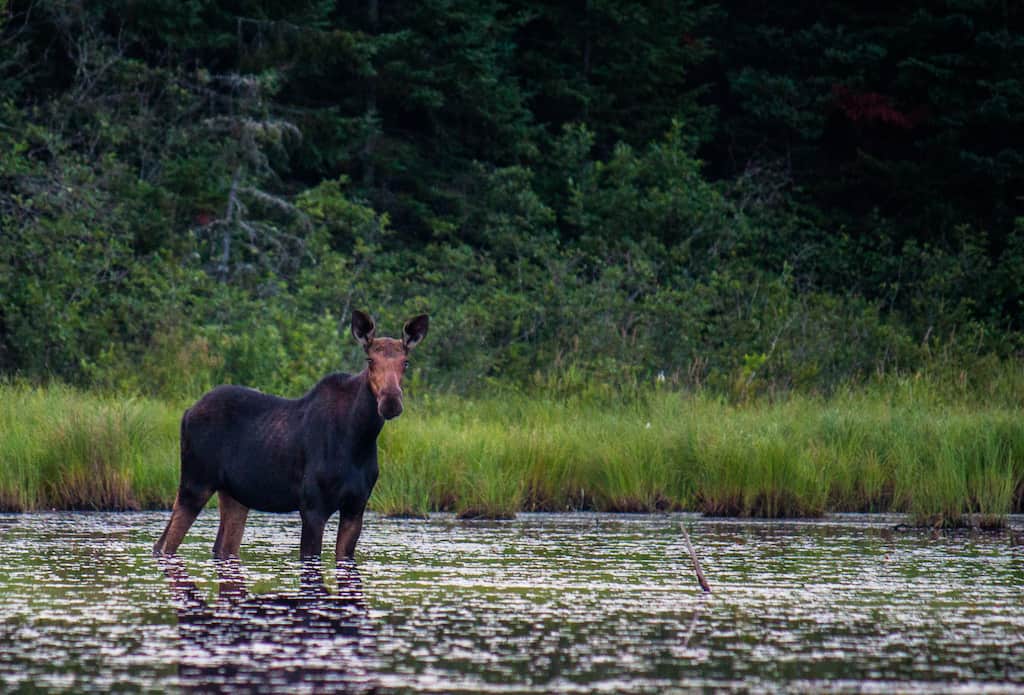 The 653-acre Green River Reservoir is part of an undeveloped state park in Hyde Park, Vermont. The reservoir is designated as a "quiet" lake under Vermont's "Use of Public Waters Rules." Boats powered by electric motors up to 5 mph and human-powered watercraft (canoes, kayaks, etc.) are allowed.
The highlight of Green River Reservoir is paddling to the remote, undeveloped campsites that dot the lake. Paddling is permitted for day use as well but in limited numbers.
There are 27 remote tent sites that must be reserved in advance. You will need your own canoe or kayak, as there are no rental facilities in the park. Campsites are primitive and include a fire ring and access to a pit toilet. Water must be filtered from the reservoir.
The highlight of our recent canoe camping trip at Green River Reservoir was getting to see an amazing array of wildlife, including the moose pictured above, at least a dozen beavers, bald eagles, osprey, and loons.
We spent our days swimming, paddling, and swinging from a hammock, and our nights stargazing and listening to the quiet. This is one of our favorite lakes in Vermont for escaping into the wild.
---
Waterbury Reservoir: A Wonderful Lake for Your Family Vacation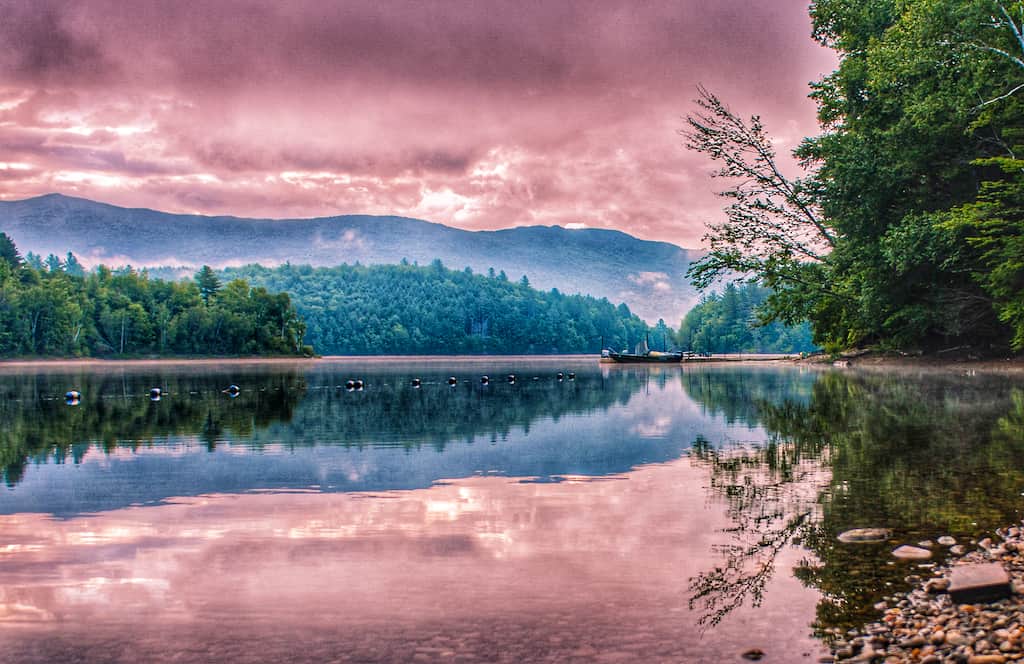 The first thing Waterbury Reservoir has going for it is its location. In the heart of the Northern Green Mountains, this beautiful 850-acre lake is situated right off of Route 100, near the mountain towns of Waterbury and Stowe. This is a man-made lake, created by the CCC in the 1930s to protect towns along the Winooski River from floods.
There are two Vermont State Parks on the reservoir – Waterbury Center State Park is ideal for day-use activities like paddling, fishing, swimming, and picnicking. Canoe and Kayak rentals are available at Waterbury Center until Labor Day.
Little River State Park caters to overnight campers, with 70 tent/RV sites, 20 lean-tos, and 5 camping cabins. The beautiful beaches and interactive ranger-led programs make Little River State Park one of the best for families.
For those looking for a more remote experience, there are also several paddle-in campsites at the northern end of the reservoir.
---
Lake Shaftsbury: A Tiny Lake for Swimming and Paddling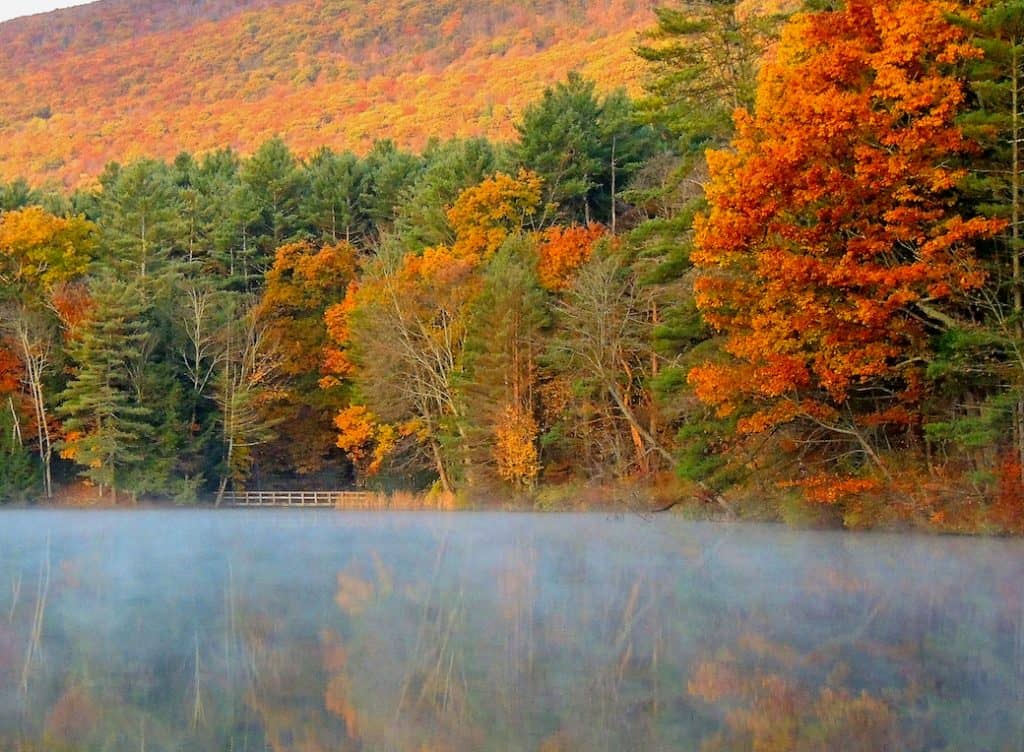 Lake Shaftsbury may not be much more than a pond, but this picturesque park is worth exploring in all four seasons. Located on Route 7A in Southern Vermont, this is the spot you need for an afternoon swim, family picnic, dog walk, or day of trout fishing.
Lake Shaftsbury State Park rents kayaks, canoes, and paddleboats, and there is a sandy beach with lots of picnic tables. The Healing Springs Nature Trail is exactly a mile around the lake and brings you through a small wetland full of birds.
There are group campsites right on the water and one lovely cottage that you can rent for a relaxing family vacation.
Lake Shaftsbury is equidistant between Bennington and Manchester, both with lots more opportunities for hiking, shopping, and eating out.
---
Not Quite Lakes in Vermont: Ponds Worth Exploring
There's no real consensus about what makes a lake a lake and a pond a pond. Some very small ponds in Vermont are called lakes and several large bodies of water are known as ponds. We won't argue about the nomenclature on these pages.
Lakes or ponds, we love them all. Here are a few more favorite spots for swimming, fishing, and paddling – these Vermont ponds are special spots that you won't want to miss!
Grout Pond: Not Quite a Lake in Green Mountain National Forest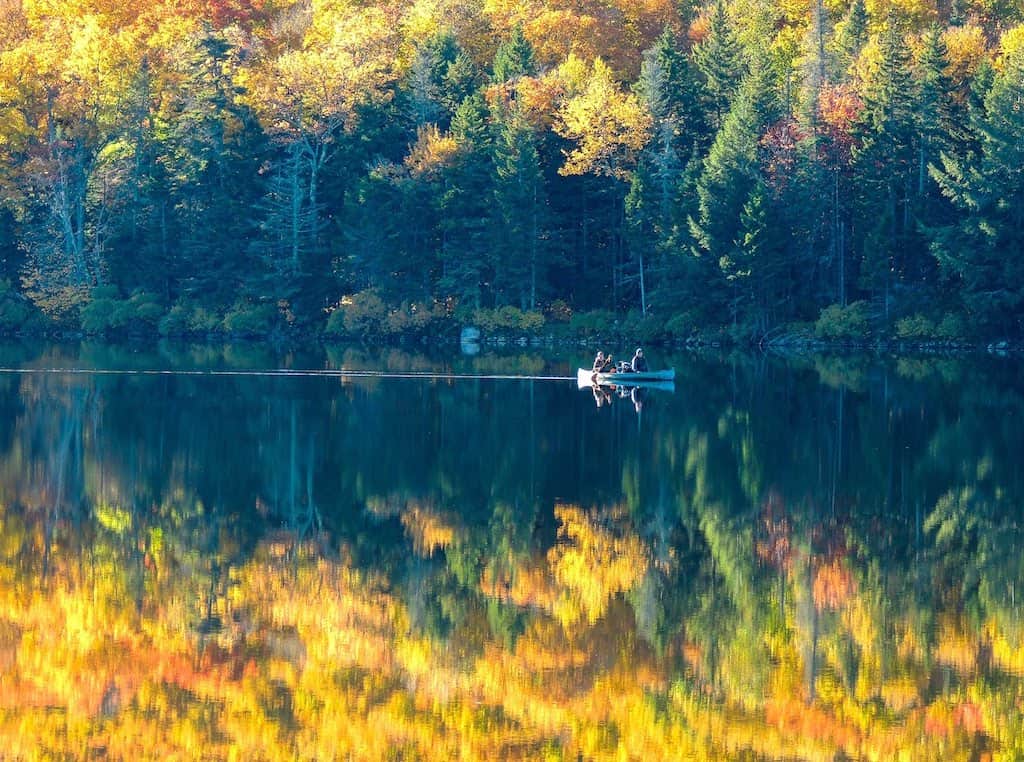 Grout Pond is another one of those special places that you just can't appreciate until you explore it properly. I mean, with a name like Grout Pond, you're not exactly tempted to make the back-road journey to get there.
In the summer Grout Pond makes a great spot for primitive camping, paddling, and swimming. In early October, this is one of the best spots to hike with a camera, as the fall foliage reflecting in the water is like nothing I've ever seen.
Reserve your waterfront campsite on Recreation.gov, just be aware that you either need to hike or paddle into your spot. It's an easy walk to the campsites, as long as you aren't carrying a loaded cooler and lots of gear.
There is a small picnic area with a boat launch (for canoes and kayaks) and a nice 2-mile trail around the pond. Grout Pond is one of our favorite destinations in the Green Mountain National Forest.
---
Adams Reservoir: Quiet Pond in Woodford State Park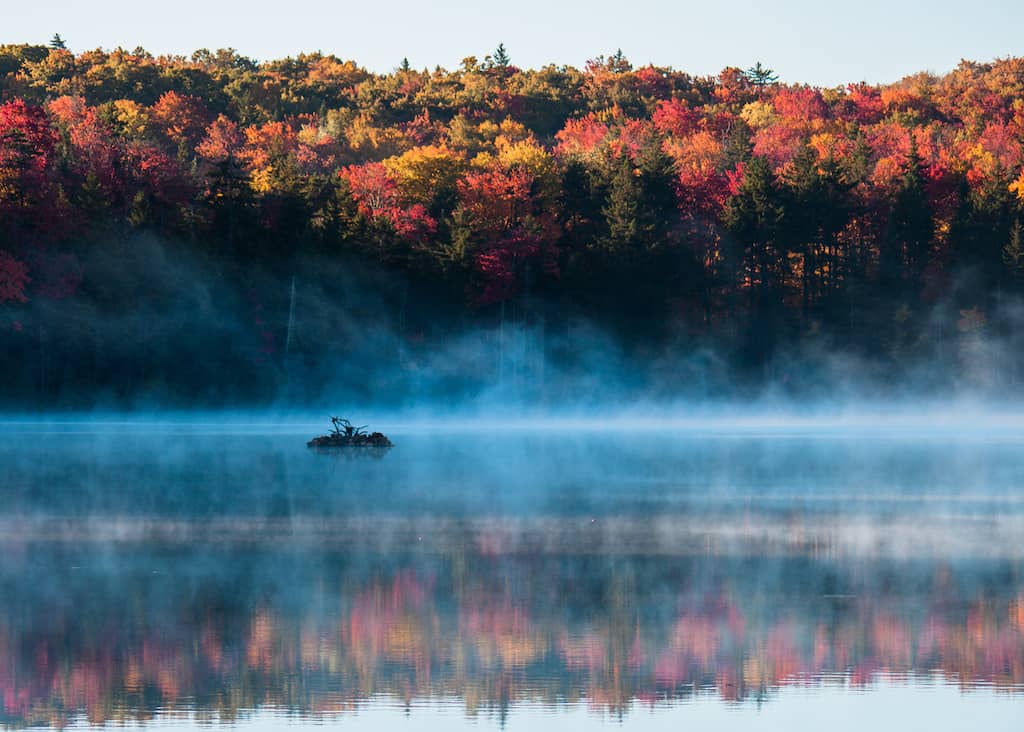 Woodford State Park maintains the small pond known as Adams Reservoir, as well as a busy waterfront campground and an easy hiking trail through the woods and along the shore. While plenty of locals head up to Woodsford State Park for a day of picnicking, hiking, and paddling, it's more popular with campers from out of state.
The campground is open through the second Monday in October, with 76 tent/RV sites, 20 lean-tos, and four camping cabins. This is the highest elevation campground in the state of Vermont, and the reservoir, while small, is surrounded by wild forest, making it a great spot for birds, moose, and otters.
Camping at Woodford State Park is perfect for those who want to explore more of the Southern Green Mountain National Forest, hike a section of the famous Appalachian Trail, or explore the towns of Bennington and Wilmington.
---
Kettle Pond: Groton State Forest's Best Primitive Camping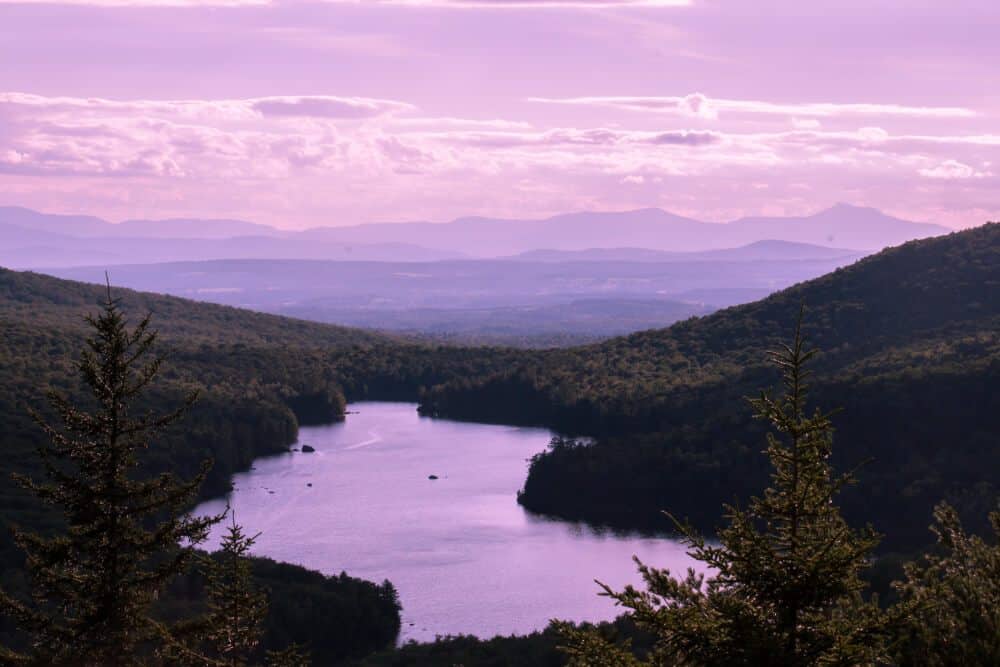 If you've never explored the beautifully wild Groton State Forest, it's time to put it on your list. This magical destination encompasses almost 30,000 acres of woods, mountains, and ponds, as well as seven unique state parks.
There are several beautiful lakes and ponds in Groton State Forest, but we love the remote campsites around Kettle Pond. You can reach the waterfront lean-tos by hiking or paddling, and from there, use your campsite as your hiking and paddling home base to explore the rest of the area.
There is an expansive trail system in Groton State Forest, so if you're summer recreation plans include hiking, this may be the spot you've been dreaming of. We'd also recommend exploring Peacham Bog, swimming at Boulder Beach, and visiting the Groton Nature Center.
Spectacle Pond: Paddler's Paradise in Island Pond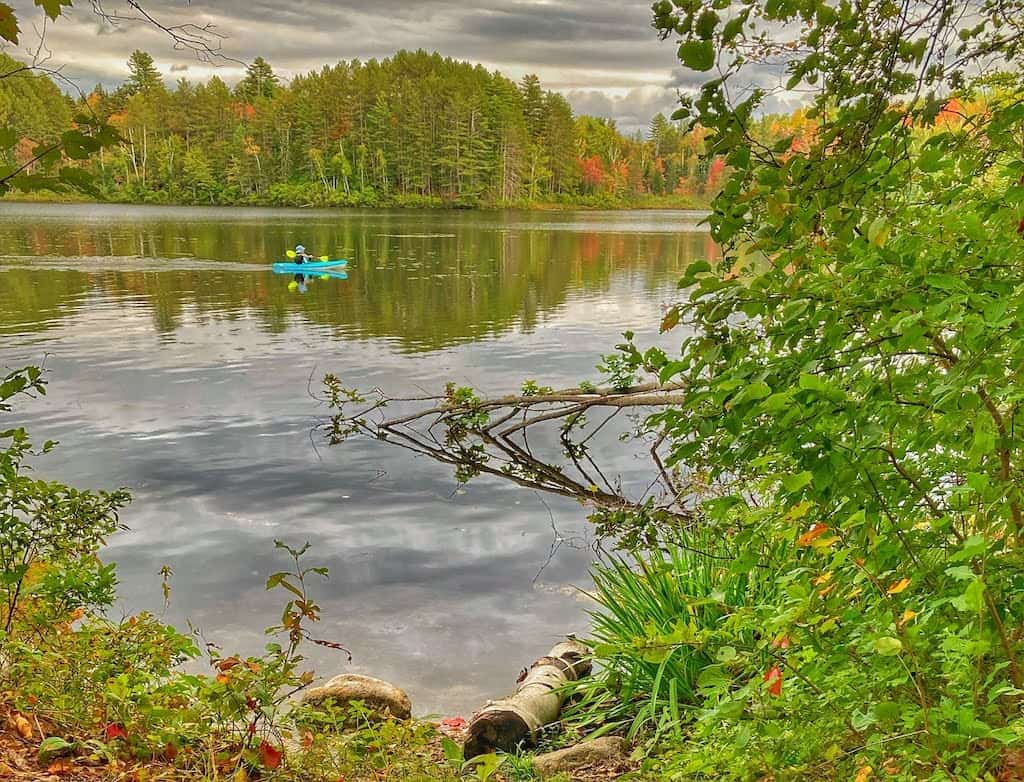 Brighton State Park on the shores of Spectacle Pond is another small pond surrounded by wooded campsites. This remote area is perfect for a summer or fall vacation, especially if you are a fan of fishing, paddling, and boating.
Wildlife is abundant in this part of the state, and you will find the highest concentration of moose, as well as fast-running trout streams, nesting loons, bald eagles, foxes, and bears.
Choose from five cabins, 54 tent/RV sites, or 23 lean-tos in Brighton State Park. There are several short hiking trails, a sandy beach, kayak/canoe rentals, and a small nature museum.
Be sure to take a side trip to Silvio O. Conte National Wildlife Refuge, Bluff Mountain Community Trail, and the small town of Island Pond.
---
There are dozens and dozens of gorgeous lakes in Vermont that are just waiting to be explored, but the ones mentioned above are our favorites. Do you have a favorite Vermont lake that you think we should include in this post? Leave a comment below!
Tara Schatz is a freelance writer and the founder and editor-in-chief of Vermont Explored and Back Road Ramblers, an American road trip blog. She is also the co-author of the 3rd edition of AMC's Best Day Hikes in Vermont (pre-order your copy for the 2023 release date in May).
Be sure to check out our web story for the best lakes in Vermont as well!