We all know that Vermont State Parks are awesome destinations for adventure-loving families, but some parks seem to possess that perfect balance between wilderness and creature comforts, rowdy fun and hands-on-learning, adventure and relaxation.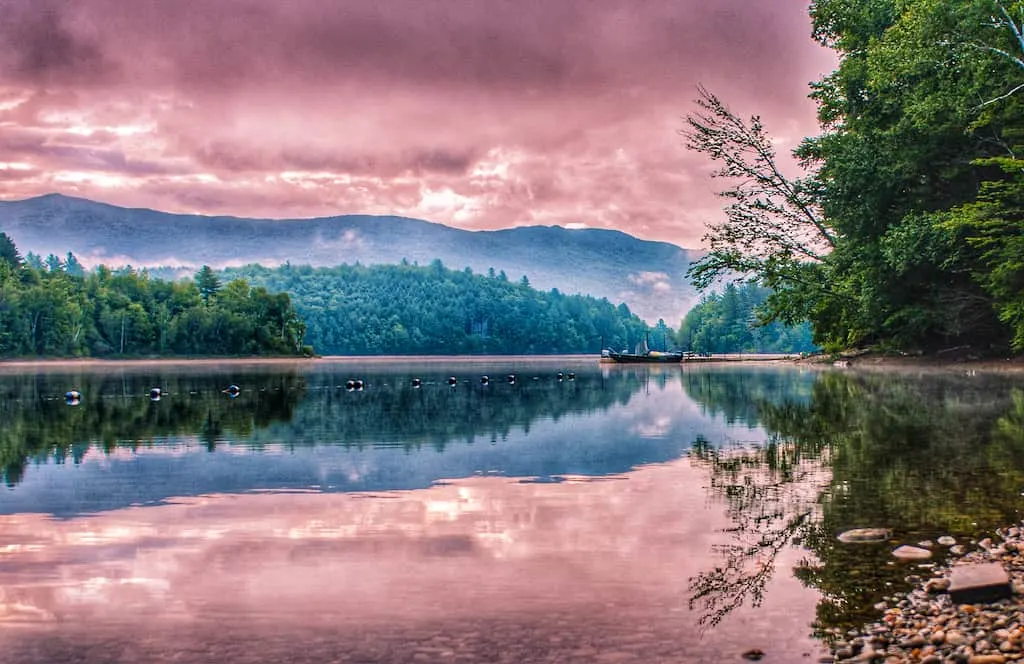 Little River State Park in Waterbury, Vermont, is just such a place. A place where parents and kids can choose from any number of adventures and never get bored.
Not only is Little River State Park nestled in one of the most picturesque valleys in the state, but there's also a lot to do beyond the park, making it a great camping home base for visitors.
The swimming in Waterbury Reservoir is amazing, and I hear the fishing is pretty good too!
Ready to plan your summer getaway to Waterbury? Here's an overview of Little River State Park and all the amazing things to do here.
Quick Facts: Little River State Park
Address: 3444 Little River Rd.
Waterbury, Vermont
Activities: hiking, camping, swimming, paddling, fishing
Open: Memorial Day weekend to October 23
Fees: $4 adults, $2 kids
Camping: 70 wooded tent/RV sites (no hookups),20 lean-tos, 5 cabins
Dogs: Yes, on-leash, but not on the beach
Google Maps Directions
Official Park Website
First, let's talk about what makes Little River State Park so special.
It's simple really – you've got a big shining lake tucked into the mountains and surrounded by lovely New England villages. You've got an area rich in history and natural diversity, and a beautiful park that caters to outdoor-loving families.
It's the ultimate recipe for success.
Here are all the reasons that we think Little River State Park is the best state park in Vermont for families with kids.
The interpretive programs at Little River State Park are AMAZING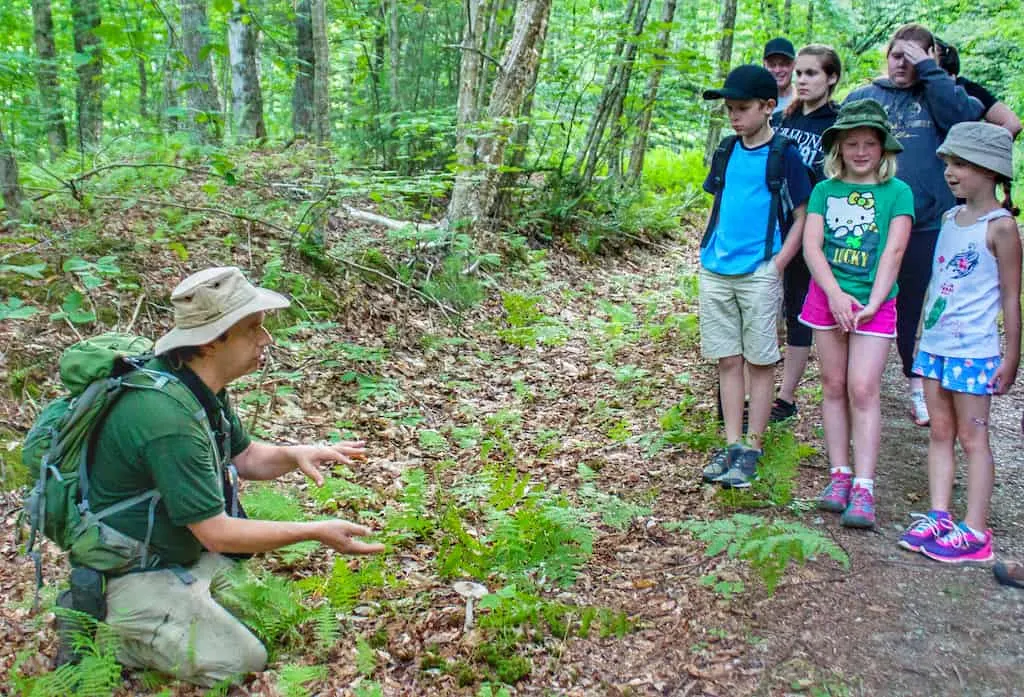 We've been to a lot of Vermont State Parks, with and without kids, and 100% believe that the interpretive programs at Little River State Park are the best in all of Vermont.
Brian, the park interpreter, offers all kinds of opportunities to get in touch with the natural and historical gems of the park.
Programs are offered just about every day, but on the weekends, you can follow Brian around from morning till night learning about the birds, mushrooms, plants, fish, and even ghosts that live in the park.
The interpretive programs are all family-friendly and incredible. In fact, many of the participants I met during the programs had traveled from other parts of the state just to participate.
Brian tailors each program to the participants who show up, ensuring that it's fun and engaging for everyone. They're not to be missed!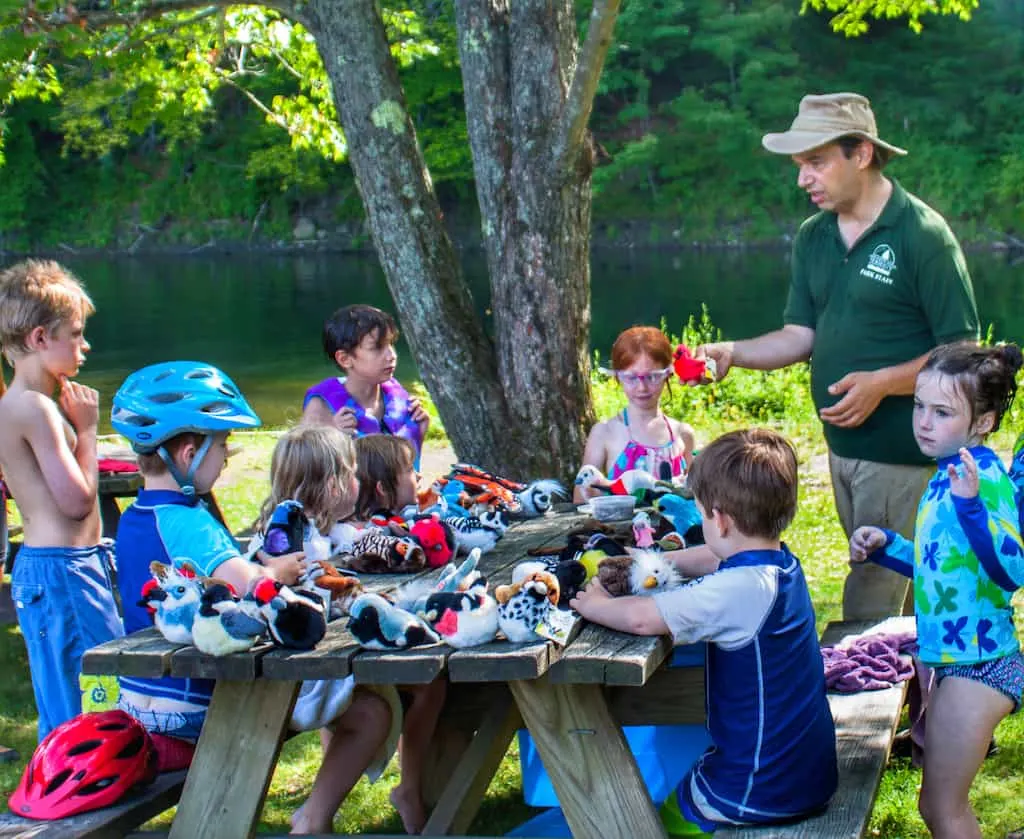 History Lessons at Little River State Park
The area that is now Little River State Park in Vermont was once a thriving community of loggers and farmers, trying to eke a living off the rocky land in the early 1800s. That all came to an end when two monumental floods hit the area in 1927 and 1934, causing residents to wait out the storms on their rooftops.
To prevent future flooding of the Winooski River, The Waterbury Reservoir was constructed by the CCC and the US Army Corps of Engineers, beginning in 1935. All but one of the homes in this area were abandoned and destroyed.
Today, you can still visit the last remaining house on the Little River History Hike.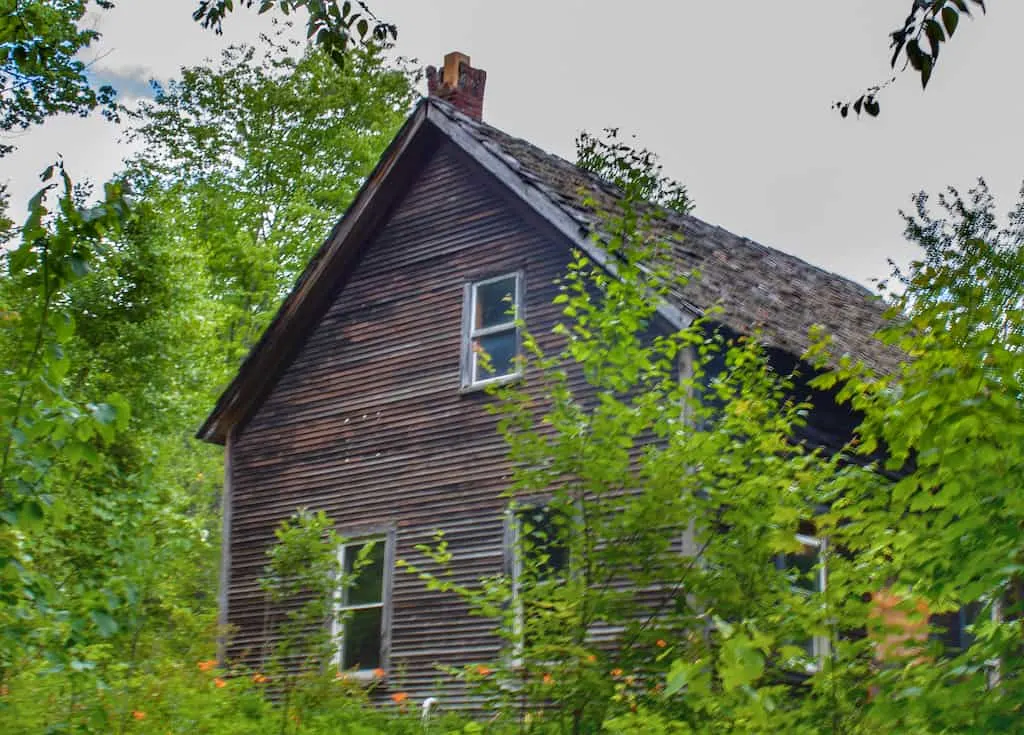 You'll also find remains of stone walls, cellar holes, bridges, roads, and cemeteries. Much is known about the families that used to inhabit the area, and the history hike helps tell their fascinating story.
Get Out on the Water
Whether you enjoy boating, paddling, fishing, swimming, or floating the day away with a cold drink in hand, Little River State Park is a gem for all kinds of water activities. Let's dive in!
Swimming at Little River State Park
The water is cool and clear, and the swimming areas provide a good mix of sun and shade. Campers can enjoy two beaches within the park. The "A" beach is gravelly and open, with spectacular mountain views, and the "B" beach is grassy, leading to a sandy-bottomed swimming area at the mouth of Stevenson Brook.
The best part? The swimming areas are within easy walking or biking distance of every single campsite within the park. Visitors who aren't camping at Little River State Park should swim at Waterbury Center State Park, which is just a short drive away.
Canoeing and Kayaking at Little River State Park
The Waterbury Reservoir covers roughly 850 acres, with a diverse shoreline that is perfect for paddlers. There are two secrets to a perfect canoe, kayak, or SUP adventure. The first is to get out early while the water is calm and the birds are singing. The second is to head to the northern end of the lake, where motorboats aren't permitted.
If you are interested in remote camping on Waterbury Reservoir, you'll be happy to know that remote, boat-in sites can be reserved on the Vermont State Parks website.
The remote campsites are spread over 5 miles around the reservoir, providing a very unique, peaceful, and primitive experience. This is something we haven't tried yet, but it's on the agenda for 2023!
Fishing in Waterbury Reservoir
We saw lots of locals fishing the waters and inlets of the reservoir near Little River State Park. According to many of the anglers we talked to, the best fishing is either near the dam or at the northern end of the lake.
One fellow we spoke to was catching quite a few trout in Stevenson Brooke right from his kayak. Look for perch, bullhead, rainbow and brown trout, and smallmouth bass.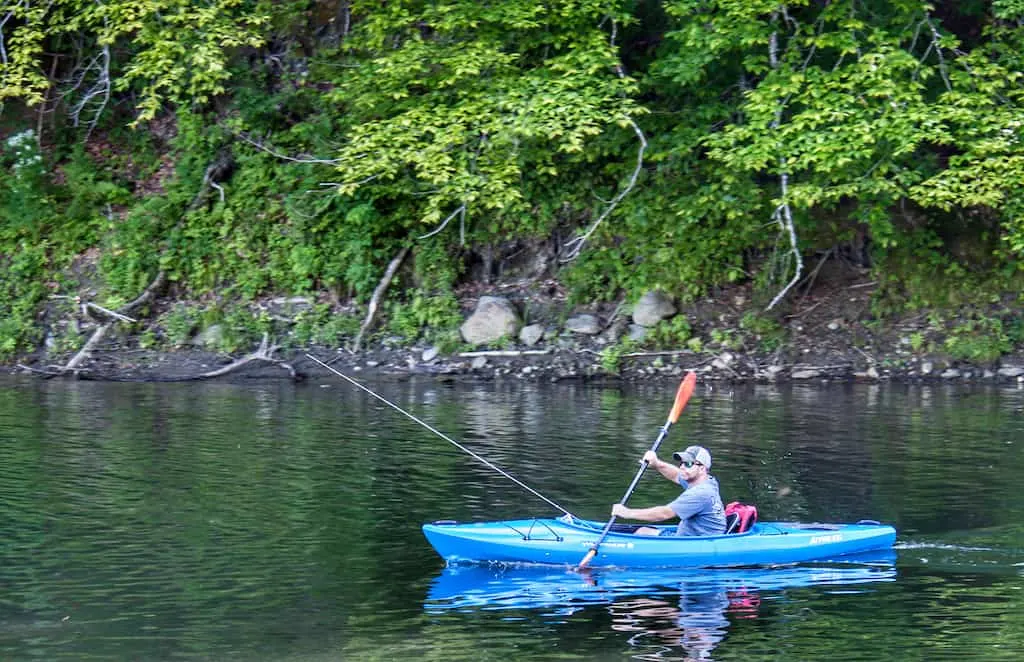 Camping is Relaxing and Fun at Little River State Park
The campground at Little River State Park is busy during the summer, but the sites are wooded and secluded, so you'll still have plenty of privacy if that's what you're looking for. It's a pretty big campground, with 81 tent/RV sites, 20 lean-tos, and five awesome camping cabins.
The restrooms are modern and clean and have flush toilets and hot and cold running water. Three of the four restrooms have coin-operated hot showers. A sanitary dump station is available, but there are no hookups at the individual campsites.
Within the campground, there are swimming beaches, play areas, a boat launch, ball fields, and boat rentals for campers (for day use boat rentals and swimming, see Waterbury Center State Park).
There are also 27 remote campsites along the shores of the Waterbury Reservoir which we've already mentioned. In 2021, these sites became reservable up to 11 months in advance.
These sites can only be accessed by boat. Each remote site has a picnic table and composting toilet, but there is no potable water, so be sure to bring a portable water filter or purifying tablets. View the remote camping map here.
When camping at Little River State Park, we try and score a lean-to with a water view, but if those are booked, our favorite tent sites are #53, #78, and #81.
Camping cabins sleep four and have electricity, so they're a great choice if you want to camp but not rough it.
Once you've parked your rig, checked into your cabin, or pitched your tent, the opportunities are wide open.
You can hike miles and miles of trails, bike the quiet roads and trails around the campground, fish for your dinner, paddle the reservoir, tour the dam, or just relax in one of Vermont's most lovely campgrounds.
And don't forget to take in an amazing sunrise over the surrounding mountains!
Whether you're sipping coffee on the beach or paddling along a quiet shoreline, early mornings are something special at Little River State Park. The birds will serenade you and the sun will greet you with a spectacular show as it comes up over the mountains. It's something everyone should witness at least once!
You Can't Beat the Location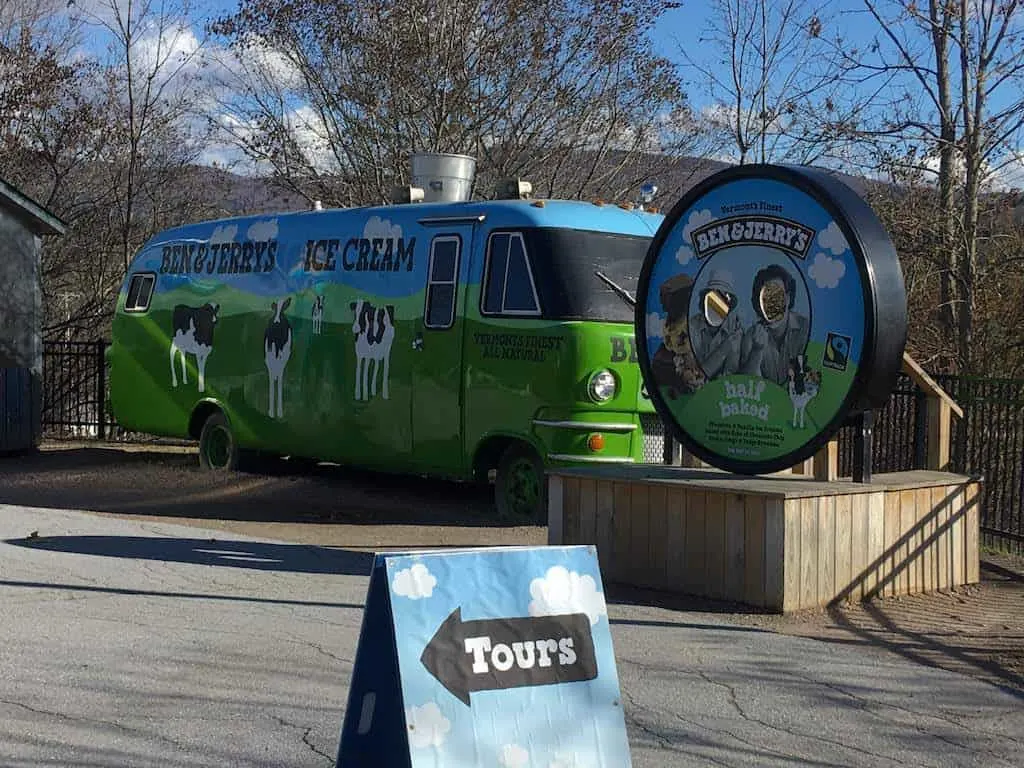 The Waterbury Reservoir is a sparkling lake in the heart of the northern Green Mountains. You'll find plenty to do right inside the Little River State Park, but you're also minutes from Waterbury, Stowe, and Montpelier, where you can check out lots of natural and cultural attractions.
Here are a few suggestions for kid-friendly fun near Little River State Park.
---
Read Next: Hiking in Stowe: Easy and Moderate Hikes for Everyone
---
We've adventured in lots of Vermont State Parks over the years, and Little River State Park is still our top choice for families. It offers the perfect mix of fun and relaxation and is a great base camp for families exploring the surrounding Green Mountains.
---
Want more cool ideas for Vermont camping? Check out these posts!
---
What to Pack for Your Vermont Camping Trip to Little River State Park
So, we're all about minimalist camping, but Little River State Park is one of those campgrounds, where you load up your truck with the kayaks, the bikes, the camp chairs, and the massive cooler.
I mean, you don't have to do it that way, but if you decide to go that route, no one will fault you, and you'll feel right at home with most of the other campers.
And, in case you have a bit more room, here are some very useful pieces of gear/clothing that we recommend for making Little River State Park in VT your best camping trip ever:
---
Follow us on social media for more Vermont inspiration!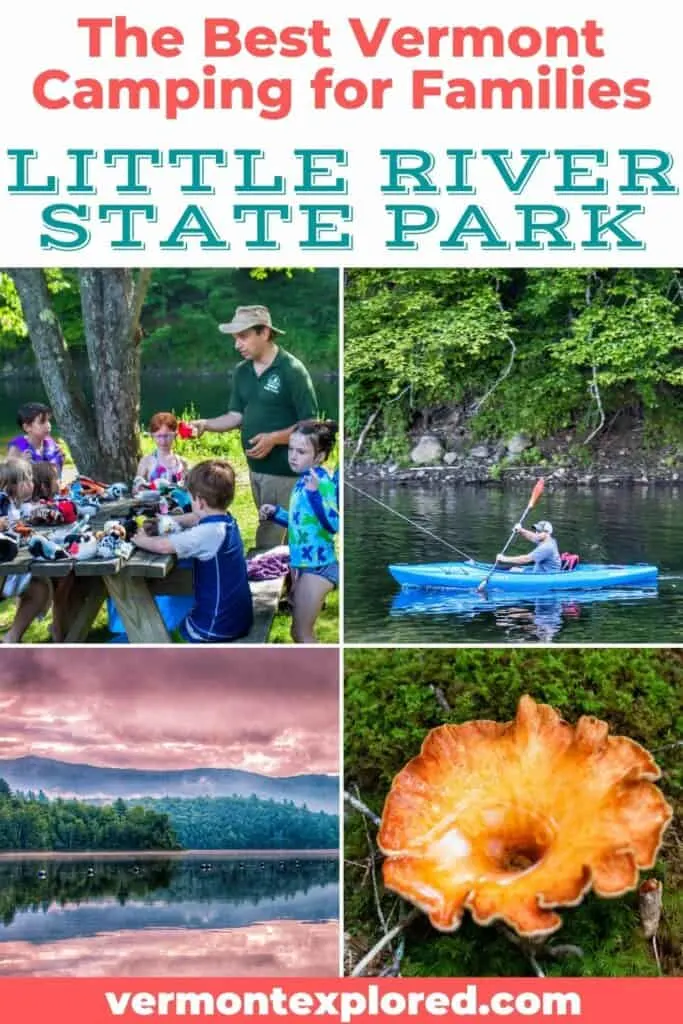 Tara Schatz is a freelance writer, and the founder and editor-in-chief of Vermont Explored and Back Road Ramblers, an American road trip blog. She is also the co-author of the 3rd edition of AMC's Best Day Hikes in Vermont, which was released in May 2023.