There are few things more relaxing than a cottage on the lake, and every Vermonter knows that there is no better place to spend your summer than on the shores of Lake Champlain.
Imagine sitting on a deck sipping a glass of wine while watching the reflection of the sunset over the Adirondacks in neighboring New York. Toasting s'mores on a private beach under a billion stars. Sliding through hundreds of water lilies in your kayak.
The largest lake in New England has a little something for everyone; sandy beaches, long scenic bike paths, miles of hiking trails, and proximity to Burlington, Vermont's most populous city.
Not only is Lake Champlain an outdoor enthusiast's paradise, (just like the rest of Vermont!) it is also steeped in history.
The area around the lake was once inhabited by the Iroquois, Abenaki, Mahican, and Mohawk indigenous tribes, and the Champlain Valley was mapped and settled in 1609 by the French explorer Samuel de Champlain — early in the colonization of North America.
So whether your perfect lake getaway involves swimming, boating, and fishing, or exploring the region's history through its many museums and historic sites, these 15 Lake Champlain vacation rentals make it easy to plan an unforgettable Vermont vacation.
Lake Champlain Vacation Rentals in Burlington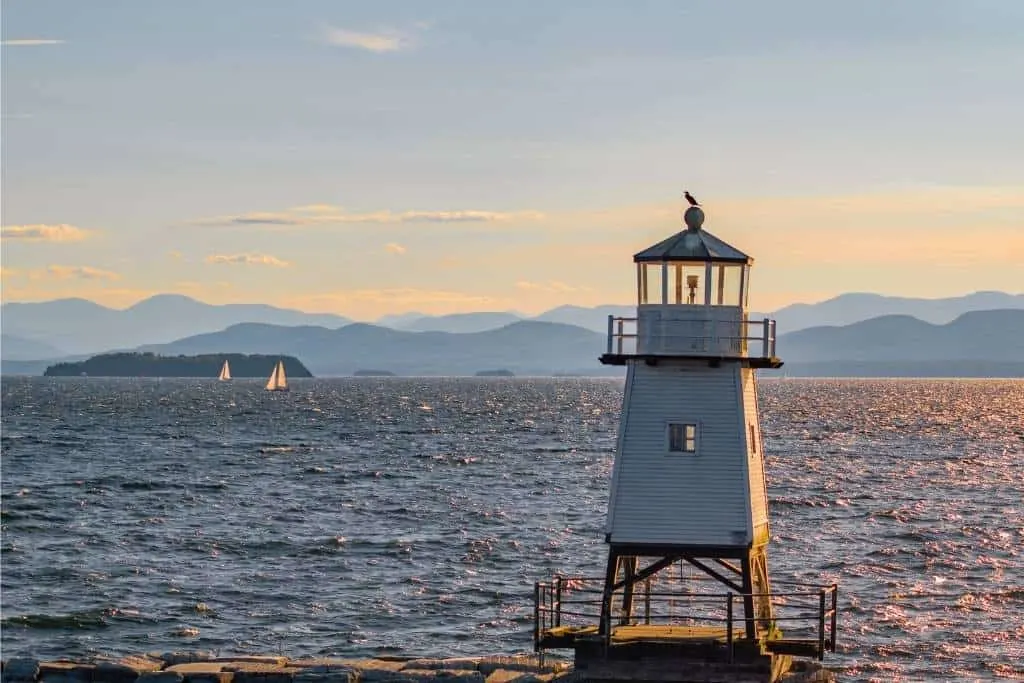 Nestled between Lake Champlain and the Adirondack Mountains, Burlington is a city that encapsulates the best of everything Vermont has to offer.
From hole-in-the-wall art galleries and thrift stores to high-end French cuisine—and with craft breweries to satisfy every palate—once you start exploring Burlington you won't want to leave.
These lake house rentals are close to downtown Burlington, giving you easy access to both the lakefront (plus spectacular lake views) and the plentiful entertainment and dining options of the city.
So grab a latte from Onyx Tonics and peruse the shelves of Crow Bookshop, stop by ECHO Center to learn more about the history and ecology of the lake, and explore the famous Church Street Marketplace to shop till you drop.
And whatever you do, don't leave without trying some Vermont craft beer!
---
Read Next: The Best Things To Do In Burlington, Vermont This Summer
---
Spacious Lake Champlain Rental with Wrap-Around Deck in Burlington
Sleeps: 10
Dogs: yes
This roomy Lake Champlain home sits on an acre of private property right beside the lake, providing beautiful views of Shelburne Bay from the wide wrap-around deck. With more than 100 feet of lake frontage, it's a dream vacation spot for boaters, anglers, and sun worshippers.
The cottage can sleep up to ten people so feel free to invite the whole family for this lake vacation. With four bedrooms and two bathrooms, as well as a fully stocked kitchen, a dining table with room for ten to twelve people, and many modern amenities, you will want for nothing in this perfect spot.
Take advantage of the large lawn by setting up lawn games (provided by the host!) or using the propane grill to get a backyard barbecue going. If you're feeling adventurous, this rental comes with two kayaks, so head out onto the water and spend your days exploring the lake.
It will be tempting to spend your entire stay out on the water, or admiring the views from the deck, but this property is only a ten-minute drive from downtown Burlington, so be sure to set aside some time to explore the city!
---
Dog-Friendly Lake House in South Burlington with Views of Shelburne Bay
Sleeps: 6
Dogs: Yes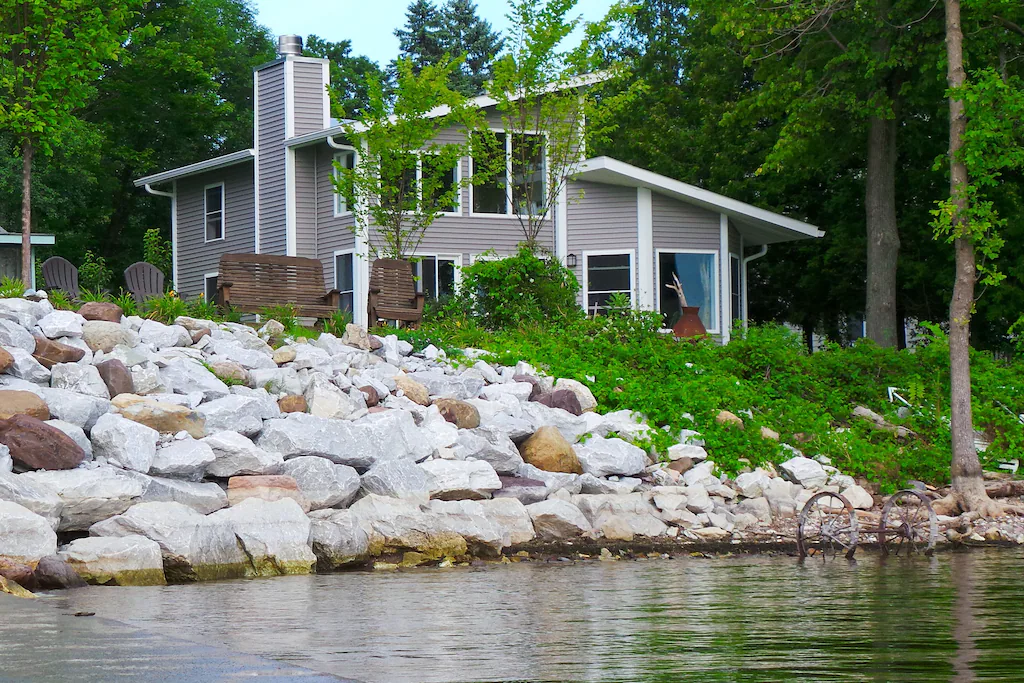 Located in South Burlington, just a few minute's drive from downtown Burlington, this open-concept Lake Champlain VRBO is the perfect getaway for the whole family (and up to four dogs!).
With room for six people, a fully furnished kitchen, and a loft area complete with a sunny reading corner, this charming vacation rental could be your own little slice of paradise.
The house sits directly beside the lake, giving you a breathtaking view of Shelburne Bay from the kitchen and living room, and access to the water directly from the property.
The back deck and large yard provide ample space to relax outside, and the cement steps leading down to the lake make it easy to go for a swim, skip some stones, or toss in a fishing line.
Be sure to visit Shelburne Farms for fantastic cheese, great walking trails, and beautiful views, just four miles away.
---
Rustic Lake Champlain Cottage in Burlington
Sleeps: 2
Dogs: No

This beautifully rustic Lake Champlain cabin rental is mere steps from a private western-facing sandy beach, the perfect spot for swimming, paddling, or relaxing with a good book. Directly across the dirt road, enjoy another shale beach with spectacular sunrises over Appletree Bay.
This vintage cabin sits on a hill above Lake Champlain and features a main living space with two twin beds, a kitchen with basic amenities, a bathroom with a shower, and a lovely picture window to take in the gorgeous lake views. There is Wi-Fi for keeping up with or streaming movies.
Not only is this lovely little gem a short drive or bike ride from downtown Burlington, but its affordable price range means that you can stay an extra day and explore more!
---
Private Beach House with Mountain Views in Colchester
Sleeps: 8
Dogs: No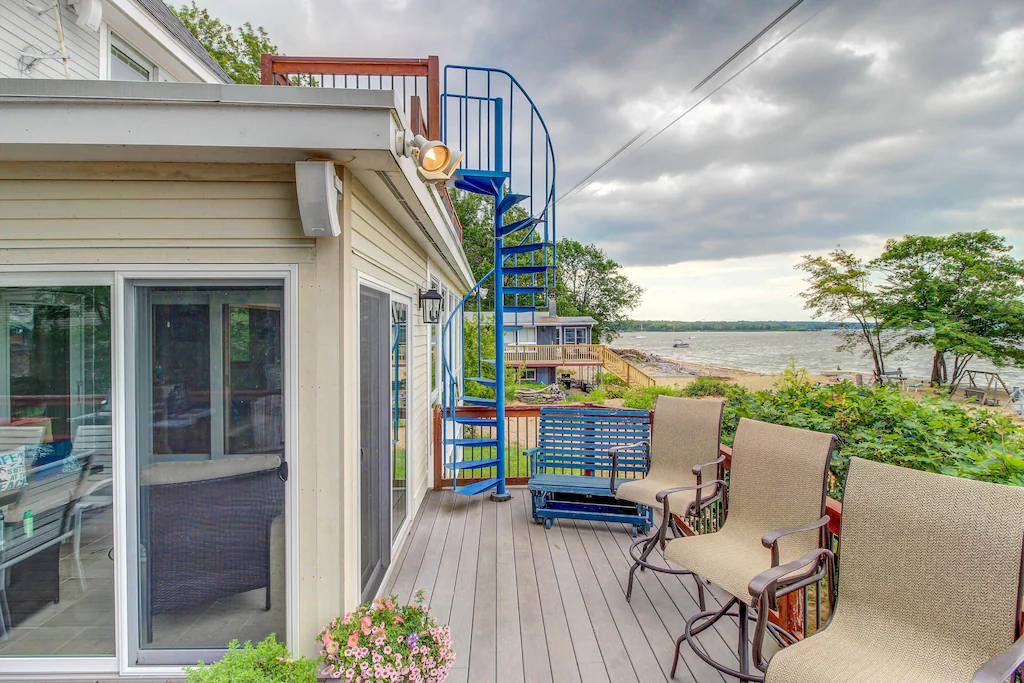 Located 15 minutes north of Burlington, this beautiful and spacious Lake Champlain beach house in Colchester has four bedrooms and two bathrooms and is capable of sleeping up to eight people. With a full kitchen and a gas grill out on the patio, you can enjoy home-cooked meals while admiring the view of the Adirondacks rising above the lake.
Although this home isn't as close to Burlington as some of the other Lake Champlain vacation rentals on this list, it sits right beside the Colchester Causeway bike path. Consider bringing bikes for an easy trip into town without the need to drive.
If relaxing around the house is more your speed, take advantage of the foosball table in the furnished basement, or enjoy a cold beverage out on the sunny deck.
Enjoy a true beach vacation with easy access to a sandy beach complete with picnic tables and a fire pit. The water is shallow here, so it's a great spot for kids to go swimming, and it's a perfect place to watch the stars come out at night.
Get a fire going and toast up some marshmallows while you watch the moon rise over Lake Champlain.
---
Romantic Lake Champlain Cottage in Colchester
Sleeps: 2
Dogs: No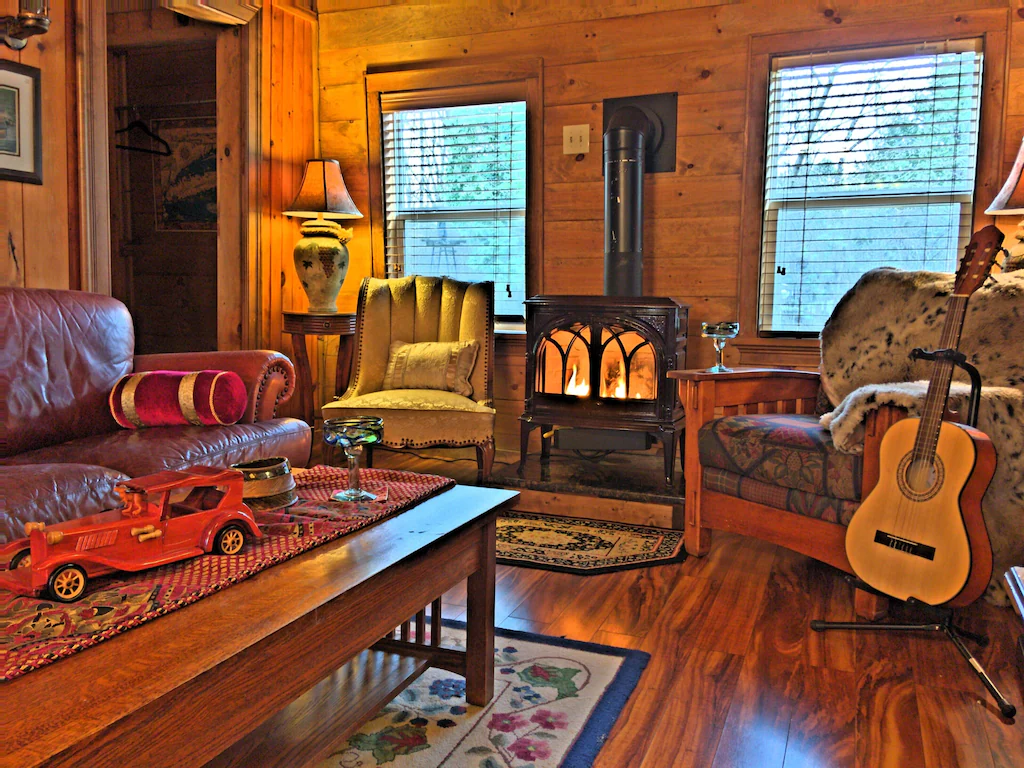 Although this cozy cottage near Lake Champlain might not look like anything special on the outside, stepping through the door transports you into a haven of warm colors and cushy furniture.
The decor is a unique blend of classic rustic and old-fashioned extravagance, with artistic touches all over. You'll find some new adornment to admire in every room.
Sleeping a maximum of two people, this is an excellent choice for a quiet couples getaway, or a solo traveler looking for some peace and quiet.
The property is 15 minutes from downtown Burlington, and the lake is just steps away.
Colchester Causeway bike path runs straight through this quiet neighborhood, giving you instant access to miles of great biking, and an easy way to get to Burlington if you don't feel like driving.
Vacation Rentals in the Lake Champlain Islands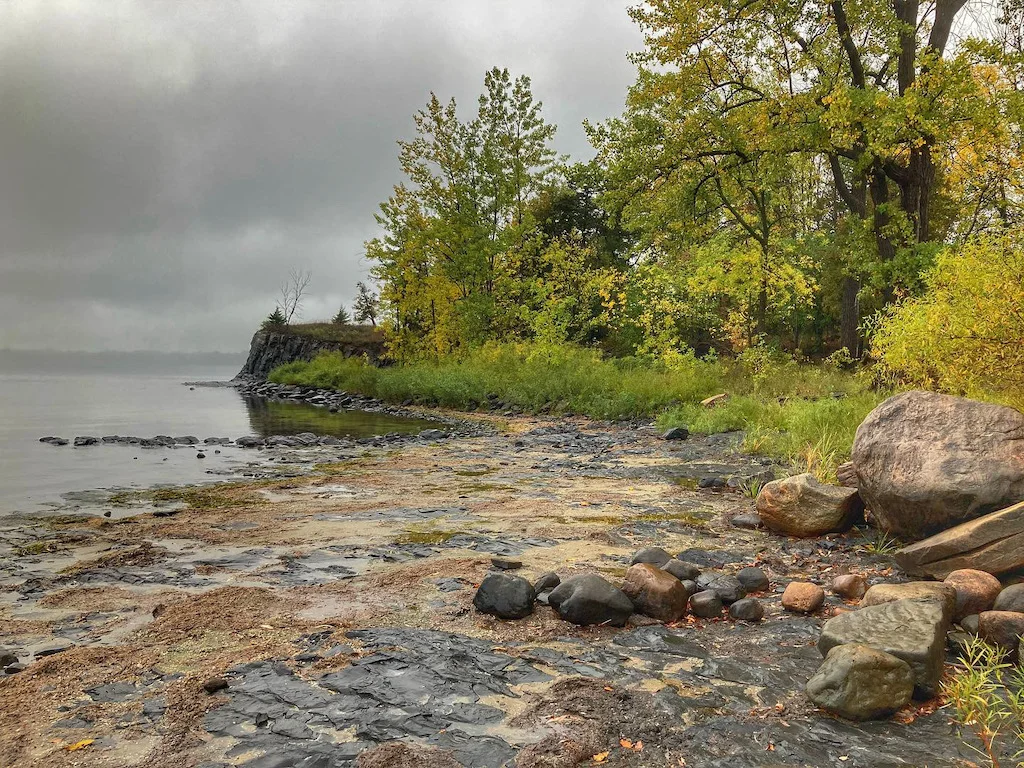 The Lake Champlain Islands are comprised of Isle La Motte, North Hero and South Hero, and the peninsula of Alburgh.
This area is more sparsely populated than Burlington and much more suited to a quiet family getaway.
Most of the land is either farm or forest, with a few small towns dotted throughout, making these vacation rentals a perfect place for nature lovers and anyone seeking a more rural landscape.
In the summer, the Lake Champlain Islands are a popular tourist destination, but it's also the perfect lake getaway for fall, when the prices are more affordable and the farm stands are overflowing with fresh produce.
Here are a few fantastic Lake Champlain vacation rentals when you need a taste of island life.
South Hero Lake House with Kayaks and a Canoe
Sleeps: 4
Dogs: No
This beautiful Lake Champlain vacation home, located on South Hero Island, sits at the end of a dead-end road directly beside Lake Champlain, looking out on Keeler Bay.
The property is about two miles from the village of South Hero, giving visitors a quiet sanctuary, well-isolated from the rest of the world.
With one bedroom and two beds, this is a great rental for a couple or a small family looking to get away.
A full kitchen and gas grill outside make it easy to cook your own meals; and if you do, be sure to check out Allenholm Farm and Hacketts Orchard for the freshest produce, and stop by Snowfarm Vineyard and Winery for a bottle of locally made wine to enjoy with dinner.
When you're ready to get out and explore the lake, take advantage of the two kayaks and canoe provided by the owners. The property has a set of wooden steps leading down to the lake, making it easy to launch the boats or just go for a swim.
Paddle the lake at your leisure, taking in the views and watching belted kingfishers and ring-billed gulls wheeling above you.
---
"Isle Be Back" Vacation Home on Grand Isle
Sleeps: 4
Dogs: No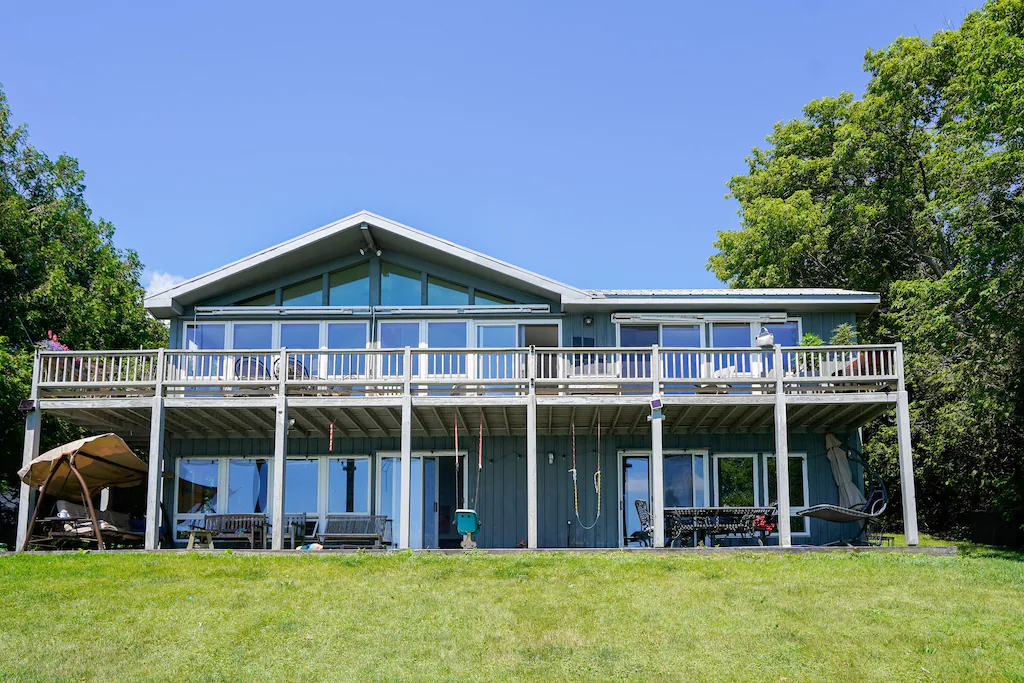 Nicknamed, "Isle be Back" by the owners, this charming Lake Champlain rental has direct lake access from the property and comes equipped with two kayaks and a paddleboard for visitors to use at their leisure.
If the Terminator reference and the promise of boating on Lake Champlain weren't enough to convince you to visit, this rental also sits directly beside Grand Isle State Park.
Being just minutes away from amazing hiking, swimming, and boating, as well as the frequent nature programs offered at the park, makes this location a nature lover's paradise.
The cozy yet spacious home has 2 bedrooms and can sleep up to six people. There is a gas fireplace for the colder days, a wide raised deck—perfect to enjoy your morning coffee on—and a dining area with large windows overlooking the lake.
So whether you plan to spend your vacation out exploring or inside relaxing, you're bound to enjoy Isle be Back.
---
Large Adirondack-Style Home on South Hero Island
Sleeps: 14
Dogs: No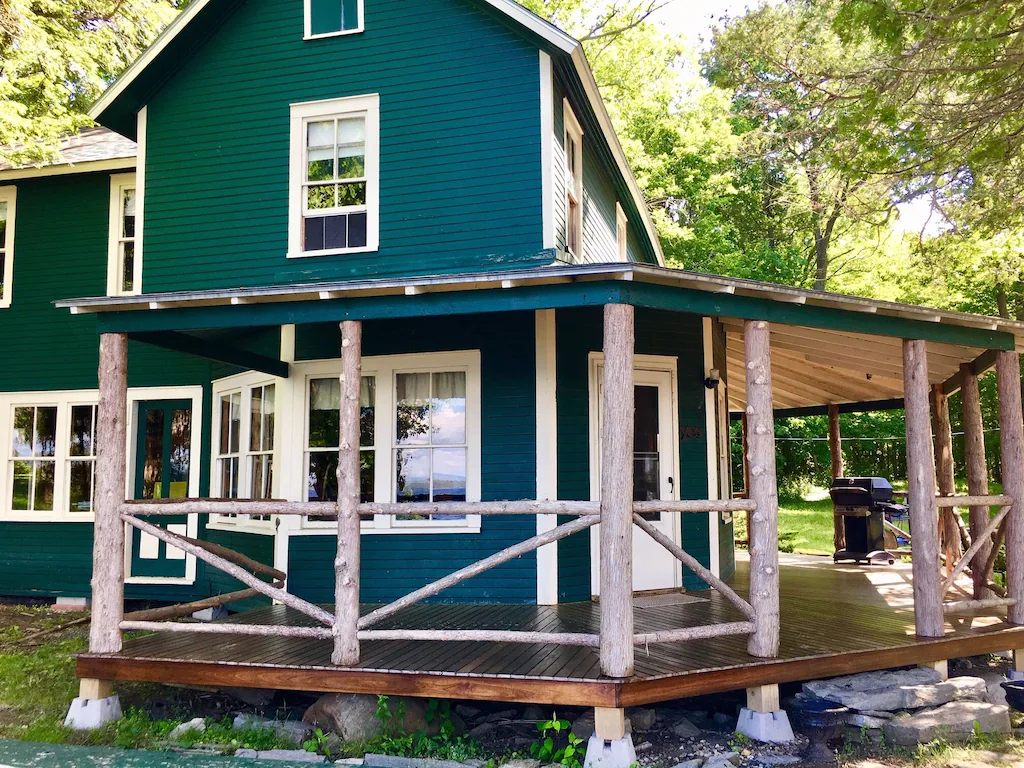 With six bedrooms and the capacity to sleep up to fourteen people, this Lake Champlain vacation rental is a prime choice if you want the whole family to tag along, or if you're vacationing with a large group of friends.
The house sits on five acres of land so you won't have to worry about neighbors, and visitors have free reign to explore the entire property and its 1200 feet of shoreline. Plus, the outdoor shower means that even if you're traveling with children, you can easily keep the beach outside where it belongs.
The large, fully stocked kitchen and long dining room table make it plausible to do your own cooking, even for big groups, and the huge lake-facing windows in the dining area ensure that you'll always have a stunning view while you eat.
The property also comes with a raft, a dock, and a volleyball court. You'll find no shortage of things to keep you entertained during your stay here.
And since the house sits on the west shore of South Hero Island, you can end each day of your vacation by watching the sunset over the lake.
---
Rent Your Own Private Island on Lake Champlain Near South Hero
Sleeps: 12
Dogs: 1only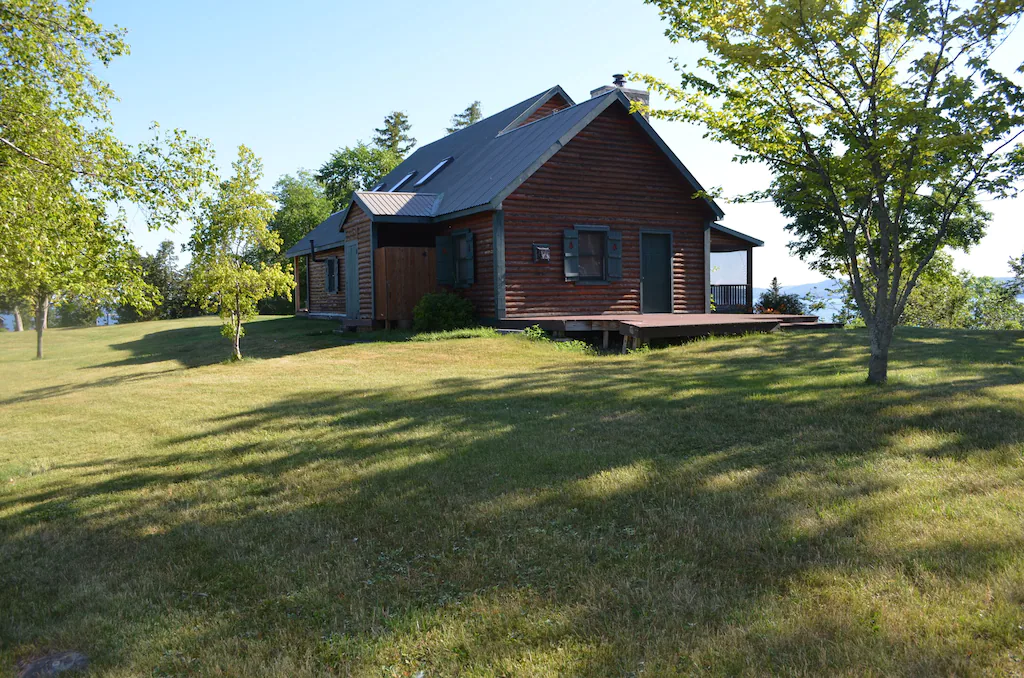 The only thing better than a house next to the lake is a house surrounded by the lake.
This gem of a rental comes with access to a small motorized boat for getting back and forth between the mainland and the island, which is about a 5-minute trip. The rental also comes with a kayak and canoe for more leisurely adventures out on the water.
The property includes a large main cabin with 5 bedrooms, as well as a 1 bed/1 bath guest cottage which makes for a total sleeping capacity of 12 people.
Chances are you'll want to fill every bedroom so you can split the bill between as many people as possible because this gorgeous property averages whopping $950 dollars a night.
Your money won't be going to waste though; your vacation will be the epitome of picturesque and private, with 360-degree views, a boat dock, multiple shale beaches, a gazebo, and an outdoor lounge area with a grill, fireplace, and firepit. And of course, an entire island all to yourself.
---
Dog-Friendly Home on North Hero Island
Sleeps: 4
Dogs: Yes (up to 2)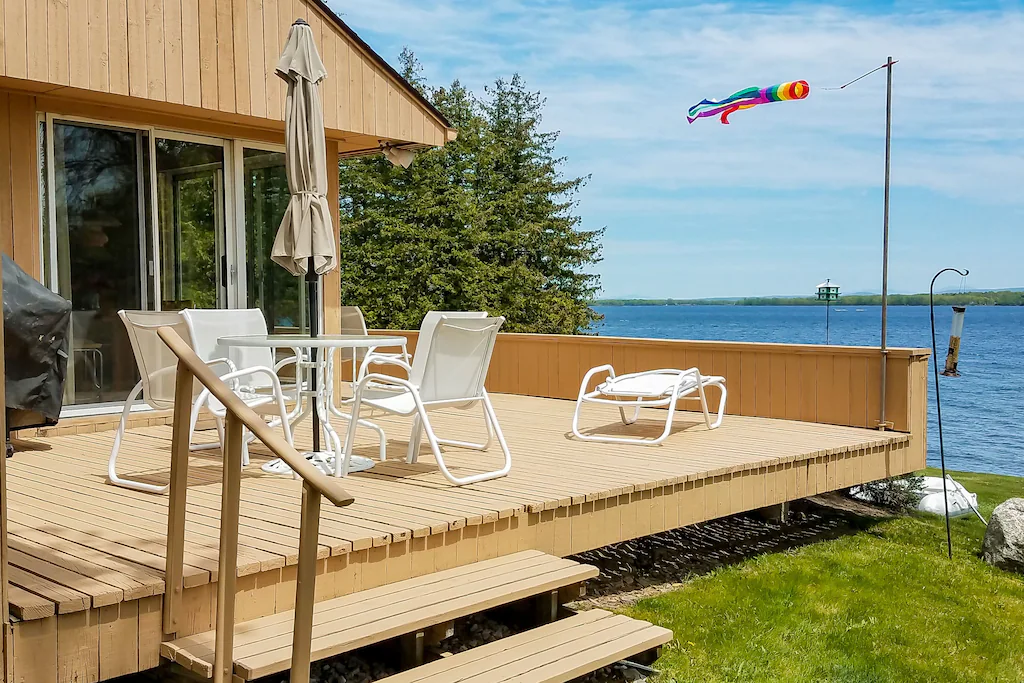 This lake house on North Hero strikes a balance between modern and retro aesthetics inside, with a carefully-decorated open-concept living space. The home has two bedrooms and can sleep up to four people, and the hosts allow you to bring up to two dogs.
Outside you'll find a wide wooden deck looking east over the lake toward Knight Island, making it a great place to drink your coffee in the morning as you'll have an unparalleled view of the sun coming up over the Green Mountains and shimmering off the surface of the lake.
As you approach the lake, the wide grassy lawn gives way to a stony private beach where you can swim to your heart's content, or launch one of the kayaks or the canoe that comes with the property.
Explore the islands by bike or by car, and visit one of the three nearby state parks; Grand Isle State Park, North Hero State Park, and Knight Point State Park.
---
Cozy Cottage with Vibrant Gardens and Lake Access in Grand Isle
Sleeps: 13
Dogs: Yes (up to 2)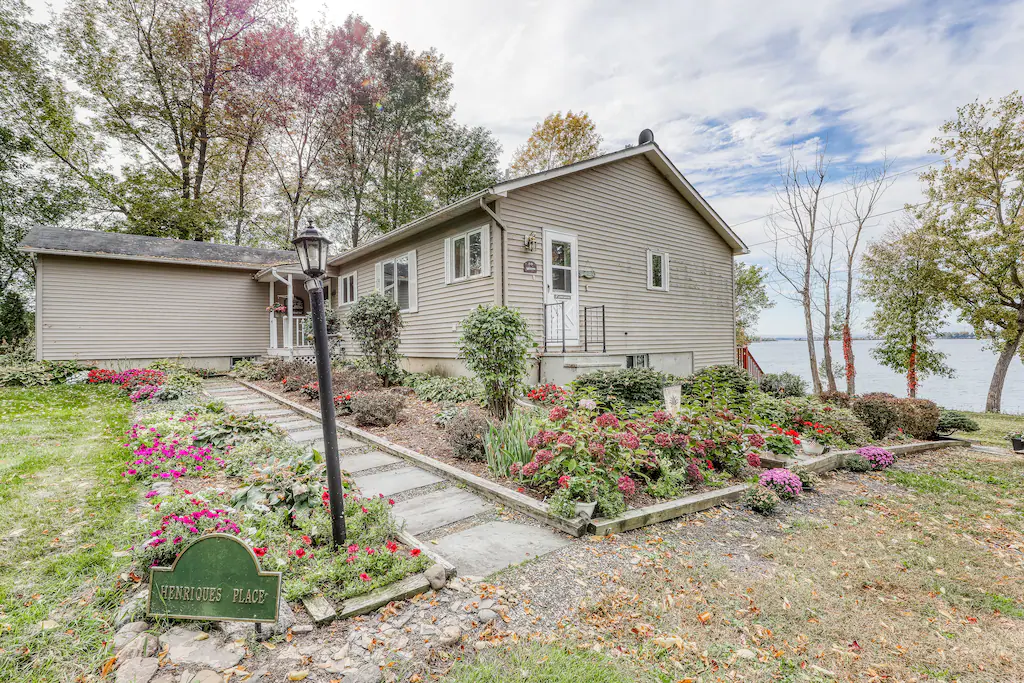 Are you looking for a place that can fit the whole family but still feels cozy? This Lake Champlain cottage is the place for you. With room to sleep up to 13 people and plenty of space to spread out both indoors and outside, this is a great rental for big groups.
The secluded location on Grand Isle guarantees privacy during your stay, allowing you to enjoy the beautiful views and natural setting undisturbed.
The beach area and private dock are just steps away from the back door, and the hosts recommend tossing in a fishing line while you're there, as this area is especially good for fishing.
The property comes with a single kayak for guests to use, as well as a gas grill for barbecues which can be enjoyed on the wooden deck overlooking the lake.
Knight Point State Park is within driving or biking distance, as is Grand Isle Art Works, a Vermont artisan gallery inside a 1797 farmhouse. Both locations are worth checking out, and Knight Point can even be visited via kayak if you're feeling confident in your ability to navigate out on the lake.
---
More Lake Champlain Vacation Rentals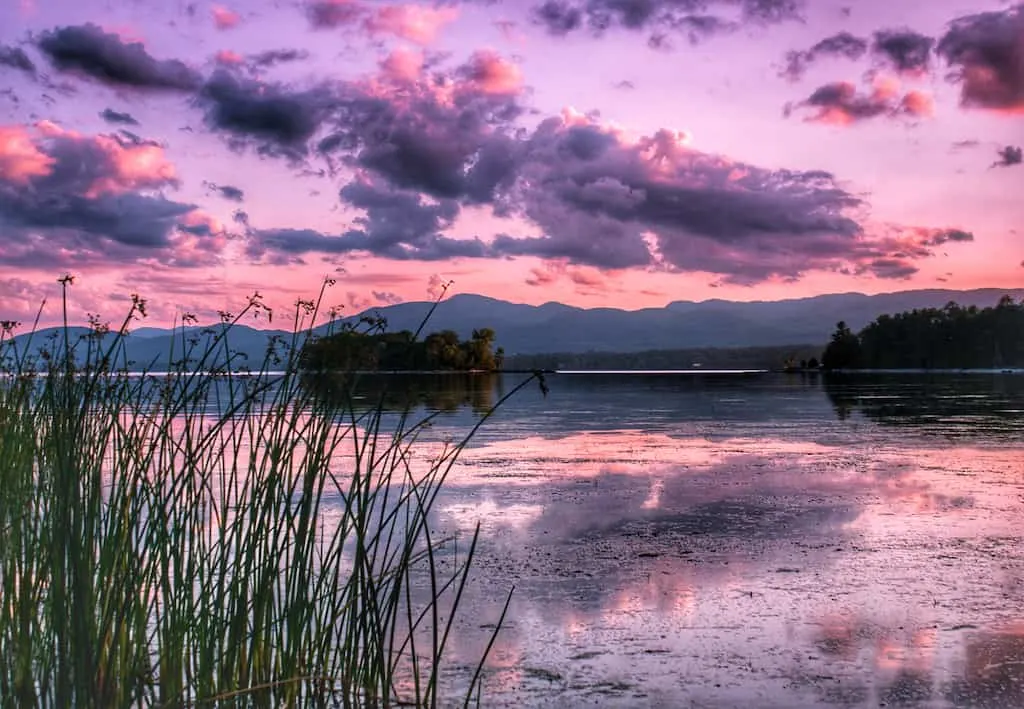 Newcomers to this part of Vermont may be fooled into spending their whole vacation in Burlington, but the Champlain valley is filled with hidden gems, from small towns to local farms and gorgeous state parks.
These Lake Champlain vacation rentals will allow you to see the best of the beautiful rural countryside up and down the shores of Lake Champlain.
Fairytale Castle Near Vergennes on Lake Champlain
Sleeps: 9
Dogs: No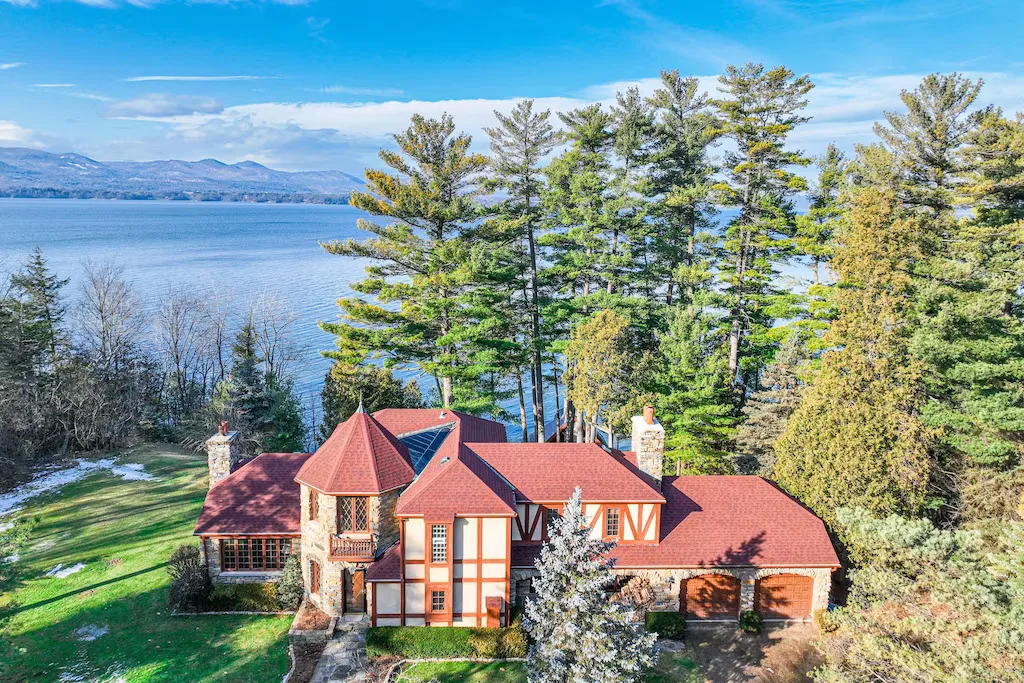 You'll feel as if you've stepped back in time when you arrive at this magnificent chateau overlooking Lake Champlain.
Located 45 minutes south of Burlington, near the town of Vergennes, this sprawling estate is sure to give you a vacation you won't soon forget.
The extravagant interior of this home has marble floors, luxurious furniture, several stone fireplaces, and a furnished basement complete with a full bar. There is a fully stocked kitchen, a gas grill outside, and a total of four bedrooms that can sleep up to nine people.
Outside, enjoy spectacular views of the Adirondack Mountains from the deck or the patio, or the balcony of the stone boathouse. Get out on the water using one of the provided boats of which there are kayaks, a canoe, and a rowboat, and enjoy swimming from the sandy beach.
During your stay, you can explore the area by visiting Shelburne Farms and the historic Shelburne Museum, the Lake Champlain Maritime Museum, or one of the nearby state parks (Button Bay State Park and D.A.R. State Park).
---
Waterfront Lake House in Swanton, Vermont
Sleeps: 8
Dogs: Yes (up to 2)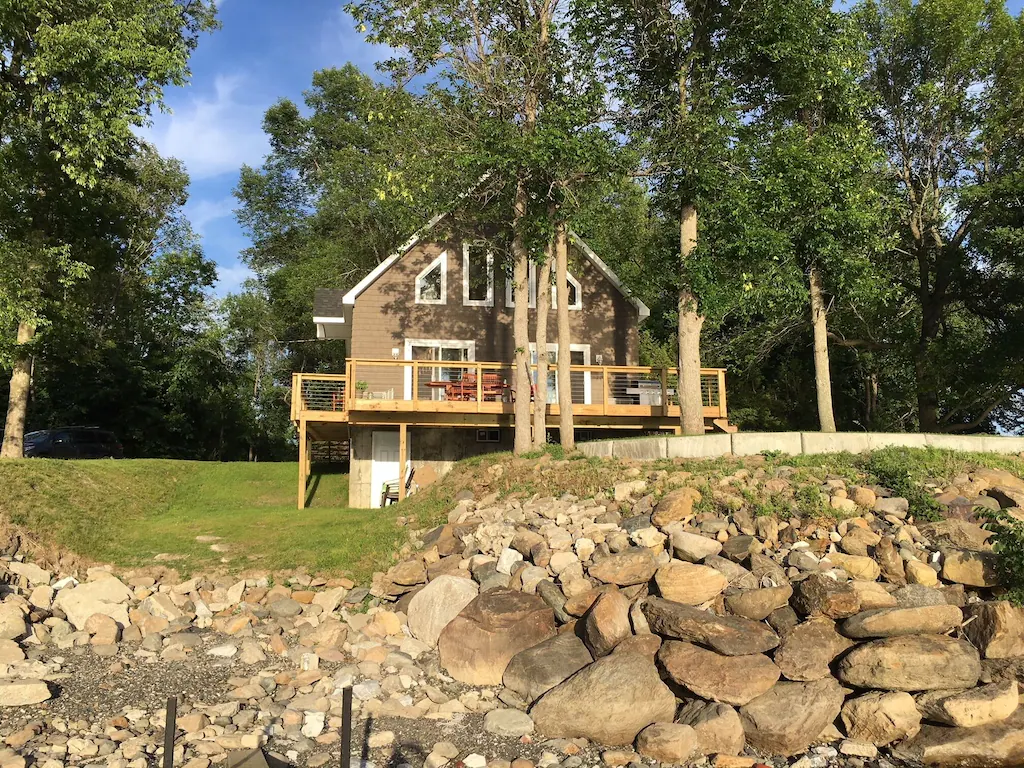 If you're willing to venture about 45 minutes north of Burlington, you can book a stay at this newly built lake house near Swanton, Vermont on Missisquoi Bay.
Built in 2017, this young home has a wide wooden deck looking out on 140 feet of private waterfront and can sleep up to eight people.
The waterfront includes a long deck perfect for swimming or fishing, and the property comes with a kayak and a paddleboard.
Although Swanton is a small village of about 6,000, there is still plenty to do nearby.
Missiquoi National Wildlife Refuge, four miles north of the property, is a fantastic place for birdwatching, fishing, and hiking. If you're looking for somewhere to dine out, you can visit the town of St. Albans 15 minutes south, or go all the way to Burlington for even more options.
Don't forget to bring your passport when you visit northern Vermont towns like Swanton!
The city of Montréal is only an hour and a half away and makes for a great day trip. Get up early so you can spend the whole day eating fresh pastries and piles of poutine while learning about the amazing history of the city.
---
Follow us on social media for more Vermont inspiration!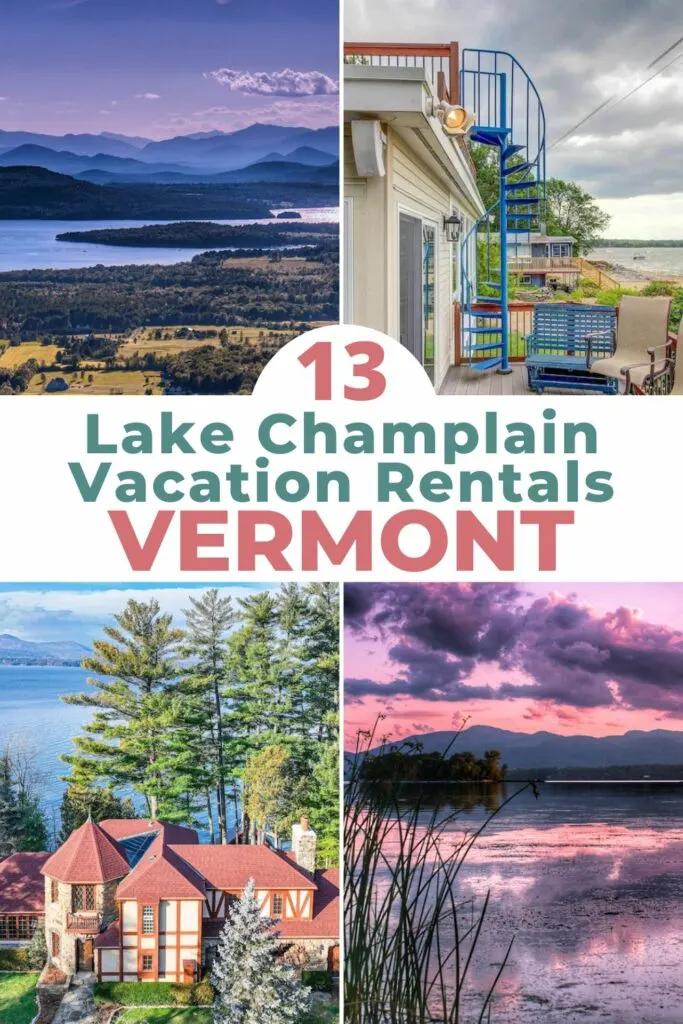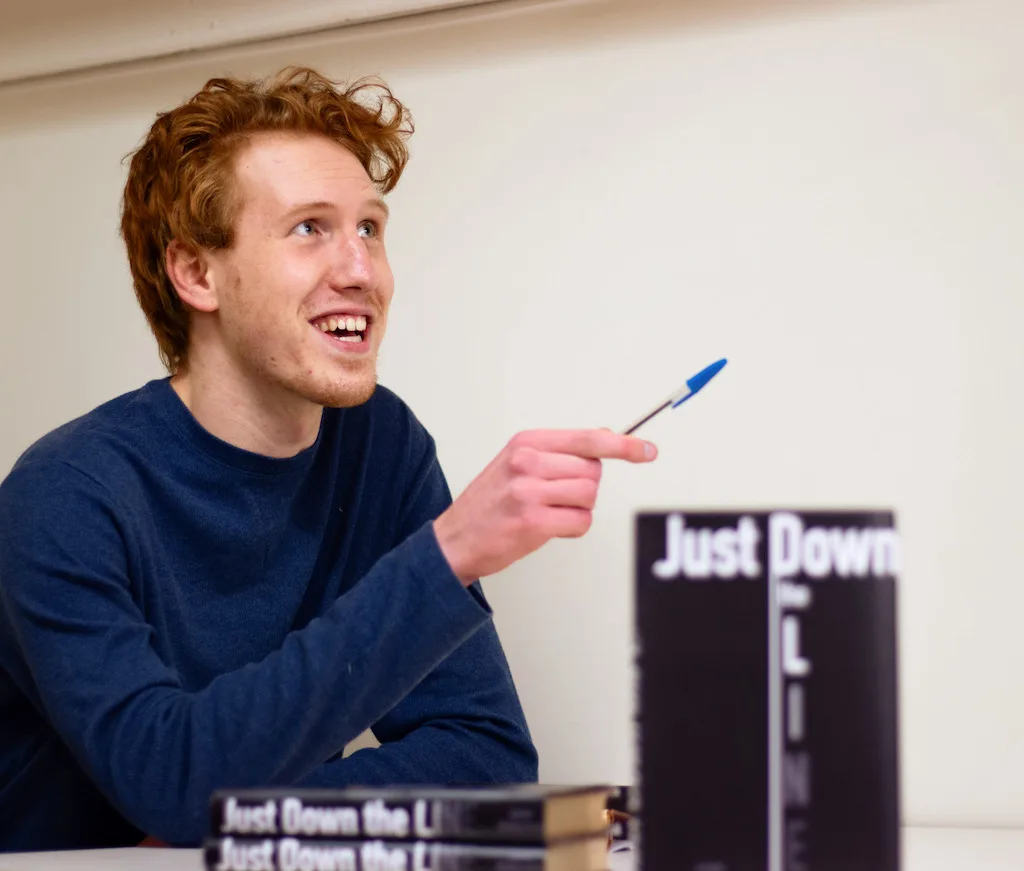 Gabriel Reed recently graduated from Keene State College with a degree in English and is a writer and photographer from Southern Vermont. In his free time, Gabe enjoys spending time outdoors and pursuing his love for fantasy stories, medieval aesthetics, and grilled meats.