Somewhere between camping and glamping is the exciting world of cabin camping, and Vermont State Parks has lots of options!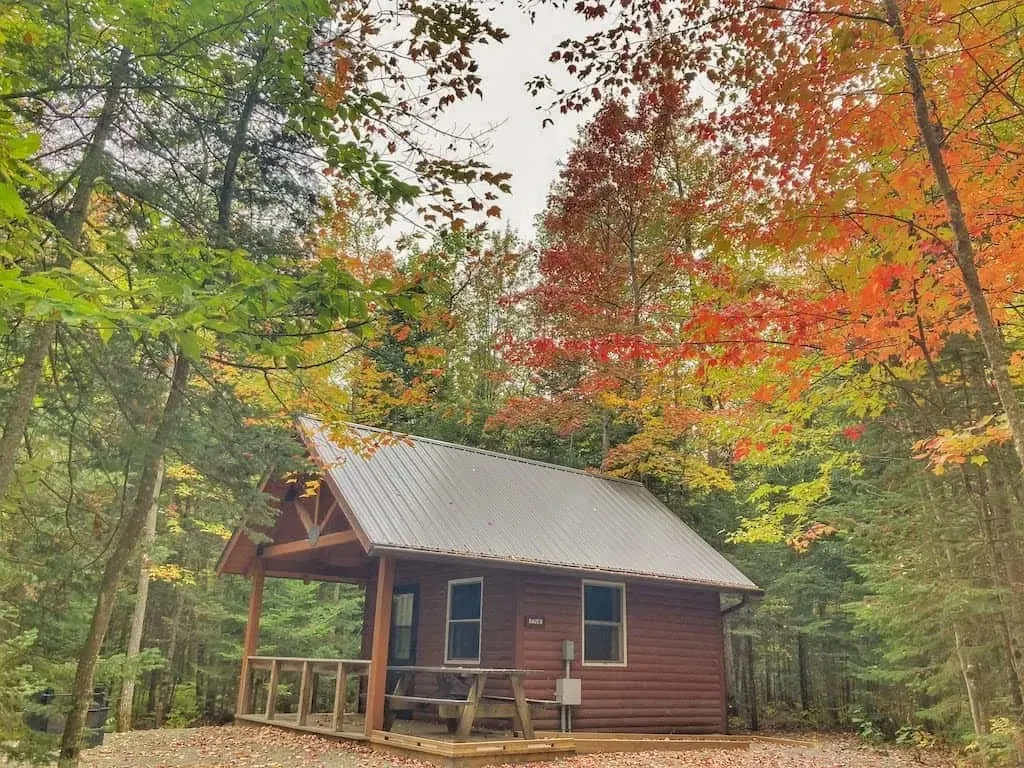 The cabins in Vermont State Parks aren't luxurious enough to be glamping cabins, but you do get a real bed, so it's definitely a step above camping.
If you love the outdoors but don't love sleeping on the ground, a stay in Vermont camping cabins is the ideal adventure. If you need to escape to the woods for a few days and don't want to pack up ALL THAT GEAR, cabin camping will ease your burden (a little).
I've been exploring Vermont State Parks since before I could walk, but over the past few years, I decided that cabin camping was exactly what I needed. And I think it may be what you need too!
Here's what you should know about staying in the Vermont camping cabins through Vermont State Parks.
The Vermont Camping Cabins Sleep Four People Who Love Being Together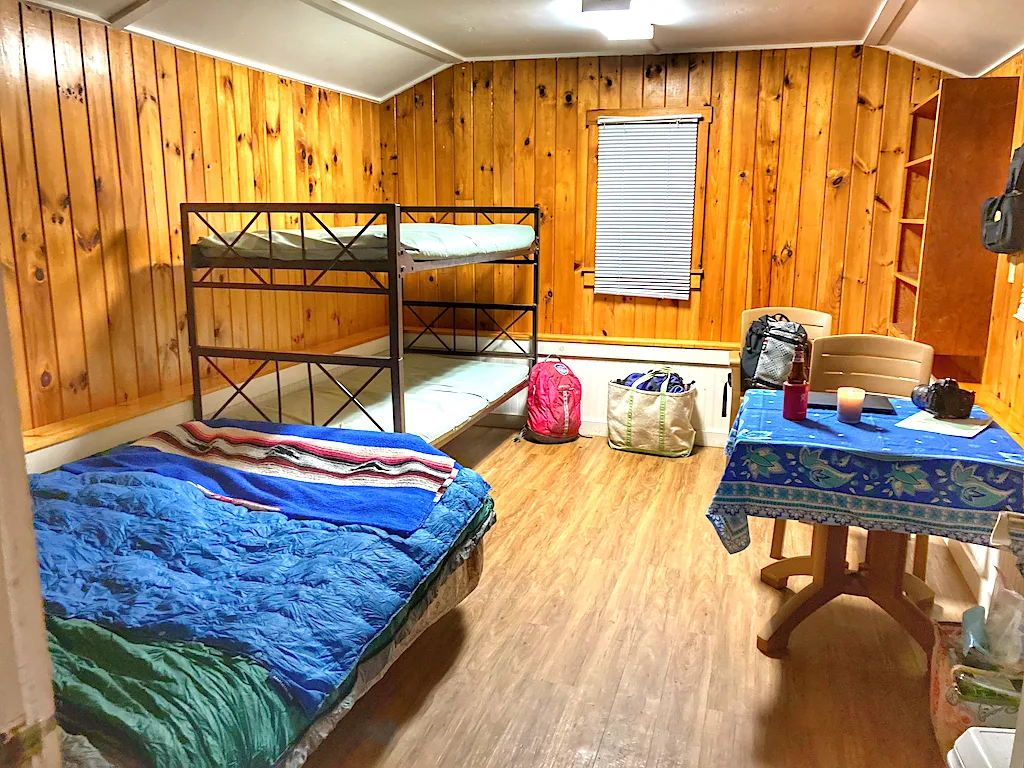 The cabins in Vermont State Parks have a full-size futon and twin bunk beds, which take up roughly half the space in a cabin and sleep four comfortably.
They're much larger than your standard four-person tent and only slightly smaller than your average hotel room. Sure it's a squeeze if you plan on spending a lot of time in the cabin, but not a problem if you know your bunkmates well and love spending time together.
You could even put two more people on the floor or in a tent outside the cabin (the parks allow up to six people at each cabin site).
If you're planning on renting a cabin for a family vacation, I would recommend bringing art supplies and board games for those rainy days. And maybe keep the shoes out on the porch, especially if you have teenage boys.
You can Bring Your Dog (Maybe)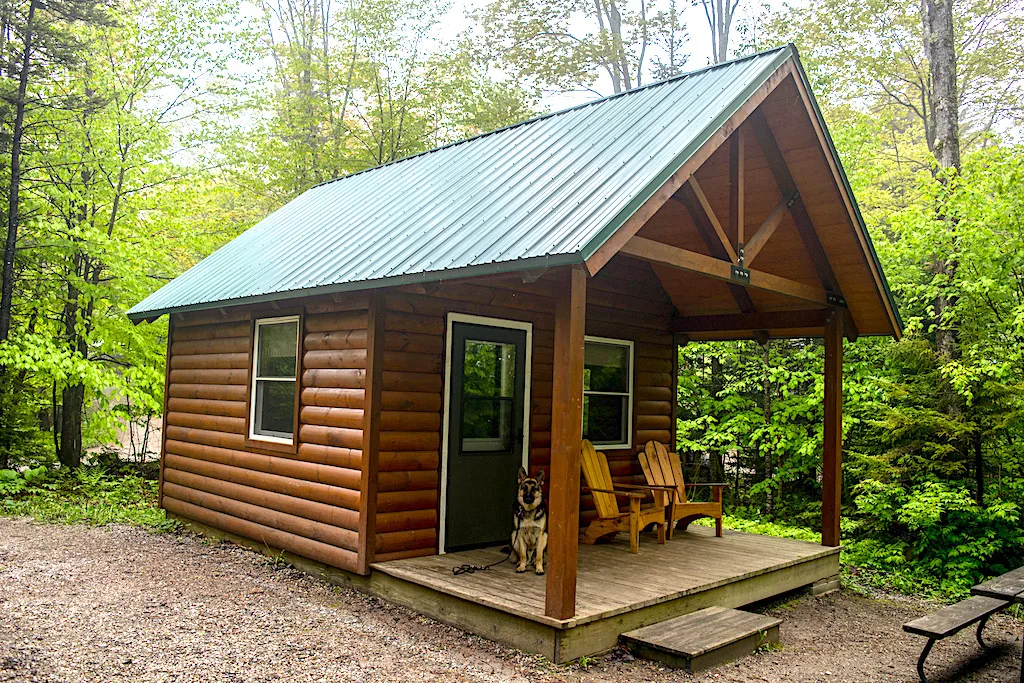 Your dog is part of the family and probably loves Vermont camping cabins as much as you do.
Fortunately, most parks with cabins have at least one that is dog-friendly. As of 2022, there are 12 dog-friendly cabins available at Vermont State Parks, so reserve your site as soon as you know when and where you want to go.
You can book Vermont State Park cabins up to 11 months in advance.
If you weren't fortunate enough to get a dog-friendly cabin, all the lean-tos and tent/RV sites in Vermont State Parks are dog-friendly. You just need to keep your dogs on a leash and clean up after them. Oh, and be sure to bring proof of vaccinations (take a picture of their records to keep on your phone).
---
Read Next: Four Seasons of Beauty in Woodford State Park
---
You'll Laugh at the Rain from the Comfort of Your Cabin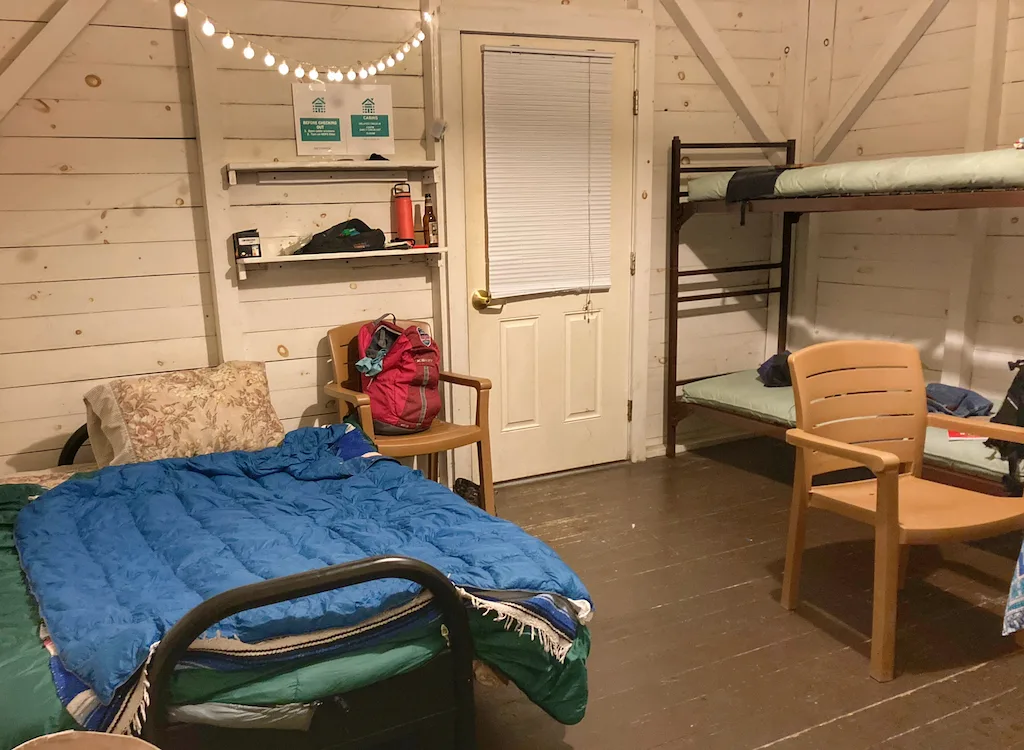 I'm writing this from the comfort of Cabin B in Lake Carmi State Park and it has been pouring for the past 15 hours straight.
I am warm, cozy, and most importantly — dry, as the rain drums away on the roof of the cabin. I can see how hard it's raining by watching the barrage of raindrops on the otherwise peaceful surface of Lake Carmi.
Vermont weather is unpredictable, friends — especially early and late in the season.
While there's no heat in the cabins, they're pretty tight, and they will definitely keep you dry as you laugh at the rain.
If you plan on exploring farther afield, bring a rain jacket, an umbrella, and towels!
It's Still Camping (With Benefits)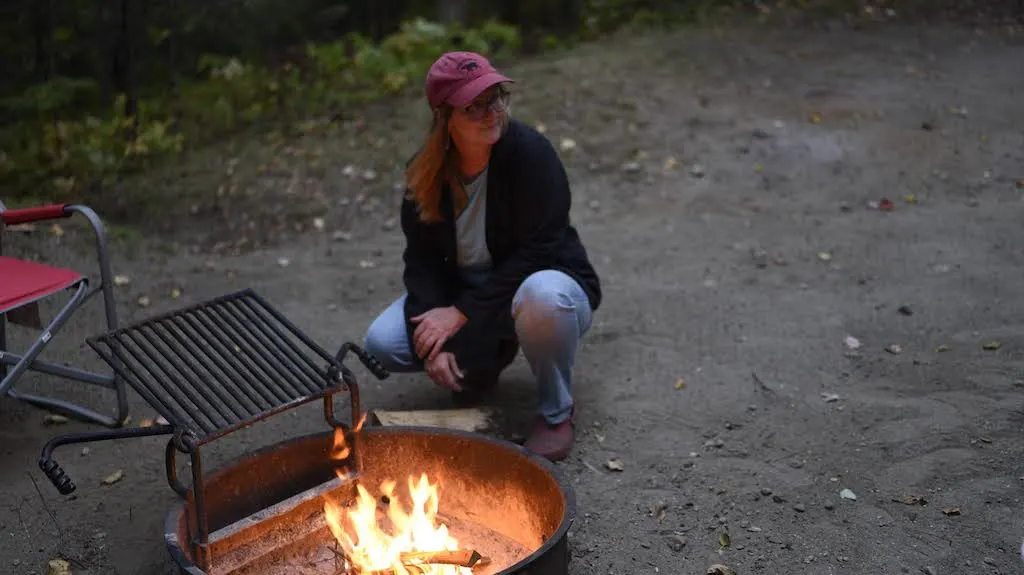 Yes, Vermont camping cabins allow you to sleep in a real bed each night, and the four walls and roof will keep you warm and dry, but this is definitely still camping.
The cabins do not have heat or AC, you have to cook your meals outside, and when nature calls, the bathhouse is a five-minute walk.
That doesn't mean that you can't make your Vermont camping cabin cozy! Bring along a string of battery-powered lights, a tablecloth, a portable Bluetooth speaker, and real bed linens to glamp out your cabin. Home-sweet-home!
Vermont State Park Camping Cabins: Amenities
These are basic one-room cabins with a covered porch, perfect for solo travelers, couples, or families of four. Outside of the cabins, there's a picnic table and a fire pit, plus room for two cars. Here's what you'll find inside the cabins so you can plan accordingly:
A full-size futon – bring your own sheets, blankets, or sleeping bags. Fall temps can be below freezing, so throw a few extra blankets in your car just in case!
Twin bunk beds – Bring linens!
A small table with chairs
Hooks along the walls
Shelves for clothes/food
Overhead lights
At least one outlet (some have more)
A small air purifier
Broom and dustpan
A smoke detector
Windows with screens
Vermont Camping Cabins are Cheaper Than Staying in a Hotel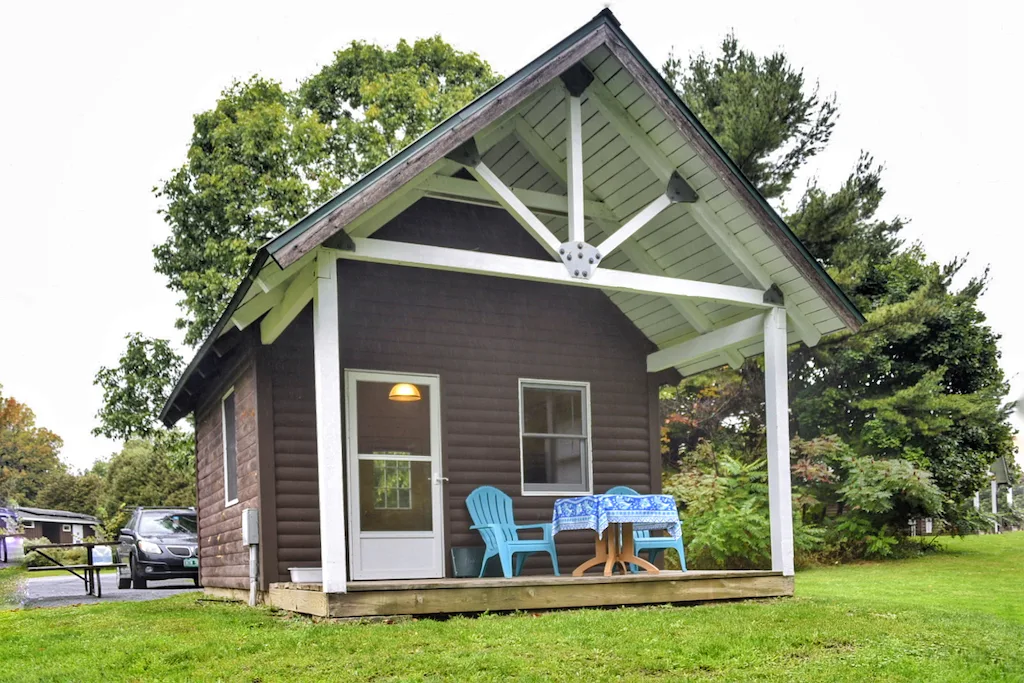 Most of the cabins in Vermont State Parks are $60 per night for Vermont residents and $68 for non-residents. The exception is the sought-after Burton Island cabins which are $73 per night for residents and $75 for non-residents.
I haven't stayed in a hotel that cheap since 1995. Aside from the affordable price tag, your camping cabin lets you explore public lands in Vermont simply by walking out your front door.
There are cabins on the shores of mountain lakes, cabins on the side of a mountain, and cabins tucked away in the woods.
The Vermont State Park cabins spoil you in a way that no hotel ever will, provided your priorities involve loons and owls wishing you goodnight and shoreside sunrises with your morning coffee.
Ahh, isn't it fabulous to be reminded of how rich we really are?
It May Be Colder Than You Expect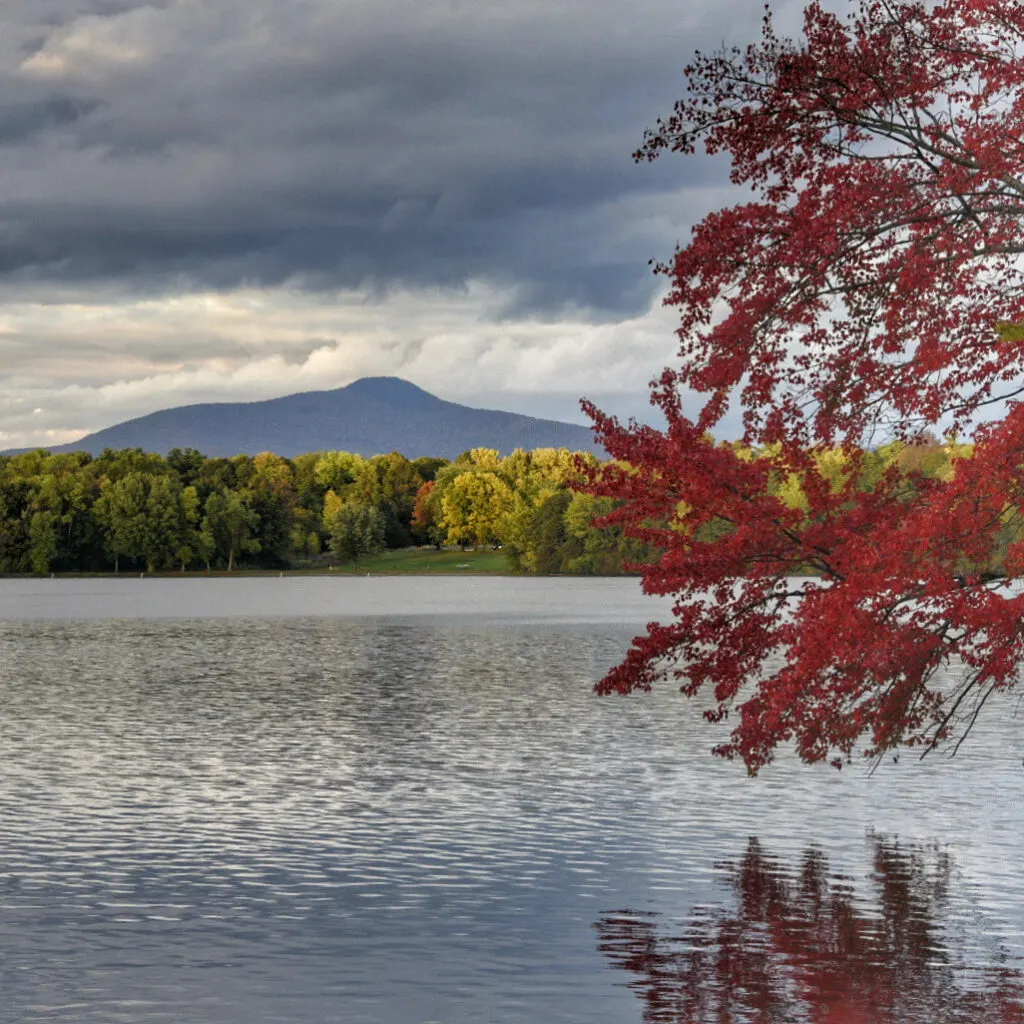 Back to practicalities – Most Vermont State Park campgrounds are open through the leaf-peeping season or the second Monday in October. Some close a bit earlier, some a bit later. Get the scoop on the dates over at Vermont State Parks.
Summer nights can still be chilly enough for a wool beanie and a fleecy layer, and wool socks (these are made in Vermont) are a must for hiking in every season. A rain jacket is never a bad idea in Vermont, and in the fall throw a down jacket and gloves into your bag too.
Since you're cabin camping, you can pack real bed linens (recommended) or a sleeping bag. For fall, go with flannel sheets and a down comforter. For summer, regular cotton sheets and a lightweight quilt or comforter should be plenty.
Choose from 12 Vermont State Parks with Camping Cabins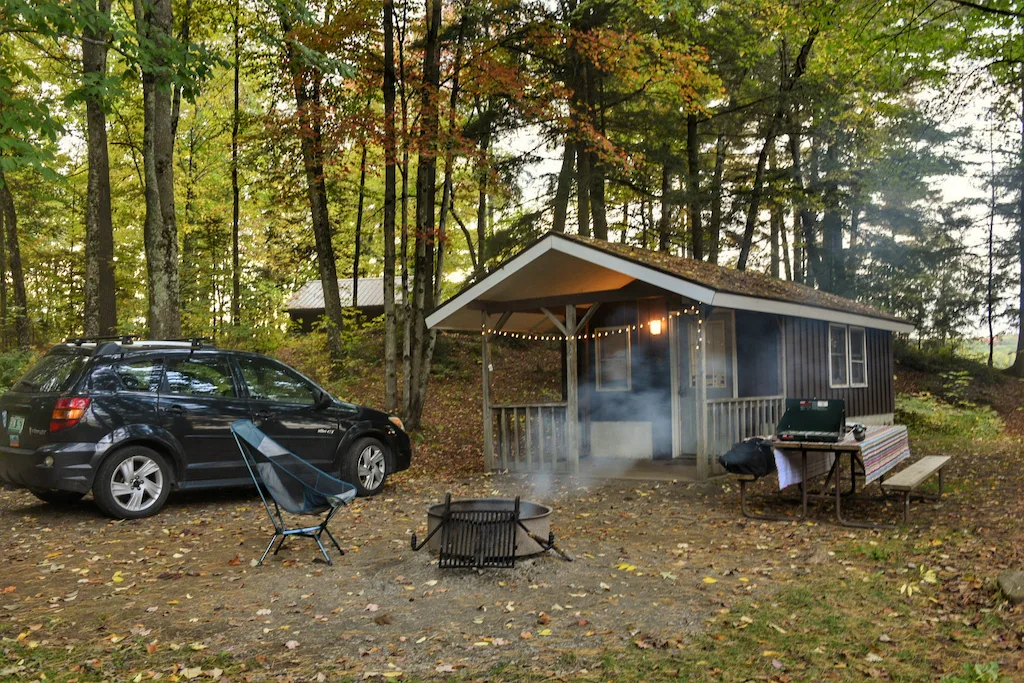 As far as Vermont State Park campsites go, the camping cabins are pretty rare.
There are 56 cabins spread out among 13 state parks. If you want to camp with your pup, you only have 12 cabins to choose from.
Cabin highlights include the sought-after Burton Island cabins, which you have to reserve for either four or three nights, leave your car on the mainland, and pay a premium rate of $73 per night.
Worth it? I don't know! I've been trying to book a cabin on Burton Island for the past four years without success. They are the crown jewel campsites of the state park system – located on the eastern tip of Burton Island with lovely views and easy access to Lake Champlain.
Other destinations for waterfront cabin camping include Woodford State Park, where the cabins sit on a low ridge with a trail down to the water, Lake Carmi State Park, where there are two dog-friendly waterfront cabins, and Button Bay State Park, where the cabins provide sweeping views over Lake Champlain.
---
---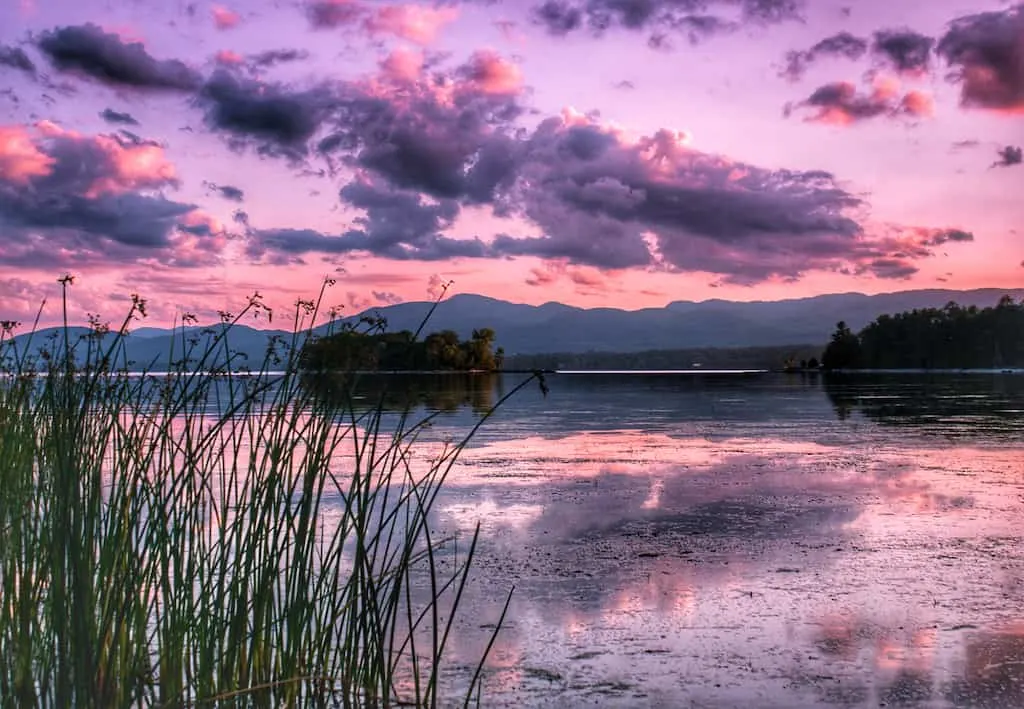 In more of a mountain mood? Rent one of the Mount Ascutney cabins, which are located halfway up the mountain on the Mt. Ascutney Parkway.
These rustic cabins have no electricity, but they are perfect when you want to get away from it all. The summit of Mount Ascutney provides several different vantage points, and from the observation tower on the summit, you can see into New Hampshire and Massachusetts, not to mention the beautiful Green Mountains to the west.
---
Read Next: Vermont's Mighty Monadnock: Mt. Ascutney State Park
---
If you love the outdoors but are on the fence about camping, give cabin camping in Vermont a try!
The cabins are available throughout the camping season, which runs from Memorial Day weekend to either Labor Day or mid-October, depending on the park.
In the summer, you can take advantage of those long warm days to hike, paddle, swim, and bike, and then come home to a cozy cabin that will keep out the bugs and the rain.
Fall cabin camping in Vermont is up there with the first fire in the woodstove as one of the most exciting events of autumn.
Who needs Oktoberfest and pumpkin spice when you can have the smell of wood smoke and forests alive with a colorful spectacle they've been rehearsing for all summer?

Whatever season you choose to camp in, there's a pretty good chance that Vermont State Parks has a cabin with your name on it.
Read more about the cabins or book your next trip at Vermont State Parks.
---
Follow us on social media for more Vermont inspiration!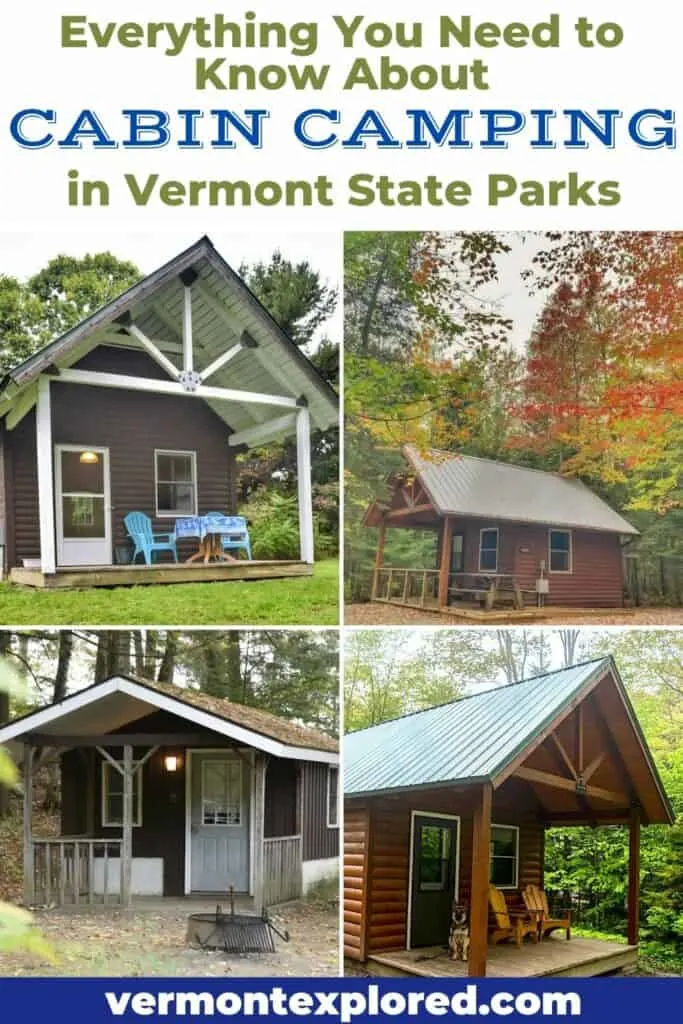 Tara Schatz is a freelance writer, and the founder and editor-in-chief of Vermont Explored and Back Road Ramblers, an American road trip blog. She is also the co-author of the 3rd edition of AMC's Best Day Hikes in Vermont, which was released in May 2023, and the author of 100+ Wonderful Ways to Experience Vermont.