Travel restrictions and guidelines change frequently, so be sure to check with the destination before visiting. Also, this post may contain affiliate links from which we earn a small commission.
One of Vermont's greatest treasures, Lake Champlain provides recreation, solitude, and beauty for thousands of visitors and locals each year. It's 125 miles long, with more than 587 miles of shoreline. Lake Champlain is also home to 318 species of birds, 81 fish species, and a mysterious monster, affectionately known as Champ. At its widest point, near Burlington, Lake Champlain is almost 12 miles long, but it narrows significantly on either end.
There are 13 Vermont State Parks on Lake Champlain, making it easy for campers, swimmers, hikers, and nature lovers to explore the lake's waters and shores. Some of our favorite Vermont State Parks are just south of Burlington.
Button Bay State Park: For dog-friendly camping on Lake Champlain
Kingsland Bay State Park: For swimming, picnicking, and hiking on Lake Champlain
Mt. Philo State Park: For a nice uphill hike and incredible sunsets over Lake Champlain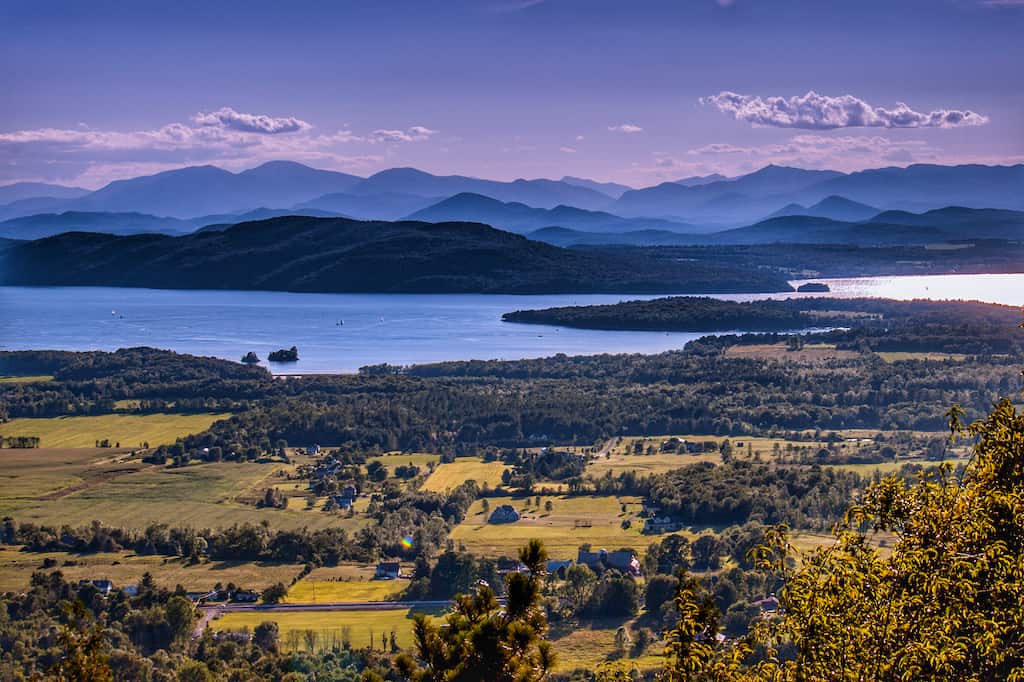 Even short trips to Lake Champlain are enough to lower my blood pressure, and our most recent trip was no exception. We spent hours hiking along the shore, taught our puppy to swim, bought seriously awesome maple creemees, and watched three amazing sunsets. Here are some highlights from our fabulous Lake Champlain camping trip, and some tips to help you make the most of your visit.
Lake Champlain Camping: Button Bay State Park
We've camped at lots of different Lake Champlain campgrounds over the years, and one of our all-time favorite spots is Button Bay State Park in Ferrisburg. The park has a great family vibe and is fabulous for camping from summer to fall.
Summer camping at Button Bay State Park can be crowded, with both people and mosquitoes. Our favorite time to camp at Button Bay is in late September when the campground is mostly cleared out, but the weather is still beautiful.
During our last visit, we tried to reserve our favorite lean-to, Willow, but it was booked, so instead, we snagged Cedar, a lovely, private lean-to site, just a short walk from the bathrooms and from the trail to the water.
The Button Bay Campground on Lake Champlain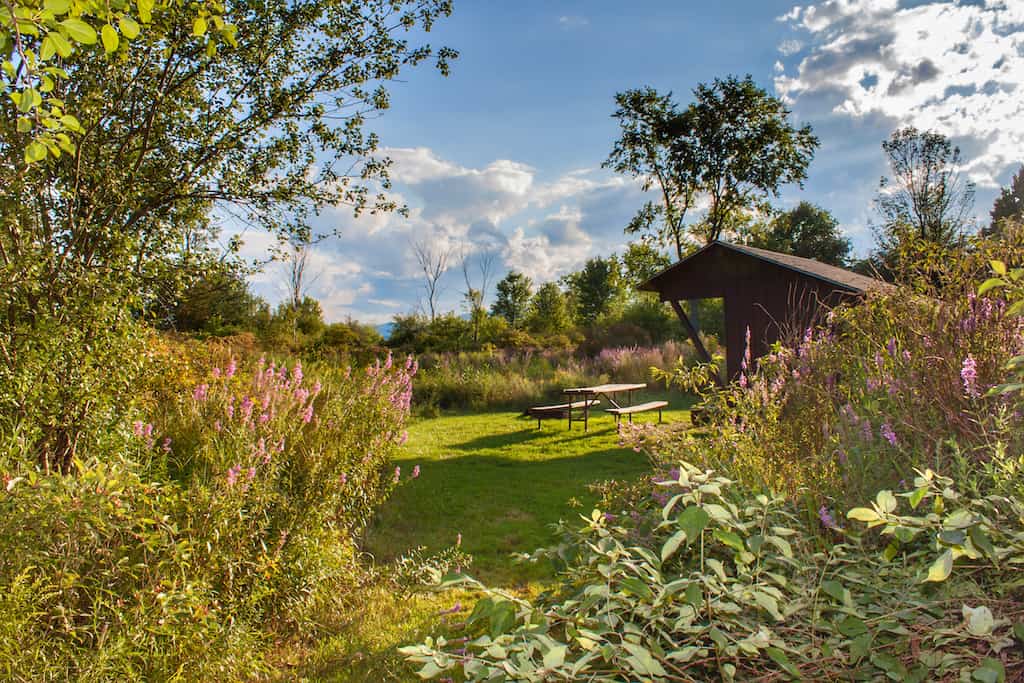 There are two campground loops in Button Bay State Park, each with its own bathhouse. The first loop consists mostly of lean-tos, with a few tent sites. Sites in this loop are private and offer a bit of shade. Between Catalpa and Willow, there's a beautiful meadow trail down to the beach. This is called the dog walk, and our puppy definitely appreciated the walk and the beach on her visit.
The second loop is very open, and most of the sites are either in the middle or around the edge of a big field. This loop has a nice playground, a trail to the pool, and incredible lake and mountain views.
Button Bay State Park also has four camping cabins, each with gorgeous, sweeping views of Lake Champlain and the Adirondack Mountains. We've been eyeing them for many years, in hopes to reserve one for a fall weekend, but they've always been booked. Only the Sedge cabin allows dogs. Tip: Don't procrastinate when booking a camping cabin at Button Bay!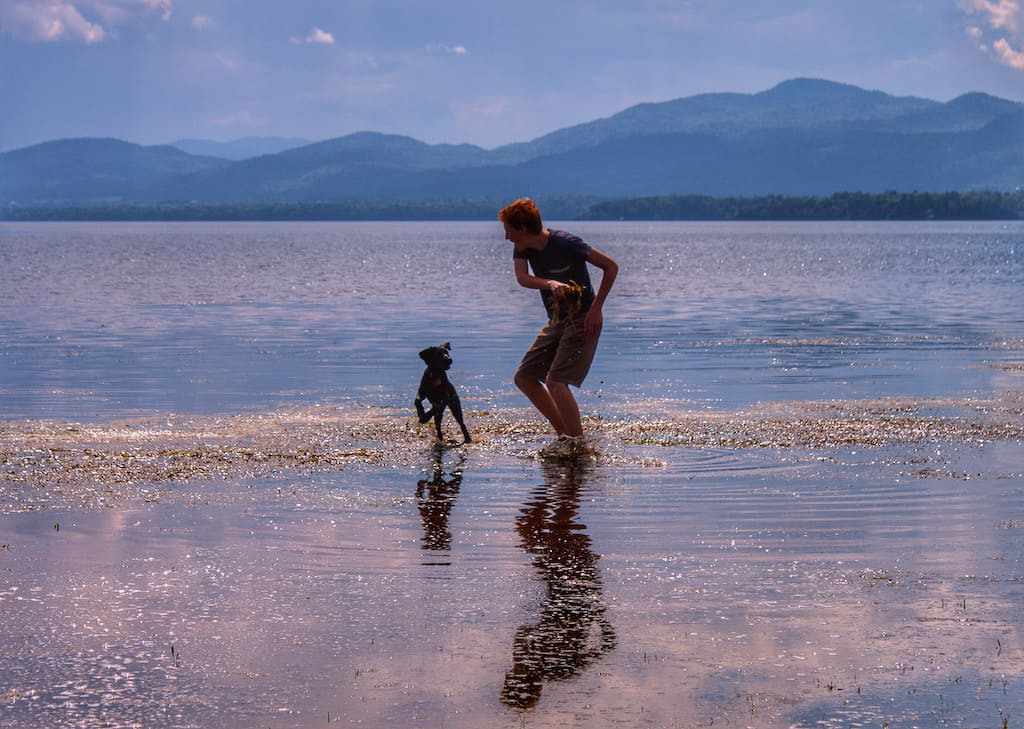 Not far from the Button Bay Campground is a trail out to Button Point. It's a short hike and takes you past a nature center nestled in the woods. Here you can find out more about Champ, Lake Champlain's famous monster, and the button-like concretions that gave the park its name and are found along the rocky shoreline.
The trail follows a service road for a bit, delves into a beautiful hardwood forest, and then pops out onto a rocky peninsula. It's a great place to watch the sunset, take pictures of your puppy, or have a picnic!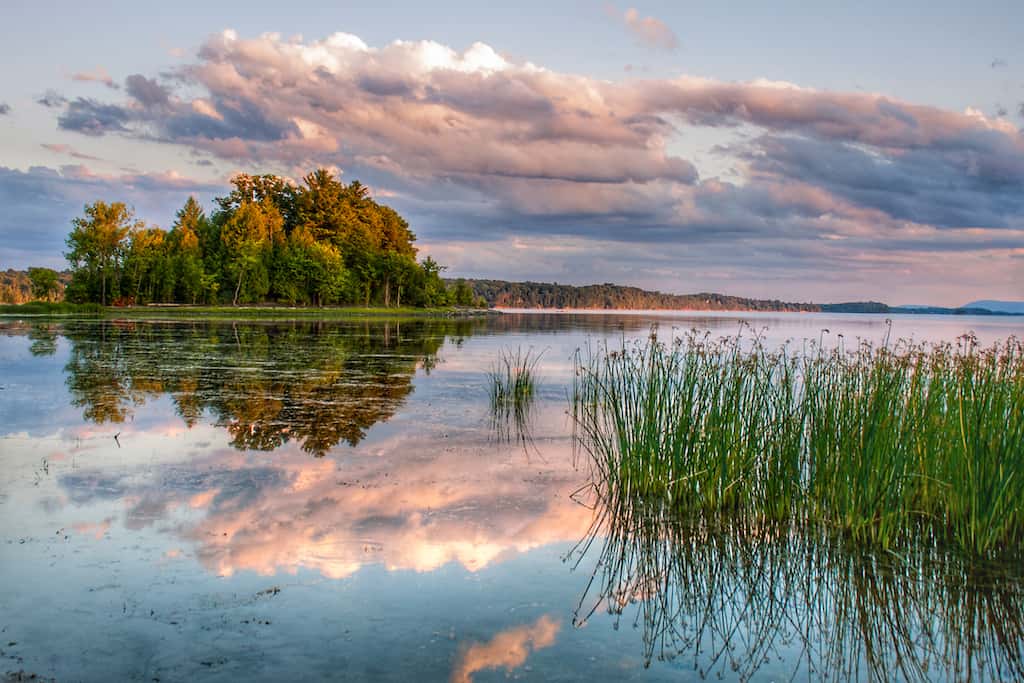 Swimming in Lake Champlain at Kingsland Bay State Park
Button Bay State Park has a lovely pool to swim in, which is perfect for families with small children. For lake swimming near Burlington, I recommend driving to Kingsland Bay State Park, just 11 miles north of Button Bay. Kingsland Bay is only open for day-use, and it is absolutely perfect for a luxurious picnic, followed by a hike and a swim.
The sprawling lawns are lightly shaded by stately locust trees. There's ample room to spread out, and the water is deep, clear, and refreshing. This is our favorite place to swim on Lake Champlain, and definitely one of our favorite state parks near Burlington, VT.
Kingsland Bay is nice and sheltered, and there are lots and lots of sailboats coming and going. Is there anything better than watching those graceful sailboats as you relax on the shore of your favorite lake, all sleepy after a beautiful swim? I think not.
One note about Kingsland Bay — while I find it perfect in every way, there isn't much of a beach — just a dock for jumping off of. I probably wouldn't bring toddlers here to swim, and dogs aren't permitted either.
There is also a great trail that heads along a peninsula on Lake Champlain. It's very shaded, and there are little nooks for picnicking or swimming. You could definitely spend a full day at Kingsland Bay State Park!
The Best Lake Champlain Sunset: Mt. Philo State Park
What to do after the most relaxing summer day ever at Kingsland Bay State Park? How about a taste of Vermont's yummiest maple creemee, followed by a vigorous hike up Mt. Philo, and a fantastic sunset over Lake Champlain?
Okay, so I haven't tried all of the creemees that Vermont has to offer, but Seven Days awarded the best creemee to Vermont Cookie Love (and Burlington Bay Market & Cafe) in 2016. Lucky for us, Vermont Cookie Love is located right on route 7 between Kingsland Bay State Park and Mount Philo State Park. Can our weekend get any better?
Mt. Philo is under 1,000 feet in elevation, and the trail to the top is just ¾ of a mile. Hiking not your thing? You can certainly drive to the top with your picnic and binoculars. Mt. Philo State Park is Vermont's oldest state park — created way back in 1924. Whether you hike or drive to the top of the mountain, you'll be rewarded with one of the prettiest views in all of Vermont!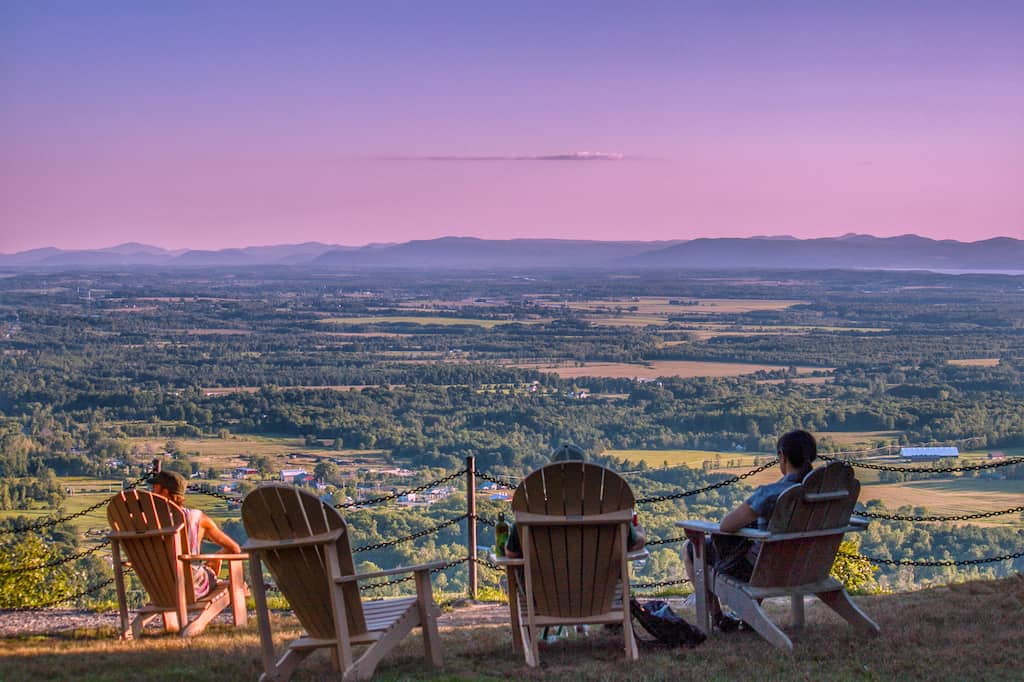 Mt. Philo State Park has one of the quaintest and smallest campgrounds near Burlington, VT. There are just 11 sites, and the day-use area closes just after sunset, making for a really quiet night on the mountain.
We recently met some of our favorite people at the top of Mt. Philo to celebrate a perfect summer weekend. We watched the sun go down with a handful of locals and visitors. We were all stunned into silence by the magic of that sunset, and the cool breeze that came with the twilight reminded us all that autumn was just a handful of sunsets away.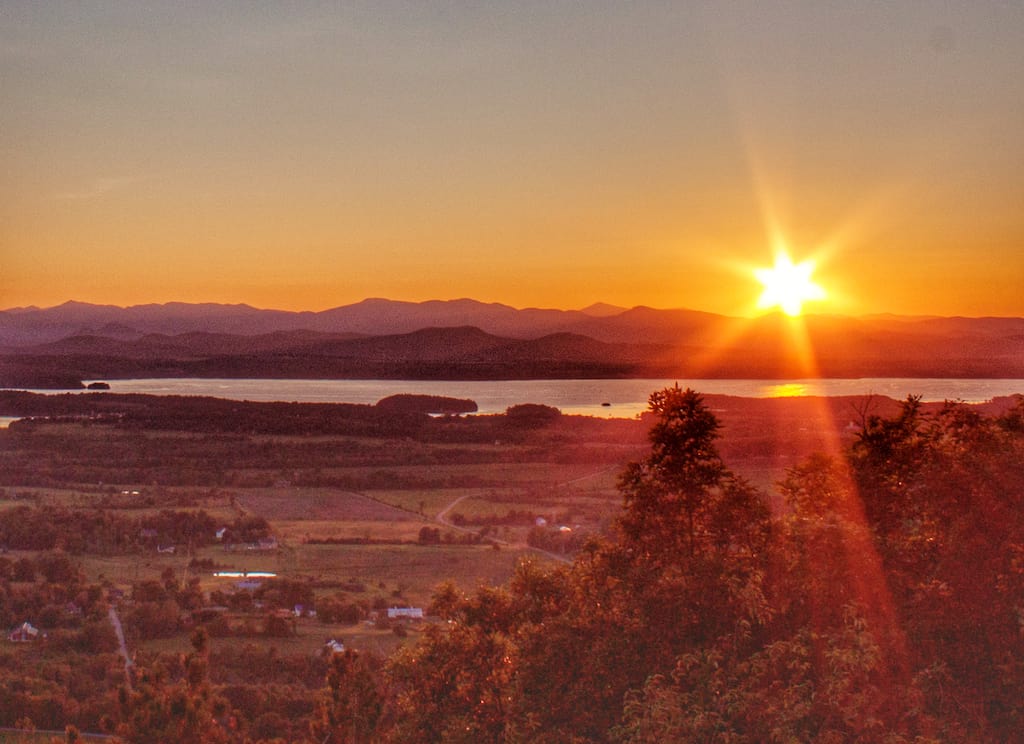 Check Out the Map!
Here's a map featuring everything we've mentioned in this post. Simply click on the icon to read more about each spot.
Thank you so much to Vermont State Parks for helping me explore so many of Vermont's natural treasures this year! I love being able to capture my experience on camera and share so many of my adventures with all of you. Vermont State Parks also helped me with my first foray into solo camping, and now I'm hooked!
Have you been to any of Vermont's amazing state parks near Burlington or great Lake Champlain campgrounds? I'd love to know which ones are your favorites so I can plan next year's adventures!
---
---