Dark woodland trails, a turquoise mountain lake, and one of the most family-friendly campgrounds in Vermont. This is what you'll discover at Emerald Lake State Park in East Dorset, a small town in the mountains of Southern Vermont.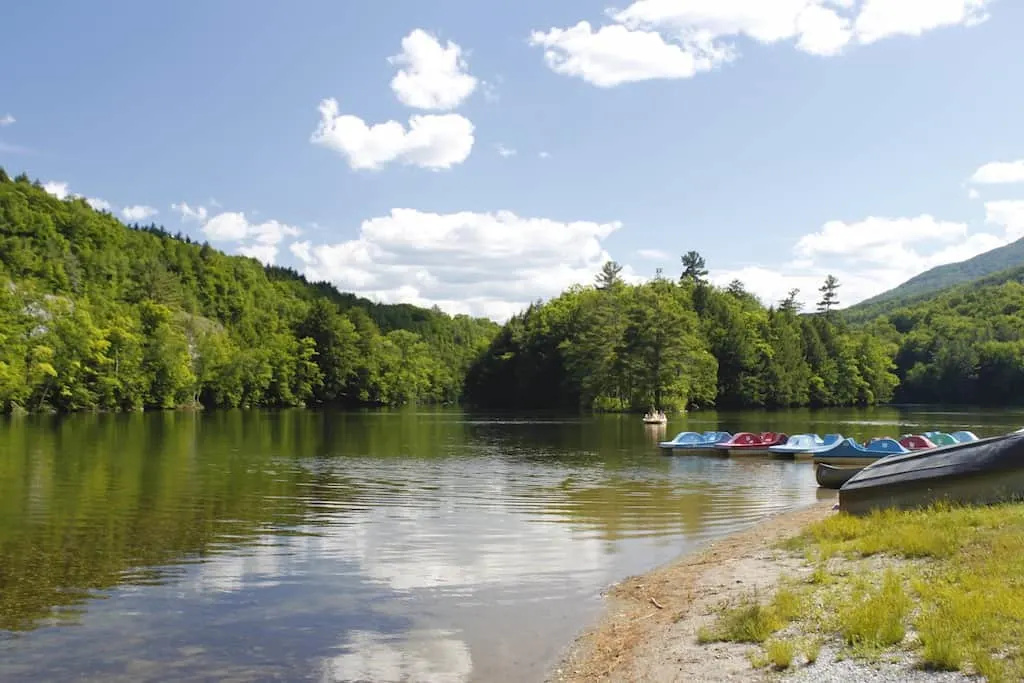 This delightful park is a favorite with locals and is widely regarded as one of the best places to cool off on a summer day in Vermont. In fact, Emerald Lake is one of our favorite spots in all of Vermont to swim, and we think you'll agree!
We've been spending summer afternoons and weekends at Emerald State Park in Vermont for many years, and relaxing at this Vermont State Park is always a highlight of our summer.
Here's why you'll love Emerald Lake State Park, and should start planning your summer visit ASAP.
Quick Facts: Emerald Lake State Park
Address: 65 Emerald Lake Lane
East Dorset, Vermont 05253
Activities: swimming, hiking, paddle sports, camping
Open: Memorial Day weekend to 2nd weekend in October
Fees: $4 adults, $3 kids
Dogs: Yes, on leash
Camping: 66 tent/RV sites (no hookups) 37 lean-tos
Dogs: On-leash, but not on the beach
Visit the official park website
Emerald Lake State Park is nestled in a deep valley between the Taconic Mountains to the West and the Green Mountains to the east. The two mountain ranges are only a few hundred yards apart here, and they rise up steeply on either side of the lake, making for lovely views in all directions.
Covering just 20 acres, Emerald Lake isn't big, but what it lacks in size it makes up for in beauty. Its clear green waters and sandy bottom attract swimmers, paddlers, sunbathers, and anglers throughout the summer.
My family and I aren't strangers to Emerald Lake's charms. We've picnicked on the shores and spent countless hours exploring in and out of the water. We also try and make a habit of camping at Emerald Lake during the summer at least once.
Emerald Lake may be known as the best swimming spot around, but there's more to this beautiful park than swimming. It's also a hiker's paradise, a haven for dog-lovers, and a perfect spot for family camping.
We'd love to share some of our favorite ways to explore Emerald Lake State Park.
Emerald Lake Camping
There are more than 100 campsites perched on a wide ledge on the west side of Emerald Lake in Vermont.
While I wouldn't call any of them waterfront campsites, you do catch enticing glimpses of the sparkling water far below the campground. The campsites are wooded with beautiful giant hemlock trees, interspersed with a spattering of maple, oak, beech, and cherries.
The Emerald Lake campground is great for hammock and tent camping, but there's also room for RVs if that's more your style.
Afraid of nasty weather? Rent one of 36 lean-tos so you can be more protected from the elements.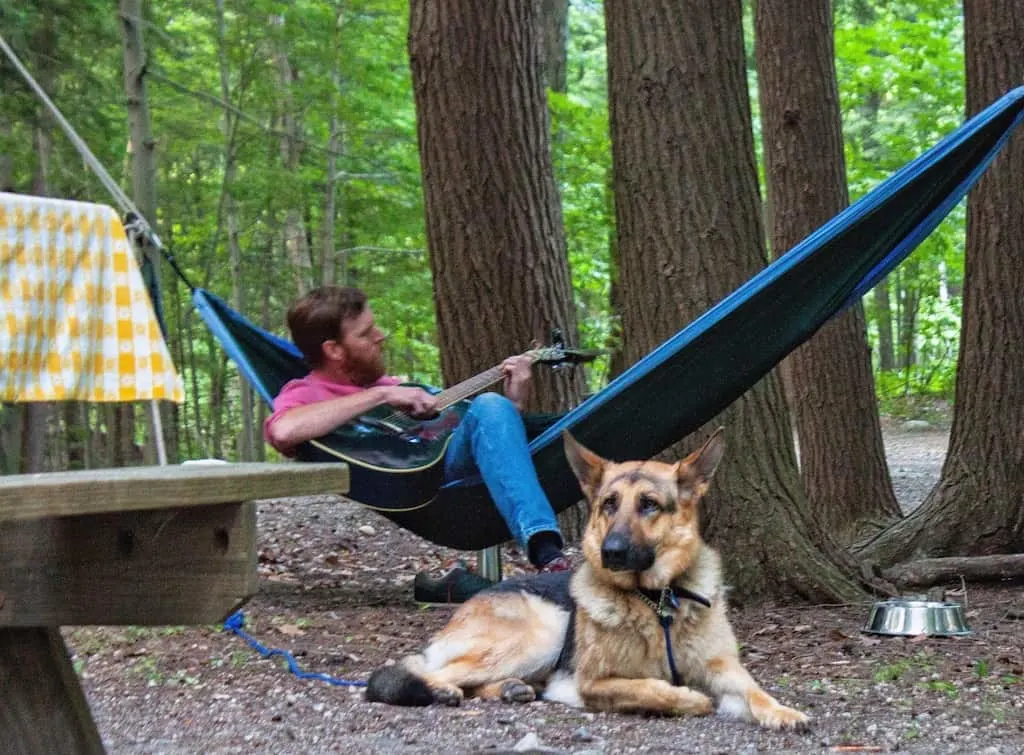 During our last camping trip to Emerald Lake State Park, we chose site 19, at the end of the A loop.
There are three sprawling campground loops, each with its own trail down to the lake. Loop A is closest to the swimming area and usually a bit more popular than the other two. On our visit, loop A was home to just three other camping families.
Except for the chirping birds, and the distant sound of the cars on route 7, the Emerald Lake campground is usually blissfully quiet.
---
Insider tip: Emerald Lake State Park does get extremely busy in the summer when the kids get out of school. For a more mellow camping experience, plan your camping vacation during early June or September.
---
Tips for Camping at Emerald Lake State Park in Vermont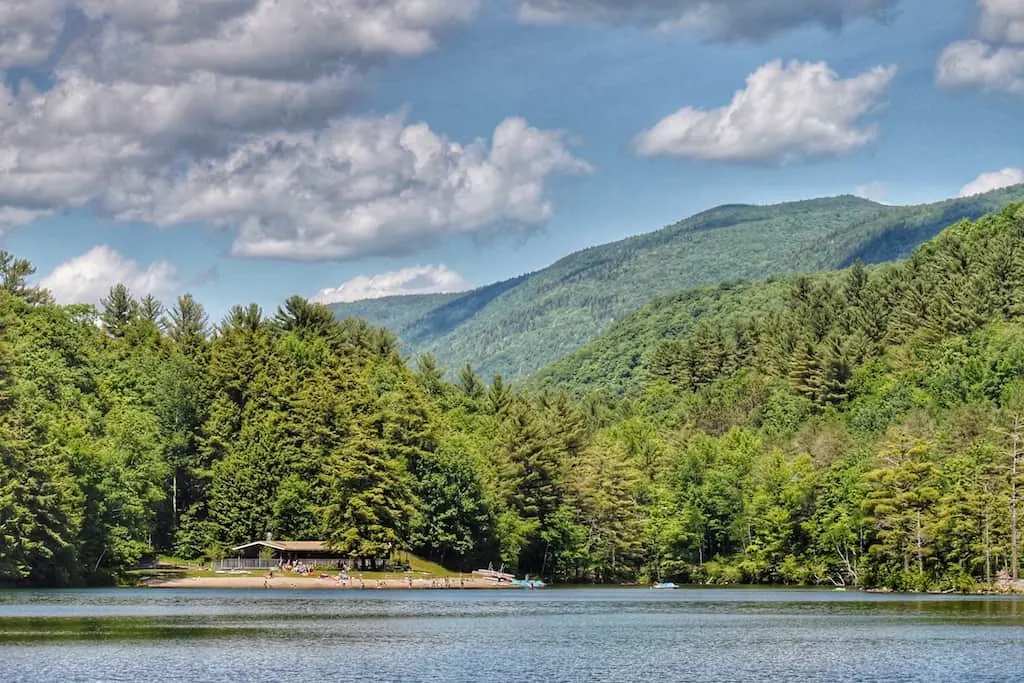 Beware of cheeky chipmunks and squirrels. They're quite opportunistic and will happily eat any food you leave out.

Bring quarters for your shower. A hot, 5-minute shower will cost you $.25, which is a pretty good deal in the world of campground showers.

Be mindful of the steep banks. Half of all the campsites at Emerald Lake State Park are perched on the edge of a steep, wooded embankment. If you're camping with small kids, ask for a site without a drop-off.

Be prepared for bugs. Mosquitoes and blackflies are plentiful in the campground and along the shore of the lake. Blackfly season is relatively short, running from mid-June to mid-July, but the mosquitos hang around all summer. We also found a couple of ticks as we hiked the meadow and vista trails.

Want to get rid of those pesky critters? Read How to Avoid Ticks that Carry Lyme Disease While Hiking and Camping.

Our all-time favorite campsite in Emerald Lake State Park is the Hawthorne Lean-to. It's located in the "B" campground loop, and it's lovely and private. It's perched on the edge of the embankment that leads to the water, so maybe not the best choice if your camping with children.
Last summer, our crew of adventurers consisted of two adults, three teenagers, and a frisky German Shepherd. Aside from the excessive amount of food we had packed to keep the kids happy, our camping set-up was relatively simple. We pitched the tents, hung the hammock, and headed down to the lake.
The pup and I meandered through the campground, choosing to hike down to the lake from the C loop.
Dogs are welcome at Emerald Lake State Park, but they're not allowed on the beach or in the picnic areas. This suited us fine, and we set out to explore.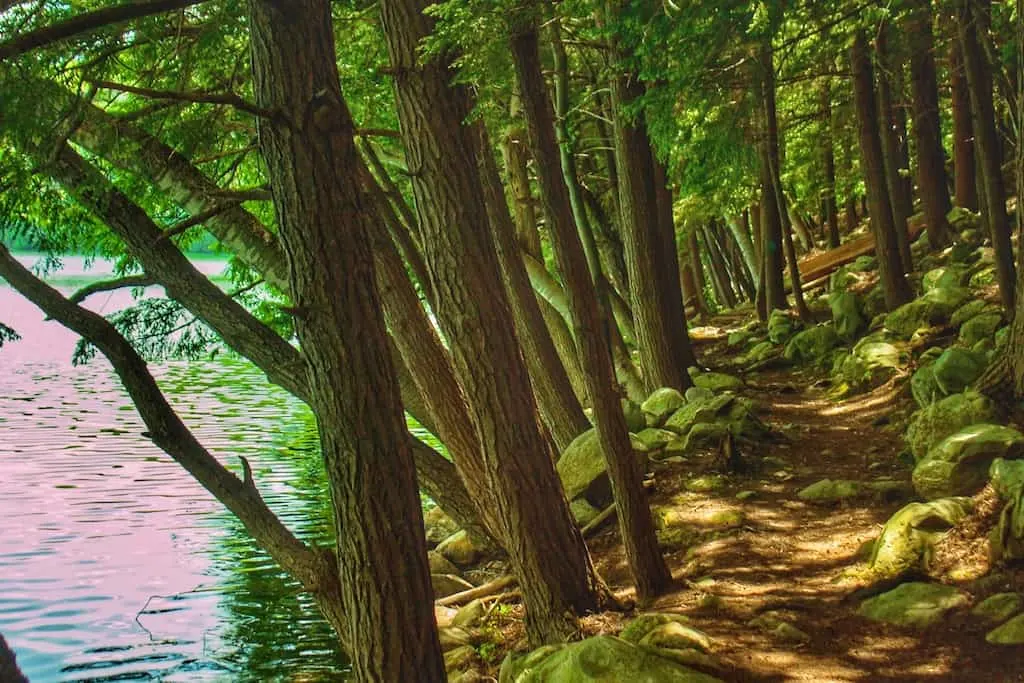 Swimming and Paddling at Emerald Lake State Park
What is there to say about swimming in Emerald Lake State Park?
The water is cold and clear, and when the light sparkles on the surface, the lake appears to be turquoise green.
There are no slimy spots that make you cringe, and there's a little island in the middle that you can swim around like a real explorer. Climb onto the island to look for wild blueberries or the elusive Emerald Lake rope swing for some old-fashioned fun.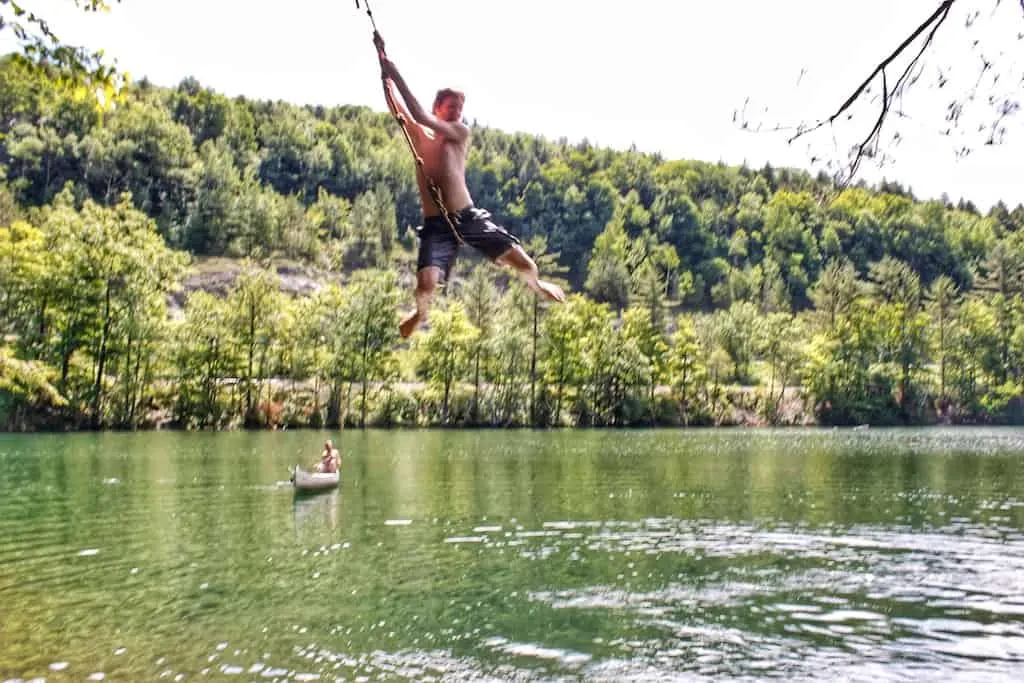 Canoes, kayaks, and paddleboats are available to rent from the snack bar at the beach, or you can bring your own.
There's a sandy beach and picnic area with no lifeguard on duty. If you want to escape the crowded beach, you can hike along the trail and find a more secluded swimming area. This is especially nice if you're visiting with dogs, who aren't allowed at the Emerald Lake beach.
Hiking at Emerald Lake State Park
The hiking trails are never very crowded at Emerald Lake State Park – that's because everyone is too busy swimming!
Over the course of our two-day visit this past June, we explored every single trail on the map. We were surprised by the diversity of the trails, but not the beauty — we discovered meadows bursting with wildflower blooms, cool ancient forests, and wetlands teeming with life.
Here are our favorite Emerald Lake Trails
Lake Trail to Campground C
The Lake Trail hugs the shore of Emerald Lake. It's strewn with boulders and flanked by huge hemlock trees.
Like a magical promenade, there are secret swimming spots, ephemeral wildflowers, and lots of photo ops. At the southern end of the lake, you can continue on the trail to the C loop in the campground. This trail meanders along a sunny wetland, where you're likely to see songbirds, turtles, frogs, and beavers. When you arrive at the campground, you can walk the campground roads back to your site.
Vista Trail
For awesome views of the lake from high above, you can't beat Vista Trail. It's a moderate hike through beautiful, shady woodlands, with a good variety of ferns and spring wildflowers.
The climb is steady heading up to the views, but the trail is very even and well-marked. The vista loop is .7 miles and walking at a good clip with lots of photography breaks, it took me a half-hour.
Work up a sweat on the Vista Trail and then hit the lake for a swim before heading back to camp.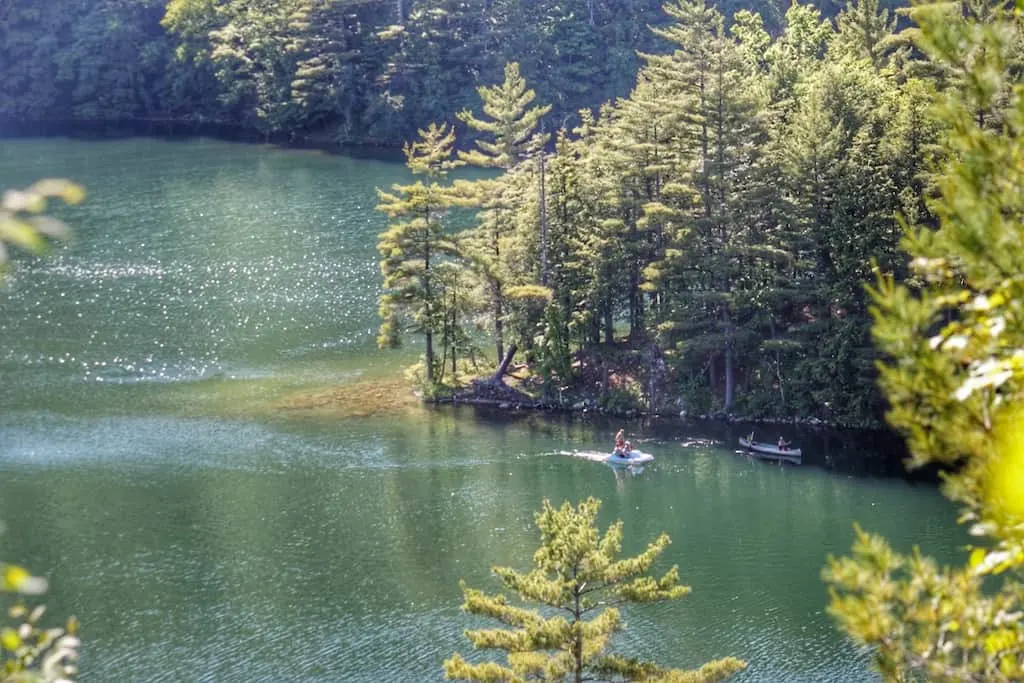 Meadow Trail
To hike the Meadow Trail, you can either start past the ranger station near the park entrance or on Lower Trail, which starts in campground loop A.
I started on Lower Trail and gradually ascended through a mixed hardwood forest. Little red efts were making their way across the trail in droves and we had to be very careful where we put our feet.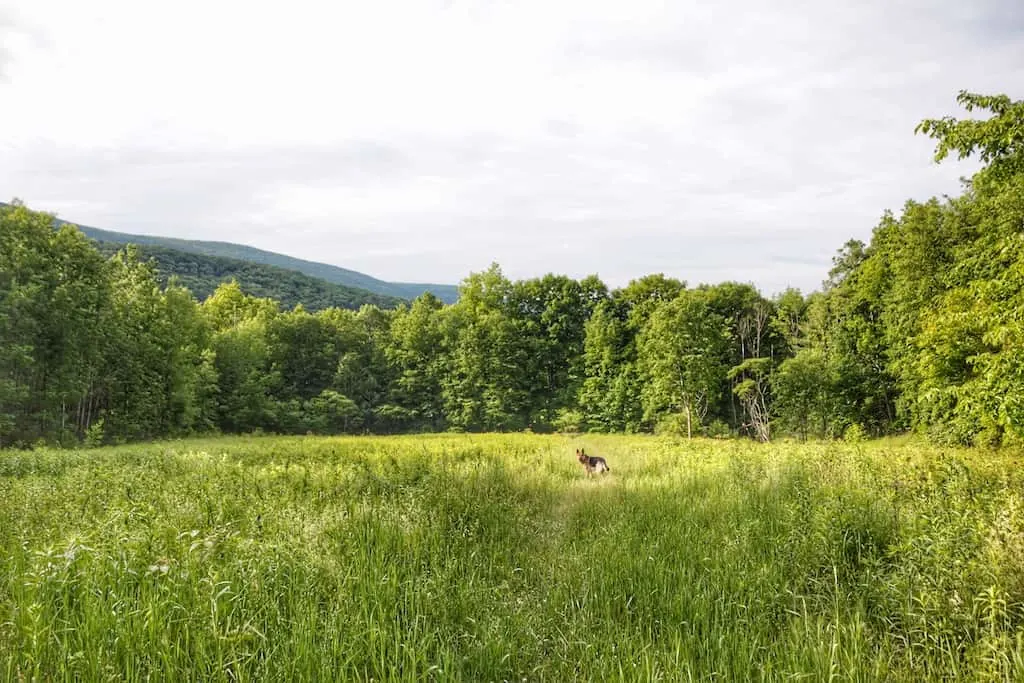 After walking along a level, wooded ridge for a while, the trail turns sharply and begins to descend through a series of meadows flanked by tall trees on every side.
In June, when we visited, the meadows were teeming with birds, butterflies, and wildflowers.
The North Dorset Cemetery is located toward the end of the trail. It's a tiny local graveyard with headstones crafted from local marble. The oldest headstone we found was dated 1811.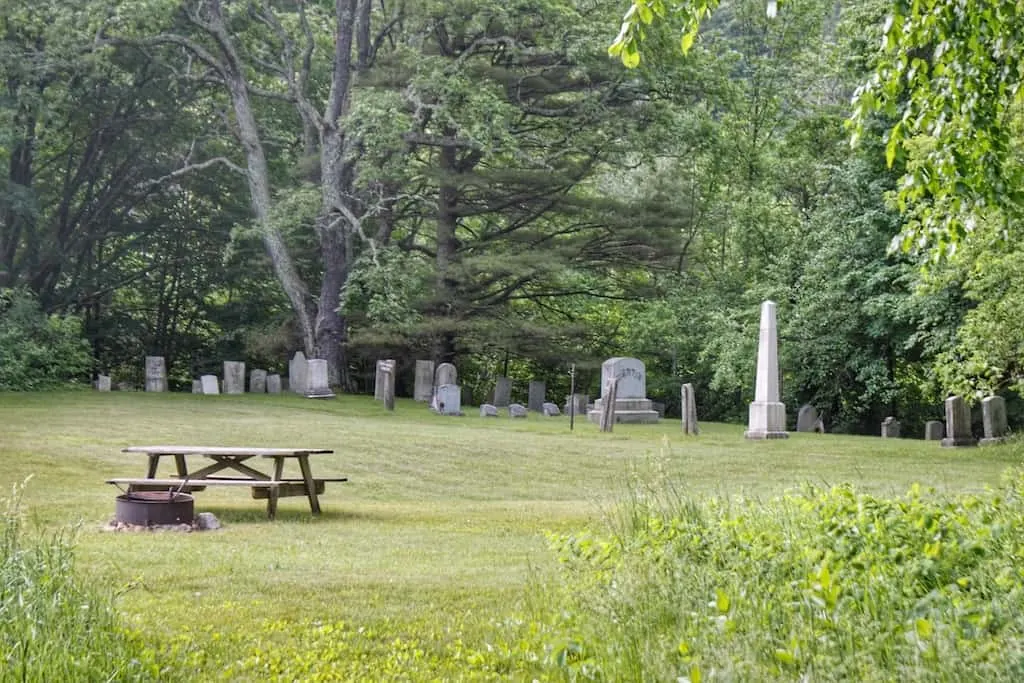 ---
The best part about Emerald Lake in Vermont is that there's something for everyone.
The sandy beach and shallow waters are perfect for frolicking kids. Families can rent paddle boats, canoes, and kayaks for paddling around the lake. Teens and more adventurous kids can search for the island rope swing for a little adrenaline rush.
For me, the quiet trails, secret coves, and abundant wildlife were enough to keep me coming back again and again.
Have you explored Emerald Lake State Park in Vermont? What do you love best about this magical park?
---
Explore more of Vermont State Parks! Check out these posts:
Check out the Emerald Lake State Park web story next!
---
Tara Schatz is a freelance writer, and the founder and editor-in-chief of Vermont Explored and Back Road Ramblers, an American road trip blog. She is also the co-author of the 3rd edition of AMC's Best Day Hikes in Vermont, which was released in May 2023, and the author of 100+ Wonderful Ways to Experience Vermont.