Leaves crunching under your boots. Cider donuts around every corner. Scenes of adorable mountain villages that look like they were lifted from your favorite Hallmark movie (they weren't).
This is autumn in Vermont — arguably the most beautiful and popular time to visit this tiny, landlocked state.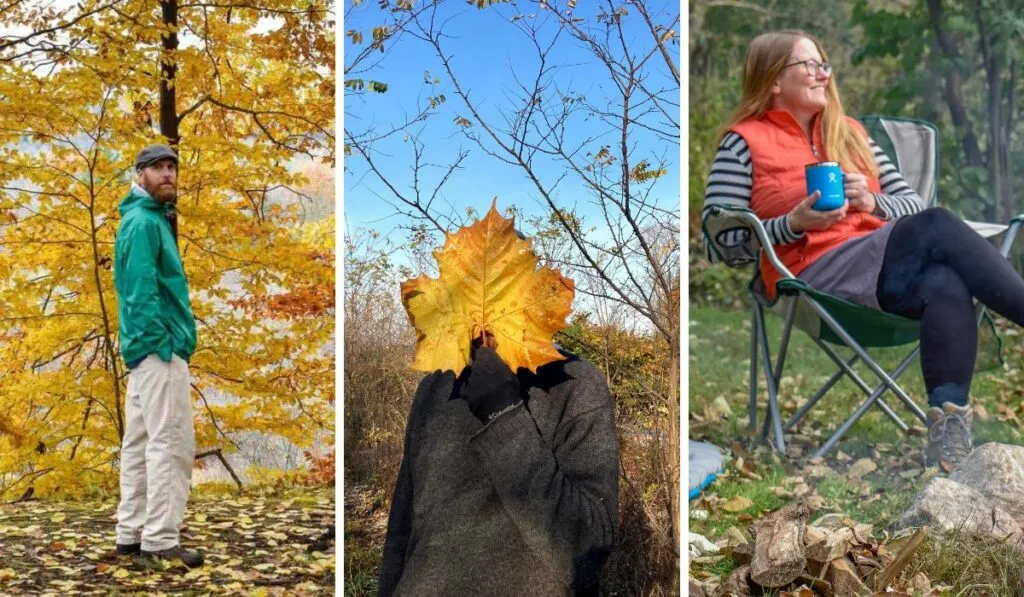 Of course, there are a few challenges with visiting Vermont in October. Namely, the fact that you never know whether you'll be basking in the warm autumn sunshine or catching snowflakes on your tongue.
Fall is a fickle, but beautiful, season in Vermont, and if you're dressed for the weather, you'll actually be able to enjoy it.
Read on to discover exactly what to pack for Vermont in October, from gear to clothing. All of these fall essentials will fit snuggly in a carry-on (because who wants to check bags these days?).
Got more room? Feel free to add a few more cozy scarves, wooly socks, and your favorite pajamas. We won't judge.
---
Looking for more inspiration for your fall vacation in Vermont? Here are some of our favorite fall destinations – or you can just read all of our fall foliage posts. Yes, you get bonus points for binge-reading, and I'll be eternally grateful!
Autumn in Vermont Travel FAQs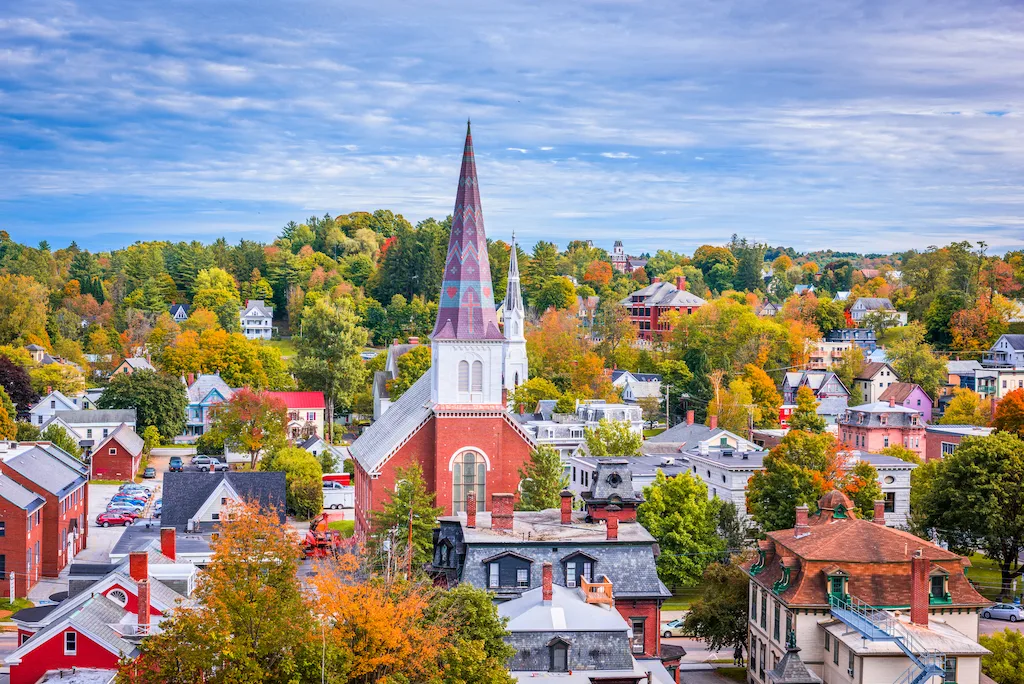 Before we dig deep into the details of what to pack for Vermont in the fall, here are a few answers to your most burning questions about traveling in Vermont.
When is the Best Time to Visit Vermont to See Fall Colors?
It's so hard to predict, but if you come during the month of October, there will be leaves to peep somewhere. The leaves start to change colors in the northern Green Mountains, moving south as the month progresses.
The farther north and higher you go in elevation, the earlier the color change. I always suggest the leaf peepers head to the Northeast Kingdom and Stowe in early October, the central and southern Green Mountains in mid-October, and the Champlain and southern valleys in mid to late October.
It's not an exact science, so please don't send me emails complaining that I was wrong, or that you drove all the way to Vermont from Georgia and you have no fall-foliage photos to show for it. I do the best I can, but I'm not psychic (sorry for the rant).
How Cold Does it Get in Vermont in the Fall?
Oh, somewhere between 20 and 75 degrees, give or take a few. Kidding. Sort of. Vermont in the fall is pretty fickle, but if you want to talk averages, October days hover around 50°F, with nights dipping below freezing fairly often.
Rain is common in the fall, and snow before Halloween is not uncommon. We Vermonters live here for the wonderful weather that keeps us on our toes!
Is it Possible to Pack Light for Fall Travel in Vermont?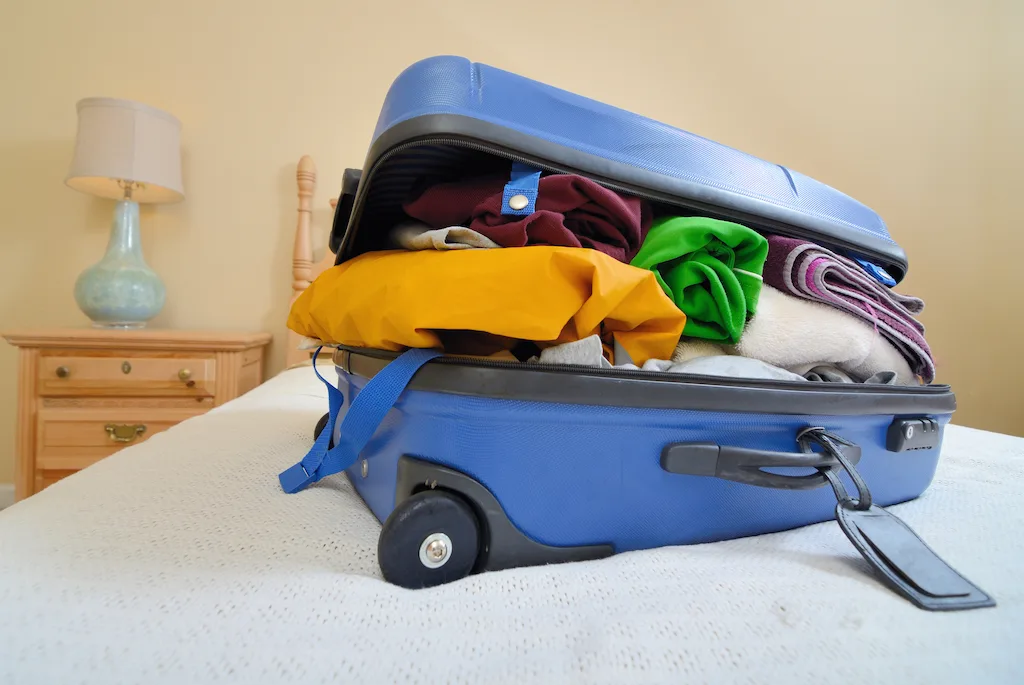 Yes, it IS possible and you can absolutely pack for unpredictable autumn weather in a carry-on! The secret is to wear all of your heaviest clothing — like your jeans, boots, wool sweater, and jacket — on flight days.
The stuff you pack in your bag should be lightweight and travel-friendly, and clothes should be able to work overtime so you don't need as many of them.
Our fabric fabrics for fall travel (four seasons actually) are merino wool and goose down.
Merino wool clothing will keep you four billion times warmer than polyester, acrylic, or cotton, meaning you'll need fewer layers overall. And, merino dries incredibly fast, wicks away moisture from your body, and makes you smell like roses even when you're sweaty.
We'll dig deeper into what to pack for Vermont in October later on, but here's a basic overview of what you'll need for a week-long trip. If you're just visiting for the weekend, you can pair it down even further.
Two pairs of pants. Your favorite jeans and a pair of leggings or hiking pants. Wear your jeans on flight day.
2-3 sweaters. Pack a few non-bulky wool sweaters, and wear the heaviest on flight day.
2 nice collared shirts. These get layered under wool sweaters or worn alone on nice days. Dress up the look with accessories (fun necklaces or scarves). At least one should be a plaid flannel. Because Vermont.
2 T-shirts. For warm, sunny days or layering.
Merino base layers. A merino top and bottom for chilly days or for hiking. Lightweight merino is perfect for layering.
Underthings. Again with the Merino – if you pack Merino undies, they will dry fast when you have to do sink laundry and they'll save you space. 4 pairs of undies and 2 bras, plus 4 pairs of Merino socks should do it.
1 skirt: Just to switch things up a bit, add a cute skirt to your bag that can be worn with your t-shirts, collared shirts, or sweaters. Wear leggings underneath to keep your legs warm.
1-2 scarves. The easy (and warm) way to dress up any outfit.
A wool hat. So small and packable, it would be a tragedy not to have one when the autumn winds blow cold across your face.
2 jackets. A small, packable puffy jacket for insulation and a waterproof/windproof jacket for the inevitable rainy afternoons.
A vest. You're in Vermont now. Your wardrobe should include a puffy vest to go over a nice flannel shirt.
2 pairs of shoes. Sturdy hiking/walking shoes for outdoor adventures, and a small packable pair of shoes for everything else.
Your two personal items. Does your airline allow two personal items? We recommend a day pack with your toiletries and travel items, plus a camera bag because fall foliage demands more than a cell phone (just an opinion).
The above items should fit easily in a carry-on. And there are lots of awesome clothing shops in Vermont if you forget something.
Autumn in Vermont Travel Essentials (Non-Clothing)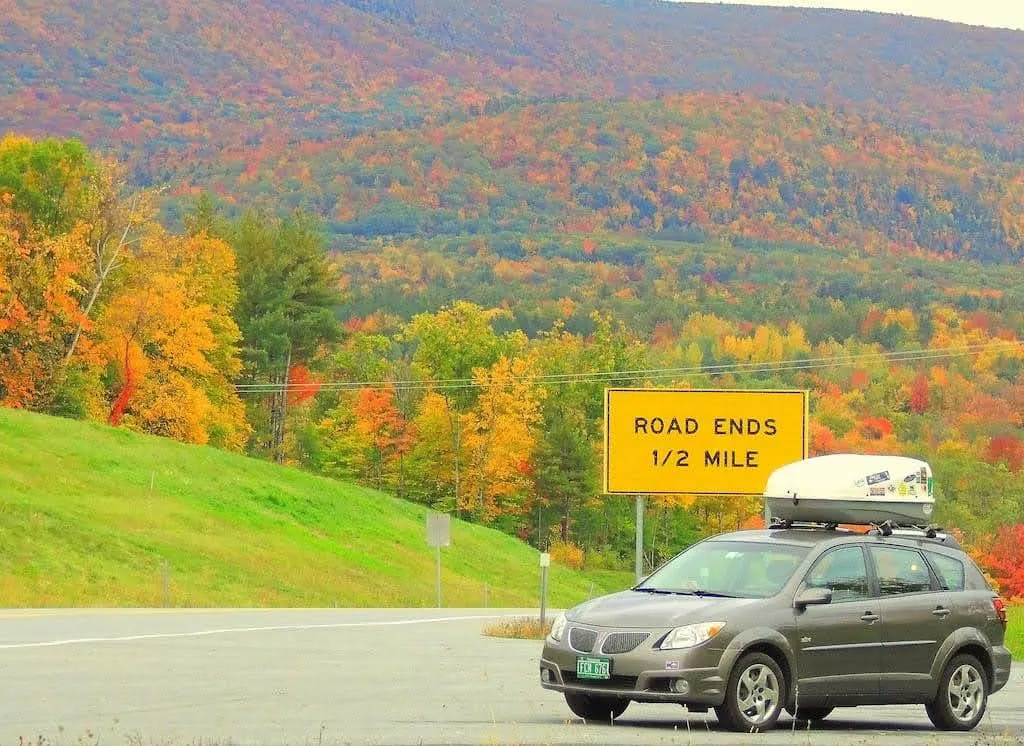 We're going to assume that you're flying to Vermont (or somewhere in New England) and renting a car, and seeing how most airlines charge extra for every bag you check, we're going to try and cram everything into our carry-on. Yes, it can be done.
Here are all the essentials you'll need for your fall trip to Vermont, not including clothing.
Carry-on luggage. Are you a backpack or a suitcase person? Unless I know I'll be doing a lot of walking with my luggage, I prefer a soft-sided carry-on suitcase with wheels. Soft because there's some give for cramming in an extra sweater, and it will fit easier in the overhead compartment. This carry-on suitcase from American Tourister comes in different colors, meets carry-on size restrictions, and comes with a 10-year warranty.
Insider tip: Don't buy a black suitcase! Twice we've had someone pick up our suitcase from the luggage carousel (when we've checked our bags). An honest, but painful, mistake. Go with a bright color so that you always know that your suitcase is yours!
A day pack. Your day pack should do double duty as your lightweight personal item (in lieu of a purse) and a backpack that you can take on day hikes or outings in Vermont. The North Face Basin 18 Pack is small, waterproof, and perfect for day hikes and treks around town.
Camera bag. If you plan to bring a dedicated camera with you, you'll want a sturdy camera bag. This simple bag from Amazon Basics will fit inside your day pack or you can carry it separately as one of your two personal items.
Camera. I won't push too hard here. I know that camera phones are awesome and I use mine all the time, but my DSLR and even my point-and-shoot can do so much more. They have RAW capabilities for better editing, and they can zoom in close and zoom out wide for incredible fall foliage shots. A good point-and-shoot is worth its weight in fall leaves.
Umbrella. Sorry to break it to you, but rain is pretty much a given in Vermont in the fall. This tiny umbrella will fit in your day pack and provide a pop of color for those moody Instagram photos.
10 essentials for hiking. If you are planning on doing day hikes during your Vermont vacation, you'll want the 10 essentials for hiking, which will keep you both safe and comfortable in the woods or wherever else you decide to wander.
What to Wear in Vermont in the Fall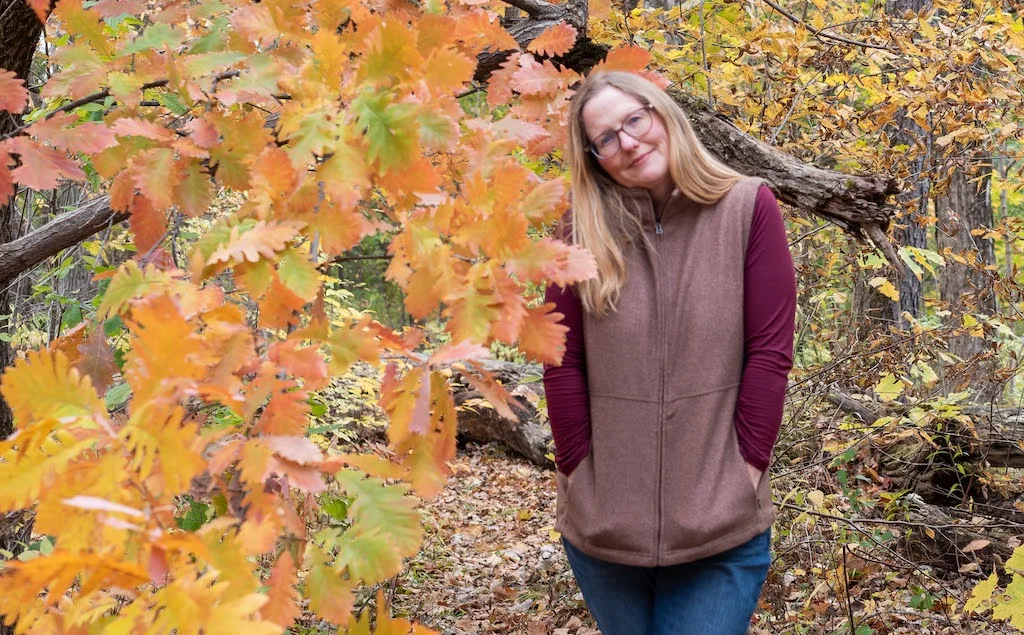 Here are our recommendations for clothing that is stylish, comfortable, and functional for your fall trip to Vermont.
Keep Your Feet Warm and Dry for Vermont Adventures
There's nothing like sore wet feet to ruin a vacation, even if it is a fantastic fall vacation in Vermont. Spend your day exploring with feet that are comfy, warm, and dry. Here are our recommendations.
Waterproof hiking shoes or boots. My wide feet love my Oboz hiking shoes, which are also great for casual in-town adventures. Whether you go with full boots or shoes will depend on personal preference, but even the low hiking shoes have taken me on some pretty strenuous trails. Oboz makes hiking shoes for both men and women.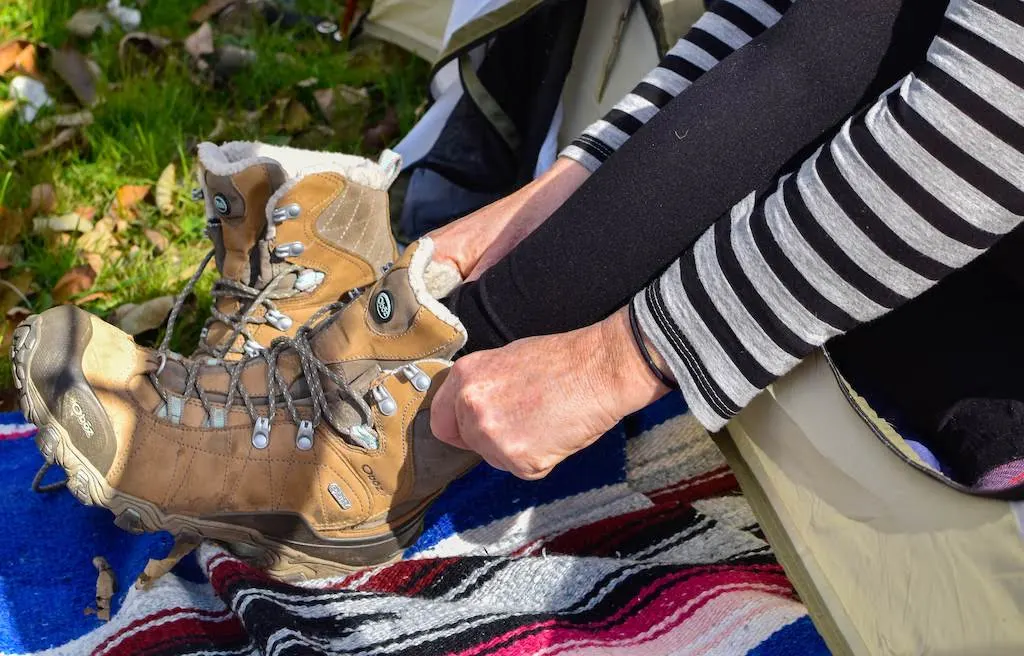 Comfy casual shoes. Allbirds shoes are probably the coziest shoes on the planet. They are casual but cute, come in sizes for men and women, and these are made from merino wool, so they're warm and water-resistant. Dress them up with a pair of leggings and a skirt or down with your favorite jeans.
Merino wool socks. I will forever be waxing on poetically about my love affair with Darn Tough socks. Made in Vermont. Fantastic colors and prints. Cozy as a cloud. And guaranteed for LIFE. Like you can send them back and get a new pair if they wear out. I find that it takes about five years for them to start degrading, and I can just replace them. Life changing.
What to Wear Under Your Clothes
Here I go again — talking about all the amazing benefits of merino wool.
But listen, the goal isn't just warmth, but also to keep the sweat and smell at bay when you're hiking, to be able to wear them multiple times without washing, and to prevent you from overheating when you go from 40 degrees outside to a heated 70-degree restaurant or shop.
Merino wool is basically a miracle fabric, especially for travelers. It keeps you toasty when it's cold out and cool when it's warm out. It regulates your body temperature and wicks away sweat from your body while still managing to smell good.
Merino wool is naturally antibacterial, so you can wear it every day of your Vermont vacation, and it will still smell nice. Here are the underlayers that we recommend for your fall vacation.
Merino Lightweight Crew. 100% Merino long-sleeve crew by Minus33, which is based in Ashland, New Hampshire.
Leggings with pockets. 95% merino wool leggings with pockets (a must) from Woolly Clothing Co.
Underwear. These Bikini briefs fom Woolly Clothing Co. are 95% Merino wool and 5% elastane for stretch. Woolly also makes boxer briefs for guys with 100% Merino wool.
On the Bottom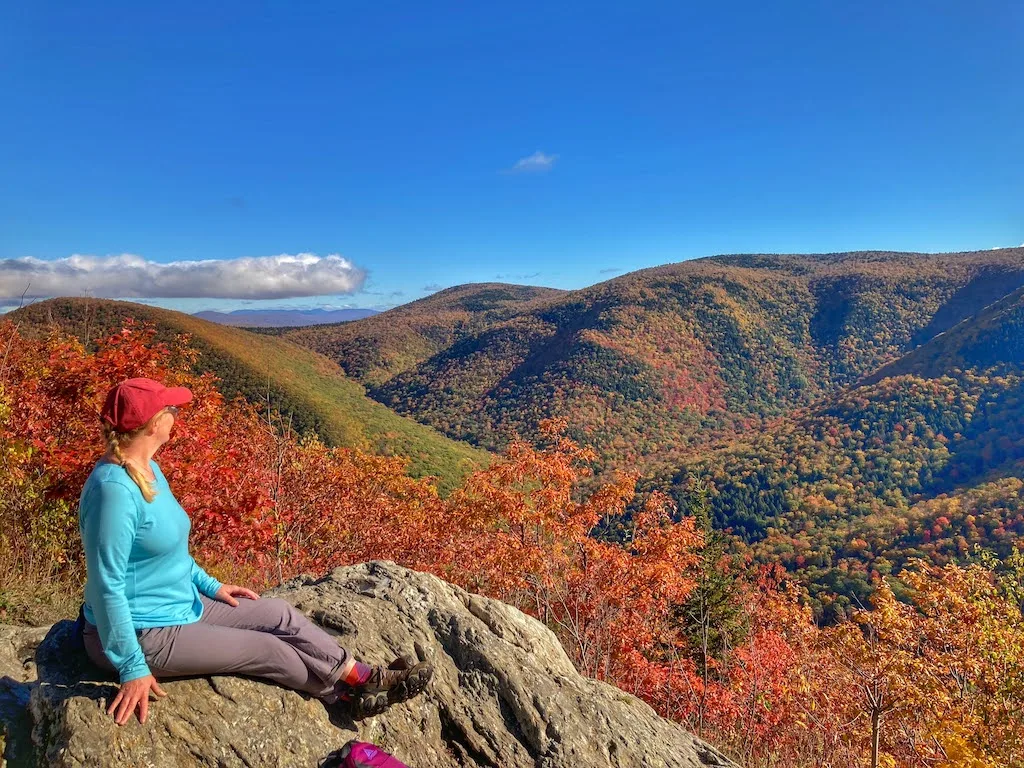 Your favorite jeans. I have a rotating cast of favorites and I'm sure you do too.
A comfy skirt. This hemp blend skirt from Prana is my current favorite for fall.
Hiking pants. If you're not a fan of wearing leggings as pants, throw in a pair of your favorite hiking pants. The EMS Women's Compass 4-Points Trek Pants are mine. They make them for guys too!
On the Top
Flannel shirt. Vermonters love their flannel shirts – fashion trends be damned. The Wallace Lake flannels from REI are made from organic cotton and they're so buttery soft, that putting one on for your afternoon hike is like donning pajamas. And the color combos are pretty snazzy. They sell them for guys too!
A couple of lightweight sweaters. Sweaters are easy to dress up or down, so they are perfect for traveling. Lightweight Merino sweaters can be worn from fall through spring, so they're a great investment.
Packable down jacket. The humble puffy jacket is the workhorse of the fall and winter wardrobe! I wear mine just about every day. It is lightweight but incredibly warm, and I don't know what I ever did without it!
If you are coming to Vermont from a warm region, you may not find a puffy jacket all that useful after your trip, so go with an affordable option like this one from REI Co-Op. It won't last forever and it tears easily, but I've had one for about three years so far.
If you want to get more use out of your puffy layer, go for better quality, like this one from Stio. I have been very impressed with mine so far!
Down vest. Again, you can go the affordable route with a down vest from REI (very packable and warm) or opt for higher quality with one from Stio. Patagonia is another great source for down vests and jackets. Pricey, but well made.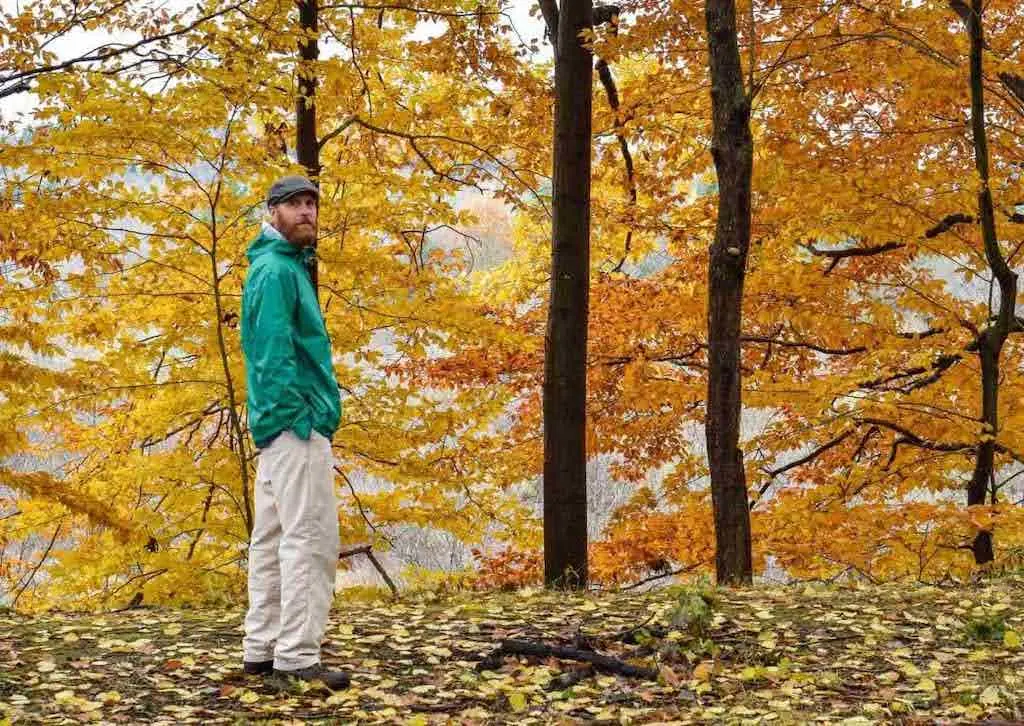 Rain jacket. A lightweight rain jacket will protect you from the inevitable wind and rain that you'll experience at least once in Vermont. Columbia makes affordable rain jackets for women and for men.
Fall Accessories
Wool beanie. A must for those chilly mornings or afternoon hikes. Turtle Fur makes the cutest wool hats, and they're based in Vermont.
Scarves. Perfect for changing the look of an outfit and keeping yourself warm. Pack a few of your favorites, or get something new for your trip.
Fleece gloves. These fuzzy gloves go wonderful with a latte and a crisp fall morning. Keep them in your bag so you never have to worry about icy fingers again.
Do you have questions about what to pack for Vermont in October (or any other time)? Drop us a comment below!
---
Need a winter packing list for your cold-weather road trip? Here ya go!
---
As always, thanks for reading! Connect with us on social to stay in the loop.
Pin for later?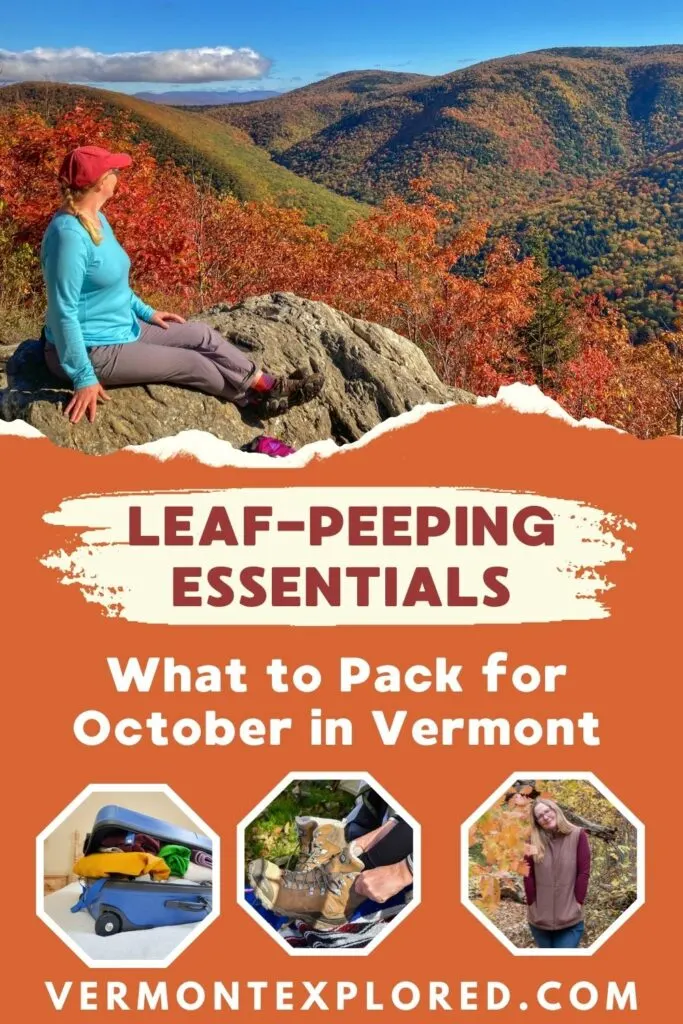 Tara Schatz is a freelance writer, and the founder and editor-in-chief of Vermont Explored and Back Road Ramblers, an American road trip blog. She is also the co-author of the 3rd edition of AMC's Best Day Hikes in Vermont, which was released in May 2023.