After five months of winter weather, there's nothing quite as refreshing as a Vermont swimming hole on a hot summer day.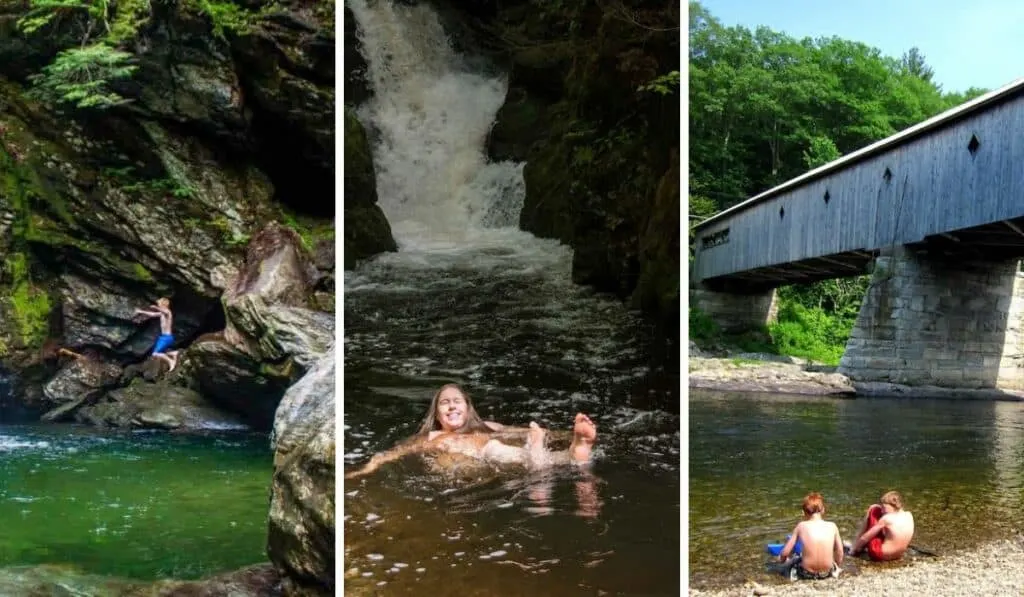 Swimming holes in Vermont are part of what makes summer so awesome here, and when traveling Vermont's back roads in the summer, it's important to keep an emergency beach bag with you.
The tell-tale sign of a good swimming hole will be a line of cars parked on the shoulder of a back road that runs alongside a river.
Many swimming holes in Vermont are only known to locals, while others are iconic and very well known.
Whether you're hoping to spend the day relaxing near a clear deep pool, want to bring your kids to a family-friendly swimming spot, or you've got the urge to stoke your inner daredevil with a little cliff jumping, there's a swimming hole in Vermont with your name on it.
I've been exploring Vermont swimming holes since I was tiny, and I'd love to share some of my favorites with you.
If you get the opportunity to take advantage of a rare sweltering day in Vermont, head to one of these amazing spots.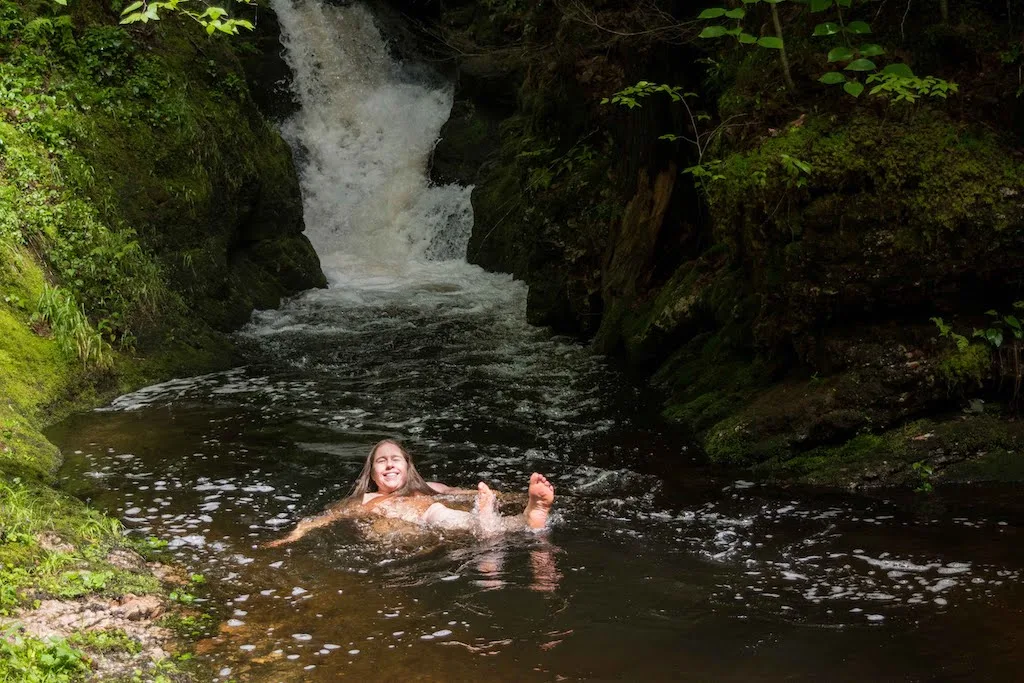 Vermont Swimming Holes Map
The Best Swimming Holes in Northern Vermont
Northern Vermont has some of the best and most remote swimming holes in the state. Here are the ones we frequent when we're up that way.
Trout River Falls (Three Holes), Montgomery Center, Vermont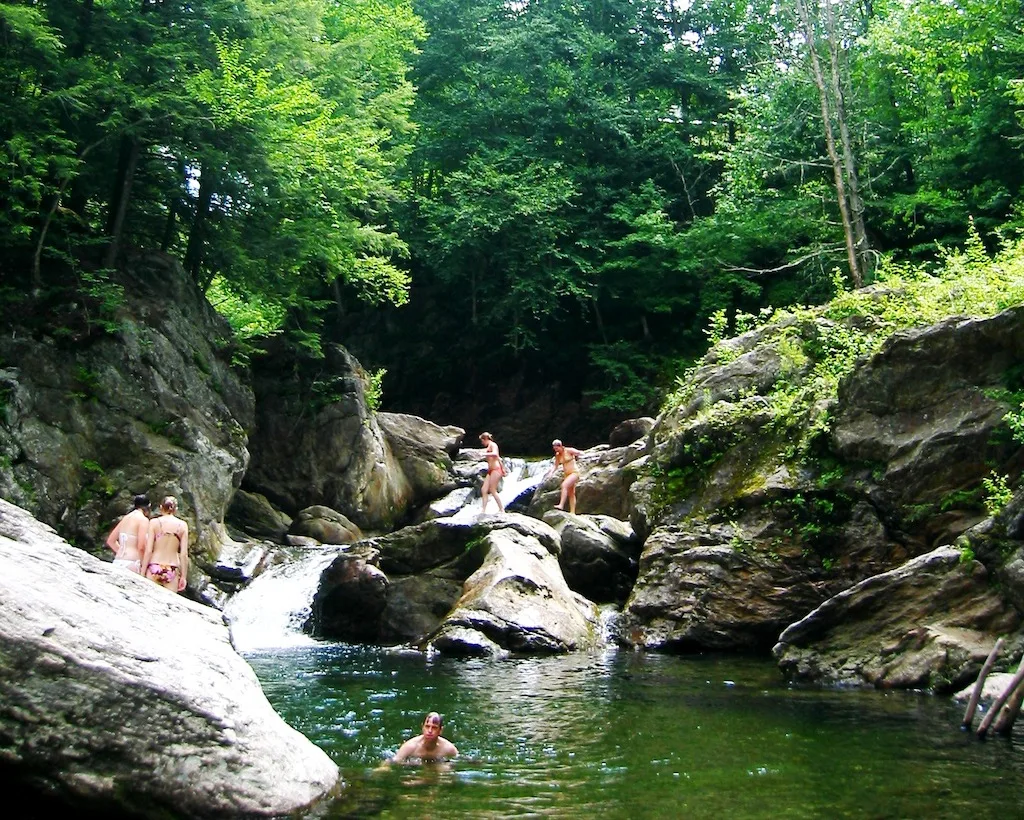 Three lovely waterfalls. Three magical pools for swimming in.
The official name of this stretch of the Trout River in Montgomery Center is Trout River Falls, but as kids, we always called it Three Holes.
This swimming hole is a bit tricky to get to, so you don't want to make the journey with a huge beach bag, fancy cameras, or tiny children strapped to your back. Instead, pack a towel and wear good water shoes for this adventure.
Three Holes gets its name from the three separate swimming areas.
The first is filled by a lovely 10-foot waterfall. It's a large, shaded pool, surrounded by cliffs on three sides. This is a tricky spot to get to, and perfect for you Vermont cliff jumpers and hard-core adventure types.
The second hole is much smaller but nice for just chilling out and taking in the scenery.
The third pool gets the most sun and is the most popular spot for cooling off on a hot Vermont day. Visit this Vermont swimming hole during the week to avoid the crowds.
Directions: From Montgomery Center, take Route 58 East and park in the small gravel pull-off. It's a steep trail down to the river. From here, you must walk upstream (maybe in-stream) until you come to the swimming area.
---
Read Next: 13 Gorgeous Lakes to Visit in Vermont for Your Summer Vacation
---
Beard Recreation Park on the Gihon River: Johnson, Vermont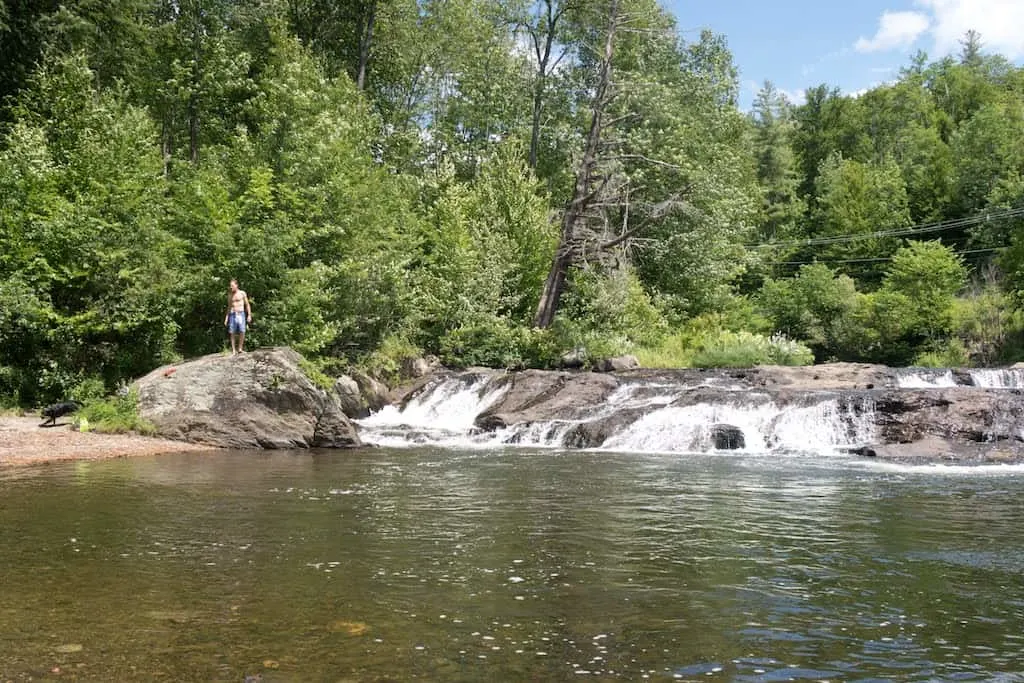 If you find yourself in northern Vermont on a scorcher of a day, head to Beard Recreation Park on the Gihon River. This gorgeous spot is our top choice for families.
The swimming area is wide, deep, and easy to get into. There's a small sandy beach and beautiful waterfalls. You will see lots of families with little kids cooling off here — the teenagers and young adults frequent more rugged landscapes.
Still, this is such a peaceful spot. I would spend every day of the summer here if I lived closer.
Directions: From Vermont Route 15, turn onto Pearl St. in Johnson Village (left if coming from the west; right if coming from the east). After 0.1 mile, turn right onto School St. Beard Recreation Park is located on the right, just before the Power House Bridge. Parking is available on-site.
Bingham Falls: Stowe, Vermont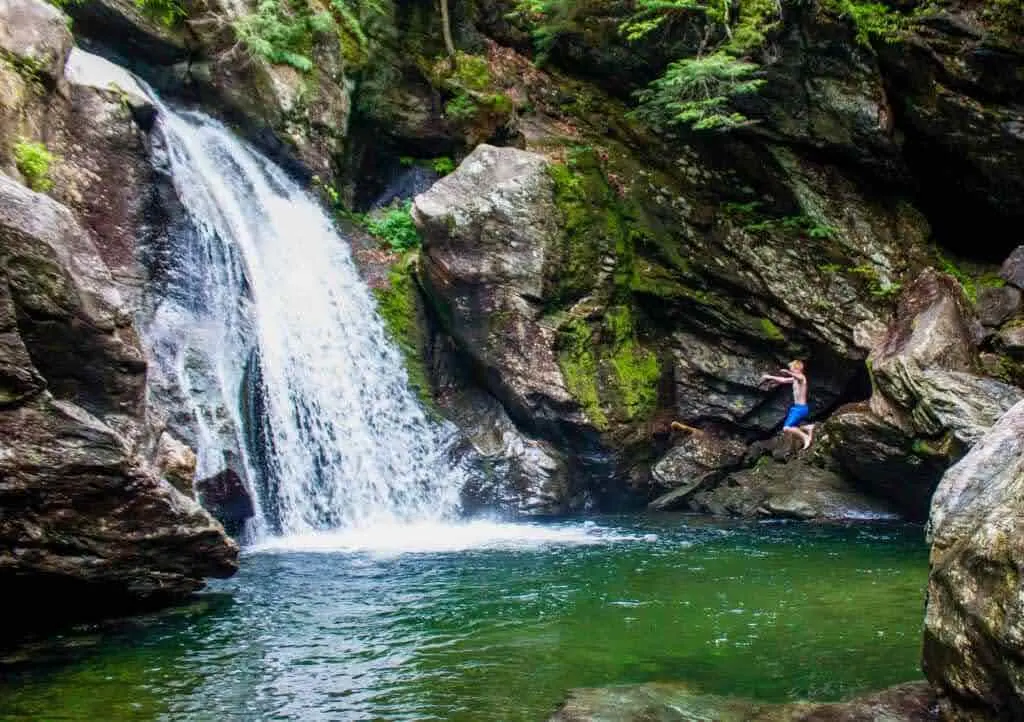 One of Vermont's most stunning waterfalls, Bingham Falls is located at the end of a .3-mile hike in Stowe. The main falls feature a 25-foot single cascade into a deep, cold pool.
It doesn't keep with the general character of typical Vermont swimming holes, which makes it all the more enticing for visitors.
The falls tumble away from the rocks as they cascade over a cliff, and the swimming here is excellent but busy on sweltering summer afternoons.
Park on either side of Route 108, near Smuggler's Notch State Park. This is a quiet, family-friendly park – perfect for camping. Pitch a tent and spend the weekend hiking, sampling fine, beers, and swimming.
Directions: From downtown Stowe, take Route 108 north for 6.3 miles. You will see parking areas on both sides of the road and a trail on the right that leads into the woods. The trail starts off level and easy, but as you near the falls, it becomes steeper and sometimes slippery.
---
Also Read: 18 Delightful Things to Do in Stowe, Vermont
---
The Best Swimming Holes in Central Vermont
Moving south into the central part of the state, this region is home to the highest concentration of swimming holes in Vermont, including my personal favorite. Here are a few of the best Vermont swimming holes in the central Green Mountains.
Warren Falls: Warren, Vermont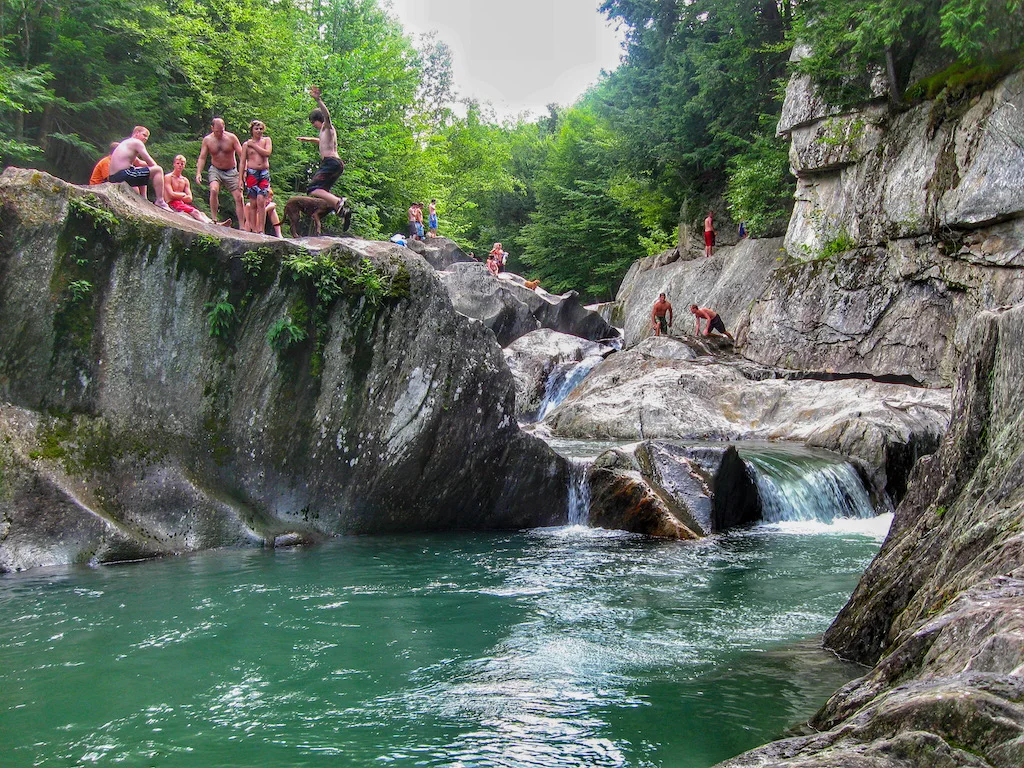 Warren Falls is a cliff jumper's dream, created by four separate waterfalls on the Mad River, just off scenic Route 100 in Warren, Vermont.
The swimming area is wide and deep and there is plenty of room to spread out. It's a good thing too because I think this is one of the busiest swimming holes we've been to.
The waterfalls at Warren Falls are nothing special, but the whole area is nestled in a deep gorge with steep-sided cliffs all around.
If you are visiting Warren Falls with dogs or with small children, head to the lowest pool, which is the easiest way to access the water. Shallow, gravelly spots are great for families, and there aren't as many people.
The trail to Warren Falls is an easy one, perfect for lugging a picnic lunch, blankets, and camp chairs.
Directions: From the junction of Route 100 and Route 125 in Hancock, VT, head north on Route 100 into Warren. When you pass STetson Hollow Road, travel another 1 mile and pull off in the large dirt parking area on the left. Follow the trail to the river.
Buttermilk Falls: Ludlow, Vermont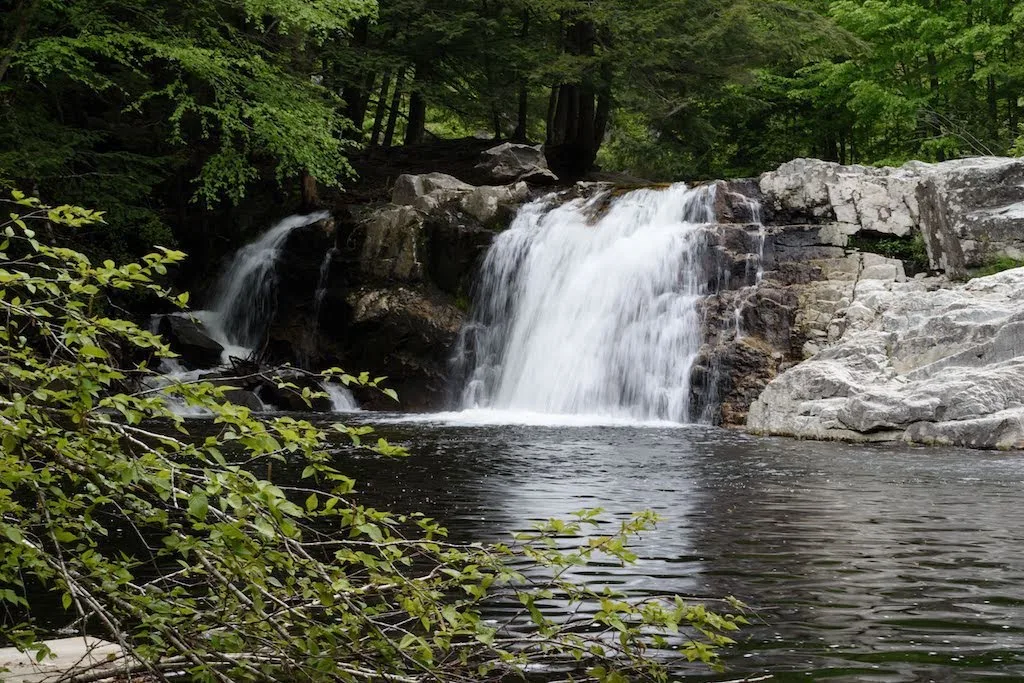 Located in Ludlow, Buttermilk Falls is another Vermont swimming hole that can be easily accessed from the road.
The swimming area consists of two pools below the upper and middle falls. While the swimming holes aren't very deep (5-6 feet), they are perfect for families and the waterfalls are beautiful.
On really hot days, you can set up your camp chair in the shallow water and relax with your favorite book.
Directions: From Ludlow, take VT 100/103 north. Continue north on Route 103 for .2 miles. Take a right on Buttermilk Falls Road and follow it for 1.3 miles. Park on the right side of the road and follow a short trail into the woods.
Bristol Falls (Bartlett Falls): Bristol, Vermont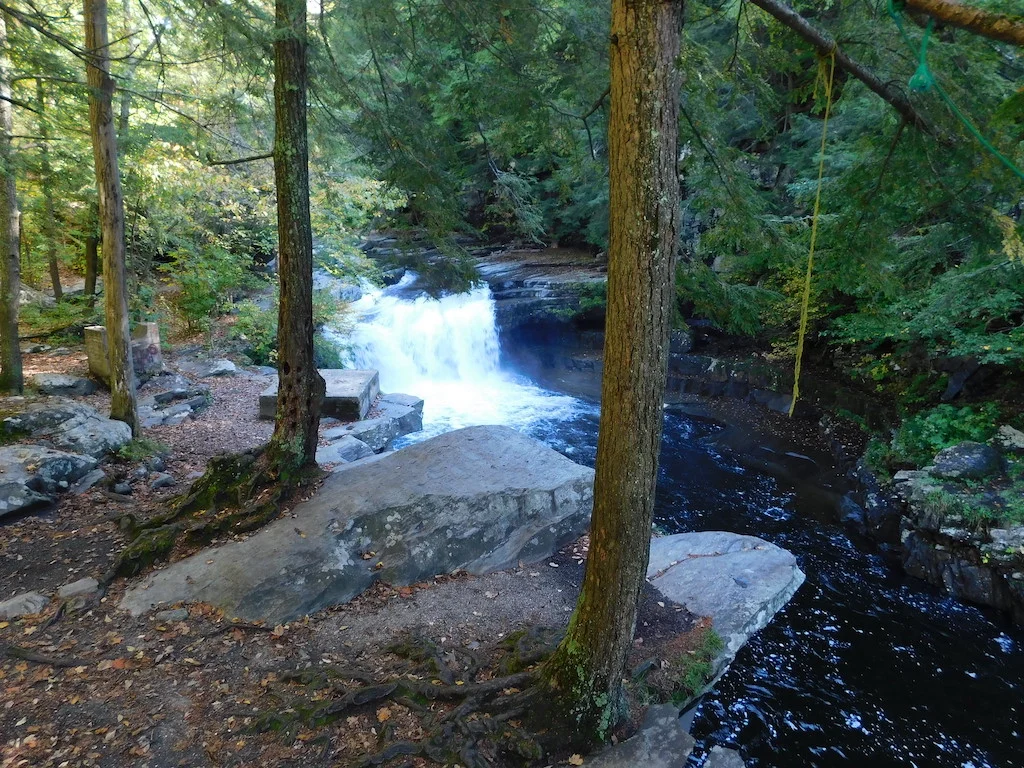 Bartlett Falls (also called Bristol Falls) is my favorite spot to go in the summer, and while it's an extremely popular swimming area, there's room for everyone, including the daredevil cliff jumpers, the families who want to just relax, and the adventurous older kids who want to venture behind the falls.
Located on the New Haven River, we've seen as many as 70 cars here on a summer weekend.
The highlight of Bartlett Falls is the wide sheeted waterfall that you can sit underneath or behind. The falls fill a huge swimming hole that is deep enough to jump into.
Head downstream to a shallow beach and claim one of the large boulders that are perfect for sunning yourself on.
There are several trails that you can follow from the roadside parking area. They will all eventually lead you to the river and fabulous swimming. If you head upstream about .25 miles, you'll find another less popular swimming area called Circle Current.
Directions: From Bristol, drive east on Route 116/17 for 2.8 miles and turn right on Lincoln Road. You will see roadside parking on either side of the road in about .2 miles.
The Best Swimming Holes in Southern Vermont
Those secluded deep swimming holes that the rest of Vermont is known for are more elusive in Southern Vermont.
Instead, shallow rivers require a bit more patience and creativity for swimming.
Our kids have been known to spend hours stacking rocks to build hand-crafted dams on southern Vermont rivers – just to make them deep enough for a good soak.
We've still found a few gems over the years, and we're always looking for more.
West Dummerston Covered Bridge: Dummerston, Vermont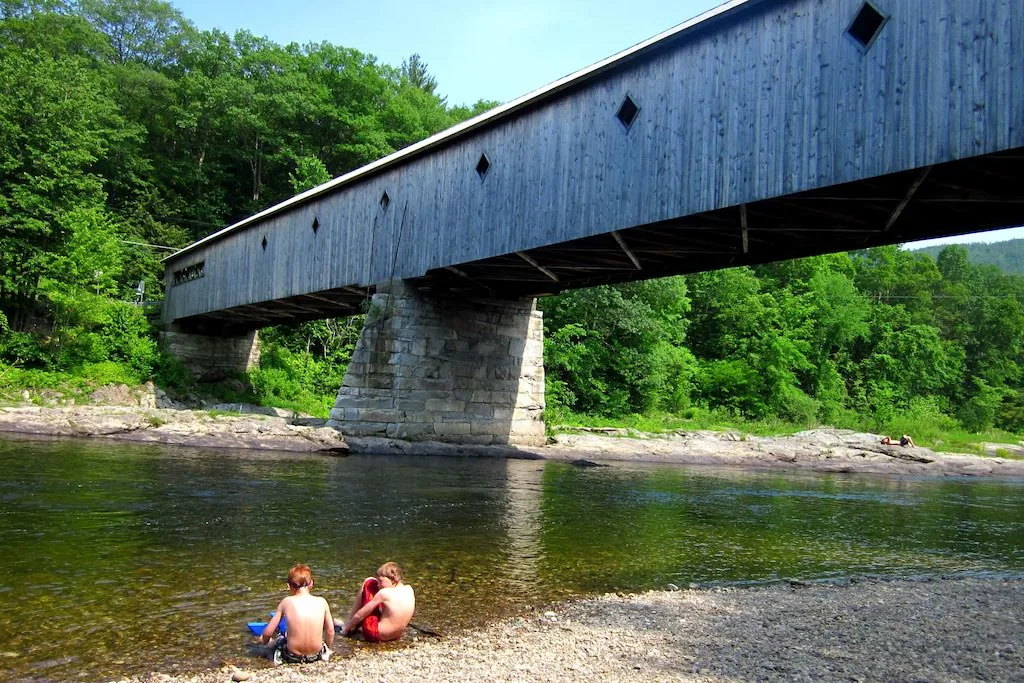 First of all, the West Dummerston Covered Bridge is worth a visit in its own right. It's the longest covered bridge that is entirely within the state of Vermont.
You can park in a small lot next to the bridge entrance and walk down stone steps to the river. There is a very nice gravel beach, and the swimming is awesome. The current here isn't too bad at all. Even when our kids were little they could manage easily (they were strong swimmers).
The best part about this Vermont swimming hole is that it's rarely as crowded as the ones up north.
This is the perfect spot to spend the day on the West River, and it's very close to Brattleboro and our favorite lunch spot, Yalla. Be sure to check it out if you are in the neighborhood.
Directions: From Brattleboro, take Route 30 north out of town for about 7 miles. W. Dummerston Covered Bridge Road will be on your right and there is ample parking nearby.
The Dorset Quarry: Dorset, Vermont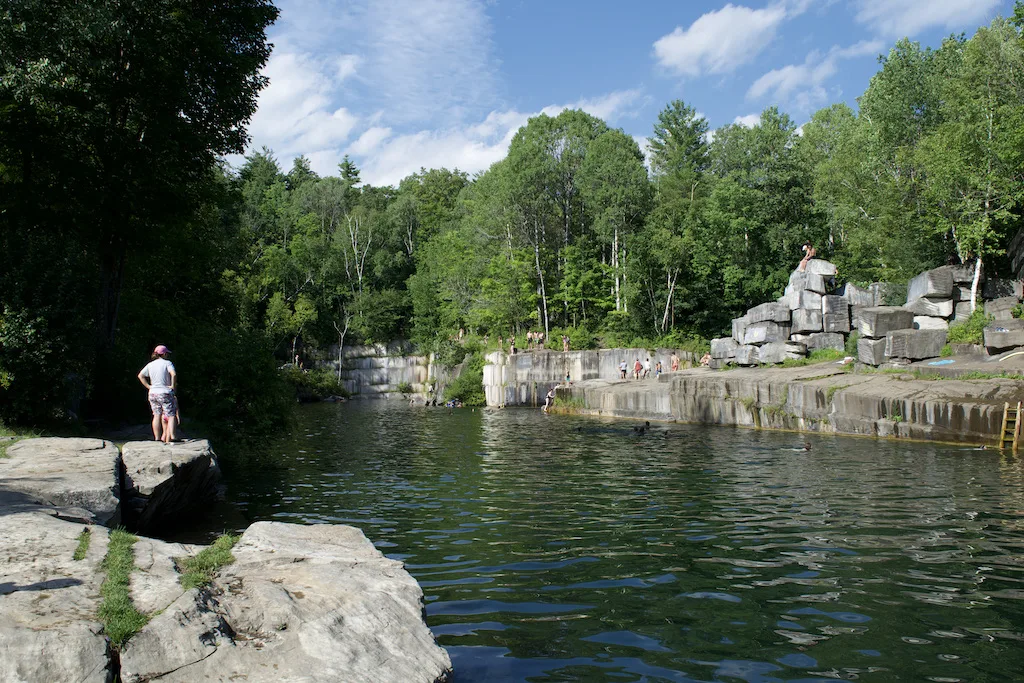 The Dorset Quarry is the only Vermont swimming hole in our list that isn't located on a river.
This is the oldest marble quarry in the United States. It opened in 1785 and supplied marble to the New York Public Library, several amazing mansions in NYC, and Memorial Continental Hall of the Daughters of the American Revolution in Washington, D.C.
Thank goodness it no longer operates as a quarry, because now it's one of the most popular swimming holes in Southern Vermont.
The water here is deep and cold, and there are plenty of places for cliff jumping, picnicking, and exploring. There are a few port-a-potties for changing in, and a parking charge, at least on the weekends.
Directions: From Manchester, take Route 30 North into Dorset. The Dorset Quarry is about 4.6 miles from Manchester Center on your right.
Salmon Hole: Jamaica State Park, Vermont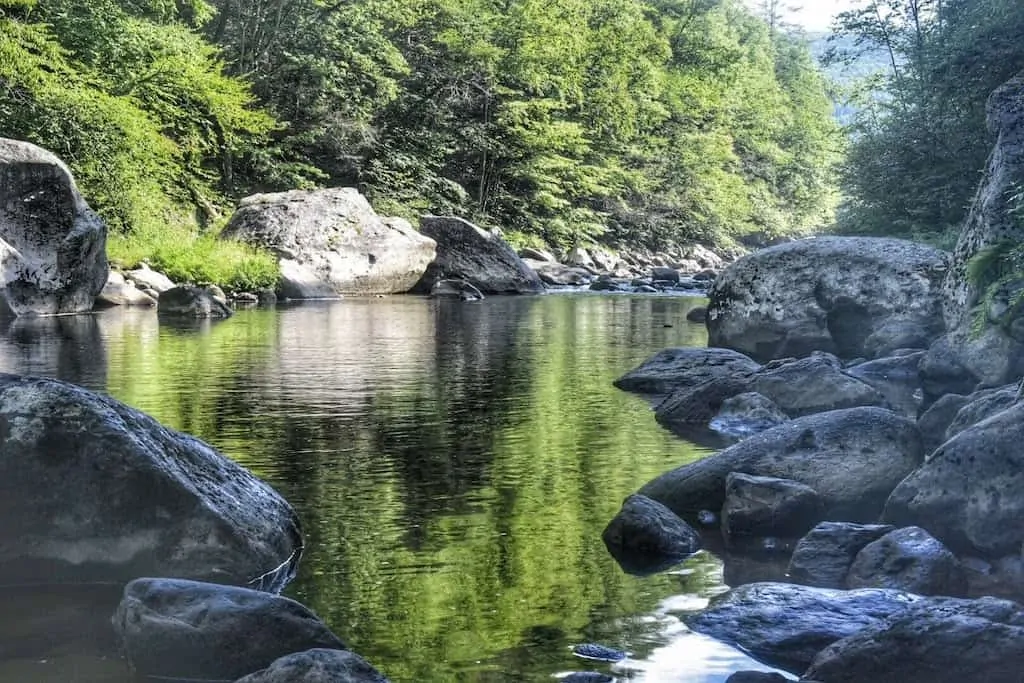 Salmon Hole is one of several deep swimming spots in the West River that you can access from Jamaica State Park, which is also one of our favorite spots to camp in the summer.
Our recommendation? Book a lean-to for the weekend, bring your bikes, and spend a few days relaxing near the river.
The first thing you should do after setting up camp is cool off in Salmon Hole, a wide, deep spot in the West River.
It's located right near the playground, and the river is slow-moving, clear, and plenty deep enough for swimming. If you bring goggles, you can even watch the large trout meandering along the bottom of the river.
If you are visiting Jamaica State Park with dogs, no worries. While your furry friends aren't permitted at Salmon Hole, if you stroll along the West River Rail Trail, you will find many other spots in the West River that are perfect for swimming.
There are two picnic tables along the river next to the rail trail, maybe a half-mile from the parking area. Both are located near primo swimming spots.
Directions: Jamaica State Park is located on Route 30/100 within walking distance of the village of Jamaica. Turn onto Depot Street when you get to Jamaica and cross the bridge over the river. There is a fee to enter Jamaica State Park for the day ($5 for adults, and $2 for kids).
Vermont Swimming Hole Safety Tips
As with any outdoor activity, swimming in Vermont rivers poses dangers and risks. Water currents, temperatures, and obstacles are always changing, making swimming a risky endeavor, especially when the water levels are high in the spring.
Vermont rivers rarely reach more than 65 degrees Fahrenheit, which means that the risk of hypothermia is real, even in the summer.
As an adult, you will likely hop out of the water and onto a sunny rock long before your core temperature drops too much, but keep a close eye on children, who will swim even when their lips are blue and they are shivering from the cold.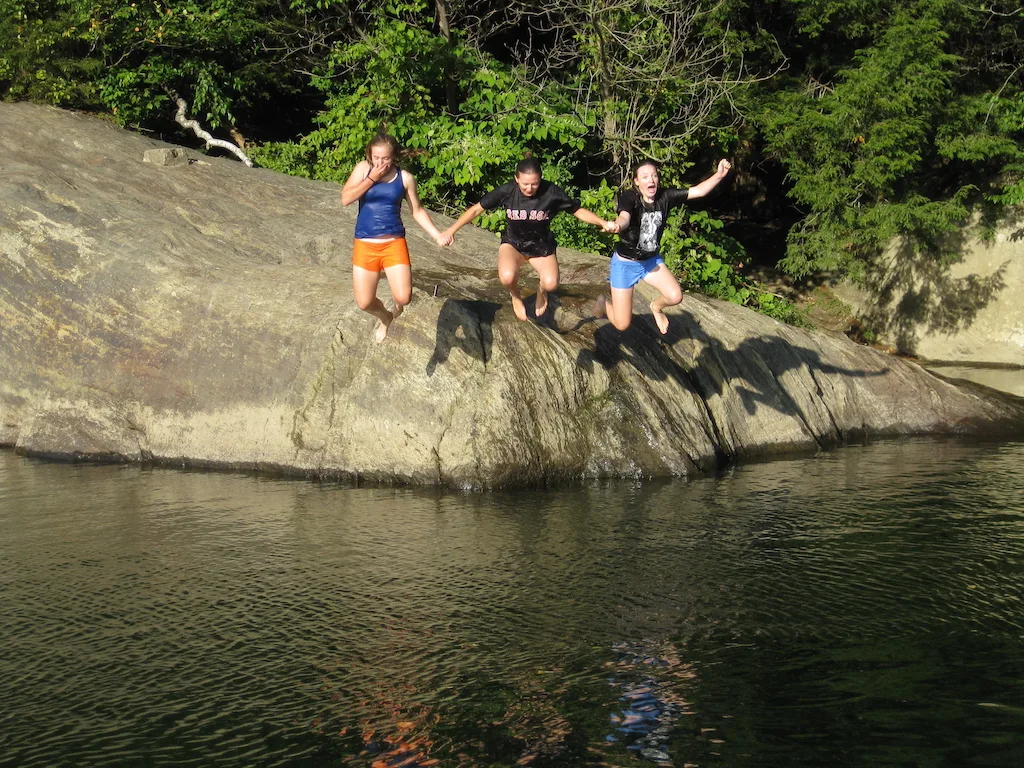 In addition to the fast-moving current, wet rocks are inherently slippery, and careful stepping is required.
Slips and falls are probably the most common injury at Vermont swimming holes. Here are a few more safety tips to heed when swimming in Vermont rivers.
Never swim above a waterfall
Do not jump into the water if you don't know how deep it is or what obstacles lie beneath the surface
Watch children carefully
While we love Vermont swimming holes, please understand the risks before using them yourself. Our suggestions for places to swim in Vermont are just that, and you are responsible for the risks involved.
Vermont Swimming Hole Etiquette
As with many natural areas throughout the world, Vermont swimming holes are in danger.
Trails are becoming eroded, trash is ending up in rivers, and some of our favorite spots are being closed to visitors because they are being disrespected by the people who love them the most.
First and foremost, remember that you are a guest in the beautiful places you visit. Treat these areas like they belong to your best friend and leave them better than you found them. Here are some other suggestions.
Do not bring glass containers down to the water. Accidents happen and broken glass on the river bank is never a good thing for swimmers.
Park off the road in designated areas. If there isn't room for your vehicle, come back another time. Your car will be towed or ticketed if you leave it on the traveled part of the roadway.
Respect posted signs. Many Vermont swimming holes are on private property. Respect the landowner's right to close swimming areas that aren't being treated well.
Carry out your trash. Actually, go one step above that, and clean up some trash after your swim. If we all did this, the few people that litter would make very little impact on the land.
Use designated bathroom facilities. Human and dog waste are becoming more common around swimming areas. This can cause dangerous bacteria to end up in your favorite swimming hole.
Keep your dog leashed. Dangerous cliffs and slippery rocks make loose dogs a safety hazard for everyone.
Stay on trails. Erosion is another huge problem around popular swimming areas. Stay on trails so that your favorite spot remains lush and unspoiled.
Don't drink and jump. This really isn't the place for impaired judgment. Go out for a beer after your swim.
What to Bring to Your Favorite Vermont Swimming Hole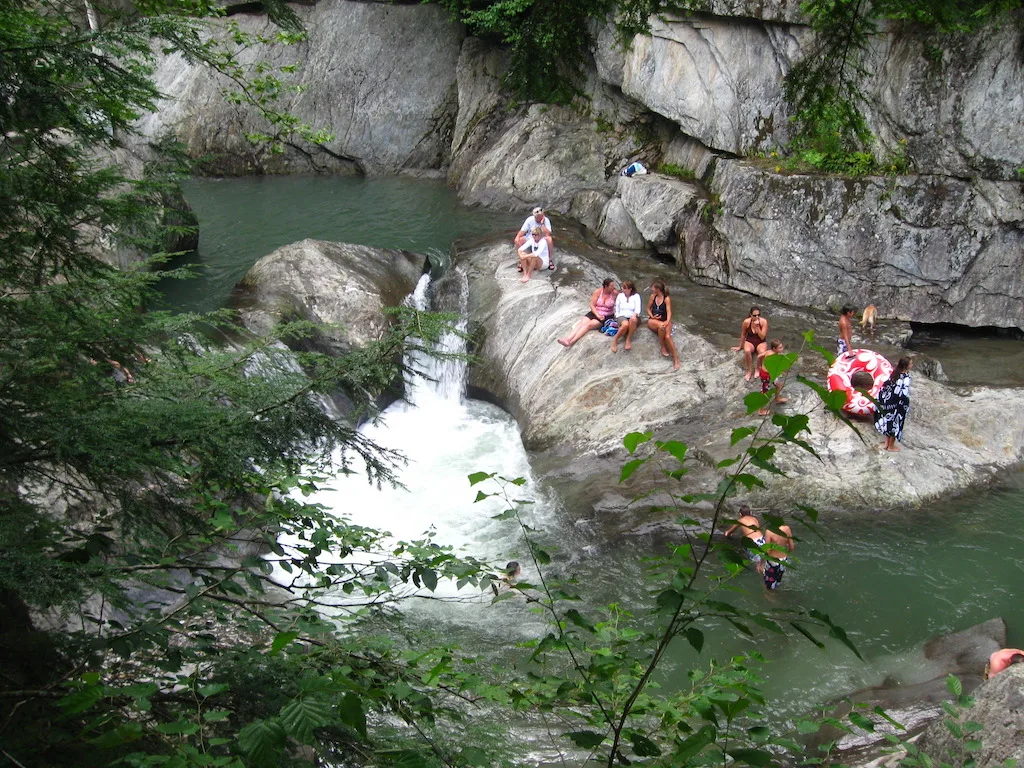 Spending the day at a swimming hole in Vermont is kind of like going to the beach and kind of like going hiking. Instead of lugging a huge beach bag and cooler,
I suggest packing everything into a large backpack so you can maneuver on rocky trails. Here are our recommendations for essential swimming hole gear:
A quick-dry pack towel. Cotton towels are sand magnets and they take forever to dry. These little pack towels dry quickly and fold up really small. Keep one in your car for impromptu swimming adventures!
A small first-aid kit. Be prepared for swimming hole emergencies with a small first aid kit that you can store at the bottom of your pack. We love the Adventure Medical Kit series for hiking and adventuring. It has all the basics.
Water for drinking. Seems like a no-brainer, but it's easy to forget to stay hydrated when you're hanging out by the water. Hydroflask bottles keep your water cold on the warmest days, and they will survive rolling off a cliff and into the river as long as you can catch it.
Lightweight Camp Chairs. These lightweight camp chairs from REI fold flat and are easy to carry down the trail to your favorite swimming hole – perfect when you want to spend the afternoon with your feet in the water!
Water shoes. Protect your feet from sharp rocks with a pair of lightweight water shoes. Depending on where I'm going, I'll either wear form-fitting water shoes or waterproof sandals.
Sunblock and bug spray – Vermont mosquitoes like wet bodies!
Do you have a favorite Vermont swimming hole? We don't blame you if you want to keep it to yourself but feel free to share so others can respectfully enjoy Vermont's beautiful rivers.
Follow us on social media for more Vermont inspiration!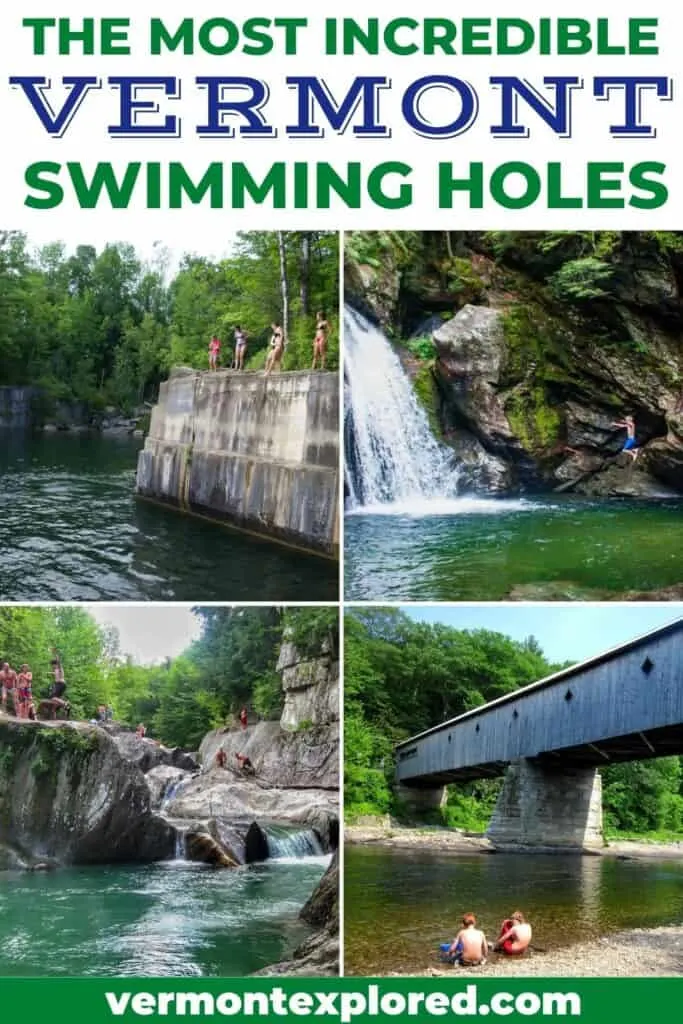 Tara Schatz is a freelance writer, and the founder and editor-in-chief of Vermont Explored and Back Road Ramblers, an American road trip blog. She is also the co-author of the 3rd edition of AMC's Best Day Hikes in Vermont, which was released in May 2023.