Lake Shaftsbury State Park is nestled among rolling hills and dense forest in Southwestern Vermont.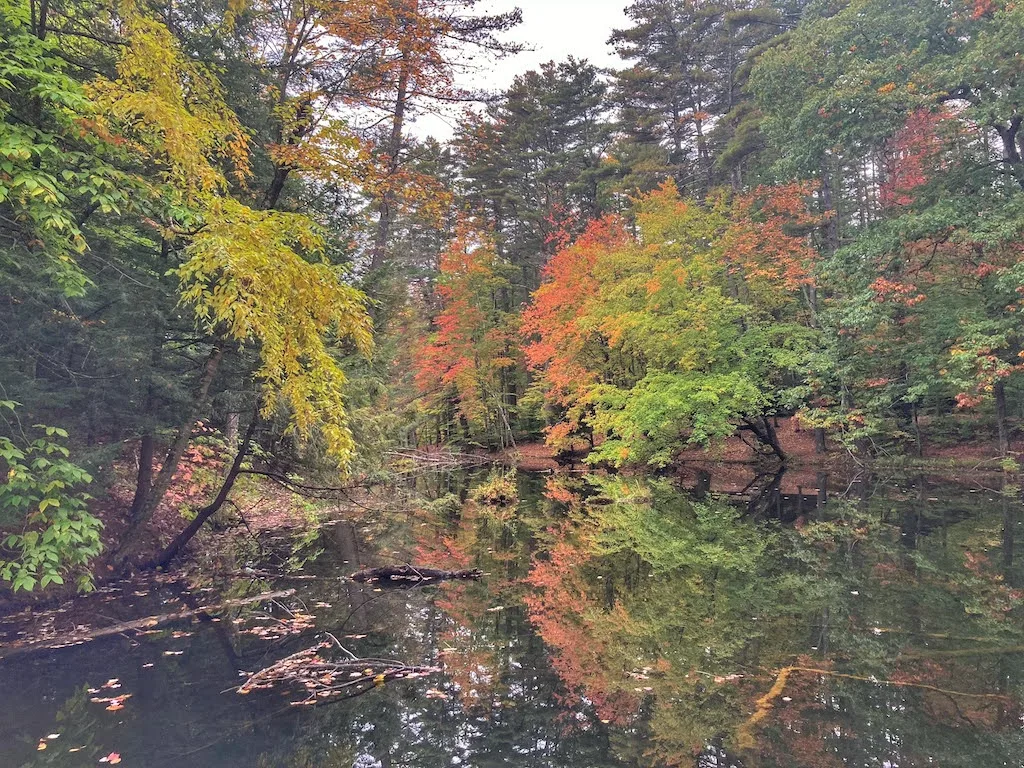 It's not exactly a destination for tourists, but the locals make good use of the park in the summer when they come with coolers, sand toys, and toddlers to make the most of the little sandy beach and perfectly shallow water.
Summer is fabulous in Vermont, and Lake Shaftsbury is the perfect summer destination for families.
This small Vermont State Park is a fun destination for summer vacationers, but it's a gem in the other three seasons as well. The park is officially open from Memorial Day weekend until Indigenous People's Day weekend, but you are welcome to park outside the gate in the late fall, winter, and early spring to enjoy all that this park has to offer.
Here's why we love Lake Shaftsbury State Park all through the year.
Quick Facts: Lake Shaftsbury State Park, Vermont
Address: 262 Shaftsbury State Park Rd, Shaftsbury, VT 05262
Activities: swimming, hiking, paddle sports, fishing, picnicking
Open: Memorial Day weekend to 2nd weekend in October
Fees: $5 adults, $2 kids
Dogs: on-leash, but not on the sandy beach
Camping: 15 lean-tos for group camping only
Official Park Website
---
Also Read: The Best Vermont State Parks for Families
---
Spring at Lake Shaftsbury State Park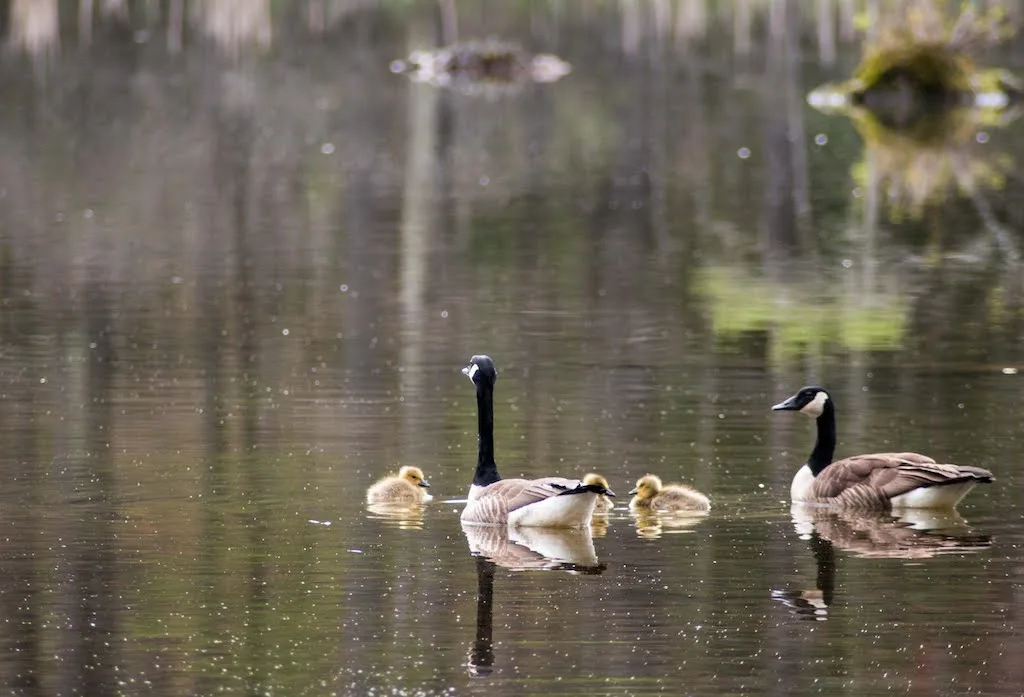 Spring at Lake Shaftsbury State Park is a quiet affair. It's lovely for bird watching, fishing, and walking. Lake Shaftsbury is stocked with rainbow trout in the spring, but it's also a good spot to catch largemouth bass, perch, bluegills, and pumpkin seed.
The best way to fish Lake Shaftsbury in the spring is to bring a kayak or canoe, but you can also catch fish off the dam near the entrance and along the shore, which you can access from the Healing Springs Nature Trail.
The nature trail around Lake Shaftsbury is just about a mile and quite easy. It meanders along the shore, through a wetland on a nice boardwalk, and along a ridge before looping back to the entrance.
Birds are quite common here in the spring, and in addition to spring warblers, we've also seen blue and little green herons, common and hooded mergansers, bald eagles, osprey, and plenty of unknown-to-me waterfowl.
Because Lake Shaftsbury is relatively shallow, it warms up pretty fast, so you can probably swim in April and early May when the park is still closed. You will have to deal without the bathhouse, but otherwise, spring is great for swimming in the lake.
Summer at Lake Shaftsbury State Park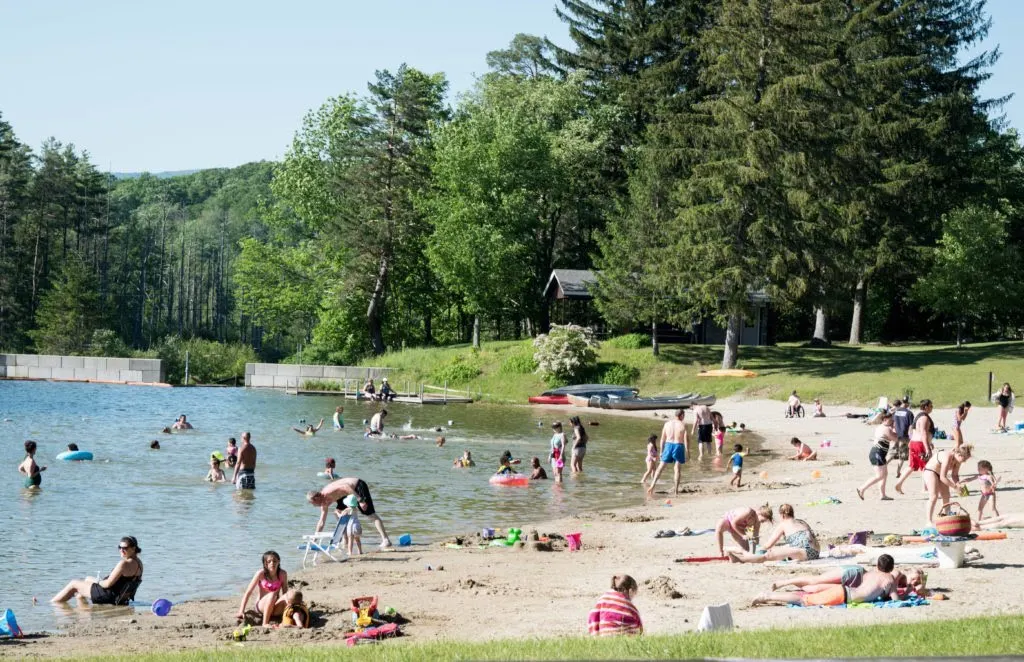 Summer is when Lake Shaftsbury State Park sees most of its visitors, and for good reason. You can still take advantage of spring activities like bird watching, fishing, and hiking, but you also can relax on the small, sandy beach, swim in the shallow waters, and rent kayaks, canoes, or paddle boats.
The shores of Lake Shaftsbury are fabulous for a picnic or barbecue, and there are lots of picnic tables and grills for visitors to use. You can also rent the waterfront pavilion to use the park for your special event.
If you do visit Lake Shaftsbury State Park in the summer, be sure to stop at Clear Brook Farm to stock up on picnic goodies, and hit up the Chocolate Barn on Route 7A for the best ice cream in Vermont. It is so delightful on a hot summer day.
Insider tip: Lake Shaftsbury State Park is dog-friendly! You can't bring your dogs on the beach when the park is open, but you can take them hiking, canoeing, kayaking, and camping.
Camping at Lake Shaftsbury State Park
There are no individual campsites at Lake Shaftsbury State Park, but if you've got a group, you can rent up to 15 lean-tos.
The lean-tos are located in the wetland area and are very private with firepits, picnic tables, and a nearby bathhouse. There is also a delightful cottage for rent right on the water that sleeps six. The cottage is not pet-friendly.
Autumn at Lake Shaftsbury State Park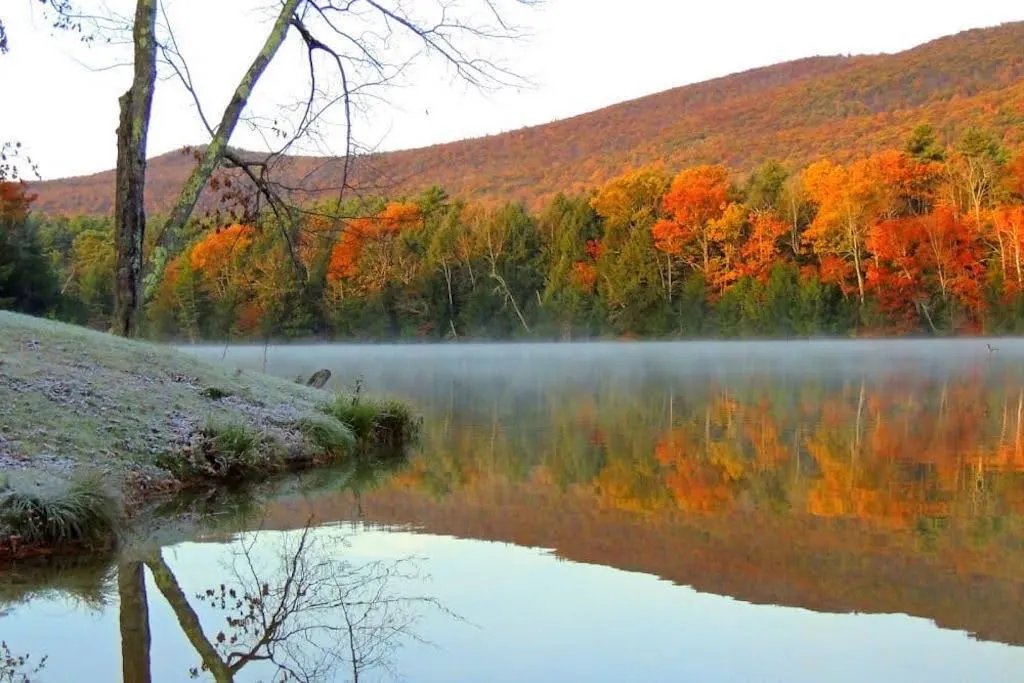 Autumn is my favorite time to visit Lake Shaftsbury State Park. It's usually warm enough to swim in the shallow lake until late September, and the one-mile trail around the lake is the perfect little adventure for restless dogs and their human companions. The park is open through mid-October, but the fall colors will usually last until the end of the month.
I try to visit a couple of times a week during the fall foliage season. Early morning visits are fabulous because there's often a nice fog sitting on top of the water – a perfect complement to the bright colors of the hardwood forest.
Because fall is so beautiful here, I'll share some of my favorite photos that I've taken over the years at Lake Shaftsbury.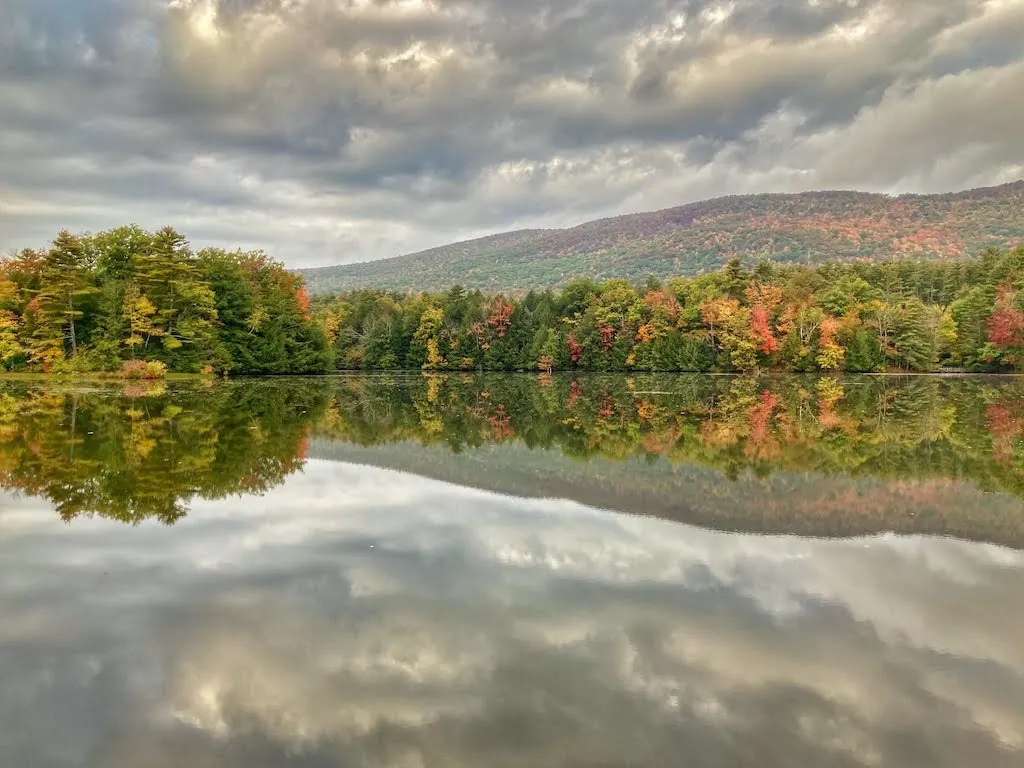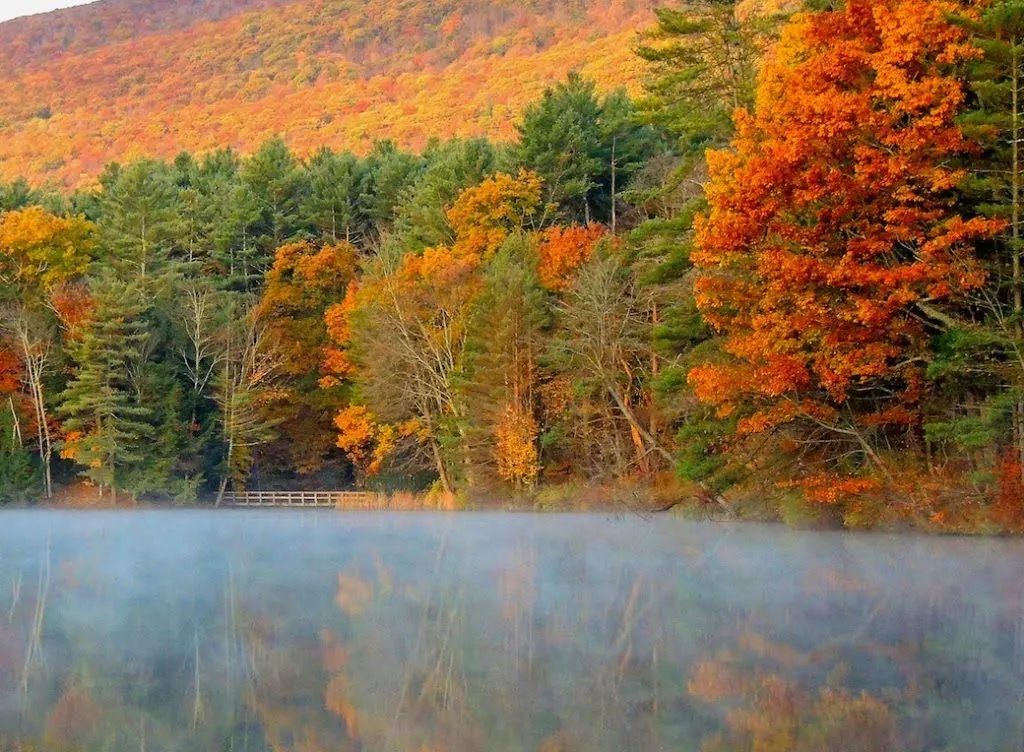 Winter at Lake Shaftsbury State Park
Now the park is really quiet, and it's the perfect spot to strap on snowshoes and trek around the lake. Lake Shaftsbury freezes really well, so it's not uncommon to see ice fishermen out on the ice.
The trail is probably too difficult for cross-country skiing, but if the lake freezes, you can ski around on it, which is kind of fun.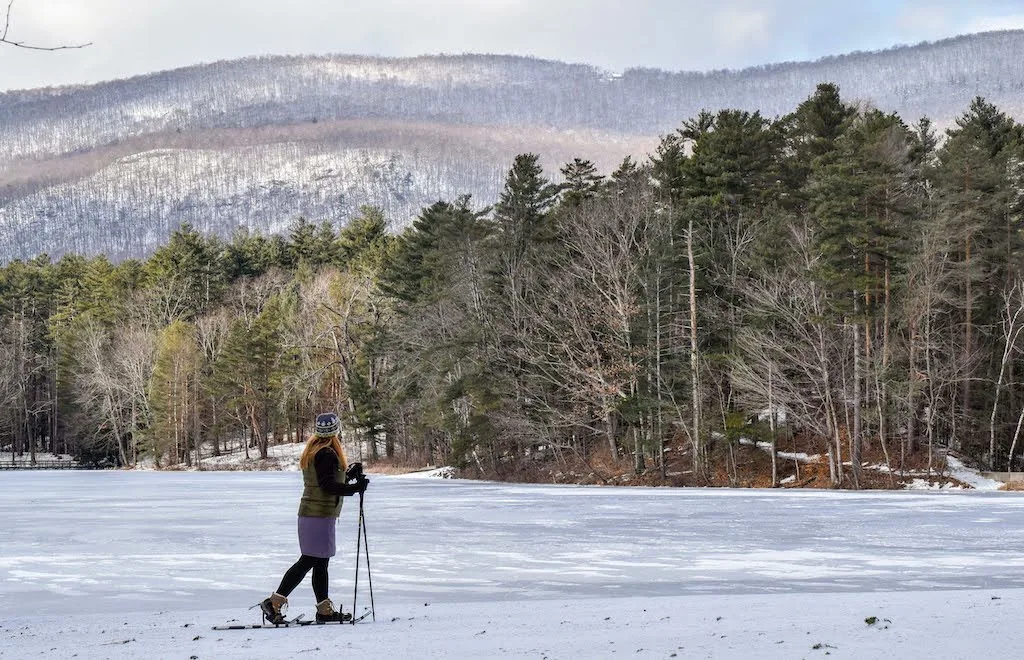 Also, if you're up for an adventure, you can camp in the Lake Shaftsbury lean-tos during the winter months. You just have to visit the Vermont State Parks website to apply for a permit. Winter camping is free and limited to three consecutive nights.
Logistics for Visiting Lake Shaftsbury State Park
Lake Shaftsbury State Park is open from Memorial Day to the second Monday in October for swimming, paddling, hiking, and picnicking. Dogs are permitted on the trails year-round.
There are no amenities available during the off-season and usually no people either.
If you're traveling on route 7A from Bennington to Manchester, Lake Shaftsbury State Park is totally worth a stop – stretch your legs and enjoy some of Vermont's hidden beauty.
For more information on visiting Lake Shaftsbury State Park, visit the Vermont State Parks website.
---
Follow us on social media for more Vermont Inspiration!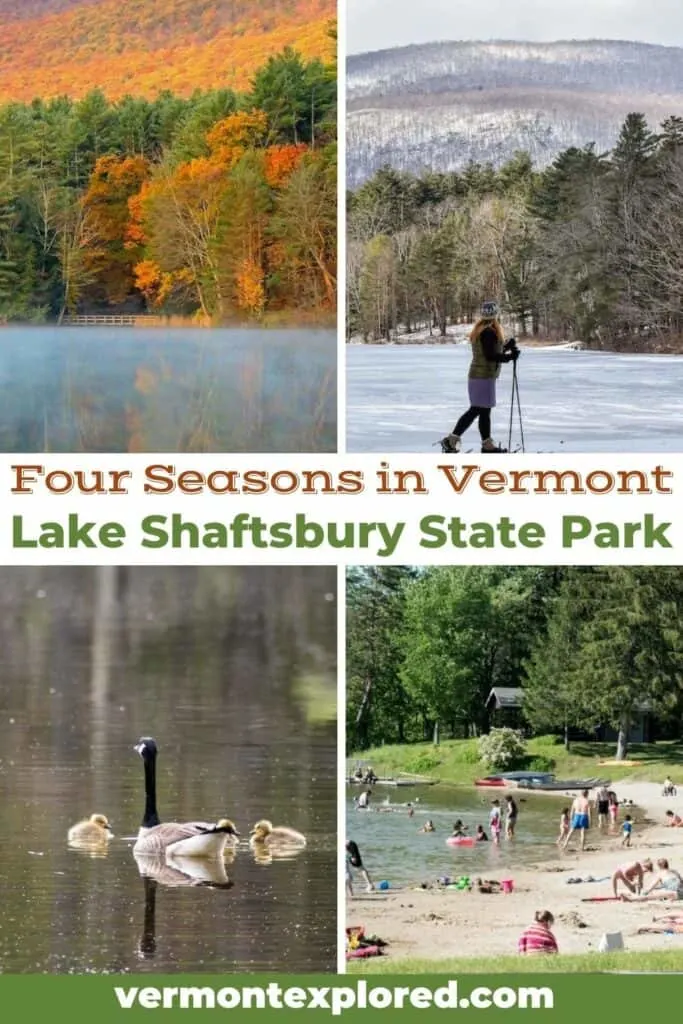 Tara Schatz is a freelance writer, and the founder and editor-in-chief of Vermont Explored and Back Road Ramblers, an American road trip blog. She is also the co-author of the 3rd edition of AMC's Best Day Hikes in Vermont, which was released in May 2023.