The small hamlet of Bristol, Vermont is in many ways a typical mountain town. It is ideally situated at the base of the Green Mountains, and surprisingly vibrant for a village of fewer than 4,000 residents.
Like many mountain towns in Vermont, Bristol makes a fabulous home base for hikers, as it's just a few miles from the Long Trail and Mount Abraham, plus there are dozens of hiking trails nearby that are suitable for all ages and abilities.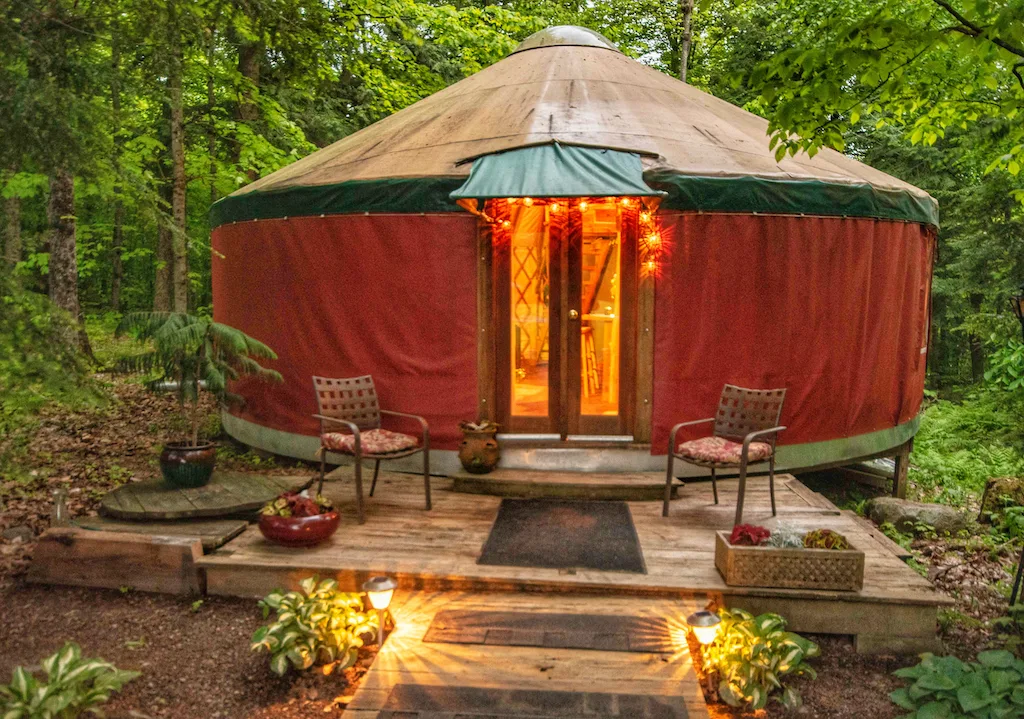 Bristol is also home to one of the most awesome swimming holes in Vermont and is within a short drive of a handful of gorgeous waterfalls. The town of Bristol is small, and by default, thoroughly walkable. Within a radius of just a few blocks, you will find a grocery store, several cafes, a top-notch restaurant, a creemee stand, a used book store, and a beautiful town green complete with a playground, gazebo, and bubbling fountain.
I'm excited to share Bristol, Vermont with you, as well as the awesome yurt rental we found on Airbnb. Technically, the yurt is in New Haven, Vermont, but very close to downtown Bristol.
Cool Facts and Happenings in Bristol, Vermont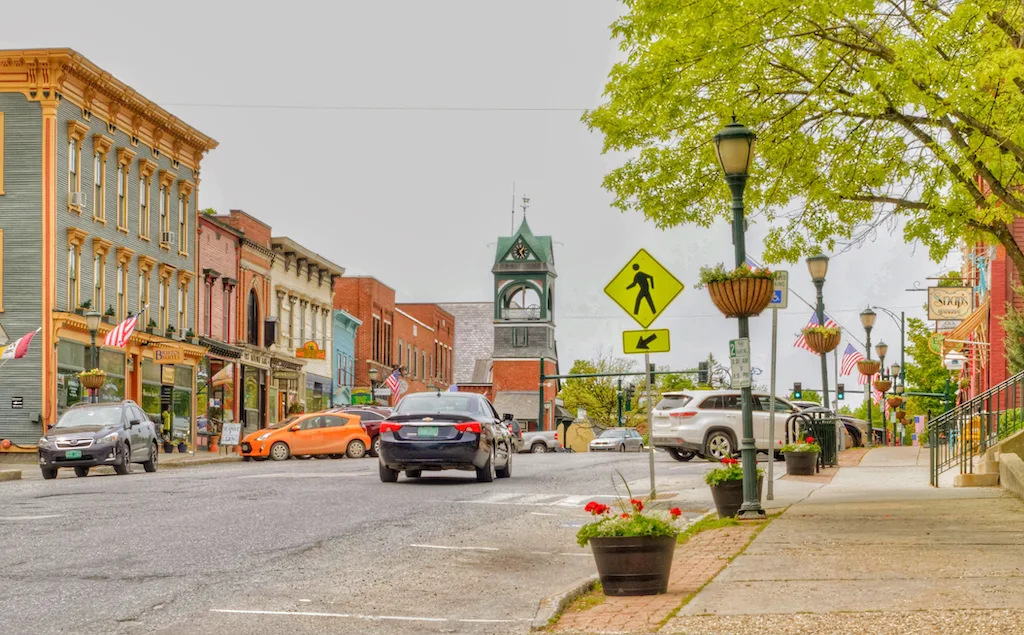 We carry around a dog-eared copy of Vermont Curiosities (highly recommended) on many of our journeys around the state. There are two entries for Bristol in the book. One story details the trash and recycling pick-up, which has been efficiently taken care of by a team of horses for the past 20 years. A pair of Percheron horses make the rounds every Friday. Read more about the horse-drawn trash pick-up in Bristol in the USA Today.
The other Bristol entry in Vermont Curiosities documents the Great Outhouse Race, which takes place on July 4th every year. In my opinion, a horse-drawn trash removal service and an annual outhouse race are both solid reasons to visit Bristol, Vermont, but if you want more, I've got some.
Hiking Near Bristol, Vermont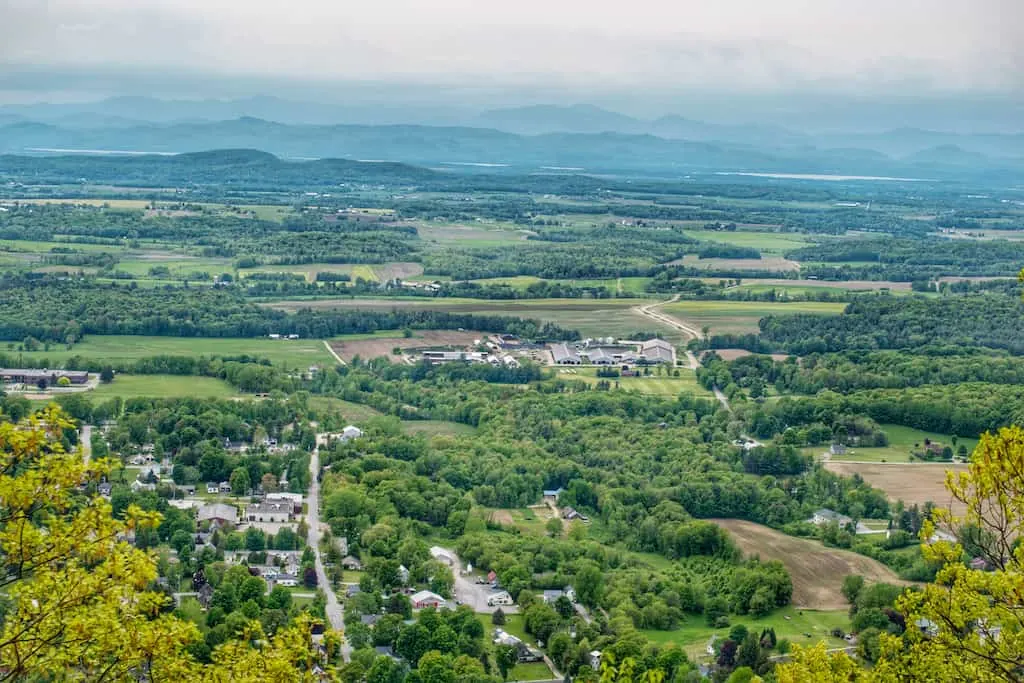 If you're looking to work up a sweat, Bristol has some seriously awesome hiking opportunities, and if you just want a stroll and some beautiful scenery, Bristol has that too! Here are some of our favorite hiking trails in and around Bristol, Vermont.
Bristol Ledges
I love the Bristol Ledges hike because it starts right in town and heads up to a locally famous rock outcropping with super awesome views of Bristol. There is no parking at the trailhead, so leave your car downtown and head east on Main Street toward the mountains.
Turn left on Mountain, then right on Mountain Terrace. Follow Mountain Terrace around to the right until you come to a gate with a no parking sign on it. This is the trailhead. The trail isn't marked, but it's well-trodden. It starts as a gravel road and eventually turns to a narrow trail. It is all uphill, and about 1.5 miles one-way.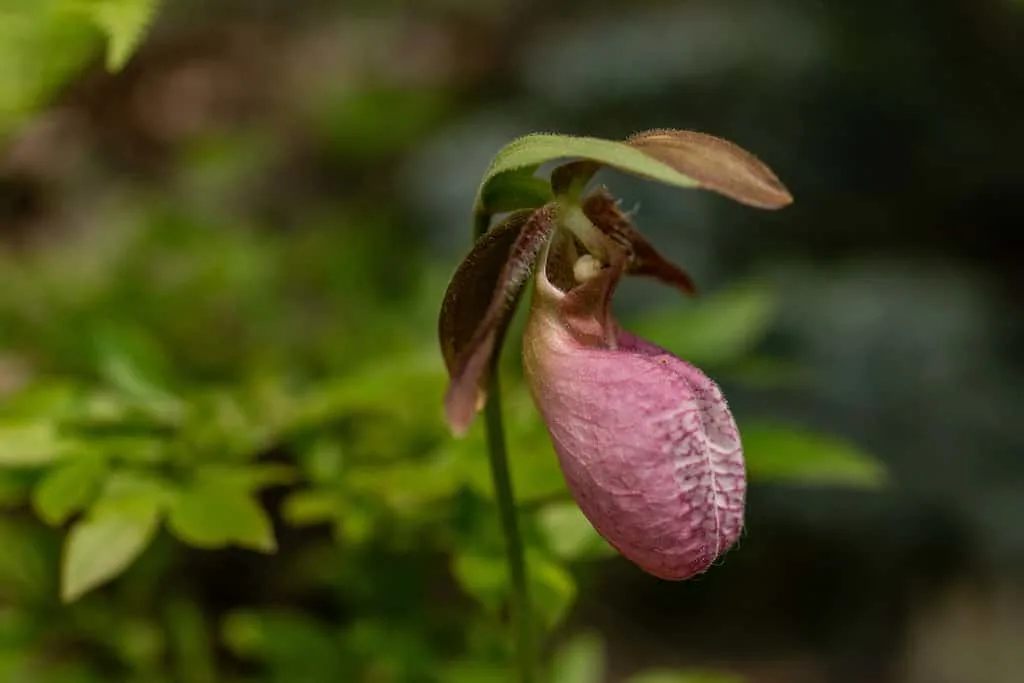 If you hike to Bristol Ledges in late May or early June, be prepared for black flies, which adore munching on sweaty humans. You will also have to do a lot of looking down, as there are plenty of rocks and roots in the trail (this is typical Vermont). A benefit of looking down is that you will also see beautiful woodland wildflowers, including wild columbine and pink lady slippers.
Length of trail: 3 miles round trip
Difficulty: All uphill
Dogs: Yes
Fee: None
The Watershed Center Trail
The Watershed Center is a nonprofit organization that protects and maintains 1,000 acres of fields, forests, and ponds just outside of Bristol. Numerous trails crisscross the property, but for a short, sweet loop with great views and a beaver pond, I suggest taking the Voices of the Land trail to Norton Brook Reservoir for .7 miles and then returning to your car on the Main trail for .5 miles. This is a fairly easy loop, with a few hundred feet of elevation gain at the beginning of the hike.

Parking for the Watershed Center is available on Plank Road in Bristol. Looking for a trail map? Find one here.
Length of trail: 1.3-mile loop
Difficulty: easy
Dogs: leashed
Fee: None
Mount Abraham via the Long Trail
In the summer months, take a short ride up to Lincoln Gap on Lincoln Road, just east of downtown Bristol. The highest point on the road is 2,428 feet in the town of Lincoln. The road is closed in the winter, but in the summer, you can park at the trailhead on either side of the road and head up the Long Trail to Mount Abraham.
The summit of Mount Abraham is 4,003 feet, and while it is one of only a handful of 4,000-footers in Vermont, it has one of the very best views. This is a 5.2-mile round-trip hike with a lot of elevation gain (1,600 feet). The parking lots will fill up on busy weekends, as this is also a very popular hike. There's a lodge about halfway up the mountain, which makes a nice picnic spot. The last half mile or so is a nice scramble, where you may have to use all of your limbs to get to that awesome view.
Length of trail: 5.2-miles round trip
Difficulty: strenuous
Dogs: yes
Fee: none
Waterfalls and Swimming Holes Near Bristol, Vermont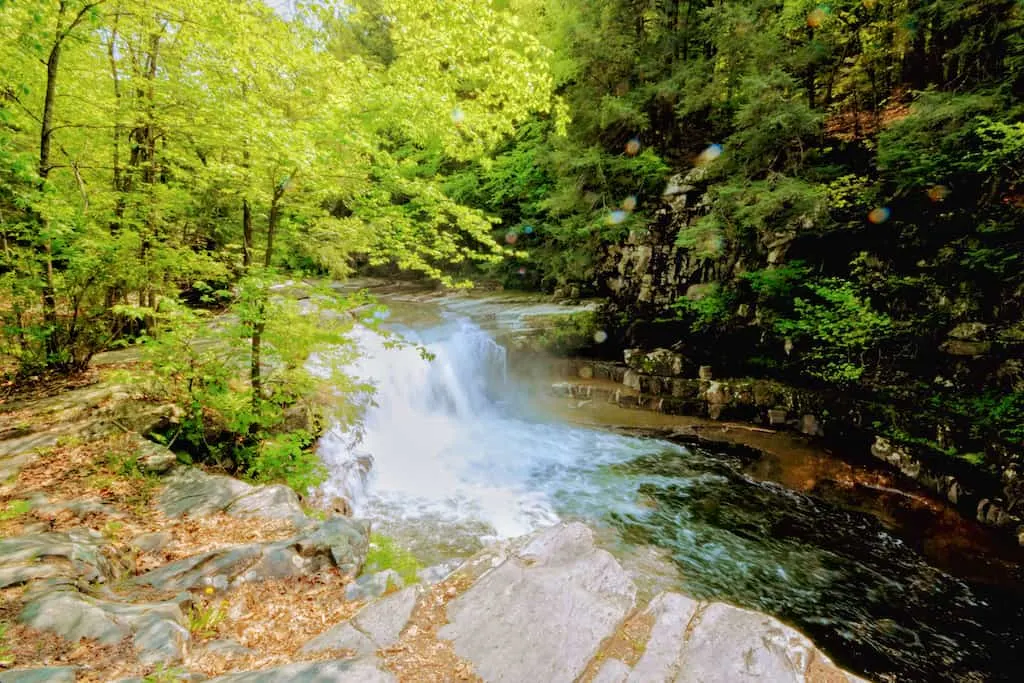 The Green Mountains are home to some seriously awesome waterfalls and swimming holes, but one of our favorites is a short drive outside of Bristol.
Bristol/ Bartlett Falls is arguably one of the best swimming holes in Vermont, and in my humble opinion, Bartlett Falls alone is worth spending a weekend in Bristol. Cliff jumping is a favorite pastime here, but there is also a nice shallow area for younger kids to wade and play in.
You can swim right under the waterfall at Bartlett Falls, and the water is deep and cold. On summer weekends, cars line the road and the place is packed. We like it better on weekdays before 10 am when there's more space to spread out.
Warren Falls is another spectacular swimming area that gets super busy on the weekends. The swimming spot is very wide, there are three separate cascades, and cliff jumping is popular. Warren Falls is located right off of route 100, so you have to travel over Lincoln Gap to get there.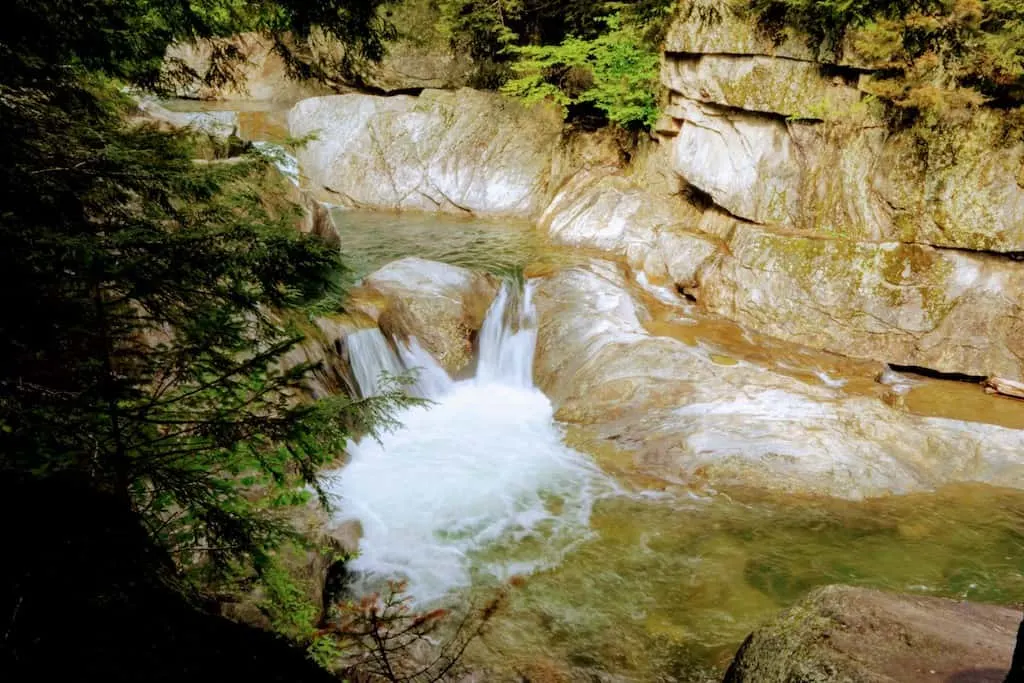 Despite big crowds, Warren Falls is an awesome spot to cool off on a hot summer day in Vermont and is another one of Vermont's best swimming holes.
*Note: We use the awesome book, New England Waterfalls to plan our Vermont adventures. It has the waterfalls mentioned here, as well as directions, hiking, and photography tips.
---
Read Next: A 5-Day Road Trip on Vermont Route 100
---
Yurt Camping in New Haven, Vermont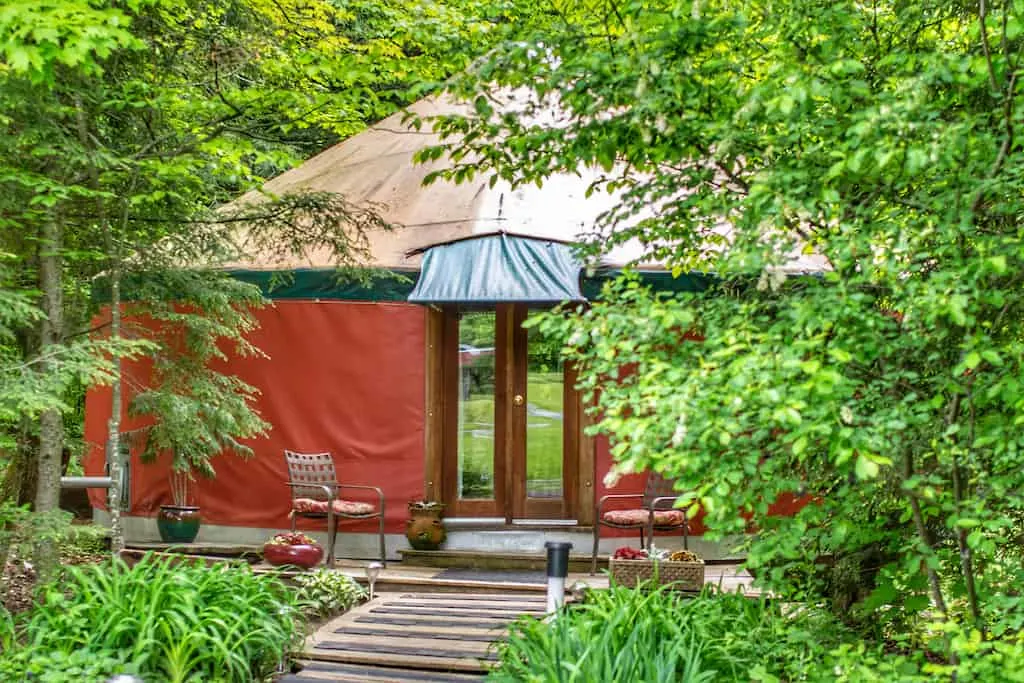 If all those outdoor adventures have you ready for a little R&R, look no further than the Song Bird Sangha yurt rental in New Haven, VT, just outside of Bristol. I should premise this by saying that this yurt is pretty luxurious, and while we call it yurt camping, it's not rustic at all. Here are all of the amenities that make this yurt rental more opulent than traditional camping.
A full-size bed with comfy linens – The bed is located in the loft, right under a domed skylight where you can watch the stars or listen to the rain.
A full kitchen – Oven/stove, toaster, refrigerator, and coffee maker. Ellen also keeps the kitchen stocked with tea and coffee, plus sugar. There are enough cooking supplies for basic meals – pots, pans, utensils, etc.
A pellet stove– Perfect for chilly nights.
A full bathroom – Complete with a claw-foot tub for soaking.
A cozy living room and dining area – There's a table with four chairs for eating, a cozy sofa, and two plush armchairs.
WiFi – Perfect if you're planning a work vacation.
What makes this woodland yurt feel more like a camping destination is the location – it is nestled in the woods on a 23-acre farm. The outdoor seating area and fire pit allow you to relax after a day of hiking or exploring. While you have ample opportunities to enjoy the outdoors during your visit, you can cook your meals and sleep in comfort.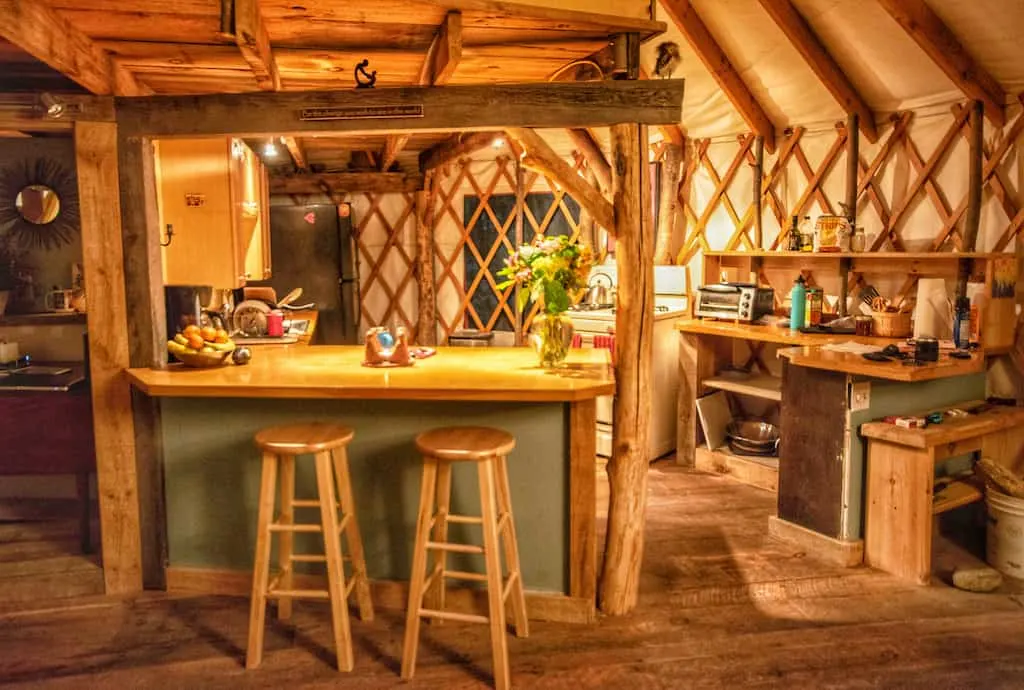 During my stay, I was able to meander around the farm, meet the horses (more on that later), and head into town, which was just a five-minute drive away. Ellen, my host for the weekend, made sure I had everything I needed for a relaxing stay and was a great resource for finding things to do and places to eat around town.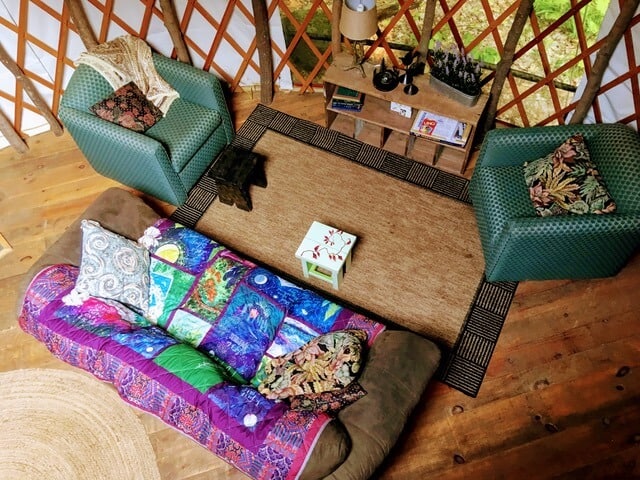 Meeting the Kindred Horses
As an over-the-top animal lover, I was excited to get to know three of the residents on the New Haven farm where my yurt was located. Maya, Nahvee, and Tula make up an unconventional herd and are quite extraordinary.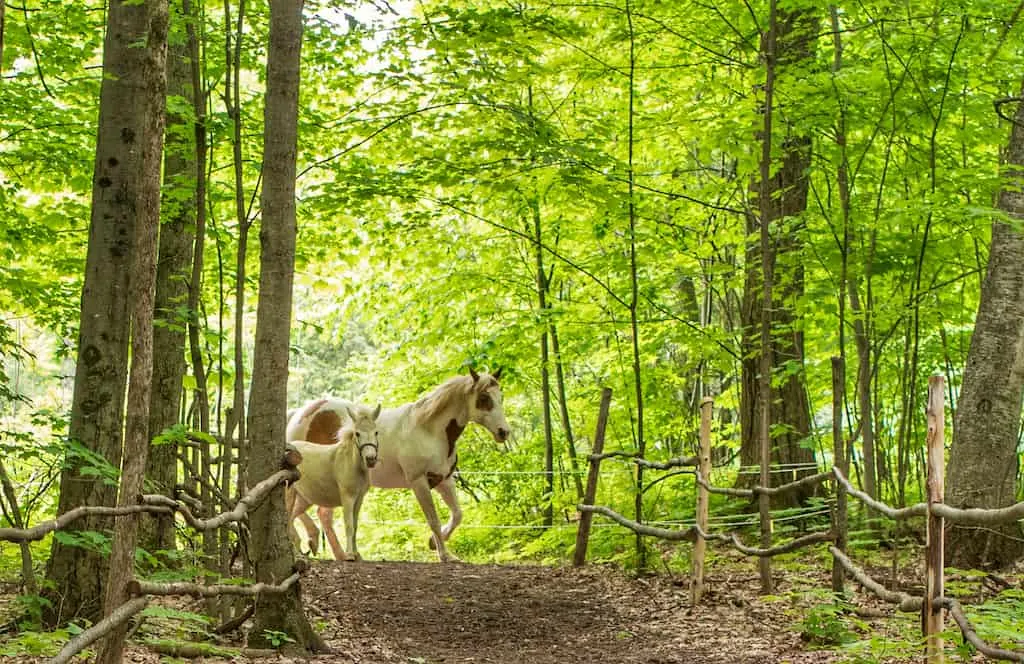 At 22 years, Maya, the painted mare is the oldest horse in the herd. She is wise, regal, and gentle, not to mention beautiful.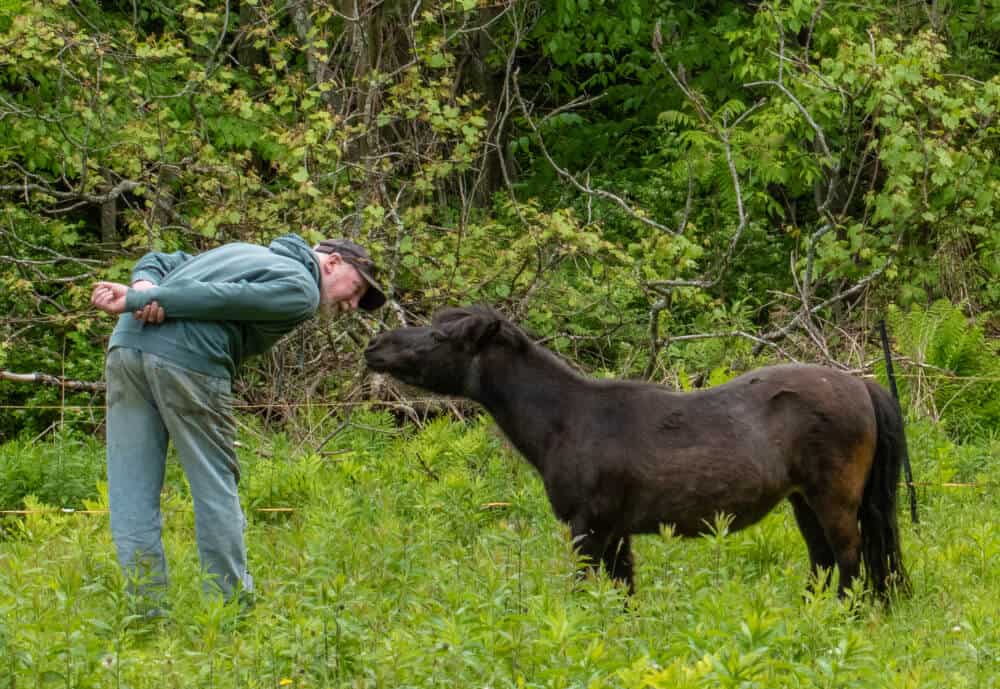 Then there is Tula, a mini horse with a mellow attitude and a winning personality.
Nahvee is a mini mule, and she's got plenty of spunk and character to go around.
This small herd lives with Ellen on the farm. The horses are also used for therapy and life coaching as part of Kindred Horse Life Coaching, which Ellen facilitates to help others practice non-verbal communication, learn through their senses and experiences, find balance, and embrace personal growth.
You can schedule a session with Ellen and the horses to experience their healing nature, or you can simply enjoy their presence, as I did, which was an incredibly calming way to find quiet in a busy and noisy world.
If you're booking your yurt stay on Airbnb, you can message Ellen directly to ask about scheduling an experience with the horses, or you can visit the Kindred Horse Life Coaching website to learn more.
The Best Bristol, Vermont Restaurants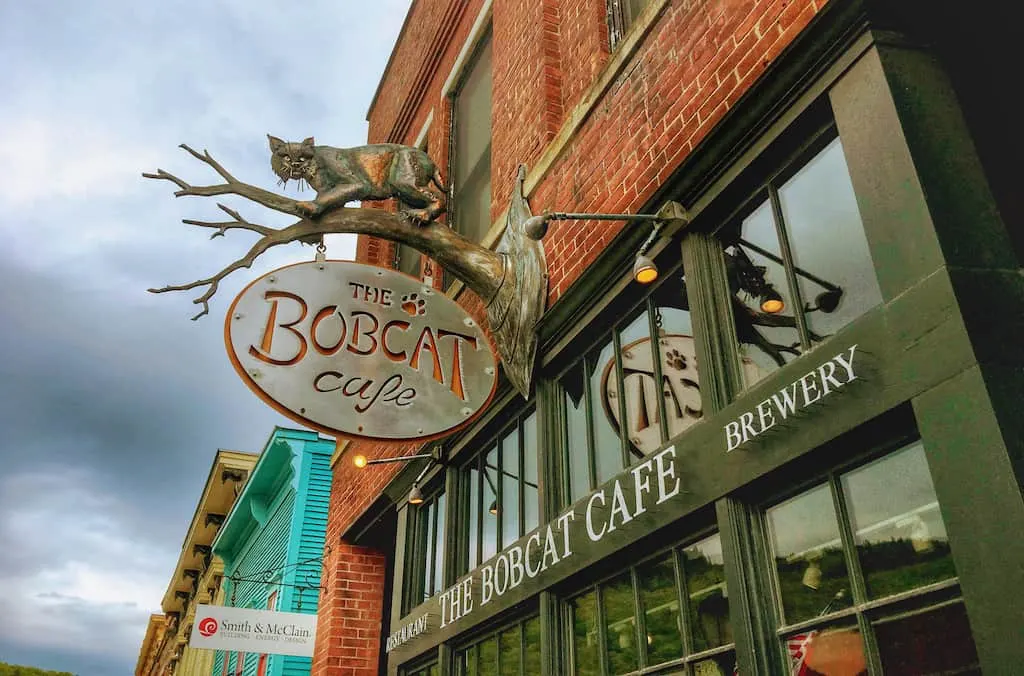 While staying at your beautiful yurt in New Haven, you will have access to a full kitchen, making meal prep super easy, but if you're anything like me, you'll want to explore some of Bristol's eateries too.
During my two-day stay in Bristol, I took full advantage of the local restaurants, and while there aren't many to choose from, you can eat out for all three meals and come away satisfied. Here's what I'd recommend:
Breakfast and Lunch – Snap's – Indulge in the strawberry cream chees french toast in the morning and sit outside for lunch to enjoy a wrap and a cold beer. This laid-back eatery really impressed me with its lunch options. I had the Woods Wrap, which consisted of portabella mushrooms, and roasted peppers and onions. Delish!
Dinner – The Bobcat Cafe – This is a cafe and brewery that is only open for dinner. For a small-town restaurant, there are some creative menu items here. Yes, there are burgers and fries, but you can also order duck breast with cherry balsamic sauce braised pork enchiladas. Eclectic specials are offered daily, and there's a great selection of hand-crafted beers on tap.
Dessert – Village Creeme Stand – Forget fancy desserts in Bristol. You've got to head to the Village Creeme Stand for a maple creemee (at least in the summer). In case you're not from Vermont, a creemee is just soft-serve ice cream with a higher fat content than a regular soft-serve. A stop at this iconic yellow stand is the perfect end to your Bristol weekend or just a great refresher after a hike or a swim.
Making the Most of Your Bristol, Vermont Vacation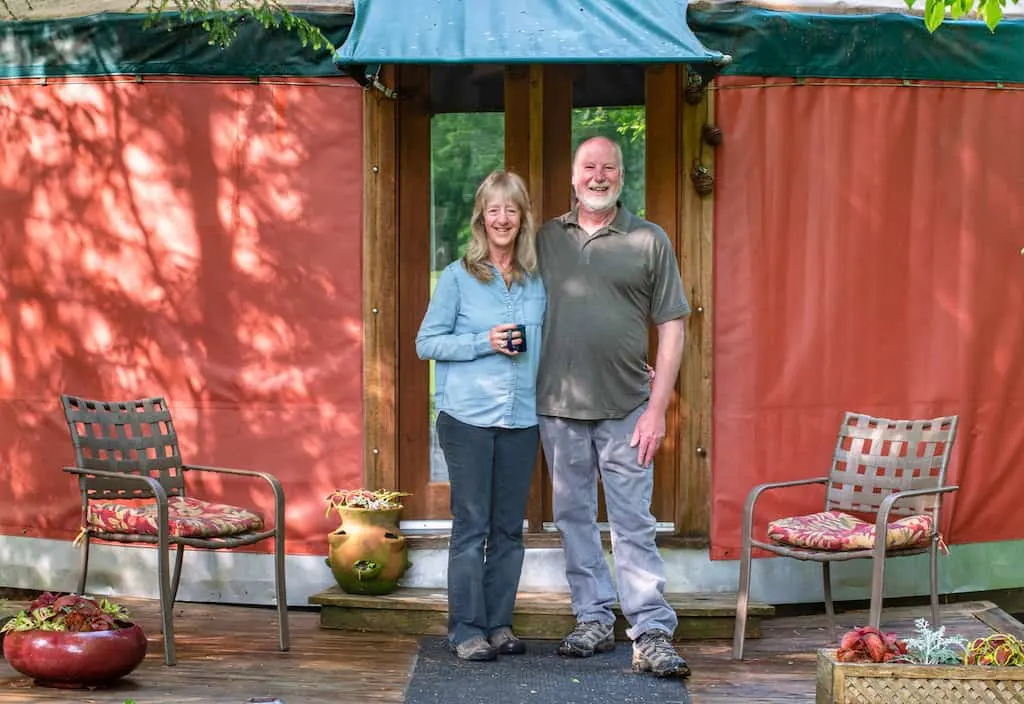 Ready to embark on a little Vermont getaway? Here's what you need to know about visiting Bristol, Vermont.
Book your yurt rental through Airbnb – Make sure your dates are available and get them on the calendar before something else comes up!
If you visit in the summer, you must pack a swimsuit – This is pretty much mandatory if you know how to swim. You can't be so close to the best swimming hole in Vermont and not take a dip!
Pack bug spray – The bugs can be pretty awful in the woods around here, and in May and June, the black flies are terrible. We have been using Sawyer insect repellent with Picaridin lately, we love that it lasts 12 hours, keeps the mosquitoes away, and also protects us from flies. It's the only spray we've tried that keeps the black flies away!
Visit in the summer or fall – Summer is awesome for checking out the aforementioned swimming holes, but we prefer autumn for cool-weather hiking, not to mention the beautiful colors.
Have you explored beautiful Bristol, Vermont? This welcoming community makes a perfect weekend getaway! Be sure to watch the web story for Bristol, Vermont next!
Tara Schatz is a freelance writer, and the founder and editor-in-chief of Vermont Explored and Back Road Ramblers, an American road trip blog. She is also the co-author of the 3rd edition of AMC's Best Day Hikes in Vermont, which was released in May 2023, and the author of 100+ Wonderful Ways to Experience Vermont.