Have you noticed that the days are getting shorter? Do you feel that cool fall breeze? September in Vermont is magical — the leaves are just starting to change, the days are warm and the nights are cool.
It's time to throw on a sweater, pick up a maple latte, and explore some fantastic Vermont events.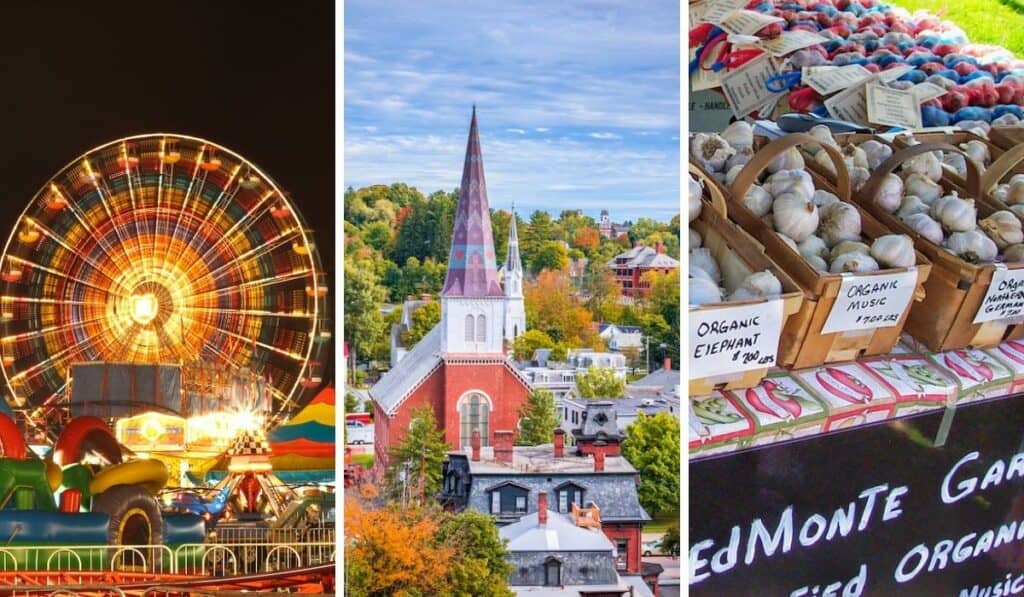 Vermonters are celebrating the cusp of fall in September.
The foliage season isn't quite here, so you won't be competing with throngs of tourists for hotel rooms and restaurant reservations. You will, however, get to experience an abundant supply of apples and farm-fresh veggies, several old-fashioned harvest festivals and fairs, and the friendly hospitality Vermont is known for.
Here are the best events, fairs, and festivals to experience in Vermont in September.
---
Read this post: The Best Places to Visit in Vermont in the Fall
---
Vermont Events: September 1 – September 4, 2022
Champlain Valley Fair, Essex Junction, Vermont, August 26 to September 5, 2022: The Champlain Valley Fair is celebrating 100 years in 2022! This spectacular Vermont event lasts for a full 10 days, with too many special events to list. This year's grandstand entertainment will include Scott McCreedy, Nelly, Justin Champagne, and Dropkick Murphys.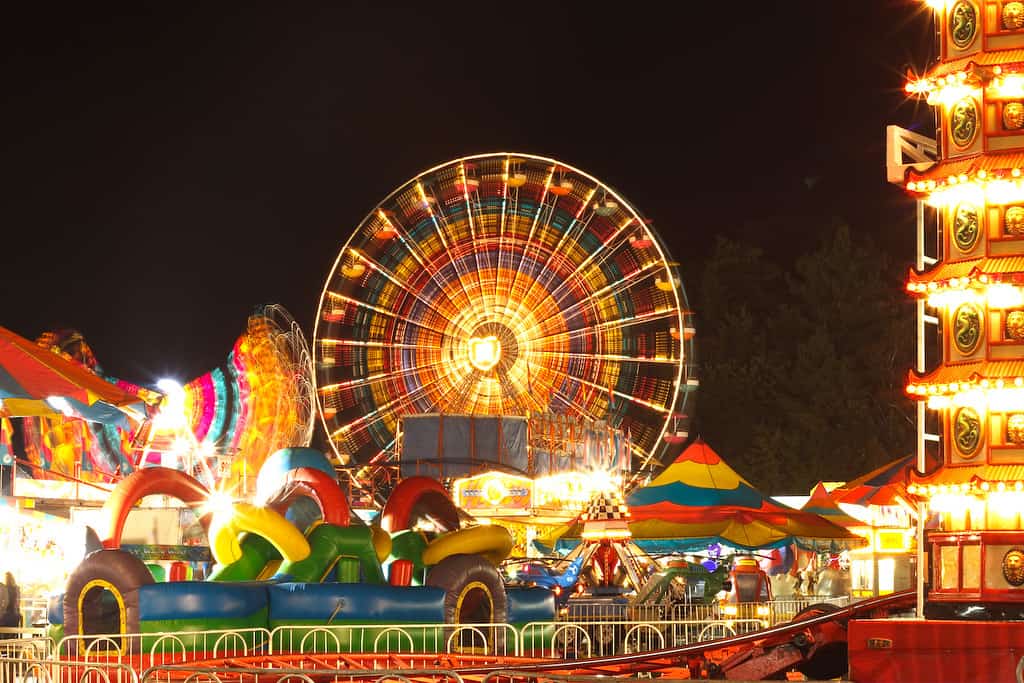 You'll also witness traditional farm animals, acrobatic dogs, racing pigs, and sand castle sculptures. Come experience a bit of country life — ride the rides, eat the funnel cake, and enjoy the over-the-top fun at Vermont's most beloved fair!
27th Annual Mount Snow Brewers Festival, West Dover, Vermont, September 3, 2022: Welcome to the 27th Annual Mount Snow Brewers Festival, where you can sample beer and cider from dozens of brewers, enjoy fantastic culinary offerings, and dance to live music from Jeff Tuohy Band. This day-long event is perfect for all Vermont beer lovers.
Garlic Town USA, Bennington, Vermont, September 3 and 4, 2022: One of Vermont's most popular events, Garlic Town USA in Bennington has been recently rebranded and moved downtown. Marketed as the largest family farmers' market in the state, this is the place to stock up on garlic products, try garlic ice cream, and other garlic-infused creations, and listen to fantastic live music. This is Bennington's biggest event of the year!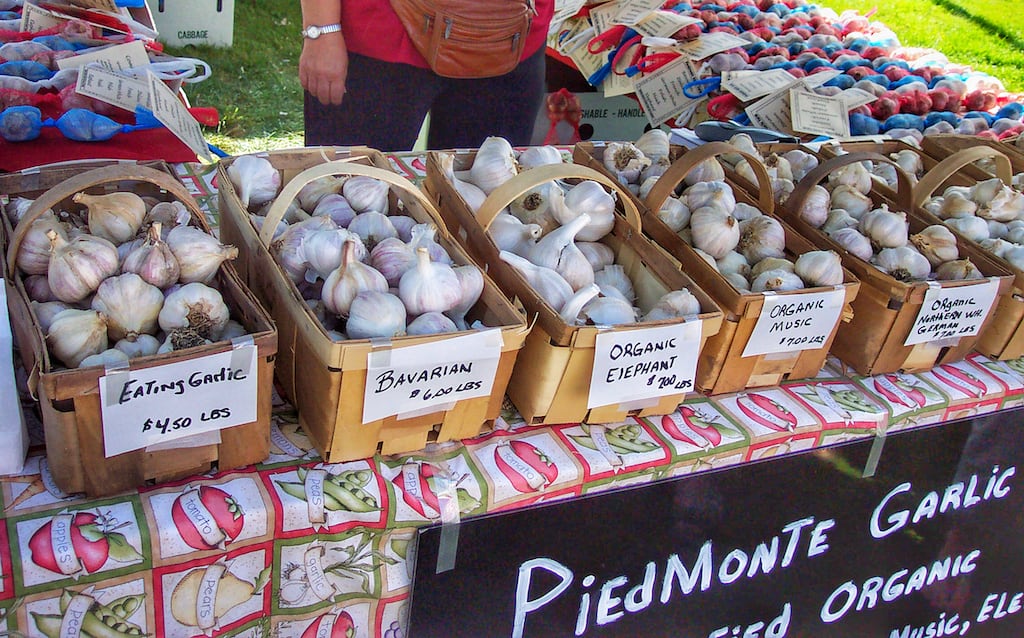 Plymouth Folk and Blues Festival, Plymouth, Vermont, September 3 and 4, 2022: The 17th Plymouth Folk and Blues Festival was selected in 2022 by the Vermont Chamber of Commerce as a "Top 10 Fall Event." This outdoor festival takes place at Calvin Coolidge State Historic Site and features renowned musicians from both Vermont and the world stage. This event is completely free, but donations of non-perishable food items are appreciated.
Mad River Valley Craft Fair, Waitsfield, Vermont, September 3 and 4, 2022: Celebrating 51 years of fine arts and crafts, the Mad River Valley Craft Fair is a juried fair featuring eclectic Vermont gifts, clothing, and artwork. Live music is scheduled throughout the event, and the food court will keep you satiated as you look for the perfect thing to take home. The $5 entrance fee supports the Valley Players.
Vermont Events: September 5 – 11, 2022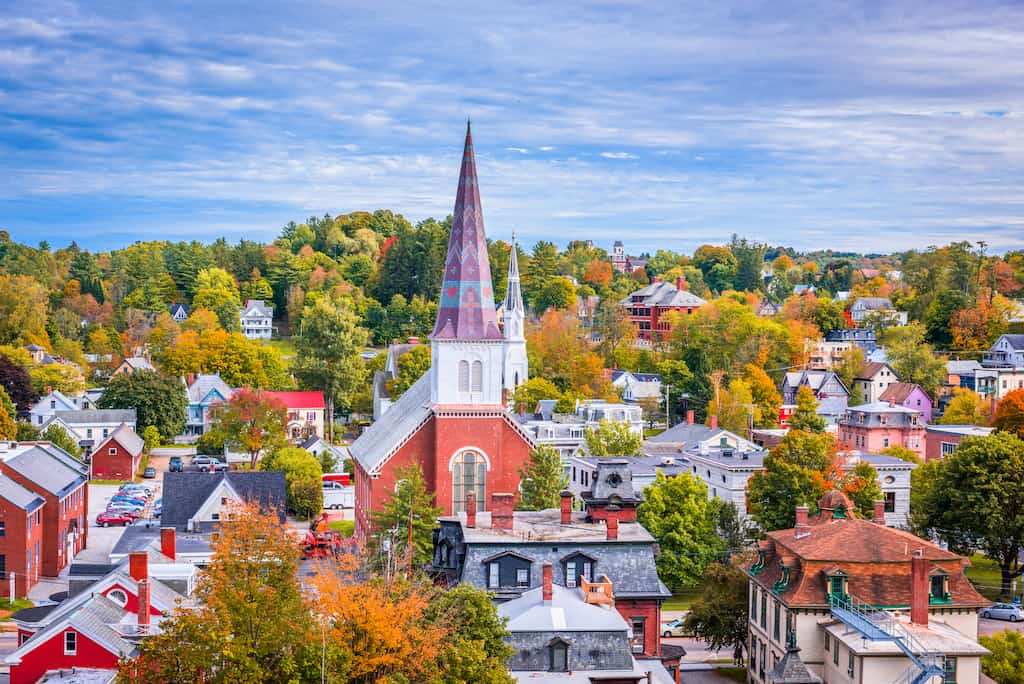 Orleans County Fair, Barton, Vermont, September 7 – 11, 2022: Head to the Northeast Kingdom this year for the 14th annual Orleans County Fair. Traditional events include a demolition derby, cattle and shows, 4-H events, harness racing, live music, and carnival rides.
South End Art Hop, Burlington, Vermont, September 9 – 11, 2022: The 30th annual South End Art Hop in Burlington is a celebration of the creative and entrepreneurial spirit of the South End neighborhood of the city. Chat with new and established artists in the community, purchase artwork, eat good food, and explore!
Vermont Golden Honey Festival, Proctorsville, Vermont, September 10, 2022: Celebrating its 10th anniversary, the Vermont Golden Honey Festival has been repeatedly voted one of the "Top 10 Fall Events" by the Vermont Chamber of Commerce. Part farmers' market, part craft fair, each Vermont vendor features a bee theme. Eclectic offerings include honey apple pizza, honey gin, beeswax balms and soaps, kombucha, mead, caramel sauce, and other honey and bee-related foods and crafts.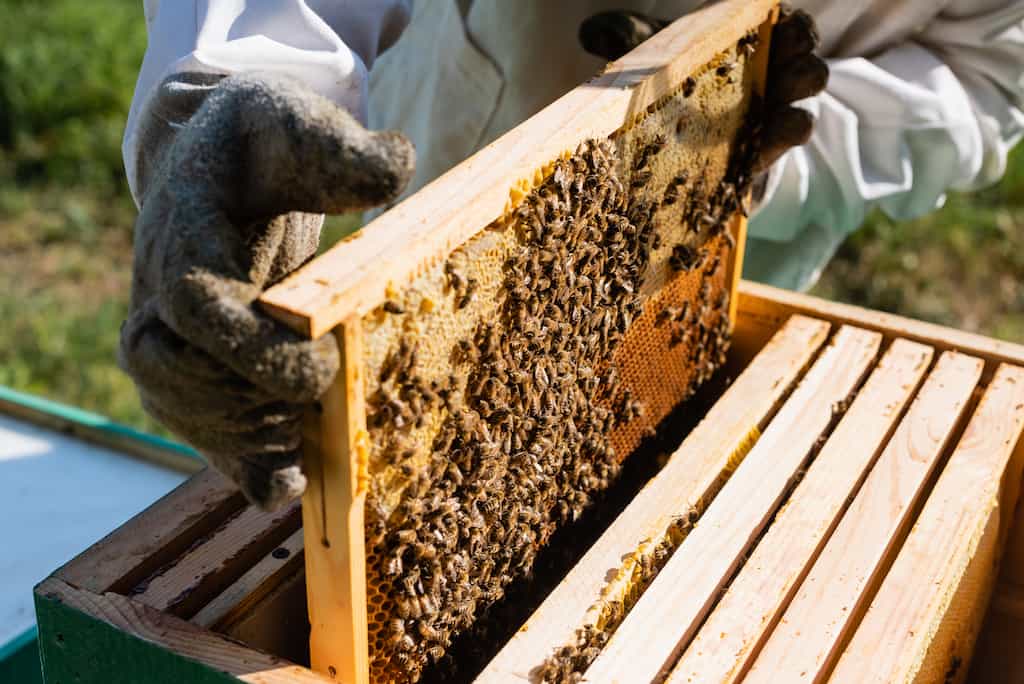 Taste of Montpelier Food Festival, Montpelier, Vermont, September 9 – 11, 2022: Located in downtown Montpelier, this energetic (and delicious) food festival features food trucks, restaurant tastings, a corn roast, farmers' market, chef demos, and a parade featuring Brass Balagan, a radical street band with roots in Klezmer, Balkan, and Banda music.
---
Read this post: 10 Cozy Cabins in Vermont for Your Fall Vacation
---
Vermont Events: September 12 – 18, 2022
Tunbridge Worlds Fair, September 15 -18, 2022: September in Vermont means a trip to Tunbridge! Celebrating 150 years in 2022, the Tunbridge World's Fair allows you to step back in time with demonstrations of farming and agricultural traditions, working antique displays, horse and ox pulling, horse racing, cattle and horse shows, junior exhibits, floral and 4-H exhibits, contra dancing, gymkhana, and many free shows.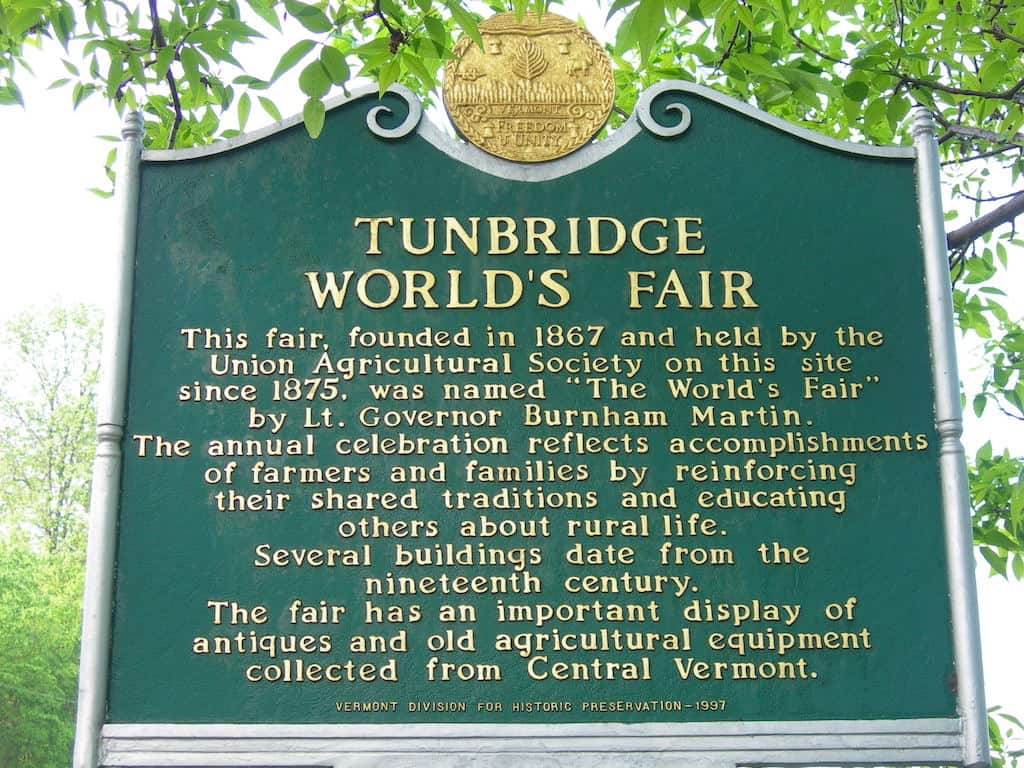 Smuggs FallFest, Jeffersonville, Vermont, September 16 & 17, 2022: Spend a beautiful fall weekend enjoying live music, craft beer, and local food at Smugglers' Notch in Jeffersonville. Two nights of live music, craft beer, and local food vendors in a gorgeous setting.
Chester Fall Festival, Chester, Vermont, September 17 & 18, 2022: For more than 40 years, this free annual event has kicked off the beginning of fall foliage season. Hundreds of people converge on the historic Green in Chester from all over New England. Featuring food and craft vendors, family activities, field games, demonstrations, and live music, this is one of the loveliest ways to spend September in Vermont.
Vermont Events: September 19 – 25, 2022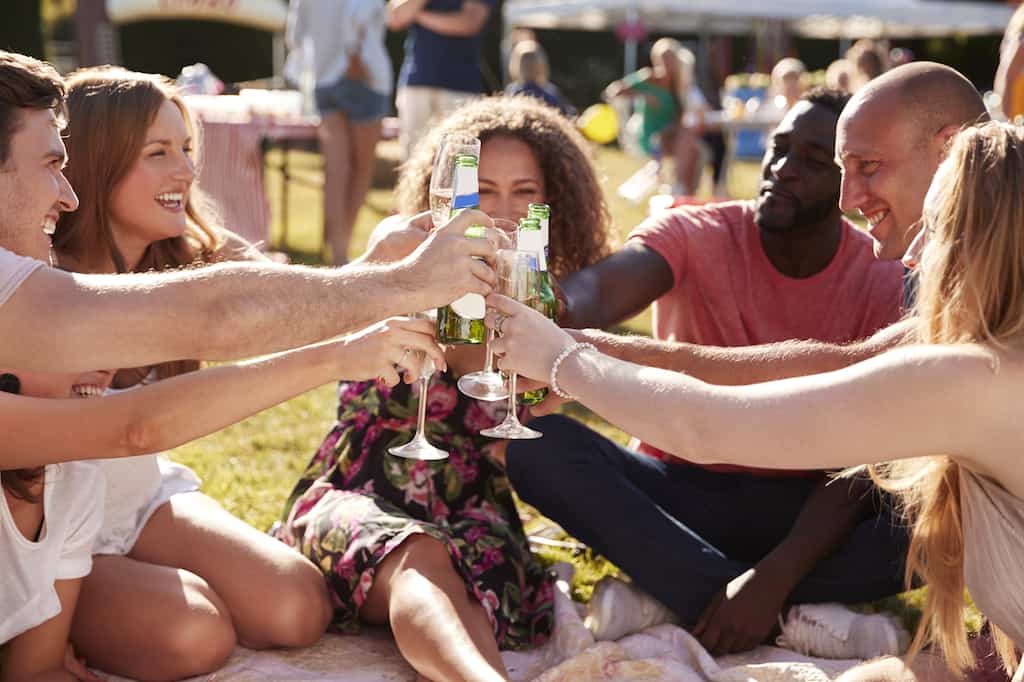 Wine & Harvest Festival, Dover, Vermont, September 23 – 25, 2022: The 13th Annual Vermont Wine & Harvest Festival will celebrate Vermont vintners, specialty food producers, chefs, painters, publishers, cheese makers, potters, jewelers, photographers, and farmers in Vermont. The event kicks off on Friday in downtown Wilmington with a wine stroll and soup contest and moves to Mount Snow on Saturday and Sunday with live music and vendors, as well as the Vermont Wildlife Festival.
Old Fashioned Harvest Market, Underhill, Vermont, September 24 & 25, 2022: The Old Fashioned Harvest Market offers a full weekend of fun for all ages. Old-fashioned fun includes a parade, dunk booth, greased pole climb, a log-sawing contest, hay rides, and more.
Bristol Harvest Festival, Bristol, Vermont, September 24, 2022: The 23rd annual Bristol Harvest Festival will feature more than 60 craft and food vendors, live music, and sidewalk sales in one of Vermont's cutest towns.
Burke Fall Festival, East Burke, Vermont, September 24, 2022: Kick off the day with a parade at 10 am, followed by a barbecue, free ice cream, wagon rides, cow plop bingo, rubber duck races, live music, cider pressing, and a craft fair with 70+ vendors.
19th Century Apple & Cheese Harvest Festival, Strafford, Vermont, September 25, 2022: Another "Top 10 Event for Fall," the 19th Century Apple & Cheese Festival celebrates Johnny Appleseed's birthday at Justin Morrill State Historic Site. Listen to live fiddle and accordion music with Gale & Gundlach, meet the farm animals, make your own cider, and play period games.
---
September in Vermont is all about celebrating the art, music, and seasonal produce that make small towns in Vermont so special. If you're visiting Vermont in September, put one of these fun events on your itinerary!
Did we forget something? Send us an email and we'll add it to our list!
---
Follow us on social media for more Vermont inspiration!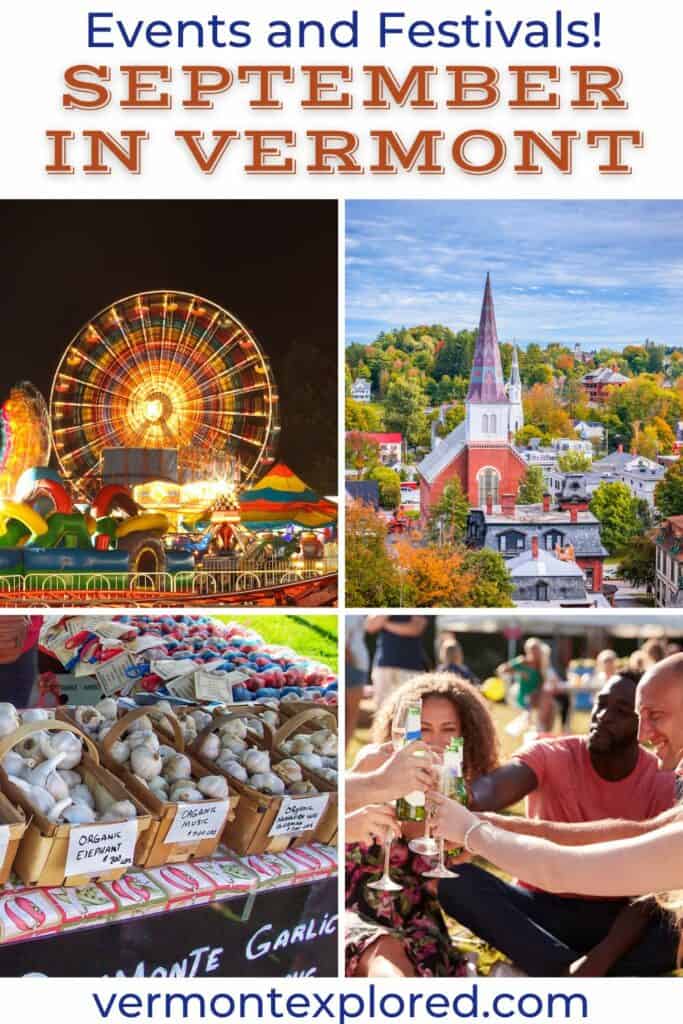 Tara Schatz is a freelance writer and the founder and editor-in-chief of Vermont Explored and Back Road Ramblers, an American road trip blog. She is also the co-author of the 3rd edition of AMC's Best Day Hikes in Vermont (pre-order your copy for the 2023 release date in May).