Travel restrictions and guidelines change frequently, so be sure to check with the destination before visiting. Also, this post may contain affiliate links from which we earn a small commission.
Are your travels bringing you and your dog to Vermont this year? Vermont is an extremely dog-friendly state, with plenty of room for outdoor adventures, not to mention dog-friendly patios, shops, and vacation rentals.
If you are interested in scoring the perfect Vermont cabin rental for you and your furry companion, you're in luck. We take our dogs everywhere, and we've scoured the state to find the most amazing pet-friendly cabins in Vermont.
Whether you're looking for rustic or luxurious, these amazing Vermont vacation rentals will fuel your cabin dreams!
The Best Time to Visit Vermont with Your Dog
Vermont is a true four-season getaway, and no matter what time of year you visit, you will find a strong emphasis on outdoor activities like hiking, paddling, and snowshoeing.
If your cabin dreams have you trekking through the snow to a cozy cabin with a roaring fire, definitely book your stay in January or February, when you'll likely find the best deals of the year.
If Vermont fall foliage, hot apple cider, and crunchy leaves underfoot are more your style, you'll find a Vermont cabin with your name on it. Fall cabin rentals book quickly in Vermont, so if you are planning to visit in the fall, book at least six months in advance.
And our favorite time to visit Vermont with a dog? Summer! Visiting Vermont in the summer means that you can spend lots of time outdoors with your dog, but you'll also find lots of amazing restaurants with dog-friendly patios to relax on. No matter when you want to head to Vermont with your dog, the time to start planning is s right now!
A Few Tips for Renting a Dog-Friendly Cabin in Vermont
Book as early as you can: Vacation rental sites are more popular than ever, in part because of the number of unique dog-friendly properties. While we love spontaneous vacations, we've found that booking our Vermont cabin rental several months in advance gives us a lot more choices.
Make note of the pet fee: Pet fees can vary wildly from place-to-place! As an example, just in this list of properties, the pet fee ranges from $0 to $75 per dog. Make sure to consider this when booking your cabin.
Read and understand the cancelation policy: We have found that most of the VRBO and Airbnb rentals we've stayed in have a pretty forgiving cancelation policy, but it does vary from place-to-place.
Be mindful of the rules regarding pets: Standard etiquette dictates that you clean up after your dog, but some places have additional rules, like no dogs on the furniture, no cats, or even that you can't leave your animal unattended in the cabin. Keep these in mind before booking.
Beautiful Pet-Friendly Cabins in Vermont
The following pet-friendly cabin rentals are available on either VRBO or Airbnb. We usually check VRBO first as their service/cleaning fees and cancelation policies are pretty standard. Airbnb fees vary wildly depending on the rental, and we have had a few not-so-pleasant experiences.
Peaceful Log Cabin in the Woods of Groton, Vermont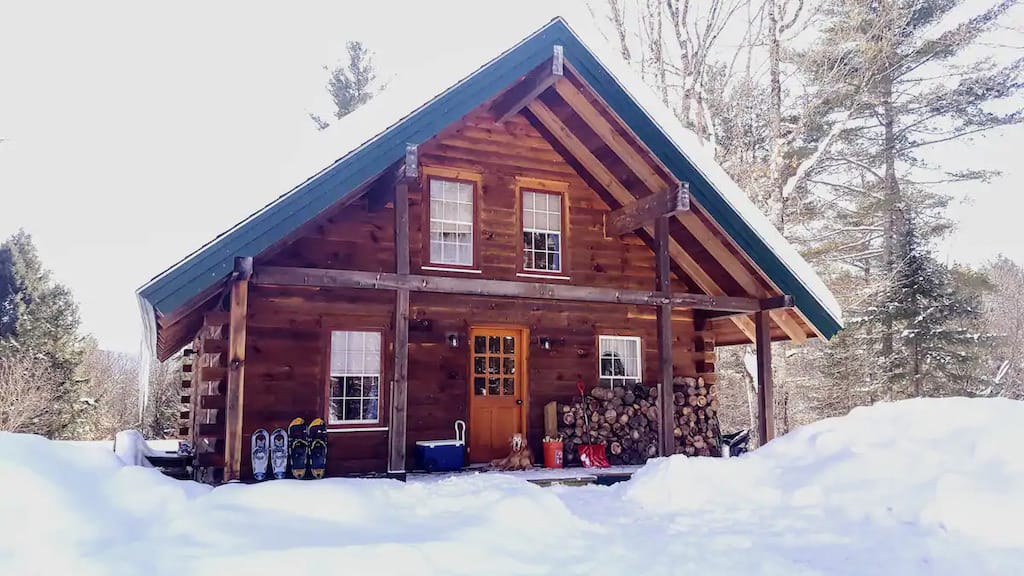 This cozy log cabin is nestled in the woods of northeastern Vermont, very near to our beloved Groton State Forest. With room for six guests, this spot is perfect for a family getaway, especially if you want to bring your dog. The hosts are very welcoming to pets, and have hosted hundreds of dogs, a few cats, and even a bunny!
This secluded cabin is located on a dirt road on the outskirts of the town of Groton. Modern amenities include electricity, great insulation, central heat and a cozy woodstove, microwave, gas stove and oven, refrigerator, a full bathroom, washer and dryer, land-line telephone, and Wi-Fi. Cell service is spotty and there is no TV, making this a great destination to unplug and just relax.
This part of Vermont is incredibly rural, perfect for stargazing, napping in the hammock, sitting by the fire pit, or snowshoeing through the backwoods around the cabin. While this pet-friendly cabin in Vermont does require an extra pet fee, it is a very modest $15 for your entire stay.
Best time to visit this pet-friendly cabin: Summer is a fantastic time to visit this part of Vermont!
Outdoor recreation near Groton: This cabin is close to one of Vermont's best-kept secrets, Groton State Forest, where you can hike to Peacham Bog or Owl's Head, paddle remote lakes and ponds, or spend the day at the beach. It's such a gem!
Cabin pet fee: $15 for one pet for your entire stay. $5 for each additional pet.
Alpine A-Frame in Wilmington, Vermont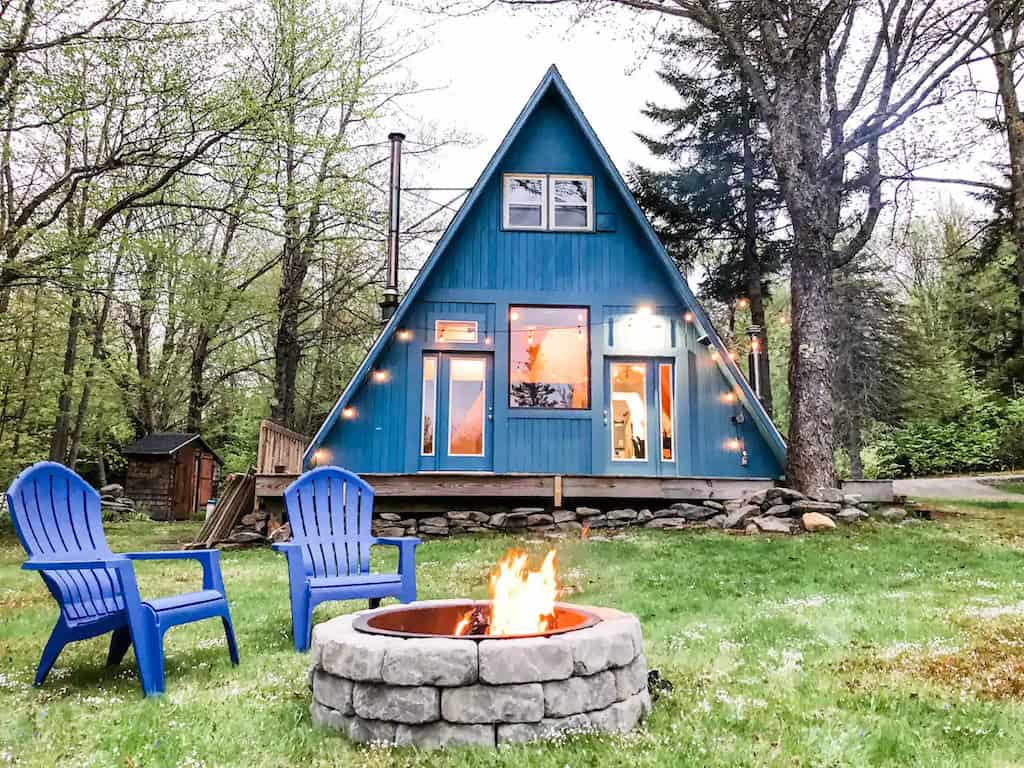 The Alpine A-Frame is located in Southern Vermont, just down the road from beautiful Lake Raponda in Wilmington, one of our favorite towns! This beautiful Vermont cabin is part of Wildwood Collective: a curated series of vacation rentals in Vermont offered by Chris and Lauren Krieger.
The cabin sleeps two and is equipped with everything you'll need for an awesome Vermont getaway, including a full kitchen with a gas stove and oven, microwave, toaster, french press coffee maker, wood-burning midcentury fireplace, AC, Wi-Fi, a full bathroom with shower, and a Nectar queen mattress with organic linens. You'll find stylish and new midcentury decor throughout, a fabulous outdoor area with deck, a fire pit (with provided firewood), a Weber grill, an outdoor dining area, and Adirondack chairs.
Best time to visit this Vermont cabin: Summer and fall would both be lovely, but it's also close to Mt. Snow for winter skiing!
Outdoor recreation near Wilmington: Lake Raponda is great for swimming and paddling, as is Lake Whitingham. You can also climb to the fire tower on the top of Mt. Olga in Molly Stark State Park.
Cabin pet fee: $50 per animal
Cozy, Pet-Friendly Cabin in Huntington, Vermont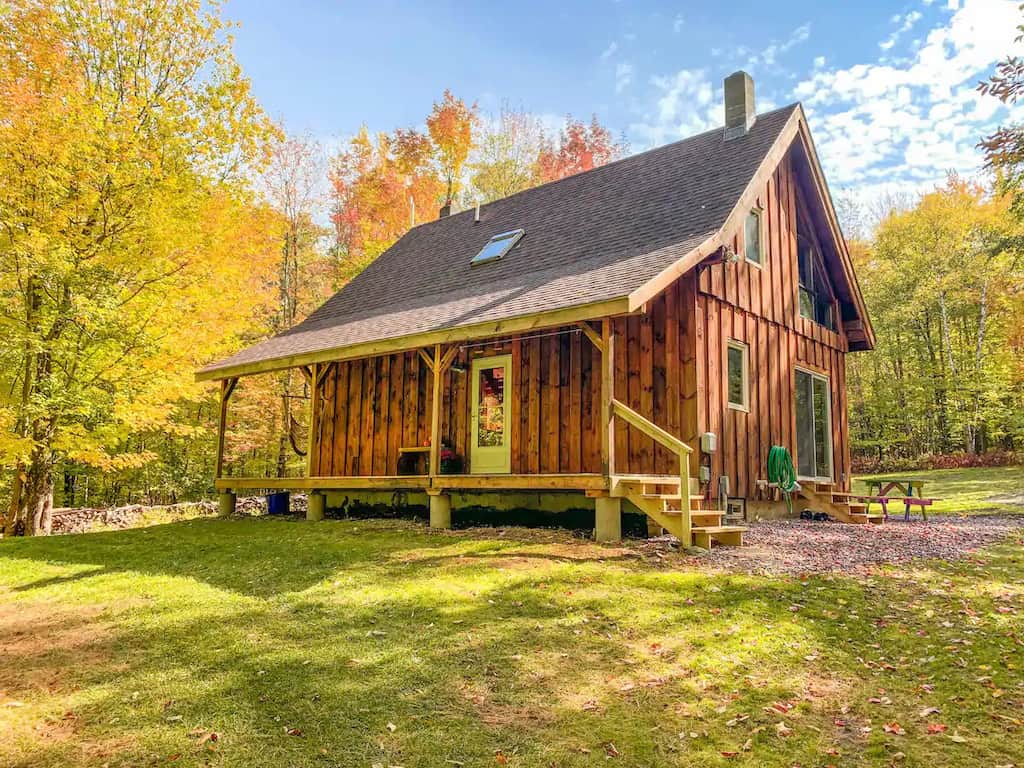 This beautiful four-season cabin in Huntington features 2 bedrooms and a bathroom on 106 acres of beautiful Vermont landscape. It's perfect for four people, along with your dog, of course! The cabin includes everything you need for a cozy stay, including a full kitchen, a bathroom with a claw-foot tub, TV, Wi-Fi, and even a washer and dryer. Huge picture windows are perfect for taking in the scenery, and a large porch an awesome spot to relax after a day of exploring. The cabin is located in the mountains of central Vermont, just 30 minutes from Burlington and Stowe.
Best time to visit this Vermont cabin: Summer, fall, or winter are all amazing!
Outdoor recreation near Huntington: Hit up the Hinesburg Town Forest Trails for mountain biking and then end the day with a pint at the Stone Corral Brewery with the locals.
Cabin pet fee: None
Lakeside Cabin with Hiking Trails in Wolcott, Vermont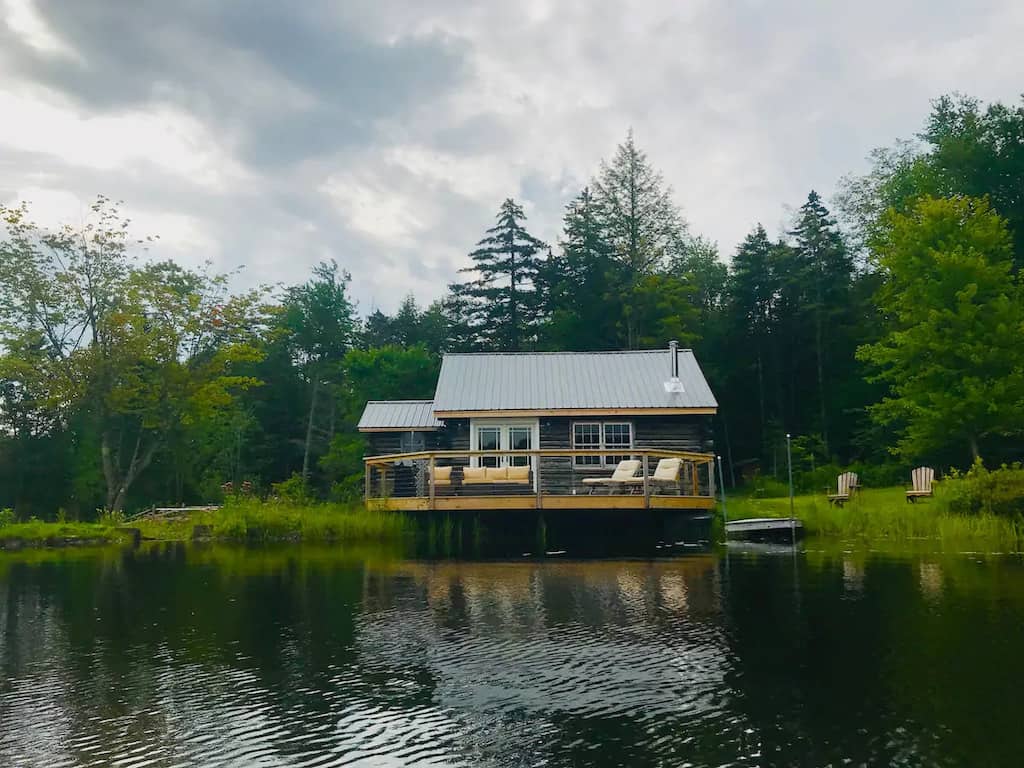 Welcome to Wapanacki, an old summer camp on 250 acres of woodlands with a 25-acre lake that is perfect for paddling and swimming. This cozy lakeside cabin is located right on the water with a huge deck to relax on. Lovingly restored but rustic, the cabin features a kitchenette, a half-bath with an outdoor shower, and a sleeper sofa that is perfect for two people. The amenities are perfect for cooking a small meal, and there is a gas grill outside on the deck. The property is shared with other cabin rentals, and a common clubhouse is available with ping pong, darts, and sofas for lounging on.
Outdoors, you will find miles of trails to explore, kayaks and canoes to paddle the pond, and a fire pit to relax near. There Wi-Fi zone on the property, but not at the cabin. Dogs are welcome, but not cats.
Best time to visit this Vermont cabin: Summer is a great season for taking advantage of the lake.
Outdoor recreation near Wolcott: Climb to the top of Elmore Mountain in nearby Elmore State Park!
Cabin pet fee: Dogs are welcome for $75 each
Birch Meadow Log Cabins in Brookfield, Vermont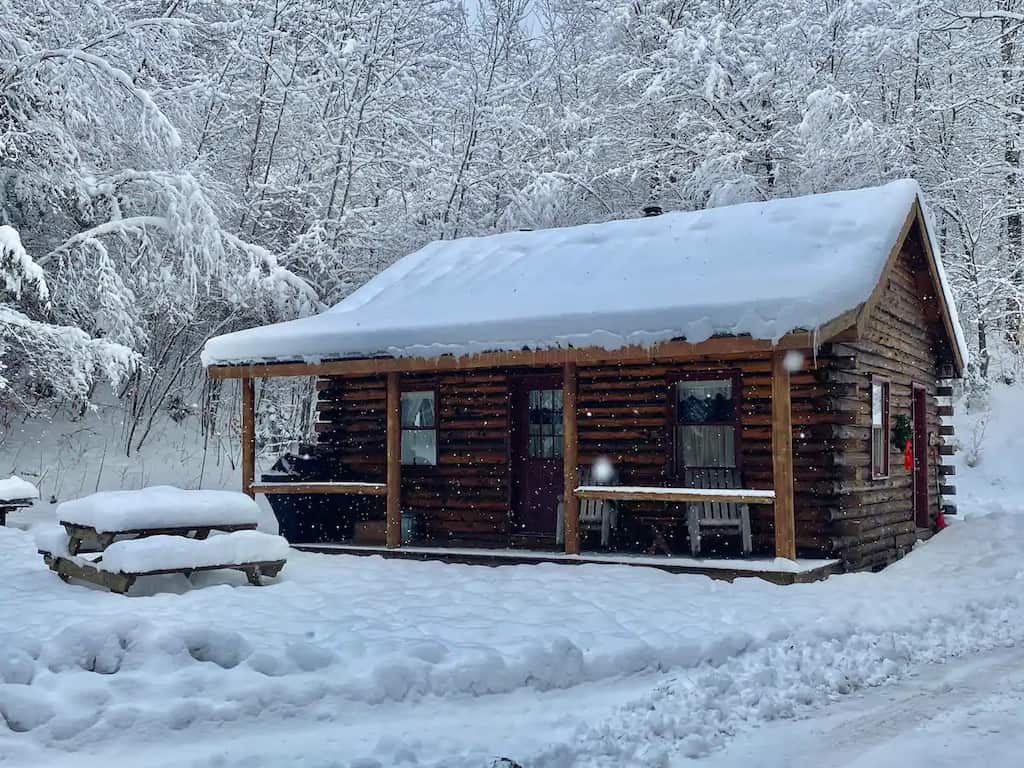 This cozy log cabin is tucked away among 200 cares with beautiful mountain and pastoral views. The space includes two bedrooms with room for six guests and fun woodland decor. You'll have a full kitchen and bathroom, cable TV, an indoor fireplace, and an outdoor sitting and eating area. There is no Wi-Fi, and cell service can be spotty.
Outdoors, you will find a secluded pond and plenty of room to roam or just relax. This dog-friendly Vermont cabin is just two miles from the historic Floating Bridge in Brookfield, which is a great place to swim in the summer.
Best time to visit this Vermont cabin: It's great in all four seasons!
Outdoor recreation near Brookfield: Definitely swim at the Floating Bridge in the summer. Allis State Park is nearby for hiking.
Cabin pet fee: $30
Dog-Friendly A-Frame in Winhall, Vermont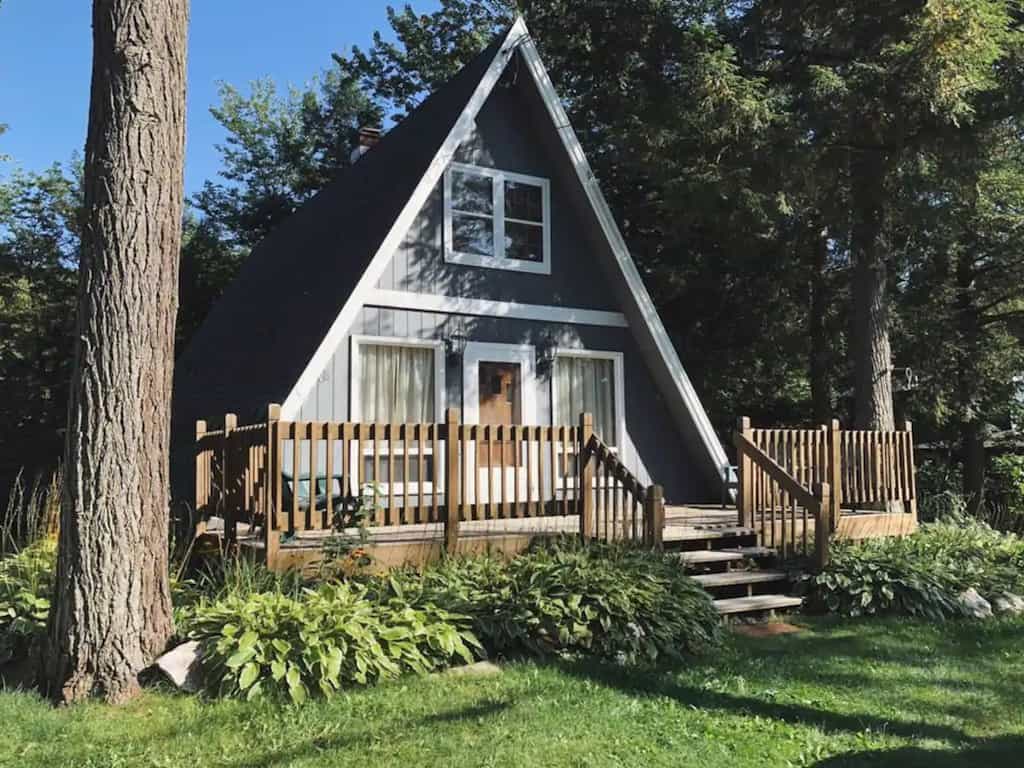 This cute Vermont A-Frame is a dog-friendly cabin conveniently located on the edge of the Green Mountain National Forest in Winhall, Vermont. This comfy space includes room for six guests in two bedrooms, fast Wi-Fi, a brand new woodstove, Cable TV, a fully-equipped kitchen, and even a telescope. The 1,024-foot space is beautifully decorated, with a small library and board games to keep you busy on cold days indoors. There's even a dedicated workspace and a reading nook! Outdoors, there is a charcoal grill and a fire pit with chairs.
There is an abundance of skiing nearby: Bromley is a quick five-minute drive, while Stratton + Magic can be reached in under 20 minutes. Outlet shopping and great restaurants in Manchester are less than 10 minutes away. While dogs are welcome in this Vermont cabin, other types of animals are not.
Best time to visit this Vermont cabin: Summer, fall, or winter!
Outdoor recreation near Winhall: The cabin is located near the Green Mountain National Forest, which is great for hiking. Another great spot to hike and swim is Jamaica State Park, which is about 10 miles south of the cabin. If you visit in the winter, you will be within a half-hour of incredible skiing at Bromley, Stratton, and Magic Mountains.
Cabin pet fee: None
Private Cabin in the Northeast Kingdom: Granby, Vermont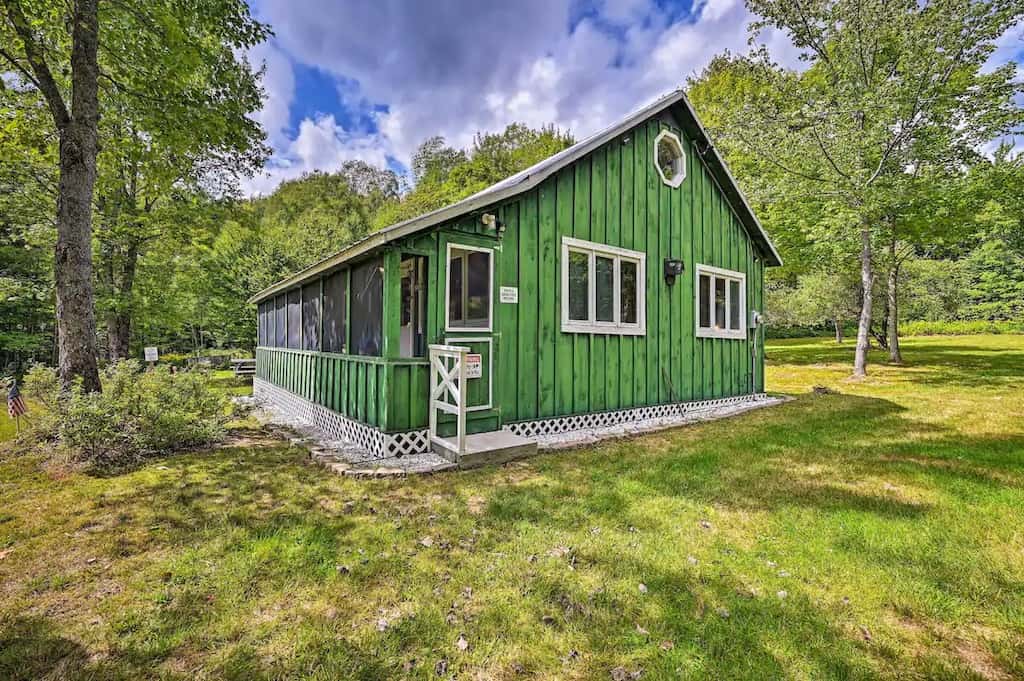 Get away from it all in Vermont's Northeast Kingdom! This secluded Vermont vacation rental in Granby features one bedroom and a loft, a full bathroom, and a well-equipped kitchen. The cozy space includes a gas fireplace, Wi-Fi, and cable TV, but also 10 acres to explore, a screened-in porch, a fire pit, and a gas grill. This dog-friendly cabin sleeps six people and is just 16 miles from skiing at Burke Mountain.
A visit to this corner of Vermont enables you to stay home and explore the 10-acre property with your pooch, or venture to all of the cool spots in the Northeast Kingdom, including hiking, mountain biking, breweries, and snowmobiling. The choice is totally up to you, but when you see this cool property, you may not want to leave!
Best time to visit this Vermont cabin: Summer and fall are beautiful! Winter is fun too, especially if you like to ski, but you will need a 4X4 on the driveway.
Outdoor recreation near Granby: If you are into mountain biking, you will want to check out the Kingdom Trails, which maintain more than 100 miles of trails for summer and winter riding. Burke Mountain has great skiing, just 16 miles away.
Cabin pet fee: $50
---
More great places to stay when you come to Vermont:
---