Are your travels bringing you and your dog to Vermont this year?
Vermont is an extremely dog-friendly state, with plenty of room for outdoor adventures, not to mention dog-friendly patios, shops, and vacation rentals.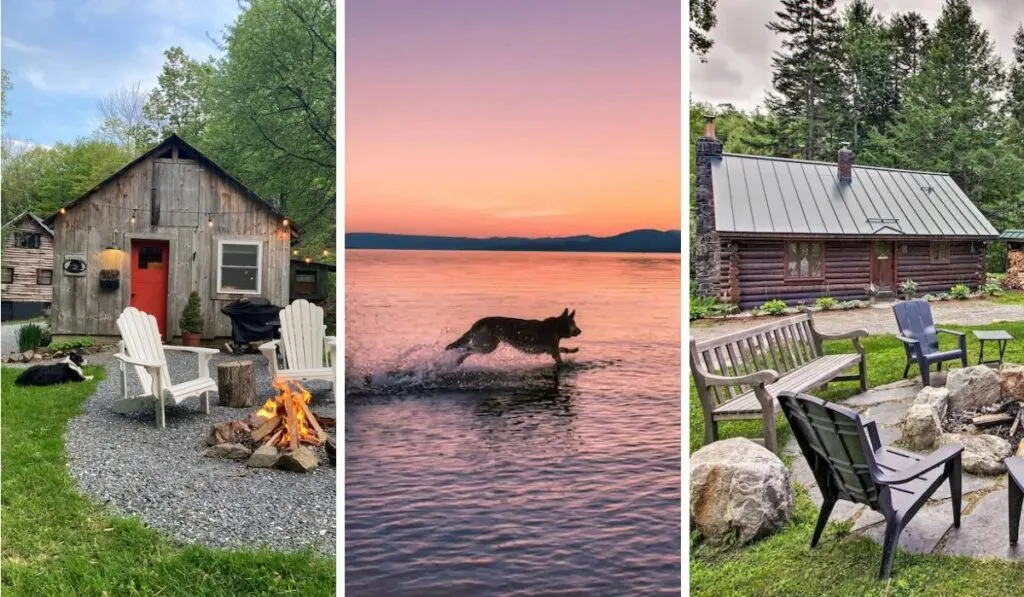 If you are interested in scoring the perfect Vermont cabin rental for you and your furry companion, you're in luck. I take my dogs everywhere, and I've scoured the state to find the most amazing pet-friendly cabins near me.
Whether you're looking for rustic or luxurious, these amazing Vermont vacation rentals will fuel your cabin dreams! Here are the best pet-friendly cabins in Vermont for your next adventure.
The Best Time to Visit Vermont with Your Dog
Vermont is a true four-season getaway, and no matter what time of year you visit, you will find a strong emphasis on outdoor activities like hiking, paddling, and snowshoeing.
If your Vermont cabin dreams have you trekking through the snow and relaxing in front of the fireplace, book your stay in January or February, when you'll likely find the best deals of the year.
If Vermont's fall foliage, hot apple cider, and crunchy leaves underfoot are more your style, you'll find all types of pet-friendly cabins available throughout Vermont. Fall cabin rentals book quickly in Vermont, so reserve your stay as early as you can if you plan to visit in the fall.
---
Read Next: The Best Fall Cabin Rentals in Vermont
---
And our favorite time to visit Vermont with a dog? Summer!
Visiting Vermont in the summer means that you can spend lots of time outdoors with your dog, but you'll also find lots of amazing restaurants with dog-friendly patios to relax on.
No matter when you want to head to Vermont with your dog, the time to start planning is s right now!
Beautiful Pet-Friendly Cabins in Vermont
Ready to plan your perfect pet-friendly getaway in Vermont? These beautiful cabins can be yours for the weekend.
No matter what season you choose to visit, or what region of Vermont, there's a pet-friendly cabin with your name on it!
Private Cabin with Hot Tub in Granville, Vermont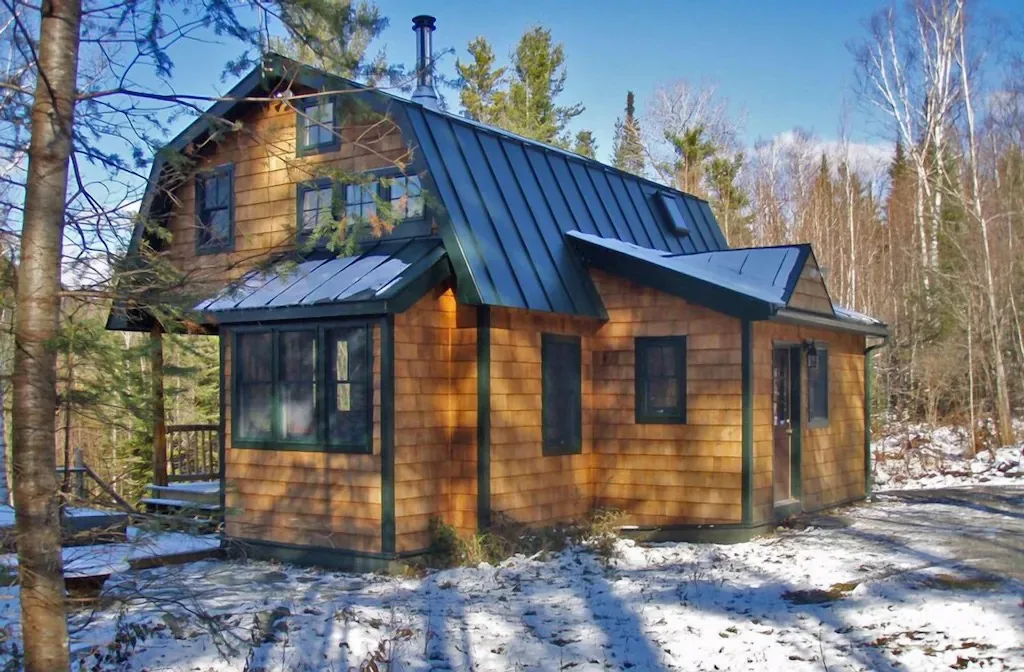 This beautiful cedar cabin in Granville is full of light and cozy spaces, ensuring that you and your dog will never want to leave!
Located on 10 acres in the Green Mountains, this property features three bedrooms and two bathrooms – perfect for up to five people, and their dogs, of course. Amenities include a cozy wood stove, a home theater system, and a window reading nook.
There's plenty of patio space, a hammock swing, and a hot tub outdoors, so you can find spots to relax in every season. Granville is centrally located in the middle of the state. It's very close to Montpelier, Waterbury, and Stowe for unlimited recreation opportunities.
Best time to visit this Vermont cabin: Summer, fall, or winter
Outdoor recreation near Granville: If you plan a summer trip, be sure to check out Warren Falls. It's one of the best swimming holes in Vermont. Granville is also home to Moss Glen Falls, which is on our list of Vermont's most beautiful waterfalls, and it's right off the road, so no hiking is required.
Cabin pet fee: None
---
Cozy Log Cabin in Londonderry, Vermont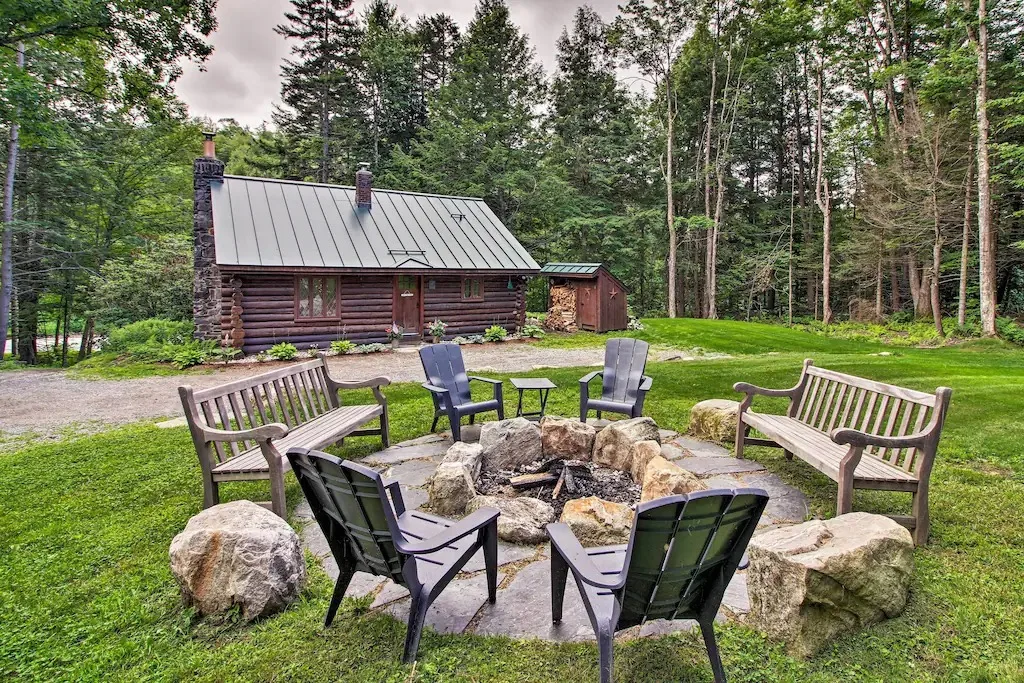 West River Lodge is as cozy as they come, with three full bedrooms, one bathroom, and 3.5 wooded acres to explore. While offering vacationers plenty of privacy, this dog-friendly cabin is just minutes away from some of Vermont's best mountain experiences as well as the small town of Londonderry.
Stratton, Bromley, and Magic Mountain are all close by for skiing and snowboarding. After your winter adventures, you can cozy up next to the fireplace with a mug of cocoa for that quintessential Vermont experience.
The cabin includes a full kitchen, a washer/dryer, and Wi-Fi. A fire pit and back deck are perfect for summer evenings, and there's parking for up to four vehicles.
Best time to visit this Vermont log cabin: summer, fall, or winter would all be amazing here.
Outdoor recreation near Londonderry: In the winter, you're within 15 miles of both Magic Mountain and Bromley for great downhill skiing. Viking Nordic Center is one of the best spots for cross-country skiing in the state, with 26 km of groomed trails for both classic and skate skiing. Visiting in the summer? There are dozens of hiking trails nearby and great paddling on Lowel Lake.
Pet fee: An extra fee for up to two pets, but the amount isn't listed.
---
Cozy Cabin for Two in Monkton, Vermont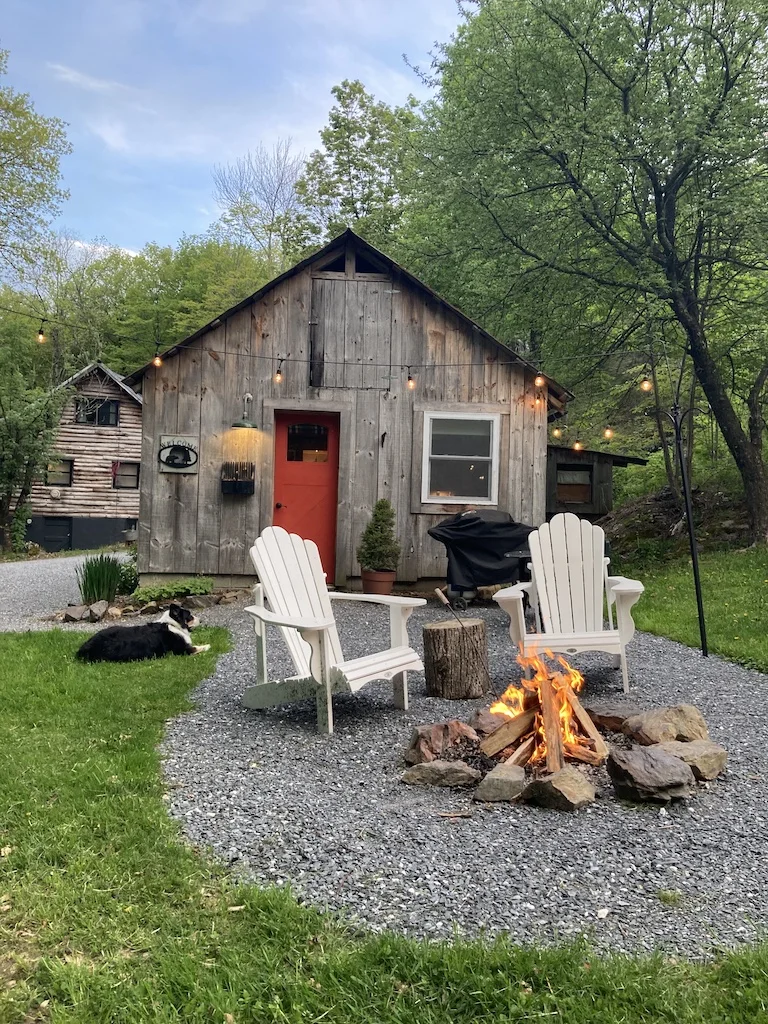 The barn at Grousewood embodies everything we love about cabins in Vermont. The decor is quirky and fun, the hosts are incredibly welcoming and friendly, and they have a resident dog and cat act as the welcoming committee when you arrive at the cabin.
This tiny cabin is perfect for two people, with a full-size bed, a small kitchen, and a cozy spot to hang out and listen to vinyl while you plan out your perfect Vermont weekend.
The outdoor fire pit is perfect for enjoying a beer after a day of adventuring, and there's even a robust selection of books and games for quiet evenings with the one you love.
The location of this beautiful dog-friendly cabin in Vermont is ideal for exploring nearby Shelburne, Bristol, and Burlington.
Best time to visit this Vermont cabin: Summer and fall are amazing here!
Outdoor recreation near Monkton: Hike Raven Ridge for fantastic views of the Champlain Valley, meander around Shelburne Farms (be sure to stop at the farm store for a taste of their award-winning cheese), and check out the sprawling Shelburne Museum.
---
Dog-Friendly Chalet in Wilmington, Vermont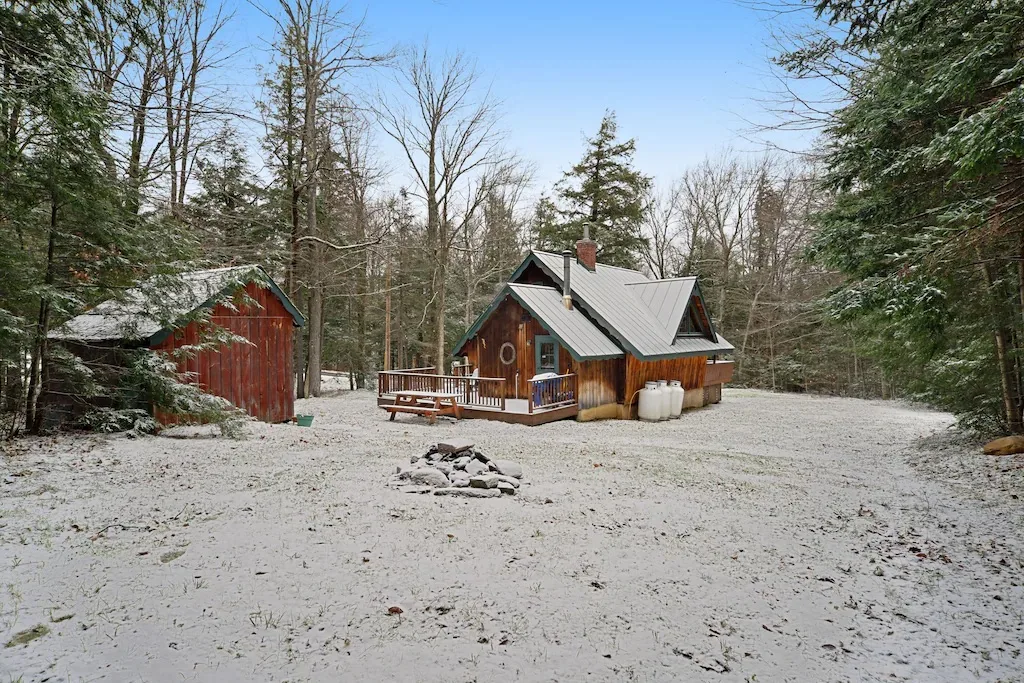 Ready to relax? This incredible cedar chalet in Wilmington has a wrap-around deck with a grill, plenty of yard space, and a fire pit (that's a Vermont staple). Inside, you'll find modern stainless appliances, new countertops, a flatscreen TV, and a stack of board games. The master bathroom includes a jetted tub for unwinding after a day on the slopes or hiking through the woods. This cozy space is perfect for families with two full bedrooms.
Wilmington is an adorable town that is fun to explore. Great dining, shopping, and recreation, just south of the cabin!
Best time to visit this Vermont cabin: Summer and fall would both be lovely, but it's also close to Mt. Snow for winter skiing!
Outdoor recreation near Wilmington: Lake Raponda is great for swimming and paddling, as is Lake Whitingham. You can also climb to the fire tower on the top of Mt. Olga in Molly Stark State Park. In the winter, Mount Snow is just a few miles away.
Cabin pet fee: $20 per night per dog.
---
Romantic Vermont Cabin Rental near Stowe, Vermont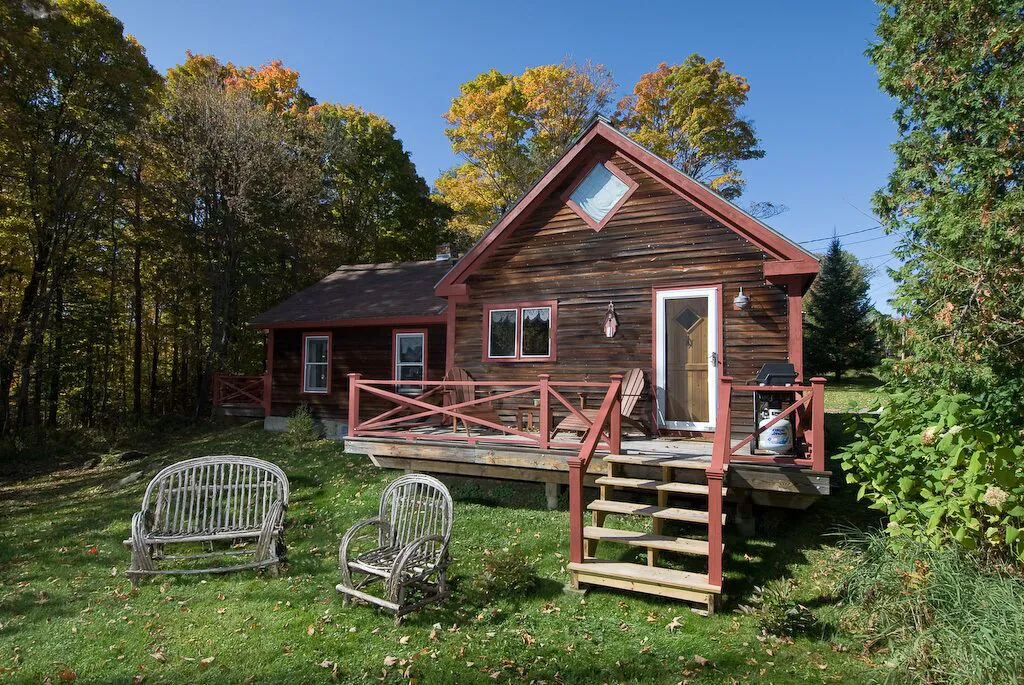 Goldilocks Cabin is a cozy retreat for couples or small families.
Located just 1 mile from Stowe village, this well-appointed cabin is decorated in a true-cabin style and is the perfect combination of rustic and luxurious. This dog-friendly Vermont cabin has one bedroom with a queen-size bed and a small sleeping loft with a full-size bed that can be accessed by a ladder — perfect for adventurous kiddos!
Amenities include a full kitchen, a laundry room with a washer/dryer, a woodstove, and a mudroom. Outside, you will find two decks, a gas grill, and a fire pit.
Stowe is one of Vermont's most popular destinations year-round, with access to great skiing, hiking, and snowshoe trails, and a bustling downtown with popular restaurants, shopping, and breweries, including the critically acclaimed Alchemist Brewery.
Read Next: Easy and Moderate Hikes Near Stowe, Vermont
Best time to visit this Vermont cabin: Year-round
Outdoor recreation near Stowe: If this is your first visit to Stowe, be sure to hike the Stowe Pinnacle Trail, drive the auto toll road at Stowe Mountain Resort to the top of Vermont's highest peak, and visit Bingham Falls. If you visit during the winter, great skiing is just a few minutes from the cabin at Stowe Mountain.
Cabin pet fee: None – 2 pets maximum
---
Birch Meadow Log Cabins in Brookfield, Vermont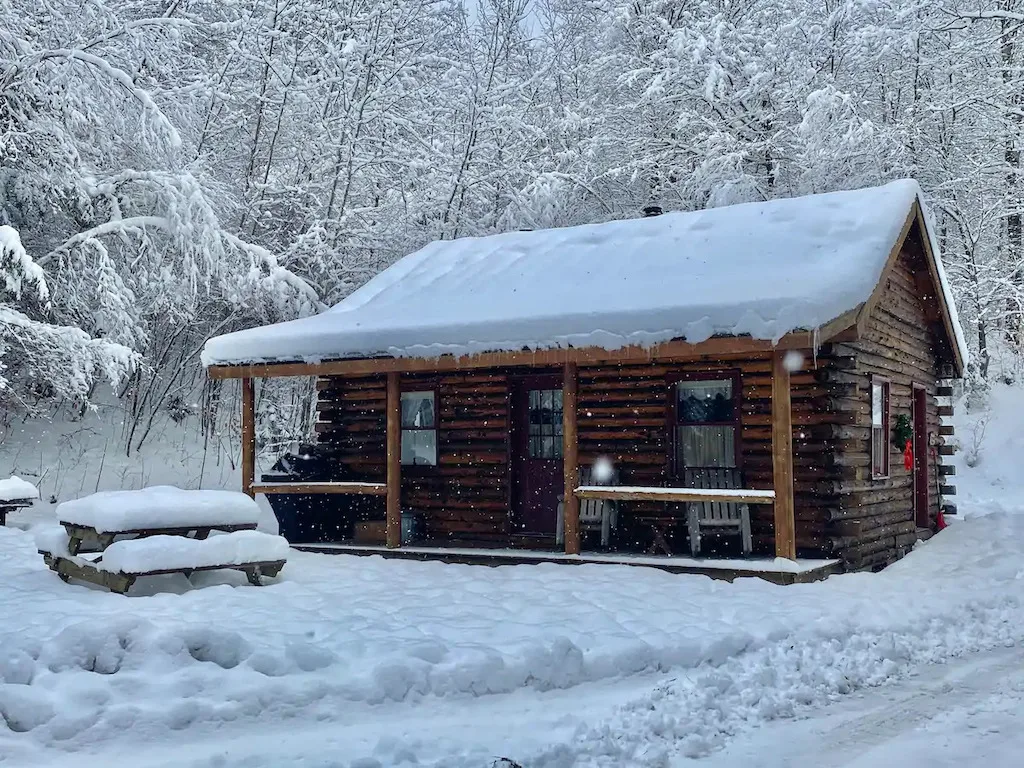 This cozy log cabin is tucked away among 200 private acres with beautiful mountain and pastoral views.
The space includes one private bedroom with room for six guests and fun woodland decor. You'll have a full kitchen and bathroom, cable TV, an indoor fireplace, and an outdoor sitting and eating area.
There is no Wi-Fi, and cell service can be spotty, but that only adds to the fun.
Outdoors, you will find a secluded pond and plenty of room to roam or just relax. This dog-friendly Vermont cabin is just two miles from the historic Floating Bridge in Brookfield, which is a great place to swim in the summer.
Best time to visit this Vermont cabin: It's great in all four seasons!
Outdoor recreation near Brookfield: Definitely swim at the Floating Bridge in the summer. Allis State Park is nearby for hiking.
Cabin pet fee: $30
---
Dog-Friendly A-Frame in Winhall, Vermont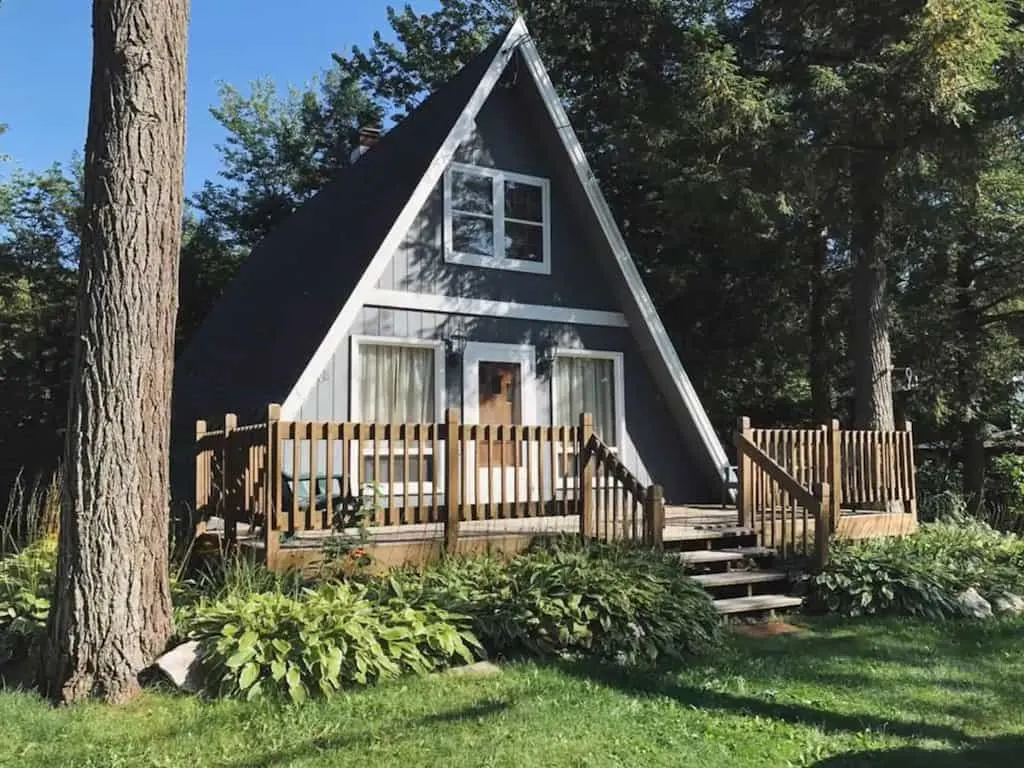 This cute Vermont A-Frame is a dog-friendly cabin conveniently located on the edge of the Green Mountain National Forest in Winhall, Vermont.
This comfy space includes room for six guests in two bedrooms, fast Wi-Fi, a brand-new woodstove, cable TV, a fully-equipped kitchen, and even a telescope for those late-night stargazing sessions.
The 1,024-foot space is beautifully decorated, with a small library and board games to keep you busy on cold days indoors. There's even a dedicated workspace and a reading nook! Outdoors, there is a charcoal grill and a fire pit with chairs.
Bromley Mountain is a quick five-minute drive, while Stratton + Magic can be reached in under 20 minutes, making this cabin an awesome home base for ski bums!
Outlet shopping and great restaurants in Manchester are less than 10 minutes away. While dogs are welcome in this Vermont cabin, other types of animals are not.
Read Next: 17 of the Best Things to Do in Manchester, Vermont
Best time to visit this Vermont cabin: Summer, fall, or winter!
Outdoor recreation near Winhall: The cabin is located near the Green Mountain National Forest, which is great for hiking. Another great spot to hike and swim is Jamaica State Park, which is about 10 miles south of the cabin. If you visit in the winter, you will be within a half-hour of incredible skiing at Bromley, Stratton, and Magic Mountains.
Cabin pet fee: None
---
Private Pet-Friendly Cabin in the Northeast Kingdom: Granby, Vermont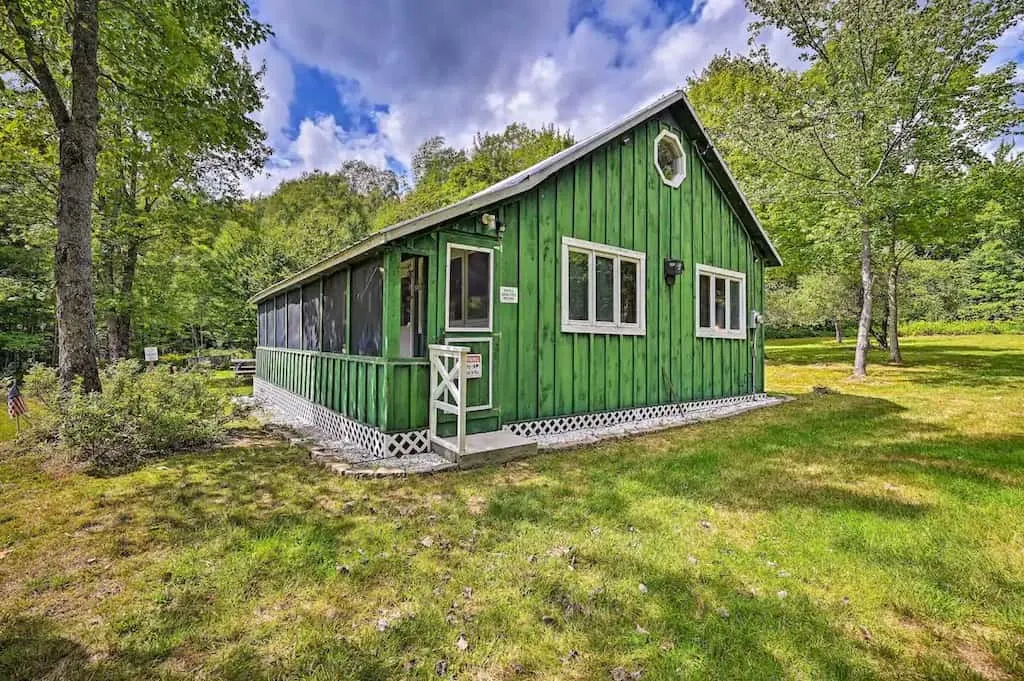 Get away from it all in Vermont's Northeast Kingdom!
This secluded Vermont vacation rental in Granby features one bedroom and a loft, a full bathroom, and a well-equipped kitchen. The cozy space includes a gas fireplace, Wi-Fi, cable TV, 10 acres to explore, a screened-in porch, a fire pit, and a gas grill. This amazing pet-friendly cabin in Vermont sleeps six people and is just 16 miles from skiing at Burke Mountain.
A visit to this corner of Vermont enables you to stay home and explore the 10-acre property with your pooch, or venture to all of the cool spots in the Northeast Kingdom, including hiking, mountain biking, breweries, and snowmobiling.
Best time to visit this Vermont cabin: Summer and fall are beautiful! Winter is fun too, especially if you like to ski, but you will need a 4X4 on the driveway.
Outdoor recreation near Granby: If you are into mountain biking, you will want to check out the Kingdom Trails, which maintains more than 100 miles of trails for summer and winter riding. Burke Mountain has great skiing, just 16 miles away.
Cabin pet fee: $50
---
A Few Tips for Renting Pet-Friendly Cabins in Vermont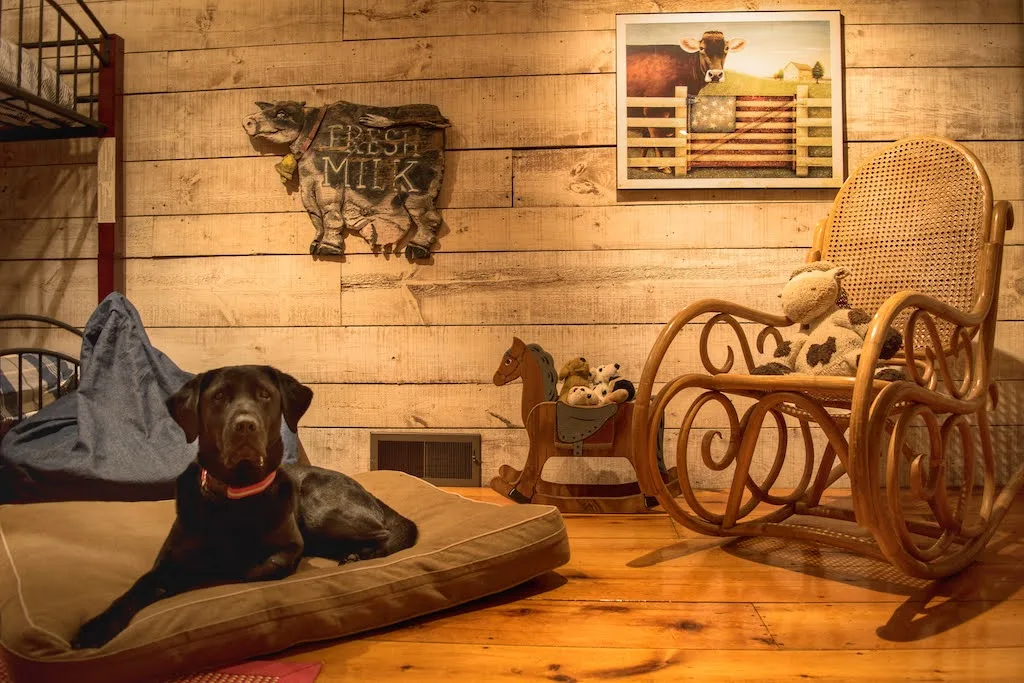 Book as early as you can: Vacation rental sites are more popular than ever, in part because of the number of unique dog-friendly properties. While we love spontaneous vacations, we've found that booking our Vermont cabin rental several months in advance gives us a lot more choices.
Make note of the pet fee: Pet fees can vary wildly from place to place! As an example, just in this list of properties, the pet fee ranges from $0 to $75 per dog. Make sure to consider this when booking your cabin.
Check the listing for other fees: We love staying in vacation rentals when we travel with our dogs, but we don't love the extra fees that add up. Whether you choose VRBO or Airbnb as your listing platform, there will likely be added fees, and they are different for each listing. If you're anything like me, you'll silently curse as that $300 stay turns into a $600 stay, and you'll keep scrolling until you find something that you love and you can afford.
Read and understand the cancelation policy: We have found that most of the VRBO rentals we've stayed in have a pretty forgiving cancelation policy, but it does vary from place to place, so read the listing carefully before booking.
Be mindful of the rules regarding pets: Standard etiquette dictates that you clean up after your dog, but some places have additional rules, like no dogs on the furniture, no cats, or even that you can't leave your animal unattended in the cabin. Keep these in mind before booking.
---
More great places to stay when you come to Vermont:
---
Follow us on social media for more Vermont inspiration!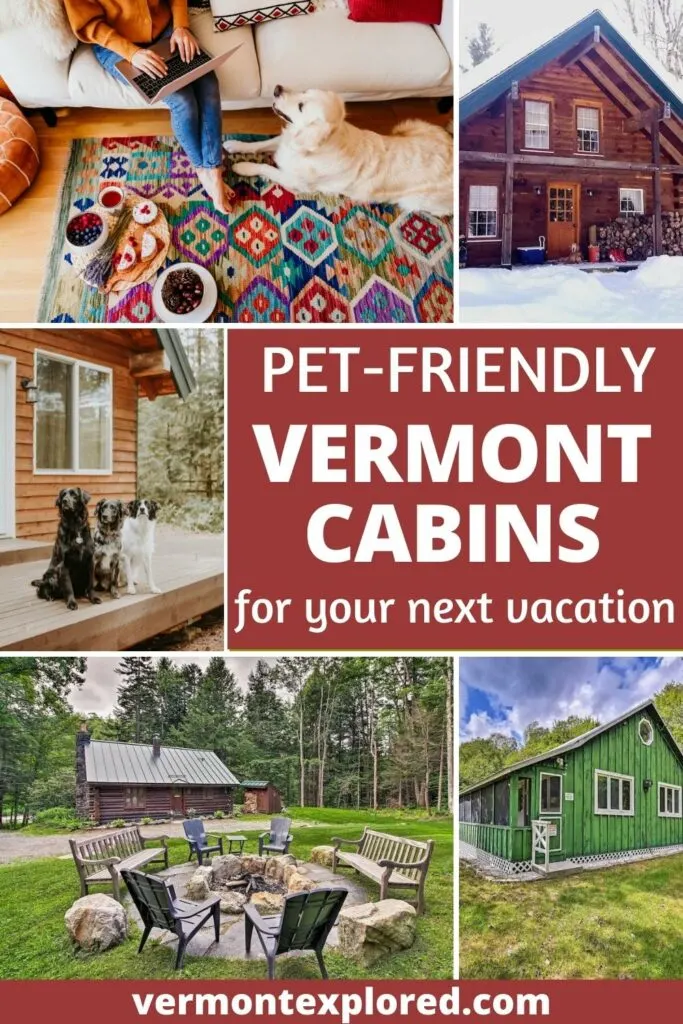 Keep in touch! Follow us on social media!
Tara Schatz is a freelance writer, and the founder and editor-in-chief of Vermont Explored and Back Road Ramblers, an American road trip blog. She is also the co-author of the 3rd edition of AMC's Best Day Hikes in Vermont, which was released in May 2023, and the author of 100+ Wonderful Ways to Experience Vermont.