Looking for a moderate hiking trail in Southern Vermont with fabulous views of the surrounding Green Mountains? Haystack Mountain in Wilmington is one of three Haystacks in the state of Vermont and the climb makes for a delightful winter hike or snowshoe adventure.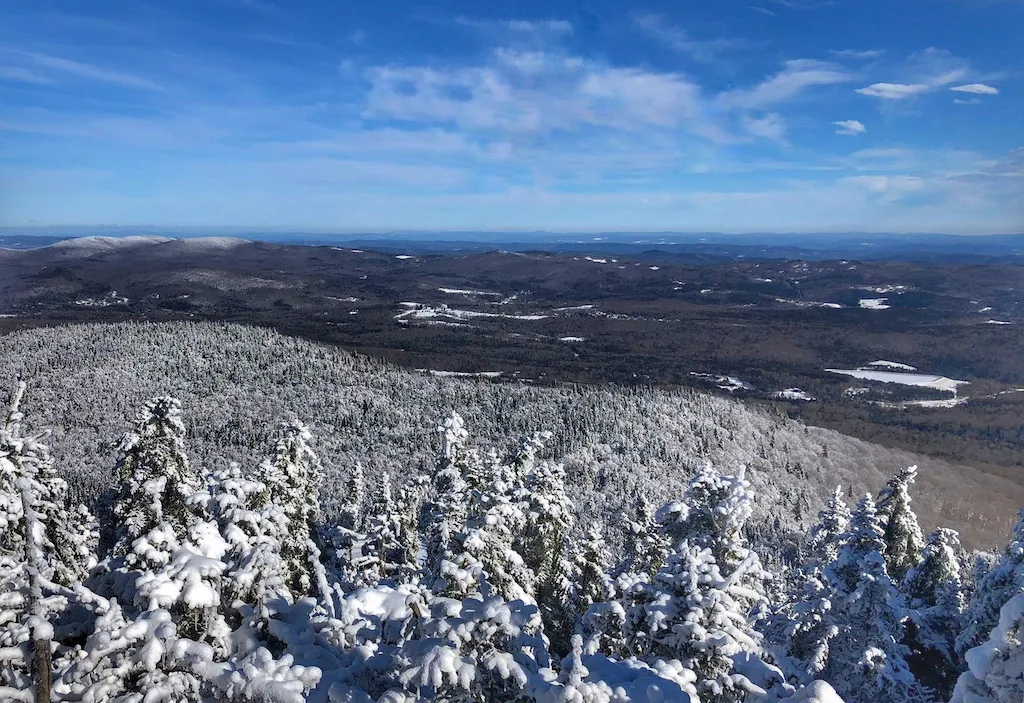 While the hike up Haystack Mountain in Vermont is certainly a climb, gaining 1,025 feet in 2.1 miles, it's moderately steep and the uphills are bookended by flat sections along a level ridgeline. We've hiked Haystack in all seasons, and winter hiking has a few distinct benefits.
Fewer crowds. This is a busy trail and the summit isn't very big. Winter hiking makes for a quiet hike and you'll likely have the view to yourself.
Easier walking. In the summer, much of the trail up Haystack is rooty, rocky, and muddy. A packed layer of winter snow makes for easier walking as long as you wear microspikes or snowshoes to keep yourself from slipping on the ice.
No bugs. This is actually a benefit of winter hiking in general, but I had to mention it because the mosquitoes seem to really love the summer hikers on Haystack.
Quick Trail Details: Haystack Mountain in Vermont
Length: 4.2 miles round trip
Difficulty: Moderate
Elevation Range: 2,385 ft. -3,410 ft
Elevation Change: 1,025 ft
Dogs: Yes
Cost: Free
Directions to Trailhead: Note that the trail is located in a residential neighborhood and the roads do get slippery and/or muddy in the winter.
The Haystack Mountain Trai in Wilmington is popular on the weekends, so if you want solitude, head up early in the morning or during the week.
It's an extremely dog-friendly trail and you will likely see plenty of dogs on and off-leash. If you bring your dogs, please follow Leave No Trace Principals and clean up after them, as dog waste has become a huge problem on popular trails in Vermont.
Hiking to the Summit of Haystack Mountain in Wilmington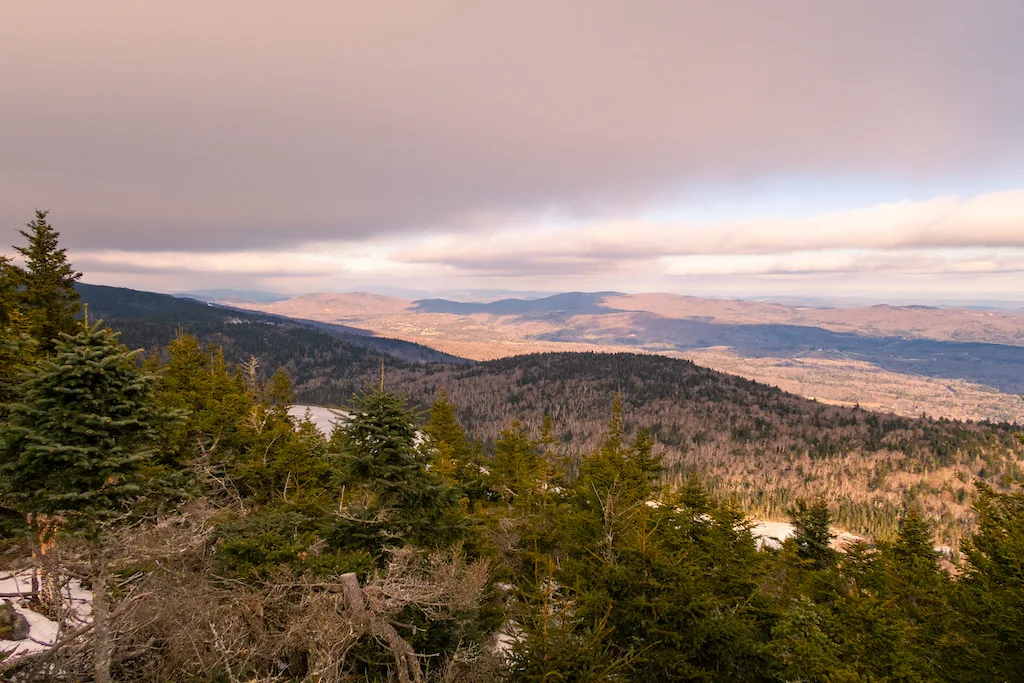 Your elevation gain actually begins when you turn off of route 9 in Wilmington and head into the Chimney Hill neighborhood. Follow your GPS up and up until you meet the trailhead on Upper Dam Road.
From the trailhead follow a gravel road into the woods and around a closed metal gate. The forest here is mostly hardwoods – yellow birch, cherry, maple, and beech trees, with Binney Brook on your left.
At about .5 miles, you will see a sign to the summit of Haystack (1.4 miles) on the left side of the trail. Leave the gravel road and head onto a narrow footpath. There is an easy stream crossing just beyond.
Climb steadily on the rocky footpath, which will hopefully be covered with snow so you can spend time enjoying the woods and not looking at your feet. Just when you feel like you need a little breather, the trail gives you one, with a level pitch or a more gradual climb. The straight sections hold more water and if you don't have good snowpack, you will definitely have mud.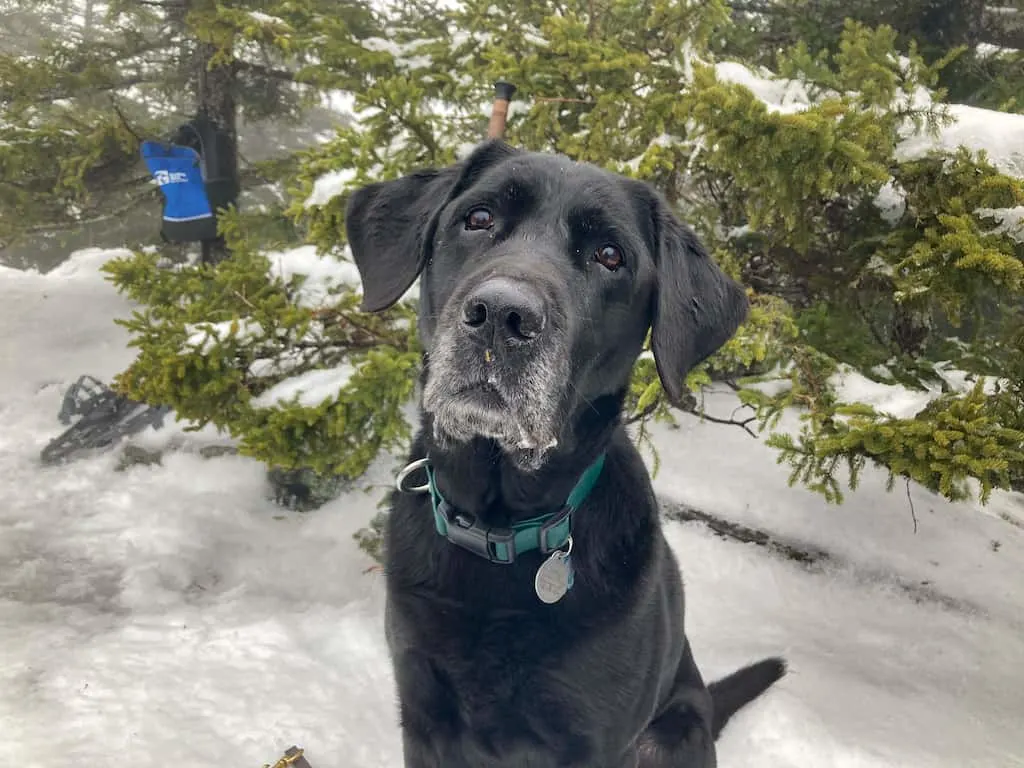 As you round the western side of the summit, follow the sign that directs you to the right. With .3 miles to the summit, this is the steepest part of the path. Hardwoods give way to spruce and fir trees and the path narrows.
Climb several rocky (and icy) switchbacks to a small, rocky summit with views to the east of Mount Ascutney and Mount Monadnock in New Hampshire. There is another view to the south and west if you climb down the ridge and between the rocks. From here, you can see Harriman Reservoir, and maybe even Mount Greylock in the distance.
Haystack Mountain Trail Map and Elevation Profile
Here's a downloadable Haystack Mountain trail map from the National Forest Service. For planning adventures in the national forest, I'd also recommend investing in the waterproof (and totally awesome) Green Mountain National Forest trail maps from National Geographic.
Tips for Enjoying a Winter Hike on Haystack Mountain Trail in Wilmington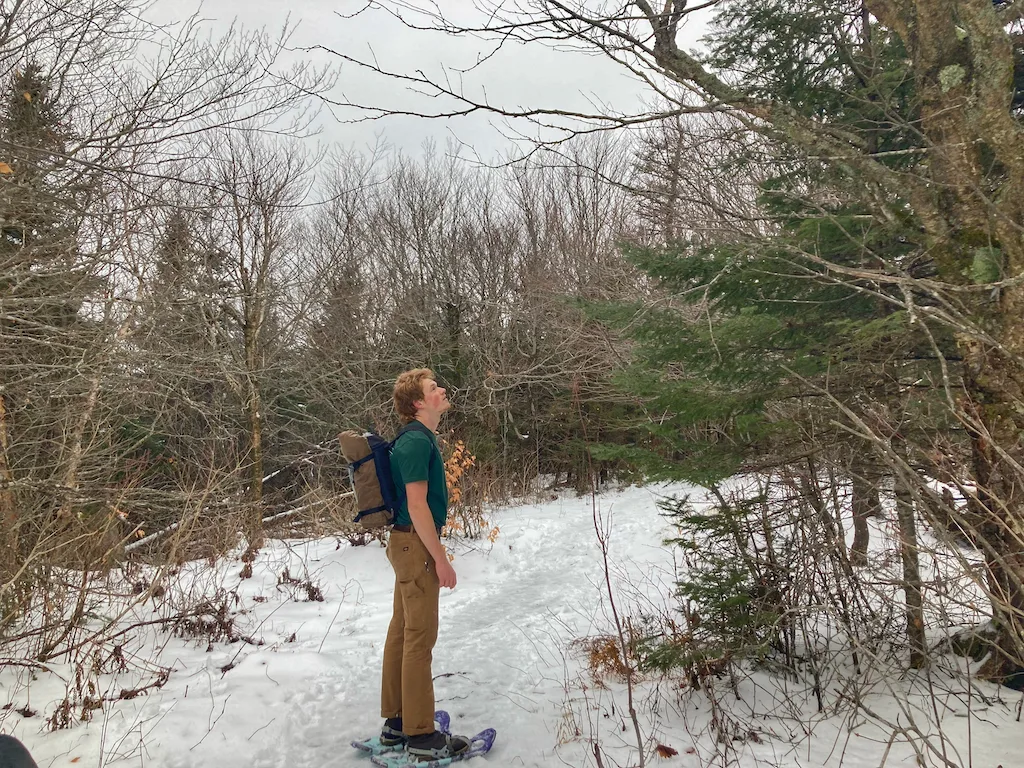 Haystack Mountain is located in the southern section of the Green Mountain National Forest. Because it's a popular trail, you will almost certainly find a well-packed winter trail suitable for beginning hikers that don't mind some elevation gain.
Winter hiking in Vermont does pose a few challenges, though, so it's important to be prepared. Here are some tips for hiking to the summit of Haystack Mountain in the winter.
Wear microspikes: Microspikes are essential for enjoying winter trails in Vermont, and while they are a little bit of an investment, you will put them to good use. When choosing microspikes, be sure to get ones with actual spikes on the bottom. Yak Trax or something similar will not be rugged enough for icy trails. Here are the microspikes that I use on all winter hikes in Vermont.
Consider snowshoes: Because Haystack is a busy trail, it's usually packed down enough for regular boots with microspikes, but if you hike after a fresh snow, you may want to bring snowshoes too!
Trekking poles will give you added stability: Trekking poles are another must-have for hiking on inclines. They will help balance your weight and give you stability while descending.
Bring extra layers: This hike will start out warm because you'll be climbing most of the way. Start cold so you don't sweat and add layers at the top. For this hike I usually do a wool base layer and a down vest to start. I add a down puffy and maybe a windproof shell at the top.
Pack the 10 essentials: This includes, a source of fire and light, plenty of water, extra food, extra clothing, an emergency blanket, a map/compass or GPS, and first aid essentials.
Start early: Days are shorter in the winter, so be sure and give yourself plenty of time to get up and back.
---
---
More Adventures in Wilmington, Vermont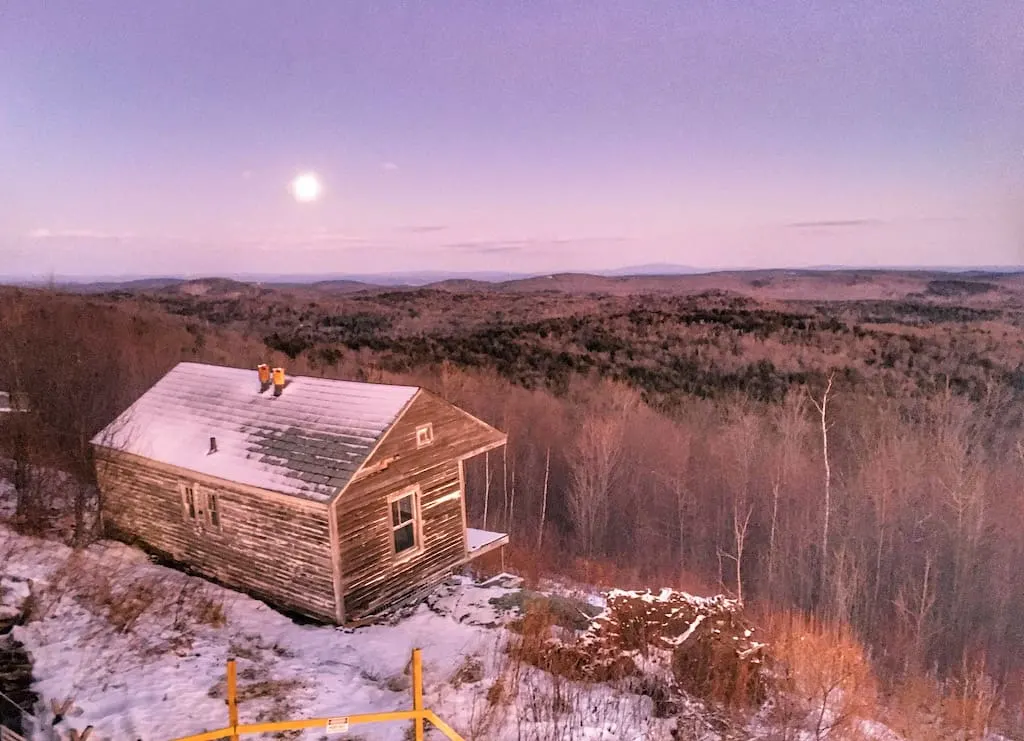 Wilmington is one of our favorite destinations for outdoor adventures in all seasons. Lake Whitingham is perfect for swimming, paddling, fishing, and boating in the summer and ice fishing in the winter. For a small community, Wilmington has an incredible array of trails for all abilities, and of course, its proximity to Mount Snow means it's a primo destination for downhill skiers.
You can read more about our favorite spots in our guide to Wilmington, Vermont. Need après-hike ideas? Head to the Hogback Mountain vista on Route 9 just east of town and check out Beer Naked for craft brews and wood-fired pizza or Vermont Distillers for tastings of Vermont Moonshine, Maple Bourbon, and gluten-free vodka.
---
Love hiking in Vermont? Check out these posts next:
Tara Schatz is a freelance writer, and the founder and editor-in-chief of Vermont Explored and Back Road Ramblers, an American road trip blog. She is also the co-author of the 3rd edition of AMC's Best Day Hikes in Vermont, which was released in May 2023.