There's only one thing better than a vacation in the Green Mountains; a fall vacation in the Green Mountains.
Vermont is known for great skiing, maple syrup, cold winters, and moose, but our biggest claim to fame is the vibrant foliage that lights up the forests each fall. Come autumn, Vermont's hardwood forests blaze in brilliant shades of red, orange, and yellow, drawing visitors from all over the country to marvel at nature's last hurrah before the long, cold winter.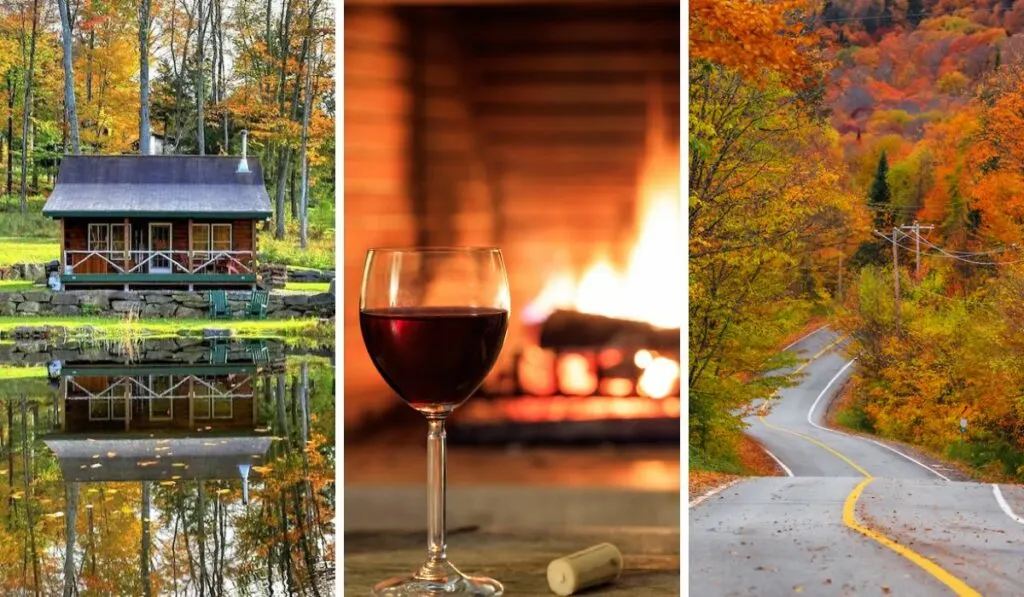 If you've ever dreamed of spending your fall vacation basking in the red and gold of a New England autumn, then you'll love these charming Vermont cabins. They make the perfect home base for enjoying Vermont's most colorful season—whether you want something classically rustic, or a modern cottage aesthetic; close to town, or deep in the woods, the Green Mountain State has exactly what you're looking for.
Here are 10 beautiful cabins in Vermont for fall, just waiting for you to pack your bags.
Private Log Cabin on Magic Mountain in Londonderry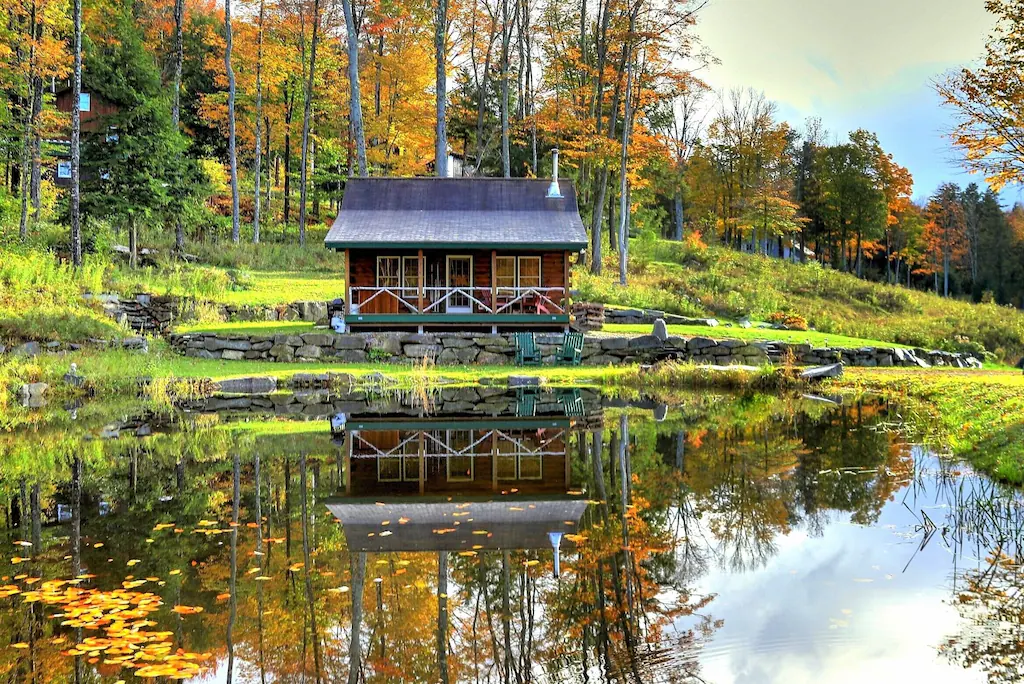 This charming log cabin is located right on the slopes of Magic Mountain, one of Vermont's premier ski destinations and is a short walk away from the Magic Mountain base lodge. Being situated on the slopes of a popular mountain also means easy access to plenty of good hiking, with several trails within walking distance of the cabin.
For sleeping arrangements, there is a queen-sized bed in the main area as well as a loft with two twin beds. The cabin also happens to have its very own trout pond, and fishing is encouraged by the owners, so don't forget to bring your poles!
Around the back of the cabin is a partially enclosed outdoor shower, where you can take in the views of fall foliage as you unwind after a day of Vermont adventures.
The quaint town of Londonderry, Vermont, is only five minutes away by car, so restaurants are within easy reach. If you prefer to do your own cooking there is a grocery store in town and the cabin's kitchen is fully equipped with cooking utensils, a stove, and a microwave, plus an outdoor grill for barbecuing.

Things to do near Londonderry, Vermont
Taylor Farm: Taylor Farm in Londonderry is a fully-operational 180-year-old farm that is open to visitors year-round. Guests can come to meet the animals (cows, horses, goats, pigs, chickens, and more) and stop by the farm store for Vermont-made cheese, maple syrup, preserves, baked goods, and plenty more.
Vermont Country Store: The Vermont Country Store in Weston Vermont, not far from Londonderry is the quintessential New England general store. Carrying everything from "penny" candy to flannel shirts, this is the perfect one-stop shop for all your small-town needs, not to mention picking up the perfect gift for your housesitter.
---
Birch Meadow Luxury Log Cabins in Brookfield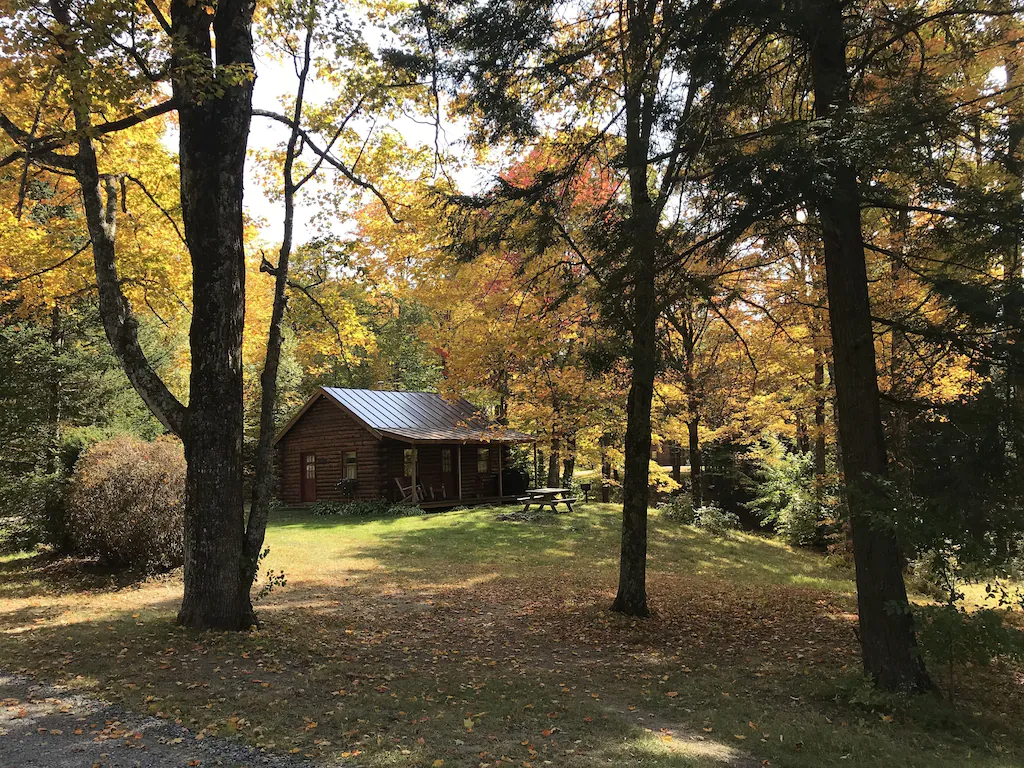 These cozy log cabins in Vermont are situated on over 200 acres of pristine wilderness and are a quick drive away from the small town of Brookfield. The open porch of the cabin (complete with Adirondack chairs) is the perfect spot to sip a Vermont craft beer while you watch the evening sun streaming through the trees.
Each cabin is equipped with a queen-sized bed and a full-sized bed in the loft, as well as a futon downstairs. The fully furnished country kitchen has everything you need to prepare your own meals during your stay, and outdoor grills and picnic tables are provided for barbecue and picnic enthusiasts.
There is a pond on the property within walking distance of the cabins, where you can enjoy a ride on the paddleboat, or just sit and watch the waterfowl from the shore. Plenty of walking trails criss-cross the property providing lots of opportunities to stroll through the woods admiring the bright fall colors, all without ever having to use a car.
Things to do near Brookfield, Vermont
Visit the fire tower at Allis State Park: The fire tower at the top of Bear Hill in Allis State Park offers a sweeping view of central Vermont.
Drive across Brookfield's famous floating bridge: Being too deep for the standard pilings used to support bridges, the route across Sunset Lake in Brookfield is a little bit unconventional. Supported by plastic barrels filled with styrofoam, this floating bridge appears as though it is sinking into the lake, and is covered by a thin layer of water which makes the first time crossing quite exhilarating. The Brookfield floating bridge is just a short drive from the cabins.
---
Off-Grid Vermont Cabin on Private Pond in Eden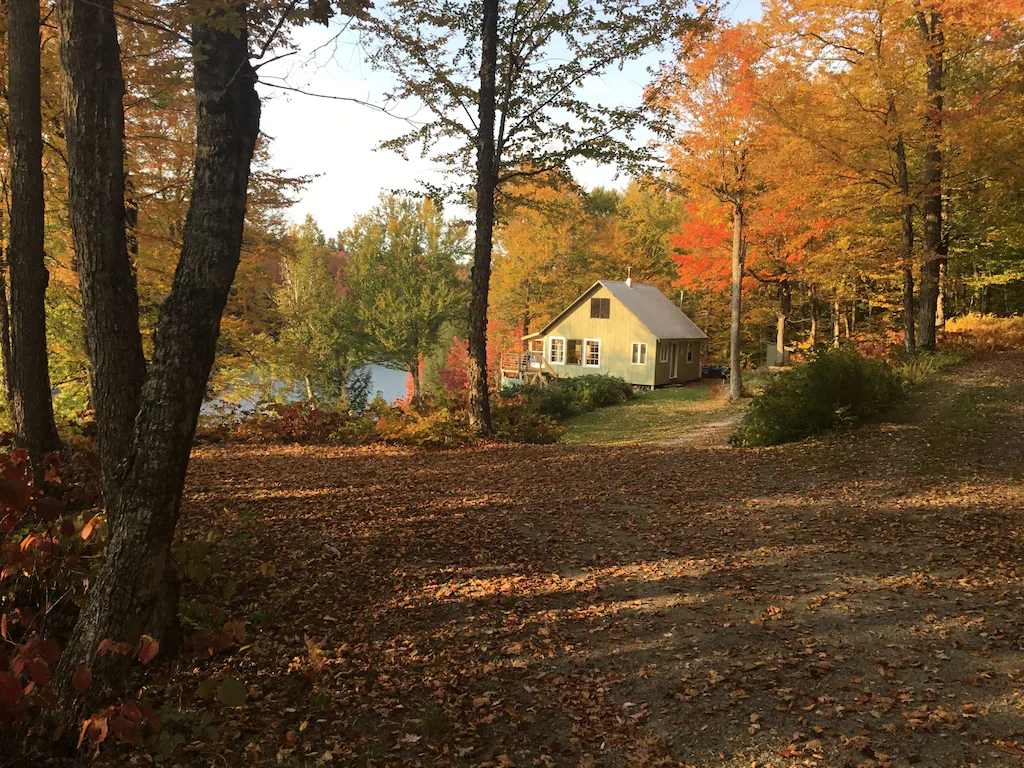 Everything in this secluded waterfront cabin in Vermont (lights, fridge, stove, hot water heater, and full bathroom) runs on propane rather than electricity, as the cabin isn't connected to the grid, making it the perfect spot for those who prefer a more minimalist experience, away from the distractions and stress of everyday life.
Embrace the quiet of deep rural Vermont in this extremely private location, out of sight and sound from any other camps or houses. The cabin overlooks a crystal clear pond and comes with a swimming area and dock, complete with a canoe that visitors are free to use at their leisure.
Plenty of wood is provided to keep warm during those frosty fall nights, and the pond is full of bass, perch, and sunfish making it a great place to cast a line. For those willing to venture away from this quiet oasis, there is plenty of hiking and biking in the surrounding area, and several other lakes and ponds where you can fish and boat to your heart's content.
Things to do near Eden, Vermont
Hike the Long Trail: Vermont's "Path in the Wilderness", the Long Trail travels through Eden on its way south to Massachusetts and north to the Canadian border. Two great hikes can be accessed from the same trailhead in Eden. Belvidere Mountain is a challenging hike to a fire tower with 360-degree views of the Green Mountains. For an easier, but equally beautiful hike, take the Long Trail into the woods to Devil's Gulch. This giant pile of mossy rocks on the trail is said to hold snow all summer long.
---
Northeast Kingdom Tree House Cabin for Two in Waterford, Vermont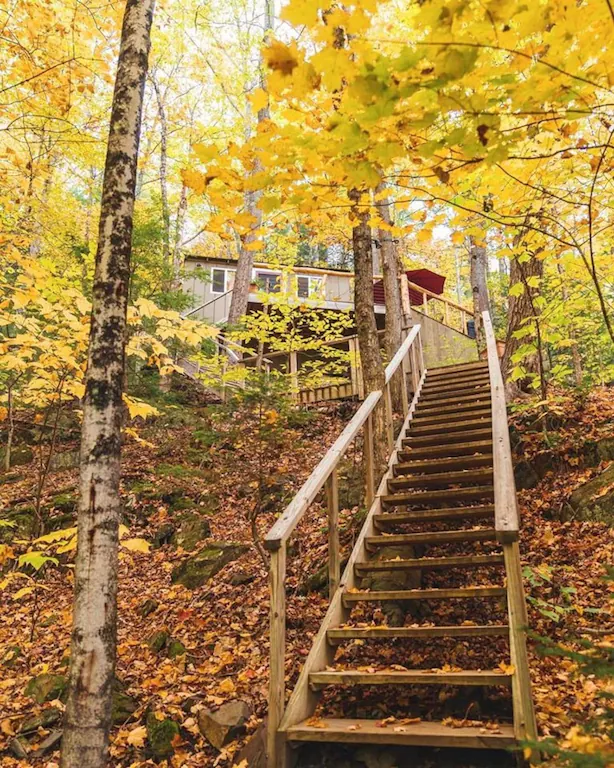 What better way is there to experience the foliage than soaking in a cedar hot tub on a wide deck overlooking the forest with the one you love? This charming little treehouse in Vermont only sleeps two, making it the perfect place for a romantic getaway, and it is located within a 30-minute drive of everything the Northeast Kingdom has to offer.
This little Vermont cabin includes a kitchenette with a sink, small fridge, microwave, waffle maker, and hot plate. There is a full bathroom, and the large deck is kitted out with a hot tub and a porch swing allowing for multiple ways to relax and enjoy the scenery.
Things to do near Waterford, Vermont
Visit the Fairbanks Museum and Planetarium: This museum of natural history is a great place to spend an afternoon, and it is home to the only public planetarium in Vermont.
Take a trip to Dog Mountain: Dog Mountain is a 150-acre plot of land full of hiking trails and ponds, all of which are open to dog owners for exploration with their pups. Be sure to visit the Dog Chapel, where people leave heartfelt notes to celebrate the dogs they have loved and lost.
---
Off-Grid Cabin on 330 Acres in the Mad River Valley, Vermont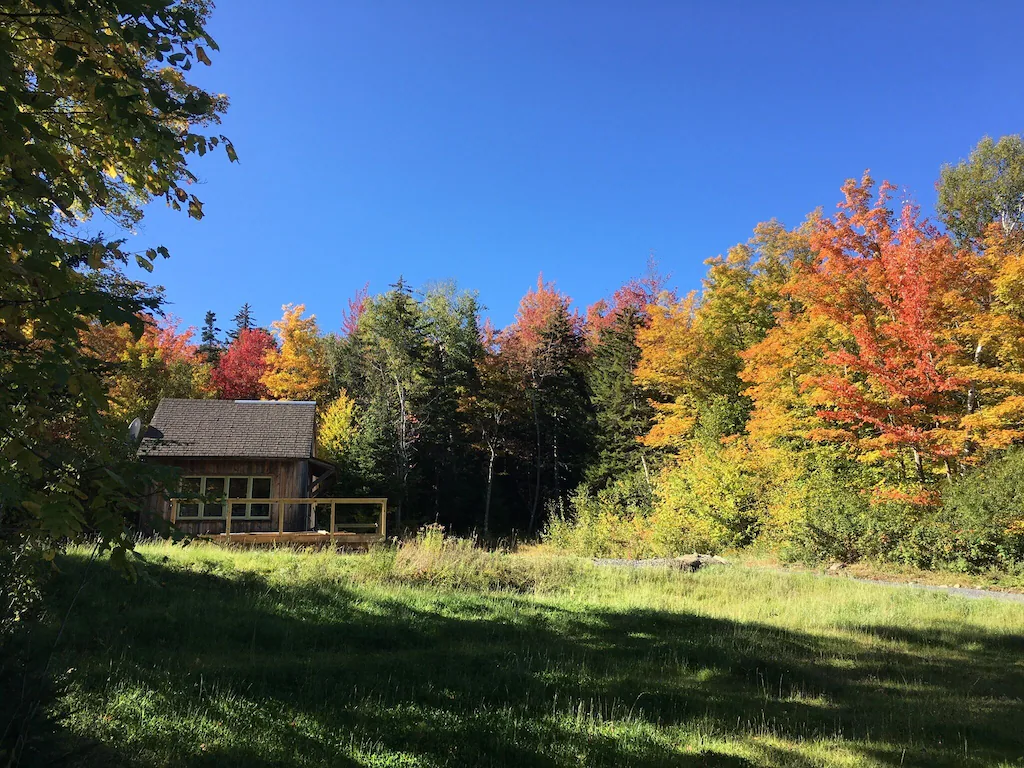 One of the prettiest little cabins in Vermont, this luxurious little getaway in Mad River Valley, Vermont is situated on 330 acres of woods latticed with trails and streams. Guests are welcome to explore the entire property, although the cottage is so cozy that you may not want to leave!
The cabin comes with a fully equipped little kitchen and a wood stove, a full bathroom, and a queen-sized bed in the bedroom upstairs. The large windows looking into the main living space let in plenty of sunlight to bask in while you sip your morning coffee.
A large deck is perfect for dining outside on warmer days, and an outdoor firepit for s'mores roasting and campfire stories.
The town of Northfield is a short drive away so you can easily head into town to stock up on everything you might need before returning to this secluded paradise.
Things to do near Northfield, Vermont
Visit Montpelier: Vermont's state capital, Montpelier, is the smallest capital in the US. Despite its size, there is still plenty to do and see in this little town—Vermont's golden-domed state house, Hubbard Park, and Coburn Covered Bridge are just a few of the sites we recommend checking out during your visit.
---
Dog-Friendly Cabin for Two in Barton, Vermont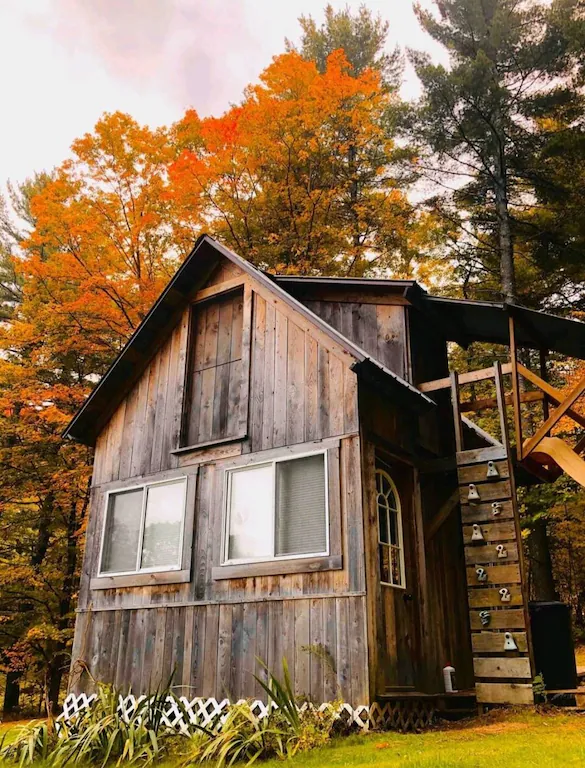 Here is another great off-grid location to get away from the high-speed world we live in. Take it slow and enjoy being surrounded by nature at this rustic Vermont cabin rental, only five minutes from the small town of Barton in Vermont's Northeast Kingdom.
This cabin is a great pick for nature lovers wanting to get away from it all. With plenty of hiking nearby and only a fifteen-minute drive from Lake Willoughby, there is no shortage of outdoor adventures to be had during your stay.
The cottage comes equipped with a queen-sized bed, a composting toilet (located a short distance from the cabin), and an outdoor fire pit.
Things to do near Barton, Vermont
Visit Lake Willoughby: Vermont's deepest lake is one of the most picturesque sites in the state; the mountains rising up on either side of the lake make for great hiking and offer stupendous views of the surrounding countryside, and on warmer days you can swim at the sandy beaches on the both the North and South end of the lake.
Hike and swim at Crystal Lake State Park: Crystal Lake State Park is another great place to visit for hiking and swimming, or just taking in the views. It's a little closer to the cabin than Lake Willoughby, and they offer canoe and kayak rentals for those looking to explore the sweeping views from a different perspective.
---
Tiny House with Lake Champlain Beach Access in Addison, Vermont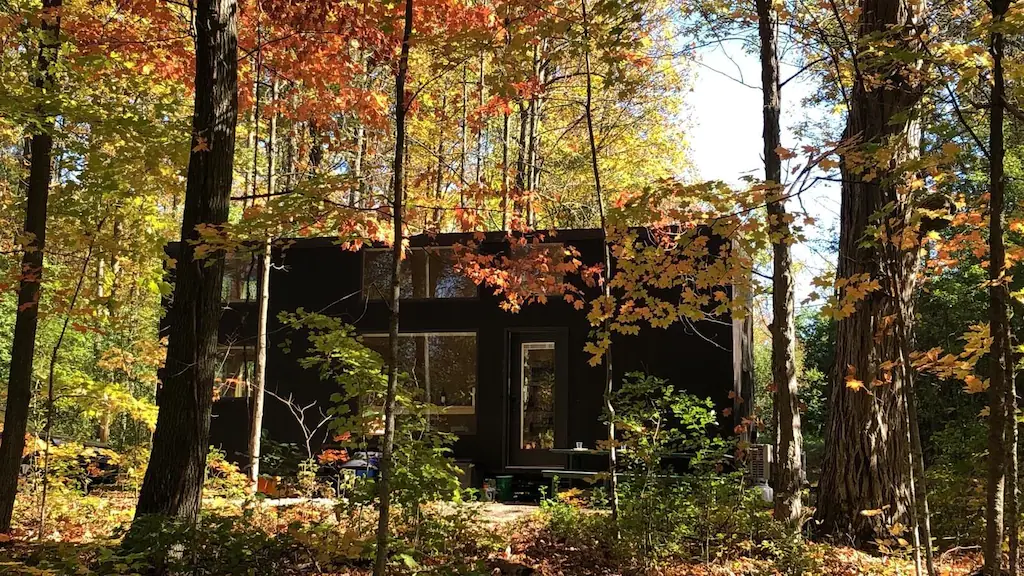 If you're looking for a Vermont cabin rental that's quiet and secluded but close to all the amenities of Vermont's largest towns, look no further than this cozy tiny house, right on the shores of Lake Champlain.
Located on 10 acres, you'll find plenty of outdoor activities to enjoy here without ever needing to leave the property. There are several walking trails and a private shale beach with a fire pit right on the water. The owners provide a kayak, paddle board, and life jackets for marine adventuring, and there is a hammock and Adirondack chairs for outdoor relaxation.
Inside, the stylish little home has two bedrooms each with a queen-sized bed, a full bathroom, and a kitchen with everything you need to cook during your visit. The cabin is a short drive from Middlebury and Vergennes and is about an hour south of Burlington, Vermont's largest city.
Things to do near Addison
Visit Button Bay State Park: One of our all-time favorite state parks in Vermont, Button Bay is a great place to visit any time of year. With trails, boat rentals, and lots of waterfront views, this is one of the best places to experience a scenic Vermont autumn.
---
Cozy A-Frame Near Manchester, Vermont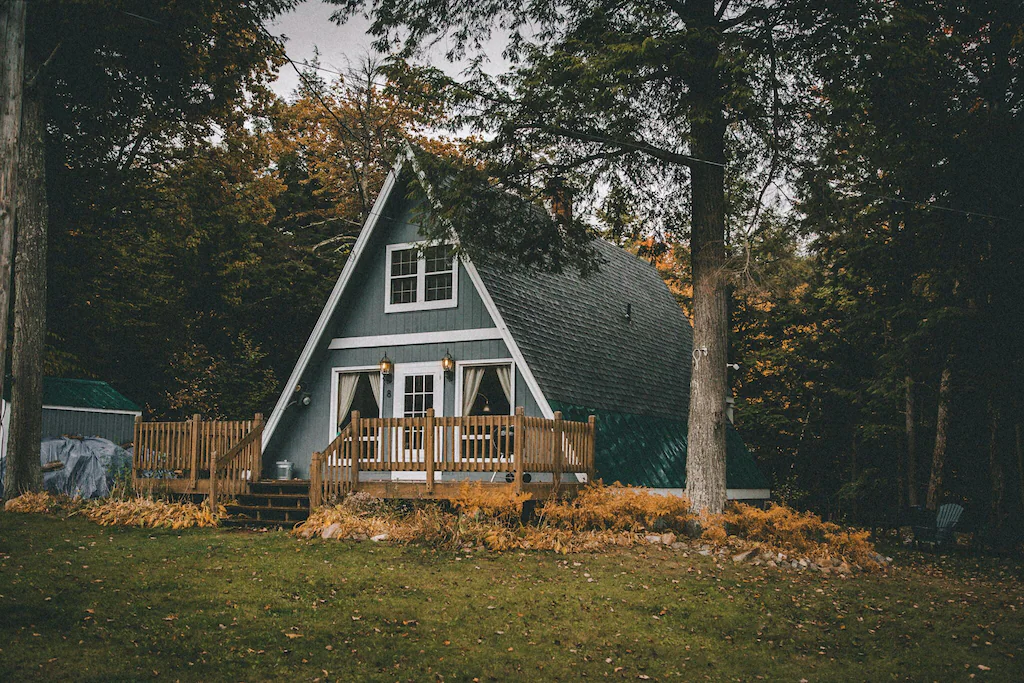 This stylish country A-frame is decked out with all the amenities you could want while still maintaining the rustic feel of a classic cabin in the woods.
With room for six (2 queen beds and a pull-out queen-sized futon), this is the perfect rental for a family vacation. There is a half bathroom upstairs and a full bath downstairs, as well as a kitchen stocked with all the appliances and dishes you'll need during your stay.
The cabin has plenty of cozy chairs and couches for reading or watching. If you can pull yourself away from the cozy interior, you'll find yourself very close to the bustling downtown of Manchester, Vermont, where you can shop to your heart's content, eat at local restaurants, bike the Manchester rail trail, or hike one of the many trails in the area, all without even leaving the town limits.
Things to do near Manchester, Vermont
Hike Lye Brook Falls: Lye Brook Falls is a great hike for beginners and experienced hikers alike, and it culminates in a view of one of Southern Vermont's best falls.
Go shopping in downtown Manchester: Manchester is a shopper's paradise, with tons of outlet clothing stores like Armani, Brooks Brothers, Fatface, and more. There are also outdoor supply stores, local shops with Vermont-made goods, and The Northshire Bookstore (our favorite Vermont bookstore!).
---
Also Read: 17 of the Best Things to do in Manchester, Vermont
---
Cozy Log Cabins in Hyde Park, Vermont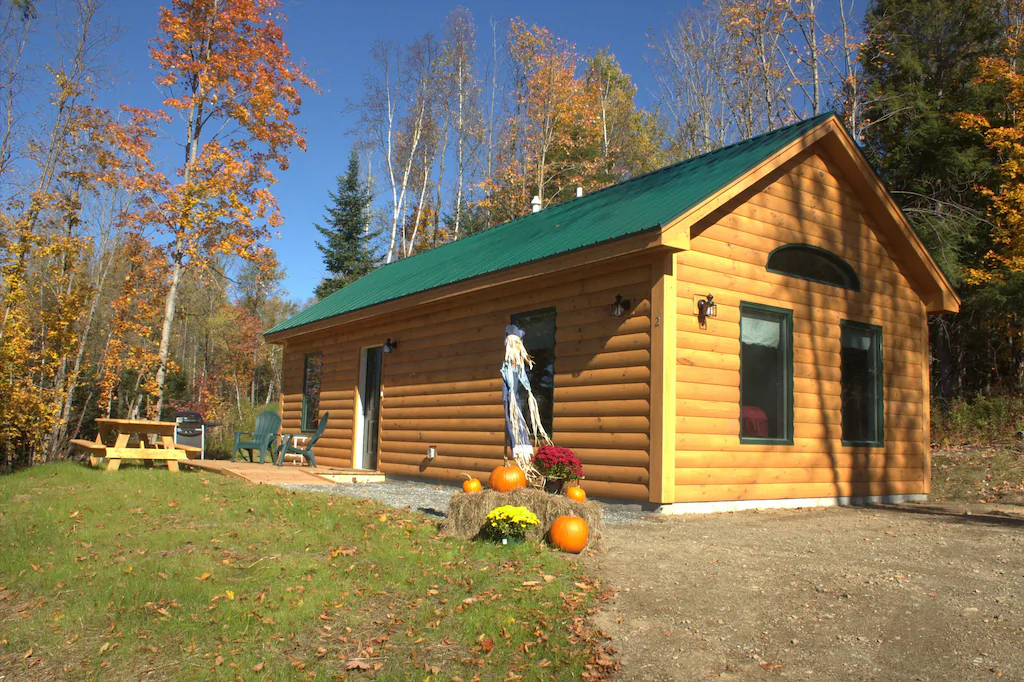 These comfy country cabins in Vermont can sleep four people, and pets are allowed, making it a good choice for families. More cabins are available for rent on the property if you're traveling with a larger party.
Each cabin includes a full kitchen and bathroom, and a porch (chairs included) to sit outside and enjoy the last warm days before the cold Vermont winter.
Located a short drive from Hyde Park, Vermont, there are several local restaurants and breweries within a 10-mile radius of the cabins, as well as plenty of hiking opportunities.
Stowe, Vermont which was ranked "the #1 ski town for foodies in the United States" by Fodor's Travel is only a 20-minute drive from the cabins, so be sure not to miss out on some of the best dining Vermont has to offer. You can find some of the locally recommended dining establishments at Go Stowe.
Things to do near Hyde Park, Vermont
Go for a paddle at Green River Reservoir State Park: Green River Reservoir is a great place for boating (unfortunately, the park does not rent boats) and wildlife watching.
---
Dog-Friendly Log Cabin Near Stowe, Vermont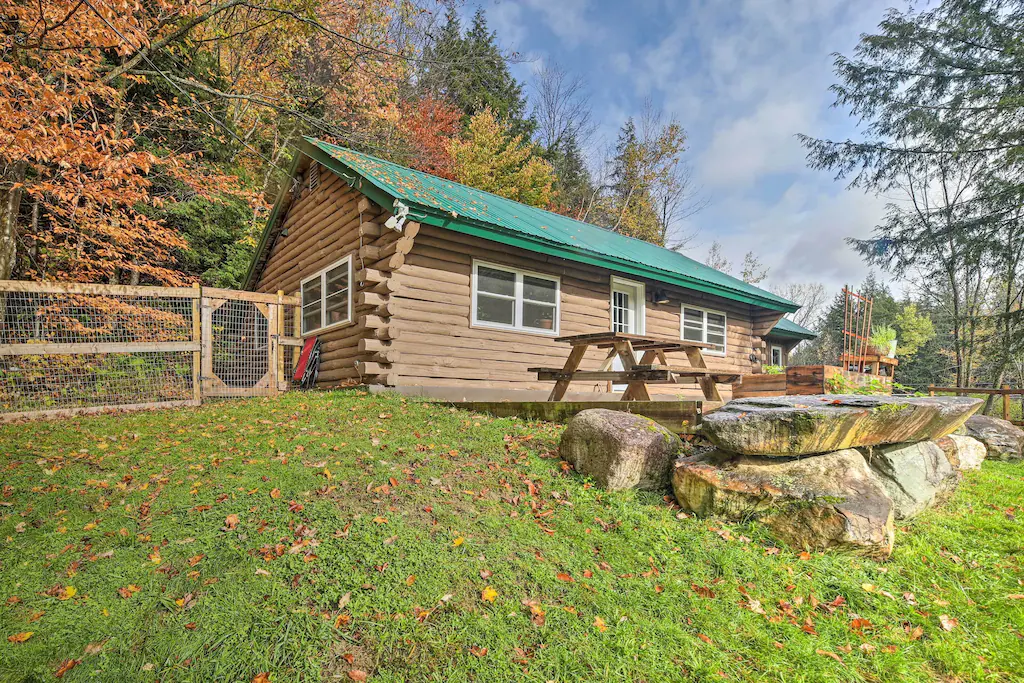 And finally, check out this log cabin, which is less than 2 miles from Stowe Mountain Resort, which is also the starting point for some fabulous fall-foliage hikes, including a challenging route up Mount Mansfield.
With two bedrooms each sporting a queen bed, and a pull-out queen-sized sleeper sofa, this cabin is equipped to handle up to six people. There are sweeping mountain views visible from the property, a fully stocked kitchen and bathroom, a patio with a picnic table, and an outdoor grill for barbecues. The property also has a fenced-in yard, making it a good choice for those traveling with dogs (Note that there is a $50 pet fee).
Things to do near Stowe, Vermont
Take a hike: This is a fabulous destination for hikers, no matter your skill level. Beginners – head to Bingham Falls or Moss Glen Falls, or stroll along the Stowe Recreation Path. Intermediate hikers can trek to Stowe Pinnacle or Sterling Pond. And finally, if you're up for a challenge, hike all the way to the summit of Vermont's highest peak.
---
These incredible cabins in Vermont will go perfectly with your fall vacation. Need a few more ideas for exploring Vermont in the fall? Read these posts next:
---
Follow us on social media!
Pin for later?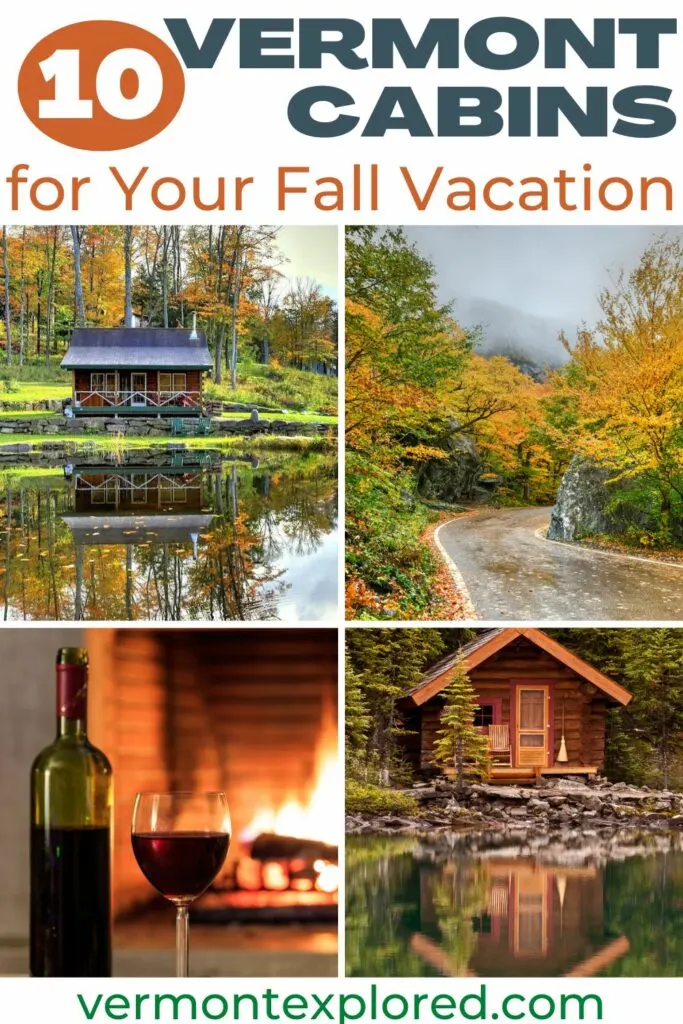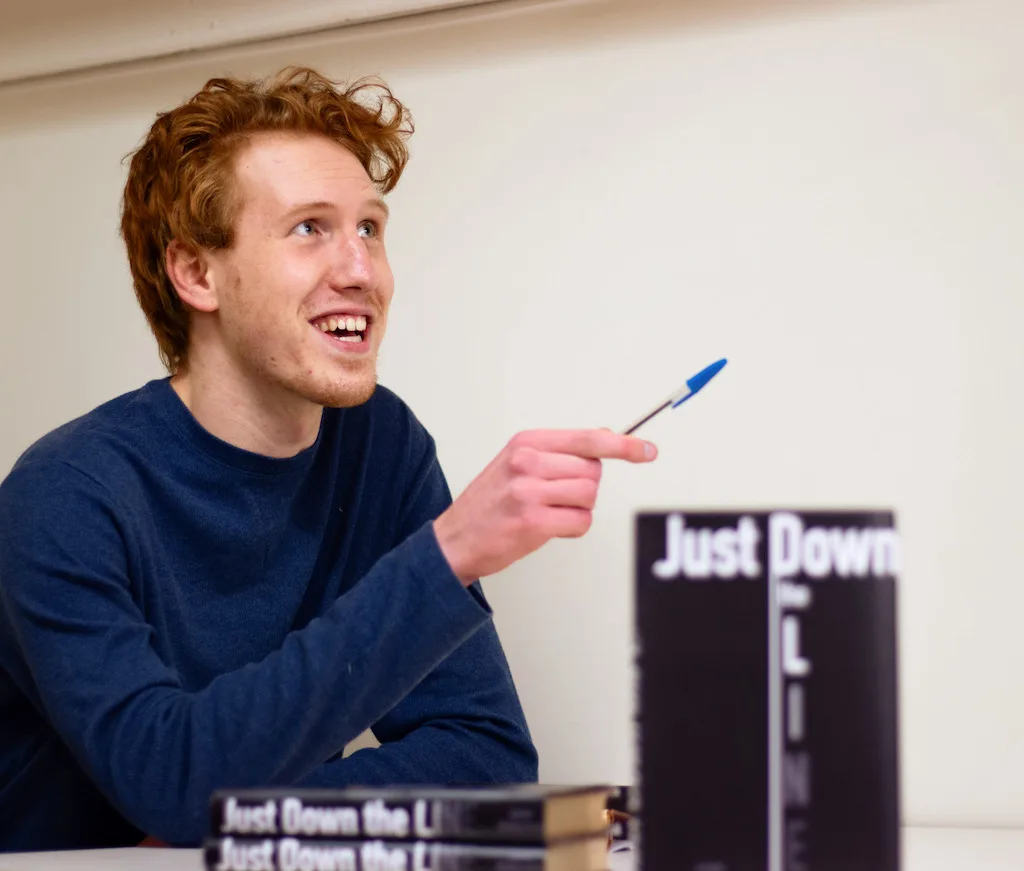 Gabriel Reed is a college student and occasional freelance writer and photographer from Southern Vermont. He has spent time as an editor and reporter for Keene State College's student newspaper, The Equinox, and also enjoys writing fiction for pleasure. In his free time, Gabe enjoys spending time outdoors and pursuing his love for fantasy stories, medieval aesthetics, and grilled meats.