With snow on the ground and a chill in the air, it would be easy to assume that hiking season is on hold in Vermont.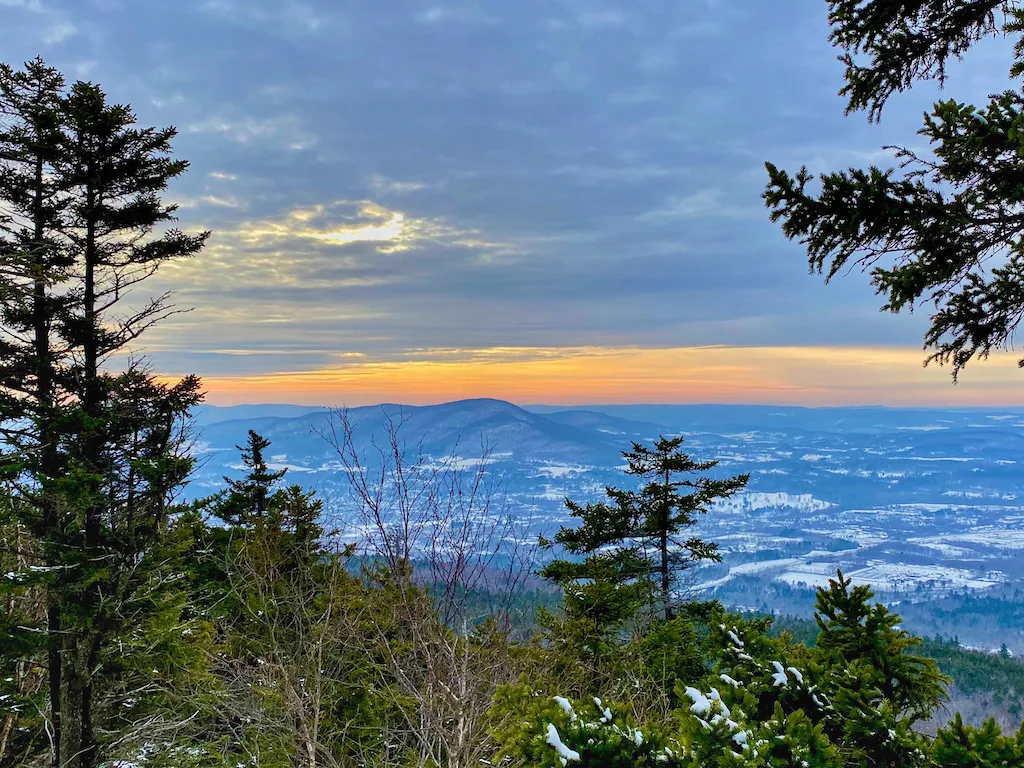 But anyone who's ever been to the Green Mountain State will know that a bit of winter weather is not enough to stop Vermonters from going about their business. Which is why I found myself trudging up to White Rocks in Bennington, VT on a frigid day with a hefty layer of snow on the ground.
Bald Mountain Trail is one of the most popular hikes in the Bennington area, and it's easy to see why. The trail leads to a stunning view known as White Rocks, from which you can see all of Bennington and much of the surrounding area.
The rocky overlook also has plenty of room for picnicking or enjoying a thermos of hot chocolate at the top, and the hike to get there is challenging enough to satisfy advanced trekkers but not too tough to alienate beginners or casual hikers.
Quick Facts: Hike White Rocks Bennington, VT
Length: 6.5 miles (round trip)
Difficulty: Moderately challenging
Estimated Time: 5 hours
Elevation Gain: 1,650 feet
Dogs: Yes
Cost: Free
Map: US Forest Service
Getting There: Google Maps
Bald Mountain lies on the Western edge of the Glastenbury Wilderness. The trail to White Rocks from Bennington takes you on a 5.8-mile out-and-back hike along the ridgeline of the mountain and culminates in a view of Bennington sprawled out across the valley at the foot of Mount Anthony.
Bald Mountain Trail makes a great day hike all year round, but hiking it in the winter makes the journey slightly more challenging.
The trail gets very icy in some places, which means you should either wear Microspikes or be prepared to go slowly and carefully.
Because the trail gains about 2,000 feet of elevation, you'll likely find snow on the summit, even if the trailhead is snow-free.
Driving Directions to Bald Mountain Trailhead in Bennington
From the light at the intersection of Main Street and Branch Street in Bennington, head North on Branch Street for about 0.3 miles. Take a right turn to go over the bridge and continue onto North Branch Street. Continue straight on North Branch Street for 0.4 miles until you reach a sharp left curve in the road. Take a right onto the narrow road going up the hill. The trailhead parking lot will be on the right.
Hiking to White Rocks in Bennington VT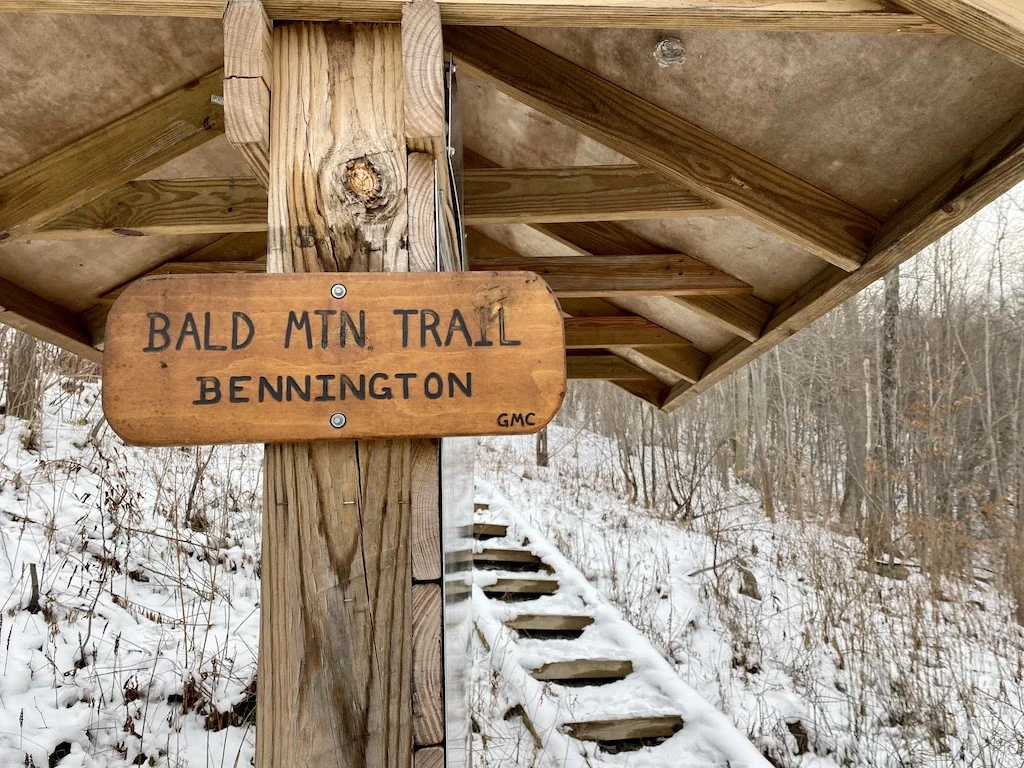 From the parking lot, head up the set of wooden steps and onto the trail. The path weaves its way between the power lines for a short distance quickly gaining elevation and veering into the woods.
About five hundred feet after entering the woods, you'll reach a tunnel that takes you under the highway. The locals have dubbed it "The Free Expression Tunnel," and the length of it is covered in street art, scrawled proclamations of love, and graffiti tags.
From the Free Expression Tunnel, you'll continue upwards, entering an overgrown meadow overlooking the highway and your first view of Bennington shrinking beneath you.
From the meadow, quickly re-enter the forest on a wide relatively flat trail. The path remains fairly level until it crosses a stream, at which point it will begin sloping upwards again.
While hiking in the winter, I was able to easily ford the stream stepping on frozen portions and several large rocks. For easy crossing during warm weather, there is a makeshift bridge set up just to the left of the trail.
After you cross the stream, the trail becomes increasingly steep and rocky, so watch your footing, especially if there's snow on the ground hiding potential tripping hazards.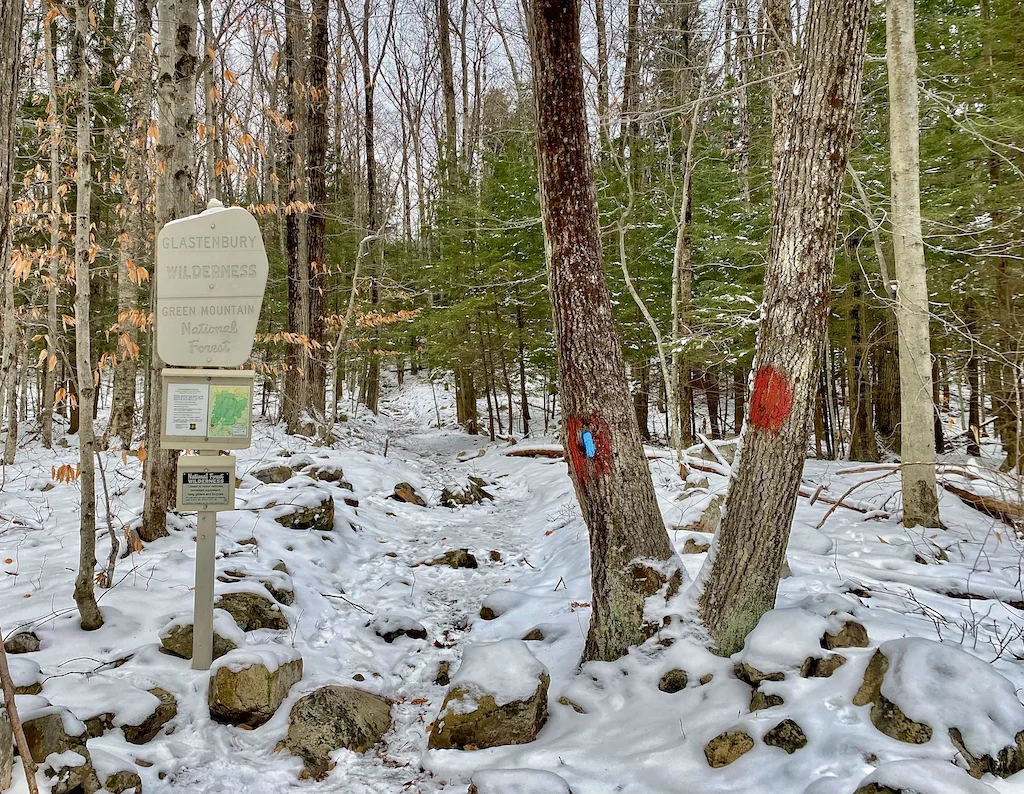 Roughly 0.7 miles from the stream, the trail enters the Glastenbury Wilderness in Green Mountain National Forest. There will be a sign which warns of more difficult trails going forwards, with less upkeep and fewer trail blazes.
Once you have entered Glastenbury Wilderness, you will notice that the trail becomes much narrower and harder to follow. Be prepared for careful stepping, as you navigate patches of ice where wet and muddy portions of the trail have frozen over.
As you climb into higher elevations, the snow deepens. Eventually, the hardwood forests of the lower portion of the hike will give way to evergreens and shorter scrub, and the trees will close in tighter on either side of you.
The path dries out a bit as you climb up the mountainside. It flattens out for a short period before rising again into increasingly steep switchbacks.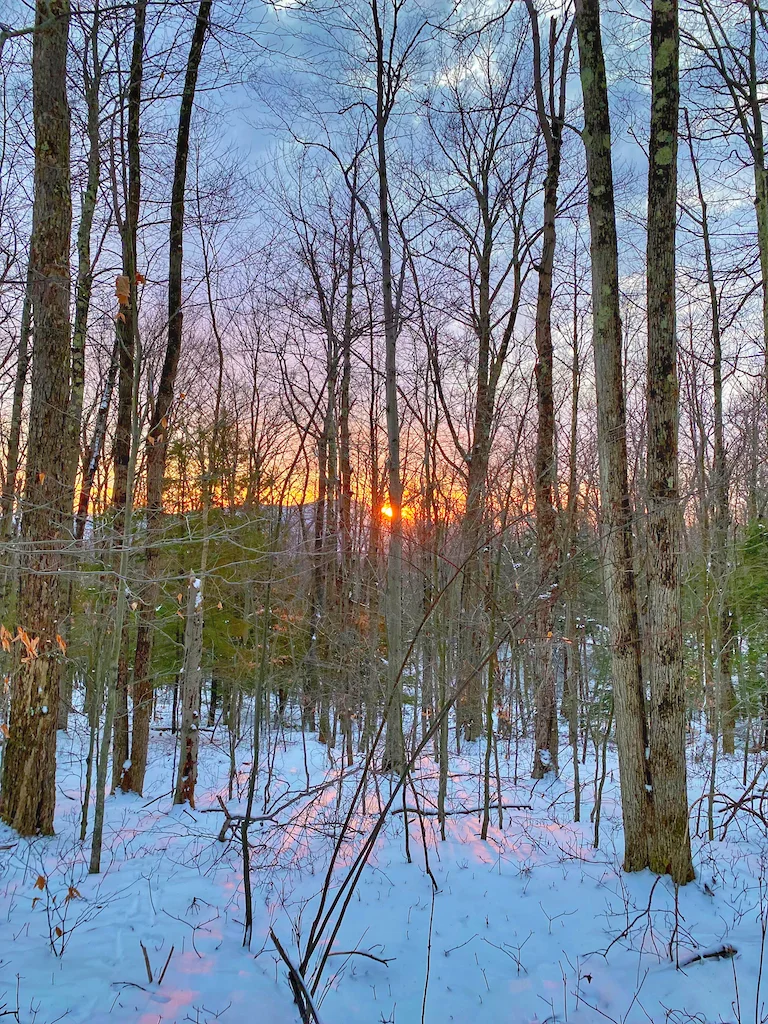 As you near the overlook, gaps in the tree coverage will give you a preview of what's to come, with glimpses of Mount Anthony in the distance.
The final portion of the hike before you reach White Rocks is the steepest.
The path goes up narrow switchbacks lined with fir trees and scrub. During my recent hike, the snow was nearly a foot deep at this point; fortunately, some other brave winter hikers had already forged a path, but the trail was still slippery, and it was difficult to find solid footing in some places.
Just before the overlook, the trail levels out slightly and becomes much rockier. You will see a large pile of rocks to the right of the path, and to the left, a small trail veering off the main track. Follow this trail a short distance, and the trees will thin out as you arrive at the overlook.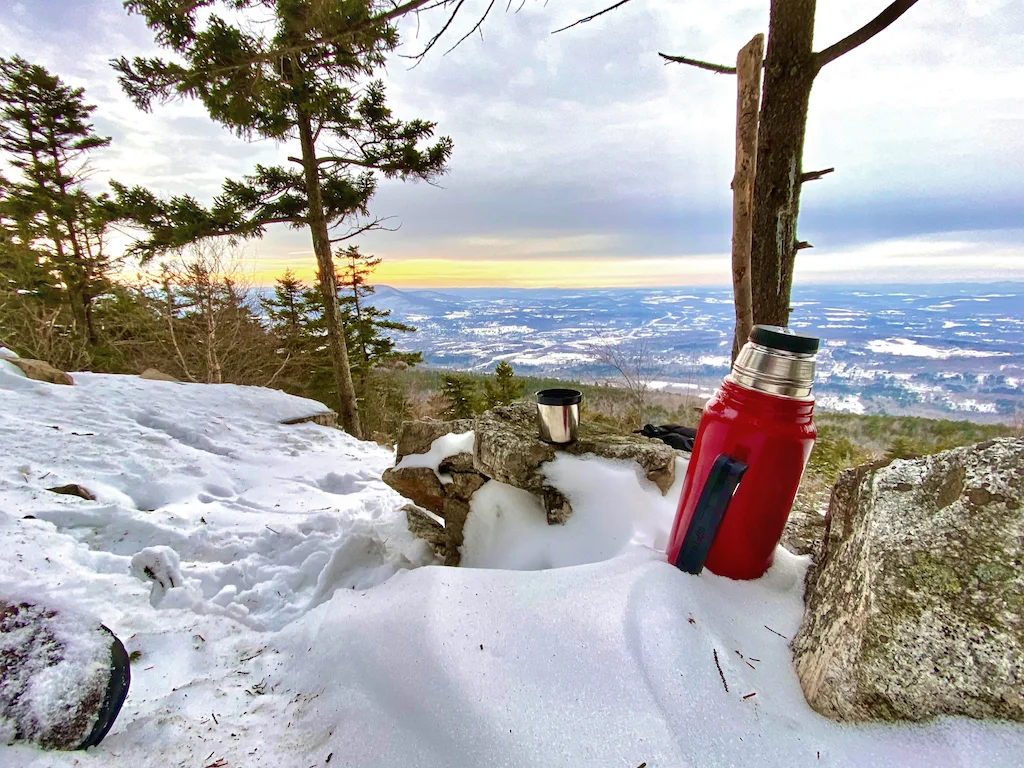 This trail sees a lot less traffic in the winter, and I had the summit all to myself.
Still, you should be prepared to share the views with other hikers even if you are visiting in the winter, as this is one of the most popular hiking trails in the Bennington area.
After enjoying a hot beverage, and admiring the views – doesn't Mount Anthony look tiny down there – head back to the trailhead the same way you hiked up.
If you want a longer hike, you can continue up to the summit of Bald Mountain for a round-trip hike of around 8 miles with 2,000 feet of elevation gain. The views on top of Bald Mountain are very limited, but the trail is pretty.
Bald Mountain Trail Map and Elevation Profile (to White Rocks)
Tips for Enjoying a Winter Hike to White Rocks in Bennington VT
Bald Mountain is located in the southern section of the Green Mountain National Forest. Because this is a popular trail, you will almost certainly find a well-packed winter trail suitable for beginning hikers that don't mind some elevation gain.
Winter hiking in Vermont does pose a few challenges, though, so it's important to be prepared. Here are some tips for hiking to White Rocks in the winter.
Wear Microspikes: Microspikes are essential for enjoying winter trails in Vermont, and while they are a little bit of an investment, you will put them to good use. When choosing microspikes, be sure to get ones with actual spikes on the bottom. Yak Trax or something similar will not be rugged enough for icy trails. Here are the Microspikes that I use on all winter hikes in Vermont.
Consider snowshoes: Because White Rocks is a busy trail, it's usually packed down enough for regular boots with microspikes, but if you hike after a fresh snow, you may want to bring snowshoes too!
Trekking poles will give you added stability: Trekking poles are another must-have for hiking on inclines. They will help balance your weight and give you stability while descending. These come with baskets that you can screw to the bottom for hiking in the snow.
Bring extra layers: This hike will start out warm because you'll be climbing most of the way. Start cold so you don't sweat and add layers at the top. For this hike, I usually do a wool base layer and a down vest to start. I add a down puffy and maybe a windproof shell at the top.
Pack the 10 essentials: This includes, a source of fire and light, plenty of water, extra food, extra clothing, an emergency blanket, a map/compass or GPS, and first aid essentials.
Start early: Days are shorter in the winter, so be sure and give yourself plenty of time to get up and back.
More Adventures in Southwestern Vermont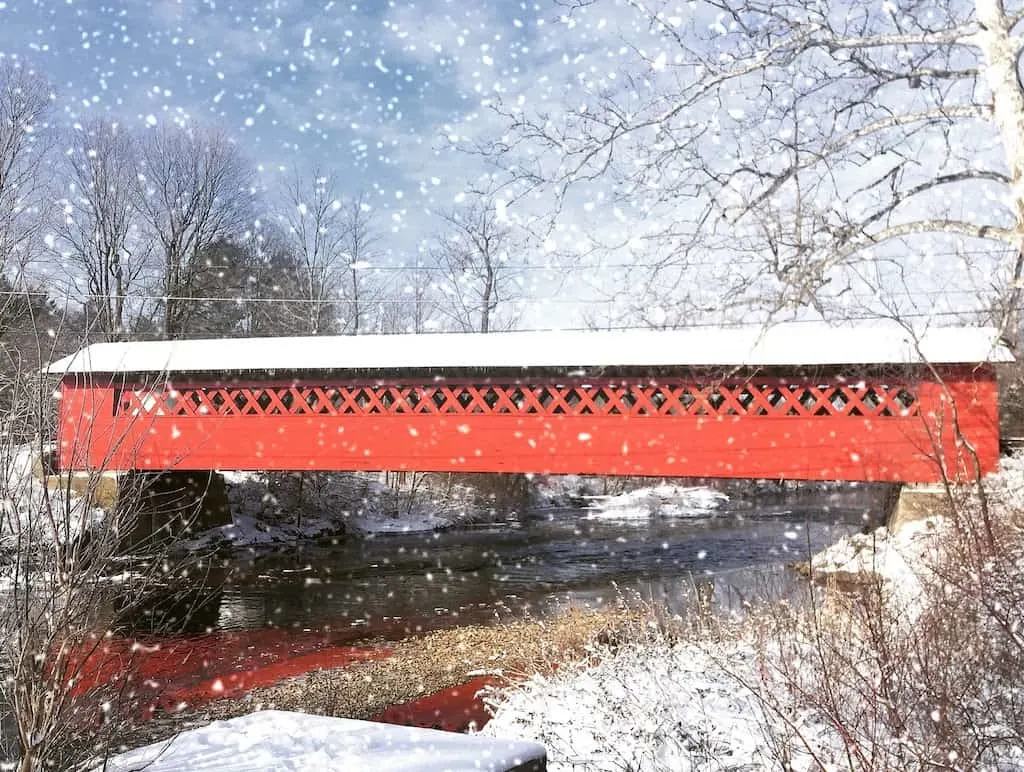 With just about 14,000 people, Bennington is a small town bookended by two mountain ranges (the Greens and the Taconics) and surrounded by farms and forests.
By Vermont standards, Bennington is actually a big town – the sixth-largest in the state. It's the county seat and a hub of activity in Southwestern Vermont. It's also my hometown.
If you're looking for more adventures in Bennington and Manchester (collectively known as the Shires of Southwestern Vermont), we have a few suggestions.
For more hiking, head to Harmon Hill on the Appalachian/Long Trail. It's a 3.3-mile trail (round trip) with stone staircase that will get you're heart pumping. This is a tricky hike in the winter because the stones are really icy!
If you're looking for a more leisurely excursion, try a covered bridge tour. There are five covered bridges in Bennington County, and all of them are worth checking out.
Need more ideas? Here's an itinerary for a winter weekend in Bennington and Manchester.
---
Love Hiking in Vermont? Check out these posts!
Follow us on social media for more Vermont Inspiration!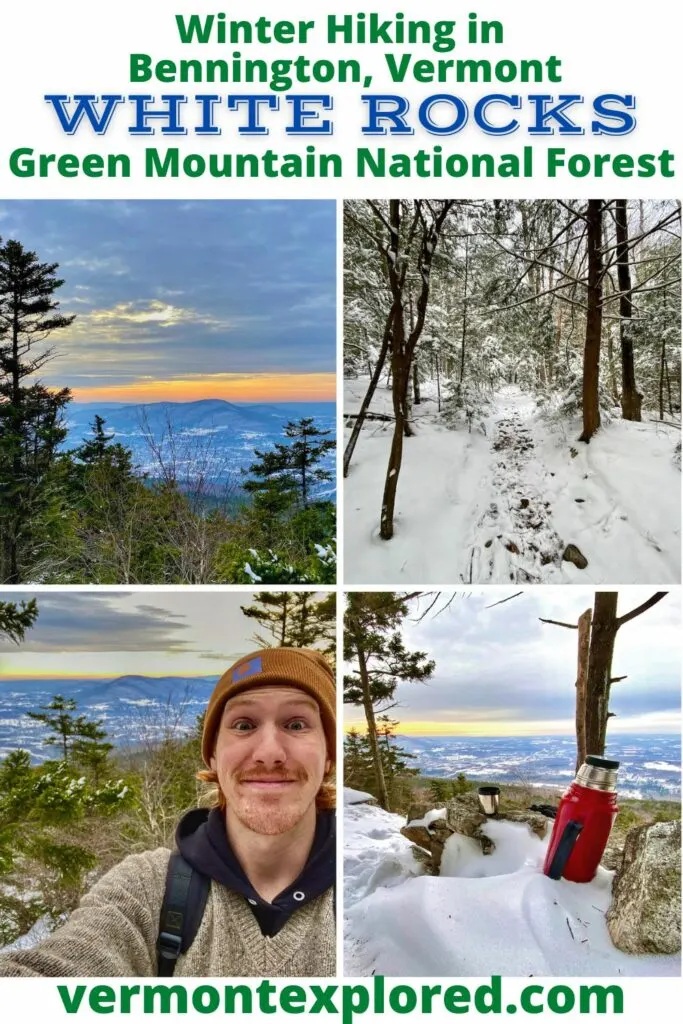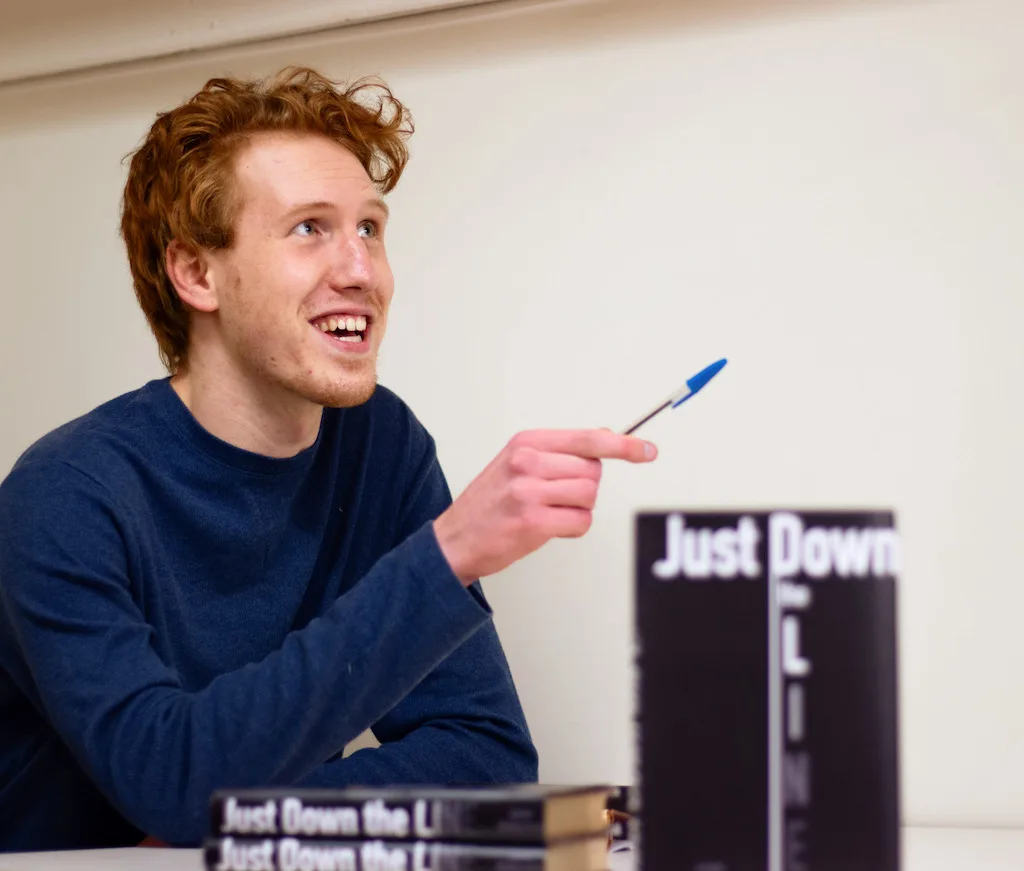 Gabriel Reed recently graduated from Keene State College with a degree in English and is a writer and photographer from Southern Vermont. In his free time, Gabe enjoys spending time outdoors and pursuing his love for fantasy stories, medieval aesthetics, and grilled meats.