As a parent, one of my goals has always been to encourage my kids to explore and love the outdoors. This was easy when they were younger, but the teenage years tossed a whole new set of challenges our way.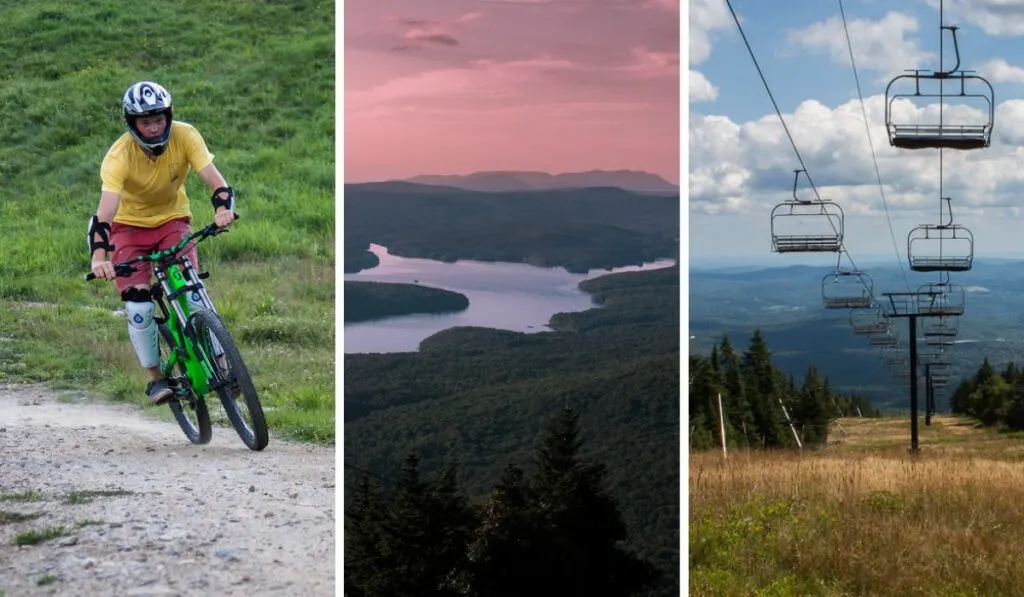 A full school schedule, jobs, and extracurricular activities compete for their precious time. They seem to be happiest on their phones, and the allure of camping, hiking, and exploring the woods with their parents has definitely worn off.
So how do you get outside with teenagers when exploring Vermont?
With a healthy dose of risk and adventure. One of our favorite places to take a few risks is the Mountain Bike Park at Mount Snow in West Dover, Vermont.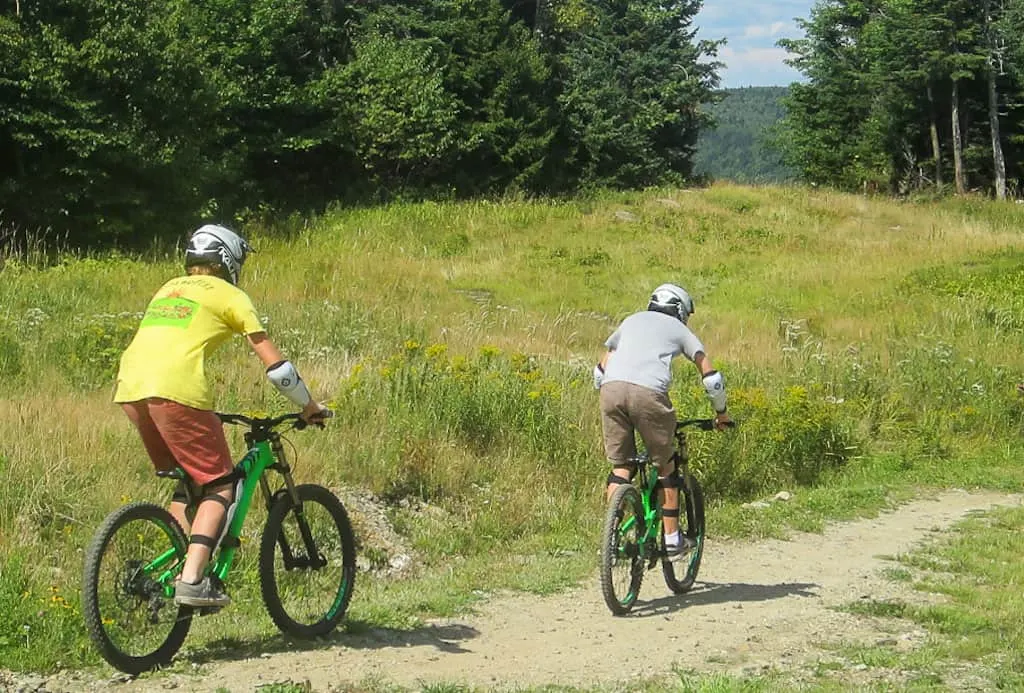 Teenagers are programmed to take risks, at least that's what scientists at University College London concluded in a 2010 study. Providing teens with a positive outlet for risky behavior promotes healthy neurological development and growth, and it also helps prevent more dangerous, and sometimes illegal, risk-taking behavior.
While I personally have no need for an adrenaline rush to get me outside, seems like the young adults in our household are always game for such shenanigans. One of our favorite adventures to tackle as a family is downhill mountain biking at Mount Snow here in Southern Vermont.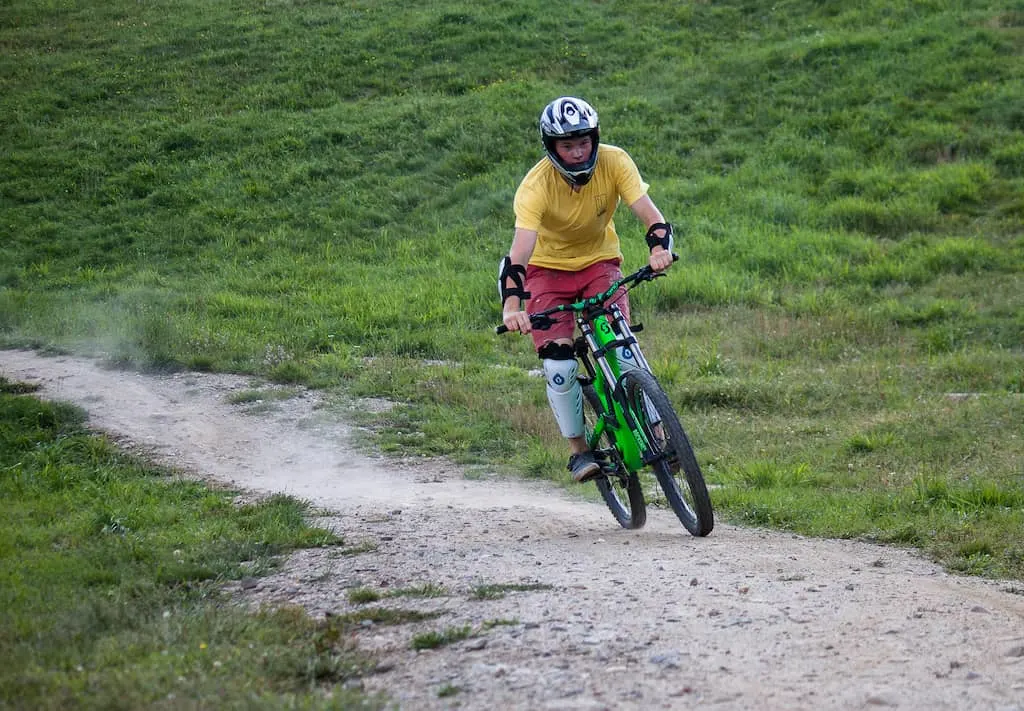 A disclaimer here: During our most recent visit, I spent the day hiking Mount Snow while the guys rode the trails. Hiking here is almost as much fun as Mount Snow Mountain Biking!
Mount Snow Mountain Biking
Mountain biking is a long-standing tradition at Mount Snow, and adventurers have been tearing up the trails here for more than 30 years. Beginners and experts alike can take to the mountain, and we often see very young kids getting in on the action. There are 9 downhill mountain biking trails at Mount Snow requiring a lift pass and two cross-country trails that begin and end at the base of the mountain.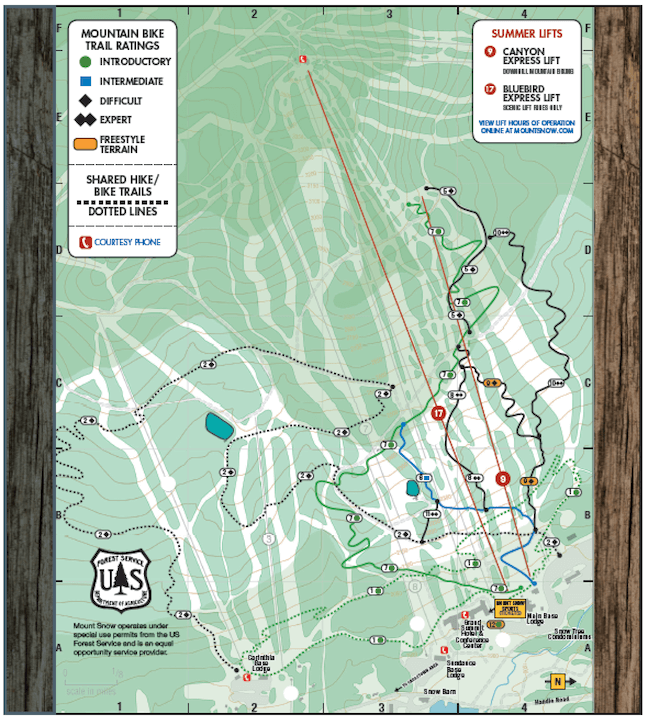 Although my guys have their own mountain bikes at home, we often choose to rent bikes that are better suited to the rugged downhill terrain at Mount Snow. Mount Snow Sports provides DH full suspension bike rentals or hardtails for cross-country riding. Riders can also rent pads and helmets for a nominal fee.
After donning an array of serious protective padding and a helmet that made me a little nervous, the guys headed over to the Canyon Express for their first run.
They were advised to start slow on trail # 7, also known as the Gateway Trail, to find their biking mojo. Gateway is a relatively gentle 3-mile track, where the guys practiced their downhill stances, plus a lot of braking and turning, before racing back to the lift for another run. It was obvious that my skiers were beyond thrilled to be on the mountain again.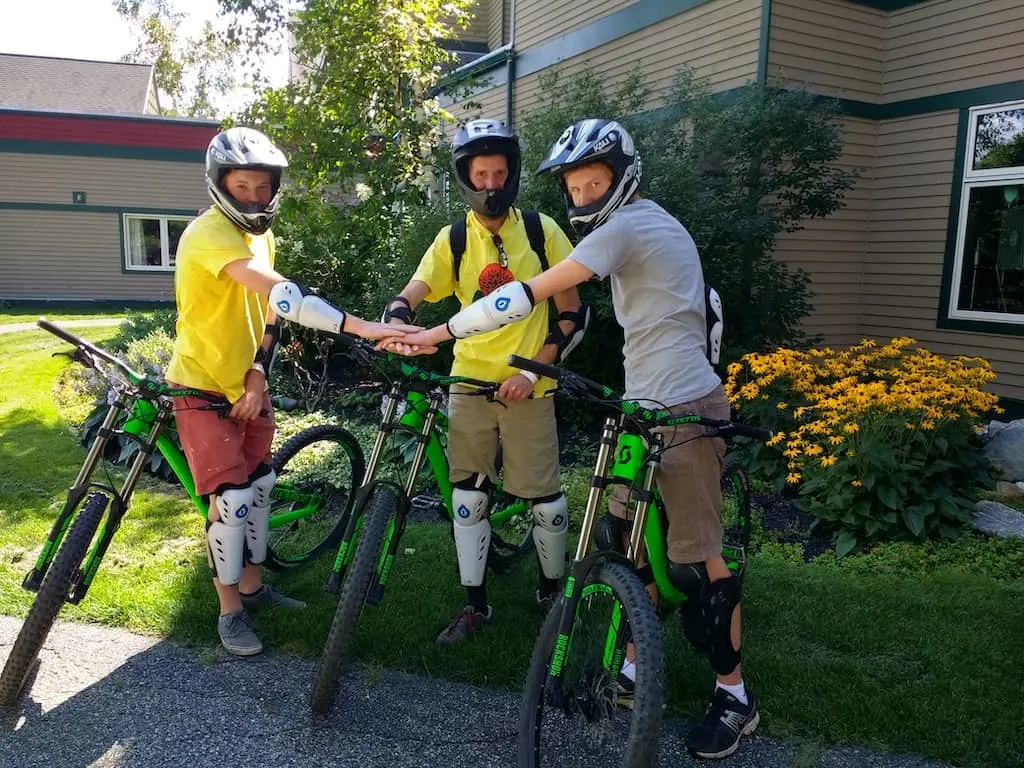 My youngest, Gabe, was actually quite happy riding trail #7 over and over again, gaining speed and confidence with each descent, but Eric and Rowan quickly graduated to more difficult trails, and each time I saw them, they were full of stories about jumps, and berms, and bridges.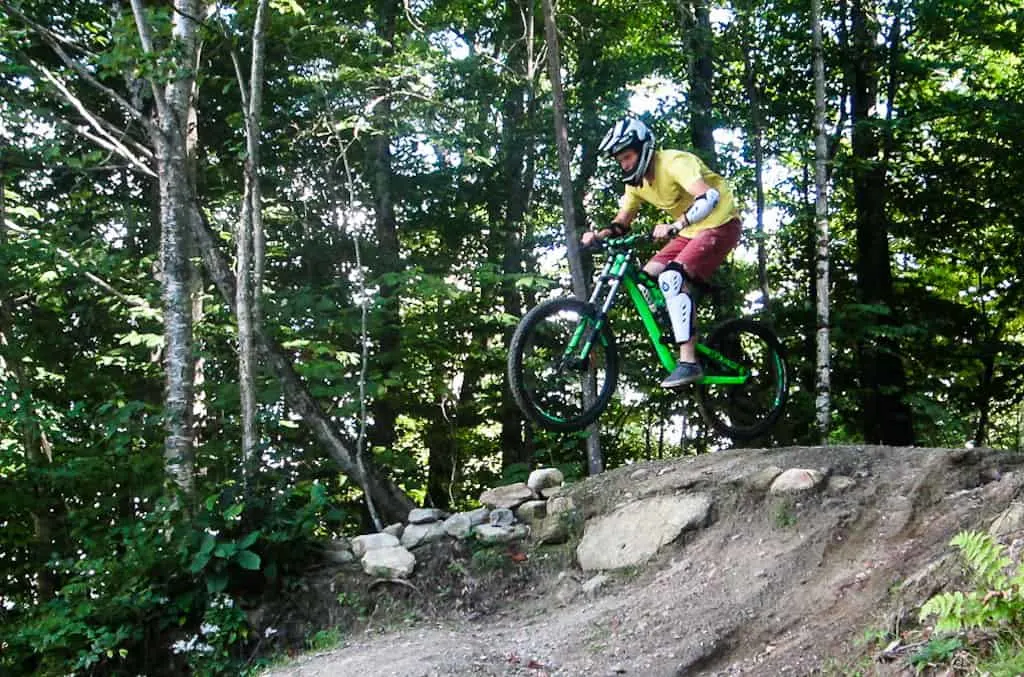 Their favorite Mount Snow mountain bike trails of the day were Evolver (#6) and Bullwhip (#9). Evolver is an intermediate trail through the woods, with lots of cool turns and banks. They loved the smooth ride and the variety of features. Bullwhip is a more difficult trail, with good opportunities for catching speed and air.
Each time I spotted those boys, whether on the lift, on the trails, or chilling with a cold drink, their smiles were bigger and their faces dirtier. At 5 pm, they took the last lift up for one final ride, and they were all grins amidst the dust as they coasted back to Mount Snow Sports to return their equipment.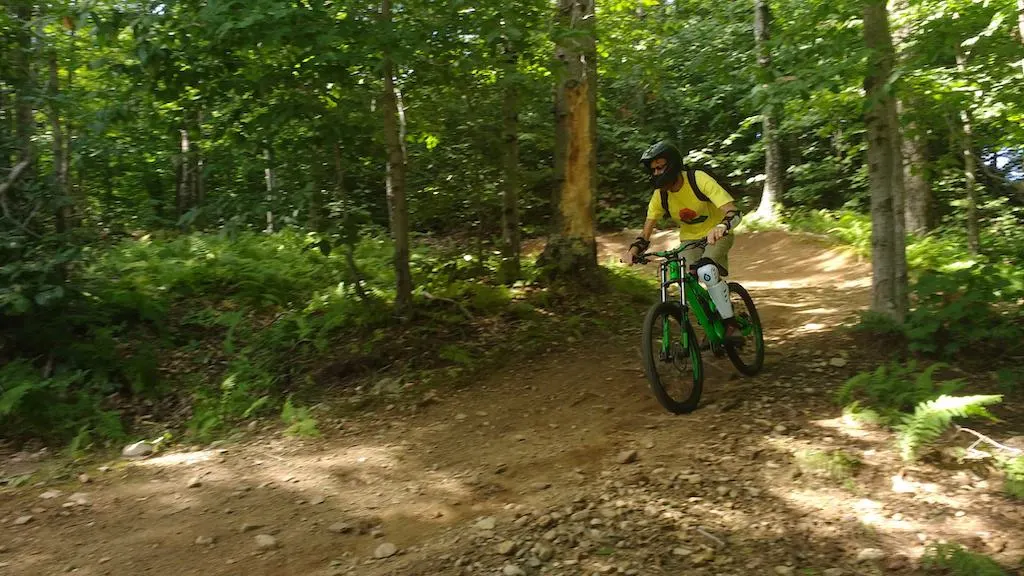 ---
Read Next: A 5-Day Itinerary for Road Tripping Route 100 in Vermont
---
Hiking at Mount Snow
If you're like me, and you don't have the need for speed, you can still enjoy a day on the mountain. There are hiking trails for every fitness level on Mount Snow, and even non-hikers can enjoy an easy walk on the summit trail after catching the Bluebird Express to the top. Most of the hiking trails at Mount Snow follow wide, open ski trails, so sunblock and sunglasses are a must.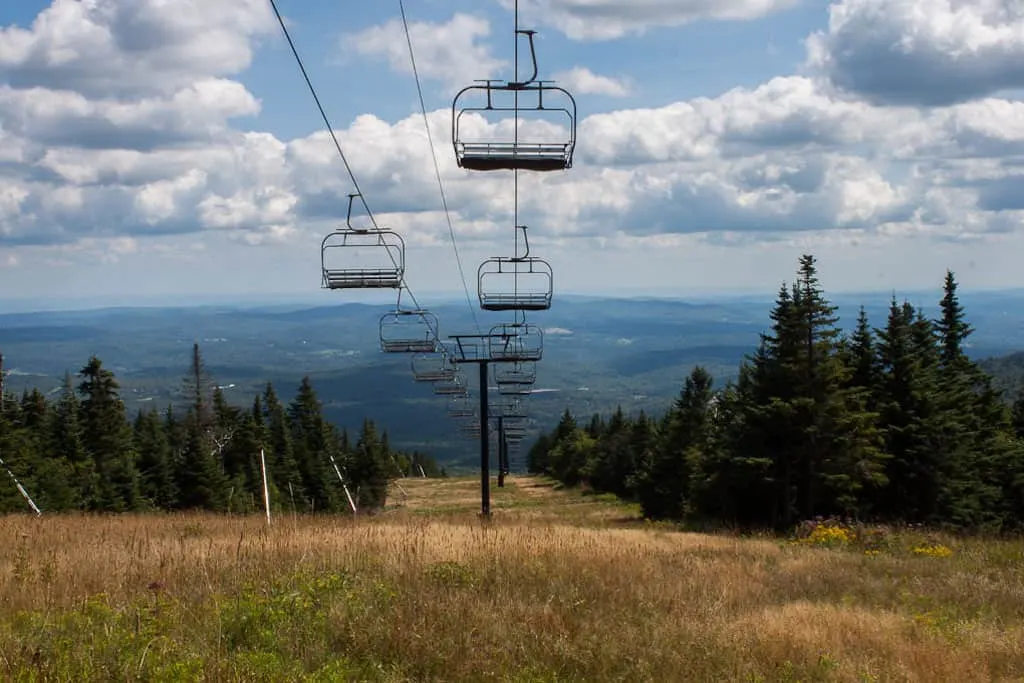 I wanted to spend a good portion of my day at Mount Snow watching and photographing the bikers, so I chose the quickest, but most difficult path to the summit, the Highline Trail. It was definitely steep, and trekking poles would have been a good idea, but I did okay without them.
I didn't see another soul on the trail, and it was a little disconcerting to get to the top and find a bustling restaurant and a crowd of people admiring the view! I rewarded myself with a cold drink on the deck of the Bullwheel and hiked back down to Somerset Road to try and catch my kiddos on camera.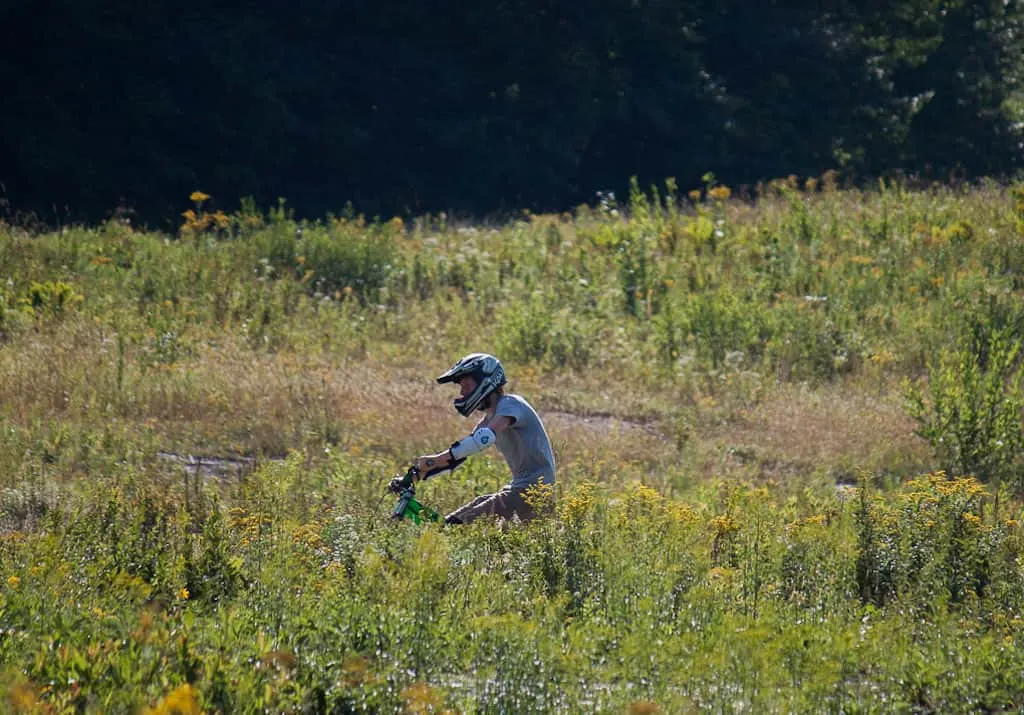 Hiking at Mount Snow isn't wilderness hiking, but it's a great way to work up a sweat while your kids are partaking in risky behaviors.
The monarch butterflies were out in full force.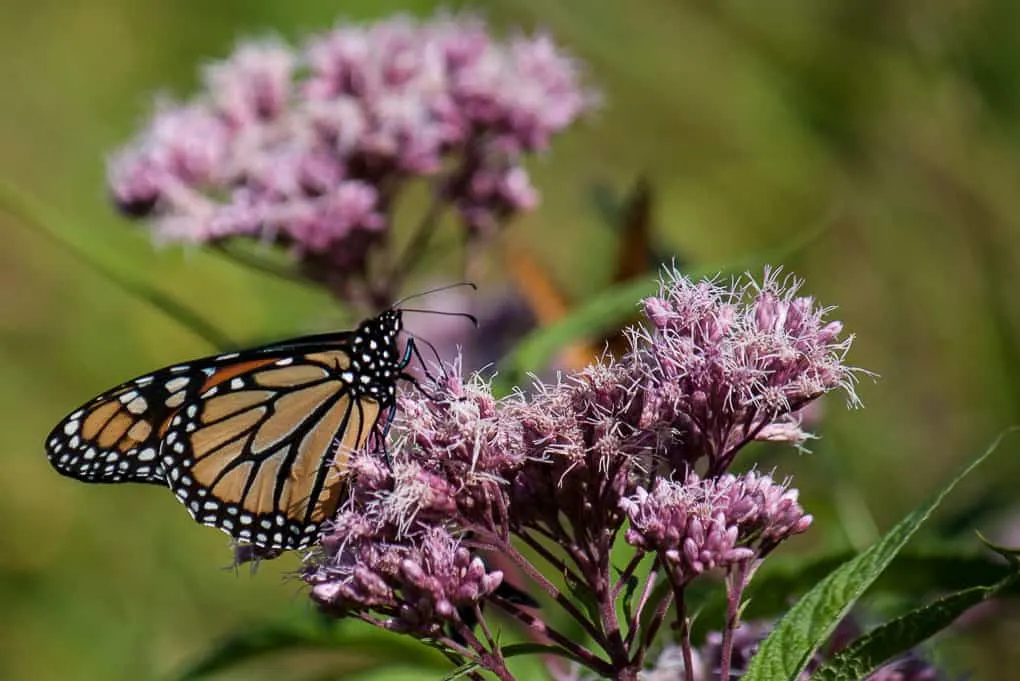 And I even saw a bit of wildlife.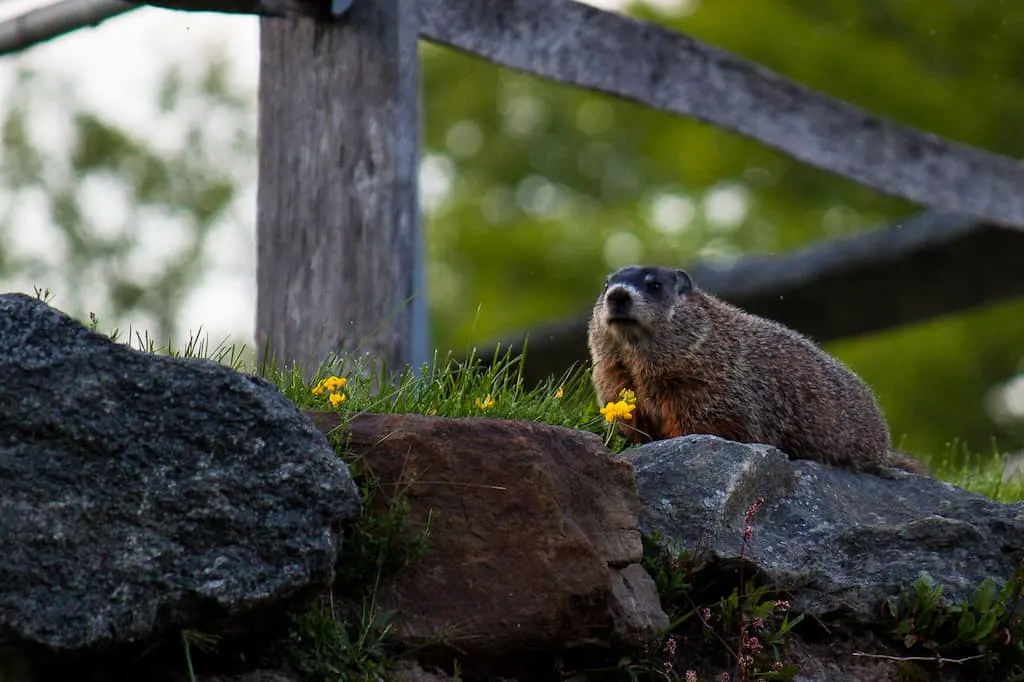 Visiting Mount Snow in the Summer
The Canyon Express and Bluebird Express lifts operate from Friday to Sunday, 10 to 4:30 all summer long and into the fall foliage season.
Mountain Biking at Mount Snow is a great way to get outside with your teens, and the Green Mountains are a beautiful backdrop for all kinds of adventures, whether you crave a shot of adrenaline, or just want to enjoy the ride.
---
Want to read more about all the fun adventures you can have in Vermont? Check out these posts:
---
Follow us on social media for more Vermont inspiration!